Pioneering Teacher Leaves $1.2 Million Legacy
04/17/2017
Nancy A. Johnson '48, M '56 was the first female physical education teacher in the history of the Holland Central School District in Erie County, N.Y. During her 35 years with the district she created many of its athletic programs for girls and coached basketball, field hockey, softball and volleyball. Johnson was inducted into Holland's athletic hall of fame.
Her legacy, however, will reach well beyond Holland Center. A $1.2 million bequest —received by the Cortland College Foundation after Johnson's passing at the age of 88 in 2015 — will help transform lives for years to come. It was the largest unrestricted gift received by the foundation on behalf of the College.
"It was truly humbling to learn Ms. Johnson chose her alma mater for this wonderful and generous estate gift," said Peter C. Perkins, vice president for institutional advancement. "Its impact will be far reaching, as it will allow the College to carry out strategic initiatives that serve important needs of faculty, staff and students that might otherwise be impossible to support, given the ever-competing demands for limited state support."
A native of Westfield, Chautauqua County, Johnson earned a bachelor's degree in education in 1948. She continued her education over the next eight years, also taking courses at Canisius College, the University at Buffalo and Buffalo State Teachers College before getting her master's at SUNY Cortland in 1956.
Her methods were strict and traditional, but Johnson was admired by her students. The yearbook staff dedicated its 1981 edition to her.
| | |
| --- | --- |
| | |
| | Nancy A. Johnson '48, M '56 |
"She always had a clean pair of white sneakers," said John Meader, a neighbor and friend who taught at Holland with Johnson. "If they ever got dirty, she'd get a new pair. She was very, very rigid in her philosophy that kids ought to listen when she talked. But she was very caring."
Her contribution to the Holland community was felt more than three decades after she retired from teaching. Johnson made a lasting impact in the lives of countless students in her teaching career.
"I conducted her funeral. I did the eulogy," Meader said. "We had a church full of people. When you teach for as long as she did, nearly 40 years, you touch a lot of people."
Animals, music and travel were among Johnson's other passions. She was adept at the coronet, trumpet and piano and enjoyed trips to Alaska, California and Hawaii.
Johnson was predeceased by her devoted friend Elizabeth Fisher, also a Holland teacher. Johnson inherited Fisher's assets and also invested heavily in mutual funds and savings bonds to build her eventual gift to Cortland.
"Nancy was, to put it bluntly, frugal," Meader said. "In my early years as a teacher, I did odd jobs and I remember painting the house for her. She'd come out with a lawn chair and supervise and sit and watch and make sure I didn't waste paint."
Johnson's friends can laugh about her thrifty habits when they look back on her life. Yet the greater campus community will benefit from Johnson's generosity in countless ways in the years ahead.
"Through Ms. Johnson's support, our world-class faculty and staff and our bright and talented students will be able to continue to strengthen and enrich a culture of engaged learning that changes lives on campus, in our local community and beyond," Perkins said.
Acclaimed Pianist to Unveil New Work at Cortland
04/20/2017
Members of the SUNY Cortland community will have a rare opportunity April 28 as internationally renowned pianist Margaret Leng Tan returns to campus with a free preview of her upcoming performance at the National Gallery of Art in Washington D.C.
Tan, an avant-garde musical experimenter known as "the sorceress of the piano" due to her ability to produce unique and memorable sounds from the instrument, will perform at 8 p.m. Friday, April 28, in the Dowd Fine Arts Center Theater. The concert is free and open to the public.
The concert will be a homecoming of sorts for Tan, who was awarded an honorary doctorate of fine arts at SUNY Cortland in 2011 and considers this her "adopted" university.
"We are truly honored to again host such an acclaimed and world-renowned artist," President Erik J. Bitterbaum said. "Her work all but defies description, and those attending her concert are in for a musical experience unlike any other."
Tan will present "THE THREE Cs: COWELL, CAGE, CRUMB, Pioneers of the Avant-garde Piano." Henry Cowell, John Cage and George Crumb laid the foundations for the extended language of the piano, conjuring new sound possibilities from the instrument's interior.
The program includes pieces by all three composers, some of which will be played directly on the strings of a piano. Tan, like her collaborators, Cage and Crumb, is a sonic experimenter, playing music in unorthodox ways and incorporating toy pianos, hand-cranked music boxes, bicycle bells and similar items into her work.
Tan, a native of Singapore, was the first woman to earn a doctorate from the prestigious Juilliard School of music in New York City. Her artistic drive soon led her to stray from classical piano into the avant-garde world of experimental music.
By fusing American alternative piano with the Asian influences of her childhood, and by experimenting with unusual instruments, Tan created a truly unique sound.
Over the years, she made numerous audio and video recordings, earning international acclaim. Tan is the foremost interpreter of Cage, a groundbreaking composer and aesthetic philosopher whose ideas have strongly influenced modern avant-garde art.
Tan, who has been described as Cage's muse, and Cage, who was her mentor, worked together for 11 years, until his death in 1992.
Her more recent collaboration with Crumb, an iconoclastic composer who has won both a Pulitizer Prize and a Grammy Award, has culminated in a brand-new work: "Metamorphoses, Book I."
Tan's presentation of this new composition will be the highlight of the Cortland concert. "Metamorphoses, Book I," is Crumb's first major piano cycle since his groundbreaking "Makrokosmos" series from the 1970s. Each of the 10 pieces in "Metamorphoses, Book I" is inspired by a different painting. They draw on the rich diversity of Crumb's sound world, achieved through a host of string piano techniques.
Cage's prepared piano piece, "The Perilous Night," will open the program. It transforms the piano into a veritable percussion orchestra. Cage's teacher, Henry Cowell, invented the tone cluster and the term "string piano" for playing directly on the piano strings. "Aeolian Harp" and "The Banshee" are highly evocative string piano pieces while "The Tides of Manaunaun" and "Advertisement" employ all manner of note clusters played by palms, forearms and fists.
Tan's Cortland preview will next be performed as the world premiere of Crumb's "Metamorphoses, Book I" on May 7 at the National Gallery of Art. A preview of the preview is available as a video trailer.
The quintessential performer, Tan excels at interpreting difficult music for wide and diverse audiences. She has made the often-arcane tradition of avant-garde music accessible to people around the world, including students at SUNY Cortland.
Tan was introduced to Cortland through her professional friendship with Donna Anderson, professor emerita of music at SUNY Cortland. Through their shared interest in the legacy of impressionist pianist Charles T. Griffes, Tan developed a strong connection with the College. She has performed at the college on several occasions.
---
Capture the Moment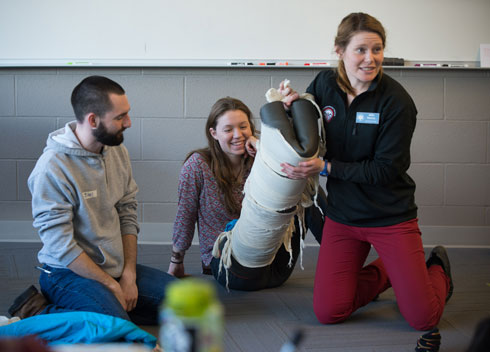 Allison Maloney, a graduate assistant in the Recreation, Parks and Leisure Studies Department, shows how to splint a lower leg fracture with a sleeping pad as part of a wilderness first aid course held in the Student Life Center on April 8 and 9. Sponsored by Wilderness Rescue Training and National Outdoor Leadership School (NOLS) Wilderness Medicine, 30 people were certified. The course was designed for trip leaders, camp staff, outdoor enthusiasts and individuals planning to spend time in remote locations.
---
In Other News
Professor, Student Reflect on Spring Break Trip to Haiti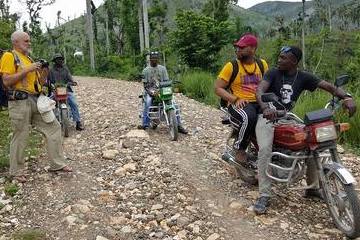 04/17/2017
It's not unusual for college students to spend spring break in the Caribbean. Unless, that is, the country they're visiting is Haiti.
Haiti, the poorest nation in the Western Hemisphere, is a magnet for devastating natural disasters and is plagued by hunger, government corruption, deforestation, disease and violence.
And that, according to Associate Professor of Health Jena Nicols Curtis, is what makes Haiti the ideal spring break destination for SUNY Cortland students hoping to make a difference in the world.
Curtis traveled to Haiti this spring with two SUNY Cortland students and a faculty member, intending to assess the problems of sexual and relationship violence among women whose lives were ripped apart by Hurricane Matthew on Oct. 4, 2016.
Accompanying Curtis were sophomores Chris Venant, a business economics major of Haitian descent who speaks fluent Creole, and Zachary Curtis, an international studies major and Jena Curtis' son, and Susan Burnett M '15, a Health Department lecturer who has traveled with Jena Curtis on similar assessment and education missions to poverty-stricken parts of India.
The idea is to establish a similar, ongoing program in Haiti, providing an opportunity for SUNY Cortland students to get potentially life-altering experience helping Haitians improve their lives.
Jena Curtis was planning to gather information by listening to focus groups of about one dozen women each. Yet in the coastal town of Jérémie, which was devastated by Hurricane Matthew last fall, Curtis was overwhelmed by the response.
"Hundreds of women showed," she said. "It must've been 95 degrees. The church was destroyed in the hurricane and they had started to rebuild it out of concrete. We're in this concrete box, a little bit bigger than my office, and it has a corrugated metal roof. It's 2 o'clock in the afternoon after a two-hour church service that we attended. There were 100 women packed in, sitting in each other's laps, sitting on the floor, packed into this sweltering, dark room after church, after they had already spent two hours in a church service to spend another hour with us talking about their lives. They are so eager and so desperate for help."
Matthew destroyed close to 200,000 homes and limited access to fresh water, worsening an ongoing cholera outbreak. It struck as the country was still struggling to rebuild after a magnitude 7.0 earthquake in 2010 killed approximately 100,00-300,000 Haitians, according to various government estimates. Those natural disasters have contributed to a surging unemployment rate, with the Central Intelligence Agency World Factbook noting that two-thirds of the Haitian labor force "do not have formal jobs." Deforestation, the lack of adequate food supplies and government corruption add to a bleak picture for a nation of 10.6 million people.
Venant, a Spring Valley, N.Y., resident whose parents were born in Haiti, remains skeptical about Haiti's long-term prospects in the decades to come after his week-long journey. He showed photographs from the trip to his father, who has not been back to Haiti since immigrating to the United States. Venant's father did not recognize his home country.
Venant had traveled to Haiti once as a young child to visit family but said he remembered little about that trip. After the church service attended by the SUNY Cortland group, Venant was mobbed by curious Haitian children who were eager to converse in Creole with an American college student.
"I asked each and every one of them about their dreams," Venant said. "Some of the kids wanted to be an interpreter. That's what they see that makes money. They see a lot of Americans coming to the island and they see people translating and making money, so that's what they want to be. A lot of kids want to be doctors."
An estimated 30,000 children were living in Haitian orphanages prior to Hurricane Matthew. Most, however, have at least one living parent. Food scarcity is a major threat. The government offers few social benefits for its poorest citizens – including public education – and many poverty-stricken families are unable to afford private education. Facing such circumstances, parents often send their children to orphanages rather than watch them starve at home.
"We worked with a non-profit organization there called Voice of the Children," Jena Curtis said. "It has founded an orphanage and a school for those orphans. That was our home base. We visited other schools and other groups from there."
Associate Professor of Health Jena Nicols Curtis (second from right)
All of Haiti's problems, from natural disasters to economic stagnation and the rise of an orphan generation, have added layers to Curtis' study of sexual violence. During her time in India over the last decade, she's seen a growth of industry and technology change people's lives. That hasn't happened in Haiti.
"The interesting thing for me that I hadn't quite put together until I went to Haiti was that everyone we talked to talked about violence becoming so much more of a problem after the hurricane," Curtis said. "People had lost everything and women and families were displaced, so women were more vulnerable. Women have lost hope. I'm really starting to see relationship violence as a symptom of community disruption."
Despite all of these problems, Venant says the spirit of Haitians won't be broken. He learned this from his family living in the United States and grew to appreciate the people's resolve even more by seeing it in person.
"If you know Haitian people, we are caring people and really genuine and hopeful and faithful and hard workers," Venant said. "I don't think that's ever going to leave the people, those ideas and those concepts in the culture. I don't think that's ever going to go away."
Venant said he took a serious message away from COR 101, SUNY Cortland's one-credit orientation course for freshmen: to include a study abroad experience in his education. In the class, a number of teaching assistants shared their regrets about not taking opportunities to study abroad. When Venant was approached about the Haiti trip, he jumped at the chance.
Jena Curtis knows that there is only so much her small group could accomplish in one week. Yet it is a start. She plans to return to Haiti with another group next year, armed with the information she and her team gathered about what Haitian people, particularly women, say they need. Food, water and medical supplies were necessary for the people of Jérémie following Hurricane Matthew. Trying to build sustainable efforts to combat sexual violence and the environmental, political and economic troubles facing Haiti is another hurdle.
Jena Curtis and Venant are both hoping that more SUNY Cortland students of Haitian descent can join them on a second trip.
"Luckily, one of the fabulous things about going to India has taught me that not only can't you make overnight change, you shouldn't try," Curtis said. "I can't go to India and change India more than I can go to Haiti and change Haiti. What I can do is to go and talk to people and ask what would be helpful so you can make this change. I can work with local organizations and local women to give them the tools that they need to make change."
Alumni Work With Blackbird Film Festival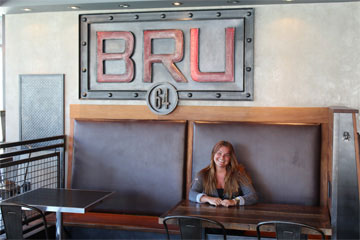 04/18/2017
Gearing up for its fourth year, the Blackbird Film Festival team is working extensively with SUNY Cortland alumni from all over the country who have pledged to help the festival in many different ways.
"For Blackbird, having alumni like Scott Williams '82 and Jim Dempsey M '88 on board has made a tremendous impact this year and is certainly bringing the festival to new heights," said Sam Avery, festival director of programming and SUNY Cortland assistant professor of communication studies.
| | |
| --- | --- |
| | |
| | Scott Williams '82, center, the Emmy Award-winning producer/writer for "NCIS," is another alumnus who will help make the 2017 Blackbird Film Festival the best one ever. |
Williams is the Emmy-Award winning producer/writer for the hit CBS show, "NCIS," and Dempsey directs the Cortland County Convention and Visitors Bureau.
The Blackbird Festival, which brings filmmakers from around the world to the SUNY Cortland campus, this year plans to screen more than 140 films over the course of its 15-plus screening blocks with topics ranging from race and politics, life and death, space and time, and everything in between. The festival runs April 21-23. A full event schedule with times, dates and locations can be found on the festival website at www.blackbirdfilmfest.com.
More than 20 SUNY Cortland student intern event coordinators and submission judges are working with the Cortland community and alumni to make 2017 Blackbird's biggest year yet.
Williams will visit Blackbird to discuss his career. He studied English in Cortland and has written for many primetime television shows in addition to "NCIS," including "Bones," "Without a Trace" and "Third Watch."
"Scott's willingness to share his time and experience with students and filmmakers alike is invaluable and really helps to create the collaborative atmosphere that is at the core of many film festivals," Avery said.
"When I graduated SUNY Cortland, we had a college radio station, a theatre department, and were just starting to dabble in video production," said Williams, who lives in the Los Angeles area. "The idea that my alma mater would one day host its own film festival wasn't even in the realm of possibility. That the Blackbird Film Fest has become so successful so quickly is a testament to the energy of its organizers and creativity of its filmmakers. I'm honored to participate and look forward to seeing some great films."
Dempsey, who has directed the Cortland County Convention and Visitors Bureau for 25 years, will use his expertise to help the festival welcome out-of-town visitors.
"The bureau is thrilled to help promote the annual Blackbird Film Festival and be the corporate sponsor of the awards dinner," said Dempsey, of Cortland, who has a master's degree in recreation and leisure studies from SUNY Cortland.
"This unique film event is not only a chance to see great films, it is an opportunity to showcase all the Cortland community has to offer to those attending the festival," Dempsey said. "Our sincere hope is that the partnership we are establishing this year will continue for many years to come."
The official Blackbird Film Festival kickoff party will be hosted at BRU64 in downtown Cortland by manager Kelly Gregory '07. The coffee shop at 64 Main Street opened in late 2015 and Gregory invited the community to last year's kickoff party there as well.
| | |
| --- | --- |
| | |
| | Kelly Gregory '07 |
"Last year was such a success, and it seemed that everyone who attended had a great time," said Gregory, who studied business economics at her alma mater.
"We were thrilled to open our establishment up to those associated with the festival, and the SUNY Cortland students, many of which had yet to walk through our doors," Gregory said.
This year's kickoff party event will be at 8:30 p.m. Friday, April 21.
Some alumni offered their financial support to the Blackbird Festival. Among those listed as contributors are George Seibel '81, co-owner of Hair Tony's; and Michael Spollen '93, co-owner of Central City Bar and Grill. The full list of supporters may be found on the Festival Contributors page of the Blackbird Film Festival website.
For more information, contact Avery and follow the Blackbird Film Festival on Facebook, Twitter and Instagram.
Prepared by Communications Office intern Charlie Beeler
College to Host 'Yards for Yeardley' Event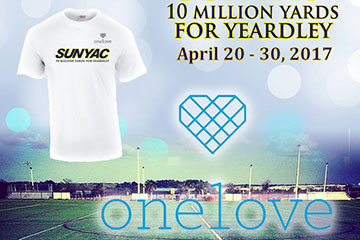 04/18/2017
SUNY Cortland is looking to end relationship violence one step at a time, or more specifically, one yard at a time.
In memory of Yeardley Love, the College is taking part in the State University of New York Athletic Conference (SUNYAC) "10 Million Yards for Yeardley" event to be held noon to 5 p.m. on Sunday, April 30 at the SUNY Cortland Stadium Complex.
Love, a women's lacrosse player at the University of Virginia, was beaten to death by her ex-boyfriend in May 2010, just three weeks before her graduation.
"As I dropped Yeardley off in Charlottesville each year, my biggest concern was that she may be injured on the lacrosse field or, even worse, be hurt in a car accident," said Sharon Love, Yeardley's mother. "Relationship violence was never on my radar."
SUNY Cortland students, faculty and staff will be asked to walk, jog or run a combined total of at least one million yards, with the overall goal of 10 million yards for the 10 SUNYAC schools combined. This is the first "Yards for Yeardley" event taken on by an entire athletic conference.
The event, in conjunction with the One Love Foundation, looks to promote awareness of domestic abuse in hopes of ending relationship violence by changing the social climate surrounding the issue.
The SUNYAC Student-Athlete Advisory Committee (SUNYAC SAAC) is organizing the event, which will be collectively hosted on each of the campuses of the 10 schools in the conference throughout the week of April 24-30.
"It is an important topic on college campuses as well as everywhere else in the world," said Taylor O'Halloran, president of the SUNY Cortland's SUNYAC SAAC and the College's student organizer of the event. "However, by having students come together to participate in an event aimed toward spreading information about the One Love mission, we can move one step further towards the goal of eradicating these problems."
There are endless opportunities for individuals to help end relationship violence, O'Halloran said.
"Holding yourself responsible for helping and informing others as well as knowing when to step in can truly make a difference," she said.
For more information, contact O'Halloran.
Prepared by Communications Office intern Jamie Winsper
Two High-Achieving Alumni to Receive Honorary Degrees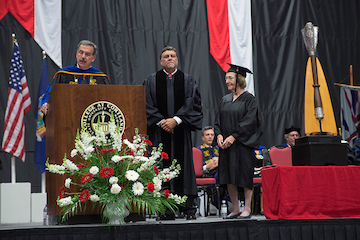 04/18/2017
Two SUNY Cortland alumni whose careers have touched people across the globe in very different ways will receive honorary doctoral degrees from the State University of New York during SUNY Cortland's Undergraduate Commencement ceremonies on Saturday, May 12.
Scott A. Williams '82 is executive producer and lead writer for "NCIS," one of the most-watched television shows on the planet. He is also the co-founder of Shane's Inspiration, an organization that promotes inclusion for children with disabilities that has built 64 inclusive playgrounds throughout the world.
Therese Sullivan Caccavale '75 was an international leader in the field of early foreign language education and immersion who has helped shape the foreign language curricula of schools throughout the United States and beyond. Hers is the first honorary degree SUNY Cortland will award posthumously.
"We are extremely proud of both of these accomplished alumni," President Erik J. Bitterbaum said. "Scott's talent and drive have not only entertained the world, but improved the lives of children with disabilities across the planet. Therese's work has lived beyond her passing earlier this year and continues to influence untold numbers of lives."
Scott A. Williams '82
Scott A. Williams '82
After graduating from SUNY Cortland in 1982 with a degree in English, Williams began writing scripts for television crime dramas, breathing life into characters for a long list of popular shows that included "NYPD Blue," "Castle," "The District," Bones," "Brooklyn South," "Third Watch," "Crossing Jordan" and "Without a Trace."
In 2003, he joined "NCIS" as a writer, becoming executive producer in 2015. "NCIS," which chronicles a fictional group of special agents the Naval Criminal Investigative Service, airs in 66 countries and draws more than 50 million viewers each week. It is the longest-running, scripted non-animated show on primetime television.
In 1997, Williams and his wife, Catherine, suffered through the death of their first child, Shane, who was born with spinal muscular atrophy. They channeled their grief into the creation of Shane's Inspiration, a nonprofit dedicated to creating inclusive community playgrounds that has changed the lives of thousands of families in communities ranging from Sun Valley, California to Bangalore, India. The organization also helps communities make recreational facilities more accessible and offers programming to help children without disabilities learn how to play with children who have special needs.
Therese Sullivan Caccavale '75
Therese Sullivan Caccavale '75
Over the course of a 38-year career teaching foreign language in the Holliston Public Schools in Massachusetts, Caccavale received numerous honors, including the most prestigious honor in her field, France's Chevalier of the Ordre des Palmes Academiques, an academic "knighthood" earned in 1999.
After graduating from SUNY Cortland in 1975 with majors in French and childhood education, she earned a master's degree at Middlebury College and then won a Fulbright Scholarship to earn an advanced degree from the L'Université de Franche-Comté in France.
As a teacher, she established a ground-breaking program to teach Spanish in Holliston's elementary schools and created the district's first comprehensive, kindergarten-through-12th-grade French Immersion program. That program earned the district the Melba D. Woodruff National Award for Exemplary Elementary Foreign Language Instruction.
Caccavale's honors include the SUNY Cortland Alumni Association's 2005 Distinguished Alumni Award and the New York State Association of Foreign Language Teachers' distinguished leadership award. She served as president of the National Network for Early Language Learning and helped school districts around the country develop early language education and immersion programs.
Caccavale passed away on March 5, 2017, and is being given an honorary SUNY degree of Doctor of Humane Letters posthumously.
Caroline Kaltefleiter to Address Honors Convocation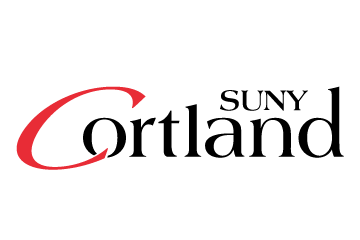 04/18/2017
Caroline Kaltefleiter, interim chair of the Communication Studies Department and an international expert on the "Riot Grrrl" underground feminist movement of the early 1990s, will deliver the keynote address at SUNY Cortland's annual Honors Convocation on Saturday, April 22.
The College will recognize 231 students for their academic accomplishments during the event, which begins at 7 p.m. in the Park Center Alumni Arena. An academic procession of SUNY Cortland faculty will open the Honors Convocation. A reception for the honorees and guests will follow in the same location.
| | |
| --- | --- |
| | |
| | Caroline Kaltefleiter |
Students will be acknowledged for a variety of achievements, including a top five percent ranking in their respective classes and for receiving College-wide and departmental awards and scholarships. The Donald Parish Brooks Scholarship Award will be presented to the residence hall having the highest cumulative grade point average.
Kaltefleiter, a SUNY Cortland professor, joined the College in 2001 as an associate professor. She chaired the Communication Studies Department from 2001-04.
She is a producer of radio programming on National Public Radio affiliate station WSUC-FM at SUNY Cortland. Her program, "The Digital Divide," explores issues of new technology and youth culture.
In 2003, Kaltefleiter helped cut the ribbon on the multimedia studio at SUNY Cortland. She teaches courses including Communication and Social Change, Gender Communication, and Issues in Digital Culture.
Kaltefleiter encourages her students to engage in the community as their learn their field. For example, classes over the course of several years used their growing communications skills to help the local Cortland community raise $1 million to renovate the Wickwire Pool, a community facility that had been closed after falling into disrepair.
Previously, she also chaired the former Women's Studies Program, now named Women's Gender and Sexuality Studies.
Kaltefleiter has researched and spoken on "Riot Grrrl," which has a name that signifies an angry growl. Born out of the punk-inspired music scene in Olympia, Wash., in the early 1990s, the movement became a social and political phenomenon promoting empowerment for young women. It was the precursor to politically active all-women music groups of today, such as Russia's Pussy Riot.
This social movement was the focus of Kaltefleiter's doctoral thesis, which she obtained in journalism and mass communication from Ohio University in Athens, Ohio, in 1996.
She also has a graduate certificate in gender and women's studies from Ohio University and a master's degree in mass communication from Miami University in Oxford, Ohio where she was a graduate fellow in the Center for Cultural Studies. She received her bachelor's degree in broadcast journalism from the University of Georgia.
Kaltefleiter has traveled the world giving presentations and conference papers. Along with SUNY Cortland colleagues Colleen Kattau, modern languages, and Mechthild Nagel, philosophy, she organized a panel, "Women's Rights, Women's Resistances," on topics regarding globalization, the arts and prison, which they presented at the Human Rights in a Globalizing Era Conference at the University of Windsor, Canada. The panel was sponsored by Wagadu, an e-Journal of transnational women's and gender studies based at SUNY Cortland.
Kaltefleiter also gave two papers at the British Sociological Association conference in Harrogate, England, "Representing Sovereignty and Nationalism: A Genealogy and Construction of Visual Rhetorics" and "Anatomically Correct: A Riot Grrrl Zines and Gender Representations."
While in the United Kingdom, Kaltefleiter also took part in an invited symposium on political communication and digital culture, coordinated by colleagues at the London School of Economics and Middlesex University.
Last year, Kaltefleiter presented at the Anarchist Studies Network Conference in the U.K., hosted by the Department of Politics and International Relations at Loughborough University. The conference theme was Anarcha-Feminism and her talk was titled, "Who Has the Microphone? Anarchy, Action and (R)evolution of the Riot Grrrl Movement."
The 2017 Honors Convocation Ceremony will be available via live stream and can be accessed on the SUNY Cortland webpage on the day of the event. A reception will be held immediately following the ceremony for all students, guests, faculty and staff.
For more information, contact Samantha Howell, special events coordinator for the President's Office, at 607-753-5453.
Prepared by Communications Office writing intern Jessica Haverlin
Award-Winning Poet to Visit Campus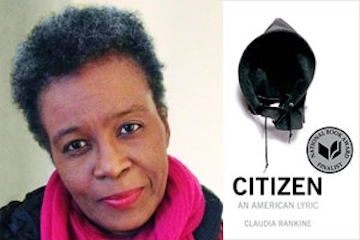 04/18/2017
Claudia Rankine, the award-winning poet whose book-length poem "Citizen, An American Lyric," helped inspire the 2016-17 theme for SUNY Cortland's Cultural and Intellectual Climate Committee series of events, will speak on campus during the last week of classes.
Rankine, whose work blurs the distinction between poetry and prose as well as reality and art, will do a reading and sign copies of "Citizen" at 7 p.m. on Thursday, May 4, at Brown Auditorium, Old Main. It holds the distinction of being the only poetry book to be a New York Times bestseller in the nonfiction category.
"The exciting thing about Rankine is that she speaks directly to issues of race and gender in ways that connect to our campus conversations and to the wider Black Lives Matter movement," said Scott Moranda, an associate professor of history and co-chair of the Cultural and Intellectual Climate Committee.
The committee is a group of SUNY Cortland faculty and staff appointed by the provost to choose a theme to frame a year-long series of lectures, discussions, film screenings and art exhibits. This theme is meant to promote cultural life on campus and spark campus discussions about issues relevant to today's world.
This year's theme is "Art and Everything," which explores the idea that art does more than simply reflect life. Works like "Citizen," which was chosen as the common read for this year, can influence ideas, spark action and shape society. Pablo Picasso's painting "Guernica," a disturbing portrait of the horrors of the Spanish Civil War, and Spike Lee's film "Chi-Raq," which uses the plot of an ancient Greek play to explore inner-city violence, were the other two common pieces of art selected for the theme.
"Citizen" offers a searing account of what it means to be a woman of color in this time and place. It has been described as "lyrical and unrelenting." The volume won the 2014 Los Angeles Times Book Award, the 2015 National Book Critics Circle Award in Poetry, the 2015 Forward Prize for Best Collection, the 2015 Hurston/Wright Legacy Award in Poetry, the 2015 NAACP Image Award in poetry, the 2015 PEN Open Book Award, the 2015 PEN American Center USA Literary Award, the 2015 PEN Oakland-Josephine Miles Literary Award and the 2015 VIDA Literary Award. Citizen was also a finalist for the 2014 National Book Award and was the 2015 T.S. Eliot Prize.
But "Citizen" is just Rankine's most recent artistic success. She was the winner of a 2016 MacArthur Foundation "Genius Grant" and has authored five critically acclaimed volumes of poetry, two plays and various essays. She is currently the Frederick Iseman Professor of Poetry at Yale University and a chancellor of the Academy of American Poets.
Rankine's visit is sponsored by the Student Writer's Union, Sponsored Programs Office, the Cultural and Intellectual Climate Committee, the English Department, the President's Fund, Women's Gender and Intercultural Studies, and Multicultural Life and Diversity.
Student Research Highlighted by 'Transformations'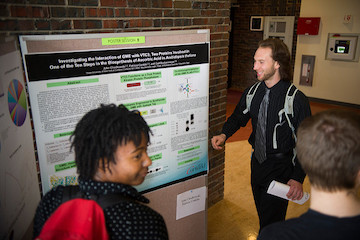 04/18/2017
SUNY Cortland will recognize the strong academic work of its students during the 21st annual "Transformations: A Student Research and Creativity Conference" on Friday, April 28.
Transformations features dozens of projects from undergraduate and graduate students. The event, which is free and open to the public, runs from 12:30 to 5:30 p.m. in Old Main. Light refreshments will be available between 2:30 to 4:30 p.m. in the Dorothea Kreig Allen Fowler '52, M '74 Grand Entrance Hall. Classes will be in session as normally scheduled.
"It's a great way for us to showcase our undergraduate research and the faculty who mentor them," said R. Bruce Mattingly, SUNY Cortland's dean of arts and sciences and Transformations Committee chair. "It's an exciting year this year because we're returning to our roots. The original Scholars' Day was always held in Brown Auditorium and we've been in Sperry Center for the last four or five years. It worked out better this year for us to have the event in Old Main, so we're excited about that."
Student-led presentations and poster sessions follow a keynote address by Michael J. Bond '75, M.D., a member of the College's Academic Hall of Fame who serves as medical director of Advanced Dermatology and Cosmetic Surgery in Orlando, Fla. A pediatric dermatologist, Bond has influenced the practice of his field and was the only pediatric dermatology consultant to St. Jude Children's Research Hospital for 20 years.
Bond's talk, "From Here to There," will take place from 12:30-1:30 p.m. in Brown Auditorium.
"We always look forward to having an alum come back," Mattingly said. "More often than not, when they tell their story, you find out that part of what was so great about their experience when they were at Cortland was that they had opportunities to get involved in research. It's powerful for them to come back and share that with our current students who hear about the experience this alum had and not only that, but what they were able to go on and do after they left Cortland."
Among this year's research topics, representing a variety of academic departments, are:
"Usage Profile of Cardio Machines at the Student Life Center: the First Step to Turning Human Power into Electricity"
"Reviving the Art and Science of Azul Maya Ceramics"
"Examining the Gender Wage Gap"
"An Examination of How the Portrayal of Psychopaths in Comedic and Dramatic Movies Align with the Clinical Definition of Psychopathy"
"White-Tailed Deer and Invasive Earthworms: How Do They Affect New York Ecosystems?"
"Language as a Tool for Empowering Individuals with Disabilities"
A complete list of presentations may be found on the Transformations website.
Three concurrent sessions run from 1:45 to 2:30 p.m., 3 to 4 p.m. and 4:30 to 5:30 p.m. at various locations in Old Main. Poster sessions run from 2:30 to 3 p.m. and 4 to 4:30 p.m. in the Colloquium and in the second-floor atrium.
Established as Scholars' Day in 1997, the event was renamed in 2012. In addition to members of the campus community, the event is regularly attended by students and educators from local high schools, elected representatives and the Cortland community at large.
"What we did do was make this an event that celebrates student research," Mattingly said. "What you won't see is just faculty presentations. Obviously, they are involved through their mentoring and leadership, but over the years, that has really caught on. This is really known as a student research conference."
The Transformations Committee also includes Martine Barnaby, associate professor of art and art history; Connor Berg, assistant director of Corey Union; Philip Buckenmeyer, department chair and associate professor of kinesiology; Patricia Conklin, professor of biological sciences; Lisa Mostert, technology support assistant, campus technology services; Charlotte Pass, associate professor of literacy; and Kimberly Rombach, department chair and associate professor of childhood/early childhood education.
Support for Transformations is provided by the President's Office and the Provost and Vice President for Academic Affairs Office. The Student Alumni Association provides volunteers.
For more information, call 607-753-4312 or contact the Arts and Sciences Dean's Office
Research Defined Speaker's Time on Campus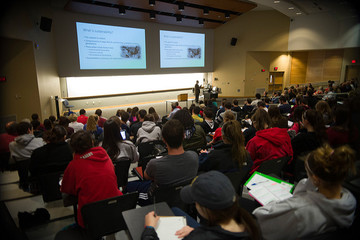 04/18/2017
Michael Bond '75, M.D., is quick to credit independent undergraduate research as the key to his success.
"It gives you a confidence and a euphoria for learning," said Bond, medical director of Advanced Dermatology and Cosmetic Surgery in Orlando, Fla.
Bond, who was inducted into the SUNY Cortland Academic Hall of Fame in 2016, said the research skills he learned at SUNY Cortland still motivate him today to learn, explore and innovate.
As the second SUNY Cortland alumnus to be directly accepted into medical school, Bond said his hands-on research opportunities set him apart from the field.
Bond will deliver the keynote address, "From There to Here," at SUNY Cortland's 21st annual celebration of student research, "Transformations: A Student Research and Creativity Conference" on Friday, April 28. He will reinforce the simple themes underlying each student's research, be it biology, chemistry, kinesiology or any other field. The quest for answers is exhilarating for Bond, and he maintains his undergraduate passion to this day.
Michael J. Bond '75, M.D.
"One of my slides is going to be about what undergraduate independent research does for you," Bond said. "It takes you from reading the textbooks to reading the literature, which is so much more ahead of the textbooks. Beyond that, it teaches you that you are contributing to the literature and what it takes to write in the literature, medical or science literature.
"They appreciate what it takes to add to human knowledge and that you are really accomplishing something," he continued. "What you do may have a huge impact on what somebody else discovers."
Bond, a pediatric dermatologist, completed his education at SUNY Upstate Medical University and later the University of South Florida and the University of Tennessee Medical Center. He was trained by the Association of Clinical Research Professionals and has conducted extensive clinical research to collect biological samples for genetic study and to investigate topical treatments for childhood skin conditions. Bond has studied rare dermatological disorders, the malignant potential of giant congenital moles and their surgical removal and caring for children with catastrophic skin diseases. Bond's findings have been published in Dermatology, Pediatrics and Psychology and he regularly presents at national dermatology events.
In addition to his work in dermatology, Bond is an accomplished scuba diver, a passion that developed after he took the first scuba diving course offered at SUNY Cortland. He is an avid underwater photographer, has had writing published in Marine Geology and National Geographic and helped to develop the first and most detailed map of the ocean floor.
As Bond was mapping the ocean floor by hand — this was before oceanographers had computerized assistance — he thought back to the work he had done at SUNY Cortland with David Berger, who is now professor emeritus of psychology after more than four decades of service on campus. No matter how arduous or impossible-seeming the task, Bond said the problem-solving skills he gained through undergraduate research prepared him for any challenge.
"I had all the confidence in the world because I had worked with Berger," Bond said. "He took care of me to be able to think and ask the right questions and think what the questions should be, all that stuff that takes it from being just a great class I took. Entomology was a fantastic class and I'll always remember it and there are a couple of lessons I learned there that were just phenomenal. But that was a class. The research was a life experience. I still live it."
In 2015, Bond and former classmate Wayne Marley, M.D., class of 1975, made a major gift to the College to establish the David F. Berger Summer Research Fellowship, an award for SUNY Cortland's top undergraduate student pursuing independent research in biology, chemistry or psychology.
Bond is glad to help extend research at SUNY Cortland. His time on campus made him who he is today and he hopes the current generation of students find similar fulfillment in their research.
"It's their responsibility to take advantage of all the opportunities that are available," Bond said. "It's the responsibility of my era to make sure there are as many opportunities as possible for them to take advantage of. We can't do the work, but we can work hard to get them what they need to do it. I am euphoric about all this. All I see is the tremendous upside that this thing can have through the years as we rotate speakers and change the subjects and get in more and more."
Dozens of undergraduate and graduate students will present their research at Transformations through presentations and poster sessions on April 28 from 12:30-5:30 p.m. in Old Main. Bond's keynote address begins at 12:30 p.m. in Old Main Brown Auditorium.
For more information, contact the School of Arts and Sciences Dean's Office at 607-753-4312.
Holocaust Memorial Events Planned

04/18/2017
The College will host two visiting speakers to mark Holocaust Remembrance Day, which this year is Monday, April 24.
Both events are free and open to the public.
Leibel Mangel, the 2017 Jewish People's Choice Award winner, will tell his story, "From Auschwitz to the Israeli Defense Force," on Thursday, April 20.
Sponsored by SUNY Cortland Hillel, the talk will begin at 7 p.m. in Corey Union Fireplace Lounge. Refreshments will be provided.
Mangel's story recounts his journey from Cincinnati, Ohio, when he left his family at age 19 to join the Israel Defense Forces (IDF). Mangel speaks about his experiences serving in the Israeli military and how he now continues his service by preserving Jewish pride and strength throughout the country.
On Thursday, April 27, Rabbi Andrew Pepperstone of Congregation Beth Sholom Chevra Shas in Jamesville, N.Y., will discuss "Decoding Sacred Texts to Build Meaning: Today, Tomorrow, and Yesterday."
His talk will take place at 4:30 p.m. in Corey Union Fireplace Lounge. Refreshments will be provided.
The event is supported by Jewish Studies and the Center for Gender and Intercultural Studies.
According to the U.S. Holocaust Memorial Museum, the internationally recognized date for Holocaust Remembrance Day corresponds to the 27th day of Nisan on the Hebrew calendar, which in 2017 is Monday, April 24. It marks the anniversary of the Warsaw Ghetto Uprising. In Hebrew, Holocaust Remembrance Day is called Yom Hashoah.
For more information, contact Nance Wilson, associate professor and chair of the Literacy Department, at 607-753-4375.
'Student Select 2017' Exhibition Planned
04/18/2017
SUNY Cortland's Dowd Gallery will showcase some of the College's best student artwork in "Student Select 2017," an annual display that opens Thursday, April 27.
An opening reception takes place on that day from 4-5:30 p.m. at the gallery in the Dowd Fine Arts Center. Sponsored by the Art Exhibition Association, the opening reception and exhibition are free and open to the public.
The exhibition runs through Friday, May 12. A limited viewing will be offered from 11:30 a.m. to- 1:30 p.m. Saturday, May 13, graduation day.
"Student Select 2017" is a juried exhibition that provides SUNY Cortland students the opportunity to present their work in a gallery setting. The show also allows the public a glimpse of the wide variety of art created on the College's campus throughout the year.
| | |
| --- | --- |
| | |
| | The juror's selected student artworks for "Student Select 2017" were put into place the week of April 17 in Dowd Gallery. |
Students are submitting their work for review this week.
This year's juror is Jude Lewis, an associate professor of studio arts at Syracuse University. She will be selecting work by first-year students through graduating seniors in a diverse range of media.
Regular gallery hours are 10 a.m. to- 4 p.m. Monday through Friday and by appointment.
For more information or to schedule a group tour, contact Gallery Director Erika Fowler-Decatur at 607-753-4216.
Senior BFA Major to Present Thesis Exhibition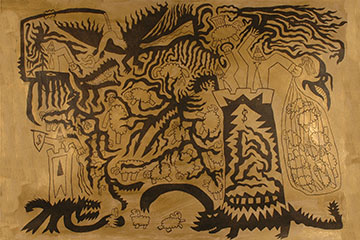 04/18/2017
The complex and interactive multimedia installation work of Justin Pribulick will be shown during his Bachelor of Fine Arts (B.F.A.) thesis exhibition beginning Thursday, April 27, in the Dowd Fine Arts Center critique space.
An opening reception and artist's talk will be held from 4-5:30 p.m. Thursday, April 27. Pribulick will discuss his work starting at approximately 4:45 p.m.
Located below the Dowd Gallery balcony, the display can be viewed 7 a.m.-9:30 p.m. Monday through Friday. The exhibition will be removed on Saturday, May 13.
The exhibition and opening reception are free and open to the public.
Pribulick, a senior sculpture major from Horseheads, N.Y., will show works that are a part of his ongoing narrative examination of societal domination and control.
Pribulick's installation allows viewers to crush and manipulate certain sections, making them active participants in this domination.
His installation includes works in ceramic, iron, aluminum and paint. A video piece and works on paper will also be shown.
"Justin Pribulick's complex, multimedia installation trades in a biting social commentary that skillfully combines the comic and absurd," said Kathryn Kramer, professor of art history at SUNY Cortland. "His work is at the leading edge of what is currently heralded as a revival of iconoclastic art reminiscent of the Hairy Who and Chicago Imagists."
The B.F.A. is a 73-credit hour intensive degree program within the Art and Art History Department that requires a portfolio review to enter. The senior year thesis project is intended for students who plan to pursue a professional career in art or to prepare for specialized graduate study, in particular the Master of Fine Arts degree.
A cohesive body of work is developed from concept to exhibition, accompanied by written proposal, summary documentation and oral presentation. Entrance into senior thesis is by special permission attained through committee review of work at the end of the junior year.
For more information, contact Pribulick.
Image shown above left: Justin Pribulick's Lamb to a Slaughter, 2016, Acrylic and ink on paper.
Prepared by Communications Office intern Jamie Winsper
Science Based Club Created for Scholarship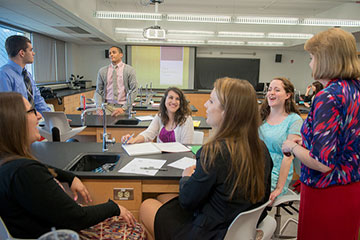 04/18/2017
Timothy Duerr, a SUNY Cortland senior biology major from Massapequa, N.Y., is hungry for the chance to study research scholarship.
Through the Student Government Association, he founded the new student club Current Research in Biology (CRIB) to expose students to novel research that is currently being conducted in laboratories across the world.
The club meets Thursdays at 5 p.m. in the Bowers Hall lounge.
With approximately 30 members, the journal club format allows members to learn about literature and analyze it together.
In graduate school or medical school, journal clubs focus on getting a piece of literature and figuring out what techniques to use to edit a research project, Duerr said. He wants undergraduate students to get that exposure.
"This is all about directly educating students," Duerr said. "To do this as a group is really beneficial, and helps everyone get the most out of the readings."
The club has numerous guest speakers visit and talk about their research. During the month of February, Stephen J. Glatt, an associate professor of psychiatry and behavioral sciences, neuroscience and physiology at SUNY Upstate Medical University, gave a talk about "Biomarkers for Neuropsychiatric Disorders."
The presentation — hosted by CRIB, the Biology Club, and the Tri-Beta biology honor society — summarized the latest efforts to identify valid biomarkers for these disorders, which could lead to earlier identification and intervention.
"To see these people talk about their projects and express their passions really expands our experience," said Duerr.
CRIB also hosted Rebecca Pinder, an adjunct science instructor at Columbia-Greene Community College who has focused her scholarship on an invasive species of earthworms, to present her research as well as discuss her career as an academic scientist.
"It's not just reading the literature, but being able to see first-hand a person presenting their research who has the power to potentially change something," Duerr said.
The club also hopes to foster academic growth among its members by giving them the chance to network with faculty from outside universities and talk with people they could be interacting with in their higher education pursuits.
The club membership hopes to eventually expand its network and begin collaborating with surrounding Central New York schools such as Binghamton University and Syracuse University to form a larger undergraduate journal group.
For more information, contact Duerr.
Prepared by Communications Office writing intern Jessica Haverlin
NYPIRG Offers Electronics Recycling Drive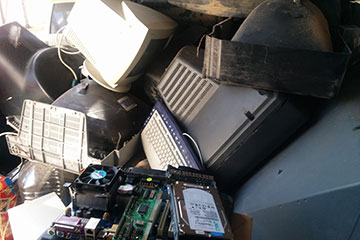 04/12/2017
In 2017, the United States alone is predicted to throw away at least 50 million tons of fully recyclable electronic products.
As part of SUNY Cortland's Green Days events for sustainability month, the New York Public Interest Research Group (NYPIRG) and the Institute for Civic Engagement (ICE) will host an electronics recycling drive.
NYPIRG will be collecting electronics through the end of the semester by appointment through its office at Corey Union, Room 215. For more information, contact NYPIRG's Cortland campus project coordinator Skylin Baestlein or call 518-929-8899.
Students can donate old batteries, cell phones, keyboards, speakers, etc. A full list of what electronic products can be donated can be found on the Cortland NYPIRG's Facebook page.
"Recycling electronics is one step we can take as students to sustain the environment and make the Earth a better place for everyone," said communication studies major McKenzie Henry of Shortsville, N.Y, one of several student volunteer project leaders. "It's important to take action now before it's too late!"
Green Days, the College's yearlong celebration of sustainability and environmental awareness, reaches its peak with four weeks of earth-friendly lectures, events and activities.
Formerly known as Sustainability Month, Green Days explores the many diverse ways SUNY Cortland plays a leading role in reducing carbon emissions, improving how resources are used, researching new environmental practices and educating students and the community about climate change.
Prepared by Communications Office intern Charlie Beeler
Climate-Friendly Eating Week on Campus Through April 22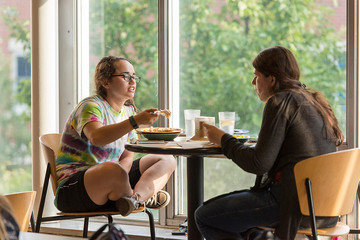 04/13/2017
SUNY Cortland is promoting three simple steps to eating better as a way to thwart climate change during Climate-Friendly Eating Week, which runs April 16-22.
The first step is to eat more plant protein. Producing animal protein such as beef or pork requires large amounts of energy, land, water and other resources. Relying more heavily on protein-rich plants helps to reduce the carbon footprint created by our food supply system.
Second, students, staff and faculty are encouraged to reduce food waste. Auxiliary Services Corporation (ASC), which provides dining services on campus, donates leftover food to Cortland Loaves & Fishes. ASC has also reduced paper and plastic disposal in Neubig Hall's dining facility by 30 percent since 2005.
Last, eating regionally and seasonally lessens transportation-related carbon emissions relative to eating food that is shipped from across the country or around the world.
"We know there are more and more students who are interested in eating climate-friendly and are already doing it and we want to highlight that," said Jeremy Zhe-Heimerman, SUNY Cortland's coordinator of assistive technology and test administration services and a member of the Student Affairs Sustainability Committee, a co-sponsor of Climate-Friendly Eating Week.
"It's also that we want to get the word out to other people who are interested in it but don't know how to do it. We want to highlight the great stuff ASC is doing. A lot of students don't know how far along ASC has come in reducing food waste and its impact on the climate."
A climate-friendly cooking demonstration will be held at The Bistro in the Student Life Center at lunchtime on Wednesday, April 19. Students, faculty and staff are encouraged to gather for a meal of vegetarian stir fry and talk about how to eat better with the climate in mind.
Neubig Hall will host climate-friendly choices for lunch and dinner on Thursday, April 20. ASC staff will explain the organization's dedication to food donation and composting programs as well as its reliance on local vendors.
At noon on Thursday in Brockway Hall Jacobus Lounge, a panel of students will discuss why they choose to eat climate-friendly and offer tips for others. These students are members of SUNY Cortland's Green Representative program.
"I think that is something other students will get a lot out of," Zhe-Heimerman said. "These students are taking initiative and being leaders on this issue."
All are welcome to participate in a weeklong #climatefriendlycortland Instagram contest. Members of the College community are encouraged to post photos of climate-friendly meals, tell the story of why they eat climate-friendly, share a recipe or post climate-friendly eating facts to @healthycortland or by using the #climatefriendlycortland hashtag. Each post through the end of Saturday, April 22 will enter into a drawing for one of two prizes. Second prize is a $25 ASC gift card. The top prize is a new iPad mini 2.
Climate-Friendly Eating Week is sponsored by the Student Affairs Sustainability Committee, Health Promotion Office, ASC Dining, Green Reps, and the Office of the Vice President for Student Affairs.
For more information on SUNY Cortland's climate change efforts, visit the College's Sustainability page. For more information on Climate-Friendly Eating Week, contact Lauren Herman, the College's health educator.
Presidents of College, SGA Issue Joint Statement Supporting Free Tuition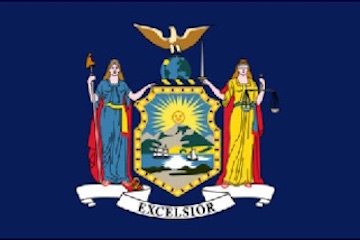 04/18/2017
The following statement by SUNY Cortland President Erik Bitterbaum and Student Government Association President Michael Braun in support of New York's recently approved Excelsior Scholarship program was released last week:
With passage of Gov. Andrew Cuomo's Excelsior Scholarship, New York made history as the first state to offer free undergraduate tuition at all of its public colleges. SUNY Cortland, a nearly 150-year-old institution with a tradition of providing affordable education, is proud to play a role in this historic change.
Although we are eager to learn more about how the measure will impact us specifically, we share the governor's vision of eliminating tuition as a potential barrier to education and his concern about mounting student debt. We also welcome the solid financial support provided to Cortland and other four-year SUNY colleges by the newly approved state budget. That includes the new funding to provide more digital resources for students, many of who find the need to buy expensive textbooks a heavy financial burden.
By increasing access to higher education among New York residents, the governor and the legislature have positioned New York to thrive in the quickly evolving knowledge economy. The Excelsior Scholarship strengthens the ladder of opportunity that allows families and individuals to improve their financial situation, and establishes an initiative that could become a model for making higher education more accessible throughout the nation.
Erik J. Bitterbaum, President, SUNY Cortland
Michael Braun, President, Student Government Association, SUNY Cortland
Students Model European Union in Big Apple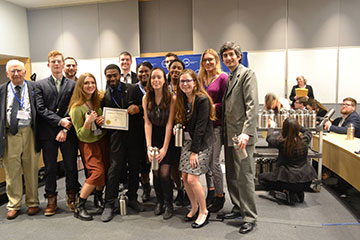 04/18/2017
European issues and conflicts affect all parts of the world.
SUNY Cortland's Model European Union participants recognize this and hope to gain knowledge and experience from SUNY Model European Union (SUNYMEU) to use in an international studies-related career.
Hoping to polish her public speaking and negotiation skills, Maya Zaynetdinova is one of 12 SUNY Cortland students who attended the SUNY Model European Union conference held March 30 to April 2 in New York City.
The conference alternates annually between New York City and Brussels, Belgium.
"I look forward to meeting students from other schools and participating in the negotiations," said Zaynetdinova, an international studies and economics dual major. "I am curious to see the strategies of other countries."
Zaynetdinova, an international student at SUNY Cortland from Moscow, Russia, joined Model European Union this semester.
The conference gives students the opportunity to represent one of the 28 member-states of the European Union; an institution of the EU, such as president of the EU Commission; president of the Council of Ministers; or representatives of a political party in the European Parliament, such as the Progressive Alliance of Socialists and Democrats.
| | |
| --- | --- |
| | |
| | At the recent conference, the students participated in a test trial of a role-play simulation. Above left, the SUNY Cortland delegation and professors gathered at the SUNY Global Center in New York City. |
Cortland represented Greece, Denmark and Romania this year.
Similar to the Model United Nations, students participated in role-play simulations addressing major issues in international studies, according to Model EU project coordinator Alexandru Balas, director of the Clark Center for Global Engagement and assistant professor of international studies at SUNY Cortland. However, SUNYMEU occurs in a much smaller setting consisting of around 30 students. Compared to the Model UN setting of 193 represented states, the smaller size of the Model EU allows for students to focus more on the substantive issues and on the negotiation skills.
"Model EU is a great opportunity to become a better negotiator, which is crucial not only for any international work, but really for all professions," said Zachary Curtis, a sophomore international studies major from Cortland, N.Y. "It will also help me immensely to be exposed to methods of governance we just don't have in the United States."
In November 2016, Balas received a Model European Union Simulations grant of 31,000 euros, equivalent to approximately $33,000, from the EU Delegation to the U.S. Also named as grant recipients were SUNY Cortland, Andreas Kotelis, 2017 Clark Center for Global Engagement scholar in residence, and Noam Ebner, professor of negotiation and mediation at Creighton University in Omaha, Neb.
The new funding supports the development, by the end of 2017, of three role-play simulations of the European Union Delegation to Washington, D.C.
At the recent gathering, the students had developed a simulation over the mandate given to the European Commission for negotiating a real or fictional free trade agreement with a major global economic power. They also planned to develop a simulation over policies regarding refugees and security. Another simulation involved a role-play negotiation on anti-terrorism cooperation.
"This should get good exposure for SUNY Cortland as the expectation is that these three simulations will be used hundreds of times in international studies and political science courses throughout the country," said Balas, who represented SUNY Cortland at the annual coordination meeting of the European Union Jean Monnet Network in the U.S., from Dec. 7 to 9, in Washington, D.C.
The grant continues the Model European Union tradition at the College started by Henry Steck, a SUNY distinguished service professor and professor emeritus of political science at SUNY Cortland. This is the sixth award for the College's Model European Union-related funding for simulations that are currently underway, two of them through 2021.
In 2015, Balas received the European Union Erasmus+ Jean Monnet Module grant of 30,000 euros, or nearly $32,000, to establish SUNY Cortland as one of two SUNY schools that are members of the European Union Jean Monnet Network.
"Given the current state of the European Union and the current challenges from Brexit to the rise of extreme right-wing parties and politicians, from the immigration crisis to the financial-economic crises, knowledge of the European Union is a must for global citizens nowadays," Balas said. "Thus, this second grant will hopefully anchor European Union Studies at SUNY Cortland and promote an understanding of the continent which hosts most of our study abroad students."
For more information, contact Balas at 607-753-2250.
Prepared by Communications Office intern Jamie Winsper
Piscataway Nation to Perform April 26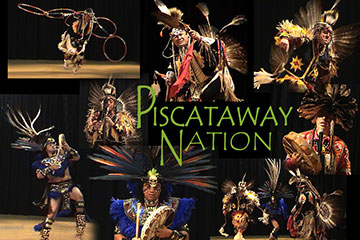 04/18/2017
The Piscataway Nation Singers and Dancers — internationally recognized for their upbeat, entertaining and educational performances involving dance, drum and song — will take the stage on Wednesday, April 26, at SUNY Cortland.
Presented by the College's Campus Artist and Lecture Series (CALS), the performance begins at 7 p.m. in Old Main Brown Auditorium.
Tickets are $10 for general admission, $8 for senior citizens age 60 and older and $3 for SUNY Cortland students. Children under the age of 10 are admitted free. Tickets can be purchased during business hours in Corey Union, Room 406 or at the venue one hour prior to the performance.
The event provides an opportunity to learn about Native American cultures, traditions and history and enjoy a performance from a Native American tribe with roots that date back hundreds of years.
At the time of Columbus, as many as 10 million Native Americans lived in North America. A succession of Algonquin peoples ultimately coalesced into the Piscataway Nation of the Chesapeake and Tidewater regions of Maryland.
The Piscataway were the first to encounter Captain John Smith along the banks of the Potomac River in 1608. Today, Mark Tayac and the Piscataway Nation Singers and Dancers carry on the longstanding traditions, culture and heritage of their indigenous ancestors.
The group are frequent contributors to TV specials on the History Channel and Discovery Channel and appear regularly at the Museum of the American Indian in Washington, D.C., national pow-wows and major festivals.
CALS is coordinated by a college committee comprised of students, faculty, and staff charged with enriching the cultural life of the College and the surrounding communities. CALS sponsors an annual performing artist series that coincides with the traditional academic year.
For ticket information or questions regarding CALS events, contact the Campus Activities and Corey Union Office at 607-753-5574.
Prepared by Communications Office intern Charlie Beeler
SUNY Cortland "Green Days" Sprout During April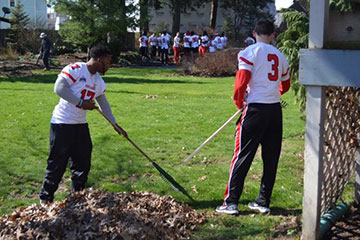 04/12/2017
Green Days, SUNY Cortland's yearlong celebration of sustainability and environmental awareness, reaches its peak during April with a month of earth-friendly lectures, events and activities.
This year, the College, recognized nationally as a leader in sustainability, offers a full schedule of events and activities related to energy, sustainable living, the environment and similar topics throughout the month of April. Upcoming Green Days events include:
Event Series: Sunday, April 16 through Saturday, April 22, various locations
Climate-Friendly Eating Week
Sponsored by the Student Affairs Sustainability Committee, Health Promotion Office, ASC Dining, Green Reps, and the Vice President for Student Affairs.
Participate in the climatefriendlycortland Instagram contest! Post a photo of a climate-friendly meal, a story of why you eat climate-friendly, a climate-friendly recipe, or a climate-friendly eating fact using #climatefriendlycortland and be sure to send it to healthycortland. Each time you do so by the end of Saturday, April 22, you'll be entered in a drawing to win one of two prizes. Second prize is a $25 ASC gift card and first prize is a new iPad Mini 2!
Presentation: Wednesday, April 19, noon, Brockway Hall Jacobus Lounge
Living a More Sustainable Lifestyle: The Rural and City Perspective
Matt Brubaker, Campus Energy Manager, SUNY Cortland
Beth Klein, Campus Sustainability Coordinator, SUNY Cortland
The speakers will discuss how they each are working to lead more sustainable lifestyles at home. Klein will share living strategies she and her husband are using on their rural homestead, and Brubaker will share what his family does while living in the city of Syracuse.
Sponsored by the Sustainability Office
Event: Wednesday, April 19, lunchtime, Bistro
Bistro Live! Climate-Friendly Cooking Demonstration
Learn how to make vegetarian stir fry and talk with students about how to eat better, with the earth in mind.
Sponsored by ASC
Panel Discussion: Thursday, April 20, noon, Brockway Hall Jacobus Lounge
Climate-Friendly Eating: A Panel of Students Discuss Eating with Climate Change in Mind
SUNY Cortland Green Reps
Join some of the SUNY Cortland Green Reps, students who work to help the campus community live more sustainably, as they share what and how they are eating to help address climate change.
Sponsored by the SUNY Cortland Green Rep Program
Event: Thursday, April 20, all day, Neubig Hall
Local and Climate-Friendly Food Choices
Choose from a menu of climate-friendly choices at lunch and dinner and learn more about the local food served by ASC and all of its New York state vendors. There will also be information about dining's composting program.
Sponsored by ASC
Event: Sunday, April 23, 8 a.m., Park Center Alumni Arena
The Big Event
Join hundreds of SUNY Cortland students as they spread out to community cleanup sites throughout the city of Cortland for this annual day of service.
Sponsored by the Student Government Association and Actively Involved in the Community
Event: Tuesday, April 25, Model Garden, between Memorial Library and the Education Building
Spring Planting
SUNY Cortland Gardening Advisory Committee
Students, faculty and staff will prepare the raised gardening beds and plant the seeds that will provide vegetables and herbs later this year.
Concert to Feature Alumna Gospel Soloist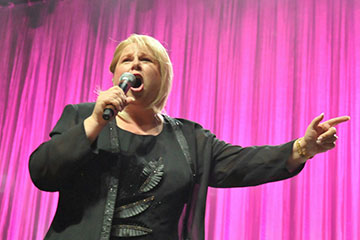 04/04/2017
International gospel recording artist and SUNY Cortland alumna J. Christine Johnson Sinclair '89 will return to campus on Sunday, April 23, for the SUNY Cortland Gospel Choir spring concert.
The performance begins at 3 p.m. in Old Main Brown Auditorium. The event is free and open to the public. An offering to support the Student Scholarship Fund will be collected during intermission.
A former music voice major at SUNY Cortland, Sinclair is noted for her unique vocal versatility, ranging from conservative classical to spirit-filled gospel.
"With gospel, one has the freedom to express in song what they are feeling from the heart by extending and bending notes as the Spirit leads," she said. "It was during my years as a student at Cortland that I developed this classical-gospel unique blend into what is now referred to as my signature sound. You will hear both styles as I sing, especially in my rendition of 'Amazing Grace,' an audience favorite."
Sinclair has performed across the United States, Europe, South Africa, Africa (Malawi), the Caribbean and Canada. She has appeared on numerous radio and television shows including BBC, 3ABN, the Hope Channel and The Bobby Jones Gospel show on The Word Network.
In January 2010, she sang for the My9 TV "Hope for Haiti Now" telethon broadcast live from the Fox 5 Studios in New York City. In August 2010, her one-hour episode of the 3ABN Today show debuted worldwide on the Three Angels Broadcasting Network. The program was an in-depth look into the life and music of Sinclair. In 2008, a similar program titled "My Story, My Song" was broadcast worldwide on The Hope Channel and has been re-broadcast several times.
Sinclair won the 2009 McDonald's Gospelfest as a soloist in the Contemporary Christian Music category. The event was held at the Prudential Center arena in Newark, N.J., and featured Patti LaBelle, CeCe Winans and many other well-known gospel artists.
Sinclair has appeared at the Apollo Theater, Madison Square Garden and the Manhattan Center Studios in New York City. In 2006, the Caribbean Gospel Music Awards USA presented Sinclair with the Spiritual Award for her dedication to ministry in music. She has appeared on radio and TV programs in the United States, Europe Africa and the Caribbean.
She is a soloist for "Pathways of Hope" Tele-Evangelistic series and has sung for many "It Is Written" Television Prophecy Seminars. Additionally, Sinclair is a soloist for many North American Division Ministries. She is an affiliate of Morningsong Music.
Sinclair was one of the original members of the SUNY Cortland Gospel Choir.
"I was already a member of the College Singers and Choral Union when Dr. Samuel Kelley asked if I would join the newly formed Gospel Choir," she recalled. "We were a very small group starting out."
Growing up in a local Cortland music household where many jazz and gospel artists were a part of her music listening and training experience has influenced Sinclair's style. Her father and childhood music mentor, the late Ellis Johnson, was a highly regarded retired SUNY Cortland history professor and an acclaimed jazz musician in his own right. Her mother, Joan Johnson '59, M '62, also is a SUNY Cortland alumna.
"Being raised in a classical and jazz music environment made it exciting for me to have the opportunity to sing with the Gospel Choir and be able to combine my classical training with the soulful improvisational flow of gospel music," Sinclair recalled.
She graduated in 1989 from SUNY Cortland with a B.A. in music (vocal performance) and a minor in German. She completed her music/German studies in Heidelberg, Germany, as part of the SUNY Cortland Study Abroad Program. She also studied at Kings College in Briarcliff Manor, N.Y.
She has visited her alma mater numerous times to perform with the choir.
"Each time I sing with them now, it's a surreal experience that brings me right back to my roots at Cortland," Sinclair said. "I not only enjoy singing with the current Gospel Choir members, but look forward to seeing in the audience former professors and members of the local community that I was so very much a part of during my years at Cortland."
She noted the auditorium where the concert will be held is very special to her as it is named after the late Ralph Adams Brown, who not only chaired the History Department when her father was on the faculty but served as best man at her parents' wedding.
"I am truly looking forward singing for the SUNY Cortland gospel spring concert and the opportunity to once again return 'home' to SUNY Cortland," Sinclair said.
She has four CD recordings, "Yes God is Real," "Holy Ground," "Praise From The Soul," and "Hymns and Inspirational Songs of Reflection." For more information, visit her website at www.sinclairmusic.com.
Sinclair resides in Lake Mary, Fla., with her husband, Robin Sinclair, daughter, Jaslyn, and son, Noah.
For more information, contact Sam Kelley, Distinguished Service Professor, Africana Studies and Communication Studies, at 607-753-4104.
College Writing Committee Posts Winners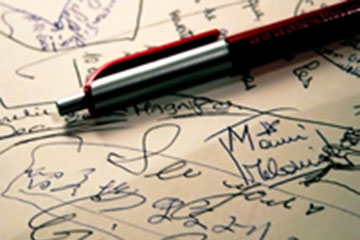 04/18/2017
The seven winners of 2016 SUNY Cortland Outstanding Writing Awards will read their work at the annual "Transformations: A Student Research and Creativity Conference" on Friday, April 28.
At "Transformations," the honorees — six undergraduates and one graduate student — will read from their winning work during a presentation titled "SUNY Cortland Writing Contest Award Winners Present!" from 1:45-2:30 p.m. Old Main, Room G-25.
The students also will see their work published in a booklet dedicated to the 2016 SUNY Cortland Outstanding Writing Awards and each of the seven winners — one for each category — earned a $100 prize.
This marks the 18th year of the contest sponsored by the College Writing Committee, the group that judges the submissions.
The committee received more than 125 submissions of creative and academic work for the competition. The work was judged on originality, clarity, organization, development and editing. All submissions written for courses during spring, summer and fall of 2016 were eligible.
Individual award recipients included:
James David Warner, a senior history major from Cortland, N.Y., won the Academic Writing Award for "The House at 4 Crawford St," written in a history course taught by Randi Storch, professor of history.
Sheila Gustafson, a graduate student studying adolescence education: English, won the Collin Anderson Prize for Creative Nonfiction for "300 Lanterns," written for a graduate English course taught by Laura Davies, assistant professor of English.
Jahniece McCollum, a junior professional writing major from Bronx, N.Y., won the Poetry Award for "Coming Times," written for a professional writing course taught by Bernard Earley, lecturer II emeritus of English.
Christina Langer, a junior sociology major from Forest Hills, N.Y., won the Fiction Award for "The Flower," written for a professional writing course taught by Mario Hernandez, lecturer of English.
Jamie-Lee Minkley, a sophomore communication studies major from Llaubach, Germany, won the Kathy Lattimore Award for Academic Writing in a CPN Course for "Fake News Manipulates the Public," written for a composition course taught by Gailanne Mackenzie, lecturer III of English.
Sara Sampson, a senior professional writing major from Locke, N.Y., won the Media Award for "The Politics of Misogyny," written for a professional writing course taught by Kevin Rutherford, assistant professor of English.
Joseph Mogavero of Massapequa, N.Y., a senior adolescence education: English major, won the Non-Course Writing Award for his essay, "Men's Eyes Were Made to Look."
Additionally, the committee awarded certificates of honorable mention to the following students:
Richelle Carmilita Filipello of Selkirk, N.Y., a senior community health major, in the Academic Writing category for "Cattaraugus County Needs Assessment," written in a health course taught by Page Dobbs, assistant professor of health.
Maya Zaynetdinova, a senior international studies major from Moscow, Russia, for "Young Immigrants' Pursuit of the 'American Dream' in Contrast with the Truth of Horrid Labor Conditions of the New Land," written in a composition course taught by A. Rick Anderson, a lecturer I in English.
A call for submissions for the 2017 College Writing Contest will be announced at the end of the semester and again in the fall. Eligible papers will include those written for courses in 2017, whether spring or fall semesters or winter or summer sessions.
For more information, contact Laura Davies, assistant professor of English and director of Campus Writing Programs, at 607-753-2086.
Comedian's Act Addresses Overcoming Disability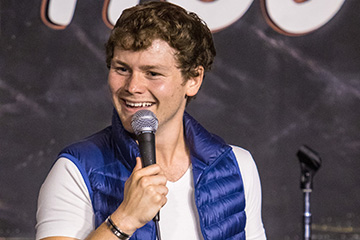 04/03/2017
Comedian Drew Lynch lives his life by the motto: "Do something every day that scares you."
In 2015, Lynch won the hearts of so many on season 10 of America's Got Talent where he made audiences laugh and cry through sharing his story of overcoming adversity.
Lynch will perform at SUNY Cortland at 7 p.m. on Wednesday, April 19 in the Corey Union Function Room.
The event, which is free and open to the public, is part of the spring 2017 "Wellness Wednesday Series," intended to motivate campus and community members to learn more about health and wellness.
Primarily sponsored by the Health Promotion Office and the Student Development Center, the series takes place on Wednesdays at 7 p.m. in Corey Union Exhibition Lounge, unless otherwise noted. The events are free and open to the public.
Lynch, 25, tours the country headlining comedy clubs, speaking about life with his speech impediment and making crowds laugh along the way.
Never picturing himself as a comedian, Lynch moved to Los Angeles at 19 with aspirations to become an actor. While playing softball just a year into his acting career, a freak accident left him with a serious stutter, an injury that put his acting dreams on halt.
Lynch's subsequent comedy act, "A Comedian's Story," tells his tale of overcoming odds and how his stutter has changed his outlook on life in so many ways.
"The person I was before would probably never hang out with who I am today," he stated while auditioning on America's Got Talent.
An entertainer at heart, Lynch often addresses his disability, makes light of it in his act and attributes softball to changing his life and getting him into comedy. Through determination, talent and perseverance he is not giving up on his initial dream of acting. Lynch has appeared on the Marc Maron Show, "Dr. Oz," and as a celebrity guest on the game show "Idiotest."
He has gained more than 500,000 subscribers to his YouTube channel where he uploads video blogs every Monday and Thursday. The comedic videos star Lynch and his service dog, Stella, as he talks about everything from his stutter to his adventures at the dog park.
For more information on the event or the Wellness Wednesday series, contact Lauren Herman, the College's health educator, in Van Hoesen Hall, Room B-1, or at 607-753-2066.
Prepared by Communications Office writing intern Charlie Beeler
One BIG Difference. One BIG Event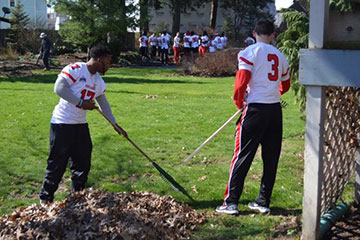 03/24/2017
More than 500 volunteers rolled up their sleeves for last year's Big Event, SUNY Cortland's annual day of community-wide service.
The third-annual event takes place on Sunday, April 23. Director Fiona Hayden hopes to sign up 700 willing helpers among students, faculty and staff.
"It is more than just raking leaves or painting faces," said Hayden, a senior inclusive special education major from Guilderland, N.Y. "Through service, we are able to connect and foster relationships between the community and the College."
| | |
| --- | --- |
| | |
| | Student volunteers at a past Big Event helped a local homeowner with spring yard work. |
Last year, Hayden worked alongside previous director Allison Garver as engagement executive for the event.
Sponsored by the Student Government Association (SGA) and its club Actively Involved in the Community (AIC), the Big Event seeks to give back to the community and help local organizations on the one-day volunteer project. Volunteers are asked to give four hours of their time.
Hayden is excited to take on this role and build on last year's success.
"The Big Event is the perfect opportunity to connect with the residents of the City of Cortland," Hayden said. "SUNY Cortland would not be the place it is without the yearlong residents. Many of us as college students feel gratitude and this event is just one way that we can thank the City of Cortland."
Volunteer pledges may be submitted up until the day of the event, but only those registered by April 7 will be guaranteed a free t-shirt.
Job site request forms submitted by residents and community organizations received by April 1 will receive first priority. Requests beyond this date will be considered if there are enough volunteers and resources to complete the project.
Light breakfast and t-shirts will be provided to volunteers, who are asked to provide their own transportation. Helpers without transportation access will be assigned projects within walking distance.
On the big day, check-in and job service assignments begin at 8 a.m. in the Park Center Alumni Arena. A short kick-off ceremony will follow at 9 a.m.
Organizers do not consider the socioeconomic need of individuals or groups who request the service. Examples might include a local non-profit agency, a group home for people with disabilities or an elderly couple in need of extra hands for a few hours.
The SGA funding that supports the Big Event will be used to purchase supplies and equipment. Hayden encourages donations from outside sources to this year's project.
Recruiters for this year's activities signed up volunteer students, faculty and community members at tables located in the Student Life Center lobby throughout March and April. Students and faculty can register by email or Facebook.
Texas A&M University developed a one-day, student-run service project in 1982 and dubbed it the Big Event. Although there's no national organization or governing body for the Big Event, dozens of colleges and universities across the nation have followed through with similar days of service.
Monetary gifts, supplies and food for the event are greatly appreciated. For more information or to make a donation, contact Hayden or thebigeventcortland@gmail.com. Stay current with the Big Event on Facebook and on Twitter @TBE_Cortland.
Prepared by Communications Office writing intern Jessica Haverlin
Folk Guitarist Pamela Means to Perform April 27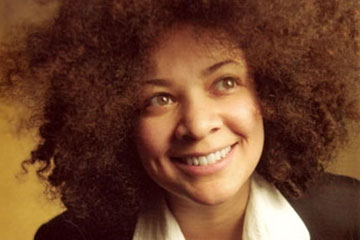 03/27/2017
Acclaimed guitarist, singer and songwriter Pamela Means, whom the New York Times Magazine has described as producing "stark, defiant songs," will attempt to set the status quo and the stage afire on Thursday, April 27, at SUNY Cortland.
Means, a bi-racial, feminist "indie" folk artist from Boston who offers an original and dynamic guitar style and punchy, provocative songs, will perform in concert at 7:30 p.m. in the Brockway Hall Jacobus Lounge.
She also will present a workshop titled "The Role of the Artist in Social Change" earlier that day at 4:15 p.m. in Old Main, Room G-12.
The performances, which are free and open to the public, comprise a Women's History Month event originally scheduled for March 30.
Means' performances have been credited with bringing the struggle for social justice and human dignity to the forefront of a new generation.
"She is an amazing jazz-influenced guitarist whose songs speak to the intersectionalities of gender, race and class," said Colleen Kattau, a SUNY Cortland associate professor of Spanish, herself a singer-songwriter and performer. "She is a powerful and authentic performer."
"Turns pain into perfect art," wrote a reviewer for No Depression, the journal of roots music, about her new solo acoustic album, "Plainfield."
Consistently honing her craft, Means garnered acclaim with her seminal jazz recording, the "insanely brilliant" (Press Herald, Portland, Maine), "Pamela Means Jazz Project, Vol. 1," in which, "Means takes her rightful place among contemporary superstar jazz vocalists such as Cassandra Wilson and Norah Jones" (Curve Magazine).
She was honored as the Falcon Ridge Folk Festival's "Most Wanted New Artist" and Wisconsin's "Folk Artist of the Year" and "Female Vocalist of the Year." Means was also a Boston Music Award Nominee in the category of "Outstanding Contemporary Folk Artist."
She has shared the stage with artists including Ani DiFranco, Joan Baez, Neil Young and Pete Seeger.
Means performs at clubs, coffeehouses, colleges and festivals across the country, including the Newport Folk Festival, Falcon Ridge Folk Festival and the South by Southwest Conference. She is a favorite at regional gay pride events. Her work is inspired by the words of the poet Audre Lorde, who wrote, "I am myself a Black woman warrior poet doing my work, come to ask you, are you doing yours?"
Co-sponsors of the event include the Women's, Gender and Sexuality Studies Program, Center for Gender and Intercultural Studies, President's Fund, Campus Artist and Lecture Series, Auxiliary Services Corporation and the Sexual Orientation, Gender Identity, and Gender Expression Committee.
Means has a website about her work: www.pamelameans.com. For more information, contact Kattau at 607-753-2025.
Students Inducted into Psychology Honorary
Nineteen SUNY Cortland students were inducted into Psi Chi, the international honorary in psychology on April 10.
The initiates for this year are: April Appel, Rebecca Balacki, Alanna Chrystal, Alyssa Cino, Andrew Corcoran, Jessica Frank, Alexandra Frederick, Hsiao Ting Fu, Deanna Gardner, Taylor Gordon, Marla Hairston, Alicia Isaacson, Lauren Kreager, Christopher Landi, Emmalee Langtry, Amanda Moore, Kimberly Persico, Erika Stremick and Frederik Tremblay.
Associate Professor of Psychology Judith Ouellette is the faculty advisor to the local chapter.
Library's 'Food for Fines' Will Help Area's Hungry
Memorial Library is offering a unique way for students to pay overdue fines while helping a local charity.
The Food for Fines program runs from May 1 through May 12. Students may pay their fines by donating non-perishable, unopened, unexpired food in cans, boxes and plastic jars. Students will receive $1 off their overdue fine balance for each item of food donated. Replacement costs for lost or damaged books are excluded from this program. Those who do not have fines but wish to donate food may do so as well.
Donations will be accepted during business hours at The Help Center in Memorial Library. The food will be delivered to Cortland Loaves & Fishes.
For more information on how to donate, visit The Help Center, call 607-753-2500 or email thc@cortland.edu.

Suggest a feature story
---
Faculty/Staff Activities
Timothy J. Baroni
Timothy J. Baroni, Biological Sciences Department, was a co-author on the recently published peer-reviewed paper "Additions to quadrate spored Entoloma (Agaricales) in Kerala State, India" published in Mycosphere in late 2016. Co-authors were Indian research mycologists C. K. Pradeep, K. B. Vrinda and C. Bihjeesh of the Jawaharlal Nehru Tropical Botanic Garden & Research Institute, Kerala, India.
Alexis Blavos
Alexis Blavos, Health Department, is on the board of directors for the National Health Education honorary, Eta Sigma Gamma, as the director of advocacy. She serves as a voting delegate for the Coalition of National Health Education Organizations and was involved in planning the 50th anniversary celebration that was held on March 30 in Denver, Colo. Also, she was appointed co-chair for the national awards committee for the Society for Public Health Education. And, Blavos recently had her article, "Marijuana and College Students: A Critical Review of the Literature," published in the American Journal of Health Education, currently posted online.
Thomas Hischak
Thomas Hischak, professor emeritus of theatre, had his non-fiction book The 100 Greatest American Plays published by Rowman and Littlefield. The book covers non-musical works from the colonial days up to the present.
Yomee Lee and Jim Hokanson
Yomee Lee and Jim Hokanson, Kinesiology Department, recently had their research titled "Hearing Their Voices: Asian American College Students' Perspectives on Sport and Physical Education" accepted for publication. The manuscript is currently in press and will soon be published in the Asia-Pacific Journal of Heath, Sport & Physical Education.
Kathleen A. Lawrence
Kathleen A. Lawrence, Communication Studies Department, had three poems, all abecedarians of different types, published in Inigo Online Magazine on April 12. They are titled "Mean Girls," "H-I-V: Hope Is a Verb" and "King." In celebration of National Poetry Month in April, Poetry Super Highway has been publishing daily poetry writing prompts. Featured in this series on April 6 was Lawrence's writing exercise "I'm Taking a Mulligan," an instructional essay that suggests writing a poem about a "do-over" of a day or event in one's life.
Jean W. LeLoup
Jean W. LeLoup, professor emerita of Spanish, had her article, "Register and Forms of Address in Costa Rica: Sociolinguistic Realities and Pedagogical Implications," published in the Spring 2017 issue of Foreign Language Annals. The article reports findings from the sociolinguistic study that LeLoup carried out in Costa Rica during the spring of 2016.
Emmanuel S. Nelson
Emmanuel S. Nelson, English Department, is the editor of the recently published book Bharati Mukherjee: Critical Perspectives (London and New York: Routledge, 2017).
Gregory D. Phelan
Gregory D. Phelan, Chemistry Department, had a United States patent issue on April 11. The patent, numbered 9,616,013 and titled Photo-activated hydrogels, deals with a new type of crosslinked polymeric cosmetic product. The patent was assigned to L'Oreal. This is Phelan's 33rd issued United States Patent. More information about this patent can be found at this link: http://bit.ly/2oDjoad
Dennis Weng
Dennis Weng, Political Science Department, co-authored an article that has been accepted for publication in the Journal of Chinese Political Science in 2017. "Disrespect for Human Rights and Contentious Participation: Evidence from China," was co-authored with Ching-Hsing Wang of the University of Houston and two SUNY Cortland undergraduate students, Laura Barnstead and Garrett DuMond. Also, Weng is a guest speaker at a conference on human rights issues set for Friday, April 21 in Taiwan.

Submit your faculty/staff activity