College Ranks High for Special Education Degrees
02/28/2017
SUNY Cortland has one of the best special education teaching programs in the United States, according to a new ranking by CollegeChoice.net, an online publication dedicated to helping families find the right college.
The College ranked 23rd in the nation in the evaluation, which was based on academic reputation, net tuition, early career earning and acceptance rates.
Ji-Ryun Kim, chair of SUNY Cortland's Foundations and Social Advocacy Department, said the ranking is good news for an academic program that is constantly evolving.
"We want to teach kids with all kinds of differences, including disability," Kim said. "Our student-teacher candidates have a lot of knowledge and skills and teaching strategies in teaching kids with specific needs. Also they learn everything about how to teach in general. The basic assumption is that everyone can teach everyone."
The department is transitioning to the inclusive childhood education (IEC) major, which will prepare teacher candidates for dual certification in childhood education and teaching students with disabilities for grades 1-6, she explained. It replaces the former inclusive special education (ISC) major that offered just a single certification in special education.
The shift means SUNY Cortland IEC majors will be better prepared to teach in a variety of situations.
"Those students are getting general education and special education certifications at the same time within four years," Kim said. "We believe it's getting even better and stronger in terms of supporting inclusive philosophy. We hope our teacher candidates can teach all learners with all diversity. That's the focus of the program."
SUNY Cortland's inclusive childhood education major offers student teaching opportunities in urban, suburban and rural settings to further prepare students for careers. The program includes a semester-long student teaching experience with mentors in general and special education.
"We want to teach kids with all kinds of differences, including disability," Kim said. "Our student-teacher candidates have a lot of knowledge and skills and teaching strategies in teaching kids with specific needs and also they learn everything about how to teach in general. The basic assumption is that everyone can teach everyone."
New Hall of Champions Celebrates Athletic Excellence
03/02/2017
Jaclyn Lawrence '12, M '14, recalls a trip to Oneonta as a member of SUNY Cortland's volleyball team.
Walking into SUNY Oneonta's Alumni Field House, Lawrence was met with a display celebrating Oneonta's 2003 national champion women's soccer team. For Lawrence, a self-described "history buff," learning about Oneonta's past was a thrill, but it made her wonder whether SUNY Cortland, with its sterling athletic reputation, had won any national championships.
At the time, she didn't know Cortland had won nearly two dozen national team titles.
Lawrence, now SUNY Cortland's assistant director of athletics for events, marketing and development, has worked with Director of Athletics Mike Urtz to make sure those impressive victories get a lot more attention by creating a Hall of Champions along the south side of Corey Gymnasium.
A sea of red banners, one for each of SUNY Cortland's 25 national team champions, was installed in the ceiling outside Corey Gymnasium in February. Urtz has wanted to create a Hall of Champions for more than a decade. His vision sees it growing in the coming years as the Athletics Department finds ways to display more trophies and memorabilia.
"I was a student athlete here and I never knew how good we were," Lawrence said. "I remember going to Oneonta and in their main venue, they had trophy cases and I was like, "Wow. They won a national championship in soccer. That's so cool." Little did I know that we had 23 here that I had no idea about. We want the Hall of Champions to be a focal point of the venue and a place to celebrate our athletic achievements."
SUNY Cortland won NCAA Division III national championships in baseball and women's lacrosse in 2015, bringing the College's title total to 25. There is room for additional banners for future championship teams and Lawrence and Urtz are planning to expand the Hall of Champions to include photographs, trophies and other recognitions of SUNY Cortland's individual national champions in the years to come.
"We have much larger plans for that hallway," Lawrence said. "We want to make it a center hub for our national championship trophies and to display our individual national champions. We want to post pictures of celebrations and make it its own little archive and museum. I think our coaches are excited to see the first steps being taken, and we want to keep it rolling from here. It's one step at a time, but this is a step in the right direction."
The SUNY Cortland C-Club athletic Hall of Fame display is located in the Hall of Champions. A wall featuring the most recent Red Letter Award winners is located at the east end of the hallway. SUNY Cortland head coaches in each sport recognize a Red Letter athlete each season for outstanding athletic skills, team leadership, personal development as a player or any combination of reasons.
The Hall of Champions will be a powerful display for alumni and athletic recruits visiting campus. It will also be a place for current students to study and socialize.
"We envision it as a hallway that's interactive but also a spot where students could hang out," Lawrence said. "We're going to have some seating in there and make it a spot where people can hang out between classes and have all kinds of memorabilia there interactively as well."
---
Capture the Moment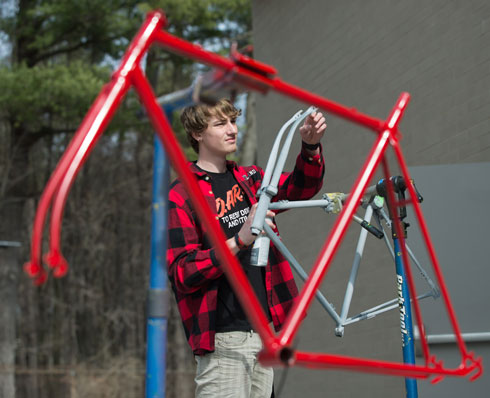 All over campus, yellow bikes are disappearing. Don't worry, the innovative Community Bike Project that has dotted SUNY Cortland with refurbished, yellow bicycles since 2003 isn't going away. It's just – quite literally – in the red. Outdoor Pursuits Bike Technician Tom Epp, pictured above, began painting the bikes bright Cortland red during some warm days in early March. Now known as the Cortland Bike Project, the program allows members of the College community to check out bikes for free for one week at a time during selected dates in the spring and fall. Learn more on the OP Community Bike Program web page.
---
In Other News
Faculty Biennial 2017 Art Exhibition Set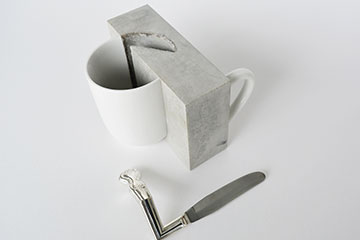 03/01/2017
Thirteen SUNY Cortland faculty members will display their most recent artistic work during the "2017 Art and Art History Faculty Biennial" exhibition, which opens on Monday, March 6, in the Dowd Gallery.
The exhibition runs through Friday, April 14. All Dowd Gallery exhibitions and events are free and open to the public.
The Art and Art History Department faculty members who will display their work teach courses in art history, ceramics, design, drawing, fibers, painting, photography, printmaking, new media and sculpture.
| | |
| --- | --- |
| | |
| | Above is a 2017 cast iron, bronze and steel sculpture by Vaughn Randall, "Everywhere is Nowhere." Above left is a 2016 porcelain and silver-plated nickel piece by Jaroslava Prihodova, "Dislocated (detail)." |
The exhibition offers students the opportunity to view work by their mentors and it gives the campus community and region the chance to contemplate artwork being produced in a wide range of media within the department.
Exhibitors include Martine Barnaby, Allison DeDominick, Jeremiah Donovan, Lori Ellis, Charles Heasley, Lorraine Heasley, Kevin Mayer, Jenn McNamara, Brian Murphy, Scott Oldfield, Jaroslava Prihodova, Vaughn Randall and Bryan Valentine Thomas.
An opening reception for the artists is set for 4 to 5:30 p.m. on Wednesday, March 8, at the gallery, which is in the Dowd Fine Arts Center located at the corner of Graham Avenue and Prospect Terrace. Refreshments will be served.
The faculty exhibitors will discuss their artistic vision during two separate "Artist's Talk" events at 5 p.m. at the gallery.
The first talk, featuring Barnaby, DeDominick, Oldfield, Prihodova, Randall and Thomas, will take place on Tuesday, March 21.
The second, with Donovan, Ellis, Heasley, Mayer, McNamara, and Murphy, will be on April 5.
Gallery hours are 10 a.m. to 4 p.m. Monday through Friday and by appointment. The gallery is closed on weekends.
For more information about the gallery, visit the web site cortland.edu/dowd-gallery.
| | |
| --- | --- |
| | |
| | Jenn McNamara's 2016 work, "American Heart," is free-form machine embroidery, pen and ink on vellum and Bristol. |
Group tours are available and can be arranged by contacting Gallery Director Erika Fowler-Decatur at 607-753-4216.
Prepared by Communications Office writing intern Alexandra Savini
Journalist to be Inducted into Hall of Fame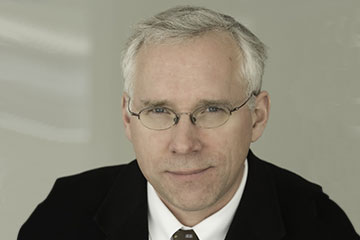 03/07/2017
Robert J. McMahon, a 1984 SUNY Cortland graduate and managing editor for the Council on Foreign Relations, an influential, non-partisan think tank, will become the 16th inductee into the SUNY Cortland Academic Hall of Fame.
McMahon, who has spent a career in international journalism, will be recognized on Monday, March 20, during the President's List reception.
The event honors the College's students who achieve grades of A-minus or better in each of their courses for a given semester, in this case Fall 2016.
SUNY Cortland President Erik J. Bitterbaum will open the reception, which will recognize 475 students this year. The President's List reception, which includes the honorees' parents and other guests, begins at 3:15 p.m. in the Corey Union Function Room, with the award ceremony starting at 4 p.m.
Created in 2006, the Academic Hall of Fame recognizes SUNY Cortland alumni who graduated 10 or more years ago with magna cum laude or higher honors, and who have made significant contributions to society through their chosen professions. The Hall of Fame wall is located in the Dorothea "Dottie" Kreig Allen Fowler '52, M '74 Old Main Grand Entrance Hall.
Last year, the College honored pediatric dermatologist Michael J. Bond '75, M.D., medical director of Advanced Dermatology and Cosmetic Surgery, an Orlando, Fla.-based practice that is considered to be the largest dermatology specialty practice in the country.
This year, McMahon will be inducted into the Hall of Fame based on a career dedicated to presenting complex subjects with even-handed clarity to help create a better understanding of America's role in the world.
"Robert McMahon has had a distinguished career in journalism, public policy and international relations, and his story will doubtless be an inspiration to our current students," said R. Bruce Mattingly, SUNY Cortland dean of arts and sciences. "He is an outstanding addition to the Academic Hall of Fame."
In his current role, McMahon oversees all news content on the council's website. His team produces award-winning multi-media backgrounders, videos and other projects.
Through more than three decades of journalism, McMahon has demonstrated leadership in reporting and analyzing foreign policy developments from places around the world including Central Europe, the United Nations and Washington, D.C.
Previously, McMahon served as news director for Radio Free Europe/Radio Liberty in Prague, and later in the U.S. as a correspondent covering the United Nations.
He joined the Associated Press in 1987 as a reporter and served as editor on the international desk in New York City. He began his career in 1985 for Gannett Westchester-Rockland Newspapers.
McMahon grew up in Carmel, N.Y. and graduated magna cum laude in political science and French from SUNY Cortland in 1984. He earned a master's degree in international relations at the Fletcher School of Law and Diplomacy at Tufts University in 2004.
McMahon's work for Radio Free Europe and the Associated Press covered a wide range of events, including the Gulf War, the early phases of the Yugoslav wars, conflicts in Georgia and Azerbaijan, and the Security Council debates over military action in Iraq. His work clarified issues surrounding human rights in Iran and Central Asia, peacekeeping in Georgia and Kosovo and the dissolution of the Soviet Union.
McMahon's expertise in global conflict is evident in his published work for the Council on Foreign Relations, committee members noted. His work for Foreign Affairs and the Foreign Service Journal as well as his presentations at various universities reveal his drive to uncover opportunities for progress in a world rife with conflict.
"McMahon's remarkable success in the field of global-affairs journalism sets a wonderful example of dedication to improving the lives of others," observed Jerome O'Callaghan, SUNY Cortland associate dean of arts and sciences.
"His career has demonstrated a passion for promoting human rights through improved appreciation of history and culture," O'Callaghan said. "It is this commitment to sharing a deeper understanding that we want our graduates to emulate. We are very proud to count him as one of our most distinguished alumni."
SGA Revamps for Greater Engagement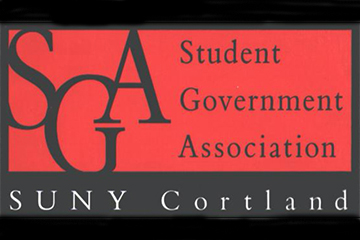 03/07/2017
The Student Government Association (SGA) has restructured its executive branch in order to increase student representation and involvement.
Changes approved by the student senate on Nov. 29 call to eliminate the secretary and parliamentarian. Three new positions will be created: the director of diversity, equity and inclusion, the director of community engagement and outreach and the director of student activities. The three new positions are geared toward greater collaboration with campus groups SGA may not have dealt with directly in the past.
| | |
| --- | --- |
| | |
| | Officers of the current, 2016-17 Student Government Association gathered recently. |
"Student government is a system that advocates for all students and this change will develop the structure to do so," said SGA President Michael Braun.
The new positions will bring the number of SGA executive roles to 10. The restructured executive board, which begins functioning in Fall 2017, will continue former roles under new names, with the exception of president, as follows: executive vice president, chief financial officer, chief of staff to the president, chief of staff to the vice president, associate financial officer, and director of public relations.
The vice president directly assists recognized clubs and guides prospective clubs. The treasurer and vice treasurer govern and disperse students' activity fees to recognized and affiliated SGA clubs. The public relations chair promotes club events.
The roles of the secretary and parliamentarian, primarily minute-taking and rule of order, respectively, will be assumed by the executive directors to the president and vice president.
The restructured executive board will take office with changes to a number of titles. The treasurer will be called the chief financial officer, and executive directors to the president and vice president will be known as chiefs of staff.
The director of diversity, equity and inclusion will work closely with the Multicultural Life and Diversity Office (MCLDO). This allows the SGA to work together with the MCLDO to collaborate on events and programming for the student body to further the mission of inclusivity on campus.
"Diversity and improving and fostering relationships in the Cortland community was at the forefront of our agenda since we got elected," said Braun.
The director of community engagement and outreach will collaborate with city leaders and appoint students to serve on committees and boards throughout the Cortland community. This position aims to partner with local organizations and the Institute of Civic Engagement to create opportunities for student involvement.
"Having a student liaison that has the resources and community partnerships can provide service and educational opportunities that can significantly benefit students overall experience here at SUNY Cortland," said Braun.
The director of student activities will handle programming and connect to the Student Activities Board (SAB).
With a restructured executive board, SGA remains committed to working with student clubs as well as hearing from those who do not belong to clubs.
"This new executive branch is going to bring our SGA to the point where it can have true influence on students' experiences on campus," Braun said.
To learn more about the Student Government Association, contact Braun.
Prepared by Communications Office intern Jessica Haverlin
State Athletic Trainers' Association Hall Lands in Cortland
03/02/2017
The New York State Athletic Trainers' Association Hall of Fame has found a fitting home at SUNY Cortland.
After all, the NYSATA got its start in Cortland in 1976.
John Sciera, who graduated from SUNY Cortland in 1952, returned as head athletic trainer and a Physical Education Department faculty member from 1965-85. He was one of the founders of the NYSATA and hosted the organization's first meeting in his living room in 1976. Sciera was posthumously inducted into the NYSATA Hall of Fame's inaugural class in 1998.
The Hall of Fame previously was located at SUNY Buffalo. T.K. Koesterer, SUNY Cortland's Athletic Training Program director, and John Cottone, dean of the School of Professional Studies, spearheaded the hall's relocation. Its new home, the northwest corner of Park Center, was unveiled during the NYSATA's 40th anniversary celebration last year.
SUNY Cortland has more alumni — four — than any other college in the Hall of Fame. They include Sciera, Jill Dale '80, Kathryn Koshansky '80 and Steve Norman '82. Dale worked with many Elmira-area high school, college and professional teams. Koshansky chairs the Athletic Training Program at SUNY Stony Brook. Norman is head trainer at Rye County Day School.
Koesterer, who has an office located behind the Hall of Fame wall, already has noticed people taking an interest in the display. He hopes that future athletic events on campus will draw even more attention to the Hall of Fame.
"Because the association started here, I think it's important that it is here," Koesterer said. "One of the arguments I made to get it here was it's convenient. It's more centrally located than Buffalo. And the number of high school and collegiate playoffs that we have here, the number of activities we have going on here is huge. Athlete-wise, this is really the main door. I've seen people reading it and athletes looking at it to see what it is."
Other notable members of the Hall of Fame include Ed Abramoski, head trainer for the Buffalo Bills from 1960 to 1997, and Gene Monahan, the New York Yankees' head trainer for 39 years.
A growing and developing field, athletic training was recognized as a health care profession by the American Medical Association in 1991. A bachelor's degree in athletic training is the first step toward certification. On the sidelines at youth, high school, college and professional sporting events, athletic trainers work with athletes for preventative, evaluative and emergency medical care.
Nominations for the state Athletic Trainers' Hall of Fame are accepted annually by April 15. For more information, visit GoNYSATA2.org.
College Keeps Leftovers Out of Landfills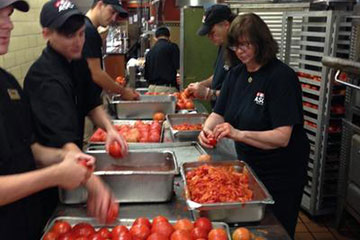 03/07/2017
Since Neubig was converted to an all-you-care-to-eat dining facility in 2005, SUNY Cortland has reduced the use and disposal of paper and plastic there by more than 30 percent.
The College continues to uphold this sustainability initiative by gleaning — collecting excess fresh food — to provide to those in need.
"The dining managers' goal is to bring in enough food to meet our customer needs, but not too much, so we don't waste food," said Terry Baker, director of dining services at SUNY Cortland. "But sometimes we do have leftovers."
Dining Services teams with the campus Dunkin' Donuts staff and student clubs such as Sociology/Anthropology and New York Public Interest Research Group (NYPIRG) to give away leftover food.
A student group will pick up the daily donations from Dunkin Donuts — mainly consisting of bagels, donuts, muffins, croissants and munchkins — and give them to Cortland Loaves & Fishes. Entering its 34th year of hospitality, Loaves & Fishes is a local program that serves those in need in the Cortland community and provides more than 100 meals every day.
Meanwhile, highly perishable items at Neubig, such as produce and dairy, are donated to the charity after students leave at the end of each semester.
Last fall, the team collected more than $4,000 worth of leftovers to present to Cortland Loaves & Fishes, an average of $38 per day.
Dining Services also composts food, recycles fryer waste oil and uses LeanPath measurement equipment, a system that identifies areas where food waste can be reduced.
"I am encouraged that Dining Services' sustainability programs and donations to Loaves & Fishes will continue to reduce our impact on the environment," Baker said. "We want to give back and help our local community whenever it is possible."
For more information on the College's sustainability initiatives, visit Dining Services.
Prepared by Communications Office intern Jamie Winsper
3-2-1 Challenge at the Starting Line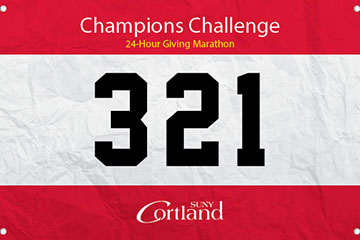 03/07/2017
The countdown has begun.
Actually, it's the countdown to the countdown.
In just 14 days, on March 21 (3/21) SUNY Cortland and the Cortland Fund will host the 321 Champions Challenge, a 24-hour fundraising initiative to raise money for scholarships, academic initiatives and program support.
If at least 321 people beat that 24-hour clock by making a contribution of any size that day to the Cortland Fund, generous Cortland alums Victor M. Rumore II '84 and Michael J. Cappeto '71, M '73 have pledged to provide an $11,000 matching gift.
Students, faculty, staff, alumni and others can do more than make a gift. They may also spread support for the 24-hour giving marathon through social media by adopting the 3-2-1 Challenge emblem for their Instagram and Twitter accounts that day. Supporters are encouraged to use the hashtag #CortlandChallenge.
Although SUNY Cortland is a state-funded institution, less than 25 percent of its operating budget comes from state government. To help close the gap, the Cortland Fund works to raise money through donations that support and enrich the Red Dragon educational experience.
"The Cortland Fund touches every area of campus, from more than 865 scholarship recipients to faculty and staff who receive funding for classroom innovations and undergraduate research opportunities." Said Erin Boylan, Interim Director of The Cortland Fund. "I am so grateful we have amazing alumni who are willing to step forward and draw attention to the importance of giving at SUNY Cortland by providing generous match gifts for the 321 Champions Challenge."
Last year's fundraising challenge raised $114,226 from 687 unique donors over a 24-hour period.
Every donation counts towards the matching goal. There is no requirement for a donation other than it has to be made between midnight and 11:59 p.m. on March 21.
Donations can be made online at www.RedDragonNetwork.org/challenge on the day of the event. Gifts to the Cortland College Foundation, Inc. are tax deductible. Charitable gifts can be designed to maximize the donor's tax status while providing support to SUNY Cortland.
For more information on the 321 Champions Challenge, contact Boylan or call 607-753-5578.
Tech Savvy to Present STEM Fields to Girls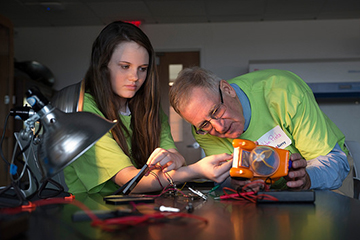 03/07/2017
Although women fill close to half of all jobs in the U.S. economy, they are far outnumbered by men in STEM fields, something an upcoming Tech Savvy event on Saturday, April 1, will strive to address.
The Cortland and Ithaca Branches of American Association of University Women (AAUW) will host the daylong event for area female pre-teens from 8:45 a.m.-3:30 p.m. at Tompkins Cortland Community College in Dryden, N.Y.
SUNY Cortland is among the event's many sponsors and six volunteer members from the College community organized or will put on seminars to help 150 or more girls in grades 6 to 9 learn more about how science, technology, engineering, and math (STEM) fields of study can lead to exciting careers.
"The branches are delighted to host Tech Savvy again in this region," said event chair Sheila Cohen, a SUNY Cortland professor emeritus of literacy. "In addition to workshops and a STEM fair for girls and adults, we will highlight 'savvy skills' and a keynote presentation by Adriane Wolfe."
Workshop titles include "3-D Software and Printers and Pens! Oh My!," "Googling with Paper Airplanes" and "Spinning a Web Page." They will also have a choice of such "savvy skills" workshops as "Practicing the Four Cs of STEM (Collaboration, Creativity, Communication, and Critical Thinking)" and "Power Pose: Building Confident Strategies for Life."
Adult sessions will focus on preparing and encouraging girls on paths to STEM careers.
The Cortland-Ithaca Tech Savvy event is one of 17 nationwide Tech Savvy sites working to improve the number of women in the STEM pipeline. Other resources, including suggestions for employers, appear in AAUW's new research report, Solving the Equation: The Variables for Women's Success in Engineering and Computing.
Online registration is open. Individual girls and adults are charged $10 at registration unless a fee waiver scholarship is requested. The fee includes a light breakfast and lunch, a savvy girl t-shirt and bag for each student, and a full day of activities and hands-on workshops for both the girls and the adults accompanying them. For information about fee waivers, please contact Sarah Johnson or 607-272-3336.
Transportation support and registration fee waivers for students and adults is available because of funding from a Women Building Community Grant of the City Federation of Women's Organizations; Social Service League of Ithaca; Community Foundation of Tompkins County; Cornell University; and SUNY Cortland. Other sponsors include national, state and local AAUW, WSKGscience, Raymond Inc., Kionix, Walmart, Cornell CIS, Cortland Eye Center, Quinn Energy and TST BOCES. Transportation assistance is offered on a first-come, first-served basis to those for whom transportation costs would be a barrier to attendance. To qualify for 54 cents per mile reimbursement, applicants must travel more than 30 miles round trip to and from Tompkins Cortland Community College. Vehicles must carry three girls plus one adult in a car, five girls and one adult in a van or 10 girls plus two adults in a bus. For transportation and registration assistance in the Tompkins County area, contact Ithaca AAUW member Sarah Johnson. For other counties, contact Sheila Cohen.
The American Association of University Women (AAUW) empowers women and girls through advocacy, education, philanthropy and research. Our nonpartisan, nonprofit organization has more than 170,000 members and supporters across the United States as well as 1,000 local branches and more than 800 college and university partners. Since AAUW's founding in 1881, members have examined and taken positions on the fundamental issues of the day — educational, social, economic and political. Learn more or join at www.aauw.org.
SUNY's Mascot Madness Returns
03/07/2017
Mascot Madness is back, and Blaze, Cortland's one-of-a-kind Red Dragon, is primed to compete in the annual battle to prove which school has the most popular sports sidekick in the 64-campus SUNY system.
All SUNY Cortland students, alumni, faculty, staff, parents and friends can help Blaze reach his goal by casting votes on his behalf during the competition, which starts next week, March 14. The contest, patterned after the NCAA tournament, will narrow the field during five rounds of voting. A winner will be selected April 5.
Cortland Red Dragon supporters can – and should – cast their votes for Blaze online. Details on how to do that are still being finalized and will be publicized soon. In years past, Blaze fans were encouraged to vote once every 12 hours. They can also enlist help from friends, family and strangers on the street.
"This is a great opportunity for all people who have a connection with SUNY Cortland to show their school spirit in a lighthearted way," President Erik J. Bitterbaum said. "Blaze has come close to winning in the past. Let's make this the year he brings the honors back to Cortland."
If Blaze makes it past the first round and continues through the end, this is the voting schedule:
Round 2: March 20 – March 22
Round 3: March 24 – March 27
Round 4/Final Four: March 29 – March 31
Finals: April 3 – April 5
Last year, SUNY Administration sent a series of questions to mascots at all SUNY campuses. Below is Blaze's Q&A:
Q. Who are you and what do you do?
A. I am Blaze the Red Dragon, the fierce, fire-breathing mascot of SUNY Cortland's powerhouse athletic teams. What do I do? Whatever I want. Did you miss the part about fire-breathing dragon?
Q. Where did you work before you were hired as a mascot?
A. I was chief of security enforcement for Daenerys Targaryen during her hostile takeover attempt of the Seven Kingdoms. I left because I wanted something that would challenge me intellectually.
Q. What is your most embarrassing mascot moment?
A. An allergy attack during our Cortaca Jug rivalry game. Big sneeze. Took out half the Ithaca College bench and scorched the scoreboard.
Q. Which mascot would be your SUNY sidekick?
A. Let's put it this way: 25 team national championships and more than 100 individual national championships. ALL of the SUNY mascots are our sidekicks.
Q. What is your favorite part of New York State?
A. Cortland and Central New York in general. It's beautiful, there's a ton of active things to do, and you can get anywhere in New York from here pretty easily. Plus, it's a great place for barbecue!
Q. Have you ever studied abroad?
A. Does New Jersey count? But seriously, I studied history in Europe, art in Asia, biology in South America and education in Australia — all through SUNY Cortland's amazing study abroad program, which was the first in the SUNY system.
Q. What TV show could you watch all day?
A. "Barney & Friends." It's very popular sitcom among us anthropomorphic reptile types.
Q. What is your favorite fast food spot?
A. The mall. During the holiday shopping season. I just wish I could get everyone to take their coats off: zippers get stuck between my teeth.
Q. What song/music do you listen to in order to get hyped for an event?
A. I've got a bootleg mashup of DJ Khaled's "All I Do Is Win," and "Puff the Magic Dragon." It. Is. Awesome.
Q. What is the best class you ever took?
A. SUNY Cortland has its own field station where you get real-world experience. I found a pen I lost back in the Mesozoic Era!

Suggest a feature story
---
Faculty/Staff Activities
Richard Hunter
Richard Hunter, Geography Department, has been appointed a contributing editor to the Handbook of Latin American Studies. Edited by the Hispanic Division of the Library of Congress, the Handbook is the oldest and most prestigious areas studies bibliography in the world.
Kathleen Lawrence
Kathleen Lawrence, Communication Studies Department, had a poem, "Young and Virgin at 17," published by Silver Birch Press in February. Her poem "What T***p Was Really Saying" appeared in The New Verse News, also in February. Lawrence was nominated for a Rhysling Award, sponsored by the Science Fiction Association, for the poem "Dorothy Delivered," originally published in Altered Reality Magazine in 2016. In addition, Lawrence had three poems accepted by Inigo Online Magazine — "Mean Girls," "H-I-V: Hope Is a Verb" and "King" — scheduled to appear in April.
Emily Quinlan and Susan Stiner
Emily Quinlan and Susan Stiner, Advisement and Transition, attended the Western New York Advising Conference on Feb. 15 in Niagara Falls, N.Y. They presented "A Comprehensive Approach to Advising the Undecided Student" to a full room of approximately 50 conference attendees. The conference theme was "The Evolving Students: Strategies and Trends in Advising."
Robert Spitzer
Robert Spitzer, Political Science Department, is the author of a chapter titled, "The Unitary Executive and the Bush Presidency" appearing in the new book, The George W. Bush Presidency, published by Nova Publishers.
Tiantian Zheng
Tiantian Zheng, Sociology/Anthropology Department, had her recent book Tongzhi Living (University of Minnesota Press, 2015) named an Outstanding Academic Title by Choice in 2016 for its excellence in scholarship and presentation, the significance of its contribution to the field and value as important treatment of the subject.

Submit your faculty/staff activity