Future Geographers Volunteer for Village Project
12/15/2015
Volunteering is a win-win situation.
Take the Village of McGraw, N.Y., which now can efficiently manage any needed repairs or upgrades to its new $3 million public water distribution system, thanks to the diligent and trained efforts of two SUNY Cortland seniors.
After buying and installing the new water system to replace its 100- to 150-year-old metal pipes with plastic PVC ones, the village hadn't money left over to track its residential water route for the sake of any future maintenance work.
But Nicholas Goffredo, a geographic information systems (GIS) major from Catskill, N.Y., who graduates next spring, and Mary Colomaio of Bath, N.Y., another GIS major who finishes this December, gave up significant personal time to do the work anyway.
| | |
| --- | --- |
| | |
| | Nicholas Goffredo |
Some internships involve paid work for the students but in this case Goffredo and Colomaio eagerly sought the additional experience without pay.
The Geography Department's service interns, for their part, have gained additional experience with cutting-edge electronic mapping technology on the cusp of using it in their future workplaces.
"This allows us to get our hands dirty as much as possible," Colomaio said. "We are constantly given opportunities for internships at the College and outside the College. It strengthens our bonds out in the community and gives us an opportunity to give back in a way that other departments might not have.
"You want to do it because it's just work that has to be done," Colomaio said. "It's hard for some of the smaller communities to afford."
One benefit, they said, was they were able to borrow and practice using the City of Cortland's very sophisticated computer mapping software equipment.
Richard Nauseef, a SUNY Cortland facilities plant engineer who happens to be McGraw's deputy mayor, made sure before the interns arrived for work that test boxes, inline valves, fire hydrants, hydrant valves, curb stops, and residential shut-off valves were correctly flagged with electronic markers that can be detected by hand-held readers.
"It's something we really needed to do," Nauseef said of McGraw's water distribution project. "This was a seven-year project. Seven years ago, we weren't thinking about GIS mapping for this, but we were by the time we got done. If the location of something gets lost, without the information you're digging and poking and hoping you can find it."
The students inputted the information that can be used to produce a map that village employees can take into the field even if they don't have with them or don't know how to use GIS software.
"It's pretty important because in the winter, when pipes are frozen, the village can more quickly find a turnoff valve to shut the water off, potentially preventing more damage," Goffredo said. "My work could be the difference between knowing where the shut-off valve is within two feet or within 10 to 15 feet. That can make a big difference when you're digging around in the snow looking for the leak."
"I'm just totally impressed and very appreciative that they gave their personal time to do this project," Nauseef said. "We couldn't have afforded to hire someone to do this. It was a critical upgrade for our village. Now it doesn't matter if it's in 20 years, 50 years or 100 years, we will be able to find these spots as a result of this project."
"It's nice to get pay or college credit to do something like that, but in doing volunteer work it allows me to purely focus on the work aspect of it," Goffredo said. "I can focus on how people go about doing the work, solving the problem. The village could not afford the work and so it was nice to be able to give that to them."
Students from the department provided more than 600 hours of internship service this academic year, said Geography Department chair David Miller, SUNY distinguished teaching professor of geography.
"Our department has a long history of walking the talk," Miller said.
The department this semester also has had three students working with the Town of Dryden Water Department and another two with the Cortland Water Department, he noted.
Adam Levine, SUNY Cortland's facilities and geographic information systems manager, has arranged some of these geographic database town-gown projects.
"For a town like this, it's just invaluable," Levine said. "McGraw has absolutely no GIS program, and what happens is over the years the maps deteriorate and technicians who have 30 years of experience, who have it all in their head, retire or leave. Then there's project construction including residential driveway paving where the water shut-off valves get covered. Having the information in a system that can be updated and an accurate map is important."
Neither Goffredo nor Colomaio are new to service internships, although some of them were paid.
In fall 2014, the same pair teamed up to mark trails and historic trees at Camp Huntington of the William H. Parks Family Center for Environmental and Outdoor Education under the direction of Biological Sciences Department professor and chair Steven Broyles.
Last spring, Goffredo helped the City of Cortland's Department of Public Works track the most efficient garbage pickup route using GIS technology.
For the last year and a half before the project in McGraw, Colomaio worked for the College on mapping the major points along its project to replace and upgrade the main campus electrical system. Currently, she's logging data on another water system project for the small Village of Dryden, N.Y., borrowing the GPS equipment from one of her professors to do the job.
"In both of these projects I've kind of become the lead in this, coordinating it to make sure the project is getting finished, the work is getting done," Colomaio said.
"A lot of the opportunities I've been given have come from the relationships of professors with the College and the community," she said. "I'm getting extremely realistic, real world experience. Some students don't get the chance to apply what they learn directly. I graduate in two weeks and I'm comfortable with what I've been learning. I know this is what I want to do for the rest of my life."
Professor's NEA Award to Bring Women's Group from Belize
12/15/2015
The ancient Mayas' rich ceramics tradition tells a unique story translated in the work of SUNY Cortland Art and Art History Professor Jeremiah Donovan. The proof can be found in the highly competitive National Endowment for the Arts (NEA) funding that he recently was awarded.
Donovan, who is widely recognized for his work with international cultures, will receive an "Art Works" award from the NEA for a project showcasing the ceramic traditions of Belize — more specifically the contemporary pottery from the San Antonio Women's Cooperative (SAWC), a small community of Maya descendants inspired by its cultural past.
Some of the funding will pay for a group of women from San Antonio, a completely rural village centrally located on the western border of Belize, to visit SUNY Cortland and share their unique stories in October 2016.
"This award deals with a multidimensional idea that received support from many different groups — not only the Art and Art History Department, but also the Research and Sponsored Programs Office," said Donovan, who began taking students to Belize in 2013 after building a similarly successful program in China. "The NEA is the gold standard in the art field, so it's special for SUNY Cortland to be recognized in this way.
"I think the NEA recognized the interdisciplinary strength of the proposal. The project covers disciplines such as art history, archaeology, anthropology and even geology. It's going to resonate with the public on many levels."
The interdisciplinary project, which will begin unfolding during the spring semester, includes four major activities. Throughout the project's duration, the ceramic artwork created by the SAWC will be highlighted alongside ancient Maya pottery from the collection at Cornell University's Herbert F. Johnson Museum of Art.
SUNY Cortland's Dowd Gallery will host an exhibition in Fall 2016 as well as public workshops led by the SAWC demonstrating the painting techniques associated with polychrome pottery. The ceramic painting technique is recognized for being narrative in style. It also serves as a main research focus for Donovan.
Art and Art History Professor Jeremiah Donovan
"When I met the women, they had been making ceramics but they never really had any guidance," said Donovan, recalling his first interactions with SAWC in 2012. "Ceramics in the Maya world are recognized as one of the greatest achievements in history … viewed as being one of the highest forms of artistic expression in palace courts of ancient times."
The project's second component will involve a high-quality catalogue tracing the rise and fall of these ceramic traditions and highlighting the reinvention of those traditions by SAWC. Besides Donovan, distinguished archaeologist Jaime Awe, of Northern Arizona University, and anthropologist John Henderson, of Cornell University, will offer contributions.
Donovan recalled traveling to San Antonio and leading SUNY Cortland students in undergraduate research projects that taught the members of the SAWC to replicate styles of ancient work using locally sourced materials.
"At the same time, we wanted the women to reinvent the narrative so that they're telling their own stories … not just making copies, but translating the old work into their own creative processes," he said.
During their visit to Cortland, the Belizean artists will collaborate with Donovan and representatives from the Herbert F. Johnson Museum of Art to lead an interactive, hands-on educational lesson on the culture of the Maya for students and teachers from Groton High School, one that will involve visits to the museum and artist-led workshops.
A public program day featuring demonstrations by members of the SAWC and a ceramics lecture by Ananda Suarez Cohen, of Cornell University, also will take place at the museum next fall.
Before the NEA-funded project gets underway next semester, Donovan will accompany a small group of students to Belize at the end of December for a winter study abroad trip that has become a staple in SUNY Cortland's international education. Just like the award-winning project, their academic disciplines will extend beyond art and art history to majors such as archaeology, geology and sociology/anthropology.
"As much as we're working with and teaching the people of Belize, the benefits for us — for our students — are immeasurable," Donovan said. "The experience is transformative, and it's forever."
He foresees the October visit from the SAWC artists making a similar impact on the campus community.
"These women are regaining and preserving a traditional past while also seeking to better their lives," he said. "What they're doing is inspirational in that regard."
---
Capture the Moment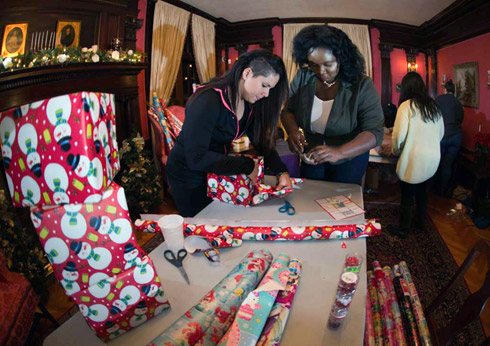 Ayse Billi, left, and Asantewa Feaster are two of more than 120 students who wrapped presents for the annual Adopt-a-Family program at the Lynne Parks '68 SUNY Cortland Alumni House in early December. Read more about the students from the Residence Life and Housing Office, who raised nearly $10,000 for this annual event.
---
In Other News
Residence Life and Housing "Adopts" 22 Local Families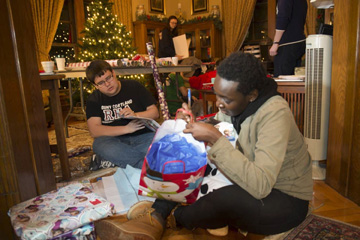 12/15/2015
SUNY Cortland's Residence Life and Housing Office again proved that it's far better to give than receive through the College's annual Adopt-a-Family gift-wrapping event, which celebrated its 10th anniversary on Dec. 2.
Student staff members raised nearly $10,000 throughout the fall to "adopt," or provide presents, for 22 local families in need. Each year when the holiday season approaches, SUNY Cortland students, staff members and alumni come together to wrap the hundreds of gifts that are purchased with student donations.
This year, 120 students gathered at the Lynne Parks '68 SUNY Cortland Alumni House to put their gift-wrapping skills to use. Each of the College's 17 residence halls adopted a family, with some larger residence halls taking on more than one set of children. The families, which all include multiple children, were suggested by the Bridges for Kids program run through the Cortland YWCA.
"This is something that Residence Life and Housing does to unite campus and engage the community," said Rosa Moore, a junior business economics major from Jamaica, N.Y., and one of the co-organizers of the event. "It's just a very rewarding way to bring students together for a good cause and help the community at the same time."
Over the course of the fall semester, residence hall staffs raise funds in every way imaginable. Some resident assistants go door-to-door collecting loose change. Others offer up their faces to be hit with a shaving cream pie — in exchange for a small donation from residents.
"When you're buying and wrapping the gifts, you remember why we do this," said Courtney Davis, a senior childhood education major from the Bronx, who served as the event's other co-organizer. "It's like you imagine the facial expressions of the families you're helping. That's what makes it all worth it."
SIMS Lab Provides Outlet for Children with Sensory Disorders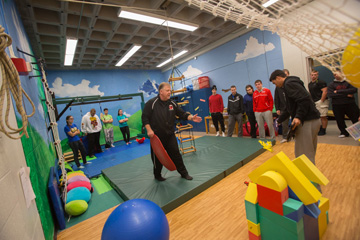 12/15/2015
It's a given that colleges try to help their students interpret the world around them.
At SUNY Cortland, college students are helping children who have difficulty making sense of the sights, sounds, smells and touch of everyday life.
The College's growing Sensory Integration Motor Sensory (SIMS) Laboratory is looking for local families with children who need help coping with Sensory Processing Disorder (SPD), a condition in which the brain misinterprets basic sensory information such as sound, touch and movement.
Research studies suggest that one in every six children experiences SPD.
Approximately 40 local families already take advantage of the colorful, playground-like lab, and staff members plan to expand their one-on-one work with SPD-afflicted children in the future. Housed in Park Center, Room 1104, the lab is open to all children and families from surrounding areas.
"We'd always love to take in more children when we can get them in," said Timothy Davis, the director of the SIMS Lab and an associate professor of physical education at the College.
The lab operates under the premise that every child manages sensory input differently, especially those with SPD. The condition sometimes is compared to a neurological traffic jam in that it prevents certain parts of the brain from receiving the information needed to interpret sensory information correctly.
Someone with SPD may over-respond to triggers such as clothing, physical contact or even food. Some participants struggle with loud noises or changes in lighting.
The same intervention doesn't always work with every child, so SIMS Lab staff members work with each child individually to pinpoint the strategies that work best in learning self-regulating behaviors. Children participate in sensory integration experiences through a variety of fun activities, including balance practice, tactile exercises and other stimuli work that can complement existing occupational or physical therapy goals.
"It's very cross disciplinary," Davis said. "We're really focused on a team approach to improving the self-regulatory behavior of kids to give them the need. Overall, it's a really positive experience for everyone involved."
In a given week, 10 to 15 different student volunteers and additional staff members will work with children. SUNY Cortland students represent majors that include physical education, exercise science, speech and hearing science, early childhood education, special education, therapeutic recreation and other related areas of study.
Graduate students in the College's Communication Sciences and Disorders Department as well as occupational therapy students from Ithaca College also make valuable contributions.
A typical SIMS Lab session involves one-on-one interaction with a child for 30 to 45 minutes. First sessions include sensory and motor skill evaluation and observation to determine a child's specific sensory needs. A series of sensory activities then are prescribed to help a child move closer to learning self-regulatory behavior.
Parents and guardians often notice that their children are more comfortable and less afraid of tactile stimuli after just one visit to the SIMS Lab.
"The best part about it, quite honestly, is to have a parent come back and say something like, 'Oh my gosh, his behavior's so much better in class and he's doing so much better in school,'" Davis said.
To learn more about the SIMS Lab and its work, contact Davis; Alexis Abdo, the SIMS Lab program coordinator; or follow its Twitter account @SIMS_Lab.
Moot Court Competes Against Legal Leaders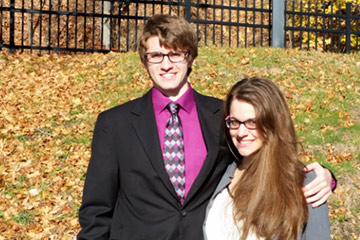 12/15/2015
SUNY Cortland's moot court team, in its second year under a new faculty advisor, flexed its legal muscles at the regional tournament in Fitchburg, Mass., on Friday and Saturday, Nov. 20 and 21.
Two moot court team members, political science majors Sara Adams and Benjamin Hobbs, advanced to the single-elimination round on Saturday after consistently strong performances in the preliminary rounds.
| | |
| --- | --- |
| | |
| | The full moot court team, posing in Fitchburg, Mass., before competition, are, from the left: Lindsay Pope, Sara Adams, Benjamin Hobbs, Taylor Cain, Kevon Pile and Caitlyn Buckman. Above left are this year's superstars, Sara Adams and Benjamin Hobbs. |
"It really was an amazing and exhilarating experience," said Hobbs of Glens Falls, N.Y.
Unfortunately, the two were eliminated in the first round Saturday morning on a split decision. The win was awarded to the higher seeded team.
"I was incredibly proud of my teammate; Sara and I were the first SUNY Cortland students to ever experience the elimination round," Hobbs said.
Moot court actually is a political science course, POL 489, offered at SUNY Cortland in the fall semester for three credit hours and is open to students in any major of at least junior status. The course offers students a chance to hone their public speaking and analytical skills while arguing a case that has or might have appeared before the U.S. Supreme Court.
"We started out with very limited knowledge on the subject matter and we were essentially experts by the end of it all," Hobbs said. "Our team as a whole achieved so much over the course of the semester; it is really unbelievable to think about."
Last fall, Timothy Delaune, assistant professor of political science and the College's pre-law advisor, became the course's new instructor after a two-year hiatus where the course wasn't offered. It was the first year Delaune took a team to the regional tournament in Massachusetts. Four SUNY Cortland teams competed, but none progressed to the second-day single elimination round.
"This was my second year competing at the regional tournament and I was personally determined to do better this year," Hobbs said. "I am proud to say I accomplished that goal."
This year, three teams were brought to the regional tournament: Adams and Hobbs; Kevon Pile and Taylor Cain; and Caitlyn Buckman and Lindsay Pope. Pile and Buckman are criminology majors and Cain and Pope are political science majors.
The team's trip was supported by The President's Fund.
"All six students competed diligently and turned in strong performances," Delaune said. "Students identified this as a transformative experience that imbued them with markedly stronger skills in oral presentation. They thought on their feet in response to incisive questions by judges and gained confidence in their legal reasoning and argumentation skills."
The course provides an opportunity for two-person legal teams to compete in front of a panel of judges. Before each competition, the teams are presented with a real or fictional Supreme Court case. They are in charge of preparing arguments for both sides, based on real-life cases cited in the competition brief.
Everything about the class leads up to that final day in court, making it a valuable experience for the College's students who aspire to become attorneys or another field that uses strong reasoning and oral presentation skills.
"As we continue to rebuild the moot court program here at SUNY Cortland, I am very proud of the efforts our returning student competitors and new members of the team have made this year," Delaune said.
He noted that SUNY Cortland students achieved an important goal in bringing a team into the single-elimination round of the regional tournament.
"I look forward to continuing to improve upon those results as our students build their legal reasoning and oral argument skills in the years to come," Delaune said.
"Moot court has definitely left an impact on my life, and I am confident that our group has left a mark on the SUNY Cortland campus through our achievements in this competition," Hobbs said.
Prepared by public relations intern Jessica McFadden
Senior Aubrey Martin Lands Trip to Costa Rica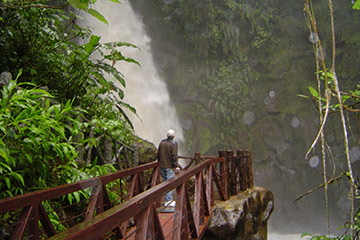 12/15/2015
SUNY Cortland senior Aubrey Martin was one of three students from 1,000 applicants nationwide to win an all-expenses paid trip to Costa Rica. But she won't spend much time lounging on a beach.
Instead, Aubrey may roll up her sleeves and help rehabilitate a monkey sanctuary.
Or get her hands dirty planting new trees in Costa Rica's Children's Eternal Rainforest.
| | |
| --- | --- |
| | |
| | Aubrey Martin |
Or, the communication studies major from Newburgh, N.Y., might take part in an intercultural exchange at a local school, do a renovation project on a local village building or caring for endangered turtles.
As an executive member of the National Society of Leadership and Success (NSLS), a chapter of which she founded last spring at SUNY Cortland, Martin was eligible to apply for an expense-paid opportunity with a Costa Rican program that gives guests from abroad the opportunity to take part in a wide range of service and adventure experiences.
In late November, Martin learned her essay was chosen out of 1,000 entries to attend the Costa Rica Service and Adventure Program (CSAP) for one week in June.
"Winning this trip is a great way to end my college career," said Martin, who graduates this month. "I never expected to win an opportunity like this. I plan to take advantage of every opportunity while I am there and give back as much to the Costa Rican community as I can."
CSAP, which has locations throughout this Central American country, began in the village of La Florida, Costa Rica. CSAP is open to paying individuals and groups of all sizes, including couples, families, schools, religious and spiritual organizations, businesses and more.
In Costa Rica, Martin will engage in several service projects to assist local people and, in her free time, sample the outdoor adventures for which the country is known.
"I have never traveled abroad to a Spanish-speaking country and as a Spanish minor, I believe this will be an amazing experience for me," Martin said. "I can speak Spanish, so I hope to expand my culture while I am there. Life outside of America is completely different. I want to be able to see the world from a different perspective."
As a member of the College's A Cappella singing ensemble, Martin plans to share her gift of music with the local villagers.
Martin was awarded this free trip to Costa Rica along with two executive members from other schools that have a chapter of NSLS.
| | |
| --- | --- |
| | |
| | Together, a Costa Rican father and child survey the rural landscape. |
The society started with the sole purpose of creating lasting positive change, according to the society's online site. It began with a handful of chapters and currently has 537,370 members at 490 colleges nationwide. NSLS members complete a series of training events including a leadership training day, speaker broadcasts and community service.
"The society gives students an opportunity to grow and enhance their leadership skills," said Martin.
She has made many connections with other chapters and traveled to Georgia the past two summers to speak on behalf of the society. She networks with others on ways to improve the organization.
"I'm excited to volunteer with the children in Costa Rica," Martin said. She plans to create a website about her experience with daily blogs and pictures.
Prepared by public relations intern Jessica McFadden
Jamie Scott Honored for Outstanding Service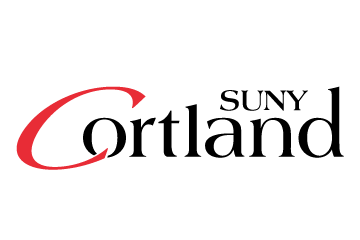 12/04/2015
Jamie Scott, whose calm and friendly presence soothes countless faculty and staff members as they ask for help to deal with a building repair or maintenance-related matter, was honored with the prestigious 2015 President's Award for Excellence in Classified Service.
SUNY Cortland President Erik J. Bitterbaum presented the award to Scott, an office assistant II in Facilities Operations and Services, on Dec. 4 at the 46th annual Service Awards Ceremony.
Sponsored by the College's Human Resources Office, the ceremony was held in the Corey Union Function Room.
"I'm told Jamie can calm down the most upset parent and reassure them we will look into their concerns," Bitterbaum said. "She always makes you feel important and that your issues matter."
| | |
| --- | --- |
| | |
| | Jamie Scott |
The award was created in 2002 to annually recognize one SUNY Cortland full-time classified service employee "for extraordinary achievement and to encourage the continuation of excellence." Nominees must have at least three years of continuous service. Supervisors, co-workers or other College community members nominate the workers considered for this honor.
Scott joined the College in 2008 as a keyboard specialist I in Facilities Operations and Services and was promoted to level II in 2014. Her job title changed to its current one in May.
She previously was honored with the College's annual Accrual Achievement Award for both 2014 and 2015.
Scott is the first person that visitors to her department's Customer Service desk meet, and she is always smiling, competent and knowledgeable, several of her colleagues noted. A very detail-oriented individual, Scott has developed a number of information management systems to deal with service requests and correspondence with vendors and contractors.
"She's very pleasant and professional on the phone with the clients," noted Nasrin Parvizi, associate vice president for facilities management. "She represents the unit very well on campus."
Scott is willing to take on and learn additional tasks in order to keep the organization flowing smoothly, said Zachariah Newswanger, director of facilities operations and services.
"She works closely with all departments on campus to ensure that their needs are clearly communicated to our staff, ensuring our ability to meet the expectations of all of our campus clients," Newswanger said.
Scott juggles some 15,000 work orders a year for her department as well as telephone calls, emails and visits, all with a "can-do attitude."
"She has established the trust of the supervisors and the knowledge of personnel to redistribute work when necessary in order to provide customer satisfaction by ensuring completion of requested work," said Adam Levine, the department's geographic information systems manager.
Scott is well organized and handles the work order system flawlessly, noted Mike Woodworth, maintenance supervisor III.
"During emergencies, Jamie is the first one called and has to dispatch the right personnel to save damage to the buildings and equipment," Woodworth said.
"Jamie is the backbone of the department and makes the jobs of everyone here a lot easier," he said.
Scott's father, Russell Scott, is a past recipient of the President's Award for Excellence in Classified Service, and at the most recent ceremony he was recognized on his 15th anniversary of service to the College.
Jamie lives in Groton, N.Y. She enjoys reading.
Employees Honored for Years of Service
Also during the ceremony, 42 classified employees were recognized for their combined 680 years of service. They included:
35 YEARS
Julie LaPlant, Secretary 1, Kinesiology
Denise Riley, Secretary I, Economics Department
30 YEARS
John Young, Maintenance Supervisor 1, Maintenance
| | |
| --- | --- |
| | |
| | Honorees for years of service included, seated from the left, Mary E. Murphy and Julie LaPlant, 25 and 35 years respectively; and standing, Mark Taylor, 25 years. |
25 YEARS
Walter Anderson, General Mechanic, Mail Services/Central Warehouse
Susan Bush, Secretary I, School of Professional Studies
Judah Currie, Painter, Maintenance
Carol Kanellis, Secretary I, Academic Support and Achievement Program
Mary E. Murphy, University Police Officer 2, University Police Department
Mark Taylor, Supervising Janitor, Custodial Services
Michael Zhe, Maintenance Assistant Mechanic, Motor Pool
20 YEARS
Dawn Bulmer, Office Assistant 2, Payroll Office
Vicki Clark, Janitor, Custodial Services
Diana McGee, Secretary I, Student Disability Services
15 YEARS
Gregory Bliss, University Police Officer 1, University Police Department
Connal Carr, Mason and Plasterer, Maintenance
Wayne Carroll, Senior Grounds Worker, Grounds
Bradley Holl, Motor Vehicle Operator, Mail Services/Central Warehouse
Nancy Kuklis, Secretary I, Admissions
Kathy McCracken, Janitor, Custodial Services
Richard Metcalf, General Mechanic, Maintenance
Phillip Miller, Highway Equipment Operator, Grounds
Kerry Mincher, Secretary 2, Division of Finance and Management
Anthony Petrella, Janitor, Custodial Services
Joel Rice, Highway Equipment Operator, Grounds
Russell Scott, Office Assistant 1, Duplicating Center
Shirley Shepard, Cleaner, Custodial Services
Nadia, Snell, Office Assistant 2, Student Accounts Office
JoAnna Tobias, Secretary I, Geography and Philosophy
Debra Whitney, Secretary 1, Library
Richard Zurell, Bus Driver, Transportation Services
10 YEARS
Mary Guido, Janitor, Custodial Services
Nancy Hartford, Cleaner, Custodial Services
Colleen Martin, Office Assistant 2, Advisement and Transition
Greg, McCartney, Locksmith, Maintenance
Patricia Ondrako, Secretary 1, Biological Sciences
Eric Rabusin, University Police Officer 2, University Police Department
Jeremiah Rawson, Supervising Electrician, Maintenance
Michelle Ryan, Cleaner, Custodial Services
Dale Searls, Janitor, Custodial Services
Julie Taibi, Office Assistant 2, Residence Life and Housing
Marthajane Warren, Nurse 1, Student Health Services
Anna Wilcox, Office Assistant 2, Registrar's Office
English Professor to Study Military Teachers on the Front Lines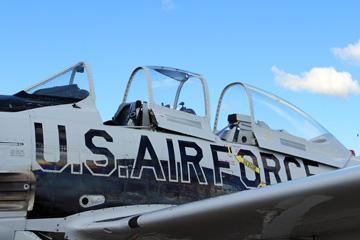 12/15/2015
Laura Davies recalls the challenge of standing in front of a classroom and training fighter pilots to be teachers — wearing the only pink shirt in a sea of Air Force blue.
Davies, an assistant professor of English at SUNY Cortland, taught previously at the Air Force Academy in Colorado Springs, Colo., where one of her responsibilities as director of the Academy's first-year writing course involved training its instructors, almost all of whom were active-duty military officers.
That unique military population inspires Davies' upcoming research project that recently was awarded $4,770 in funding from the Dr. Nuala McGann Drescher Leave Program of the labor union United University Professions (UUP). It means Davies will spend the spring semester considering how teaching is taught at armed forces institutions, specifically as it relates to writing.
Laura Davies
In a broader sense, Davies also will explore the challenges beginning writing teachers face and the support structures that might benefit them early in their careers. She points to research that indicates more than 40 percent of novice teachers leave the classroom within their first five years of teaching.
"When I was at the Air Force, there was this assumption that if you had some sort of knowledge — if you could stand up in front of people and give a briefing — then you could teach," said Davies, who taught as a civilian at the Academy for two years before arriving at SUNY Cortland in 2014. "That's problematic."
What she found is that military officers bring unique strengths and shortcomings to the classroom. They often possess the confidence, organizational skills and leadership qualities that traditional beginning teachers must work to develop. But Davies, who now directs SUNY Cortland's Campus Writing Programs, also observed that the military instructors wanted to be creative but were too overwhelmed to do so, often falling back on the structure of their training.
One captain, a woman in her mid-20s, arrived to teach at the Air Force Academy after spending 11 months leading a security detail for armored convoys in Baghdad. She regularly explained to Davies how she felt out of place in the writing classroom and in her role as a teacher.
"There's definitely a divide between military and civilian teacher education, especially at the college level," Davies said. "(Military officers) wanted to duplicate my lesson plans minute by minute. It was interesting to be asked this question: 'What do you do for the briefing on commas?'"
Her qualitative research will weave together three disciplines — rhetoric and composition, English education and military science — as well as questions tied to gender. The teaching of writing traditionally is characterized as feminine while military culture often is portrayed as masculine, according to scholars cited in Davies' proposal.
The upcoming study of teacher identity and preparation also should be applicable beyond military instruction for those who educate and support future K-12 teachers.
"Military officers are competent in ways that novice teachers in the field might not be, especially when it comes to command and leadership," Davies said. "A commander is in charge of every minute detail. There's this aspect of care that translates well to the classroom."
Political Science Honorary Inducts Members
Nine students were formally inducted on Dec. 10 into the SUNY Cortland Zeta Delta chapter of Pi Sigma Alpha, the national honors society formed to recognize outstanding achievement in political science.
The inductees include: Sara Adams, Connor Brown, Xavier N. Campbell, Jessica A. Chiodo, Brian J. Danziger, Brianna B. Goodfellow, Steven Hernandez, Courtney A. Kane, Meghan A. Kocijanski, Michael Marchese, Rosa D. Moore, Carlene M. Pierre, Alyssa Plascoff, Eileen R. Quinn, Mecca Snipe, Jessica A. Tello and Justin Wade.
Membership in Pi Sigma Alpha is open to juniors, seniors and graduate students. Undergraduates must be at least juniors who have completed a minimum of 10 credit hours in political science, including upper-division coursework, with a B or higher grade point average. They must also have achieved an overall GPA placing them in the top one-third of their junior or senior class. They need not be political science majors to qualify for membership.
Distinguished Service Professor Robert Spitzer, chair of the Political Science Department, advises the Zeta Delta chapter. Formed in 1970, Cortland's chapter was the third to be established among political science departments in the SUNY system.
Volunteers Play Important Role in Transfer Services
A record number of Transfer Buddy volunteers committed to Transfer Connect programming during the fall semester to help new transfer students acclimate to campus. A total of 47 volunteers welcomed approximately 900 new transfer students to SUNY Cortland.
Transfer Connect is a series of educational and social programs offered each semester through Advisement and Transition. Before the first day of classes, events include a Transfer Takeoff social gathering, class-finding tours, a welcome barbecue and registration preparation and guidance. Other initiatives include a one-credit seminar course, COR 201: Enhancing the Transfer Experience.
Returning transfer students can apply to serve as a Transfer Buddy. Advisement and Transition is now accepting applications for transfer buddy volunteers for the spring semester.
"The goal of the Transfer Connect Program is to make the new students' transitions smooth and successful," said Emily Quinlan, coordinator of Transfer Student Services. "Transfer Buddy volunteers are critical to the success of the program, making initial contact with new students before the first day of class and offering support as needed throughout the transition. Offering peer-to-peer communication has been a successful way to connect new transfers with each other and to assist them to feel more at ease."
Quinlan is most impressed with the increasing number of returning transfer students who both volunteer each semester to be a Buddy, and who also remain with the program for multiple terms.
"It is essential to acknowledge these students for their commitment and volunteerism to helping new transfers and for the positive impact they have made," Quinlan said.
Fall 2015 Transfer Buddy volunteers include: Josue Acosta, Kimberly Adiyia, Rachel Bayer, Nicole Boyle-Hulick, Juliana Brisco, Alyssa Burke, Sarah Carlisi, Caitlin Chandler, Lisa Dent, Kristen Desouza, Tina Ditommaso, Samantha Eisner, Ashley Eklund, Chrysta Elliot, Amanda Fuller, Cassandra Hehl, Andrea Hesse, Maddison Hickey, Shelby Hoffman, Alondra Hughes, Saige Hupman, Paul Kavanagh, Shannon Lombardi, Christina Losier, Brittany Losito, Jelena Lukovic, Taylor Lynch, Shalini Mahon, Stephanie Malerba, Michael Marchese, Cody Marshall, Brianna Mayo, Katelyn Meyer, Brittany Oliva, Kathleen Peek, Kirsty Pickering, Gabrielle Ponessa, Emily Poole, Lindsay Pope, Daniel Puchalski, Steven Rathjen, Nicole Reese, Amanda Sacca, Coleston Scheik, Elise Sedlacek, Ivy Senke Starowicz, Tatiana Smith, Jenna Sterling, Trevon Stevens, Nicole Sullivan, Brianna Tart Taylor, Katrina Urbanik, Shannon VanShufflin, Alexandra Wean, Nicole Wendel, Sara Wessels and Ceara Williams.
ASC Accepting Program Grant Applications
Auxiliary Services Corporation (ASC) is now accepting Program Grant applications online for the 2016-17 academic year.
Applications are submitted online and must be sent by midnight on Friday, Feb. 19. Applicants are asked to read the grant guidelines carefully before submitting an application.
Each year the ASC Board of Directors allocates funds to support grants for a wide range of purposes and projects that enhance the life of the SUNY Cortland community.
Although ASC is willing to consider a wide range of ideas, it seeks to avoid duplicating other funding sources or funding projects more properly supported by state funds. Therefore, applicants should first seek funding from primary funding sources.
ASC grant funds may not be used for salaries, honoraria, travel normally funded by the College's budget, or scholarships for SUNY Cortland faculty, staff or students. Funds may not be used to purchase computers, related hardware or software. All purchases will be processed in accordance to ASC's financial and related GAAP policies. In general, Program Grant funds may not be used exclusively for food for SUNY Cortland students, faculty or staff. Funding for food may be considered if the food is deemed integral to the success of the program or event. All food shall be provided by ASC. Other grant guidelines are described in the application package and online.
For more information, contact Angie Faith at 607-753-4325.

Suggest a feature story
---
People on the Move
Barry Retires After 25 Years of Service
12/15/2015
After more than a quarter century of service to SUNY Cortland, Assistant Vice President for Human Resources Joanne Barry retired from the College effective Nov. 18.
Praised as an effective leader by faculty and staff members from across campus, Barry earned the State University of New York's Lifetime Achievement in Human Resources Award in 2014 for her career contributions on campus and throughout the state system.
Barry joined the SUNY Cortland staff in 1990 as a personnel associate and was promoted to senior personnel associate/affirmative action officer in 1997. She assumed leadership of the Human Resources Office in 2000 when she was appointed director of personnel. In 2007, she was elevated to assistant vice president for human resources.
Barry's guidance positively influenced countless SUNY Cortland policies and procedures, including internal promotion, interim appointment and workplace bullying policies. Additionally, programs were initiated that included alternative work schedule, phased retirement, faculty and staff onboarding and leadership training.
---
Faculty/Staff Activities
Laura Davies
Laura Davies, English Department, presented "Real-World Scientific Research" at the National Council of Teachers of English Annual Convention on Nov. 20 in Minneapolis, Minn. She was on a panel titled "Sites of Science Literacy Education at the Elementary, Secondary, and College Level."
Kerri Freese
Kerri Freese, Noyce Project coordinator, collaborated with Maritza Macdonald, senior director of education and policy and co-director of the Master of Arts in Teaching Earth Science Residency Program at the American Museum of Natural History, to plan and implement a workshop for National Science Foundation (NSF) Noyce Scholars. The workshop, held Dec. 4 at the American Museum of Natural History in New York City, highlighted using a museum and informal resources for science, technology, engineering and math education (STEM) and culture knowledge. More than 60 Noyce scholars and faculty from Noyce programs throughout the northeast attended the workshop. The event was supported by leftover funds from a NSF conference grant awarded to Gregory D. Phelan, Chemistry Department, Sheila Vaidya, Drexel University and Lisa Gonsalves, University of Massachusetts Boston, that aimed to enhance pre-service and in-service teachers' successful teaching practices in high-need schools. The SUNY Cortland Noyce Project, sponsored by the NSF, seeks to encourage talented STEM majors to become K-12 teachers in high-need rural and urban schools.
David Kilpatrick
David Kilpatrick, Psychology Department, was the featured presenter at the Wyoming School Psychology Association fall conference on Oct. 22 and 23 and an invited presenter at the Florida Association of School Psychologists annual conference on Oct. 30. His topic for both presentations was on highly effective interventions for reading difficulties and disabilities.
Patricia Martínez de la Vega Mansilla
Patricia Martínez de la Vega Mansilla, Modern Languages Department, and Abigail Cleary from Lansing High School, presented a workshop titled "Technology as a Tool for Memorization" at the New York State Association of Foreign Language Teachers (NYSAFLT) Conference - 21st Century LOTE Education: Providing the Keys to College and Career Readiness held Oct. 31 in Saratoga Springs, N.Y. LOTE is the acronym for Language Other Than English.
Tadayuki Suzuki
Tadayuki Suzuki, Literacy Department, presented "Discussing the Missing Piece of the Puzzle: LGBTQ Books for Children in Intermediate Grade Levels" to the National Council of Teachers of English on Nov. 21 in Minneapolis, Minn.
Debbie Warnock
Debbie Warnock, Sociology/Anthropology Department, presented a paper on the effects of student debt on transitions to young adulthood last month at the annual meetings of the Association for the Study of Higher Education, held Nov. 4-7 in Denver.
Tiantian Zheng
Tiantian Zheng, Sociology/Anthropology Department, gave two presentations, a panel discussion and a paper presentation, at the Annual Conference of the American Anthropological Association held Nov. 18-22 in Denver, Co.

Submit your faculty/staff activity