Online Course Targets Achilles Heel in P.E. Teacher Training
08/25/2015
Just because a college physical education major can execute a championship long jump doesn't mean he or she won't fall short evaluating that skill in others.
In fact, many future P.E. schoolteachers swing and miss on the sections of their state certification test related to assessing a child's motor development, according to two SUNY Cortland physical education assistant professors who are developing a possible solution.
"It's kind of like the elephant in the room," assistant professor Matthew Madden said. "We know that many of our students do not have the skill set of movement analysis."
Learning to quickly evaluate the quality of a child's jump or softball pitch or balance is a difficult but essential task, said Madden and assistant professor Helena Baert. Before young teachers try to figure it out in the field, Baert and Madden want them to be able to practice online.
So does the 64-campus SUNY system.
The SUNY Provost's Office and the Innovative Instruction Research Council recently awarded Baert and Madden $10,000 in Innovative Instruction in Technology Grant funding to develop an open online course on motor development analysis that can be shared system-wide through the Open SUNY network.
The mastery-learning open online course in motor development analysis will be developed this fall and piloted in the spring.
| | |
| --- | --- |
| | |
| | Helena Baert and Matthew Madden hope to develop the pilot course by next spring. In the above left photo, the educators showed some of the teaching aids Baert currently has her classes use with very young children to try out various classic forms of movement. |
The pair will create videos that allow future physical education teachers to view and analyze body movement through the Internet at their own pace. It will be a supplement to regular class work, intended to help students thoroughly learn and review the basics of successful human motion.
What sets Baert's and Madden's project apart from others is that the computer platform will be used to ensure that each participant understands the optimal approach to a given activity — say, hopping; tossing a basketball; or edging along a balance beam — before letting them tackle the next type of classic human movement.
"A lot of people across the world have attempted to do this, made videos and had people analyze them," Baert said. "We're attempting to create something that can be spread around the world so other people can use it."
The project builds on a movement education elective course developed by Baert called PED-321, which teaches students how to analyze and prescribe movement to preschool children.
"Students need to have the knowledge, understanding and recognition of movement," Baert said. "Then they have to understand children from the perspective of their motor development and be able to place the children at a certain level. And then they have to prescribe movement and to know how to scaffold different levels of movement activities."
Baert and Madden don't anticipate offering the supplemental resource for course credit but may allow students to earn a certificate of completion for a small fee. This could offset the cost of using a commercial online program platform instead of a free one.
The professors will use the grant funds to cover their salaries while they are on release time from teaching this fall; to pay for support staff and student interns through next spring; to buy program platform software; and to offset conference fees next May when they report their results to colleagues at the SUNY Conference on Instructional Technologies.
Baert and Madden have hired a full-year undergraduate research assistant, sophomore physical education major Kayla Hampton of DeRuyter, N.Y., whose paid participation also is supported through a grant from the College's Undergraduate Research Award Program.
"We purposely attempted to recruit someone who was early in their student career so we will have them at least a year before their student teaching," Madden said.
Next spring, three paid physical education student interns will create videos in some of the 14 different movement categories, including some of people who are proficient in the skills and others of children just learning to manage their own bodies. The interns are sophomores Nicholas Vachon of Johnson City, N.Y., and Renee Walker of Coram, N.Y., a dual major in fitness development; and junior Bryan Nardo of Mahwah, N.J.
The Physical Education Department already arranges for classes to videotape the movement of children in the SUNY Cortland Child Care Center, which is housed in its Education Building on campus, as well as in many local schools. First the interns will record the children's movement on camera. Then the professors and Hampton will incorporate video clips into the online training module. Then the students enrolled in all of Baert's and Madden's classes will trial run the pilot program to ensure that it works smoothly.
"For most of our students, it will be their first online experience," Madden said. "So we want to make sure the technology does not hinder the learning process. We want them to focus on the content, not the technology. We want it to be as streamlined and easy as possible for them."
Baert and Madden have chosen Blackboard, a popular virtual learning environment that currently is used at SUNY Cortland, to host the program and will consider formatting the material to a second, free Internet service.
"I remember learning motor analysis as a student as well and it took me quite a while to get that," Baert said. "But, once they do understand movement and they can help kids, they're a P.E. teacher. That's what we do. That's really our purpose."
SUNY Cortland to Address Sexual Assault from the Start
08/25/2015
Professional sports leagues from the NFL to the NBA have leaned on Tony Porter to shape their sexual assault policies and prevention efforts. On Saturday, the lecturer will speak to SUNY Cortland students about sexual violence as part of an ongoing campus awareness program.
His message, aimed primarily at the young men in the audience, may surprise some of them: preventing sexual assault is ultimately up to them.
"It's time for those of us who are good men to start acknowledging the role that male socialization plays in domestic and sexual violence," Porter said in a recent CNN interview. "As good men, we must begin to acknowledge and own our responsibility to be part of the solution to ending violence against women and girls."
Porter, who co-founded A Call to Men: The Next Generation of Manhood, a non-profit organization committed to ending violence against women, will offer two talks in the Corey Union Function Room at 1 and 3:30 p.m. All of SUNY Cortland's first-year students are required to attend.
The event is the opening round of a yearlong communication campaign to educate students about sexual abuse and create a campus culture based on mutual respect and communication.
Nationwide, studies suggest that one out of every five women experiences sexual assault during college, and that the riskiest time for women is during the first few months of school. At SUNY Cortland, almost all reported sexual assaults involve alcohol use and involve people who previously knew each other.
The College has joined countless other campuses and organizations in adopting the slogan "It's On Us," joining a national effort that encourages bystanders to intervene before non-consensual sex occurs. More than 400 SUNY Cortland students signed an online petition in support of the campaign during a two-day period last spring.
Porter will bring to Cortland more than 20 years of experience working on social justice causes. His national non-profit, A Call to Men: The Next Generation of Manhood, has earned a reputation for taking a stand against domestic violence and sexual assault by persuading men to change the way they view women. Currently, male culture tacitly supports unequal and disrespectful treatment of women, he said. When that changes, the nation's sexual abuse epidemic will slowly die.
"Its time for those of us who are 'well meaning men' to start acknowledging the role male privilege and socialization play in domestic violence as well as violence against women in general," said Porter. "As well meaning men we must begin to acknowledge and own our responsibility to be part of the solution to ending domestic violence.
"We must educate and re-educate our sons and other young men. "We must accept our responsibility that domestic violence won't end until well-meaning men become part of the solution. While a criminal justice response to domestic violence is necessary, a cultural, social shift is required."
Porter's work also has generated many unique training and consulting opportunities with the NFL, NBA and MLB. He has also advised the United Nations Commission on the Status of Women and script writers from "Law & Order: Special Victims Unit."
Porter has worked with both the U.S. Military Academy at West Point and the U.S. Naval Academy at Annapolis and has traveled as a lecturer for the U.S. State Department to Brazil, India and several countries in Africa. His TEDWomen talk from 2010, in which he encourages men to break free of the "man box," has been viewed nearly 2 million times.
Campus sponsors for Porter's talk include AIDS Prevention and Awareness Club (APAC), the Athletics Department, Auxiliary Services Corporation (ASC), the Multicultural Life and Diversity Office, the President's Office, Residence Life and Housing, Students Active for Ending Rape (SAFER), the Sexual Assault Prevention and Programming Committee, University Police Department (UPD) and the Vice President for Student Affairs Office.
For more information, contact Cynthia Lake, the associate director of residence life and housing, at 607-753-5414.
---
Capture the Moment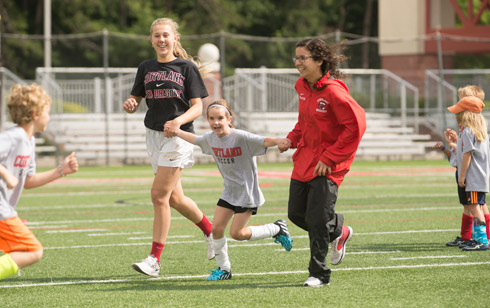 From late June through the middle of August, SUNY Cortland's summer sports camps offered opportunities for children of all ages and skill levels a chance to learn from some of the College's finest student-athletes. Current and former Red Dragons enhanced the sports camp experience by sharing passion and knowledge for their respective sports.
---
In Other News
SUNY Cortland Plans Academic Convocation Aug. 30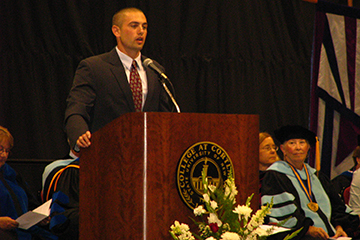 08/25/2015
SUNY Cortland will open its 2015-16 academic year with the pomp and circumstance of Academic Convocation on Sunday, Aug. 30, in the Park Center Alumni Arena.
All first-year and new transfer students, along with the SUNY Cortland faculty, librarians and professional staff, are invited to participate in this hour-long event, which will begin at 4 p.m.
The concept for an opening academic convocation, modeled after a ceremony held during the College's earlier years, was developed from a recommendation by the College's Cultural and Intellectual Climate Committee. The tradition, restarted in 2003, is coordinated through the President's Office.
"With Academic Convocation, students mark the beginning of their academic journey at SUNY Cortland," said College President Erik J. Bitterbaum. "The event affords faculty and staff the opportunity to formally welcome incoming students to the College. In addition, this important milestone reflects the role of the entire campus community in supporting academic achievement."
The Academic Convocation processional begins with the all-college gonfalonier, who leads in the faculty, followed by the Schools of Professional Studies, Arts and Sciences and Education gonfaloniers. Provost and Vice President for Academic Affairs Mark Prus will carry the all-college gonfalon, while the gonfalons representing the College's three schools will be carried by John Cottone, dean of the School of Professional Studies; Jerome O'Callaghan, associate dean of the School of Arts and Sciences; and Andrea Lachance, dean of the School of Education.
The processional concludes when the macebearer brings in the platform party, which consists of members of the College's administration and faculty leadership, the College Council, visiting dignitaries and honorees. Joanne Barry, assistant vice president of human resources, will carry the mace, a ceremonial staff used as a symbol of authority.
Ralph Carrasquillo, director of residence life and housing, will deliver the Academic Convocation address. Speakers will include Bitterbaum; Prus; and senior Patrick Viscome, president of the Student Government Association; senior childhood education major Kaylee Cunningham; and Michael Sgro, representing the SUNY Cortland Alumni Association.
Performing Arts Department Lecturer Marina Gorelaya will provide the processional and recessional music. Sophomore speech and hearing science major Hannah Truman will sing the national anthem and Alma Mater. Several returning students also have volunteered to serve as student marshals.
For more information, an academic convocation website can be found at cortland.edu/academic-convocation/.
Students Start Fall Classes Aug. 31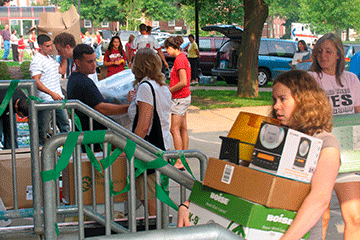 08/25/2015
Students begin returning to SUNY Cortland on Friday, Aug. 28. In all, approximately 6,900 students will be enrolled for the fall semester. Classes begin on Monday, Aug. 31.
On Thursday, Aug. 27, the campus will open its 16 residence halls, the West Campus Apartments and Leadership House to approximately 120 new students who did not attend the summer orientation program.
The majority of new residential students will move in the following day. Most returning on-campus students will occupy their rooms Saturday, Aug. 29, through Sunday, Aug. 30.
Between Friday and Sunday, access will be limited on Prospect Terrace from Graham Avenue to Neubig Road, which winds past the SUNY Cortland residence halls to the Broadway intersection. Traffic will proceed one-way, in a westerly, downhill direction from 8:30 a.m. to 5 p.m. during this time. On Friday, University Police will limit traffic solely to first-year or transfer students moving into the residences. Neubig Road and Prospect Terrace to the corner with Graham Avenue will be closed to traffic from 5 a.m. to 8:30 a.m. during all three move-in days.
Parents or guardians who are helping their new or returning student move into a residence hall should approach from Graham Avenue, quickly unload their vehicle, and proceed immediately to the Park Center and Professional Studies Building parking lots. Bus service will be available between the parking lots, Corey Union and the residence halls. Faculty, staff and others with business on the campus are encouraged to park at Park Center and the Professional Studies Building and use the bus service.
Faculty, staff and students have signed up for Blaze's Opening Crew to help students move into the residence halls from 9 a.m. to 4 p.m. on Friday, Aug. 28, and Saturday, Aug. 29. The crew will include many early-returning fall varsity athletes and upper-class students who were encouraged to move back to campus early in exchange for working a five-hour shift.
On Thursday, Aug. 27, all faculty, professional and classified staff members are invited to attend SUNY Cortland President Erik J. Bitterbaum's annual opening address and faculty meetings at 8 a.m. in the Corey Union Function Room. The president will speak and senior administrators will introduce new faculty and staff members. An academic and administrative panel will report on the topic of enrollment and persistence.
Marking the start of another academic year, the Fall 2015 Academic Convocation begins at 4 p.m. on Sunday, Aug. 30, in the Park Center Alumni Arena. The hour-long ceremony is designed for all first-year and new transfer students. All SUNY Cortland faculty and professional staff are encouraged to attend.
Starting on Friday, Aug. 28, Welcome Week will offer a number of events geared to help new students connect with the campus community and assist them in their transition and adjustment to college life. Welcome Week events are listed in the College's calendar. For more information, visit the website cortland.edu/welcome-week or contact Campus Activities and Corey Union at 607-753-5574.
Red Dragons Return to New York State Fair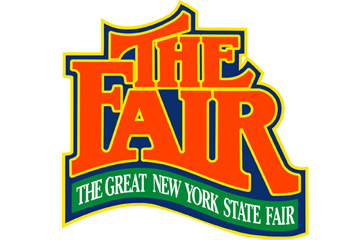 08/24/2015
SUNY Cortland alumni tend to have positive attitudes, but they can't be accused of viewing the world through rose-colored glasses.
Their glasses are clearly Cortland red.
SUNY Cortland alumni, students, parents, supporters and fans will once again receive a free pair of Red Dragon sunglasses this weekend when they visit the College's exhibit at the New York State Fair in Syracuse.
College representatives will be promoting SUNY Cortland at New York state's largest annual event on Friday, Aug. 28, and Saturday, Aug. 29. Supporters are encouraged to wear their school colors when they pay a visit.
Cortland will be part of the State University of New York display, which this year returns to the Science and Industry Building, close to the Fair's main entrance and right off the main Chevy Court thoroughfare.
Any students, alumni, parents or friends of the College who visit the exhibit will receive the free pair of Cortland sunglasses. Take a selfie of yourself with your new shades and share them on SUNY Cortland's Facebook page. If your timing is right, you might even be able to include Blaze the Red Dragon himself in your photo.
Fans of the Fair also might want to sign up for College volunteer opportunities. SUNY Cortland is looking to fill three, four-hour shifts per day of two volunteers. Volunteers will be asked to hand out giveaways and talk about the College.
In exchange, all volunteers will receive one free admission ticket to the Fair and a t-shirt. Tickets can be picked up at SUNY Cortland, or by making other arrangements with the College's Public Relations Office at 607-753-5745.
Fall 'Wellness' Series Offered for Campus, Community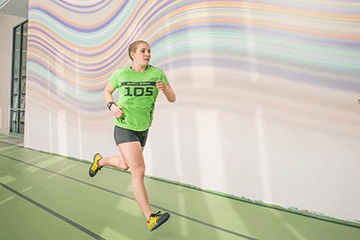 08/25/2015
In keeping with a College priority of wellbeing, each semester SUNY Cortland offers weekly encouragement to the campus and community to pursue a lifetime of good health.
The Fall 2015 "Wellness Wednesday Series" will feature events intended to encourage campus and community members to learn more about health and wellness.
Programs continue through the fall semester with topics including yoga for beginners; using social media to improve one's future professional reputation; a discussion on sexuality; understanding the connection between alcohol abuse and mental illness; good academic planning for wellness' sake; and talking about race.
Primarily sponsored by the Health Promotion Office and the Student Development Center, the series will take place on Wednesdays at 7 p.m. in Corey Union Exhibition Lounge, unless otherwise noted. The events are free and open to the public.
On Sept. 2, the College will offer two sessions of "An Intro to Yoga" at the Student Life Center. Leading the workshops are Jeannine Gettis, a yoga instructor who works in the Student Life Center, at 6 p.m. and Louise Mahar, the College's assistant director of recreational sports for fitness, at 7 p.m. Participants will experience a beginner-level yoga class and should dress in loose, comfortable clothing and bring a mat or towel.
Mary Dykeman, public health educator at the Jacobus Center for Reproductive Health, will give a talk on "Ten Things Every College Student Should Know About Sex" on Sept. 9. Being educated about sexuality is a must, according to Dykeman. She invites students to join a frank, informative and entertaining discussion.

| | |
| --- | --- |
| | |
| | A SUNY Cortland student tackles the rock climbing wall inside the new Student Life Center. |

Participants can "Walk the Walk of Student Services" at an open house from 5 to 7 p.m. on Sept. 16 in Van Hoesen Hall and Corey Union. Visitors will be able to meet the student services staff and view the facilities of the University Police Department, student health services, counseling, student disability services, health promotion, substance abuse prevention and education, career services, residence life and housing, Academic Support and Achievement Program (ASAP), Emergency Squad, as well as Auxiliary Services Corporation nutrition services. Staff from the Division of the Vice President for Student Affairs, Multicultural Life and Diversity Office, and Campus Activities Office will meet students in the Corey Union lobby. Refreshments will be served and prizes raffled.
On Sept. 23, Andrea Hart, a registered dietician who is employed with the SUNY Cortland Auxiliary Services Corporation, will present "How to Eat Well in College." She will offer tips for making healthy choices on and off campus.
Ross Szabo, an award winning motivational speaker, writer and trainer about the importance of mental health, will present "Mixed Drinks, Mixed Emotions: Alcohol Abuse and Mental Health" on Sept. 30 in the Corey Union Function Room. The co-author of Behind Happy Faces; Taking Charge of Your Mental Health and a blogger for The Huffington Post, Szabo has spoken to more than 1 million students. The Student Conduct Office organized and co-sponsored this program.

Gettis, who also works as a massage therapist, will provide an "Intro to Meditation" on

Oct. 7

in the Student Life Center Mind Body Room. Gettis will share her knowledge about a practice that helps the individual to deeply relax the body and unwind the mind for stress reduction and better health.

On Oct. 14, a panel of students, faculty, staff and alumni will present "National Coming Out Day: Then and Now." Panelists will share historical perspective, on campus and nationally, about individuals of all sexualities, including lesbian, gay, bisexual, transgender, queer, intersex and asexual.

| | |
| --- | --- |
| | |
| | A multitude of different recreation-minded groups meet to exercise at the Student Life Center. |

The Multicultural Life and Diversity Office will host "Let's Talk About Race: How Race Translates Internationally" on Oct. 21. Noelle Chaddock, the College's chief diversity officer, and AnnaMaria Cirrincione, assistant director of multicultural life and diversity, will discuss how the global community understands race and racial difference. "As we encourage our community to 'grab the world' we also must pay attention to the intersection of race and internationalization," explained Chaddock, who holds a doctorate in philosophy, interpretation and culture from Binghamton University. "We will examine how, as students, faculty and staff travel abroad and as we welcome international students to our campus community, the global community understands and articulates race and racial difference."
Carolyn Bershad, director of counseling and student development, will offer tips and tools for building healthy relationships in her Oct. 28 talk titled "Healthy Relationships: What Do They Look Like?" The event begins at 6 p.m.
Academics are an important piece of a student's academic wellness. With that in mind, staff from the Academic Support and Achievement Program (ASAP) will work with those in Advisement and Transition to present "Being Academically Well — Strategies and Resources for Success" on Nov. 4. The program teaches strategies for enhancing success in the classroom, including how to maximize all the resources available and how to use online tools.
On Nov. 11, Michele Baran, the College's assistant director of career services and online operations specialist, will offer pointers on how to maximize a positive professional brand on social media and minimize online regrets. Her presentation, "Like a Tattoo: Digital Dirt, Social Media and Your Brand," shares ideas about creating a positive, professional reputation while a student that is essential to success after college.
On Nov. 18, the campus and community are invited to take part in the "Great American SmokeOut" from 11 a.m. to 2 p.m. in the Student Life Center. Health promotion interns will be available to help individuals sign a pledge on Wednesday to quit tobacco use for the day on Thursday or help someone they know to quit.
For more information or accommodation to attend an event, contact Lauren Herman, the College's health educator, in Van Hoesen Hall, Room B-1, or 607-753-2066.
College to Paint Campus with Red Dragon Pride on Sept. 4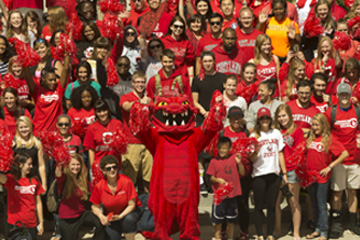 08/17/2015
The proof can be traced to NCAA championship trophies, national honor roll recognition and alumni accomplishments big and small: SUNY Cortland Red Dragons find countless reasons to take pride in their college.
That's why SUNY Cortland will punctuate the first week of fall semester classes with Red Dragon Pride Day — its own version of the national College Colors Day — on Friday, Sept. 4. The annual event, now in its third year, invites all students, faculty and staff members to put their school spirit on full display by sporting their favorite red Cortland gear and joining a campus photo at 1:40 p.m. on the steps of Corey Union.
All campus community members also can enjoy a free ice cream social from 1 to 3 p.m. Friday in Corey Union, sponsored by Alumni Engagement. And as a new incentive in 2015, the first 100 students who show up to be part of the major photo will receive a free t-shirt provided by the SUNY Cortland Alumni Association. SUNY Cortland SPARK, formerly the Student Alumni Association (SAA), also serves as a co-sponsor of the event.
"This is a great time to celebrate pride in SUNY Cortland," College President Erik J. Bitterbaum said. "During the summer break our women's lacrosse and our baseball teams won their very first national titles, and both Consumers Digest and the Princeton Review ranked SUNY Cortland among the nation's best colleges."
Alumni, parents and local community residents near and far can join the day's fun by snapping their own photos in SUNY Cortland gear and sharing them in the Red Dragon Pride Day Facebook event, on Twitter and on Instagram with #CortlandPride.
The College Store will get in on the action too, offering a 20 percent discount on all red apparel in store Thursday, Sept. 3, and Friday, Sept. 4. Alumni, parents and fans of the College also will receive a 20 percent discount online for red apparel. They should enter the word "alumni" in the coupon box when ordering to receive the discount.
Join the day's Facebook event or visit reddragonnetwork.org/red to stay up to speed with Red Dragon Pride Day buzz.
Exhibition to Depict Lingering Effects of War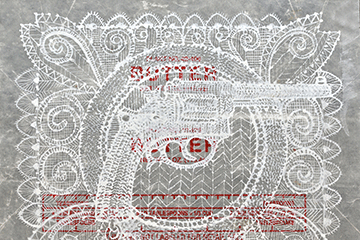 08/25/2015
Artist Sarah McCoubrey first noticed the discernable effects of World War I on the Belgian landscape and its people 100 years after the war took place, while she was in Brussels last fall on sabbatical leave from teaching at Syracuse University.
"The phrase 'guns or butter' runs through my head as I think about how we do not seem to learn from our mistakes — how just over 20 years after the horrors of World War I, the world was at war again, and so it continues on into the 21st century," said McCoubrey, a professor in Syracuse's School of Art.
So she used butter wrappers as well as the more conventional medium of paper for the gouache paintings that make up her upcoming "HOMEFRONT" exhibition at SUNY Cortland's Dowd Gallery.
"HOMEFRONT and Other Works by Sarah McCoubrey," a recent series of the artist's work to be shown along with a selection of her earlier drawings and mixed media pieces, will be displayed from Monday, Aug. 31, through Thursday, Oct. 15.
Located in the College's Dowd Fine Arts Center, the exhibition and related events are free and open to the public.
"HOMEFRONT" events also include:
An opening reception from 4:30 to 6 p.m. on Thursday, Sept. 3.
McCoubrey will give an artist's talk at 5 p.m. on Wednesday, Sept. 16.
Yvonne Buchanan, an associate professor of Illustration at Syracuse University's School of Art, will present a workshop "Drawing Social Commentary" from 5 to 7 p.m. on Thursday, Oct. 1. To register, contact Gallery Director Erika Fowler-Decatur.
A faculty member at Syracuse since 1991, McCoubrey teaches drawing, color and painting. Primarily a landscape painter, McCoubrey exhibits regularly in solo and group exhibitions in nationally recognized venues. Her numerous honors and awards include a 2006 New York State Council for the Arts (NYSCA) Fellowship, a Ballinglen Foundation Residency in Ireland Fellowship in 2004, a Maryland State Arts Council Individual Artist Award in 1990, and a National Endowment for the Arts Grant Award in 1989.
Her newest body of work was influenced by both Belgium's long history in the lace industry and its centennial commemoration of Word War I.
| | |
| --- | --- |
| | |
| | "Soldier with Gas Mask I," from Sarah McCoubrey's "Guns or Butter" series, 2015, using gouache on paper. Above left is her "Untitled," 2015, made with gouache on butter wrapper. |
In the "Guns or Butter" series, discarded wrappers are superimposed with lacey images of guns. "Soldier with Gas Mask I" features a soldier donning a World War I-era gas mask depicted entirely in delicate lace. In "Hooge Crater," a serene and seemingly natural pond set among trees is framed in a dainty doily. But in reality, the pond fills a void that was violently gouged into the earth by a World War I mine.
Human intervention in the natural world, which for McCoubrey is a theme of ongoing interest, is demonstrated in her previous works dating from 2012 to 2014 that are included in the exhibition.
Viewing the industrial waste beds of Syracuse's Onondaga Lake from an airplane window a few years ago, the artist was struck by the idea that the world's flora and fauna might rebel and escape the increasingly toxic earth for the sky above it, observed Fowler-Decatur.
The "Fate and Transport" series presents possible getaway contraptions constructed from materials such as hollowed-out potatoes and bits of human-made detritus. The "Escape Vehicle" series, meanwhile, captures the extraordinary flying and floating departures of the potatoes themselves.
"Though humans have often failed throughout history to prevent either the atrocities of war or trauma to the environment, McCoubrey's visually playful work quite insistently encourages us to keep trying until we get it right," Fowler-Decatur said.
Gallery hours are 10 a.m. to 4 p.m. Monday through Friday and by appointment. The Dowd Fine Arts Center is located at the corner of Graham Avenue and Prospect Terrace. The gallery is in Dowd Center, Room 106.
The exhibition is supported by the Art Exhibition Association, the Cortland College Foundation and an Auxiliary Services Corporation grant.
For more information about "HOMEFRONT," the gallery or group tours, contact Fowler-Decatur at 607-753-4216.
Professor Takes High Tech Look at Lincoln's Cottage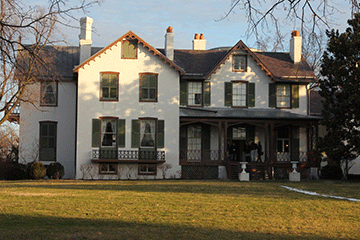 08/25/2015
Some might refer to Scott Stull's recent anthropology work as a cottage industry.
A presidential cottage industry, to be more precise.
Stull, an archeologist and anthropologist who teaches at SUNY Cortland, is part of a team that's spent the last two summers firing thousands of laser beams inside President Lincoln's Cottage. The goal of the scientific light show was to create an exact, incredibly detailed, 3-D computer model of the historic building.
This Lincoln cottage is not the small Kentucky log cabin woven into the folklore of the 16th U.S. president's childhood. It is the landmark structure used by Abraham Lincoln during his presidency from 1861 until his assassination in 1865, located on the grounds of the Armed Forces Retirement Home in Washington, D.C.
And this Cottage holds more historical significance for many people than the president's childhood home: It's where Lincoln finished writing the Emancipation Proclamation.
| | |
| --- | --- |
| | |
| | A team composed of Scott Stull, standing second from the left, Michael "Bodhi" Rogers of Ithaca College, and two of Rogers' student interns, is shown inside President Lincoln's Cottage. Their camera on a tripod can be seen capturing data using a green laser beam and photography. |
"This is one of the best-preserved examples of any place from Lincoln's presidency," said Stull, a SUNY Cortland adjunct professor who joined the College's Sociology/Anthropology Department in 2011. "And that was a pivotal moment in American history when he wrote the preliminary draft of the Emancipation Proclamation. It changed the nature of American society."
Stull is fascinated with the social science of how people from the past worked with tools and occupied space.
"I am interested in status and identity in material culture, the built environment and daily life," he said. "I have examined medieval Europe and colonial America in my studies."
Stull cut his academic teeth on the pre-Revolutionary War-era homesteads of America's forefathers. "And They Forsooke Stately Buildings: Colonization and the Social Order of New England Houses," was the title of the doctoral dissertation he wrote for his 2002 degree from Binghamton University.
Stull has a Certificate in Museum Studies from Harvard University. He has studied how people with different social standing were allowed access in and around medieval German castles, and has collaborated with ceramist Jeremiah Donovan, SUNY Cortland professor of art and art history, on reconstructing how early civilizations on different continents created and used pottery.
In keeping with this theme, Stull's fascination with President Lincoln's Cottage and other historic buildings centers on "access analysis."
"There were two main routes, the hall and the parlor," in the colonial homes of America's leading citizens, he offered as one illustration. "If you were of low status, you worked in the hall. If you had high status, you got to go in to the parlor."
The question, he said, is "how do you get into parts of the building and which are more private and less private?"
"Cottage" was the customarily quaint description for bigger dwellings than the name suggests. In this case it refers to the 34-room white Gothic revival mansion where Abraham Lincoln's family — and U.S. presidents before and after him — spent summers away from the heat and political pressure of the nation's capital. Back then, it was a very rural retreat.
About 15 years ago, the National Trust for Historic Preservation reclaimed this American treasure, which had been used as a nursing home for retired military personnel for more than a century. The National Trust opened it to public viewing in 2008, but work continues to restore the landmark to what it would have looked like in Lincoln's time there.
Stull's team of four is led by Michael "Bodhi" Rogers, an archeogeophysicist and an associate professor in the Department of Physics and Astronomy at Ithaca College. The co-investigators began collaborating about a decade ago when Stull was an anthropologist working for a private company, Hartgen Archeological Associates in Rensselaer, N.Y. Rogers has a doctorate in physics and a master of science in archeology. Stull brings anthropology and social science to the mix.
"It's really the overlap of disciplines," said Stull, who at SUNY Cortland teaches Anthropology of Gender, Introduction to Cultural Anthropology, Medieval Archaeology, Houses of Culture Seminar, the World of Shakespeare and an online Viking Archaeology course.
"This is applied physics: physics applied to archeology, because you need to know the physics of the laser signals that you are getting back," said Stull, explaining Rogers' contribution.
The researchers and two Ithaca College student interns spent several weeks at the Cottage last winter using archaeological reconnaissance equipment in the form of a sophisticated digital camera mounted on a wheeled tripod to create a multitude of exact, 3D scanned images of the structure. Supplied by Ithaca College, the equipment captures both the look of the surroundings and their exact location.
"It's a step up from a panoramic photo, because a panoramic photo has a certain amount of distortion and it's always from a fixed point," Stull said. "With a panoramic photo, you can't say you'll go to another point and look around. With a 3D image, you can move it around view it from any angle you want, and there's no distortions. Because all it does is creates this digital visual model of the space."
Ultimately the goal is to let historians and enthusiasts take an electronic stroll through Lincoln's Cottage, he said.
| | |
| --- | --- |
| | |
| | Outside his office in Moffett Center, Scott Stull displays his recent book and an earthenware replica he has made of a 14th century Viking drinking vessel. |
"But the original goal and the primary use for this is as a preservation tool," Stull said. "It's going to be imported into an architectural drawing program from which you can then select points and link information to it."
He pointed to a bit of wood frame shown in a project photo.
"Say it's broken. In 2021, the restoration people will know when this piece was last removed and replaced with a new section, and that this other one is original. Also, they can take this piece from the digital model and send it to a mill, where it can be produced to an exact replica within 5 millimeters."
Rogers and Stull began planning their project in fall 2014 and the actual digital scanning took place over the course of 11 days in January. This summer, details of the basement and attic were similarly captured.
"Stitching it together and getting a usable product takes a fair amount of time," Stull said. The majority of site work was wrapped up this summer.
"The reason I think this project is so important is the preservation aspect," Stull said, mentioning that four different presidents after Lincoln used the Cottage as a summer retreat.
"This was a very important place for Lincoln because you could get away from the press of the crowd," he said. "And the design of the house was very well situated to get the summer breezes. The whole south side of the house opens up for some accentuated cross breezes from off this long hill."
The site also is closely connected to two separate assassination attempts en route to the Cottage, one on Abraham Lincoln and the other on his wife, Mary Todd Lincoln.
"(Mary Todd Lincoln) recovered, it is believed, in one of the rooms off the one where Lincoln wrote the Emancipation Proclamation," Stull said.
President James Buchanan had used the dwelling before Lincoln, from 1857 to 1861, Stull noted. After Lincoln, Presidents Rutherford B. Hayes and Chester A. Arthur used the facility. It served as a chief executive retreat until 1885.
As the legacies of the nation's presidents are compared and contrasted, so too, apparently, will be the presidents' cottages.
While working at President Lincoln's Cottage, Stull's research team was approached by an officer of the group responsible for President Grant's Cottage. Rogers and Stull this summer did a preservation-style exterior scan of Ulysses S. Grant's retreat near Saratoga Springs, N.Y. Stull and Rogers will return next summer to complete the interior scans.
"They were both part of the Civil War," Stull said of the two U.S. leaders. "These both are houses built by someone else that were used by presidents. How do we see the difference between these two presidential houses that were not their official residences? How do we see these spaces that were used by the different presidents?
"I'm less interested in what they liked about them than what it said about the society they were living in," he said. "That's really my research question as a social scientist: 'What is society like?' Looking at two presidential cottages is like looking at a very specific aspect of society, but they are one of the manifestations of how the political elite lived."
Tai Chi Master Plans Demo and Workshop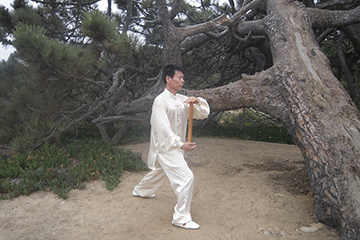 08/18/2015
Tai chi Master Jesse Tsao will discuss and demonstrate the Chinese martial art — practiced for both its defense training and its health benefits — on Friday, Sept. 11, at SUNY Cortland.
Tsao, a former champion from China with more than 30 instructional DVDs to his credit, will share his knowledge about tai chi, an often slow-movement physical training form, during his talk titled "Tai Chi for Wellness: A Public Lecture and Demonstration."
The presentation begins at 7:30 p.m. in Sperry Center, Room 205. The lecture and demonstration are free and open to the public.
Tsao also will offer a two-day workshop on his Chen style Taijiquan bang (short stick) routine from Saturday, Sept. 12, to Sunday, Sept. 13, in Brockway Hall Jacobus Lounge. In addition to learning how to use the bang for a taiji routine, participants will see techniques for helping joints, for massage and for self-defense.
The 12-hour workshop takes place from 9 a.m. to 4 p.m. both days and is ideal for beginners and experienced taiji players.
Students, faculty and staff can participate for free. The cost for everyone else is $80 for the two-day workshop or $20 per session. Advance registration is required. To register for the workshop or for more information about either program, contact Philosophy Department Chair Andrew Fitz-Gibbon at andrew.fitz-gibbon@cortland.edu or 607-279-6584. Workshop parking is available in the College lots off Graham Avenue.
Born and trained in China, Tsao has been practicing tai chi for more than 40 years, including 10 years of intensive study with world-renowned Grandmaster Li Deyin in Beijing. His family's lineage in Chen style tai chi goes back 12 generations. He now lives in San Diego and, since 1995, has served as a tai chi master for Cigna HealthCare of Arizona.
Tsao was the gold medalist in the 1980 Beijing Collegiate Wushu Competition. He earned a Ph.D. in traditional Chinese sport from Shanghai Sport University. He also has B.S. and M.S. degrees in economics from Renmin University in Beijing, China, and University of Arizona, respectively.
An internationally known tai chi master, Qigong therapist, and alternative medicine and wellness consultant, since 2005, Tsao has made regular teaching tours to Germany, France, England, Ireland, Netherlands, Spain, Belgium, Italy, Russia and Greece. He founded Tai Chi Healthways and specializes in the areas of self-healing, preventive therapies, stress management and mind-body wellness.
He is the author of two books, Tai Chi Bang: Eight Immortal Flute (NB Publishing, South Carolina, 2012) and Compact Tai Chi — in Limited Space (Hall Samuel Weiser, Inc., Maine, 2000).
The programs are co-sponsored by the Auxiliary Services Corporation, Philosophy Department, the President's Office, the Campus Artist and Lecture Series, a Faculty Development Small Grant, the Clark Center for International Education, and the Center for Ethics, Peace and Social Justice.
Princeton Review Lists College Among "Best in Northeast"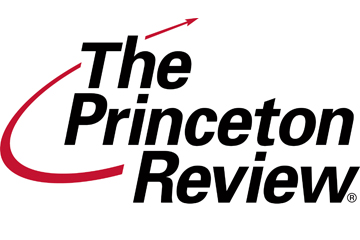 08/06/2015
SUNY Cortland has been named to the Princeton Review's "Best in the Northeast" list for 2016, earning a stamp of approval given to only the top 25 percent of four-year colleges across the United States. The recognition is based on academic excellence and quality of student life.
"This reaffirms what our students, faculty, staff and alumni already know: SUNY Cortland offers an exceptional educational experience that's regarded as one of the best in our region," College President Erik J. Bitterbaum said. "It's an endorsement of our commitment to helping motivated students reach their full potential as well-rounded adults and successful, high-achieving professionals."
The Princeton Review, a test preparation and college admission services provider, identified 649 four-year institutions across the nation as "regional bests," including 225 within the Northeast. The organization bases selections on institutional data and student survey responses.
It does not rank the schools, but instead identifies and recommends institutions to prospective students and their parents.
SUNY Cortland was among 13 institutions in the State University of New York system to make the "Best in the Northeast" list. The others included University at Albany, Binghamton University, the College at Brockport, University at Buffalo, SUNY College of Environmental Science and Forestry (ESF), SUNY Fredonia, SUNY Geneseo, SUNY Maritime College, SUNY New Paltz, SUNY Oswego, Purchase College and Stony Brook University.
To Find a Career, Grad Says, 'Volunteer'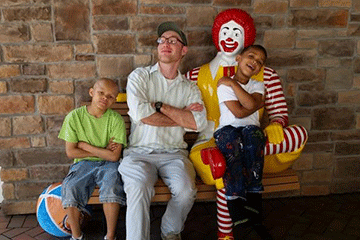 08/18/2015
The Ronald McDonald House in Syracuse, N.Y., strives to be a home-away-from home for families traveling to get critical medical treatment for their child.
Michael Rosenthal '14 is the friendly face that greets these tired and worried guests during a weekly 24-hour overnight shift at the 25-bedroom guesthouse. For Rosenthal, who is completing his Master's in Public Health at Upstate Medical University, it's both an opportunity to help people in crisis while training for a future career.
"It's definitely a challenging job," he said of his volunteer work. The former Hairy Tony's cook feeds the families, provides everyday items like towels and toiletries, maintains records on their stay and supervises other volunteers who complete the weekend staffing.
"Right now my focus is helping at-risk children and families in Onondaga County," said Rosenthal, 26. "But the drive and passion I feel for this work all spawns from being a volunteer."
"Volunteering is basically a product of how I immerse myself in fields. When I am interested in something, I pursue it with everything I have."
In addition to the Ronald McDonald House, Rosenthal mentors pediatric patients at Upstate Medical University, as well as runaways and adult clients of different area homeless shelters and halfway houses.
"Every time I show up to help out I try to brighten someone's day. Sometimes people are in a crisis and need someone to talk to, but most of the time it's just as simple as being present and attentive," he said. "I find that this type of help is easily doable and it's doable right away."
Not long ago, Rosenthal instead aspired to be an entrepreneur or a government leader.
He arrived at SUNY Cortland as a non-traditional student with an Associate of Science in Business Administration from Onondaga Community College, and lots of life experience as a cook and aspiring musician.
A political science major, Rosenthal received a 2014 SUNY Chancellor's Award for Student Excellence before graduating summa cum laude. His department honored him with its William Rogers Memorial Award for Excellence in Political Science and he was inducted into the Pi Sigma Alpha national political science and the Phi Beta Delta international honor societies.
A dedicated Spanish scholar in junior high and high school, at SUNY Cortland he served as a research assistant for the Department of Modern Languages. His scholarship and extracurricular involvement earned him a Willi A. Uschald Study Abroad scholarship, allowing him to experienced a new culture and complete a six-week immersion program at La Escuela de Idiomas in San Jose, Costa Rica.
By graduation he had decided to become a politician. Then he made a 180-degree turn.
"Whether I was thinking about being an entrepreneur and getting rich or going into politics and dealing in power, they were both so self-centered to me," Rosenthal said. "Making a switch over to social work and health care seems kind of the opposite. It feels more important in a way because I'm not focusing on my own personal gain.
"And it feels more fulfilling overall because I'm not making (political) compromises each day. I'm not always choosing 'the lesser evil."
The altruistic path his life has taken is less surprising in light of how his mother, Nancy Dickerson '85, made her own career in social work. She has a Master of Social Work from Syracuse University. She is employed as an adjunct professor at SUNY Cortland and TC3 and does private practice counseling.
"Instead of thinking I was going to change the face of the planet by being someone with a very broad reach, it's more like I can change people's lives on a day to day basis, and the influence that I put out there spreads from person to person, organically," Rosenthal said.
As a graduate assistant at Upstate Medical University, he has coordinated volunteer service learning opportunities for first year medical students.
Having earned a 4.11 grade point average at SUNY Cortland and an only slightly lower one in his two semesters at Upstate, he is not intimidated by the medical students and other classmates with more conventional public health resumes sitting beside him in the classroom.
"My experience with politics and law is very helpful in my program since I'm the only one with this background in my cohort," Rosenthal said. "I'm finding my knowledge is more practical than that of the medical students. We're not dealing with genes or chromosomes. We're dealing with people. We're trying to get opinions."
For instance, during the 200-hour master's degree practicum he completed at the Ronald McDonald House earlier this summer, Rosenthal used data analysis software familiar to political scientists to track how efficiently medical staff at Upstate and affiliated clinics refer families of out-of-area pediatric patients to stay at the free 'home away from home.'
| | |
| --- | --- |
| | |
| | Michael Rosenthal '14 plays outside the Ronald McDonald House with two young guests. |
The data helps reveal, from a public health standpoint, whether certain medical providers are in need of additional training to offer a better continuum of care to families in their time of distress by referring them to a Ronald McDonald House stay, which parents or guardians can't arrange on their own, he said.
Looking toward his graduation next May, Rosenthal will continue to research his master's thesis by adding a second year of personal, one-on-one volunteer service at area homeless shelters. His capstone project will explore a very large population that is underserved by existing area public health services: displaced gay, lesbian and transgendered teenagers.
"If a person is gay and homeless, maybe they don't feel safe in a conventional shelter," Rosenthal theorized. "Maybe they go about being homeless in an entirely different way. They'll stay with different people. These might be safe situations or they might not be."
Rosenthal has talked with many area young men and women as well as staff at the mainly religious-affiliated temporary residences to discover what pushes these youths out of their families so early in life, and why this group apparently avoids available local shelters and services.
"Homelessness is a big issue in this country right now," Rosenthal said. "To think there's a specific gender and sexuality-based homelessness problem that presents itself in a different way leads to the question of 'How do we remedy that?'
"It definitely merits looking into and seeing how we can allow gay and transgendered people to feel more comfortable using the traditional style of social services that are available as well."
Presently he's convinced that his SUNY Cortland experience has helped him find his chosen path.
"It's why I'm enjoying this program so much," Rosenthal said. "I can feel competent while walking into new situations and saying, 'Here I am.'"
Graduate Work on Dental Health Brings National Honor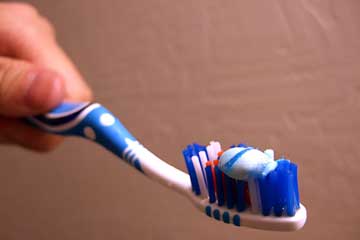 07/24/2015
Lindsay Argyle M '15 has plenty of reasons to smile.
The certified dental hygienist officially completed her master's degree in community health from SUNY Cortland last week when she presented her culminating project on a national award-winning program she helped develop. Her work, which relied on second-year students from SUNY Canton's dental hygiene program educating schoolchildren in Rome, N.Y., earned recognition from the American Dental Hygienists Association (ADHA) earlier this summer at the organization's annual session in Nashville, Tenn.
The Student Member Community Service Award sponsored by Colgate recognized a collective effort.
"The national award really is a reflection of both the (SUNY Canton) students' hard work and dedication to their community and the quality education I received at SUNY Cortland," said Argyle, of Fayetteville, N.Y.
An adjunct instructor in SUNY Canton's dental hygiene program, housed in Rome, she also serves as the dental hygienist for Family Health Network's local school health program, educating children throughout Cortland County on the importance of taking care of their teeth and other oral health services.
As Argyle finished all of her other master's coursework in December, she saw a way for one quality program to fulfill two needs: the service component of a SUNY Canton community health course for undergraduates and her own capstone project at the College. SUNY Cortland Associate Professor of Health Jena Nicols Curtis encouraged Argyle, who collaborated with Kasey Penoyer, the community health instructor at SUNY Canton.
Lindsay Argyle M '15
"It all went together," Argyle said. "In my master's courses at Cortland, I structured the framework to attempt an oral health promotion or tooth brushing program. After collaboration with Kasey and learning of the need for a community outreach program for the Canton students, I thought, why not structure one program that combines the two?"
The award-winning work started as an oral needs assessment among youngsters in Oneida County. It involved 16 dental hygiene students educating and screening more than 100 second graders at Bellamy Elementary School in the Rome City School District on vital habits such as proper brushing and flossing techniques as well as how to make food choices to ensure oral health.
Schoolchildren who showed signs of tooth decay were given referrals to a dental provider. Others took a field trip to SUNY Canton's teaching clinic, where many received a dental exam, x-rays and sealants if they were eligible, as well as a fluoride treatment.
Dr. Terrence Thines, the chief of dental surgery for SUNY Upstate Medical University's dental residency program, and two residents offered dental exams. Dental supply providers GC America, Dentsply, Patterson Dental and Ultradent donated products. And the Cortland College Foundation provided additional funding for the community outreach project.
"Our assessment showed that there was a large percentage of the students who were covered by insurance —including Medicaid — but the percentage indicating a dental visit within the past year was around 30 percent," Argyle said. "Our needs assessment revealed unmet needs that included dental decay and issues with access to care.
"That's what this project was about: providing much needed dental health education, identifying gaps in access to care, providing some free preventative services where care was needed, and providing appropriate referrals for problems that may have otherwise gone undetected. It was beneficial for all parties involved."
The national honor proves as much.
SUNY Cortland Makes Best Small-Town Colleges List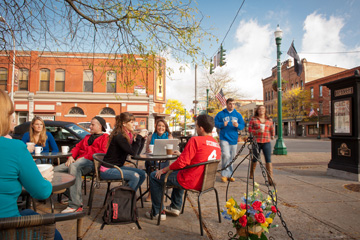 08/20/2015
SUNY Cortland has been named one of the nation's top 50 small-town schools by BestColleges.com based on the College's high level of student involvement in the community, the availability of local outdoor education opportunities and its environment for student success.
SUNY Cortland checked in at No. 32 on the list, which bases its methodology on student life factors as well as other metrics tied to enrollment.
"This recognition makes me proud on many levels: as a local leader, a member of the campus community and a graduate of SUNY Cortland," said City of Cortland Mayor Brian Tobin '94, who also serves as head coach of the College's swimming and diving teams.
"It's further proof that our city remains a great place to live and receive an education, and that both community members and college students should be proud to call Cortland home."
BestColleges.com highlighted a wide range of academic programs, a campus commitment to healthy living and proximity to a downtown scene with small-town charm in its description of the College. Schools on the list are recognized for offering many opportunities to join student clubs or social activities, personalized educations, and affordable housing options and tuition.
The website, which ranks colleges on everything from individual academic programs to amenities, also listed SUNY Cortland as one of its greenest universities earlier this year for the College's environmental efforts.
Seven institutions within the State University of New York system made the best small-town colleges list, including the College at Brockport, SUNY Fredonia, SUNY Geneseo, SUNY Oneonta, SUNY Oswego and SUNY Plattsburgh. Earlier this summer, Consumers Digest recognized SUNY Cortland as one of the nation's 50 "best values" among public colleges and universities. Most recently, the Princeton Review included the College on its "Best in the Northeast" list for 2016.
CALS Lecture Grant Applications Available
Campus Artist and Lecture Series (CALS) Lecture Grant Applications are now available for the 2015-2016 academic year. Applications are eligible for a maximum of $500 and are open to any club, program or department. These lecture grants will not cover performances of any kind.
Applications must be received by Thursday, Sept. 3, in order to be considered for September, October, November and/or December 2015 lecture programs. Applications received after this date may not be eligible for any fall semester funds remaining.
For more information or to request a hard copy of the CALS Lecture Grant Application, contact Sandra Wohlleber at 607-753-5574 or via e-mail at sandra.wohlleber@cortland.edu.

Suggest a feature story
---
Faculty/Staff Activities
Brian Barrett and Anne Burns Thomas
Brian Barrett, Foundations and Social Advocacy, served as a co-organizer of the Third International Social Realism Symposium hosted at Jesus College, University of Cambridge, from June 29 to July 1. The symposium attracted a record number of researchers and teachers to address educational questions by drawing significantly on social realism, which explores the social conditions of knowledge production and exchange as well as its structuring in the curriculum.
Barrett and Anne Burns Thomas, Foundations and Social Advocacy Department, presented their paper titled "Flipping the Script: Exploring the Impact of Curriculum Modules on Access to Knowledge and Teacher Professionalism," which also was co-authored by Maria Timberlake, Foundations and Social Advocacy, at the conference in Cambridge.
Michael Bersani, Stephen Cunningham, Ron Hulslander and Christopher Tucker
Michael Bersani, Public Relations Office; Stephen Cunningham, Institutional Research and Analysis; Ron Hulslander, Facilities Operations and Services; and Christopher Tucker, Purchasing, make up the SUNY Cortland J.P. Morgan Chase Corporate Challenge team that will compete at the series' international championship race in San Francisco on Wednesday, Sept. 9. The College's four-person men's team finished with the fastest total time at the 3.5-mile Syracuse race in June 2014.
Carolyn Bershad
Carolyn Bershad, Counseling and Student Development, has been invited to join the Survey Team for the Association for University and College Counseling Center Directors (AUCCCD). AUCCCD promotes the awareness of student mental health and development issues in higher education through research, advocacy, education and training provided to members, professional organizations and the public. In 2006, AUCCCD instituted the Annual Survey as a means to increase objective understanding of factors critical to the functioning of college and university counseling centers. The survey is published online annually and serves as a resource for directors as well as others interested in college mental health and development.
Pete Ducey
Pete Ducey, Biological Sciences Department, is a coauthor on the manuscript "Is there more than one way to skin a newt? Convergent toxin resistance in snakes is not due to a common genetic mechanism" that has been accepted for publication in Heredity. The paper documents the genetic underpinnings of a novel strategy that evolved in a predator allowing for consumption of highly toxic prey. The research team, led by Chris Feldman of University of Nevada, includes researchers from seven universities and government agencies. The project's findings add a new component to one of the most thoroughly studied evolutionary arms races in nature, that between newts with potent skin toxins and their snake predators.
Also, Ducey was recently appointed to the Board of Editors for the journal The Northeastern Naturalist.
Thomas Hischak
Thomas Hischak, Performing Arts Department, has signed with Rowman and Littlefield to write a second edition of his textbook Theatre as Human Action.
Melissa Morris
Melissa Morris, Physics Department, presented a talk titled "Chondrule Formation from Ejecta Melts with Adaptive Mesh Refinement" at the 78th Annual Meeting of the Meteoritical Society, held July 27-31 in Berkeley, Calif.
Mechthild Nagel
Mechthild Nagel, Center for Gender and Intercultural Studies (CGIS), Philosophy and Africana Studies departments, had her article, "Trafficking with Abolitionism: An Examination of Anti-Slavery Discourses," published in the journal Champ Pénal/Penal Field's special issue on "Abolitionnisme /Abolitionism."
Robert Spitzer
Robert Spitzer, Political Science Department, is the author of the recently published sixth edition of his book, The Politics of Gun Control. First published 20 years ago, the book has become the standard source for information on the historical and modern gun debate. The new edition, published by Paradigm, has expanded treatment of subjects including the spread of the concealed handgun carry movement on college campuses, the political effects of the 2012 Sandy Hook elementary school shooting, stand your ground self-defense laws and recent studies on the causes and consequences of gun violence.

Submit your faculty/staff activity