SUNY Cortland Wins Energy Innovation Awards
09/19/2014
SUNY Cortland this week was honored as one of New York State government's most innovative leaders in making public facilities more energy efficient and less reliant on fossil fuels.
The College Wednesday received two of nine awards given to SUNY entities by the New York State Power Authority through BuildSmart NY, Gov. Andrew Cuomo's initiative to promote energy efficiency and sustainable practices in state-owned properties.
Cortland's 3,600-panel solar project — the first of its kind in the SUNY system — won both the Innovation and Excellence in Energy Management Award and the People's Choice Award during the first-ever BuildSmart NY Innovators Summit.
"SUNY Cortland is very proud to be recognized for this project, which represents the central role that environmental and financial sustainability plays at our College," President Erik J. Bitterbaum said. "By taking an innovative approach with creative partners in business and government, SUNY Cortland installed thousands of solar panels on campus, creating a highly visible symbol of our commitment to 100 percent renewable electricity."
Cortland became the first public campus in the state to use NY-Sun, a program run by the New York State Energy and Research Development Authority to assist solar energy projects, to fund a partnership with a private company to build three photovoltaic arrays on campus.
The $3 million project was built by SolarCity, a private solar energy company, under a unique arrangement that allows the College to pay for the solar infrastructure through a long-term power purchasing agreement. The installations — which sprawl across fields near Route 281 on the west side of campus and dot the roofs of Park Center and the soon-to-be-completed student life center — produce 1.5 million kilowatt hours of clean solar electricity: enough to power about 130 homes.
In 2013, SUNY Cortland became the first SUNY Campus to commit to filling all of its electrical needs with renewable energy. It was one of a long series of sustainability innovations undertaken by the College in recent years that have led to numerous awards and accolades.
The recent recognition by BuildSmart NY further establishes SUNY Cortland as a leader among its peers and an example of the sustainable course the SUNY system has set for all 64 of its campuses.
SUNY accounted for four of the nine BuildSmart NY awards. In addition to SUNY Cortland, SUNY Albany was recognized for a residence hall that uses geothermal energy and innovative monitoring systems and Karren Bee-Donohoe, executive director of the SUNY Office for Capital Facilities, was honored for energy management and leadership
"SUNY's infrastructure represents 40 percent of all state-owned buildings in New York, and we are deeply committed to maintaining highly energy-efficient and sustainable facilities for generations to come," said SUNY Chancellor Nancy Zimpher. "SUNY is proud to partner with Governor Cuomo to bring the BuildSmart NY initiative to scale across our campuses as we work collectively to reduce New York's carbon footprint."
Professor Invited to White House Summit
09/23/2014
A White House summit that is focused on improving health and fitness for Americans with disabilities will include the voice of a SUNY Cortland professor nationally respected in the field of adapted physical education.
Associate Professor Timothy Davis has been invited to share the best practices of university partners associated with the I Can Do It, You Can Do It (ICDI) Program, a national effort championed by the President's Council on Fitness, Health and Nutrition. The White House Summit and Research Forum on Improved Health and Fitness for Americans with Disabilities takes place Monday, Oct. 6, and Tuesday, Oct. 7, in Washington, D.C.
"It's about bringing people and resources together to say, 'Yes, there's a need and these are the benefits to the program we had — nutritionally, from a physical activity standpoint and certainly from a mentorship standpoint,'" said Davis, who has taught adapted physical education for more than 25 years.
"We need to keep physical education in the federal special education law, we need to keep money flowing to those programs that serve kids with disabilities and we need to provide quality professionals — highly qualified teachers — to serve those kids."
For years, Davis' work has underscored the value of partnerships between the College's future physical education teachers and health-focused programs for local children. The Cortland Homer Afterschool Mentorship Program (CHAMP), for example, pairs pre-service teachers with local children at the J.M. McDonald Sports Complex. CHAMP serves as a two-day per week after school program that emphasizes physical activity, nutrition and homework help for all area youth, including those with disabilities.
Spotlighted recently in the Society of Health and Physical Educators Momentum newsletter, CHAMP gave SUNY Cortland a jumpstart on its ICDI efforts. The College was selected in 2009 as one of six sites nationwide to pilot the ICDI program and received three years' worth of funding to collect data on physical activity, fitness and nutrition.
That information was reported to the President's Council on Fitness, Health and Nutrition and will serve as a starting point for discussions at the White House summit.
"We pulled (ICDI) into our existing CHAMP and adapted programs because both are inclusive," Davis said. "And if it's good for one, it's good for everybody."
In addition to an hour of physical activity and homework help, children can receive one-on-one or small group mentoring through the CHAMP program. They learn to control their behavior through positive instructional strategies taught by SUNY Cortland students, such as counting down or signaling for attention. Children who struggle socially or who show sensory processing disorders often see tremendous results.
When the program started, 15 to 20 children were mentored by SUNY Cortland physical education students. Today, approximately 65 youths receive quality afterschool care each week provided by students from a variety of majors, including physical education.
"We're really pushing to make sure there are highly effective and highly qualified teachers to provide physical education services for children with disabilities," said Davis, who also serves as the national chair of the Adapted Physical Education National Standards (APENS) Program and oversees the national standards and certification process in adapted physical education sponsored by the National Consortium on Physical Education for Individuals with Disabilities (NCPEID).
In addition to directing SUNY Cortland's CHAMP and ICDI efforts, Davis leads the College's Sensory Integration/Motor Sensory (SIMS) Movement Lab as well as regular weekend workshops in adapted physical education. He created School Partnerships in Adapted Physical Education, a service program that connects graduate students studying the discipline with school districts to serve children with disabilities, and Project LEAPE, a leadership course that involves undergraduate students taking on service-learning community projects to address the needs of children and adults with disabilities.
He also has formed several school partnerships with an adapted physical education focus and has partnered with SUNY Upstate Medical University to develop the Fit Families Program that addresses the needs of children with spina bifida and their families.
Davis has received the Rozanne M. Brooks Dedicated Teacher Award and was presented the William A. Hillman Distinguished Service Award by the NCPEID.
He holds bachelor's and master's degrees in physical education from California State University at Chico and a Ph.D. in adapted physical education from the University of Virginia.
---
Capture the Moment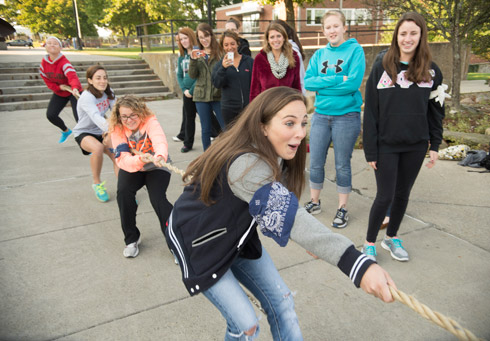 Meagan Jean, a senior from Buffalo, N.Y., makes the tug of war game held outside Memorial Library last Thursday look like fun, which was the goal of Childhood/Early Childhood Education Associate Professor Lin Lin. Students in her Academic and Social Curriculum II class learned that teaching about the 1700s can be fun and engaging in 2014 in this lesson about how the Continental Army won the Revolutionary War. The tug of war participants will head into classrooms next semester as student teachers, taking with them the lessons that historical thinking can be learned from multiple perspectives.
---
In Other News
Life-Saving Wins Pile Up for Football Team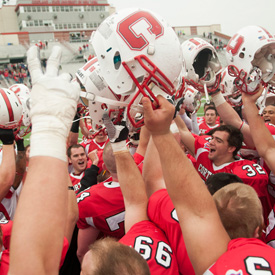 09/25/2014
SUNY Cortland's football team may have started the 2014 season with two narrow non-conference losses, but the squad also has posted a pair of monumental wins in the form of two successful bone marrow donation matches.
Senior Andre Green, a former defensive standout, donated his blood stem cells for a transplant Sept. 10 at Upstate University Hospital in Syracuse. In July, assistant coach Nate Pagan underwent surgery to harvest his cells at Hahnemann University Hospital in Philadelphia.
The pair became the latest success stories for the football team's bone marrow registry efforts, joining a handful of other former players and friends of the program who were matched and opted to step up. The heroes include John Stephens '14, whose donation saved the life of Clara Boyle, a California infant struggling against leukemia.
Pagan's donation will help a young man fighting Hodgkin's lymphoma. Green's effort was made on behalf of an 8-year-old girl who needed healthy blood cells.
Each spring since 2009, the SUNY Cortland football team has participated in the "Get in the Game, Save a Life" National Marrow Donor Program (NMDP) Drive by hosting a registration event on campus.
Andre Green
Becoming a member of the registry is easy and pain-free; volunteers simply swab the inside of a person's cheek for 30 seconds. But while there are millions of registered marrow donors worldwide, only one in every 540 members of the NMDP registry will go on to donate bone marrow or blood stem cells to a patient.
SUNY Cortland's football team has contributed six potential matches in the five years it has organized a donor registration drive.
"It's such a euphoric feeling — what we're involved with," said head coach Dan McNeill '79. "It immediately gives someone hope for a life saved."
Pagan's donation was a long time coming — the wide receivers coach had his mouth swabbed four years ago during his football playing days at West Chester University in Pennsylvania. This past summer, he made several trips for blood work and rearranged vacation plans to donate.
"It's a powerful experience and somewhat stressful at the same time," the 24-year-old said. "You don't think you're going to be a match and then you get that phone call.
"It's like, 'This is it.'"
Green's donation helped him cope with a personal loss.
Nate Pagan
The Philadelphia, N.Y., native transferred to SUNY Cortland in the spring of 2012 with two years of sports competition in his sights. He contributed immediately to the College's football and track and field teams, earning second team All-NJAC honors and leading the team in tackles on the gridiron in 2012, and finishing 12th nationally in the long jump at the 2013 NCAA Div. III Men's Outdoor Track and Field Championships.
"He just is a special athlete," McNeill said. "He's just one of those young men who caught everybody's eye."
The 2013 football season started similarly, with Green spearheading the team's defense and again leading the team in tackles. He finished with a career-high 14 tackles and a fumble recovery in the team's fourth game — his finest performance in a Red Dragon uniform.
His best game, however, also was his last.
Throughout high school, Green dealt with "stingers," or nerve pinch injuries common in contact sports that cause stinging arm pain along with weakness or numbness. Following his career-best game at Cortland last year, Green lost feeling in the right side of his body on and off for a week and a half. He figured it was another stinger and that he'd be back soon enough.
"I felt perfectly fine otherwise," he said. "That was the hardest part — knowing that I felt fine but not being able to play."
A visit to a specialist at Upstate University Hospital confirmed it wasn't that simple. Two pinches in Green's spinal cord were detected. He still could compete in track and field; contact sports such as football were out of the question.
"It was heartbreaking," he said.
Even after the career-ending injury, his greatest contribution to the College's football program had yet to be made.
Green received a phone call in May, after participating in the team's bone marrow registry drive for the second time, identifying him as a potential match. In late July, he was matched officially.
"When I found out I was a possible match, it was like: 'OK, this is only a possibility. I still have to do blood work and everything like that.'
"Then when I got the second phone call, I was a little nervous obviously, but there was no hesitance. There was no question. I was really excited."
Due to his injury, Green participated in a peripheral blood stem cell (PBSC) donation, which differs from the procedure that surgically draws liquid marrow from the pelvic bone. The non-surgical process removes blood through a needle on one arm and passes it through a machine that separates out blood stem cells, before returning the remaining blood to the donor through the other arm.
Green said he was achy after the procedure and spent a few days recuperating in his hometown. His focus athletically will turn to track and field, where he'll work to return to the national championships in 2015. He's slated to graduate in May with a degree in criminology then hopes to pursue a career in social work with children.
Green hopes to return to the national championships in indoor and outdoor track and field in 2015.
Very few personal details are shared between bone marrow donors and their recipients early on. Both parties must offer their consent to exchange contact information and even that part of the process can take several years. Green knows only that a young girl with anemia needed his blood-forming cells.
His long-term goal is to meet the recipient with a clean bill of health.
"We're certainly blessed to be part of such a special program," McNeill said. "Certainly, a lot of Dragon blood flows through some veins out there and has saved some lives.
"It doesn't get any better than that."
Dowd Reopening Celebrated with Toy Piano Performance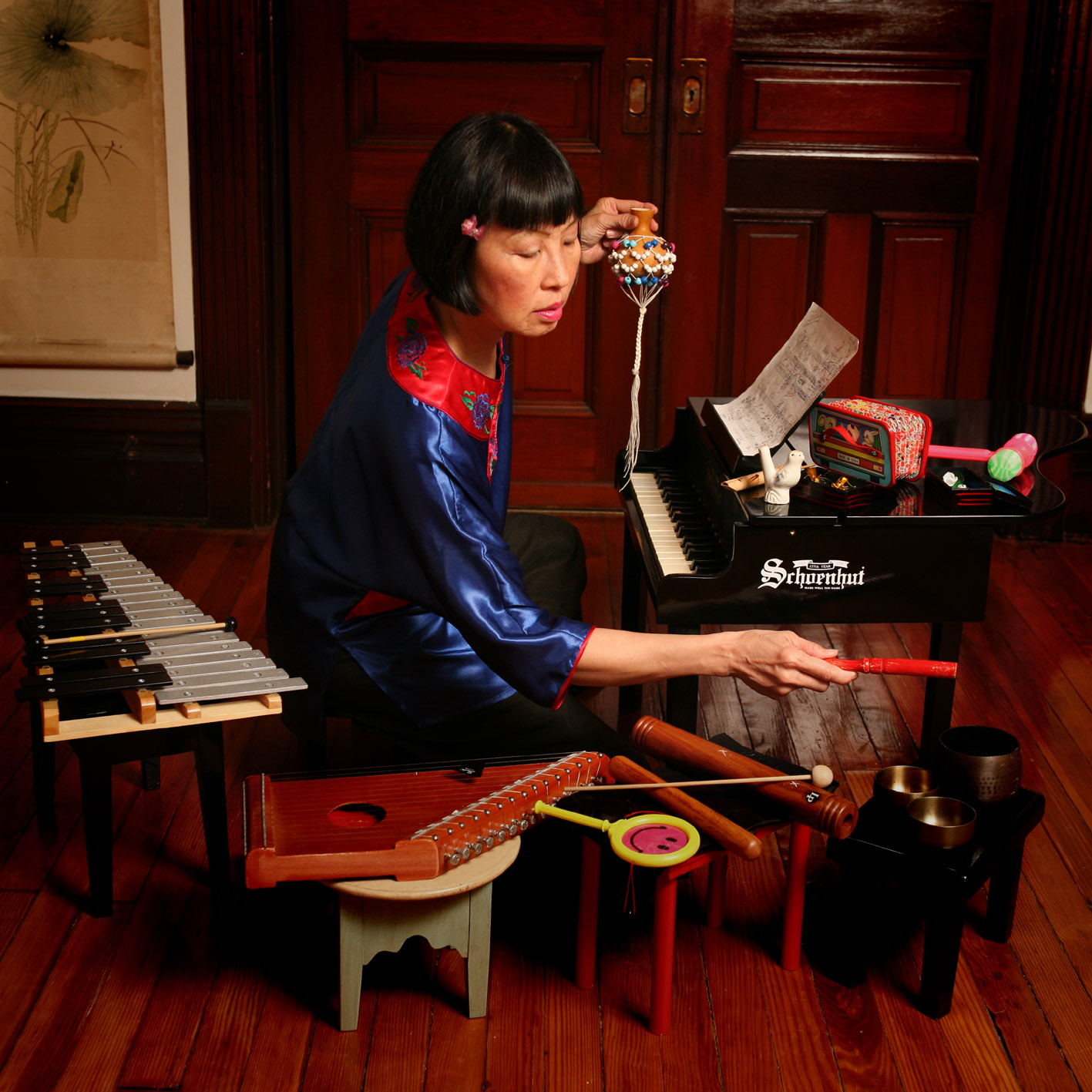 09/10/2014
Margaret Leng Tan doesn't just think outside the box.
She turns it into a musical instrument and plays it onstage in a formal concert setting; along with toy pianos, a bicycle bell and other children's playthings.
Tan, a classically trained pianist whose unique approaches and considerable talent led The New York Times to name her "Queen of the Toy Piano," will bring her avant garde performance to SUNY Cortland's newly renovated Ruth E. Dowd Fine Arts Center on Sept. 26.
The 8 p.m. concert by Tan, who received an honorary doctorate during SUNY Cortland's 2011 commencement, will officially mark the re-opening of the Dowd Theatre, which closed nearly two years ago for renovation. It is free and open to students, faculty, staff and members of the community.
SUNY Cortland President Erik J. Bitterbaum will host a re-opening ceremony featuring a reception and tours on that same day, from 11 a.m. to noon in the Recital Room.
"Margaret's one-of-a-kind performance is exactly the type of unconventional and groundbreaking work we were looking for to celebrate the re-opening of this exciting structure," Bitterbaum said. "Dowd is a creative hub for our college and Margaret Leng Tan is the very definition of creativity."
Tan's production, "CLANGOR!" features musical works performed using toy pianos, a hand-cranked music box and other sound-producing items that are rarely found beneath a spotlight playing next to a Steinway Piano. The show supports the belief of Tan's musical mentor, avant-garde composer John Cage, that music can be produced through nearly any object.
Tan, a native of Singapore now based in New York City, was the first woman to earn a doctorate from the prestigious Juilliard School of music. Through her professional friendship with Donna Anderson, professor emeritus of music at SUNY Cortland, and numerous campus concerts and visits, Tan has developed a deep relationship with the College.
During her commencement address in 2011, Tan urged young graduates to embrace the possibility of failure, learn from it and vow to fail better in the future.
"In the process of finding yourself a niche in this economically challenged environment, you will inevitably encounter setbacks and failures," Tan told the graduating class of 2011. "Do not be afraid. Failures are a good thing. They are not only the bruises inflicted by life, they are also our teachers."
Post WW II Film Series 'Rubble' Continues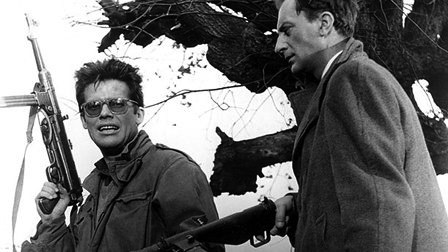 09/25/2014
Andrzej Wajda's 1958 film, "Ashes & Diamonds," will be shown Wednesday, Oct. 29, continuing SUNY Cortland's "Rubble" 2014-15 film series.
Presented by the College's Project on Eastern and Central Europe (PECE) and the History Department, the movies depict the World War II aftermath, also known as "Europe — Year Zero," set amid the rubble of postwar Europe.
"'Rubble' is also a metaphor for the damage to people and societies and for the chaos and uncertainty that shaped their shattered lives," said SUNY Cortland Distinguished Service Professor Henry Steck, a professor of political science. Steck is the PECE series organizer with Scott Moranda, an associate professor in the History Department.
"The films were not only set in 'rubble' but were often made by filmmakers working in conditions that gave their films an authentic and gritty realism," Steck said. "And beyond their historical and cinematic importance, the films provide an opportunity for audiences to reflect on the reconstruction of war-torn and occupied countries more generally."
"Ashes & Diamonds," will be shown at 7 p.m. in Johnson Lecture Hall, Sperry Center, Room 106. The room was changed from Sperry Center, Room 304. The screening features an introduction and post-film discussion with Steck and Moranda. The Polish film takes place on the last day of World War II, when the Germans surrender. A soldier is stuck between falling in love with a woman and assassinating a fellow soldier.
The film series is co-sponsored by the Political Science Department, the Clark Center for International Education, the International Studies Program, the International Programs Office and the Auxiliary Services Corporation.
For more information, contact Steck at 607-753-4807.
Prepared by Public Relations Office intern Victoria Lewis
Hawaiian Birds Are Lecture Topic Sept. 30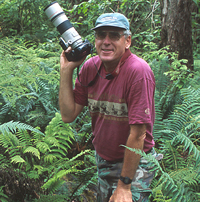 09/23/2014
Wildlife photographer and Hawaiian resident Jack Jeffrey shows his passion for birds through his award-winning images and by being an advocate for their protection.
"I'd rather believe that through my photography, I am providing an emotional link between humanity and the birds," Jeffrey said.
His dedication to avians has been honored by the U.S. Fish and Wildlife Service Endangered Species Recovery Champion Award, the National Sierra Club 2002 Ansel Adams' Award for Conservation Photography, the Nature Conservancy of Hawaii Kako'o Aina Award, the Hawaii Audubon Society Conservationist of the Year Award and the Hawaii Chapter Sierra Club Conservationist of the Year Award.
Jeffrey will share his ideas and experiences Tuesday, Sept. 30, at SUNY Cortland. His talk, "Hawaii's Birds: Their Problems, Protection and Preservation," begins at 7 p.m. in Sperry Center's Johnson Lecture Hall, Room 106.
The presentation, which represents the annual Connie Wilkins Bird Lecture of the Lime Hollow Center for Environment and Culture, is co-sponsored by the center and the College's Biology Club.
Geared to a general audience, the event is free and open to the public.
For more than 30 years, Jeffrey has studied birds throughout the Pacific Region, specifically Hawaii.
"Photography has become a passion, almost an obsession for me," Jeffrey said. "Every time I head out to photograph, different opportunities present themselves."
Jeffrey's camera has captured images that have appeared in Smithsonian, Birders World, National Wildlife, Pacific Discovery, the National Geographic Canon Endangered Species Series, as well as textbooks and calendars.
Not only does Jeffrey enjoy observing and photographing birds, but he also believes in helping to preserve and protect them. He hopes that with his photographs, Hawaii's natives and visitors can also appreciate and love these creatures that are on the edge of extinction.
"Millions of years of isolation and evolution in Hawaii have created birds, plants and invertebrates that are dependent on one another for food and reproduction," he said. "For the past 40 years, Hawaii's forest birds have provided me with opportunities to learn a great deal about their everyday life. The Hawaiian Honeycreepers represent the wonders of evolution.
"Sadly, at least eight species that I have seen and photographed over the years are now extinct, and others are on the brink of extinction," he said.
"As co-habitants on our planet, I believe that we have an obligation to conserve the remaining species to provide future generations with opportunities to also experience and appreciate the amazing creatures."
The annual lecture was established by the Lime Hollow Bird Club in 1988 in honor of the club founder Connie Wilkins. Lime Hollow is a non-profit organization and offers hiking trails, public nature and educational programs, and adventure day camps for youth.
For more information, contact Steven Broyles, biological sciences professor and department chair, or contact Peter Harrity, associate director of the Lime Hollow Center for Environment and Culture (LHCEC), at 607-662-4632.
Prepared by Public Relations Office intern Victoria Lewis
'Brigadoon' Returns to Dowd Center Oct. 24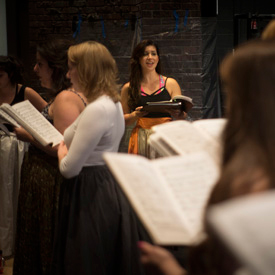 10/24/2014
Call it déjà vu with a difference.
When the musical "Brigadoon" returns to the Dowd Fine Arts Center Theatre Friday, Oct. 24, members of the 1967 cast and crew who inaugurated the stage of what was then a new campus cultural complex will be in the audience. Once again, they will be helping SUNY Cortland celebrate a special performance in Dowd Fine Arts Center.
In this case, "Brigadoon," a 1940s Broadway classic about a mythical, magical village in the Scottish Highlands, is officially re-opening the beautifully rebuilt theatre after more than two years of extensive renovations.
Alumni who helped stage the original production 47 years ago have been invited back for the musical's return.
In addition to watching the performance from a modern, acoustically improved theater, audience members who saw the original show will notice several other differences. The main one is that there will be about half as many performers on stage.
SUNY Cortland's 1967 production put 58 actors on Dowd Fine Arts Center's original stage. This year's launching of "Brigadoon" has only 34 cast members: 23 students, two faculty members and nine local children.
A big reason for the reduction is that many of the student performers are enrolled in the College's 10-year-old musical theatre program. As such, they are able to carry both the singing and dancing roles. Forty-seven years ago, these skills were performed by different people in separate roles. The cast was filled with people from a wide variety of majors, not primarily students working toward a career in performance.
"In contemporary theatre the singing chorus and dancing chorus (of the original production) is a very rare thing," said Kevin Halpin, the director and choreographer for the show. "For us, this is a musical theatre program full of students whose goal is to do this professionally so it is important that they are well rounded as singers, dancers and actors.
"The style of performance has changed a lot," said Halpin, an associate professor of performing arts at SUNY Cortland. "Their acting level and the physical characterizations are a lot more demanding than in the 1960s."
And, 50 years after the first production, the music and lyrics of Alan Jay Lerner and Frederick Loewe will meet with a very different audience.
"When they staged 'Brigadoon' here the last time it was in the early years of pop music and there still would have been a lot of students who had not separated from the more traditional music," Halpin said. "They would have known the music. This time we have to introduce the songs to a new audience that isn't familiar with it."
Student dance captains will help the new cast learn the choreography of a bygone era. And, thanks to he renovated seating in the theater; all "Brigadoon" patrons will have a good seat to watch it from.
The very long, single row "continental" style aisles have been replaced with a new configuration of three sections and four aisles. It's a safer design from a fire safety standpoint, Halpin noted. The improved accessibility of the layout meant that fewer exit doors were necessary. That, in turn, helped create the hall's improved acoustics.
Patrons who have difficulty with mobility also will like the new seating. Select seats can be removed altogether to make space for a manual or motorized wheelchair.
Speaking of seats, audience members might want to check the armrest of their chair for the names of alumni and friends who took advantage of SUNY Cortland's buy-a-seat fundraising effort. Many seats remain available for naming. Anyone interested in becoming a permanent part of the new theater should contact the College's Division for Institutional Advancement.
"Brigadoon" returns to the stage and a renovated Dowd Fine Arts Center Theatre at 8 p.m. on Friday, Oct. 24.
The more contemporary, spectacular lighting will enhance the set illumination by Joel Pape, the College's lighting and sound designer. And the new surroundings are a fitting curtain call for Howard Lindh, who subsequently retires following many years as set designer.
The show has six evening performances scheduled at 8 p.m. on Friday, Oct. 24, Saturday, Oct. 25, Friday, Oct. 31 and Saturday, Nov. 1; and two Sunday matinee performances at 2 p.m. on Oct. 26 and Nov. 2.
Tickets are $18 for general admission; $15 for faculty, staff and senior citizens; and $8 for students or children. Tickets may be purchased in advance at the Bling Store, 101 Main St. in downtown Cortland or at the theater box office starting one hour before the performance. For more information on "Brigadoon" or other productions, visit the Performing Arts Department website or call 607-753-2811.
Second Language Educators Confer Sept. 27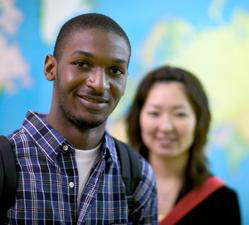 09/09/2014
Marisol Marcin, a Spanish/English as a second language (ESL) teacher in the Sidney (N.Y.) Central Schools, will discuss whether or not schools are prepared to meet New York state's Common Core standards on Saturday, Sept. 27, at SUNY Cortland.
Marcin will deliver the keynote address "We are already there!" during the 24th annual Second Language Educator's Conference from 8:15 a.m. to 1:15 p.m. in Old Main, Room 209.
This year's theme is "Foreign Language and English as a Second Language: Getting to the Common Core of Communication."
Hosted by the College's Modern Languages Department and sponsored by International Programs and the SUNY Cortland Auxiliary Services Corporation, the conference offers a half day of workshops and a forum for discussing issues and exchanging ideas for area teachers, teachers-in-training and college faculty. The annual event is open to students as well as to all area foreign language teachers, teachers of English to speakers of other languages (TESOL), and English as a second language (ESL) colleagues.
The conference is free of charge. Registration by Thursday, Sept. 25, is required and can be done at the Modern Languages Department website at cortland.edu/modern-languages.
For registration information, contact Cheryl Rosati in the Modern Languages Department at 607-753-4303. For more information about the event, contact conference coordinators Patricia Martinez de la Vega Mansilla, lecturer in Spanish, or Paulo Quaglio, associate professor in TESOL and applied linguistics.
Marcin offers a positive interpretation of the implementation of the new education standards.
Marisol Marcin
"Teachers are being told that we need to implement Common Core, a miraculous cure to the 'aches' and 'pains' of education," she said. "I truly believe that most of this Common Core is in reality common sense and that good teachers — the kind that take time to plan, reflect and do professional development to keep up to date — already do it."
Marcin will discuss what Common Core is and how it happens in the English as a Second Language (ESL) and Language Other than English (LOTE) classrooms.
"We also will get psyched about the great opportunities we have available to help our students and our own possibilities to grow professionally," she said.
Born in Bogota, Colombia, Marcin completed a bachelor's degree in modern languages and teaching at Universidad Pedagogica Nacional in Colombia. She later earned a master's degree in integrating technology in the classroom at Walden University. Currently, Marcin is pursuing a doctorate in translation studies at Binghamton University. She has completed SUNY Cortland courses related to teaching methods, special education and TESOL and is learning Mandarin.
Marcin has presented workshops on technology in education, multiple intelligences and strategies for LOTE classrooms at regional conferences and the annual New York State Association of Foreign Language Teachers conference. She moved to the U.S. in 2002, living in Alaska and South Carolina before joining the Sidney District in 2004.
The workshops scheduled for the 2014 Second Language Educators Conference include:
• "American Council on the Teaching of Foreign Language's 5Cs vs. the Common Core"
• "'What Are You Asking Me?': Helping English Language Learners Find Success Through Understanding the Language of the Common Core"
• "Writing as a Bridge to Oral Communication: Approximating Speech"
• "What are You Doing for Your High Reactive Students?"
• "The Common Core Standards for Reading and Writing and the Academic Literacy Skills Test: What Should Future ESL Teachers Know and be Able to Do?"
• "Making the Walls in Your Classroom Disappear"
• "Pair and Group Activities in the LOTE Classroom: Some Guiding Principles and Sharing of Ideas"
• "Tried and True, Hip and New: Technology and Projects for Language Educators"
• "Deaf Students as ESL Learners"
Midterm Elections Are Roundtable Topic Oct. 16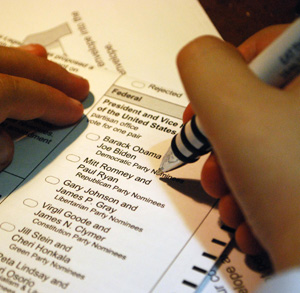 09/29/2014
Robert Spitzer, a professor and chair of political science at SUNY Cortland, will offer his opinion on whether it's already time to pull the sheets up over the Obama presidency, during a community roundtable on Thursday, Oct. 16, at SUNY Cortland.
Spitzer, promoted by SUNY in 1997 to the rank of Distinguished Service Professor, will give his presentation titled "November 2014 Midterm Elections" from 8 to 9 a.m. in the College's Park Center Hall of Fame Room.
Sponsored by the President's Office, the event is free and open to the public. Refreshments will be served at 7:45 a.m. The Park Center is located off Tompkins Street and parking is available in the Park Center and Professional Studies Building lots.
A question-and-answer period will follow Spitzer's presentation.
"With the Democrats expected to take a beating in the November 2014 midterm elections, Barack Obama will face the unpleasant prospect of a more aggressive and even more partisan Congress for the final two years of his presidency," Spitzer said.
"This talk will examine the factors that will shape the outcome of the congressional races, and what this says for national politics in the next two years."
A nationally recognized authority on political subjects including the U.S. Constitution, the U.S. presidency, and the politics of gun control, Spitzer earned his bachelor's degree from SUNY Fredonia and his master's and doctoral degrees from Cornell University.
He is a regular panelist on the weekly public affairs program, "The Ivory Tower Half Hour," broadcast on WCNY-TV, Syracuse.
Spitzer has appeared on NBC's "Today Show," ABC's "Good Morning America" and "Network Nightly News," the Public Broadcasting System's (PBS's) "News Hour With Jim Lehrer," MSNBC's "All In With Chris Hayes," CNN, CNBC, NHK Television (Japan), the PBS documentary film "Guns and Mothers," and has been quoted in or by the New York Times, the Washington Post, Time magazine, the Los Angeles Times, USA Today, the Wall Street Journal and the Christian Science Monitor, among others.
His op-ed articles on gun control and other subjects have appeared in many newspapers around the country.
His books include The Presidency and Public Policy (1983), The Right to Life Movement and Third Party Politics (1987), The Presidential Veto (1988), The Bicentennial of the U.S. Constitution (1990), President and Congress (1993), Media and Public Policy (1993), The Politics of Gun Control (1995; 6th ed. 2015), Politics and Constitutionalism (2000), The Right to Bear Arms (2001), We the People: Essentials edition (co-authored, 10th ed. 2015), The Presidency and the Constitution (co-authored, 2005), Saving the Constitution from Lawyers (2008), and Gun Control (2009), The Encyclopedia of Gun Control and Gun Rights (co-authored, 2011). His most recent book, Guns Across America, will be published in 2015 by Oxford University Press.
Robert Spitzer
He is also series editor for the book series American Constitutionalism for SUNY Press.
Spitzer has written more than 600 articles and papers that have appeared in many journals and books on a variety of American political subjects.
From 2001 to 2003, Spitzer served as president of the Presidency Research Group of the American Political Science Association. He was a member of the New York State Commission on the Bicentennial of the U.S. Constitution and has testified before Congress on several occasions.
In 2003, Spitzer was honored with the SUNY Chancellor's Award for Excellence in Scholarship and Creative Activities.
For more information about the presentation, contact Spitzer at 607-753-4106. For information about the roundtables, contact Sue Vleck at 607-753-2377.
Parks Alumni House Celebrates First Decade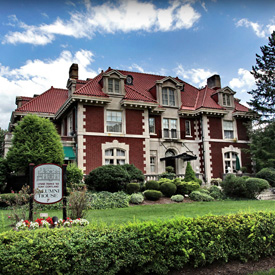 09/23/2014
It's been 10 years since the SUNY Cortland Alumni Association took ownership of the gracious brick mansion now known as the Lynne Parks '68 SUNY Cortland Alumni House, and the association would like all Red Dragon alumni and the Cortland community to celebrate its success.
In the past year alone, 29 Tompkins St. has served as the memorable setting for 170 events. These include weddings, baby showers, graduation parties, college retreats, community fundraisers and unofficial alumni "reunions." The five well-appointed bedrooms in the stately, 102-year-old Parks Alumni House have attracted 650 overnight guest bookings.
"Celebrating 10 years of operation is an amazing success story for our greater Cortland community," said Michael Sgro, executive director of alumni engagement. "We have hosted activities related to many personal milestones that engender fond, lifelong memories, whether it be a wedding, alumni reunion or a College parent visiting their student."
The Alumni Association wants to create even more of these memories. It is dedicating the month of October to encouraging alumni, friends and community members to visit the house, which has become a thriving landmark for both the campus and Cortland community:
• For the entire month of October, any person who stays at the house is entitled to a 10 percent discount on top of any price reduction offer they already received.
• The alumni association plans to hold an open house on Sunday, Oct. 26, for alumni, students and the public. All are welcome.
"The house has become more and more a vital part of the alumni, the College and the community," agreed Carl Gambitta '63, a member of the alumni association's Board of Directors who chairs the Parks Alumni House Committee.
"We also have an intern program that gives us important help from some very talented students and furthers their development in the field of hospitality," Gambitta said.
Over the years, the association has provided resources to improve and maintain the house, such as replacing the barn with a modern storage facility and extending the backyard patio to keep larger outdoor functions off the grass. As responsible stewards of the property, the staff also hired contractors who have completed the third phase of a roof maintenance project and repaired the chimneys.
For more information, contact the Parks Alumni House by calling 607-753-1561, emailing ParksAlumni.house@cortland.edu or visiting the website at cortland.edu/alumnihouse.
Robert C. Howe Honored for Community Service

09/19/2014
Robert "Bob" C. Howe has long been a respected and positive force in the Cortland community, in local politics and at SUNY Cortland.
Howe, a long-time member of the Cortland College Foundation Board, was recognized on Sept. 18 as SUNY Cortland's 2014 College-Community Appreciation Award recipient. He was honored during a dinner event in the College's Corey Union Function Room.
Howe's long relationship with the College began when his mother, Myrl Rose Crocker Howe, earned her teaching certificate in elementary education from the College in 1961. In honor of his mother's affection for the College, Howe funded two SUNY Cortland scholarships in 1998; one to assist a future educator and a second to help a local student. His generosity didn't end there.Although he graduated from a different university, Howe joined the Cortland College Foundation Board of Directors in 1998 and continues to serve. His experience, leadership and wisdom have helped the College lay a strong foundation for the future. Howe is a vigorous advocate for SUNY Cortland's educational mission, and his generosity places him among the institution's top individual donors.
In Fall 2006, Howe loaned a valuable collection of antique European and American porcelain and other furnishings that had been in his family for three generations to be exhibited as "A Passion for Porcelain: The Crocker Collection of Decorative Arts," at Dowd Gallery. He has since donated the collection along with many home furnishings to the Lynne Parks '68 SUNY Cortland Alumni House and made substantial gifts to support the gallery.
Howe, of Cortland, N.Y., has served as the Republican election commissioner for Cortland County since 1996 and is past chair of the Cortland County Republican Party. In 2002, he became the first Cortland County election commissioner to serve as president of the New York State Association of Election Commissioners.
Robert "Bob" C. Howe
In addition to the foundation, Howe sits on the boards of the Cortland Rural Cemetery Foundation and Hospice of Cortland County. He is an active member of the Cortland Rotary Club.
He earned a bachelor of science in business administration from Rider University in Lawrenceville, N.J.
Howe began his career in New York as a buyer for J.C. Penney. Later, he became a licensed funeral director and served as Cortland County's coroner. Howe also sold real estate for 15 years as a licensed agent and was the 1989 president of the Ithaca Board of Realtors.
The College-Community Appreciation Award is sponsored by the College Council. It was created in 1985 as a means of thanking persons who have assisted SUNY Cortland in a significant manner. Howe is the 30th citizen to receive the honor.
Mosaic Dance Theater Company to Perform Sept. 29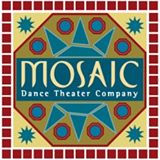 09/23/2014
Mosaic Dance Theater Company (MDTC) will perform traditional dances and music celebrating the rich diversity of cultures and folkloric traditions of the Mediterranean on Monday, Sept. 29, at SUNY Cortland.
Presented by the College's Campus Artist and Lecture Series (CALS), the show will begin at 7 p.m. in the Corey Union Function Room.
Admission is free for SUNY Cortland students and children ages 10 and under. The general admission charge is $5. Tickets may be obtained through the Campus Activities and Corey Union Office, Corey Union Room 406, weekdays from 8:30 a.m. to 4 p.m., or at the door one hour prior to the performance. For more information, call 607-753-5574.
The MDTC performs dances and music, the stories and myths and the history and legends of the Middle East, North Africa, Turkey, Greece, Italy and Spain. Since its inception in 2003, the company has premiered its original works to critical acclaim.
Founded by Morgiana Celeste Varricchio, producing artistic director, MDTC evolved out of the dance and theater productions originally developed by Varricchio for New York Performing Artist Company. These programs began touring in 1992 and are now part of MDTC's repertory. Samara Adell, MDTC's choreographer and artistic director for dance, began her collaboration with Varricchio in 2000. MDTC tours nationally to performing arts venues, schools and universities. The company is on the roster of arts-in-education artists for Lincoln Center's Meet the Artist series, Young Audiences of New Jersey and Eastern Pennsylvania, and Hartford Performs (Conn.).
MDTC is the recipient of the 2013 Sunshine Award for its contribution to the performing arts.
For more information about MDTC, visit its website at mosaicdancetheaterco.org. For information about this or other CALS events, visit the website at www2.cortland.edu/events/cals.

Suggest a feature story
---
People on the Move
Kelly Lickert-Orr Named Women's Lacrosse Head Coach
09/23/2014
Kelly Lickert-Orr has been named the women's lacrosse head coach at SUNY Cortland, according to director of athletics Mike Urtz. Lickert-Orr takes over for Kathy Taylor, who coached the Red Dragons from 2009-14 before becoming the head coach at Le Moyne College.
Lickert-Orr served as women's lacrosse head coach at Keuka College for four seasons from 2011-14. She posted a 52-11 overall record, including a 32-1 mark in the North Eastern Athletic Conference (NEAC).
Lickert-Orr earned NEAC Coach of the Year honors in both 2013 and 2014 after guiding Keuka to back-to-back league titles and NCAA Div. III tournament appearances. Keuka won a school-record 16 games in 2014 and was the NCAA Div. III leader in scoring defense at 5.47 goals per game allowed. She also was NEAC Coach of the Year in 2011 as the Storm won the NEAC title, although the league did not have an NCAA automatic berth that season.
In the summer of 2012, Lickert-Orr led a U.S. travel squad that finished in third place at the annual European Championships. Lickert-Orr served as an assistant coach at Nazareth College in 2011, and she has coached the Finger Lakes Flamingos club lacrosse team since 2012.
Lickert-Orr earned a bachelor's degree in health and wellness from Limestone College (S.C.) in 2009 and is the school's all-time scoring leader with 259 points (121 goals, 138 assists). A three-time All-America attacker, she helped the Saints win three Conference Carolinas titles and earn three trips to the NCAA Div. II Final Four.
A native of Penn Yan, N.Y., Lickert-Orr graduated from Penn Yan Academy in 2005 and helped the Mustangs win the 2004 New York State Class B girls' lacrosse championship. She currently resides in Penn Yan with her husband, Jarrod.
Cortland finished last season with a 22-1 record. The Red Dragons won their 16th straight State University of New York Athletic Conference (SUNYAC) crown and advanced to their fourth consecutive NCAA Div. III Final Four.
---
Faculty/Staff Activities
Carolyn Bershad
Carolyn Bershad, Counseling and Student Development centers, has learned that the office was awarded full re-accreditation for the 2014-15 year by the International Association of Counseling Services (IACS). IACS is the only association that accredits counseling services on university and college campuses. Approval by IACS is dependent upon evidence of continuing professional development as well as demonstration of excellence in counseling performance. The office offers individual and group counseling for students, as well as consultation and outreach to the campus community.
Peter Ducey
Peter Ducey, Biological Sciences Department, co-authored the presentation "Predator-Prey Relationships Between Streamside Salamanders and Earthworm Communities Inhabiting the Riparian Zone" recently given by lead author and Cortland alumna Rebecca Forrest Pinder '02 at the 10th International Symposium on Earthworm Ecology held in Athens, Ga., in June. Pinder has recently completed her Ph.D. at University at Albany in ecology and evolutionary biology and is currently a faculty member at Columbia-Greene Community College. The presentation was part of a broader study investigating the influences of non-native earthworms on biotic and abiotic components of stream ecosystems.
John C. Hartsock
John C. Hartsock, Communication Studies Department, has been asked to serve as a reviewer this fall for Fulbright scholarship applicants from Russia for the 2015-16 academic year. The candidates would conduct research and teach in the United States in the area of journalism. Hartsock was a Fulbright scholar in journalism in Ukraine in 1993 at Taras Shevchenko Kiev State University in Kiev.
In other news, Hartsock stepped down at the end of May after five years as the editor of the peer-reviewed scholarly journal Literary Journalism Studies. The official journal of the International Association for Literary Journalism Studies, it was founded by Hartsock starting with the Spring 2009 issue. The journal is published biannually. Under Hartsock's editorship, the journal established the first bibliography in its subject field and is now listed in the MLA International Bibliography. It is also listed with Ebscohost. Bill Reynolds, director of the graduate program in journalism at Ryerson University in Toronto, has been selected as Hartsock's successor.
Nancy Kane
Nancy Kane, Performing Arts Department, performed in the Endicott Performing Arts Center's production of "Great Expectations" this summer.
In other news, Kane has assumed full director duties for Twin Tiers Honor Flight, a nonprofit local hub of the national Honor Flight Network, which takes WWII, Korean Era, and terminally ill veterans at no charge to Washington, D.C. to visit their war memorials and Arlington National Cemetery.
Doug Langhans
Doug Langhans, Admissions, has been elected to the board of directors for Study New York, a consortium of SUNY, CUNY and private institutions formed to promote New York as a destination for international students. Langhans has served on the consortium's programming committee for a number of years and has represented the consortium at various events including the American International Recruitment Council Conference, the International Consultants for Education and Fairs (ICEF) North American Workshop, National Association of Foreign Student Advisers (NAFSA): Association of International Educators Annual Conference, and the EducationUSA Forum.
Benjamin J. Lovett
Benjamin J. Lovett, Psychology Department, had an article published in the September 2014 issue of the Journal of Disability Policy Studies. "Testing Accommodations Under the Amended Americans with Disabilities Act: The Voice of Empirical Research" critically examines recent legal regulations that are followed when students request testing accommodations for disability conditions.

Submit your faculty/staff activity