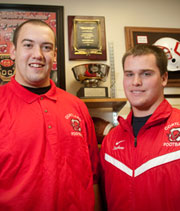 Campus Champion
Courage on the football field cannot always be measured in wins and losses. John Stephens and Matt Pitcher, like many of their Red Dragon teammates, agreed to have a cotton swab of their saliva submitted to a bone marrow registry. Matches are very rare, but two weeks ago both were contacted for follow-up tests. While Matt awaits further word, John was told his bone marrow may save the life of an infant with acute leukemia. In three weeks, he unselfishly undergoes a painful procedure to share his marrow. In a remarkable 2010 Cortland football season, John's accomplishment is the one we will remember forever.

Nominate a Campus Champion
---
Monday, Nov. 8
$ Performance: Thunderbird American Indian Dancers, Dowd Fine Arts Center Theatre, 7 p.m.
---
Tuesday, Nov. 9
Native American Film Series: "Dancing on Mother Earth, A Year in the Life of Joanne Shenandoah," Sperry Center, Room 205, 7 p.m.
---
Tuesday, Nov. 9
Live Open Mic Night: Corey Union Exhibition Lounge, 8 p.m.
---
Wednesday, Nov. 10
UUP Lunch Meeting: "Safety and Employee Participation," Glenn Wright, Environmental Health and Safety, Corey Union Function Room, noon. R.S.V.P. by contacting the UUP Chapter Office at (607) 753-5991.
---
Wednesday, Nov. 10
Sandwich Seminar: "Using Google Books for Research" Dan Harms, library, Brockway Hall Jacobus Lounge, 12:30-1:30 p.m.
---
Wednesday, Nov. 10
Speaker: Chinese-American pianist Margaret Leng Tan, rescheduled from an earlier date, Sperry Center, Room 106, 12:40-2:30 p.m.
---
Wednesday, Nov. 10
Wellness Wednesday Series: "What About Supplements?" Louise Whittleton, Auxiliary Services Corporation, Corey Union Exhibition Lounge, 7 p.m.
---
Thursday, Nov. 11
Veterans' Day: Classes in session; offices closed.
---
Thursday, Nov. 11
Sandwich Seminar: "Music and Spin During War and Peace: Handel, Tchaikovsky and Martinu," Ubaldo Valli, Performing Arts Department, Brockway Hall Jacobus Lounge, noon.
---
Thursday, Nov. 11
Veterans' Day Ceremony: Old Main Brown Auditorium, 3 p.m. Reception following in Old Main Fowler Grand Entrance Hall.
---
Thursday, Nov. 11
$ International Celebration Event: "Taste of the World," Corey Union Function Room, 6 p.m.
---
Saturday Nov. 13
Cortaca Jug Football Game: SUNY Cortland vs. Ithaca College, SUNY Cortland Stadium Complex, noon.
---
Saturday Nov. 13
Peace Studies Conference: Education Building, Rooms 1101 and 1103, 8:30 a.m.-5 p.m.
---
Monday, Nov. 15
College Council Meeting: Miller Building, Room 405, 4 p.m.
---
Monday, Nov. 15
Chemistry Lecture Series: "Synthetic and Mechanistic Aspects of Palladium-Catalyzed Aryl Chloride Reactions," Margaret Logan, College at Brockport, Sperry Center, Room 106, 3 p.m. A reception begins at 2:40 p.m. in Sperry Center outside Room 106.
---
Monday, Nov. 15
Performance: Status Quo Dance Crew, Corey Union Function Room, 8 p.m.
---
Tuesday, Nov. 16
Faculty Senate Meeting: Brockway Hall Jacobus Lounge, 1:15 p.m.
---
Tuesday, Nov. 16
Presentation: "The Trials and Tribulations of Applying to Law School," Christopher Latimer, Political Science Department, and Jerome O'Callaghan, School of Arts and Sciences, Sperry Center, Room 308, 6 p.m.
---
Tuesday, Nov. 16
Native American Film Series: "Boarding School, Our Spirits Don't Speak English," Sperry Center, Room 205, 7 p.m.
---
Tuesday, Nov. 16
College-Community Orchestra Concert: "War and Peace," conducted by Ubaldo Valli, featuring an ensemble of both college and community musicians. Dowd Fine Arts Theatre, 8 p.m.
---
Wednesday, Nov. 17
Wellness Wednesday Series: "Great American Smoke Out - Go Cold Turkey," Corey Union first floor, 11 a.m.-2 p.m.
---
Wednesday, Nov. 17
Workshop on Bullying: Presented by Vanessa Johnson, community educator and storyteller, Sperry Center, Room 204, 7 p.m.
---
Thursday, Nov. 18
Sandwich Seminar: "Confronting Islamophobia: Islam, Democracy and the Clash of Cultures," Kathy Russell, Philosophy, and Tanweer Haq, a Muslim community representative from the City of Cortland and Interfaith Chapel Board, Brockway Hall Jacobus Lounge, noon.
---
Thursday, Nov. 18
Eastern European Film Series: "Apaches," Sperry Center, Room 305, 7 p.m.
---
Thursday, Nov. 18
College Singers Concert: Dowd Fine Arts Theatre, 8 p.m.
---
Saturday, Nov. 20
Children's Museum Series: "Nature Nook," explores and entertains with nature activities, Children's Museum, O'Heron Newman Hall, 8 Calvert St., 10 a.m.-1 p.m.
---
Saturday, Nov. 20
Children's Museum Series: "Nature Nook," explores and entertains with nature activities, Children's Museum, O'Heron Newman Hall, 8 Calvert St., 10 a.m.-1 p.m.
---
---
Jets Camp Has $5.8 Million Local Economic Impact
11/01/2010
The New York Jets 2010 Summer Training Camp attracted 41,000 spectators and generated $5.8 million in economic activity in Cortland County, according to a study released this week by three SUNY Cortland faculty members.
Despite having five less training camp dates this year, the economic impact increased 36 percent over the $4.26 million figure for the 2009 camp. Attendance also improved by 21 percent from the 34,000 spectators who visited a year ago.
The report, which was prepared once again by SUNY Cortland Associate Professors of Economics Kathleen Burke and Timothy Phillips along with Assistant Professor of Geography Wendy Miller, involved surveys of training camp visitors as well as local business owners conducted in connection with the Aug. 1-19 professional football training camp at SUNY Cortland.
"The College is pleased that it could work with the community in bringing the New York Jets back to our campus," said SUNY Cortland President Erik J. Bitterbaum. "The camp has continued to grow and to bring more fans from throughout the region and country to our community. Not only has it been important from an economic perspective, but it has allowed Cortland County to become a true tourism destination in August and a gateway to other parts of our state."
Some of the 2010 report's findings include:
The $5.8 million in economic activity to the Cortland community is a result of more than $3.2 million in direct spending by the Cortland community and SUNY Cortland in preparing for and running the training camp, as well as by camp spectators visiting the Cortland community.
The Cortland community expended approximately $30,000 to help prepare and host the Jets Training Camp. This spending accounted for more than $54,000 in economic impact.
SUNY Cortland's expenditures account for 18 percent of the overall impact. These expenditures led to an economic impact of more than $1 million in the local economy stemming from more than $566,500 in direct spending to host the 2010 camp.
The approximately 41,000 visitors who passed through the gate during the 2010 Jets Training Camp generated 84 percent of the economic impact on the Cortland community. These spectators spent more than $2.6 million creating an impact of over $4.7 million.
Visitors attended camp from 32 different states and four Canadian provinces. Most of the visitors lived within driving distance. New Jersey and Pennsylvania residents accounted for 54 percent of all out-of-state visitors. Nearly 90 percent of the visitors were from New York State, including residents from 59 of the state's 62 counties.
Cortland County residents accounted for 17 percent of the visitors. Residents of seven adjacent counties — Broome, Cayuga, Chenango, Madison, Onondaga, Tioga and Tompkins — comprised 41 percent of camp visitors. Twenty-nine percent of the visitors came from other New York counties and 13 percent came from outside New York State.
Fourteen percent of the visitors reported staying for at least one night. Of these, 68 percent stayed in a hotel, bed and breakfast or nearby campground. Revenue for the local hotels (in the aggregate) increased 34 percent in August 2010 as compared to August 2009. Furthermore, hotel occupancy increased 5.5 percent as compared to August 2009.
A breakdown of visitors' origins and overall direct spending reveals that the residents of the counties adjacent to Cortland County contributed 29 percent ($753,104), other New York State residents accounted for 43 percent ($1.12 million) and visitors from outside New York state tallied 28 percent ($747,407) of the total direct spending.
The researchers first determined the total direct expenditures, that is, the spending by SUNY Cortland and the Cortland community due to the presence of the Jets along with the spending by the visitors attending the Camp. They then used RIMS II, an input-output analysis obtained through the Bureau of Economic Analysis, to come up with a multiplier of 1.80 to gauge the indirect effect that spending had on the local economy.
"For every dollar expended, that dollar has a reoccurring impact on the economy due to its re- expenditure within the local community," wrote the researchers. "This impact is called the multiplier effect.
"The direct expenditures by SUNY Cortland and the Cortland community were provided to us by each group, respectively. In order to determine the direct spending of the spectators, however, a survey was designed and distributed outside the gate at the Jets Training Camp at both the morning and afternoon sessions. Our survey data accounted for 10,424 individuals who attended the camp. Sixty-eight percent of these visitors were adults and 32 percent were children who came to SUNY Cortland to watch the Jets. Furthermore, only 32 percent of the visitors had visited Jets Training Camp in 2009."
Lastly, the report highlighted the intangible benefits to SUNY Cortland and the community that resulted from the Jets Training Camp, in particular the extended free daily media exposure in the nation's number one market, New York City, in national outlets such as ESPN and Sports Illustrated, and the national exposure created for the area by HBO's Hard Knocks series.
Tangible benefits to SUNY Cortland, "the official University Partner of the New York Jets," included more than 50 student internships and practicum opportunities at the 2010 camp. The College will be featured on the 360 degree LED signage at the new Meadowlands Stadium during all 2010 Jets pre-season and regular season games, will be provided one million banner ad views on the Jets website with click-through capability to the College's website, and receive one pre-game and one post-game commercial during every Jets 2010 pre-season and regular season ESPN radio broadcast.
Additionally, two recruitment receptions will be held at the Atlantic Health Jets Training Center in Florham Park, N.J. SUNY Cortland received autographed merchandise and season tickets for use in raffles to support student scholarships and for donor cultivation. The SUNY Cortland Alumni Association also hosted receptions with the coaching staff in its alumni house.
This aerial shot over SUNY Cortland's athletic fields shows the 2010 New York Jets Summer Training Camp during practice.
Planners Share Vision for Campus Landscape
11/04/2010
A team of representatives from a Glens Falls, N.Y.-based architect recently unveiled a vision for future, SUNY Cortland campus construction that makes existing space more useful to the needs of the College community and a more inviting living and study environment for students.
This initial, very conceptual plan was presented on Oct. 29 in Sperry Center, Room 204, as part of a campus-wide informational session hosted by the College's Facilities and Master Plan Oversight Committee. No significant, new construction is suggested in its 10-year timeline from 2013-23.
The architect presented many ideas, including:
• The heavily trafficked lower Neubig Road could be converted into a pedestrian walkway bordered by trees and shrubs. Such a path, starting just below the Child Care Center turnaround, would reduce the very urban look and feel of that part of campus and make it a more inviting place for students to live.
• Winchell Hall, which houses both Academic Computing Services and Administrative Computing Services, could be torn down to make way for green space or, ultimately, a more useful and energy-efficient building.
• The brick Heating Plant Building along Gerhardt Drive could be converted into an Arts Annex studio for sculptors, ceramists and woodworkers, after part of the building is razed to create more parking space.
• Whittaker Hall could cease to house international students and instead give its new tenants, the University Police Department, the Cortland Emergency Squad and Facilities Planning, Design and Construction Office, more ready access to all parts of the campus.
• Eventually visiting faculty could have a new place to stay in a renovated McDonald Building on Tompkins Street, after it's used as temporary space for academic departments dislocated by other construction projects.
• The Communication Studies Department could be relocated from Dowd Center to more suitable, renovated space in Van Hoesen Hall's current Tomik Fitness Center after the recreational facilities are moved to the new Student Life Center. The department's TV studio would be nearby in Van Hoesen Hall's C Wing.
• Van Hoesen's B Wing might be retrofitted to contain a new Student Engagement Center staffed by the Student Affairs Office.
JMZ Architects and Planners of Glens Falls, N.Y., presented this aerial rendering of what the campus might look like in the next 10 years and beyond.
More than 50 faculty and staff members attended the meeting and many provided their feedback during a subsequent question-and-answer session. The presentation was intended to identify the College's priorities for major program moves, facilities improvements and site initiatives that are on the drawing board for 2013-23. Representatives from the State University Construction Fund also attended.
The draft plan was presented by Tenée Rehm Casaccio, managing principal, and Kristin G. Schmitt, principal, of JMZ Architects; and Margo Chiuten of the landscape design firm Trowbridge and Wolf of Ithaca, N.Y.
The consultants discussed these proposed capital plan priorities for the two, five-year capital plans beyond what's proposed or underway for 2008-13. The latter include Lusk Field House, Dowd Fine Arts Center, Professional Studies Building and Bowers Science I addition and renovation projects and construction of the new Student Life Center.
The committee will incorporate campus community comments into its final draft of the Cortland Facilities Master Plan on Jan. 7. Before that, a Master Plan Steering Committee meeting will take place on Nov. 12 and a progress meeting is set for Dec. 10.
Similar planning occurs at each SUNY campus to keep both college and SUNY in communication about future construction needs and state funding availability.
Casaccio noted that the College presently has more than 50,000 square feet of surplus space available. In keeping with broad, educational trends, future construction projects will convert these mainly larger spaces into more intimate ones suited to classes of 25 or fewer students and will prioritize creating study space outside the library and residence halls. The Memorial Library renovation project, at approximately $60 million, is easily the most costly item on the wish list.
The Master Plan will: prioritize projects that are sustainable; maximize resources; make "every space a learning space"; create indoor and outdoor environments that engage students; address changing teaching strategies and curricula; facilitate faculty and student interaction; support diversity and multiculturalism; and improve pedestrian traffic flow across the campus. The plan also seeks to find more suitable space for some academic departments, including Communication Studies.
Administrators present at the meeting acknowledged that progress on the construction plans within the timeline would depend heavily on future funding.
"My guess is it's actually a 25-year plan," observed College President Erik J. Bitterbaum. "We need the funds and legislative earmarks to continue in order to make sure it keeps happening."
For feedback on the plan, contact Joe Woodin in the Facilities Planning, Design and Construction Office at (607) 753-2214.
---
Capture the Moment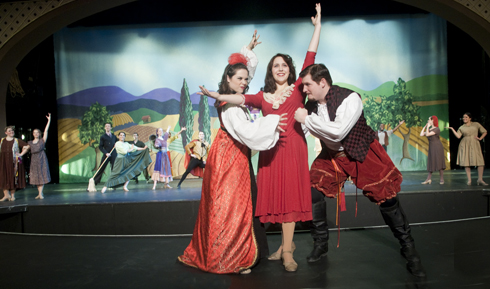 The Performing Arts Department won rave reviews for its October production of "Kiss Me, Kate," the Cole Porter Broadway musical, in Dowd Fine Arts Theatre. Katie Quigley, left, played Lillie Vanessi, the ex-wife of egotistical actor Fred Graham, portrayed by Derek Mellow, right. Annali Fuchs as Hattie, center, separates the two combatants.
---
In Other News
Community Educator Holds 'Workshop on Bullying'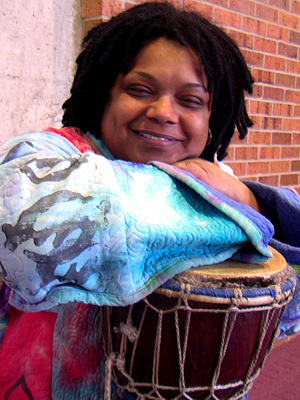 11/04/2010
Vanessa Johnson will present a "Workshop on Bullying" to current and future educators and others concerned with a problem the news media has spotlighted in many American schools on Wednesday, Nov. 17, at SUNY Cortland.
Presented by the College's Education Club during its weekly meeting, the event will begin at 7 p.m. in Sperry Center, Room 204. The workshop is free and open to the public.
Johnson, a griot or storyteller in the West African Tradition, uses storytelling to present a model teachers can to use to manage classroom bullying. She will offer advice on how teachers and future educators can teach their students to understand why their peers bully, what those who bully are looking for in the responses of their victims, and how intended victims and witnesses can respond to bullying peers in a peaceful and non-conflict producing manner.
The workshop also will address classroom management skills that reduce bullying behaviors and provide resource materials for educators to develop a working plan to handle this situation when it arises among their students.
As a community educator, Johnson uses her years of experience directing social service programs for youth and providing direct service to teachers and future educators to demonstrate, through storytelling, classroom management skill models. She first began working with children at the Syracuse Model Neighbors Southwest Center as director of youth and teen programming. She captured significant grants for programs to prevent teen pregnancy and to support mentally challenged youth.
A writer, playwright, vocalist, fiber artist and teaching artist, Johnson established Mosai Village Enterprises as an important local resource for educational programming and performances for conferences, community celebrations, television and radio.
As an historian, she uses her voice to preserve the history of the past and the stories of the present. A former director of the J.P. Morgan Chase Interactive History Museum, Johnson founded and directed a youth drama group and developed interactive programs to bring historical themes to life. She also served the Onondaga Historical Society as director of education. In that capacity, Johnson developed and implemented educational programs and curriculums both in the museum and in a new school-based program that reached more than 300 students per week in 25 area schools. She also initiated history-themed youth camps.
For more information, contact Heather Schowe, an Education Club historian, or club advisor Karen Hempson, lecturer in childhood and early childhood education, at (607) 753-4209.
Peace Studies Conference Set for Nov. 13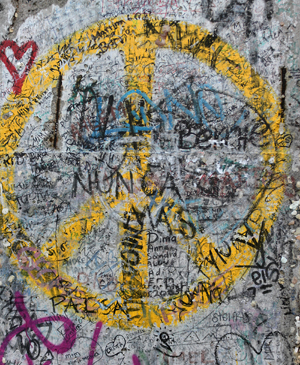 11/04/2010
The Central New York Peace Studies Consortium will hold its 22nd annual Peace Studies Conference on Saturday, Nov. 13, at SUNY Cortland.
The event is themed on "Corporatization and Militarization of Education: A Threat to Democracy, Security and Peace" and will take place from 8:30 a.m.- 5 p.m. in the Education Building, Rooms 1101 and 1103. Paid parking is available across the street on Neubig Road.
"The 22nd annual Peace Conference looks at a continuum of peace initiatives and peaceful reflections, from the most current and unique connections such as critical animal studies to a retrospective by local Peace Corps volunteers, whose efforts and thoughts toward peace have evolved since their initial experiences in the 1960s," said the consortium's president-elect, Judy K.C. Bentley.
"The conference is free, because that is what peace and education should be: free," said Bentley, a SUNY Cortland assistant professor of foundations and social advocacy.
The day will feature 33 presentations and a closing talk by Kathryn Russell, SUNY Cortland Department of Philosophy chair, in memory of peace activist William "Bill" Griffen '50, a SUNY Cortland professor in the Foundations and Social Advocacy Department. Her speech will focus on the ties that bind peaceful activism over the millennia.
Multiple presentations will be given under the broad titles of "Global Peace," "School to Prison Pipeline," "Dis-Abling Education from Exclusive Teaching," "Military and Education," "Critical Animal Studies in Higher Education," "Peace Education," and "Class Matters in the Classroom."
The presenters, hailing from three different continents, will include speakers from more than 15 universities, 10 non-profit organizations, two prisons and one detention center.
A sample of the presentations include:
• Lesley Pruitt, a faculty member at the University of Queensland, addressing "Building Peace Through a Music Dialogue;"
• Wondimu Mengistu, a faculty member at University of Cape Town, sharing his ideas on "The Peace-building Potential of Development-Non-Government Organizations (NGOs) in Areas of Protracted-Conflict in Ethiopia;"
• Maria Miller, a representative of Save the Kids, discussing "Teaching Creatively in Secure Facilities"; and,
• Yael Warshel of the University of California, San Diego, presenting his graduate student paper, "How Do You Convince Children that the 'Army,' 'Terrorists' and the 'Police' Can Live Together Peacefully? A Peace Communication Assessment Model."
For more information or to register, visit the consortium website at http://peaceconsortium.org/ and select the 'conference' link to obtain a flier.
In addition to SUNY Cortland, the consortium includes Syracuse University, LeMoyne College, St. Bonaventure University, Hobart and William Smith Colleges, and Hamilton College.
SUNY Cortland sponsors include the Institute for Disability Studies, Foundations and Social Advocacy, Center for Gender and Intercultural Studies, the Sociology/Anthropology Department, the Center for Ethics, Peace and Social Justice, the Anarchist Studies Initiative, Social Advocacy and Systems Change, Criminology Club, Women's Studies, and the Philosophy Department.
Thunderbird American Indian Dancers Perform Nov. 8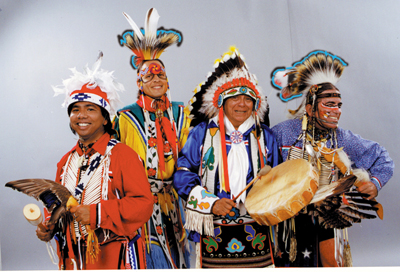 10/20/2010
The Thunderbird American Indian Dancers, who specialize in the songs and dances of the tribes of the Northwest Coast, will perform cultural songs and dances at SUNY Cortland on Monday, Nov. 8.
The performance will start at 7 p.m. in the Dowd Fine Arts Center Theatre. Presented by the Campus Artist and Lecture Series (CALS), admission is $3 for SUNY Cortland students and $5 for the general public. Children 10 and under will be admitted free of charge.
Tickets may be obtained through the Campus Activities and Corey Union Office, Corey Union Room 406, or at the door one hour prior to the performance. For more information on tickets, call (607) 753-5574.
Wide in appeal, the Thunderbird American Indian Dancers has made an enormous contribution to the effort of preserving and perpetuating American Indian culture for more than 25 years. The ensemble's repertoire includes dances of the Woodlands (Iroquois and Winnebago), Plains (Sioux) and the Southwest (Hopi and Santo Domingo). Selections will also include the traditional "Fancy Dance" and "Hoop Dance," as well as a variety of other distinct regional tribal dances.
More information is available at their website.
Campus Ceremony Marks Veterans' Day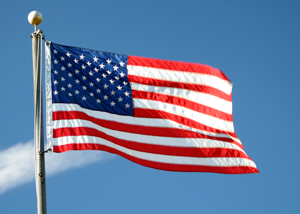 11/04/2010
Stephen Smith, senior counselor at SUNY Cortland's Counseling Center, will speak at a Veterans' Day Ceremony on Thursday, Nov. 11.
Sponsored by the President's Office, the ceremony will begin at 3 p.m. in Old Main Brown Auditorium.
The ceremony and the reception immediately following in Old Main Fowler Grand Entrance Hall will provide an opportunity to thank veterans from the SUNY Cortland faculty, staff, alumni and student bodies, as well as veterans from the Cortland community and surrounding area, for their service. Both are free and open to the public.
President Erik J. Bitterbaum will serve as master of ceremony. Gerri Smith, Kinesiology Department, will lead the Pledge of Allegiance and Chaplain Vicki Johnson will provide the invocation. An Army ROTC student will read the poem, "What is a Veteran?"
For more information, contact Special Events Coordinator Darci Bacigalupi at (607) 753-5453.
Chemistry Lecture Series Concludes with Nov. 15 Talk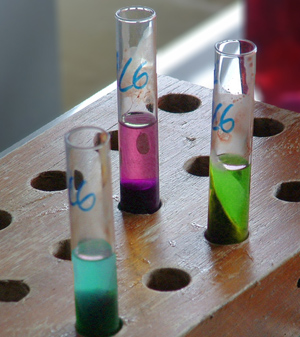 11/05/2010
SUNY Cortland will conclude a series of lectures, geared to pique curiosity about chemistry relating to health, the environment, energy and other hot-button topics, with a presentation on Monday, Nov. 15, by Margaret Logan, an associate professor of chemistry at the College at Brockport.
Logan will present, "Synthetic and Mechanistic Aspects of Palladium-Catalyzed Aryl Chloride Reactions," at 3 p.m. in Sperry Center, Room 106, as part of the series titled, "Current Research in the Chemical Sciences: Stars to Cells to Green Catalysis."
Sponsored by the Chemistry Department, the Chemistry Club and the Campus Artist and Lecture Series, the lecture and post-lecture discussion is free and open to the public. A pre-lecture light reception will be held at 2:40 p.m. in the first floor lobby of Sperry Center outside Room 106. An hour-long post-lecture discussion will begin at 4 p.m. in the Bowers Hall first floor lounge.
"Palladium-catalyzed reactions of aryl chlorides include hydrodehalogenation, and carbon-carbon, carbon-nitrogen, and carbon-oxygen bond-forming reactions," said Logan, who joined the College at Brockport in 2000 and is conducting research on this area of chemistry.
The work she will describe explores synthetic and mechanistic aspects of the hydrodehalogenation reactions of aryl chlorides using palladium catalysts with biphenyl ligands developed by the Buchwald group.
"In this context, studies of both the hydrodehalogenation and amination reactions were performed to provide evidence for the nature of the active catalyst: that is, whether it is homogeneous or exists as nanoparticles," Logan noted. "These studies were performed in both traditional solvents and in phosphonium salt-derived ionic liquids."
Since 2000, in collaboration with summer research students and students doing independent research projects, Logan has studied the synthesis and evaluation of novel diaryl telluride antioxidants and the development of homogeneous catalytic systems for application to remediation of aryl chlorides such as PCBs.
Logan has a doctorate in organic chemistry from the University of Rochester and received her bachelor's degree from Brown University. She previously taught at Hobart and William Smith Colleges, University at Buffalo and the University of Rochester.
Second Fall Open House Set for Nov. 12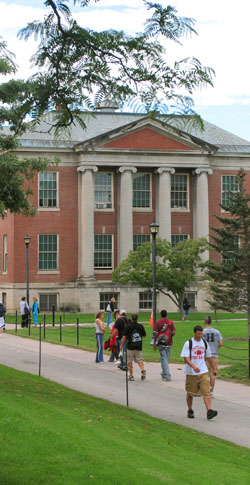 11/03/2010
Approximately 700 prospective college students are expected to spend a day visiting academic departments, touring the campus and talking to faculty and students during the second SUNY Cortland Fall Open House on Friday, Nov. 12.
The College will show off its campus on a regular day of classes to potential students who missed the first fall Open House, attended by 825 students and their family members on Oct. 11, said Admissions Director Mark Yacavone.
Faculty, staff and students from academic departments and student service offices will be available to meet with visitors throughout the program. Additionally, guests may tour the campus and eat in the dining facilities.
Open House allows visitors the opportunity to experience the campus by interacting directly with students, faculty and staff. The visitors have made prior reservations with the Admissions Office to be on campus that day.
The program will formally begin at 9:30 a.m. in Park Center. An academic fair, featuring department faculty, and a student services fair, with student services representatives, will take place in Park Center Corey Gymnasium from 9:30-11:30 a.m. At 12:30 p.m., students are encouraged to proceed to their chosen academic department offices for more information and a tour.
Guided tours of the campus and residence halls will run from 11 a.m.-2:30 p.m. Participants will meet in the Corey Union Function Room.
Assistant Professor of Biological Sciences Theresa Curtis will give a presentation on pre-medical advisement at 1 p.m. in Bowers Hall, Room 245. Special sessions on admissions, financial aid, athletics, dining services and residential services also will be offered that day. For details, visit the website at cortland.edu/admissions.
Parking for Open House visitors will be provided at the Professional Studies Building lot, formerly called the Studio West lot, and the Route 281 parking lot, which features shuttle bus service to Park Center.
Yacavone noted that the fall format is much different from the spring Open House, where the majority of the visitors have already been admitted and are in the process of deciding to attend SUNY Cortland. By contrast, at the fall Open House, the visitors get to see the campus while the students are in class.
College-Community Orchestra Presents Music of War and of Peace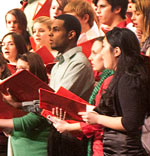 11/03/2010
"War and Peace" is the theme of the SUNY College-Community Orchestra concert set for Tuesday, Nov. 16, in the Dowd Fine Arts Theatre.
Directed by Ubaldo Valli of the Performing Arts Department, the concert will begin at 8 p.m. and is free and open to the public.
The program will feature three pieces by three composers written in three different centuries in response to war and peace. "Music for the Royal Fireworks" by G. F. Handel was written to celebrate the end of the War of the Austrian Succession and the signing of the Treaty of Aix-la-Chapelle in 1748. "Marche Slav Op. 31" by P. I. Tchaikovsky, was written for a benefit concert in 1876 for Serbians wounded in the conflict with the Ottoman Empire that would become the Russo-Turkish War. "Memorial to Lidice," (1943) by Bohulav Martinu, was written to memorialize the Czech village of Lidice that had been obliterated by the Nazis during WWII.
For more information, contact the Performing Arts Department at (607) 753-2811.
College Singers Perform Music of the Renaissance, 20th Century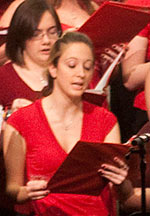 11/03/2010
Music that originated during the Renaissance through the 20th century will be featured in the Thursday, Nov. 18 concert by the College Singers at SUNY Cortland.
Directed by Stephen B. Wilson and accompanied by Richard Montgomery, both of the Performing Arts Department, the concert will begin at 8 p.m. in the Dowd Fine Arts Theater. The performance is free and open to the public.
The program will include two medleys, "Les Miserables" and "Starting Here, Starting Now." "Les Miserables," from the world-famous musical, features soloists Samantha Rey, Lauren Kovacic, Carly Merrill, Charles O'Connor, Rasheem Ford, Michael Meaney, Davon Clarke and Natalie Luzzi. "Starting Here, Starting Now" was recently arranged by Wilson specifically for the College Singers and this will be its premiere performance. Songs from the revue of the same name include, "Starting Here, Starting Now," "Today is the First Day of the Rest of my Life," and "Travel." This last song will feature soloists Lauren Collins, Meaney, Michelle Boyllett and Matt Rogers.
Other selections will include Handel's "Come, Live with Pleasure," which is adorned by two flutists, Boyllett and Rachel Harbison, and Aaron Copland's "Stomp Your Foot Upon the Floor." Kyle Essex will be guest student conductor for this selection, as Wilson and Montgomery will perform a four-hand piano accompaniment.
The Singers will also perform a medley of pieces from Gilbert and Sullivan's "Pirates of Penzance." Soloists in this perennial favorite will be Alysia Guido, Sara Laursen, Meaney, Ford and Matt Rogers.
Wilson also has arranged a traditional Scottish folk song, "Cumnaroonana," for the ensemble. Rogers and O'Connor will be the soloists.
The concert is sponsored in part by the Student Activity Fee.
For more information, contact Wilson at (607) 753-4615.
College Council Convenes Nov. 15
The College Council will hold its next regularly scheduled meeting at 4 p.m. on Monday, Nov. 15, in Miller Building, Room 405.
The agenda includes approval of the July 22 and Sept. 20 minutes and discussion of the Association of Council Members and College Trustees of SUNY (ACT) Conference and the SUNY Cortland Annual Report.
Council members will hear reports by President Erik J. Bitterbaum, Faculty Senate Chair David Miller and Student Government Association President Jesse Campanaro.
A pre-meeting program beginning at 3:15 p.m. in the same location will highlight non-traditional students in recognition of "Celebrate-a-Non-Trad" campaign that is part of Non-Traditional Students Week Nov. 8-12. Cheryl Hines, Advisement and Transition, and students Toby Centerwall and Jennifer Miller will present.
Non-Traditional Students Will Be Honored Nov. 8-12
Nominations are being accepted through Monday, Nov. 15, for the "Celebrate-a-Non-Trad" campaign. Sponsored by Advisement and Transition, the campaign is part of Non-Traditional Students Week, Nov. 8-12.
Nomination forms have been e-mailed to the campus community and are available electronically. Forms are also available in Advisement and Transition, Memorial Library, Room A-111.
For more information about Non-Traditional Students Week or to recognize an outstanding non-traditional student, contact Non-Traditional Student Support Coordinator Cheryl Hines or visit the website.
The purpose of the campaign is to recognize non-traditional students who often balance college with other commitments such as family, jobs and long commutes. SUNY Cortland will recognize nominated non-traditional students with a certificate and campus recognition.
Nominations should include the student's name, contact information, relationship to the student and comments about the non-traditional student. Comments will be listed on the certificate, unless otherwise noted.
For more information, contact Hines at (607) 753-4726.
Super Bowl Raffle Tickets on Sale
Two tickets to Super Bowl XLV will be raffled by SUNY Cortland to benefit the Cortland College Foundation. One winner will be chosen to receive a Super Bowl package to attend the game on Feb. 6, 2011, in Arlington, Texas.
Five hundred tickets will be sold at a cost of $100 each. The drawing will be held on Wednesday, Dec. 8. Everyone who purchases a ticket will be invited, with a guest, to a VIP event at the August, 2011 New York Jets Training Camp at SUNY Cortland. Additionally, all raffle participants will entered into a drawing to attend, with one guest, the 2012 Cortaca VIP Brunch and view the game from the Stadium VIP Lounge.
One winner will be chosen to receive a deluxe Super Bowl package valued at $3,742 and including the following:
Two tickets to the game at Cowboys Stadium ($2,000 minimum value)
Three nights at the Holiday Inn Select North Dallas ($742 value)
$1,000 in cash for transportation and other expenses
"Last year, the Foundation received nearly $30,000 from this raffle and was able to support campus programs and student scholarships with the proceeds," said Ray Franco, vice president, Institutional Advancement. "Attending the Super Bowl is one of those things that many people dream about and this raffle will enable someone connected with SUNY Cortland to do just that. Our goal is to sell all available tickets which will allow the Foundation to give the campus nearly $50,000 for programs and scholarships."
Participants must be at least 18 years of age. To purchase a ticket, send payment of $100 for each ticket with name, home address, phone number and e-mail to Melony Warwick, SUNY Cortland, P.O. Box 2000, Cortland, NY 13045. Make checks payable to Cortland College Foundation, Inc.
For more information, contact Warwick by e-mail or phone at (607) 753-2518.
Pianist Margaret Leng Tan Reschedules Visit
Chinese-American pianist Margaret Leng Tan will be a guest participant at the honors seminar course, The Artist in Modern Society, on Wednesday, Nov. 10.

The event, rescheduled from an earlier date, will be held in Sperry Center, Room 106, and is free and open to the campus community. Seating in the classroom is limited to 80 visitors.

Tan has been described as "the foremost performer on the world stage exploring the mysterious world of sound and silence lurking both inside and outside the piano."

On Tuesday, Oct. 26, the 2004 documentary film by Evans Chan, "Sorceress of the New Piano: The Artistry of Margaret Leng Tan," was shown as part of the honors seminar. Tan will answer questions on the film and other subjects.
"The film presents a superb portrait of a charismatic performer, as well as an exciting compilation of 'new piano' music," wrote critic Robert Schulslaper in the November/December 2008 issue of Fanfare.

"Margaret Leng Tan has been fighting the good fight for a quarter century — a 'sorceress' indeed — and now she is the subject of one of the best films ever made about a musician," wrote Tim Page in The Washington Post.

As the film and her in-person interactions demonstrate, Tan is justly celebrated not just for the fierce concentration and intensity of her performances but also for a charming sense of fun and a compelling desire to make her audience participate in everything she does.

Born in Singapore, Tan was the first woman to earn a doctorate from Juilliard. She has established herself as a major force within the American avant-garde. A highly visible, talented and visionary pianist, her work creates a new level of communication with listeners. She embraces aspects of theater, choreography, performance and even props such as the teapot she plays in Alvin Lucier's "Nothing is Real." This has won Tan acceptance far beyond the norm for performers of avant-garde music, as she is regularly featured at international festivals, often records for adventurous labels and has appeared on American public television, and at the Lincoln Center and Carnegie Hall.

"Tan is no stranger to SUNY Cortland," said Professor Emerita Donna K. Anderson. "In 1984, she performed a concert of Asian-American music and in 1990, an 'extended piano' concert devoted to Henry Cowell, John Cage and George Crumb, the equivalent to traditional classical music's 'Three Bs' — Bach, Beethoven and Brahms."

For more information, contact Anderson by e-mail or at (607) 753-3884.
Connections Committee Seeking Campus Ideas
The Student Affairs Connections Committee is reaching out to faculty and staff for information to coordinate its efforts to establish and maintain significant connections between students and the College.
To foster greater academic and social success for students at SUNY Cortland, the committee's 19 members design and implement activities such as the Midnight Breakfast, held each semester, and the annual Student Affairs Connections Awards for Faculty.
As part of its continuing efforts to build stronger student/campus connections and to avoid a duplication of its respective efforts, the committee asks faculty and staff to share information on:
• What their campus organizations and committees are doing in terms of assessing, facilitating, recognizing and/or fostering connections. The committee wishes to collaborate with such other groups.
• Names of freshmen, sophomores or juniors who might be interested in, and could productively serve, on the committee beginning in Spring 2011.
Respondents to this request should send their information to one of the committee's two co-chairs, Lisa Allen or Sandra Wohlleber.

Suggest a feature story
---
Faculty/Staff Activities
Brian D. Barrett
Brian D. Barrett, Foundations and Social Advocacy, had his article titled "Religion and Habitus: Exploring the Relationship Between Religious Involvement and Educational Outcomes and Orientations Among Urban African American Students," published in a special issue of Urban Education on "Bringing the Neighborhood into the Classroom." Additionally, he was interviewed for a podcast released in association with the special issue and available at iTunes.
Mark A. Dodds and David L. Snyder
Mark A. Dodds and David L. Snyder, Sport Management Department, had their article, "U.S. Supreme Court Holds NFL is Not a Single Entity," published in the November/December 2010 issue of The Journal of Physical Education, Recreation & Dance (JOPERD). The article examines the high court's recent decision in American Needle, Inc. v. National Football League, et al. In American Needle, the Supreme Court held that the NFL is not a single entity and, therefore, is not exempt from antitrust scrutiny.
Regina Grantham
Regina Grantham, Communication Disorders and Sciences Department, was appointed one of the four ambassadors for the New York State Speech-Language-Hearing Association (NYSSLHA). She will represent the Central New York region. The ambassador positions are highly prestigious and recognize leadership and professional knowledge. The ambassadors will be visible representatives facilitating communication between the NYSSLHA association and area members.
John Hartsock
John Hartsock, Communication Studies Department, gave a talk at the American University of Paris on Oct. 18 on the topic of "The Relevance of Literary Journalism in the Age of Globalization." It was one of two talks he gave in Paris in addition to his serving as a visiting professor at Paris Université from Sept. 27-Oct. 22. His talk at the American University of Paris was sponsored by the departments of English, Communications and Comparative Literature, and explored why the aesthetic implications of literary journalism serve as an important vehicle for explaining our globalized world. On Oct. 16, Hartsock also gave a talk at the Institute for Anglophone, Romance and German Worlds at Paris Université on the subject of "American Literary Journalism and the Exploration of the Cultural Other," examining how literary journalism resisted the elitist literary and journalistic paradigms that came to dominate the academy for much of the 20th century to the exclusion of the cultural other. As a visiting professor during this period, Hartsock taught a graduate course at Paris Université on the subject of "The Aesthetics of Cultural Experience in American Literary Journalism." Hartsock has published widely on the subject of literary journalism, and is the editor of Literary Journalism Studies, the official peer-reviewed journal of the International Association for Literary Journalism Studies.
William Hopkins
William Hopkins, professor emeritus of psychology, recently received a Paul Harris Fellow award from Cortland Rotary for developing and facilitating the Cortland-Belize Partnership in Special Education. He presented the keynote address at the 60th Diamond Jubilee Annual Convention of the New York State Retired Teachers Association, along with a session on preventing stress.
Lin Lin
Lin Lin, Childhood/Early Childhood Education Department, will present three papers at the 90th Annual National Council for the Social Studies (NCSS) annual conference from Nov. 10-14 in Denver, Colo. Lin and two co-authors will present their published article on social studies titled "Whose History? An Analysis of the Korean War in History Textbooks from Six Countries: the United States, China, Japan, South Korea, North Korea and Russia." As one of the co-authors, Lin will present another presentation on the topic of "Collective Memories of World War II in History Textbooks from China, Japan and South Korea." The manuscript has been sent to Curriculum Inquiry and is under review. Both papers will be presented at the College and University Faculty Association (CUFA) session of NCSS. With three Chinese faculty members from other universities, Lin will present on the topic of "Learning and Teaching about the Reemerging China: Stories and Perspectives of Chinese Immigrant Social Studies Educators in the U.S."
Robert Ponterio and Jean LeLoup
Robert Ponterio, Modern Languages Department, and Jean LeLoup, professor emerita of international communications and culture, presented a workshop titled, "Practical Approaches to Teaching Culture: In Search of Cultural Perspectives," on Oct. 15 at the Rocky Mountain Modern Language Association Conference in Albuquerque, N.M. The workshop focused on methods of integrating culture with language instruction through the national standards for foreign language learning. LeLoup is currently teaching Spanish in the Department of Foreign Languages at the U.S. Air Force Academy in Colorado.
Robert Spitzer
Robert Spitzer, Political Science Department, is the author of a chapter titled, "Gun Control: Constitutional Mandate or Myth?" that appears in the just-published book, Moral Controversies in American Politics. The book is published by M.E. Sharpe.
Ryota Yaginuma,
Ryota Yaginuma, a visiting scholar from Japan, will study character education under the guidance of Thomas Lickona, Childhood/Early Childhood Education Department and Director of Center for the 4th and 5th Rs, through September 2011. Yaginuma is an associate professor at Gifu National University, Graduate School of Education in Japan, and has a Ph.D. in literature from Waseda University in Japan for the study of John Dewey's pragmatism and educational theory.
Yaginuma has published numerous works, including John Dewey's Pragmatism and Education (2002); The Problem-Solving Type Moral Teaching (2006); The Study of Moral Education (2007); Rorty's Philosophy and Education (2008); The Problem-Solving Type Moral Teaching -Case Study (2009); and Schooling and Moral Education (2010).
The goals of this visiting scholarship study are to write about character education for Japanese teachers and to translate important papers and books regarding character education, in particular, "Smart & Good High Schools," written by Lickona and Matthew Davidson in 2005. Yaginuma will visit area schools that represent best practices of character education and make a comparative study of American character education and Japanese moral education.

Submit your faculty/staff activity