Giving and Receiving: SUNY Cortland's Contributions
College marks fourth year of recognition for community service

For a fourth consecutive year, SUNY Cortland has received federal recognition for its community service by being named to the President's Higher Education Community Service Honor Roll.
SUNY Cortland: Stewards of Place
On any given day, you will find SUNY Cortland students, faculty and staff engaged and supporting the local Cortland community, the Finger Lakes Region and beyond. The members of the College community serve as learners, as well as teachers, in addressing the challenges and opportunities that we all face.

We consider our role as stewards of place to be central to our mission by involving ourselves with our local and global communities to create, share and apply our collective knowledge to improve quality of life for all. Our purposeful engagements are built from four pillars; location, interaction, integration and a belief that they are mutually beneficial.
Strengthening College and Community Connections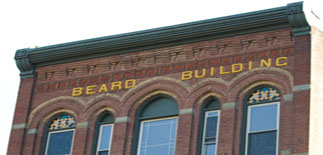 Main Street SUNY Cortland is a highly visible symbol of how the College's administrators, faculty and students see themselves tied to the economic and civic well-being of the greater Cortland community.