At SUNY Cortland, Voter Registration Soars
11/02/2012
SUNY Cortland does more than produce new graduates. It's also really good at creating new voters.
Cortland students are expected to visit their local polling places in impressive numbers on Election Day, after a campus group's remarkable effort to register more than 1,500 students.
The College's New York Public Interest Research Group (NYPIRG) chapter, a non-profit and non-partisan organization devoted to activism, led the charge that resulted in 1,611 new voter registrations.
That number is the third highest among 20 campuses statewide where NYPIRG is active. It trails only Borough of Manhattan Community College, a CUNY institution of more than 24,000 students, and Binghamton University, which claims a student population nearly twice as large as SUNY Cortland.
SUNY Cortland — with an enrollment of roughly 7,300 — boasts the highest percentage of registered student voters among campuses that the non-profit serves, according to Amanda Carpenter, the College's NYPIRG coordinator.
"To see so many Cortland students who not only care, but care enough to make sure their friends or roommates take advantage of the right to vote, it's just astounding," Carpenter said. "The elections matter to them and it shows."
NYPIRG supervisors originally set an ambitious goal of 1,500 registered voters from SUNY Cortland to encourage outreach and creativity from its office on the College's campus, Carpenter said. Support from many campus groups and faculty members allowed the number to be met and eventually exceeded.
A presidential election didn't hurt either.
"Even beyond the presidential race, this year hundreds of our New York state representatives are up for re-election," said Carpenter, who at times made eight presentations in a single day to individual classes. "When it comes to local elections, Cortland students have the ability to really influence them and make sure that the things that matter most to them, as students, get heard."
Amanda Carpenter
In addition to securing signatures, Carpenter and a team of about 20 volunteers sought to educate the campus on issues with relevance to students, including higher education reform, health care and women's rights.
"Different things matter to different students, so we've been doing a lot of non-partisan education," Carpenter said.
Presidential debate watch parties and grassroots presentation efforts helped. So did a major "Rock the Vote!" concert featuring campus performing groups in September. In a two-day push, nearly 500 students registered.
Carpenter said many other campus groups and organizations boosted NYPIRG's efforts, including the College's Institute for Civic Engagement, Student Government Association, Educational Opportunity Program, United University Professions, American Association of University Women, NeoVox and the College President's Office.
President Erik J. Bitterbaum fully backed securing vans to transport students to their respective polling places, Carpenter said.
"That's something he was totally supportive of," she said. "Faculty, in general, have made this one of the greatest campuses I've ever had the pleasure of working on because they're so passionate about getting their students civically engaged."
Students who live on campus will vote at Park Center or the Cortland Water Works, depending on their residence. Residents of Alger, Hayes, Higgins and Hendrick halls and Casey and Smith towers will vote in Park Center. Residents of Bishop, Cheney, Clark, DeGroat, Randall and Shea halls and Glass Tower will vote at the Cortland Water Works, located on Broadway Avenue.
Students who live off campus should visit the Vote 411 website to verify their polling place. By entering their address, voters also can use the website as a comprehensive source for candidate information.
Students who have election-related questions can contact Carpenter at (607) 753-4815.
Cortland Leads Globalization Effort
11/06/2012
SUNY Cortland today announced the launch of SUNY Global Workforce Project, a website developed by faculty at SUNY Cortland and the College at Brockport to internationalize the curriculum of all 64 SUNY campuses.
The website, operated by the SUNY Levin Institute, will help college faculty modify their traditional coursework to enhance students' international understanding and develop skills needed in the modern, global economy. Those skills include cross-cultural communications, holistic thinking and technological acumen.
"Whether it is our faculty conducting research overseas, our students studying abroad, or our administrators partnering with their counterparts in foreign countries to offer a dual degree, SUNY is committed to offering students and faculty alike with access to the best tools and resources from around the world," said State University of New York Chancellor Nancy L. Zimpher. "This innovative curriculum project will serve our faculty and, in turn, our students with a fantastic universal platform and I commend the SUNY Levin Institute, SUNY Cortland, and the College at Brockport for making it possible."
Beginning in August 2009, SUNY Cortland, the SUNY Levin Institute and the College at Brockport implemented a Global Workforce Project to prepare undergraduate students for the global economy. The project, funded by the U.S. Department of Education, created and tested new global curricula developed to enhance international knowledge and to develop the skills needed in the global workforce of the 21st century.
More than 11 SUNY Cortland instructors piloted the program in 23 courses, affecting more than 1,000 students.
The Global Workforce Project is part of a larger effort by Cortland to increase global awareness on campus, said William Skipper, the College's project coordinator and chair of its Sociology/Anthropology Department.
"Cortland emphasizes the importance of global issues to the undergraduate experience by offering multiple globally-focused majors and minors as well as an array of foreign languages and study-abroad opportunities," Skipper said. "The Global Workforce Project now offers a path for all students to gain knowledge of the wider world through a more globally-focused general education curriculum."
Beyond preparing the students, the Global Workforce Project provides training to SUNY faculty to help them infuse their classrooms with global content.
"Last fall, 10 SUNY campuses visited Cortland to learn about the project," SUNY Cortland President Erik J. Bitterbaum said. "I watched my faculty share their experiences piloting the curriculum, and it was clear that all of them been transformed through their participation in this project."
Cortland sport management instructor Aaron Zipp piloted the Nationalism and State Sovereignty Module in his strategic management courses.
"I was excited to bring history and political science into a business-related course," Zipp said. "My students continue to report that this exercise helped them understand how different cultures use sports to express nationalistic pride."
The SUNY Levin Institute's Globalization101.org website hosts the new Global Workforce Curriculum. An online training program for the Global Workforce Curriculum is in development and will be available in spring 2013. Also in spring 2013, SUNY Cortland, Brockport and the SUNY Levin Institute will be hosting a daylong conference on the themes of the Global Workforce Project.
---
Capture the Moment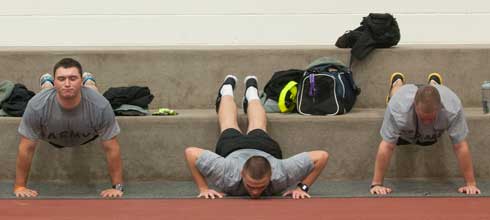 At 6 a.m., while most other students are still slumbering, 11 SUNY Cortland students and two from other colleges are doing physical training exercises three days a week in Lusk Field House. Cortland Campus Army Reserve Officer's Training Corps (ROTC) cadets, including Bret Hanson, Nick Marr and David DeForest, will participate in the College's Veteran's Day public ceremony at 3 p.m. on Monday, Nov. 12, in the Park Center Hall of Fame Room.
---
In Other News
Cortaca Blood Drive Provides Hurricane Relief
11/06/2012
The winner of the 2012 Cortaca Challenge Blood Drive wasn't one of the football rivals competing this Saturday. According to organizers, the winners were the American Red Cross shelters that saw their blood supplies take a hit after Hurricane Sandy.
SUNY Cortland collected 65 units of blood from its students, faculty and staff members during a five-hour drive in the Corey Union Exhibition Lounge Nov. 2. That's enough blood to save nearly 200 lives, based on estimates from the American Red Cross website.
The American Red Cross collected enough blood
to save nearly 200 lives, based on its estimates.
"So many Cortland students are from the Long Island and New York City areas and I think most of them were impacted in some way by this storm," said Lydia Rosario, a student organizer and a member of Alpha Phi Omega, the College service fraternity that took the lead on the event.
"I think more people were concerned with giving back after the hurricane than they were with winning the Cortaca Blood Drive Challenge, which really speaks to the character of this campus."
The 54th annual Cortaca Jug game takes place at noon Saturday, Nov. 10, at the College's Stadium Complex.
For several years, SUNY Cortland and Ithaca College have participated in the friendly competition to see which institution can collect a higher blood donation during the week leading up to the annual gridiron showdown.
Ithaca collected 284 units of blood to take home the 2012 title. This year, however, the blood drive took on new meaning because of Hurricane Sandy.
The storm forced the cancellation of more than 240 blood drives, which resulted in a shortfall of more than 8,000 donations. According to the American Red Cross website, more than 44,000 blood donations are needed each day.
Rosario, a junior psychology major from the Bronx, donated at the Nov. 2 drive. She said the choice to give was an easy one.
"The Red Cross workers are very supportive and appreciative," she said. "And this year, more than ever, they needed it."
Campus Leaders to Coordinate Sandy Efforts
11/06/2012
Students, faculty and staff members from some of SUNY Cortland's most service-minded groups will meet Friday, Nov. 9, to discuss ways in which the College can best utilize its resources to help the victims of Hurricane Sandy.
Friday's planning session will determine an effective way for the College's many campus groups who have expressed an interest to provide relief, according to John Suarez, SUNY Cortland's coordinator of service-learning for its Institute for Civic Engagement.
"We have to funnel our efforts to provide the help that people need," Suarez said.
So far, more than a dozen SUNY Cortland offices and groups have offered their support.
Suarez said the group is working with Cortland County's chapter of the American Red Cross to determine its needs. At this time, Red Cross officials are seeking only funds, not clothing or food items, he said.
SUNY Cortland's campus leaders also are reaching out to relief groups working in the hardest hit areas to find out their additional needs.
The campus leaders who will attend Friday's planning session include Amanda Carpenter, the project coordinator for New York Public Interest Research Group; Vicki Johnson, the Protestant chaplain for the Interfaith Center; Sean Jolliff, the captain of Emergency Medical Services; Christopher Kuretich, the assistant vice president for student affairs; LeighMarie Weber, the president of Student Government Association; and Suarez.
Several efforts are in the works, including a SUNY Cortland A Cappella concert on Thursday, Nov. 15, that will serve as a fundraiser.
"We want to know our audience in New York City and Long Island and we want to be able to help them," Suarez said.
Cortland Provides Central Location for SUNYAC
11/06/2012
The headquarters of the State University of New York Athletic Conference (SUNYAC) is now in Cortland, N.Y.
The Division III league this year relocated its main office to the rural, Upstate New York city — already home to the New York Jets summer training camp, the Empire State Senior Games, the legendary Cortaca Jug football rivalry and many other high-profile athletic events — to provide a central meeting location for its 10 member institutions. Previously, the conference operated out of Fredonia, N.Y.
"This is really just about geography, plain and simple," said Azure Davey, the conference's first-year commissioner.
The SUNYAC, formed in 1958, was previously housed in Western New York because that's where retired founding commissioner Patrick Damore lives. Besides SUNY Cortland, the conference includes full-time members Brockport, Buffalo State, Fredonia, Geneseo, New Paltz, Oneonta, Oswego, Plattsburgh and Potsdam plus affiliate member Morrisville in two sports.
"Being centrally located, Cortland affords us an opportunity to have a point place for folks to convene," Davey said. "I can't ask people to drive from Plattsburgh to Fredonia for an in-person meeting. But I can from time to time ask them to meet at a central location in the state.
"Cortland provides that location for us."
The drive from Plattsburgh to Cortland, for instance, is two and a half hours less than a trip from Plattsburgh to Fredonia. And the relocation saves more than three hours of travel time on the road for a conference member such as New Paltz.
Davey, who served as assistant athletic director for compliance, student services and scheduling at SUNY Cortland from 2004 to 2006, said the move saves costs too.
"Our members can come and go without having to lodge anywhere," she said. "It's just a smarter way to do business."
The SUNYAC's chief responsibility is the governance and oversight of its members, Davey said. The conference also oversees more than a dozen committees on issues such as eligibility, infractions and scheduling in addition to championship committees for its 20 sports.
"Making sure those committees interact with each other and feed information to each other in an organized, efficient manner to ensure we do our business correctly when it comes time for a championship or an infraction … that's the biggest responsibility of the conference," Davey said.
Besides its commissioner, the SUNYAC employs one other full-time employee, assistant commissioner Megan Cross '03, a former third baseman for the College's softball team; and one part-time employee, Roy Pratt. The trio works out of one office in Park Center, Room 2120.
Davey said the location provides no advantage to the College other than easier access to a one-on-one conversation.
"We're an independent group and we represent all of our members in the exact same way," Davey said. "We're in a new location, but it's just business as usual otherwise."
An Antlers Update
11/05/2012
As the staff of SUNY Cortland's Environmental and Outdoor Education Center at Raquette Lake prepares for the winter season, we thought it would be a good time to update friends, students and alumni about the progress that's been made in securing the future of Antlers. Although things may appear calm on the surface, there has been a lot of activity behind the scenes. I can assure you that the Antlers property is being transferred to the Cortland College Foundation as quickly as all the parties involved can responsibly complete the process.
Because both the Foundation and the College are doing their due diligence and crafting the agreement to make sure all New York State requirements are met, this transfer process is taking longer than anticipated. Considerable progress, however, is being made on each of the following components:
Fundraising: The Foundation has committed to raising $1.5 million for Raquette Lake. To date, $413,992 has been committed. The fundraising staff has submitted numerous large gift proposals to potential donors and continues to pursue other major gifts and naming opportunities. Our longstanding policy is to report closed gifts in our figures only when we have complete pledge documentation. Our expectation is to solicit a much broader group of individuals interested in Raquette Lake after Jan. 1. We hope to be further along with the transfer process by then. Your leadership support will be important to our success, and we will be asking each of you to make a gift. Our goal is to raise the $1.5 million by June 30, which is the anticipated closing date of our $25 million Educating Champions campaign. Regardless of how much is raised by that date, Raquette Lake fundraising will continue until the goal is met. Raquette Lake will always be an optional gift designation for donors.
Legal: The terms and conditions of a 30-year lease are very complex. Legal representatives for both the College and the Foundation are working diligently and judiciously to finalize the lease agreement. After the lease agreement terms are mutually agreed upon by the College and Foundation, the College will send the lease to the Attorney General's office for review. After that review, appropriate revisions will be made and the lease agreement will be sent to the New York State Office of the Comptroller. After comptroller approval, the transfer of title can take place. Our goal is to have the lease sent to the AG and the comptroller by Dec. 31.
Business Plan: The Foundation board requested that a comprehensive business plan be developed in an effort to show how Raquette Lake facilities will be utilized going forward. The director of the Outdoor Education Center at Raquette Lake, Rob Rubendall, drafted the original business plan document. It has since been further enhanced with a financial model. For all practical purposes, the business plan is "complete." Since it was always envisioned as a living, working document, however, it will continue to evolve as the College looks to develop a sustainable, year-round programmatic framework for both properties.
Capital: The College remains committed to providing $1 million in capital funds to update Antlers.
Other: The Phase I environmental audit has been started and the firm conducting the audit will provide a report by Nov. 17. Prior to the property transfer from ASC, the Foundation will require that any issues identified through the environmental audit be resolved. The College has agreed to be financially responsible for any remediation required. Although this is something that could potentially delay the transfer, it will not derail it. And it is in everyone's best interest to complete that work prior to the transfer.
Thank you for your patience. As much as we all want the transfer to happen quickly, I believe we can agree that allowing all parties involved with the Antlers property transfer time to complete their due diligence will strengthen the measure and, ultimately, the program. I am happy with the progress that has been made since I joined SUNY Cortland on June 25, 2012. As an outdoor enthusiast, I understand your interest in and commitment to Antlers and the Center for Environmental and Outdoor Education at Raquette Lake.
Kim
Kimberly A. Pietro
Vice President for Institutional Advancement
Executive Director, Cortland College Foundation
Brockway Hall, Room 313
SUNY Cortland
P.O. Box 2000
Cortland, NY 13045
p (607) 753-2514
Veterans to be Honored on Nov. 12
11/08/2012
As Veterans Day approaches, visual reminders abound in the form of students dressed in Army fatigues, marching across campus or scrambling up and down the forested hill beside the College's steam plant.
The Reserve Officer's Training Corps (ROTC) cadets will also be there in uniform during the College's annual Veterans Day Ceremony at 3 p.m. on Monday, Nov. 12, in the Park Center Hall of Fame Room.
The solemn ceremony, held to thank U.S. veterans who have served their country, will feature words of remembrance from U.S. Army Major Kevin Swab (ret.), SUNY Cortland's Army ROTC senior military science instructor. A reception will follow in the lobby adjacent to the Hall of Fame Room. All members of the campus and community are welcome to attend.
Swab is the first ROTC instructor to teach a class on the SUNY Cortland campus in about 20 years. The program returned to campus this fall after a nearly two-decade hiatus, raising the military students' profiles at the College.
The campus ROTC cadets will "present the colors" at the ceremony, and one of them, communication studies major Adam Gonzalez, will read a poem commemorating the sacrifice made by men and women in service to their country.
"We recognize Veteran's Day because these individuals have taken an oath to defend the Constitution of the United States," said Swab, who is currently instructing a group of 13 cadets on the SUNY Cortland campus.
"And they sign a contract, and that contract is one that could put them in harm's way," Swab continued. "There are very few contracts out there that could cost you your life as it is with the U.S. military. People honor U.S. service members because of the freedoms they protect."
Swab served nearly 24 years in the regular Army and in the Army National Guard. During his career, he deployed on missions to Southwest Asia and Haiti, and around the country and overseas for numerous training exercises. His awards and qualifications include the Meritorious Service Medal, Army Commendation Medal, Army Achievement Medal, Combat Infantryman Badge, Ranger Tab, Airborne and Air Assault Badges.
He is currently a senior military science instructor at SUNY Cortland with the Army Reserve Officer Training Corps' Excelsior Battalion, headquartered at Cornell University. This fall, he established a presence for the ROTC on the SUNY Cortand campus when he opened an office in Miller Building, Room 218.
Until this semester, SUNY Cortland had not had ROTC on campus since around 1993, when the program disbanded in the face of opposition from students and faculty over the United State's official policy of "Don't Ask Don't Tell" regarding treatment of homosexuals in the military. The policy was repealed in September 2011.
In the intervening years, SUNY Cortland students continued to train for military service with ROTC at Cornell University, shuttling weekly to Ithaca for classes and training.
Swab began training cadets at Cortland last year, when eight students participated. The 13 who are enrolled presently include one student who comes to campus from the TC3 campus for classes and one who travels from the SUNY Morrisville campus.
The program currently has two seniors, five juniors, three sophomores and one first-year student. Ten of the SUNY Cortland cadets are male, one is female.
Army ROTC cadets are up bright and early on a recent Monday morning for physical training inside Lusk Field House. From left, they are Jordan Rogers (cadet behind him could not be identified), Nick Marr, David DeForest and John Carlisle.
Swab has noticed that many SUNY Cortland students participate in athletics, which makes it difficult to participate in ROTC.
Only one cadet is a student-athlete, and the individual, John Recordon, must juggle the heavy physical demands of ROTC with those of his varsity soccer games and practice, Swab said.
"I see that as a challenge," Swab said. "We do work with the student-athletes. The allowance we make is that, in season, we let them miss our morning physical training and weekend training as long as they are maintaining their physical fitness."
Today's ROTC first-year and sophomore participants sit in a weekly class on campus followed by a uniformed practice session on or nearby the campus. Juniors still travel in a shuttle van to the Cornell University campus for other parts of their program. Mondays, Wednesdays and Fridays, all the intrepid students rise at 6 a.m. to take physical exercise inside Lusk Field House. Periodically, all cadets travel to a field-training site away from campus to practice military maneuvers. For example, they visited Tuller Hill State Forest in Virgil in September.
The cadets can participate in ROTC as an elective on a trial basis, without a commitment or a scholarship. Scholarship recipients get free tuition or room and board along with up to $1,200 for books, a monthly stipend of between $300 to $500 a month, plus about $900 a month for summer training. The ROTC Scholarship participants in return sign an agreement that they will, upon graduation, serve for eight years in the military, including four years of active duty. They'll begin their careers as officers serving at the rank of at least a second lieutenant.
Swab is interested in starting a club on campus for those who served or plan to serve in the military, as well as those who support America's armed forces or wish to learn more.
The College has 65 enrolled students who are affiliated with the military, including individuals on active duty and in the reserves, former veterans retraining for a civilian career and dependents of veterans. Twelve of them live on campus and 57 of the total are pursuing undergraduate degrees.
In 2007, ROTC students attempted to launch a Veterans Club but the effort was short-lived.
"When the class met we talked about that," Swab said. "We don't even have a name yet but it will be dedicated to the appreciation of military service, in order to educate any student who joins about what it means to be in the military. It also will be a place for veterans to come together and socialize."
Veterans will be at the forefront of many people's thoughts during Monday's ceremony. SUNY Cortland President Erik J. Bitterbaum will give the welcome and will acknowledge guests. Rev. Vicki Johnson, Interfaith Center chaplain, will offer the invocation. Gerri Smith, U.S. Air force, retired, will recite the "Pledge of Allegiance."
The event is sponsored by the President's Office. Parking will be available in Park Center and Professional Studies parking lots. For more information, contact Karen Seibert, special events assistant, at (607) 753-2377.
Second Fall Open House Set for Nov. 12
11/06/2012
More than 600 prospective college students are expected to spend a day visiting academic departments, touring the campus and talking to faculty and students during the second SUNY Cortland Fall Open House on Monday, Nov. 12.
The College will show off its campus during a regular day of classes to potential students who missed the first fall Open House on Oct. 8. It was attended by approximately 600 students and their family members, said Admissions Director Mark Yacavone.
Faculty, staff and students from academic departments and student service offices will be available to meet with visitors throughout the day. Additionally, guests may tour the campus and eat in the dining facilities.
Open House allows visitors the opportunity to experience the campus by interacting directly with students, faculty and staff. The visitors have made prior reservations with the Admissions Office to be on campus that day.
The program will formally begin at 9:30 a.m. in Park Center. An academic fair, featuring department faculty, and a student services fair, with student services representatives, will take place in Park Center Corey Gymnasium from 9:30 to 11:30 a.m. At 12:30 p.m., students are encouraged to proceed to their chosen academic department offices for more information and a tour.
Guided tours of the campus and residence halls will run from 10:30 a.m. to 2:30 p.m. Participants will meet in the Corey Union Function Room.
Assistant Professor of Biological Sciences Theresa Curtis will give a presentation on pre-medical advisement at 1:15 p.m. in Bowers Hall, Room 236.
Open House visitors also are welcome to attend the Veterans Day Ceremony at 3 p.m. in the park Center Hall of Fame Room.
Special sessions on admissions, financial aid, Honors Program, athletics, dining services and residential services also will be offered that day. For details, visit the website at cortland.edu/admissions.
Parking for Open House visitors will be provided at the Professional Studies Building lot, formerly called the Studio West lot, and the Route 281 parking lot, which has shuttle bus service to Park Center.
Yacavone noted that the fall format is much different from the spring Open House, in which the majority of the visitors already have been admitted and are in the process of deciding whether to attend SUNY Cortland. By contrast, at the fall Open House, the visitors are in an earlier stage of choosing a college.
Native American Culture Events Planned
11/02/2012
A SUNY Cortland series that focuses on Native American culture concludes with a screening of the film, "Lost Sparrow," on Tuesday, Nov. 6, and a lecture about intercultural relationships with indigenous people on Tuesday, Nov. 13.
"Lost Sparrow" will be screened at 7 p.m. in Sperry Center, Room 105. The film follows a family's attempt at redemption after two Crow boys face a tragic death.
Featured speakers Freida Jacques and Jack Manno will lead the following week's discussion, titled "The Two Row Wampum: A Guide to Respectful Nation to Nation Relationships," at 7 p.m. in the same location.
Jacques, an Onondaga Clan Mother, and Manno, a professor of environmental studies at SUNY ESF, will discuss the Two Row Wampum, the first treaty between the Haudenosaunee and the European newcomers in 1613.
Jacques works at the Onondaga Nation School in Syracuse, N.Y., as a home/school liaison. She is a bridge between her culture and many educational institutions. A leader in her community for more than 30 years, she will talk about Haudenosaunee culture and its perspectives on gratitude, human rights and responsibilities and the clan's conception of democracy.
Manno's research interests include indigenous values and environmental decisions. He is a participating faculty member in Syracuse University's Native American Studies program. He will describe the role of allies, in particular neighbors of the Onondaga Nation, and plans to commemorate the 400th anniversary of the Two Row Wampum in 2013.
A statewide yearlong campaign will be titled "Honor the Treaties and Protect the Earth."
The film series is sponsored by a grant from Auxiliary Services Corporation (ASC), Native American Studies and the Center for Gender and Intercultural Studies.
The lecture is funded by the President's Office and its speakers are supported by a Campus Artists and Lecture Series Grant.
For more information, contact Dawn Van Hall, technology support professional in the Information Resources Support Center, at (607) 753-4890.
Great American SmokeOut Events Planned
11/06/2012
This year's Great American SmokeOut on Nov. 15 is more than just a good day to quit smoking.
It begins the official countdown toward the day SUNY Cortland becomes a tobacco-free campus.
On Jan. 1, all tobacco products -- cigarettes, cigars, chewing tobacco; anything made with the proven carcinogen -- will not be allowed on campus.
A calendar counting down the 47 days between the SmokeOut and the start of the tobacco ban will be featured on the College's new Tobacco-Free webpages, which will go live on Nov. 15.
"This year's Great American SmokeOut is a little more significant for the SUNY Cortland campus because we are going tobacco free starting in 2013," said Catherine Smith, the College's health educator in the Health Promotions Department. "It's a good time for tobacco users to learn about the negative health impacts of tobacco, find out where they can get help quitting, or make a pledge to stop using tobacco before the ban takes effect."
In addition to launching its web pages, a mini-website located within the main campus website, SUNY Cortland's Tobacco Advisory Committee has other events planned around the date.
On Wednesday, Nov. 14, members of the SUNY Cortland community will have an opportunity to sign pledges that they will not use tobacco at tables set up on the first floor of Corey Union. Educational material will be there as well.
The tables will be staffed from 11 a.m. to 2 p.m. by Health Promotion interns, members of the Tobacco Advisory Committee, ASC Nutrition Services and Colleges Against Cancer.
On Thursday, Nov. 15, the day of the Great American SmokeOut, members of the Tobacco Advisory Committee will hold a Sandwich Seminar titled "Working Toward Compliance with the Tobacco-Free Policy, Effective Jan. 1, 2013." It will be held from noon to 1 p.m. in Brockway Hall Jacobus Lounge.
Get in the Game with Cortaca Tweets
11/06/2012
SUNY Cortland will recap Saturday's Cortaca game in 140 characters or less.
The College's main Twitter account (@SUNY_Cortland) will offer important game updates and commentary starting at 11:30 a.m. from the SUNY Cortland Stadium Complex.
Wherever they may be during the game, College students, alumni, faculty and staff are invited to use #Cortaca for appropriate game-related tweets.
The most creative ones will be re-tweeted from the College's Twitter account and will appear on SUNY Cortland's official Facebook page.
Who knows? Cortaca could become a trending topic on Twitter.
The SUNY Cortland football team, ranked 19th in the nation, enters its final regular season game with a 7-1 record. The team captured the New Jersey Athletic Conference title Oct. 27 and earned the league's automatic berth into the NCAA Div. III tournament.
Ithaca College is 6-3 on the season.
Kickoff for Saturday's game is slated for noon.
Performances Return to Stage
11/06/2012
SUNY Cortland's Performing Arts Department returns to the stage with two upcoming November performances.
Ubaldo Valli, a lecturer of performing arts, directs a concert of classical orchestral music performed by the College-Community Orchestra at 8 p.m. on Tuesday, Nov. 13. The concert will be held at the Cortland Junior Senior High School Auditorium, 8 Valley View Dr., in Cortland. The off-campus venue is offered while the Dowd Fine Arts Center undergoes extensive renovations.
The College Singers will perform the music of Leonard Bernstein at 3 p.m. on Sunday, Nov. 18, in the College's Interfaith Center at 7 Calvert St. Conductor Stephen B. Wilson, a professor of performing arts, coordinates this concert, which will include selections from "West Side Story," "Candide," "Mass" and "1600 Pennsylvania Avenue."
Both events are free and open to the public.
For more information about these events, visit the Performing Arts Department website or call (607) 753-2811.
Andean Folk Music Performance Canceled
11/05/2012
UPDATED: Tahuantinsuyo, the group that pioneered Andean-inspired folk music in the United States, has canceled its performance scheduled for Wednesday, Nov. 7, due to circumstances created by Hurricane Sandy.
For more information, contact the Campus Activities and Corey Union Office at (607) 753-5574.
EARLIER COVERAGE: Musicians who are adept at performing the folk music of the Andean countries — Ecuador, Peru, Chile, Bolivia, Argentina and Colombia — will perform at SUNY Cortland on Wednesday, Nov. 7.
Tahuantinsuyo will dance with instruments while wearing costumes of the "Inca Empire" during the performance, which begins at 7 p.m. in the Corey Union Function Room.
Part of the College's 2012-13 Campus Artist and Lecture Series (CALS), this performance celebrates Native American Heritage Month.
Tickets cost $5 for faculty, staff and the general public and $3 for SUNY Cortland students. Pre-school children will be admitted free. Tickets can be purchased in Corey Union, Room 406, or beginning one hour prior to the performance at the Function Room. For more information, contact the Campus Activities and Corey Union Office at (607) 753-5574.
Tahuantinsuyo members are dedicated to research and performance of the traditional music. Tahuantinsuyo's message for all is: "Whoever you are, wherever you come from, you have roots and your own culture. Learn to love and respect it to help keep it alive. Teach your children to respect it and show pride for it."
Tahuantinsuyo members are family and friends who share the common goal of trying to keep the traditional Andean music alive and help their people identify with their culture.
Guillermo Guerrero formed the group in 1973 in the northern Peruvian Andes and continues as the director. Members include Fernando Leyva, John Freire, Andrés Jimenez, Alcides Loza, Saúl Guerrero and, on many occasions, Cesar Vele.
They have performed at renowned concert halls and museums such as the Museum of Natural History, Carnegie Hall and Constitution Hall in Washington, D.C.
They also worked with the World Music Institute (formerly The Alternative Museum) and appeared at places like the Symphony Space and Washington Square Church, where their CD, titled "Music of the Andes and Argentina," was recorded live.
The group has two recordings available at major record stores and on the Internet, "Tahuantinsuyo Music of the Andes" and "Music of the Andes and Argentina." Additionally, Tahuantinsuyo made two recordings for the Museum of Natural History utilizing ancient Andean instruments. The group was invited to the 150th Anniversary Celebration of The Smithsonian Institution in Washington, D.C., and to the international music festival "Voice of Asia" in Alma Atta, in the former Soviet Union.
In 1993, Tahuantinsuyo received a Certified Access Producers Award from Queens Public Television (QPTV) for a video of music and dance from the Andes, which they produced with two grants from Queens Council on the Arts and QPTV.
More Information on Tahuantinsuyo can be found on the group's website www.tahuantinsuyo.org.
Non-Traditional Students Recognized
Nominations are being accepted through Wednesday, Nov. 14, for SUNY Cortland's "Celebrate-a-Non-Trad" campaign. Sponsored by Advisement and Transition, the campaign is part of Non-Traditional Students' Week, from Monday, Nov. 4 to Friday, Nov. 10.
Forms have been emailed to the campus community and are available online as well as in Advisement and Transition, Memorial Library, Room A-111.
Non-traditional students do not have a uniform definition, but often are ones who have delayed enrollment in college beyond the same calendar year of high school graduation. They are at least 24 years of age or, regardless of age, have dependent children. Some are considered non-traditional students if they attend college part time for at least part of the academic year, or work full time while enrolled in college, or are considered financially independent for purposes of determining eligibility for financial aid, or have dependents other than a spouse, or are raising a child as a single parent, or have completed high school without receiving a formal diploma.
The purpose of the campaign is to recognize non-traditional students who often balance college with other commitments such as family, jobs and long commutes. SUNY Cortland will recognize nominated non-traditional students with a certificate and campus recognition.
Nominations should include the student's name, contact information, relationship to the student and comments about the non-traditional student. Comments will be listed on the certificate, unless otherwise noted.
For more information about Non-Traditional Students' Week or to recognize an outstanding non-traditional student, contact Cheryl Hines, non-traditional student support coordinator, by email or at (607) 753-4726, or visit the website.
'Directory of Campus Offices' PDF Updated
The Publications and Electronic Media Office has updated the SUNY Cortland Directory of Campus Offices, a PDF that lists emergency information, employee benefits, campus offices and faculty by department.
The PDF can be downloaded and saved or printed from the Directory link on the Faculty/Staff home page at http://webapps1.cortland.edu/directory_search/directorySearch_jq.php.
The Directory Search page also offers
a search by employee's last name
a search by department or office
a faculty and staff A-Z list
Employees are asked to keep their online directory listing current. Directions on how to make updates are listed on page four of the SUNY Cortland Directory of Campus Offices PDF.
2013 Orientation/Advisement and Registration Dates Planned
Orientation programs and transfer transition seminars have been planned for 2013. Below are the program dates for January, June/July and August. All first year orientation programs are two days with advisement and registration occurring on the second day of the program. All transfer transition seminars are one day.
January 2013
Transition Seminar: Friday, Jan. 11
Seminar and Open Registration: Tuesday, Jan. 22
June/July 2013
Transfer Session 1: Friday, June 21
First Year Session 1: Monday, June 24-Tuesday, June 25
Transfer Session 2: Wednesday, June 26
First Year Session 2: Thursday, June 27-Friday, June 28
Transfer Session 3: Monday, July 1
First Year Session 3: Tuesday, July 2-Wednesday, July 3
First Year Session 4: Monday, July 8-Tuesday, July 9
Transfer Session 4: Wednesday, July 10
First Year Session 5: Thursday, July 11-Friday, July 12
August 2013
Orientation and Open Registration: Friday, Aug. 23. This program is for students who cannot attend a June/July orientation.
Various offices and departments work together to make these events a success and to aid our new students in their transition to SUNY Cortland. The campus community is invited to participate in these programs.
For additional program information, refer to the orientation website at www.cortland.edu/orientation. Any questions regarding the Orientation program should be directed to Marinda Souva in Advisement and Transition.
Excellence in Professional Service Awards Nominations Due Jan. 31
Nominations are now being accepted for the College's Excellence in Professional Service Awards. Letters of nomination will be accepted from SUNY Cortland students, colleagues or supervisors. Any professional who has completed at least two years of service at SUNY Cortland is eligible for an award.
Nomination materials must be submitted no later than 4 p.m. on Thursday, Jan. 31 to Chair, Professional Service Awards Committee, Bursar's Office, Miller Building, Room 323. Nominees will be notified by the Awards Committee of their candidacy after Jan. 31.
Awards will be given for excellence in three categories:
Institutional Service Award
Nominees should be individuals who serve as role models within their area of responsibility, their profession or department. Characteristics such as leadership, organization, problem-solving or decision-making skills should serve as examples of professionalism of the highest caliber. These characteristics may be demonstrated in a number of ways, including but not limited to:
• outstanding performance within the job description
• participation in committees or activities that support the College's Long Range Planning Goals
• participation in professional development and training
Innovation Within Profession Award
Nominees should be individuals who have demonstrated creativity in the development or application of ideas or concepts within a professional operation. Characteristics of innovation may be demonstrated in a number of ways, including but not limited to:
• application of technology within one's field
• redesign of a process or program to improve effectiveness
• maximization of campus resources in operations (e.g. fiscal efficiency)
Service to Students Award
Nominees should be those who have ?demonstrated leadership in the development or enhancement of programs and services that respond to student needs. Characteristics of excellence in service may include, but will not be limited to:
• demonstration of "going the extra mile" in order to serve students
• development of creative student programming or services
• implementation of programs or processes designed to improve services to students
Typed letters of nomination must be submitted in the following format:
1. name, title, department of nominee
2. name of nominator, relationship to nominee (e.g. colleague, supervisor, student)
3. award category that captures the achievement of the nominee.
4. specific information in support of the nomination that answers why the individual's service/innovation/achievement in that category should be recognized.
5. up to two letters of support (recommended).
The Awards Committee reserves the right to request additional supporting information as necessary. Nominees must have completed at least two years of service as a professional staff member and must not have been a recipient of an award within the same category within the previous three years. Nominations should be for current service/innovation/achievements and for activities that would either not be considered to be within the normal scope of activities included in the nominee's performance program or should be documented to show how the service/innovation/achievement far exceeded normal expectations.
Recipients will have announcements of the honor sent to The Bulletin and the Cortland Standard. They will also receive a certificate of recognition at a small ceremony.
Campus community members are asked to nominate colleagues for their exemplary service.
For more information, contact Professional Service Awards Committee Chair Colleen DeGouff, Student Accounts Office, at (607) 753-2313.

Suggest a feature story
---
Faculty/Staff Activities
Jordan Kobritz
Jordan Kobritz, Sport Management Department, wrote a book review that was published in the Journal of Sport Management, volume 26, issue 5. He reviewed "Money Games: Profiting From the Convergence of Sports and Entertainment," by David Carter.
Susan Peterson
Susan Peterson, Modern Languages Department, will have her students' work published in the November issue of NeoVox. Students who took Spanish 202 last spring studied terminology associated with the environment, and NeoVox Project Director Lorraine Berry challenged the group with her spring topic of greed. Students wrote short pieces about the element of greed and its role in the destruction of the environment. "I congratulate my students on their work and am grateful for the opportunity presented by Berry to apply second language skills for this application," said Peterson.
Ute Ritz-Deutch
Ute Ritz-Deutch, History Department, will moderate the immigration panel at the annual Northeast Regional Conference of Amnesty International set for Saturday, Nov. 10, at Boston University. The conference, which consists of panels and workshops covering a range of human rights issues, will be held at Boston University. Ritz-Deutch is one of the organizers of the conference and the faculty advisor for the SUNY Cortland Amnesty International student group.
Robert Spitzer
Robert Spitzer, Political Science Department, spoke on "The Mass Media and Presidential Elections" at OASIS in Syracuse, N.Y., on Oct. 22.

Submit your faculty/staff activity