Community Service Earns Presidential Distinction
03/05/2013
SUNY Cortland has once again been named to President Barack Obama's Higher Education Community Service Honor Roll with Distinction.
The 2013 honor roll marks the seventh consecutive year SUNY Cortland has won national recognition for its civic engagement programs and the third time the College has received the elite "with distinction" designation.
"The Institute for Civic Engagement coordinates the application for this honor but the commitment is institution-wide," said Richard Kendrick, the director of the College's Institute for Civic Engagement and a professor in the Sociology/Anthropology Department. "We should all be proud of the work that we are doing together to engage our campus with the communities of which we are a part.
"Most of all, we should be proud of the students who are engaged through volunteering, service learning and internships, and the many faculty and staff who support these students in their commitment to improving the well-being of their communities."
Nearly 3,000 students from the College — 2,996 in all — contributed 185,772 community service hours during the 2011-12 academic year. More than 1,500 of those students contributed at least 20 hours of volunteer work, according to Kendrick.
Since 2006, the Corporation for National and Community Service (CNCS), a federal agency that fosters civic engagement through service and volunteering, has presented the annual honor to colleges and universities to recognize exemplary community service. The corporation administers programs that include AmeriCorps, Senior Corps, and Learn and Serve America.
Of the 690 schools recognized as honor roll members, 100 received distinction honors, including one other SUNY institution. The full honor list is available from the CNCS.
SUNY Chancellor Nancy Zimpher was in attendance March 4 when the 2013 Honor Roll recipients were announced at the American Council on Education's 95th Annual Meeting Leading Change in Washington, D.C.
Honorees for the award were chosen based on a series of factors including the scope and innovativeness of service projects, student participation in service activities, incentives for service and academic service-learning courses.
The College's honor roll application highlighted six particular SUNY Cortland service programs:
The SUNY Cortland AmeriCorps program, which completed its fourth year in 2011-12, served 19 community agencies and programs, focusing on needs identified through an annual community-wide assessment process known as "Cortland Counts." Through AmeriCorps alone, 558 students were recruited and volunteered 6,382 hours of their time to agencies that included the YWCA, the Lime Hollow Center for Environment and Culture, the Inclusive Recreation Resource Center and the Seven Valleys Health Coalition. The College's AmeriCorps program builds on long-standing relationships between the campus and Cortland community agencies that trace their roots to Community Outreach Partnership Center grants from the Department of Housing and Urban Development in the late 1990s. Through June 2012, the first four years of SUNY Cortland's AmeriCorps work have injected more than 75,000 hours of service into the community.
Nearly 18,000 meals were served as part of an alliance between the Central New York Food Bank and the Cortland Migrant Education Outreach Program (MEOP), which is housed at the College and administered through its School of Education. Additionally, 23 children received dental care through a partnership between MEOP and Finger Lakes Community Health. MEOP staff offers GED preparation and tutors migrant families in language and math courses. Last year, more than 600 migrant students were served by staff members and 82 student volunteers. SUNY Cortland health majors also taught lessons in nutrition while childhood/early childhood majors supervised children.
SUNY Cortland's Emergency Medical Squad (EMS), named the New York State EMS Council's 2012 Agency of the Year in the summer, saw its 57 members contribute more than 16,000 service hours to the College community in 2011-12. Staffed by student volunteers 24 hours a day, seven days a week while classes are in session, the non-transporting agency's members are highly qualified in basic life-support skills and answer roughly 350 calls per year related to injuries and illness on campus. The accolades during the 2011-12 academic year, however, were due largely to the group's work in the aftermath of a devastating September flood in Binghamton, N.Y. Ten EMS members gave more than 600 collective hours of their time to the Harpur's Ferry Student Volunteer Ambulance Service at Binghamton University, helping hundreds of displaced flood victims. Beyond that immediate call to action, EMS members collected food, clothing and children's items in Cortland to distribute in the Southern Tier area.
"Cortland's Authentic Service Learning Connection to Whitney Point," a service learning project built on collaboration between the College's childhood/early childhood education majors and teachers in the Whitney Point Central School District, saw 151 SUNY Cortland students benefit from a pre-service teaching experience while assisting one of the poorest school districts in Broome County with more than 1,100 volunteer hours. College students engaged in service learning technology projects for the classroom, community service efforts, after school tutoring services and evening programs such as Math Night, a Parents as Reading Partners program and school carnival fundraisers.
The SUNY Cortland Children's Museum, the site of hands-on learning for many youngsters in Cortland County, featured activities led by 235 College students majoring in childhood/early childhood education, recreation, parks and leisure studies, and speech and hearing science. Offering events both on campus and at different community agency sites, the museum provides social, emotional and academic learning experiences for many local children who need them the most. SUNY Cortland students pour more than 900 hours into museum programs in leading academic lessons while also working to establish stronger ties to the community.
SUNY Cortland graduate students pursuing a master's degree in literacy took an individualized approach to improving the reading and writing abilities of local children. The 204 graduate students devoted 25 hours each — 5,100 hours total — to improving an individual child's literacy skills. Each graduate student assessed a youngster's ability when the pair began working together, then tailored a learning plan to the child's strengths and needs. Over the course of five weeks, children received the individual attention that boosted their self esteem related to reading and writing.
As part of the honor roll application, the College was required to demonstrate a commitment to its civic engagement activities and its participation in organizations that support and sustain civic engagement. One of those organizations is the Main Street SUNY Cortland outreach facility at 9 Main St. in Cortland. That building houses some of the activities of the Institute for Civic Engagement, the College's AmeriCorps program, the Cortland Downtown Partnership and the Center for Economic Education.
The Main Street building includes the Beard Building Gallery, a teaching gallery for SUNY Cortland art students during the academic year and a gallery programmed by the Cortland Cultural Council during the summer. It also temporarily houses the College's Dowd Gallery, which has relocated while the Dowd Fine Arts Center undergoes renovation.
The honor roll is jointly sponsored by the CNCS, the Department of Education, the Department of Housing and Urban Development and the President's Council on Service and Civic Participation.
For more information, visit the CNCS website.
Vote Blaze in Mascot Madness Challenge
03/05/2013
The bracket's been built and SUNY Cortland has taken the top overall seed.
Now, it's time to make Blaze, the College's red dragon mascot, the winner of SUNY's first-ever Mascot Madness challenge.
The competition, which relies on online voting, began March 4 and runs for five weeks. SUNY institutions are competing in a standard single-elimination format in one-week rounds.
Voters can weigh in once per match-up in each round on SUNY's blog. As the top overall seed, SUNY Cortland has a bye for the first round. Seeding was determined based on the number of varsity teams a campus fields, with enrollment numbers used to break any ties.
Blaze will meet either Perseus, the SUNY Purchase Panther, or Hugo, the SUNY New Paltz Hawk, in second round action, which kicks off Tuesday, March 12.
Thirty SUNY campuses — representing 472 athletic teams and more than 220,000 students — will compete in the inaugural Mascot Madness challenge.
The complete voting schedule follows:
Round 1: Monday, March 4, at noon to Sunday, March 10, at 11 p.m.
Round 2: Tuesday, March 12, at noon to Sunday, March 17, at 11 p.m.
Round 3: Tuesday, March 19, at noon to Friday, March 22, at noon
Round 4: Monday, March 25, at noon to Thursday, March 28, at noon
Round 5: Friday, March 29, at noon to Thursday, April 4 at noon
Voters are encouraged to like SUNY Cortland on Facebook, follow @SUNY_Cortland on Twitter and use #CortlandPride and #MascotMadness to stay current with the competition.
Learn more about how you can help and vote.
---
Capture the Moment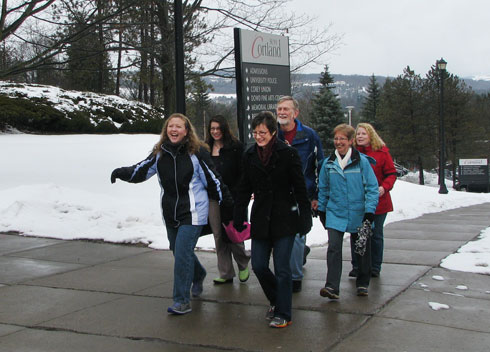 Taking a team approach to building healthier lifestyles, this group of lunchtime walkers meets daily for half-hour laps around the campus and community. This walk on Feb. 28 was during Body Appreciation Week and included, left to right, Jody Maroney, Liz Speziale, Pam Sullivan, Harland Bigelow, Mary Jo Carey and Brenda Chaffee.
---
In Other News
CICC Events Focus on Ethical Issues
03/01/2013
Two Cultural and Intellectual Climate Committee (CICC) events that concern themselves with ethical issues take place Tuesday, March 5, at SUNY Cortland.
The first, which continues the CICC's semester-long focus on The Immortal Life of Henrietta Lacks, is a screening of the BBC film "The Way of the Flesh." It takes place at 4 p.m. at the Dowd Gallery, located temporarily on the third floor of Main Street SUNY Cortland, at 9 Main St.
A talk by Robert Shetterly, the artist who created the "Americans Who Tell the Truth" exhibition running currently at the Dowd Gallery, follows at 7 p.m. in Sperry Center, Room 205.
Both events are free and open to the public.
Andrew Fitz-Gibbon, an associate professor of philosophy at the College, will introduce the film that inspires the first event. The documentary concerns itself with the story told in The Immortal Life of Henrietta Lacks, the 2010 non-fiction book about race and medical ethics. In it, author Rebecca Skloot details the experiences of a poor black tobacco farmer whose cells, taken without her knowledge in 1951, have proven vital in gene mapping, cloning and the development of vaccines, generating millions of dollars never seen by Lacks or her family.
Filmmaker Adam Curtis produced a one-hour film about Lacks and her cells in the late 1990s — before the best-selling book was published — as a way to explain the significance of her contributions to genetic research.
"The Way of the Flesh" eventually earned distinction for the best science and nature documentary at the San Francisco International Film Festival.
The Maine-based Shetterly will continue the ethical discussion in the evening with a lecture about his "Americans Who Tell the Truth" exhibition on display at the Beard and Dowd galleries. His talk will consider larger questions about how the art relates to ethics, resistance and social justice.
Shetterly began his work on the collection because of the frustration he felt about the war in Iraq. He believed President George W. Bush's administration leveraged propaganda about the Sept. 11, 2001, terrorist attacks as justification for war and he originally set out to paint 50 portraits, one for each state.
To date, he has created more than 150.
According to Shetterly, the painting subjects gaze back at the viewer with an invitation to act.
"I was determined to use the portraits and the words of the subjects as an act of defiance against the lies of an administration leading the American people into unnecessary and illegal wars," Shetterly stated. "The fantasy was that I could, by painting the portraits of these courageous people, evoke their spirits in some way to help us now."
Twenty-eight portraits from the collection are on display at the College's Beard and Dowd galleries, including a special, posthumous one of William "Bill" Griffen '50, the former peace activist and SUNY Cortland professor of foundations and social advocacy.
The art display runs through Saturday, March 9, and admission to the galleries is free and open to the public.
Gallery hours are 10 a.m. to 6 p.m. from Tuesdays through Fridays and 10 a.m. to 2 p.m. on Saturdays. Both galleries are closed Sundays and Mondays.
Shetterly's talk is sponsored by CICC; the Center for Ethics, Peace and Social Justice; the Campus Artist and Lecture Series; the School of Education; and the Philosophy Department.
For more information, contact Fitz-Gibbon at 607-753-2016.
College Plans Women's History Month Events
03/19/2013
The celebration of Women's History Month at SUNY Cortland continues through April 3 with a series of speakers, workshops and art exhibitions.
Presented by the Women's Studies Committee, the events are free and open to the public. Highlights include:
On Tuesday, March 19, Sandy Lane, a professor of public health at Syracuse University will address "Social Justice and Racial/Ethnic Health Disparities" at 7 p.m. in Jacobus Lounge. The talk will address racial and ethnic health disparities as they affect maternal health and the status of women.
Lane, an expert in maternal health and social justice, has a Ph.D. in medical anthropology from the University of California, San Francisco and Berkley, and a M.P.H. in epidemiology from the University of California, Berkeley. Her presentation is sponsored by the College's Cultural and Intellectual Climate Committee in conjunction with the common read book for Spring 2013, The Immortal Life of Henrietta Lacks, by Rebecca Skloot.
Wendy Lee, a philosophy professor at Bloomsburg University of Pennsylvania, will offer "The Good Ole Boy Extraction Club: Patriarchy, Patriotism and Pandering in the Era of Hydraulic Fracturing" at 4:30 p.m. on Wednesday, March 20. The talk takes place in Sperry Center, Room 205.
On Thursday, March 21, a Women's Path to Success Panel, composed of faculty and staff members and students, will hold a discussion at 3 p.m. in Jacobus Lounge.
The panel will be moderated by Jena Curtis, an associate professor in the College's Health Department. Panelists include Donna Videto, a professor of health; senior communication studies major Khalia Brown, a Student Government Association representative; Johanna Hartnett, who directs the SUNY Cortland Child Care Center; Ellen Howard Burton, wife of SUNY Cortland President Erik J. Bitterbaum; and Connie Biviano, a head nurse with the Student Health Service.
A "Women of Color Celebration" will take place on Saturday, March 23, from 2:30 to 6 p.m. in Jacobus Lounge.
Lorraine Berry, who directs the College's Web magazine NeoVox, will address "The Walking Dead: A Feminist Critique" at 4:30 p.m. on Tuesday, March 26, in Sperry Center, Room 105.
Based upon graphic novels with which TV writers have taken vast liberties, "The Walking Dead" is the most popular show on cable in the 18-49 demographic, Berry said.
"Millions of people watch each week, caught up in a story about how people survive in a post-apocalyptic world in which a virus has turned most of the world's population into zombies," she said. "Trouble is, when the writers of the TV show envisioned this new world, they came up with the re-creation of a 1950s America, where women are confined to the domestic sphere and people of color are virtually invisible.
"As someone who loves the show, and considers it appointment television, it presents a conundrum for me," Berry said. "How can a feminist love a show blind to its own gender and racial stereotypes?
"In this talk, I will present evidence of the world the writers want to create, and the moments of active resistance to that narrative that certain moments have presented."
Allison Best, a senior professional writing major from Fairport, N.Y., will explore "Why Pussy Riot Didn't Empower my Russian Mother" on Wednesday, March 27. The event begins at 12:30 p.m. in the Old Main Colloquium.
"I spent two months in Russia this (past) summer staying with a host family," Best said. "There were several protests during this time, but it wasn't well known what they were for or why. Talking to my host family, they described protestors as 'hooligans,' 'hoodlums,' and my host father said they reminded him of the Bolsheviks.
"I will discuss why Pussy Riot's song offended the Russian people as deeply as it did and talk about how revolution in Russia can only come from the people and not from anywhere outside the country."
At 3 p.m. on Thursday, March 28, tune into WSUC-FM Radio, where Caroline Kaltefleiter, a professor in the Communication Studies Department, will examine "Let's Roll Girls and Roller Derby."
Jeanne Theoharis, a political science professor at Brooklyn College of the City University of New York, will speak and discuss her research Tuesday, April 2, in a talk titled, "The Rebellious Life of Activist Rosa Parks: Remembering Her 100th Birthday." Theoharis' definitive political biography of Rosa Parks examines her six decades of activism, challenging perceptions of her as an accidental actor in the civil rights movement. The talk will correct the popular notion of Rosa Parks as the quiet seamstress who, with a single act, birthed the modern civil rights movement. The presentation takes place from 2:50 to 4:30 p.m. on Tuesday, April 2, in the Corey Union Exhibition Lounge. A book signing of her 2013 work, The Rebellious Life of Mrs. Rosa Parks, will follow.
A gallery talk on the "Contemporary Embroidery" exhibition will take place on Wednesday, April 3, in Dowd Gallery, located temporarily on the third floor of Main Street SUNY Cortland at 9 Main St. Fibers artist Joetta Maue will discuss her work at 5 p.m. in the gallery. The exhibition runs from Tuesday, March 19, until Thursday, April 25. The opening reception for the exhibition will take place from 4:30 to 6:30 p.m. on Thursday, March 21.
Women's History Month events are sponsored by the Art and Art History Department, Dowd Gallery, Center for Gender and Intercultural Studies, Campus Artist and Lecture Series, Health Department, President's Office, Women's Initiative Committee, Women of Color, Women's Studies, Gas Drilling Awareness for Cortland County and NeoVox.
For more information, contact Caroline Kaltefleiter, chair of the Women's Studies Committee, at 607-753-4203.
Sachiyo Ito to Capture Japanese Dance
03/05/2013
Artist, international choreographer and arts educator Sachiyo Ito and her dance company will present a traditional Japanese performance at 2 p.m. on Sunday, March 24.
This cultural event is part of SUNY Cortland's 2012-13 Campus Artist and Lecture Series, and will take place at 2 p.m. in the Corey Union Function Room.
Admission is $3 for SUNY Cortland students, $5 for faculty, staff, and the general public, and is free for children 10 and under. Tickets can be purchased in Corey Union, Room 406, or beginning one hour prior to the performance at the Function Room.
Sachiyo Ito and Company, based out of New York City, performs and teaches classical dance all over the world. Dance forms such as Kabuki, Noh, Okinawan Court and Jiuta-mai are choreographed by Ito and preserve the aesthetics of traditional Japanese dance.
The performers display delicate and powerful presentations of classical, contemporary and traditional 17thand 18th century dance.
According to Tokyo native Ito, art is a form of communication, especially when it comes to dance.
Performances from Sachiyo Ito and Company bring East and West together, and have been dedicated to creating a cultural bridge between the United States and Japan for more than 30 years.
A not-for-profit arts organization, Sachiyo Ito has as its purpose to create a better understanding about the feelings and cultures of others.
Ito has choreographed numerous productions, including off-Broadway shows, in the United States and Ireland, and has performed all over the world.
Ito earned both her M.A. and Ph.D. in dance from New York University. Since 1972, she has taught at major colleges such as the Juilliard School and New York University.
She received the prestigious Foreign Minister's Award from the Japanese Foreign Ministry and was awarded the name Sachiyo Fujima from the Fujima School of Japanese classical dance in Tokyo. Her performances have received glowing reviews in The New York Times and The Village Voice.
For more information, contact the Campus Activities and Corey Union Office at 607-753-5574 or visit the official Web page for Sachiyo Ito and Company, www.dancejapan.com.
Eye Health Research Associates to Speak
03/05/2013
Two Syracuse University professors who joined multiple teams in a behavioral intervention and clinical trial for treating a common and devastating eye disease in the Egyptian Delta will speak at 4:30 p.m. Wednesday, March 20, at SUNY Cortland.
Sandra Lane, a specialist in public health, food studies and nutrition, and anthropologist Robert Rubinstein will discuss "Anthropological Contributions to Preventing Blinding Eye Disease in Egypt."
The talk continues SUNY Cortland's 2012-13 Rozanne M. Brooks Lecture Series, which this year is on the theme of "Culture and Health."
All events in the Brooks Lecture Series are free and open to the public, and take place in Moffett Center, Room 2125.
The discussion will feature a reception at 4 p.m. to welcome the speakers. The reception takes place in the Rozanne M. Brooks Museum in Moffett Center, Room 2126.
Trachoma is the leading cause of preventable blindness in the world. Many universal studies on the illness find that 75 percent of children in rural Egypt showed signs of having at least one episode of the disease in the first year of their lives.
During the lecture, Lane and Rubinstein will describe the essential contribution of anthropology to components of the SAFE Strategy, an innovative public health approach designed to treat and prevent trachoma. This approach has been adopted by the World Health Organization and the International Trachoma Initiative as the method for eliminating trachoma by 2020.
In the 1980s, Lane and Rubinstein were research associates in a multinational study of trachoma-caused blindness. To conduct their overseas research, Lane and Rubinstein temporarily relocated to Egypt.
According to Rubinstein, the ailment, which can eventually produce an inverted eyelid and opaque cornea, is extremely infectious.
At the time of Lane and Rubinstein's work in Egypt, there were simultaneously half a dozen other studies on trachoma. Observations from these studies suggested to Lane that there may be possibilities for a cure.
In the 1990s Lane was one of the first to discover a behavioral intervention that helped to eliminate some of the infection. A team of researchers, including Lane and Rubinstein, conducted a community-based intervention to control the disease.
The intervention was an attempt to prevent disease transmission. The community was introduced to the daily washing of children's faces with soap and water and the administration of antibiotics as well as an increase in access to water and sanitation.
After months of this change in behavior, it was discovered that the risk of being infected by trachoma had lowered by a third.
Land and Rubinstein continue to focus on conflict and health, inconsistencies in access to health care and the consequence of those inconsistencies for the health of populations.
Articles by Lane, Rubinstein and their colleagues have been published in various scientific journals including the August 2006 publication in the Anthropology and Medicine interdisciplinary journal.
Lane received her M.A. in anthropology and M.P.H. in epidemiology at the University of California, Berkeley. In a joint program between the University of California, Berkeley, and San Francisco, she received a Ph.D. in medical anthropology.
Rubinstein received his M.A. and Ph.D. in anthropology from Binghamton University. He also received an M.S. in community health sciences at the University of Illinois, Chicago.
This series is sponsored by a grant from Auxiliary Services Corporation (A.S.C.) and the Cortland College Foundation.
For more information, contact the lecture series organizer and Brooks Museum director, Sharon R. Steadman at 607-753-2308.
Dowd Gallery Event Honors Bill Griffen '50
02/28/2013
For more than half a century — throughout a career devoted to peace, the environment and social justice — the late William "Bill" Griffen '50 brought purpose and life to SUNY Cortland's campus.
One of the College's most influential professors, the stories about his teachings tied to political awareness and activism likely will live on for eternity. And now, through a traveling art exhibition running currently at the Dowd Gallery, so too will the tale about Griffen's place among America's greatest champions of peace.
A recently-created, posthumous portrait of the SUNY Cortland professor emeritus of foundations and social advocacy hangs with the "Americans Who Tell the Truth" exhibit, a series of portraits by artist Robert Shetterly that focuses on people like Griffen who spoke out against injustice, often under difficult circumstances.
A special Dowd Gallery event on Thursday, March 7, celebrates the work and Griffen's life.
Refreshments will be served at 7 p.m. and remarks will be made at 7:30 p.m. for the celebration. The event is free, however, the deadline to RSVP has passed. The gallery remains temporarily located on the third floor of Main Street SUNY Cortland, 9 Main St., in Cortland, and its current display runs through Saturday, March 9.
Gallery hours are 10 a.m. to 6 p.m. Tuesday through Friday and 10 a.m. to 2 p.m. Saturday, with it closed Sunday and Monday.
The portrait of an energetic and seemingly youthful Griffen is the newest among 22 portraits hanging in the upstairs gallery, among the likes of Muhammad Ali, Cesar Chavez, Shirley Chisholm and Alice Waters. The Beard Gallery located on Main Street SUNY Cortland's first floor also includes six works themed around activist women in the arts.
Amy Griffen, the legendary professor's daughter, has returned to the gallery on several occasions over the past month and a half, "just to be with him," she said.
"The portrait's so realistic, you feel like you're looking at him," Amy Griffen said. "And it doesn't just capture him physically; it also captures his spirit."
The story of Bill Griffen, educator and peace activist, is one that could be told for weeks without interruption while still leaving out key details and anecdotes. To most, he's remembered as the energetic man who devoted a life to teaching, writing and activism, specifically as they relate to the causes such as civil rights, non-violent opposition to war and protecting the environment.
Notably, he remains the longest tenured faculty member in the 65-year history of the State University of New York and received SUNY's Distinguished Citizen Award, which honors the highest standards of public service, in 2008, a year after his death from prostate cancer.
"Bill Griffen's life's work and legacy make him most deserving of this prestigious award," said Carl Hayden, the former chairman of the SUNY Board of Trustees and a seventh-grade student of Griffen's, at the time of the Distinguished Citizen Award presentation. "He was an extraordinary human being.
Jaroslava Prihodova, the Dowd Gallery's manager, preps for the "Americans Who Tell the Truth" exhibition. The portrait of Bill Griffen '50 can be seen in the background.
"He stood for what is right and good and always acted upon it."
Griffen stood tall in a career centered on education, earning a bachelor's degree from SUNY Cortland in 1950 before serving in the U.S. Army during the Korean War and then returning to campus for a teaching certification. He taught junior high school in Marathon, N.Y., for two years and began his unprecedented teaching career at the College in 1955.
"He touched thousands of lives, making a positive impact that extends on, and will last indefinitely," a former student once wrote. "Dr. Griffen was a marvelous representative of SUNY Cortland, a true humanitarian, an honorable and valuable role model whose memory deserves the utmost respect, and action, from us all."
It was in the early 1960s that his political transformation occurred, after a former graduate student was murdered while wearing a sign and walking on a country road in Alabama as part of a one-person crusade to end racial segregation in the South.
That event launched Griffen into action and over the next several years he became involved with the Civil Rights Movement in Tennessee's Fayette County, which at that time was among the poorest counties in the country. He and his wife, Judy, worked to register voters and promoted schools dedicated to literacy.
A doctorate degree from Cornell University followed for Griffen as did the bulk of a teaching career which spanned 10 U.S. presidencies. During that time, he calculated he taught more than 11,200 students, co-founding the Cortland Citizens for Peace and working with the Syracuse Peace Council.
And still, what remained more powerful than any statistic or line on a résumé was one of his life's greatest messages: the key to social change is an educational system with vision to train critically thinking students about how to make living systems more just and sustainable, rather than a model that teaches students to assume roles in an unjust status quo
"If schools fail to help coming generations understand the humanistic and environmental dead end of this current cultural path, we have failed completely," Griffen once said.
As a scholar, Griffen's credits included more than 30 articles on social class, gender and racial inequalities to go along with two books, one of which included Teaching the Vietnam War, a critical examination of how history textbooks portray U.S. involvement in Vietnam.
His passion for the political process led to two unsuccessful runs at a Congress seat in 1968 and 1990 on an anti-war and social justice platform. However, his seemingly radical ideas at the time have since become more accepted.
And throughout his life, the man that many associate most closely with activism and teaching also found time and outlets for his others passions: family, baseball, jazz and photography, to name just a few.
The energy that seemingly allowed Bill Griffen to do it all made him one of SUNY Cortland's greatest educators as well as an unwavering champion of peace.
"We have been lulled over many generations to confuse 'what is' with 'what ought to be' or 'what might be' an alternative vision of existence," Griffen once said. "Our systematic reality played out through generations of 'since it is, it must be natural' must be broken."
For more than half a century — throughout a career devoted to peace, the environment and social justice — the late William "Bill" Griffen '50 brought purpose and life to SUNY Cortland's campus.
Administrators to Focus on Teacher Performance
03/05/2013
Area school administrators will attend a breakfast conference on the SUNY Cortland campus on Thursday, March 21, to discuss personnel programs that can be used to nurture good teachers and to identify and assist underperforming ones.
Their dialog — during three different interactive discussion sessions that day with a panel of experienced school principals — will encompass several aspects of the Annual Professional Performance Review (APPR) of their teachers, a subject that continues to generate hot debate at schools nationwide.
These pressing topics of interest to district and building administrators, curriculum teams, certificate of advanced studies candidates and curriculum area coordinators are part of the 2013 Francis J. Cheney Educational Leadership Breakfast Conference, taking place from 8:30 to 11:30 a.m. in Corey Union.
The free conference is geared for area school administrators and students enrolled in SUNY Cortland's Educational Leadership Department. The Cheney Conference, one of three held annually at SUNY Cortland, is sponsored by Louise M. Conley, Ph.D., and the Cortland College Foundation.
Participant registration is required to attend the conference. To register for the event, which includes breakfast, or to receive more information, contact the Educational Leadership Department by calling 607-753-2444 or by emailing janice.eaton@cortland.edu. The deadline to register is Monday, March 18.
The conference marks its fourth year as an annual event. At this year's conference, titled "Reflecting on APPR Implementation Conferencing and Developing an Improvement Plan," the educational administrators informally will discuss areas where educational leadership may be demonstrated, such as:
• recognizing the essential components of an effective improvement plan;
• planning and staging an effective administrative conference for teachers who are rated "ineffective" or "developing";
• keeping effective and highly effective rated teachers growing and improving professionally.
The morning will feature three panelists, including:
• Rebecca Marzeski, an elementary school principal in the New Lebanon (N.Y.) Central School District;
• Barbara Phillips, a member of the Race to the Top Network Team at the Broome-Tioga Board of Cooperative Educational Services (BOCES); and,
• Tom Turck, the principal at Homer (N.Y.) Junior High School.
Kevin Mack, who chairs the Educational Leadership Department, works with an 11-member advisory board composed of regional school administrators to organize the Francis J. Cheney leadership conferences. He views these conferences as an opportunity for school leaders to meet and discuss current educational issues.
Named after Francis J. Cheney, who served as Cortland Normal School principal from 1891 until his death in 1912, the educational conference was created and funded by Cheney's granddaughter, Louise M. Conley of Princeton, N.J. Conley chairs the Cortland College Foundation Board of Directors.
The conference's mission is to create a learning community for educational leaders that enhances and supports the success of all students through ongoing professional development, refinement of leadership skills and networking.
Cortland Makes College Comparisons Easier
02/25/2013
At SUNY Cortland, graduation rates are higher, and student debt is lower than at most four-year colleges.
Prospective students and their families this fall will find it easier to evaluate the SUNY Cortland experience for themselves when the College begins using a new, standardized SUNY financial aid award letter.
SUNY Cortland today announced it would join the other 63 SUNY campuses in adopting the letter for the 2012-12 academic year. The standardization is part of the SUNY Smart Track campaign, a broader commitment to increased transparency in college financing.
"Selecting a college is one of the biggest decisions a person makes in life, and finding information for apples-to-apples comparisons is often difficult," SUNY Cortland President Erik J. Bitterbaum said. "This will help reduce the confusion. SUNY Cortland welcomes an opportunity to help families make valid, fact-based decisions."
The new letter will allow students and their families to see clearly the cost of attendance and financial aid offerings at each campus, including information such as graduation rate, median borrowing and loan default rate.
SUNY Cortland's graduation rate, for example, is more than 67 percent. The national graduation rate for first-time students seeking a bachelor's degree is 58 percent, according to the U.S. Department of Education.
The average indebtedness of a SUNY Cortland graduate, meanwhile, is $19,125, with a student-loan default rate of just 3.4 percent. That's well below the national average college indebtedness of $26,600 and the national student-loan default rate of 13.4 percent.
"While college students across the country are taking on more loan debt than ever before, SUNY Smart Track gives our prospective students the most comprehensive and transparent financial aid information available, so that they can make informed decisions about how to pay for their college education," said SUNY Chancellor Nancy L. Zimpher. "The standard award letter will allow prospective students and their families to easily compare colleges within SUNY and view a full outline of the financial commitment associated with their education."
Development of the standard financial aid award letter was announced in September, when SUNY launched its Smart Track campaign. By launching Smart Track, SUNY, the largest comprehensive university system in the United States, adopted the concept of making college costs and financial aid information as transparent as possible. It began offering students the most proactive, comprehensive financial aid services in the country.
Most recently, in Chancellor Zimpher's 2013 State of the University Address, she announced that SUNY Smart Track would contribute to a system-wide goal of decreasing SUNY students' loan default rate by at least 5 percent over the next five years.
The SUNY Smart Track award letter was developed by campus financial aid directors and education experts tasked with adopting the federal Financial Aid Shopping Sheet for the SUNY system. Additionally, the campaign calls for an expansion of SUNY's Student Loan Service Center, the early engagement of students at risk of default and the provision of improved online resources such as a net price calculator.
Red Dragons Hit SUNYAC Title Trifecta
02/25/2013
Three SUNY Cortland athletic teams captured State University of New York Athletic Conference (SUNYAC) crowns this weekend, including two that had last won a SUNYAC title more than a decade ago.
The College's women's indoor track and field team, men's basketball team and men's swimming and diving team all took home first-place conference trophies.
Men's swimming and diving won its first SUNYAC title since 1998 — and in the process ended Geneseo's 14-year reign as league champion — while men's basketball earned its first conference crown since 2000. No strangers to athletic success, women's indoor track and field claimed its second straight title and 16th overall.
Men's indoor track and field and women's swimming and diving nearly joined that trio, both finishing second at their respective conference championships.
SUNY Cortland, which has won the SUNYAC Commissioner's Cup for overall sports excellence in 15 of the 16 years that it has been awarded, now holds five team conference titles in 2012-13.
SUNY Cortland men's swimming and diving
Here's a closer look at each of the performances that clinched SUNYAC supremacy:
• The men's swimming and diving team won its seventh SUNYAC title overall with 795 points to Geneseo's 726 points at the three-day conference meet that concluded Saturday at Erie Community College.
A 400-yard freestyle relay team of freshman Mark Schoenherr, senior Ben Strickland, senior Dan Maximowicz and senior Judd Simon broke SUNYAC, meet and school records with its winning time of 3:06.24.
Three swimmers also smashed individual school records: senior Justin Nelson broke the school mark in the 200-yard backstroke with his second-place and NCAA "B" cut time of 1:51.75; freshman Mathew Hasbrouck eclipsed a 32-year-old school record in the 200-yard butterfly with his second-place time of 1:54.44 in the finals; and freshman Andrew Cremer swam the first 1,000 yards of the 1,650-yard freestyle in 9:45.54 to set a new 1,000-yard freestyle school mark.
Head coach Brian Tobin was named SUNYAC Men's Swimming and Diving Coach of the Year following the meet, having previously won the award in 2010 and 2006.
Individual swimmers will move on to the NCAA Div. III Men's Swimming and Diving Championship from Wednesday, March 20, to Saturday, March 23, at Conroe Natatorium in Shenandoah, Texas.
SUNY Cortland men's basketball
• On the hardwood, nationally 25th-ranked and the top-seeded men's basketball squad claimed its first SUNYAC tournament title since 2000 with a 75-61 win over second-seeded Plattsburgh in SUNY Cortland's Corey Gymnasium.
The College knocked off Oswego, 65-54, in the conference semifinals Friday night.
Tournament MVP Jeremy Smith, pictured at top left, scored 24 points in the title game and was joined on the all-tournament team by senior classmates Harrison Hefele and Jesse Winter.
The Red Dragons, at 23-4, secured an automatic berth into the NCAA Div. III playoffs and will make their first national appearance since 2006. The first round is scheduled to begin Saturday, March 2.
SUNY Cortland women's indoor track and field
• The women's indoor track and field team's 172 points bested second-place Geneseo's 116.5 points at Brockport's Special Events and Recreation Center. SUNY Cortland won four individual league titles and one relay crown in the process.
Junior Sarah Bonnell set a meet record with her winning long jump of 5.77 meters in repeating as league champion in the event; senior Amber Stephens broke her own school record in the triple jump with a winning distance of 11.83 meters; junior Africa Harper won the 400-meter dash in 58.12 seconds; and junior Kelly Hugo won the pole vault title after clearing 3.35 meters in a jump-off.
The Red Dragons also won the 4x400-meter relay as sophomore Kiersten Duroe, senior Caitlin Triantafillou, sophomore Gabrielle Conant and senior Abby Vander Veen finished in 4:02.79.
The College will compete at the ECAC Div. III Indoor Championships on Friday, March 1, and Saturday, March 2, at the New Balance Track and Field Center at the Armory in New York City.
Cast Announced for 'Once Upon a Mattress'
03/05/2013
SUNY Cortland's Performing Arts Department has announced the cast for its production of "Once Upon A Mattress," a musical comedy based on the Hans Christian Andersen fable The Princess and the Pea.
The play will be performed in Old Main Brown Auditorium Friday, April 5, to Sunday, April 7, and Friday, April 12, to Sunday, April 14, with 8 p.m. curtain calls on Fridays and Saturdays and Sunday matinees beginning at 2 p.m.
The traditional musical comedy was a Broadway hit in 1959, and was further popularized in television adaptations starring Carol Burnett in 1962, 1964 and 2005. The story follows Princess Winnifred as she seeks the hand of Prince Dauntless the Drab. Trouble arises when the prince's mother, Queen Aggravain, insists that her son marry only a true princess — that is, one who is sensitive enough to feel a pea that is beneath a stack of mattresses. The princess must pass the test if there is any chance of living happily ever after.
The cast features Annali Fuchs as Princess Winnifred; Carly Merrill as Lady Larken; Lindsey Galgano as Queen Aggravain; Emily Freeman as Nightingale; Catherine Skojec as Princess #12; Ben Shimkus as Minstrel; Paul Warren Smith as Prince Dauntless; Joey Gugliemelli as Wizard; David Newman as King Sextimus; Rasheem Ford as Sir Harry; and Tim Fuchs as Jester.
The Ensemble Players include Christina Jackson, Melissa Pipher, Allie Tamburello, Jacqui Fisher, Camille Parlman, Samantha Chiodo, Georgiana Nadine Jordan, Jack O'Donnell, Kevin Rayo, Will Rivera, Billy Swenson, Hailey Berkowitz and Lauren Collins.
The director/choreographer is Kevin Halpin and musical director/conductor is Richard Montgomery. Howard Lindh is the set designer; Preston Mayre is the technical director; Joel Pape is the lighting and sound designer; Mark Reynolds is the costume designer; and Patti Laird is the stage manager.
Admission is $18 for the general public, $15 for seniors and SUNY staff, and $8 for all students and children. Tickets may be purchased at Jodi's Hallmark shop on Main Street, Cortland, or at the door of Brown Auditorium immediately prior to each performance. "Once Upon A Mattress" is recommended for all audiences.
For more information, visit the Performing Arts Department website or call 607-753-2811.
Memorial Service Planned for Frank Burdick
03/05/2013
The College will hold a memorial service for Frank A. Burdick, professor emeritus of history, on Sunday, March 24, at the Lynne Parks '68 SUNY Cortland Alumni House.
Organized by the campus community and members of Burdick's family, the event will begin at 1 p.m. when the family will receive friends at the house at 29 Tompkins St. in Cortland. The memorial service begins at 2 p.m.
The gathering is open to members of the campus community, the local community and alumni.

Burdick, a noted expert in the Vietnam War era, died on Jan. 19. He had continued to teach part-time at SUNY Cortland for 15 years following his retirement in 1998 after a 34-year career.

Burdick served the College as acting associate dean of arts and sciences during 1985 and again from 1988 to 1990. He also chaired the History Department.
He was recalled as a popular teacher who held his students to the highest academic standards. His strong commitment to students was honored with the establishment of the Frank Burdick Scholarship in 2002, which was made possible by two former students, Margaret Palmer Young '85 and Charles Young '85.

Burdick developed the African American Studies concentration in Social Studies and designed one of the first college courses on the Vietnam War. He reviewed numerous books on the war and wrote several articles on the military's role in the development of war strategies and tactics. He also won three National Endowment for the Humanities fellowships for further research on the war and spent one summer on a fellowship at the United States Military Academy at West Point.
A Brooklyn native and Korean War veteran, in August 1963 he attended the march on Washington and heard Martin Luther King Jr. give his "I Have a Dream" speech. Burdick joined the College that year but took a two-year sabbatical in 1964 to pursue his doctorate in history at University of Iowa. He also had B.A. and M.A. degrees in history from SUNY Albany. Burdick returned to the College in 1966 as an assistant professor, rising to the rank of professor in 1980.
He is survived by his daughter, Jennifer (Jack) Silas; granddaughters, Jordan and Cameron of Atlanta; and son, Chris, of Tampa, Fla.
Contributions in his name can be made to the Cortland College Foundation, directed to the Frank A. Burdick Scholarship Fund, at SUNY Cortland, PO Box 2000, Cortland, NY 13045.
Professional Salary Increases Recipients Announced
The Human Resources Office has announced recipients of professional salary increases effective Jan. 31.
Professional staff salary increases have been approved for the following employees:
Lisa Allen, Career Services
Michele Baran, Career Services
Michelina Gibbons, Career Services
Anita Kuiken, Library
Adam Levine, Physical Plant
For more information, contact the Human Resources Office at 607-753-2302.

Suggest a feature story
---
Faculty/Staff Activities
Jordan Kobritz
Jordan Kobritz, Sport Management Department, had his article on the National Collegiate Athletic Association's (NCAA) National Letter of Intent published in Sports Litigation Alert, Volume 10, Issue 3.
Jean W. LeLoup
Jean W. LeLoup, professor emerita of Spanish in the International Communications and Culture Department, has received the Robert F. McDermott Award for Research Excellence in Humanities from the United States Air Force Academy (USAFA). The McDermott Award is given yearly for outstanding research performed by a member of the USAFA faculty in any area of the social sciences and humanities.
Peter M. McGinnis
Peter M. McGinnis, Kinesiology Department, was honored by USA Track and Field with the 2012 C. Harmon Brown Sports Medicine and Science Award at their annual meeting held Dec. 1 in Ft. Lauderdale, Fla. The award was presented to McGinnis at the National Pole Vault Summit on Jan. 18 in Reno, Nev. McGinnis is the biomechanist for the pole vault event for USA Track and Field. Since 1983, McGinnis has provided scientific services to elite U.S. pole vaulters and their coaches to help them prepare for the Olympic Games, International Association of Athletics Federations (IAAF) Championships, and other international competitions.
Gokhan Savas
Gokhan Savas, visiting assistant professor of sociology, has had his article, "Understanding Critical Race Theory as a Framework in Higher Educational Research," accepted for publication in the British Journal of Sociology of Education. In addition, his co-authored article, with Yingyi Ma, titled "Which is More Consequential for Income Disparity: Fields of Study or Institutional Selectivity? — An Investigation on Gender Pay Gap among Recent College Graduates," was accepted for publication in Review of Higher Education, the flagship journal of Association for the Study of Higher Education.
Robert Spitzer
Robert Spitzer, Political Science Department, is coauthor of the just-published ninth edition of We the People, a synthetic look at the American political system. The book is published by W.W. Norton.
Jeffery Swartwood
Jeffery Swartwood, Psychology Department, recently had his college textbook titled Educational Psychology published by BVT Publishing. The textbook covers traditional topics in the field, but adds a unique interdisciplinary perspective and expanded coverage for special learning needs.

Submit your faculty/staff activity