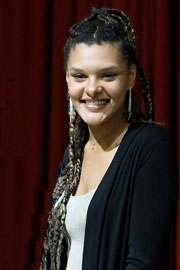 Campus Champion
Tatum Pittman, senior adolescence education: English major works toward bringing more diverse curriculums into public schools. She intends to make these changes from the top — first as a teacher, then as an administrator and superintendent — and she's already making a difference. The Syracuse City School District student teacher, as part of Cortland's Urban Recruitment of Educators program, is making connections and setting her academic and professional plan. For the second year, she is director of diversity, equity and inclusion for the Student Government Association and recently led SUNY Cortland's Abraham Lincoln DeMond Day, which launched Black History Month events on campus.

Nominate a Campus Champion
---
Wednesday, Feb. 8
Sandwich Seminar: 'One in Two,' Old Main Colloquium, 12:30 to 1:30 p.m.
Dowd Gallery Talk: Between Sport and Art: Gender Biases at Play, presented by Erin Morris, Sport Management Department, Dowd Gallery, Room 106, 5 p.m.
Workshop: Teacher Certification Requirements Overview, online via Handshake, 6 to 7 p.m.
Let's Talk about Narcissistic Abuse with Lynn Catalano: Corey Union Function Room, 7 to 8 p.m.
---
Thursday, Feb. 9
Black History Month Book Chat: "Ludic Ubuntu Ethics: Possibilities for Transformative Justice.," presented by philosophy professor Mecke Nagel, the author of Ludic Ubuntu Ethics: Decolonizing Justice, Old Main Colloquium, noon.
Recital: An Evening of Beethoven, featuring music of the great German composer Ludwig Von Beethoven, Cortland Interfaith Center, 7 Calvert St., 7 p.m.
---
Friday, Feb. 10
Study Abroad Fair: Corey Union lower lobby. 11 a.m. to 2 p.m.
Foodways and Folkways: Soul Food and Health in the Black Community, Corey Union Exhibition Lounge, 3 p.m.
Cortland Nites: Stuff A Bear, Corey Union Function Room, 8 to 10 p.m. RSVP on Cortland Connect.
---
Monday, Feb. 13
Black History Month Sociology Lecture: "The End of France as a Parasitic State in Africa: Lessons from Mali," presented by Kassim Kone, Sociology/Anthropology Department. Corey Union Fireplace Lounge, noon to 1 p.m.
Artist's Walkthrough: (re)Play with visual artist David B. Smith, Dowd Gallery, Room 106, 2 to 2:45 p.m.
Artist's Workshop: Communal Weaving, presented by David B. Smith, visual artist, Dowd Fine Arts Center, Fiber Studio, Room 101, 3 to 5:30 p.m.
Black History Month Panel Discussion: Creating a Culture of Care: Dismantling the Schoolyard to Prisonyard Pipeline, sponsored by SUNY Cortland's Black Lives Matter at School, Corey Union Function Room, 4:30 to 6 p.m.
Ran'd Shine's Magic Show: Corey Union Function Room, 8 to 9 p.m.
---
Tuesday, Feb. 14
Prevent Defense: Race and Leadership in the NFL: Presented by psychology professor Craig A. Foster, Old Main Colloquium, noon to 1 p.m
---
Wednesday, Feb. 15
Sandwich Seminar: Recruiting and Retaining BIPOC Students at SUNY Cortland, Old Main Colloquium, 12:30 to 1:30 p.m.
Online Workshop: Intro to Handshake and LinkedIn, online via Handshake, 4 to 5 p.m.
Understanding and Advocating for Racial Justice Workshop: Register for Racial Justice Workshop #1, 4 to 6 p.m.
---
Thursday, Feb. 16
Sandwich Seminar: The Continued Miseducation of BIPOC Students: The Need for Culturally Responsive Pedagogy (CRP) and Culturally Sustaining Pedagogy (CSP), Old Main Colloquium, 12:30 to 1:30 p.m.
Participatory Civics Event: "Social Media-Mediated Justice: Uncover social media's influence on your thoughts and actions," Institute of Civic Engagement, Moffett Center, Room 102, 6 p.m.
---
Friday, Feb. 17 
Black History Month Workshop: Cultivating a Culture of Anti-Racism and Allyship at Predominately White Institutions, Corey Union Function Room, 10 a.m. to noon.
---
Saturday, Feb. 18
Valentine's Day Formal: Hosted by the Student Government Association, music, food, dancing, Corey Union Function Room, 7 to 10 p.m. Free to SUNY Cortland students, RSVP at the SGA Office, Corey Union, 9:30 a.m. to 4 p.m. weekdays.
---
Monday, Feb. 20
African Dance Workshop: Corey Union Voice Office, 6 p.m.
---
Tuesday, Feb. 21
Sandwich Seminar Oral interpretation: "Black Voices Matter," Old Main Colloquium, noon to 1 p.m.
Internship Info Session: Pre-register on Handshake or join the afternoon of on Webex, 4 p.m.
Virtual Author Lecture: Native Predatory Wasps - Their Role as Pollinators and Beneficial Insects, online via Zoom, 4:30 p.m.
Sport Advocacy Panel: "Advocating for Change — How We Can All be Better Allies and Co-Conspirators in Creating Inclusive Sport Management Spaces," Professional Studies Building, Room 1176, 6:30 p.m.
---
---
Cortland ranks among top 15% of nation's best universities
02/03/2023
SUNY Cortland has been ranked among the top 15% of the nation's best universities and colleges on College Factual's 2023 Best Colleges list.
The report, intended to compare the institutions' overall quality, ranked Cortland 298 out of 2,241 schools across the United States. That's the highest of all 13 comparable SUNY campuses.
In addition, College Factual, an online portal for higher education information, noted that several of Cortland's academic programs were among the best in the Mid-Atlantic Region. They include parks, recreation and leisure studies, physical education, subject-specific teacher education, exercise science, sport management, special education and teaching English as a second language.
College Factual describes itself as website designed to help prospective college students, parents, guidance counselors and others navigate the often-confusing college selection process. The information used to determine its rankings include data from the National Center for Education Statistics, and the U.S. Department of Education's College Scorecard and Integrated Postsecondary Education Data System.
Among the statistics that helped Cortland rank high among its national peers is a student loan default rate of 3.5%. This figure is significantly lower than the national default rate of 10.1% and indicates a level of financial success uncommon among graduates of most other universities.
In general, students who graduate from SUNY Cortland with a bachelor's degree go on to jobs where they make an average salary of $53,711 in their early post-college years. College Factual calculates that as 26% more than the average college graduate's starting salary of $42,485.
In addition, a full 59% of faculty at Cortland are listed as full time, more than the 47% national average. College Factual touts that as an indication that students at Cortland receive more time and focus from their professors than at many other universities.
Cortland's "Puberty Prof" helps families communicate
02/07/2023
As children grow into adolescents, families are often uncertain about how to approach a host of new issues ranging from first crushes to body hair. Many are uncomfortable talking about the topics.
Those families might want to consult The Puberty Prof.
That's both the online persona and popular international podcast of Lori Reichel, an assistant professor in SUNY Cortland's Health Department who has made the often awkward and difficult transition from child to adult her specialty.
Launched in January 2021, the Puberty Prof podcast has shared 92 episodes to date and was recently picked up by a marketing representative for content producers.
On the show, Reichel has hosted a diverse list of national experts on a range of topics, including useful tips in having puberty talks, acne and pimples, body image and self-love, spirituality and sexuality, gender inclusive puberty, pregnancy, keeping kids safe from online sexual content, kid-friendly ways to talk about interpersonal violence and empathy.
"It was always amazing to me how uncomfortable parents were in talking to their kids about puberty: body hair, menstrual cycles, wet dreams and that kind of stuff," said Reichel, who is in her first year at Cortland.
Before she became The Puberty Prof, Reichel spent 20 years teaching and administrating health education to schoolchildren on Long Island. The experience made clear the importance of effective and healthy communication with both children and their parents or caregivers.
For example, while working on her doctoral dissertation at Texas A&M University in the early 2010s, Reichel discovered an online study that had asked 1,000 mothers of toddlers what words they used to name body parts to their offspring.
"And there were over 80 terms for male parts and over 90 something for female parts," she said. "When I saw that study, I thought, 'Oh, we start barriers in communication right away if we can't even call the vulva the vulva; if we have to use words like "pussy cat" or "butterfly" or whatever else. We are already telling young people that we don't feel comfortable talking about the body parts.'"
Named the 2010 American Association of Health Education Professional of the Year and the 2007 New York State Health Educator of the Year, she taught at Western Michigan University for several years before joining SUNY Cortland in 2022. From 2013 until 2019, she was a faculty member at University of Wisconsin-La Crosse.
According to Reichel, the reality is that America's schools in general are not always supportive of giving children an adequate education about sexuality, leaving many young people ignorant, scared and vulnerable. That's where parental preparation comes in.
Reichel is fast becoming a frequent speaker and media consultant in her area of expertise, including Reframing Out Stories, Mom Essentials, and the Stand Up Comedy Sex Ed Podcast.
Her three-year-old program recently was picked up by Digitent, a marketing representative for content producers, podcasters and storytellers that promises to give Reichel the tools to expand her as-yet-limited audience.
Reichel is the author of the book for parents and caregivers, Common Questions Children Ask About Puberty, and a manual for educators, Comprehensive School Health Education. She also developed a low-cost game called "Talk: Apps and Discussion Cards," an ice breaker on awkward or sensitive topics.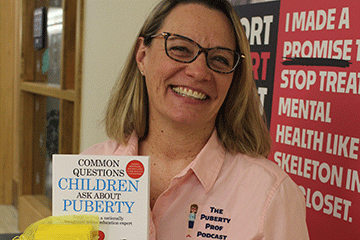 Reichel's ambitious aim through her digital outreach is to earn the trust to help parents and caregivers effectively communicate with their children at an age-appropriate level. Reichel wants to reach every family in America in need of her free educational podcast.
"In the past, I've done things more for K-12 students and teachers," Reichel said. "So, I'm very skilled about how to talk with people, how to not be in their face talking about sexuality. I'm more of the gentle 'have you considered this or considered that?' approach. I'm also about life skill-based health education."
"What are effective communication skills, decision-making skills, skills at accessing resources? That's what I was teaching in the K-12 world: How to make the best decision leading to prevention, how to communicate with your sexual partner, and if something goes wrong, how to go about addressing it.
"Now I'm trying to back up a little bit," Reichel said. "In this third series, we'll talk about life skills, for example, how do we talk about decision-making because that's a social, real live thing. When young people are going through puberty, they are becoming more independent. So, we want to make sure they have that more reflective part. Topics may include things like 'how do I handle body smells?' Or 'How to I handle my friend who's pressuring me to vape?'
"There's no research to show that if we talk honestly about these topics, it increases their likelihood of engaging in sex," Reichel said.
"Actually, the research shows that if parents and other caregivers talk about these topics and they even express their values, young people are more likely to delay sexual activity. Or if they engage in sexual activity, they are more likely to use protection and more likely to prevent STDs (sexually transmitted diseases). So that's why we encourage the conversation."
The name Puberty Prof sounds catchy but doesn't really encompass the broad range of issues raised by the maturing young human body, Reichel admitted.
"Puberty is these physical changes, so I really should be called The Adolescence Prof, because adolescence covers the physical, social, mental, emotional, and spiritual aspects, it covers all of that," Reichel admitted. "But that name really doesn't have the same flow."
Reichel is not out to make money off her service. For now, she pays the small fees to maintain her podcast out of her own pocket and manages a website called "Helping Families and Schools Become Healthier."
"Some people just don't have the resources to take a class," she said. "Some health classes might be available for $50 for you and your child to attend. But some people barely have money to put food on the table. They have a right to an education.
"Recently I was asked to do classes, with the first two offered for free," she said. "Yet I don't want people to have to pay for this. I'm very blessed that I have a fulltime position. So, this is part of my service and scholarship. Why can't I do this for society?"
Reichel can be contacted about puberty questions or comments at pubertyprof@gmail.com and for a consultation at superhealthcrusader@gmail.com. She can also be reached at lori.reichel@cortland.edu.
---
Capture the Moment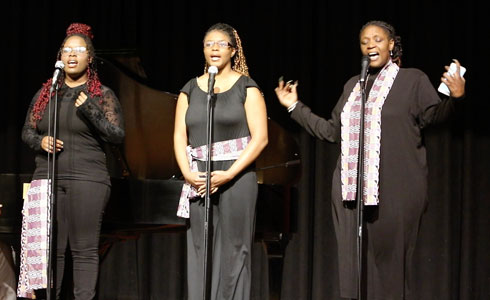 The SUNY Cortland Gospel Choir performed "Lift Every Voice and Sing," often referred to as the "Black National Anthem," at the inaugural Abraham Lincoln DeMond 1889 Day held in Corey Union on Feb. 1. This was the first of many events that will be held on campus recognizing Black History Month.
---
In Other News
Recital to raise funds for Ukrainian refugee family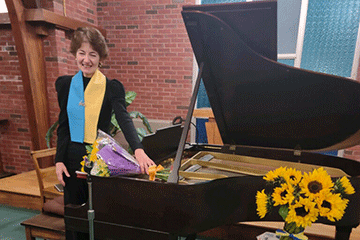 02/03/2023
A SUNY Cortland performing arts lecturer and her former protégé will hold a piano recital to raise funds to help Ukrainian refugees and celebrate the 250th birthday of Ludwig van Beethoven.
"An Evening of Beethoven," by Ukraine-born Marina Gorelaya of the university's Performing Arts Department and Jake Hutton '22 of Tully, N.Y., will be Thursday, Feb. 9 in Cortland. The performance will begin at 7 p.m. at the Interfaith Center at 7 Calvert St., which is located at the corner with Prospect Terrace.
Admission to the recital is free, but the audience will have an opportunity to give a monetary donation for support of a refugee family newly arrived Feb. 1 from Lviv, Ukraine. The family consists of 33-year-old mother Mariana Kosarieva, her two young daughters and their grandmother.
Any funds raised will be accepted by the Interfaith Center and sent to Cortland United for Ukraine. Please make checks payable to Cortland County Council of Churches.
The family will settle in Cortland for an anticipated two years while Kosarieva's husband continues to help fend off Russia in that country's attempts to take over Ukraine's sovereign territory. The bombing in Lviv has destroyed heat and electricity infrastructure. Cortland town justice Mary Beth Mathey led a committee to house and assist the family. Kosarieva plans to find work while her mother cares for the children in their dwelling at Pomeroy Street Apartments.
For Gorelaya, the family's plight hits close to home.
"Yes, I am Ukrainian, I lived in that country for 36 years," Gorelaya said. "I still have my family and friends over there. I am happy to do anything that can be helpful for my native country."
Gorelaya's last recital in April 2022 raised funds for Ukraine and Poland, the neighboring European country that opened its borders to shelter millions of Ukrainian refugees. Organized through the American Red Cross, that drive raised $1,500 for the relief efforts.
According to Gorelaya, "An Evening of Beethoven" offers a belated opportunity to enjoy the music of the classical German composer. Public health measures during the height of the COVID-19 pandemic muted most public acknowledgment of the great composer's contributions during his actual anniversary year in 2020, including Gorelaya's planned solo performance.
"It is time that we celebrate Beethoven's anniversary and the contribution of his music to the world," Gorelaya said.
Hutton, a political science major who graduated last spring, will also perform during the event. He's performed several times at the Grace and Holy Spirit Church in Cortland and currently is practicing as he aspires to enroll in a school for music.
"He came to my class in February of 2021 and quickly realized that piano is his passion," Gorelaya said. "In two years only, he is grown to the level of concert pianist. I decided it's time now to show his fantastic ability and accomplishment to the people."
For more information, contact Gorelaya at 607-753-2811.
Black History Month events at a glance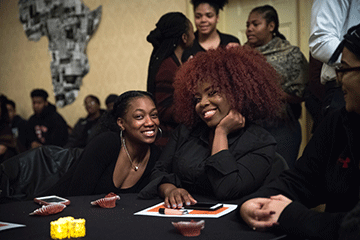 02/21/2023
SUNY Cortland will continue to celebrate Black History Month (BHM) throughout February with a series of events that includes historical and cultural lectures, panel presentations, a black-tie social event and a spoken word workshop with international slam poet champion Ed Mabrey.
SUNY Cortland opened BHM month on Feb. 1 by formally proclaiming its inaugural Abraham Lincoln DeMond 1889 Day, honoring a groundbreaking graduate and enshrining his legacy.
For the remainder of February, BHM campus events are posted online on the Institutional Equity and Inclusion Office webpage. Events are open to the public and free unless otherwise noted.
Still to come include:
Sport advocacy panel: Three Black sport industry professionals will dissect the issue of low racial diversity within the ranks of sport management professionals. Erin Morris, SUNY Cortland associate professor of sport management is leading the panel. The panelists will discuss "Advocating for Change — How We Can All be Better Allies and Co-Conspirators in Creating an Inclusive Sport Management Spaces" on Tuesday, Feb. 21, at 6:30 p.m. in the Professional Studies Building, Room 1176. The panel features Olivia Lindsay '19, event staffing lead with the New York Road Runners; Gabrielle-Alessandra Alleyne '19, marketing coordinator with U.S. Figure Skating; and Deidre Pierson M '19, associate athletic director at Hamilton College. These alums will also discuss ways in which they think underrepresented students and professionals in sport management could be better supported.
BHM Jeopardy: The Black Student Union will host a game of "Jeopardy" where participants are tested on their knowledge of Black history. The competition for prizes of gift cards begins at 7 p.m. on Tuesday, Feb. 21, in the Corey Union Fireplace Lounge.
East African slave trade: John Jones, SUNY Cortland assistant professor of childhood/early childhood education, will discuss a less well-known aspect of the Trans-Atlantic slave trade, which crossed the Indian Ocean, and that transported people from eastern Africa to the Arabian Peninsula, India, Indonesia, and even China. His talk, "From Afro-Turks to Siddis: The East African Slave Trade and the Afro-Asian Diaspora," will begin at 2 p.m. on Wednesday, Feb. 22, in the Moffett Center first floor conference room. Based on his research of the Afro-Turkish population of the late Ottoman Empire and Modern Turkey, Jones will shed more light on the experiences of the various populations of people in Asia who can trace their ancestry back to the people transported from eastern Africa.
Celebrating Black creativity: SUNY Cortland Professor of Performing Arts Kevin Halpin will offer a program of celebrating the lives and work of Black Americans in the performing arts. He will share details about their lives and perform songs, scenes, monologues and readings from their creative output during the event, "For My People: A Black History Month Celebration., It starts at 6 p.m. on Wednesday, Feb. 22, in the Dowd Fine Arts Center, Room 110.
Prison letter-writing workshop: The Black Student Union will take time to recognize the injustice experienced by men in the Black community, share their solidarity, and encourage hope by writing letters to incarcerated men at 6 p.m. on Wednesday, Feb. 22, in Corey Union, Room 209. The Week of Events program is presented in collaboration with Men of Value and Excellence.
Afro-Latine inequity: Tibisay Hernandez, a diversity equity and inclusion consultant with more than 15 years of experience, will give a virtual presentation on "Know Your Roots — Afro-Essence the African Diaspora in Latine America: Fighting Anti-Blackness as a Collective," at noon on Thursday, Feb. 23. One in four Latinè Americans identifies themselves as people of African descent. Despite significant progress over the past decade, Afro-Latinè populations are still underrepresented in




Tibisay Hernandez

decision-making positions across sectors. Participants will be given tools to build coalitions that fight anti-blackness. The event link is TBA. Hernandez' focus is implicit bias, interpersonal mediation, diversity recruitment strategies, inclusive search development, navigating critical conversations, inclusive leadership, restorative justice and transformative justice practices. She is currently a diversity and inclusion team leader for the New York State Department of Civil Service's Office of Diversity and Inclusion Management.
Black and Boujee: The Black Student Union Week of Events invites the campus community to this formal social event to celebrate Black excellence. People of all identities are welcome to share a time of dressing nice, being fancy and celebrating one another during "Black and Boujee: What Happens in Vegas stays in Vegas" at 10 p.m. on Friday, Feb. 24, in the Corey Union Exhibition Lounge.
Kings and Queens Conference: The Black Student Union will continue its Week of Events with the annual Kings and Queens Conference starting at 11 a.m. on Saturday, Feb. 25, in Corey Union Function Room. Alumni of SUNY Cortland are invited to offer their insight on topics including "The Most Unheard Voice in America: The Black Woman." Food will be provided, and attire is semi-formal.
Phat and fit: Exercise is all about improving mental and physical wellness, but the fitness industry can be selective about whose bodies represent "health." The presentation by Tracy Hudson, SUNY Cortland Diversity Faculty Fellow and assistant professor of physical education, will speak on "Phat and Fit: Unpacking the History of Anti-Blackness in the Fitness Industry." The lecture will examine historical fitness fallacies to encourage conversations that allow for introspection about what it will take to usher in a world where anti-Black racism is no longer found in our exercise world. The talk, at 5:30 p.m. on Tuesday, Feb. 28, will begin in Corey Union Fireplace Lounge.




A past Afro Essence event fostered cross-cultural encounters.

Spoken Word and Workshop: Spoken word artist Ed Mabrey, perhaps the greatest poet in the history of poetry slams with four world championships, six regional championships and more than 500 wins, will offer a "Spoken Word and Workshop." Organized by the Student Activities Board (SAB), the event takes place on Tuesday, Feb. 28, in Corey Union Exhibition Lounge. An hour-long workshop runs from 5 p.m. to 6 p.m. followed by a spoken word session from 7 to 8 p.m. An NAACP Image Award Nominee and 2019 APCA Spoken Word Artist of the Year, Mabry has performed on TV ONE, ABC, FOX, HBO and CNN. He performs poetry and conducts workshops on mental and emotional health with a focus on depression, anxiety, suicide ideation and removing stigmas from seeking therapy.
Co-sponsorships and funding for Black History Month were made possible by the President's Office, Institutional Equity and Inclusion Office, Political Science Department, School of Arts and Sciences, Africana Studies and Performing Arts departments, SUNY Cortland Alumni Association, Multicultural Life and Diversity Office, Disability Resources, Campus Artist and Lecture Series, Student Government Association, Know Your Roots-Afro Essence, SUNY Cortland Campus Activities, Student Activities Board, Career Services, Black Student Union, NAACP chapter and Pan African Student Association.
For more information, contact Cyrenius Fitzjohn, assistant chief diversity and inclusion officer, Miller Building 404A.
10 tobacco-free years at Cortland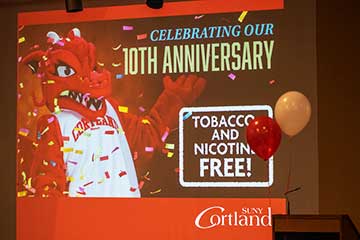 01/31/2023
As one of the nation's healthiest campuses, SUNY Cortland was an early pioneer in tobacco health initiatives. Now, the university is proud to celebrate a landmark decade as a tobacco- and nicotine-free campus.
The event, Celebrating 10 Years of Tobacco and Nicotine Free, took place Wednesday, Feb. 1, at the Corey Union Exhibition Lounge. It was sponsored by The President's Office and the Tobacco and Nicotine Advisory Committee.
"I'm very proud of SUNY Cortland that we were one of the first to implement this policy SUNY-wide and that we have expanded to include nicotine free as well," said Health Educator Lauren Scagnelli '12 M '14, CHES. "The university as a whole values wellness and this is one accomplishment to showcase that."
College President Erik J. Bitterbaum and Cathy Smith, the emeritus health educator who helped lead the original initiative, made opening remarks. Other highlights included a new tobacco- and nicotine-free graphic mark developed for use on campus, a display of photos and information documenting the history of the initiative, and a takeaway list of cessation resources.
SUNY Cortland first restricted smoking to certain designated areas on campus more than 30 years ago in 1989. The proposal for a tobacco-free campus was first approved on July 25, 2011, and Cortland officially became tobacco free on Jan. 1, 2013. The university was the second SUNY institution to take this now common step to ensure the health of its students, faculty and staff.
In 2018, all forms of nicotine were added to the ban as growing evidence of significant health risks was linked to electronic cigarette devices.
Coinciding with Cortland's tobacco-free anniversary year, the university will feature Dr. Brian King as the speaker for its 2023 Poskanzer Lecture on April 4. King is the director of the Food and Drug Administration's Center for Tobacco Products.
"There are many health and financial benefits of either quitting or not using tobacco or nicotine," Scagnelli said. "First, our lungs are for breathing air and not chemicals. Tobacco and nicotine harm the developing adolescent brain and increases the risk of lung injury and addiction among other health hazards."
Cortland continues to provide support for anyone trying to quit or looking to contribute to a healthier campus. Students can also speak with either the health educator, prevention educator or Student Health Services about specific needs. Employees can contact Human Resources or the Employee Assistance Program.
More information on all the additional work done by the university to ensure the health of its community can be found at Counseling and Wellness Services.
SUNY Cortland supports CROP Hunger Walk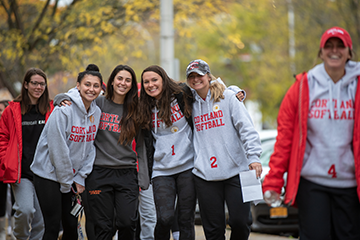 02/07/2023
SUNY Cortland supports CROP Hunger Walk
The 28th annual Cortland area CROP Hunger Walk was held Sunday, Oct. 23, and raised $11,703. Participants walked either one- or three-miles routes around downtown Cortland and there was commendable SUNY Cortland student and staff participation.
A total of 262 walkers registered and 256 identified themselves as SUNY Cortland students or staff. Of the nearly $12,000 that was raised, about $7,000, about 58%, is attributed to SUNY Cortland. Funds continue to come in, largely from the local churches. This is the 17th year that SUNY Cortland was a major factor in the success of the walk.
As always, 25 percent of the funds raised will return to the local community to support food pantries and feeding programs including the SUNY Cortland Cupboard.
There are several Golden Sneaker plaques awarded each year to the SUNY Cortland organizations that raise the most funds. The cost of the plaques is underwritten by the James M. Clark Center for Global Engagement.
The overall winner, and winner of the Athletic Team plaque is once again the women's softball team, which raised $2,037.
The Greek community plaque is awarded to repeat winner Delta Phi Epsilon which raised $1,345. The campus club/organization that raised the most was CROP for Cortland, raising $431. The COR 101 plaque went to Miller's Mafia classes with $226.
CROP Hunger Walks are sponsored by Church World Service and have been held all over the world since 1969. The walks raise approximately $20 million each year. History lecturer and local CROP walk coordinator is Jim Miller and Jeanine Rose, The Learning Center, is the town coordinator.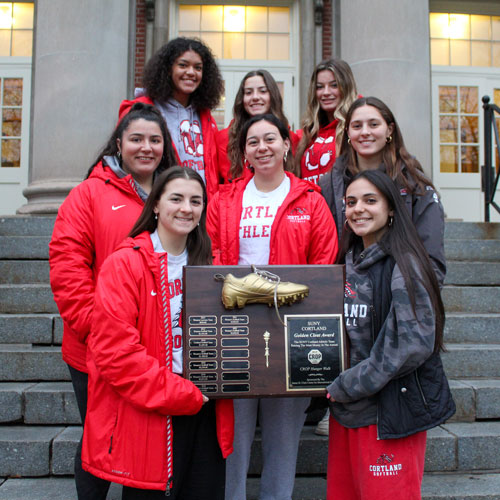 Friendly competitors invited to Rough Raquette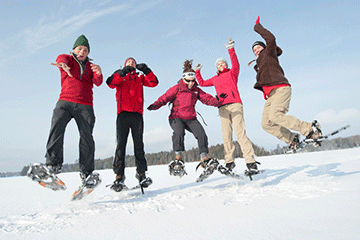 01/24/2023
Rough and ready winter Red Dragons are going to love participating in Rough Raquette, a new one mile or 5K walk or run at Raquette Lake on Saturday, Feb. 18.
This event, hosted by the William H. Parks Family Center for Environmental and Outdoor Education Outdoor Education Centers, will provide a social and recreational opportunity for alumni to banish the winter blahs while raising money for historical preservation of the former Camp Pine Knot, more recently named the W.H. Parks Family Outdoor Center, Camp Huntington.
"The race is open to anyone," said organizer Rhonda Pitoniak '01 M'16, director of outdoor education with the Parks Family Outdoor Center. "We are aiming to create awareness of our historic preservation needs with alumni and the greater Raquette Lake community."
Camp Pine Knot is the first Great Camp of the Adirondacks and was originally built by William West Durant beginning in the mid-1870s. According to Pitoniak, the original log and bark-sided structures have held up well, but need constant upkeep and preservation to ensure they are here for future generations.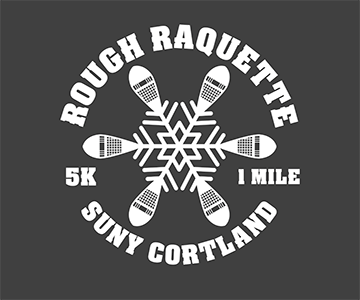 The Rough Raquette will be part of the annual Raquette Lake Winter Carnival. Pitoniak hopes it will become a carnival tradition, like the Ladies Frying Pan Toss or Ice Golf.
"Raquette Lake got its name from the French word for snowshoe," Pitoniak said. "Knowing that the weather cannot be predicted and winter everchanging, the name Rough Raquette seemed appropriate."
The event will take place at 9 a.m. starting approximately a quarter mile from the village shoreline on a completely flat course on frozen lake. The short and longer snowshoe races will take place concurrently and share the same course for the first half mile. The competitive pack will head toward South Bay before looping back to town. This is an out and back race. Be sure to allow time to get to the starting area after your arrival. Everyone must wear snowshoes unless there is no snow. Loaner snowshoes will not be available.
Additional Rough Raquette details:
Prior registration/entry fee/waiver: Online race registration will be accepted. Registration on the day of the event will need to be cash or check only as no electronic devices will be available. In lieu of a registration fee, participants are asked to make a suggested donation of $30 for the 5K and $20 for the one-mile snowshoe. All money raised will benefit the Camp Huntington Historic Building Preservation Fund. All donations are final with no refunds or deferrals. Registration includes signing a liability waiver.
Packet pick up: begins at 8 a.m. on the ice in front of Raquette Lake Supply in the Village of Raquette Lake.
Race facilities: This event will be completely outside on the lake with a campfire near the starting line and portable toilets nearby on shore. Be prepared with warm clothing and dry clothes for after the race. Keep in mind winds on the lake can be strong at times. Suggested clothing includes warm layers, gloves, hat, long tights or waterproof breathable pants.
Gear: It is your responsibility to make sure that you have suitable traction devices that are safe for you to walk or run on. Snowshoes can be any style — metal, plastic or wood. Recommended traction devices includes Kahtoola MicroSpikes or NanoSpikes. Participants also can make their own pair of screw shoes.
Parking: Free parking is available in the village, but space is limited. Carpooling is encouraged.
Weather: In the unlikely event of no snow, we can still participate on the ice. A decision will be made 15 minutes before the race if snowshoes will be worn based on race day conditions. In the event of unsafe ice or windchill temperatures below minus 10 degrees Fahrenheit, the race will not take place. A decision will be made by noon on the day prior to the race.
Posted race results: The results listing will be available on our web site on Monday, Feb. 20.
For more information about Rough Raquette, contact Rhonda Pitoniak '01 M '16 at 607-753-5485.
The event overlaps with SUNY Cortland's Alumni Winter Camp, which is happening at Camp Huntington from Feb. 18 to 23.
"The timing fits perfectly with alumni winter camp and the Raquette Lake Winter Carnival on the same weekend," Pitoniak said. "It would be great for folks to come for the race and stay for the carnival."
The winter carnival youth activities start at 11 a.m. and include plenty of games. The carnival will feature a Ladies Frying Pan Toss at noon, Ice Golf at 2 p.m. and bonfire all day. A fireworks display will begin at dusk on Saturday night. On Sunday at noon, it's the Timed Cross-cut and chainsaw competition. Competitors welcome! For more information on the Winter Carnival, call 518-624-3077.
Cortland Auxiliary Services grant applications due Feb. 17
SUNY Cortland Auxiliary Services (CAS) is now accepting Program Grant applications for the 2023-24 academic year.
Applications are submitted online and must be sent by midnight on Friday, Feb. 17. Applicants are asked to read the grant guidelines carefully before submitting an application.
Each year the CAS Board of Directors allocates funds to support grants for a wide range of purposes and projects that enhance the life of the SUNY Cortland community.
Although CAS is willing to consider a wide range of ideas, it seeks to avoid duplicating other funding sources or funding projects more properly supported by state funds. Therefore, applicants should first seek funding from primary funding sources.
CAS grant funds may not be used for salaries, honoraria, travel normally funded by the university's budget, or scholarships for SUNY Cortland faculty, staff or students. Funds may not be used to purchase computers, related hardware or software. All purchases will be processed in accordance with CAS's financial and related GAAP policies. In general, Program Grant funds may not be used exclusively for food for SUNY Cortland students, faculty or staff. Funding for food may be considered if the food is deemed integral to the success of the program or event. All food shall be provided by CAS. Other grant guidelines are described in the application package and online.
For more information or assistance, email Judy Standish or call her at 607-753-4325.

Suggest a feature story
---
Faculty/Staff Activities
David Barclay
David Barclay, Geology Department, was a co-author on an international collaborative project that was recently published in Science Bulletin. The study, "Global wood anatomical perspective on the onset of the Late Antique Little Ice Age (LALIA) in the mid-6th century CE," used tree-ring data from around the world to examine the spatial and temporal expression of this climate event, which was the largest volcano-induced cooling event of the past two millennia.
Tyler Bradway
Tyler Bradway, English Department, gave an invited talk as part of a virtual roundtable on his new book, Queer Kinship: Race, Sex, Belonging, Form (Duke UP, 2022). Held Jan. 19, the event was hosted by the University of Southern California and sponsored by the Race, Gender, and Sexuality Research Cluster, the USC Department of American Studies and Ethnicity, the USC Consortium for Gender, Sexuality, Race and Public Culture, and the USC Association of English Graduate Students.
Ashley Crossway
Ashley Crossway, Kinesiology Department, recently coauthored an article with colleagues. "Sports Medicine Physicians Comfort and Competence in Caring for Transgender and Gender Nonconforming Patients and Athletes," was published in January in Clinical Journal of Sport Medicine.
Christina Knopf
Christina Knopf, Communication and Media Studies Department, delivered the opening presentation in the 2023 Schering-Plough Executive Lecture Series at Fairleigh Dickinson University on Jan. 31. Her talk was titled "Comics, Covidity, and Visualizing the Invisible."
Rhiannon Maton
Rhiannon Maton, Foundations and Social Advocacy Department, had her article published in French in the Revue Internationale d'Education de Sevres. The article, Social justice unionism and K-12 educator union transformation in the United States of America / Vers un syndicalisme de justice sociale dans l'enseignement obligatoire aux États-Unis (French translation by Sylvaine Herold), discusses methods of union transformation, the range of issues and tactics driving such efforts, and more generally highlights how shifts toward social justice unionism has led to enhanced militancy amongst U.S. educator unions.
Wylie Schwartz
Wylie Schwartz, Art and Art History Department, will present a research paper on Saturday, Feb. 18 at the College Art Association Conference in New York City. Schwartz will present a paper titled "Ephemeral Interventions: The Radical Practices of the Danish Experimenting School (1961-1972)" as part of a panel on Generative Pedagogies in Art and Curatorial Practice.

Submit your faculty/staff activity