Deadline nears to volunteer for portraits
11/26/2019
Every member of the SUNY Cortland community has a unique story to tell, and the university is looking for people willing to share their true selves with the campus in pursuit of broader understanding.
SUNY Cortland's Beloved Community Narratives Project seeks to visually explore the many individual differences among campus community members through artistic posters while underscoring our common humanity.
Students, faculty, staff and alumni interested in becoming one of the 24 people highlighted in a poster portrait for the project have until Friday, Dec. 6, to nominate themselves. You also may nominate someone else. That deadline is Wednesday, Dec. 4.
To nominate yourself or someone, visit the Beloved Community Narratives Project website, at cortland.edu/bcn.
Those accepted will meet with visiting artist Adam Mastoon, of Adam Mastoon Transmedia, in February. Mastoon will talk with each individual about their personal story and identity and photograph them with the idea of creating a piece of public art.
Each poster will tell its own story. Together the pieces can serve to deepen the conversations about diversity, inclusion and equality in communities nationwide.
The results will appear online and around campus as print posters of various sizes and digital images on the university's website, a blog and via SUNY Cortland social media channels.
"His work makes you want to stop and pay attention to the people and the stories he's captured in his portraits," said James Felton, SUNY Cortland's chief diversity officer. "Adam's work reflects the type of community we wanted to reflect on campus."
"We especially want to increase the number of student nominations, but it is open to faculty, staff and alumni too," added Erin Boylan, executive director of alumni engagement and a member of SUNY Cortland's Diversity Narratives Project committee.
Based on their unique stories, the committee will choose 24 project subjects to work closely with Mastoon to capture the images during three days of studio portrait photography and workshops to assist the subjects with writing their narratives at SUNY Cortland.
Mastoon, of Barrington, Rhode Island, describes himself as a socially engaged artist, author and educator driven by a desire to create work that addresses equity, inclusion and social justice. He collaborates with communities nationwide to develop distinctive storytelling projects that engender empathy and connection.
"I believe in the importance of telling our personal stories and in the healing, that happens between people when we participate in the shared experience of seeing one another and of being seen," said Mastoon, the founder of The Shared Hearts Initiative, a non-profit organization that created an exhibition and school curriculum to amplify authentic, life-affirming stories of LGBT youth.
"The author James Baldwin said, 'It is the role of the artist to make the world a more human dwelling place,'" Mastoon said. "I follow this idea with a focused sense of purpose in the work I create."
Since 2010, Mastoon, recipient of the American Library Association's Gay and Lesbian, Non-Fiction Book Award, has worked in academic communities making portraits and inviting people to share their personal stories in words and pictures.
Mastoon has captured the essence of 300 individuals to date in versions of the project at Georgia Tech, Swarthmore College, Rhode Island School of Design, Babson College, Gordon School and Washington State University. Examples can be found on Mastoon's community narratives web page.
"Everyone has a story to tell," Mastoon has written on his website. "Our stories are written from the deep reservoir of our histories and forged in the fire of our humanness. When we share authentic stories in community we build connection, a sense of belonging and the possibility of becoming that which we see around us."
In Fall 2018, SUNY Cortland formed a Diversity Narratives Project committee to plan the project and members had an opportunity to meet Mastoon via Skype.
"Adam brought an immediate sense of synergy and energy to the campus during his visit last fall," Felton said. "I believe this project will go a long way to promote a diversity of thought and experience to the SUNY Cortland Community."a
Felton said the project originated with his office and Nicole Basile '19, the former Student Government Association Director of Diversity, Equity and Inclusion.
"We wanted to develop a project that would not only be a conversation starter, but would passively and actively promote an inclusive environment for faculty, staff and students," Felton said.
The project's name comes from a quote by the Rev. Martin Luther King Junior that reflects the spirit of the initiative: "Our goal is to create a beloved community, and this will require a qualitative change in our souls as well as a quantitative change in our lives."
Felton had recalled Mastoon's work from a 2015 diversity conference.
"I was immediately impressed with his talent and artistry, and I could see how his work helped transform the organizations that have contracted with him," Felton said.
Committee members include Alexis Blavos, Health Department; Boylan; AnnaMaria Cirrincione, Multicultural Life and Diversity Office; Dan Dryja, Facilities Management; Evan Faulkenbury, History Department; Felton; Kaitlin Flannery, Psychology Department; Roman Rodriguez, Student Government Association; Szilvia Kadas, Art and Art History Department; Michelle LoGerfo, Web And Digital Marketing; Zachariah Newswanger, Facilities Management; Lauren Scagnelli, Health Promotion; and Joseph Westbrook, Facilities Management.
Cortland's musical groups holding fall concerts
12/03/2019
Snow is on the ground, the semester is nearing its end and the holiday season is upon us.
That means it's time for fall concerts.
Five SUNY Cortland musical groups will be performing at venues on campus and throughout the community this week. Admission is free and open to the public unless otherwise noted.
The College-Community Orchestra will perform "Dreams and Nightmares: Music of Mozart, Mendelssohn, Mussorgsky and Tchaikovsky" at 8 p.m. in Old Main Brown Auditorium on Tuesday, Dec. 3. The orchestra, directed by Ubaldo Valli, is made up of students and members of the local community. It is cosponsored by SUNY Cortland and the Dan & Rose McNeill Foundation.
On Wednesday, Dec. 4, the Africana Studies Department and the SUNY Cortland Gospel Choir will present a holiday concert at Faith Baptist Church at 1731 Route 13 in Cortland. The event begins at 7:15 p.m. A shuttle bus will leave the Corey Union steps at 6:30 p.m. and 7 p.m. and return to campus at the conclusion of the concert.
SUNY Cortland's Choral Union will perform its fall concert, "Christmas: Sacred and Secular" at 7 p.m. on Thursday, Dec. 5 at Rose Hall at 19 Church Street in Cortland. The Choral Union consists of 45 singers, both community members and SUNY Cortland students. They plan to perform a number of pieces, including selections from "How the Grinch Stole Christmas," "White Winter Hymnal" and classic texts by Franz Biebl, Tomas Luis de Victoria and Ola Gjeilo. This concert will feature guest soloist Steven Stull and Professor David Neal will conduct.
The College Singers, welcoming new conductor and music director Kelley Hamilton, will present its fall concert, "Thoughts and Prayers, Moving Toward the Light" at 7 p.m. in Brockway Hall Jacobus Lounge on Friday, Dec. 6. The vocal ensemble's fall offering will be a live soundtrack of musical theatre pieces that frame today's challenging times.
Student club A Capella will hold a concert in Old Main Brown Auditorium on Friday, Dec. 6. The event begins at 8 p.m. Three a capella groups will showcase what they've been working on this semester. A fee of $2 will be collected at the door, with all proceeds going toward The Colon Cancer Foundation.
---
Capture the Moment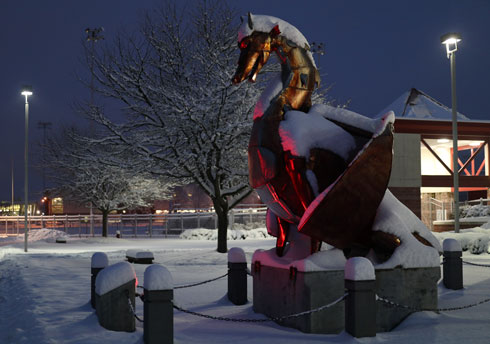 The Red Dragon sculpture in front of the SUNY Cortland Stadium Complex was covered in snow on Monday evening. A storm dropped 12.9" of snow on Cortland over two days and forced the cancelation of classes on Monday.
---
In Other News
Cortland students lead high school writing experience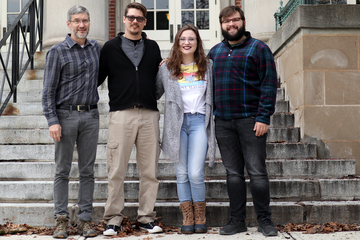 12/03/2019
Each week, a group of SUNY Cortland students meets as the Cortland Writers Association to exercise their writing skills critically engage one another's work.
Those students are now starting to take their passion for the written word beyond the SUNY Cortland campus.
On Nov. 14, members of the association and David Franke, professor in SUNY Cortland's English Department and the group's faculty advisor, traveled to Seven Valleys New Tech Academy in Cortland to work with local high school students.
They divided students into small groups and gave them a brief creative writing assignment: describe a person, place or thing that defined "home."
"There's something about creative writing that helps them be really honest with their experiences," said Cameron Poli, a junior professional writing major and Cortland native. "It allows them to present that in an artistic way and create relevance for any tough experiences they've gone through."
This was an optional and elective program for students at Seven Valleys, some of whom had little previous experience with creative writing. Others, however, were very comfortable with the genre. By working with college students in an intimate setting, the high school students were able to build confidence in their abilities through verbally sharing their writing with all participants.
"There was one girl who shared a story in my group and it really got to her feelings and her perspective of being a young girl who loved books, who was so enthralled by stories and was using them as an escape," said Collin Horak, a senior communication studies major and professional writing minor from Cortland. "That was a reflective moment for me as someone who loved books as a kid and used them as an escape."
Victoria Van Every, a junior professional writing major from Lakewood, N.Y., led a small group of students in creative writing "sprints" as they developed material to be read aloud in the large group session.
"The common denominator was writing," Franke said. "You're writers, they're writers and you're all on the same level and you're all free to explore together. I thought (the SUNY Cortland students) did a phenomenal job of getting the kids to relax and put their stuff on the table as writers."
Alex Plesnar, a senior adolescence education: English (7-12) major from Vestal, N.Y., was pleased to work hands-on with students in a classroom setting. The experience was also of academic value for the college students who led the session, as it forced them to think about their own creative process and how to edit and offer constructive criticism to others.
"Through giving back to the community and working with high schoolers, we are keeping the core value of improving our own writing, too," said Plesnar. "We're seeing our own writing and we're helping teach them how to write, so it's very self-reflective about your own writing process and seeing your own words and your own flaws."
Seven Valleys New Tech Academy, operated by Onondaga-Cortland-Madison BOCES, is an alternative school that serves students in grades 9 through 12. It aims to provides an innovative environment and to improve college and career readiness through project-based learning, collaborative workspaces and technology.
Shawn Waterman, a teacher at Seven Valleys New Tech Academy who helped coordinate the event, said "This was a fantastic experience for everyone involved. Our students are eager for the next visit from the Cortland Writers Association."
Poli, who serves as president of the student organization Cortland Writers Association, is hoping to keep this partnership with Seven Valley intact into the future. The group has been invited to return to the school in February and they are also compiling the writing of the high school students into a short magazine in the mold of the association's annual literary magazine, Transition.
Most of all, the college students want to continue to spread their passion for encouraging others to express themselves through writing.
"I talked to one student and his poem was really, really good," Poli said. "I told him that his work was right up there with some of the work I hear when I lead my writers club and I saw his eyes light up. That was a cool moment for me to have the opportunity to inspire them."
Cortland in the news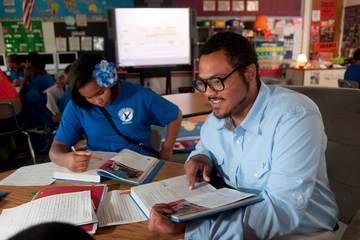 12/03/2019
Anne Burns Thomas, professor in the Foundations and Social Advocacy Department, and James A. Felton III, SUNY Cortland's chief diversity officer, co-authored a story that appeared in the December 2019 issue of Insight Into Diversity.
The story, "SUNY Cortland Program Places Qualified Teachers of Color in Urban Schools," focuses on Cortland Urban Recruitment of Educators (C.U.R.E.), a unique teacher recruitment effort that encourages students who are African American, Hispanic and Latinx, Native American or are from economically disadvantaged backgrounds to become K-12 educators in underserved urban schools.
Since the program was launched in 1998, more than 125 Cortland students have graduated from C.U.R.E. Nearly 95% have completed or are working toward a two-year teaching commitment in urban schools and three out of four continue their urban teaching career beyond two years.
C.U.R.E. thrives thanks to tuition support, the real-world teaching experience gained by college students and the formal mentoring from faculty, staff and the C.U.R.E. graduate assistant.
In other news:
Student Alyson Nilsen wins state-wide award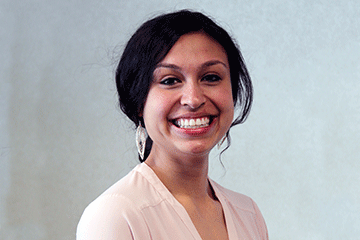 12/03/2019
SUNY Cortland senior Alyson Nilsen recently was chosen for one of only two prestigious undergraduate scholarships presented this year by New York state's higher education labor union, United University Professions (UUP).
Nilsen, of Bohemia, N.Y., was presented a UUP College Scholarship Fund Undergraduate Award for $3,000 during the union's 2019 Fall Delegate Assembly meeting Oct. 25 to 26 in Rye, N.Y.
An inclusive childhood education major and Spanish/English as a second language minor, she became only the fourth SUNY Cortland undergraduate to have received the award since the scholarship was founded in 1988.
"With contenders from all SUNY campuses, I can tell you that the Cortland delegation was thrilled beyond belief that one of our own students in the education major received this honor," said Jaclyn Pittsley, UUP Cortland Chapter president. "It is a testimony to our university, to our teacher education program and to Alyson herself."
Nilsen, who has a 3.98 grade point average, enrolled at the university in Fall 2015 and intends to graduate this month, after which she will pursue certifications in elementary, special education and ESL.
At Cortland, Nilsen has immersed herself in her teacher education program and in leadership roles on campus.
She completed her student teaching in the Syracuse City School District and hopes to work in an urban school district. Toward that end, Nilsen has studied under the Cortland's Urban Recruitment of Educators (C.U.R.E.) scholarship program.
"I participated in C.U.R.E. programs such as 'Building Men,' where I developed a rapport with children from (Syracuse) city schools by joining them in activities and discussing college expectations," Nilsen wrote in her scholarship application.
At Cortland, Nilsen has served as a resident assistant since Fall 2016 and has earned leadership awards as president of the university's Hall Council.
She also met with a group of high-risk children weekly to play games, assist them with homework, and teach them positive social and coping skills as an assistant mentor with Compass Youth, a program for at-risk youngsters.
Nilsen, A graduate of Connetquot High School, has worked as a substitute teaching assistant at Eastern Suffolk BOCES and as a teaching assistant at the Developmental Disabilities Institute in Ronkonkoma, Suffolk County.
"In my junior year, I was fortunate to study abroad in Salamanca, Spain, where it increased my awareness of cultural differences and language barriers," Nilsen noted. "To remedy this situation, I added English as a second language as a minor."
For her endeavors well beyond the classroom, she was honored at Cortland with a Leadership in Civic Engagement Award. Nilsen also earned a Phi Beta Delta Award for teaching a Chinese Adult English class as an English as a second language intern.
"Alyson always volunteered to step up and take a leadership role, and helped inspire her fellow staff members to get involved and excited through words of encouragement, wisdom and her unfailing positive attitude," wrote Haley Georgia, a SUNY Cortland residence hall director and UUP member, in joining two others who nominated Nilsen for the award. "She is truly an incredible human being."
"My first introduction to UUP began at birth when my mom received paid maternity leave," Nilsen wrote in her UUP scholarship application essay, which considers scholarship candidates' knowledge about labor matters. Nilsen's mother works in admissions at SUNY Farmingdale.
"As UUP has served as a platform for advocating for workers' rights, working conditions and reform, I have tried to mimic those provisions at SUNY Cortland and within my schools," Nilsen wrote. "All these experiences have shaped my vision to become the best teacher possible by working to resolve the inequalities and providing a safe environment for my students."
The previous SUNY Cortland recipients of a UUP scholarship are Mark Jackson in 1995, Kelly Burdick '97, '01 in 2000 and Erica Frerking '11 in 2009. In 2011, Daniel Pitcher '10, M '11 became the first and to date only Cortland student to receive an award reserved for graduate students, the UUP College Scholarship Fund William E. Scheuerman Post Baccalaureate Scholarship.
As with all the UUP scholarships, the award honors individuals who have donated generously to the scholarship fund, and in this case the late Gertrude A. Butera, a SUNY Alfred associate professor of marketing who worked to promote the scholarship fund since its inception; the late Eugene P. Link, a SUNY Plattsburgh professor who dedicated his life to working families and to students who demonstrated an interest in the labor movement; and the late Robert Carter, a SUNY Oswego associate professor of history. Additional scholarships were made possible with money bequeathed by Carter's late wife, Katherine. The graduate award was named after Scheuerman, the former UUP president from 1993 to 2007, who was instrumental in securing seed money for a scholarship for graduate and professional school students.
History of lacrosse sheds light on Native American history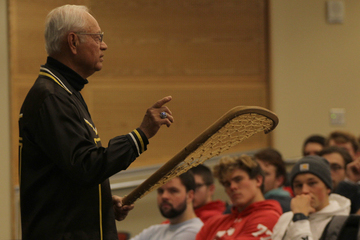 11/22/2019
Sid Jamieson '64 is a key figure in the history of collegiate lacrosse.
He was the head coach of the men's lacrosse team at Bucknell University from its inception in 1968 until his retirement in 2005. He has been inducted into numerous halls of fame, including the SUNY Cortland C-Club.
Jamieson remains the only Native American to have served as head coach of a Division I men's lacrosse team.
He returned to Cortland, however, not to speak about his own role in lacrosse but about the ancient history of the "Creator's game." Jamieson lectured in Sperry Center on Nov. 21 as part of Native American Heritage Month.
"The history and culture of the Creator's game is older than any written history," he said. "It's the only indigenous game played in the country and it's played for spiritual, physical and ceremonial reasons. Field lacrosse was the first team game in North America. The actual game itself was ferocious. The winner often took a bounty and players were and still are selected and approved by clans."
Jamieson explained that the modern game of field lacrosse is much different than variations still played by Native Americans today. Box lacrosse, typically played indoors on an ice hockey rink, is popular, especially in Canada. Medicine games are also played as ceremonies to aid those who are ill.
"The medicine game is played as an interwoven community display of strength for good medicine and helping the sick," he said. "Only the wooden sticks can be used. The reason is that it was at one time a living piece of a tree. This has a spirit. Whoever took this and made a lacrosse stick out of it has a piece of the spirit embedded in this stick."
Native American contributions to the formation of the United States' government was another topic of Jamieson's lecture. He mentioned the speech of Canasatego, the Onondaga leader, at the Treaty of Lancaster in 1744, in which he urged the American colonies to follow the Iroquois in forming a confederacy.
Jamieson also mentioned a Senate resolution passed in 1987 that acknowledged the "contribution of the Iroquois Confederacy of Nations to the development of the United States Constitution."
"How many of you have ever seen that in your printed history books?" Jamieson asked. "That's where this form of government you have today comes from. In 1744, this idea was planted in the founding father's heads. They took it and that's what we have today."
Jamieson, a member of Cayuga Nation, was a first-generation college student. He played football for four years, lacrosse for three years and baseball for one season at Cortland and graduated with a bachelor's degree in physical education.
In addition to coaching lacrosse at Bucknell for 38 years, he was an assistant on the football coaching staff there for 25 years as well.
Jamieson has won numerous awards, including Division I Coach of the Year, Iroquois Nationals Lifetime Achievement Award, the Spirit of Tewaarton Award and the Gen. George M. Gelston Award as the person who "most represents the symbol of the game of lacrosse."
He became co-founder and head coach of the Iroquois National Team in 1983 and took the team around the world, including trips to England, Australia and Japan.
During a 10-day exhibition tour with the English National Team in 1985, Jamieson and the members of the Iroquois team met with students at the Stockport Grammar School for a question-and-answer session. The hurtful responses from the children have driven him to share the history and the culture of lacrosse and by extension, Native Americans.
"'What do you eat?'" Jamieson recalls them asking. "'Do you live inside a fence? How does the smoke get out of your house? Do you hurt people?'
"It wasn't that long ago we took that trip," he said.
Jamieson, however, does see modern college lacrosse becoming more open to Native American culture. He lauded University at Albany coach Scott Marr for his recruitment and respect for Native Americans.
"I'm the only Native American head coach ever in Division I lacrosse," Jamieson said. "That's not a good thing. I don't pride myself on that. The native people have their territories and they do their thing and they keep their culture and their traditions. That's a good thing. There's nothing wrong with that whatsoever.
"But it's extremely difficult when you have to leave your community and come into an environment like this and not be able to leave for your ceremonies, not to be able to eat the white corn soup and do the things you would traditionally do at home."
Jamieson's efforts to preserve and share Native American culture extend far beyond the lacrosse field. He served on the Advisory Board to the Chesapeake Conservancy and on the board of directors of the Greenwoods Land Conservancy. His work led to the National Park Service recognizing the Susquehanna River as a National Historic Water Trail in 2006.
"Honor and respect for all living things is mandated," he said. "We are all part of everything that is below us and everything that is around us and everything that is above us. We do not own the land, the water or the air. Rather, we must be stewards of those things."
Lastly, Jamieson urged current SUNY Cortland lacrosse players to consider the Iroquois' Seventh Generation Principle, which asks people to consider their actions in light of the implications seven generations later.
"I walked that path. You're walking it now," he said. "Your job is, you have to make it better than when you came in. That's what your job is. You have to make it better. When you leave, the next group has to do the exact same thing. It is a team. That's the way it is."
Cortland mourns passing of Larry Czarnecki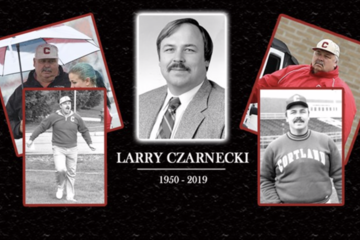 12/03/2019
Long-time Cortland football and track and field coach Larry Czarnecki passed away on Saturday, Nov. 23, at age 69.

Services for Czarnecki have been scheduled for Saturday, Nov. 30, at 1 p.m. at Grace Christian Fellowship in Cortland. There will be a Celebration of Life to follow. Interment will be at St. Francis Cemetery in Nanticoke, Pa., in the spring.

Czarnecki was Cortland's head football coach from 1983-85 after working as the team's defensive line coach in 1978 and defensive coordinator from 1979-82. He also was a Red Dragon assistant coach from 1999-2014, including roles as defensive coordinator from 1999-2000, offensive coordinator from 2001-04 and tight ends coach from 2005-14.

Czarnecki also enjoyed a long association with Cortland's track and field teams. He served as an assistant coach from 1978-85 and was interim head coach in 1981. He returned to the program as interim men's and women's head coach for the 1998-99 season and was the men's head coach for two seasons from 2000-02.

The State University of New York Athletic Conference (SUNYAC) named Czarnecki Men's Track and Field Coach of the Year in both 2001 and 2002 after he guided the Red Dragons to two outdoor league titles, and in 1999 he earned SUNYAC Women's Track and Field Coach of the Year honors after leading the Red Dragons to indoor and outdoor league titles and a 12th-place outdoor national finish. He also served as an assistant coach for the Red Dragons, working with field event performers, for many years until his retirement in 2018.

Czarnecki received a Bachelor of Science in Physical Education from Ithaca College in 1976 and his master's degree in the same field the following year. He returned to his alma mater in 1986 as an assistant football and track and field coach. He worked with the Bombers' football squad until 1996, coaching the offensive line on squads that won NCAA Division III titles in 1988 and 1991.

A standout defensive tackle at Ithaca, Czarnecki earned Kodak and Associated Press First Team All-America honors. He was named the ECAC Division III Football "Player of the Year" as a senior captain in 1975. Czarnecki led the Bombers to Lambert Trophies and appearances in the NCAA Division III championship games in his junior and senior seasons. He also competed on Ithaca's Track and Field club team and played semi-pro football with the Scranton Stars (1976-78) and Binghamton Jets (1979-80).

Larry's Obituary via Wright-Beard Funeral Home.
Grad extra thankful at Thanksgiving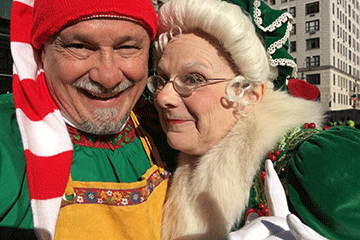 12/03/2019
When it comes to celebrating Thanksgiving traditions, in true Cortland style, William Lee M '89 goes all in.
Lee, a retired Cortland educator who now lives in Bel Air, Maryland, has escorted a float in every annual Macy's Thanksgiving Day Parade in New York City since 2012, and this year braved high winds from a major storm to do it again.
One year he poked his head out of a giant, fuzzy stop sign, wearing a costume related to the Hess Truck float he was accompanying. Another time, he gave onlookers a taste of the Old South, escorting a Mississippi River-style showboat-themed float, and yet another, donning an Old West outfit to pose near "Mount Rushmore," South Dakota's float. He's even snuggled up to Mrs. Claus as a cheeky elf.
"To come down along Central Park West, there's millions of people and it's just so exciting," Lee said. "I look forward to it. Everyone looks forward to it. It is the kickoff to the holiday season."
Started in 1924 and tied with Detroit for the second-oldest Thanksgiving parade in the United States, the Macy's parade is held in Manhattan from 9 a.m. to noon Eastern Standard Time on Thanksgiving Day. It has been televised nationally on NBC since 1952. Employees at Macy's department stores have the option of marching in the parade.
Although he has never worked for the U.S. based department store chain Macy's, Lee has apparently has joined the legion of permanent event helpers.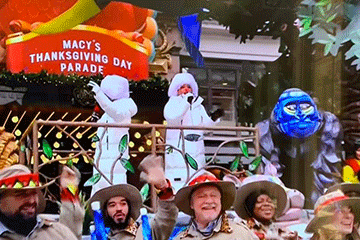 "For me, the best part of being in the parade was getting in the parade," Lee said.
He grew up watching it on television, back when the event was broadcast in black-and-white.
"As a kid, it was must-see TV," he said.
Around 2000, once his children were old enough, Lee and his wife and two sons stayed with relatives in New Jersey in order to attend the parade, sitting down for dinner with family later.
"That morning, we would bundle up and sit on the sidelines and watch the parade," Lee said. "I'd say, 'Gee, I'd love to be in the parade.' I met some people who were in the parade and they tried to get me in. And they couldn't get me in.
"I contacted the local Macy's, talked to the manager, said I was a schoolteacher and would love to be in the parade," said Lee, who taught in the Cortland City School District and in SUNY Cortland's Communications and Media Studies Department. "And they couldn't get me in. I sent a letter to Macy's chief operating officer, who said, 'Sorry, we only have people who work here.'
One day, while volunteering as a public speaker at a local rehabilitation center near Syracuse, N.Y., Lee encouraged clients to talk about their dreams.
Dreams are a very big deal for Lee, who in 2008 won $8,000 as a contestant on the television show "Who Wants to be a Millionaire." From his winnings, he funded an annual scholarship for a Cortland High School student.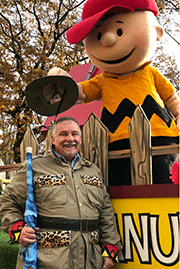 "One of the patients said, 'Bill, what's your dream?' I said, 'Walking in the Macy's Parade."
After his presentation, Lee lunched with a facility custodian. "He told me that was his dream, too, and he said, 'My daughter works for Macy's now. I'll give her a call and maybe the three of us could be in the parade.'
"And that's what happened," Lee said.
"It's amazing that I went out searching and searching and there it was, right in front of me."
That first year, and never again, Lee was assigned the coveted role of balloon holder, joining a team of some 48 handlers to manage the 2012 "Diary of a Wimpy Kid" balloon.
"Actually I got to spend most of the parade with the author of The Diary Of A Wimpy Kid, Jeff Kinney, and his wife and his brother-in-law and his sister. But other times I've been a float escort."
In 2014, Lee met a real star of Broadway and film, Idina Menzel, who voiced Queen Elsa in the 2013 Disney hit film "Frozen."
"When you're with a float, there's usually some kind of musical performer," Lee said. "When you get down to 34th street, the performer will lip synch a song.
"But no one's as popular as Santa Claus. It's like Santa's the rock star."
In 2017, escorting the Santa's Workshop float wearing a long red-and-white striped knit hat and other elvish things, he got a closer look at the mysterious kindly couple.
"Mrs. Claus and Santa Claus, they're like professionals, and I've played Santa Claus before," he said.
The next year, NBC's coverage captured Lee with arms raised in glee wearing a farmer-type overall outfit beside the Homewood Suites by Hilton's giant duck float.
The year after that, Lee told everyone he knew that he was going to be on the Lindt chocolate float.
"And they said, 'Make sure you bring back some candy.' On parade day, dressed as a chef, Lee was helping some rather Tyrolean looking elves into their costumes when a woman with whom he struck up a conversation told him she was a company vice president.
"I told her what my friends asked, and she said, 'I should have brought some. Give me an address, and I'll send you some.'
"She sent me $100 worth of chocolate. I had to give most of it away of course, to friends, kids at school, teachers. I would have felt guilty if I didn't. It was really nice of her to send it."
Lee has become a Macy's Thanksgiving Day Parade pro as a result of his seven years of volunteer service plus a "Float Camp" training session one October at Macy's gigantic parade warehouse in New Jersey.
"It was a chance to walk around and look at all the different floats where they were stored," he said. "So I took a selfie with Mount Rushmore. When I found out what I'd be on that year (2016), it was Mount Rushmore."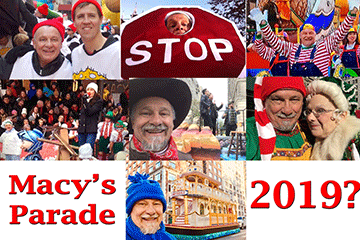 Last year was one of the coldest years in the history of the Macy's parade, and the talent (crew) canceled out.
"It was supposed to be a showboat and we were to wear straw hats and have a sort of barbershop quartet type look," Lee said. "But it was so cold out we were given a warm hat and scarf.
Regarding each year's costumes, Lee said, "You don't really know until you get there."
Like the character in the book, Where's Waldo?, Lee popped up and mugged for the television cameras alongside this year's Wisconsin Dells Kalahari Resorts and Conventions float wearing a type of Steve Irwin "Crocodile Hunter" getup. Popular 90's girl group TLC also performed on the 2019 float, singing hits like "No Scrubs" and "Waterfalls."
"They were sweet and generous with their time and well-received by the crowds," he said of TLC. "Two or three of the college and high school bands serenaded the ladies with a version of 'Waterfall' as they passed us to enter the parade. Just a wonderful day, or as the commemorative pin given to participants read, 'Best Thursday Ever – 2019.'"
His sons Nathan and Jacob now live in New York, so it will still be possible for them to watch their eternally young father skip and gambol past them on parade day next year.
"I think once you're in, you are kind of grandfathered or grand-mothered in," Lee said, with excitement in his voice.
"They just keep asking you to come back. There's always time for Thanksgiving. It's Thanksgiving every day. By virtue of sharing my dream with others, that's how my dream came true."
CAPTION: As shown in the above left image, meeting Mrs. Claus was been a highlight of Lee's Macy's parade career.
SUNY Cortland supports CROP Hunger Walk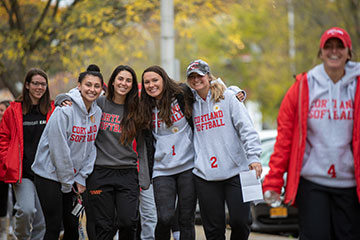 12/03/2019
A record for the most money raised — over $13,000 — was made at this year's 25th annual Cortland area CROP Hunger Walk on Oct. 27. The SUNY Cortland community made up 371 of the 421 walkers and raised $7,628.63.
This was the 14th year that SUNY Cortland was a major factor in the success of the walk. Area churches had 46 walkers. As always, 25 percent of the funds raised will return to the local community to support food pantries and feeding programs. The remainder will go to anti-hunger programs around the world.
For the fourth year in a row, SUNY Cortland's women's softball team won the athletic team plaque with a record of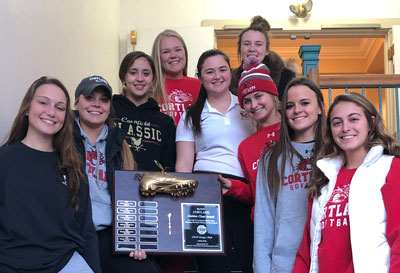 $3,075. Delta Phi Epsilon won the Greek community plaque by raising a record $1,290. Other winners were the AED 329 social studies/history class with $720 and among COR 101 freshmen classes, the COR of History team won with $230 raised. The James M. Clark Center for Global Engagement underwrote a series of plaques recognizing the winners.
SUNY Cortland's Alpha Phi sisters staffed Student Life Center sign-up tables, registration tables the day of the walk, traffic points and the water stop on the three-mile route. SUNY Cortland's Rock, Jazz and Blues Ensemble provided entertainment for the gathering ahead of the start.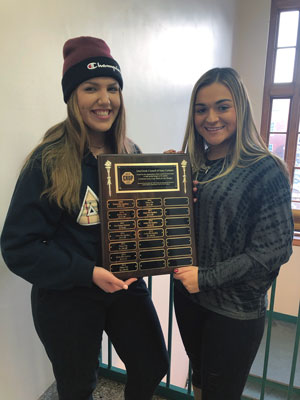 Library's 'Food for Fines' will help SUNY Cortland Cupboard
Memorial Library is offering a unique way for students to pay their overdue library fines while helping people in need.
The Food for Fines program runs through Friday, Dec. 13. Students may pay their fines by donating non-perishable, unopened, unexpired food in cans, boxes and plastic jars. Those who do not have fines are welcome to donate food.
Students will receive $1 off their overdue fine balance for each item of food donated. Replacement costs for lost or damaged books are excluded from this program.
Donations will be accepted during business hours at The Help Center in Memorial Library. The food will be delivered to the SUNY Cortland Cupboard located at the Interfaith Center.
For more information or to donate, stop by The Help Center in Memorial Library, call them at 607-753-2526, or email library@cortland.edu.
ASC Program Grant applications due Feb. 21
Auxiliary Services Corporation (ASC) is now accepting Program Grant applications online for the 2020-21 academic year.
Applications are submitted online and must be sent by midnight on Friday, Feb. 21. Applicants are asked to read the grant guidelines carefully before submitting an application.
Each year the ASC Board of Directors allocates funds to support grants for a wide range of purposes and projects that enhance the life of the SUNY Cortland community.
Although ASC is willing to consider a wide range of ideas, it seeks to avoid duplicating other funding sources or funding projects more properly supported by state funds. Therefore, applicants should first seek funding from primary funding sources.
ASC grant funds may not be used for salaries, honoraria, travel normally funded by the College's budget, or scholarships for SUNY Cortland faculty, staff or students. Funds may not be used to purchase computers, related hardware or software. All purchases will be processed in accordance to ASC's financial and related GAAP policies. In general, Program Grant funds may not be used exclusively for food for SUNY Cortland students, faculty or staff. Funding for food may be considered if the food is deemed integral to the success of the program or event. All food shall be provided by ASC. Other grant guidelines are described in the application package and online.
For more information or assistance, contact Judy Standish by email or at 607-753-4325.

Suggest a feature story
---
Faculty/Staff Activities
Jacqueline Augustine
Jacqueline Augustine, Kinesiology Department, was an invited speaker at the Mid-Atlantic Regional American College of Sports Medicine Conference on Nov. 1 in Harrisburg, Pa. Her presentation was titled "Cardiovascular Adaptations in Female Marathoners."
Lindsey Darvin
Lindsey Darvin, Sport Management Department, recently was featured in an SB Nation article about the NCAA NIL changes and the impact those may have for NCAA women student-athletes.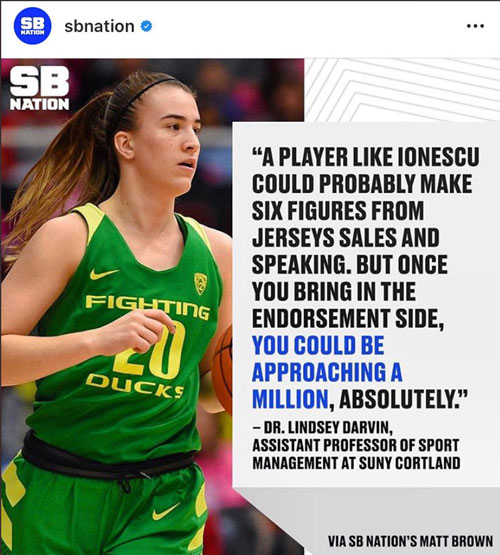 Jeremiah Donovan
Jeremiah Donovan, Art and Art History Department, presented a paper titled "Revitalization of Maya Pottery Practices in San Antonio, Belize" at the Strategic Alliances for the Internationalization of Higher Education, Cuba TIES Conference. The conference, held Oct. 20 to 26, was sponsored by the University of Cienfuegos, Cuba.
Bonni C. Hodges
Bonni C. Hodges, Health Department, represented the Society for Public Health Education at the "Developing Health Literacy Skills in Youth" workshop convened by the National Academies of Sciences, Engineering, and Medicine in November in Washington, D.C. In October, Hodges' American School Health Association (ASHA) Committee on Research Translation facilitated a pre-conference workshop for school health practitioners as part of ASHA's annual meeting.
Nancy Kane
Nancy Kane, Kinesiology Department, has had her first edition of History and Philosophy of P. E. and Sport published by Cognella Publishers.
Kathleen A. Lawrence
Kathleen A. Lawrence, Communication and Media Studies Department, recently received word that her poem, "The Nonpareils: As Told by the Woman in the Gingerbread House," has been nominated for a prestigious Pushcart Prize. Wikipedia describes the Pushcart Prize as "an American literary prize published by Pushcart Press that honors the best 'poetry, short fiction, essays or literary whatnot' published in the small presses over the previous year." Lawrence's poem originally was published in Star*Line, the print magazine for the Science Fiction and Fantasy Poetry Association. "The Nonpareils" is a retelling of the well-known German fairytale by the Brothers Grimm titled Hansel and Gretel from the perspective of the witch, or homeowner. This is the second Pushcart Prize nomination she has received.
Rhiannon Maton
Rhiannon Maton, Foundations and Social Advocacy Department, co-presented with students Breeanna Dexter, Nicolette McKeon, Breanna Washington and Emily Urias-Velasquez at the National Council of Teachers of English annual conference. The presentation was titled, "Picture Books and Familial Incarceration: Representations of Visitation."
Danica Savonick
Danica Savonick, English Department, had her article, "What Can Our Writing Do in the World? The Feminist Praxis of Publishing Student Writing," published in November in Radical Teacher. This article situates the practice of publishing student writing within a longer history of feminist teaching methods. It also features the original writing of two SUNY Cortland students, seniors Lacey Bartlett and Taylor Price.
Tadayuki Suzuki
Tadayuki Suzuki, Literacy Department, presented with Darryn Diuguid of McKendree University at the 2019 National Council of Teachers of English on Nov. 22 in Baltimore, Maryland. The presentation, "Intersectional Identities in LGBT Trade Books: Exploring the Current Trend in Rainbow Book List Winners," was part of the roundtable sessions titled "LGBTQ + Spirited Inquiry: Visibility in ELA."
Tiantian Zheng
Tiantian Zheng, Sociology/Anthropology Department, is the author of "The Politics of Fashion, Class Hierarchy and Transgression: Rural Migrant Women in Karaoke Bars and Japan-Korea Wave," posted online in October on The Contemporary China Centre.

Submit your faculty/staff activity