College Foundation launches $25 million campaign
11/19/2019
David Turybury '90, co-chair of the $25 million SUNY Cortland fundraising campaign officially launched at MetLife Stadium Nov. 15, almost attended Ithaca College.
Turybury made that admission in front of 200 fellow Red Dragons on the evening before SUNY Cortland was scheduled to play Ithaca in the best- attended Division III football game of all time. He did it to make a point about the importance of going "all in" to support the Cortland College Foundation, SUNY Cortland's fundraising organization.
"It came down to $1,000. That was the difference in cost that made me choose Cortland," he said. "And Cortland has been this wonderful coming together of things in my life. So even a little bit can make a big difference."
Scholarships aimed at making sure all qualified students can afford a SUNY Cortland education is one of five areas of focus for All In: Building on Success, the campaign for Cortland. The public phase of the five-year effort was launched with the announcement that $17.3 million had already been raised toward the $25 million goal.
The campaign officially ends on June 30, 2022.
"This comprehensive campaign is all about one important group of people — our students," President Erik J. Bitterbaum said. "We want to continue offering our undergraduate and graduate students the type of outstanding faculty, staff, facilities, equipment, laboratories and auxiliary functions one would expect to find at a world class educational institution."
In addition to student access, the other four priorities of the campaign are supporting: academic programs and faculty; unique educational experiences; our role as one of the nation's healthiest and most active campuses; building a lifetime network of support.
"I almost didn't go to college," said Chester Bennett, president of SUNY Cortland's Student Government Association and recipient of several college scholarships. "But this is absolutely the best college I could have gone to. (Donor gifts) have made a difference in the lives of literally thousands of students."
The kickoff event was held in the Toyota Room at MetLife Stadium, overlooking the field that hosted Cortaca Jug 2019. Each of the dozens of screens that normally run live NFL game coverage of the Giants and the Jets, glowed red and white with the SUNY Cortland logo and the campaign's "All In" wordmark.
Other speakers included Johanna Ames, vice chair of the Cortland College Foundation Board of Directors and co-chair of the Campaign for Cortland; George Weissman '76, chair of the Cortland College Foundation Board of Directors; and master of ceremonies Peter Perkins, SUNY Cortland's vice president for institutional advancement.
To learn more or to make a donation to the campaign effort call 607-753-5744 or visit Cortland.edu/campaign.
Cortland students evaluate Homer's trees
11/19/2019
Green spaces in the village of Homer, N.Y., may soon look a little different, thanks in large part to the effort of a group of SUNY Cortland students.
A Common Problem Pedagogy Project on campus linked students in a remote environmental sensing class led by Associate Professor Christopher Badurek of the Geography Department and those in a tree biology course with Professor Steven Broyles of the Biological Sciences Department.
Their task? To combine their expertise and complete a tree survey in Homer that would allow village officials to reassess future planting and removal initiatives.
Throughout the fall semester, students traveled to Homer and digitally catalogued trees in public spaces, including parks and along sidewalks. This data, which included the location of the trees as well as the specific species located in the village, led to recommendations and conclusions from the students.
Those findings, including GIS maps and analysis conducted by the students, were presented on Nov. 14. Village Mayor Hal McCabe said he was thrilled to come away from the meeting with information he will be able to bring to Homer's Village Board of Trustees.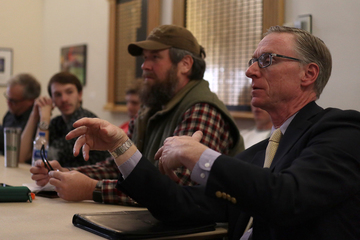 "We have a robust tree budget of about $50,000 a year for removal and planting," McCabe said. "We know we have a real biodiversity issue, but this data is going to be super valuable to us to figure out what we need to do and what we need to plant."
Of the trees catalogued by Cortland students, 62.8% are maple trees, meaning the village has a monoculture that leaves it vulnerable to pests and disease. That problem is compounded on the village green, where 91% of trees fall within the Acer, or maple, genus.
In addition to potential problems with pests and disease, maple trees are more likely than other types of trees to uproot sidewalks and shed branches or overturn during windstorms or after heavy icing.
That's not to mention leaf-raking and collection for homeowners and the village's public works.
Students proposed a number of other species the village could plant to increase diversity while maintaining the many positives that trees provide in densely populated areas. These include environmental benefits, improved property values and general public health.
For Ben Rozwod, a senior geographic information systems (GIS) major from Camillus, N.Y., the experience was valuable in expanding his understanding of the application of his chosen field of study.
He was also thankful for the knowledge of his counterparts in biology.
"My expertise certainly isn't identifying trees," Rozwod said. "I look at a tree and I'm like, 'I don't know what that is,' but my group members had that part down. It was a cool experience to walk around and see what's what."
Cameron Halby, a senior conservation biology major from Cross River, N.Y., was excited to see Mayor McCabe taking notes during and asking questions after his presentation. That his recommendations for increasing tree diversity in Homer may ultimately be used by the village in future planting efforts made this a very tangible example of how conservation biology works in the field.
"It's really cool to do work that involved going out and actually doing something for people and providing some benefit," Halby said. "It's not just an assignment for our own benefit, we're really trying to help the community."
It's possible that public spaces in Homer will have a different look in the years to come. The new trees won't simply be decorative. This will have been a very deliberative process that started through the ingenuity and hard work of a few dozen SUNY Cortland students.
"This is so helpful to us," McCabe said. "I can't overemphasize that."
---
Capture the Moment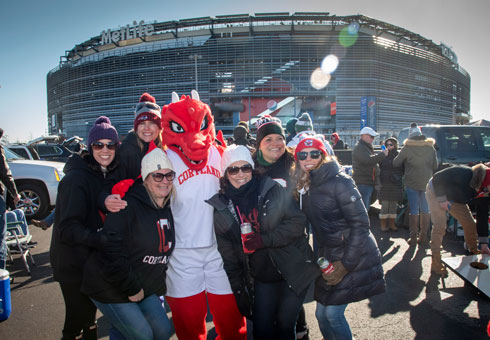 Tailgating at its grandest for "The Biggest Little Game in the Nation" took place in parking lots surrounding MetLife Stadium on Nov. 16 prior to the 61st Cortaca Jug game. SUNY Cortland students, staff and thousands of alumni traveled to East Rutherford, N.J. to celebrate the rivalry and to reconnect with friends. The contest, which saw senior running back Zach Tripodi score three touchdowns, set a Division III record with 45,161 fans in attendance.
---
In Other News
SUNY Cortland introduces master's in athletic training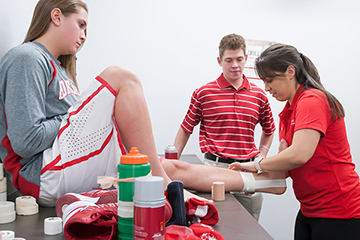 11/18/2019
SUNY Cortland will add to its strong reputation in athletic training by offering a master's degree in the discipline starting this summer. The M.S. in athletic training represents a plan for the future, with the profession set to require an advanced degree for new certified athletic trainers.
SUNY Cortland's two-year, full-time graduate program will welcome its first students in July 2020.
"This is exciting news and a reminder that we're moving forward with the profession," said Alyson Dearie, SUNY Cortland's athletic training program director and an assistant professor of kinesiology. "The healthcare setting is ever-changing, and our students will be prepared to meet its needs."
Athletic trainers help prevent and treat injuries in a variety of settings, including high schools, colleges, professional sport teams, healthcare facilities, military academies and performing arts venues. Cortland has offered a degree in athletic training for 45 years, boasting New York state's first undergraduate program approved by the National Athletic Trainers' Association (NATA) in 1976.
Today, the major continues to emphasize hands-on clinical experiences and preparation for the board of certification (BOC) exam. Over the past three years, 45 out of 47 SUNY Cortland athletic training majors have passed the BOC exam — a 96% pass rate for the undergraduate program.
That same high level of training soon will be offered at the master's level.
SUNY Cortland's graduate program recently earned accreditation from the Commission on Accreditation of Athletic Training Education (CAATE). In 2015, a strategic alliance representing the BOC, CAATE, NATA and the NATA Foundation announced that a professional degree in athletic training would be best suited at the graduate level.
By the fall semester of 2022, CAATE-accredited programs can no longer enroll students pursuing a bachelor's degree in athletic training. That means new SUNY Cortland undergraduates who aspire to be athletic trainers will receive the necessary preparation as exercise science majors starting in 2020.
Cortland will join Daemen College, Stony Brook University and the University at Buffalo as New York schools that offer a master's in athletic training.
The new degree offering is the latest development for a program that already carries a strong reputation. In 2017, the New York State Athletic Trainers' Association moved its hall of fame — which includes several SUNY Cortland alumni — to Park Center on the university's campus. That same year, Cortland was included among the top 10 colleges and universities nationwide in undergraduate preparation for a career in sports medicine, according to CollegeChoice.net.
Additionally, Cortland hosts an annual sports medicine symposium that brings in national experts and earns support from Dr. Bert Mandelbaum '75, a nationally respected orthopedic surgeon who served as a team physician with U.S. Soccer.
Graduate students will complete 18 courses, which include four different clinical experiences that may take place in local athletic departments or nearby healthcare facilities. In order to be considered for admission, students must submit several required application materials, including proof of at least 50 observation hours under the direct supervision of a certified athletic trainer.
For more detailed information, prospective students can visit the program's webpage or contact Dearie.
Inclusion Survey pulling in participants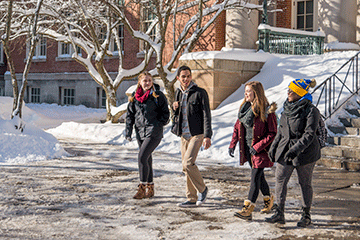 11/19/2019
The response to an anonymous survey to assess how well SUNY Cortland includes campus community members in university life in light of their individual needs and differences has been good. However, the Campus Climate for Diversity Committee is hoping to get more students to participate.
An almost equal number of student and faculty/staff have participated as of Friday, Nov. 15. That means that a much greater percentage of SUNY Cortland's faculty and staff have voiced their opinions compared to students.
For those who haven't taken it yet, look for a reminder in this week's campus email, which is the sole way to access the survey — save for the original email requests that went out on Nov. 4 for faculty and staff and Nov. 6 for students.
It takes about 15 minutes to complete, after which all student respondents will have their name separately entered in a drawing for prizes that include two iPads and 80 SUNY Cortland Bookstore gift cards for $25.
The survey responses are important because how students, faculty and staff feel they are being treated by others is key to their success, whether in class, the workplace or in their personal lives.
The Campus Climate for Diversity Committee currently is administering the survey for the university to measure how inclusive the campus is around race and ethnicity, gender and gender expression, sexual orientation, disability, and religion. It's the first time since 2005 that such information has been gathered.
The committee, which designed and issued the Inclusion Survey, is trying to get many more participants in both categories to take it as a way to find out how well the university includes them in campus life in light of their individual needs and differences.
"We are working to get a high response rate from students so we can receive meaningful results," said committee member Jeremy Zhe-Heimerman, assistant director of disability resources, who wants to include faculty from every discipline in the committee's efforts to engage more students in taking the voluntary survey.
"You can help in these efforts by encouraging your students to fill out the survey," said Zhe-Heimerman, who is preparing suggestions that faculty can use to get more students to share their input.
Individual participants will remain anonymous. The gathered data from their feedback will be shared with the university community and used to plan improvements in the way SUNY Cortland approaches diversity and creates a more ideal environment for excellence in academics, professional development and personal fulfillment.
Members of the SUNY Cortland Campus Climate on Diversity Committee and volunteers are continuing their efforts to increase participation at a table set up in the Old Main Dragon's Den lobby this week.
Work on this assessment began last spring, when the committee conducted a series of focus groups to ask students, faculty and staff to express their opinions about their quality of life on campus. That work helped guide then through the summer and the early fall, as the committee developed the survey.
SUNY Cortland is committed to advancing diversity and inclusion in higher education. Building on previously gathered data, historical documents and the university's extensive efforts thus far, a comprehensive climate assessment will provide the campus with research-based and comprehensive findings. These will guide the development of strategic initiatives and action planning to build on institutional successes and address institutional inclusivity challenges.
For more information, contact James Felton III, chief diversity officer or another member of the Campus Climate on Diversity Committee: Michael Baker, assistant director of residential life for technology and marketing; Stephen Cunningham, director of institutional research and assessment; Imani Hinckson, student volunteer; Jeffrey Jackson, instructor of English; Yomee Lee, professor of kinesiology and Africana studies; Christopher Ortega, assistant professor of communication and media studies and Africana studies; Amy Russell, professional tutor, The Learning Center; Ronnie Silver '67, SUNY Cortland Alumni Association liaison; Jennifer Wilson, associate director of communications; Melanie Woodward, associate director of human resources and affirmative action officer; and Jeremy Zhe-Heimerman, assistant director of disability resources, Disability Resources Office.
SUNY grant opens campuses to online geospatial technology
11/19/2019
SUNY Cortland and Monroe Community College are working together to make sure that all New York state college students can pursue opportunities in the growing field of geospatial information science and technology (GIST).
Faculty members from the two SUNY schools recently teamed up to land a $54,000 New York state grant funding strategies to overcome barriers many students have in learning the state-of-the-art computer mapping software required for the discipline — which has projected double-digit job growth through 2024.
For SUNY Cortland, the initiative could greatly expand GIST students' internship opportunities, strengthen the pipeline of transfer students in this field, create professional part-time employment for students and make working with complex geographic information software much more convenient for students.
It could also allow Cortland, which hosts the Institute for Geospatial and Drone Technology (IGDT), to offer fully online courses involving web mapping and data analytics that could eventually enroll students throughout the SUNY system.
"We're talking about bringing a virtual server, a virtual desktop, to MCC, working with SUNY Cortland's institute, but really using it through a kind of remote computer," said Chris Badurek, a SUNY Cortland associate professor of geography and director of research for the Institute for Geospatial and Drone Technology.
"The technology aspect provides virtual access to software," Badurek said. "For example, you can run software technology from your laptop that usually is only available in a lab setting."
This is important for students at Monroe Community College in Rochester, who need more access to the computer software and person-to-person technical support, according to Jonathon Little, associate professor of GIST at MCC.
About a quarter of Monroe's GIST students are struggling with the software, usually because their home computers aren't able to support the geographic software and they must do all their work during hours when the campus learning center is open, Little said. MCC is primarily a school for commuting students who do not live on campus.
Both Cortland, a four-year Central New York university, and Monroe, a two-year institution, offer degrees that involve mastering geographic information systems (GIS) technology. Although its students often struggle with access and expertise related to the software, MCC is the only New York community college that offers a certificate in GIST.
Many of those certificate holders transfer to SUNY Cortland to pursue a four-year degree in the discipline, which largely involves analyzing the wealth of data collected by drones and satellites. Through this project, junior and senior GIS students at Cortland will serve as peer mentors and tutors for MCC students, improving their ability to succeed and perhaps transfer.
"MCC has a really good GIS program, so when the graduates come here, they have a solid foundation and they start out at a high level," Badurek said, noting that many jump right into research projects that are featured at Transformations, Cortland's annual celebration of scholarly and creative achievement.
Funding for the initiative is through the SUNY Innovation in Instructional Technology Grant (IITG) program.
The IITG grant — for a project called Open Geospatial Lab (OGL) and Remote Workforce Opportunities across Rural New York State — primarily will be used to install virtual access software that will let their students and others from institutions across SUNY tap into the GIS computer software.
The virtual server is going to be installed at MCC, where Little, a faculty member in MCC's Chemistry and Geosciences Department, is leading the one-year pilot project for both institutions.
The funding also makes possible online support from both Cortland and MCC faculty and from experienced SUNY Cortland student tutors.
Badurek envisions that he and these paid research assistants will be holding virtual office hours outside regular daytime or weekday scheduling.
"There's a real opportunity there for our students to provide support, but they are learning a lot and building their own skills," Badurek said.
The project also aims to help enrolled GIS students burnish their resumes with actual professional experience from a wider geographic range for government-supported internships.
"For our students, this opens us up for paid work with organizations that are not in immediate proximity," he said. For summer internships, the students need not even spend the term in Cortland.
"They will be able to work from their homes on Long Island if they wish."
Both professors plan to use the new technology to expand the reach of service learning opportunities to outside the U.S.
Next spring, the funds additionally will support Badurek to design and teach a hybrid 50% online and 50% classroom course that involves web mapping and data analytics and potentially could enroll students throughout the SUNY system. Badurek will teach the course 100% online after next spring.
"I think our project here really helps to push the envelope on how to do online education for technical courses," Badurek said. "It complements our traditional classroom offerings."
The grant requires matching funds, and some of those monies will come from SUNY Cortland's year-old Institute for Geospatial and Drone Technology.
"This is just a one year trial to build the capacity and determine how to sustain it by taking the lessons learned at each of our institutions," Badurek said. "There's a potential longevity to this project."
UPPER LEFT IMAGE: Christopher Badurek, left, with Matthew Raymond, an undergraduate GIS major, during a Transformations 2019 poster session on GIST technology. Raymond previously earned a GIS degree from Cayuga Community College.
Cortland launching SUNY-wide journal on civic engagement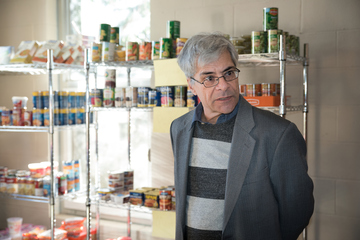 11/18/2019
SUNY Cortland's Institute for Civic Engagement has created a unique, SUNY-wide online scholarly journal that will allow academics from all 64 SUNY Campuses share innovative and pragmatic applied learning strategies.
But contributors won't be limited to experts with advanced degrees. Students will also be encouraged to submit research for possible publication. And, in a true break with scholarly journal tradition, so will members of the community who have been involved with civic engagement.
The Journal of the Scholarship of Engagement, JoSE, pronounced JOE-zee, will publish twice annually in January and June. Laura Dunbar and John Suarez of the Institute for Civic Engagement are the founders and managing editors of the one-of-a kind online publication JoSE.
"We really see JoSE as a pioneer project. It's exciting," said Dunbar, an instructor in the English Department and assistant director of the Institute for Civic Engagement. "We envision a JoSE that is agile, experimental and welcoming, as well as rigorous, useful and credible."
The journal was announced on Oct. 29 at SUNY's Student Success Summit Conference in Albany and it will release its inaugural issue in January 2020. The second issue, in June 2020, will be the first to feature peer-reviewed research.
JoSE is located on the Memorial Library's Digital Commons @ Cortland thanks to the assistance of Jennifer Kronenbitter, director of libraries, and Jennifer Parker, discovery services librarian.
JoSE will provide the entire SUNY system with an opportunity to develop and showcase its transformative applied learning strategies in one location.
The journal also gives students the ability to receive mentored leadership in publishing research and journal peer-review.
"For students, JoSE becomes yet another applied learning opportunity," said Suarez, director of the Institute for Civic Engagement and service-learning coordinator.
It also offers applied learning practitioners — faculty, students and community partners — the opportunity to share results of, and reflections on, their use of published strategies.
"The invitation to students and to community partners to participate is part of JoSE's unique reciprocal quality, one of mutual respect," Dunbar noted. "This key applied learning guideline and best practice — reciprocity — reinforces the idea that our community partners are helping us to identify and address real-world, authentic challenges. It also helps us to learn as we address these challenges."
Articles will explore, but will not be limited to, assessment of student learning outcomes, innovation in applied learning methodology, the nurturing of student leadership skills, and applied learning exploration of contemporary and emerging issues such as climate change, civic participation, and perceptions of public higher education.
A number of current journals talk about these subjects but very few are explicitly focused on the subject of applied learning, especially SUNY-approved applied learning. The opportunity for faculty, staff and students from across the SUNY system to collaborate opens doors to previously unforeseen academic possibilities within the system, Dunbar said.
"The scholarship of engagement is really still in its formative stages," Dunbar said. "Ernest Boyer coined the phrase 'Scholarship of Engagement' in a 1996 piece published in The Journal of Higher Education Outreach and Engagement, so — with relatively few years of development — there is a lot of room on that frontier right now. We think SUNY deserves to have a voice in that discussion and we see JoSE several years down the road as being the vehicle for that voice."
A number of individuals from across the SUNY system have joined JoSE's Board of Directors. They are:
Barbara Barton, associate professor, Health Department, SUNY Cortland
John Draeger, professor, Philosophy Department; director, Teaching and Learning Center, SUNY Buffalo State College
Ann Emo, chair and associate professor, Theater Department, SUNY Buffalo State College
Seth Gilbertson, associate counsel, SUNY System Administration
Cheryle G. Levitt, assistant dean, BSN/MS programs, professor, School of Nursing, SUNY Delhi
Jarvis McCowin, assistant director of Multicultural Center, SUNY Delhi
Susan C. Perkins, director of programs and services, University Center for Academic and Workforce Development, SUNY System Administration
Peter R. Sawyer, chair, History, Philosophy and Social Science Department; director of the Center for Service Learning and Civic Engagement, Hudson Valley Community College
Laura Trottier, program assistant, Office of Applied Learning, SUNY System Administration
Carol Youngs, Financial Aid Office, SUNY Cortland
Dunbar and Suarez are continuing to recruit associates for JoSE, including authors, reviewers and a marketing associate. For more information, contact Dunbar.
Student actors "Head Over Heels" for latest musical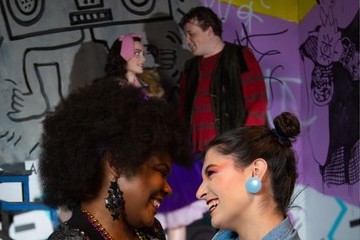 11/05/2019
SUNY Cortland's student actors love new challenges.
"Head Over Heels," which opened on Nov. 15, in the Dowd Fine Arts Center Lab Theatre, presents plenty of tests for the cast. The play continues for a second weekend and, due to popularity, two additional performances were added when the three scheduled shows were sold out.
"Head Over Heels" now can be seen at 7:30 p.m. on Thursday, Nov. 21 and at 2 p.m. on Saturday, Nov. 23 in addition to 7:30 p.m. on Friday, Nov. 22 and Saturday, Nov. 23; and at 2 p.m. on Sunday, Nov. 24. It is recommended to check online for tickets at Cortland.edu/boxoffice or contact Box Office Manager Carlita Withers by email or phone at 607-753-2831 for availability.
A musical comedy that made its world premiere in 2015 and debuted on Broadway in 2018, "Head Over Heels" mixes a variety of genres in unique ways. Set in a 1980s-style VIP dance club and featuring the music of the Go-Go's, actors deliver their lines in Elizabethan dialogue common in Shakespearean drama.
"It's a fun way for us to show off," said Mia Donneruno, a senior from East Northport, N.Y., who plays Mopsa. "We can sing these contemporary songs and belt our faces off, but we also know how to handle this more complicated Elizabethan-style text."
The plot of the show is based on a Renaissance romance, "The Countess of Pembroke's Arcadia," which was written by Sir Philip Sidney circa 1585.
In "Head Over Heels," King Basilius, his wife, Gynecia, and their two daughters, Pamela and Philoclea, rule over the kingdom of Arcadia. Basilius is visited by a prophet, Pythio, who warns of ruination if the king doesn't change his overly stodgy and traditional ways.
On top of the clash of genres, "Head Over Heels" presents characters from a variety of backgrounds, touching on issues of race, gender, sexuality and identity. Inclusivity is at the heart of the musical's message, which is deeply appreciated by student actors including Olamide Asanpaola, a senior from Hempstead, N.Y. who plays Pamela. A princess in search of a suitor, Pamela's choice leads to conflict within her family.
"For me, to make it personal, as a black woman to be playing this role where I'm viewed as the most beautiful person in the land is so powerful," she said. "In reality, with all of the hardships black people go through, especially black women, it's nice to step out of that and go into this fantasy where I'm the most prized possession in this land."
Maurice Jerry, a senior from Baldwin, N.Y., who plays Basilius, admits that he's put in a tremendous amount of work to prepare for the role. First, he had to familiarize himself with the Go-Go's catalog. Then, he's had to develop new strategies on stage when it comes to interacting with castmates as they banter back-and-forth in dense dialogue.
The blend of influences in "Head Over Heels," however, perfectly convey its themes in fun and toe-tapping fashion.
"There is a sense of love and happiness and inclusivity as well," Jerry said. There's a sense of being wanted and cared for. That's what this show ultimately boils down to."
Diana Reidy, a senior from Center Sandwich, N.H., plays Gynecia. A few weeks before opening night, with sets still being built and costumes getting their final touches, she is amazed by how everyone in SUNY Cortland's Performing Arts Department — students, faculty and staff — are coming together to pull off such an ambitious project in a short period of time.
"Any time I do a show, I learn a bunch of different things about myself and the process," she said. "For this one, since there are so many pieces of it coming together and there are so many people responsible for those pieces, it really just reminds me that theatre is a collaboration.
"I'm so grateful for my fellow actors and my director and the assistants, the stage manager, the music director, the set designer, everyone who is making this show what it should be and what I know it will be. Hopefully the audience will see and respect everybody's hard work on this."
Donneruno knows just how powerful it is to see a performance of "Head Over Heels." She caught it on Broadway on the day after Thanksgiving in 2018, an annual family tradition.
"It was so much fun," she said. "My sister and I didn't know all of the music, but my mom knew every song and she was bopping along and singing to every song.
"It's going to be two hours of joy," Donneruno continued. "It is crazy and fun and we're all going to look colorful and kooky and we're going to be dancing and singing and making people laugh. Even if you don't know '80s music or if you've never seen a Shakespeare play, you're going to come to this show and you're going to have two hours of fun."
Tickets, available at Cortland.edu/boxoffice, are $10 for SUNY Cortland students, $16 for faculty, staff and senior citizens and $19 for adults.
Seating in the Dowd Fine Arts Center Lab Theatre is limited and late arrivals will not be admitted.
Cortland in the news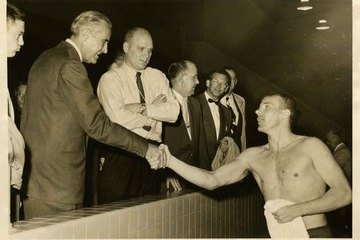 11/19/2019
Did you know that an Olympic medal resides on the SUNY Cortland campus?
It was won by the late George Breen '56, who passed away at age 84 after a battle with pancreatic cancer.
Breen, a Buffalo native, was eulogized in The Buffalo News. Competing for the first time for the SUNY Cortland swimming and diving team starting as a 17-year-old freshman, Breen became one of the top American swimmers of his era.
He swam for Team USA at the 1956 and 1960 Summer Olympics, winning one silver and one bronze medal in Melbourne, Australia in 1956 and a bronze medal at the 1960 games in Rome, Italy. Breen established six world records during his career and later coached the men's swimming team at the University of Pennsylvania from 1966 to 1982.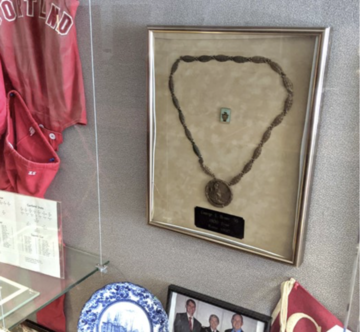 Breen's bronze medal from 1960 is on display in the Cortland C-Club Hall of Fame Room. Learn more at CortlandRedDragons.com.
In other news:
Class brings Cortaca crowd from Finland and Germany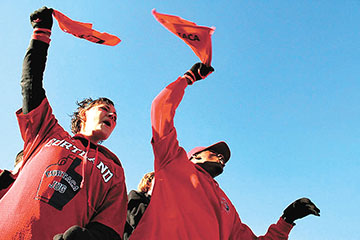 11/10/2019
When the record-setting edition of the Cortaca Jug football game took place at MetLife Stadium on Nov. 16, Cortland fans and alumni traveled from across the country.
But the distinction for the furthest trip likely belonged to a small contingent of European students rooting for the Red Dragons and coming from Germany and Finland — some 4,000 miles away. With a record crowd of 45,161, they helped SUNY Cortland and Ithaca College break the attendance record for a Division III football game.
The rivalry game between the two upstate New York colleges isn't the group's only destination. They're visiting the U.S. as part of a collaborative course in international sport management that includes students from SUNY Cortland, JAMK University of Applied Sciences in Jyväskylä, Finland, and Heilbronn University of Applied Sciences in Heilbronn, Germany.
Together, 28 students from the three countries will spend a week learning on SUNY Cortland's campus and in New York City. They'll meet with Cortland alumni who work for Madison Square Garden, NBC Sports, the National Football League and the Brooklyn Nets. And they'll have fun too, mixing in a visit to the National Baseball Hall of Fame and Museum in Cooperstown, N.Y., a New York Islanders game at Barclays Center in Brooklyn, N.Y., and activities in Cortland.
The partnership is made possible through SUNY's Collaborative Online International Learning (COIL) initiative, which uses technology to connect public universities in New York with institutions overseas. The experience also receives support from SUNY Cortland's Haines Fund; President's Office; Dean's Office, School of Professional Studies; International Programs Office; and Sport Management Department.
"For some students, this is the first international experience they've ever had," said Tara Mahoney, an associate professor of sport management at SUNY Cortland. "That's the purpose of COIL. We want every student to have an international experience, even if they're unable to leave the country."
The semester-long class serves as an introduction to international topics such as sport for development and peace and social media as a global communication tool. Students in Cortland meet weekly and, because of time zone differences, much of the coursework is delivered virtually through video-recorded lectures and case study assignments.
Of course, technology also allows for unique learning opportunities.
Classmates met early in the semester through a live video chat. Groupwork assignments mix students from all three countries. And when they learned about the value of branding cities as major event hosts, a scholar from South Africa weighed in with first-hand experience from helping plan the 2010 men's soccer World Cup. Students also have heard from experts in Sweden, Turkey and the United Arab Emirates.
The highlight of the course will be the weeklong experience in New York, which also includes a final case study competition in person. Each year builds more interest among Cortland sport management majors, Mahoney said. Last year, 22 students traveled to the Netherlands for a similar COIL culminating seminar week.
The opportunity to tie in the historic Cortaca Jug game in 2019 was impossible to pass up.
"I think everyone is very excited," said Mahoney, who has led the course five times. "Trying to explain the significance of this game (to students in Finland and Germany) was difficult because Europe doesn't have the same collegiate sport model."
After attending the Cortaca Jug game on Saturday, the group traveled to Cortland for the early part of the week. In addition to lectures and groupwork, they'll be led on a low-ropes course by SUNY Cortland's Physical Education Department, attend Sport Management Club events and take in a men's basketball game between Cortland and Ithaca.
Then they'll travel back to New York City to meet with Cortland alumni excelling in the profession.
One of those visits will be led by Katie Keenan '05, M '10, director of major events for the National Football League. Keenan will be coming back in New York City after helping organize a Monday Night Football game between the Kansas City Chiefs and Los Angeles Chargers played in Mexico.
"That's perfect course content for what we're doing," Mahoney said. "These massive American sport leagues are seeing the benefits of expanding their international presence, and our students are learning about it right there in the moment."
Cortaca Jug game brings Red Dragons together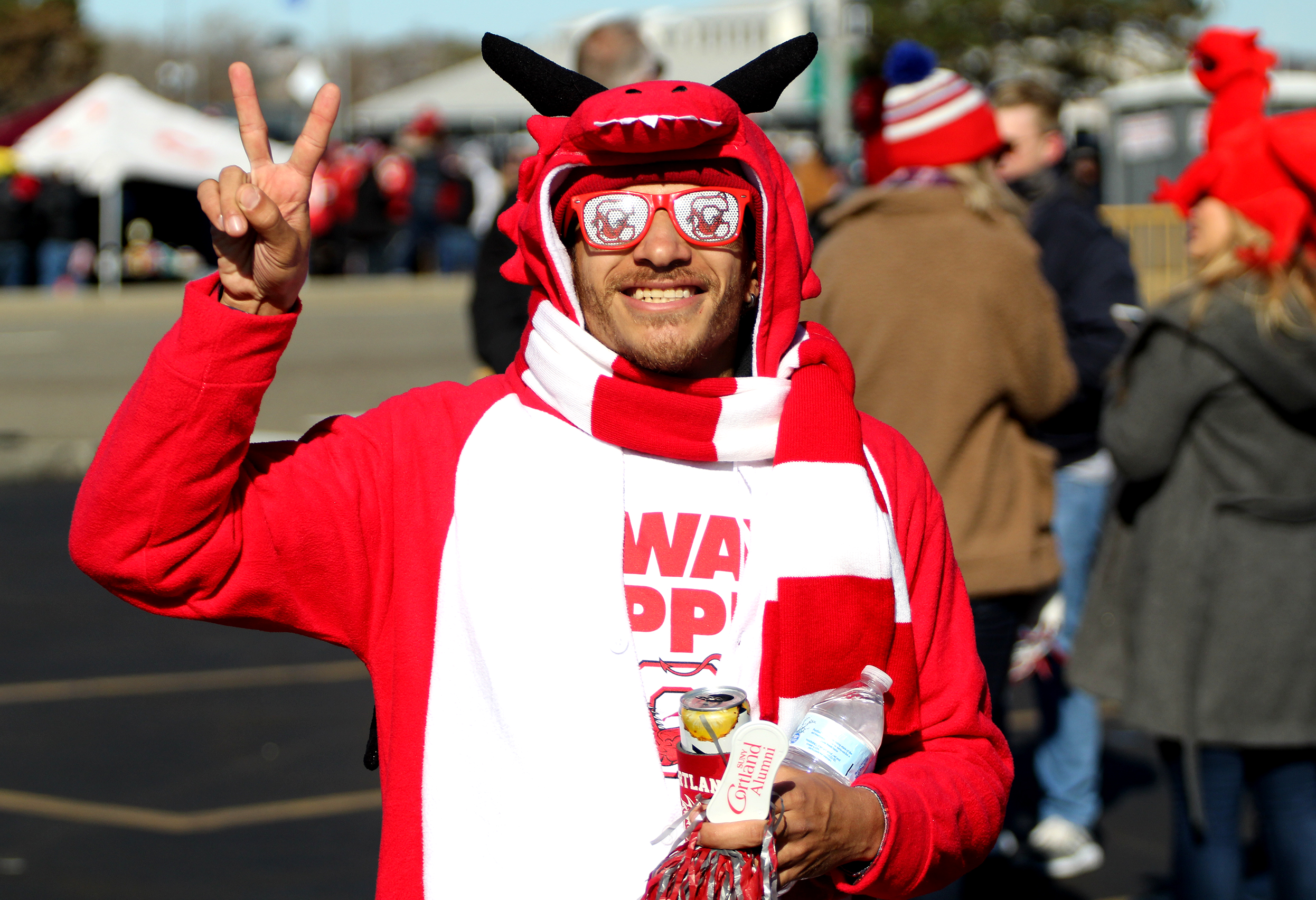 11/16/2019
There were plenty of Red Dragons wandering through the ocean of parking lots surrounding MetLife Stadium in East Rutherford, N.J.
SUNY Cortland was about to take on Ithaca College in the annual Cortaca Jug football game on Nov. 16, this time in the home of the NFL's New York Giants and Jets.
Then there were the 20 or so recent graduates who took Red Dragon spirit to heart.
Sam Deutsch '15 encouraged a number of his former housemates to pick up Red Dragon costumes online and they mingled through all of the tailgating Cortland fans, trying to ramp them up before kickoff. His girlfriend, former SUNY Cortland gymnast Bri Michaels, also recruited a number of friends to the cause.
"We're the Red Dragons and I just thought to myself, 'How great would it be to have 20 Red Dragons show up to Cortaca?'" Deutsch said. "I put it to our group chat and they said, 'We're doing this.'"
A record 45,161 fans attended the 61st Cortaca Jug game, which routinely draws about 10,000 fans when it is held on the Cortland or Ithaca campuses. The University of St. Thomas and Saint John's University held the previous Division III record when 37,355 saw a game at Target Field in Minneapolis in 2017.
The rivalry, which was once referred to as "The Biggest Little Game in the Nation" by Sports Illustrated, has grown over the years. Former players like Lou Crispo '10 love coming back to Cortaca Jug games to reconnect with teammates and keep the game's tradition strong.
"The growth that the game has had since 1959, the first one, to now, where The New York Times is writing articles about breaking attendance records, is amazing," Crispo said.
Crispo, an Eastchester, N.Y. native, was a senior defensive tackle when Cortland snapped a three-game losing streak in the series, beating Ithaca 20-17 in 2010. He was proudly wearing his No. 56 jersey in the parking lot and likened the pregame atmosphere to that usually associated with much larger schools.
"Everybody has bought in," he said. "From an outsider perspective looking in, this might as well be a Division I game. It has that big-game feel. That's why well before our time it was deemed 'the biggest little game in the country.'"
Kyle Schneider '17, who played quarterback at Cortland from 2013 to 2016, was chatting with former teammates and perfect strangers alike. No matter whether Cortland graduates played football or not, the game offers an opportunity for people to come together.
"I know a lot of people care about the outcome of the game, but I've been talking to some people today and it's the first Cortaca game they've been to," Schneider said. "We graduated two years ago and this is the first time we've been back together since we graduated. I think that applies to a lot of people here."
When it was announced in November 2018 that the 2019 edition of the Cortaca Jug would move to MetLife Stadium, Schneider, a Hillsdale, N.J. native, bought 105 tickets so that friends and family could sit together in a block.
He sold them all within two weeks.
As a high school student, the idea of one day playing in a Cortaca Jug game was a major part of the appeal to Schneider.
"When you're visiting and you see Cortland has some very good facilities, to think that the whole stands could be filled for a game, that was an aspect of why you want to go there," he said. "It's an appealing factor of why people go to Cortland and it lives up to it. It's not just people talking the talk, they also walk the walk."
As for Deutsch, an English teacher who coaches wrestling and girl's flag football at Martin Luther King, Jr. High School in Manhattan, he recently took two students to Cortland on a college visit. Sure, they talked about the Cortaca Jug game, but they also talked about the bond that Red Dragons have long after they graduate.
Whether they're wearing a Red Dragon costume or not.
"Part of it is, I want them to go to Cortland because I went there and I always push for Cortland," Deutsch said. "What I told them is that Cortland is a magical place. There's a piece of my heart there and I think that's true for everybody.
"Everybody I know who went to Cortland, there's a little more love in the air when you see each other."
Outstanding Non-Traditional Students Recognized
During Non-Traditional Students Week held at SUNY Cortland from Oct. 25 through Nov. 1, 21 students who balance family, jobs and other commitments were recognized for their hard work and commitment.
Non-traditional undergraduate students are defined as those who are at least 24 years old or have had an interruption or delay in their education since high school. Also, they might have dependent children, regardless of their ages.
Faculty, staff and students submitted 31 names, with some students being recognized by more than one person, to the "Celebrate a Non-Trad" campaign. A certificate of recognition and a small gift was given to the following students:
Michael Belokur
Phillip Blough
Jayci Brown
Theresa Foster
Laura Herrling
Tyler Lloyd
David McCrea
Katelyn McDonald
Kasey McLarney
Kristin McLarney
Katherine Miller
Heather Moore
Shelly Moscato
Julie-Anne Noe
Jesika Perkins
Kristina Petrella
Brittany Poindexter
Mathew Raymond
Sara Sampson
Morgan Southwick
Michael Voll
Larissa Waldron
MacKenzie Watts
Meaghan Zurenda
The campaign is co-sponsored by Advisement and Transition and the Non-Traditional Student Organization. For more information, contact Cheryl Hines, coordinator of student outreach and non-traditional student support, advisement and transition, at 607-753-4726.
Library's 'Food for Fines' will help SUNY Cortland Cupboard
Memorial Library is offering a unique way for students to pay their overdue library fines while helping people in need.
The Food for Fines program runs through Friday, Dec. 13. Students may pay their fines by donating non-perishable, unopened, unexpired food in cans, boxes and plastic jars. Those who do not have fines are welcome to donate food.
Students will receive $1 off their overdue fine balance for each item of food donated. Replacement costs for lost or damaged books are excluded from this program.
Donations will be accepted during business hours at The Help Center in Memorial Library. The food will be delivered to the SUNY Cortland Cupboard located at the Interfaith Center.
For more information or to donate, stop by The Help Center in Memorial Library, call them at 607-753-2526, or email library@cortland.edu.

Suggest a feature story
---
Faculty/Staff Activities
Seth N. Asumah
Seth N. Asumah, Africana Studies and Political Science departments, gave an opening plenary keynote address on "African and Africana Knowledge: Past Representations, Current Discourses, Future Communities" at the Third Biennial Conference of the African Studies Association of Africa (ASAA) at United States International University (USIU) in Nairobi, Kenya, East Africa. At the event, held Oct. 23 to 26, Asumah received recognition and an award of honor for organizing and facilitating a preconference workshop on "Educational and Academic Leadership: Rethinking Responsibilities and Challenges for Department Chairs in African/Africana Studies." Africologists, Africanists and African enthusiasts from 34 African countries, Europe, North and South America and the Caribbean attended the ASAA conference.
Kevin Dames
Kevin Dames, Kinesiology Department, and collaborators had their paper titled "Impact of Wearable Technology on Physical Activity, Fitness, and Health Outcomes in College Students with Disabilities" published in the Journal of Physical Activity Research. Persons with disabilities face unique barriers to physical activity and consequently have higher rates of heart disease, stroke, obesity, and some forms of cancer. This work attempted to increase physical activity behaviors in college students with disabilities by providing a fitness tracking device and educational sessions. Participants increased daily walking and aerobic fitness. Simple, inexpensive interventions to encourage physical activity in this group may encourage healthy lifestyle choices that decrease risk of chronic disease.
Lindsey Darvin
Lindsey Darvin, Sport Management Department, had a publication titled "Voluntary occupational turnover and the experiences of former intercollegiate women assistant coaches" published in October in the Journal of Vocational Behavior.
Mark Dodds
Mark Dodds, Sport Management Department, was a featured speaker at the Athletic Business Show in Orlando, Florida. He delivered the "Legal Risks Facing Sport Facilities and Events – And Responses" presentation on Nov. 15.
Eric Edlund and Szilvia Kadas
Eric Edlund, Physics Department, and Szilvia Kadas, Art and Art History Department, presented "Visual Storytelling of Scientific Data: Collaborations Between Art and Physics in the College Classroom" at the SUNY Applied Learning Conference held Oct. 28 to 30 in Albany, N.Y.
Evan Faulkenbury
Evan Faulkenbury, History Department, had a peer-reviewed article published in the Journal of African American History. It is titled "'An Uncommon Meeting of Minds': The Council for United Civil Rights Leadership in the Black Freedom Struggle, 1963-1967."
Moyi Jia
Moyi Jia, Communication and Media Studies Department, co-authored an article titled "Information and Communication Technology, Uncertainty Reduction, and Dual Identification in Chinese Organizations," that was published in the Journal of International & Interdisciplinary Business Research. Co-author is Ran Ju of Mount Royal University in Canada.
Szilvia Kadas and Benjamin Wilson
Szilvia Kadas, Art and Art History Department, Benjamin Wilson, Economics Department, and Dowd Gallery are hosting a student-created graphic design exhibition titled "Care, Crisis, Climate, and Debt." The student show is open to the public in Old Main Colloquium through Friday, Dec. 13.
Tom Lickona
Tom Lickona, Center for the 4th and 5th Rs, presented the keynote to open the London conference of the International Federation of Family Development. Held Oct. 19 and 20, he presented "Raising Kind Kids" to an audience of 1,200 family educators from 70 countries. In September, Lickona spoke at South Korea's International Forum on Human Values on the character education work of SUNY Cortland's Center for the 4th and 5th Rs. In October, during a week-long visit to the Philippines, he addressed several conferences on fostering kindness at school and home. Most recently, Lickona spoke in Mexico City on "How to Raise Kind Kids" in a lecture tour sponsored by the organization Moders.
Rhiannon M. Maton
Rhiannon M. Maton, Foundations and Social Advocacy Department, was extensively cited in a recent article published in the Chicago Tribune titled "Chicago's striking teachers helped spark a new wave of teacher activists. Here's why teacher activism is on the rise."
Ute Ritz-Deutch
Ute Ritz-Deutch, History Department, was presented with the "Amnesty International Keeper of the Flame Activism Award" for the northeast region. At the annual regional conference, which took place on Nov. 15 in Providence, Rhode Island, she also led a workshop on "How to create a Human Rights Podcast." She hosts a weekly one-hour talk radio show on WRFI community radio in Ithaca, N.Y., called "The Human Rights and Social Justice Program." The award was partly based on that. She has more than 260 podcasts on Soundcloud.
Robert Spitzer
Robert Spitzer, Political Science Department, is the author of an article titled "One Gun Policy Idea We Can Agree On: Magazine Regulation," posted last month on Second Thoughts, a website on gun policy of the Center for Firearms Law at Duke University.
Brian Williams
Brian Williams, Political Science Department, gave a presentation titled, "Public Bills in the Canadian Senate: An Evaluation of Partisanship and Seniority" on Nov. 15 at a seminar hosted by the Center for the Study of Parliament in Ottawa, Ontario.
Tiantian Zheng
Tiantian Zheng, Sociology/Anthropology Department, delivered a keynote speech at the International SCON Summit on HIV/AIDS on Nov. 12 in Las Vegas, Nevada.

Submit your faculty/staff activity