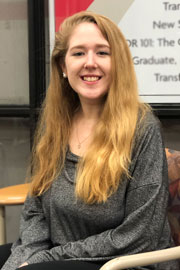 Campus Champion
Ragin Hewitt found her place at SUNY Cortland with the help of a strong transfer student support system. Now, the senior childhood/early childhood education major is paying it forward as a member of the Transfer Network Team. Knowing firsthand the issues that are unique to students coming from other colleges, Ragin provides guidance and friendship to new transfers. And she's helping first-year students too — the COR 101 teaching assistant leads discussions about time management and setting academic goals. This week, SUNY Cortland recognizes all our transfers as part of National Transfer Student Week. Learn more on our Transfer Student Support website.

Nominate a Campus Champion
---
Wednesday, Oct. 23
Sandwich Seminar: 21st Century Learning in Aotearoa New Zealand, with Dr. Graham McPhail from the University of Auckland, New Zealand, Old Main Colloquium, 12:30 p.m.
---
Wednesday, Oct. 23
Wellness Wednesday Series: Let's Talk About Race, Corey Union Exhibition Lounge, 6 p.m.
---
Wednesday, Oct. 23
Woodstock 50th Anniversary Dining Event: Sponsored by Auxiliary Services Corporation (ASC), Neubig Dining Hall, 11 a.m. to 9 p.m.
---
Thursday, Oct. 24
Sandwich Seminar: Plastic Water Bottles at SUNY Cortland, Old Main Colloquium, noon to 1 p.m.
---
Friday, Oct. 25
Career Workshop: Start Smart, designed to teach participants how to negotiate salaries for a new job, Student Life Center, Room 1104, 1:30 to 3:30 p.m. Register by email to Meredith Morell
---
Friday, Oct. 25
Haunted Bowers: A Halloween event for children, Bowers Hall, 5:30-7:30 p.m.
---
Friday, Oct. 25
Cortland Nites: Haunted House trip, transportation provided to the New York State Fairgrounds, $10 for students, 8 p.m.
---
Saturday, Oct. 26 
Halloween Extravaganza at Parks Alumni House: 29 Tompkins St., 1 to 4 p.m. The community is invited to participate
---
Monday, Oct. 28
Non-Traditional Students Week Event: Popcorn Party with Lollipop Ghosts, Non-Traditional Students' Lounge, Cornish Hall, Room 1221, 12:30 to 1:30 p.m.
---
Monday, Oct. 28
Let's Talk About It Town Hall: Sperry Center, Room 105, 6:30 to 9 p.m.
---
Tuesday, Oct. 29
SUNY Cortland Graduate School Day: Corey Union Function Room, 11 a.m. – 1:30 p.m.
---
Tuesday, Oct. 29
Non-Traditional Students Week Event: Taco Tuesday lunch, Non-Traditional Students' Lounge, Cornish Hall, Room 1221, noon to 2 p.m.
---
Tuesday, Oct. 29
Lecture: "Mike Pence and Donald Trump: How the Vice Presidency Matters," Corey Union Exhibition Lounge, 4:30 p.m.
---
Wednesday, Oct. 30
Non-Traditional Students Week Event: Soup and sandwiches, Non-Traditional Students' Lounge, Cornish Hall, Room 1221, 11:30 a.m. to 1:30 p.m.
---
Wednesday, Oct. 30
Sandwich Seminar: Crisis in Hong Kong, presented by Yujeong Yang, Political Science Department, Brockway Hall Jacobus Lounge, 12:30 to 1:30 p.m.
---
Wednesday, Oct. 30
Workshop: Understanding and Advocating for Racial Justice, Corey Union Caleion Room, 3-6 p.m.
---
Wednesday, Oct. 30
UUP Part-Time Members' Scholarly Showcase: Old Main Brown Auditorium, 4 to 7 p.m.
---
Wednesday, Oct. 30
Brooks Museum Lecture Series: "Amazing Interactions Under Our Feet: Creatures, Stories, and Lessons," presented by Peter Ducey, Biological Sciences Department, as part of the series theme "The Culture of Action," Moffett Center, Room 2125, 4:30 p.m. A reception will begin at 4 p.m. in the Brooks Museum, Moffett Center, Room 2126.
---
Thursday, Oct. 31
Non-Traditional Students Week Event: Halloween pizza and wings, Non-Traditional Students' Lounge, Cornish Hall, Room 1221, 11:30 a.m. to 1:30 p.m.
---
Thursday, Oct. 31
Sandwich Seminar: Publish in SUNY's Journal of the Scholarship of Engagement, presented by Laura Dunbar, English Department, and John Suarez, Institute for Civic Engagement, Brockway Hall Jacobus Lounge, noon to 1 p.m.
---
Friday, Nov. 1
Non-Traditional Students Week Event: TGIF warm-up, Non-Traditional Students' Lounge, Cornish Hall, Room 1221, 9 to 10 a.m.
---
Friday, Nov. 1
Party: Wild'n Out, sponsored by Africana Studies Department, Sperry Center, Room 0205, 6 to 8 p.m.
---
Friday, Nov. 1
Cortland Nites: $3 Movie Night, transportation provided to Plaza Theater, Cortland
---
Tuesday, Nov. 5
Election Day: 6 a.m. to 9 p.m.
---
Tuesday, Nov. 5
Native American Heritage Month Film: "Tribal Justice" (2007), Sperry Center, Room 104, 4:30 p.m.
---
---
Students and alumni talk science at symposium
10/17/2019
For a few hours on a Friday night, a group of SUNY Cortland alumni visiting with student researchers in the campus science complex were transported back in time.
No, it wasn't the result of a very advanced physics project. The alumni were remembering their own college science experiences during the fourth SUNY Cortland Alumni-Undergraduate Research Science Symposium, which kicked off on Oct. 11 with a lab crawl in Bowers Hall. As the alumni — most of whom have had successful science careers — walked through the building, current students engaged with them, explaining the undergraduate research displayed in posters lining the walls.
David Cole '73, a professor in the School of Earth Sciences at The Ohio State University, was one of the returning alumni who listened intently to today's students about their research. He was mesmerized not only by the quality of their work but also by their enthusiasm.
"They're a lot smarter than I was back then," Cole said. "They've been exposed to a lot more technology and a lot more deep thinking. Not that we weren't, but I think the tools here are amazing for a small university. There's much more deep thinking about the sciences and obviously good mentoring, that's pretty clear."
Christian Harrison, a senior chemistry major from Corning, N.Y., explained his work with Associate Professor Frank Rossi on the fluorescent labeling of proteins in order to achieve live cell imaging. One by one, alumni came up to ask questions about the research as well as his post-Cortland plans.
"I feel like what they do is very relevant," Harrison said of the alumni. "They're professors or they work in the industry, which are my two paths. To hear how they got to be where they are in inspiring."
The Alumni-Undergraduate Research Science Symposium was created in 2017 to connect Cortland undergraduates and faculty with alumni who have gone on to become industry leaders in their fields. They gather on campus to share stories from their research, bounce ideas off one another and form connections that are of significant value to students on the verge of attending graduate school or launching a career in the sciences.
Michael Bond '75, M.D., is a champion of the symposium, having committed a significant planned gift that will endow it long into the future. As medical director of Advanced Dermatology and Cosmetic Surgery in Orlando, Florida, and an accomplished scuba diver, underwater photographer and published author in Marine Geology and National Geographic, Bond credits his time spent on undergraduate research with Professor Emeritus David Berger as vital to his ability to apply to medical schools. Future symposiums will carry Bond's name.
Bond, along with former classmate Wayne Marley '75, M.D., created the David F. Berger Summer Research Fellowship in 2015, an award for the university's top undergraduate pursuing independent research in biology, chemistry or psychology.
William Baerthlein '76, M.D., who attended and presented at this year's symposium, made a major gift to support the immediate needs of the annual event. A member of SUNY Cortland's Academic Hall of Fame, Baerthlein is a physician whose scholarship and expertise on methods for delivering babies has greatly influenced reproductive medicine.
Like his fellow alumni, Baerthlein looks back on his time as a Cortland undergraduate as instrumental to his later success. During his time on campus he led a team of classmates on a two-year study of sperm-egg chemotaxis in the African Clawed frog that was supported by a grant from the National Science Foundation.
"When I was a student at Cortland, there was very little student research going on," he said. "Doing research is a vital part of undergraduate education. In today's economy and academic world, it is critical to enhancing your chances of getting into medical school or a graduate program.
"These are opportunities that I did not have," Baerthlein continued. "I enjoy seeing the symposium grow and know that we are impacting more students each year. I am giving back to students and to the institution that gave so much to me."
The symposium continued on Oct. 12 with plenary presentations by senior Kiley Stoj on milkweed hybridization in New York state and junior Marissa Kordal on the genetic response of oysters to plastic exposure.
Alumni presenters included:
William Baerthlein '76, M.D.: "Getting Into Medical and Professional School: What Do I Really Want to be When I Grow Up?"
Michael Bond '75, M.D.: "The First-Ever Physiographical Map of the Floor of the Ocean."
Kate Bosley '85: "Science as Service: It's All About the Application, Application, Application."
David Cole '73: "Earth Science: The Crossroad of Many Disciplines."
Melissa Morales '07: "'Oh, The Places You'll Go!' (Science Edition)"
Alex Politis '80: "Follow your Excitement: Navigate Twists of Fate."
Joseph Speroni '75: "Facts and Fiction on the Power of Cranberries."
Savannah Brancato, a senior biochemistry major from Clifton Park, N.Y., and Jon Guilt, a sophomore biology major from Syracuse, N.Y., discussed with alumni the research they did with associate professor Katherine Hicks on pollutant-digesting bacteria.
Brancato and Guilt were happy to share their findings while also chatting with alumni about their post-college options.
"You can see that people are still interested in what they may have been doing when they were here at SUNY Cortland," Guilt said. "It's cool connecting with people who have careers in science."
Alex Politis '80, chief of the Infectious Disease and Microbiology Integrated Review Group for the National Institutes of Health's Center for Scientific Review, said he hadn't been back to campus in 39 years.
He was glad to see Cortland undergraduates wrestling with research, not only for the scientific knowledge they gain but also for the problem-solving and communication skills developed along the way. Undergraduate research can help shape careers, whether the students stick in academia or find their way into another field.
"These are much more polished and there's much more of it," Politis said. "When I was here, there was very little undergraduate research. There's much more activity. From my perspective, I now see researchers in biomedicine and every single one of them needed this. Every single one of them needed to get started somewhere. Rarely do you come out with a science degree and not need this."
Cortland No. 4 in New York for jobs
10/17/2019
SUNY Cortland takes pride in offering an education that helps prepare its students for a crowded and competitive job market.
Zippia.com has recognized the university's efforts, ranking Cortland No. 4 in New York state on its "Best Colleges for Jobs in New York for 2019" list.
Cortland was the highest-ranked SUNY college in Zippia's study, which used data from the Integrated Postsecondary Education Data System (IPEDS) and the U.S. Department of Education's College Scorecard.
With a 94.44% employment rate, Cortland trailed No. 1 Siena College (95.13%) by less than one percentage point.
Career outcomes are especially strong for SUNY Cortland's newest graduates. The university's Career Services has compiled a "First Destinations and Graduate Outcomes" report for the Class of 2018. The study found that of the 1,598 undergraduate degree recipients between August 2017 and May 2018, 50% were employed in a related field, 33% were continuing their education and 15% were employed in an unrelated field.
Of those graduates, 73% had secured employment within six months of graduation, including 20% who had lined up a job before they graduated.
The Class of 2018 had a self-reported full-time average starting salary of $42,801. Many graduates, approximately 86 percent, remained in New York state, but others found jobs in 32 other states or countries after leaving Cortland.
"These results reflect the quality of our graduating students as well as the dedication of our talented staff, who work with students and alumni to help them strategically develop their career potential," said Nan Pasquarello, SUNY Cortland's director of Career Services. "We are fortunate to have campus, community and alumni partners committed to helping Cortland graduates develop their knowledge and skills."
Cortland's Career Services offers a number of resources for students to prepare for their future employment while they are still on campus. Those resources include resume and cover letter tips, connections to internships and career fairs as well as a clothing closet that allows students to acquire professional attire for job interviews.
Learn more about Career Services at Cortland.edu/offices/career-services.
Zippia specifically looked at job placement ratings and employment levels at year 10 after students graduated. Data was limited to the 129 public and non-profit, four-year institutions in New York that offer at least a bachelor's degree.
---
Capture the Moment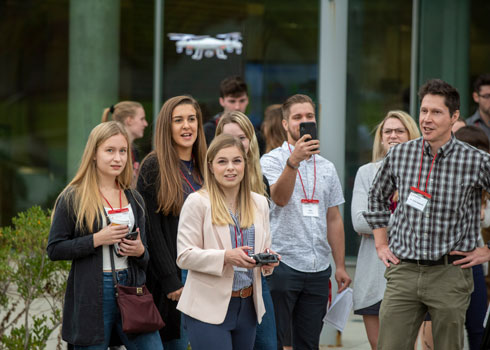 Chris Badurek, assistant professor in the Geography Department, right, guides biology major Marissa Jenney and other participants of the Alumni-Undergraduate Research Science Symposium in a drone demonstration on Oct. 12. The symposium kicked off Oct. 11 with a lab crawl in Bowers Hall, which included undergraduate research project presentations and time for students to connect with graduates. SUNY Cortland's Institute for Geospatial and Drone Technology demonstration offered another view of the college's many opportunities in the sciences. Learn more about how the symposium has continued to expand.
---
In Other News
Compagni honored for community service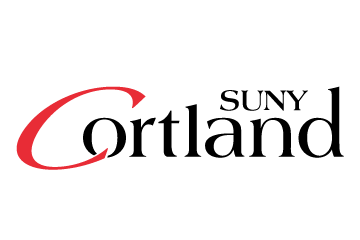 10/14/2019
Katherine Emerich Compagni '68, M '74 has touched the lives of many people, both as an educator and as a volunteer. Much of her impact has been through local, state and national organizations that help support women, girls and families.
On Oct. 11, Compagni was honored with SUNY Cortland's 2019 College Community Appreciation Award during an invitation-only dinner event in the College's Corey Union Function Room.
Douglas DeRancy '75, M '86, director of alumni affairs emeritus and assistant to the vice president for institutional advancement emeritus, Homer, N.Y., offered remarks with SUNY Cortland President Erik J. Bitterbaum during the evening's celebration. Thomas Gallagher, chair of SUNY Cortland's College Council, gave a welcome and co-presented the award with Bitterbaum.
In June, Compagni finished a six-year term on the board of directors of YWCA USA. Its mission is to eliminate racism and empower girls and women through advocacy, programs and services provided by more than 200 local associations in the U.S. She has chaired the organization's global relations and affiliation status review committees and also served on its finance and governance committees.
Since 2016, Compagni has served on the World Service Council, the philanthropic arm of the World YWCA and its 122 country affiliates that advocate for justice, peace, health, human rights, gender equality and a sustainable environment. She joined the council's executive committee this year.
Compagni became a member of the YWCA of Cortland board of directors in 2001. She was president from 2006 to 2008, chaired many committees and was named YWCA 2009 Volunteer of the Year.
In 2010, she was appointed by New York Gov. David Paterson to SUNY Cortland's 10-member College Council and served for eight years. Her duties encompassed reviewing major college property operation plans; evaluating proposed budget requests; fostering the development of advisory citizens' committees; naming buildings and grounds; and making or approving student conduct regulations. She also was a board director for the SUNY Association of Council Members and College Trustees.
Compagni served on the Cortland College Foundation board of directors from 1997 to 2001 and again from 2004 to 2010. She held the offices of vice president and secretary for this not-for-profit corporation comprised of alumni and area leaders who oversee the college's philanthropy program and financial investment.
In the community, Compagni also has served the Cortland Memorial Foundation of the Guthrie Cortland Medical Center on its development, budget and scholarship committees.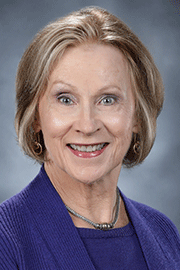 A member of Zonta Club of Cortland since 1997, she chaired the scholarship committee and was a member of the public relations and senior assistance committees for this global organization of professionals, which empowers women worldwide through service and advocacy. In 2011, the local organization honored Compagni with its Women of Achievement Award.
From 1992 to 2001, she was on the board of directors of Nu Sigma Chi, SUNY Cortland's longest continuing surviving local sorority. Compagni has served on the Cortland Arts Council and the Cortland County child development subcommittee. She also is a member of the League of Women Voters, the Center for the Arts in Homer, N.Y., the Cortland County Historical Society and the Lime Hollow Nature Center.
An educator for 30 years, Compagni retired in 2001 as an assistant professor in the Writing Department at Ithaca College. She had also taught at SUNY Cortland, Tompkins Cortland Community College and Homer High School.
Compagni earned a doctorate in public communications from Syracuse University's Syracuse University's S.I. Newhouse School of Public Communications as well as a Bachelor's degree in early secondary English and a master's degree in English from SUNY Cortland.
She and her husband, Joseph, live in Homer, N.Y. They have two grown children, Stephen Compagni and Laura Compagni-Sabella, and four grandchildren.
The College-Community Appreciation Award is sponsored by the College Council. It was created in 1985 as a means of thanking persons who have assisted SUNY Cortland in a significant manner. Compagni is the 39th citizen to receive the honor. Last year's honoree was Johanna Ames, the president of Ames Linen Service and co-chair of SUNY Cortland's upcoming capital campaign.
View a complete list of past winners.
Vice presidential scholar to speak Oct. 29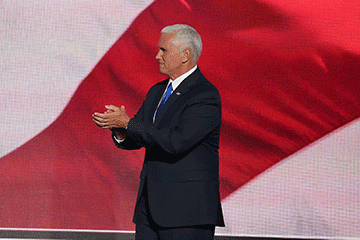 10/15/2019
Joel Goldstein is a scholar of vice presidents.
It's a more relevant research topic than you might think.
Goldstein, a distinguished professor at the Washington University Law School in St. Louis, Missouri and a frequent television news analyst, makes the case that America's vice presidents often find their way to power.
The author of The White House Vice Presidency: The Path to Significance, Mondale to Biden (Lawrence, Ks: University Press of Kansas, 2016), Goldstein will speak on Tuesday, Oct. 29, at SUNY Cortland.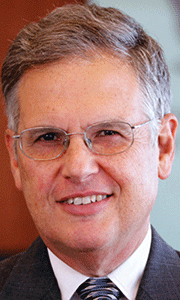 Goldstein, who has appeared on MSNBC's "Morning Joe" and other national television programs, will discuss "Mike Pence and Donald Trump: How the Vice Presidency Matters," at 4:30 p.m. in the Corey Union Exhibition Lounge.
The talk is free and open to the public.
Goldstein is a highly respected scholar of the vice presidency, presidency, and Constitutional law, having written widely in all three areas.
His doctoral dissertation grew into his first book on the subject of the U.S. second in command, The Modern American Vice Presidency: The Transformation of a Political Institution (Princeton University Press, 1982). In addition to the 10 books he wrote or co-authored, Goldstein has written numerous scholarly articles and commentary pieces on the subject.
He is currently working on a book on the national political career of Sen. Edmund S. Muskie.
Goldstein is continually sought by national and international media outlets to provide commentary and insight on presidential campaigns, the vice presidency and the 25th Amendment. His political analysis has been tapped by The New York Times, Washington Post, National Public Radio, C-Span, "Morning Joe," USA Today, The New Yorker, Los Angeles Times, Politico, Roll Call, The Hill, Newsweek, Time, U.S. News & World Report, Bloomberg, Yahoo and Fivethirtyeight.
Goldstein earned a law degree in 1981 from Harvard Law School. While at Harvard, he worked on the Harvard Law Review from 1979 to 1981 and was note editor from 1980 to 1981. He previously earned a bachelor's degree from Princeton University and then became a Rhodes Scholar in politics at Oxford University in England, earning a doctor of philosophy there.
From 1981 to 1982, Goldstein served as a law clerk to Hon. W. Arthur Garrity, Jr., in the United States District Court for District of Massachusetts. He practiced law from 1982 until 1994 with Goldstein and Price, L.C., in St. Louis, Missouri, making partner in 1987.
For more information, contact Robert J. Spitzer, Distinguished Service Professor and chair, Political Science Department, at 607-753-4105.
Image above left courtesy of History in HD
Cortland in the news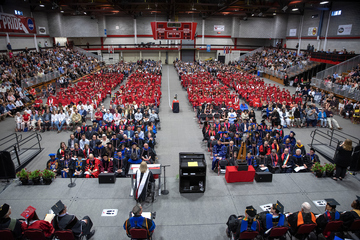 10/22/2019
SUNY Cortland's Commencement in May was a major life milestone for the more than 1,000 students who earned diplomas.
It was also a significant moment of reflection for the parents, grandparents, siblings and friends who cheered on the graduates.
William Proefriedt of Farmingdale, N.Y., penned a letter to Newsday about watching his grandson Josh Finkelstein '19 at Commencement.
Proefriedt commented on the wisdom shared by former Student Government Association President Sophie Umansky '19 as well as the remarks of President Erik J. Bitterbaum.
"When I graduated from college in the 1950s, I was the first in my family to do so," Proefriedt wrote. "My father had graduated from high school and my mother from eighth grade. I didn't appreciate then how important my graduation ceremony was to my parents. I'm sure there was a healthy percentage of parents and grandparents in the audience at Cortland whose pride and enthusiasm were fueled a bit more warmly by a child being the family's first to receive a degree."
Read the entire letter at Newsday.com.
In other news:
Veterans Day ceremony set for Nov. 11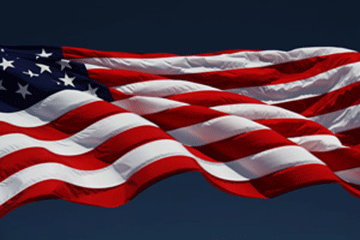 10/22/2019
SUNY Cortland will thank and honor veterans, including faculty, staff, alumni, students and members of the Cortland community during a celebration on Monday, Nov. 11.
Keynote speaker Brandon Gilbert, a master sergeant enlisted in the Air Force National Guard, will address "What Veterans Day Means to Me" during the event at 3 p.m. in Brockway Hall Jacobus Lounge.
Master Sgt. Gilbert, who has served three combat tours in Afghanistan in 2010, 2012 and 2019 and one in Iraq in 2019, works fulltime as an officer for SUNY Cortland's University Police Department.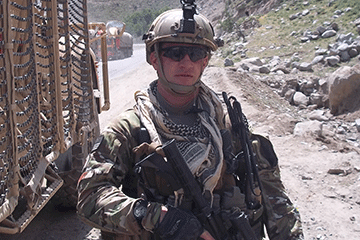 Gilbert, who continues to serve in the Air National Guard, first came to SUNY Cortland as a freshman in Fall 2002. After two years, a sense of duty called him to put college on hold to enlist in the Air Force Air National Guard. He joined the 274th Air Support Operations Squadron at Hancock Field, Syracuse, N.Y.
Gilbert completed basic training at Lackland Air Force Base in San Antonio, Texas. He went on to technical school, where he became a Tactical Air Control Party (TACP) specialist. Gilbert also participated in Survival, Evasion, Resistance and Escape (SERE) School and with a Joint Terminal Attack Controller-Qualification Course.
While on active duty, he also completed several joint training missions in Thailand, Lithuania, France and Slovenia.
Gilbert has been honored with the Air Force Combat Action medal, three Army Commendation medals, two Army Achievement medals, two NATO medals and a Meritorious Service medal.
He has associate's degrees from the Community College of the Air Force and from Columbia College in Missouri.
Gilbert is married with two daughters.
A reception in the Margaret A. "Peggy" Curry '52 Main Lobby will follow the presentation.
A slideshow of SUNY Cortland's veterans will run throughout the event. To submit a photograph, please include the veteran's name, branch and dates of service to Special Events Assistant Sue Vleck or contact her at 607-753-2377.
Free parking will be available in the Miller Building lower level parking lots. Accessible parking spots are available behind Brockway Hall.


ASC gives $850,700 to campus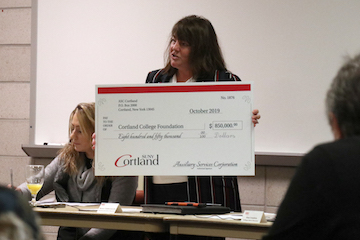 10/22/2019
To many SUNY Cortland students, the letters ASC bring to mind meal plans and the campus store.
But SUNY Cortland's Auxiliary Services Corporation does a lot more to enhance student life and the university.
Last week, the non-profit company created solely to provide services to the campus, formally presented President Erik J. Bitterbaum with a check for $850,699 to help cover the cost of campus improvements, critical maintenance and important, long-term programs.
"ASC is always eager to support the mission of SUNY Cortland, especially when it comes to helping students," said Renee Sydorowych, interim executive director of ASC. "We are proud to play a role in their educational experience."
The money allows the creation of an ASC Campus Infrastructure Fund that will be maintained on the SUNY Cortland's behalf by the Cortland College Foundation. All spending must be approved by Cortland's vice president for finance and management and its president.
"This is yet another example of ASC's commitment of support to our students and the College," said Peter Perkins, vice president for institutional advancement. "ASC already provides $400,000 each year in student scholarship funding. This recent gift reaffirms the longstanding partnership between ASC and the Cortland College Foundation. We are very appreciative to ASC for all they do for the campus."
The ASC funds gifted to the Foundation last week are an accumulation of earnings over many years, according to Anna Addonisio, vice president for finance and management.
In addition to the new infrastructure fund and the scholarships, ASC provides grants totaling approximately $150,000 annually to SUNY Cortland academic departments and student groups, Addonisio said. The organization also financially supports select program assistance for the president and president's cabinet.
34th African American Gospel Music Festival set for Nov. 3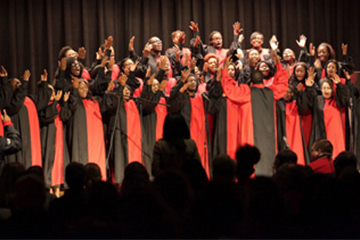 10/22/2019
Four guests will perform at the 34th African American Gospel Music Festival on Sunday, Nov. 3, at SUNY Cortland.
The festival begins at 4 p.m. in Corey Union Function Room. The event is open to the public. Tickets are $2 for students and $5 for general admission. Donations to support the Gospel Choir Scholarship Fund are encouraged.
SUNY Oswego, Buffalo State S.P.I.R.I.T., Messengers of Christ, and Deion Patterson will participate in the festival, and festival host SUNY Cortland Gospel Choir, directed by Deyquan Bowens, Africana Studies Department.
Student Government Association Director of Diversity, Equity and Inclusion Roman Rodriguez will extend the welcome on behalf of the College. Pastor Rita Wright from God's Light House of Praise will present the invocation.
A mass choir comprised of all groups will come together and sing part of the grand finale. Musicians for the festival will be Deyquan Bowens playing keyboard, Benjamin Terry on drums and Thomas Carter on bass. A reception will follow in Corey Union Exhibition Lounge.
The choir is excited to prepare for their Spring Tour to Bridgetown, Barbados in March 2020.
The SUNY Cortland Gospel Choir is a part of the College's Africana Studies Department. The choir is supported by the Center for Gender and Intercultural Studies, Alumni Engagement, the Cortland College Foundation, the Division of Student Affairs, the President's Office, Institutional Equity and Inclusion Office, the Provost and Vice President for Academic Affairs Office, and the student activity fee.
For more information, contact Gospel Choir advisor Lima Stafford at 607-753-4895, or Seth Asumah or Deyquan Bowens in the Africana Studies Department.
Native American Film Series starts Nov. 5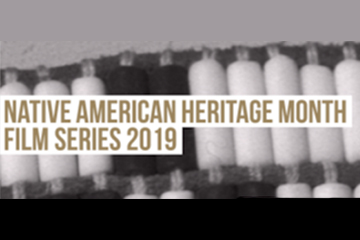 10/22/2019
A film about two Native American judges who strive to reduce incarceration rates and heal their people will open SUNY Cortland's Native American Heritage Month Film Series 2019 on Nov. 5. The films will be screened on Tuesdays at 4:30 p.m. in Sperry Center, Room 104.
"Tribal Justice" (2007) brings to light a little known but effective criminal justice reform movement in America: the efforts of tribal courts to create alternative systems of justice. There are more than 300 tribal courts in the country. The film features two women who lead the way to stop the school-to-prison pipeline that plagues their young people. "Tribal Justice" was a POV Public Broadcasting Service documentary.
An Inuk filmmaker takes a close look at the central role of seal hunting in the lives of the Inuit in the award-winning documentary "Angry Inuk," (2016), to be screened Nov. 12. The film presents the importance of the revenue earned from sales of seal skins, and the negative impact that international campaigns against the seal hunt have had on their lives.
On Nov. 19, "Pine Ridge" (2013) explores what shapes the lives and dreams of today's Native American youth. Filmed at the Pine Ridge Indian Reservation within Badlands National Park in South Dakota, Danish documentarist Anna Eborn examines the daily realities on a Lakota reservation.
"These films attest to the continued vital presence of Native Americans, of course, but also to the importance of Indigenous peoples to the most urgent social issues of our time," said Daniel Radus, assistant professor of English and coordinator of Native American Studies. "We hope that the Native American Heritage Month Film Series offers to the Cortland community a greater appreciation for the depth and diversity of the Indigenous experience."
The series is sponsored by SUNY Cortland's Native American Studies, a grant from the Auxiliary Services Corporation, the Provost and Vice President for Academic Affairs' Office and the Center for Gender and Intercultural Studies.
For more information, contact Radus by email.
Former Cortland men's soccer coach Fred Taube passes away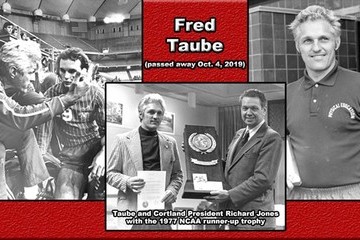 10/22/2019
Fred Taube, SUNY Cortland's men's soccer head coach from 1973-94 and a 2001 Cortland Athletics C-Club Hall of Fame honorary inductee, passed away on Oct. 4, 2019, at age 84.

Taube (pronounced TAW-bee) was a men's soccer assistant coach for three seasons under T. Fred "Prof" Holloway and also was an assistant track coach at Cortland before taking over in 1973 as just the second men's soccer head coach in school history. The program's all-time wins leader at Cortland, his teams posted a combined 247-88-36 record and made 11 NCAA Division III tournament appearances over 22 seasons. The Red Dragons were national runner-up in 1977, placed third in 1978, tied for third in 1982 and tied for fifth in 1976, 1979, 1981, 19990 and 1991. They also made three Eastern College Athletic Conference (ECAC) playoff appearances, winning titles in 1973 and 1974.

Cortland won seven State University of New York Athletic Conference (SUNYAC) titles during Taube's tenure. He was voted as the SUNYAC Men's Soccer Coach of the Year eight times – the most of any coach in league history since the award originated in 1968. Taube also was named New York State Coach of the Year by the National Soccer Coaches Association of America (NSCAA) on four occasions.

A Brockport native, Taube earned a bachelor's degree from SUNY Brockport in 1959 and was an all-state soccer player for the Golden Eagles. He received a master's degree from the University of North Carolina and a Ph.D. from the University of Utah. Taube taught and coached at Auburn University in Alabama from 1960-63 and taught and coached soccer and track for seven years at MacMurray College in Jacksonville, Ill., before coming to Cortland.

Taube was a long-time NSCAA member and served as the organization's president in the mid-1970s. For years, he coordinated Cortland's Physical Education Department's summer courses at the College's Outdoor Education Center at Raquette Lake, N.Y.

Taube retired on May 19, 1995, and was designated Professor of Physical Education Emeritus. He and his wife, Joan, were residing in Clearwater, Fla., at the time of his passing.

"The biggest things I remember about (Fred) are how easy going he is and what a good time we always had in practice," said former Red Dragon Frank Ciliberto '83 right before Taube's retirement. "Everybody's out there to have a good time, and that's what Fred was all about on the soccer field. You had players who just wanted to play for him, and that's why I think he had good teams."

Ciliberto was inducted into the C-Club Hall of Fame last month and is one of five former Taube players in the Hall along with Donald Ridall '75, Perry Nizzi '77, David Wright '82 and Michael Borra '93.

"I've always been very fortunate in my athletic career to have great coaches. I can honestly say Fred was the greatest of all of them," Wright said when Taube retired. "I think the reason for that was because when he looked you in the eye and gave you that laugh and that smile, he let you know individually that he cared about you."
Non-Traditional students will be celebrated Oct. 28 to Nov. 1
SUNY Cortland will celebrate Non-Traditional Students Week Oct. 28 to Nov. 1 with an array of activities offered through Advisement and Transmission.
The College defines its non-traditional undergraduate students as those who are at least 24 years old or have had an interruption or delay in their education since high school. They also might have dependent children, regardless of their ages.
Events will be held in the Non-Traditional Student Lounge, Cornish Hall, Room 1221. They are free to non-traditional students and include:
Monday, Oct. 28: Popcorn party with lollipop ghosts, 12:30 to 1:30 p.m.
Tuesday, Oct. 29: Taco Tuesday lunch, noon to 2 p.m.
Wednesday, Oct. 30: Soup and sandwiches, 11:30 a.m. to 1:30 p.m.
Thursday, Oct. 31: Halloween pizza and wings, 11:30 a.m. to 1:30 p.m.
Friday, Nov. 1: TGIF warm-up with hot chocolate and muffins, 9 to 10 a.m.
In celebration of SUNY Cortland's non-traditional students, nominations are being accepted through Monday, Nov. 4, for the "Celebrate-a-Non-Trad" campaign. Nomination forms can be submitted electronically.
The campaign aims to recognize non-traditional students who often balance college with other commitments such as family, jobs and long commutes. SUNY Cortland will present nominated non-traditional students with a certificate and campus recognition.
Nominations should include the student's name, contact information, relationship to the student and comments about the non-traditional student. Comments will be listed on the certificate, unless otherwise noted.
For more information about Non-Traditional Students Week events or to recognize an outstanding non-traditional student, contact Non-Traditional Student Support Coordinator Cheryl Hines at 607-753-4726.

Suggest a feature story
---
Faculty/Staff Activities
Christian Berenguer and Christopher Gutierrez
Christian Berenguer '16 and Christopher Gutierrez '17, graduate assistants in the Recreational Sports Department, worked with a group of 20 Cortland students, staff and community members during the summer months to train and prepare for the Dick's Sporting Goods Half Marathon, in which they competed on Sept. 22. "The group started off with a few individuals who simply wanted to run a race together, but then exploded to a group of 20 individuals," said Gutierrez. The team name, NARP, an acronym for "Non-Athletic Regular People," was created as an all-inclusive team for all fitness levels. The name was designed to encourage participants of the campus community to join in this race. More information can be found on Binghamton's Fox 40 website story titled, "Dick's Greater Binghamton Marathon Offers Races For All Ages."
Lindsey Darvin
Lindsey Darvin, Sport Management Department, was featured in a State of Sport Management podcast, in which she discussed a viral tweet about Alabama running back honoring U.S. Women's National Team Member Megan Rapinoe. The tweet received 19,400 likes and 1 million impressions.
Tara Mahoney and Lindsey Darvin
Tara Mahoney and Lindsey Darvin, Sport Management Department, had a book chapter published in a new textbook, The Business of eSport.
Maaike Oldemans
Maaike Oldemans, Memorial Library, recently had her chapter, "Developing Library Services for International Students," published in Improving Library Services in Support of International Students and English as a Second Language (ESL) Learners, by Leila June Rod-Welch.
Brock Ternes
Brock Ternes, Sociology/Anthropology Department, had an article published in the journal Sustainability. His manuscript, "Are Well Owners Unique Environmentalists? An Exploration of Rural Water Supply Infrastructure, Conservation Routines, and Moderation," offers evidence that controlling for water supplies reveals differences across many associations between water conservation efforts and other pro-environmental behaviors with commonly studied demographic variables.
Ryan Vooris, Lindsey Darvin and Tara Mahoney
Ryan Vooris, Lindsey Darvin and Tara Mahoney, Sport Management Department, had a paper about the playing experiences of esports participants accepted to the Journal of Athlete Development and Experience.
Tiantian Zheng
Tiantian Zheng, Sociology/Anthropology Department, was panel organizer of "Continuity and Change of East Asia," and a panel chair and paper presenter of "Sexual Violence and Awareness in Postsocialist China" at the New York Association of Asian Studies annual conference. It was held on Oct. 5 at SUNY New Paltz.

Submit your faculty/staff activity