SUNY Cortland recognized nationally for job placement
07/21/2020
SUNY Cortland was recently ranked No. 1 in New York state and No. 5 in the nation on a list of "Best Public College in Each State for Getting a Job in 2020," by Zippia.com, a national career resource website.
"SUNY Cortland takes pride in its ability to helps students gain experience and learn the skills necessary to land the jobs they want after they graduate," President Erik J. Bitterbaum said. "We're not just providing education. We're preparing students to succeed in a rapidly changing world filled with challenges."
Zippia used Department of Education College Scorecard data to search for the public college in each state with the highest listed job placement numbers 10 years after graduation. It excluded institutions that did not provide this data. The study focused mostly on four-year colleges, but included a select number of two-year schools.
Nan Pasquarello, director of Career Services, cites three key reasons for the success of SUNY Cortland graduates in the job market: academic preparation, the development of career readiness competencies and a partnership with the digital networking platform Handshake.
The instruction students receive from faculty in the classroom is key to preparing them for careers. Many students also get valuable experience through internships, part-time employment, study abroad opportunities and co-curricular activities.
In addition to academics, employers highly value a set of skills that are defined by the National Association of Colleges and Employers as "career readiness competencies." SUNY Cortland faculty and staff work with students to develop these characteristics through classes and hands-on learning experiences.
"Research shows that students who develop career readiness competencies are sought after by employers," Pasquarello said. "Problem solving abilities, effective communication skills, digital and technology expertise, teamwork, leadership, intercultural fluency and professionalism are in great demand. SUNY Cortland students and alumni develop these skills and Career Services staff members help students and alumni articulate their skills and abilities to plan for their futures."
Having access to a network of employers is vital for students and recent graduates in seeking employment. Handshake, a digital platform open to both current students and alumni, allows them to connect to customized internship and job opportunities, find other students and learn about their employers and set up appointments with Career Services staff, among many other options.
To learn more and set up a Handshake account, visit Career Services' Handshake website.
As the COVID-19 pandemic has drastically changed the job market, Pasquarello encourages students and young alumni to make use of Handshake and connect with Career Services staff.
"Recent graduates and young alumni are facing a tough job market in light of the global pandemic," Pasquarello said. "Career Services is networking with employers who continue to hire. We offer our services to students and alumni before and after graduation and encourage alumni to login to Handshake, attend online workshops and events and make an appointment for career assistance."
The Career Services website offers many resources, including information on career planning, student employment and detailed graduate outcome data.
SUNY Cortland was ranked No. 4 in New York in Zippia's 2019 study of "Best Colleges for Jobs in New York for 2019," a ranking that included private universities.
Senior is Cortland's 14th national Gilman scholar
07/21/2020
Shaneya Simmelkjaer has spent her academic career at SUNY Cortland studying the struggles faced by people of color.
The senior from Bronx, N.Y., who is pursuing triple majors in criminology, political science and Africana studies, has endeavored to make a difference in her time at Cortland through the Black Student Union. She currently serves as the organization's president.
In summer 2021, the aspiring future defense attorney travels to Africa where a unique study abroad opportunity will allow her to take her intellectual curiosity and social advocacy work to the next level. Simmelkjaer will make that trip following graduation next May to continue with a course of study at University of Ghana.
Simmelkjaer is SUNY Cortland's 14th recipient of a prestigious Benjamin A. Gilman International Scholarship since the award was established under the International Academic Opportunity Act of 2000. Her expense award of $5,000 will be managed through the State Department's Bureau of Educational and Cultural Affairs and supported in its implementation by the Institute of International Education..
"I have always wanted to go to Ghana, where a lot of African Americans have their roots," she said. "Ghana is a very spiritual, emotional and educational place and this will be an all-around wonderful trip."
The Gilman scholarship program has helped send more than 31,000 ambitious students who are receiving Pell Grant funding to pursue academic studies or internships around the world since the highly competitive national scholarship was started in 2001. The program aims to better prepare college students to thrive in the global economy and to expand the number of Americans studying and interning abroad, thereby gaining skills that are critical to U.S. national security and prosperity.
"That is wonderful news and a great honor," wrote Mary Schlarb, director of Cortland's International Programs about the award notice to this future student participant in the university's study abroad opportunity at University of Ghana. "We are proud you are representing SUNY Cortland with such distinction."
One of the university's most visible leaders, Simmelkjaer was among the students honored recently by the institution in lieu of the 35th Annual Student Leadership Recognition Banquet, which could not be held on April 16 due to the pandemic.
"Congratulations again. You are surely on the roll," wrote Seth Asumah, a professor of political science at Cortland and chair of its Africana Studies Department as well as SUNY Distinguished Teaching Professor and Carnegie-University of Ghana Diaspora Fellow, to Simmelkjaer. "Keep on keeping on. We are very proud of you."
At Cortland, Simmelkjaer has served as a Black feminist advocate to spread the word that Black Americans continue to live in fear, sometimes due to indirect or unintentional discrimination.
"I love SUNY Cortland," she said. "This is where I have been able to grow as an intellectual, as an individual and as a student. I love SUNY Cortland so much that I'm not afraid to stand up for every student. I always want to make sure everybody's voices are heard and everyone's concerns are addressed by the institution. That's why I'm always open to sharing my experiences as a student of color."
Originally, she was set to go to Ghana this summer, but the COVID-19 pandemic caused the U.S. State Department to require that all summer recipients defer participation until between Jan. 1, 2021 and Dec. 31, 2021.
So Simmelkjaer will graduate before she travels abroad and currently is looking for summer employment and additional financial support to help offset other costs of her planned international educational foray.
For Simmelkjaer, Ghana's history — in which so many of its citizens were ripped from their homeland and sold into slavery in the U.S. — represents the ultimate example of human rights violation.
"I want to study Ghana's culture and history as well as my own history as an African American, the politics and the way of life," she said. "And of course, I look forward to the sightseeing as well."
Simmelkjaer currently is researching which university she will apply to for admission to earn a dual Ph.D. and law degree in criminal law, starting in Fall 2021.
"I definitely do think my study abroad experience will help me," Simmelkjaer said. "I want to use it to learn to come out of my shell more, to get used to things I'm not accustomed to, to get out of my comfort zone."
---
Capture the Moment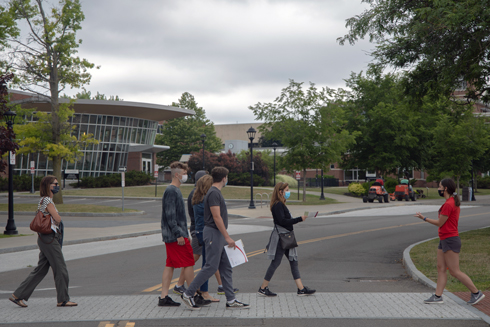 Amber Black, a senior physical education major from Ithaca, N.Y., led a campus tour on July 16. Campus tours have resumed on
a very limited scale, with an eye toward campus safety. These programs will introduce prospective students to key buildings and the general layout of SUNY Cortland's campus.
---
In Other News
Alumni team up for antiracist mural in Cortland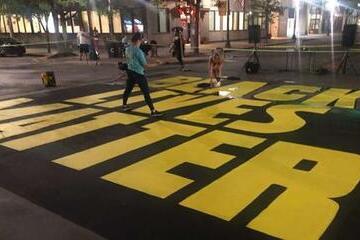 07/21/2020
After the murders of Breonna Taylor and George Floyd earlier this year, Black Lives Matter street murals have been painted in downtown areas around the country.
Thanks to the efforts of three SUNY Cortland alumni, Cortland now has its own mural on a major intersection that they hope will inspire further conversations about race.
Tim Bennett '07, the owner and publisher of The Cortland Voice and founding president of FunFlicks Indoor and Outdoor Movies in Central, Northern and Western New York, heard that a Black Lives Matter mural was coming to Syracuse. So he decided to attend a virtual meeting of the City of Cortland's Common Council and ask if it would be willing to have a similar mural installed if he paid all costs and arranged for its painting.
His proposal passed by an 8-0 vote.
"I said I'd be more than willing to fund it personally so that no one else had to worry about their tax dollars or anything because I knew not everyone would be for it. And that's OK," Bennett said.
Bennett first approach local artist Molly Reagan Andrejko about designing and creating the mural. Andrejko, however, was tied up working on a mural for the Cortland Youth Bureau. She suggested Bennett reach out to Crystal Lyon '09, a Cortland native who has first-hand experience with local public art.
Lyon had painted a massive mural on the side of the Cortland Corset Building in 2018 that paid tribute to the building's history.
She created a design to paint the words "Black Lives Matter" in yellow paint on the intersection of Main St. and Court St. in downtown Cortland, with the words facing drivers heading south on the one-way stretch of Main St.
Lyon gathered a few volunteers and used paint and brushes that had been purchased by Bennett when the mural was installed on June 29. Painting started at 8 p.m. when the city closed adjacent streets and the mural was finished by 1:30 a.m. Meanwhile, a crowd gathered to hang out, listen to music and start the important conversations the mural aimed to inspire.
"The important thing is to see it, recognize it and actively listen to people who are experiencing it and try to be better," Lyon said.
Cortland Mayor Brian Tobin '94 considers the mural another positive step toward tackling racism in the city. A new committee called Cortland Forward was recently formed to take actions to eliminate racism and make everyone in the community feel welcome.
While Tobin and councilmembers admitted that not all reactions to the mural would be positive, they believe its presence will serve as a welcoming message of inclusivity.
"The intention from the Common Council and myself is: one, for people who are underrepresented and whose voices haven't been heard, it's a way to say your voice is heard and we're listening," Tobin said. "Two, it continues the conversation. There's been a conversation across our country and it's not just the murder of George Floyd, it's also everything that's been happening. It's an ongoing conversation about racism in our country. Personally, I thought this was a good way to continue that conversation."
Tobin also underscores that the mural is in no way connected to the national Black Lives Matter organization. It was conceived entirely by locals who are hoping to engage others in the community on this topic.
"It's not a nod to the national organization, it's an output from a conversation from local community members and the realization from many of us that people, because of the color of their skin, are not treated to the same standard as others," Tobin said. "It's not anybody asking to be treated better than others, it's about being treated equally and equitably."
Bennett hopes that individuals have these important conversations one-on-one and make an effort to listen to one another. He wishes that the people who have hurled insults and worse at him knew he does care deeply for law enforcement. His late mother, Sherelyn Bennett, was a corrections officer for more than two decades, and he has worked directly to raise money for the local Shop with a Cop program that provides for needy families at Christmastime.
"There were a lot more positives than negatives," Bennett said. "I have people who don't know me who will scream things at me. I will say that many more reached out and have seen that more is being done for the community. Many can see that I'm all for doing good for the community."
He also would like to do similar programming or activities at SUNY Cortland.
"I'll pay for something to be done on campus," Bennett said. "I'll offer to financially donate something toward diversity on campus. Maybe that will encourage others to do the same."
SUNY Cortland fall athletics season suspended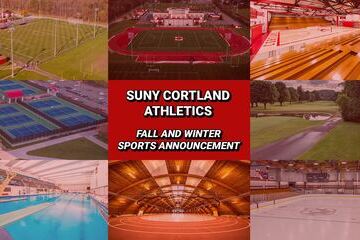 07/21/2020
In response to ongoing health and safety concerns related to the COVID-19 virus, the members of the State University of New York Athletic Conference (SUNYAC) are suspending fall sports competition for the 2020 season. In addition, the winter sports conference and non-conference schedules will be delayed until Jan. 1, 2021.
The decision was made by the SUNYAC Presidents in consultation with the SUNYAC Board of Directors on Monday, July 20. The SUNYAC Board of Directors is composed of the director of athletics from each of the 10 member institutions — Brockport, Buffalo State, Cortland, Fredonia, Geneseo, New Paltz, Oneonta, Oswego, Plattsburgh and Potsdam.
"It is with deep regret that we have to come out to announce the suspension of fall sports, as well as a delay in winter sport activity," said Cortland Director of Athletics Mike Urtz '94, M '00. "My heart really goes out to our student-athletes and our coaches affected here. I hope we can all work together here at Cortland to support one another through all of this. We can and will get through this. As I mentioned last week with our football announcement, we still hope to conduct permissible activities with the teams including workouts, modified practices and educational programming. Our intention is to allow our great coaches to continue to help our student-athletes grow in the Cortland way and continue with their passion for sport."
As a result of this announcement, Cortland's entire fall sports competition season has been canceled. Seven of Cortland's nine fall sports — men's and women's cross country, field hockey, men's and women's soccer, women's tennis and women's volleyball — compete in the SUNYAC. Women's golf is a member of the Northeast Women's Golf Conference, and that league anticipates moving its league championship tournament to the spring, while Cortland's football team is an affiliate member of the Empire 8 conference and had its season suspended last week. The SUNYAC announced earlier this year that the women's tennis league schedule was shifting to the spring season.
"My heart breaks for our players, especially our seniors," said SUNY Cortland football head coach Curt Fitzpatrick. "When we left for spring break back in March and found out that we would not be returning the rest of the spring semester our focus shifted to making the best out of any opportunities that we were presented with. Our plan was to be ready when we are called upon, and while that won't be this fall like we had hoped, it will be sometime – and we'll be ready. We did not blink in the face of that adversity, and we won't now either."
Cortland's winter sports include: men's and women's basketball; men's and women's ice hockey; men's and women's swimming and diving; men's and women's indoor track and field; women's gymnastics; and wrestling. Three of those teams do not compete in the SUNYAC — women's ice hockey (Northeast Women's Hockey League), wrestling (Empire Collegiate Wrestling Conference) and women's gymnastics (National Collegiate Gymnastics Association) ­— but will still be delayed from competing until January.
While no competition will be held the remainder of the calendar year, there is still hope that other team activities and practice sessions will be able to be conducted for fall and winter teams. Those details will be worked out as the school year approaches.
"As a former student-athlete, I empathize with the disappointment our students must feel not being able to compete this fall," said Dr. Erik Bitterbaum, SUNY Cortland's president and the chair of the SUNYAC presidents. "But our priority is the health and safety of everyone involved with intercollegiate athletics, and we will continue to plan for a safe return to competition at the appropriate time."
Stay up-to-date with the latest in SUNY Cortland athletics at CortlandRedDragons.com.
Friends loved handling emergencies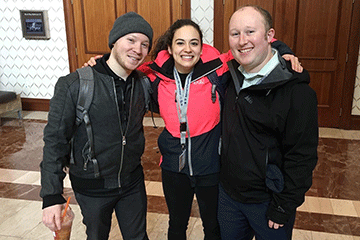 07/21/2020
Matthew Green '12 wanted to become a movie director. His classmates, Austin Glickman '12 and Sean Jolliff '14, aspired to teach history.
They took turns as chief of SUNY Cortland Emergency Medical Services (SCEMS) while they were students at SUNY Cortland, years when the volunteer agency more than quintupled in size and was named the New York State EMS Council's 2012 Agency of the Year.
Not surprisingly, the trio of especially close friends changed career course and now dedicate their lives to rescuing people. All three find the challenge of a lifetime while America is gripped by a 100-year catastrophe in the form of the COVID-19 pandemic.
MATTHEW GREEN
Since 2018, Green has worked as director of engagement at Epicenter Innovation, an emergency management consulting company that recently relocated from Rochester, N.Y., to Denver, Colorado. On the cutting edge of emergency management and consulting, the company offers everything from a robust deployment support unit to technical subject matter expertise to support an organization.
"We are applying new methodologies to change the way (customers) approach these disasters in a more effective and long-term way, that usually graduate ourselves out of a job, which is great!" Green said. "We always leave the client more empowered than we found them."
He now advises private and public clients responding to the pandemic across the United States. He also serves as an adjunct professor for the Emergency and Disaster Management program at the Metropolitan College of New York.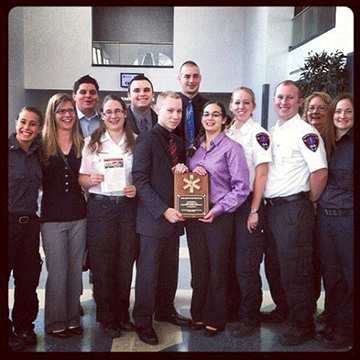 "My work in social media, technology, and innovation ended up being the backbone of my work in emergency management," said Green, from Washington, D.C., where he was working with a government client in the midst of the viral outbreak.
Green's current employment follows several years as an emergency operations communications specialist with the Port Authority of New York and New Jersey Office of Emergency Management.
Green, a native of Commack, N.Y., majored in new communication media.
"That was during the rise of social media, and I immediately pivoted my interest to how that was impacting the way we communicate," he said. "At the same time I was interested in EMS and wanted to explore how the two worked together."
SEAN JOLLIFF
Jolliff currently serves as an emergency manager for the Federal Emergency Management Agency (FEMA) residing in Vienna, Virginia, and traveling the country to help with disaster relief projects as they arise.
For the last year, he has served as training lead for the agency's web-based crisis management system, which tracks all its federally declared disasters and is used to develop incident action reports, order and track resources and maintain situational awareness on all federally declared disasters including COVID-19. He has delivered the virtual instruction to more than 1,100 FEMA, federal Interagency and state personnel who use the system.
Jolliff also has volunteered for five years as an emergency medical technician in Vienna, Fairfax County, Virginia. The EMS lieutenant is lead planner for the multi-agency coordination of fire and rescue efforts at Celebrate Fairfax, Fairfax's annual county fair.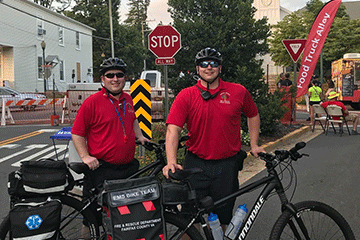 He decided to do more and has helped the Shenandoah Mountain rescue group look for several lost or injured individuals in the backcountry.
"I wanted to get some experience being on a search team, not necessarily in any management role, just that first-hand, boots on the ground, search and rescue effort," Jolliff added.
Jolliff, from the north country town of Copenhagen, N.Y., arrived at Cortland as a transfer student with previous resident assistant first aid experience and Emergency Medical Responder (EMR) certification.
"I realized I handled these situations very well and it was something that I might be interested in."
His SCEMS experience ultimately led him to work for FEMA because, upon graduation, he immediately volunteered as an AmeriCorps National Civilian Community Corps (NCCC) FEMA Corps team leader working to support multiple FEMA declared disasters. He joined FEMA full-time in 2014.
AUSTIN GLICKMAN
Today, Glickman is a police officer with the New York City Police Department and a volunteer public information officer with his fire department back in his hometown on Long Island.
Recently, as a patrol officer Glickman found himself in the middle of dealing with the COVID-19 pandemic, answering emergency calls to rescue sick individuals at their homes in Harlem and West Harlem, among the hardest hit areas. He's seen a lot of death recently.
"It's changed," he said. "It's finally on the downward curve."
On behalf of New York state or private hospital systems, he has served as a site safety officer at virus screening clinics.
In his free time, Glickman annually arranges the Law Enforcement Officers Weekend Inc., an annual police personnel social group's respite weekend during May in Lake George, N.Y. He takes pride in having founded the volunteer organization while still in his 20s.
The pandemic led to the event being postponed, but since April the group's outreach work has continued with a LEOs Leading LEOs program delivering hot meals to stretched-thin law enforcement officers in 32 different departments.
Glickman said of his gravitation toward the law enforcement field, "Although we were students we were still looked on as colleagues by the University Police Department."
LOOKING BACK
The SCEMS members formed lasting bonds over the long hours together awaiting the next adrenaline rush of applying their training and capability to handle whatever arose.
"SCEMS just seemed like a really, really friendly organization," Green said. "I could jump right in. I always feel a need to fix things."
But in 2008, SCEMS itself was almost on life support — still in service but with about 12 members barely able to cover the 24-hour, seven-day summons from students in distress.
"It had had to close down for a whole year at one point," Glickman said. "It was on the brink of collapsing."
"Immediately we started building the culture," Green said. "We went from a rag-tag little group to a top-tier, high-standard-of-care operation, because of the people we kept around us."
"SCEMS exploded at that point," Glickman recalled. "We were expected to take on all the emergency calls, get the training, and work on getting the agency back to where it should have been."
By 2012, the emergency rescuers boasted around 100 members.
When the banks of the Susquehanna River flooded Binghamton in late 2011, a rejuvenated SCEMS team answered the call for mutual aid from its Binghamton University counterpart agency, moving stunned college students as well as Triple Cities residents out from harm's way. Teamed with rescue crews from the American Red Cross, the National Guard and other SUNY institutions, SCEMS looked after more than 2,000 evacuees.
"Nobody had given us that type of responsibility before," Green said. "For better or worse, and it really landed on better, that is what really kicked off our disaster careers for all of us."
"SUNY Cortland EMS completely changed my whole outlook on life, it really turned me into the person I am," Glickman said.
"If not for SCEMS, I would not be where I'm at today," Jolliff said.
ABOVE LEFT IMAGE: former classmates Matthew Green '12, Sean Jolliff '14 and Rebecca Schwartzman '12 met earlier this year at a National Collegiate EMS Foundation (NCEMSF) conference, where Matt and Sean were presenters.
SUNY Cortland restart update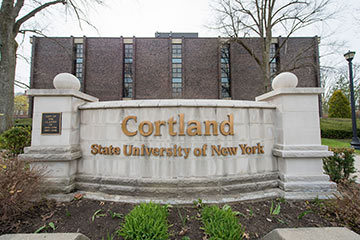 07/21/2020
The COVID-19 pandemic has sorely tested all institutions of higher education, forcing us to abandon old ways of doing things and reconsider every aspect of our operations. That will continue as we move forward with plans to return to on-campus instruction for the Fall 2020 semester. The safety and well-being of our community — students, faculty, staff, guests and neighbors — continue to be SUNY Cortland's top priority. The framework for our restart is based on guidance from the Centers for Disease Control, New York State Department of Health, SUNY system and the Office of Governor Andrew Cuomo.
President Erik J. Bitterbaum issued updates on SUNY Cortland's reopening on July 17 and July 10.
An in-depth restart plan for students living in residence halls has been posted to the Residence Life and Housing website.
Additional information and updates are posted on the Restart SUNY Cortland page. Please continue to check email and refer to the Restart page for the latest news on the university's plans to reopen.

Suggest a feature story
---
Faculty/Staff Activities
Alexis Blavos
Alexis Blavos, Health Department, had an article titled "Energy Drink Expectancies Among College Students" published in the Journal of American College Health. The abstract can be viewed here. Also, her article titled "Faculty Perceptions of Certifications in Health Education and Public Health: Implications for Professional Preparation" was recently published in Pedagogy in Health Promotion. This abstract can be found here.
Moyi Jia
Moyi Jia, Communication and Media Studies Department, had her study published in the July issue of the journal Psychological Reports. Her study is titled "Emotional experiences in the workplace: Biological sex, supervisor nonverbal behaviors, and subordinate susceptibility to emotional contagion" and the abstract is available here.
Jeremy Jiménez
Jeremy Jiménez, Foundations and Social Advocacy Department, had his article published in the Journal of Social Studies Education Research. "Race, Language, and the Passive Voice: Hardship narratives in U.S. Social Studies Textbooks from 1860 to the present" analyzes 150 years of racial bias in U.S. textbook hardship narratives. The abstract is available here.
Meredith Morell
Meredith Morell, Career Services, was recognized with the Rising Professional Award from SUNY Career Development Organization (SUNYDCO) during an online conference in June. The award goes to a SUNYDCO member with less than five years of service to the profession with significant contribution to the career services field.
Danica Savonick
Danica Savonick, English Department, delivered the plenary address for Bryn Mawr College's 9th Annual Blended Learning in the Liberal Arts Conference. Her talk, "Savor this Moment: The Activist Possibilities of Digital Pedagogy" is available online.

Submit your faculty/staff activity