SUNY Cortland launches anti-racism website
06/30/2020
A national reckoning over centuries of systemic racism has gained momentum in the wake of recent, high-profile violence and a growing awareness of widespread subtle discrimination against people of color. Members of the SUNY Cortland community are looking for answers.
Many want to play an active role in fighting racism but don't know what they can do to make a difference. Others crave a deeper understanding of the issues or don't feel comfortable talking about them at all. Still others who have been directly affected by racism are frustrated and tired over having to wage a daily battle.
As an educational institution committed to opposing racism, SUNY Cortland has created an Anti-Racism Resource website filled with information that could help educate and support our campus community. The site includes links to websites, videos, podcasts, books, films, advice, organizations, thought leaders and more.
The resource page was one of several proposals put forth by the President's Council on Inclusive Excellence, created to promote diversity and inclusiveness in all aspects of campus life.
"As an institution that prides itself on striving for inclusive excellence, we cannot remain silent or passive towards the call to action from those across our nation and within our own SUNY Cortland community," said AnnaMaria Cirrincione, interim chief diversity officer and director of the Multicultural Life and Diversity Office. "It is not enough to simply not be racist. We must be anti-racist.
"We acknowledge we will not solve this deeply embedded issue overnight, which is why we have to make the long-term commitment to educating our community and changing structures or protocols that create barriers to success for our students, faculty and staff of color. We hope that the recommendations of the President's Council on Inclusive Excellence will continue to push us toward racial equity on our campus."
Other council recommendations currently being implemented include:
Establishment of an Anti-Racism Task Force, a temporary subset of the council that would focus on specific actions.
Creation of more opportunities for anti-racist training and professional development for all employees.
Establishment of anti-racism training requirements and education opportunities for students.
In addition, all SUNY Cortland departments and offices are currently drawing up anti-racism action plans that will be embedded into the day-to-day flow of each operation.
Although the moment calls for SUNY Cortland to focus on racism, the university will continue to address and improve the experience of all groups who feel marginalized on our campus and in society.
"I have made it clear that racism — like all other forms of discrimination — has no place at SUNY Cortland," President Erik J. Bitterbaum said. "Eradicating something that's so entrenched in our society will require daily work from all of us: administrators, faculty, staff and students. It may require some uncomfortable conversations and a little soul searching, but our community will be the stronger for it."
SUNY Cortland removes SAT/ACT requirement for applicants
06/30/2020
SUNY Cortland will be test-optional for prospective students who apply during the 2020-21 academic year, meaning that the university will not require an SAT or ACT score from its applicants.
The decision reflects an effort to continue promoting college accessibility and calm concerns about testing limitations due to the novel coronavirus pandemic.
"A test score alone has never defined our applicants," said Mark Yacavone '94, assistant vice president for enrollment management. "For many years, we've used SAT or ACT results as a small piece of a student's larger body of work — one that includes their overall academic performance, their talents outside of the classroom and other personal qualities.
"But we realize that many outstanding students may not have taken an exam before the pandemic forced cancellations in the spring and summer. We did not want to add another layer of difficulty during the college application process. As a member of New York's public university system, SUNY Cortland is proud to provide access to a valuable and affordable degree."
The university will continue to review first-year applicants based on their academic performance and the rigor of their coursework in main content areas such as English, foreign language, mathematics, science and social studies. Consideration is given to classes that are designated college level, Advanced Placement (AP), International Baccalaureate (IB) or College Level Examination Program (CLEP). Extracurricular activities and personal statements will help supplement applications, while B.F.A. programs in musical theatre and art studio will continue to require auditions and portfolios respectively.
The undergraduate admissions process will remain test-optional for students who apply to start in Spring 2021, Fall 2021 and Spring 2022. SUNY Cortland will assess the effectiveness of test-optional policies on student success and retention to determine measures beyond the 2020-21 academic year.
"We always strive to bring a strong and inspiring incoming class to Cortland," Yacavone said. "That means diversity in many forms — socioeconomic status, race, ethnicity, gender expression, hometown, talents and interests. Those qualities should never be obstacles during the college admissions process."
SUNY Cortland was recognized with several honors during the 2019-20 academic year, including the 2019 Higher Education Excellence in Diversity (HEED) Award. The university also was the highest ranked SUNY comprehensive college on Money magazine's most recent list of "Best Colleges for Your Money."
---
Capture the Moment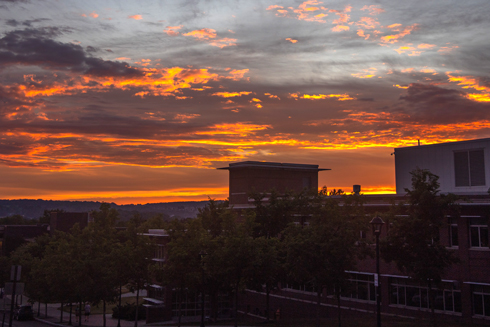 The sun sets over SUNY Cortland on the one of the longest days of the year, silhouetting the top of the Education Building. While most of the university's activities are taking place virtually this summer, major renovations at Moffett Center and Casey and Smith Towers are continuing and repair and maintenance improvements keep campus alive with sounds of progress. Visit
Restart SUNY Cortland
for updates as we move forward with plans to return to on-campus instruction for the Fall 2020 semester.
---
In Other News
SUNY Cortland submits expanded restart plan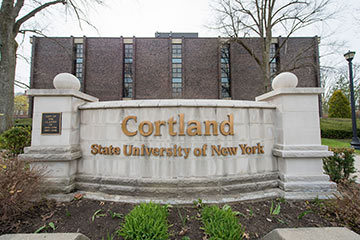 06/26/2020
The following message was sent to the SUNY Cortland community on behalf of President Erik J. Bitterbaum:
This week, SUNY Cortland sent an expanded reopening plan to SUNY system administration to meet new requirements for resuming on-campus instruction this fall. I encourage you all to review it. This document will give students, families, faculty and staff a sense of the extensive measures we are taking to prevent the spread of COVID-19 and the significant change to our campus lifestyle that will be required.
The proposal, which must be approved by SUNY and is subject to change, is available on our SUNY Cortland Restart Website.
Among the temporary policies that will define our "new normal" in the fall are many behavioral changes that we should all be prepared to exhibit. They include:
Face coverings
Everyone on campus will be required to wear a face covering when social distancing is not possible. On SUNY Cortland's campus, that will include during all in-person classes, while walking between classrooms and facilities, while in dining areas and in other situations where people are likely to come within close proximity to others. Students will be required to wear face coverings in all residence hall common spaces, including hallways.
Social distancing
Institutional policy will require all people on campus to maintain 6 feet of distance from others. To accomplish this, we will reconfigure nearly all indoor spaces for academics, recreation, dining and residential life. We will also alter scheduling, limit campus access, change pedestrian traffic patterns and implement new policies and educational efforts aimed at changing campus behavior. The Residence Life and Housing Office is working on changes in the use of lounges and other group spaces in residence halls.
Combined experiences
Most aspects of life at life at SUNY Cortland in the fall of 2020 will combine real experience with elements of virtual participation. A majority of courses are likely to be taught in this hybrid format in order allow social distancing in classrooms. Campus gatherings, such as student organization meetings, will likely be held virtually. Students should expect that most residence hall meetings and appointments with hall staff will be virtual.
Please keep in mind that our restart plan reflects a balance between our commitment to offer a high-quality and transformative educational experience and our pledge to protect the health of our students, faculty, staff, visitors and neighboring community.
This week, as we move closer to our hopeful return to campus in late August, there have been several other developments:
The Residence Life and Housing Office developed an extended move-in timeline for residence halls, during which students living on campus will be given designated arrival times. These assigned times will be viewable to students online when assignments go live on Aug. 1. Res Life is working on policies related to opening that will further limit the density of people on campus during move-in. Information about these changes to move-in will be shared with students via email and added to our website throughout the summer.
The university has secured additional student housing near campus and has designated spaces for quarantine and isolation. The added student housing location will be fully staffed and will be equipped with the services our on-campus halls offer.
The directive for all non-essential SUNY Cortland employees to work remotely was extended to July 31. SUNY Cortland's facilities, operations and services staff, however, will return to 100% essential staffing on Monday, June 29. We appreciate the dedication and professionalism shown by these employees, who will work diligently to prepare our campus for the return of our non-essential workforce, faculty and students.
Although there are still many unanswered questions related to the Fall 2020 semester, I am confident that our plan will guide us through a safe and successful academic year.
All the best,
Erik J. Bitterbaum
President, SUNY Cortland
President Bitterbaum's Pride Month message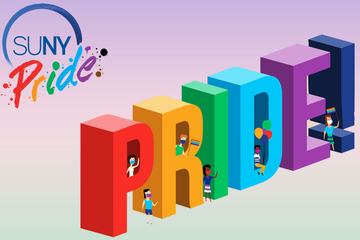 06/29/2020
All SUNY campuses celebrated PRIDE during the month of June to showcase its commitment to equity and inclusion across the system.
President Erik J. Bitterbaum shared a message about his personal commitment to the LGBT+ community.
Messages of support from across the system may be viewed at SUNY.edu/pride.
Cortland offers virtual, SUNY-wide study abroad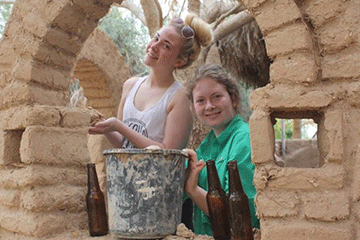 06/30/2020
During a global pandemic, study abroad doesn't necessarily mean going abroad.
Approximately 19 students from across SUNY will spend part of their summer looking at ways to boost the economic prospects for people living in the Negev, a picturesque, culturally diverse desert and semi-desert region of southern Israel.
The six-week course, International Perspectives in Poverty, addresses the United Nations' number one sustainable development goal: eliminating poverty across the planet.
The curriculum calls for students to pair this class with a three-credit course on Intercultural Storytelling, taught through Empire State College.
Led by Kenneth Cohen, associate professor of recreation, parks and leisure studies at SUNY Cortland, the multi-disciplinary, three-credit study-abroad elective course is managed through SUNY Cortland's International Programs office.
"There are other recreation programs in SUNY, but we offer the most comprehensive accredited program," Cohen said.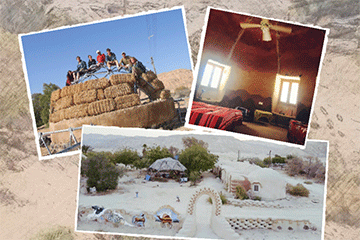 The course is one of many projects underway this summer through a partnership between SUNY's Center for Collaborative Online International Learning (COIL), SUNY Empire State College, SUNY Cortland, SUNY New Paltz, SUNY Geneseo and SUNY Brockport, called the SUNY 2020 COIL Global Commons.
In addition to solving actual problems in the region, the course seeks to fill a gap created when SUNY Cortland was forced to cancel its study-abroad programming for summer and fall 2020 due to the global novel coronavirus pandemic.
"Now, more than ever, we need to promote intercultural experiences and global learning," said Mary Schlarb, Cortland's director of international programs and a member of the Global Commons program's steering committee.
"We have been working on this project with our SUNY and international partners to reimagine how we can provide our students, faculty and staff with international opportunities."
The COIL initiative brings together campuses across the SUNY system to launch an innovative virtual study abroad program that offers a form of international experience and cross-cultural learning while international travel is restricted due to COVID-19. Planned programs seek to act on the United Nations' 17 worldwide sustainable development goals.
Cohen's students are majoring in a diverse array of disciplines. Starting July 6, they will use their internet-connected devices to meet with one another as well as with officials and interpreters from the Center for Creative Ecology at Kibbutz Lotan, a non-profit development group in the Negev.
Over the past decade, the Negev's unique desert landscapes, historic sites and growing tourism opportunities — it is the only desert in the world that is getting greener thanks to human initiatives — have made it an increasingly popular destination. In 2012, global travel guide publisher Lonely Planet rated the Negev region as second on a list of the world's top 10 regional travel destinations, noting its transformation through development.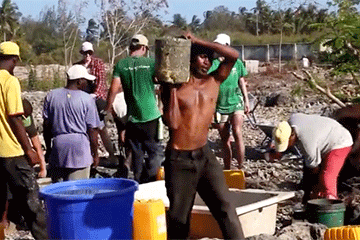 Together, the International Perspectives in Poverty students and Kibbutz Lotan will develop a wide variety of marketing materials designed to advance community capacity building and environmentally sustainable economic prosperity for that region. One means for achieving this goal is a multi-cultural ecotourism strategy between Jordanian, Bedouin and Israeli communities.
Cohen's students will learn about the region's needs, work with agency staff and develop a plan for advancing their goal. They then will work in groups to create a video, podcast or other marketing materials aimed to enhance the area's tourism.
"Recreation and tourism, when done responsibly, can be an opportunity," Cohen said of his past poverty reduction and tourism courses. "When done irresponsibly, it can further generate disparity and degrade the resource. This project will be based on a regenerative approach that supports healthy ecosystems."
Kibbutz Lotan volunteered itself for the 2020 COIL Global Commons collaboration. It is one of many community organizations the program aims to virtually connect SUNY students with to study real problems of food insecurity, poverty, gender equity, access to education, clean water and energy and climate change. All of these issues have been exacerbated by the pandemic.
"In this class, we'll be addressing sustainability goal number one, which is poverty reduction," Cohen said. "Then they will learn about that sustainable development goal, and the theories, principles and practices of poverty reduction. Then they will transition to working with their international partner."
Cohen has led students on sustainable tourism projects in Nepal, Thailand, Tanzania, Ecuador and Nicaragua. He holds a Master of Public Administration from Lewis & Clark College with a focus on organizational development and a Ph.D. in conservation social sciences from the University of Idaho.
When Cohen learned of SUNY's ambitious Global Commons project, he Immediately jumped on board.
"I had plans to take students trekking in Tibet this summer to assist a remote village with its tourism economic recovery plan post-earthquake," Cohen said. "When the COIL program was introduced, I saw an opportunity to continue to globalize the curriculum and offer students an alternative."
Students also responded to the opportunity. By the end of June, more than 160 students of all ages from 28 SUNY campuses had enrolled in a credit-bearing 2020 COIL Global Commons class.
Cohen believes sustainable tourism courses are ideal for international study as they can teach students how complex problems require interdisciplinary approaches.
"Sustainable tourism looks at the environmental, cultural and economic dimensions of responsible travel and reconciles the impacts and opportunities," he said. "You're always looking at balancing the environmental and cultural and economic opportunities."
Although the global pandemic gave rise to this online opportunity, the relationship between SUNY Cortland and Kibbutz Lotan's efforts in the Negev will continue after travel restrictions are dropped. At that point, Cohen said the course Is likely to become a real-life study abroad opportunity, with students traveling to Israel's southern desert region.
The SUNY COIL Center provides overall leadership for the Global Commons. SUNY Empire State College, with its 25 years of expertise in online education, is collaborating with SUNY COIL, SUNY Online and with campuses across the system to make it happen.
"It's an excellent example of how SUNY can leverage its diverse skills, networks, perspectives and experiences to collectively create an engaging experience for students that allows them to apply their knowledge and skills while contributing to organizations that are working to improve their communities," said Mary Lou Forward, executive director of the SUNY COIL Center.
SUNY Cortland introduces online master's in literacy education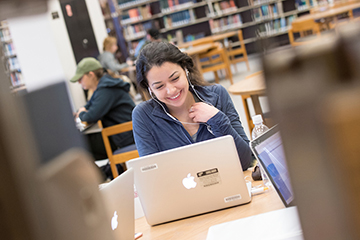 06/26/2020
SUNY Cortland is making it easier for teachers to earn a master's degree by introducing a new fully online graduate program in literacy education.
The program leads to two teaching certifications in a discipline that applies to all subjects. The M.S.Ed. in literacy is intended for people who hold a bachelor's degree and initial teaching certificate in education. Full-time students can complete it in one calendar year if they begin their studies in the summer or fall.
"Literacy skills are the very foundation upon which all education is built, and we need excellent literacy teachers and specialists to help students of all abilities, at all grade levels to develop these skills," said Andrea Lachance, dean of the School of Education. "SUNY Cortland is proud to educate more teachers than any other public institution in New York state, and this exciting news offers further proof of our commitment to preparing teachers not just in our region but across our entire state.
"The faculty in the Literacy Department worked diligently to build this first exclusively online program in our School of Education and to ensure this program was of the highest quality. We're looking forward to helping teachers and students everywhere."
A master's degree in literacy has the ability to make teachers more marketable and effective because it helps them work with readers in their respective content areas, according to Professor Nance Wilson. They can teach any subject, not exclusively reading.
"You can graduate and work as a reading coach or a reading specialist in a school district, but you also could be a science teacher helping students decipher material that's traditionally difficult," said Wilson, who helped facilitate the development of the program. "Every single subject relies on strong reading skills."
Cortland-trained literacy teachers have gone on to work in school districts across New York state. They work as classroom teachers, interventionists, reading coaches and specialists within schools and district settings. This degree leads to two certifications cover birth to grade 6 and grades 5 to 12, and students can earn both by passing one test.
Even before the COVID-19 pandemic moved classroom learning to a distance education model, SUNY Cortland had plans to shift its graduate program in literacy education to a distance learning model in an effort to provide convenience and flexibility. The university previously offered the degree on campus and through hybrid class options that relied on both in-person classes and online learning.
Classes utilize pedagogical tools that assure student engagement and interaction. For instance, some classes will rely on apps such as FlipGrid, an asynchronous video chat tool that allows students to interact and learn.
"That's a big emphasis of our program," Wilson said, referring to support from faculty and staff. "Online learning will provide students the flexibility to learn from anywhere, but they're still going to discover the same support from faculty members and campus offices that they would if they were sitting in a classroom on campus."
Additionally, graduate students will continue to receive assistance from SUNY Cortland's Field Experience and School Partnerships Office. This campus office coordinates early field experience and student teaching placements for Cortland teacher candidates, including those who are learning online.
Working teachers can pursue the program on a part-time schedule or take classes for professional development credit.
SUNY Cortland already has started to explore online learning capabilities within the program. The Literacy Department recently announced an online summer reading initiative matching graduate students with learners entering grades 2 to 12. The program reached capacity in two days.
"There's a demand for great teachers with literacy skills," Wilson said. "When students become better readers, they gain confidence in the classroom, they succeed later on as professionals and ultimately they become productive members of society.
"Reading is a lifelong skill."
Visit the program webpage for more information.
Cortland Challenge raises more than $250,000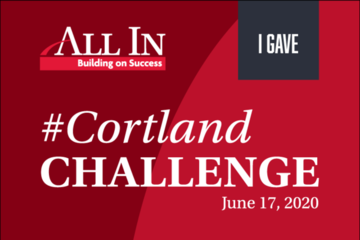 06/26/2020
SUNY Cortland's annual day of giving, the Cortland Challenge, continues to grow.
This year's event, held on June 17, raised $252,273 from 1,897 donors. The generosity of Challenge donors will benefit Cortland students and faculty for years to come.
Two of the major beneficiaries of the 2020 Cortland Challenge were the Student Emergency Fund and the Cortland Fund for Equity and Inclusion.
The Student Emergency Fund, which offers grants of up to $500 for students with immediate needs for childcare, food, rent, utilities or access to technology, was created in response to the struggles faced by those in the midst of the COVID-19 pandemic. A total of $62,966 was raised from 66 donors during the Challenge. More than $125,000 has already been distributed to students in need and the gifts received through the Challenge will support students in other ways long after the pandemic is over.
The Cortland Fund for Equity and Inclusion raised $13,457 from 84 Challenge gifts, which will be matched dollar-for-dollar by the Cortland College Foundation. The fund will work proactively to provide an inclusive and supportive environment for students, faculty and staff as well as the greater Cortland community. It will provide opportunities for professional development on the topics of diversity, equity and inclusion, funding for bringing visiting speakers to campus and to support the annual diversity conference hosted by the Multicultural Life and Diversity Office.
"We are amazed and humbled by the support that we received during this year's Challenge, especially for the new Student Emergency Fund and Cortland Fund for Equity and Inclusion initiatives," said Natasha McFadden, associate director of The Cortland Fund. "We just want to give a huge thank you to everyone who participated in this historic fundraising event. Their generosity will go a long way in the lives of our current and future students."
Other areas that received generous support through the Cortland Challenge include:
Athletic funds: $141,320 from 1,850 gifts.
The Cortland Fund: $21,088 from 172 gifts.
Academic departments: $7,346 from 35 gifts.
Scholarships: $4,540 from 10 gifts.
SUNY Cortland would like to thank its alumni and friends who provided significant matching gifts on Challenge Day.
Jason Barrett '08, Louise Conley, Mike Leeolou '81 and Catherine Leeolou '81, Anthony Moon '86 and Susan Moon, Patrick Mullaney '89, Victor Rumore '84, Jeanne Specchio '82 and David Turybury '90 and Sheila Turybury all contributed gifts toward the Student Emergency Fund.
A donation from Gerry Proehl '81 and Pam Proehl '82 backed the general athletics challenge.
The total raised in the 2020 Cortland Challenge set a record for Red Dragon generosity. One year ago, 2,072 donors combined to raise $210,947 toward the needs of SUNY Cortland students. In 2018, $151,360 was raised via 1,384 donors.
Learn more about how the Cortland Challenge helps SUNY Cortland and its students and faculty achieve its goals at RedDragonNetwork.org/challenge.
Read messages of gratitude from students who have received emergency fund grants in our Cortland Challenge Thank You video:
Child Care Center continues through COVID-19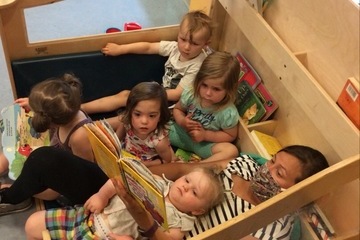 06/29/2020
The COVID-19 pandemic posed a tricky question for several local families, particularly those whose jobs were deemed essential.
Where would they find child care after many centers shut down?
The SUNY Cortland Child Care Center became the solution for dozens of families from mid-March to mid-June.
Stephanie Fritz, director of SUNY Cortland's Child Care Center, met with counterparts from the Cortland YWCA and the Child Development Council of Central New York to determine how to safely provide care for those in need. Since SUNY Cortland's center cares for children from birth to age 5, it was decided that the university would be the only facility in Cortland County to host children in that age range. The YWCA cared for children age 5 and older.
While about 85% of the 83 children who are typically cared for at SUNY Cortland's center no longer came in as their parents started to work from home, the center ultimately took on 40 children this spring, many of whom had previously gone to other centers in the county.
Going to a new child care center can be an overwhelming experience for any child. The teachers, the classmates and the setting are all new. Additionally, for safety reasons, parents were asked to drop off their children at the door, making drop-offs potentially fraught. And staff members wore masks, a barrier to germs, to be sure, but also a wall between the facial expressions that can help forge friendships with young students.
"Based on all the knowledge we have and in my more than 15 years of experience, when a child starts anything new, it takes them two weeks to acclimate," Fritz said. "They felt safe and were good from the get-go and that was a really nice compliment to my staff and the parents. They were relaying from the children that they felt comfortable here. They all said they wouldn't have known what to do without us here and that was something nice to hear."
Fritz was impressed by how well her staff handled so many changes and created a calm environment amidst so much stress.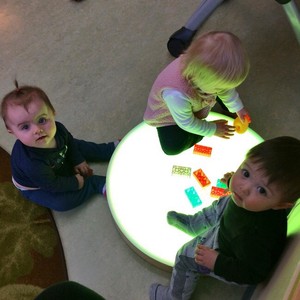 "The kids were wonderful and the parents were great," Fritz said. "We had to change a lot of things and change how we do things. The parents couldn't come in the building, so it was tough to drop off your child to a child care that your kid has never gone to and drop them off to strangers. Thank God we had something called the Brightwheel app, so parents had an instant messenger and they got pictures and videos."
The center's six preschool teachers also hosted a weekly WebEx video meeting to stay connected with the children who were no longer coming into the center but being cared for at home.
SUNY Cortland's Child Care Center was closed for just one day ꟷ Wednesday, March 18 ꟷ and reopened the next with four children. Of the 47 child care centers in the SUNY system state-wide, Cortland's was one of 10 to remain open throughout the pandemic.
With Central New York entering Phase IV of the state's reopening plan on June 24, many of the children cared for at SUNY Cortland over the past few months have returned to their original child care centers. Others have returned to SUNY Cortland as their parents have stopped working remotely and gone back to work. Fritz estimates the center will be back to close to its original capacity in the fall although there will be new protocols for additional cleaning and classroom size limitations.
She remains grateful both for her staff and for the new parents who were accommodating and flexible to one another's needs.
"Nobody was ever upset," Fritz said. "The parents were very flexible themselves because they knew this was all so new to us too. The communication of seeing them every day at the door and saying, 'How are you, is everything OK?' It was a really nice community outreach even though we were isolated in our center."
Several community partners also provided essential assistance over the past few months. The Child Development Council sent personal protective equipment and supplies. The United Way and Bill Bros. Dairy and Farm Market donated milk. The Cortland Breakfast Rotary Club gave six no-touch thermometers. Kory's Place, a diner in Homer, N.Y., continued to provide catered lunches.
Despite all the upheavals caused by COVID-19 this spring, SUNY Cortland's Child Care Center provided essential care to the children of essential workers.
Most of all, they made young children feel safe in the middle of a crisis they couldn't completely comprehend.
That led to some emotional goodbyes as children headed back to their original centers in recent weeks.
"One of the little girls that transitioned over, on her last day before she left to go back to her home center, she said, 'I have a plan,'" Fritz recalled. "She really had something to tell us. She said, 'I'm going to have a conference with all of the teachers today and I'm going to make them sit right here. It's my last time. I'm going to tell them thank you for keeping me safe from the coronavirus.'"
"They really kind of understood it," Fritz continued. "We didn't bring up the virus a lot but the parents talked to their kids, the older ones, and they really understood it."
Emma Schulz Repeats as First Team Academic All-American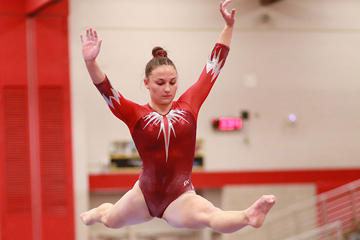 06/30/2020
SUNY Cortland junior women's gymnast Emma Schulz of Poughquag/Arlington, N.Y., has been selected as a 2019-20 Division III Women's At-Large First Team Academic All-American by the College Sports Information Directors of America (CoSIDA). She earned national first-team honors for the second straight year.

The women's at-large category for CoSIDA Academic All-America honors encompasses 14 sports: beach volleyball, bowling, crew/rowing, fencing, field hockey, golf, gymnastics, ice hockey, lacrosse, rifle, skiing, swimming and diving, tennis, and water polo.

Schulz is a biology major who entered the 2020 spring semester with a 4.05 cumulative grade point average (converted to a 3.98 for CoSIDA voting purposes).

Schulz was both a National Collegiate Gymnastics Association (NCGA) and Women's Collegiate Gymnastics Association (WCGA) All-American this past season and was chosen as the East Region Gymnast of the Year by both organizations. She ranked first nationally in Division III on both balance beam (9.7938) and floor exercise (9.8375) based on Seasonal Average Score (SAS), which is calculated by the average of a gymnast's top four scores during the season. She tied her own school records this season with a 9.90 on floor and a 9.825 on beam. The NCGA East Region and National Championship meets were canceled due to the COVID-19 pandemic.

As a sophomore in 2019, Schulz won the Division III national title on floor exercise and tied for second nationally on balance beam at the NCGA Championships. As a freshman in 2018, Schulz earned All-America honors on balance beam with a tie for third place nationally.

Schulz is the seventh athlete in school history to earn two CoSIDA Academic All-America awards and the first to be a first-team selection twice. In all, Cortland athletes have earned a total of 36 Academic All-America awards, including 16 since 2011.
Brent DiVittorio Earns Academic All-America Recognition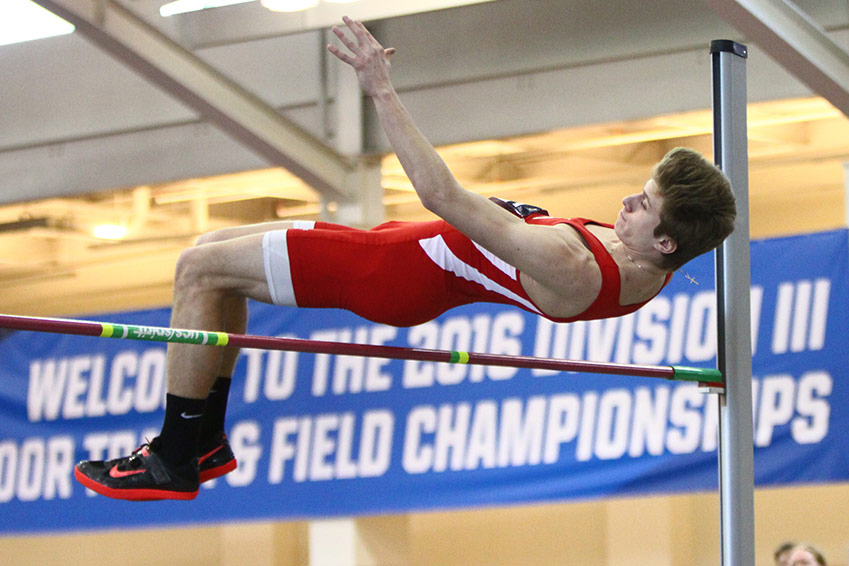 06/30/2020
SUNY Cortland graduate student Brent DiVittorio of Brewster, N.Y., has been selected as a Division III Men's Track and Field/Cross Country Academic All-American for the 2019-20 season by the College Sports Information Directors of America (CoSIDA).

A national third-team honoree, DiVittorio completed his graduate work in adolescence education biology this spring with a 3.72 cumulative grade point average. He earned a bachelor's degree in biology in 2018 with a 3.34 overall grade point average.

During the indoor track and field season this past winter, DiVittorio earned All-America and All-Atlantic Region honors and was the SUNYAC champion in the 60-meter hurdles. He ranked fifth nationally in Division III with a time of 8.06 seconds — just a hundredth of a second off the school record. The NCAA indoor championships, along with the entire outdoor season, was canceled due to the COVID-19 pandemic.

DiVittorio was previously a three-time national qualifier and all-region performer in the indoor heptathlon (2016-18). He earned All-America honors in the event with a seventh-place finish in 2017 and was also SUNYAC champion and an all-region performer that year. In addition, DiVittorio was the outdoors SUNYAC decathlon champion and an all-region honoree in 2017 and was part of Cortland's winning 4x100-meter relay at the 2019 SUNYAC outdoor championship.

With DiVittorio's award, Cortland student-athletes have now earned 37 Academic All-America honors, including 17 since 2011. He is the second Red Dragon to be recognized this season — gymnast Emma Schulz was named to the At-Large Academic All-America team last week — and the second Cortland men's track and field athlete to earn Academic All-America recognition following Connor Christopherson in 2016-17.

Suggest a feature story
---
Faculty/Staff Activities
Paul Arras
Paul Arras, Communication and Media Studies Department, has a new book titled Seinfeld: A Cultural History. It is part of a series of books by Rowman and Littlefield Publishers that focuses on iconic television shows called The Cultural History of Television, which includes shows like "Friends," "The Simpsons," "Gilmore Girls," "Mad Men," "Breaking Bad," "Cheers," "Star Trek," and "Fraiser." Arras' graduate research on '90s television turned into his first book, The Lonely Nineties, which has a chapter on "Seinfeld" among other TV shows such as "Friends," "Law & Order" and "The Simpsons."
Chris Badurek
Chris Badurek, Geography Department, had his applied learning projects highlighted in an article in The Umbrella – The SUNY Newsletter for Applied Learning. The June 2020 issue focuses on co-curricular applied learning experiences and highlights projects from across many of the SUNY campuses. The article describes the NSF Common Problem Pedagogy Project collaboration between students in Badurek's environmental remote sensing course and Biological Sciences Professor Steve Broyles' tree biology course. Students from both courses joined into teams to collect and analyze tree data for the village of Homer, N.Y., in Fall 2019. The article also includes an extension of this work by student intern Connor Brierton on Badurek's Cortland Applied Learning Practitioners grant from SUNY Cortland's Institute for Civic Engagement. Brierton and Badurek reported on this work in a Transformations 2020 research poster.
Jeremy Jiménez
Jeremy Jiménez, Foundations and Social Advocacy Department, had his co-written article about high school student experiences in the first combined LGBTQ+/Ethnic Studies course in a U.S. public school published in The Journal of Social Studies Research.
Jordan Kobritz
Jordan Kobritz, Sport Management Department, was quoted in the June 2020 Sports Illustrated cover story on Minor League Baseball titled "Minor League Baseball in Crisis."
Jennifer Parker, Jeremy Pekarek and Hilary Wong
Jennifer Parker, Jeremy Pekarek and Hilary Wong, Memorial Library, gave a virtual presentation at the State University of New York Librarians Association on June 18. They presented "Enhancing campus relationships: Building a more collaborative institutional repository."
Jeremy Pekarek
Jeremy Pekarek, Memorial Library, presented a poster titled "The Tale of two hats: Time-management in the life of an Archivist & Instructional Services Librarian," at the virtual New York Archives Conference on June 12.
Jennifer Moore, Janet Ochs, Jeremy Pekarek and Hilary Wong
Jennifer Moore, Janet Ochs, Jeremy Pekarek and Hilary Wong, Memorial Library, presented virtually at the New York Archives Conference June 12. The title of the presentation was "If you've got it flaunt it: Revitalizing the archives through collaborative exhibits."
Maria Timberlake
Maria Timberlake, Foundations and Social Advocacy Department, had her article, "Recognizing Ableism in Educational Initiatives: Reading between the Lines" published in the June issue of Research in Educational Policy and Management.

Submit your faculty/staff activity