Important message from President Bitterbaum: novel coronavirus COVID-19
03/10/2020
To the campus community:
The current outbreak of novel coronavirus COVID-19 continues to cause great concern around the world and among members of the SUNY Cortland community. To date, no cases of COVID-19 have been reported among SUNY Cortland students, faculty or staff members. The university is following guidance from the Centers for Disease Control, the New York State Department of Health and SUNY System Administration and aggressively implementing all of their recommendations.
It is important that all members of our community have a realistic understanding of the potential threat and are aware of the steps that we continue to take to ensure everyone's well-being. To that end, SUNY Cortland has created a COVID-19 resource and update page on our website. I encourage everyone to visit it frequently for the latest campus news related to the disease and accurate information about the virus and the work being done to address it.
As we approach our campus's spring break, many of our students, faculty and staff may be planning to return to, or visit, areas where COVID-19 cases are increasing. Others may be traveling domestically or internationally and could be exposed through airports or other crowded venues. We want all members of the campus community to stay safe and be prepared for any eventuality. To that end, a message outlining information about spring break was sent to students today by Greg Sharer, Vice President for Student Affairs. I encourage all community members to familiarize themselves with it.
SUNY Cortland is also taking proactive measures that will help us provide essential information to campus community members who may have traveled internationally since February 15, live with a person who has recently returned, or are planning to travel internationally in the next couple of months.
Students, faculty and staff can help us by completing a new form that lets the university know about upcoming international travel as well as international trips since February 15. This form should also be completed if you live with, or are required to care for, a family member or other person who may have traveled internationally since February 15 or is planning to do so.

For any upcoming travel, please be sure to read the travel recommendations issued by the CDC and the organization's travel FAQ.
In addition, our faculty today received a message from Provost Mark Prus asking them to begin making preparations to adjust their delivery of academic education should the changing situation require it.
To be clear, the current plan is for classes to resume after spring break. At this time, SUNY Cortland classes will resume on Monday, March 23, 2020; however, the COVID-19 situation is rapidly evolving and we are preparing for all potential contingencies.
Finally, remember to practice good preventative measures, and take precautions to protect your health. The CDC recommends the following actions to prevent the spread of respiratory viruses:
· Wash your hands often with soap and water for at least 20 seconds. If soap and water are not available, use an alcohol-based sanitizer.
· Avoid touching your eyes, nose and mouth with unwashed hands
· Avoid close contact with people who are sick
· Stay home when you are sick
· Cover your cough or sneeze with a tissue or your sleeve (not your hands)
· Clean and disinfect frequently touched objects and surfaces
Supporting the health and well-being of members of the campus community is our highest priority. I wish you all a relaxing and healthy spring break!
All the best,

Erik J. Bitterbaum
President
'Wild' author Cheryl Strayed talk reset
10/29/2021
Cheryl Strayed, whose best-selling memoir of a 1,100-mile hike of recovery and self-discovery became the Reese Witherspoon movie Wild, will give a virtual talk with SUNY Cortland students, faculty and staff about her journey, her life and the art of writing on Tuesday, Nov. 16.
"Distinguished Voices in Literature: Cheryl Strayed" will begin at 5 p.m. via Zoom. The online presentation and conversation is free and open to the public but participants must register in advance.
The discussion will feature an opportunity to engage with an author of three best-selling books and the inspiration behind an Oscar-nominated film.
Originally scheduled as a live lecture for March 12, 2020, as part of Women's History Month, the event was cancelled at the start of the COVID-19 pandemic and returns as part of the English Department's annualDistinguished Voices in Literature series as well as the Cultural and Intellectual Climate Committee's (CICC) 2021-22 series on the theme of "Memory."
Organizers are trying to line up an opportunity for participants to view Wild in advance of Strayed's talk.
"Cheryl Strayed is a powerhouse of a writer," said organizer Heather Bartlett, a SUNY Cortland English instructor and co-director of its Distinguished Voices in Literature series.
"This is such a special opportunity for our students and community, not just because of Strayed's fame, but because of the strength and compassion she models as a writer and public figure.
"She writes with fierce honesty. She offers up her vulnerabilities without apology. She lifts up other writers, other women. Cheryl Strayed shows us all how to be courageous and gritty without sacrificing who you are. Isn't this just what we hope for our students, for ourselves?"
Strayed's honest courage is evident in Wild, which recounts how, at the age of 26, childhood abuse, divorce, drugs and the devastating death of her mother had all but destroyed her life. She improbably sought escape from self-loathing and self-destruction by walking the Pacific Crest Trail from California's Mojave Desert to the Washington/Oregon border.
It was the first time she had ever backpacked.
The adventures she had, the people she met, the ordeals she surmounted and — most importantly — the life-changing realizations she came to during that 1995 odyssey, eventually became the #1 New York Times bestselling memoir Wild. Published in 2012, it was chosen by Oprah Winfrey as her first selection for Oprah's Book Club 2.0.
Actress Reese Witherspoon's film production company purchased the film rights. The resulting 2014 movie adaption, which starred Reese Witherspoon as Cheryl and Laura Dern as Cheryl's mother, was nominated for an Academy Award.
Strayed, who also wrote the New York Times bestsellers Tiny Beautiful Things and Brave Enough, and the novel Torch, has seen her books translated into nearly 40 languages around the world.
Tiny Beautiful Things is a collection of essays from the anonymous "Dear Sugar" advice column she wrote for the online literary magazine Rumpus. The book was adapted for the stage by Nia Vardalos, who also starred in the role of Sugar/Cheryl. The play debuted at The Public Theater in New York City in a sold-out run in 2016.
Strayed's essays have been published in The Best American Essays, the New York Times, the Washington Post Magazine, Vogue, Salon, The Sun, Tin House, The New York Times Book Review and elsewhere. Strayed was the co-host of the New York Times/WBUR podcast "Dear Sugars," which originated with her popular "Dear Sugar" advice column. She co-authored, along with Steve Almond, "The Sweet Spot" advice column in the New York Times Thursday Styles section. Strayed holds an MFA in fiction writing from Syracuse University and a bachelor's degree from the University of Minnesota. She lives in Portland, Oregon.
In addition to the English Department and CICC, Strayed's presentation is supported by the President's Office, President's Fund, the Writing Center and SUNY Cortland Auxiliary Services.
Image of Cheryl Strayed courtesy of Joni Kabana
---
Capture the Moment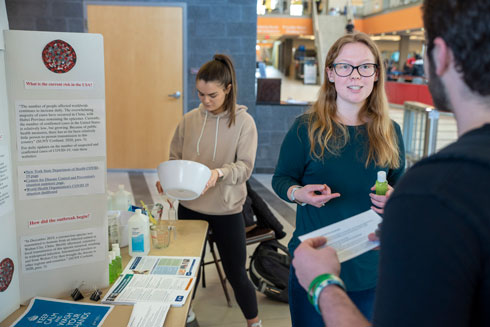 Senior Brittany Jordan, left, mixes a batch of homemade hand sanitizer while sophomore Melissa Safford shares the recipe during an information session hosted by Eta Sigma Gamma, the Health Department's chapter of the national honor society. Held March 9 to inform students about coronavirus COVID-19, using hand sanitizer is one of several recommendations people can follow to protect themselves. SUNY Cortland will continue to post updates along with important health links on its Novel Coronavirus (COVID-19) Resources and Updates webpage.
---
In Other News
Psychology, performing arts collaborate for mock interviews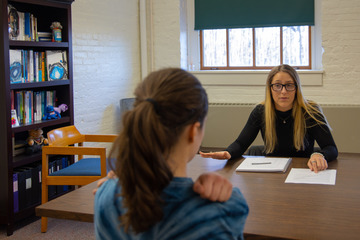 03/09/2020
Karen Davis had a quandary when it came to her forensic psychology course.
Davis, associate professor in SUNY Cortland's Psychology Department, wanted her students to get hands-on experience with forensic interviews. Mental health professionals use these interviews to evaluate the psychological condition of individuals who have committed crimes.
The interviews serve as a vital step in the legal process, to protect the rights of those who may not be able to understand the implications of a plea or may be unable to fully communicate with law enforcement or legal representation.
For ethical and practical reasons, undergraduates cannot conduct or even sit in on these interviews because they lack the requisite training. Students generally get this type of experience for the first time at the graduate level.
The outside-the-box solution was in SUNY Cortland's Performing Arts Department.
Eight musical theatre majors were recruited to act as fictional defendants in an academic win-win situation: mock forensic interviews.
The eight psychology students had the opportunity to conduct a live forensic interview that will be followed up by writing reports, just like the real-world professionals who do this every day. The musical theatre students had a chance to practice their character development and improvisational skills.
Brilynn Winkleblack, a senior psychology major from Interlaken, N.Y., and Sarah vonEgypt, a sophomore musical theatre major from Hopewell Junction, N.Y., recently sat down to conduct one of these mock forensic interviews.
Davis drafted many pages of fictional documentation to create a scenario. The information included police reports, medical records and background information for the psychology student conducting the interview as well as a summary for the student actors.
VonEgypt portrayed a person named Amanda. Beyond the simple character summary, she was largely improvising and drawing on the skills she's learned in her musical theatre classes.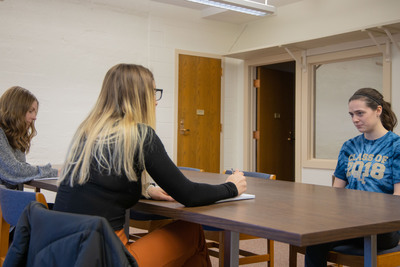 "It was fun to understand and dissect Amanda and her background and what she was going through," vonEgypt said. "My character had been in a mental institution and had been accused of hitting a police officer and criminal nuisance. I was answering questions as to whether I wanted to plead, go to trial or plea bargain. Overall, it was a really cool experience to come up with things in the moment and really commit to Brilynn in an office rather than in an 'on stage' setting."
For Winkleblack, who is looking to continue her studies after she graduates from SUNY Cortland, the first-hand experience of conducting an interview reaffirmed her passion for the subject matter.
"I like the assessment part of it," she said. "For grad school, I'm hoping to go into a Ph.D. or Psy.D. program that's clinical-oriented. I am leaning toward more forensic stuff, especially after today. I'm hoping to be conducting the assessments and writing the reports and deciding that defendants are confident to stand trial or not."
Conducting a mock forensic interview was just part of a semester-long project for the students in Davis' class. They first learned about concepts in class and watched Davis do a mock interview of her own. Next, they will complete a full forensic evaluation and write a report following the standards of practice used by forensic evaluators. Ultimately, the students are using the mock interview as a means to have a graduate-level experience as undergrads.
Many of Cortland's psychology majors will wind up using these skills in the workplace.
"Forensic evaluators can work in psychiatric hospitals, for the Federal Bureau of Prisons or in private practice," Davis said. "Even if students don't go on to do these types of evaluations, if they go on to do social work or case management, having those interview skills is part of it. They'll be evaluating mental health symptoms. Even if they don't do forensic evaluations, those basic skills are going to be really useful."
Davis hopes that the university's Psychology and Performing Arts departments can continue to collaborate in the future and discover even more ways for Cortland students to harness their talents and skills to help others academically.
"If it ever happens again, I would definitely recommend it to all of our musical theatre majors," vonEgypt said. "It was a great experience. It's a great way to rehearse and practice your craft and work on your acting and improvisation.
"It's also a great way to communicate and make new friends with anyone in the Psychology Department. It's a great way to branch out."
Winkleblack admitted that the mock interview process just wouldn't have been the same had she been interviewing another psychology major. VonEgypt's acting skills heightened the experience and had Winkleblack hanging on every word.
Most of all, it created a deep mutual appreciation of talents between students from different disciplines who might not have crossed paths otherwise.
"She (vonEgypt) was super, super impressive," Winkleblack said. "She was able to roll with it and there were times where I was shocked. It ended and I was like, 'Wow.' She wasn't given a lot of information and she was able to do almost a two-hour interview on how little information she had. It was a lot of work."
Library posters and talks focus on suffragettes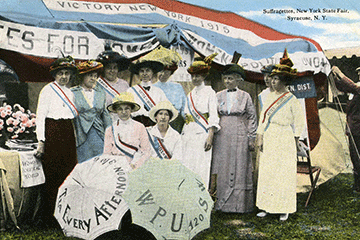 03/10/2020
SUNY Cortland's Memorial Library will present posters to highlight local suffragettes and shed light on their contributions, nationally and regionally, during the fourth week of Women's History Month celebrations at the university.
The posters will spotlight some of Cortland County's most notable heroes in the women's suffrage movement, including Amelia Bloomer and Lydia Strowbridge, and their contributions and roles.
"The purpose of the exhibit is to honor local women while disseminating accurate resources to persuade visitors to investigate further," said Jeremy Pekarek, archivist and instructional resources librarian.
"We also aim to understand how Cortland engaged itself in the women's suffrage movement and other voting initiatives on and off-campus throughout the years," Pekarek said. "Our intent is to investigate Cortland's roles and contributions regarding voting activism."
Titled "In Pursuit of the Vote: Highlighting Local Suffragettes and Resources," the exhibition will draw on some of the library's own archival resources to create the visual materials on display.
Jennifer Kronenbitter, library director, and Pekarek twice will explain the resources available to scholars who are interested in the women's rights movement, during an exhibit unveiling and reception from 2 to 3 p.m. on Tuesday, March 24, and from 3 to 4 p.m. on Thursday, March 26.
The discussion and poster presentations will take place just outside of the College Archives, located on the second floor in Room B-305. The program is free and open to the public. Light refreshments will be served.
"We are not highlighting a specific archival collection, but rather promoting a narrative and resources on the history of women's suffrage locally," Pekarek said.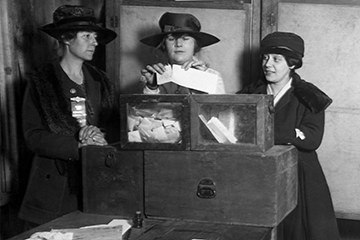 Kronenbitter and Pekarek intend to highlight various resources — digital and physical — to educate visitors on this issue.
"This is not a citation page, but more of an annotated bibliography that includes the library, cultural heritage sites, archives, historical societies, organizations, museums and books," Pekarek explained.
Library guests also are welcome to make their own voting buttons, similar to those used during the women's suffrage movement, in the Library Makerspace, located on the first floor of Memorial Library near the Teaching Materials Center area. It's also an opportunity to explore this center, which features emerging technologies that support and promote unique classroom engagement opportunities. In addition to the library's button maker, that includes virtual reality, 3D printing and 3D scanning.
The exhibit will include information about the Cortland community and the Cortland Normal School during the suffrage era while noting important events, people and organizations that also pursued women's voting rights. The posters will be on temporary display in the library after the discussions.
The event continues the university's celebration of Women's History Month during March with a packed schedule of events. All events are free and open to the public unless otherwise noted.
This year's Women's History Month focus is especially timely as the university simultaneously celebrates a century of women's suffrage and look forward to a presidential election. The Women's History Month focus also involves the LGBT community, migration and immigration. "Valiant Women of the Vote," the national theme of Women's History Month, celebrates both the brave women who fought for suffrage, as well as those who currently continue the struggle for representation and equity.
The Women's History Month schedule of events also includes:
CANCELLED/TO BE RESCHEDULED. Tuesday, March 10: David Freund from the University of Maryland will present "The History of Discriminatory Lending Practices in the U.S. and Its Role in Perpetuating Intergenerational Inequality" at 5 p.m. in Brockway Hall Jacobus Lounge.
Tuesday, March 10: Outdoor Pursuits will offer "Gender Inclusive Climbing" at 10 p.m. at the Student Life Center Climbing Wall.
Wednesday, March 11: The New York Public Interest Research Group will hold a sandwich seminar on "100 Years Since Suffrage: The Current Status of Voter Mobilization in New York State" at 12:30 p.m. in Brockway Hall Jacobus Lounge.
Wednesday, March 11: Joelle Leclaire from SUNY Buffalo State will discuss "Macro-Financial Stability and Household Debt from the Perspectives of American Post-Keynesian Economics, the Cambridge Approach, and the Monetary Circuit School" at 5 p.m. in Brockway Hall Jacobus Lounge.
THIS EVENT IS CANCELLED. ORGANIZERS WILL TRY TO RESCHEDULE FOR A LATER DATE.

Thursday, March 12: "An Afternoon with Cheryl Strayed" will begin at noon in Old Main Colloquium Room. This sandwich seminar discussion is open only to SUNY Cortland students, faculty and staff. For more information, contact Heather Bartlett or John Leffel. The event is sponsored by Distinguished Voices in Literature.
Thursday, March 12: Scott Ferguson from the University of South Florida will lecture on "The Politics of Care and the Aesthetics of Money" at 5 p.m. in Brockway Hall Jacobus Lounge.
Tuesday, March 24: Outdoor Pursuits will offer "Gender Inclusive Climbing" at 10 p.m. at the Student Life Center Climbing Wall.
Details on additional upcoming Women's History Month events will be posted in future Bulletin editions. For more information, contact Jena Nichols Curtis, director of the Center for Gender and Intercultural Studies and coordinator of Women's, Gender and Sexuality Studies, at 607-753-2979.
Women's History Month Events are sponsored by: Advisement and Transition; the Campus Artist and Lectures Series; the Center for Gender and Intercultural Studies; the Disability Resources Office; the Economics Department; the Cultural and Intellectual Climate Committee; the History Department; the Geography Department; Hillel; the International Studies Program; the Institutional Equity and Inclusion Office; the Clark Center for Global Engagement; the Gender Policies and Initiatives Council; the It's On Us Action Team; Jewish Studies; the New York Public Interest Research Group; Memorial Library ; Outdoor Pursuits; the President's Office; the Sexual Orientation, Gender, Identity and Expression Committee (SOGIE); Disability Resources; the Student Government Association; the SUNY Cortland Chapter of the American Association of University Women; and the TransAfrica Project.
Korean-style street eatery opening on campus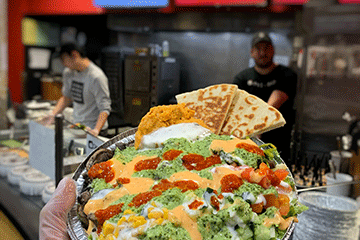 03/05/2020
SUNY Cortland students looking for a quick, satisfying bite to eat that won't hurt their wallets is a tale as old as the university itself.
Sung Kim, CEO and founder of Chick-N-Bap, understands that struggle quite well.
"I was a student when I started this," said Kim, who launched Chick-N-Bap while enrolled at SUNY Binghamton. "I wanted to provide a product that really provides a bang for the buck for the students."
Chick-N-Bap is an original take on Korean-inspired New York City street food. The word "bap" means "rice" or "meal" in Korean, alluding to the company's dedication to serving quality chicken over rice.
Beginning Monday, March 9, through Friday, March 14, Chick-N-Bap is serving its tasty Korean barbecue on the SUNY Cortland campus.
The "pop-up" shop is located on the first floor of Corey Union operating from 11:30 a.m. to 2:30 p.m. throughout the week.
After spring break, on March 23, the eatery will be open from 11 a.m. to 7 p.m. Monday through Friday through the end of the semester.
Chick-N-Bap became a favorite among SUNY Binghamton students when it began serving food in 2013. Since then, Kim's business has expanded to SUNY New Paltz, Ithaca College and Marist College.
"I know the struggles of low dining dollars and all I wanted was a meal that could really satisfy my palate as well as my appetite," Kim said.
Kim, who recommends the Korean BBQ chicken or the spicy pork platter to first-time customers, is excited to finally be bringing his unique cuisine to SUNY Cortland.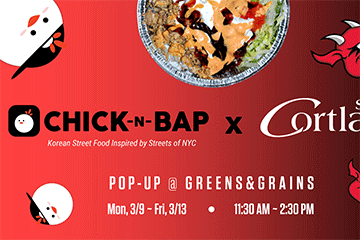 "We've had some students from Cortland in the past that visited Binghamton for a weekend that tried our food and let us know that they'd love to see it at their school."
He believes his experience with on-campus dining has helped him win over the hearts and stomachs of college students.
"I think the fact that we make everything in-house with our own recipes really shines when it comes to the actual taste of the food," Kim said.
"Students really appreciate that we're not cutting corners when it comes to quality for the food that they eat."
Seeking honest opinions from consumers this week, Kim is optimistic that customer support and fresh in-house food will make Chick-N-Bap a fixture at SUNY Cortland.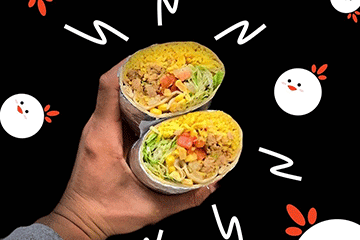 "We have had serious conversations with ASC (SUNY Cortland Auxiliary Services Corporation) to make Chick-N-Bap a permanent offering on campus based on the feedback from the students," he said.
"We would really appreciate the customers to be vocal about us during the time of the pop-up.
"We have a genuine passion for what we do. We love being around students to provide a taste of what we've built because we are very familiar with how the food scene can be on a college campus. We just want to make this experience better for people that we can relate to on a personal level."
Prepared by Communications Office writing intern Dean Zulkofske
Campus parking issues being addressed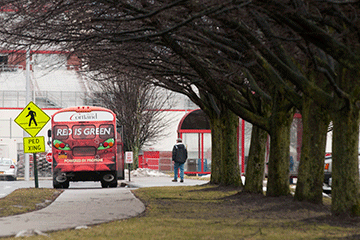 03/10/2020
Like many other college campuses, SUNY Cortland has struggled to help students overcome the difficult obstacles of finding parking and transportation.
This semester, the administration is both adding a new parking lot and partnering with a bus company to provide more options for traveling between campus and the community.
"We're trying to find solutions for off-campus students," explained Zachariah Newswanger, associate vice president for facilities management.
Now that the snow has melted, the facilities planning, design, and construction office eagerly awaits a project to pave a new parking lot in a field between the SUNY Cortland Stadium Complex and the existing Route 281 lot. This will add 140 new spaces.
Meanwhile, thanks to a recent collaboration between the university and College Suites apartments, students will have between 45 to 50 new parking spots in Spring 2020. College Suites is located near the intersection of Routes 13 and 281. If popular, the expanded parking will remain available beyond spring semester.
Additionally, the West Campus bus began serving College Suites, making a stop at the East Building to pick up students before continuing to Park Center.
Those interested in parking permits for College Suites are encouraged to contact Parking Operations at 607-753-4123.
The university's Facilities Management Office conducted a campus-wide survey last semester, to which approximately 400 individuals responded.
Among the numerous steps SUNY Cortland has made in response to the survey is a partnership between facilities management and First Transit, Cortland County's public bus service, to make stops on campus.
The Route 2 bus will pick up students at the Route 281 lot before continuing to Tops.
The Route 4 bus stops at Park Center and then continues on to Walmart, Price Chopper, and ALDI grocery stores.
Bus Routes 6 and 7, which head to Tompkins Cortland Community College and Cornell, will stop in front of Corey Union. Six and seven are combined in the morning.
When riding, exact fare is required. Fares include:
$1.50 (Routes 1-4)
$2.00 (Route 6)
$5.00 (Route 7)
Monthly passes are available for purchase. Students with a monthly pass can ride as many times as they wish in the month. The cost is $45. The passes can be purchased at:
Cortland Transit, 21 Squires Street
Daily Grind, 24 Main Street
Daily Grind South, 180 Main Street
First Transit would plan to use the bus-tracking telephone app the campus already uses, DoubleMap, in the future to track its buses. For now, bus schedules can be found on the First Transit website.
Meanwhile Zipcar, located in the parking lot next to Corey Union, continues to be available for rental and is underused, Newswanger noted. It could help eliminate the need for students to have cars on campus.
While a person usually needs to be 25 in order to rent a car, Zipcar allows anyone 18 and over with a driver's license to rent. Memberships with Zipcar cost $15, a fee that also goes towards a member's first drive. Cortland students receive a discount for their rides, which amount to approximately $7.50 an hour and about $69 a day. The cost includes gas and insurance.
In terms of additional parking, the potential for other new parking lots is slim.
"It isn't realistic. We don't want the campus covered in asphalt," Newswanger said. "There's just not a lot of real estate for new lots."
Prepared by Communications Office writing intern Victoria VanEvery
Pasquarello addresses President's List honorees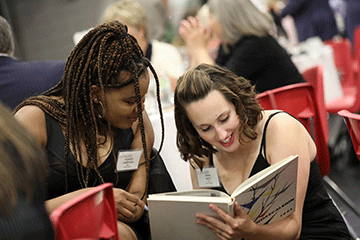 03/10/2020
Thomas Pasquarello, who has researched the legal case for environmental conservation and exploring how humans can live sustainably on the Earth, offered standout SUNY Cortland students guidance for their journey during the university's Spring 2020 President's List Reception.
Pasquarello, a professor of political science who joined SUNY Cortland in 1984, addressed 210 honorees who attended the March 9 event with their families in the Corey Union Function Room.
The President's List is the university's highest honor for students who excel academically. It acknowledges students enrolled in a minimum of 12 credit hours who achieve grades of A- or better in each of their courses. In Fall 2019, 9.5 % of the full-time student body reached this level of achievement.
SUNY Cortland President Erik J. Bitterbaum opened the reception, which recognized 592 students this year.
Pasquarello, who delivered a speech titled "Back to the Future: Reflections on Democracy in the United States," earned his Ph.D. in political science from Binghamton University.
Originally a scholar on human rights and U.S. bilateral aid, Pasquarello refocused his research in the late 1980s to New York's Adirondack Park, writing numerous articles about the park as a model for combining public and private land to protect natural ecosystems.
In 1995, he was selected as a delegate to represent the U.S. at the World Wilderness Congress in Tromso, Norway.
A year later, while presenting a paper about the protection of natural ecosystems in Belize, Pasquarello was inspired by the small country's commitment to pursuing environmentally sustainable economic growth. Over the next 20 years, he frequently brought Cortland students to Belize to study ecotourism as a means of sustainable development.
He also developed a close working relationship with the Belize Zoo and Tropical Education Center, partnering with them to create SUNY Cortland's Belize Zoo Project to raise funds for conservation and environmental education in Belize.
Pasquarello helped create, and currently serves as president of, the Belize Zoo Neotropical Conservancy, a registered 501(c)(3) organization whose mission is to support education as well as charitable and scientific activities in North, Central and South America.
Next fall, a second President's List Reception ceremony will be held to recognize Spring 2020 honorees.
Cortland nurtures differences, common bonds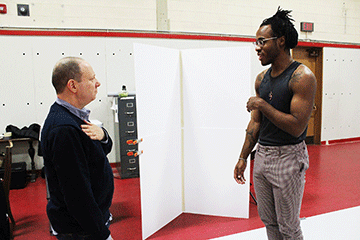 03/10/2020
On any given day, there are roughly 8,400 different individuals working, learning and interacting on the SUNY Cortland campus. They come from different countries, different communities, different cultures and different ethnic backgrounds. Some grew up in poverty, others are from wealthy families. They practice different religions, espouse different politics, identify with different genders and sexual orientations and have incredibly diverse interests and passions.
But, as human beings, they also have lots in common.
A new campus project seeks to underscore that humanity by exploring the unique stories and individual identities of 25 members of the SUNY Cortland community in a series of artistic posters.
The Beloved Community Diversity Narratives Project at SUNY Cortland aims to visually share the essential life stories of students, faculty and staff members and alumni with campus and community.
"Honestly, I'm a storyteller, and so for me, every story is a compelling story, because it belongs to a human heart," said visiting artist Adam Mastoon of Adam Mastoon Transmedia, pausing from photographing campus employee Cyrenius Nelson '19 at his large, temporary studio in Van Hoesen Hall.
Mastoon most recently visited campus in early February to meet and talk with 25 diverse individuals who volunteered for the project about their unique stories. Each participated in a writing workshop about their personal histories, and all were photographed over the course of three days this week with the idea of creating a piece of public art grounded in the narratives.
"We wanted to develop a project that would not only be a conversation starter, but would passively and actively promote an inclusive environment for faculty, staff and students," said James Felton, vice president for equity and inclusion at The University of New Jersey. He served until recently as SUNY Cortland's former chief diversity officer.
The results will appear around campus as print posters of various sizes and shared as digital images on the university's website, a blog and SUNY Cortland's social media channels. During his visit, Mastoon walked the campus with facilities management officials to consider how best to display the finished pieces.
Mastoon's project is part of the university's ongoing effort to make SUNY Cortland as inclusive and welcoming a community as possible to people from increasingly diverse backgrounds and identities.
The project's name comes from a quote by the Rev. Martin Luther King Jr. that reflects the spirit of the initiative: "Our goal is to create a beloved community, and this will require a qualitative change in our souls as well as a quantitative change in our lives."
Mastoon was excited to work with the 25 different people whose applications were accepted for the project.
"So even the smallest details can be, and are, compelling: the way a light hits someone's face, the way a curl comes across the forehead," said Mastoon, the founder of The Shared Hearts Initiative, a non-profit organization that created an exhibition and school curriculum to amplify authentic, life-affirming stories of LGBT youth.
"The visual details and the personal narratives are compelling," said Mastoon.
Each poster will tell its own story. Together the pieces can serve to deepen the conversations about diversity, inclusion and equality in communities nationwide.
"His work makes you want to stop and pay attention to the people and the stories he's captured in his portraits," Felton said. "Adam's work reflects the type of community we wanted to reflect on campus."
Mastoon only completes about three campus projects a year because each takes about six months of work.
Mastoon, of Barrington, Rhode Island, describes himself as a socially engaged artist, author and educator driven by a desire to create work that addresses equity, inclusion and social justice. He collaborates with communities nationwide to develop distinctive storytelling projects that engender empathy and connection.
"I feel very happy because I feel the spark of the person in the images," said Mastoon. "That is my sacred task, to be able to stand in front of somebody and to be able to reflect themselves back so that the world can see them. I feel I accomplished that with Cyrenius (Nelson) and so I feel grateful and happy."
Nelson, who hails from Staten Island, N.Y., and directs one of SUNY Cortland's 16 residence halls, graduated in 2019 from Cortland and enjoys writing poems, drawing and doing puzzles. Earlier Mastoon had photographed Regina Grantham, associate professor of sciences and disorders.
"She has an incredible story to tell," Mastoon said. "She shared with me her path and her love, being an educator. To be able to hear that and see that and reflect that back into this community, really, is a gift."
Mastoon studies each participant's personal written narrative as a way to know each individual for the sake of telling their story. The 25 photo subjects will have an opportunity to fine-tune and edit their writing to later become part of the eventual poster.
Mastoon's project team encompasses a lot more than the two photographers who traveled with him to campus and the graphic design team back home.
"It's important to say this is a 'we' project," Mastoon said.
"There are 12 people on the committee that helped to make this happen. There is James Felton who is the keystone of this project and who was the spark of making it happen. There was the vision of President (Erik J.) Bitterbaum, who could see how this could make a difference on the campus. All of us together, along with the 25 people who are courageously coming forward, are the team that are making this happen."
Since 2010, Mastoon, recipient of the American Library Association's Gay and Lesbian, Non-Fiction Book Award, has worked in academic communities making portraits and inviting people to share their personal stories in words and pictures.
Mastoon has captured the essence of 300 individuals to date in versions of the project at Georgia Institute of Technology, Swarthmore College, Rhode Island School of Design, Babson College and Washington State University. Examples can be found on Mastoon's community narratives web page.
The Cortland campus will soon add their stories to the mix.
"I am meeting a group of people who want to celebrate their uniqueness, and I'm here being welcomed by a community that believes in the importance of that idea," Mastoon said of Cortland. "Because of that, I experience Cortland as a really open and positive and affirming community."
Felton said the project originated with his office and Nicole Basile '19, the former Student Government Association director of diversity, equity and inclusion.
In order for SUNY Cortland to give new students the tools they need to thrive and graduate despite being in an unfamiliar environment that may seem hostile, the university's administration has to listen closely to those who are already here, he said.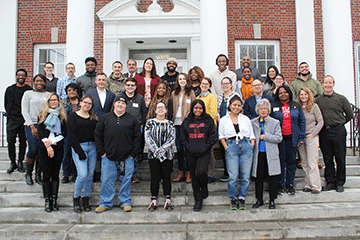 For that reason, the university also is taking many steps to reach out to the entire campus community, including the part of the university's population that identifies itself as ethnically or racially diverse, approximately 26% of the student body.
A voluntary anonymous online campus inclusion survey has been underway since the fall to assess how welcoming SUNY Cortland is to all students, faculty and staff. A SUNY Cortland Campus Climate on Diversity Committee asked students to express their opinion on the quality of college life for them with respect to four major themes: race; gender, gender expression or sexual orientation; dis(ability); and religion and spirituality, during Spring 2019. Based on those responses, the group developed the survey questions and began administering the survey in the fall. The survey also asks respondents to offer their insight on what the institution might do to nurture a better learning and working environment at Cortland.
SUNY Cortland expects to release survey findings later this spring.
Scholars to discuss women and legal future of asylum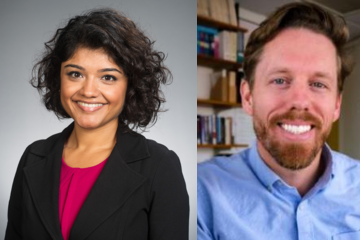 03/09/2020
Many women have been forced to leave their home countries and seek better shelter and safety in the United States.
While asylum applications have decreased since 2017 — mainly because of U.S. policy changes that have limited the number of refugees and asylum-seekers admitted into the country — the backlog of cases in immigration courts recently surpassed 1 million.
Two researchers will discuss what these mainly women are facing on Wednesday, March 25, at SUNY Cortland.
Their talk, "Women and the Legal Battle for the Future of Asylum," will be held at 4:30 p.m. in Old Main Brown Auditorium.
Presented as part of the university's celebration of Women's History Month, the event is free and open to the public.
Valeria Gomez, the William R. Davis clinical teaching fellow in the Asylum and Human Rights Clinic at the University of Connecticut School of Law, works with law students to represent asylum seekers who have fled persecution and are seeking protection in the U.S.
She will address how the backlog makes this effort vital, as migrants with active immigration cases have been waiting an average of almost two years for decisions.
Austin Kocher is a faculty fellow in the Transactional Research Access Clearinghouse in the S.I Newhouse School of Public Communications at Syracuse University. As a legal and political geographer, his research focuses on the intersection of law, space and immigration.
Kocher will speak about recent changes to asylum law and policy under the Obama and Trump administrations and will incorporate a longer historical perspective as well.
"As a child growing up in a single-parent household, I saw the courage that my mother had to raise four of us by herself," Kocher said. "When I started working with immigrant women and mothers who were coming to the United States to seek asylum, I saw that exact same courage in women who risked everything to keep their children safe and give them a better life."
A daughter of immigrants, Gomez is passionate about educating people about asylum-seekers, especially under the Trump administration.
"I want to help provide context to the kinds of hurdles that asylum-seekers face, and especially asylum-seeking women," she said. "They have been caught in the crossfire as the Trump administration has changed longstanding interpretations of asylum standards."
The national theme of Women's History Month is "Valiant Women of the Vote" and celebrates both the brave women who fought for suffrage, as well as those to currently continue the struggle for representation and equity.
This year's focus is especially timely as the campus simultaneously celebrates a century of women's suffrage and look forward to a presidential election.
All events are free and open to the public unless otherwise noted. The Women's History Month schedule of events includes:
More information on upcoming Women's History Month events will be posted in the March 24 Bulletin.
Women's History Month Events are sponsored by: Advisement and Transition; the Campus Artist and Lectures Series; the Center for Gender and Intercultural Studies; he Disability Resources Office; the Economics Department; the History Department; the Geography Department; Hillel; the International Studies Program; the Institutional Equity and Inclusion Office; the Clark Center for Global Engagement; the Gender Policies and Initiatives Council; the It's On Us Action Team; Jewish Studies; the New York Public Interest Research Group; the Memorial Library; Outdoor Pursuits; the President's Office; the Sexual Orientation, Gender, Identity, and Expression Committee (SOGIE); Disability Resources; the Student Government Association; the SUNY Cortland Chapter of the American Association of University Women; and the TransAfrica Project.
For more information, contact Curtis at 607-753-2979.
Prepared by Communications Office writing intern Erica Mirlas
Cuban defector Alina Fernández to speak at SUNY Cortland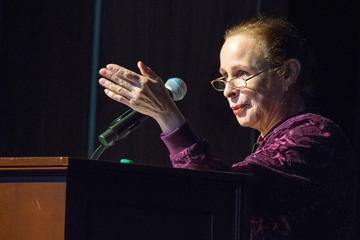 02/25/2020
Perhaps no one has as unique a perspective on the social and political history of Cuba than Alina Fernández.
Fernández, the daughter of Cuban communist revolutionary leader Fidel Castro, became a critic of her father's government and obtained political asylum in the United States in 1993.
She will speak at 8 p.m. on Wednesday, March 11 in Old Main Brown Auditorium. The event, "An Evening with Alina Fernández, Daughter of Fidel Castro," is free and open to the public.
Fernández will comment on her first-person account of growing up in Cuba as well as her decision to flee the country and how recent political reforms may shape U.S.-Cuban relations in the future.
Sophia Hall, a junior history and anthropology major from Copiague, N.Y., helped organize the event as a member of the Student Activities Board. She was initially looking to book a comedian or entertainer for this semester, but changed her thinking to a more serious tack after hearing Yusef Salaam, one of the exonerated members of the Central Park 5, speak to a capacity crowd in Brown Auditorium last semester.
"I saw the response to Yusef Salaam when he came and that made me realize that this would be something campus wanted," Hall said. "Our task at Student Activities Board is to do things that the rest of campus wants and put on events for the rest of campus. I realized that the campus does want something that goes in this direction that isn't necessarily a comedian or a performer."
Another inspiration was Hall's older sister, Grace Hall '17, who majored in adolescence education: social studies and history and visited Cuba as a study abroad student while at Cortland. Her stories from that trip in part led to Sophia Hall to pursue history herself.
She hopes that Fernández's talk will illuminate a poignant period in Cuban history.
"I have a particular interest in the time of the Cold War and American history in general," Hall said. "It's interesting how smaller countries are used as a pawn by bigger countries. It's interesting to hear the stories from those smaller countries specifically. You hear so much about the U.S. side and the U.S.S.R. side and you don't hear the stories from the people who were living at that time."
Born three years before the Castro revolution in 1959, Fernández became an anti-communist activist by the 1980s. She condemned the Cuban government for food shortages, economic collapse and political and cultural repression.
In 1993, Fernández obtained a Spanish passport, donned a costume and posed as a Spanish tourist to board a plane bound for Madrid. She was soon thereafter granted political asylum in the U.S.
Fernández authored a 1998 autobiography, Castro's Daughter: An Exile's Memoir of Cuba.
"I wanted him to find a solution to all the shortages: of clothes, of meat, so it could again be distributed through the ration books," she wrote. "I also wanted to ask him to give our Christmas back. And to come live with us. I wanted to let him know how much we really needed him…"
Ultimately settling in Miami, Florida, Fernández has written columns for el Nuevo Herald, hosted local radio programs and toured college campuses across the country.
In her talk, she aims to present snapshots of Cuban society, an inside look at Cuban politics and a detailed and personal view of her father.
The event will be followed by a question-and-answer session.
"It's a really unique experience that you're not often going to get, especially for free," Hall said. "So often we hear stories from bigger politicians, so to be able to hear the story from someone who actually lived it so personally I think is really cool."
Cuba is of particular interest to many Cortland faculty and students, who for several years have traveled to the island on academic trips focused on disciplines ranging from art and art history to sport management. Miguel Fraga, the former first secretary of the Cuban embassy in Washington, D.C., visited SUNY Cortland and spoke with students in 2016.
The event is sponsored by the Student Activities Board.
Cortland in the news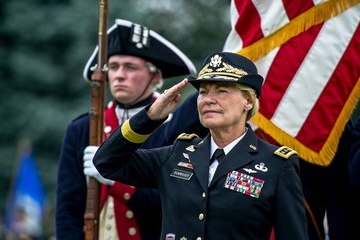 03/10/2020
March is Women's History Month and MentalFloss.com included a SUNY Cortland alumna on its list of "101 Women Who Have Changed the World."
In 2008, Ann Dunwoody '75 became the first woman to be promoted to four-star general in the U.S. Army.
Dunwoody was planning on a career in physical education during her time as a Cortland student, but followed in the footsteps of her brother, father, grandfather and great-grandfather in joining the Army.
She retired in 2012 and has published a book, A Higher Standard: Leadership Strategies from America's First Female Four-Star General.
In other news:

Suggest a feature story
---
Faculty/Staff Activities
David Kilpatrick
David Kilpatrick, Psychology Department, was named last fall as the managing editor of a new journal, The Reading League Journal. The journal articles are written by top researchers from around the world and summarizes scientific findings on reading development and reading difficulties/disabilities. The unique feature of this publication is that it is not written for other researchers but rather for educational professionals working in schools (teachers, administrators, speech pathologists, and school psychologists). The journal will have three issues per year, fall, winter and spring. The first issue was published in January.
Rhiannon Maton
Rhiannon Maton, Foundations and Social Advocacy Department, had a book review published in Teachers College Record. She reviewed the book Exploring Gender and LGBTQ Issues in K-12 and Teacher Education: A Rainbow Assemblage.
Janet Ochs, Jennifer Parker and Jeremy Pekarek
Janet Ochs, Jennifer Parker and Jeremy Pekarek of Memorial Library had their bibliographic essay titled "Resources on Women in STEM" published in Choice Magazine and featured in the March 2020 issue. This essay highlights women role models in science, technology, engineering and mathematics (STEM) professions and includes 58 book titles that explore various elements within STEM fields such as gender inequality, history, education, academic contributions, societal impacts and government involvement.
Katie Silvestri
Katie Silvestri, Literacy Department, was recently elected for a two-year appointment as secretary for the Special Interest Group (SIG) Semiotics in Education: Signs, Meaning, and Multimodality, a SIG within the American Education Research Association (AERA). This SIG provides a forum for teacher educators and literacy researchers to discuss signs, meanings and meaning making processes that people use in the context of teaching and learning from a multimodal standpoint. As secretary, Silvestri will maintain the SIG website and listserv as well as spearhead initiatives to foster conversations about and collaborations in scholarly work across the SIG's membership, as detailed on Featured Member Scholarship. She served in this position as interim secretary during a restructuring of the SIG for the past nine months and will now serve as secretary for the 2020-22 term. To learn more about Silvestri's work as secretary or about social semiotics and multimodality, visit the Semiotics in Education SIG website.

Submit your faculty/staff activity