Kyle Richard Nominated for Orange Bowl Courage Award
11/16/2018
The heroism of SUNY Cortland senior Kyle Richard has been recognized by yet another national organization.
Richard, who was shot twice after breaking up a sexual assault in progress during the summer of 2017 and returned to captain Cortland's football team the past two seasons, was nominated for the Capital One Orange Bowl-Football Writers Association of America Courage Award on Nov. 15.
The Orange Bowl Courage Award is presented annually to a player, coach or support person in college football who displays courage on or off the field, overcomes an injury or handicap, prevents a disaster or has lived through a lifetime of hardships. A select group of college football reporters from the Football Writers Association of America vote on the winner each year.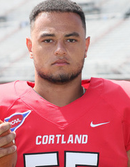 Richard is the first Division III player to be nominated for the Courage Award since it was created during the 2002 season.
The winner will be included in festivities during the Capital One Orange Bowl week and will receive the trophy in an on-field presentation. One of two College Football Playoff semifinals, the Orange Bowl will be held on Saturday, Dec. 29 at Hard Rock Stadium in Miami Gardens, Fla.
Richard's story was recently featured both in print on ESPN.com and in a video clip that aired on SportsCenter on the morning of Nov. 10.
He was presented with the Biden Courage Award for Bystander Intervention and a Next Generation Award from Kristin's Fund, an Oneida County charity that aims to end domestic violence through awareness campaigns. Richard has spoken at various events at SUNY Cortland and was invited to speak at Utica College's Take Back the Night March earlier this year.
SUNY Cortland Joins 21-Campus Renewable Energy Coalition
11/20/2018
SUNY Cortland is among 21 public and private colleges in New York that have formed a consortium to buy energy and renewable energy credits from new, large-scale renewable energy projects in the state.
The coalition, called New York Campuses' Aggregate Renewable Energy Solution, or NYCARES, seeks to lower financial barriers to renewable energy by creating economies of scale. The group plans to combine the energy needs of large and small campuses to contract for supplies from qualified, large-scale solar, wind, hydroelectric and energy storage projects in New York.
"This innovative and cooperative approach will help colleges across the state reach their sustainability goals and strengthen SUNY Cortland's reputation as one of the greenest campuses in the nation," President Erik J. Bitterbaum said. "It will enable us to make more efficient use of both our energy and financial resources."
The SUNY-led consortium is in the process of hiring a consultant to help all member campuses negotiate power purchase agreements that would supply each campus with energy from a large renewable project. In all, the group is seeking a commitment for 150,000 megawatt hours of "green" energy a year. That's enough electricity to power a small city.
The consultant would also seek proposals for large-scale producers of sustainable energy to meet the 64-campus SUNY system's annual 1.3 million megawatt-hour demand. NYCARES hopes the size of the commitments will spur development of renewable energy projects in the regions surrounding the campuses.
Those projects are needed to help the state meet its goal of raising the renewable energy component of the state's electrical grid to 50 percent by 2030.
Since 2011, SUNY Cortland has been aggressively pursuing a course aimed at reducing greenhouse gas emissions and becoming carbon neutral by 2050. In 2015, Cortland became the first SUNY campus to commit to using 100 percent renewable electricity. Although there are thousands of solar panels operating on campus, much of that goal was achieved by buying green energy "credits" that subsidized the development of renewable energy in New York.
SUNY Chancellor Kristina Johnson said she would like all SUNY campuses to reach 100 percent renewable electricity as soon as possible, and sees the consortium as a way to move things forward more quickly.
"The recent U.N. report increases the urgency, so for those of us who can, we have to do something," Johnson said. "First, let's decarbonize electricity - it should be an easy lift, plus it will give a market signal for renewable energy."
In addition to positively changing the regional renewable energy market, NYCARES aspires to advance each college's academic mission by powering the campuses in a way that is both financially viable and environmentally conscious.
SUNY Cortland is on NYCARES' steering committee, along with Cornell University, Ithaca College, Binghamton University, the University at Albany, SUNY Purchase and Hudson Valley Community College. The initiative is coordinated by SUNY administration.
This past summer, The Sierra Club named SUNY Cortland to its annual "Cool Schools" list of the nation's most environmentally friendly schools for the third consecutive year. The College was also recognized by the Association for the Advancement of Sustainability in Higher Education (AASHE) for excellence, and named both a pollinator-friendly campus and a tree campus by national environmental organizations.
---
Capture the Moment
SUNY Cortland fans cheered on the Red Dragons at the Cortaca Jug held Nov. 10 at the Stadium Complex. Forfeiting the jug to the Ithaca Bombers following a 24-21 loss, they'll be back at it next fall when the annual rivalry game between SUNY Cortland and Ithaca College will move for one season to New Jersey's MetLife Stadium — home to the NFL's New York Jets and New York Giants — in an effort to make Cortaca Jug the best attended Division III football game in history. Read more.
---
In Other News
Series to Document Czechoslovakia Occupation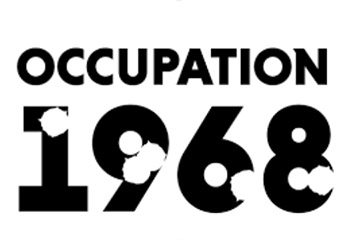 11/20/2018
Five countries of the Warsaw Pact occupied Czechoslovakia in 1968.
The historic events unfolded as reformers in Czechoslovakia sought to overturn Stalinism, revive a stagnant economy and return socialism to its utopian roots.
Fifty years later, five movie directors from these countries produced short films about the resulting Soviet Union-led invasion from the point of view of the people who took part in it.
On Wednesday, Nov. 28, and Thursday, Nov. 29, SUNY Cortland's Project on Eastern and Central Europe (PECE) will present "Occupation 1968," a unique opportunity for the campus and community to see those films with a presentation by a campus community member whose family lived through it.
The events are free and open to the public.
"If you have an interest in film, history or human rights, you will not want to miss these films," said organizer Scott Moranda, a SUNY Cortland associate professor of history.
"Occupation 1968" is currently making the rounds at film festivals, Moranda said.
"But we are showing it as part of our year-long commemoration of the 50th anniversary of the 1968 global revolutions," he said.
The five films, each about 25 minutes long, will be screened a few at a time. On Nov. 28, the series begins at 7 p.m. in Sperry Center, Room 106. Before the first two films are shown that evening, Jaroslava Prihodova, interim director of SUNY Cortland's Dowd Gallery, will briefly present on her father's own experience of the Warsaw Pact invasion.
On Nov. 29, the rest of the series continues with the remaining three movies starting at 4:30 p.m. in Sperry Center, Room 106.
The circumstances leading up to the "Occupation 1968" unfolded in a rather low-key manner. Activists undertook what was described as "Socialism with a human face," inspiring many around the globe. However, after a tense period of uncertainty, the Soviet Union cracked down on what it saw as a dangerous deviation from the party line.
On Aug. 20 and 21, 1968, the Soviet Union engaged troops of the Warsaw Pact — East Germany, Bulgaria, Romania and Hungary — in an invasion of the Czechoslovak Socialist Republic to dissolve reformist attempts originating from the capital. It was known as Prague Spring.
"It was a period of time that is described as Normalization, which was a direct reaction to implementation of regime reforms by the government before the 1968 invasion of Czechoslovakia by the Warsaw Pact army," said Prihodova. She was born eight years later in 1976 in Varnsdorf, Czechoslovakia, a town bordering East Germany.
Prihodova said her father picked up a camera and captured the events from the family's home in a small village close to the East German border, commonly known as Sudetenland.
The events are co-hosted by the History Department and the Clark Center for Global Engagement and are made possible by funding from Auxiliary Services Corporation. Contact Moranda for more information at 607-753-2052.
College-Community Orchestra to Perform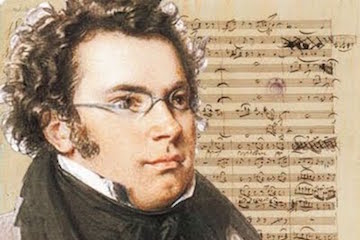 11/19/2018
SUNY Cortland's College-Community Orchestra, a 70-year-old collaboration between the school and music lovers in Cortland County, will perform "Unfinished Schubert" at 8 p.m. on Tuesday, Dec. 4 in Rose Hall at 19 Court, a former church that has renovated into an arts center by the Dan & Rose McNeil Foundation.
The concert is free and open to the public.
"We are fortunate to be able to offer live classical symphonic music to the community, and are grateful to the McNeil Foundation's commitment to support the arts in Cortland County," said Ubaldo Valli, music director of the orchestra.
"Unfinished Symphony" offers selections from diverse genres of the classical music repertoire. The major work on the program is Symphony No. 8, "The Unfinished," composed by Franz Schubert. Started in 1822, it remained incomplete when Schubert died six years later at the age of 31.
"This symphony is a pillar of the classical era and a precursor of the romantic era," Valli said. "It is astonishing that such a forward-looking work was composed before Beethoven composed his Symphony No. 9."
The concert also includes pieces by Peter Schickele (a serious work from a satirical composer better known by his pen name PDQ Bach) and Arthur Sullivan. Sullivan, of Gilbert and Sullivan fame, was deeply influenced by Schubert's music and discovered many works by Schubert that would otherwise have been lost.
Classical music concerts by the College-Community Orchestra include informal comments by Valli before each piece, highlighting details of interest for the audience and creating a more intimate atmosphere.
"Ubaldo has been a great conductor to work with," said Jim Weiss, principal cellist and orchestra member since 1982. "One can always count on him to bring out the best of each member of the orchestra technical and musical expression, blended with his unique sense of humor."
Cortaca 2019 Set for Home Stadium of Giants and Jets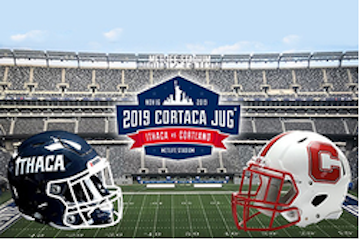 11/07/2018
By this time next year, Cortaca Jug, "the biggest little game in the nation," might have indisputable evidence of that title.
On Nov. 16, 2019, the annual rivalry game between SUNY Cortland and Ithaca College will move for one season to New Jersey's MetLife Stadium — home to the NFL's New York Jets and New York Giants — in an effort to make Cortaca Jug the best attended Division III football game in history.
The record to beat was set in 2017 when St. Thomas University and St. John's University (Minn.) played at Target Field, home of Major League Baseball's Minnesota Twins, attracting 37,355 fans.
More than 18,000 SUNY Cortland alumni live in the Greater New York City area and nearly half of all SUNY Cortland students come from that region. The Cortaca Jug typically draws 10,000 spectators and sparks dozens of alumni viewing parties nationwide. Sports Illustrated once referred to it as "the biggest little game in the nation."
"This is an amazing opportunity for the colleges, the teams and the tens of thousands of Red Dragon and Ithaca College alumni who have experienced Cortaca Jug and continue to enjoy the excitement and fun of one of college football's most enduring rivalries," SUNY Cortland President Erik J. Bitterbaum said.
The two teams played the 60th Cortaca Jug on Saturday, Nov. 10, 2018 at the SUNY Cortland Stadium Complex. Despite a heroic Red Dragon comeback, Ithaca prevailed, 24-21.
Ithaca College will host the 61st edition of the contest in MetLife Stadium on Saturday, Nov. 16, with a 1 p.m. kickoff.
Ticket sales will begin on Dec. 1. Tickets for the general public are $15, $25 and $35 and will be sold through Ticketmaster at http://www.cortacajug.com/. Tickets for students, staff and faculty of SUNY Cortland and Ithaca College will be priced at $15 and will be sold by the respective schools.
"This is an incredibly exciting moment in a storied rivalry already full of amazing memories," said Mike Urtz '94, M '00 SUNY Cortland director of athletics. "The Cortaca Jug game is the best that small-college football has to offer and is deserving of a first-class venue such as MetLife Stadium. We are looking forward to watching Cortland's great alumni and fans, along with Ithaca's, set a new Division III attendance record."
The change of venue was done at the invitation of the New York City Chapter of the National Football Foundation (NFF), a nonprofit educational organization that counts several Ithaca College alumni as members of its New York City board of directors. The game will be part of a national celebration of college football's 150th anniversary.
"As college football celebrates 150 years throughout next season, we are honored to work with the National Football Foundation in supporting this effort by having this incredible rivalry be a featured game," said Susan Bassett, associate vice president and director of intercollegiate athletics and recreational sports at Ithaca College.
MetLife Stadium is located in East Rutherford, New Jersey, just eight miles outside of New York City. Since opening in 2010, the stadium has hosted such major events as Super Bowl XLVIII, the 2016 Copa América Centenario Final, Wrestlemania 29 and concerts by Bruce Springsteen, Beyoncé and Jay Z, and U2.
Founded in 1947, the National Football Foundation is a nonprofit educational organization that runs programs designed to use the power of amateur football in developing scholarship, citizenship and athletic achievement in young people. College Football 150th Anniversary is a nonprofit corporation formed to plan and administer a national celebration of 150 seasons of collegiate football in 2019. The commemoration will showcase the rich history and traditions of the sport and its contribution to American society and culture, while also promoting the opportunity it continues to provide to thousands of student-athletes across all levels.
"It's fitting that SUNY Cortland, currently in the middle of its own sesquicentennial celebration, recognize a similar benchmark next year for college football," Bitterbaum said.
Although Ithaca and Cortland began playing each other in 1930, the Cortaca Jug rivalry originated in 1959. Friends and respective team captains Tom Decker '61 of Cortland and Dick Carmean of Ithaca picked up a jug at a yard sale to serve as the prize for the winner of the annual game. Each year's result is painted on the Jug — the original one ran out of room for scores in the mid-1980s, and the teams are now on their third Jug.
Open House Put GIS Major on the Map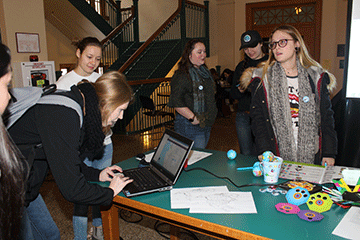 11/20/2018
It's like Google Maps on steroids.
That's the short, easy definition of geographic information systems (GIS) that Melinda Shimizu, SUNY Cortland assistant professor of geography, usually gives to those who inquire about the 16-year-old baccalaureate degree program.
"It's a really powerful computer-aided mapping technology that helps us ask and answer interesting questions that have a 'where' to them," said Shimizu, who co-directs the SUNY Cortland Regional GIS Laboratory, located in Old Main. "Like, 'Where should we put a landfill so it won't pollute our water?' Or 'Where should we build a new highway?'"
Shimizu and laboratory co-director Chris Badurek, also an assistant professor of geography, answered many questions about this major at the GIS Day Celebration on Nov. 14.
A steady stream of students, faculty, staff, and other visitors who wanted to find out more about the major while enjoying games, stickers and a map competition found their way to Old Main Fowler '52 Grand Entrance Hall from 10 a.m. to 1 p.m. that day.
There, at tables in front of Brown Auditorium, the faculty who teach GIS as well as current students enrolled in the program gathered voluntary data from 119 visitors on their hometown communities and handed out about 100 miniature, "globe" stress balls as well as candy and prizes.
"We had encouraged them to come add your hometown as we tried to find out who traveled here the furthest," said Shimizu. "We tried to see how many states and countries we could get on the map, too."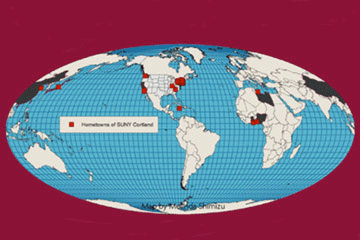 The information, from 70 students and 37 faculty, staff and administrators, was used to produce maps including New York state, the United States and the globe expressing the participants' hometowns. The furthest distance anyone traveled to participate in the GIS experiment was 6,898 miles, from Qingdao, China. The closest, zero miles, of course came from Cortland. In between were nine states and seven countries represented.
According to the Bureau of Labor Statistics, GIS specialists, otherwise known as cartographers and photogrammetrists, at the bachelor's degree level are predicted to have a job growth of 19 percent from 2016 to 2026. The 2017 median pay was $63,990 per year.
"It's one of the growing fields," Shimizu said. "And partly why it's growing so much is because it's not any one field. You can use it in biology, geology, business, health and community services.
"Lots of different fields are wanting people who can do basic spatial analysis," she said. "It's figuring out where things are and why they are where they are."
GIS uses satellite technology to develop maps for all kinds of purposes. The really cool major and its sizzling hot career potential make it one of SUNY Cortland's most satisfying career paths.
"One student said, 'It's like Google Maps plus Excel,'" Shimizu said. "You get the table of information and the map, and they go back and forth."
Shimizu said she tries to recruit new majors from students who have expressed a willingness to try new things as well as ones who are able to think carefully and creatively about a problem they would like to solve.
"Mathematics, computer science and statistics skills, it's what most people expect for the major and that can help," she said. "But I can teach you those things.
According to Badurek, SUNY Cortland graduates in the GIS major have had great success attaining jobs in the industry or in directly related fields.
"For example, recent graduates have been offered jobs in applying GIS to the utilities industry, aerial photography industry or in local government," Badurek said.
Graduates are working across New York state and the northeast at such businesses as EagleView, BAE Systems, NY American Water, Osmose Utilities and O'Brien and Gere engineering, he said. Students also have governmental careers with Suffolk County Department of Information Technology, the Tug Hill Commission, Oswego and Cayuga counties.
"We also train students who aspire to careers as military officers with students joining the U.S. Air Force and U.S. Army," Badurek said.
"We also support Cortland students working in GIS with majors such as conservation biology and geology," Badurek said.
As a stepping stone to a more analytical GIS career, several recent graduates have completed master's degrees related to GIS at Binghamton University.
The field is evolving and SUNY Cortland is as well.
Recently, the SUNY Cortland Institute of Applied Geospatial and Drone Technology was created to share in part of a $10 million Downtown Revitalization Initiative award presented to the City of Cortland. The institute, led by members of the College's Geography Department, serves as a resource for entrepreneurs and startup companies as the City of Cortland strives to become a hub for GIS and drones. Funding will be used to renovate existing space on Main Street for meeting and office spaces as well as the purchase of equipment. An outdoor drone testing facility is also part of the project plan.
"Overall, we have a strong network of GIS alumni working across the Finger Lakes region, ranging from Rochester to Syracuse, and also in the greater New York City metro area ranging from the city to Long Island," Badurek said.
The Geography Department uses its LinkedIn alumni group to maintain contact and encourage new graduates to connect with former graduates already working in the field.
According to one former major, Mary Colomaio '15, who has managed the utilities mapping program at Cornell University, GIS "applies to every field of work and has a bigger role in our life than we know." At Cornell, she has worked to develop a new GIS database which, compared to most such systems in the country, will be more capable and accessible across campus departments.
Anthony McKeon '01 was one of the first SUNY Cortland geography majors to graduate with the then-new geographic information systems (GIS) concentration, which several years later became a major. In 2009, he was the team lead GIS analyst for the National Guard Bureau Joint Coordination Center (NGBJCC) in Arlington, Va. He quickly created maps and data to help America's leaders establish rescue plans for communities facing fire, flood, hurricane, earthquake and volcano eruption. McKeon also was involved in the logistical details of 44th U.S. President Barack Obama's historic march to the capitol for the swearing-in ceremony.
The event was sponsored by the Faculty Development Center and the Geography Department. For more information, use the #whereiscortland hashtag on social media or contact Shimizu at 607-753-2992.
Library's 'Food for Fines' Will Help College Food Pantry
Memorial Library is offering a unique way for students to pay their overdue library fines while helping people in need.
The Food for Fines program runs from Monday, Nov. 26 through Friday, Dec. 14. Students may pay their fines by donating non-perishable, unopened, unexpired food in cans, boxes and plastic jars. Those who do not have fines are welcome to donate food.
Students will receive $1 off their overdue fine balance for each item of food donated. Replacement costs for lost or damaged books are excluded from this program.
Donations will be accepted during business hours at The Help Center in Memorial Library. The food will be donated to the SUNY Cortland Cupboard, located at the Interfaith Center.
For more information or to donate, stop by The Help Center in Memorial Library, call them at 607-753-2500, or email thc@cortland.edu.
2019 Orientation, Advisement and Registration Dates Set
Orientation programs have been planned for 2019. Below are the program dates for January, June/July and August. All first-year orientation programs are two days with advisement and registration occurring on the second day of the program and all Transfer Orientation and Advisement programs are one day.
January 2019
Transfer Orientation and Advisement 1: Monday, Jan. 7
Transfer Orientation and Advisement 2: Thursday, Jan. 24-Friday, Jan. 25
Open Registration: Friday, Jan. 25
June/July 2019
Transfer Session 1: Monday, June 24
Transfer Session 2: Friday, June 28
Transfer Session 3: Monday, July 1
First-Year Session 1: Tuesday, July 2 to Wednesday, July 3
First-Year Session 2: Monday, July 8 to Tuesday, July 9
Transfer Session 4: Wednesday, July 10
First-Year Session 3: Thursday, July 11 to Friday, July 12
First-Year Session 4: Monday, July 15 to Tuesday, July 16
Transfer Session 5: Wednesday, July 17
First-Year Session 5: Thursday, July 18 to Friday, July 19
August 2019
Orientation: Thursday, Aug. 22 to Friday, Aug. 23
Open Registration: Friday, Aug. 23
This program is for students who cannot attend a June/July Orientation.
Various offices and departments work together to make these events a success and to aid our new students in their transition to SUNY Cortland. The campus community is invited to participate in these programs.
For additional program information, refer to the orientation website at cortland.edu/orientation. Any questions regarding the Orientation program should be directed to Marinda Souva in Advisement and Transition.

Suggest a feature story
---
Faculty/Staff Activities
Mark Dodds
Mark Dodds, Sport Management Department, had his paper titled "Is the Court of Arbitration of Sport Getting Serious About Corruption" presented for him at the National Conference of Sport Sciences Research in Tehran, Iran.
Regina B. Grantham
Regina B. Grantham, Communication Disorders and Sciences Department, was appointed secretary of the board of the New York State Speech-Language-Hearing Association (NYSSLHA). NYSSLHA advocates for the professions of speech-language pathology and audiology in New York and those who are served by these professions.
James Hokanson, Peter McGinnis and Steve Patrick
James Hokanson, Peter McGinnis, Kinesiology Department, and Steve Patrick, Athletics Department, recently had their research article published in the journal Sports. The article, co-authored by Casey Austin '14, M.S. '18, investigated the relationship between a new wearable running power meter, the Stryd Footpod, and running efficiency.
Kathleen A. Lawrence
Kathleen A. Lawrence, Communication and Media Studies Department, recently had her poem, "Little Thinking," published in New Verse News. The piece was written as a political satire in response to recent news out of Washington.
Kate McCormick
Kate McCormick, Childhood/Early Childhood Education Department, had an article published in the Journal of Early Childhood Research. "Mosaic of care: Preschool children's caring expressions and enactments" was published on Nov. 1 as an advance online publication.
Danica Savonick
Danica Savonick, English Department, had her article, "Teaching with an Index Card: The Benefits of Free, Open Source Tools," published in October in The Chronicle of Higher Education special issue on "Innovation."
Robert Spitzer
Robert Spitzer, Political Science Department, is the author of an article titled "The Gun-Safety Issue is Actually Helping Democrats," published by the New York Times on Nov. 12.
Tadayuki Suzuki
Tadayuki Suzuki, Literacy Department, presented "A Visit with Princess Boy, Jazz, Kyle, Morris and Jacob: Analyzing Recent Picture Books with Transgender and Gender Nonconforming Character" at the National Council of Teachers of English, held Nov. 16 in Houston, Texas.

Submit your faculty/staff activity