Celebrate Non-Traditional Students This Week
11/05/2018
SUNY Cortland has some 300 non-traditional students enrolled, and each has a unique story to tell.
Baghdad native Wasan Bahr Al Uloom honed her English language skills on the battlefields of the Iraq war before she emigrated to the U.S. 10 years ago.
Duty called Darcel Faulkner Carver, who took a leave of absence from SUNY Cortland after Fall 2001 to serve in the Marine Corps and returns to finish her degree.
Encouraging his 12-year-old daughter to do her best in school ultimately motivated Shannon Morgan to pick up the thread of his own college education.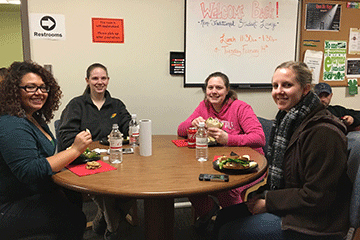 Liz Foster has filled her time in the decade since high school with a variety of jobs, more recently as an administrative assistant.
Brandi Kelly, 35, has embraced her identity as a non-traditional student as a means of coping with the complexities of her pursuit, relatively late in life, of a bachelor's degree.
The College defines its non-traditional undergraduate students as those who are at least 24 years old or have had an interruption or delay in their education since high school. They also might have dependent children, regardless of their ages.
The College celebrates them all Nov. 5 to 9 with Non-Traditional Students Week. In addition to an array of activities offered through Advisement and Transition, one inspiring non-traditional student will be introduced daily to the SUNY Cortland community.
Read their stories posted to the College's news site during Non-Traditional Students Week.
Monday: Wasan Bahr Al Uloom
Tuesday: Darcel Faulkner Carver
Wednesday: Shannon Morgan
Thursday: Liz Foster
Friday: Brandi Kelly
The week also will feature a host of events and activities to take place in the Non-Traditional Students' Lounge, in Cornish Hall, Room 1221. They include:
Monday, Nov. 5: Coffee Break, 9 to 11 a.m. plus "Non-Trads Rock!" t-shirt Day
Tuesday, Nov. 6: Taco Tuesday Lunch, 11 a.m. to 1 p.m.
Wednesday, Nov. 7: Wednesday Wrap Lunch, 12 to 2 p.m.
Thursday, Nov. 8: Dessert Reception, "STRESSED spelled backwards = DESSERTS," 1 to 2:30 p.m.
Friday, Nov. 9: Weekend Warm-Up w/hot chocolate, 9 to 11 a.m.
Also in celebration of SUNY Cortland's non-traditional students, nominations are being accepted through Friday, Nov. 12, for the "Celebrate-a-Non-Trad" campaign. Nomination forms will be e-mailed to the campus community and are available electronically.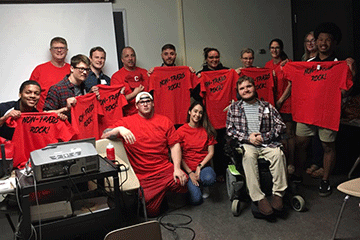 The campaign aims to recognize non-traditional students who often balance college with other commitments such as family, jobs and long commutes. SUNY Cortland will present nominated non-traditional students with a certificate and campus recognition.
Nominations should include the student's name, contact information, relationship to the student and comments about the non-traditional student. Comments will be listed on the certificate, unless otherwise noted.
For more information about Non-Traditional Students Week events or to recognize an outstanding non-traditional student, contact Non-Traditional Student Support Coordinator Cheryl Hines at 607-753-4726.
Cortaca Jug Week Runs Through Sunday
11/02/2018
The 60th edition of the Cortaca Jug rivalry football game between SUNY Cortland and Ithaca College will be held on Saturday, Nov. 10.
But the excitement isn't limited to just that one day. A week of fun-filled events with opportunities for giveaways and prizes kicks off on Monday, Nov. 5.
"The Cortaca Jug is much more than an annual football game," said SUNY Cortland President Erik J. Bitterbaum. "It's a legendary athletic tradition that's unique in Division III sports. Over the last 60 years it has become part of the college's identity; a bond that helps unite a diverse campus community and tens of thousands of proud alumni throughout the world."
Sports Illustrated has referred to the annual Cortland-Ithaca matchup on the gridiron as "the Biggest Little Game in the Nation," as the Cortaca Jug routinely draws upward of 10,000 fans to the SUNY Cortland campus every other year. Thousands of alumni attend dozens of viewing parties across the country and thousands more watch the game at home.
Live video and statistics from the game will be broadcast on CortlandRedDragons.com and a radio steam will be available locally on 91.7 WICB FM or through Ithaca College's iHeartRadio station.
The game will also be broadcast on Spectrum Cable Channel 1300 in the Syracuse, N.Y. market. Areas that will receive the game on Channel 1300 include Cortland, Ithaca and Syracuse as well as Auburn, Boonville, Candor, Carthage/Adams, Champlain, Fulton, Hamilton, Ilion, Malone, Massena, North Shore, Ogdensburg, Old Forge, Oswego, Rome/Oneida, Saranac Lake, Watertown and Utica.

It will also be shown on the SUNY Cortland campus on Channel 20 (CSTV).
In Cortland, students have a number of ways to show off their school spirit safely and responsibly during Cortaca Week:
Monday, Nov. 5
CORTACART, 1 to 5 p.m., Student Life Center Multi-Activity Court
Students will be able to experience the effects of high-risk drinking and drug use while navigating an obstacle course. Participants will be eligible for prizes and giveaways.
Tuesday, Nov. 6
Open Mic Night, 7 p.m., Corey Union Exhibition Lounge
Singers, poets and more are encouraged to put their talents on display. Free food and dessert will be provided.
Wednesday, Nov. 7
Wellness Wednesday, noon to 3 p.m., Student Life Center lobby
Learn more about how to party smart with health promotion interns and staff from the office of Substance Abuse Prevention and Education. There will be free refreshments and giveaways.
Thursday, Nov. 8
Psychic Readings, 6 p.m. to 10 p.m., Corey Union Rooms 201 and 203
Find out what the future holds for you at a psychic reading in Corey Union.
Friday, Nov. 9
Cortaca Trivia, 7 p.m., Sperry Center, Room 105
Show off your knowledge at trivia night.
Green Dot rock climb, 7:30 to 9 p.m., Student Life Center

Learn about Green Dot while getting some exercise on the rock wall. The event is open to all students, faculty and staff. Climbing shoes will be provided for free.
Cortaca Mug, 9 p.m. to 2 a.m., Interfaith Center, 7 Calvert St.
Enjoy an evening of fun activities, including live music, free food and great prizes.
Saturday, Nov. 10
Cortaca Jug Game, noon, SUNY Cortland Stadium Complex
The first 500 SUNY Cortland students to enter will receive a coupon good for one free hot dog, bag of chips and a beverage.
Cortaca Night of Events, 7 p.m., Corey Union
Grocery bingo starts at 7 p.m. in the Function Room, followed by a pizza and wings party at 8:30 p.m. in the Exhibition Longue and a stuff-a-bear event in the Function Room at 9 p.m. The events are presented by the Student Activities Board.
Sunday, Nov. 11
Cortaca Clean Up, noon to 2 p.m., Brix Pubaria, 60 Main St.
Meet at noon outside of Brix in downtown Cortland and spend a few hours helping to beautify the local community.
---
Capture the Moment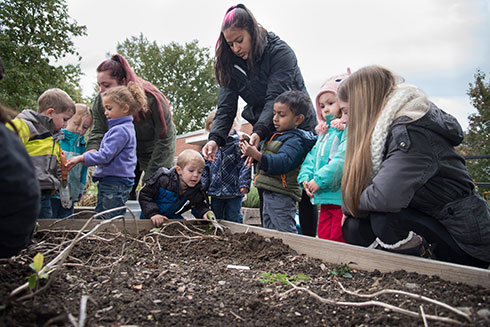 Hands-on lessons took place at the SUNY Cortland Model Garden on Oct. 23 when childhood/early childhood education preservice teachers worked with 3- and 4-year-olds from the SUNY Cortland Child Care Center. Following a literacy activity that explained how potatoes and garlic are grown, everyone got their hands dirty as they dug blue potatoes that were planted last spring. That was followed by planting garlic that will be ready for harvest in July. The Model Garden was created in 2013 for the purpose of educating the campus and broader community on sustainable gardening practices. Now located outside of Memorial Library, produce from the garden is used by Auxiliary Services Corporation (ASC), donated to area food pantries, and eaten by garden volunteers.
---
In Other News
"Dangerous Liaisons" Tells Timeless Tale of Sex, Love and Power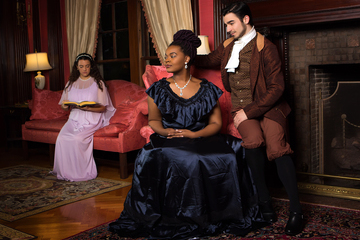 11/06/2018
SUNY Cortland senior John Cavaseno could barely contain his emotions when the Performing Arts Department announced "Dangerous Liaisons" was part of its 2018-19 schedule.
Cavaseno, from Syosset, N.Y., saw a revival of the play on Broadway a few years ago and was taken away by the writing, the performances and the characters. He'll play Le Vicomte de Valmont in SUNY Cortland's production, which opens Wednesday, Nov. 14 in the Dowd Fine Arts Center Lab Theatre.
"It's everything you could want in a show," he said. "There's love, there's romance, comedic things and levelled characters. It's such an engaging story and that's why it's been done so many times. The book, the movies, 'Cruel Intentions,' the play, sequels, musicals and a ballet.
"It can be told in so many different ways to so many different audiences. It's everything you could want in a story."
That story was first told in the 1782 novel, Les Liaisons Dangereuses, written by Pierre Choderlos de Laclos. This version was adapted for the stage by the British playwright Christopher Hampton in 1985. The work has been translated into various languages and performed around the world for centuries, including the 1988 Academy Award-nominated film "Dangerous Liaisons" and a 1999 film adaptation, "Cruel Intentions."
While the play is set in Paris in the 1780s, costumes and set design anchor the atmosphere in pre-revolution France, the dialogue and the themes raised are decidedly contemporary.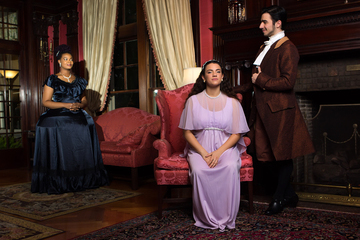 The two lead characters are members of the French aristocracy, Valmont and La Marquise de Merteuil, played by junior Olamide Asanpaola of Hempstad, N.Y. Ex-lovers turned rivals, the duo use sex and deception to humiliate and gain revenge between themselves and against others.
"Dangerous Liaisons" is intended for mature audiences. Asanpaola believes the play tackles salacious subject matter in a thoughtful and appealing fashion.
"I don't think it's the most R-rated play I've ever done," she said. "I did the musical 'Hair' a few years ago and that was pushing the limits. This one pushes the limits in a tasteful way. It's based in a time when you can't really be out there, especially when it comes to sexuality and what you're doing behind closed doors. You still have to have that façade that you're the Madame or the Vicomte."
Cait Zuckerman, a senior from New York, N.Y., plays La Presidente de Tourvel, a young, married woman who is being seduced by Valmont while her husband is away.
The role is a major change-of-pace from Zuckerman's previous part in the October performance of "Annie Get Your Gun."
"This is why I love theatre," Zuckerman said. "A week ago I was a cowgirl throwing my hat up in the air, kicking my leg up as high as I could and now I'm playing this very layered, complex character who doesn't break out in song when she feels sad. She actually has to feel her feelings. It's a huge transition but it's great."
Deena Conley, associate professor in the Performing Arts Department, will direct the show. Like Cavaseno, she saw the recent Broadway revival and has dreamed about directing "Dangerous Liaisons" for years.
"I think it's interesting to see how power, sex and love all get combined for good and for ill," she said. "That's why we're doing it. It's just an interesting story and it's eternal because all of those things have been around since the 1780s and before that and still today."
"Dangerous Liaisons" will be performed Wednesday, Nov. 14 through Sunday, Nov. 18. The show begins at 7:30 p.m. Nov. 14, 15, 16 and 17. The performance on Sunday, Nov. 18 starts at 2 p.m.
Tickets are $19 for adults, $16 for senior citizens and SUNY Cortland faculty and staff, $14 for SUNY Cortland alumni and $10 for current students. Online purchase is available at Cortland.edu/boxoffice.
Seating in the Lab Theatre is first-come, first-served and the audience is advised to arrive early. There will be no late seating.
Midterm Election Watch Party Set for Nov. 6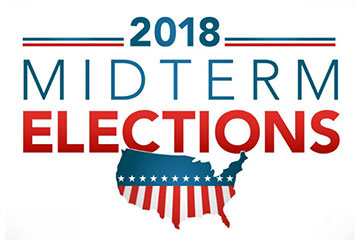 11/05/2018
A midterm election watch party will be held from 7 to 11 p.m. on Tuesday, Nov. 6, in Old Main Colloquium. Students, faculty, staff and community members are welcome to participate and discuss the results of the elections as they occur.
Pizza and soft drinks will be served at the event, which is sponsored by the Political Science Association, the College Republicans, the Young Democrats and the Institute for Civic Engagement.
For more information, contact Connor Vick, president of the Political Science Association.
Iraq War Translator Aspires to Teach Immigrant Children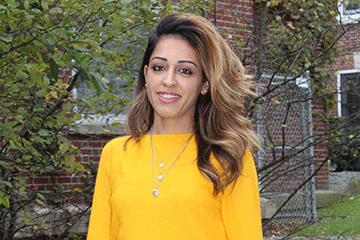 11/05/2018
English is a second language for SUNY Cortland junior and Baghdad native Wasan Bahr Al Uloom, one she honed on the battlefields of the Iraq war before she emigrated to the United States.
"Living your whole life in Iraq means living your whole life in war," explained Bahr Al Uloom, a naturalized citizen and resident of Syracuse, N.Y., whose major is teaching English as a second language.
For two and a half years, she traveled with U.S. troops as an interpreter, facing explosions, sniper fire and threats of violent death threats by members of her own family who considered her a traitor. It's an occupation that many native Iraqis didn't survive.
But the risks weren't as big as her goal: a better life in the United States.
Bahr Al Uloom, now 31, is still pursuing that dream, working to become a teacher who can help child immigrants from conflict-torn nations like Iraq and Syria learn English.
"I still struggle with English words that I don't know how to pronounce or must pronounce slowly," said Bahr Al Uloom. However, after a childhood of old British-style English language schooling and a decade of practice in upstate New York, she has an excellent command of her new language.
"Every summertime, or during school back in Iraq, my mom would always enforce English by bringing me novels to read," she said.
While she was growing up in Baghdad, her college-educated mother would wake her up early and threaten to back up her command with the slap of her flip-flop.
"She said, 'If they assign you one book in school, you have to read at least two books in English,'" Bahr Al Uloom said. "She would multiply the books. She kept me busy, all the way to high school."
Bahr Al Uloom was born during the final years of Iraq's devastating war with Iran and her formative years spanned two wars against the Iraqi government of deposed dictator Saddam Hussein, as well as several civil conflicts. Her mother stressed to her that Iraq was not a safe place and that she needed to master an alternative language to give her other options.
A dozen years ago, after she had finished high school, the Iraq War and the country's political instability dashed her dream of college at the once-fine University of Baghdad.
"We had some terrorists walk into the university and they were threatening the college girls to put a scarf on their hair and cover up," Bahr Al Uloom said. "I refused to do that, so I dropped out."
Bahr Al Uloom realized life in Iraq wasn't going to be like it was before the war began. With the help of friends, she secretively slipped into Baghdad's Green Zone to take a test and have an interview that landed her a job as a U.S. Army interpreter embedded with the troops.
"They had to have an interpreter no matter where they were going," Bahr Al Uloom said. "Sometimes we went to really dangerous areas and it was really scary. We used to get hit with grenades or by a sniper. I got lucky because I survived. Some of my friends didn't survive."
She sometimes wonders if the stress and the constant explosions happening near her have affected her memory. Spending long hours accompanying U.S. soldiers was nerve-wracking. Not all of them trusted her. Meanwhile, two of her uncles publicly condemned Bahr Al Uloom for her work.
"They were going around telling people, 'She's a traitor, she should be killed.' It was scary having my own family trying to kill me. That did not stop me."
After two-and-a-half nail-biting years, in 2008 Bahr Al Uloom obtained a special visa through the U.S. Army to come to America, joining a U.S. sponsor in Minnesota before settling in Syracuse. She was 22 and came alone. The family members who had spoken against her, however, also posed a threat to her mother. She fled to Syria and eventually joined her daughter in Syracuse. Bahr Al Uloom's brother remains in Iraq.
While obtaining her associate's degree in electronic media communication from Onondaga Community College, she worked jobs as a medical interpreter, factory worker and retail sales associate. In four years, she had her degree.
"My goal was to become a journalist and talk about the problems in the world," Bahr Al Uloom said. "But it didn't happen.
"I got hired as a health home case manager after that and I gave myself a whole year's break to focus on my job."
Her mother gave her another push.
"I guess she saw something in me," Bahr Al Uloom said. "She told me, 'Just having your associate's degree is not going to get you anything. Going to school and learning, for a woman it's a powerful thing. You need to be educated and nourish your mind with knowledge.'"
She enrolled at SUNY Cortland in Fall 2017 and is working steadily toward her goal of teaching the children of recent immigrants from Iraq and Syria living in Syracuse or another large city.
Bahr Al Uloom drives to campus twice a week and works several part-time jobs. Her mother works as a math tutor, teaching assistant and interpreter and has designed her own tutorial website.
"My mom and I, we're workaholics," Bahr Al Uloom said.
She said she's learned the most about her new field from Shena Salvato, a lecturer in the Modern Languages Department.
"She's just an amazing human being," Bahr Al Uloom said. "As a human being, we can detect who actually has a passion and who is just doing it for the job and getting paid. You can see she cares about her students and about their wellbeing. That's what I love about her."
The College defines its non-traditional undergraduate students as those who are at least 24 years old or have had an interruption or delay in their education since high school. They also might have dependent children, regardless of their ages.
The College celebrates them all Nov. 5 to 9 with Non-Traditional Students Week. In addition to an array of activities offered through Advisement and Transition, one inspiring non-traditional student will be introduced daily to the SUNY Cortland community.
Read their stories posted to the College's news site during Non-Traditional Students Week.
For more information about Non-Traditional Students Week events or to recognize an outstanding non-traditional student, contact Non-Traditional Student Support Coordinator Cheryl Hines at 607-753-4726.
Changes Announced for Undergraduate Commencement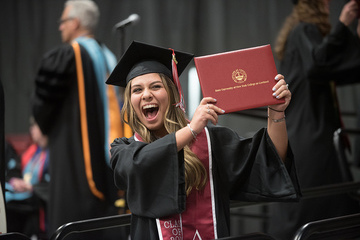 10/31/2018
In an effort to address issues raised by faculty and graduating students, SUNY Cortland recently announced a new format for its three undergraduate Commencement ceremonies that will assign students based upon their academic department. This will eliminate the stressful annual scramble to secure specific time slots.
Starting with the May 2019 undergraduate commencement ceremonies, seniors will no longer compete for a first-come, first-served ceremony time through the online ticketing system. This enables guests to plan for their graduate's ceremony well in advance.
All graduating students will be guaranteed up to four guest e-tickets and one student line-up e-ticket. There is no charge for tickets; however, there remains the usual fee of $11.50 for the diploma cover. Tickets will be available online beginning March 5, 2019 at 9 a.m. through May 10, 2019. Detailed instructions will be emailed to the student's Cortland account in late February.
"This change should eliminate some stress from what should be one of the most exciting events of our lives," said Sophie Umansky, president of SUNY Cortland's Student Government Association.
For faculty who wish to be present for their students' graduation, the change means all of the students in their department will be graduating in the same ceremony. The assignment of departments to a particular ceremony will rotate each year. Ceremony assignments for departments also may vary depending on fluctuations in departmental enrollment. Departments will be assigned to a specific ceremony by Oct. 15 of each academic year.
Undergraduate Commencement ceremonies will be held on Saturday, May 18, 2019 at 9:30 a.m., 2:30 p.m. and 7 p.m. in Park Center Alumni Arena. This year, two open receptions honoring new graduates will be held in Lusk Field House from 11:30 a.m. to 1 p.m. and from 4 to 5:30 p.m. Students and guests may attend either of these receptions.
Students planning to participate in the event should visit SUNY Cortland's Commencement web page to learn which ceremony their academic department has been assigned. The web page also provides important information about eligibility, logistics and other frequently asked questions. Students are encouraged to meet with their advisor to confirm their eligibility to graduate.
The changes were recommended based on input from graduating students from the class of 2018, feedback from SUNY Cortland faculty and staff, as well as extensive research and comparisons of other SUNY schools. They were approved by President Erik J. Bitterbaum and his cabinet.
Johanna Ames Honored for Community Service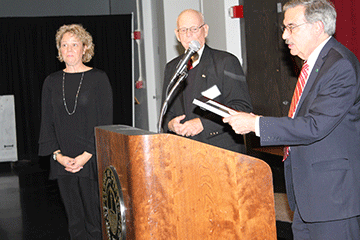 11/09/2018
At the moment when local entrepreneur Johanna Ames was accepting one of SUNY Cortland's highest honors, she turned the tables and took the opportunity to announce a new scholarship and credit the people who enabled her success: her parents.
Ames, the president of the nearly century-old Cortland business, Ames Linen Service, has mirrored the proud, Cortland community service of her family.
SUNY Cortland's College Council in 1993 honored her father, Donald "Bud" Ames, and her grandfather, Donald F. Ames, for their Cortland College Foundation service with the College Community Appreciation Award.
On Nov. 8, she herself accepted that honor as SUNY Cortland's 2018 College-Community Appreciation Award recipient during an invitation-only dinner event in the College's Corey Union Function Room.
SUNY Cortland alumnus and fellow local business leader Stephen Franco '05 offered remarks with SUNY Cortland President Erik J. Bitterbaum during the evening's celebration. Thomas Gallagher, chair of SUNY Cortland's College Council, gave a welcome and co-presented the award with Bitterbaum.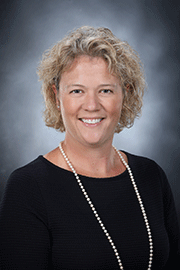 But during the award ceremony, she made the surprise announcement of a new SUNY Cortland academic scholarship that will be awarded to a Cortland County high school graduate as first priority.
The Donald S. Ames and Diane Ames Scholarship was established by Ames and her sister, Tanya Ames, in honor of their parents, who were present that evening. Tanya Ames was not able to attend.
The scholarship was set up as a gift to the College through the Cortland College Foundation, which will manage the scholarship fund.
The approximately $1,000 award will be given to offset the year's college expenses of a full-time, matriculated sophomore, junior or senior in any discipline who has satisfactory academic achievement and, preferably, financial need.
The first scholarship will be awarded next spring for the 2019-20 academic year.
As the endowment grows in the future, the size of scholarship stipend for the student will increase. Whenever a Cortland County recipient can't be found, the scholarship would be given to another New York state high school graduate.
Ames, who currently serves as vice chair of the Cortland College Foundation board of directors and co-chair of the College's upcoming capital campaign, "All In," has spent her adult life serving the Cortland community's interests as a leader striving to improve the region's economic, educational, health and welfare outcomes.
As part of that work, Ames also has been one of SUNY Cortland's strongest supporters.
Ames, who represents the fourth generation of her family to run the enterprise that was founded by her great-grandfather, joined the foundation board in 2010 and previously served on the finance committee. The non-profit organization is charged with overseeing the more than $47 million endowment and all fundraising efforts on behalf of the College. Last year, the foundation provided more than $1.4 million in financial support to students and programs at SUNY Cortland.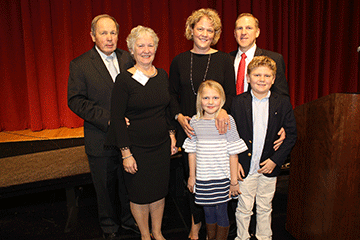 Ames purchased the family business from her father in 2007. Under her leadership, the company became an accredited healthcare laundry, has doubled in size, and continues to grow its service area through partnerships in the healthcare, food and beverage and hospitality markets. Today, Ames Linen Service employs 85 people and serves approximately 1,000 customers in Central New York. An anchor of Cortland's business community, Ames Linen Service was named business of the year in 2009 by the Cortland County Chamber of Commerce.
The Cortland County Legislature appointed Ames as a member of the Cortland County Business Development Corporation's and Industrial Development Agency's board of directors. She works to retain, create, and attract jobs to the community.
Ames also chairs the Cortland Regional Medical Center's board of trustees, overseeing and advising the area's primary medical service provider and one of Cortland's largest employers. CRMC's work extends well into the community, providing programs ranging from health education to support groups. Most recently, she led the hospital's Collaboration Task Force through a two-year affiliation process for the institution.
She also has served on the board of directors for Family Health Network, a not-for-profit health clinic that provides services to under-served populations in Cortland and surrounding communities. In addition, Ames was a board member for United Way for Cortland County.
On the national scene, Ames is the inaugural chair of the Textile Rental Services Association's Women in Textile Services Committee, a group working to recruit and retain women in the laundry services industry.
Ames received a bachelor's degree from Colgate University and is currently chair of Colgate's alumni admissions program for Central New York. She has a master's degree from the University of North Carolina at Chapel Hill. Her husband, Matt Coats, an associate director of athletics at Cornell University, graduated from SUNY Cortland in 1997. They live in Cortland with their children, Mason and Anneke.
The College-Community Appreciation Award is sponsored by the College Council. It was created in 1985 as a means of thanking persons who have assisted SUNY Cortland in a significant manner. Ames is the 38th citizen to receive the honor.
View a complete list of past winners.
Reading Reprises 1961 Speech on Empowering Women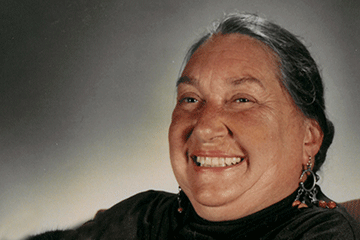 10/23/2018
In 1961, the late Professor of Sociology and Anthropology Rozanne M. Brooks delivered the address "Women's Place is in the Wrong" to SUNY Cortland's most outstanding students. Now, more than half a century later, Brooks' message about the struggle for equal treatment facing women in academia and other pursuits still resonates among women of all ages.
Brooks, a sociologist and SUNY Distinguished Professor whose campus legacy includes The Brooks Museum and the Brooks Lecture Series, seems to have predicted the current rejuvenated women's empowerment movement when she read her speech at the sixth annual Honors Convocation 57 years ago.
On Tuesday, Nov. 13, the campus community can hear the prophetic words of this noted Cortland scholar when local actress Barbara Jo Williams reads Brooks' speech live in Old Main Brown Auditorium. Williams, a friend and admirer of Brooks, will revisit this historic address as the College continues its year-long series of Sesquicentennial Celebration events.
The reading takes place at 7 p.m. Karla Alwes, a SUNY Distinguished Teaching Professor of English at SUNY Cortland, will introduce the reading and discuss Brooks' importance to the College. The event is free and open to the public.
The speech was rediscovered recently by a former student and close friend of Brooks, Howard Lindh '73, M '94, adjunct lecturer emeritus of performing arts at SUNY Cortland. Lindh came to Cortland in 1969 to become an art major and English minor, long after Brooks delivered this lecture. He retired from SUNY Cortland in 2016 after being a Performing Arts Department lecturer and production scenic designer. Lindh now teaches English part-time for the College.
"I inherited a number of her papers and resources and I came across a printed copy of her speech as I was looking for items of the history of the College and was getting together material for the sesquicentennial," Lindh said. "I read it and thought, 'For 1961, for a woman scholar and for Cortland College, Rozanne was on the cutting edge addressing the larger academic world.'
"What struck me was that her comments in 1961 had direct bearing on 2018," Lindh said. "Much has changed and much hasn't. A woman in the academic world at that time was an important thing, and she was very articulate. And she never shied away from being outspoken about things that concerned her students and the Collage."
In her speech, Brooks made the point that, although American culture and language of the early 1960s consigned women to the home, American females in ever larger numbers were actually moving into the workplace. She quoted the general semanticist Alfred Korzybski's theory that "human beings bog down in their attempts to cope with life's problems because linguistic categories fail to accurately describe the reality they are meant to represent." She endorsed writer and humorist James Thurber's updating of the cliché, "A woman's place is in the home," to "a woman's place is in the wrong," because women so labeled would enjoy a vastly expanded horizon of possibilities.
Lindh recommended a re-reading of the lecture during the SUNY Cortland Sesquicentennial and suggested that Williams, a former student at SUNY Cortland, publicly present the address. Williams, who will co-direct the Homer Center for The Arts' production of "The Lion In Winter" Nov. 1 and 2, has occasionally acted in the cast of SUNY Cortland Performing Arts Department productions.
"I'm not going to play Rozanne," Williams said. "She was 37 at the time and I am not. I'm just going to present it in a way that she would approve. That will be easy to do, especially with such a good script."
"She knew Rozanne's way of speaking and way of timing a joke," Lindh said of Williams. "There were moments I could hear Rozanne speaking in my head, she was so very effective in her tone."
Williams sees many parallels between Brooks' observations and the current political and intellectual climate.
"Rozanne was always a force to be reckoned with," said Williams, who met Brooks through Lindh. "She had an outsized personality. She was very dynamic and always provided a learning experience.
"She was always very open and welcoming to young people," Williams continued. "Her home was always delightful and interesting and the people she gathered around her were the same."
Brooks, among SUNY Cortland's most influential women faculty members, chaired the Sociology and Anthropology Department for many years. She initiated and supported many aesthetic and academic projects on campus, including the dragon statue in Memorial Library, the Brooks Bowl for scholarship and the silver medallion the College president wears at Commencement. The medallion was designed by the late SUNY Cortland Professor of Art and Art History Gerald DiGiusto and crafted by Linda Stewart, depicting the seven valleys of Cortland County.
A SUNY Cortland faculty member for 36 years, Brooks died in 1997.
In her estate, Brooks endowed the College's Brooks Museum and filled it with her extensive collection of textiles and cultural artifacts representing her lifetime of world travels. Another gift to the College supported the Rozanne Brooks Lecture Series of themed, year-round multidisciplinary guest presentations. Her legacy with the College also includes the Brooks Dedicated Teaching Award, which since 1998 has honored annually a faculty member who devotes a significant amount of time both to teaching and to working with students outside of class. The award includes a $5,000 honorarium to enhance the recipient's teaching initiatives.
Death Penalty Scholar to Speak Nov. 7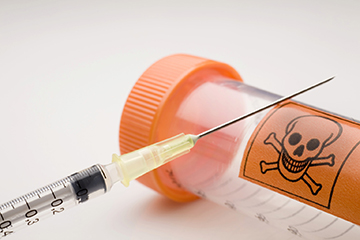 11/06/2018
Herbert Haines, a SUNY Cortland sociologist and noted authority on the death penalty, will give a talk on the potential for the 70-year long, world-wide trend away from executing criminals to take a sudden U-turn, Wednesday, Nov. 7, at the College.
Haines, a professor in the Sociology/Anthropology Department who earned the 2018 SUNY Chancellor's Award for Faculty Service, will present "Capital Punishment and the Rise of Right-Wing Nationalism."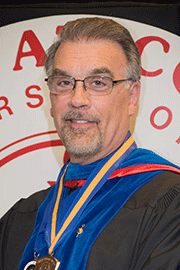 The lecture will begin at 4:30 p.m. in Moffett Center, Room 2125. A reception to welcome him will precede the lecture across the hall at 4 p.m. in the Rozanne M. Brooks Museum, Moffett Center, Room 2126.
The talk continues the College's 2018-19 Rozanne M. Brooks Lecture Series on the theme of "The Culture of Death," which explores the anxieties felt in some cultures, contextualizing them in the 21st century Western experience. The series events are free and open to the public.
A member of the SUNY Cortland campus since 1985, Haines' areas of specialization are crime policy, criminology, interpersonal and collective violence, social movements and social problems.
Haines asserts that, since the middle of the 20th century, capital punishment has experienced a broad decline throughout most of the world.
This has left the U.S. isolated among Western democratic states in its continued use of the death penalty and has exposed it to pressure and ostracism.
"But the recent rise of right-wing ethno-nationalist parties, particularly in Western Europe, threatens to reduce that pressure and even to reverse the 70-year global trend away from judicial executions," Haines said.
He has made many presentations at regional and national conferences, as well as in classes at area colleges and universities and before community groups.
He is a proposal reviewer on death penalty and medical marijuana related research for the National Endowment for the Humanities and the National Science Foundation.
Haines has a doctorate in sociology from University of Kansas, Lawrence. In the community, he has served on the board of Catholic Charities and was a member of the Cortland County Family Dependency Treatment Court Team.
When the series continues in Spring 2019, humanity's different ideas about death and America's discomfort with mortality continue to come into play. Talk topics will include interpreting college students' deathly fear of the wilderness, intentional self-injury as a mode of suicidal expression, and the role of zombies and gothic ideas in modern Latin American filmmaking.
Sharon Todd, a SUNY Cortland professor of recreation, parks, and leisure studies, plans to explore how current generations, who seem to be spending less and less of their childhood outside, perceive wilderness environments, during a lecture on Feb. 27. Titled "Scared to Death? Changes in College Students' Fear and Anxiety in Wilderness Environments Over Time," Todd's talk will explore changes over roughly the last 20 years in college students' fears of the outdoors.
Janis Whitlock, associate director of Cornell University's Bronfenbreanner Center for Translational Research, will address how current youth use self-injury to speak and how it serves as a cultural emblem of the age, on March 13. Her discussion is titled "My Blood in Between Heaven and Earth: Self-injury and the Embodied Language of Pain, Power and Vulnerability."
OnApril 3, a Spanish language and culture specialist from University at Albany will give a talk on "Newfangled Vampires and Zombies in Latin American Literature and Film." Carmen Serrano, an assistant professor of Spanish, has studied how vampire and zombie figures have inspired Latin American films since the 1950s.
The "Culture of Death" series talks all take place on Wednesdays and begin at 4:30 p.m. in Moffett Center, Room 2125. Before each lecture, a reception to welcome the speaker will start at 4 p.m. in the Rozanne M. Brooks Museum, Moffett Center, Room 2126. The Brooks lectures and receptions are free and open to the public.
Although inevitable and therefore of interest to all humans, cultures view the end of life differently, many as the doorway to another, sometimes better, existence. In the West however, death is viewed more often as something to be feared and avoided as long as possible.
The 2018-19 Brooks Lecture Series is sponsored by a grant from Auxiliary Services Corporation (ASC) and the Cortland College Foundation. For more information, contact Brooks Museum director Sharon Steadman, a SUNY Cortland professor of sociology/anthropology, at 607-753-2308.
Sense of Duty Leads Carver to Marines, Back to SUNY Cortland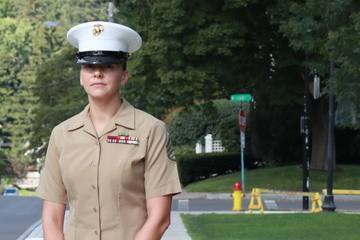 11/06/2018
Darcel Faulkner Carver enrolled at SUNY Cortland in the fall of 2001 with dreams of becoming a high school science teacher or principal. However, a sense of duty caused her to join the Marine Corps before she could graduate.
Staff Sergeant Carver served active duty in Iraq as an ammunition technician specialist and most recently with the Wounded Warrior Battalion at Camp Lejeune, N.C.
Carver, a mother of four, including triplets, returned to campus this fall to complete her degree in adolescence education: biology. She also serves as the Upstate New York representative for the Marine For Life Network, assisting other Marines in their transition to civilian life.
Through visiting employers, colleges and other community pillars in the area, Carver strives to help Marines find their footing when they return home. Face-to-face visits with veterans allow Carver to share her personal story of juggling a family, a career in the Marines and her continuing education and offers inspiration to others who may be struggling to find their own path.
After graduation Carver intends to pursue a career in teaching or school administration. She is also interested in the application of neurobiology, particularly for members of the armed forces who return home with post-traumatic stress disorder.
Carver will serve as the keynote speaker at SUNY Cortland annual Veteran's Day ceremony on Monday, Nov. 12.
The College defines its non-traditional undergraduate students as those who are at least 24 years old or have had an interruption or delay in their education since high school. They also might have dependent children, regardless of their ages.
SUNY Cortland celebrates them all Nov. 5 to 9 with Non-Traditional Students Week. In addition to an array of activities offered through Advisement and Transition, one inspiring non-traditional student will be introduced daily to the SUNY Cortland community.
Read their stories posted to the College's news site during Non-Traditional Students Week.
For more information about Non-Traditional Students Week events or to recognize an outstanding non-traditional student, contact Non-Traditional Student Support Coordinator Cheryl Hines at 607-753-4726.
Lose the Blues Campaign Starts Nov. 6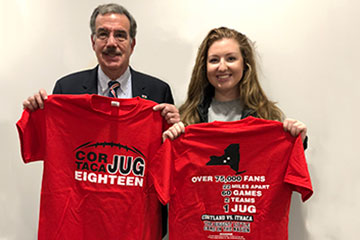 11/05/2018
The annual Cortaca Jug game is nearly here, which means it is time to Lose the Blues.
There is an easy way to get some SUNY Cortland red-and-white gear and get into the Cortaca spirit.
SUNY Cortland students can receive a 2018 Cortaca T-shirt by trading in an article of blue clothing. Students at Ithaca College participate in a similar Shed the Red campaign and all of the donated clothing from both schools is given to the Thrifty Shopper Rescue Mission.
To pick up a Cortaca T-shirt, bring an article of clothing for donation at one of the following locations:
Tuesday, Nov. 6 from 4 to 6 p.m. at the Lynne Parks '68 SUNY Cortland Alumni House (20 Tompkins St.)
Wednesday, Nov. 7 from noon to 2 p.m. in the main lobby of Brockway Hall
Thursday, Nov. 8 from 5 to 7 p.m. in the Student Life Center lobby
Shirts are limited to one per student and are given out on a first-come, first-served basis. Students are encouraged to donate a blue item of clothing but volunteers will accept donations of any color.
The winning T-shirt design comes from freshman communication and media studies major Hallie Weinman from Belmont, N.Y. Weinman, above right, posed with President Erik J. Bitterbaum and this year's shirt.
Lose the Blues is sponsored by the SUNY Cortland Alumni Association, the Student Government Association, the Cortland College Foundation, Inc., the Student Activities Board, the William L. Haines '63 President's Discretionary Fund and the SUNY Cortland Sport Management Club.
Students are encouraged to share photos on social media using the hashtags #LoseTheBlues and #CortacaJug.
ASC Online Program Grant Applications Due Feb. 15
Auxiliary Services Corporation (ASC) Program Grant applications for the 2019-20 academic year must be sent by midnight on Friday, Feb. 15.
Applications are submitted online and applicants are asked to read the grant guidelines carefully before submitting an application.
Each year the ASC Board of Directors allocates funds to support grants for a wide range of purposes and projects that enhance the life of the SUNY Cortland community.
Although ASC is willing to consider a wide range of ideas, it seeks to avoid duplicating other funding sources or funding projects more properly supported by state funds. Therefore, applicants should first seek funding from primary funding sources.
ASC grant funds may not be used for salaries, honoraria, travel normally funded by the College's budget, or scholarships for SUNY Cortland faculty, staff or students. Funds may not be used to purchase computers, related hardware or software. All purchases will be processed in accordance to ASC's financial and related GAAP policies.
In general, Program Grant funds may not be used exclusively for food for SUNY Cortland students, faculty or staff. Funding for food may be considered if the food is deemed integral to the success of the program or event. All food shall be provided by ASC. Other grant guidelines are described in the application package and online.
For more information or assistance, contact Judy Standish by email or at 607-753-4325.

Suggest a feature story
---
Faculty/Staff Activities
Timothy J. Baroni
Timothy J. Baroni, distinguished professor emeritus of biological sciences, was awarded the "Amicus Tironum" (Friend of Amateurs) certificate from the Northeast Mycological Federation (NEMF) at the 2018 NEMF meetings at SUNY Geneseo this past summer by NEMF President Dianna Smith. The meetings centered on biodiversity sampling of fungi from Letchworth State Park this year and included a wide variety of lectures on fungal biology from Thursday to Sunday provided by a host of professional mycologists including Baroni. The event had an attendance of just over 200 participants.
Alexis Blavos
Alexis Blavos, Health Department, recently conducted an invited national webinar for the Society for Public Health Education (SOPHE) titled "Next Steps: Advocating for Gun Violence Prevention after the Advocacy Summit."
Tyler Bradway
Tyler Bradway, English Department, presented a paper titled "Queer Contiguity and the Narration of Kinship in The Argonauts" at the Association for the Study of the Arts of the Present's ASAP/10 conference on Oct. 19 at Tulane University in New Orleans, La.
Cheryl Hines
Cheryl Hines, Advisement and Transition, presented a poster titled "Supporting Non-Traditional Students in a Traditional Setting" at the annual National Academic Advising Association (NACADA) conference held in October in Phoenix, Ariz.
James Hokanson
James Hokanson, Kinesiology Department, was invited to collaborate with ongoing ageing research at the University of Salamanca, Spain. The study, sponsored by the Salamanca University Hospital and Department of Physical Therapy and Nursing, focuses on the health and fitness levels of older adults. The study, which has been continuously funded for nearly 20 years, evaluates health and fitness of approximately 600 adults in the province of Salamanca in the Castille and León region of Spain and includes organized rehabilitation and exercise programs.
Kent M. Johnson
Kent M. Johnson, Sociology/Anthropology Department, had his chapter, "Opening Up the Family Tree: Promoting More Diverse and Inclusive Studies of Family, Kinship, and Relatedness in Bioarchaeology," published recently in the edited volume Bioarchaeologists Speak Out: Deep Time Perspectives on Contemporary Issues. The volume was published by Springer.
Kathleen Lawrence
Kathleen Lawrence, Communication and Media Studies Department, will have her poem "Love Note" released this month in The James Dickey Review. "Love Note" is written in the form of a spiraling abecedarian. Also, her haiku "Pillowcases stuffed" was published by Haikuniverse as part of their annual Halloween tradition of featuring haiku that deal with the senses of All Hollow's Eve.

Tom Lickona
Tom Lickona, Center for the 4th and 5th Rs, chaired a "Symposium on Parent-Teacher Partnerships in Character Education" at the Oct. 18 to 20 meeting of the Society for Research in Child Development in Philadelphia. Lickona is the author of a new book, How to Raise Kind Kids: And Get Respect, Gratitude, and a Happier Family in the Bargain (Penguin, 2018), and writes a monthly parenting blog, "Raising Kind Kids," for Psychology Today.
Rhiannon Maton
Rhiannon Maton, Foundations and Social Advocacy Department, led a workshop for local inservice educators titled "How Can we Support our Students with Incarcerated Loved Ones?" The workshop was developed in partnership with Phoebe Brown from Alliance of Families for Justice community organization, and took place at the Ithaca Regional Conference on the Impact of Mass Incarceration on Families and Communities.
Bruce Mattingly
Bruce Mattingly, School of Arts and Sciences, co-presented "The Common Problem Project: A New Pedagogy Developed by a Consortium of SUNY Colleges" at SUNY's 5th Annual Applied Learning Conference. Mattingly joined his Common Problem Project colleagues from SUNY Plattsburgh, Oswego and Oneonta in describing benefits, challenges, successes and suggestions for institutions that would like to use this approach to learning.
Christina Papaleo
Christina Papaleo, Residence Life and Housing Office, was awarded the Outstanding Contribution to Social Justice Award at the College Student Personnel Association of New York State (CSPA-NYS) Annual Conference on Oct. 15 in Albany, N.Y. The award honors outstanding service to social justice in New York state. Recipients of this award have contributed significantly to the higher education community through their commitment to social justice.
Amy Russell and Chris Scagnelli
Amy Russell and Chris Scagnelli, Academic Support and Achievement Program, conducted presentations at the annual SUNY Council on Writing conference. Russell presented "Ignore the Writing: A Framework to Recognize and Validate Student Learning" and Scagnelli presented "I H8 Numb3rs: A Skill-Building Activity for Numeracy and Research Writing." Both presentations were delivered on Oct. 20 in Farmingdale, N.Y. to multi-national audience.
John Suarez
John Suarez, Institute for Civic Engagement, conducted his workshop, "Build Organizational Capacity: Invert the Triangle" at SUNY's 5th Annual Applied Learning Conference.
Thirty-nine participants role-played situations in which directors of organizations can gain control by relinquishing control. Directors can relinquish (some) control when they trust their interns with specific responsibilities and authority; interns will reciprocate with innovative ideas and progress toward organizations' missions. The associate director of SUNY's SAIL Institute for Academic and Innovative Leadership is using this workshop's materials as guides in designing a workshop for department chairs.
Carol Van Der Karr
Carol Van Der Karr, Division of Academic Affairs, had her chapter, "Academic Advising and Transfer Mobility," published in Building Transfer Student Pathways for College and Career Success. The book was published in October by the National Resource Center for the First-Year Experience (2018).

Submit your faculty/staff activity