Spy-Turned-Commentator to Speak on Russian Hacking
10/22/2018
John Sipher is an international expert on all things espionage, particularly on the topic of Russian interference in the 2016 U.S. election.
He also is a Cortland native with ties to SUNY Cortland.
Sipher will return to the SUNY Cortland campus Tuesday, Oct. 30, to deliver a talk, "Their Spies — Our Spies — Russian Hacking of U.S. Elections and Politics."
The event, at 4:30 p.m. in Sperry Center, Room 104, is free and open to the public. The talk is co-sponsored by the Political Science and History departments, the Clark Center for Global Engagement and the President's Office.
After a 28-year career in the Central Intelligence Agency's National Clandestine Service, Sipher has become a familiar and respected voice on television news shows like CNN, MSNBC, BBC and PBS NewsHour, and has written articles that were published in The New York Times, The Atlantic, Politico, Foreign Affairs, Newsweek and Slate, among others.
His interest in world events echoes that of his father, the late Roger E. Sipher, a SUNY Distinguished Teaching Professor of history. Roger Sipher taught at SUNY Cortland for 43 years and helped train generations of social studies teachers.
"The College was really important to me growing up," Sipher said. "I was born in Syracuse but we moved there when I was really young. We used to live right near the College, so even as a kid I was running around and playing there.
"This is kind of a homecoming for me."
The aptly named Sipher — pronounced the same as "cipher," which means a coded message — served multiple overseas tours for the CIA as station chief and deputy station chief in Europe, Asia and other high-threat environments, including a post in Moscow. His historical knowledge of Soviet-era measures to manipulate foreign media inform his understanding of current Russian tactics. A study of past spycraft methods may help the U.S. defend itself against future attacks, Sipher argues.
"The 2016 election was different for a lot of reasons, but it wasn't different in that the Russians and the Soviets before them were focused on these active measures and subversion and sowing chaos," he said. "I'm trying to show that there is a long historical connection to this. So if you're trying to figure out what's going on, looking at it through a historical lens is a valuable way to look at it."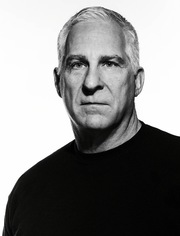 Russian interference in the 2016 U.S. election primarily involved targeting Americans via false or misleading news stories posted on social media. In his talk, Sipher will discuss how Russian meddling is more than a domestic political issue. The Kremlin's goal in 2016 was to turn the political factions of the U.S. against each other while advancing Russian interests, which means these tactics are a matter of national security that may affect American institutions for decades to come.
"We are probably the richest and the most powerful country in the history of the world, so anybody who wants to do us harm has to look for asymmetric ways to do that," Sipher said. "The Russians have given others a good way of doing that by taking advantage of our open society and our social media, which was set up specifically to make money. If you want to buy shoes, you're going to get pummeled with information on shoes. Bad actors can use the same technologies and the same algorithms to pump you with disinformation or bad information."
Social media and other emerging technologies have allowed people to connect and share information in new ways. That openness, which bridges distance, language and cultures, has made the world a smaller place by bringing people together. It presents, however, a new opportunity for enemy actors to gain access to political and economic influence in the U.S.
"There are parts of our society that North Koreans or Chinese or Iranians or others are going to be able to use against us," Sipher said. "Our reliance on computer systems and data-driven information suggest that it's just going to get more difficult in the future. We live in a glass house, so our whole society depends on the interconnectivity of computers. It's a vulnerability that we need to focus on."
Sipher currently serves as director of client services at CrossLead, a software firm. He is the co-founder of Smersh.tv, a firm providing espionage-related content to the entertainment industry and he also works with a variety of cyber security and language-learning companies. The company's name is a reference to a short-lived World War II soviet spy agency that was fictionalized and made popular in James Bond novels and movies.
A graduate of Hobart College — where he was a member of four NCAA Division III champion men's lacrosse teams from 1980-83 — Sipher holds a master's degree in international affairs from Columbia University. He has attended executive courses at Harvard University, Northwestern University's Kellogg School of Management, the Aspen Institute and the Intelligence Community's executive leadership program.
Sipher is a recipient of the CIA's Distinguished Career Intelligence Medal. He has served as lead instructor in the CIA's clandestine training school and was a regular lecturer at the CIA's leadership development program.
The talk is co-sponsored by the Department of Political Science, Department of History, the Clark Center for Global Engagement and the President's Office. Sipher's visit was planned by Professor Thomas Pasquarello and Professor Emeritus Henry Steck, both of the Political Science Department.
"This is not simply a wonderful homecoming for John Sipher but also an opportunity for the College and the public to hear an up-close analysis of current developments," Steck said. "There are probably few persons, inside the CIA or outside, with John Sipher's level of knowledge and experience."
Political science and history majors may naturally find Sipher's talk of interest. Sipher urges students of all disciplines to inform themselves on the current state of Russian-American relations. It is a topic that is likely to dominate political and technological news for decades to come.
According to Sipher, America faces a form of asymmetric warfare. The Russians "are trying to look for our weaknesses and exploit them. By us responding in a totally domestic way, a partisan way, it plays right into their hands. For people who hear on the news these sort of domestic political attacks, it's good to get the background so you understand this is a national security issue now."
Reading Reprises 1961 Speech on Empowering Women
10/23/2018
In 1961, the late Professor of Sociology and Anthropology Rozanne M. Brooks delivered the address "Women's Place is in the Wrong" to SUNY Cortland's most outstanding students. Now, more than half a century later, Brooks' message about the struggle for equal treatment facing women in academia and other pursuits still resonates among women of all ages.
Brooks, a sociologist and SUNY Distinguished Professor whose campus legacy includes The Brooks Museum and the Brooks Lecture Series, seems to have predicted the current rejuvenated women's empowerment movement when she read her speech at the sixth annual Honors Convocation 57 years ago.
On Tuesday, Nov. 13, the campus community can hear the prophetic words of this noted Cortland scholar when local actress Barbara Jo Williams reads Brooks' speech live in Old Main Brown Auditorium. Williams, a friend and admirer of Brooks, will revisit this historic address as the College continues its year-long series of Sesquicentennial Celebration events.
The reading takes place at 7 p.m. Karla Alwes, a SUNY Distinguished Teaching Professor of English at SUNY Cortland, will introduce the reading and discuss Brooks' importance to the College. The event is free and open to the public.
The speech was rediscovered recently by a former student and close friend of Brooks, Howard Lindh '73, M '94, adjunct lecturer emeritus of performing arts at SUNY Cortland. Lindh came to Cortland in 1969 to become an art major and English minor, long after Brooks delivered this lecture. He retired from SUNY Cortland in 2016 after being a Performing Arts Department lecturer and production scenic designer. Lindh now teaches English part-time for the College.
"I inherited a number of her papers and resources and I came across a printed copy of her speech as I was looking for items of the history of the College and was getting together material for the sesquicentennial," Lindh said. "I read it and thought, 'For 1961, for a woman scholar and for Cortland College, Rozanne was on the cutting edge addressing the larger academic world.'
"What struck me was that her comments in 1961 had direct bearing on 2018," Lindh said. "Much has changed and much hasn't. A woman in the academic world at that time was an important thing, and she was very articulate. And she never shied away from being outspoken about things that concerned her students and the Collage."
In her speech, Brooks made the point that, although American culture and language of the early 1960s consigned women to the home, American females in ever larger numbers were actually moving into the workplace. She quoted the general semanticist Alfred Korzybski's theory that "human beings bog down in their attempts to cope with life's problems because linguistic categories fail to accurately describe the reality they are meant to represent." She endorsed writer and humorist James Thurber's updating of the cliché, "A woman's place is in the home," to "a woman's place is in the wrong," because women so labeled would enjoy a vastly expanded horizon of possibilities.
Lindh recommended a re-reading of the lecture during the SUNY Cortland Sesquicentennial and suggested that Williams, a former student at SUNY Cortland, publicly present the address. Williams, who will co-direct the Homer Center for The Arts' production of "The Lion In Winter" Nov. 1 and 2, has occasionally acted in the cast of SUNY Cortland Performing Arts Department productions.
"I'm not going to play Rozanne," Williams said. "She was 37 at the time and I am not. I'm just going to present it in a way that she would approve. That will be easy to do, especially with such a good script."
"She knew Rozanne's way of speaking and way of timing a joke," Lindh said of Williams. "There were moments I could hear Rozanne speaking in my head, she was so very effective in her tone."
Williams sees many parallels between Brooks' observations and the current political and intellectual climate.
"Rozanne was always a force to be reckoned with," said Williams, who met Brooks through Lindh. "She had an outsized personality. She was very dynamic and always provided a learning experience.
"She was always very open and welcoming to young people," Williams continued. "Her home was always delightful and interesting and the people she gathered around her were the same."
Brooks, among SUNY Cortland's most influential women faculty members, chaired the Sociology and Anthropology Department for many years. She initiated and supported many aesthetic and academic projects on campus, including the dragon statue in Memorial Library, the Brooks Bowl for scholarship and the silver medallion the College president wears at Commencement. The medallion was designed by the late SUNY Cortland Professor of Art and Art History Gerald DiGiusto and crafted by Linda Stewart, depicting the seven valleys of Cortland County.
A SUNY Cortland faculty member for 36 years, Brooks died in 1997.
In her estate, Brooks endowed the College's Brooks Museum and filled it with her extensive collection of textiles and cultural artifacts representing her lifetime of world travels. Another gift to the College supported the Rozanne Brooks Lecture Series of themed, year-round multidisciplinary guest presentations. Her legacy with the College also includes the Brooks Dedicated Teaching Award, which since 1998 has honored annually a faculty member who devotes a significant amount of time both to teaching and to working with students outside of class. The award includes a $5,000 honorarium to enhance the recipient's teaching initiatives.
---
Capture the Moment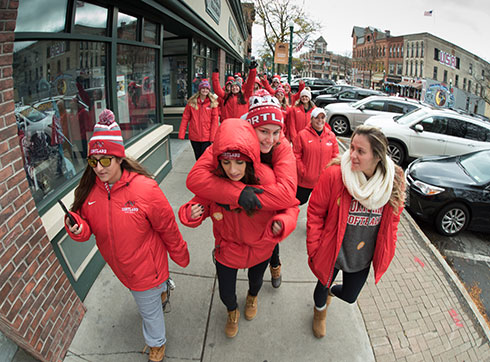 Members of the College's softball team were some of the hundreds of students who walked through downtown Cortland on Sunday during the 24th annual CROP Walk to fight hunger. Partnering with the community, SUNY Cortland students and staff helped to raise more than $9,000, about 25 percent of which will be donated to Cortland area food pantries and feeding programs.
---
In Other News
Superintendent of the Year to Talk Leadership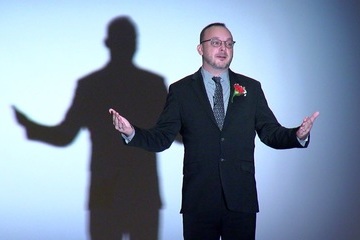 10/22/2018
The people in the Palmyra-Macedon (N.Y.) Central School District community like Ike.
Superintendent Robert Ike C.A.S. '00, that is.
Ike has guided the Pal-Mac district since 2007 after previously working as a social studies teacher and middle school principal in other districts. Under his leadership, Pal-Mac has seen its graduation rate rise by 11 percent and has expanded access to work-based experiences for seniors.
It's the personal touch Ike adds to his duties that led to his being named the New York State Superintendent of the Year by the New York State Council of School Superintendents in November 2017.
Ike will return to the SUNY Cortland campus to deliver a talk, "Leadership for a Change," at 7 p.m. on Thursday, Nov. 1, in Sperry Center, Room 105. The event is free and open to the public and is the first in a SUNY Cortland Sesquicentennial lecture series co-sponsored by the School of Education.
"One thing that characterizes Bob's superintendency is his passion for the school district," said Chris Manaseri, assistant professor in the Foundations and Social Advocacy Department. "It was really clear to me, it's almost palpable, that he loves the place and the people there love him. He stood in front of the high school student body, spoke extemporaneously and informally with them about what an honor it was to be selected as New York state's superintendent of the year.
"It was clear that those students knew who Dr. Ike was. He's not some abstract, political entity. He's somebody who dresses up as Clifford the Big Red Dog and reads to the elementary school kids. He's totally invested in this role."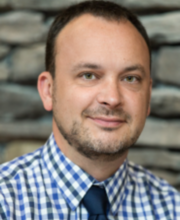 Ike completed his undergraduate studies at SUNY Oswego and has a doctorate in educational administration from Seton Hall University. He started his career as a middle school social studies teacher at Romulus (N.Y.) Central School before becoming principal at Newfield (N.Y.) Middle School. The School Administrators Association of New York State and the National Association of Secondary School Principals named Ike the Middle School Principal of the Year in 2004.
Innovation is key to Ike's leadership practices. He encourages staff and students to take risks and shake off the paralysis that often comes with change. For example, the Pal-Mac district has equipped each student with a digital device for extended learning and installed WiFi on buses. Students can complete homework on their commute to and from school as well as travel to athletic and other extracurricular events.
As far as being named Superintendent of the Year, Ike credits the district's teachers and students for being open-minded to change.
"I was thrilled and also humbled," he said. "I think it really is a testament to the school district. Being nominated by the Board of Education is certainly appreciated and being a part of the team that works directly with them, it's representative of the entire community and not me alone. It's really about the Pal-Mac community and the students, the staff and the parents."
Ike also serves as an adjunct professor at the University of Rochester and is a leadership coach at the University's Warner Center for Professional Development and Education Reform.
Pursuing a Certificate of Advanced Study in Educational Administration at SUNY Cortland helped prepare him for a career as a principal and superintendent.
"The coursework was taught by practitioners and leaders in the field of education," he said. "The experiences were practical and authentic. The coursework led to real life leadership on the line. The internship kind of sealed the deal and put that together to prepare me for the next step."
Ike hopes C.A.S. candidates, master's students and undergraduates alike can learn something from his lecture. Teachers and administrators from local school districts also have been invited to attend.
"He's not afraid be involved with innovative practices," Manaseri said. "Part of the conversation will be about how schools in the 21st century will be fundamentally different than schools in 19th and 20th centuries."
The talk is co-sponsored by the Campus Artist and Lecture Series.
For more information contact Manaseri at 607-753-2138.
Cortaca Jug Tickets Available!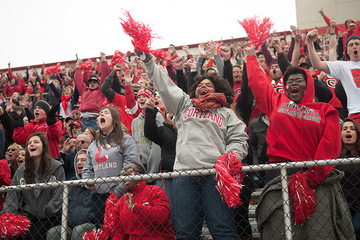 10/17/2018
SUNY Cortland students, faculty, staff and ASC employees still have opportunities to get tickets for the 60th annual Cortaca Jug football game between SUNY Cortland and Ithaca College.
This year's historic contest kicks off at Noon on Saturday, Nov. 10 at the SUNY Cortland Stadium Complex. The series has been played each year since 1959 and has been one of the biggest draws in NCAA Division III football for decades. It has been described by "Sports Illustrated" as the "Biggest Little Game in the Nation."
SUNY Cortland students, faculty, staff and ASC employees with valid SUNY Cortland ID will have an opportunity to pick up ONE FREE TICKET in Corey Union, Room 406 during the following days and times:
Tuesday, Oct. 23 from 8:30 a.m. to 4 p.m. and 5 p.m. to 8 p.m.
Wednesday, Oct. 24 from 8:30 a.m. to 4 p.m.
Additional tickets will not be sold during this time.
If any tickets remain, they will be sold online only on Sunday, Oct. 28, starting at noon, through the SUNY Cortland Athletics Website: www.cortlandreddragons.com. The cost is $10.
SUNY Cortland students must present both their ticket and their College ID at the gate to be admitted to the game.
School administrators remind all fans that lost or stolen Cortaca Jug tickets cannot be re-issued and urge them to keep their ticket in a safe, secure place.
To learn more about the legendary Cortaca Jug and related events, visit the College's Cortaca Jug webpage at: https://www2.cortland.edu/events/cortaca-jug/
Non-Traditional Students Will Be Celebrated Nov. 5 to 9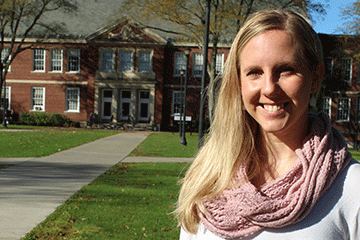 10/23/2018
In the decade since she graduated from Cortland High School, SUNY Cortland senior Liz Foster has been more than a college student. She's also been a restaurant worker, a nanny, a child care staffer and, most recently, an administrative assistant.
Hard work is just normal for this non-traditional student, a human services major and future professional who spent her childhood on a farm and later in a home in Cortland with her mother and three younger brothers.
The College defines its non-traditional undergraduate students as those who are at least 24 years old or have had an interruption or delay in their education since high school. They also might have dependent children, regardless of their ages.
Foster's life as a first-generation college degree earner is a little bit different from that of some 300 other non-traditional students at SUNY Cortland, but in many ways the same.
The College celebrates them all Nov. 5 to 9 with Non-Traditional Students Week. In addition to an array of activities offered through Advisement and Transition, we will profile one of SUNY Cortland's inspiring non-traditional student each day that week, starting with Foster.
Related activities and events will be held throughout the week in the Non-Traditional Student Lounge, Cornish Hall, Room 1221. They are free to non-traditional students and include:
Monday, Nov. 5: Coffee Break, 9 to 11 a.m. plus "Non-Trads Rock!" t-shirt Day
Tuesday, Nov. 6: Taco Tuesday Lunch, 11 a.m. to 1 p.m.
Wednesday, Nov. 7: Wednesday Wrap Lunch, 12 to 2 p.m.
Thursday, Nov. 8: Dessert Reception, "STRESSED spelled backwards = DESSERTS," 1 to 2:30 p.m.
Friday, Nov. 9: Weekend Warm-Up w/hot chocolate, 9 to 11 a.m.
In celebration of SUNY Cortland's non-traditional students, nominations are being accepted through Friday, Nov. 12, for the "Celebrate-a-Non-Trad" campaign. Nomination forms will be e-mailed to the campus community and are available electronically.
The campaign aims to recognize non-traditional students who often balance college with other commitments such as family, jobs and long commutes. SUNY Cortland will present nominated non-traditional students with a certificate and campus recognition.
Nominations should include the student's name, contact information, relationship to the student and comments about the non-traditional student. Comments will be listed on the certificate, unless otherwise noted.
For more information about Non-Traditional Students Week events or to recognize an outstanding non-traditional student, contact Non-Traditional Student Support Coordinator Cheryl Hines at 607-753-4726.
New Book Tells SUNY Cortland's Modern History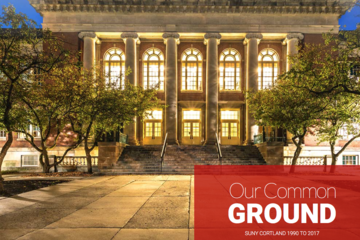 10/22/2018
How has SUNY Cortland changed in the past 30 years?
A new book, Our Common Ground: An Illustrated History of SUNY Cortland 1990-2017, answers that question while highlighting significant events that have happened on campus.
Amy Henderson-Harr, assistant vice president of research and sponsored programs emerita, and history department faculty members Kevin B. Sheets and Randi Storch are the book's co-authors. It is available for purchase for $18.68 — the year of the College's founding — through the College store.
The book incorporates perspectives from campus administrators, faculty, staff and students. It follows in the footsteps of Cortland College: An Illustrated History, which was published in 1991 and written by the late Leonard F. Ralston, a longtime professor of history at SUNY Cortland.
For more information on SUNY Cortland's Sesquicentennial, visit Cortland.edu/150.
Additional material related to the book is available online, including campus essays, video interviews and a thorough digital timeline of 150 years of SUNY Cortland history.
Climate, Homelessness Featured at October Deliberative Dialogues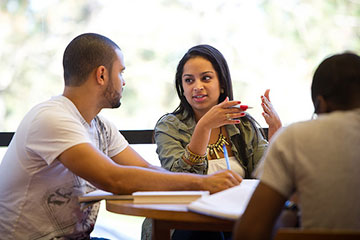 10/23/2018
Understanding and finding solutions to controversial issues begins with conversation. At SUNY Cortland, Deliberative Dialogues allow people with different ideas to come up with an action plan that works toward a solution at a local level.
Homelessness and climate-extreme weather conditions are two topics of national importance that also have local consequences.
Deliberative Dialogues are led by Institute for Civic Engagement (ICE) Action Team Interns, who will host two events in October.
"Addressing Temporary Homelessness" will be held from 4:30 to 6:30 p.m. on Tuesday, Oct. 23, in Old Main Colloquium. Coordinated by Action Team member Callan Klasek, a business economics major, the event will feature Andrew Lunetta, creator of the "A Tiny Home for Good" Program in Syracuse, N.Y. Lunetta will discuss ways of modelling his program in Cortland. Habitat for Humanity Director of Development Jean Rightmire, who is part of the Cortland County Homelessness Consortium, will also participate in the discussion, as will representatives of Catholic Charities, Cornell Cooperative Extension of Cortland County, and the Southern Tier Homelessness Coalition.
The topic was proposed by College Store Director Terence Cahill, Auxiliary Services Corporation (ASC), who sparked ICE interns' interest through his concern for the county's homeless.
"Preparing for Climate-Enhanced Extreme Weather Events in Cortland County" runs from 4:30 to 6:30 p.m. on Thursday, Oct. 25, in Park Center Hall of Fame Room.
In addition to the ICE Action Team interns, the following organizations will be represented at the discussion: The City of Cortland's Environmental Advisory Committee, SUNY Cortland's Campus Sustainability Office and Generation Vote.
Deliberative Dialogue attendees are required to participate in the discussions, which result in action item agendas. To register for either dialogue, contact Institute of Civic Engagement Director John Suarez.
Eight interns planned two dialogues for the fall semester. The first dialogue, held on Constitution Day in September, was on the topic "Freedom of Speech on the Public College Campus."
"Deliberative Dialogues help identify shared values, which is one step in a process of collaborative decision-making on controversial issues," said Suarez. "We will use those shared values to design and take actions that nurture additional civil and productive discussions on campus and in the greater Cortland community."
Cortland Concert Legacy to be Explored by Panels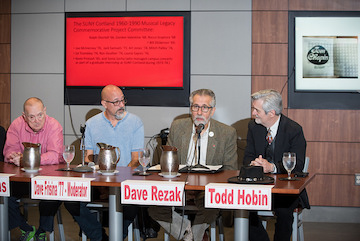 10/23/2018
Since the 1960s, students at SUNY Cortland have been involved in planning and booking some of the hottest names in the music industry to perform on campus.
In the 1960s it was Duke Ellington, Count Basie, Judy Collins and Simon and Garfunkel. Big names in the 1970s included The Grateful Dead, Billy Joel, The Beach Boys, Jackson Browne and The Eagles. And the 1980s brought artists like James Taylor, The Ramones, Cheap Trick, Southside Johnny and The Kinks to campus.
The list reads like a who's who of popular music history over the last 50 years, reflecting cultural change, the rise of student engagement and activism.
At SUNY Cortland, this involvement gave many students a strong foundation for careers in music, media, marketing, education, public relations, event management and other fields.
Students, faculty, staff, alumni and community members can learn about how these concerts and their music intersected with great shifts in American culture and inspired a generation of college students to get involved while unintentionally setting themselves up for long and successful careers.
A panel discussion by former students involved with the classic concerts and experts in the music business will be held on campus at two separate times and locations on Thursday, Nov. 1.
The first, which will explore the history of SUNY Cortland's impressive list of great concerts, will be presented as a sandwich seminar at noon in Brockway Hall Jacobus Lounge.
The second, which will additionally focus on how student involvement in booking and managing big shows was — and continues to be — a great career builder, starts at 7 p.m. in Corey Union Fireplace Lounge.
Both events are free and open to the public.
Speakers at both events inlude:
Kevin Pristash '85 M '91, director of campus activities and Corey Union at SUNY Cortland. Pristash has helped produce Student Activity Board concerts since 1985, bringing groups like Gary U.S. Bonds, Southside Johnny, The Kinks and Mike and the Mechanics to campus. His areas of expertise include technical production and contract negotiation.
Ken Barclay, director of College Activities and University Union at SUNY Cortland from 1970 to 1979. In that role, Barclay worked closely with students of the Circulating Fund and concert committees to hosts acts such as The Eagles, Linda Ronstadt, America and the Marshall Tucker Band. Since Cortland, he has had a distinguished career as a professor and administrator at California Polytechnic State University, San Luis Obispo.
Jack Samuels '73, professor of recreation, tourism, events and sports management at Montclair State University. As a Cortland student, he served in several leadership roles and was instrumental in bringing major concerts to campus such as the Beach Boys, Billy Joel and The Grateful Dead.
Ralph Shortell '66, retired after a nearly 30-year career in student affairs administration at Ithaca College, SUNY Brockport and Tompkins Cortland Community College. As the East Coast Conference Chair of NACA (National Association for Campus Activities), he worked with students to bring top bands to each of those campuses. At SUNY Cortland, he was president of Delta Kappa Beta (1925-1991).
Thomas E. Matthews, former associate dean of leadership and service and director of the GOLD Program at SUNY Geneseo. Matthews was a key member of the early leadership of NACA the late 1960s and chair of its board of directors from 1970 to 1979. NACA was instrumental in creating a business model that gave students control over student government and set the standard for students working with staff to book concerts at colleges around the country.
They are part of a series of events planned by the SUNY Cortland Alumni Association's Musical Legacy Committee. The first was held on Oct. 6, during the weekend of SUNY Cortland's 150th Birthday Celebration.
For more information on the SUNY Cortland Sesquicentennial, visit Cortland.edu/150.
College Offers Campus Crunch Day on Oct. 24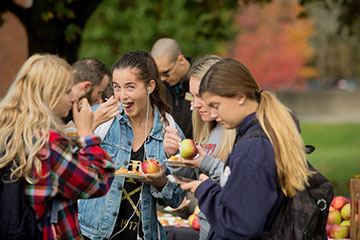 10/23/2018
With 25 different varieties of apples grown locally, New York state and the SUNY Cortland campus want to celebrate with several fun, free events.
On Wednesday, Oct. 24, the state will hold its annual Campus Crunch Day. At the College that day, the campus dining operator SUNY Cortland Auxiliary Services Corporation (ASC) will support local apple farmers by hosting events in its dining and retail facilities with help from ASC's main vendor Maines Food Distributions.
ASC will give out free apples, cider and apple crisp to the campus community from 11 a.m. to 1 p.m. on the first floor of Corey Union and in the Education Building vending area. The campus mascot, Blaze, will be there in support of Campus Crunch Day.
Food choices at the different eateries will include caramel apples, local apples and hot cider. At Neubig Hall on Campus Crunch Day, the menu will include mini pork sliders with apple fennel slaw, chicken Waldorf salad and apple cobbler topped with ice cream. At the Bistro, dining options will include apple stuffing, apple pie pizza, cheddar apple soup and a smoked chicken and pasta with sautéed apples and bacon butter.
ASC also will promote eating healthy in general as well as all the health benefits apples have to offer. ASC nutritionist Andrea Hart will be present at Newmark Pavilion to answer questions anyone may have about eating healthy.
Food choices at the different eateries will include caramel apples, sautéed apples, apple stuffing and many more options.
The day's main purpose is to celebrate New York state farming and agriculture and highlight New York's position as the second largest state for apple production in the country, with 29.5 million apples grown yearly.
ASC encourages everyone to participate in Campus Crunch Day and post a picture on social media of themselves crunching an apple at noon with the hashtags #NYCampusCrunch and #cortlandasc.
For more information, contact ASC Director of Food Services Theresa Baker or call 607-753-2424.
Roundtable to Look at College History Timeline
10/23/2018
What did historians do before the Internet was invented? Recently, SUNY Cortland created a dynamic digital timeline of the College from its 1868 founding to the present, making its story much more accessible to the campus and community.
The public can learn about how this ambitious multimedia history project was developed during a community roundtable titled "Creating the College History" on Thursday, Nov. 1, at the College.
This presentation of the Victor G. and Ann Siegle College Community Roundtable Series will be held from 8 to 9 a.m. in the Park Center Hall of Fame Room. The event is free and open to the public. Refreshments will precede the presentation at 7:45 a.m.
Panelists will include Randi Storch, professor and History Department chair; Kevin Sheets, associate professor of history; and two undergraduate students who worked with Storch on the two-year project — Kaycie Haller, a junior dual major in history and adolescence education in social studies from Wantagh, N.Y., and Deirdre Hallinan, a senior adolescence education in social studies major from Greenwood Lake, N.Y.
Last spring, History Department faculty teamed up with students and collaborators from many departments to create a lively chronological collection of key historical moments with photographic illustrations. The College's stories, intriguing mysteries and events of cultural significance now are posted on the Web for everyone to see — from its beginning 150 years ago to this past summer, when the year-long SUNY Cortland Sesquicentennial was launched at Alumni Reunion 2018.
The timeline consists of approximately 150 historical points. The entries vary in focus between academics, arts, athletics and infrastructure.
Storch said she assigned a number of History Department interns and students in a history class to create the timeline. The students on the panel are among the classmates who worked on the project.
The students as a general overview started gathering information for the timeline by pulling from Cortland College: An Illustrated Historyby the late Professor Emeritus of History Leonard Ralston during the fall 2017 semester. As their research got more specific, the students turned to the archives in the Memorial Library as well as past student yearbooks and issues of the Cortland Standardnewspaper.
"They did everything," Storch said, noting the students worked closely with librarians and technology experts on campus to create the finished timeline.
"I mean, we had to figure out what the major themes were: what the points on the timeline would be," Storch recalled. "They had to research, write and edit each of the entries. They had to figure out what would be the best-looking software to use for the timeline. They had to find good images. They had to learn how to use the content management system to upload all the information. It was very active, engaged and hands-on."
The team worked with Loren Leonard, the web operations specialist of Systems Administration and Web Services (SAWS), to create an aesthetically pleasing and functional web page. The History Department also collaborated with Fran Elia, director of sports information, in order to compile a comprehensive history of campus athletics. The Communication Studies Department was also heavily involved.
There are tentative plans to install a permanent exhibition of the timeline with an interactive screen in Old Main.
Storch is convinced that digital media projects like this can help expand the reach of historians.
"If the timeline is any indication, it just helps us better communicate stories to the wider public," Storch said. "I think that the use of still images and video and song are compelling. The students really have to hone their thoughts and arguments and narrative. It helps develop their writing. But the digital platform helps them disseminate their findings to a wider world."
The timeline is supported by the College's Sesquicentennial Committee. Sesquicentennial celebrations began in July with Alumni Reunion 2018 and will continue through Reunion 2019. For more information on the College's Sesquicentennial celebrations, contact planning committee co-chairs Mary Kate Morris '06, associate director of campus activities for leadership and community, or Erin Boylan, executive director of alumni engagement.
Hosted by the President's Office, since 2014 the ongoing community roundtable series has been presented with the support of an endowment created by Cortland College Foundation board member emeritus Victor Siegle and his wife, Ann. For his service, the College Council of SUNY Cortland honored Siegle in 2013 with its College Community Appreciation Award.
For more information about the roundtables, contact Samantha Howell, special events coordinator for the President's Office, at 607-753-5453, or visit the Community Roundtables webpage.
University Women to Hold Leadership Conference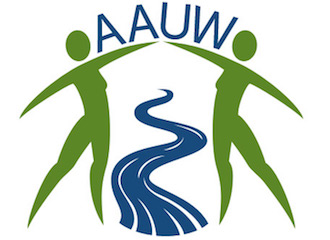 10/23/2018
Women leaders from throughout the region will share their experiences at SUNY Cortland Saturday, Oct. 27, at a district conference sponsored by the Cortland Branch of the American Association of University Women (AAUW).
Members of the public, including high school and college students, are invited to attend the 8:30 a.m. to 2:30 p.m. event in Corey Union Exhibition Lounge. A registration fee covers the cost of a continental breakfast and lunch. There is a reduced fee for students.
The Conference theme is "Women and Leadership." The speakers are local women — including many from SUNY Cortland — who provide outstanding leadership in their respective fields.
Since its founding in 1881, AAUW has worked to help carve a path for women to find their niche in fields in which they could not formerly tread. The conference will examine several critical areas where women are providing leadership in the region and will attempt to determine how best to keep AAUW relevant and effective today.
The conference schedule include the following panels:
"Civics 101": Civics and Political Leadership
Panelists: Meaghan Palmer, Morrisville High School civics teacher; Ryann Hudson, intern with the SUNY Cortland Institute for Civic Engagement (ICE); Kelly Preston, Cortland County legislator
Sustainability and Environmental Leadership
Panelists: Maryfaith Miller, founder/director Lime Hollow Forest Preschool; Kat McCarthy, executive director Cultural Council of Cortland County, former Tompkins County waste reduction and recycling specialist; Theresa Baker, director of food services, SUNY Cortland; Sharon Todd, chair, Recreation, Parks and Leisure Studies Department, SUNY Cortland
STEM Leadership
Panelists: Janet Ochs, SUNY Cortland/Tech Savvy Mentoring Project; Kim Blanchet, interim dean/director instructional design, Onondaga Community College; Jolie Roat, Math Department, SUNY Cortland
Leading a Multifaceted Approach to Confronting Sexual Violence on Campus
Speaker: Nanette Pasquarello, Title IX coordinator, SUNY Cortland
From 2:30 to 4 p.m., there will be a Start Smart (salary negotiation) workshop for college students lead by Meredith Morell, SUNY Cortland career counselor. More about AAUW's Start Smart workshop can be found online.
Conference sponsors include the AAUW Cortland Branch; AAUW NYS; SUNY Cortland President's Office; SUNY Cortland Center for Gender and Intercultural Studies; and SUNY Cortland Women, Gender, and Sexuality Studies Committee.
For further information about the conference and to register, call 607-756-8191 or email scohen3@twcny.rr.com.
33rd African American Gospel Music Festival Set for Nov. 4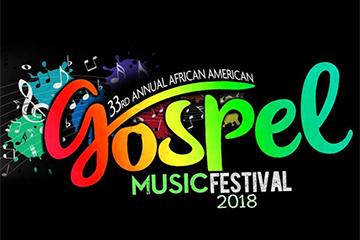 10/23/2018
Three guest choirs will perform at the 33rd African American Gospel Music Festival on Sunday, Nov. 4, at SUNY Cortland.
The festival begins at 4 p.m. in Old Main Brown Auditorium. The event is open to the public. Tickets are free for students and general admission but donations to support the Gospel Choir Scholarship Fund are encouraged.
SUNY Oswego, Jamel Jett, Deion Patterson and the Gentiles will participate in the festival along with festival host SUNY Cortland Gospel Choir, directed by Deyquan Bowens, Africana Studies Department.
Student Government Association President Sophie Umansky will extend the welcome on behalf of the College. Pastor Rita Wright from God's Light House of Praise will present the invocation.
A mass choir comprised of all groups will come together and sing part of the grand finale. Musicians for the festival will be Deyquan Bowens playing keyboard, Benjamin Terry on drums and Thomas Carter on bass. A reception will follow in Brockway Hall Jacobus Lounge.
The choir is excited to prepare for a spring tour to Montego Bay, Jamaica in March 2019.
The SUNY Cortland Gospel Choir is a part of the College's Africana Studies Department. The choir is supported by the Center for Gender and Intercultural Studies, Alumni Engagement, the Cortland College Foundation, the Division of Student Affairs, the President's Office, the Provost and Vice President for Academic Affairs Office, and the student activity fee.
For more information, contact Gospel Choir advisor Lima Stafford at 607-753-4895, or Seth Asumah or Deyquan Bowens in the Africana Studies Department.
SUNY Cortland Master Teachers Host Youth Climate Summit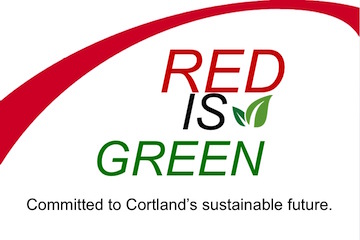 10/17/2018
SUNY Cortland's New York State Master Teacher Program and the Homer High School Environmental Club last weekend hosted more than 120 students from 17 school districts for a one-day conference designed to inspire students to create positive change aimed at slowing climate change.
The Second Annual Central NY Youth Climate Summit was held Saturday, Oct. 20 at Homer High School.
Students and teacher mentors engaged in workshops on topics such as the plight of monarch butterflies, weather and climate change in Central New York, organic farming, green architecture and many more.
Following the workshops, student teams created "climate action plans" that they took back to their school communities.
This summit was sponsored by the New York State Master Teacher Program in partnership with The Wild Center, a 115-acre destination that showcases and explains the Adirondack wilderness. SUNY Cortland serves as the Master Teacher Program's hub in Central New York.
By involving students in the coordination of this event, the summit helped to promote the idea of education by students for students.
Events Mark Native American Indian Heritage Month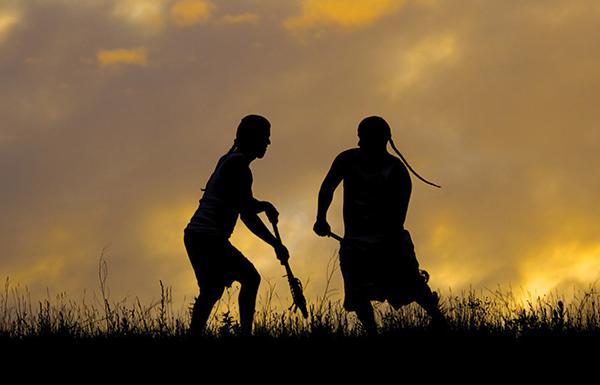 10/23/2018
Michael Taylor, an instructor at SUNY Oswego and Onondaga Community College and visiting scholar at SUNY Cortland's Center for Gender and Intercultural Studies, will discuss "The Native American Athlete" on Friday, Nov. 2, as part of Native American Indian Heritage Month.
The presentation, which begins at 4:30 p.m. in Old Main Colloquium, will examine stereotypes of Native Americans, focusing on sports, athletics, entertainment, gender and the physical body. By addressing these varied stereotypes, the lecture will consider the connection between these areas, showing how myth and reality can confuse the ideas that the public holds about Native people.
The College's Native American Studies Program will offer its Native American Film Series on Tuesdays beginning Oct. 30 with "Lake of Betrayal." The three films will be shown at 4:30 p.m. in Sperry Center, Room 106, and are free and open to the public.
"Lake of Betrayal" looks at the Seneca Nation's fight to protect its sovereignty against a backdrop of a federal Indian termination policy, pork-barrel politics and undisclosed plans for private hydropower generation. The Kinzua Dam was built in 1965 as a reservoir and took vast tracts of Seneca land in western New York. This documentary takes a long view of the imposed changes on the Seneca's way of life that have led to major economic benefits and irreplaceable cultural losses.
On Nov. 6, "What was Ours" will be shown. It is the story of how a young journalist and a teenage powwow princess, both of the Arapaho tribe, traveled together with a Shoshone elder in search of missing artifacts in the vast archives of Chicago's Field Museum. They seek to recover lost their objects and explore the question, "who owns the past?"
The Nov. 13 film, "Spirit Game," is the story of how lacrosse originated with the Iroquois, which they call the medicine game. In 2015, the Onondaga Nation hosted the world championships on native soil for the first time ever. Here, less than 30 miles north of Cortland, N.Y., history, politics and culture collided on the playing field before the eyes of the world.
The film series is sponsored by Auxiliary Services Corporation, Native American Studies Program, the Center for Gender and Intercultural Studies and the Provost and Vice President for Academic Affairs Office.
SUNY Cortland Holding Veterans Day Ceremony Nov. 12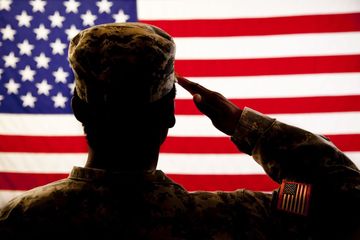 10/22/2018
SUNY Cortland will thank and honor veterans, including faculty, staff, alumni, students and members of the Cortland community during a celebration on Monday, Nov. 12.
Keynote speaker Darcel Faulkner Carver, a SUNY Cortland senior, will address the topic of how veterans readjust to civilian life, during the event at 3 p.m. in Brockway Hall Jacobus Lounge.
A non-traditional student, Carver enrolled at the College in the fall of 2001 with dreams of becoming a high school science teacher or principal. However, a sense of duty caused her to join the Marine Corps before she could graduate. Staff Sergeant Carver served active duty in Iraq as an ammunition technician specialist and most recently with the Wounded Warrior Battalion at Camp Lejeune, N.C.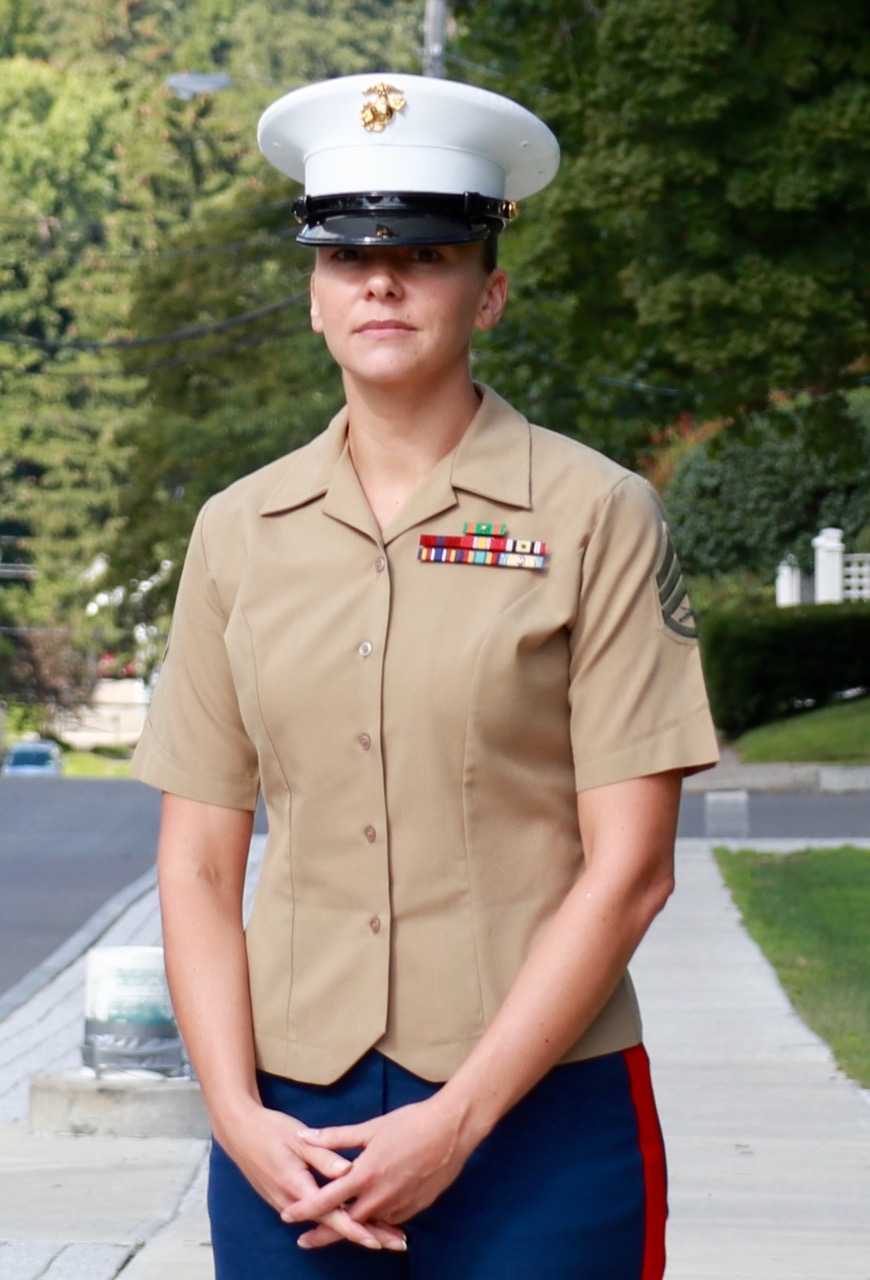 Carver, a mother of four, including triplets, returned to campus this fall to complete her degree in adolescence education: biology. She also serves as the Upstate New York representative for the Marine For Life Network, assisting other Marines in their transition to civilian life.
Through visiting employers, colleges and other community pillars in the area, Carver strives to help Marines find their footing when they return home. Face-to-face visits with veterans allow Carver to share her personal story of juggling a family, a career in the Marines and her continuing education. Her work offers inspiration to others who may be struggling to find their own path.
After graduation Carver intends to pursue a career in teaching or school administration. She is also interested in the application of neurobiology, particularly for members of the armed forces who return home with post-traumatic stress disorder.
A reception in the Margaret A. "Peggy" Curry '52 Main Lobby will follow Carver's talk.
A slideshow of SUNY Cortland's veterans will run throughout the event. To submit a photograph, please include the veteran's name, branch and dates of service to Special Events Assistant Sue Vleck or contact her at 607-753-2377.
Free parking will be available in the Miller Building lower level parking lots. Accessible parking spots are available behind Brockway Hall.
Midterm Election Watch Party Set for Nov. 6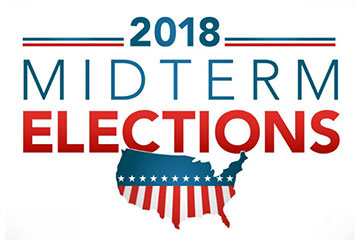 11/05/2018
A midterm election watch party will be held from 7 to 11 p.m. on Tuesday, Nov. 6, in Old Main Colloquium. Students, faculty, staff and community members are welcome to participate and discuss the results of the elections as they occur.
Pizza and soft drinks will be served at the event, which is sponsored by the Political Science Association, the College Republicans, the Young Democrats and the Institute for Civic Engagement.
For more information, contact Connor Vick, president of the Political Science Association.

Suggest a feature story
---
Faculty/Staff Activities
Carolyn Bershad
Carolyn Bershad, Counseling and Wellness Services, was a co-presenter at the annual conference of the Association for University and College Counseling Center Directors (AUCCCD) on Oct. 16 in New Orleans. She, along with Peter LeViness, University of Richmond, and Kim Gorman, Western Carolina University, presented "Highlights from the AUCCCD 2017 Directors' Survey."
Marie Blanden and Lauren Scagnelli
Marie Blanden, Division of Student Affairs, and Lauren Scagnelli, Counseling and Wellness Services, conducted a presentation titled "One College's Journey to Tobacco and Nicotine Free Campus" at the annual meeting of the New York State College Health Association, held Oct. 18 in Syracuse, N.Y.
Thomas Hischak
Thomas Hischak, professor emeritus of theatre, has had two books published recently: the anthology Plays of the American Experience: 25 Scenes for the Classroom and Stage (Meriwether Publishing) and The Woody Allen Encyclopedia (Rowman & Littlefield).
Nikolay Karkov
Nikolay Karkov, Philosophy Department, co-authored an article titled "Rethinking East-European Socialism: Notes Toward an Anti-Capitalist Decolonial Methodology," recently published in Interventions: International Journal of Postcolonial Studies. The text makes a contribution to both anti-capitalist and decolonial critique from the perspective of the historical legacy of East-European socialism, by offering a genealogy of critical theory in the region after the Cold War, critically discussing socialist humanism's colonial origins, and also exploring South-to-East collaborations between the former Third and Second Worlds. The authors conclude that East-European socialism's efforts to organize alternative and resistant modernities at times converged and at others starkly departed from capitalist colonial modernity.
Kathleen A. Lawrence
Kathleen A. Lawrence, Communication and Media Studies Department, recently had a poem titled, "Hold Her Down, Shut Her Up" published in New Verse News. This poem was written in response to Senator Susan Collins' speech to announce her decision to continue to support Supreme Court nominee Brett Kavanaugh, despite dramatic testimony during the hearing and after reviewing the report of the brief FBI investigation. Lawrence parallels the physical silencing of Christine Blasey Ford by her attacker as described in her testimony to Collins' muddled expository rationalizing why any further investigation is unnecessary. This is the third poem Lawrence has published in the last month interpreting the political-cultural environment of the current chaotic milieu.
Celeste McNamara
Celeste McNamara, History Department, recently gave an invited lecture at Bowdoin College in Brunswick, Maine, titled "Priests Behaving Badly: The Problem of Scandal in Renaissance Italy." The talk examined the history of how the Catholic Church has handled sinful priests, arguing that the Church's contemporary strategies for suppressing scandal are built on a long theological and practical history. Due to the challenges of the Protestant Reformation, the 16th and 17th centuries were particularly important for the development of these strategies. By understanding this longstanding trajectory, we can see how the strategy of hiding clerical crimes and repressing information about bad priests has been centuries in the making.
Lauren Scagnelli, Natasha McFadden and John Suarez
Lauren Scagnelli, Counseling and Wellness Services, Natasha McFadden, The Cortland Fund, and John Suarez, Institute for Civic Engagement, presented "Combating Food Insecurity: Tools to Implement a Food Pantry on Your Campus" at the annual meeting of the New York State College Health Association. They delivered their message on Oct. 18 in Syracuse to a multi-state audience.
Robert Spitzer
Robert Spitzer, Political Science Department, is the author of an article titled, "Researching Gun Policy: Futile or Feasible?" that was posted Oct. 16 on the Social Science Research Council website, "Items: Insights from the Social Sciences."
Ryan Vooris and Susan Barnett
Ryan Vooris, Sport Management Department, and Susan Barnett, Recreation, Parks and Leisure Studies Department, co-authored an article recently published in the International Journal of the Sociology of Leisure called "Understanding the Wearable Fitness Tracker Revolution."

Submit your faculty/staff activity