College explores potential neurological therapy: Musical shoes
07/12/2019
SUNY Cortland senior Emma Madonna and Kinesiology Professor Jeff Bauer are spending their summer exploring the possible therapeutic use of a new type of shoe.
It's not what you're thinking. The footwear isn't orthopedic.
It's musical.
Jamie O'Neil, associate professor of digital media arts at Canisius College in Buffalo, N.Y., recently created Electroskip, a device that allows dancers to make music as they move. Using sensors placed at the toes and heels and a wireless transmitter, dancers can manipulate musical notes, adding aural expression to their physical performance.
Bauer and Madonna, however, are investigating Electroskip's potential as a tool to help those with neurological disorders walk and move more confidently and efficiently.
Madonna, an exercise science major from Syracuse, N.Y., is one of eight summer undergraduate research fellows who are working with faculty across campus, exploring topics ranging from purple and common milkweed hybridization to contrapower sexual harassment in the workplace to determining the local abundance of an invasive flatworm.
She is working in conjunction with her faculty mentor, Bauer, and Tim Davis, associate professor in the Physical Education Department and director of the College's Sensory Integration/Motor Sensory (SIMS) Movement Center, to better understand the use of Electroskip as a clinical tool.
Over six weeks this summer, a child with a neurological disorder will attend twice-weekly sessions in the SIMS lab with the Electroskip sounds being used every other session. The research subject will perform a number of exercises and Madonna will record the data, both through the Electroskip software and video.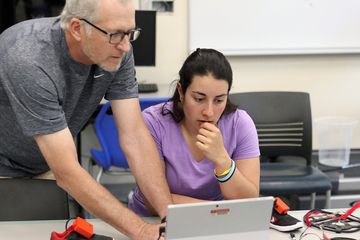 In this particular case, the child tends to walk on his toes. The study aims to teach the subject to use his heels, encouraged through the audible feedback from the musical tones. The hope is that this technology can be used in the future during physical therapy sessions to monitor and encourage increased movement and quality of life.
The musical feedback produced by the subject's movement is arrhythmic, which means patients can progress at their own pace. Other therapies have used metronomic feedback that produce a constant noise that can be tough for some to follow. This therapy may help improve the gait of those with a wide range of neurological issues. Should the technology develop and expand, patients could potentially own a device of their own that would record their optimal pattern and allow them to walk to it in time via an app and headphones.
Gathering data is one of the first steps in this research for Bauer and Madonna. Showing quantitatively that the Electroskip technology can benefit those with neurological disorders may lead to further study and application of the technology.
"It's a completely new use for their system and they want to learn about it too," Bauer said. "It makes beeps and boops the way they expected it to and it works nice with choreography and dance. But now that it's going to move outside of that, how can it be used?
"If it's only qualitative, then it's only qualitative, OK. The clinician looks at it and they appear to be getting better. But if there's a way we can get quantitative data, that's important."
One of Madonna's main tasks this summer is determining if the Electroskip sensors are delivering reliable digital data. Since the original application of the device was for music and dance, it may ultimately need to be modified for scientific purposes.
"We're going to test the validity and reliability of it with the force plate and the ProtoKinteics pressure mat," Madonna said. "We want to see if the values we're getting with Electroskip are the same as the plate or same as the plate and ProtoKinetics pressure mat. And it will give us a better understanding of what's happening."
Bauer recalls the first time he and Madonna met. It was an 8 a.m. class — her first class on campus as a freshman — and she was full of energy.
And questions.
So it's no surprise that she has delved into research as an undergraduate, including a combined research effort between the College's Kinesiology and Communication Sciences and Disorders departments on how short bursts of strenuous exercise can affect those with Parkinson's disease. Madonna also has worked with Bauer through the College's Dartfish Club, which makes use of Dartfish software to analyze video for a variety of athletic applications.
"I've always been interested in research," she said. "I didn't really know what I wanted to do for a while, but I narrowed in once I got started working with the Parkinson's research. It interested me in physical therapy and the research fields. I like trying to think of new ways to overcome problems."
Finding outside-the-box solutions has been a trend in Bauer's research. The machines he uses in his Parkinson's work were originally intended for Olympic-level mogul skiers.
Even the F-Scan sensors used in the Electroskip device were adapted from a different field. They were first used for dental purposes, measuring the pressure of a patient's bite. Then, the F-Scan sensors were used in assessing foot problems for people with diabetes.
Time will tell what Bauer and Madonna uncover this summer. They hope their findings can help those with neurological disorders live better lives. They're also hoping that their work inspires others in the scientific and academic communities to push creatively for new solutions.
"That's what we're trying to do. We're trying to connect the dots," Bauer said. "If you find something useful, can it be useful as is to somebody or can it be modified? That's where the research and understanding of the products really comes in."
SUNY Cortland hosts South Korean sport industry students
07/12/2019
It was all fun and games for a group of 10 South Korean students who used SUNY Cortland as a base for hands-on learning experiences that included the home turf of the NFL's Buffalo Bills, Syracuse University's Carrier Dome, Yankee Stadium and the Baseball Hall of Fame Museum in Cooperstown, N.Y.
Of course, fun and games are exactly what the visiting sport industry students are studying. And SUNY Cortland's faculty and facilities provided the academic framework.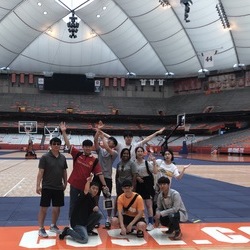 A new collaboration between SUNY Cortland and Hanyang University in Seoul, South Korea allowed those students to learn from Cortland's sport management professors as well as industry professionals during their American adventure, which ran from June 21 to 30.
The program consisted of a series of lectures by SUNY Cortland's sport management faculty and visits to sports facilities around the state.
Faculty members Mark Dodds, Peter Han, Tara Mahoney, Erin Morris, Matthew Seyfried and Ryan Vooris lectured on topics that included international sports law and marketing, sports analytics and social media, and strategic management.
The South Korean students also visited with the NFL's Buffalo Bills, the Baseball Hall of Fame and Museum and NYCFC, the Major League Soccer team that plays its home games at Yankee Stadium. Visits to the New York Mets' minor league affiliates in Syracuse and Binghamton were also part of their American tour. The group also explored Syracuse University's Carrier Dome and SUNY Cortland's stadium complex and Student Life Center.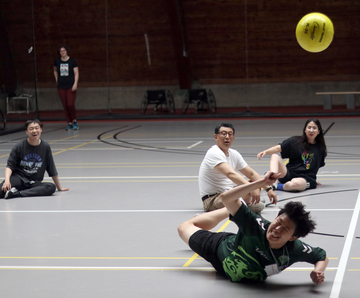 Third-year student Intae Hwang said he is still unsure about his career plans after graduation but was grateful for the opportunity to learn from SUNY Cortland faculty and those who work directly in sports.
"For me, personally, I wasn't really used to American sports," Hwang said. "I'm a huge soccer fan of teams in England and Spain. It was really interesting to see American sports. Even if it was minor league, it still had amazing sponsors and entertainment for fans. It was really meaningful to have a look at those sports."
Morris talked to students for two hours about adapted sports for people with disabilities and then led demonstrations of wheelchair basketball, adapted volleyball and goalball in Lusk Field House.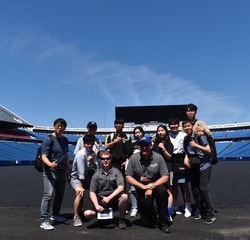 Sung-Bae Roger Park, director of the Center for Strategic Management of Sport Industry at Hanyang University, travelled with his students. A grant from the South Korean government has allowed his students to take similar trips to sites in Australia and the United Kingdom. He hopes this collaboration with SUNY Cortland may continue in some form in the years to come.
"The main purpose of this visit was to give an opportunity to my students so they can take a look at venues, teams and front offices of sports organizations and get hands-on experiences," Park said. "How do they operate? What are their revenues, expenses and event security? This is a great opportunity for my students to learn in the United States."
Peter Han, chair of SUNY Cortland's Sport Management Department, is excited to see the link between the two institutions expand.
"I understand Hanyang University currently has partnerships with colleges and universities overseas," he said. "Professor Park mentioned that there are about 10,000 international students, which accounts for a quarter of the total student population at Hanyang University. We are hoping to be able to explore other opportunities to develop a further partnership with Hanyang University in the future."
Sports are popular in South Korea, particularly baseball, basketball and soccer. The country hosted the Summer Olympics in 1988 and the Winter Olympics in 2018, as well as other major international sporting events. As the sports industry in South Korea has grown significantly since 1988, there is a strong and growing interest in the field.
Park expects that their experiences through Cortland will help prepare them for their future in sports.
"The faculty have different teaching strategies and methodologies," Park said. "My students were surprised and very impressed with case studies and discussion and one-way lecture and their personal experiences. This was a perfect combination of academics and hands-on experience in the industry."
---
Capture the Moment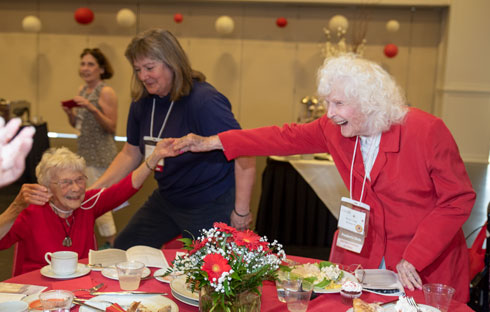 Seated to the left, Malvina "Malvie" Cook Hunt '38, who is 104 years young, celebrates the birthday of her friend Bonnie Yates Buckner '41, who turned 99 during Alumni Reunion 2019. Malvie, a retired teacher, has received the "Most Mature" attendee recognition during recent Alumni Reunions. Bonnie, a retired teacher and guidance counselor, is also a member of the C-Club Hall of Fame. In addition to Alumni Reunion 2019, SUNY Cortland celebrated the conclusion its Sesquicentennial year last weekend, celebrating 150 years of excellence.
---
In Other News
Former Cortland national champion named Women's Gymnastics Head Coach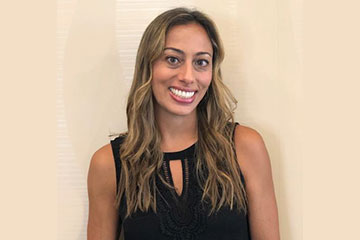 07/16/2019
Former Cortland national champion Sulekha Modi Zaug has been named the Red Dragons' women's gymnastics head coach in an announcement from director of athletics Mike Urtz.
Zaug, who earned a bachelor's degree in outdoor recreation from Cortland in 2000 and a master's degree in recreation management from the College in 2002, replaces Sierra Day, who served as interim head coach during the 2018-19 season.

"It is such an honor and unique responsibility to be able to coach a sport that I love, that framed my childhood and brought me so much success at my alma mater," said Zaug. "Cortland is in my blood. I feel like I've come home during every visit since graduation. I am so excited to help motivate our student-athletes to become the best they can be in the gym, as Red Dragons, and in life."

Zaug was a three-time national champion on uneven bars in 1997, 1998 and 2000 and finished second nationally in the event in 1999. She was the first gymnast in the history of the National Collegiate Gymnastics Association (NCGA) to win three individual national titles in the same event. Her score of 9.80 on bars during her a regular-season meet in her senior year held up as a school record for 18 years before being eclipsed during the 2017-18 season.

In addition, Zaug earned first team All-America honors with a fifth-place national finish on balance beam in 1997 and a fourth-place showing in the all-around in 2000. On the regional level, Zaug won ECAC titles on uneven bars in 1997 and 1999 and was a four-time All-ECAC performer in the event with top-six finishes.

She was inducted into the NCGA Hall of Fame in 2018 and is one of only two Red Dragons, to date, to achieve that honor. A team captain during her senior year, Zaug was an NCGA All-Academic Team member and earned Dean's List honors at Cortland multiple times. She also initiated and coached the first SUNY Cortland women's gymnastics club team.

A Queens native, Zaug has served as head gymnastics coach for the Kennetts Gymnastics School in Goshen, as well as the nationally ranked Flushing YMCA team levels 8, 9 and 10 for nearly a decade.

Zaug served as the Director of Recreation at Glen Arden Retirement Community in Goshen from 2017-19. She was the Engage Life Director for Atria Senior Living in Ossining from 2012-17 and the Director of Recreation for Wingate Healthcare in Fishkill from 2007-12. She went on to become a leader in the field of activity professionals, becoming the New York State representative and presenting each year at the New York State Health Facilities Organization (NYSHFA) annual conferences.

"We welcome back Sulekha to our Cortland Athletics family," said Urtz. "She knows what it takes to reach the greatest heights in gymnastics, and I look forward to seeing our program continue to grow under her guidance."

Alumni celebrate at Reunion 2019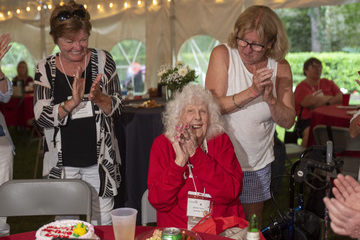 07/16/2019
Nearly 500 SUNY Cortland alumni returned to campus for a fun-filled Alumni Reunion 2019, July 11-14.
Reunion coincided with the end of SUNY Cortland's Sesquicentennial celebration. On Saturday, July 13, the party shifted to Courthouse Park in downtown Cortland and featured music, fireworks and remarks by President Erik J. Bitterbaum and Cortland Mayor Brian Tobin '94.
Highlights from the evening are available on YouTube:
The Musical Legacy Commemorative Project committee held a ceremony to unveil a sculpture created by Scott Oldfield '06 that pays tribute to the College's history of hosting major musical acts. A video of the unveiling is available on YouTube:
The Corey Union Voice Office had a grand reopening during Reunion and the Multicultural Life and Diversity Office welcomed back Voice members as well as Kente and Educational Opportunity Program alumni. Photos of those students are available in a photo gallery.
SUNY Cortland's softball program celebrated 50 years of history in an event on its field on Saturday. Former team members honored Julie Lenhart, who retired this spring after 25 years as head coach. They also welcomed the team's new head coach, Molly O'Donnell M '16 and held a ceremony to rename the softball press box for the late Gerry Gentner '66. A gallery of images is available online.
Alumni employees gaining visibility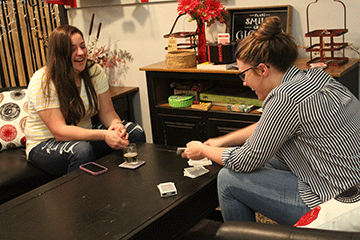 07/16/2019
By day, they looked exactly like other SUNY Cortland employees.
But by night — one night at least, May 30 — they gathered after work at the Finger Lakes Tasting and Tap Room downtown and revealed themselves for who they really are: loyal alumni of the institution that now issues their paychecks.
It's not a small group. Alumni make up about a quarter of the College's roughly 1,000 full-time employees.
"It's a little odd, actually," said Linda Tillotson Foster '88, currently field placement coordinator for the Field Experience and School Partnerships Office. "I graduated in 1988 from Cortland and I came to work here in August 1988. And I've been here ever since."
Tillotson was one of a couple of dozen alumni employees who attended the May 30 event, organized by the SUNY Cortland Alumni Association in appreciation for all that these particular graduates do for the institution and its students. The association has even created a new alumni interest group for them called ACE (Alumni Campus Employees).
"ACEs are an important part of our winning hand," said Erin Boylan, executive director of alumni engagement. "They have made their alma mater their career. They have amazing alumni networks that they can promote to the betterment of the College. They have literally given their daily work to supporting their College and their efforts are very impactful."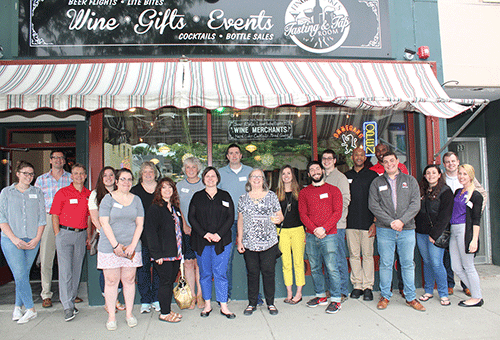 The College at last count employed at least 282 people who earned a Red Dragon sheepskin at some point in their lives. Although their numbers are many, alumni employees don't necessarily know who among their fellow workers graduated from SUNY Cortland.
That's where the idea for the ACE gathering came from. For several hours after work that Thursday, ACE members both recent and from decades ago discovered one another over drinks, snacks and giveaways.
Although Jonathan Bogia '16, a residential hall director at DeGroat Hall, has his bachelor's degree in secondary social studies and has almost finished his master's degree in adolescent literacy, at this point in his career he is deciding between various college administrative roles, including remaining in residential life and housing, student conduct or multicultural life and diversity.
"We'll see what happens. I'm here for the ride," Bogia said. "I like what I'm doing right now. It's only my second year as a hall director and I want to get rid of my student loans as much as I can.
"It's become kind of more so my home than where I actually grew up, because this is where I've spent most of my adult life," Bogia said of Cortland. "I didn't think in coming to college that I would end up staying in Cortland for seven going on eight years."
Foster, who has been working full time at SUNY Cortland for more than three decades, began her campus career soon after graduating with a degree in economics and then landing a job as director of accounts payable for her alma mater. In 2002, she earned a graduate degree in health services management and appeared ready for a major career shift.
Instead, she stayed at Cortland.
"I decided I wanted to work for the kids," Foster said. "The job came up here in Field Placement and I decided to work here.
"I'm a grad from here, I work here and my son goes here — he's named Joseph and he's a senior in political science — so I can cover the whole gamut."
She finds it rewarding to be a Cortland alumna placing student teachers in school districts.
"No matter where I talk with people throughout the state, they have a tie back to Cortland," Foster said. "Whether they're a grad, their coworkers are grads, their children went here, or are grads. You talk about conversation starter!"
The ACE event's organizer, former assistant director of alumni engagement Jonah Reardon '13, agrees.
"Our employees have the closest connections with our alumni," said Reardon, who recently began as SUNY Cortland's deputy Title IX coordinator. "So we always want our employees to let us know when things happen with our alumni. When an alum can connect — not only with the educator aspect but the alumni connection — it's much more meaningful."
On the air with William Dickerson '69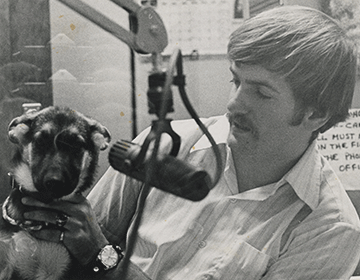 07/16/2019
William "Bill" Dickerson '69 wanted all the typical things of retirement.
Upon retiring in 2011 as executive director of the auxiliary services corporation at California State University, Fullerton, Dickerson wanted to spend more time with his grandchildren.
With his wife, Maura Feeney Dickerson '71, M '74, Dickerson planned to shuttle between their winter residence in California and their summer home in New York state's Adirondacks region, where they had long owned a summer camp near Dickerson's childhood home of Willsboro, N.Y.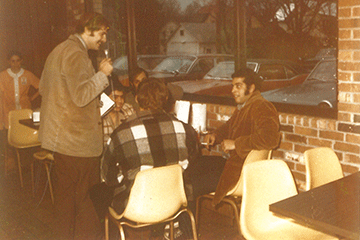 But Dickerson — the first SUNY Cortland student to pick up the microphone when students started the campus radio station now known as WSUC-FM 90.5 — also had a dream: to manage and host his own classic rock radio program.
Ultimately, that drive is why Dickerson, at a time in his life when peers are spending long hours on the golf course, is bucking national business trends as owner and operator of WNBZ 106.3 FM, an independent radio station serving Plattsburgh, Saranac Lake, Lake Placid and the Champlain Valley region.
Every weekday between 1 and 6 p.m. you can hear Dickerson online or over the airwaves.
When he's not cheerfully pitching an upcoming North Country event or service or product, Dickerson's easy voice bookends each song with a wealth of insider's details that would do the late American Top 40 disc jockey, music historian and radio personality Casey Kasem proud.
"I derive a great deal of pleasure about musically oriented things where you are relating information to people most of which you believe they would like to hear," Dickerson said. "I don't think of myself as an entertainer but I do believe when I open the mic on the radio I'm doing my best to say something my listeners may find interesting."
But pursuing the dream hasn't been easy.
Although Dickerson, as a new Cal State Fullerton retiree, had no trouble landing a seven-months-of-the-year job as a DJ with an online station in California, filling the five months at the other end of his snowbird cycle was a problem. Gigs in the Adirondack area of upstate New York are rare, and Dickerson's back-and-forth trips to Fullerton, Calif., made getting and keeping them difficult.
In 2014, for example, he landed one summer job with 101theONE (WCTV/WEXP) in Vermont, which was "only" an hour and a half away from his home near Lake Champlain, including the ferry trip from New York.
"I definitely loved it," Dickerson said. "I came back the next summer and they had filled my position while I was in California. They said they could have me back but just as a part-time fill-in."
Jobs are becoming fewer as many music-oriented radio stations have let their disc jockeys go and adopted a computer managed, all-music-and-ads format, he lamented. All he could find were occasional fill-in gigs at Hometown Radio WIRY 1340 AM and 100.7 FM in Plattsburgh, N.Y.
Launching WNBZ
Soon, Dickerson realized that the best way to guarantee himself airtime was to become the owner and hire himself as a D.J. He joined with Amanda Dagley, then the station manager at WIRY, and the business partners set out to acquire their own radio station where they could call the shots.
They soon found a station that was up for sale. They signed a purchase agreement and launched WNBZ 106.3 FM, rebranded "The New Broadcasting Zenith."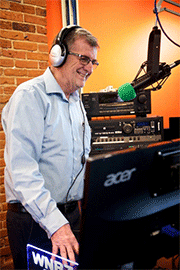 Since February 2018, the station has broadcast Dickerson's brand of rock-and-roll music during his "Afternoons are Better with Bill" program. Gradually, the station is becoming part of the fabric of the far-flung Adirondack community.
Recently Dickerson gave introductory remarks before a concert at the Strand Center Theatre in Plattsburgh,N.Y., by A.J. Croce, the son of the late, fabled singer and songwriter Jim Croce.
"I'm basically telling them about upcoming shows at the theatre," he said. "I love doing that sort of thing."
Blast from the Past
With his latest undertaking, Dickerson frequently taps his SUNY Cortland experience, during which he helped bring a new radio station to campus in 1967.
"When I was a freshman, I saw a sign on a bulletin board that said something like, 'Do you like top 40 music?' and underneath, 'Would you like to help start a radio station?'" he said. "The House of Delegates, which was what the Student Government Association was called at the time, had allocated $10,000 to start up the radio station.
"I had always had a love for radio," Dickerson said. He recalled when the station, originally called WCSU Cortland, went on the air in April 1967. The original staff included students Sue Hall Seefried '68, the first station manager, and Jim Little, the station engineer. Dickerson was scheduled to do the station's very first broadcast, a radio show Saturday nights.
But a week or so before the launch date, he was invited to take a weekend trip with classmates to the Poconos.
"I decided to have my cake and eat it too," Dickerson said. "So what I did was I went to the downtown Cortland station WKRT (K-LOVE 89.3 FM) and recorded the first three hours of that seven hour shift. Jim Little played the three-hour show that Saturday night and I was down in the Poconos."
Then, when he was a junior, the former recreation education major met his future wife at a Lusk Field House mixer. It featured a band that included the late Cortland-born musician Ronnie James Dio, who went on to become a heavy metal music icon, perhaps best known as the lead singer for Black Sabbath.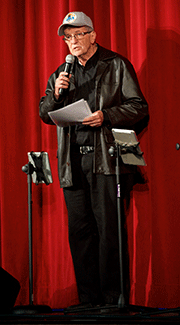 Dickerson was among the Red Dragon generations from 1960 to 1990 when many of the biggest names in Rock and Roll took the stage at SUNY Cortland. He, in fact, helped arrange some of them as a member of the Concert Committee of the Board of Governors, then called the Circulating Fund, before he became leader of the Board of Governors itself.
He frequently introduced big-name concert acts, including Neil Diamond, The Hollies, The Temptations, Frankie Valli and the Four Seasons, Procol Harum, Martha and the Vandellas, The Buckinghams, The Lettermen, The Guess Who, The Association, Don McLean, the Grateful Dead and Wilbert Harrison.
After graduation, Dickerson accepted a job as assistant director of Corey Union to stay close to Maura as she finished her degree. His junior year role as student manager at Brockway Hall had prepared him for that, he said. Working for Student Affairs, but also as a SUNY Cortland graduate student, Dickerson continued to broadcast and produce shows through 1971, when he left to manage a college campus student center and auxiliary services at William Paterson University in Wayne, N.J., which he held for 17 years until 1988.
His professional duties at William Paterson led him to advise the students' concert committee. Starting in 1980, he also produced and hosted a local television program called "High School Bowl," which involved a tournament among high school students at 40 different schools to bring back the most money in sponsored scholarships to their districts.
"I had the opportunity to host that the first two years and be the producer of it," Dickerson said. "I found it was very restrictive, but at the same time, it rekindled my interestin radio. So I put together a demo tape and in 1980 I got hired."
Dickerson became the part-time voice for four radio shows in Morristown, Pompton Lakes, Randolph and Newton, New Jersey and worked at times alongside longtime nighttime New York radio personality Bruce Morrow, better known as "Cousin Brucie."
Open Mic Time
Fullerton lured him away to the job he held until his retirement. The only thing missing from those years for him was having his own radio show.
"The part I love is being on the air," Dickerson said. "I truly enjoy communicating with the audience, with trying to present interesting material. A combination of good music but also with enough background and supplemental information that listeners will find that it's not the type of thing they can get any more on most radio stations."
What Dickerson doesn't love in the radio field, and is working to address, is the business end of things. He wants to hire more sales people so he can really live part of the year in California rather than the temporary arrangement of visiting the state occasionally while he and the staff keep 106.3 WNBZ going.
"The obvious question is, 'Is this a lifelong dream, to own and operate your own radio station?'" Dickerson said. "I'd have to say, 'No, not really.' Because, let me be very clear, it's a business. Like any other, so there's expenses that have to be met."
This summer, Dickerson will buy Nielsen ratings data to learn how many listeners the station has attracted since it went on the air in the new classic hits with DJ commentary format more than a year ago. The station previously ran rock and roll classics on computerized autopilot, without a DJ.
"When I have a person on the phone, I tell them to have all their friends listen to 106.3 WNBZ, for that better variety of music that you love," Dickerson said. "People 9 out of 10 times the next words out of their mouth are 'oh, we love your station.' That's encouraging and that's what we want. We're trying to get everyone listening to our station."
While attending his recent 50th reunion at Alumni Reunion 2019, Dickerson gave remarks at the Class of 1969 Dinner and the Musical Legacy Commemorative Project: 1960-1990 Sculpture Unveiling.
A longtime Cortland College Foundation board member, the North Country's new radio personality left the board as his new venture took up more and more of his time. The College remains dear to him, however.
"The reason for that is very simply, I credit Cortland with any degree of success I might have ever attained since then, because of those opportunities for student leadership as an undergraduate," Dickerson said.
Cortland in the news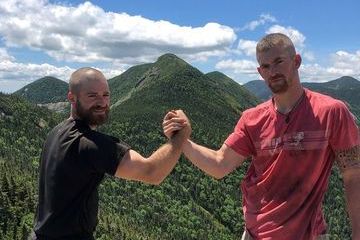 07/16/2019
A pair of SUNY Cortland alumni made headlines last week for climbing all 46 Adirondack High Peaks in a record-breaking six days, 23 hours and 45 minutes.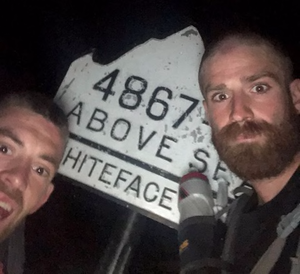 Former soccer players Michael Jock '10 and Lukas Wear '13 ran, walked and climbed a total of 212 miles of rugged terrain during that time, losing a combined 30 pounds in less than a week. Talk about Red Dragon Strong!
Their accomplishment was a big story in both UpstateNY.com and The Watertown Daily Times.
It was just one of many things that put SUNY Cortland in the news recently:
CALS Lecture Grant Applications Due Sept. 5
Campus Artist and Lecture Series (CALS) Lecture Grant Applications are now available for the 2019-20 academic year. Applications are available online and are eligible for a maximum of $350 and are open to any club, program or department. These lecture grants will not cover performances of any kind.
Applications must be received by Thursday, Sept. 5, to be considered for September, October, November and/or December 2019 lecture programs. Applications received after Sept. 5 may not be eligible for any fall semester funds remaining.
For more information and to download this application, visit the CALS website, email Sandra Wohlleber or call 607-753-5769.

Suggest a feature story
---
Faculty/Staff Activities
Dakin Burdick
Dakin Burdick, director of the Institute for College Teaching, presented "Fleeting Glances: Using brief encounters with disciplinary specializations to enrich and diversify competency-based introductory classes" at the Conference on Instruction and Technology (CIT) on May 31 at Purchase College. Also, he presented on "Active Learning Activities that Minimize Student Anxiety" at the New England Faculty Development Consortium (NEFDC) conference on June 6 at Landmark College in Putney, Vt. Finally, he was interviewed on "Small-Group Discussions" for SUNY Oswego's "Tea for Teaching" podcast, available at http://teaforteaching.com/85-small-group-discussions/
Kathleen A. Lawrence
Kathleen A. Lawrence, Communication and Media Studies Department, received word that her poem "Any Boy" has been accepted for publication by Green Linden Press in the forthcoming issue of Under a Warm Green Linden, Issue 8. The poem follows a challenging but favorite form for Lawrence, known as a spiraling abecedarian.
Joshua Peluso, Chris Cubells, Eli Simon and Matt Mccarthy
Joshua Peluso, Chris Cubells, Eli Simon and Matt Mccarthy, all from Systems Administration and Web Services, presented on DevOPs at the SUNY Technology Conference on June 19 in Lake Placid, N.Y. The session, titled "DevOps Stack: Systems Engineers and Software Engineers Living Together," explored concepts of leadership, teamwork and technologists working together in a cohesive, empathetic and productive environment.
Lauren Stern and Maaike Oldemans and Szilvia Kadas
Lauren Stern and Maaike Oldemans, Library, and Szilvia Kadas, Art and Art History Department, presented "Win-Win: Students Solving Problems" at the State University of New York Librarian Association's annual conference, SUNYLA 2019, held June 13 in Syracuse, N.Y.

Submit your faculty/staff activity