OSHKOSH, WIS. - Cortland sophomore
Emma Schulz
(Poughquag/Arlington) won the Division III national title on floor exercise at the 36th Annual National Collegiate Gymnastics Association (NCGA) Championships, hosted by the University of Wisconsin-Oshkosh.
Schulz posted a score of 9.825 to win the title, just ahead of Wisconsin-Eau Claire's Kiya Bjorge's score of 9.80. Schulz is Cortland's first gymnastics national champion since Maddy Scozzie on uneven bars in 2015 and the Red Dragons' first floor exercise champ since Lindsey Marranca in 2005. In all, Cortland gymnasts have now won 17 NCGA national titles (18 overall), and Cortland Athletics now boasts 106 individual national titles across all sports.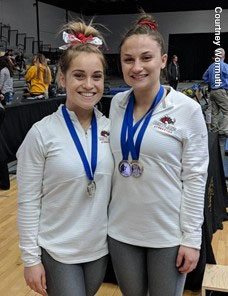 "I'm really excited to know the work I put in this season paid off," said Schulz following the meet.
In addition to her national title, Schulz also registered one of Cortland's two national runner-up finishes at the championship. She tied for second on balance beam with a 9.75 along with Ally Blixt of Wisconsin-La Crosse, with Wisconsin-Whitewater's Franchesca Hutton claiming the title with a 9.775. Senior
Rachel Filipski
(Lancaster) tied for second place on vault, along with Whitewater's Lauren Marshall, with a season-high 9.75. Shadae Boone of Wisconsin-Stout was the vault champion with a 9.825.
Schulz and Filipski earned All-America honors, which go to the top eight finishers in each event. Filipski earned vault All-America recognition for the third time, while Schulz was a repeat All-American on balance beam and earned her first honor on floor.
Freshman
Megan Hanley
(Lynbrook/Malverne) narrowly missed All-America honors on beam, tying for ninth place with a 9.625. The All-America cutoff score was 9.65. Other Red Dragon highlights included a tie for 11th for Schulz on vault (9.60) and a tie for 12th place for senior
Lindsay Riggs
(Rancho Santa Margarita, CA/Trabuco Hills) on floor (9.675).
Cortland's top three scorers on vault were Filipski, Schulz and senior
Lily Szafranski
(Williamsville/Williamsville South) (9.50). The top three Red Dragons on bars were sophomore
Emily Speciale
(San Antonio, TX/James Madison) (9.20), sophomore
Vivian Trevisani
(Colchester, VT) (9.00) and junior
Sidney McConnell
(Winchester, CA/Vista Murrieta) (8.825). Schulz, Hanley and Riggs (9.325) were Cortland's top three on beam, and Schulz, Riggs and sophomore
Julie Giardina
(Wantagh) (9.475) were the Red Dragons' top three on floor.
In addition, Cortland seniors Filipski and Riggs were recognized as NCGA Senior All-Americans in Academics award winners at the meet. The awards go to seniors with at least a 3.0 overall grade point average who appear on the team's NCGA squad list for the current year. The winners must be in their final year of athletic eligibility as well as seniors academically.
Cortland finished sixth in the final team standings with a score of 185.50. Brockport won the national title with a 191.05, followed by UW-Stout (190.275), UW-Whitewater (190.15), UW-Oshkosh (189.40), Ithaca (187.975) and Cortland. The Red Dragons were making their 32nd NCGA Championship appearance - the most of any school.
"I'm incredibly proud of this team and everything they have accomplished this season," said first-year head coach
Sierra Day
. "The nationals stage only got a glimpse of what's to come for this program."
Championship Web Page2019 NCGA Women's Gymnastics Championships; March 23; Oshkosh, Wis.FINAL TEAM SCORES:
1) Brockport - 191.05
2) UW-Stout - 190.275
3) UW-Whitewater - 190.15
4) UW-Oshkosh - 189.40
5) Ithaca - 187.975
6) Cortland - 185.50
Complete Results