Successful 321 Challenge Reaches Goal after Goal
03/21/2017
SUNY Cortland's 321 Challenge met its goal and then some Tuesday, March 21.
By midnight, A total of 601 donors made gifts to the Cortland Fund totaling $117,073.70 during the annual 24-hour drive.
The initial goal had been to get donations of any size from 321 different donors, in order to trigger an $11,000 matching gift provided by generous Red Dragon alumni Victor M. Rumore II '84 and Michael J. Cappeto '71, M '73.
Soon after that goal was reached at 3:04 p.m., Monica Bedford Voldstad '72, M '77, Michael Leeolou '81 and Catherine Suarez Leeolou '81 proposed to give an additional $10,000 matching gift if the Challenge upped the ante to 500 donors. Once that was hit, Michael Leeolou '81 offered another $11,000 match as incentive for reaching 550 donors.
Collectively, these matching gifts totaled $32,100. (321 - see what they did there?)
In addition, Louise M. Conley made a gift of $10,000 for high-donating reunion celebrants who will be recognized during Reunion 2017.
"We are so proud of all Red Dragons," said Erin Boylan, interim director of the Cortland Fund. "Their support will have a lasting impact on the education experience offered at SUNY Cortland by providing scholarships, classroom innovations, faculty and staff development, cultural programming and undergraduate research opportunities.
Although SUNY Cortland is a state-funded institution, less than 25 percent of its operating budget comes from state government. To help close the gap, the Cortland Fund works to raise money through donations that support and enrich the Red Dragon educational experience.
"The Cortland Fund touches every area of campus, from more than 865 scholarship recipients to faculty and staff who receive funding for classroom innovations and undergraduate research opportunities," Boylan said. "I am so grateful we have amazing alumni who are willing to step forward and draw attention to the importance of giving at SUNY Cortland by providing generous match gifts for the 321 Champions Challenge."
The Cortland Fund recently posted a video on YouTube that explained the 321 race against the clock. If you're a "24" fan, you'll want to check it out.
And remember, just because the 321 Challenge is over, it doesn't mean you have to wait for next year's fundraising marathon to contribute.
Donations can be made online at www.RedDragonNetwork.org/challenge. Gifts to the Cortland College Foundation, Inc. are tax deductible. Charitable gifts can be designed to maximize the donor's tax status while providing support to SUNY Cortland.
For more information, contact Boylan or call 607-753-5578.
'Urinetown: The Musical' To Reflect on Current Events
03/21/2017
When arranging the productions for this school year, associate professor Deena Conley wanted a change of pace after February's "Crazy For You," a lighthearted romantic musical comedy.
Conley, chair of SUNY Cortland's Performing Arts Department, chose "Urinetown: The Musical," a contemporary satire that pokes fun at musical theatre and examines environmental and economic issues.
On one hand, as director, she wanted to give her students a chance to perform in a modern musical that poses artistic risks and challenges for the actors. On the other, she realized that the current political environment offered an opportunity to put a brand-new spin on a show that premiered in 2001.
"Urinetown: The Musical" continues for a second weekend in the Lab Theatre at Dowd Fine Arts Center. The show, which opened on March 31, will be performed at 8 p.m. on Friday, April 7 and Saturday, April 8, and at 2 p.m. on Sunday, April 9. Tickets are available at Cortland.edu/boxoffice and are $19 for the general public; $16 for faculty, staff and senior citizens; and $9 for students. The shows are expected to sell out and it is recommended to purchase tickets in advance. Seating is limited and unassigned. Theatregoers are encouraged to arrive early for the best choice of seats.
The character of Caldwell B. Cladwell is the musical's villain. Cladwell, who will be played by senior musical theatre major Sean Noonan, is the CEO of Urine Good Company. An extreme water shortage leads Cladwell's company to install for-pay public toilets, which generates the drama between the wealthy and poor factions in the musical.
Conley has worked with choreographer Cynthia Halpin and costume designer Mark Reynolds to subtly — and not-so-subtly — make connections to current events. For example, Cladwell will sport a President Trump-inspired wig in SUNY Cortland's production.
"I didn't know last year when I chose the play that Donald Trump was going to be president," said Conley. "I think most of us probably thought that wasn't going to happen. Good or bad, we didn't know that was a real possibility on either side. Once that happened, it was like kismet. I saw a connection there that I thought we could explore. I'm not changing any of the dialogue. I'm not changing any of the music. I am highlighting in certain numbers the way I think a leader of our country may interpret those numbers."
For Noonan, the parallels between the plot of the musical and current events make his portrayal of Cladwell an exciting challenge. He might look a bit like Alec Baldwin as President Trump on "Saturday Night Live" with the wig and a broad, red tie, but the similarities, at least visually, stop there. The object of playing Cladwell as Trump is to allow the audience to similarly think of the rest of the characters in real-world terms, highlighting the themes and conflict at the heart of the musical.
"How could you do it without (Trump)?" Noonan said. "I think it's really funny how the sociopolitical climate can really impact a show and what we're doing with it."
The musical's protagonist is Bobby Strong, who leads a pee-for-free rebellion against Cladwell and ultimately falls in love with Cladwell's daughter, Hope Cladwell. Sophomore musical theatre major Matt Henningsen, who plays Bobby Strong, is energized by "Urinetown's" ability to strike a chord with its audience.
"The whole point of live theatre is to connect with the audience on a more personal, human level," Henningsen said.
Elizabeth Earle, a sophomore musical theatre major, plays Little Sally, a street urchin who serves as the musical's co-narrator. Her character explains the nervous perspective of the have-nots, which Earle feels might resonate with a college-age audience.
"I think as part of the poor community in the show, one of my big things is I'm counting my pennies and I'm seeing how much I need and how much I have," Earle said. I think it's actually really relatable to just being in college and how to ration your money and how much you need and how much you have."
"Urinetown" also parodies musical theatre conventions and works to break down the fourth wall, a conceptual barrier between the performers and the audience.
| | |
| --- | --- |
| | |
| | Junior Emily Woods (left) and senior Sean Noonan (right) at rehearsal. |
"It's almost the opposite of everything I teach in acting classes," Conley said. "I teach acting and directing, so I wanted something that really challenged the students to play with this genre of talking to the audience. It's very large and huge while staying absolutely rooted to creating a character."
For junior musical theatre major Emily Woods, who plays Hope Cladwell, satire has been a major shift from her background, but she is enjoying the challenge.
"I think "Urinetown" as a show is very different from anything else I've ever done," Woods said. "I've been in plenty of shows here and I've worked regionally. There are bits and pieces that are making fun of other musicals, so it's a really new experience for me but I'm really enjoying it."
"Urinetown" is a musical with plenty of thematic issues to unpack. Its ending — no spoilers here — is certainly unpredictable. The final note makes the musical ripe for interpretation and discussion on either side of the political and economic aisle.
"The end of the musical is really important to keep in mind," Conley said. "The ending isn't as cut-and-dried as the play leads you along."
Senior musical theatre major Kayla Arias plays Penelope Pennywise, who runs the poorest public urinal. Sure, it's a thought-provoking musical with serious political and economic undertones but Arias has thrived on the humor of it all during early rehearsals.
"Urinetown's" appeal is broad. Those in search of meaningful commentary on current events, musical buffs looking for self-referential satire and others who just want a laugh will all find something to like in "Urinetown."
"I personally can't stop laughing — I probably should stop laughing — while we're trying to act," Arias said. "It's so funny and it will be good for the audience to escape the real world and all the stuff that's happening and just come laugh for an hour and a half."
For more information, contact production manager/publicity coordinator Jeffrey Whetstone or the box office at 607-753-2831.
---
Capture the Moment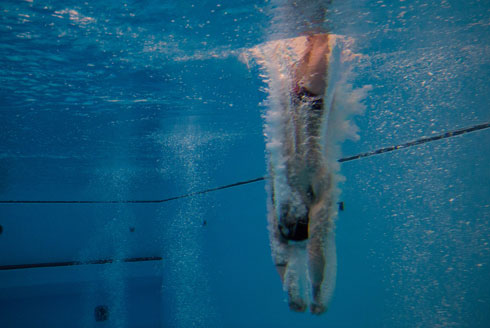 Senior diver Lee Wade cuts through the water in Park Center's Holsten Pool while practicing for the NCAA Division III Men's Swimming and Diving Championships, which were held last weekend in Shenandoah, Texas. Wade, a therapeutic recreation major, set school records on the 1-meter board at the SUNYAC championships in February with an 11-dive score of 500.55 points and a 6-dive mark of 321.90. Although Wade did not win in Texas, he was the first SUNY Cortland men's diver to compete at nationals since Kevin Stuttle in 2007. In other winter athletic news, seniors Bobby Dierna (wrestling) and Jack Flood (indoor track and field) won individual NCAA championships on March 11. To date, SUNY Cortland athletes have won 104 individual national titles.
---
In Other News
Lieutenant Governor to Speak on Campus Wednesday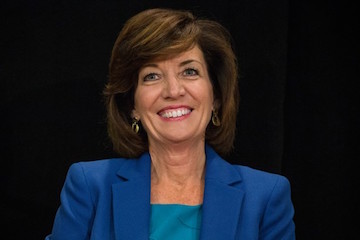 03/21/2017
New York State Lieutenant Governor Kathy Hochul will visit SUNY Cortland Wednesday, March 22, to speak about college affordability and the Governor's Excelsior Scholarship proposal.
The event will take place at noon on March 22, in Jacobus Lounge, Brockway Hall. The event is free and open to the public. Members of the Cortland community, students, faculty and staff are invited to attend and learn about the free-tuition proposal that could revolutionize higher education in New York and revitalize the state's economy.
In addition to Lt. Gov. Hochul, speakers will include SUNY Cortland President Erik J. Bitterbaum, a strong supporter of the initiative, and Student Government Association President Michael Braun, who will offer a student perspective.
The event is one of several similar visits planned for SUNY campuses throughout the state.
The lieutenant governor's office this week released the following announcement:
Please join New York State Lieutenant Governor Kathy Hochul for an event in support of the Governor's Excelsior Scholarship free tuition proposal.

Higher education is a necessity to succeed in today's global economy.

Governor Cuomo is taking the lead on alleviating the burden of student debt. New York's tuition-free degree program, the Excelsior Scholarship, is the first-of-its-kind in the nation and will enable thousands of bright, young students to realize their dream of higher education.

Under this groundbreaking proposal, more than 940,000 middle-class families and individuals making up to $125,000 per year would qualify to attend college tuition-free at all public universities in New York State.

Let's make college a reality, not a dream for New York's middle class.
Comedian's Act Addresses Overcoming Disability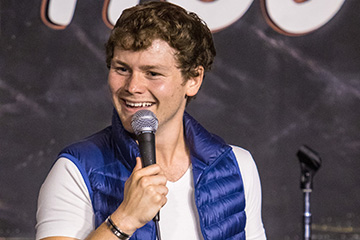 04/03/2017
Comedian Drew Lynch lives his life by the motto: "Do something every day that scares you."
In 2015, Lynch won the hearts of so many on season 10 of America's Got Talent where he made audiences laugh and cry through sharing his story of overcoming adversity.
Lynch will perform at SUNY Cortland at 7 p.m. on Wednesday, April 19 in the Corey Union Function Room.
The event, which is free and open to the public, is part of the spring 2017 "Wellness Wednesday Series," intended to motivate campus and community members to learn more about health and wellness.
Primarily sponsored by the Health Promotion Office and the Student Development Center, the series takes place on Wednesdays at 7 p.m. in Corey Union Exhibition Lounge, unless otherwise noted. The events are free and open to the public.
Lynch, 25, tours the country headlining comedy clubs, speaking about life with his speech impediment and making crowds laugh along the way.
Never picturing himself as a comedian, Lynch moved to Los Angeles at 19 with aspirations to become an actor. While playing softball just a year into his acting career, a freak accident left him with a serious stutter, an injury that put his acting dreams on halt.
Lynch's subsequent comedy act, "A Comedian's Story," tells his tale of overcoming odds and how his stutter has changed his outlook on life in so many ways.
"The person I was before would probably never hang out with who I am today," he stated while auditioning on America's Got Talent.
An entertainer at heart, Lynch often addresses his disability, makes light of it in his act and attributes softball to changing his life and getting him into comedy. Through determination, talent and perseverance he is not giving up on his initial dream of acting. Lynch has appeared on the Marc Maron Show, "Dr. Oz," and as a celebrity guest on the game show "Idiotest."
He has gained more than 500,000 subscribers to his YouTube channel where he uploads video blogs every Monday and Thursday. The comedic videos star Lynch and his service dog, Stella, as he talks about everything from his stutter to his adventures at the dog park.
For more information on the event or the Wellness Wednesday series, contact Lauren Herman, the College's health educator, in Van Hoesen Hall, Room B-1, or at 607-753-2066.
Prepared by Communications Office writing intern Charlie Beeler
College Welcomes Accepted Students to April 1 Open House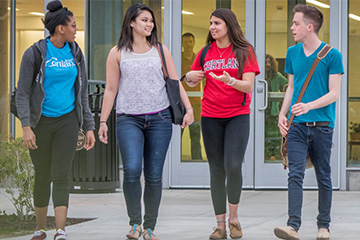 03/21/2017
Hundreds of future Red Dragons will make their way to SUNY Cortland on Saturday, April 1, for the College's Spring Open House, an event that welcomes accepted students to campus.
More than 700 students and their families will spend the day learning more about the College's academic programs, touring campus and speaking with professors, staff members and current students.
"Spring Open House is the perfect opportunity for accepted students to see all of the great things that are in store for them at SUNY Cortland," said Mark Yacavone '94, the College's assistant vice president for enrollment management. "We want them to know that they'll succeed here academically and socially. The hope is that the experience confirms one of the best decisions that they'll ever make."
Visitors are asked to register for the event, but those who have not pre-registered are welcome to attend. High school underclassmen who have not yet applied may attend as well. All students will receive one free meal voucher to use at a campus dining hall.
The College's Spring Open House is meant to be a fun, fulfilling
day for accepted students, one that helps make their college
decision easier.
More than 2,000 people are expected to visit campus. In the past, approximately 70 percent of prospective first-year students who came to Open House decided to attend the College and 90 percent of transfer applicants enrolled.
The day starts at 9:45 a.m. with remarks in Park Center Alumni Arena, followed by an Academic Programs, Student Services and Clubs Fair from 10:15 a.m. to 12:30 p.m. in Corey Gymnasium and Poolside Lobby. Faculty, staff members and students will be available to chat with visitors and answer questions.
From 10:30 a.m. to 12:45 p.m., students and families are encouraged to attend special 45-minute presentations taking place throughout Park Center. More than 20 topics range from study abroad opportunities to financial aid to the College's Adirondack Trail Blazers program.
Special academic program presentations also take place throughout the morning and early afternoon. Visitors can learn more about the College's Honors Program and special advisement opportunities for students interested in law, healthcare and physical therapy.
Guided tours of the campus and residence halls will run 11 a.m. to 1:30 p.m. from Park Center Alumni Arena.
A full schedule of the day's events is available online.
Parking for Open House visitors will be provided in the College's Route 281 parking lot, which features shuttle bus service. Visitors using a GPS device should plug in 1 Folmer Drive, Cortland, NY 13045.
Follow @SUNYCortland_Admissions on Instagram, @CortlandSUNY on Twitter and use #CortlandBound on social media to stay up to speed with the event.
Upcoming Talks to Address Global Issues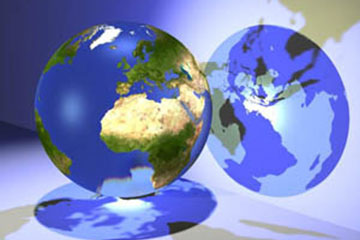 03/21/2017
A panel of anthropologists, international political scientists and historians will address the topic of governments around the world and their potential roles in domestic terrorism, Wednesday, March 22, at SUNY Cortland.
The four panelists, each focusing on a particular hotspot around the world, will discuss "State Sponsored Terrorism: Fact or Fiction?" at 7 p.m. in Moffett Center, room 2125.
The presentation is part of several upcoming events organized by the Clark Center for Global Engagement. The event all are free and open to the public.
The panel will discuss their area of expertise in a controlled question-and-answer format. The panel will be moderated by Brendan McQuade, SUNY Cortland assistant professor of sociology/anthropology.
Panelists and their topics include:
Stephanie Decker, a SUNY Cortland assistant professor of sociology/anthropology, will present on the Dutarte Presidency in the Philippines
Andreas Kotelis, a SUNY Cortland visiting instructor of international studies in the Honors Program, will speak on the Assad Regime in Syria
Hadi Hosainy, a participating faculty member in history at Florida State University's Middle East Center, will discuss Afghanistan, ISIS, the Taliban and the government
Magnus Fiskesjö, an associate professor at Cornell University's Department of Anthropology, will share his research on the Rohingya in Myanmar
The event is sponsored by the Asia and Middle Eastern Studies Committee, the Clark Center for Global Engagement, the Sociology/Anthropology Department and the Campus Artist and Lecture Series (CALS).
Afghan Speaker to Discuss Middle Eastern Topics
One of the panelists, Afghan refugee and scholar Hosainy, also will lecture twice on different topics in Middle Eastern politics and culture.
Hosainy, a post-doctoral fellow at the Middle East Center at Florida State University, has a Ph.D. from the University of Texas at Austin. He has researched extensively in the fields of the Early Modern Middle East; the Ottoman Empire; gender; women; slavery; Islamic law; the Sharia Court; pious endowments and history of family.
He will discuss "Slavery, Women, and the Sharia Court in 17th Century Istanbul" at 4:30 p.m. on Thursday, March 23, in Sperry Center, Room 104.
In this talk, Hosainy will focus on the institution of domestic female slavery as recorded in the thousands of the surviving court records from the period. He will share his research on a method of integration into society of these female slaves: adoption as the children of their masters and mistresses. Although Islamic law categorically prohibited adoption, men and women of Istanbul used several methods to acquire, integrate, and adopt female slaves over the course of the 17th century.
He also will present "My Life as an Afghan Refugee" at noon on Thursday, March 23, in Old Main, Room G09.
Born in the year of the Islamic Revolution to a working-class Afghan immigrant family in Iran, Hosainy learned about the complexity of race, ethnicity, and immigration from the first years of his life.
As a first generation child of Afghan refugees, Hosainy would eventually discover that his fate was closely tied to that of his parents' country, which he had never seen.
Hosainy's story, which connects Kabul to Damascus from the 1970s to today, mirrors that of millions of people whose lives and identities constantly crossed nation-states and whose survival depended on a cycle of immigration and adaptation.
The talks are sponsored by the International Studies Program and the Clark Center for Global Engagement with the support of the History Department, the Political Science Department, International Awareness Club and the Campus Artist and Lecture Series (CALS).
For more information, contact Alexandru Balas, assistant professor, coordinator of the International Studies Program, and director of the Clark Center for Global Engagement, at or 607-753-2250.
Prepared by Communications Office writing intern Charles Beeler
University Police Relocated to Whitaker Hall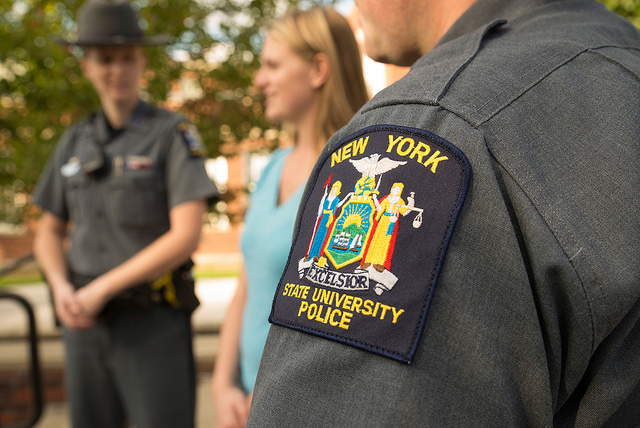 03/20/2017
Last week, SUNY Cortland's University Police Department relocated into Whitaker Hall, giving it a more centralized, convenient and functional facility.
The new location, near the intersection of Broadway Ave. and Pashley Dr. – between Dragon Hall and the Student Life Center – gives university police more office space and better access to the SUNY Cortland community.
"It is going to make it more efficient for us to respond to different parts of campus," said chief Steven Dangler.
All contact information for the University Police Department remains the same. The department may be reached by 911 or 607-753-2111 for emergency calls. The non-emergency number is 607-753-2112. Alternatively, the department may be contacted via email.
Previously, UPD had been located in Van Hoesen Hall, where parking, office space and visibility were issues. The department's new home in Whitaker Hall, has a designated parking lot. It will also have a 24-hour prescription drug drop-off box for anyone looking to safely dispose of unused or expired medication.
UPD will occupy the entire first floor of Whitaker, and some of the second. Its space will include the Parking Department and the Security Systems Division.
Facilities Planning Design and Construction will be moving into the remaining space in Whitaker this week.
'The Secret Path' Film to Screen March 28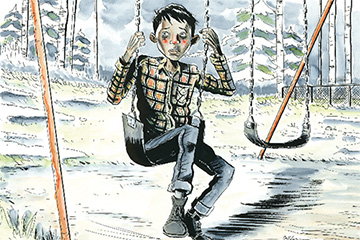 03/21/2017
"The Secret Path," a Native American-themed animated film adaptation of Gord Downie's album and Jeff Lemire's graphic novel, both titled Secret Path, will be shown on Tuesday, March 28, at SUNY Cortland.
The screening is one of two events that will continue the Cultural and Intellectual Climate Committee (CICC) series "Art and Everything." On Tuesday, April 4, a café-style gathering titled "Though My Eyes" will focus on the refugee experience.
Both events are free and open to the public.
The "Art and Everything" series turns on a statement by Bertolt Brecht, the 20th century German poet, playwright and theater director: "Art is not a mirror held up to reality, but a hammer with which to shape it."
"The Secret Path," which begins at 4:30 p.m. in Sperry Center, Room 204, tells the true story of 12-year-old Chanie Wenjack, who died of exposure and hunger alongside railroad tracks near Redditt, Ontario, Canada, on Oct. 22, 1966.
Chanie — mispronounced as "Charlie" by his teachers — was fleeing the Cecilia Jeffrey Indian Residential School in Kenora. He missed his family and tried to return home, not realizing that home was 400 miles away.
Working with Downie's poetry and music, Lemire created a powerful visual representation of the life of Chanie Wenjack. The film is divided into 10 chapters, each a song from Downie's musical retelling of Chanie's story, from his escape from the residential school to his subsequent and heartbreaking death from hunger and exposure to the harsh weather. The final product is a uniquely immersive emotional experience and an insight into the life of a little boy who, as Downie said, he never knew, "but will always love."
The film has a trailer.
The CICC will raffle a copy of the Secret Path graphic novel and digital download as well as autographed items from the Buffalo Sabres to raise money for the Gord Downie and Chanie Wenjack Fund.
'Café Night' with Refugee Stories Set
The College also will host its second "café night" of shared stories from individuals including refugees, titled "Though My Eyes," on Tuesday, April 4.
This year, a group of students from H.W. Smith Elementary School in Syracuse, N.Y., will present their experiences in a variety of formats, from 11:30 a.m. to 12:30 p.m. in the Corey Union Function Room.
The program will resemble one featured at the end of "I Learn America," a 2013 documentary, which included participation from five newcomers to Brooklyn's International High School at Lafayette.
Co-sponsored by the CICC, the Campus Artist and Lecture Series (CALS), and Cortland's Urban Recruitment of Educators (C.U.R.E.) program, the event is free and open to the public.
For more information about the two events, contact Brian Barrett, associate professor of foundations and social advocacy Department, at 607-753-2330.
For more information, contact CICC co-chairs Moranda at 607-753-2052 or Lindh at 607-753-4101. The campus community is invited to visit @SUNYCortCICC on Twitter to share their feedback on "Art and Everything."
Effects of Health on Lifespan is Talk Focus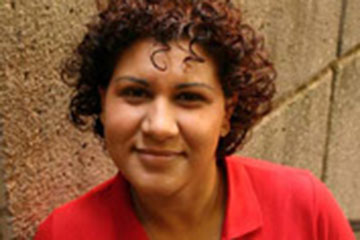 03/21/2017
Arjumand Siddiqi has spent years researching the effect of societal conditions on the human lifespan.
Siddiqi, an international leader in public health studies who is currently an associate professor at the Dalla Lana School of Public Health, University of Toronto, has observed how resource inequities and social policies play a role in health and development.
"Despite a dizzying array of decades-long efforts and interventions from a variety of stakeholders, the frustrating phenomenon in the United States and its peer nations of unequal health status across social and economic groups remains unrelenting," said Siddiqi, who is a research affiliate with Columbia University's National Center for Children and Families, in New York, N.Y.
Siddiqi will share her research Tuesday, April 4, at SUNY Cortland.
Her lecture, "How Can Societies Address the Social Determinants of Health? Lessons Learned from Research and the Real World," begins at 6:30 p.m. in Sperry Center, Room 0204.
The talk, which is free and open to the public, represents the tenth Charles N. Poskanzer Lecture sponsored by the College's Health Department.
The presentation is supported by the Charles N. Poskanzer Fund, an endowment named in honor of the late SUNY Distinguished Service Professor emeritus who taught in the College's Health Department for 40 years.
Siddiqi earned her doctorate in social epidemiology at Harvard University and seeks to solve a stubborn dilemma in modern public health. Her research on the subject currently is supported by more than $2.5 in public and private grants, including three awards from the Canadian institute for Health Research.
"The phenomenon begs us to examine the fundamental drivers of 'health inequalities,' and to come to terms with the difficult but necessary actions we must take to ensure a chance at health for all," she said.
Siddiqi serves as an adjunct associate professor at the Department of Pediatrics and Hospital for Sick Children at the University of Toronto and the Gillings School of Global Public Health, University of North Carolina at Chapel Hill.
She also graduated from the Canadian Institute for Advanced Research Global Academy and is a former associate member of its Program on Successful Societies. A member of the World Health Organization's Commission on Social Determinants of Health Knowledge Hub on Early Child Development, she has served as consultant to several international agencies including the World Bank and UNICEF.
The Poskanzer Fund was established through the Cortland College Foundation as an endowment to support an annual, public lecture offered by the College's Health Department in honor of its former colleague. Since Poskanzer's death in 2010, the fund has continued to grow through donations made in his memory. The Poskanzer Lecture allows the Health Department to bring national leaders in public and community health to campus to meet with students and faculty and to deliver a public lecture on a current public health issue.
For more information, contact Alan Sofalvi, SUNY Cortland assistant professor of health, at 607-753-2980.
Prepared by Communications Office intern Charlie Beeler
Students Organize Eighth Diversity Conference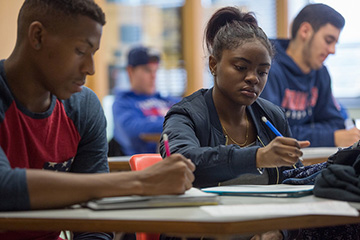 04/07/2017
On his journey from the Onondaga Nation to higher education and back again, Hugh Burnam feels he has gone through significant personal development.
"I have come to understand the need to transform and grow as a person — and as a community member," said Burnam, who also uses his Onondaga name, 'Hode'hnyahä:dye'.
| | |
| --- | --- |
| | |
| | Hugh Burnam |
Burnam, a member of Mohawk Nation, Wolf Clan and a Ph. D. candidate at Syracuse University's Cultural Foundations of Education program, will share his ideas on Saturday, April 8, at SUNY Cortland.
He will deliver the keynote speech during the eighth annual Conference on Diversity, Equity, Inclusion and Social Justice. His talk, which is supported by a Campus Artist and Lecture Series (CALS) grant, begins at 12:30 p.m. in the Corey Union Function. The presentation is free and open to the public.
This year's student run conference theme focuses on inspiration, compassion, shared humanity and ways in which SUNY Cortland students can gain the experience they need to be inspired to make a difference in our world. The conference is geared to have participants recognize their shared humanity, and foster connections across cultural divides to promote a more inclusive campus community.
Burnam works closely with the Onondaga Nation, specifically with Native youth. He focuses on decolonization efforts including language revitalization, planting, traditional Haudenosaunee games and sports, and environmental advocacy.
He describes his own complicated journey toward a greater self-knowledge.
"I found myself dealing explicitly with my own internalized colonization, racial micro-aggressions that I've experienced, discovering fatherhood, and examining masculinities as related to my native identity," he said.
"I found a great deal of strength and perseverance in working with my own Haudenosaunee communities, that helped me to push through my Ph.D. program," he said."I will discuss whiteness and how to have difficult cross-racial conversations to move towards peace."
The conference runs from 8 a.m. to 4 p.m. in Corey Union and features presentations on diversity during four educational sessions.
"It's important that the student body realizes we all come from different paths of life, and it is those differences that help us grow and learn from one another," said Mike Guity, a mathematics major from Brooklyn, N.Y., who as diversity committee chair has helped plan the day of events.
"This conference is important because it allows people from the campus and other campuses to come and have those conversations about the things we may not understand," said Bailey Ward, a senior communication studies major from Mayfield, N.Y., who is among those scheduled to give opening remarks.
"It also allows students to have a voice and to share their knowledge which is such a great thing because we can all learn something from each other," she said.
This student-led conference allows students and faculty to problem-solve, conceptualize, research and present across a wide range of disciplines.
"It is important to not just scratch the surface when it comes to diversity, but really dig deep and explore all aspects," said Guity.
Registration and check-in will take place from 8-8:45 a.m. in the Corey Union lobby.
A welcome with Erik J. Bitterbaum, SUNY Cortland president, Greg Sharer, vice president for student affairs, Lima Safford, interim assistant director for multicultural life and diversity, and Ward will take place from 8:45- 9:35 a.m. in the Corey Union Function Room.
The four educational sessions will be held between 9:45-11:35 a.m. and 1:25-3:15 p.m. Lunch and cultural performances will take place in the Corey Union Function Room from 11:45-12:30 p.m. followed by the keynote speech from 12:30-1:15 p.m.
Students and faculty may register for the Diversity Conference through the Multicultural Life and Diversity webpage individually or by group. The individual fee is $30 for students, $35 for faculty, staff and alumni. The group fee for five or more participants is $27 for students and $32 for faculty, staff and alumni.
For more information, contact the Multicultural Life and Diversity Office.
Prepared by Communications Office writing intern Jessica Haverlin
Mayor to Present Community Roundtable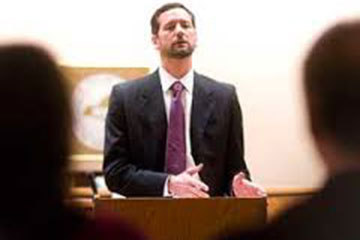 03/21/2017
The best educational opportunities for SUNY Cortland students happen through community outreach.
Brian Tobin, a 1994 SUNY Cortland graduate, should know.
Mayor of the City of Cortland since 2011, Tobin is also head coach SUNY Cortland's men's and women's swimming and diving teams. Balancing duties both up and down College Hill, Tobin has tried to bring town and gown together for mutually beneficial projects.
On Thursday, April 6, Tobin will discuss several opportunities for engagement at a Community Roundtable. His talk, "Cortland, City and SUNY; Stronger When Working Together," will be held 8-9 a.m. in the Park Center Hall of Fame Room.
The event is free and open to the public. Refreshments will precede the presentation at 7:45 a.m.
Tobin previously coached at North Carolina State University, SUNY Potsdam and the University of Wisconsin-La Crosse before accepting his current role at Cortland in 2002. He maintains strong ties to both the College and the Cortland community.
In Tobin's opinion, local residents should view the nearby presence of college students as a resource.
"Regardless of how long students choose to live in Cortland, they are a part of the community," Tobin said. "We should all find ways to improve life for those around us."
Tobin was elected to City Council in 2008 with hopes of improving housing issues in the community that were raised by local residents. He served two terms on the City Council before running for mayor. With Tobin's help, the city has since established an ad-hoc housing committee that recommended all rental housing in the city be registered and periodically inspected for fire and zoning code compliance.
With SUNY Cortland's many alternatives for education and recreation, students never need to leave the campus, according to Tobin. Yet engaging with the community can be an enriching experience for everyone involved.
"Even people who have been residents of the community for many years may not realize the opportunities that exist," Tobin said of the upcoming presentation. "I'd like to see people learn more about areas of interest that may be engaged in the community."
Indeed, for its remarkable level of student, faculty and staff volunteer activity, the College in 2016 was named to The President's Higher Education Community Service Honor Roll With Distinction. The award recognizes higher education institutions that reflect the values of exemplary community service and achieve meaningful outcomes in their communities. The Honor Roll is part of the Corporation for National and Community Service's strategic commitment to engage millions of college students in service and celebrate the critical role of higher education in strengthening communities.
For more information, contact Samantha Howell, special events coordinator for the President's Office, at 607-753-5453.
Prepared by Communications Office intern Jamie Winsper
Future Educators to Focus on Classroom Diversity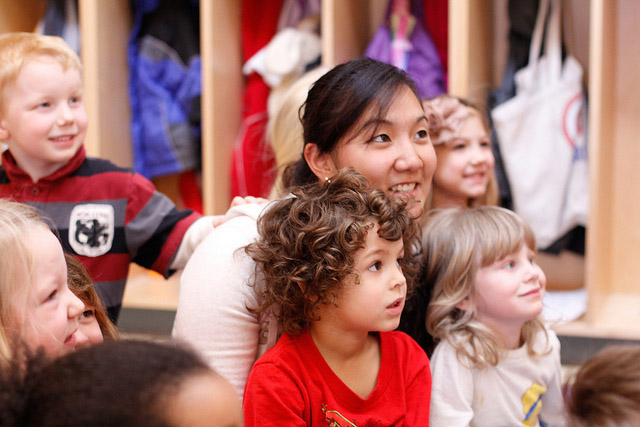 03/21/2017
SUNY Cortland's School of Education is holding two events to help current and future educators negotiate issues of diversity in schools.
A panel of teachers from Cortland area districts will discuss incidents of bias they have experienced in their schools and share strategies for addressing these issues in the classroom on Wednesday, April 5, at SUNY Cortland. Geared to college students in education fields as well as college faculty and local school educators, the community teach-in is free and open to the public.
A similar event about diversity in the classroom aimed at future school principals and superintendents was held today during the annual Educational Leadership Interns Conference at the Port Watson Mini-Conference Center off campus.
That conference, designed for experienced teachers seeking training as school administrators, is supported by the Francis J. Cheney Fund underwritten by Louise M. Conley, the granddaughter of the fund's namesake early Cortland Normal School principal. The endowment benefits candidates for a Certificate of Advanced Study in Educational Administration (C.A.S.) from the College with seminars on a wide variety of current topics in education leadership.
"We need to create learning opportunities for handling what is termed 'hurtful language' related to issues of bias that often come up in classroom discussions," says Andrea Lachance, dean of the School of Education. "How do you productively engage with these issues and make the environment a safe space for all kinds of face-to-face discussion in a school?"
The April 5 community teach-in, titled "No, It's Not Okay: Addressing Hurtful Language and Bias in School Settings," will run from 7 to 9 p.m. in the College's Sperry Center, Room 105.
The panel presentation will be followed by an audience question-and-answer period. During the second hour, a series of breakout conversations will draw on the collective expertise of all participants.
The panelists all are educators experienced in dealing with these challenges. The event's purpose is to move the topic of diversity from theoretical discussion to classroom practice, something that students in the education disciplines have emphatically requested, Lachance said.
| | |
| --- | --- |
| | |
| | SUNY Cortland students, shown above and above left, are learning how to work one-on-one with children in the classroom as they complete their degrees. |
"There's a disconnect between the theory and practice," Lachance said. "Everyone knows about stereotyping and power differentials. And in a lot of our coursework, we talk about the idea of inclusion, how we, as teachers, need to be sure everyone in our classrooms feels respected."
Well, there's theory and then there's practice.
"We feel we need to do more to help people think through how these issues might be addressed in practice," Lachance said. "How do we, as members of school communities, engage with these issues in a productive and educative way so that we're all learning and appreciating differences? Because despite the current political rhetoric and the fact that we all have individual political beliefs, schools should be safe spaces for all children."
"I think partly it's the result of the political climate that people are thinking these issues are very near the surface and there's a lot more sensitivity around it," Lachance said. "So the educational leadership faculty thought it was very timely. We've been fortunate to have some local superintendents who have expertise in addressing these issues willing to share their experiences with our interns."
For more information, contact the School of Education at 607-753-5431.
Two Red Dragons Win National Championships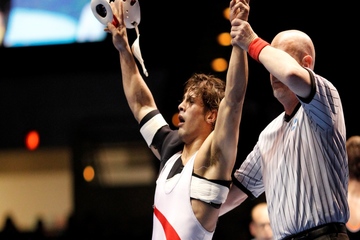 03/13/2017
SUNY Cortland senior wrestler Bobby Dierna and senior track and field athlete Jack Flood both won individual NCAA Division III national championships on Saturday.
Dierna, the defending 2016 Division III national champion in the 157-pound weight class, closed out an undefeated season with the victory. On Saturday, he defeated Logan Thomsen of Wartburg College (Iowa), 8-7 in La Crosse, Wis.
It was Dierna's fourth consecutive finish in the top four at the NCAA championships. He placed third at 149 pounds as a freshman and was second as a sophomore. As a junior, Dierna defeated Wartburg's Drew Wagenhoffer in a 7-5 decision.
Flood set school and SUNYAC records with a score of 5,247 points to claim the heptathlon title at the indoor track and field championships in Naperville, Ill. His score was the fifth-best ever posted by a male athlete at the Division III level. Flood had placed third as a junior in the heptathlon, which includes seven events: 60-meter dash, long jump, shot put, high jump, 60-meter hurdles, pole vault and the 1,000-meter run.
Flood's performance in the final event, 1,000-meter run, sealed his first-place finish.
| | |
| --- | --- |
| | |
| | Jack Flood (left) competes at the national championships. |
"When I finished, I thought I did it because the two people I was racing didn't finish ahead of me," Flood said. "The way I was running, I felt like I got it. I crossed the line and I was looking at the scoreboard thinking, "Did I really just do this?" I'm waiting and it felt like forever and then the scoreboard popped up with me at No. 1 and I literally just exploded. I yelled and I've never felt that energy come out of myself before. I couldn't believe it actually happened. I was in shock, in a way."
To date, SUNY Cortland athletes have won 104 individual national championships. The College also owns 25 team titles at the national level.
Dierna finished his career with a 106-9 record and joins former SUNY Cortland wrestlers Joe Giaramita '16 and Mike Bucci '99 as the program's only four-time All-Americans. He went 21-0 this past season, recording nine wins by pin, six on technical falls and five in major decisions. A native of Webster, Dierna won a New York State Public High School Athletic Association title at 96 pounds as a freshman at Wayne High School.
Flood was named the United States Track and Field and Cross Country Coaches Association's Division III Men's Atlantic Region Field Athlete of the Year earlier this month. He ranked No. 1 in the country in the heptathlon heading into the national championships and was ranked No. 14 in the high jump.
In the spring, Flood will compete in the decathlon for SUNY Cortland's outdoor track and field team.
Flood was taken aback by the support he received from friends and well-wishers. That was obvious the first time he looked at his cell phone.
"I got my award and I just wanted to take a picture to show my parents and I had a load of text messages," Flood said. "I was like, "Wow." Before the 1,000, I knew there were so many people watching and rooting me on. Warming up for the 1,000, I knew it wasn't just for me. It was for all the people watching and all the people who support me. That helped me go after it."
This Graduate and Principal Makes House Calls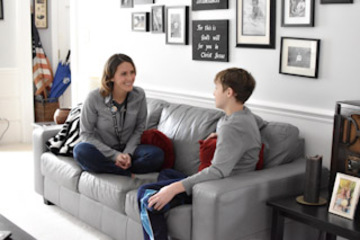 03/16/2017
Elizabeth MacNabb MacWilliams '03 spent childhood summers driving around with her mother, Joan Sexton Gray '74, an educator who spent her annual break visiting students and families at their homes.
That experience left a lasting impression on MacWilliams, the principal of Carroll Leadership in Technology Magnet Middle School in Raleigh, N.C. She believes that education doesn't stop when the final bell rings. In an effort to deepen the connection between school and community, MacWilliams has vowed to meet all 1,003 of her students at home during this school year. Her efforts have drawn the attention of the national media and she's recently been profiled by NBC News and People Magazine.
"It really started when I was growing up with my mom," MacWilliams said. "She is a Cortland grad and my dad is a Cortland grad as well. She used to pack us all into her van and we'd all go on home visits together throughout the summer. It was something that I talked about in my classes at Cortland and certainly during my practicum and student teaching experiences."
Soon after graduating from SUNY Cortland, MacWilliams began teaching at Southwest Elementary in Durham, N.C. One day, she had her students prepare the classroom for a parents' open house that night. The students were excited to show off their progress and MacWilliams was eager to share her goals for the school year.
Yet not a single parent came to the event.
Hectic schedules make it tough for many parents to attend conferences at school, MacWilliams said. She also believes some parents have negative personal memories of school and opt to skip events with teachers.
So MacWilliams decided to take her message to her students' homes, building bridges in the process.
"Beyond it being an inconvenience, some of our families haven't had a positive school experience," MacWilliams said. "They just don't have a lot of faith or trust in our schools or they don't recognize the value in our schools, inherently. By building those relationships and helping to expose families to the idea that schools are more than academic institutions, there is a bond that is formed."
MacWilliams became principal at Carroll Middle School in 2015 and has continued the tradition of fostering relationships with her students and their families outside of school. Whether she's popping in on her way to work in the early morning or stopping by on nights or weekends, MacWilliams is going above and beyond to listen to students and their parents. As a result, students are more confident and are willing to look to adults in school as role models.
"I think, without a doubt, all of the visits have yielded positive outcomes," MacWilliams said. "It's not to say that it's a miracle and that kids aren't going to make mistakes after they form relationships with an advocate or a teacher in the school. What it does is it builds trust, and when kids do make mistakes, there is an ability to learn from those mistakes and overcome those mistakes and take a more positive path."
| | |
| --- | --- |
| | |
| | MacWilliams (center) visits a student at home. |
Getting to know her students personally is MacWilliams' goal. She'll sit and listen as the middle schoolers practice instruments or tell tales about their studies or athletic achievements. Eventually, the discussion may shift to the future, topics such as standardized tests, college and careers. Yet MacWilliams asks her students to focus on the moment.
In her latest principal's message on the Carroll Middle School website, MacWilliams writes, "Someday is now…the learning journey is the destination." She wants to make their day-to-day experiences as middle schoolers matter.
"Without having gone to that student's house and having deeper conversations beyond just math, science, social studies and ELA (English Language Arts), I wouldn't have recognized the deep capacity in that student beyond academics," MacWilliams said. "Even if it's something I'm not completely conscious of, I think that choice and voice are so important to these kids. By going to them and hearing them out and hearing from their families, it has a direct impact on the success of the school."
MacWilliams comes from a SUNY Cortland family. Her father, Terry MacNabb '81, retired in 2016 after serving a decade-long stint as superintendent of Waterloo Central Schools. Her husband, Andrew MacWilliams '04, teaches Healthful Living and is a soccer coach at Apex (N.C.) Middle School. She is surrounded by successful educators and credits SUNY Cortland for getting her ready to work in a school environment.
"I was so well-prepared for the professional world after leaving Cortland," she said. "I was lucky enough to get a job right away. I moved south and left the area but absolutely felt prepared and had a lot of great experiences at Cortland."
Home visits are becoming an increasingly popular way for teachers and administrators to listen to parents and learn more about their students. MacWilliams is certainly an advocate for off-campus meetings – she's seen the success first-hand – yet she's most concerned with the results. Are students performing better in the classroom? Do parents understand what their children are getting out of school? That remains her ultimate goal, no matter the process.
"I think we live in a super-polarizing world and I'm hopeful that it doesn't necessarily have to be through the home visits, which are really a what," MacWilliams said. "It's more about the why, which is the community-building and really marrying the outside community and our academic institutions. The world is changing so vastly that if we are going to successfully prepare kids for the real world, we have to make sure that we truly are vested in their communities."
Alumnus Wins Mark Twain Look-alike Contest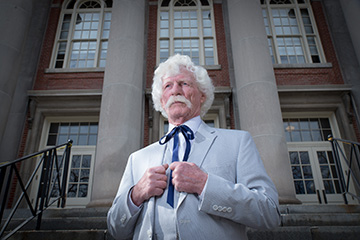 03/21/2017
People frequently tell Ralph Shortell '66 that he looks a lot like Mark Twain.
In response, Shortell adopts the manner of the 19th century author and humorist and speaks from beneath his flowing white mustache: "The reports of my death are greatly exaggerated."
Shortell doesn't have to channel familiar quotes from the American literary icon to make people think of Mark Twain. All he needs to do is show up.
| | |
| --- | --- |
| | |
| | This image of Samuel Langhorne Clemens (pen name Mark Twain) is courtesy of Mathew Brady. |
He recalls, for example, the time when he and his family stopped at Woodlawn Cemetery in Elmira, N.Y., to visit the final resting place of Samuel Langhorne Clemens — who was better known by his pen name, Mark Twain.
"We walked out from behind a monument and people gasped, they thought it was the reincarnation of Mark Twain," said Shortell of Dryden, N.Y., a retired director of student activities and the Student Center at Tompkins Cortland Community College.
Clemens, most famous for works such as The Adventures of Tom Sawyer and Huckleberry Finn, lived from 1835 to 1910. Today, the striking visual similarity between the two has become something Shortell takes pride in: dressing up in Twain's trademark ivory suit and delivering his famous quotes, all while continuing to learn about Twain's life and sharing it with others.
On Sept. 17, Shortell won the first ever Mark Twain Look-alike Contest hosted by the Mark Twain House and Museum in Hartford, Conn. He competed against two other Twain look-alikes, dressing up and delivering an attributed Mark Twain quote.
Shortell chose to excerpt part of Twain's Oct. 12, 1874 speech, given when the humorist and his family lived in that state's capital:
"Ah…… Hartford…….. a city whose fame as an insurance center has extended to all lands and given us the name of being a quadruple band of brothers working sweetly hand in hand — the Colt Arms Company, making the destruction of our race easy and convenient. Travelers Insurance Company, paying for the victims when they pass away. The fire insurance companies taking care of their hereafter and….. finally the New England Granite Works that perpetuates their memory with stately monuments and statues."
The panel of judges named Shortell the winner.
| | |
| --- | --- |
| | |
| | Shortell stands with Valerie and David Carrier near the Capital in Hartford, Ct. The two impersonators portray Elizabeth Colt, wife of the owner of the Colt Arms Company and James Batterson, the owner of the New England Granite Works. Both Colt and Batterson knew Twain when he lived there. |
Who knew that Shortell — who graduated from SUNY Cortland in 1966 with a B.S. in recreation and received his M.S. in guidance and personnel service from SUNY Brockport in 1971 — would find an enduring pastime in historical reenactment?
In fact he now is working to become a first-person interpreter for Twain, teaching about the author's life rather than just impersonating him.
"What an impersonator does is what I do now; simply standing around, looking good and talking to people," Shortell said. "As first-person interpreter you have a much better understanding of the individual, their writings, characteristics and so on."
Shortell recalls when he first became a fan of Mark Twain, like so many others.
"In fifth grade we were required to read The Adventures of Tom Sawyer but then my interest waned for a few years," he said.
In 1965, as a SUNY Cortland student, he recalls the College hosted "Mark Twain Tonight," Hal Holbrook's famous one-man show where the well-known actor portrayed and recited Twain's work.
Years later — when Shortell had grown to look more like Twain — he continued to attend programs similar to "Mark Twain Tonight." He had front row seats at "Mark Twain: The Musical," a summertime production hosted by Elmira College.
"The gentleman portraying Twain during his performance came over, looked at me and had to stop because he literally forgot his lines for a moment," he said.
When Shortell finally attended a meet-and-greet at Holbrook's 90th birthday party in Hartford, Conn., the actor drew a comparison between the two. Holbrook said that while he spent upwards of three hours applying makeup, his wig and mustache to portray Twain, Shortell merely had to fluff up his hair.
| | |
| --- | --- |
| | |
| | Ralph Shortell '66 stops by Moffett Center wearing his authentic Mark Twain outfit during a recent visit to SUNY Cortland. |
"I'm glad the real Mark Twain could attend my 90th birthday," Holbrook later told him.
The Mark Twain House and Museum is working with Shortell to portray Twain at future events such as the "Tom Sawyer Days" in June.
He hopes to reenact Twain next Sept. 26 at a planned release of the author's never-before-published children's book, titled The Purloining of Prince Oleomargarine. The book is based on 16 pages of handwritten notes of bedtime stories Twain told his daughters.
"He would make up a story every night using items on the mantel, always in the order of which he found them," Shortell said.
When not researching his historical portrayals, Shortell enjoys volunteering, woodworking, traveling and maintaining his three classic cars, including a 1967 Shelby GT350. He has toured Route 66 and along the east coast.
Prepared by Communications Office writing intern Charlie Beeler
Student Achievements
Saige Hupman, a graduate student in exercise science, joined other SUNY-wide graduate students at the SUNY Graduate Research Conference "Today and Tomorrow" held March 7 at Empire State College in Saratoga Springs, N.Y. Hupman's poster presentation, "Less is More; Effects of Added Ankle Weights on Caloric Expenditure in Lower Body Positive Pressure Treadmill Running," was well attended and drew a special mention during the keynote speech introduction by Empire State College President Merodie Hancock. SUNY Vice Chancellor for Research and Economic Development Grace Wang presented the keynote address which was about the importance of multi-disciplinary research and SUNY.
Recent research in the Kinesiology Department's exercise physiology lab has focused on heart rate, blood pressure and calories used while walking and running on a newly designed treadmill that can lower body weight. Hupman's project measured calories and lower leg muscle activity on the new treadmill with added ankle weights. Her work is focused on cardiac rehabilitation and her preliminary research was awarded a top five award at the regional American College of Sports Medicine (ACSM) conference.

Suggest a feature story
---
People on the Move
Matthew Clark Joins Institutional Advancement
03/21/2017
Matthew "Matt" Clark, who possesses more than 20 years of experience in fundraising within higher education, recently joined SUNY Cortland's Division for Institutional Advancement as associate vice president.
He began his duties on Jan. 23 and reports to Peter Perkins, vice president for institutional advancement and executive director of the Cortland College Foundation.
In addition to outstanding administrative and leadership qualities, Clark brings to his current role his experience as an accomplished grant writer and his knowledge in professional and technical communications.
As executive director for institutional advancement at Cazenovia College for the previous 11 years, Clark held leadership positions in external and government relations and raised approximately $10 million in capital and program support for the institution.
He served as a faculty member in Cazenovia College's communications studies program throughout his career there.
Before Cazenovia College, Clark directed grants management at the Syracuse Housing Authority for four years and held positions at Iowa State University of Science and Technology and Syracuse University.
Clark holds a law degree from Syracuse University College of Law, where he concentrated in law and technology management. He earned a B.A. in communication/journalism and computer science from St. John Fisher College.
---
Faculty/Staff Activities
Seth N. Asumah
Seth N. Asumah, Africana Studies and Political Science departments, was named a Boren Merit Review Panelist by the Institute of International Education and the National Security Agency, Washington D.C. Between Feb. 26 and March 1, the panel reviewed 27 National Security Education Program Merit Fellowship applications and selected finalists for the Africa Region Boren Fellowships for 2017. Serving on the panel with Asumah were Kelly O'Brien from Embry-Riddle Aeronautical University and Lynn Westley from Lake Forest University.
David Kilpatrick
David Kilpatrick, Psychology Department, was the keynote speaker at the annual Arkansas Department of Education Literacy Conference on March 7 in Hot Springs. On March 18, he presented an all-day professional development workshop for the Ohio Valley Chapter of the International Dyslexia Association in Cincinnati. Both presentations were on research on effective interventions for reading difficulties.
Kathleen Lawrence
Kathleen Lawrence, Communication Studies Department, had a spiraling abecedarian poem, "Dorothy Delivered," published in March in The 2017 Rhysling Anthology (Science Fiction Poetry Association). In February Silver Blade Magazine published her "Haiku Swarm" group of four haiku: "Path," "Rules of the Rodeo," "Laws of Nature" and "Unrequited Love." Altered Reality Magazine honored Lawrence as a Rhysling award nominee on their March/April 2017 front cover. Her free verse poem "Dear Lost Love of My Life" is the featured publication today in Silver Birch Press's Lost & Found poetry and prose series. Lawrence's published poem, "Trump's Tip," was recorded by request of the editor at Rattle Magazine. In the last 12 months, 49 poems by Lawrence have been published or are forthcoming.
Melissa Morris
Melissa Morris, Physics Department, gave an invited talk at the Chondrules and the Protoplanetary Disk workshop, held Feb. 27-28 at the Natural History Museum in London, followed by an invited talk on March 1 at the University of Warwick in Coventry, England.
Susan Rayl
Susan Rayl, Kinesiology Department, recently had two chapters and one book review published: "Smilin' Bob Douglas and the Renaissance Big Five" in the book Separate Games: African American Sport behind the Walls of Segregation, edited by David K. Wiggins and Ryan A. Swanson, and published by the University of Arkansas Press, 2016. Also, "Robert L. 'Bob' Douglas: Aristocracy on the Court, an Architect of Men" in the book Before Jackie Robinson: The Transcendent Role of Black Sporting Pioneers, edited by Gerald R. Gems and published by the University of Nebraska Press, 2017. Her book review of The Rise and Fall of Olympic Amateurism, by Matthew P. Llewellyn and John Gleaves, University of Illinois Press, 2016, was published online by the Sport Literature Association on Jan. 10.
John Suarez
John Suarez, Coordinator of the Office of Service-Learning, learned that his chapter, "Promoting Civic Engagement in a Required General Education Course," has been accepted for publication in Teaching Civic Engagement Across the Disciplines in the Twenty-First Century, published by the American Political Science Association. Suarez's chapter is in the section that provides guidelines for developing students' commitment to civic engagement through a required general education course. In this case, that course is Writing Studies in the Community II (CPN 102), which is part of the Learning In Deed learning community. Guidelines included focusing on skills of relationship-building, and on "academic agility," the instructor's ability to take advantage of "teachable moments" by replacing planned lessons with others that help students connect service-learning experiences with learning objectives.
Also, Suarez presented "Developing Value in Civic Engagement" as part of a panel in the "Why Engage? The Value of Civic Learning in Higher Education" event held March 1 at SUNY Plattsburg. His message promoted three principles of civic engagement: Build Relationships, Be There, and Act. Benefits to students included the realization that they can improve society through short-term and through long-term activities. Communities benefit by enjoying greater capacity. Institutions benefit by being able to show that they provide students with strengthened professional, civic, and personal skills.
On March 16, Suarez served as a panelist in a session titled, "The Civic Action Plan: So, How's That Going on Your Campus?" which was part of the Eastern Regional Campus Compact's Moving Us Forward: Equity Through Community Engagement Conference in New York City. SUNY Cortland's Civic Action Plan, which is a Campus Compact-promoted recommitment to developing students' civic engagement, is based on the idea that our dedication to civic engagement, and our work for SUNY Cortland's financial health, enjoy a symbiotic relationship.
Mary Ware
Mary Ware, professor emerita of Foundations and Social Advocacy, and Mary F. Stuck, professor emerita of sociology at SUNY Oswego, facilitated a presidential salon discussion on diversity and inclusion on Feb. 27 at D'Youville College.

Submit your faculty/staff activity