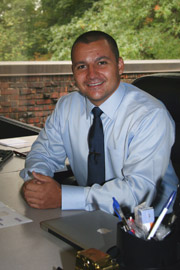 Campus Champion
Senior Patrick Viscome wears many titles at SUNY Cortland, each demanding a disciplined level of commitment. The Student Government Association president directs an executive board representing a wide range of campus populations. He aims to lead an expanded effort to give back to the community through campus-wide volunteerism. This natural leader sharpened his skills at Auxiliary Services Corporation, where he has worked since his freshman year. He now serves as Neubig's assistant supervisor, a job that he tacks onto his already full schedule as a business economics honors student: a SUNY Cortland champion charting a successful future.

Nominate a Campus Champion
---
Wednesday, Sept. 9
Fall Walk-in Welcome: Hosted by Advisement and Transition, Outstanding New Student honorees will be recognized, Memorial Library, Room A-111, 4-6 p.m.
Wellness Wednesday: "10 Things Every College Student Should Know About Sex," Mary Dykeman, Public Health Educator, Jacobus Center for Reproductive Health, Corey Union Exhibition Lounge, 7 p.m.
Thursday, Sept. 10
SUNY Cortland Study Abroad Fair: Corey Union Function Room, 11 a.m.-2 p.m.
Friday, Sept. 11
Sexual Health and Assault Prevention Educator (SHAPE) Training: SHAPE provides education and training for its members to serve as peer educators on the subject of sexual assault risk reduction and prevention., Brockway Hall Jacobus Lounge, 3-9 p.m. RSVP to Cynthia Lake, cynthia.lake@cortland.edu
UUP Welcome/Welcome Back Picnic: Yaman Park, 4-7 p.m. Reservations required.
9/11 Remembrance: All faiths are invited to share their expressions of "Sorrow and Hope: Remembering 9/11," Interfaith Center, 12:05 p.m.
9/11 Memorial Service: Members of the College and Cortland community are invited to attend this ceremony, hosted by the SUNY Cortland Emergency Medical services (SCEMS), Corey Union steps, 7 p.m.
Saturday, Sept. 12
Cortland Nites Novelty Night: Corey Union Exhibition Lounge, 8 p.m.
Saturday, Sept. 12 and Sunday, Sept. 13
Second Annual Tai Chi for Wellness Weekend: Featuring Taijiquan Master Jesse Tsao, Brockway Hall Jacobus Lounge, 9 a.m.-4 p.m. both days. For more information contact Andy Fitz-Gibbon by email or phone at 607-279-6584.
Tuesday, Sept. 15
Outdoor Tennis Courts Grand Opening: Tennis Courts Pavilion, 11 a.m.-noon
Opening Reception: "Renaissance Science, Magic and Medicine of Harry Potter's World," traveling exhibition featuring the literary phenomenon started in 1997 by British Author J. K. Rowling, Memorial Library, second floor, 6:30-8 p.m. Refreshments will be served and student science clubs and the College's Quidditch Team will be present to share information.
Harry Potter's World Panel Discussion: Faculty members will explore "Renaissance Science, Magic and Medicine of Harry Potter's World," speaking on such topics as alchemy, herbology and midwifery. Panel members include Gregory Phelan, Chemistry Department, Angela Pagano, Biological Sciences Department, Moataz Emam, Physics Department, and Sally Dear-Healey, visiting assistant professor of sociology/anthropology. A question-and-answer session will follow, Memorial Library, second floor, 7 p.m.
Wednesday, Sept. 16
Human Resources Program: "Leading with GRIT: Inspiring Action and Accountability through Generosity, Respect, Integrity and Truth," Park Center Hall of Fame Room, 8:30-10 a.m. Reservations required.
Lecture: "Turkey & ISIS: A Reliable Ally?" by Sinan Ciddi, executive director of the Institute for Turkish Studies at Georgetown University, Moffett Center, Room 2125, 4:30 p.m.
Dowd Gallery Artists's Talk: "HOMEFRONT and other works by Sarah McCoubrey," an exhibition of the artist's new paintings created in Brussels in gouache on paper and butter wrappers along with a selection of earlier drawings and mixed media pieces. Dowd Fine Arts Center Gallery, 5 p.m.
Wellness Wednesday: "Walk the Walk of Student Services," open house format, Van Hoesen Hall and Corey Union, 5-7 p.m.
Lecture: The inaugural Dr. Peter A. DiNardo '68 and Judith Waring Outstanding Achievement in Research Award recipient Associate Professor of Spanish and Linguistics Donna West, Modern Languages Department, will present "Action Habit to Cultivate the Guessing Instinct: Peirce's Pragmaticist Dimension," Old Main Colloquium, 6-7 p.m.
Thursday, Sept. 17
Constitution Day Presentation: Brandon Metroka, a Ph.D. candidate in political science at the Maxwell School of Citizenship and Public Affairs at Syracuse University, will discuss "The Roberts Court at Ten: Reconstituting Free Expression?" Brockway Hall Jacobus Lounge, 4:30-5:30 p.m.
Saturday, Sept. 19
20th Annual Suzanne Wingate Memorial Golf Tournament: Sponsored by the Sport Management Department, all proceeds benefit the Cortland Junior Police Academy, Walden Oaks Country Club, Cortland, 9 a.m. check-in; 10 a.m. shotgun start.
Tuesday, Sept. 22
Graduate Admissions Information Table: Career Services, Van Hoesen Hall, Room B-5, 4:30–6:30 p.m.
Open Mic Night: Corey Union Exhibition Lounge, 7 p.m.
---
---
Professor Traces Solar System's Origins with Support from NASA
09/04/2015
SUNY Cortland Associate Professor of Physics Melissa Morris has a research interest in astronomy that dates back billions of years, to a time long before dinosaurs, plants or any other forms of life even existed.
She focuses on chondrules, the tiny round grains found in primitive meteorites that were formed roughly 4.5 billion years ago. Chondrules are vital to the study of the Solar System's origins. They're also the reason NASA has awarded Morris approximately $650,000 in the form of two grants.
She'll use those funds on two separate interdisciplinary projects that both involve undergraduate research with SUNY Cortland students as well as colleagues from the University of Oxford, Arizona State University and the California Institute of Technology (Caltech). One project investigates the formation of chondrules in impacts between protoplanets; the other investigates the formation of layered rims around chondrules. Both funded projects will help understand the building blocks of planets like Earth.
Morris also has been invited to speak this fall at NASA headquarters in Washington, D.C., the University of Rochester and Rochester Institute of Technology, the Astronomical Society of New York and the Museum of Natural History in New York City later this year.
"It's funny to deal with something so small when you're an astronomer," said Morris, who joined the College's faculty in 2014. "But chondrules are very important to study because they tell you about things that happened when the Solar System was forming and how the planets were made …"
"If we study the primitive material in our Solar System, it gives us insight into all of these processes."
With one of her student projects, Morris and her undergraduate research assistants will look for signs of hydrous minerals, or clays, in extrasolar planetary systems, which would point to the existence of liquid water and would indicate a similarity to our Solar System.
"We think we got almost all of our water from meteorites and asteroids. Not from comets — which are icy — but from rocks," said Morris, who specializes as a theoretical astrophysicist.
Her job involves testing scientific theories until they "break," as she puts it, and those theories often can include her own. Although astrophysics work is rooted in mathematical concepts, Morris is quick to reassure students in her classes that they do not need to consider themselves polished mathematicians or scientists to succeed in physics or astronomy.
"So many students say, 'I'm not a math person,' or 'I'm not a science person,'" said Morris, who worked as a certified public accountant before earning a Ph.D. in astrophysics from Arizona State. "It's kind of my mission to convince people that there's no such thing."
Associate Professor Melissa Morris studies chondrules, the tiny round grains found in
primitive meteorites that were formed roughly 4.5 billion years ago. Her work has earned
two major grants from NASA.
Mathematics major Tony Terzolo, of Camillus, N.Y., serves as her research assistant for the project that seeks to find water in extrasolar planetary systems. He took her introductory astronomy course, then later sat in on some advanced astrophysics classes.
"She's been so great in helping me build background knowledge," said Terzolo, who has minors in physics and computer science and hopes to pursue an engineering-related program in graduate school. "It's incredible to see the respect she has in the field."
Morris brought him along this past summer to the Gordon Research Conference on the origins of solar systems, at Mount Holyoke College in South Hadley, Mass.
"I call it the 'Fight Club' of conferences because you actually have to sign an agreement that you will not discuss anything that's presented there," Morris said. "That gives people the opportunity to present really new, groundbreaking work that hasn't been published yet.
"And it's just a really cool conference for a student to attend."
The other SUNY Cortland students who will work this year on the latest NASA grant represent a cross section of majors: not only mathematics and physics, but also geology, history and psychology. This second project incorporates geology and cosmochemistry, as well as theoretical astrophysics. Morris also will bring one of her SUNY Cortland research assistants to Caltech to work with meteoritic samples, where they'll use some of the most sophisticated instruments in the world.
"I love working with students who aren't necessarily physics majors and showing them that they can do this work," Morris said. "Regardless of what choices you make for a career, if you want to do any type of post-graduate work, research experience as an undergraduate is invaluable."
College Plans 9/11 Memorial Ceremony
09/08/2015
The SUNY Cortland Emergency Medical Services (EMS) chief will reflect upon the sacrifice that many first responders made on Sept. 11, 2001, during the College's annual memorial ceremony.
"The number of people on the campus that are from that area of New York is overwhelming," said the student emergency squad chief, Devin Stives. "Most students know someone or are personally impacted by the attacks on 9/11. So it is important to take the time to reflect on a day that everyone remembers so vividly."
Members of the College and Cortland-area community are welcome to attend the event at 7 p.m. on the steps of Corey Union. SUNY Cortland EMS invited the region's first responders to participate. The ceremony will move inside the building in the event of rain.
Two SUNY Cortland alumni, Gordon Valentine '68 and Pete Dady '74, will honor the seven alumni who were lost in the catastrophe.
SUNY Cortland President Erik J. Bitterbaum will recall the events of that tragic day and honor its victims.
"I think it is very important for our students to hear different perspectives on what happened that day, to be able to reflect on the attacks and receive a seed of wisdom on how to live a life," he said.
At 12:05 p.m. that day, the Interfaith Center invites those of all faiths to share their expressions of "Sorrow and Hope: Remembering 9/11."
Public relations intern Jenel Colon prepared this article.
---
Capture the Moment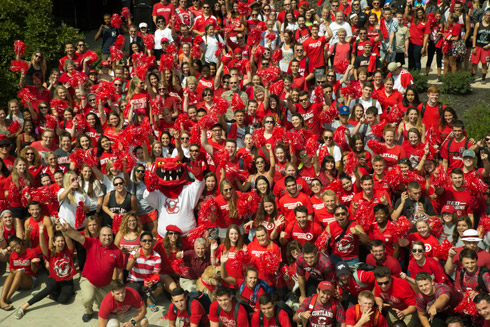 SUNY Cortland celebrated its largest Red Dragon Pride Day to date on Sept. 4 when students, alumni, faculty, staff and friends wore red and white and shared their pictures on social media. Those on campus showed their support during national College Colors Day by gathering for a campus photo on the steps of Corey Union, followed by an Ice Cream Social.
---
In Other News
Falconry Demonstration Set for Oct. 7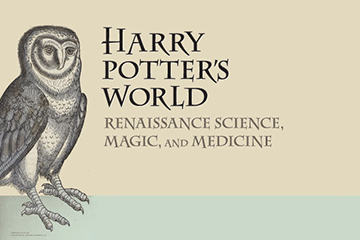 09/25/2015
General falconer Mary Cope will discuss the sport as she shows off her red-tailed hawks, kestrels and owls on Wednesday, Oct 7, on the Memorial Library second floor.
Cope's demonstration, scheduled for 7 to 8:30 p.m., continues the library's displays and event series titled "Renaissance Science, Magic and Medicine of Harry Potter's World," which focuses on the literary phenomenon started in 1997 by British Author J. K. Rowling.
Coincidentally, most of Cope's owls are named after Harry Potter characters.
Until Saturday, Oct. 10, SUNY Cortland's Memorial Library will continue to turn into Platform Nine and Three-Quarters for all visitors. The destination won't be the Hogwarts School of Witchcraft and Wizardry, but instead an exhibit where visitors can learn all about potions, monsters, herbology, magical creatures, fantastic beasts, midwifery and immortality.
| | |
| --- | --- |
| | |
| | Illustration of dragon, Konrad Gesner, Histoiae Animalium, 1551 courtesy National Library of Medicine |
This traveling exhibition, featuring materials developed and produced by the National Library of Medicine, National Institutes of Health, explores Harry Potter's world and its roots in Renaissance magic, science and medicine.
A reception to open the exhibition took place Sept. 15 on the library's second floor. The event featured a panel discussion featuring faculty experts speaking on such topics as alchemy, herbology and midwifery. The talk included Greg Phelan, chair of the Chemistry Department, Angela Pagano, Biological Sciences Department faculty member and assistant dean for accreditation, Moataz Emam, chair of the Physics Department, and Sally Dear-Healey, visiting assistant professor of sociology/anthropology.
Also during the opening reception, student science clubs and the College's Quidditch Team shared interesting information about things like the science of invisibility, alchemy and the intricacies of their intramural pastime.
Millions of young readers have followed Harry to the Hogwarts School of Witchcraft and Wizardry where he discovers his heritage, encounters new plants and animals and perfects his magical abilities.
| | |
| --- | --- |
| | |
| | Hortus Sanitatis, 1491, courtesy National Library of Medicine. |
"Everyone knows the Harry Potter series either through books or movies," said organizer Anita Kuiken, instructional services librarian. "People are naturally drawn to his world — a world of fantasy and possibilities beyond the everyday.
"More importantly, it's a good fit for our campus, because it demonstrates how creativity, passion and thought fuel developments in the sciences, literature and culture."
Although a fantasy story, the magic in the Harry Potter books is partially based on Renaissance traditions that played an important role in the development of Western science, including alchemy, astrology and natural philosophy.
During the exhibition, six free-standing panels on loan from the National Library of Medicine will be displayed on the second floor of the library. Incorporating the work of several 15th- and 16th-century thinkers, each screen examines important ethical topics such as the desire for knowledge, the effects of prejudice and the responsibility that comes with power.
Meanwhile, the College's resources in alchemy, birds of prey, Renaissance art and culture and the Harry Potter series itself will be displayed throughout the first floor.
"We encourage those in attendance of the events to join in the spirit of the gathering, so cloaks, wizard hats and wands are welcome though you'll have to park your brooms outside," observed Brian Story, instructional services librarian, who also organized the exhibition.
For more information, contact Kuiken at 607-753-4983.
Speaker to Discuss Turkey as Reliable Ally on Sept. 16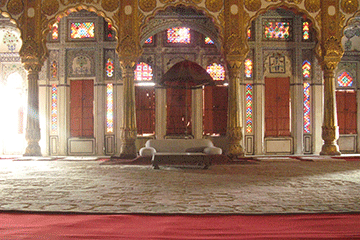 09/08/2015
Many scholars of the troubling current events in the Middle East believe that Turkey plays a role in the region's future stability.
Sinan Ciddi, executive director of the Institute for Turkish Studies at Georgetown University, will attempt to answer the question of how this country does that on Wednesday, Sept. 16, at SUNY Cortland.
Ciddi, who was born in Turkey and educated in the United Kingdom, will present "Turkey & ISIS: A Reliable Ally" at 4:30 p.m. in Moffett Center, Room 2125.
Organized by the College's Clark Center for International Education, the event is free and open to the public.
Today, territory occupied by 10 million people in the Middle East is controlled by a Salafi jihadist extremist militant group and self-proclaimed Islamic state and caliphate, which is led by and mainly composed of Sunni Arabs from Iraq and Syria. The group variously is called Islamic State of Iraq and Syria (ISIS), Islamic State of Iraq and the Levant (ISIL) and Islamic State. Its actions have incited a migration towards western Europe, mainly from areas in Iraq and Syria. The group also operates or has affiliates in other parts of the world, including South Asia.
Turkey has been considered a critical ally in the ongoing fight against the forces of ISIS by the United States, according to Ciddi. He will discuss questions determining Turkey's position towards ISIS and whether Turkey and the United States have a joint plan on how to defeat ISIS.
"Our students should be informed about what Turkey, a U.S. ally, does to stop the spread of this extremist ideology of a minority group within Sunni Islam," said Alexandru Balas, the Clark Center director.
"If Turkey, a democratic, predominantly Sunni Muslim country, is successful in defeating ISIS, we will all reap the benefits," Balas said. "If Turkey doesn't succeed, then a clash of religions becomes a real possibility and this violent clash will not be confined only to the Middle East or Europe but could easily spread to U.S., too.
| | |
| --- | --- |
| | |
| | Sinan Ciddi |
Ciddi has a Ph.D. in political science from the School of Oriental and African Studies, University of London, and has focused his scholarship on Turkish domestic and foreign policy. At Georgetown University, he teaches and conducts research. He is the author of a book, Kemalism in Turkish Politics: Secularism, Nationalism and the Republican People's Party (New York and London: Routledge, 2009) and book and journal articles.
A decade ago, Balas and Ciddi both taught at Sabanci University in Istanbul, Turkey. The colleagues reconnected in February at the International Studies Association Annual Convention in New Orleans.
Ciddi is "one of the most influential Turkish scholars in U.S.," Balas noted.
"He will be a perfect guest for our campus given the many initiatives and partnerships we have with Turkish universities," Balas said.
Approximately 10 faculty members from SUNY Cortland do work related to Turkey on a regular basis, Balas noted. SUNY Cortland has student exchange programs with Anadolu University and Izmir University of Economics as well as new cooperation projects with Zirve University, a SUNY Center for Collaborative Online International Learning (COIL) project.
The College currently is developing a partnership with Istanbul Bilgi University. SUNY Cortland also has quite a large contingent of Turkish foreign students as well as a Turkish scholar in the Physical Education Department for 2015-2016, Kivanc Semiz.
The event is co-sponsored by the Political Science Department, Asia-Middle Eastern Studies Committee and the Campus Artist and Lecture Series.
For more information, contact Balas at 607-753-4348.
Public relations intern Jessica McFadden prepared this article.
Inaugural Lecture Highlights Faculty Research Sept. 16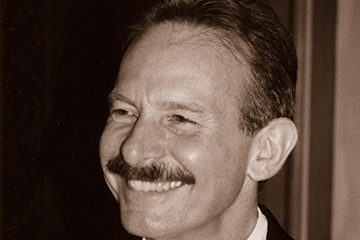 09/08/2015
The late Peter A. DiNardo '68 earned one of SUNY Cortland's highest alumni honors this past March when he was inducted in the College's Academic Hall of Fame.
His teaching legacy, however, will live on at his alma mater in the form of a faculty research award named for the widely respected clinical psychologist and his wife, which will be formally celebrated for the first time Wednesday, Sept. 16.
| | |
| --- | --- |
| | |
| | Donna West |
Donna West, a SUNY Cortland professor of Spanish and linguistics, is the inaugural recipient of the Dr. Peter A. DiNardo '68 and Judith Waring Outstanding Achievement in Research Award.
She will give an address, "Action Habit to Cultivate the Guessing Instinct: Peirce's Pragmaticist Dimension," at 6 p.m. in the Old Main Colloquium. The hour-long talk is free and open to the public.
West will discuss her research as it intersects with the intellectual movement advanced by Charles Sanders Peirce, who lived from 1839 to 1914.
West is the author of numerous articles and book chapters on Peirce.
This American philosopher, logician, mathematician, and scientist is sometimes known as "the father of pragmatism." He was at the center of the debate among logical positivists and proponents of philosophy of language that dominated 20th century Western philosophy.
West, who has master's and doctoral degrees in linguistics from Cornell University, has a bachelor's degree in Spanish from Roanoke University. She joined the College in 2004 as an assistant professor and was promoted to professor in 2015. She teaches undergraduate Spanish courses in Beginning and Intermediate Spanish, Advanced Conversation, Advanced Composition, Linguistics, Advanced Grammar and Cinema; and graduate courses in Linguistics, Language Pedagogy, and First and Second Language Acquisition.
The new award and annual lecture are a suitable way to carry on DiNardo's legacy.
"Dr. DiNardo believed strongly that the best faculty research experiences often take professors out of their classrooms and into the communities that they serve," said Jill Mirabito, major and planned giving officer for the Cortland College Foundation. "He believed that the benefits of research are endless and they should be shared among everyone — students, faculty members, community members and anyone else in between."
In 2014, Waring endowed the $1,000 award to be given annually to a SUNY Cortland faculty member for research conducted outside the classroom. A component of the honor is that the recipients present a lecture about their work as a way for both the campus and the local community to learn more about what is taking place on campus.
It is modeled after a similar award at SUNY Oneonta, where DiNardo put together a remarkable 34-year teaching career that strongly influenced the modern, international clinical practice of psychology in the areas of fear, panic and anxiety. This past spring, the former SUNY distinguished teaching professor of psychology became the 14th person inducted in the College's Academic Hall of Fame. Established in 2006, that select group is made up of SUNY Cortland alumni who graduated 10 or more years ago with magna cum laude or higher honors and who made significant contributions to society through their work.
Psychology professionals continue to use the methods that DiNardo developed to diagnose certain psychological disorders, and now SUNY Cortland faculty members will join them, thanks to his lifelong penchant for learning and academic excellence.
For more information on the lecture, contact Mirabito at 607-758-5309.
Fall 'Wellness' Series Offered for Campus, Community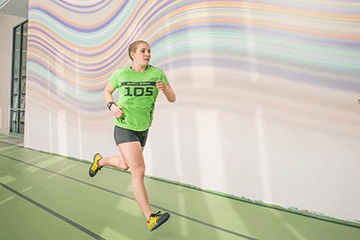 08/25/2015
In keeping with a College priority of wellbeing, each semester SUNY Cortland offers weekly encouragement to the campus and community to pursue a lifetime of good health.
The Fall 2015 "Wellness Wednesday Series" will feature events intended to encourage campus and community members to learn more about health and wellness.
Programs continue through the fall semester with topics including yoga for beginners; using social media to improve one's future professional reputation; a discussion on sexuality; understanding the connection between alcohol abuse and mental illness; good academic planning for wellness' sake; and talking about race.
Primarily sponsored by the Health Promotion Office and the Student Development Center, the series will take place on Wednesdays at 7 p.m. in Corey Union Exhibition Lounge, unless otherwise noted. The events are free and open to the public.
On Sept. 2, the College will offer two sessions of "An Intro to Yoga" at the Student Life Center. Leading the workshops are Jeannine Gettis, a yoga instructor who works in the Student Life Center, at 6 p.m. and Louise Mahar, the College's assistant director of recreational sports for fitness, at 7 p.m. Participants will experience a beginner-level yoga class and should dress in loose, comfortable clothing and bring a mat or towel.
Mary Dykeman, public health educator at the Jacobus Center for Reproductive Health, will give a talk on "Ten Things Every College Student Should Know About Sex" on Sept. 9. Being educated about sexuality is a must, according to Dykeman. She invites students to join a frank, informative and entertaining discussion.

| | |
| --- | --- |
| | |
| | A SUNY Cortland student tackles the rock climbing wall inside the new Student Life Center. |

Participants can "Walk the Walk of Student Services" at an open house from 5 to 7 p.m. on Sept. 16 in Van Hoesen Hall and Corey Union. Visitors will be able to meet the student services staff and view the facilities of the University Police Department, student health services, counseling, student disability services, health promotion, substance abuse prevention and education, career services, residence life and housing, Academic Support and Achievement Program (ASAP), Emergency Squad, as well as Auxiliary Services Corporation nutrition services. Staff from the Division of the Vice President for Student Affairs, Multicultural Life and Diversity Office, and Campus Activities Office will meet students in the Corey Union lobby. Refreshments will be served and prizes raffled.
On Sept. 23, Andrea Hart, a registered dietician who is employed with the SUNY Cortland Auxiliary Services Corporation, will present "How to Eat Well in College." She will offer tips for making healthy choices on and off campus.
Ross Szabo, an award winning motivational speaker, writer and trainer about the importance of mental health, will present "Mixed Drinks, Mixed Emotions: Alcohol Abuse and Mental Health" on Sept. 30 in the Corey Union Function Room. The co-author of Behind Happy Faces; Taking Charge of Your Mental Health and a blogger for The Huffington Post, Szabo has spoken to more than 1 million students. The Student Conduct Office organized and co-sponsored this program.

Gettis, who also works as a massage therapist, will provide an "Intro to Meditation" on

Oct. 7

in the Student Life Center Mind Body Room. Gettis will share her knowledge about a practice that helps the individual to deeply relax the body and unwind the mind for stress reduction and better health.

On Oct. 14, a panel of students, faculty, staff and alumni will present "National Coming Out Day: Then and Now." Panelists will share historical perspective, on campus and nationally, about individuals of all sexualities, including lesbian, gay, bisexual, transgender, queer, intersex and asexual.

| | |
| --- | --- |
| | |
| | A multitude of different recreation-minded groups meet to exercise at the Student Life Center. |

The Multicultural Life and Diversity Office will host "Let's Talk About Race: How Race Translates Internationally" on Oct. 21. Noelle Chaddock, the College's chief diversity officer, and AnnaMaria Cirrincione, assistant director of multicultural life and diversity, will discuss how the global community understands race and racial difference. "As we encourage our community to 'grab the world' we also must pay attention to the intersection of race and internationalization," explained Chaddock, who holds a doctorate in philosophy, interpretation and culture from Binghamton University. "We will examine how, as students, faculty and staff travel abroad and as we welcome international students to our campus community, the global community understands and articulates race and racial difference."
Carolyn Bershad, director of counseling and student development, will offer tips and tools for building healthy relationships in her Oct. 28 talk titled "Healthy Relationships: What Do They Look Like?" The event begins at 6 p.m.
Academics are an important piece of a student's academic wellness. With that in mind, staff from the Academic Support and Achievement Program (ASAP) will work with those in Advisement and Transition to present "Being Academically Well — Strategies and Resources for Success" on Nov. 4. The program teaches strategies for enhancing success in the classroom, including how to maximize all the resources available and how to use online tools.
On Nov. 11, Michele Baran, the College's assistant director of career services and online operations specialist, will offer pointers on how to maximize a positive professional brand on social media and minimize online regrets. Her presentation, "Like a Tattoo: Digital Dirt, Social Media and Your Brand," shares ideas about creating a positive, professional reputation while a student that is essential to success after college.
On Nov. 18, the campus and community are invited to take part in the "Great American SmokeOut" from 11 a.m. to 2 p.m. in the Student Life Center. Health promotion interns will be available to help individuals sign a pledge on Wednesday to quit tobacco use for the day on Thursday or help someone they know to quit.
For more information or accommodation to attend an event, contact Lauren Herman, the College's health educator, in Van Hoesen Hall, Room B-1, or 607-753-2066.
Free Speech Lecture Commemorates Constitution Day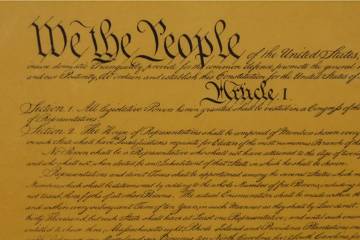 09/04/2015
SUNY Cortland's Institute for Civic Engagement will commemorate Constitution Day on Thursday, Sept. 17, with a presentation by an expert on the Supreme Court and free speech.
Brandon Metroka, a Ph.D. candidate in political science at the Maxwell School of Citizenship and Public Affairs at Syracuse University, will offer a talk titled "The Roberts Court at Ten: Reconstituting Free Expression?" at 4:30 p.m. in Brockway Hall Jacobus Lounge. The talk is free and open to the public.
Metroka will address the ongoing debate concerning the Supreme Court's record on freedom of speech and he also will examine several high-profile cases involving the court's enforcement of the First Amendment. His talk also will explore the limits of the First Amendment's guarantee of free expression as articulated by the modern court.
Constitution Day recognizes the anniversary of the signing of the U.S. Constitution on Sept. 17, 1787, as well as the rights of all citizens, whether they are born in the U.S. or have earned citizenship through the naturalization process.
Metroka has taught courses on government and free speech in America at both SUNY Oswego and Syracuse University. His dissertation, "Reconstituting Free Speech: Law and Politics at the Roberts Court," evaluated the effects of ideology, judicial methodologies and legal doctrines on contemporary free expression decisions. Metroka also served in the U.S. Army National Guard, completing two combat tours in Iraq.
The Constitution Day talk is sponsored by the Institute for Civic Engagement.
For more information, contact Cynthia Guy, the community innovation coordinator for the Institute for Civic Engagement, at 607-753-4271.
'Democracy Wall' Uses Chalk to Take on Issues of Inequality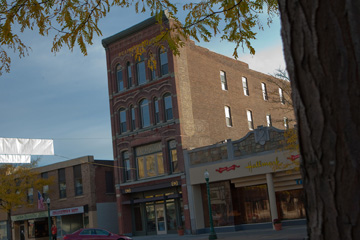 09/01/2015
With back-to-school season in full swing, SUNY Cortland's Institute for Civic Engagement is out to prove that meaningful chalkboard lessons aren't limited to the classroom.
A "democracy wall," essentially a blackboard that invites community participation by posing questions about inequality, will be on display for the next several weeks in front of Main Street SUNY Cortland, at 9 Main St., as part of the Economic Inequality Initiative: Pathways to Opportunity in Cortland County project.
The wall's purpose is to facilitate a community dialogue about democracy and economic inequality, according to organizers. People walking by the 7.5-foot long blackboard are asked to write a personal response to its question in colored chalk. Recently, the question was posed: "What do we owe each other?" Responses included equality, dignity, fairness and patience.
The democracy wall will feature different questions and it will move to different locations and events throughout the year. A second chalkboard also hangs inside the offices of Cortland County Community Action Program (CAPCO). It previously was displayed at the 25th anniversary celebration of the Americans with Disabilities Act (ADA) led by Access to Independence.
A "democracy wall," essentially a chalkboard that poses questions about
inequality, will be on display for the next several weeks in front of Main
Street SUNY Cortland.
The Economic Inequality Initiative marks the first joint project for the American Democracy Project (ADP) and the Democracy Commitment national civic action series. SUNY Cortland, which has been involved in the ADP since its inception in 2003, is one of just 30 campuses nationwide invited to participate in the initiative. Approximately 60 people have made contributions, including community members and representatives from local agencies, as well as the College's faculty and staff members and students.
The initiative aims to bring together the area's campus and community members to study the relationships that affect topics such as economic inequality, public policy, economic opportunity, social mobility and civic engagement. The project engages participants in community-based research while promoting lessons in civic learning, action and empowerment to address economic inequality issues.
Meetings and informative lunchtime talks are held monthly, and several events to increase community participation are planned for the future. For more information on the Economic Inequality Initiative, visit the Institute for Civic Engagement website.
Anyone interested in participating in the program or learning more about the democracy wall should contact Cyndi Guy, community innovation coordinator for the College's Institute for Civic Engagement, at 607-753-4271.
College Contributes to Cortland County's Health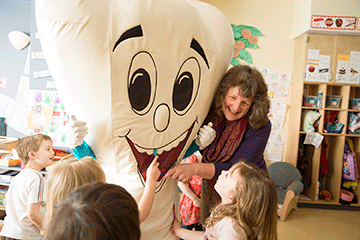 09/01/2015
Barry Batzing believes SUNY Cortland has a healthy relationship with Cortland County. And he means that literally.
Batzing himself is an example. After retiring as a SUNY Cortland biological sciences professor six years ago, Batzing became president of the Cortland County Board of Health, moving through a busy pipeline of people and information between the College and the county's Health Department.
SUNY Cortland sends student interns into the community, brings county health educators and their expertise to campus, and turns its own talented graduates — some of whom Batzing once taught — into community experts.
Many of the Cortland County Health Department's approximately 50 employees have ties to the College as alumni, adjunct instructors or project collaborators, according to Batzing. Their work is represented across five divisions of the department: health education, nursing, the Jacobus Center for Reproductive Health, children with special needs and environmental health, which can include everything from food inspection to treating illness.
"There have been a number of connections between the two groups, and I think it's great the county is using the expertise of the College and vice versa," the professor emeritus said. "It means talented people who care about local health and safety are working together and sticking around the area."
Two good examples of that are community health educators ReBecca Canzano '02 and Jennifer Hamilton '00. Both grew up in Cortland, earned associate's degrees from Tompkins Cortland Community College and bachelor's degrees from SUNY Cortland, and landed in full-time positions for the county's Health Department. Both also described Batzing's microbiology course as one of the most memorable from their undergraduate days.
Canzano oversees health education as well as the Cortland County Youth Bureau. Hamilton primarily coordinates the Tobacco-Free Cortland Program. Their office's other projects are focused on traffic and bicycle safety, cancer screenings for the underinsured, obesity prevention, teenage leadership development and household safety.
Jennifer Hamilton '00 and ReBecca Canzano '02
"Our work touches every population," Canzano said.
Their efforts also receive a boost from SUNY Cortland student interns pursuing majors such as health education, community health or sociology. Typically, up to two health education interns each semester will take over an existing project or develop a new program. Examples have included Teen Driving Week for local high schools and an eight-week healthy living program for teenage girls titled Ways to Enhance Children's Activity and Nutrition (WE CAN).
"The interns have been wonderful," Canzano said. "They're great at offering new ideas or new approaches to things."
Hamilton joined the county's Health Department as a student intern herself 15 years ago. She knew the department as the authority tasked with restaurant inspections, but knew little else about the breadth of the department's work. She quickly discovered a meaningful profession that often takes her into the community where she grew up. It's even brought her back to work with her alma mater, where she consulted with SUNY Cortland's Tobacco-free Advisory Committee when the campus rolled out a tobacco-free policy in 2013.
The work that she started as an intern hasn't ceased.
"I would say both ReBecca and I — having grown up here — have this desire to make the community as best it can be and as healthy as it can be," Hamilton said. "We both have kids and want to see it for them too."
Batzing, who was a SUNY Cortland faculty member for 36 years, replaced late Distinguished Service Professor Emeritus Charles N. Poskanzer when he began serving on the Board of Health in 2000. As board president, he oversees the work of the county's Health Department. He said he continues to grow more impressed with time.
"I'm always amazed at how well our graduates do," Batzing said. "It's one thing to see them as students and then see them as the professionals out there.
"Now, I'm looking to them for the expertise. They're not looking to me anymore."
Impressive results take time to develop, whether they're tied to a breakthrough tobacco policy or a leadership program for children, Canzano said. They rely heavily on collaborative work between community partners such as the one that exists between the College and the county's Health Department.
"We know how valuable the College is to us," Canzano said. "And obviously, they keep asking us for help, so they appreciate the work we do.
"It's a strong relationship."
Opening Meeting Emphasizes Past Success, Planning for Future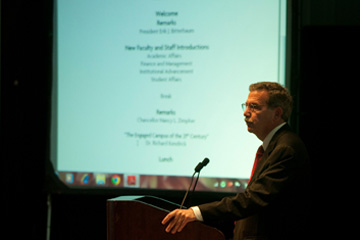 08/27/2015
SUNY Cortland President Erik J. Bitterbaum celebrated recent campus-wide success and discussed potential financial challenges during his Opening of School Meeting on Thursday morning.
Three themes framed the president's hour-long remarks to faculty and staff members in the Corey Union Function Room: good news from the past several months, the changing demographic profiles of the student body and the uncertain outlook created by shrinking state and federal funding.
"What you want to happen to someone in college is to be transformed, and I do believe that's happening here," said Bitterbaum, who opened his talk by reading letters of thanks and praise from the parents of recent graduates. "I've always known that we produce a first-rate student, and there's no doubt in my mind it's due in large part to your work."
He called attention to the most recent data from the National Survey of Student Engagement, which measures student feedback on the overall college experience as well as students' thoughts about how effectively the College developed their skills in areas such as thinking critically, working effectively with others and acquiring job- or work-related knowledge.
The State University of New York as a system compared favorably to other state institutions across the country. The College, however, did even better. SUNY Cortland achieved satisfaction ratings from both first-year and senior undergraduates that exceeded the SUNY average, especially when seniors were asked if they'd be likely to choose SUNY Cortland again.
"These numbers tell a great story," Bitterbaum said.
The other highlights the president shared included:
The College's recent inclusion in Consumers Digest as one of the nation's 50 "best values" among public colleges and universities
The high percentage of female undergraduate physics majors at SUNY Cortland compared to other master's level institutions of the same size
Being named one of the greenest colleges in the U.S., based on a national ranking from BestColleges.com
Welcoming a culturally diverse first-year class this fall compared to SUNY Cortland's profile a decade ago
"These are all things we should be proud about," Bitterbaum said.
The president's update on campus construction reported that Phase II of the College's three-phase electrical infrastructure project was successful. Additionally, the renovation of outdoor tennis and basketball courts plus the installation of a new 50-space parking lot near the Student Life Center should be completed in the next two weeks.
Bitterbaum also announced eight awards for external grant funding that represented all three academic schools, as well as a predictive salary model the College has established to help guide future compensation decisions. Over the next four years, the College will ensure that salaries for faculty and staff members are in line with other comprehensive colleges of the same size.
Expected budget concerns, however, will require brainstorming new ways to bring in funds. SUNY's current rational tuition policy, which has ensured annual increases of no more than $300 for resident undergraduates at four-year schools, ended this year, and no new state funding has been approved.
"We're going to have to start economizing," Bitterbaum said. "If you follow the national news in other states such as Georgia and Wisconsin, it's very disconcerting."
Although SUNY Cortland received more than 11,000 applications last year, attracting and retaining quality students remain top priorities given the stagnant number of high school graduates in the Northeast, Bitterbaum said. Following the president's talk and the introduction of new faculty and staff members, a discussion of enrollment and retention was led by a panel that included Abby Thomas, director of advisement and transition; Carol Van Der Karr, associate provost of academic affairs; and Mark Yacavone '94, assistant vice president of enrollment management.
"We as a staff have to be prepared for a unique generation yet to come," Bitterbaum said while discussing future students' needs — everything from academics to mental health services.
He shared meaningful student feedback to close his talk and reminded the audience of the College's strategic priorities: academic excellence, transformational education, maximizing resources and well-being.
"Well-being for me is about reaching one's human potential," President Bitterbaum said. "It's about not only growing intellectually but growing socially, emotionally, physically and spiritually. We do it through a series of challenges and supports … and it reverberates in your work with our students.
"Reaching that human potential is what I believe we're all about."
Women's Lacrosse Coach Earns National Coach of the Year Award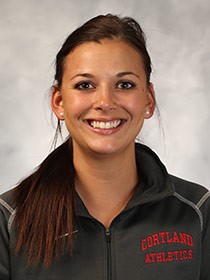 09/08/2015
SUNY Cortland women's lacrosse head coach Kelly Lickert-Orr has been selected as the 2015 Division III National Coach of the Year by the Intercollegiate Women's Lacrosse Coaches Association (IWLCA). She was also named the IWLCA Empire Region Coach of the Year.

Lickert-Orr, in her first season as Cortland's coach, led the Red Dragons to a 22-1 record and the program's first national title. Cortland won its 17th straight State University of New York Athletic Conference (SUNYAC) crown with two wins in the league postseason tournament, and Lickert-Orr was voted as the league's Coach of the Year.

Cortland then won five straight games in the NCAA Division III playoffs. The Red Dragons capped their title run with a 17-6 victory over top-ranked Trinity College (Conn.) in the national championship game May 24 in Chester, Pa.

Lickert-Orr coached four seasons at Keuka College prior to her arrival at Cortland. Her five-year career collegiate coaching record is 74-12 (.860).
College to Offer Sexual Assault Prevention Training
A SUNY Cortland group committed to preventing sexual assault and raising awareness about the topic will offer certified training to all students, faculty and staff members on Friday, Sept. 11.
Sexual Health and Assault Prevention Educators (SHAPE) will host the free training session from 3 to 9 p.m. in Brockway Hall Jacobus Lounge. Anyone who completes it will receive a certificate and SHAPE t-shirt. This training is open to all, regardless of gender, and male students are encouraged to attend.
Nationwide, studies suggest that one out of every five college-age women experiences sexual assault during their time at school, and that the first few months of college are the riskiest time for women. Just this weekend, a SUNY Cortland student was raped off campus. The suspected offender has been arrested, but widespread threat of abuse that women face at all college campuses is ongoing.
The SHAPE training continues the College's communication campaign to educate students about sexual abuse and create a campus culture based on mutual respect and communication.
The program will cover bystander intervention techniques; ways to support survivors of sexual assault; resources available on and off campus for referral; a discussion about rape culture; the definition of affirmative consent; and the qualities of healthy relationships and effective communication.
For more information, contact Cynthia Lake, the associate director of residence life and housing, at cynthia.lake@cortland.edu or 607-753-5414.
College Honors Accrual Achievement Award Winners
The Human Resources Office announced the recipients of its Annual Accrual Achievement Awards for Classified Service. These employees have used one day or less of sick leave accruals during the 2014-15 fiscal year.
The employees will receive a letter from President Erik J. Bitterbaum, a certificate of recognition and a $25 gift certificate to the Cortland Downtown Partnership.
The program was created to recognize classified employees who use minimal amounts of sick leave and to encourage other employees to build up sick leave balances. The awards will be distributed on Friday, Oct. 23. Those employees who will receive the award are:
Kathleen Abbatoy
Douglas Adsit
Robert Albro
John Aldrich
Walter Anderson
Dale Argyle
Darwin Bartholomew
Michael Beaumont
Ronald Benda
Constance Biviano
Renato Brevetti
Karen Sue Brown
Steven Brown
Stacey Buckley
Dana Bush
Susan Bush
Penny Bushaw
Mary Jo Carey
Wayne Carroll
Kathleen Caughey
Scott Chierchio
Vicki Clark
George Cole
Michele Cornelius
Roger Cornelius
Lori Crandall
Linda Crompton
Francis Cullen
Deborah Dintino
Ella Dorman
Heather Drew
Francis Evangelista
Michael Francey
Burton Fritts
Billie Furlong
Bennett Gallow
Ronald Gray
Michael Gregory
Katherine Gustafson
David Haggerty
Nancy Hartford
Thomas Hingher
Heidi Johnson
John Kehn
Nancy Kuklis
Gary Lansdowne
James Lynch
Greg McCartney
Kathy McCracken
Elizabeth Mokos
Rhonda Moulton
Marcia O'Loughlin
Debra O'Mara
Robert Orphan
Linda Parmiter
Ruth Partigianoni
Theresa Peebles
Darlene Phillips
Patricia Pinto
Rosemary Root
Susan Root
Pamela Schroeder
Elizabeth Scott
Jamie Scott
Russell Scott
Mitchell Seamans
Laura Slater
Barbara Smith
Lawrence Smith
Lynn Stevens
Andre Turco
Marthajane Warren
Melony Warwick
Denise Wavle
Nancy White
Joyce Willis
Cynthia Withers
Patricia Wolff
Teri Wood
Kenneth Woodworth
New Students Recognized for Successful Transition
Eighty two students who successfully made the transition to SUNY Cortland as first-year, transfer, or graduate students during the Fall 2014 or Spring 2015 semesters will be recognized at a reception Wednesday, Sept. 9.
The event takes place during the annual Advisement and Transition Fall Walk-in Welcome to be held from 4 to 6 p.m. in Memorial Library, Room A-111. The individuals will receive a certificate of recognition signed by President Erik J. Bitterbaum.
Students were nominated during the spring 2015 semester by their peers, faculty and staff through an online survey. Of the 82 new students, four were recognized by two or more people and the group included two new graduate students.
This is the second year the College has offered this recognition, which acknowledges students in good academic standing who show one or more of the following qualities:
integrity and perseverance in their transition to SUNY Cortland;
exemplary academic conduct;
characteristics of a good role model for other students;
strong participation in classroom discussions;
outstanding attendance record;
curiosity for academic content;
demonstrated effort in academic pursuits; and,
potential for campus involvement and leadership.
All recognized students received an invitation. The students are:
Paulina Aguilar, Tammy Anderson, Isaiah Aponte, Simone Arzoomanian, Laura Elizabeth Barnstead, Rachel Benjamin, Lee Berrien, Conor Blank, Jillian Blumstein, Jaclyn Broccoli, Dana Burke, Elliott Butler, Nathan Butler, Joseph Caponi, Louis Carey, Matthew Castoral, Steffanie Chesnut, Elise Cusimano, Ridi Dauti, Elvis De La Rosa, Orlando Denisi, Lisa Dent, Shannon Digney, Corrine Edick, Matthew Ellis, Amanda Fuller, Corey Gerberdolan, Jocelyn Germany, Anna Gorall, Eryn Griep, Bridget Guardino, Natalie Guido, Arthur Haase, Rosheia Hamilton, Nicholas Harmer, Megan Hendrickson, Amanda Hernandez, Audra Hopkins, Brooke Hughes, Gloria Hulede, Michaela Hulett, Adele Jesmer, Dwight Jones, Jessica Juozitis, Tierra LaBrada, Jaqueline Lang, Tiffany Leone, Paige Liberatore, Marisa Lobelson, Samantha Macrae, Alyssa Marley, Jason Martinez, Sara Mason, Gabrielle Matos, Matthew Mavrogian, Sean McMurray, Ashley Mehale, Abigail Merz, Nate Monson, Sabrina Nunez, Katie Palacios, Adam Palmer, Erica Papitto, Nicholas Pennacchia, Richard Piotti, Meghan Prchal, Sandra Reese, Hilary Rewinski, Paul Riverain, Ulises Sanchez, Karly Schmitt, Elise Sedlacek, Judy Sinicropi, Kaeley Spicer, Maegen Stedman, Alyssa Taylor, Tashania Treasure, Melissa Trozolino, Benjamin Valentine, Kalee Walden, Ian White and Joseph Zambito.
For more information, contact Advisement and Transition by email to advisement@cortland.edu.

Suggest a feature story
---
Faculty/Staff Activities
Brian Barrett
Brian Barrett, Foundations and Social Advocacy Department, and Arron Bound '14, had their article titled "A Critical Discourse Analysis of No Promo Homo Policies in US Schools" published in volume 51, issue 4 of Educational Studies. The article reports on research they conducted during Bound's Summer 2013 Undergraduate Research Fellowship offered through Cortland's Undergraduate Research Council. Barrett served as Bound's faculty mentor.
Lorraine Berry
Lorraine Berry, NeoVox, interviewed Ryan Gattis, author of the novel, All Involved, which chronicles the six days of the Los Angeles Riots of 1992. The interview can be found online on Salon.
Also, Berry had her essay on the new language of grief published in Salon. The essay was picked up by Literary Hub as a featured essay as well: http://lithub.com/lithub-daily-july-29-2015/
Tyler Bradway
Tyler Bradway, English Department, has learned that his book manuscript, Queer Experimental Literature: The Affective Politics of Bad Reading, is now under contract with Palgrave Macmillan for the Palgrave Studies in Affect Theory and Literary Criticism Series. It is edited by Adam Frank and Joel Faflak.
Laura J. Davies
Laura J. Davies, English Department, presented a paper at the Council of Writing Program Administrators Annual Conference in July in Boise, Idaho.
Herbert Haines
Herbert Haines, Sociology/Anthropology Department, was interviewed by a Northern Lights Productions video crew in August as part of a documentary film about protests against the classic silent film "The Birth of a Nation" in 1915. The documentary is scheduled to air nationally on PBS sometime in 2016.
Richard Hunter
Richard Hunter, Geography Department, and Andrew Sluyter, Louisiana State University, presented their paper "The Use of Colonial Land-grant Documents and GIS to Reconstruct Soil Carbon Sequestration in Sixteenth-century Mexico" on June 30 at the European Society for Environmental History in Versailles, France.
Melissa Morris
Melissa Morris, Physics Department, served on several NASA review panels over the summer, as well as serving as reviewer for "The Monthly Notices of the Royal Astronomical Society and Earth, Moon, and Planets."
Mechthild Nagel
Mechthild Nagel, Philosophy and Africana Studies departments and Center for Gender and Intercultural Studies, was a plenary speaker at the recent conference "Decolonizing Epistemologies, Methodologies and Ethics: Postcolonial-Feminist Interventions," hosted on July 2 by the Frankfurt Research Center for Postcolonial Studies, The Cluster of Excellence: The Formation of Normative Orders at Goethe University Frankfurt, Germany.
Ute Ritz-Deutch
Ute Ritz-Deutch, History Department, had her article, "Hermann von Ihering: Shifting Realities of a German Brazilian Scientist from the Late Empire to World War I," published in the Special Edition: Germans and Brazilians issue of the Oxford Journal German History.
Robert Spitzer
Robert Spitzer, Political Science Department, is the author of an article titled, "Flanagan's Gun Permit, and Mine," that was published in the New York Daily News on August 31. Spitzer argues that the man who shot a television reporter and cameraman in Virginia likely could not have obtained his gun had he lived in New York.
Tadayuki Suzuki
Tadayuki Suzuki, Literacy Department, gave a presentation at the International Literacy Association Annual Convention on July 18 in St. Louis, Mo. The title of the presentation was "Promoting Social Justice and Reading Skills with Multicultural Informational Picture Books."
Nance S. Wilson
Nance S. Wilson, Literacy Department, presented a paper and a workshop at the International Literacy Association Annual Convention in St. Louis, Mo. On July 18, she presenter her paper, "Keeping Our (Hi)stories Alive: Providing Perspective on Current Practice and Policy," and on July 19 she presented the "Integrating E-Readers into the Secondary Classroom" workshop.

Submit your faculty/staff activity