Cortaca Ticket Information Announced
10/22/2014
SUNY Cortland students, faculty and staff this weekend will be able to buy tickets to the annual Cortaca Jug football game, a unique College tradition that students have celebrated responsibly for more than half a century.
This year's Nov. 15 game against Ithaca College will be part of weeklong series of events that seek to recapture the school spirit and positive energy that gave birth to "The Biggest Little Game in the Nation" 56 years ago.
Current SUNY Cortland students, faculty and staff - including ASC employees - can pick up ONE free ticket at Corey Student Union, Room 406, during the following days and times:
Sunday, Oct. 26, from noon to 4 p.m.
Monday, Oct. 27, from 8:30 a.m. to 4 p.m. and from 5 to 8 p.m.
Tuesday, Oct. 28, from 8:30 a.m. to 4 p.m. and from 5 to 8 p.m.
Wednesday, Oct. 29, from 8:30 a.m. to 4 p.m. and from 5 to 8 p.m.
A valid SUNY Cortland ID card is required to reserve a ticket.
No additional tickets will be sold during on these days. Any remaining tickets will be sold online starting at noon on Sunday, Nov. 2, through the SUNY Cortland Athletics website: http://www.cortlandreddragons.com
SUNY Cortland students must present both the ticket and a valid college ID to be admitted into the stadium complex for the game.
All ticket holders should keep their tickets in a secure place until game day because lost or stolen tickets cannot be re-issued.
The rivalry between SUNY Cortland and Ithaca is unique in Division III athletics and draws the attention of thousands of alumni, community members, fans and family every year. In the wake of last year's unruly behavior in the neighborhoods surrounding campus, this year's game will see increased security throughout the community and increased scrutiny of all social media related to Cortaca weekend.
There are also additional events planned throughout Cortaca week that offer students an alternative to gatherings centered on drinking alcohol. They include:
Tuesday, Nov. 11:
Free music

The Student Government Association's Open Mic Night will feature country music band Tailor Made with SUNY Cortland's own University Police Department Lt. Chauncey Bennett. The entertainment starts at 7 p.m. Free refreshments will be available.
Wednesday, Nov. 12:
The Danger of Cortaca tweets
This week's Wellness Wednesday in the Corey Union Exhibition Lounge features the presentation: "Like a Tattoo: Digital Dirt, Social Media & Your Brand" presented by Michele Baran, Assistant Director/Online Operations Specialist in Career Services. The 7 p.m. event explains why creating a positive, professional online reputation while you are a student is essential to success after college.
The Human Ipod
John Rush – Human ipod. This incredibly versatile musician plays a variety of instruments and takes just about any request made. He has more than 73 hours of music committed to memory! Learn more at http://johnrush.com/ . The free show, sponsored by the Student Government Association, starts at 8 p.m. in the Corey Union Function Room.
Thursday, Nov. 13:
Football!
Watch Thursday Night Football, on the big screen in the Corey Student Union Function Room. Buffalo takes on Miami at 8:25 p.m. and the food is free!
Friday, Nov. 14:
Game Preparations
Friday Night Lights, a Mini Cortaca Pep Rally and Carnival, is tentatively scheduled from 6 to 10 p.m. in Moffett. Details are being determined.
The Annual Cortaca Mug
The popular, non-alcoholic Cortaca Party will start at 9 p.m. in the Interfaith Center and run until the morning hours.
Cortaca Game Day
White Panda
The popular music mashup artists will host an electronic dance party starting at 6 p.m. after the football game. The event, which will also feature a special guest opener, is tentatively scheduled for Moffett. Additional information will be released when it is available.
Biologist Joins Space-age Science Venture
10/21/2014
Imagine a physician taking an immediate and accurate medical reading on a stroke patient with a small, hand-held device rather than ordering days of intrusive, intensive and expensive diagnostic tests.
The idea conjures up images of Mr. Spock and Dr. "Bones" McCoy from the vintage 1960s "Star Trek" science fiction television series, but the reality might be fairly close at hand.
Theresa M. Curtis, a SUNY Cortland associate professor of biological sciences, has joined a team of researchers from three collaborating SUNY institutions and Cornell University to advance a prototype of a pocket-sized sensor that can read critical information from a single drop of patients' blood.
In theory, the resulting data from this piece of equipment could then be uploaded into a commercial device such as a smartphone, to be shared with all caregivers for any given patient.
The team of specialists in biomedical science, nanotechnology, engineering and clinical medicine are calling the project "Development of Hand-held Biosensors for Rapid Diagnosis and Study of Neural Disease and Neurotoxins."
"To make this into a real medical device that a doctor can use, they need to be able to receive the data into a device that's portable, easy to use and inexpensive," Curtis said.
She previously developed an inexpensive and portable biosensor for the U.S. Army using live cells grown on electronic sensors as biological red flags for drinking water impurities. Curtis will use her biosensor expertise in the new collaboration to develop a sensor that can specifically detect when neurons are damaged.
Neurons in the brain become damaged and die during stroke, traumatic brain injury, and Alzheimer's disease. In recent years, scientists have discovered that damaged neurons release biomarkers of the injury into the blood.
Theresa Curtis, associate professor of biological science, shown in the center, stands among four of her student interns. Undergraduates perform much of the labwork comprising her research.
"If we can develop a simple, inexpensive, and sensitive method to detect these biomarkers then we could change the way these pathologies are detected and treated," Curtis said.
Led by principal investigator Alexander Travis, an associate professor of reproductive biology in Cornell University's Baker Institute for Animal Health, the team has captured $150,000 in seed money from the SUNY Network of Excellence in Health program, which is part of the Research Foundation for SUNY, to advance a unique, one-year collaboration. The goal of this program is to establish strong, inter-campus, multi-disciplinary teams that build SUNY's expertise in health.
"It is really hard to develop a multi-institution collaboration without any seed money and that is why this is so important that we have been chosen for this grant," Curtis said.
Travis brings to the project the cutting-edge tethered enzyme technology (TET) he developed previously through a National Institutes of Health (NIH) Pioneer Award. His invention, in a nutshell, uses enzymes immobilized to a solid surface in a device to sensitively detect the biomarkers of injury.
The collaboration also includes Elad Levy, a stroke medical specialist from the University at Buffalo; Magnus Bergkvist and Ji Ung Lee from the College of Nanoscale Science and Engineering; Roy Cohen, David Erickson and Gerlinde Van de Walle, biologists from Cornell University; and Sharon Bragman, an Alzheimer's specialist at Upstate Medical University.
In June, the team met face-to-face in Albany.
"We have doctors, nanofabrication engineers and biologists all coming together to build these novel biosensors," Curtis said. "We all had these really different backgrounds. That's what this network is about, different talents and backgrounds all coming together."
In addition to developing a biosensor to detect human pathologies such as stroke, traumatic brain injury, and Alzheimer's disease, the group will also use the platform to detect potential neural toxins in the environment. Healthy live neurons can be grown in a sensor, exposed to environmental samples such as drinking water, and biomarkers of neural injury can be detected if released.
"Having a portable, sensitive, and inexpensive technology to quickly assess neuron health will allow scientists to study the mechanisms of neural injury, and potential treatments to prevent or reverse neural injury," Curtis said.
If the research yields promising results, the SUNY Health Network of Excellence colleagues will set their sights on a much larger grant.
"Working as a SUNY team would allow us to compete for larger NIH grants or Department of Defense grants that we normally would not be able to achieve," Curtis said. "Research funding is so competitive now," she said. "Having this collaboration would really set us apart and make us more competitive compared to the work from one lab."
---
Capture the Moment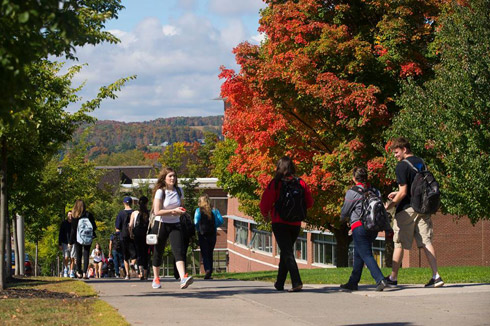 Sunshine helped show off the colorful autumn trees on campus last week, giving students an enjoyable trek between classes. Busy sidewalks subsided over the weekend as students headed home for a two-day Fall Break, taking the sunshine and warm temperatures along with them.
---
In Other News
'Brigadoon' Returns to Dowd Center Oct. 24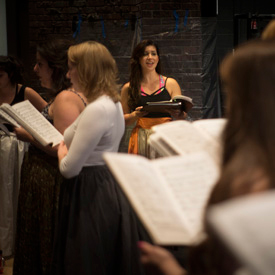 10/24/2014
Call it déjà vu with a difference.
When the musical "Brigadoon" returns to the Dowd Fine Arts Center Theatre Friday, Oct. 24, members of the 1967 cast and crew who inaugurated the stage of what was then a new campus cultural complex will be in the audience. Once again, they will be helping SUNY Cortland celebrate a special performance in Dowd Fine Arts Center.
In this case, "Brigadoon," a 1940s Broadway classic about a mythical, magical village in the Scottish Highlands, is officially re-opening the beautifully rebuilt theatre after more than two years of extensive renovations.
Alumni who helped stage the original production 47 years ago have been invited back for the musical's return.
In addition to watching the performance from a modern, acoustically improved theater, audience members who saw the original show will notice several other differences. The main one is that there will be about half as many performers on stage.
SUNY Cortland's 1967 production put 58 actors on Dowd Fine Arts Center's original stage. This year's launching of "Brigadoon" has only 34 cast members: 23 students, two faculty members and nine local children.
A big reason for the reduction is that many of the student performers are enrolled in the College's 10-year-old musical theatre program. As such, they are able to carry both the singing and dancing roles. Forty-seven years ago, these skills were performed by different people in separate roles. The cast was filled with people from a wide variety of majors, not primarily students working toward a career in performance.
"In contemporary theatre the singing chorus and dancing chorus (of the original production) is a very rare thing," said Kevin Halpin, the director and choreographer for the show. "For us, this is a musical theatre program full of students whose goal is to do this professionally so it is important that they are well rounded as singers, dancers and actors.
"The style of performance has changed a lot," said Halpin, an associate professor of performing arts at SUNY Cortland. "Their acting level and the physical characterizations are a lot more demanding than in the 1960s."
And, 50 years after the first production, the music and lyrics of Alan Jay Lerner and Frederick Loewe will meet with a very different audience.
"When they staged 'Brigadoon' here the last time it was in the early years of pop music and there still would have been a lot of students who had not separated from the more traditional music," Halpin said. "They would have known the music. This time we have to introduce the songs to a new audience that isn't familiar with it."
Student dance captains will help the new cast learn the choreography of a bygone era. And, thanks to he renovated seating in the theater; all "Brigadoon" patrons will have a good seat to watch it from.
The very long, single row "continental" style aisles have been replaced with a new configuration of three sections and four aisles. It's a safer design from a fire safety standpoint, Halpin noted. The improved accessibility of the layout meant that fewer exit doors were necessary. That, in turn, helped create the hall's improved acoustics.
Patrons who have difficulty with mobility also will like the new seating. Select seats can be removed altogether to make space for a manual or motorized wheelchair.
Speaking of seats, audience members might want to check the armrest of their chair for the names of alumni and friends who took advantage of SUNY Cortland's buy-a-seat fundraising effort. Many seats remain available for naming. Anyone interested in becoming a permanent part of the new theater should contact the College's Division for Institutional Advancement.
"Brigadoon" returns to the stage and a renovated Dowd Fine Arts Center Theatre at 8 p.m. on Friday, Oct. 24.
The more contemporary, spectacular lighting will enhance the set illumination by Joel Pape, the College's lighting and sound designer. And the new surroundings are a fitting curtain call for Howard Lindh, who subsequently retires following many years as set designer.
The show has six evening performances scheduled at 8 p.m. on Friday, Oct. 24, Saturday, Oct. 25, Friday, Oct. 31 and Saturday, Nov. 1; and two Sunday matinee performances at 2 p.m. on Oct. 26 and Nov. 2.
Tickets are $18 for general admission; $15 for faculty, staff and senior citizens; and $8 for students or children. Tickets may be purchased in advance at the Bling Store, 101 Main St. in downtown Cortland or at the theater box office starting one hour before the performance. For more information on "Brigadoon" or other productions, visit the Performing Arts Department website or call 607-753-2811.
Barry Earns Lifetime Achievement Award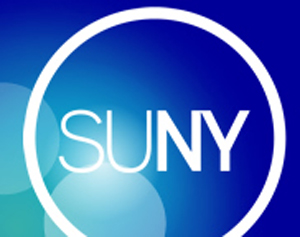 10/21/2014
Joanne Barry, SUNY Cortland's assistant vice president for human resources, has earned the State University of New York's Lifetime Achievement in Human Resources Award for her career contributions on campus and throughout the state system.
Barry, a College employee for nearly 25 years, was honored on Oct. 15 at the SUNY Human Resources Association (SUHRA) Conference held in Lake Placid, N.Y.
"Whether personally championing creative solutions or supporting human resources staff who are working to develop and implement HR best practices, Joanne is masterful at understanding how to maneuver an often unpredictable environment to advance initiatives," wrote Wendy Cranmer, the College's assistant Title IX coordinator, in a recommendation letter.
Praised as an unflappable leader by faculty and staff members from across campus as well as several external constituents, Barry's guidance has positively influenced countless SUNY Cortland policies and procedures.
Internal promotion, interim appointment and workplace bullying policies all have been enhanced during her tenure. Additionally, programs have taken off that include alternative work schedule, phased retirement, and faculty and staff onboarding and leadership training.
Barry earned SUNY's Lifetime
Achievement in Human Resources
Award.
Several colleagues noted her ability to adhere to legal and ethical standards while offering creative solutions that are fair.
"Under Joanne's leadership, our Human Resources Office has taken a very proactive approach in promoting more positive interactions among campus employees, rather than just addressing problems when they arise," wrote Bruce Mattingly, the College's dean of the School of Arts and Sciences.
Others called attention to the campus-wide impact of her work.
"Classified staff have the opportunity to take webinars and workshops to improve their writing, communication and technological skills," wrote Andrea Lachance, the College's dean of the School of Education. "Faculty and staff have opportunities to develop their leadership and conflict resolution skills.
"Through her support of these initiatives, Joanne has illustrated her belief in lifelong learning and growth in the work place."
Barry joined the SUNY Cortland staff in 1990 as a personnel associate and was promoted to senior personnel associate/affirmative action officer in 1997. She assumed leadership of the Human Resources Office in 2000 when she was appointed director of personnel. In 2007, she was elevated to assistant vice president for human resources to accurately reflect the scope and complexity of her position.
In addition to her service to the College, Barry is active in SUHRA as the organization's secretary, chair of its partner relations committee and a labor relations committee member.
Cortaca Battle is Out for Blood Donations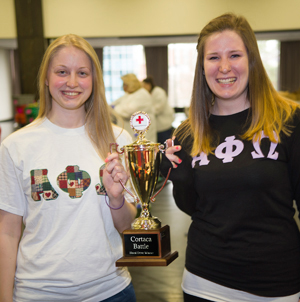 10/21/2014
About two weeks before the football flies in the annual Cortaca Jug game, SUNY Cortland and its longtime gridiron foe Ithaca College will compete for a far less-known but equally blood-thirsty competition: the Cortaca Battle.
On Monday, Nov. 3, and Tuesday, Nov. 4, students from both colleges won't raise their fists and huddle but will instead roll up their sleeves to continue a two-year-old challenge measured in the crimson liquid volume of donations to the American Red Cross (ARC).
At SUNY Cortland a service fraternity — the Alpha Zeta Lambda chapter of Alpha Phi Omega (APO) — sponsors the special blood drive on the College's campus.
This year the Cortaca Battle takes place in the Corey Union Exhibition Lounge from noon to 6 p.m. on Nov. 3 and from 11:30 a.m. to 6 p.m. on Nov. 4.
But first, APO volunteers will be out in force drumming up willing donors.
On Friday, Oct. 24, Monday, Oct. 27, and Wednesday, Oct. 29, the fraternity members will staff tables from 5 to 8 p.m. in the Corey Union Snack Bar Hallway to encourage students to schedule giving their pint of hemoglobin and plasma in advance rather than simply showing up on Nov. 3 or 4. APO also posts signs around campus to inform classmates about the competition.
"Sometimes we've gotten walk-in donors and, last year, we actually didn't have enough time for them all," said Jaclyn DeBouter, this year's acting president of APO. "We had to say to some walk-ins, 'Please donate the next time.'"
In May, members of the service Greek Alpha Phi Omego (APO) accepted the Cortaca Battle trophy from Nancy Brady, account manager for donor recruitment with the American Red Cross' Binghamton District. She is shown holding the trophy. Accepting it, from the left, are APO members Courtney Zirkel, Jaclyn DeBouter, Cristina Braun and Kimberly Schneider; Mavis Lefever, secretary I in campus activities and Corey Union; and C. Gregory Sharer, vice president for student affairs.
Of course unscheduled blood givers will gladly be taken both days, but would-be donors have several other ways to plan ahead and avoid a potential wait, according to DeBouter and ARC officials. To book an appointment, call 1-800-REDCROSS, visit www.redcrossblood.org or, new this year, download The Red Cross Blood Donor App at the App Store or on Google Play.
In last year's Cortaca Battle, SUNY Cortland wrested the winner's laurels away from Ithaca, which took home the title in 2012, the competition's first year.
The campuses differ in student population so since 2013, instead of competing on straight numbers, the two colleges have vied to reach the goals each campus sets in advance for reaching a certain percentage of student population donors as well as growing in participation compared to the year before.
In the 2013 competition, SUNY Cortland met its goal and achieved 120 blood donations, an increase of 20 units from the year before, confirmed Sheila Sullivan, customer service representative the ARC Binghamton District. The Red Cross no longer has 2013 records for Ithaca College.
"We said last November we had to get 50 percent of our goal — 50 people on both days — to meet our goal," explained APO volunteer and senior community health major Cristina Braun of Floral Park, N.Y. "If we didn't reach our 50 percent goal we didn't win. That way we didn't have to worry about getting more donors than Ithaca College."
"Cortaca Battle was actually an idea the students came up with, which I think is fabulous," Sullivan said. "It obviously piggybacks with the football rivalry. We get 20 percent of our blood from college students and both colleges participate in a blood drive with us."
Over the summer the ARC's Binghamton District created the actual trophy — not a piece of handled crockery as the Cortaca Jug contenders have vied for since 1959 — and presented it to SUNY Cortland to proudly display at least for now.
But the thrill of capturing this trophy is not the only reason the service Greek members organize this annual competition.
"It's very emotionally rewarding doing service for others," said Braun, a New York state-certified emergency medical technician for the past three years who also captains the SUNY Cortland Emergency Medical Services.
"This helps build your empathy level and your leadership and interpersonal skill level," she said.
Braun also views her community service with APO as a step along her eventual path into a nursing or physician assistant program.
"I like giving back to the community," Braun said. "It's just something I've always loved to do. I think it's the same for all members of APO."
"It shows we're not just promoting ourselves or the campus but that it's for a greater good," said DeBouter, a junior adolescence education: English major from Oakland, N.J. "We're trying to do as many different things as we can to help a number of people in small ways. It shows what a few people can put together to make something really great happen."
APO helps organize and run all other campus ARC blood drives throughout the year, through the Division of Student Affairs.
"The day of blood drives is kind of crazy but it's all rewarding in the end," Braun said. "We do a lot of work before the event and the day of the blood drive, we all pitch in. The (APO) brothers will come from class or if they're not doing anything, some of us might just stay the whole day and help out."
"The kids are great. The kids are energetic," Sullivan said. "They have the positive, can-do attitude. You mention the needle to kids and the whole tattoo thing (involving needles) is cool to them so they have a much more open mind about the donation process."
Of all the eligible people to donate, the same 4 percent of the community-at-large gives their blood over and over again, Sullivan noted.
"They're getting older and older and eventually get to the point where they can't donate," Sullivan said. "Perhaps it's because they're on medication. So it's a good thing for the students to learn that it doesn't hurt and it's for a good cause. And when they go out into the real world, hopefully they will continue to donate."
College Joins Annual March to End Hunger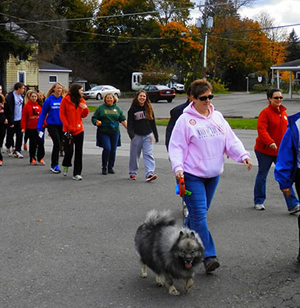 10/20/2014
Members of the College and Cortland communities will once again come together to help build a healthier world by participating in the annual CROP Hunger Walk on Sunday, Oct. 26. The event, part of a nationwide initiative, aims to increase public awareness of the prevalence and causes of hunger and to raise funds to combat it both locally and globally.
This year's walk starts at Grace and Holy Spirit Church on 13 Court St. in Cortland. The walk takes place rain or shine.
Registration begins at the church at 1 p.m. The walk will follow at 1:30 p.m. Donations also will be taken at the walk or on the CROP Hunger Walk's website. For online registration, or to donate online, visit the www.CROPHungerWalk.org/cortlandny.
According to organizers, locally organized Church World Service-sponsored CROP Hunger Walks are an important part of community life for more than 2,000 towns and cities in the U.S., bringing together people of different faiths, diverse cultures and all age groups.
Last year's CROP Walk in the city of Cortland raised $11,000, with members of the college community supplying more than two thirds of the walkers and 43 percent of the donations. Twenty-five percent of the funds raised this year will be returned to the City of Cortland to feed hungry people.
Each year, CROP Hunger Walks help more than 3,200 local food pantries, food banks and meal sites in the U.S., according to the charity's website.
"Not only does the event help out people globally, but it will assist the place in which we live and give people a good feeling amongst themselves," said student co-organizer Catherine Faughnan.
"It is great for the community and it really is an enjoyable time to walk and see the whole town in which we live," Faughnan said.
This year's slogan is "10x$10."
"That is, if each walker can raise $10 from 10 people, we could raise upwards of $30,000 to $40,000," Faughnan said.
Blaze, SUNY Cortland's mascot, will attend this year's event, and the campus Greek organizations will be well represented, said Jim Miller, a lecturer in the College's History Department and a lead organizer of local CROP Hunger Walk efforts.
"The students take an active, positive role in the community," Miller said.
The College community annually contributes about two-thirds of the walkers, including these eager students, and collects 43 percent of the donations.
And those donations go a long way. A $150 donation can provide three farm families with everything they need to make nutritious and marketable honey — including training, hives and equipment. A $500 donation can provide 4,000 pounds of food for a local food bank or provide up to 400 meals in a soup kitchen.
For more information about the event, contact Susan Wilson, Vicki Johnson, Miller or Faughnan or visit the CROP Walk website.
Prepared by Public Relations Office intern Paul Barchitta
Post WW II Film Series 'Rubble' Continues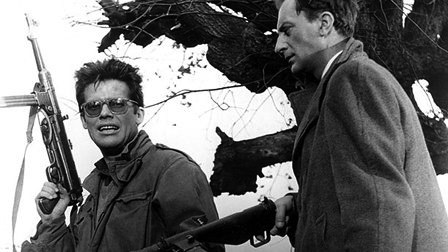 09/25/2014
Andrzej Wajda's 1958 film, "Ashes & Diamonds," will be shown Wednesday, Oct. 29, continuing SUNY Cortland's "Rubble" 2014-15 film series.
Presented by the College's Project on Eastern and Central Europe (PECE) and the History Department, the movies depict the World War II aftermath, also known as "Europe — Year Zero," set amid the rubble of postwar Europe.
"'Rubble' is also a metaphor for the damage to people and societies and for the chaos and uncertainty that shaped their shattered lives," said SUNY Cortland Distinguished Service Professor Henry Steck, a professor of political science. Steck is the PECE series organizer with Scott Moranda, an associate professor in the History Department.
"The films were not only set in 'rubble' but were often made by filmmakers working in conditions that gave their films an authentic and gritty realism," Steck said. "And beyond their historical and cinematic importance, the films provide an opportunity for audiences to reflect on the reconstruction of war-torn and occupied countries more generally."
"Ashes & Diamonds," will be shown at 7 p.m. in Johnson Lecture Hall, Sperry Center, Room 106. The room was changed from Sperry Center, Room 304. The screening features an introduction and post-film discussion with Steck and Moranda. The Polish film takes place on the last day of World War II, when the Germans surrender. A soldier is stuck between falling in love with a woman and assassinating a fellow soldier.
The film series is co-sponsored by the Political Science Department, the Clark Center for International Education, the International Studies Program, the International Programs Office and the Auxiliary Services Corporation.
For more information, contact Steck at 607-753-4807.
Prepared by Public Relations Office intern Victoria Lewis
Recreation Conference Set for Nov. 6 and 7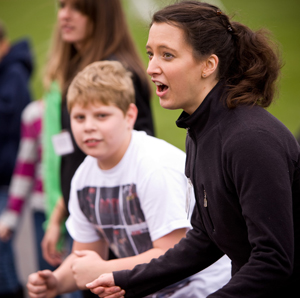 11/03/2014
Valeria J. Freysinger, a nationally recognized leader in leisure and aging, will deliver the prestigious Metcalf Endowment Lecture at this year's 64th annual SUNY Cortland Recreation Conference, which takes place Thursday, Nov. 6, and Friday, Nov. 7, at the College.
Freysinger, an associate professor of leisure studies and lifespan development in Miami University's (of Ohio) Kinesiology and Health Department, will discuss "Acting our Age: Re-imagining Recreation and Leisure Across the Life Course" at 1:15 p.m. on Friday, Nov. 7, in Corey Union Function Room. The keynote lecture is free and open to the public.
Valeria Freysinger
"Most recently, my focus has been the notion that leisure is a context of life that not only constructs and perpetuates social and global inequity but also a space/place within which social and global inequality may be resisted, challenged and transformed," said Freysinger, who also is a faculty associate with the Scripps Gerontology Center.
"Dive into Recreation" is the theme of the two-day gathering, the nation's oldest continuous collegiate-sponsored recreation education conference.
Presented by the College's Recreation, Parks and Leisure Studies Department and students in its Special Events Planning class, the conference receives additional support for its Metcalf Keynote Address from the Metcalf Endowment Fund and the Campus Artist and Lecture Series.
This year's theme will encourages participants to immerse themselves, swim through the varied recreation professions and dip their toes in the sea of networking opportunities with the conference's annual internship fair and exhibit.
"Students can dive headfirst into the field, and professionals can plunge to unexplored depths," said conference coordinator and student Daniel Spector of Yonkers, N.Y. "Come on in. Make a splash. The water is just fine."
To find out more about conference registration, fees and Continuing Education Unit (CEU) credits, visit the conference website at cortland.edu/recconf, where the brochure and registration form may be viewed or printed. The information also will be available via Facebook.
Walk-in registration takes place at 7 a.m. on both Thursday and Friday in Corey Union. Additional information may be obtained by calling 607-753-4939 or by emailing recconf@cortland.edu.
More than 200 students and professionals are expected to attend the conference, which will offer approximately 50 educational sessions and practical workshops on recreation management, therapeutic recreation, outdoor recreation, environmental education, and leisure and society. A research symposium, internship fair and networking social also are planned.
The conference is planned and directed by SUNY Cortland students enrolled in the Special Events Planning class taught by conference advisor Susan Wilson, a professor of recreation, parks and leisure studies.
In addition to the conference coordinator Spector, the conference committee members include:
• Joseph Artuso of Syracuse, N.Y., program;
• Ashley Gray of Rochester, N.Y., alumni;
• Christopher Grisolia of Commack, N.Y., hospitality;
• Elizabeth Kahen of Wheatley Heights, N.Y., graphics and printing
• Ashley McLean of Alpine, N.Y., special program coordinator;
• Alyssa Meyer of Hauppauge, N.Y., sponsorship and fundraising;
• Gideon Raucci of Germantown, N.Y., marketing; and,
• Stephanie Sobolewski of Clay, N.Y., sponsorship and fundraising.
The keynote speaker worked five years in community recreation/social services before returning to school to receive her doctorate from the University of Wisconsin, Madison. Her research interests include gendered experiences of leisure across adulthood; leisure as a context for and practice of aging; and leisure, aging and social (in)equity.
Her latest co-edited book, with Shaw, Henderson, and Bialeschki, is titled Leisure, Women and Gender. The text pulls together the thinking of some of the top recreation and leisure researchers in this area. An active participant in the World Leisure Organization, Freysinger chaired the Commission on Leisure in Later Life for four years.
This year's conference also will feature an opening session with Bill Zimmerman '76, the parks and recreation commissioner for the City of New Rochelle, N.Y., and Joseph Archino, superintendent of the Recreation and Parks Department in the Village of Irvington, N.Y. The recipient of the prestigious Michael B. Berman Special Fellow Citation Award, Zimmerman is a longtime member of the SUNY Cortland Recreation, Parks and Leisure Studies Advisory Committee and is a past-president for New York State Parks and Recreation Society (NYSPRS). Archino has co-chaired the annual NYSRPS Conference and served as a speaker at numerous conferences.
Conference sponsors also include the New York State Recreation and Parks Society, Playground Medic, and Peggy Payne & Associates Inc.
For more information, contact Raucci at 607-753-4939 or recconf@cortland.edu.
From Undergrad to Owner: Young Grad Starts ABA Team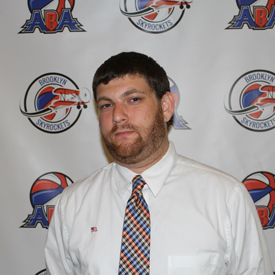 10/17/2014
Few 23-year-olds can boast the same job title as billionaire sports moguls Mark Cuban and Jerry Jones. But while his bank account balance may have far fewer zeroes in it than the power owners of Dallas' professional basketball and football teams, SUNY Cortland graduate Dylan Gioia '13 can say he's in a similar line of work — only on a slightly smaller scale.
The former sport management and business economics major, the subject of a New York Daily News feature this summer, purchased his own American Basketball Association (ABA) franchise in 2013, just six months after he graduated from the College. It's been a whirlwind year for Gioia, a Brooklyn native balancing a full-time human services job with his duties as a rookie sports owner.
"We're not the Knicks, we're not the Nets, we're not a big-time Division I school," said Gioia, who will lay out a one-time $10,000 membership fee in the form of a $2,500 deposit and monthly installments of $250 to keep the franchise afloat. "But we're also not the local neighborhood kids."
His Brooklyn SkyRockets are slated to take the court for their first game in November. As a do-it-yourself leader in charge of everything from sponsorships to press releases to game operations, Gioia won't be watching from a lavish luxury suite. That's because there are no luxury suites at Aviator Center at Floyd Bennett Field, the former naval air station where the SkyRockets will play their games.
Instead, he'll do what he's done since his earliest undergraduate days at SUNY Cortland: get his hands dirty doing the work needed to inch his dream along.
"Many students who go through Cortland's sport management program want to be an agent or a general manager or something similar," Gioia said. "I was one of those kids, but you learn real quick that being GM for the Knicks is pretty slim in all likelihood."
Gioia worked strategically during college. He served as a resident assistant nearly every semester, developed a strong relationship with Career Services through his participation in the Disney College Program and joined the Sport Management Club, organizing a European-style handball tournament during his senior year. He even took part in the College's wheelchair sports programs — a popular evening activity for students studying adapted physical education — just for fun.
Juggling two majors also helped, he said.
"I feel like my reach was a little further," he said. "I had a little more business-specific knowledge in addition to the law and marketing and media classes of the sport management major."
Gioia doesn't carry student loan debt, and after graduation landed a day job at the Iroquois Job Corps in downtown Brooklyn, a vocational job training center that helps people find work and grow acclimated to city life. That 8 a.m. to 5 p.m. commitment means he must be creative with his schedule.
"I'm up ready to take calls and send emails while I'm in the car," said Gioia, who gets a ride to work from his girlfriend. "Then throughout the day, I try not to do SkyRockets related stuff unless it's my lunch.
"That means I have to do as much as I can to make up for it on Saturdays and Sundays."
He knew before setting off on the ABA venture that he would need to enlist the services of friends and family members. His cousin, who works as a lawyer, looked over plenty of the paperwork.
"Then my girlfriend's sister's fiance's friend helped with the website," he said. "I've also heard from complete strangers, which is cool.
"Because honestly, how many opportunities do you have to be involved with something like this?"
Then there are the notes from SUNY Cortland friends and alumni he's never met wishing him the best from across the country.
"Usually they say stuff like, 'This is amazing. You're giving us a great name. I wish you all the best,'" Gioia said. "And that stuff means a lot to me."
Still, he knows the franchise won't get by solely on praise and well wishes from others. A majority of the team's success will depend on sponsorships and ticket sales — two areas Gioia realizes that he needs to grow. Currently, more than 90 ABA teams compete across the country. On average, 10 of them fold each season.
"A lot of it will come down to the time I can put into it," he said.
The SkyRockets' roster — holdovers from an old ABA squad in Brooklyn that disbanded as well as some talent discovered during three open try-outs ? doesn't include any household names. He hopes to pay his players $50 per game to start.
In addition to the modest payment, they'll be part of a league that has graduated players to higher European leagues and a handful of NBA front office jobs. On occasion, they'll have the opportunity to be viewed by a potentially international audience, thanks to a two-year agreement between the league and ESPN. The SkyRockets' home opener on Saturday, Nov. 15, for instance, is slated to be broadcast as the ABA's Game of the Week on ESPN3 and the WatchESPN app.
Further, SkyRockets players will lace up their sneakers knowing that they play for an energetic owner who, although less than two years removed from college, realizes what it means to take a risk and who surely isn't afraid of failure.
"I tell myself sometimes that there are some people who ask, 'Why?' and others who ask, 'Why not?'" Gioia said. "I guess this makes me a 'Why not?' person.
"I just went for it."
Professor Boosts Barduhn/EMS Award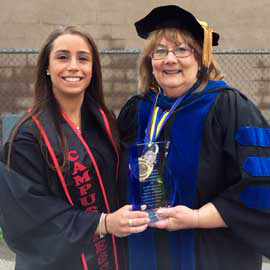 10/17/2014
The importance of volunteer medical responders became suddenly clear to Janet Duncan a couple of years ago, when her husband fell critically ill from a post-surgical infection and a local fire department's Emergency Medical Services van came screeching to her doorstep.
"They saved his life," said Duncan, a SUNY Cortland professor and chair of the Foundations and Social Advocacy and Educational Leadership departments. "They got him to the hospital and he was fine. Really, they're a volunteer force and that was quite impressive to me."
Earlier this year, Duncan decided to pay it forward in a big way. She made a $10,000 commitment to a scholarship fund established by members of SUNY Cortland's student-run volunteer emergency medical squad.
Duncan hadn't really been aware of SUNY Cortland Emergency Medical Services (SCEMS) until she shared her personal story with the squad's longtime advisor and number one fan, Marley Sweet Barduhn '76, M '79, SUNY Cortland's assistant provost emerita.
"Marley said that we have a group right here on campus that's doing that same thing. I really hadn't thought about it," Duncan said.
SCEMS is a campus club but it's also a New York state recognized basic life support service. The squad isn't an ambulance service but members are almost always the first emergency responders to reach the scene following a dispatcher's call. The SCEMS members become state certified in cardiopulmonary resuscitation (CPR)/first aid or as emergency medical technicians. They offer the person in need immediate, professional help and evaluation while establishing a link to the next level of care.
"The students choose to be really giving back at a time where people are in a bad situation, either injured or sick or sad," Duncan said. "These students really rise to the occasion and it's the ultimate type of civic engagement.
"Marley explained what they were doing and how long they were doing this service work and how important it is to the local community," Duncan said. "That's something I'd really like to be able to support."
So Duncan has made a 10-year commitment to contribute $1,000 per year, for a total of $10,000, to the Marley Barduhn SUNY Cortland EMS Award.
Created in April by squad members to honor Barduhn upon her retirement, the sponsored scholarship of at least $300 in tuition assistance will recognize annually a deserving SCEMS member who shows both dedication exceeding membership expectations and academic excellence.
"Dr. Barduhn is always willing to lend assistance or provide encouragement for her students in times of need," said Aleena Kanner '14, who was president and chief of the SCEMS when the award was created. "She values education along with helping others, which is the basis of this scholarship award."
Barduhn, who has served the College since 1979 in capacities ranging from faculty member to high-ranking administrator, retired in December 2013, when she was invited to serve as a Global Fellow in the SUNY Office of Global Affairs.
But she continues to serve on the advisory board of the club/service organization that she began helping 36 years ago when the students first came knocking.
"I came to Cortland and the students found me," Barduhn said. "They found I was an emergency medical technician and in fact I was an advanced EMT. They were in a very small office in Brockway (Hall) at first and had to carry 75 pounds of equipment from there to all calls.
"They have been there for any of the major events we've had where there have been injuries," Barduhn said. "They have a special place in my heart always from the work they do."
Today, piles of SCEMS pre-hospital report paperwork sit in Barduhn's living room waiting for her to review for quality assurance. That review is one of the mandates for a state-recognized basic life support agency.
Barduhn will help select each year's Marley Barduhn SUNY Cortland EMS Award recipient as long as she chooses.
"I think it's amazing, really when you think about it," Barduhn said. "The students worked on this award, they kept it secret all year long. At their annual banquet, they announced it. They are about helping other people. It's really consistent with the belief and philosophy of EMS in helping and giving to others.
Professor Janet Duncan has supported many College endeavors over the years.
"Often students have given so much time to the agency that their own schoolwork does suffer occasionally," she noted. "This is a way to give back to them in a kind of acknowledgement of their effort and their professionalism."
"It's a huge commitment when people take on those EMT roles in the own communities," Duncan said. "And the people who do it tend to stick with it. They don't just do it to put on their resume but it's a sort of bug that they catch. Hopefully the scholarship money will help them flourish and get a little bit of tuition relief."
On July 30, during her retirement party at Linani's at the Manor in Homer, N.Y., 24 of Barduhn's academic and professional colleagues and friends pooled their gifts totaling $3,000 to support the same fund. The Cortland College Foundation is managing the scholarship monies, according to Linda Battin, manager of financial operations for the foundation.
Everyone's generosity to date ensures the award can be bestowed at the minimum level for many years to come, Battin said.
The gift will also serve to spotlight all that Barduhn has done for her alma mater's emergency squad. In addition to advising the club for all these years, she was present to lend emotional support to them during major campus crises that impacted members personally. One was the sudden death of a beloved campus administrator closely tied to SCEMS, Michael C. Holland, who suffered a fatal heart attack while driving SCEMS members back to Cortland after helping with a flood cleanup in Binghamton. Another was the aftermath of the Sept. 11, 2001, terrorist attacks, which took a heavy emotional toll on the many SCEMS members whose families lived in the metropolitan New York area.
"I think a lot of her work was hidden work in many ways and that needed to be brought out a little bit more," Duncan said. "I know it's kind of a cliché, but there are the ones that run toward the danger instead of away from it and Marley is sort of like that, too, both professionally and personally. She is very warm and caring. She's an inspiration to me. I know the students thought the same of her."
Top Southeastern Conference Official to Speak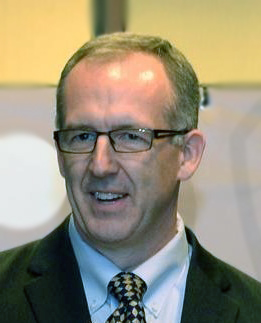 10/28/2014
Greg Sankey '87, a SUNY Cortland graduate and second in command of college football's most dominant athletic conference, will speak at his alma mater on current issues in college athletics Tuesday, Oct. 28.
Sankey, the executive associate commissioner and chief operating officer for the Southeastern Conference (SEC) and a native of Auburn, N.Y., is returning to Central New York for a two-day executive in residence visit Monday, Oct. 27, and Tuesday, Oct. 28. His talk, which is free and open to the public, takes place at 3:15 p.m. Tuesday, Oct. 28, in the College's C-Club Hall of Fame Room, located in Park Center.
Sankey's visit comes at a time when the SEC is dominating sports headlines. Five of the top 10 teams in college football's current AP Top 25 Poll hail from the conference, meaning it's possible that the sport's first-ever four-team playoff could feature more than one SEC squad. Earlier this week, influential SEC commissioner Mike Slive announced he will retire in July. Sankey is frequently mentioned as one of his possible successors.
Observers and members of the national media regularly praise Sankey, a former physical education major at SUNY Cortland, as one of the sharpest administrative minds in college athletics. He's worked for the SEC for 12 years — the past two in his current role — and has proven to be an integral part of Slive's efforts to rethink the conference's governance, enforcement and compliance program. He also oversees the SEC's championships staff.
"We're extremely proud to have Greg back on campus," said Rich Coyne '07, the College's alumni and advancement officer. "He truly has climbed the ladder in college athletics, starting out as the director of an intramural sports program in upstate New York and working his way up to a key post with the SEC, arguably the most powerful conference in the NCAA.
"He's the perfect person to inspire our sport management majors and our students in general."
In addition to his public talk, Sankey will speak to several sport management classes and meet with the department's faculty members during his two-day visit.
"Our students are very fortunate that alums such as Greg take the time to come back to campus," said Mark Dodds, an associate professor and interim chair of sport management. "This experience provides our students with a new insight into major college athletics that a textbook could never provide."
Sankey is active within the NCAA committee structure, which includes his service on the Division I Legislative Council, Committee on Academic Performance and the NCAA Committee on Infractions, which he currently chairs. In June, he offered testimony in the historic O'Bannon v. NCAA case regarding compensation for student athletes.
Prior to joining the SEC staff, Sankey served as commissioner of the Southland Conference for nearly seven years. He joined the Southland Conference staff in 1992 and worked as both assistant and associate commissioner before he was named commissioner in 1996.
He was director of compliance and academic services at Northwestern State University in Natchitoches, La., prior to that. While at Northwestern State, Sankey also coached the university's golf teams for two years. His career in college athletics began at Utica College, where he acted as director of intramural sports.
Sankey earned his master's degree from Syracuse University. He resides in Birmingham, Ala., with his family.
Halloween Coming to Parks Alumni House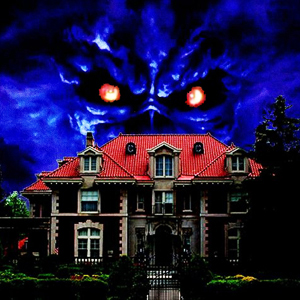 10/16/2014
Cortland's historic Halloween Parade is being resurrected for the first time since 1997, and the newest version of this spooky street spectacle will finish in a new resting place: the Lynne Parks '68 SUNY Cortland Alumni House.
A procession of ghosts, junior firefighters, celebrities and comic book heroes will walk down Cortland's Main Street on Thursday, Oct. 30 — the day before Halloween — to the decorated mansion at 29 Tompkins St.
The parade's arrival serves as a finale for a community "Halloween Extravaganza" that SUNY Cortland students will host at the Parks Alumni House.
The first-of-its-kind event will run from 4 to 7 p.m., offering spooky tours, Halloween activities and free refreshments to members of the community. During the extravaganza, decorated pumpkins will greet the trick-or-treaters when they arrive, and costumed students will guide young visitors on candy-gathering tours through the elegant rooms of the century-old downtown landmark.
The stately mansion's main floor will offer coffee, hot cocoa and refreshments to the youngsters and their families. In the basement pub area, the children can try a variety of Halloween activities such as games and crafts.
The resurrected parade is based on an annual Cortland tradition that began in 1936 and thrived for more than 60 years. It is an independent community event organized by the Cortland Downtown Partnership and other local organizations.
"It's actually two separate events," explained Nicholas Koziol, interim manager of the Parks Alumni House. "At the house, it will be student-run but open to the community and the College."
At 7:30 p.m., after the last of the parade participants have arrived at the Parks Alumni House, walking up the long driveway and gathering in the spacious backyard patio area, winners of the costume contest will be announced. Prizes will be given in the categories of most creative, scariest, cutest, most original, greenest (recycled), best group costume, and best family costume, said Jane Witty, event coordinator and facilitator for the Cortland Downtown Partnership's (CDP) Promotions Committee.
"That was such a terrific and unexpected offer," Witty said of the Alumni Association's proposal to provide an atmospheric finish line for the parade. "We first planned having the parade end at the post office and we would then walk back to the lot where we started. This way, we get to have a little more of a too-do, with candy and games. It's going to be a prettier program and more well-contained."
The party at the Parks Alumni House will also help three nervous college students complete a class project.
"We get experience on how to plan and create different types of events," said the Alumni Association's event co-organizer Dana Korman, who teamed with Ashley Gray and Teresa Quartironi, two classmates enrolled in Professor of Communication Studies Kathleen Lawrence's Event Planning course.
Quartironi, a student intern at the Parks Alumni House, suggested the Halloween party.
"Nick (Koziol) had wanted to host a Halloween event and we decided it would be a good fit for our class and our project," said Korman, a communication studies major from Millwood, N.Y. "It probably would fall under the community-building type of event: to be fun for everyone and get community members involved."
The volunteers needed to entertain the children and serve as street-side guards are expected to include SUNY Cortland alumni as well as members of the College's Student Alumni Association, Greek organizations and athletic teams, Korman said.
Parade registration begins at 6 p.m. in the Elks Lodge at 9 Groton St. Participants will check in, register for the costume contest and at 6:30 p.m. to be marshaled into groups in the parking lot behind Main Street that is shared by the Community Dining Room and the Elks Lodge.
Main Street closes to new traffic starting at 5 p.m. to clear the roadway for the procession's path. At 7 p.m., the parade will wend its way past Cortland's downtown storefronts, where some dozen business owners plan to decorate their shops and cater to the kids, Witty said.
The line of costumed children and families on foot, in human floats and riding carts and bicycles then will pause at the Cortland Post Office, where the judges will inspect their costumes.
Crossing the intersection with Tompkins Street under the safety of city police officers, the parade will turn right and proceed along the sidewalk the relatively short distance to the Parks Alumni House steps, organizers noted. A line of SUNY Cortland Alumni Association volunteer safety monitors will be responsible for keeping participants away from vehicular traffic along the State Route 13 thoroughfare.
The community support comes from the City Council, the city police department and the city department of public works, Witty noted.
Recently, the Cortland Downtown Partnership and the Cortland High School Link Crew — an outreach group to at-risk pre-high school students — decided to resurrect the beloved Cortland tradition, Witty explained.
Halloween is a special time at the Lynne Parks '68 SUNY Cortland Alumni House.
She had researched the former parade and found it was held almost continuously from 1936 to 1997 except for one year when a flu epidemic caused its cancellation. Most parades began and ended at Randall Field, followed by a bonfire, candy distribution or reception.
"The articles said they started the parade because they had problems with vandals on Halloween, young people kind of tearing things up that night," Witty said. "And around the country lots of other Halloween parades formed around that time.
"I think the adults in the area are just as excited if not more than the children about it," Witty said. "The kids who were in the old parade are now all grown up and thrilled to bring their own children to be in the parade."
"Personally, I love Halloween. It's a great holiday," Korman said. "It would be fun to give something back to the Cortland community and seeing the kids have fun is our main goal.
"We would be hoping to have it as an annual event."
Motivational Speaker to Discuss College Success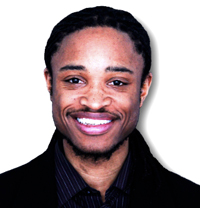 10/21/2014
Students looking to graduate from college with a great job and less debt should take note of what Jullien "The Innerviewer" Gordon has to say.
The national motivational speaker will offer his tips on how students can get the most out of their college career and be prepared for life post-college, on Wednesday, Oct. 29, at SUNY Cortland.
Gordon's talk, geared to inspire students to learn how to be successful both inside the classroom and out, begins at 7 p.m. in the Corey Union Function Room.
His presentation, titled "The Other 4.0 That Matters: 101 Things To Do Before You Graduate to Maximize College and Minimize Debt," continues the Fall 2014 "Wellness Wednesday Series," which features events intended to encourage campus and community members to learn more about health and wellness. Events are free and open to the public.
Gordon's lecture relates to one of his four books, 101 Things To Do Before You Graduate. All are based on career advancement, finding purpose, goal achievement and closing the college-to-career gap to help young professional discover their life's work and make their highest contribution to the world and through their daily work.
"It doesn't matter what college you go to," Gordon said. "I've seen students at a community college get more out of their college experience by focusing on 'The Other 4.0' than a student who goes to Harvard and just goes from class-to-dorm-to-class-to-dorm," Gordon said.
"We believe Mr. Gordon's talk will challenge and inspire our students to think beyond the goal of just getting to graduation to understanding the importance of everything college has to offer," said Lori Schlicht, SUNY Cortland's associate director of advisement and transition.
A high performance coach and consultant for organizations, individuals, and teams, Gordon in three years and by age 25 graduated from UCLA and earned master's degrees in business administration and in education from Stanford Graduate School of Business.
Gordon has been described as the country's leading voice on engagement at work. He speaks to large and small audiences at corporations, colleges and conferences nationwide. Gordon commits to leaving the audience with immediately applicable frameworks and tools that they can use for the rest of their lives.
Since 2007, he has pursued both the talent recruitment and development industry. As the associate director of talent recruitment for Management Leadership for Tomorrow, he recruited at the college undergraduate and Master of Business Administration level. He then founded his own company, originally called the Department of Motivated Vehicles and presently known as New Higher. The company's "innerviewing" techniques, trainings and tools are used to motivate and engage talent to increase both productivity and profit. New Higher has worked with Fortune 100 companies and has helped more than 10,000 professionals.
"Wellness Wednesday" series programs are primarily sponsored by the Health Promotion Office and the Student Development Center. The series takes place on Wednesdays at 7 p.m. in Corey Union Exhibition Lounge, unless otherwise noted.
Co-sponsors of Gordon's talk also include Academic Support and Achievement Program (ASAP), Advisement and Transition, Campus Artist and Lecture Series (CALS), Career Services, Cortland College Foundation, Multicultural Life and Diversity, Residence Life and Housing, the offices of the President and the Provost and Vice President for Academic Affairs, the Faculty Development Center, Residence Life and Housing, Student Affairs Office.
For more information or accommodation to attend an event, contact Catherine Smith, the College's health educator, in Van Hoesen Hall, Room B-1, at 607-753-2066.
Prepared by Public Relations Office intern Victoria Lewis
Belize Zoo Visitors Offer Oct. 28 Talk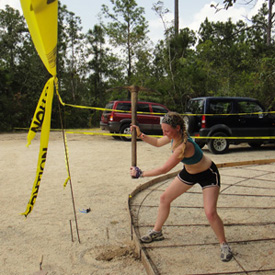 10/28/2014
Visitors from SUNY Cortland's zoo partner in Central America will explain the importance of their work and discuss student internship opportunities at the Belize Zoo during a campus presentation Tuesday, Oct. 28.
Jamal Andrewin, environmental educator at the Belize Zoo, and Tony Garel, the facility's head zookeeper, will speak at 7 p.m. in Brockway Hall, Jacobus Lounge. Their talk is free and open to the public.
The College shares a unique partnership with the zoo and maintains a positive presence throughout Belize by bringing students and faculty members from several different academic disciplines to the popular tourist destination, an English-speaking country located on the northeast coast of Central America and bordered by Mexico to the north and Guatemala to the south and west.
This past summer, after two years of fundraising, design and on-the-ground work, the zoo became fully accessible thanks to efforts of the College's Recreation, Parks and Leisure Studies Department. Students and faculty members raised roughly $10,000 over several years to create accessible pathways as part of the Belize Zoo Transformation Project. They also adapted restrooms outside the zoo's entrance, dug holes to plant landscaping and visual barrier poles, and marked driving slots for the vehicles of visitors with restricted mobility.
In addition to opportunities at the zoo, SUNY Cortland's International Programs Office has helped students arrange internships in Belize over the past 20 years in fields that include human services, business, recreation, health, environmental preservation, archaeology, special education and wildlife preservation.
Additionally, art and art history students have studied the country's traditional styles of pottery making and ceramic artifacts; a marine biology class has explored the world's largest still-living barrier reef in the Caribbean Sea; and future teachers have spent time with educators there sharing ideas and observing cultural differences as part of the summer Teachers Institute in Belize.
For more information on the talk, contact Thomas Pasquarello, a SUNY Cortland professor of political science and one of the College's main contacts with programs in Belize.
Diverse Outlook Among Future Educators is Topic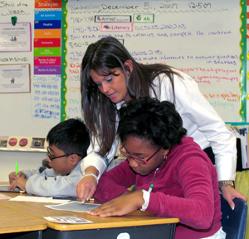 11/03/2014
Future teachers in a global, diverse world need hands-on experience with students from different backgrounds, traditions and learning styles, according to two associate professors in SUNY Cortland's School of Education, who will share their ideas at a Thursday, Nov. 6, Community Roundtable at the College.
Kim Wieczorek and Mona Ivey-Soto both are faculty members in the Childhood/Early Childhood Education Department. Ivey-Soto also is a faculty member in the Africana Studies Department. They both will present "New Spaces, Eager Faces: Social Justice Pedagogy for Teacher Candidates at SUNY Cortland" from 8 a.m. to 9 a.m. in the Park Center Hall of Fame Room.
Mona Ivey-Soto
"It is imperative that teacher education provides meaningful learning opportunities that move beyond the traditional methods of teaching and learning," Wieczorek said.
She and Ivey-Soto stress that today's teacher candidates are preparing for increasingly diverse classrooms and communities with multicultural, multilingual children and families.
"By immersing teacher candidates in diverse community spaces and bringing the broader community into our college classroom, we cultivate a mutually beneficial connection that is at the heart of social justice pedagogy," Ivey-Soto said.
Kim Wieczorek
Pedagogy refers to the art or science of teaching.
"We both have a shared vision about being extremely passionate about bringing teacher candidates to learn and participate into communities of diverse learners," Ivey-Soto said.
"As teacher educators we are here to prepare citizens and specifically teachers for the global world that awaits them," she said. "We want to empower them not to merely tolerate a diverse world, but to build partnerships and authentic relationships with individuals from diverse backgrounds."
Both professors took childhood/early childhood education majors from SUNY Cortland to La Casita, a cultural center in Syracuse, to improve their skills in overseeing a diverse curriculum and classroom through different techniques. They designed for the center an exhibition titled "New Spaces Eager Faces." The duo soon will present their exhibition at the American Educational Studies Association (AESA) conference in Toronto. A related article will appear in the Multicultural Educational Journal.
Presented by the President's Office, the Nov. 6 Community Roundtable is free and is open to the public. Refreshments will be provided beforehand at 7:45 a.m. The Park Center is located off Tompkins Street and parking is available in the Park Center and Professional Studies Building lots.
For more information about the presentation, contact Wieczorek at 607-753-5687 or Ivey-Soto at 607-758-5312. For information about the roundtables, contact Sue Vleck at 607-753-2377.
Prepared by Public Relations Office intern Paul Barchitta
New Exhibition Brings International Appeal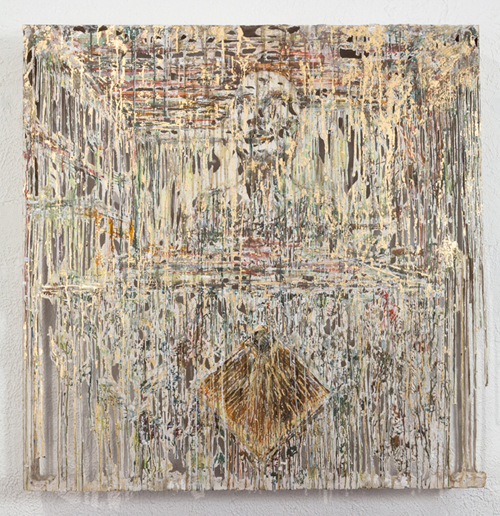 10/21/2014
World-renowned artists contribute the panels, drawings, sculpture and prints featured in the upcoming Dowd Gallery exhibition at SUNY Cortland from late October through early December.
"Transcendences," which features the panels of Diana Al-Hadid and video still prints of Wang Gongxin and Lin Tianmiao, will be on view from Wednesday, Oct. 22, to Wednesday, Dec. 10. The show's title refers to the power of its works to go beyond the limits of chronological time and material existence.
"This show will be visually stunning," said Erika Fowler-Decatur, the gallery director. "The works are ethereal, and the space will feel very contemplative. Benches will be available so viewers can take their time pondering the work."
An opening reception takes place at 4:30 p.m. Thursday, Oct. 23, and Al-Hadid will deliver an artist's talk at 5:15 p.m. Monday, Oct. 27. SUNY Cortland Professor of Art and Art History Luo Xu also offers a talk titled "Sweet Home Beijing: Then and Now" at 5 p.m. Tuesday, Nov. 11.
"Diana Al-Hadid is a rising star in the art world who has been shown in every biennial and art fair as of late," Fowler-Decatur said of the Syrian-born artist who today resides in Brooklyn. "I'm so thrilled that she'll be able to come speak."
Al-Hadid's work is recognized for the materials it utilizes. Her panels, constructed from multitudes of drips, are made from polymer gypsum, fiberglass, steel, plaster, gold leaf and pigment. They are both solid and transparent, giving the impression of both two and three dimensions.
The drips evoke thoughts of the eternal and downward pull of gravity, and the gaps between them contribute to a look of disintegration. The overall effect is ancient and ruin-like. Pigmented apparitions, however, appear not only to fade away but also to emerge, and the materials shimmer in a way that gives them a futuristic quality. These contrasting dualities create a sense of time transcended.
[Above: Wang Gongxin and Lin Tianmiao, Here? or There?
(detail), 2002, chromogenic video still print, A.P., 36 ½ x
29 in. Gift of the artists.]

[Top left: Diana Al-Hadid, Heart Shaped Square, 2014,
polymer gypsum, fiberglass, steel, plaster, gold leaf,
pigment, 48 x 47 ¾ x 5 ½ in. Image courtesy of the
artist and Marianne Boesky Gallery, New York.
© Diana Al-Hadid. Photo credit: Jason Mandella.]
The show's second body of work includes 15 video still prints donated by Wang and Lin from the "Here? Or There?" series on what they perceive as societal instability in China. Wang received an honorary degree from SUNY Cortland at the College's Undergraduate Commencement in May, which is when he delivered the pieces.
"They are arguably the most important contemporary works in our entire collection," Fowler-Decatur said.
Pulled from videos originally created for an installation in the 2002 Shanghai Biennale, the work focuses on life in rapidly changing Beijing and the uncertainty of the supernatural, blending what Wang refers to as the rational and spirit worlds. In the imagery, spirits inspired by traditional Chinese folklore are depicted in an ancient hutong neighborhood, new construction sites, the natural landscape and other settings in the capital city.
The figures are adorned in strange yet elaborate costumes. One garment consists of long, pale, organ-like outgrowths. Another resembles a wedding gown and is transparent from shoulder to thigh but opaque from thigh to foot. Noticeable contradictions contribute to a feeling of uncertainty and instability throughout the work.
The figures transcend material reality, and in posing the question "Here? or There?," the artists emphasize the duality of the rational and spirit worlds.
Born and raised in Beijing, Wang and Lin worked in New York City from 1987 to 1995 and currently split time between Beijing and Brooklyn. They are well-established artists who came to the U.S. at a time in the 1980s when China's travel restrictions were relaxed.
Gallery events and programs relating to "Transcendences" are free and open to the public. Gallery hours are 10 a.m. to 4 p.m. Monday to Friday and by appointment. The exhibition is the second to be displayed at a renovated Dowd Fine Arts Gallery. The Dowd Fine Arts Center is located at the corner of Graham Avenue and Prospect Terrace on campus.
Exhibition sponsors include the College's Art and Art History and History departments; the Art Exhibition Association; the International Programs Office; the Clark Center for International Education; the Cortland College Foundation; and Auxiliary Services Corporation.
For more information or to schedule a group tour, contact Fowler-Decatur at 607-753-4216.
College Plans 29th African American Gospel Music Festival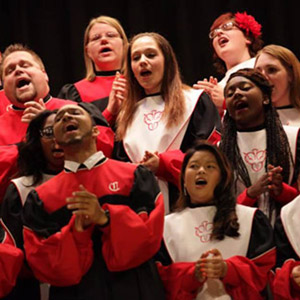 10/21/2014
Voices of praise will ring out in Cortland from two newcomer guest choirs, the Dorothy Cotton Jubilee Singers of Ithaca, N.Y., and the Promise Land Church of Syracuse (N.Y.), during SUNY Cortland's 29th African American Gospel Music Festival on Sunday, Nov. 2.
This year's festival will showcase the SUNY Cortland Gospel Choir and four others, each presenting two songs, one gospel and one a cappella spiritual. Once each choir has performed, a mass choir comprised of all five ensembles will come together and sing the grand finale, "He Is Worthy."
The concert will take place from 4 to 6:45 p.m. in the Corey Union Function Room. A reception to the rear of the Function Room will follow.
The event is open to the public. Admission is free for children under 12, $3 for students and $5 for the general public. Free tickets are available to others on a need basis and families are welcome. Proceeds support SUNY Cortland's Gospel Choir Scholarship and programming funds.
Baruch Whitehead, an associate professor of music in Ithaca College's School of Music, will direct the Dorothy Cotton Jubilee Singers and the SUNY Cortland Gospel Choir both.
Syracuse University's Black Celestial Choral Ensemble will return, under the direction of Byron F. Canada.
Stephanie Okpalor and Aurelie Niyongabo will direct the Binghamton University Choir. Deyquan Bowens will direct the Promise Land Church choir.
Festival musicians, both from Syracuse, will be Deyquan Bowens on keyboard and Benjamin Terry on percussion.
Concert selections will include "No Coward Soldiers," by Glenn Burleigh; "I Don't Feel Noways Tired," by James Cleveland, with soloists Josiah Spellman and Wenday Henderson of the Dorothy Cotton Jubilee Singers; "I Opened My Mouth To The Lord," arranged by Baruch Whitehead; "Everybody Clap Your Hands," by Joshua's Troop; "Lift Up Your Hands," by Anthony Wilkins; and "I'm Prepared to Praise Him," by Leo Smith.
Whitehead, newly named as director of the SUNY Cortland Gospel Choir, has extensive experience in choral directing, performance and certification. Among the choral groups he has founded and directs is the Dorothy Cotton Jubilee Singers, a group of community singers dedicated to the preservation of the "Negro Spiritual." The group is named after long-time civil rights activist Dorothy Cotton, who worked closely with Dr. Martin Luther King Jr. Whitehead also was artistic director of the Ithaca premiere of George Gershwin's opera "Porgy and Bess." He holds a doctorate from Capella University, an M.F.A. from the University of Florida and B.A. and B.M.E. degrees from the University of Cincinnati.
A peace activist, Whitehead presented a peace concert with Israeli musician, composer and performer Yair Dalal along with a special group of young people from the Muslim and Jewish community. His "Peace Cantata" was premiered at the 2006 Martin Luther King Celebration at Ithaca College. He received Ithaca College's 2005 Excellence in Service Award.
The SUNY Cortland Gospel Choir is a part of the College's Africana Studies Department. The choir is supported by the Center for Gender and Intercultural Studies, the Alumni Engagement Office, the Cortland College Foundation, the Division of Student Affairs, the offices of the President and the Provost and Vice President for Academic Affairs, and the student activity fee.
For more information about performances, tickets and special assistance, contact Distinguished Service Professor Samuel L. Kelley at 607-753-4104, Karlene Anderson or Deborah Dintino.
Campus Directory PDF Available Online
The Publications and Electronic Media Office has updated the SUNY Cortland Directory of Campus Offices, a PDF that lists emergency information, employee benefits, campus offices and faculty by department along with other information.
The PDF can be downloaded and saved or printed from the Directory (PDF) link on the Faculty/Staff home page.
Additionally, employees are asked to keep their online directory listing current. This can be updated any time.
State employees should:
Log in to myRedDragon
Select the Faculty/Staff tab
In the About Me box, select Update/Edit your directory
Make the necessary updates on the My Directory screen
Individuals may include photos with their listing. They should be professional-looking, individual portraits with the head and shoulders visible. Studio photos are preferred but quality candids are acceptable. Studio shots can be arranged through the Public Relations Office.
Research Foundation employees should submit changes to Brent Danega in the Human Resources Office by email or at 607-753-2414.
ASC employees should submit directory changes to ASC Human Resources Specialist Sue Michales by email or at 607-753-4751.
Professional Service Award Nominations Due Jan. 9
Nominations are now being accepted for the College's Excellence in Professional Service Awards. Letters of nomination will be accepted from SUNY Cortland students, colleagues or supervisors. Any professional who has completed at least two years of service at SUNY Cortland is eligible for an award.
Nomination materials must be submitted no later than 4 p.m. on Friday, Jan. 9, to Chair, Professional Service Awards Committee, Bursar's Office, Miller Building, Room 323. Nominees will be notified by the Awards Committee of their candidacy after Jan. 9.
Awards will be given for excellence in three categories:
Institutional Service Award
Nominees should be individuals who serve as role models within their area of responsibility, their profession or department. Characteristics such as leadership, organization, problem-solving or decision-making skills should serve as examples of professionalism of the highest caliber. These characteristics may be demonstrated in a number of ways, including but not limited to:
• outstanding performance within the job description
• participation in committees or activities that support the College's Long Range Planning Goals
• participation in professional development and training
Innovation Within Profession Award
Nominees should be individuals who have demonstrated creativity in the development or application of ideas or concepts within a professional operation. Characteristics of innovation may be demonstrated in a number of ways, including but not limited to:
• application of technology within one's field
• redesign of a process or program to improve effectiveness
• maximization of campus resources in operations (e.g. fiscal efficiency)
Service to Students Award
Nominees should be those who have ?demonstrated leadership in the development or enhancement of programs and services that respond to student needs. Characteristics of excellence in service may include, but will not be limited to:
• demonstration of "going the extra mile" in order to serve students
• development of creative student programming or services
• implementation of programs or processes designed to improve services to students
Typed letters of nomination must be submitted in the following format:
1. name, title, department of nominee
2. name of nominator, relationship to nominee (e.g. colleague, supervisor, student)
3. award category that captures the achievement of the nominee.
4. specific information in support of the nomination that answers why the individual's service/innovation/achievement in that category should be recognized.
5. up to two letters of support (recommended).
The Awards Committee reserves the right to request additional supporting information as necessary. Nominees must have completed at least two years of service as a Professional Staff member and must not have been a recipient of an award within the same category within the previous three years. Nominations should be for current service/innovation/achievements and for activities that would either not be considered to be within the normal scope of activities included in the nominee's performance program or should be documented to show how the service/innovation/achievement far exceeded normal expectations.
Recipients will have announcements of the honor sent to The Bulletin and the Cortland Standard. Recipients will receive a certificate of recognition at a small ceremony.
Campus community members are asked to nominate colleagues for their exemplary service.
For more information, contact Professional Service Awards Committee Chair Colleen DeGouff, Student Accounts Office, at 607-753-2313.

Suggest a feature story
---
People on the Move
Daniel Dryja '04 Named Supervisor of Grounds Department
10/21/2014
Daniel Dryja '04 was appointed Sept. 1 as supervisor for the campus Grounds Department. A 10-year Grounds Department employee, for the last four years Dryja has specialized in maintaining the Stadium Complex and associated athletic fields, working closely with the New York Jets grounds supervisor in maintaining the Jets practice fields. He has an associate's degree in horticulture and landscape design from SUNY Morrisville.
---
Faculty/Staff Activities
Timothy J. Baroni
Timothy J. Baroni, Biological Sciences Department, organized and ran the 61st Annual Charles Horton Peck Foray that hosted 40 professional, amateur and student mycologists from the northeast, held Sept. 12-14 at the Vanderkamp Retreat Center in Cleveland, N.Y. Amateur Mycologists from the Central New York Mycological Association, the Rochester Area Mycological Association and the Western Pennsylvania Mushroom Club, joined faculty and students from Cornell University, SUNY Cortland, Clarion University and The New York Botanical Garden for the two day event that focused on collecting and studying macrofungi — mushrooms, cup fungi and their relatives. Cortland has hosted the event six times since 1976.
Laura J. Davies
Laura J. Davies, English Department, was accepted to present at the Northeast Modern Language Association annual conference planned for April 2015 in Toronto, Canada.
Robert Spitzer
Robert Spitzer, Political Science Department, presented a paper titled, "New York State and the NY SAFE Act: A Case Study in Strict Gun Laws," at a conference on "A Loaded Debate: The Right to Keep and Bear Arms in the 21st Century," held at Albany Law School on Oct. 9.
Tadayuki Suzuki
Tadayuki Suzuki, Literacy Department, will present "Art of Pleasure: Reviving the Joy of Reading," at the Kentucky Reading Association's annual conference in October. In November, he will present "Still Missing: How Should Teacher Educators Include LGBT Family-themed Picture Books in Curricula for Primary Grades?" at the National Association for Multicultural Education in Tucson, Ariz. Also in November, he will present "Stories to Tell—Listening to the Words in LGBT Themed Children's Literature" at the National Council of Teachers of English in Washington, D.C.

Submit your faculty/staff activity