President's Opening Talk Underlines Success
08/26/2014
As the 2014-15 school year got underway at SUNY Cortland, President Erik J. Bitterbaum urged faculty and staff to expect more: More full-time professors in the classroom, more Red Dragons studying abroad and more students working to improve the community.
Those were just a few of the highlights outlined last Thursday in the President's Fall Opening of School Meeting in the Corey Union Function Room.
The president spoke for nearly an hour in front of a large crowd of faculty and staff members, offering updates on important campus news, praising the College's recent progress and calling for a unified effort against trends in student behavior that are challenging colleges across the nation.
"It's a very exciting time in the life of the College," Bitterbaum said.
SUNY Cortland is welcoming 27 new faculty members for the 2014-15 academic year — 19 who are on a tenure track and eight hired as full-time lecturers — as well as 17 new professional staff members. Since 2011, the College has hired 74 new faculty members, more than it hired during the entire decade before that.
"I think that's the lifeblood of this college," he said. "Not just all of the construction or the new facilities we have, it's really the people in those building who make a difference."
In spotlighting the success of SUNY Cortland's International Programs Office, President Bitterbaum noted that 16 percent of the College's undergraduate students are opting to study abroad, which is higher than the 14 percent national average.
"We're doing some really amazing things," he said, mentioning a new program under development for India and an approved dual-campus graduate program in Turkey devoted to teaching English as a second language. "There's no discipline where you can't go abroad."
The community-focused work of the College's Institute for Civic Engagement (ICE) also received special recognition. So did Richard Kendrick, the director of ICE and a professor of sociology/anthropology who is retiring at the end of the academic year. Last year, the College's students offered $1.3 million worth of volunteer hours based on a statewide estimation measure. This semester, more than 50 courses will include a service-learning component.
The president offered the example of the Cortland Rural Cemetery and the opportunities it provides several academic disciplines to learn outside of a traditional academic building: geology students to develop an interpretive trail, geography majors to create a printed map and a biological sciences course to identify and label the cemetery's trees.
"It's just an example of how the Institute has reached out to the community and the variety of things we do," President Bitterbaum said.
Among the other highlights he shared:
• The Cortland College Foundation raised $2.9 million during the 2013-14 fiscal year, bringing the College's endowment to more than $35 million.
• Opportunities continue to grow at the College's Outdoor Education Center at Raquette Lake. The new Adirondack Trail Blazers program, which introduces incoming first-year students to SUNY Cortland's unique outdoor campus in the Adirondack Mountains, welcomed 28 members this fall, up from 10 in 2013, its inaugural year.
• Grant-funded work has reached an all-time high at the College, with 65 awards accounting for more than $3.8 million in sponsored program activity.
• More than $130 million in construction projects are in the works or have recently finished.
• This past spring, Dragon Hall became the first college housing structure in New York state to secure Leadership in Energy and Environmental Design (LEED) certification at the platinum level.
• Degree Works, a new online degree auditing system, replaced CAPP this fall, providing students a more efficient and effective way to easily track their academic progress.
• The State University of New York Athletic Conference (SUNYAC) Commissioner's List included a record 183 SUNY Cortland student-athletes on its all-academic teams.
• More than 20,000 students in kindergarten through grade 12 have benefited since 2008 from the teacher training offered by the Seven Valleys Writing Project, a National Writing Project program based at SUNY Cortland.
• The College's freshman retention rate is 84 percent, well above the national average, which is 67 percent. The College's six-year graduation rate, at 70 percent, is also significantly higher than the national average, which is 56 percent.
Although SUNY Cortland students are among the most successful in the nation, they are not immune to troubling national trends that show college students drinking irresponsibly and engaging in behavior with potentially devastating consequences, such as sexual assault.
"We need a new standard of caring," he said, noting that the College has created a task force to implement recommendations stemming from last fall's unruly Cortaca Weekend activities and will soon introduce an online tool that will let people report possible sexual assaults anonymously. "…We as a community have to make sure we protect our community.
"My message to you is that we need to have those difficult conversations with our students."
President Bitterbaum also touched on the College's budget and important conversations affecting colleges and universities, such as a proposed national ratings system and the role of a liberal arts education.
"When you think about wisdom, how people become wise, it's through creativity, it's through critical thinking, it's through complex problem solving, it's taking courses in ethics," he said. "And so the humanities and the fine arts and the social sciences are just as important."
President Bitterbaum wrapped up his talk by encouraging the College's faculty and staff members to sit in on a course from a colleague. As an example, he detailed the efforts of a longtime foreign language professor who successfully completed a master's level physics course.
"The truth of the matter is that we're an amazing institution, an amazing college, and we're doing very well," the president said. "The state and the nation are throwing some unique things at us, but we have a gutsy group of administrators and staff.
"We will continue to be very successful."
College and Firm Partner on New Technologies
08/26/2014
SUNY Cortland is partnering with a Syracuse, N.Y., software and business solutions company to help develop new smart technologies aimed at making older manufacturing equipment more efficient.
MacKintok Inc. was recently awarded $25,000 by the CenterState Corporation for Economic Opportunity to design and build a prototype device through a partnership with SUNY Cortland's Physics Department. The funding comes from CenterState's "Grants for Growth" program, which assists strategic partnerships between Central New York educational institutions and businesses in the region.
"I view this collaboration as offering significant potential benefits to the department and our students," said Brice Smith, chair of the College's Physics Department. "I feel that together we can help contribute to the development and adoption of important, new technologies created by MacKintok that would have a positive impact on the future economic development of Central New York."
The project will provide research opportunities for students pursuing SUNY Cortland's professional master's degree in sustainable energy systems.
The goal is to create a compact, energy-efficient prototype of a device that uses sensors to collect operating data from older, "legacy" machines that were built with limited capability for computer connectivity.
MacKintok, founded and operated by military veterans with service-connected disabilities, provides the manufacturing and machine tool industry with information retrieval tools that link the physical and digital worlds. The company's systems assist in all aspects of the manufacturing process, whether it's installation, production, maintenance or troubleshooting.
The College will investigate the reliability, efficiency and limits of wireless sensors that would be used to comprehensively monitor manufacturing equipment for a variety of variables.
This resulting real-time information would be streamed to MacKintok's cloud-based data storage system. The company's mobile and Web-based applications would then enable clients to analyze their processes and operations 24 hours a day.
Established in 2004, MacKintok's mission is to help engineers, skilled trades and production personnel get information quickly and accurately in order to make informed decisions and learn of potential problems as they develop. Although factories of all sizes can benefit from its technology, MacKintok's focus is on small- and medium-sized businesses.
Its relationship with SUNY Cortland began more than a year ago, through discussions sparked by Gov. Andrew Cuomo's Start-Up New York program aimed at encouraging beneficial partnerships between new or growing businesses and SUNY's 65 statewide campuses.
---
Capture the Moment
Scores of "Dragon Haller" volunteers made it easy for approximately 3,600 campus residents to unload their belongings and settle into their residence halls Aug. 22 and 23. Welcome Week activities continue through Wednesday, Sept. 3, to help SUNY Cortland students ease into a new academic year.
---
In Other News
College Offers 'Wellness' Series for Campus, Community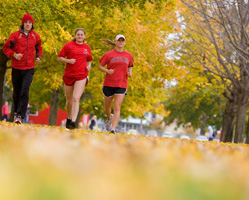 08/26/2014
In keeping with a College priority of wellbeing, each semester SUNY Cortland offers weekly encouragement to the campus and community to pursue a lifetime of good health.
The Fall 2014 "Wellness Wednesday Series" will feature events intended to encourage campus and community members to learn more about health and wellness.
Programs continue through the fall semester with topics including using social media to improve one's future professional reputation; developing a culture of safety with alcohol; good academic planning for wellness' sake; essential things to do while in college; and talking about race.
Primarily sponsored by the Health Promotion Office and the Student Development Center, the series will take place on Wednesdays at 7 p.m. in Corey Union Exhibition Lounge, unless otherwise noted. The events are free and open to the public.
• Why do many college students continue to drink even after experiencing alcohol-related harm, asks national speaker Jake Byczkowski. On Sept. 10 in the Corey Union Function Room, he will answer that question by guiding the audience through his personal journey to discovering his own drinking problem. Byczkowski will reveal how he created a solution specific to his own needs. For more information about the talk, "Solo Cup Culture: Minimizing the Risks of an Alcohol-Soaked Campus Climate," visit Byczkowski's website campuspeak.com/speakers/jake.
• Participants can "Walk the Walk of Student Services" at an open house from 5:30 to 7:30 p.m. on Sept. 17 in Van Hoesen Hall and Corey Union. Visitors will be able to meet the student services staff and view the facilities of the University Police Department, student health services, counseling, student disability services, health promotion, substance abuse prevention and education, career services, residence life and housing, Academic Support and Achievement Program (ASAP), Emergency Squad, Tomik Fitness Facility and recreational sports, as well as Auxiliary Services Corporation nutrition services. Staff from the Division of the Vice President for Student Affairs, Multicultural Life and Diversity Office, and Campus Activities Office will meet students in the Corey Union lobby. Refreshments will be served and prizes raffled.
• Members of the campus community will get a chance to feel good by helping others when they donate blood from noon to 6 p.m. on Sept. 24. The activity is sponsored by the student group "Code Red" and the Health Promotion Office. Walk-ins are welcome but individuals are encouraged to avoid a possible wait in line by scheduling their visit to give blood in advance. Contact the Health Promotion Office at 607-753-2066. Look for sign-up tables on the first floor of Corey Union in the days leading up to the event.
• Academics are an important piece of a student's academic wellness. With that in mind, staff from the Academic Support and Achievement Program (ASAP) will work with those in Advisement and Transition to present "Being Academically Well — Strategies and Resources for Success" on Oct. 1. The program teaches strategies for academic success and on how to maximize available all the resources available, including Degree Works, the new degree audit system.
• On Oct. 8, the day before National Depression Screening Day (NDSD), the College's Counseling Center staff will conduct its own event to raise awareness and screen people for depression and related mood and anxiety disorders. Members of the College community are encouraged to stop by the "Depression Screening Day" tables for information, resources and screenings from 10 a.m. to 2 p.m. on the Corey Union first floor. NDSD is the nation's oldest voluntary, community-based screening program and has screened more than half a million people each year for depression since 1991.
• On Oct. 15, a panel of students, faculty and community members will address an issue relating to individuals of all sexualities, including lesbian, gay, bisexual, transgender or queer (LGBTQ): "LGBTQ: Why Do We Still Need National Coming Out Day?"
• Jullien "The Innerviewer" Gordon, a consultant, coach, author and talent developer, will discuss how students can graduate from college with a great job and less debt, on Oct. 29 in the Corey Union Function Room. His talk, "The Other 4.0 That Matters: 101 Things To Do Before You Graduate To Maximize College And Minimize Debt," relates to a book he wrote as a comprehensive list of experiences to seek out during college, 101 Things To Do Before You Graduate. He was trained at the Stanford Graduate School of Business, where he focused on organizational behavior, high performance leadership, strategy and entrepreneurship. For more information, visit his website at julliengordon.com/speaking.
• The Multicultural Life and Diversity Office will host "Let's Talk About Race," a panel presentation on Nov. 5 that offers an opportunity for our campus to start a healthy dialogue about race. "The single most important thing to appreciate about race in the United States is that we all have a race," says Noelle Chaddock Paley, the director of the Multicultural Life and Diversity Office. "I want everyone to come prepared to talk about their racial histories and the impact race has on all of our lives."
• On Nov. 12, Michele Baran, the College's assistant director of career services and online operations specialist, will offer pointers on how to maximize a positive professional brand on social media and minimize online regrets. Her presentation, "Like a Tattoo: Digital Dirt, Social Media and Your Personal Brand," shares ideas about what smart students want to put on their social media profile and what they would be well advised to remove.
• On Nov. 19, the campus and community are invited to take part in the "Great American SmokeOut" from 11 a.m. to 2 p.m. on the Corey Union first floor. Health promotion interns will be available to help individuals sign the pledge on Wednesday to quit for the day on Thursday or help someone they know to quit.
For more information or accommodation to attend an event, contact Catherine Smith, the College's health educator, in Van Hoesen Hall, Room B-1, at 607-753-2066.
New Show Inaugurates Renovated Dowd Gallery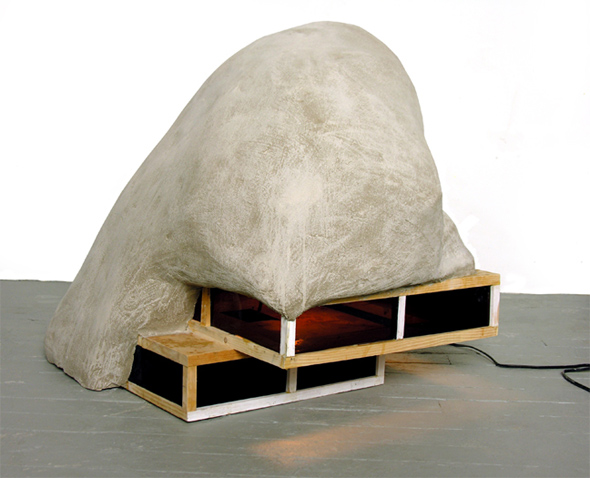 09/01/2014
The Dowd Fine Arts Gallery has reopened after two years of renovation with an exhibition that explores evolving forms, incomplete construction and rubble created during World War II.
Fawn Krieger, a New York City-based artist who works in mediums ranging from video and photography to paint, fabric and construction debris, is inaugurating Dowd's the updated and polished gallery space with "Keeping Things Whole," a retrospective of her work to date.
Krieger's show aims to give visitors three distinct, yet connected, experiences in each of the gallery's three wings.
"She is fascinated by process," said Kathryn Kramer, chair of the Art and Art History Department. "She contrasts rough forms with incomplete structures and emerging forms. Her work is meant to be experienced."
Kramer proposed the exhibition, which is curated by Susan Logan, an adjunct instructor in the Art and Art History Department.
The rough materials and shapes featured in Krieger's work stand in sharp contrast to the freshly modernized gallery. And that's exactly the kind of challenging experience that Kramer believes the improved space will be able to give students and other visitors.
"It really looks like a gallery in New York City," Kramer said. "We see this as a modern gallery, along with the Johnson Museum in Ithaca and the Everson Museum in Syracuse, that helps create a focal point for art in Central New York."
For the past two years, the Dowd Fine Arts Gallery has staged its shows at the College's Main Street SUNY Cortland extension at 9 Main St., in downtown Cortland.
The Dowd Center is located at the corner of Graham Avenue and Prospect Terrace, from where the art gallery's large window offers pedestrians a glimpse of the unusual works inside.
"I'm very excited for the gallery to be back in the midst of the campus," said Erika Fowler-Decatur, the gallery's director. "Being downtown offered us the chance to connect with members of the Cortland community, who I'm hopeful will follow us up the hill."
Krieger's show will run from today through Oct. 10. Gallery events and programs relating to "Keeping Things Whole" are free and open to the public. Gallery hours are 10 a.m. to 4 p.m. Monday to Friday and by appointment.
The show's title, "Keeping Things Whole," is inspired by a poem of the same name by Mark Strand that addresses concepts of absence and presence.
In the gallery's main space, pieces from various works in Krieger's career are displayed on a central platform, surrounded by drawings and sculpture. The various pieces, made up of surprising combinations of industrial and household materials, work together as an installation that allows visitors to experience the major themes of Krieger's work.
"Krieger sees these bodies of work as chapters in a book, each independent, but all connected by her ongoing research," Fowler-Decatur said. "Her work is theoretical; it's meant to be experienced rather than to specifically inform."
Krieger's research into the mounds of rubble created in Europe during World War II is the focus of "First Hand," an exhibit in the gallery's east wing. Here, the artist displays her research into the enormous piles of debris created by German women trying to clear the streets of bombed out cities. It ranges from images of how these mounds have evolved since the 1940s to children's toys, kitchen dishes -– even a chunk of a human jawbone -– that Krieger collected from the piles during repeated trips to Europe.
The College's political science and history departments are collaborating with this section of the display and will present films and lectures as part of the show's schedule of events.
The west wing of the gallery will explore the artist's creative process through "Moodboards" a high-definition video collage of the colors, textures and images designers use to convey emotions. It also will display three dress prototypes for an experimental line of clothing called "Early Woman," in which primal and futuristic aspects of design collide.
Gallery programs for "Keeping Things Whole" include:
An opening reception will be held from 4 to 6 p.m. on Thursday, Sept. 4.
Scott Moranda, an associate professor in the College's History Department, will lecture on "Digging Through the Rubble for a Usable Past: German Reconstruction after 1945" at 4:30 p.m. Wednesday, Sept. 10.
Krieger will give an artist's talk at 5 p.m. on Tuesday, Sept. 16.
The College's Project for Central and Eastern Europe will screen the film "The Murderers Among Us" at 7 p.m. on Tuesday, Sept. 23, in Sperry Center, Room 304.
Logan will offer a curator's talk at 4:30 p.m. on Tuesday, Sept. 30.
(pictured top left: Case Study 63, photo credit: Fawn Krieger)
Moot Court Resumes Training Legal Eagles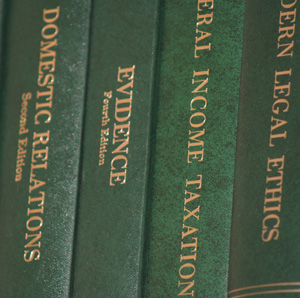 08/13/2014
Moot court will return to SUNY Cortland this fall as a chance for juniors and seniors from all disciplines to hone their public speaking and analytical skills while arguing a case that has or might have appeared before the U.S. Supreme Court.
The course, POL 489, returns after a two-year hiatus to give students a head start on a legal career while trying to best their collegiate peers throughout the northeast.
The 3-credit-hour, fall semester program wasn't held in 2012 and 2013 but is back this year, open to students in any major of at least junior status.
Before each competition, two-person moot court teams are presented with a real or fictional Supreme Court case. They are in charge of preparing arguments for both sides, based on real-life cases cited in the competition brief.
Everything about the class leads up to that final day in court, making it a valuable experience for the College's students who aspire to become attorneys.
"Moot court provides a transforming educational experience by equipping student participants with the ability to think on their feet about complicated issues, and provides informative and helpful responses to legal decision makers," said the course's new teacher, Timothy Delaune, assistant professor of political science and the College's pre-law advisor.
Delaune aspires to field up to five teams at future regional and national competitions.
In the weeks leading up to the next moot court in November, he will pepper the students with tough questions that the moot court judges might ask.
"They will have to respond to questions about their positions on the fly," Delaune said. "Through moot court, we hope to build students' confidence in their ability to convince people using careful and ethical persuasive techniques."
"It gives a good introduction to what law school might be like," said former moot court participant Kyle Martin '12 of Fulton, N.Y., a former political science major who this fall will study law at Wake Forest University in Winston-Salem, N.C.
"You get to argue your case in front of a panel of real-life attorneys and judges and receive their feedback," said Martin, who since graduation has served as a file clerk at McGivney & Kluger, P.C.'s Syracuse, N.Y., office. "You also read Supreme Court cases and brief them. For anyone who plans to go to law school, that is what they will be doing."
Martin took the course twice and competed both in 2010 and 2011 moot court regional competitions at Fitchburg State University in Massachusetts.
"Students learn to integrate precise and subtle knowledge about the holdings in important Supreme Court cases with carefully honed analytic skills and persuasive oral arguments," Delaune said.
A lawyer, Delaune's own preparation consists of six year of practice in civil litigation and transactional work as well as legal scholarship that includes an M.A. in law and diplomacy and a doctorate in political science, where his primary area of research was jury nullification.
Christopher Latimer, a former associate professor of political science at the College, launched the course in 2009. He ran the program for three years and presently chairs political science at Framingham State University. Contacted recently, Latimer estimates that 28 students participated in the College's moot court, several of them twice.
The class prepares students for more than a legal career.
The 2010 moot court lineup included 10 promising students led by Professor Christopher Latimer, shown in the second row on the right.
"You don't have to be a political science major," said Patrick Herring '12, a graduate from Lynbrook, N.Y., who majored in history and minored in civil liberties.
"I took it to challenge myself in oral communications, to break away from my shyness about presenting arguments in front of people and to see if I could handle the kind of pressure and research required to do well at the competition end," Herring said.
He now pursues a graduate degree in public administration at City College of New York and worked this summer for New York's 4th District Congresswoman Carolyn McCarthy.
Herring served on one of two 2011 moot court teams that almost made it to the final eight competitors. Both teams contended for a second day, after the field had been narrowed to 16, before being eliminated. SUNY Cortland also stood out in 2010 when Danielle Singer '12 placed sixth out of 82 competitors at the Moot Court Regional Competition.
"I definitely consider moot court to be a turning point in my career," Herring said.
College to Go Red for Colors Day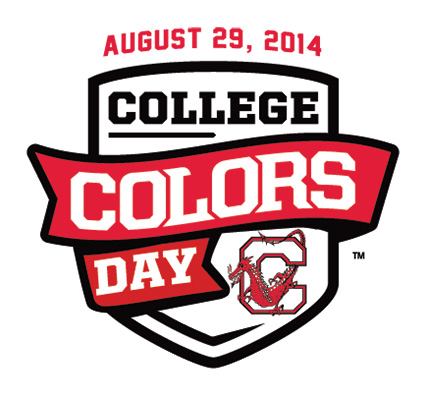 08/27/2014
It's no secret that SUNY Cortland boasts one of the proudest fan bases in the country, a cheering section made up of students, alumni and Red Dragon fans near and far.
This week, it's time to prove it yet again.
SUNY Cortland will celebrate its own version of College Colors Day on Friday, Aug. 29, with Red Dragon Pride Day. All students, faculty and staff members are invited to put their school spirit on full display by sporting their favorite red Cortland gear and joining a campus photo at 1:40 p.m. on the steps of Corey Union.
Alumni, parents and local community residents can join the fun too by snapping their own photos in SUNY Cortland apparel and sharing them on Facebook, Twitter and Instagram with #CortlandPride. The most spirited photo submissions could even win prizes from the College's Alumni Engagement Office.
Departments across campus and local businesses also are invited to share their own photos Friday morning.
All members of the campus community will be winners in the form of a free ice cream social from 1 to 3 p.m. Friday in Corey Union, sponsored by the College's Alumni Engagement Office. SUNY Cortland's Institute for Civic Engagement also will be present to hand out free giveaways and register new voters for Election Day.
The College Store will get in on the action too, offering a 20 percent discount on all red apparel in store Thursday, Aug. 28, and Friday, Aug. 29. Alumni, parents and fans of the College also will receive a 20 percent discount online for red apparel. They should enter the word "alumni" in the coupon box when ordering to receive the discount.
To stay up to speed with Red Dragon Pride Day buzz, join SUNY Cortland's Facebook event or visit reddragonnetwork.org/red.
Bias on Campus Roundtable Planned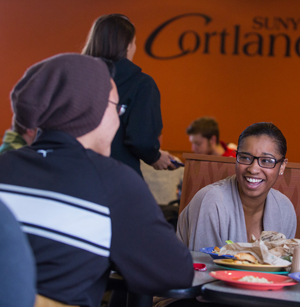 09/01/2014
All members of the SUNY Cortland community are invited to join College President Erik J. Bitterbaum on Wednesday, Sept. 3, for a second conversation about the campus climate, biased and hurtful language and strategies for improvement.
Faculty, staff, students and alumni are encouraged to attend the roundtable discussion from 4 to 6 p.m. in Sperry Center, Room 205. Please RSVP to either Lori Porter or Ann Cutler by Friday, Aug. 29. Classes are welcome and encouraged to attend. Faculty should indicate if they plan to bring a class.
The event will include small group discussions. Individuals who are interested in facilitating a group should contact Noelle Chaddock Paley, director of diversity, equity and inclusion.
"It is important that we create the kind of community that each of us would like to live in on our worst day," Chaddock Paley said. "We are all responsible for how people experience SUNY Cortland."
The campus community works to foster diversity and inclusiveness in and outside the classroom.
Last academic year, campus members met April 21 in Sperry Center for the first conversation with Bitterbaum about the multiple bias-related incidents that had occurred on campus. Participants discussed the responses to those incidents and strategies to make the community safe, inclusive and welcoming to all current and future campus members. The gathering also presented an opportunity for individuals to voice concerns and experiences with biased and hurtful language at SUNY Cortland and to work together with administrators to prevent future incidents, educate the College community and create expectations for future cultural climate and behavior in our community.
"Respect for diversity is an essential component of academic excellence that prepares our graduates to become citizens of the greater global community," Bitterbaum said. "As a reminder, SUNY Cortland adheres to a zero tolerance policy for use of biased and hurtful language.
"Last semester, we began a productive dialogue on ways to address this on our campus. Our gathering on Sept. 3 will be a continuation of this very important discussion.
"Please consider attending and contributing to help make SUNY Cortland a welcoming, safe and inclusive community," Bitterbaum said.
College to Recognize Constitution Day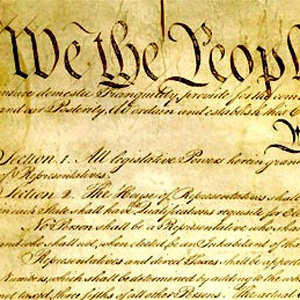 09/15/2014
SUNY Cortland will commemorate Constitution Day and the birth of U.S. democracy on Wednesday, Sept. 17, with a talk led by a constitutional law expert who also serves on the College's faculty.
Timothy Delaune, an assistant professor of political science and SUNY Cortland's pre-law advisor, offers "The Constituting Constitution, and How to Reconstitute It" at 4:30 p.m. in Brockway Hall Jacobus Lounge. The event, which will look at the U.S. Constitution as a set of principles that define the nation, is free and open to the public.
Delaune
Delaune's talk will address how the document is formally amended on its own terms, and it also will consider the constitutional convention amendment process as an avenue for democratic change — a method that has yet to be used.
Constitution Day recognizes the anniversary of the signing of the U.S. Constitution on Sept. 17, 1787, as well as the rights of all citizens, whether they are born in the U.S. or have earned citizenship through the naturalization process.
Delaune's constitutional law expertise relates to legal traditions, political theory and international law. He is a graduate of Georgetown University and the University of Chicago Law School. He also studied at Tufts University and earned a Ph.D. in political science from the University of Massachusetts Amherst.
The Constitution Day talk is presented by the College's Institute for Civic Engagement.
For more information, contact Cynthia Guy, the community innovation coordinator for the Institute for Civic Engagement, at 607-753-4271.
Tai Chi Master Plans Demonstration, Workshop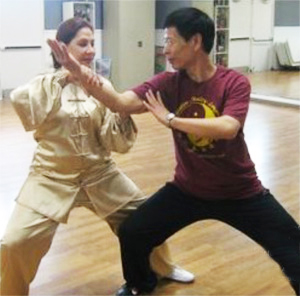 08/19/2014
Tai chi Master Jesse Tsao will discuss and demonstrate this Chinese martial art — practiced for both its defense training and its health benefits — on Friday, Sept. 5, at SUNY Cortland.
Tsao, a former champion from China, will share his knowledge about tai chi, an often slow-movement physical training form, during his talk titled "Taijiquan and Qigong: The Ancient Chinese Path to Wellness."
The presentation begins at 7:30 p.m. in Sperry Center, Room 205. The lecture and demonstration are free and open to the public.
Tsao also will offer a two-day workshop on his Chen style Taijiquan mini-compact routine from Saturday, Sept. 6, to Sunday, Sept. 7, in the second-floor Old Main Colloquium. The 12-hour workshop takes place from 9 a.m. to 4:30 p.m. both days and is ideal for all levels of taiji players.
Students can participate for free. The cost for everyone else is $100. Advance registration is required. To register for the workshop or for more information about either program, contact Philosophy Department Chair Andrew Fitz-Gibbon at 607-279-6584. Workshop parking is available in the College lots off Graham Avenue.
Born and trained in China, Tsao has been practicing tai chi for more than 40 years, including 10 years of intensive study with world-renowned Grandmaster Li Deyin in Beijing. His family's lineage in Chen style tai chi goes back 12 generations. He now lives in San Diego, Calif., and, since 1995, has served as a tai chi master for Cigna HealthCare of Arizona.
Tsao was the gold medalist in the 1980 Beijing Collegiate Wushu Competition. He earned a Ph.D. in traditional Chinese sport from Shanghai Sport University. He also has B.S. and M.S. degrees in economics from Renmin University in Beijing, China, and University of Arizona, respectively.
An internationally known tai chi master, Qigong therapist, and alternative medicine and wellness consultant, since 2005, Tsao has made regular teaching tours to Germany, France, England, Ireland, Netherlands, Spain, Belgium, Italy, Russia and Greece. He founded Tai Chi Healthways and specializes in the areas of self-healing, preventive therapies, stress management and mind-body wellness.
Tai chi master Jesse Tsao demonstrates a classic move. He'll share his knowledge Sept. 5-7.
He is the author of two books, Tai Chi Bang: Eight Immortal Flute (NB Publishing, South Carolina, 2012) and Compact Tai Chi — in Limited Space (Hall Samuel Weiser, Inc., Maine, 2000); and has produced 30 instructional DVDs.
The programs are co-sponsored by the Philosophy and Physical Education departments, the President's Office, the Center for Ethics, Peace and Social Justice, the Campus Artist and Lecture Series and a Faculty Development Small Grant.
When Multiple Twins Came to Campus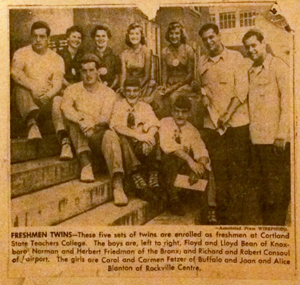 08/13/2014
In September 1952, the nation's eyes briefly saw double on the New York State Teacher's College at Cortland campus.
For about one week, the national press descended upon the tiny College to interview and snap pictures of the bumper crop of identical twin freshmen as these men and women began the pursuit of a college education.
"It was rather a surprise when we got on campus to find out that there were so many other twins," recalled one twin, Herbert Friedman '56. "We got followed around and lots of photos were taken of us. There was a picture of us in the (New York) Times."
This year as some of those twins turn 80, all that remains are faded newspaper clippings and faint memories of at least five sets of mirror image students who arrived on campus from diverse locales around New York state: the Beans from Knoxboro, the Blantons from Rockville Centre, the Consauls from Fairport, the Fetzers from Buffalo and the Friedmans from Bronx.
Herbert and his brother, Norman Friedman '56, recalled the events that unfolded in the then much smaller and very close-knit Cortland campus community.
"When the College realized there were so many sets of twins they knew they could get all the publicity in the world," Norm said.
At the opening academic convocation, Dean of Students Albert Baisler requested that all the groups stand up to be seen, Friedman said.
Herbert Friedman '56, left, and Norman Friedman '56 recently celebrated their 80th birthdays.
"We were asked to retire to the back of the room, and I think there were reporters from all over the United States," Norm said. "It was sort of a national story. It was exciting for all of us."
One very memorable group photograph included five pairs of matched siblings wearing freshman beanies. The image was picked up by the Associated Press and appeared in newspapers across the country. Unfortunately, the caption mixed the diminutive and bespectacled Bean brothers — Floyd and Lloyd — of Knoxboro, Oneida County, with the hulking Friedmans.
"Everyone who knew us from the Bronx thought it was hysterical that we were called Floyd and Lloyd Bean," Herb said.
For about a week that first September, the news media followed the many look-alike siblings around Cortland, Norm recalled.
"They came to our classes and homes," he said. "They wanted to take our measurement for blazers and trousers and on Sunday, they wanted us to wear the clothes they made for us and meet the townsfolk. My brother and I reacted to that as if it were a freak show."
So the brothers made good use of their newfound campus celebrity status to approach then-President Donnal V. Smith with a request to quash the scheme.
"And he agreed and stopped it," Norm said. "He realized we all had to lead our lives and not be people we were not meant to be.
"We needed to stop this and the College permitted it to happen."
Four Years of Multiple Siblings
The Tinkham sisters arrived at Cortland in 1953, well after the furor had faded. Yet former classmates reminisce about them among the many identical brothers and sisters roaming the campus.
Commuting from nearby Scott, the Tinkhams both entered college at 17 and took summer classes together in addition to the regular semester's offerings.
"My sister and I accelerated our education, starting out with one class and ending up in a class ahead of us," explained Mary Tinkham Putnam '56. "So we never really got to know many students except the ones who accelerated with us."
"When we graduated from high school, our GPA was 1/10th of 1 percent different from each others'," said her sister, Margaret Tinkham Watrous '56. "In college, we got the same marks so our GPA was the same all through college."
Mary and Margaret completed their student teaching in Moravia together. Their youthful looks were more remarked on than their lookalike status.
"I knew a senior there who had transferred from the Homer district, where I had gone to school," Mary Putnam said. "But I wasn't supposed to speak with him because I was considered to be a teacher."
Martin Greene '56, who is not a twin, vaguely recalls the early hoopla. Yet the pair he got to know the best soon left school, probably to join the military.
"Lloyd and Floyd (Bean) put up signs at the room they shared together in Cheney or DeGroat Hall that they would iron and launder shirts for 15 cents per shirt," Greene said. "They took a lot of teasing about it. Tuition was free so it was probably to help them pay for room and board."
The fun-loving Blanton sisters from Rockville Centre couldn't fool any of their friends over who was who, but nevertheless tried a few pranks including switching places in class.
"It always backfired because the teachers seemed to know us apart," said Alice Blanton Vogel '56.
Joan Blanton Cummings '56, left, and Alice Blanton Vogel '56 recently vacationed nearby each other in North Carolina with their families.
"One time Alice and I had blind dates with men in Cortland," recalled Joan Blanton Cummings '56. "It was very formal, as they gave us each a corsage. They picked us up at the (Alpha Sigma) sorority and took us to a dance downtown. Alice and I switched our corsages, only to amuse our friends. The boys didn't know us anyway but all our friends were hysterical. We told the men when we got home. They were mad; they didn't think it was even a bit funny."
The limelight fostered no special friendships between the different sets of twins.
"We didn't have very much in common," Herb Friedman said. "We found friends in other places."
Alice Vogel remembers that she and Joan felt closer to the 11 Cortland classmates who hailed from their high school in Rockville Centre.
"My whole experience at Cortland was so fond and wonderful," she said. "I was very comfortable there. There was always an old friend there."
Sticking together everywhere seemed just ordinary to the various twins.
The Blantons joined Alpha Sigma sorority, rooming at the house and sitting side by side in classes for the same major.
Both the Friedmans worked summer jobs together at a treatment center for emotionally troubled children located not far from their hometown, Norm said. Later, they were perhaps the first Cortland Teacher's College students to complete their student teaching in elementary education at a location remote from campus, Hawthorne Cedar Knolls, a public special act school district for children with special needs. At first they were denied the chance to gain the experience so far from the campus. They once again approached President Smith, convincing him this time to change the school's policy on student teaching supervision.
Norm and Herb both joined the Hilltop Masquers, Herb striding the boards while Norm mainly toiled backstage.
"It worked out that way and both of us were happy doing it," Norm said.
They once appeared onstage together in a production of "Liliom."
"We were made up to look different," Norm said. "I played the part of a judge with a great white beard and balding head while Herb played a role that was more like himself. But lots of people knew we were twins."
Norm and Herb don't recall any tales of high-spirited pranks or identity mix-ups involving any of the twins.
"The other thing in Herb's life and mine that was very significant was that we never got into any kind of trouble," Norm said. "If Herb saw me doing something I shouldn't, he would warn me, and I would do the same for him."
Norm attributes this closeness with Herb to being a twin.
"It's a very unique experience that no one else shares," he said. "We started out as womb-mates and, growing up as a twin, you never have to look for anybody else to play with."
The Twins Then and Now
Barely 20 years old, Mary and Margaret Tinkham walked at the 1956 Commencement.
"We were asked to vote at that time and we weren't old enough then," Mary Putnam said. "We both got jobs in the Balston Spa district and taught there for three years.
"At Ballston Spa, the first time (Margaret) went into the staff room they kicked her out because they thought she was a student," Putnam said.
"Sometimes we would switch classes with each other, just on special occasions like April Fools' Day," Putnam said. "The kids got a kick out of that."
"At the start of school I always had to ask the students if they were in the right classroom, because Mary taught second grade and I taught third," her sister, Watrous, noted.
After retirement, Mary Tinkham Putnam '56, left, and Margaret Tinkham Watrous '56, took up hiking and backpacking, as shown in this undated Adirondack Mountain trip photo.
"It was kind of time to split up," she said. "What I realized when I started teaching at a different school from Mary was that no one had ever called me by my first name before," Watrous said. "They were afraid they wouldn't be able to tell us apart. Then I was assigned a set of identical twins in my class and I had the same problem."
For the balance of their careers, the two sisters were separated by jobs in districts two hours apart by car, as well as by marriage and raising families — two girls and three boys for Mary and Margaret respectively. Mary worked in Ilion, near Herkimer, and Margaret in Chenango Forks near Binghamton. Long hours on the telephone reconnected them.
"There was a little girl, a first grader in my school, who was moving to my sister's district for the second grade," Putnam said. "She was scared to death. I asked her to call my sister. The girl went there and found my sister and she was as happy as a lark. In fact, she would call my sister by my name all the time."
At 55 and in early retirement, Mary and Margaret hit the hiking trails together, completing upstate New York's Finger Lakes Trail system, bagging the 46 highest peaks in the Adirondacks, and, between 1998 and 2003, proceeding piecemeal from Maine to Georgia, completing the entire Appalachian Trail.
They travel together to places like Lower Michigan and Plymouth, Mass., to study family genealogy. They even have attended the Twinsburg Festival in Twinsburg, a small community between Dayton and Cleveland, Ohio, where some 2,700 registered identical twins have gathered and celebrated their uniqueness annually for decades.
"Frequently we find that we do the same thing at the same time without talking about it first," Mary said. "We don't buy the same clothes but we trade clothes with each other. We still weigh the same."
"Did Norm tell you we almost had a Broadway career together?" Herb asked.
As campus president of the dramatic honor society Delta Psi Omega, Herb had made a Broadway contact named Donald Sommers while organizing a week of one-act National Theatrical Association productions. Norm, meanwhile, promoted Sommers on WKRT radio for a campus speaking engagement. That professional insider remembered the "twins from Cortland" who were "OK at acting" when roles for two Irish cops materialized in the Big Apple.
"After we had graduated and were working, my mother got a call from a Broadway producer looking everywhere for the Friedman twins," Herb said.
They were invited to read for a part on Broadway with English actor Roddy McDowell and the American character actors Keenan Wynn and Paul Ford.
"Norm and I read; and we got the part," Herb said. "But what happened was we were both teaching in different schools when we could have gone into the Army. We had instead got deferred. We were told 'Your military board can release you, but it won't if you stop teaching.'"
The rest is history for these twins, who continued as educators for their entire careers working about a stone's throw away from one another.
Both married and raised families. Herb retired as superintendent of schools at Hawthorne Cedar Knolls in Westchester County, the place of his student teaching days. Norm, who retired as director of the Hawthorne Cedar Knolls Residential Treatment Center, now teaches child abuse prevention workshops — particularly to those involved in summer camp. He has a published book, Inoculating Your Children Against Sexual Abuse: What Every Parent Should Know!
"I'm grateful for what I got from Cortland that made me be able to do the work I've done," Norm said. "To see the commitment on the part of my many instructors who were not only teaching but were people who inspired us. They were men and women who had spent years at Cortland or other institutions with a focus on educating us — not necessarily in subject matter as their primary focus — to understand the responsibility that we had in working with other people's children. That helped me focus on what I needed to spend my life doing."
Herb would second that opinion.
As for the former Blanton sisters, after graduation the young Long Island schoolteachers teased their students every April fool's day — for the first few years — by swapping their third grade and elementary classrooms.
They married good friends and College graduates. Alice wedded Walter Vogel '55. Joan tied the knot with Wade Cummings '56, who is now deceased. The pair lived in adjacent towns for years and both taught in the Centereach district for 27 years.
This summer, they continue a more recent tradition of taking adjacent rentals together on the Outer Banks of North Carolina, with each beach house containing their by now very large families. Joan and Alice bore eight sons between them. And the youngest of Joan Cummings' five sons are fraternal twins.
"They are like brothers," Cummings said of the cousins raised almost as siblings.
"We live close together and everyone tells us we look more alike than ever," Cummings said of her sister.
"I seem to really and truly need her," she said.
The Friedmans shared these scrapbook newspaper clippings about the brief time on campus in 1952 when five sets of twins created a media uproar.
Study Abroad Fair Set for Oct. 1 in Corey Union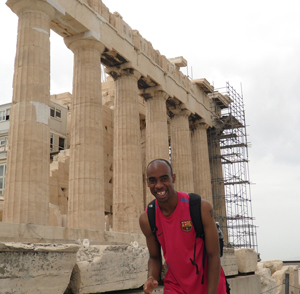 08/19/2014
SUNY Cortland's international school partners from Belize, Costa Rica, France, Mexico, Spain and the United Kingdom will showcase their programs during a Study Abroad Fair on Wednesday, Oct. 1.
The event will be held from 11 a.m. to 2 p.m. in the Corey Union lobby. The fair is free and open to the campus community. Information on funding and scholarships will be available.
"Traveling to another country allows students to explore the world for a summer, winter session, semester, or a year while earning college credit," said Hugh Anderson, a study abroad advisor in the College's International Programs Office, which is hosting the fair.
At the fair, students who already have studied abroad as well as international visitors on campus and representatives from other SUNY campuses will be on hand to describe their life-changing experiences and give their classmates a taste of what awaits them as scholars in a different land.
Participants may enter in a raffle at a chance to win one of two $500 travel awards that can be used in the future towards any SUNY study abroad program.
A group of SUNY Cortland students relaxes in a courtyard as they experience immersion in the culture of another land.
At SUNY Cortland, students may choose from more than 600 SUNY-sponsored destinations, virtually anywhere in the world, in a range of disciplines. Study abroad participants have a range of options: to attend a college or university, participate in an internship, student teach, volunteer their talents, engage in a faculty-led program or join a short-term specialized program.
Surveys exploring the long-term impact on a student's personal, professional and academic life show that the experience of immersing one's self in another culture positively influences the individual's career paths, world-view and self-confidence.
For more information on the fair, contact studyabroad@cortland.edu or 607-753-2209 or visit the International Programs Office in Old Main, Room 219 or online at cortland.edu/studyabroad.
Speech, Hearing Center Expands Outreach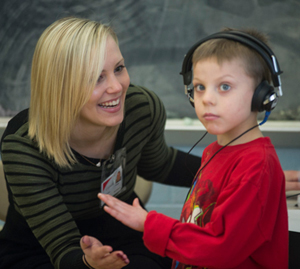 08/26/2014
Natalie Muka of Cortland appeared to be playing an unusual video game with an 8-year-old visitor to SUNY Cortland's Center for Speech, Language and Hearing Disorders.
"EEEEhhhhhhhhhhhhhhhhhhhhhhhhhhh!" intoned Muka, an aspiring master's degree candidate in communication disorders and sciences, using a clear demonstration voice. "Try that, and hold the sound as long as you can."
A whimsical dragon hovered on a nearby video screen, puffing a series of balloons until they burst each time Muka made the sound and carried the note correctly.
Soon the boy was cheerfully coaxing the monster to zap away a succession of the digital inflatables by making similar sounds, unaware that a team of clinicians was measuring and recording his pitch and volume to be used as benchmarks during any future sessions with him.
Jill Toftegaard, Muka's clinical supervisor, was carefully watching the performance of both the graduate student and the child from an observation booth equipped with video and audio recording machines behind a one-way viewing pane of glass.
Clinics such as this are a natural outgrowth of center, an facility that is located in the Professional Studies Building on campus and offers the only community speech clinic in Cortland County. As part of their studies, SUNY Cortland students provide speech-language and hearing evaluations as well as speech and language therapy to members of the community.
"We're seeing approximately 20 to 30 clients here in the center each semester of all ages," Toftegaard said. Clients there are offered speech/language/hearing screenings, comprehensive speech and language evaluations and therapy for speech, language, voice, fluency and swallowing disorders under the guidance of qualified and licensed professionals.
That's about twice as many cases as the students handled the year before, noted lecturer Mary Emm, who manages the center.
Both Emm and William Roche, who joined the College last year as an associate professor of communication disorders and sciences, think word of mouth is getting out about the center's new diagnostic and treatment equipment. Referrals have begun happening as medical professionals and their clients can use these resources without having to travel to Syracuse or Binghamton.
The center greatly increased its service capacity last fall by adding clinical equipment to accommodate a dozen students pursuing SUNY Cortland's new, accredited master of science in communication sciences and disorders degree. The first class considered community outreach to be a terrific hands-on learning opportunity, as well as a way to fulfill their requirement for at least 50 hours of clinical work during their first year.
"Other places may not have the clinical instrument found at SUNY Cortland and this will provide a collaborative opportunity for our students to share their experiences," Roche said. "They will understand that they have multiple choices about which piece of equipment they can use. There is not just one wrench in their tool chest."
Roche oversaw the acquisition, installation, use and maintenance of new diagnostic and treatment equipment the students are using. The College purchased many devices for $70,000, including voice and speech output devices, machines to measure myotropic lateral type diseases such as Lou Gehrig's disease, computerized systems that augment ineffective or impossible communication, which some clients will need to be shown how to use in daily living.
The crown jewel of the center is the new swallow lab, the gift of the College by alumna Patricia A. Boscamp-Cluss '79, responding to a need communicated by Department Chair Regina Grantham. The equipment involves a procedure to send a tiny camera to record and measure a client's swallowing, speaking and breathing capabilities.
Most devices are portable and the graduate students are encouraged to bring and show them to their mentors during their second year, when all are required to complete the balance of 400 clinical hours offsite in both an assigned school setting and clinical setting, Roche said.
Michael Pitcher, a lecturer and the College's coordinator of audiological services, leads another outreach effort that's helped the center grow.
SUNY Cortland students, overseen by Pitcher, last fall helped the Cortland Enlarged City School District by screening approximately 800 children — every pupil in kindergarten, first, third or fifth grades — for hearing difficulties, fulfilling New York state requirements for elementary schools. It was the first time SUNY Cortland students conducted hearing screenings for all the district's young schoolchildren. The College had piloted the program for the previous three years with the Cortland District's Barry Elementary School.
Additionally, last spring the department's undergraduates screened some 200 first, third and fifth graders at Groton Elementary School in Tompkins County.
Aspiring clinicians in the Center for Speech, Language and Hearing Disorders review images of the inside of a client's throat in the new swallow lab donated to the College by alumna Patricia Boscamp-Cluss '79. The college students, supervised by licensed professionals, are learning to identify and treat a variety of communication disorders. In the photo shown above left, last fall Emily Tackabury of Norwich, N.Y., shown with a young client, took part in actual audiology screenings for youngsters such as this one at Groton Elementary School.
"The average age of identified hearing loss in children is prior to six months of age," Pitcher explained. "But there are children who have hearing loss that develops later or may go unnoticed, until they show difficulties or behavior issues in school. Those are the kids we want to identify."
These highly successful community clinics, which relieve school nurses of an enormous, mandatory task, will continue during the 2014-15 academic year.
The center also screens children in the local Head Start program, to spot speaking difficulties in the 3 and 4-year-olds before they enter kindergarten, Emm noted.
For the sake of SUNY Cortland students' career preparation, center faculty and staff look forward to working with clients of all ages. That would include all preschoolers as well as adult and geriatric patients who have lost speech and hearing due to illness. It would also include a variety of client groups, such as people for whom English is not the first language and individuals suffering from disorders ranging from autism to a speaking difficulty termed "aphasia" that is related to a stroke or other neurological illness.
The SUNY Cortland students say they're pleased with the expanded hands-on experience.
"We are helping someone to communicate, and communication is so essential to life," said graduate student Kelli Carsten of Syracuse, N.Y. "This field brings us so many areas of interest to work with: biological, medical and helping people communicate. If someone has a physical loss, they still can communicate, but if someone can't communicate, for whatever reason, it … affects your quality of life so much."
SUNYAC Honors Student-Athletes for Academics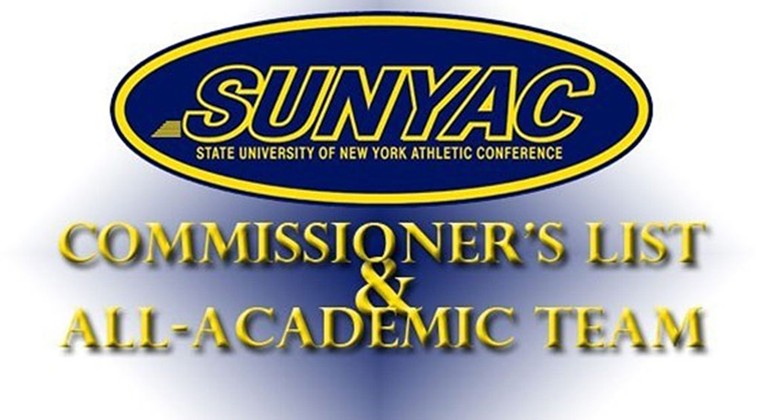 08/26/2014
The State University of New York Athletic Conference (SUNYAC) has recognized 183 SUNY Cortland winter and spring sports student-athletes on its All-Academic and Commissioner's List teams for the 2013-14 season.

Athletes earn a spot on the All-Academic List by recording at least a 3.3 grade point average during the most recent semester and are chosen to the Commissioner's List if they have at least a cumulative 3.3 grade point average over the past three semesters combined.

The 183 Cortland selections include 37 men's track and field and 36 women's track and field athletes; 16 women's gymnasts; 14 baseball players; 13 women's ice hockey players; 11 women's swimmers and divers; 11 men's lacrosse players; nine women's basketball players; nine women's lacrosse players; nine wrestlers; eight men's ice hockey players; seven softball players; and three men's swimmers and divers. All winter and spring sports are honored, even if they are not sports sponsored by the SUNYAC.

Cortland also had 96 student-athletes honored during the 2013 fall season, giving the College a total of 279 student-athletes recognized by the conference during the entire 2013-14 school year.

Complete List of Cortland's 2013-14 Winter and Spring Recipients (PDF)
CALS Lecture Grant Applications Due Sept. 4
Campus Artist and Lecture Series (CALS) Lecture Grant Applications are now available for the 2014-15 academic year.
Applications are eligible for a maximum award of $500 and are open to any club, program or department. These lecture grants will not cover performances of any kind.
Applications must be received by Thursday, Sept. 4, in order to be considered for September, October, November and December 2014 lecture programs. Applications received after this date may not be eligible for any fall semester funds remaining.
For more information or to request a hard copy of the CALS Lecture Grant Application, contact Sandra Wohlleber by email or at 607-753-5574.
Professional Salary Increases Recipients Announced
The Human Resources Office has announced recipients of professional promotions and salary increases effective July 17.
Professional Staff Promotions have been approved for the following employees:
Matthew Cutia, Admissions Office, promoted to Senior Admissions Advisor
Mary Haefele, Information Resources, promoted to Staff Associate
Michael Johnson, Admissions, promoted to Associate Director of Admissions
Professional Staff Salary Increases have been approved for the following employees:
Carol Costell Corbin, Advisement and Transition
Christopher Cubells, Systems Administration and Web Services
Ester Edelman, Counseling and Student Development Center
Robyn Forster, Counseling and Student Development Center
Kathryn, Gallup, Counseling and Student Development Center
Ute Gomez, Student Disability Services
Lisa Kahle, Campus Technology Services
Bruce Kellett, Facilities Planning, Design and Construction Office
Noelle Paley, Multicultural Life and Diversity Office
Richard Powell, Library
Emily Quinlan, Advisement and Transition
Catherine Smith, Counseling and Student Development Center
Joseph Westbrook, Facilities Planning, Design and Construction Office
Sandra Wohlleber, Campus Activities and Corey Union Office
For more information, contact the Human Resources Office at 607-753-2302.
College Honors Accrual Achievement Award Winners
The Human Resources Office announced the recipients of its Annual Accrual Achievement Awards for Classified Service. These employees have used one day or less of sick leave accruals during the 2013-14 fiscal year.
The employees will receive a letter from President Erik J. Bitterbaum, a certificate of recognition and a $25 gift certificate to the Cortland Downtown Partnership.
The program was created to recognize classified employees who use minimal amounts of sick leave and to encourage other employees to build up sick leave balances. The awards will be distributed on Friday, Oct. 24. Those employees who will receive the award are:
Robert Albro
John Aldrich
Walter Anderson
Sila Argyle
Michael Beaumont
Ronald Benda
Constance Biviano
Renato Brevetti
Jackie Brown
Susan Bush
Wayne Carroll
Kathleen Caughey
Scott Chierchio
Vicki Clark
George Cole
Lucinda Compagni
Michele Cornelius
Roger Cornelius
Linda Crompton
Deborah Dintino
Ella Dorman
Heather Drew
Francis Evangelista
Carol Freeman
Burton Fritts
Billie Furlong
Ronald Gray
Carol Gridley
Ingrid Griswold
Katherine Gustafson
David Haggerty
Nancy Hartford
Thomas Hingher
John Kehn
Sandra Kline
Gary Lansdowne
Chad Lawrence
Darleen Lieber
Paula Lundberg
James Lynch
Jo-Ann Maclean
Colleen Martin
Greg McCartney
Valerie McConnell
Kathy McCracken
Katrina McCracken
Diana McGee
Elizabeth Mokos
Theresa Montez
Rhonda Moulton
Linda Nelson
Marcia O'Loughlin
Debra O'Mara
Robert Orphan
Linda Parmiter
Michael Partigianoni
Ruth Partigianoni
Claire Payne
Gregory Peters
Sharon Peters
Darlene Phillips
Patricia Pinto
Lauren Polito
Donna Poole
Shirley Randolph
Denise Riley
Rosemary Root
Susan Root
Pamela Schroeder
Elizabeth Scott
Jamie Scott
Russell Scott
Mitchell Seamans
Shirley Shepard
Lou Anne Simons
Lawrence Smith
Susan Smith
Nadia Snell
Lynn Stevens
Kathleen Stockton
Andre Turco
Marthajane Warren
Melony Warwick
Denise Wavle
Nancy White
Anna Wilcox
Joyce Willis
Cynthia Withers
Gary Withers
Patricia Wolff
Teri Wood
Kenneth Woodworth

Suggest a feature story
---
People on the Move
Interim Assistant Directors of Athletics Named
08/26/2014
Jaclyn Lawrence and Mike Zaccardo have been named Interim Assistant Directors of Athletics at SUNY Cortland, according to Director of Athletics Mike Urtz. They are both Cortland graduates and former Red Dragon student-athletes.
Lawrence will serve as Assistant AD for Internal Operations, which will include work with game-day operations, staff and event management. Zaccardo will serve as Assistant AD for External Operations and will deal with marketing, development and special events, among other areas.
Lawrence earned a bachelor's degree in physical education from Cortland in 2012 and a master's degree in sport management in 2014. She worked during the 2013-14 school year as an athletic operations intern at Cornell University, where she managed home competitions and scheduled facilities, event staff and officials. In addition, she served as a volunteer assistant coach with Cortland's women's volleyball team in 2013-14 and completed an independent work study position in the State University of New York Athletic Conference (SUNYAC) office in the spring of 2013.
From 2008-11, Lawrence was a member of Cortland's volleyball squad that posted a combined 131-33 record and won two SUNYAC titles. As a captain in her senior year she led the Red Dragons in digs as the team advanced to the NCAA Div. III quarterfinals.
The Marilla, N.Y., native was a modified boys' volleyball coach in the Eden (N.Y.) School District in the fall of 2012 and an assistant varsity girls' lacrosse coach in the Lancaster (N.Y.) School District in the spring of 2012.
Zaccardo has served as an assistant baseball coach at Cortland in both 2013 and 2014 in addition to the 2010 and 2011 seasons. He earned a bachelor's degree in sociology with a criminology concentration from Cortland in 2008 and completed his master's degree in sport management in the summer of 2014. Zaccardo also received an associate's degree in liberal arts from Monroe Community College in 2005.
A standout catcher for the Red Dragons, Zaccardo recorded a .364 career batting average with 20 home runs and 113 RBI in 121 games. In his junior season, he earned third team All-America honors, was ECAC Upstate New York, New York Region and SUNYAC Player of the Year, and was a national Gold Glove recipient.
After his three seasons with the Red Dragons, Zaccardo signed a free agent contract with the Philadelphia Phillies organization in 2008. He worked as a teacher's aide at the George Junior Republic Union Free School District from 2009-11 and for the Hillside Family of Agencies in 2012, where he supervised special education students ages 12-18 in classroom settings. Zaccardo served as an intern in the Cortland athletic department in the summer of 2014.
Lawrence and Zaccardo help fill vacancies created by the departure of Assistant Athletic Director Ashley Whiting, who moved with her family to California, and Assistant to the Athletic Director Larry Miller, who has accepted the positions of head softball coach and assistant sports information director at Framingham State University (Mass.).
---
Faculty/Staff Activities
Seth N. Asumah and Mechthild Nagel,
Seth N. Asumah, Political Science and Africana Studies departments, and Mechthild Nagel, Philosophy Department and the Center for Gender and Intercultural Studies (CGIS), had their peer-reviewed anthology titled Diversity, Social Justice, and Inclusive Excellence: Transdisciplinary and Global Perspectives published by SUNY Press. The essays focus on the components of diversity, social justice and inclusive excellence, not just within the United States but also in other parts of the world. The contributors to the anthology include Elizabeth Davis-Russell, president of Tubman University, Liberia, and former provost and vice president for academic affairs at SUNY Cortland, and other prominent scholars from 11 different universities. SUNY Cortland contributors include: Janet Duncan, Foundations and Social Advocacy and Educational Leadership Department; Ibipo Johnston-Anumonwo, Geography Department, and; Tiantian Zheng, Sociology/Anthropology Department. With generous support from Provost Mark Prus, the anthology was made available to participants of the 2014 Summer Diversity Institute. The book will be on display by SUNY Press at the first SUNY-wide diversity conference, "Making Diversity Count: Ensuring Equity, Inclusion, Access and Impact," set for Nov 12-13 at the Marriott Inn in Albany, N.Y.
Alexandru Balas
Alexandru Balas, International Studies Program and Clark Center for International Education, recently had his book, Peace Operations, published by Polity Press. The book, in its 2nd edition, is co-authored with Paul F. Diehl.
The book, detailed and available online at http://www.polity.co.uk/book.asp?ref=9780745671802, accomplishes the following:
Traces the historical development of peace operations from their origins in the early 20th century through the development of modern peace building missions and multiple simultaneous peace operations.
Tracks changes over time in the size, mission and organization of peace operations.
Analyses different organizational, financial, and troop provisions for peace operations, as well as assessing alternatives.
Lays out criteria for evaluating peace operations and details the conditions under which such operations are successful.
Brian Barrett
Brian Barrett, Foundations and Social Advocacy Department, recently had his review of The Politics of Knowledge in Education published in Educational Studies . Additionally, in July he presented his paper titled "Bernstein in the Urban Classroom" at the Eighth International Basil Bernstein Symposium in Nagoya, Japan. During the symposium's opening session he led a tribute, along with Parlo Singh, Griffith University, Australia, and William Tyler, Charles Darwin University, Australia, to his friend, mentor and intellectual collaborator, Rob Moore, late senior lecturer of sociology of education at the University of Cambridge, U.K.
Peter Ducey
Peter Ducey, Biological Sciences Department, coauthored a manuscript over the summer titled "Confirmation and Distribution of Tetrodotoxin for the First Time in Terrestrial Invertebrates: Two Terrestrial Flatworm Species (Bipalium adventitium and Bipalium kewense)," which appeared in the journal PLoS ONE. The eight-author team included scientists from the University of California Bakersfield, Utah State University, University of Notre Dame, University of Virginia, and SUNY Cortland. Popular articles about the work have been posted by numerous science news outlets including Science News, Science Daily, Nautilus and Mysterious Universe.
Led by Amber Stokes of UC Bakersfield, the research team found that two species of terrestrial flatworms living throughout the U.S. have within their tissues a potent neurotoxin that may be used to either defend them from potential predators or to subdue their own prey (earthworms). Because this is the same toxin that occurs in pufferfish and certain salamanders, interesting questions about its biochemistry and evolution have been raised. Ducey and his students at SUNY Cortland have been studying the ecology, behavior and evolution of these flatworms since the mid-1990s. Although the flatworms are not native to the U.S., they are now quite abundant in many parts of the country, including Central New York, and are formidable predators on earthworms. Because of the tetrodotoxin, Ducey advises against eating these flatworms if found locally.
Alexander G. Gonzalez
Alexander G. Gonzalez, English Department, had his scholarly article, "Eavan Boland's 'The Glass King' and R.G.Collingwood's Theory of Art," published in South Atlantic Review after many delays.
Wanda Kent
Wanda Kent, Communication Disorders and Sciences Department, presented the poster "Prediction of Reading Comprehension by Various Measures of Listening Comprehension," at the British Dyslexia Association International Conference on March 28 in Guildford, England. Also, she presented the poster "Intonation and Reading Comprehension Skills in Fourth-Grade Students," at the Society for Scientific Studies in Reading annual conference on July 18 in Santa Fe, New Mexico. Heather L. Balog, Ph.D. was the second author of both posters.
Kathryn Kramer
Kathryn Kramer, Art and Art History Department, will have her article "Flanerie's Art and Measure of the Urbanizing Global" published in the December issue of the journal Visual Resources.
Mechthild Nagel
Mechthild Nagel, Philosophy Department and the Center for Gender and Intercultural Studies (CGIS), is on leave for the academic year. In July she started her visiting scholar position at Cornell University's Feminist, Gender, Sexuality Studies Program, where she will write a monograph on Ubuntu ethics of punishment. She will remain a scholar-in-residence until December.
In January 2015, she will commence her scholar-in-residence at the Max Planck Institute for Religious and Ethnic Diversity in Goettingen, Germany, through July 2015.
Jerome O'Callaghan
Jerome O'Callaghan, School of Arts and Sciences, co-authored with Paula O'Callaghan, University of Maryland, a paper on the free speech aspect of using Facebook in the context of public employment. The paper, titled "Facebook's 'Like' – The First Amendment and Free Speech in the Workplace," was published this summer in volume 15 of the ALSB Journal of Employment and Labor Law.
Robert Spitzer
Robert Spitzer, Political Science Department, has been informed that his new book, Guns Across America: Reconciling Gun Rules and Rights, has been accepted for publication by Oxford University Press. The book argues that the contemporary debate pitting gun rights against gun regulations is based on a misunderstanding of America's gun past. While gun possession is as old as the country, so are gun laws, and throughout most of our history, the two have gone hand in hand. Drawing on a vast new dataset of early gun laws, the book shows that gun regulations in America's early history were, if anything, more strict than they are now. In addition, the book examines the Second Amendment and the assault weapons controversy, "stand-your-ground" laws, and New York state's recent strict new laws. The narrative also includes the author's effort to obtain a pistol permit. The book is scheduled for publication by Oxford in March 2015. Spitzer is the author of four other books on gun policy.

Submit your faculty/staff activity