'Educating Champions' Nears Finish Line
05/21/2013
With the June 30 finish line in sight, the College's "Educating Champions, the Campaign for Cortland" fundraising effort is closing in on its ambitious $25 million goal.
As of mid-May, approximately $24,676,000 has been raised, of which more than $1,275,000 comes from faculty and staff members and emeriti employees.
Vice President for Institutional Advancement Kimberly Pietro expressed confidence in reaching the campaign's overall goal with a strong final month's push. Faculty and staff support, which peaked during the 2010-11 fiscal year due to a matching gift incentive, will be crucial, she said.
"The importance of building a culture of philanthropy at the College, rooted in partnerships between departments, schools and offices across campus, can't be overstated," Pietro said. "When a culture of philanthropy becomes woven into an institution's fabric, everyone — students, employees, alumni — are better off for it."
SUNY Cortland faculty and staff members can contribute to the "Educating Champions" campaign in several ways, including:
• a recurring payroll deduction
• a one-time online gift
• a check made payable to Cortland College Foundation, Inc., P.O. Box 2000, Cortland, NY, 13045
"Educating Champions" aims to improve campus life for every SUNY Cortland student and elevate the College's national profile. The campaign will fuel initiatives related to academic excellence, transformational education experiences, wellness, the intelligent use of resources and accessibility through scholarships.
The Raquette Lake Endowment and Program Fund, the Undergraduate Research Program Fund and the Performing Arts Enrichment Fund represent just a small sampling of possible areas to contribute.
To date, more than 400 faculty, staff and emeriti members have joined the "Educating Champions" effort.
For more information, visit the "Educating Champions" website or call the Cortland College Foundation at 607-753-2518.
College Named Master Teaching Hub
05/21/2013
SUNY Cortland has been selected by Gov. Andrew Cuomo to be one of four regional teaching hubs offering a new program aimed at retaining and rewarding New York's best teachers, and using their expertise to improve public education statewide.
The College, home to New York's largest accredited teacher-education program, will host the NYS Master Teacher program for Central New York.
The program, announced by Gov. Cuomo Monday, offers highly effective secondary school math and science teachers who make a four-year commitment to mentoring their peers a $60,000 stipend ($15,000 annually for four years). The idea is to give outstanding teachers in these subjects an incentive to continue teaching in New York while sharing their methods, experience and insight with fellow teachers.
As a program host, SUNY Cortland will coordinate 50 to 60 master teachers from the Central New York area, starting in the fall semester of 2013. A variety of meetings and professional development events will be held on campus, and SUNY Cortland students and faculty will be able to share experiences, identify effective practices and suggest innovation.
"We are honored to be part of this exciting program," SUNY Cortland President Erik J. Bitterbaum said. "Teacher education has always been a critical part of our mission and we continue to believe that the future of our state, and our country, lies in the hands of our school-age children and the dedicated and innovative professionals who teach them."
Roughly half of all SUNY Cortland students graduate with teaching certification.
The College is already one of only five SUNY campuses selected for the Robert Noyce Teacher Scholarship Program, a National Science Foundation initiative to recruit people strong in science, technology, engineering or math (STEM) into the teaching profession. Last year, the College received a state grant to immerse a dozen future math and science students in high-needs classes at Binghamton High School for a full year.
"We recognize the critical importance of STEM education and are committed to fully preparing teachers to meet this challenge, even under challenging classroom circumstances," said Andrea LaChance, dean of SUNY Cortland's School of Education. "The master teacher program will help us improve the quality of education in New York state."
Under the program, all host campuses will partner with a nearby research institution, adding additional resources for development. SUNY Cortland will partner with Binghamton University or Syracuse University.
In addition to Cortland, the other SUNY campuses selected for the launch of the program were SUNY Plattsburgh, SUNY New Paltz and Buffalo State College. Six other regional hubs will be added in the spring of 2014.
"We want the best possible teachers in every New York classroom teaching our children," said Gov. Cuomo. "As part of the state's work to transform our education system and put students first, we are committed to investing in great teachers to educate our students and create a highly-trained workforce to drive our future economy. This program will reward those teachers who work harder and whose students perform better."
The governor's office issued a news release about the initiative Monday. Applications for the program will be available online at SUNY.edu starting July 1. Completed applications are due Aug. 1 and recipients will be announced Sept. 1.
Applicants must, at a minimum, be:
Currently employed as a teacher in New York, with a minimum of 4 years teaching experience
Rated "highly-effective"
Handling a course load that's at least 60 percent math or science
Able to demonstrate receipt of an undergraduate degree (in any subject) and a masters' in education from any accredited public or private institution
Able to show a 3.5 GPA or higher in graduate studies, and a 3.0 or higher in undergraduate studies
"Incentivizing our best teachers in the STEM fields to stay and teach in New York and lend their expertise to others will build a strong foundation of student success and ensure that our education system remains globally competitive," SUNY Chancellor Nancy Zimpher said. "The New York State Master Teacher program is yet another example of the Governor taking bold action to improve New York schools and benefit students for years to come."
---
Capture the Moment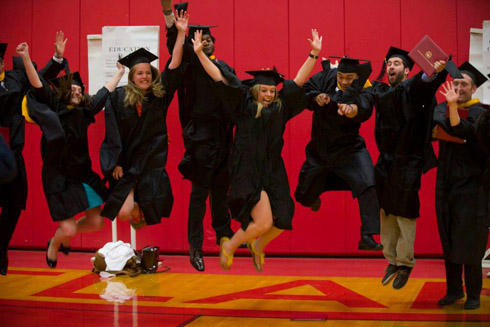 A group of newly minted SUNY Cortland alumni jump in celebration after graduate student commencement Friday evening. A total of 1,482 students received degrees at the College's three graduation ceremonies this weekend, including 1,213 during Saturday's two undergraduate commencements at Park Center Alumni Arena.
---
In Other News
C-Club Hall of Fame to Induct Six New Members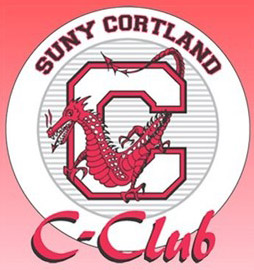 05/21/2013
Six new members will be inducted into the SUNY Cortland C-Club Hall of Fame during its 45th annual banquet and ceremonies on Saturday, Sept. 21, in the College's Corey Union.
The 2013 honorees are:
• Warren Kilmer '56, a baseball standout at Cortland under coach Carl "Chugger" Davis and a long-time associate in the New York State Education Department's Bureau of Health and Drug Education;
• Tim Sullivan '65, a long-time professor, coach and the chair of the Health, Physical Education and Leisure Studies Department at Montclair State University. He is a former Cortland football player, wrestler and lacrosse player;
• Sue Zawacki '74, a member of Cortland's field hockey, basketball, softball and golf teams during the early years of those programs' intercollegiate status and a long-time collegiate athletic administrator and women's basketball coach;
• Heather Brendel Evans '81, an All-American on Cortland's 1980 national championship women's soccer team and the co-coordinator of the Rogers School Outdoor Education program in West Irondequoit, N.Y., since 1993;
• Julie Gentner Murphy '03, a three-time All-American in both field hockey and softball and the 2001 Div. III National Field Hockey Player of the Year who helped Cortland win a national title;
• and honorary inductee Mike Partigianoni, Cortland's athletics equipment room supervisor since 1987 and an employee at the College since 1980.
In addition to the evening official ceremony, the inductees will be introduced at halftime of the Cortland-William Paterson football game earlier that afternoon.
Established in 1969, the C-Club Hall of Fame recognizes Cortland alumni who competed as athletes at the College and who since have distinguished themselves in their professions and within their communities. Honorary members are recognized for their long and significant contributions to SUNY Cortland athletics. New C-Club members have been added annually and this year's ceremony will bring the Hall of Fame roster to 230 alumni and 27 honorary members.
More details about the inductees will be released this summer.
Athletics Program Again Earns SUNYAC Cup

05/21/2013
The SUNY Cortland intercollegiate athletics program finished first in the Dr. Patrick R. Damore State University of New York Athletic Conference (SUNYAC) Commissioner's Cup standings for the 2012-13 school year. Cortland has won the Commissioner's Cup, which is awarded for overall sports excellence, in 16 of the 17 years that it has been awarded, including the last 10 seasons.
The Cup is named for the first time this year for Dr. Damore, the long-time SUNYAC Commissioner who retired in 2012.
Cortland finished with an average score of 8.46 points. Geneseo was second with an average score of 7.43 points and Oneonta was third at 6.42 points.
Commissioner's Cup points are awarded based on each team's finish in the SUNYAC standings, both during the regular season and in league postseason tournaments, when applicable. The first-place school in each sport receives 10 points, second place receives nine points, and so on. A school's regular-season finish is added to its postseason finish and is divided by two to determine the points for each sport. The total points earned are then divided by the number of conference sports the school sponsors.
Cortland won 11 league crowns: women's soccer; women's volleyball; men's basketball; men's swimming and diving; women's indoor track and field; baseball; softball; men's lacrosse; women's lacrosse; men's outdoor track and field; and women's outdoor track and field. Cortland also finished as league runner-up in four sports: field hockey; men's cross country; men's indoor track and field; and women's swimming and diving. The SUNYAC sponsors 20 sports.
Gallery Hosts Artwork from Local Schools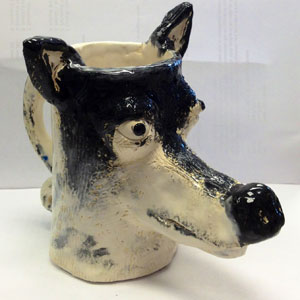 05/21/2013
"Teachers + Students," which opens Tuesday, May 28, features original creations from art teachers and 7th to 12th grade students alike. The show will display an array of media — everything from painting and drawing to ceramics and installation work. School districts showing off their work include Cortland, Cincinnatus, Groton, Homer and Marathon.
The exhibition, which is free and open to the public, takes place at the Dowd Gallery's temporary off-campus location at Main Street SUNY Cortland, 9 Main St.
An opening reception takes place from 4:30 to 6:30 p.m. Tuesday, May 28. Gallery hours are 3 to 6 p.m. from Wednesday, May 29, to Friday, May 31, and Tuesday, June 4, and Wednesday, June 5. The gallery is closed Saturday, June 1, to Monday, June 3.
"While it's not uncommon to see a show of student work or one featuring faculty or teacher work, it's rare that an exhibition combines the two," said Dowd Gallery Director Erika Fowler-Decatur. "'Teachers + Students' offers an opportunity to view such work side-by-side and trace the influence of the mentor on his or her (mentored students)."
The idea for the exhibition came from a conversation Fowler-Decatur shared with Chad Hovey, a lecturer of art and art history at SUNY Cortland. Hovey previously taught art at the secondary school level and mentioned that art teachers there need venues to show their work.
"Placing student work in the gallery setting, too, allows students to envision themselves as professional artists one day — and perhaps as art students at SUNY Cortland in the nearer future," Fowler-Decatur said.
Featured artists include:
• Students from Cortland Junior-Senior High School, taught by C.J. Hodge and Robin Jackson: Caitlin Dougherty, Lesley-Ann Dries, Gianna Marks, Lydia Polley, Elisabeth Sprague and Hannah Whelan.
• Students from Cincinnatus High School, taught by Macksi Warner: Liz Golicki, Kassidy Kievit and April Rink.
• Students from Groton High School, taught by Brookley Spanbauer: Alissa Bell, Brooke Jackson and Mikayla Perkins.
• Students from Homer Junior High School, taught by Lauren Flood '06 and Michelle Piotti: Brenden Haskins, Kala Johnson, Brent McNeil, Kristen Rahner, Max Riley and Lucas Smith.
• Students from Homer High School, taught by Brian Wallace: Carly Dove, Alice Jenkins and Christine Stadler.
• Students from Marathon Junior-Senior High School, taught by David Quinlan: Tyler Abbott, Melissa Deland and Brittnie Dougherty.
Group tours of the Dowd Gallery are available. Contact Fowler-Decatur at 607-753-4216 or erika.fowler-decatur@cortland.edu for more information.
Although most college students have departed for the summer, SUNY Cortland's Dowd Gallery is still welcoming local community members with a new exhibition featuring artwork from area schools.
Lauren Flood '06, an art teacher at
Homer Junior High School, will have
her ceramic and soap work titled
"White on White" on exhibit.
Ceramic work titled "Hudson" was
created by Brenden Haskins, grade 7,
from Homer Junior High School.
Chancellor's Scholar-Athlete Award Winners Named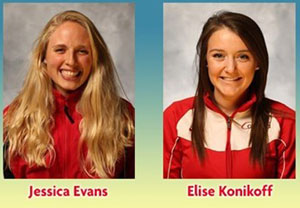 05/21/2013
SUNY Cortland senior women's swimmer Jessica Evans (Hamburg) and junior women's gymnast Elise Konikoff (Hamburg) have been named the State University of New York Athletic Conference (SUNYAC) Chancellor's Scholar-Athlete Award winners in their respective sports for the 2012-13 school year.
The award is given to one student-athlete in the conference, from each sport, who has the highest cumulative grade point average, over a minimum of three semesters, among all first-team or second-team all-conference selections. The Chancellor's Scholar-Athlete Award recognizes a combination of academic excellence and outstanding athletic achievement within the SUNY system at the Division l, Division lll and junior college levels. A student-athlete is only permitted to win the award once.
Fall and winter sports winners have been announced thus far and spring sports winners will be released in the near future.
Evans is a physical education major with a 3.89 cumulative GPA entering the spring semester. This past winter she earned second-team All-SUNYAC honors with a runner-up finish in the 100-yard butterfly at the SUNYAC Women's Swimming and Diving Championships. She also swam on a 200-yard freestyle relay team that won the SUNYAC title and earned honorable mention All-America honors with a 12th-place finish at the NCAA Division III Championships.
Evans swam on both 800-yard freestyle relay and 200-yard freestyle relay teams that set school records. As a junior, she was part of two conference relay championship teams. She was the SUNYAC champion in the 100-yard butterfly as both a sophomore and junior.
Konikoff is a business economics major with a 3.85 overall GPA entering the spring semester. She was the Eastern College Athletic Conference (ECAC) Division III balance beam tri-champion this past season. As a sophomore, she won the ECAC vault title and placed second on balance beam. While women's gymnastics is not sponsored by the SUNYAC, it is still awarded a SUNYAC Chancellor's Award based on All-ECAC performers from SUNYAC schools that sponsor the sport.

Suggest a feature story
---
People on the Move
John Driscoll Retired from SUNY Cortland
05/20/2013
John Driscoll, who served SUNY Cortland for 14 years — adding up to a total of 46 years of employment with SUNY — retired on May 9. He was designated instructional support technician emeritus, geology and physics.
At the College since 1999, he oversaw non-academic functions in both the Physics and Geology departments.
On May 31, after serving as president of the Cortland Chapter of United University Professions for one year, Driscoll will conclude his duties to make way for a newly elected president.
Driscoll is only the second professional staff member to head the Cortland UUP chapter. He was selected by the chapter Executive Board in June 2012 to fill the unexpired term of Jamie Dangler, associate professor of sociology and anthropology, after she was tapped for statewide UUP duties. Previously, Driscoll was the chapter vice president for professionals.
When he joined the College, Driscoll already had given 32 years of service to SUNY, most recently as executive director of the Central New York Eye Bank and Research Corporation in Syracuse, N.Y. The eye bank supplied transplant material to SUNY Upstate Medical University.
Previously, Driscoll was employed as ophthalmic/eye bank technician with SUNY Upstate Medical University. He started his career as a visual systems technician with the Ophthalmology Department at Park Ridge Hospital in Rochester, N.Y.
He was a published author and presenter at professional conferences in the ophthalmology field.
A Syracuse resident, Driscoll has an associate's degree as an electronics technician from Northwestern Electronics Institute in Minneapolis, Minn. He obtained his certification as an emergency medical technician at Monroe Community College and as an eye bank technician from the Eye Bank Association of America.
---
Faculty/Staff Activities
Chelsea M. Norton
Chelsea M. Norton, a graduate student in the Kinesiology Department, was recently named one of the American Kinesiology Association's 2013 Graduate Scholars. The award recognizes her commitment to promoting and enhancing kinesiology as a unified field of study and advancing its many applications.

Submit your faculty/staff activity