SUNY Cortland Again Receives Presidential Distinction
03/21/2012
SUNY Cortland has once again been named to President Barack Obama's 2012 Higher Education Community Service Honor Roll with Distinction. The 2012 honor roll marks the sixth consecutive year SUNY Cortland has won national recognition for its civic engagement programs and the second time the College received the elite "with distinction" designation.
"This isn't an award that recognizes a small group of people," said Richard Kendrick, the director of the College's Institute for Civic Engagement and a professor of sociology/anthropology. "This is an award to be shared by the entire SUNY Cortland campus community and our many community partners. Every department and division at the College contributed to our success in earning this award."
A total of 2,853 students from the College contributed 180,810 community service hours during the 2010-11 academic year. More than 1,200 of those students contributed at least 20 hours of volunteer work, according to Kendrick.
Since 2006, the Corporation for National and Community Service (CNCS), a federal agency that fosters civic engagement through service and volunteering, has presented the annual honor to colleges and universities to recognize exemplary community service. The corporation administers programs that include AmeriCorps, Senior Corps and Learn and Serve America.
Of the 642 schools recognized as honor roll members, 110 received distinction honors, including two other SUNY institutions. The full honor list is available from the CNCS.
Honorees for the award were chosen based on a series of factors including the scope and innovativeness of service projects, student participation in service activities, incentives for service and academic service-learning courses.
"We talk so much about students having transformational education experiences," Kendrick said. "By encouraging them to do meaningful work in their own communities, they're able to find those experiences."
The College's honor roll application highlighted six particular SUNY Cortland service programs:
• The SUNY Cortland AmeriCorps program, which completed its third year in 2010-11, served 13 community agencies, focusing on needs identified through the annual community-wide assessment process dubbed "Cortland Counts." Through AmeriCorps alone, nearly 600 students were recruited to volunteer 6,209 hours of their time to agencies that included the YWCA, the Cortland Downtown Partnership, the Lime Hollow Center for Environment and Culture and the Seven Valleys Health Coalition. One of only three SUNY institutions to run an AmeriCorps program, the College helped develop the local Cortland community through volunteer recruitment, infrastructure improvement and the development of websites and promotional materials for community agencies.
• Nearly 16,000 meals were served as part of an alliance between the Central New York Food Bank and the Cortland Migrant Education Outreach Program (MEOP), which is housed at the College and administered through its School of Education. Additionally, 92 people received dental care through a partnership between MEOP and Finger Lakes Community Health. MEOP staff offers GED preparation and tutors migrant families in language and math courses. SUNY Cortland health majors taught lessons in nutrition, childhood/early childhood majors supervised children, and physical education majors led weekend activities. Fifty-one SUNY Cortland student volunteers helped more than 600 migrant students in 2010-11.
• Many low-income families found tax relief through the Volunteer Income Tax Assistance (VITA) program, a service offered by Cornell Cooperative Extension (CCE). SUNY Cortland economics majors assisted CCE in providing free tax preparation and educational resources to local residents. After participating in a training program and passing two exams to become certified tax preparers, 11 students contributed 1,320 total hours. They helped 770 people receive refunds totaling nearly $700,000. Low-income residents saved more than $80,000 in tax preparation fees.
• Future teachers tutored and mentored 200 students from the Syracuse (N.Y.) City School District through Cortland's Urban Recruitment of Educators (C.U.R.E.) program, which celebrated its 13th year in 2010-11. The group seeks to improve urban education by developing teachers who are proficient at dealing with conditions in high-needs schools. In 2010-11, pairs of college students helped teachers individualize instruction through tutoring sessions in a variety of subjects. Sixty-three percent of SUNY Cortland graduates who participate in C.U.R.E. have taught for at least two years in high-needs schools throughout New York state.
• SUNY Cortland students and faculty from the Recreation, Parks and Leisure Studies Department helped Cortland Junior/Senior High School in running the League 56 Academy, an after-school program in its third year that combats bullying among fifth and sixth graders. Children participating in the program showed a decrease in aggressive behavior, and an increase in mentor-type relationships with adults.
• Three Youth Assist programs of Family Counseling Services — in one-on-one mentoring, group mentoring and homework help — received 1,570 volunteer hours from SUNY Cortland students. The programs were designed to build confidence and develop appropriate social, communication and decision-making skills through interaction with positive role models. Seventy-four SUNY Cortland students offered their time to 49 middle and high school students in the programs. The high school and middle school students raised their grades from an average of 73 to an average of 80, and parents reported improvements in their children's social skills and levels of confidence.
As part of the honor roll application, the College was required to demonstrate a commitment to its civic engagement activities and its participation in organizations that support and sustain civic engagement. One of those organizations is the Main Street SUNY Cortland outreach facility at 9 Main St. in Cortland. That building houses some of the activities of the Institute for Civic Engagement, the College's AmeriCorps program, the Cortland Downtown Partnership and the Center for Economic Education.
The Main Street building also includes the Beard Building Gallery — a teaching gallery for SUNY Cortland art students during the academic year and a gallery programmed by the Cortland Cultural Council during the summer. The College's new civic engagement program coordinator, a position created in June, works out of the Main Street SUNY Cortland facility.
"The work that the Institute for Civic Engagement does isn't possible without the relationships the College has formed with its community partners," Kendrick said. "This award is a tribute to the best that our faculty, staff, student and community members have to offer."
In many ways, SUNY Cortland's outreach efforts have become a blueprint for other SUNY institutions to follow, Kendrick said. Increasing the number of campuses to make the President's honor roll each year is a metric used by the SUNY Report Card to measure the system's success toward enhancing vibrant communities across New York.
The honor roll is jointly sponsored by the CNCS, the Department of Education, the Department of Housing and Urban Development and the President's Council on Service and Civic Participation.
For more information, visit the CNCS website.
College Earns Silver Sustainability Rating
03/27/2012
SUNY Cortland recently earned an impressive silver rating in a national program that tracks environmental sustainability efforts on college campuses.
The College was one of only 32 campuses nationwide to attain a silver rating in the voluntary assessment, a program of the Association for the Advancement of Sustainability in Higher Education. Only 19 schools have done better, reaching a gold designation.
"It is impressive to think how far we have come in such a short period of time," SUNY Cortland President Erik Bitterbaum said. "When it comes to our sustainability mission, this program illustrates how truly committed the College is to reducing its carbon footprint, using all its resources effectively and raising awareness of environmental issues among our students and in our community."
The Sustainability Tracking, Assessment and Rating System, also known as STARS, is a self-reported assessment that collects a wide range of sustainability information on College initiatives, capital improvements, academic programs and other issues. Once completed, it serves as a baseline for measuring progress on a campus's environmental goals. It must be upgraded every three years.
At SUNY Cortland, the effort was led by Nasrin Parvizi, associate vice president for facilities management, who worked with a range of campus departments and offices to collect information needed to create a comprehensive picture of the College's effort.
It is part of a larger effort by SUNY Cortland, a charter signatory to the American College and University Presidents' Climate Commitment, to cut its overall greenhouse gas emissions by 80 to 85 percent by 2050.
The report highlighted many of the College's sustainability initiatives, including its development of a long-range climate action plan, ongoing energy conservation efforts and commitment to LEED (Leadership in Energy and Environmental Design) certification of all new building construction, the creation of Sustainability Week and environmental programs at SUNY Cortland's Center for Environmental and
---
Capture the Moment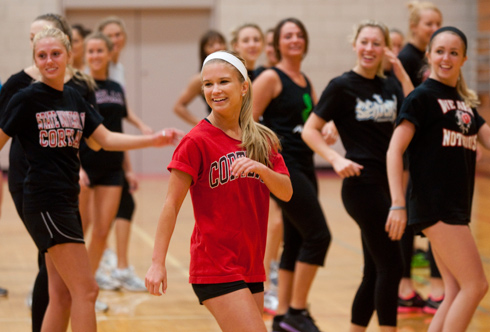 Latin dance-inspired fitness took over Park Center on March 24. Taylor Royce-Pavlot, a freshman athletic training major from Corning, N.Y., pictured at center, was one of more than 100 students who showed up to the College's Zumbathon. The event raised roughly $400 for the Cortland Youth Bureau's prom dress drive, which provides formal attire for local high school students who cannot afford it.
---
In Other News
One Day Remains in Facebook Photo Contest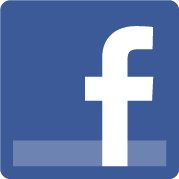 03/27/2012
Grab your camera. You've got one day left to help us find the perfect cover photo for SUNY Cortland's Facebook page.
On Friday, March 30, the College's official Facebook page will make the switch to the social network's Timeline design, which incorporates a dominant horizontal cover photo.
Students, alumni, faculty and staff are invited to share their best SUNY Cortland shots on the page's Wall from now through Wednesday, March 28.
Submissions should reflect life on the main College campus, its Raquette Lake Outdoor Education Center, Hoxie Gorge or Main Street SUNY Cortland.
One winner will have his or her work displayed as the giant backdrop for thousands of SUNY Cortland's Facebook fans to see.
The College will change the photo after a period of time, so participants will have additional opportunities to submit images in the future. Submitted photos should be 850 pixels wide and at least 315 pixels tall. The image can be repositioned, but only an 850 by 315 pixel area will be visible.
For more information, contact the College's Public Relations Office at (607) 753-2232.
Geologist to Share Story of Marcellus Shale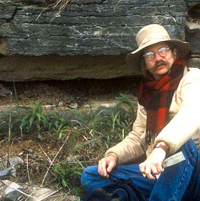 03/27/2012
A noted geologist will explain the origin of the Marcellus Shale, a rock formation in the region that has made headlines lately, on Tuesday, March 27, at SUNY Cortland.
Charles Ver Straeten, a leading authority on the sedimentology and depositional models of Paleozoic strata of the Appalachian Foreland Basin, will speak at 7 p.m. in Sperry Center, Room 104. The lecture is free and open to the public.
The curator of stratigraphy and sedimentology at the New York State Museum in Albany, N.Y., Ver Straeten will present "Marcellus 'Shale': Dynamic Deposition in an Oxygen-poor Devonian Sea."
"Dr. Ver Straeten ... brings a new insight on the geology of the Marcellus shale — the source of one of the largest untapped natural gas reserves known in North America and currently the subject of much debate as New York prepares regulations for its extraction," said Christopher McRoberts, professor of geology at the College.
"Ver Straeten's talk will not be addressing natural gas issues, but will focus on the geologic controls on the origin of this important geologic formation."
The talk is sponsored by the Campus Artist and Lecture Series, the Geology Department and the Geology Club.
For more information, email McRoberts or call him at (607) 753-2925.
Roller Derby Women Dismiss Stereotypes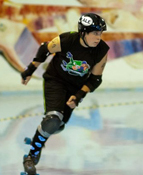 03/22/2012
All that Rachael Vallese needs is a pair of roller skates to prove that playing rough isn't just for men. After she gets her skates on, Vallese takes her no-fear mentality and sassy attitude to the arena where she coaches a women's roller derby team.
Vallese, a SUNY Cortland alumna who graduated in May 2011, will talk about her experiences as coach and owner of the B.C. Rollers Thursday, March 29, on WSUC-FM radio channel 90.5. The broadcast, which will include other members of Vallese's team as well as members of Cortland's Crown City Rollers, will air at 3 p.m. It also will stream live online at web.cortland.edu/wsuc/home.html.
Caroline Kaltefleiter, associate professor of communication studies, will host the broadcast, titled "How We Roll: A Conversation with Women in Roller Derby," as part of the College's Women's History Month 2012.
"Roller derby really taught me the importance of teamwork," said Vallese, who earned a B.A. in communication studies with a minor in women's studies. "When you are on a roller derby team, you rely a lot on your teammates. My team has become a family. We skate hard, we play hard and we love each other very much."
Roller derby is a full-contact sport played on roller skates with five women on each team. Teams are made up of jammers and blockers. Jammers skate quickly around the arena while the opposing blockers try to prevent them from passing their teammates. When a jammer passes a member of the other team, the jammer's team scores a point.
In a flash of motion, a member of the Binghamton County Rollers manuevers to take the lead.
Vallese, whose derby name is "Rusty Nailher," plans to discuss the significance of women in sports and its empowering capabilities.
"If you look to the beginning of sports, it's always been about men," she remarked. "Roller derby gives women an opportunity. We are taught that being aggressive is a masculine trait; in this broadcast, we want to shred those kinds of gender stereotypes."
Vallese and the other guests will address the modern woman in sports and her constantly evolving roles and "shifts." A woman's "first shift" is her career or paid employment. Her "second shift" is a feminist term referring to the unpaid housework and childcare responsibilities expected of many women when they come home from a full-time job. According to Vallese, involvement in sports creates a "third shift" for women.
The roller derby teams practice twice a week for three hours each day, year round. Since Vallese requires that players are to be on their skates for 10 hours a week, skating outside of practice is mandatory.
"We are a new league, but we are a serious league," Vallese said. "We all work really hard to make this thing succeed. It's not just a sport, it's a passion. Dedication to the sport is an absolute must."
One member of the Parlor City Tricks speeds on the perimeter of the rink, protected by her teammates.
With 20 years of speed skating under her belt, Vallese began playing roller derby with the Binghamton County Rollers in March 2011. The league is comprised of several teams. The Parlor City Tricks is the women's league, which is coached by Vallese and Felicia Smith, or "Malice in Chains." The youth team, The Savages, made up of girls ages 7 to 17 is also coached by Vallese alongside Nichole "Rampage," Rigal. A men's roller derby team is currently being developed.
The Binghamton County Rollers league gives back to its local community by volunteering at least once a month at events such as Relay for Life and Project Paws. The league also helped in the Binghamton, N.Y., and Sidney, N.Y., flood-relief cleanup.
A Women's History Month reception in the Corey Union Caleion Room will follow the broadcast. For more information, contact Kaltefleiter at (607) 753-4203.
Sports Medicine Symposium Tackles Spine Injuries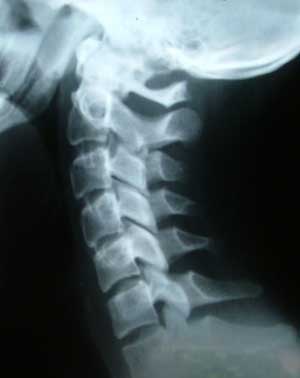 03/26/2012
SUNY Cortland will lead a sports medicine discussion that considers spine injuries and medical research during a one-day Sports Medicine Symposium on Monday, April 16.
MaryBeth Horodyski, a professor and director of research for the Department of Orthopedics and Rehabilitation at the University of Florida, will deliver the event's keynote talk, "From the Field to the Operating Room: Care of the Spine Injured Patient" at 1 p.m.
The entire program, which runs from 8:50 a.m. to 2:30 p.m., takes place in the Corey Union Function Room.
Registration for the symposium, which includes lunch, costs $25 for pre-registered members of the public and $10 for pre-registered students. Same day registration, available from 8:30 to 8:50 a.m., costs $30 for the public and $15 for students. Horodyski's keynote talk, however, is free and open to the public.
Sports-related spine injuries have continued to be a major issue in athletics. In 2010, Eric LeGrand, a football player at Rutgers University, was paralyzed while making a tackle. Three years earlier, Kevin Everett, a football player for the Buffalo Bills, injured his spine in a similar situation.
"Given the media attention that sports injuries continue to receive, it is important to bring this topic to SUNY Cortland," said Philip Buckenmeyer, an associate professor and chair of the College's Kinesiology Department. "While most of the audience will be interested in athletic training or sports-related research, anyone who's concerned with medical issues facing athletes can take something from the conference."
Patrick Donnelly, an athletic trainer in the Kinesiology Department, said several of the conference's speakers were lined up with undergraduate research in mind.
"We've made an effort to utilize speakers with different research areas and interests," Donnelly said. "Our hope is to provide students with an understanding of the value of research because it's vital for growth in the profession."
Horodyski has more than 20 years of experience in clinical research and sports injury treatment. At the University of Florida, she oversees all research activities of the Orthopedics and Rehabilitation Department, which includes supervision of five laboratories.
Her scholarly interests include spine trauma care, heat illness prevention and care, and injury prevention.
Bryan Hathaway, a physical therapist and owner of Peak Performance Physical Therapy and Fitness Center in Owego, N.Y., will kick off the symposium when he addresses "High Intensity Training Workouts for Sport Specificity" at 9 a.m.
Drue Stapleton '01, an athletic training graduate teaching assistant at West Virginia University, will discuss "Single Case Research Design in Athletic Training: An Alternative Energy Strategy for Evidence Based Practice" at 10 a.m.
Phoebe Adams Stapleton '02, a postdoctoral fellow at West Virginia University, will lecture on "I Didn't Want to Put Goals on a Treadmill" at 11 a.m.
Following lunch, Horodyski will deliver the program's keynote lecture. John Cottone, SUNY Cortland's dean in the School of Professional Studies, will offer closing remarks.
The event is funded by Bert M. Mandelbaum '75, M.D., a Campus Artist and Lecture Series grant, a small grant from the Faculty Development Center, the Kinesiology Department and the Athletic Training Program.
For more information, contact Buckenmeyer.
Undergraduates Showcase Research at SUNY-wide Event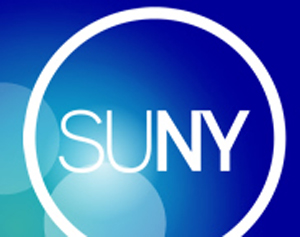 03/26/2012
Two teams of SUNY Cortland undergraduate researchers presented their work in chemistry and kinesiology last month at a SUNY-wide symposium in Albany, N.Y.
"Discovery: An Undergraduate Showcase," held Feb. 29 in the New York State Legislative Office Building, for the second consecutive year. The event included roughly 100 student-led poster sessions, covering an array of disciplines.
"There were a lot of people there and a lot of good conversations," said Virginia Martelli, a senior physics and chemistry double major from Cortland, N.Y. "It was a really cool experience."
Each of SUNY Cortland's teams included two student scientists. Martelli and Tyler Potter, a sophomore chemistry major from Queensbury, N.Y., showcased a research project on potential materials for use in electronics, titled "X-ray Diffraction Determination of Crystallization Kinetics in Zinc Silicate Germanate Films." Karen Downey, an assistant professor of chemistry at the College, advised their work.
John Roth, a senior kinesiology and physical education double major from Johnstown, N.Y., and Ayden Wilber, a senior kinesiology major from Woodstock, N.Y., authored "The Effects of a Short Term Cycling Bout on Run Economy." James Hokanson, an associate professor of kinesiology, mentored their project.
Joy Hendrick, a SUNY distinguished service professor of kinesiology, also served as a featured speaker at the event.
"Sometimes, it's hard to explain all of the things that we've done with our project," Martelli said. "We want to find out if either of two materials could be used for a light amplification device that would be implemented into optical circuitry.
"Right now, a lot of things use electronics and electronics are very inefficient," Martelli said. "Think about your laptop. It gets hot because you're pushing electrons through a wire and you're losing energy to friction."
An optical amplifier instead depends on photonics, a science that uses light.
"If light was used instead of electrons, less heat would be generated, and so there would not be a need to dissipate heat from heat-sensitive components," Martelli said. "So the space in a device that previously used fans or heat sinks could be used for something else."
She said their project requires a material that's not going to crystallize.
"Because if it crystallizes, the light will scatter, like in a prism," Martelli said.
The project that Martelli and Potter have undertaken tests different conditions for making materials. They then see if those materials will crystallize, searching for a material that will crystallize less.
"It's complex but interesting stuff," Martelli said.
Likewise, the research from Roth and Wilber validated important advice for triathletes.
"We basically showed the positive effects a warm-up can have on your running economy," Wilber said.
The pair studied a triathlete and a non-triathlete over two days. On the first day, both subjects ran and their running economies were measured. On the second day, both subjects biked for 20 minutes to simulate a short distance triathlon. After a short break that mirrored a triathlon's transition time, the participants ran again and their running economies were measured for a second time.
"We ended up finding there was an improvement in running economy for the triathletes," Wilber said. "And we attributed this to the fact that the cycling was a bit more of a warm-up for them."
Wilber said he soaked up the research presentation in Albany.
"Overall, it was a great experience," he said.
The Undergraduate Academic Programs and Policies Committee of the SUNY University Faculty Senate sponsored the event and SUNY Cortland's Undergraduate Research Council provided additional funding.
Did Mosquitoes Kill the Dinosaurs?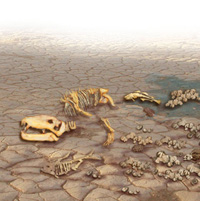 03/27/2012
The concept that dinosaurs may have met their demise through an insect-born disease is one of two topics open for debate following a screening of "Nova Science Now" segments at SUNY Cortland on Tuesday, April 3.
Three local paleontologists will offer perspectives on the science behind the "Nova Science Now" segments and lead an open discussion following the viewing of the popular Public Broadcasting System's science show. A 15-minute screening of "Dinosaur Plague" will begin at 7 p.m. in Sperry Center, Room 105. A second 15-minute screening of "Mass Extinction" will follow, also with commentary from the local experts and a question-and-answer period. The event is free and open to the public.
The paleontologists include:
• Warren Allmon, director of the Paleontological Research Institution and its Museum of the Earth in Ithaca, N.Y., and the Hunter R. Rawlings III Professor of Paleontology at Cornell University;
• Christopher McRoberts, professor of geology at SUNY Cortland; and,
• Robert Ross, associate director for outreach at the Paleontological Research Institution. "Evidence of the largest mass extinction occurred before dinosaurs even existed, during the Permian period 250 million years ago, when 95 percent of all animal life became extinct," McRoberts said. "The second "Nova" screening presents how big changes in the ocean and atmosphere were triggered by giant volcanic eruptions. We'll talk about the science behind that extinction."
"Nova Science Now" airs at 9 p.m. on Wednesdays on the Public Broadcasting System and is broadcast locally by WSKG Public TV.
For more information, email McRoberts or call him at (607) 753-2925.
Latino Culture Shared Through Fraternities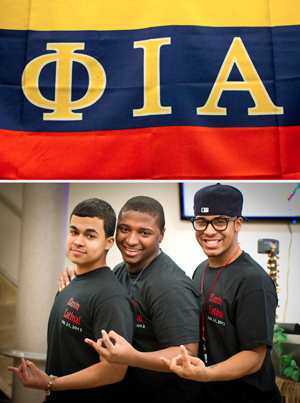 03/20/2012
The life of Latino students at SUNY Cortland begins to have a decidedly Greek look.
That's Greek as in fraternities and sororities, not The Acropolis of Athens. The opportunity for students of Latino and Latina descent and their friends to find cultural understanding, fellowship and emotional and academic support continues to increase as the number of Latino/a Greek organizations on campus expands from three to four.
Four female students will restart a Sigma Lambda Upsilon chapter, dormant on campus since the mid-1990s. The renewed Epsilon chapter of the Latina-oriented sorority at SUNY Cortland was recognized on Jan. 1. The future sisters will meet soon to formally express their interest in relaunching the chapter here.
"The expansion of the Latin American-focused groups is very much student driven," said Sandra Wohlleber, the College's assistant director of campus activities and Greek affairs. "These fraternal organizations speak to both who they are now and where they have come from."
Latino and Latina classmates affiliated with Phi Iota Alpha share a hand symbol of international brotherhood at the Sazón Latina dining event at Neubig Hall. They are, from the left, Jason Carriero, Phoebe Felix, Gustavo Santiago and David Paulino. Shown above left are Phi Iota Alpha brothers Brandon Matos, Shavar Evans and Jason Carriero. (All photos by Jonathan Rodriquez)

"You have community service opportunities," she said. "You have leadership opportunities. You have the value of academic success. As the added twist, you have the cultural heritage experience and value."
"I think it's a great thing," that a Sigma Lambda Upsilon chapter will start up here, said Jasmine Chandoo, who has served as president of the other Latina sorority on campus, Omega Phi Beta Sorority, Inc.
"Especially because they were on this campus before and now they're bringing new faces to Cortland," said Chandoo, a senior childhood education major. A Bronx, N.Y., native, she currently can't be as active in her sorority because she's in Tarrytown this spring completing her student teaching before she graduates in May.
"There is so much more (Greek) unity in Cortland, so much more awareness between all the Greeks of multiculturalism on campus," she said. "So I think it's amazing that Sigma Lambda Upsilon is coming back to campus."
At SUNY Cortland, the number and visibility of students who self-identify as 'Hispanic' in culture has gradually but steadily increased, with Latino/Latinas making up 16.6 percent of the 2010 freshman class, a sharp spike over prior years and almost five times as many as had become freshmen in 2000. In that same timeframe, Latin American individuals who comprised total graduates rose from 0.7 percent in 2000 to 1.4 percent in 2010.
"This is our way of enhancing the experience for one of our underrepresented populations, Latinos, the size of whose population is growing and whose retention rate is increasing as well," Wohlleber said. "We feel this is partially due to the welcoming environment and additional cultural opportunities present on our campus."
In recent years, the following three Latino/Latina fraternal organizations have sprung up at SUNY Cortland:
• Four male students formed the oldest cultural Greek organization that is currently active at SUNY Cortland, Lambda Upsilon Lambda, in February 2007. This group remains a colony with two brothers currently active with the fraternity.
• On Aug. 1, 2010, four male students started a Phi Iota Alpha colony that continues to seek chapter status. The group currently has seven members. Nationally, they are part of the oldest Latin American fraternal organization, having been formed in 1931.
• The other sorority, Omega Phi Beta Sorority Inc., was granted Beta Theta chapter status by the national organization this past fall, after having been formed in April 2009. The group has three sisters active in their sorority.
Enjoying the Sazón Latina dinner at Neubig Hall were Jose R. Valdez, shown in the foreground, and Glodibal Natera.
"One of the things I've learned in speaking with all the students is that, among our underrepresented students, there aren't a lot of what they feel are extracurricular activities that are of interest directly to them," Wohlleber explained. "With Latino groups, part of their goal is to share their cultural values and history so they can educate their peers and the community in general about the rich, cultural background they come from."
For example, recently the Phi Iota Alpha fraternity worked with the College's Auxiliary Services Corporation to plan an evening of authentic Latin American food, décor and music at Neubig Hall. The menu featured 34 appetizers, entrees, side dishes and desserts from the Caribbean, Central America, South America and Mexico. The late February event, Sazón Latina, was very well attended by students of all nationalities on campus, between 900 and 1,200.
"We all went back home at Thanksgiving and brought back 'grandma recipes,' as I like to say, so people could actually taste the home-cooked food from our perspective," said Jonathan Rodriquez, the president of Phi Iota Alpha and a founding brother. "We had complete recipes of everything. We made an oath that we would help out ASC all the way, from picking the clothing to the food and recipes and all that stuff. Because we're very familiar with the Latino culture.
"We had a great show of support from our Latino Greek brothers and sisters, including on-campus organizations and our visitors from two different schools, at SUNY Oswego and Syracuse University," said Rodriquez, a junior international studies major from Yonkers, N.Y.
The College's administration plays a role in fostering all new Greeks on campus, including social, service and cultural fraternal organizations.
"After detailed conversations with the national organizations to make sure their values are in line with SUNY Cortland's, we make sure we share the common goal of success for our students," Wohlleber said. "And this is the end result."
The cultural Greek organizations are typically small in number, whereas the social sororities can have as many as 100 members, Wohlleber said. One reason for their small size is that cultural Greek organizations tend to have a much more careful recruitment process.
Alitia Braithwaite, shown in the foreground, enjoys the occasion with her friend, Aliyah Yazmeen Sullivan.
"In our organizations, we look for quality over quantity of women," Chandoo said. "We believe if we can find strong women, they can move forward and make our vision continue."
She noted the sisters may find themselves flexing their muscles together working out at the gym or toning their minds together in the sorority's weekly library study buddy sessions that are open to all. They might host a Safe Halloween event for local schoolchildren at the YWCA or sponsor an educational event focusing on Hispanic or Indigenous culture.
A model Greek representative, Chandoo also has served as vice president of the Greek Multicultural Council and treasurer of the Urban Education Club. She has studied as a scholarship recipient in the College's Cortland Urban Recruitment of Educators (C.U.R.E.) Program.
"I was a very shy person before and through my education membership program, which I went through with three other young ladies," Chandoo said. "It helped me grow and become more confident in myself. It also showed me professionalism. I knew what professionalism was, but through my organization we focused very much on how to be professional and how to carry yourself as a woman.
"Also we're basing our organization on woman empowerment," she said. "We're always there together to support each other and tell each other, 'Nothing can hold you back because of your gender.'"
"We have a brother who is going to come up from SUNY Stony Brook to discuss the power of networking, such as Linked-In and other social networking," Rodriquez said. "We want to educate people about what to do next for their career. We try to set an example of professionalism and service."
This spring his brothers plan, for example, a series of game nights with young people at the Cortland Youth Bureau.
"In the Sazón Latina, we incorporated a fund-raiser for UNICEF, our international charity," Rodriquez said. "We sold stuffed animals at the dinner and raised over $250 for UNICEF toward our $500 goal this semester."
None of the cultural Greeks owns or has plans to own or occupy an off-campus chapter house.
"A Greek organization is not defined by its physical structures but by the values and ideals held by its members," explains Wohlleber.
Nor are members of a Latin American Greek organization necessarily defined by their ethnic roots, according to Chandoo and Rodriquez.
"We are a Latina oriented organization and we do have aspects of our organization to reflect Latina culture, but we do accept women of all nationalities," said Chandoo, recalling the two Puerto Rican sisters and one Bangladeshi sister who completed the membership intake class with her in Syracuse.
"I'm Dominican and Trinidadian, and the other three women who joined the sorority with me are Cuban/Dominican, Ecuadorean, and Cherokee Indian/African American," Chandoo said. "A founding sister was Irish. We came from very different cultures."
A Sazón Latina dining event at Neubig Hall attracted classmates from many different cultures to share food with a connection to Latino heritage.
Members presently find sufficient family ties in the companionship of their organizational brothers and sisters on campus as well as at other universities in Binghamton, N.Y., and Syracuse, N.Y.
"We definitely lean on each other, Rodriquez said. "If school isn't in session, we'll go and visit each other. And there's definitely a support system. We use communication means like social media and social networking sites to communicate with each other. We see each other's flyers and try to show up at each other's events."
"All our Greek multicultural groups are under the National Association of Latino Fraternal Organizations (NALFO), with one vision that unifies us," Chandoo said. "We are unified with other organizations in the Pan-Hellenic council because we all have something in common.
"We join these organizations for various reasons but at the end of the day, we all have common reasons for being in the groups," Chandoo said. "Ours is advocacy to end violence against women. And we're very big on community service and giving back.
"As a marginalized group of people, we all look to strengthening ourselves," Chandoo said. "We always lean on each other, depend on each other to strive for more and do better all the time. So I think that one thing that unifies us besides our cultural background and maybe our experiences is the fact that we all know that we have gone through a struggle. We push forward so that we can do better for ourselves, better than our parents hoped."
"We operate 'big' because we have a small number of people," Rodriquez said. "We try to have the biggest impact we can. You read the statistics that many Latinos are not going to college or finishing college. We're proud because the number of people in Latino Greeks is definitely the largest we've seen. This shows progress."
Final Brooks Lecture Deals with Islamic Text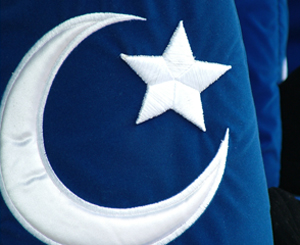 03/27/2012
Emil Homerin, a nationally recognized specialist in Arabic literature and Islam, will discuss the power of words and their impact on Islamic life and culture on Wednesday, April 11, at SUNY Cortland.
Homerin, a professor of religion at the University of Rochester, will lecture on "The Word of Islam: Language, Religion and Culture in the Muslim World" at 4:30 p.m. in Moffett Center, Room 2125.
The event, which is free and open to the public, represents the fifth and final talk in the 2011-12 Rozanne M. Brooks Lecture Series, themed this year on "Culture and the Written Word."
A reception to welcome Homerin will precede the talk at 4 p.m. at the Rozanne M. Brooks Museum in Moffett Center, Room 2126.
Homerin also will focus his talk on the Qur'an, the prophetic traditions of the prophet Muhammad, legal edicts and poetry.
Homerin teaches courses in Islam and classic Arabic literature at the University of Rochester. He has lived and worked in Egypt and Turkey for several years, has written and translated multiple publications including The Wine of Love and Life: Ibn Al-Farid's Al-Khamriyah and Al-Qaysari's Quest for Meaning, From Arab Poet to Muslim Saint, Ibn al-Farid: Sufi Verse and Saintly Life and Passion Before Me, My Fate Behind: Ibn al-Farid and the Poetry of Recollection.
His research was supported by grants from the Mrs. Giles Whiting Foundation, the Fulbright Foundation, the American Research Center in Egypt and the National Endowment for the Humanities.
At the University of Rochester, Homerin has been recognized for his excellence in teaching and has won a number of awards including the American Association of Teachers of Arabic Translation Prize; the Goergen Award for Distinguished Achievement and Artistry in Undergraduate Education; and the Golden Key Honor Society's recognition for contributions to undergraduate education.
The Brooks Lecture Series honors the late Rozanne M. Brooks, a SUNY Distinguished Teaching Professor and SUNY Cortland professor of sociology and anthropology who served on the faculty for 36 years. The 2011-12 Brooks Series is sponsored by a grant from Auxiliary Services Corporation (ASC) and the Cortland College Foundation.
For more information, contact Sharon R. Steadman, the lecture series organizer and Brooks Museum director, at (607) 753-2308.
Admissions Open House Set for March 31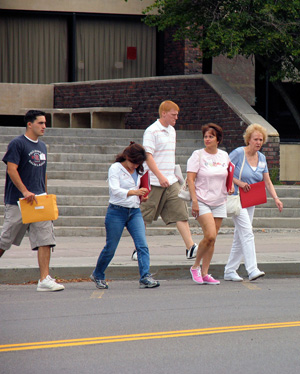 03/23/2012
The 30th Annual Admissions Open House, a one-day program allowing accepted freshmen, transfer applicants and prospective students to better acquaint themselves with SUNY Cortland, is expected to attract 1,800 visitors to campus on Saturday, March 31.
This year, more than 11,300 prospective freshmen have applied for admission to the fall semester at SUNY Cortland, said Betsy Cheetham, assistant director of admissions at the College and coordinator of the Open House since its inception in 1983.
Additionally, the College anticipates more than 2,500 transfer applications for the Fall 2012 semester, she noted. In the past, more than 70 percent of the prospective first-year students who attend Open House actually enroll in the fall semester and 90 percent of the transfer applicants enroll.
"This program serves as a defining moment for our accepted students in determining whether SUNY Cortland will be in their future," added Mark Yacavone, SUNY Cortland director of admissions. "It is an informative and exciting day."
Events will take place in Park Center and Corey Union.
Visitors are encouraged to take part in a variety of information sessions and tours, Cheetham explained. The dining halls will welcome the visitors to eat alongside current students at no charge for the prospective students and at the regular rate for their family members.
Open House begins at 9:45 a.m. in the Park Center Alumni Arena with welcoming remarks by College President Erik J. Bitterbaum, Student Government Association President Jamie Piperato and Yacavone.
An academic fair and a variety of student organization programs and student services will be offered in Park Center Corey Gymnasium between 10:15 a.m. and 12:30 p.m. Prospective Cortland students and their families can meet current faculty and students to discuss the College's major and minor programs, as well as its clubs and activities. Walking tours of campus led by current students will include academic buildings and residence halls. A shuttle bus will transport students wanting to tour the West Campus Apartments.
Information on an array of programs relating to the academic, cultural and social life of the Cortland campus will be presented between 10:30 a.m. and 1:45 p.m., in Park Center and Corey Union. Sessions will cover housing and residence life for both freshman and transfer students, financial aid, Honors Program, career services, academic support services and dining, college store and other essential services. Other sessions include campus activities and involvement, Greek life, study abroad, student disability services, recreational opportunities, intramural sports, fitness and sport clubs, childhood and early childhood education, sport management, pre-med advisement, transfer credits, and learning opportunities for students who haven't declared a major. In addition, Kickline and the Cortland Dance Company will perform.
Lunch will be available in the Brockway Hall, Neubig Hall and Corey Union dining facilities.
Guests also are invited to attend campus athletic and cultural events. Home games will include a softball doubleheader at noon versus SUNY Geneseo, a baseball doubleheader at noon versus SUNY Plattsburgh and men's lacrosse versus SUNY Plattsburgh at 1 p.m. There will be no admission charge for athletic events on Open House day.
At 8 p.m., "Violet," the hit off-Broadway musical of the 1990s, will take place in the Dowd Fine Arts Center Theatre. This powerful story by composer Jeanine Tesori and playwright and screenwriter Brian Crawley is set in the Deep South during the early days of the Civil Rights Movement. The musical stirs the senses of beauty, love, courage, faith and what it means to see beyond appearances. Tickets will be sold at the door for $7 for Open House guests and all students, $14 for senior citizens and SUNY staff and $16 for the general public.
For more information, visit online at www.cortland.edu/admissions or contact Cheetham at (607) 753-4712.
Tyler Freeman is Study Abroad's Chief Promoter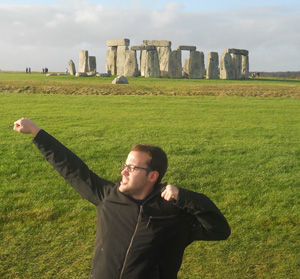 03/26/2012
Tyler Freeman envisions the beaming Eiffel Tower looming off in the distance as his fellow SUNY Cortland students walk to class. The senior sport management major also can picture classmates interning on the sandy coastline of Belize.
Freeman, the student coordinator of Cortland Study Abroad Promoters (CSAP), describes his experiences abroad as "amazing and eye-opening."
Through the wide array of SUNY study abroad programs, SUNY Cortland students have the opportunity to travel overseas and immerse themselves in a new culture, all while earning credit through classes or internships.
During his time abroad as a senior, Freeman attended classes at London Metropolitan University in England, where class was just a short subway or "tube," ride away.
"Studying abroad at London Metropolitan was the best thing I've done since coming to Cortland," said Freeman, who also enjoys intramural soccer. As a youth in Poughkeepsie, N.Y., he didn't travel abroad but his family hosted several English soccer coaches. "Nothing compares to being in another country."
Tyler Freeman, shown in the third row fourth from the left,explores the streets of London with companions enrolled in study abroad programs. Above left, Freeman is shown visiting the ruins at Stonehenge.

During his overseas adventure in England, Freeman struck a pose with Stonehenge as the backdrop, visited London's Big Ben and the Tower Bridge over the River Thames and explored England's bustling capital streets with fellow study abroad students.
"There was always something to do," said Freeman, who helped fundraise for the 2010 and 2011 Lose the Shoes soccer tournament with the Sport Management Club at the College. "I have made over 40 friends from across the world and have stayed in contact with them. The English breakfasts are gigantic, night clubs are open until 7 a.m., and football (soccer) is religion."
Freeman commonly hears students say they think that studying abroad may be too expensive or they will get behind in their course-work.
"There are lots of different programs," said Freeman, who is gaining internship credit for his CSAP role. "Students can get local or regional scholarships to help out with costs. Money shouldn't inhibit you."
"Studying abroad can be affordable," added Hugh Anderson, study abroad advisor in the International Programs Office at SUNY Cortland. "Programs like China and Costa Rica can even be less expensive than a semester here at Cortland, which really makes this an option."
According to Freeman, students need not worry about falling behind in school, as the overseas university and internship credit will transfer back to the College and apply toward graduation credit.
CSAP was developed five years ago to encourage returning study abroad students to share their experiences and promote overseas scholarship to prospective participants.
"Students like Tyler that are promoting studying abroad have greatly increased the number of students going overseas," Anderson said. "It really gets them to start dreaming of the possibility of studying abroad."
"People don't think they ever have time to study abroad, but there always is time," Freeman said.
SUNY Cortland offers 24 different study abroad programs which all vary in place, cost, time of year and length of time. There are more than 600 programs throughout the SUNY system that are available to all SUNY students.
Freeman encourages professors and resident assistants to schedule a CSAP presentation. Speakers give a 10 to 15-minute presentation about their first-hand accounts of being a student overseas and general information about the different programs offered.
For more information or to schedule a speaker, contact Freeman.
Roundtable to Focus on Emotional Intelligence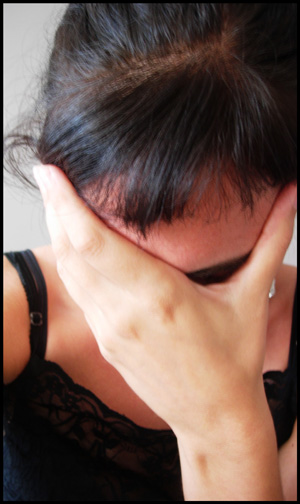 03/26/2012
Students with a higher awareness of their emotions have been proven to have a better quality of relationships and a lower absentee rate than those with a lower emotional intelligence (EI), said Lesley Teitelbaum, a psychologist and member of the Psychology Department at SUNY Cortland.
Teitelbaum, who also asserts that EI can reduce health risks, will explain her theories on Thursday, April 5, during a community roundtable at SUNY Cortland.
"Unexpressed anger and emotion can be very dangerous to cardiovascular health," said Teitelbaum, who will present "Emotional Intelligence: The Role of Mindfulness," at 8 a.m. in the Park Center Hall of Fame Room.
Presented by the President's Office and the Field Experience and School Partnerships Office, this event is free and open to the public. A question-and-answer period will follow. Refreshments will precede the lecture at 7:45 a.m.
EI, according to Teitelbaum, is the ability to identify and express feelings and communicate effectively to build positive relationships.
"Our society doesn't place as much value on emotional awareness and sharing innermost thoughts," Teitelbaum said.
She will share her ideas about how mindfulness, a simple and effective meditative technique, can be used to enhance several aspects of EI.
Teitelbaum will discuss the five dimensions of EI, including self-awareness, empathy, emotional regulation, self-motivation and relationships.
"Learning emotional intelligence could be a wakeup call for society," Teitelbaum said. "With it, we could have a more productive and peaceful society."
EI may help to manage, understand and explain emotions, she said. Unlike an IQ, one's EI can be learned, and therefore developed and improved.
"Emotional intelligence is responsive to interventions in a way that an IQ is not," Teitelbaum said when comparing academic intelligence to emotional intelligence.
"I hope that I can begin to create emotional awareness," said Teitelbaum. "I want to introduce the notion of mindfulness and its role in increasing emotional intelligence and well-being."
Public parking is available in the Park Center lot during the roundtable. The Community Roundtable series provides programs on diverse intellectual, regional and cultural topics of interest to College faculty, staff and community members. The roundtables will be held on the first Thursday of the month in April and May.
For more information, contact the Field Experience and School Partnerships Office at (607) 753-4214.
Faculty Member's Wine Book Earns Top Honor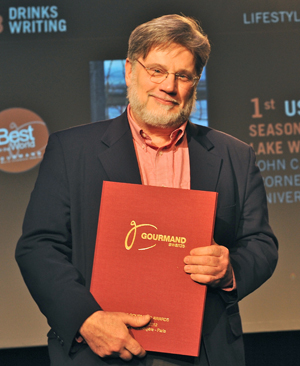 03/27/2012
The story of a young, mom-and-pop Finger Lakes winery recently received international praise in Paris, a city where food and drink writing is considered literary art, thanks to an award-winning work by a SUNY Cortland communication studies professor.
Seasons of a Finger Lakes Winery, a 2011 non-fiction book by John Hartsock, took home a first-place prize out of more than 1,000 entries from 162 countries at the international Gourmand Awards. The ceremony, held at the Folies Bergère on March 6, celebrated quality writing about fine food and beverages.
Hartsock's book won in the lifestyle category for drinks writing.
"I was so sure I wasn't going to get (the award) that I sat in the balcony," said Hartsock, a SUNY Cortland faculty member since 1997. "I was stunned."
An avid wine taster, he said the book was as much about returning to a previous career in journalism as it was writing about Finger Lakes Rieslings. Prior to instructing college students, Hartsock wrote for small newspapers along the East Coast and a Washington, D.C., wire service.
"I never intended to completely give up journalism," Hartsock said. "I kept my eyes open for a story and, because I do like wine, because we have this marvelous resource of wineries nearby and because I met a local couple who owns one, slowly I started focusing in on this idea."
Hartsock's human-interest story traces the changing seasons at Long Point Winery, a young business operation situated on Cayuga Lake in Aurora, N.Y. The winery, which opened in 1999, is owned by Cortland residents Gary and Rosemary Barletta.
John Hartsock, a professor of communication
studies, took home a first-place prize at
the international Gourmand Awards in Paris
on March 6.
Hartsock put more than five years of research and observation into the book. When it was finished, the text encompassed more than just wine tasting; it was about a budding business that faced some setbacks and enjoyed several triumphs in its early years.
"There was so much that I learned," said Hartsock, who made a half-hour drive twice a week to the winery. "I just can't narrow it down to one thing."
Gary Barletta taught him plenty about the maturation process of wine.
"You could tell that the longer (the wine) aged in oak barrels, the better it was," Hartsock said.
He saw grapes crushed and the juice slowly ferment. He also witnessed the wrath of Mother Nature. During one winter, a warm spell allowed vines to bud. A deep freeze followed, and many Finger Lakes wineries suffered.
"Still, you could see each year, they were getting a little more successful," Hartsock said. "It was wonderful to see a local couple slowly bring about this dream."
Hartsock eventually accomplished his own goal when Cornell University Press signed on to publish his manuscript. The 200-page book earned him a trip to Europe, where he won the award and enjoyed a mini-tour of France.
He lectured at the Festival du Livre Culinaire and shared some of the best wines from the Finger Lakes with a French audience, keeping in mind its high expectations and a storied beverage-producing past.
"They've been making wine for thousands of years, which is a considerable head start," he said.
Some semi-dry wines proved too sweet for French taste buds, but a bottle of Cabernet Franc, a very dry wine with good acidity, exceeded their expectations.
"They were enthusiastic," Hartsock said. "They were surprised that a winery so young in the Finger Lakes could make such a good wine."
Not surprisingly, the author celebrated his recent award with a glass of wine.
"The French are into wine and food in a way that's difficult for Americans to appreciate," Hartsock said. "For them, (writing about wine and food) is considered literary art.
"So to receive the award there, of all places, made it special."
Alumni Speaker Panel Looks at Careers in Recreation
Students interested in careers in the recreation and leisure industries should attend SUNY Cortland's final 2011-2012 Alumni Speaker Series event on Tuesday, April 3.
The panel discussion begins at 7 p.m. in Corey Union Exhibition Lounge. It is free and open to the public. Light refreshments will be served.
Panelists include Jessica M. Daily '01, director of the Walden Place Assisted Living Community Resident Program in Cortland, N.Y.; Kelly R. Diemond '96, assistant executive director for Exceptional Family Resources in Syracuse, N.Y.; Rhonda Jacobs '01, assistant director of SUNY Cortland's Center for Environmental and Outdoor Education; Molly A. Riley '79, assistant director for service development at JM Murray Center in Cortland; and Mark E. Turnbull '04, counselor aide at Syracuse Behavioral Health Care in Syracuse.
The Alumni Speaker Series is sponsored by the Alumni Affairs Office and Career Services. For more information, visit the Career Services website or call them at (607) 753-4715.
College to Exhibit at Business Showcase
Students, faculty and staff who want to learn more about what their local business community has to offer can visit Cortland Area Chamber of Commerce Business Showcase Saturday, March 31, where SUNY Cortland will be one of the exhibitors.
The showcase will run from 10 a.m. to 3 p.m. in the JM McDonald Sports Complex, 4292 Fairgrounds Drive. More than 60 local businesses will be exhibiting, including SUNY Cortland, which will be highlighting its civic engagement programs and the upcoming N.Y. Jets Training Camp.
The event will feature free giveaways, door prizes and entertainment. For more information, contact the Cortland Area Chamber of Commerce at (607) 756-2814.
College Singers Will Perform on April 10
The SUNY Cortland College Singers will present a concert titled "Two and a Half Stephens" featuring compositions from some very well-known and not-so-well-known composers by that name, on Tuesday, April 10, at SUNY Cortland.
The concert, which begins at 8 p.m. in the Dowd Fine Arts Theatre, is free and open to the public.
The program will consist of music from Stephen Schwartz's "Pippin," "Godspell" and "Wicked," and Stephen Sondheim's "A Little Night Music," "Evening Primrose," "Company" and "Follies."
The ensemble's director, Professor Stephen Wilson, a faculty member in the Performing Arts Department whose academic specialty is music, is the "half" in the title and has arranged many of these works for chorus and piano.
Student soloists will be featured in most of the selections. Richard Montgomery, staff pianist for the Performing Arts Department, will accompany the soloists.
For more information, call Wilson at (607) 753-4615.
Cast Announced for 'Speaking In Tongues'
SUNY Cortland's Performing Arts Department has announced the cast for its production of "Speaking In Tongues," a psychological thriller that begins when two couples in unstable marriages inadvertently exchange partners. One couple goes through with the infidelity while the other does not, and the repercussions are profound.
The play will be performed in the Dowd Fine Arts Center Lab Theatre at 8 p.m. from Thursday, April 12, through Saturday, April 14, and at 2 p.m. on Sunday, April 15.
In the second act, a psychologist and her husband are brought into the story, but the psychologist disappears after her car breaks down on a deserted road, posing the question, "Has she been murdered?" As the play unfolds, it is revealed how the two couples from the first act are tied to the psychologist and her husband, and the audience discovers a chain of coincidences that lead to an unexpected conclusion.
"Speaking In Tongues" was written by Australian writer Andrew Bovell and is directed by Robert Moss, the former artistic director of Syracuse Stage and the Hangar Theatre in Ithaca, N.Y.
The cast features Derek Mellor as Leon; Charles O'Connor as Pete; Katie Quigley as Sonja; Samantha Rey as Jane; Mike Meany as John; Catherine Skojek as Sarah; Kerry Maloney as Valerie; David Newman as Nick; and William Swenson as Neil.
Admission is $12 for the general public, $10 for senior citizens and SUNY staff, and $5 for all students. Tickets will be available at the door prior to each performance. "Speaking In Tongues" is recommended for mature audiences.
For more information, visit the performing arts website or call (607) 753-2811.

Suggest a feature story
---
Faculty/Staff Activities
Seth N. Asumah
Seth N. Asumah, Africana Studies and Political Science departments, is the author of a book chapter, "African Cultures, Modernization and Development: Re-examining the Effects of Globalization." It will be included in a new book, Globalization and the African Experience, edited by Emmanuel M. Mbah and Steven J. Salm, to be published in 2012 by Carolina Academic Press.
Cynthia Benton
Cynthia Benton, Childhood/Early Childhood Education Department, presented her paper, "The Role of Teacher Gender in Professionalization, Curriculum and Instruction and Student Achievement in Elementary School," at the 2012 American Institute of Higher Education's International Conference held March 7-9 in Williamsburg, Va.
Mark Dodds
Mark Dodds, Sport Management Department, co-edited The Encyclopedia of Sport Management and Marketing, which was recently recognized with a Best Reference 2011 - Business and Economics Division award by Library Journal. The encyclopedia featured submissions by faculty members Genni Birren, Ted Fay, Peter Han and Jordan Kobritz, and former faculty Kevin Heisey and Jim Reese, as well as many former sport management graduate students.
Karen Downey
Karen Downey, Chemistry Department, presented her research, "Crystallization kinetics and energetics of erbium-containing zinc silicate germanate thin films," at the American Chemical Society national meeting on March 25 in San Diego, Calif.
Kathryn Kramer
Kathryn Kramer, Art and Art History Department, had her critical review of the photography and video art on display at the recent New Orleans biennial exhibition, Prospect New Orleans.2, published in the March-April issue of Afterimage: The Journal of Media Arts and Cultural Criticism. In addition, her article, "Flanerie and the Globalizing City," co-authored with John Rennie Short, was published in the June-August 2011 issue of City.
Molly McGowan
Molly McGowan, English Department, facilitated a full-day Appreciative Inquiry (AI) Summit for the Division of Student Services and Administration at Troy University in Alabama. Appreciative Inquiry is an organization development model for facilitating positive change in human systems, such as organizations, groups and communities. The outcomes of the summit were to introduce Troy staff to the concepts and examples of AI and, as fully engaged participants, learn the basic techniques of AI so they can begin to apply them at their university.
Mechthild Nagel
Mechthild Nagel, Philosophy Department and Center for Gender and Intercultural Studies (CGIS), has begun her year-long teaching duties at Germany's Fulda University of Applied Sciences, a partner university with SUNY Cortland. She teaches in the areas of social philosophy and diversity education. She received a German Academic Exchange Service (DAAD) Visiting Professorship.
Robert Spitzer
Robert Spitzer, Political Science Department, has been invited to serve as a fund and organizing leader for the American Political Science Association's new Distinguished Teaching Award, a nationwide award to be given to recognize outstanding teaching in political science.
Bryan Thomas
Bryan Thomas, Art and Art History Department, had his work accepted for the "Made in New York 2012" exhibition opening on Saturday, March 31, in Auburn, N.Y. His selected sculpture is a reflection on current events in Afghanistan, made of "knitted" plastic army men in the form of a child's quilt. His work is one of 74 selected entries from a total of 549 by 294 regional artists. The annual exhibition was juried by Richard Kegler and Sydney Waller. The opening reception is from 3-5 p.m. on March 31 at the Schweinfurth Memorial Art Gallery, 205 Genesee St., Auburn.

Submit your faculty/staff activity