New Red Dragon Buses Start Rolling on Campus
01/31/2012
A new fleet of eye-catching and environmentally friendly College buses greeted students returning to the SUNY Cortland campus for the spring semester, offering rides on vehicles that use cleaner fuel and sport creative, shrink wrapped graphics featuring the Cortland Red Dragon.
The graphics, which imaginatively combine images of Blaze, the College's red dragon mascot, with messages on sustainability, are featured on four new buses acquired by SUNY Cortland this fall to run regular transportation routes through campus.
"According to the Chinese zodiac, 2012 is the year of the dragon, and that's especially true at SUNY Cortland, where our own Red Dragon will greet students at campus bus stops every day," College President Erik Bitterbaum said. "There's nothing quite like this on any other campus in the SUNY system."
Two of the new, propane-fueled buses are covered with shrink-wrapped images that transform the front of the bus into the head of a determined-looking red dragon with striking green eyes. The message on the side of the bus reads: "Get Green Vision."
Another wrap shows a pair of giant red dragon feet crunching down on the roof of the bus and creates the illusion of broken windows and mangled metal. The slogan on the side reads: "Jump on board!" The wording refers to both riding the bus and joining the College's effort to dramatically reduce its carbon emissions.
The third design wraps the side of the bus in flames exhaled by Blaze, with the motto: "Red Dragon Power." Unlike the other buses, this one is powered by traditional diesel.
The College decided to replace most of its aging campus buses with propane-fueled vehicles last year as part of its Climate Action Plan, which calls for reducing greenhouse gas emissions dramatically in the near term and becoming completely carbon-neutral by 2050.
SUNY Cortland unveiled three eye-catching bus wraps for
its fleet of propane-fueled buses.
The U.S. Environmental Agency lists propane as a clean alternative fuel. It produces lower amounts of greenhouse gases than gasoline or diesel, costs significantly less.
College officials also saw the new bus purchases as an opportunity to increase awareness of climate issues and SUNY Cortland's efforts to shrink its carbon footprint and operate sustainably. To do that, the College incorporated the kind of bold, colorful and creative graphics that some campuses have used to promote their sports teams.
"We want students to know that we're serious about sustainability and are encouraging them to be more aware of the connections between their environment and all aspects of their lives," President Bitterbaum said. "But we wanted to do it in a fun way that fosters pride in our institution."
The buses run throughout the school day in regular routes across the sprawling, SUNY Cortland campus.
Library to Showcase Underground Railroad
01/31/2012
This year's celebration of Black History Month at SUNY Cortland will have the distinct flavor of the underground railroad that is so closely interwoven with New York state's history.
At Memorial Library, members of the campus community and public will have an opportunity see the National Abolition Hall of Fame and Museum's "Traveling Abolition Museum" exhibit on display in Memorial Library lobby areas through the month of February.
The library exhibit, "Abolishing the Chains of Slavery: Central New Yorkers to the Rescue," traces the clash between slavery interests and the abolition movement in the 1830-1870 period. It is on loan from the Peterboro, N.Y., hall of fame and museum.
Additionally, Milton Sernett, an historian on African American religious history and the abolition movement, will speak on campus Wednesday, Feb. 8, and Robert Djed Snead, a performing historical re-enactor, will portray a famous Syracuse abolitionist Thursday, Feb. 16.
The programs are sponsored by Memorial Library, The Friends of Memorial Library, United University Professions and the Campus Artists and Lecture Series.
These and the many other Black History Month educational and cultural events at the College are free and open to the public, unless otherwise noted.
An opening ceremony for "Abolishing the Chains" will take place from 3 to 4 p.m. Wednesday, Feb. 1, on the Memorial Library's second floor. Seth Asumah, a SUNY Distinguished Teaching Professor of political science and chair of SUNY Cortland's Africana Studies Department, will offer remarks at the ceremony.
"Abolishing the Chains" is comprised of eight freestanding display panels that depict — in pictures and text — the people, documents and events that shaped the slavery-abolition conflict up to and after the Civil War.
Most of the panels are near the second-floor recreational reading area, but some are on the first-floor lobby near the Library Commons and Teaching Materials Center areas. The library also will display documents and artifacts relating to modern slavery or human trafficking and highlighting black history resources. The materials, showcased in the main lobby to the right, were supplied by College faculty members.
Sernett, professor emeritus of African American studies and history at Syracuse University, will discuss "We Must Abolish Slavery! — North Star Shining: The Abolition Crusade in Upstate New York" at 4 p.m. on Wednesday, Feb. 8, in Corey Union Exhibition Lounge.
Sernett developed the "Abolishing the Chains" panels. A scholar on African American religious history and the abolition movement, among other areas, Sernett has authored the noted anthology African American Religious History (1999), and the more recent North Star Country (2002) and Harriet Tubman: Myth, Memory and History (2007).
An inquisitive visitor peruses one of the eight panels on "Abolishing the Chains of Slavery: Central New Yorkers to the Rescue," during a prior exhibition. The current display can be viewed at Memorial Library through the end of February. One panel's detail of an escaping slave family is shown to the upper left.
Snead, a performing historical re-enactor, lecturer and storyteller from Rochester, N.Y., will present "Re-enacting a Historical Figure (Rev. Jermain W. Loguen)" at 4 p.m. on Thursday, Feb. 16, in Brockway Hall Jacobus Lounge. He also will perform a sample of the many aspects of his re-enactment of Loguen, and then will discuss the research and preparation he does to become the historical character for presentations. A question-and-answer session will be included.
At 7 p.m. in Sperry Center, Room 205, Snead will perform "Escaped Slave and Now Rev. Jermain W. Loguen Visits Cortland." Snead offered this re-enactment during the 2011 Induction Ceremonies for Rev. Loguen at the National Abolition Hall of Fame and Museum.
"This is exactly the kind of thing we want the Friends of the Library to sponsor, because libraries are really part of the cultural fabric of the country and our communities," said Library Director Gail Wood.
"And because we are part of the College, we are educators, too," she said. "Black History Month is a great opportunity for us to provide more information on how upstate New York and Central New York provided support for the abolition movement."
"Jermain Loguen became a powerful voice for abolition and for human rights in Central New York," said Associate Librarian David Ritchie, organizer of the library events, about the planned re-enactment.
An escaped slave, Loguen first learned to read and write in Canada, and then became a pastor and eventually a bishop in the AME Zion Church in Syracuse, according to Ritchie. Loguen and his wife provided a much-publicized stop at his home for slaves making their way to Canada and freedom on the underground railroad. The abolitionist also helped engineer the 1851 "Jerry Rescue" of a captured escaped slave. He made an early documented visit to the village of Cortland to tell his story at both the Presbyterian and Baptist Churches.
"Snead will de-construct his process of becoming a historical figure, which might be of interest to performing arts majors or teacher education majors," Ritchie said.
Wood, a quilter, will sew together several quilt squares for one display that shares a more controversial aspect of the Underground Railroad history: whether or not slaves had used the artwork to communicate with others about what to expect along their road to freedom.
"Some people think that many of the quilts made during the Civil War era were made by slaves," Wood said. "Blocks on the quilt were messages, like the hobo languages: a pictogram language that tells people who are moving around the country what they can expect. The quilt blocks could give warnings, show places they might eat or stay."
Other historians have argued that examples or such quilts can't be found, aren't pictured in needlework magazines of the day, and slaves were not given access to quilting materials, Wood said.
For more information about library events, contact Ritchie at (607) 753-2818.
For more information about other Black History Month Events, contact Asumah at (607) 753-2064, or in Old Main, Room 208-B.
---
Capture the Moment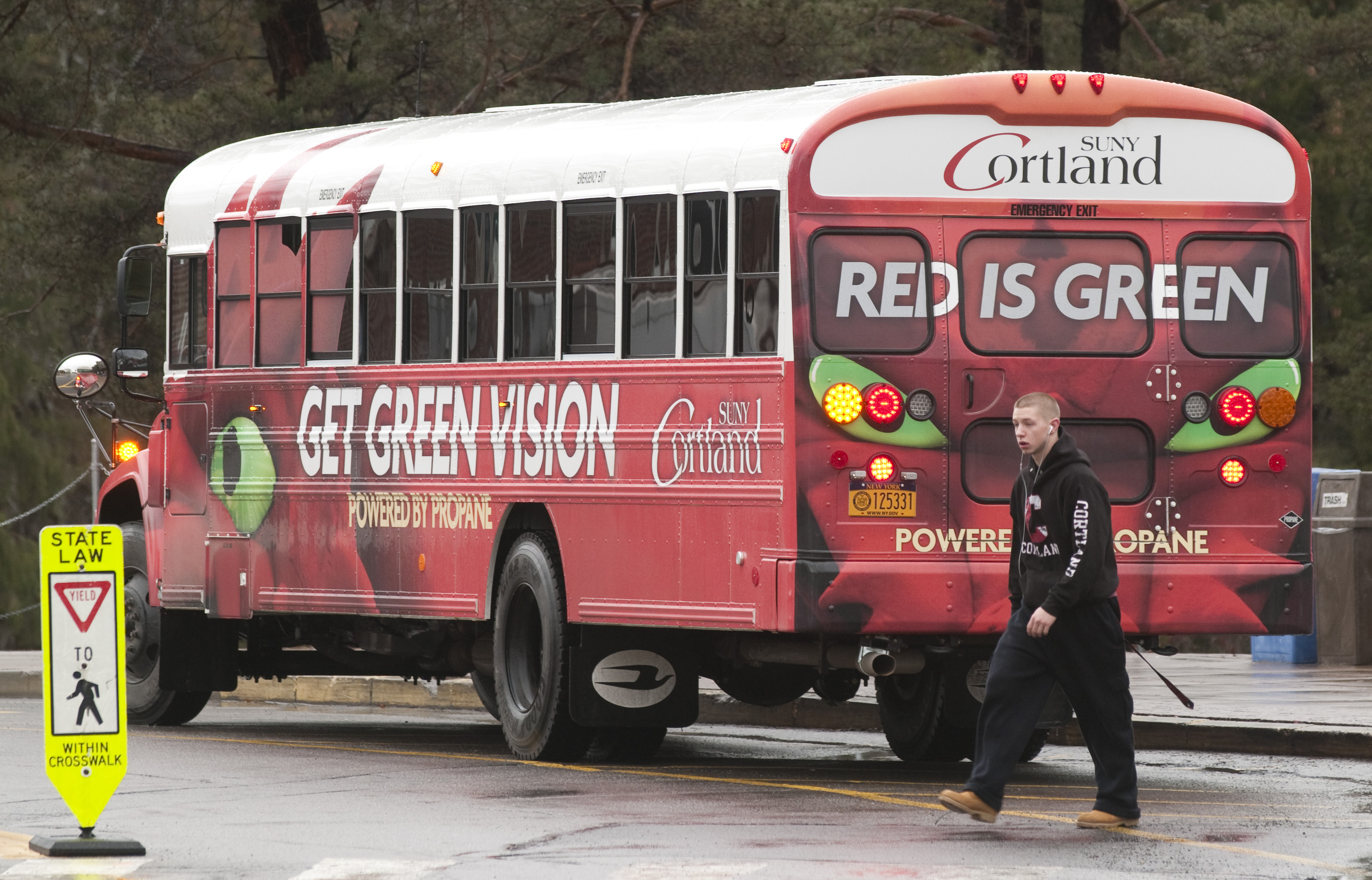 Four new, propane-fueled buses covered with shrink-wrapped images greeted students when they returned for the spring semester. The pictured bus includes the head of a determined-looking red dragon with striking green eyes. The message on the side of the bus reads "Get Green Vision," which incorporates the College's efforts to reduce its carbon footprint and operate sustainably.
---
In Other News
February Events to Mark Black History Month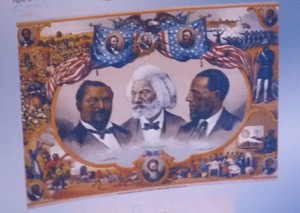 01/31/2012
SUNY Cortland will celebrate Black History Month (BHM) throughout February with a series of events including exhibitions, lectures, sandwich seminars an historical re-enactment and musical performances.
BHM campus events will be posted online in the College's home page calendar and on the Africana Studies Department and the Multicultural Life and Diversity Office websites. Events are open to the public and free unless otherwise noted.
Highlights will include:
• Throughout February, visitors may view the National Abolition Hall of Fame and Museum's "Traveling Abolition Museum" in Memorial Library first and second floor lobby areas. An opening ceremony for the library exhibit, "Abolishing the Chains of Slavery: Central New Yorkers to the Rescue," on loan from the Peterboro, N.Y., hall of fame and museum, will take place from 3 to 4 p.m. Wednesday, Feb. 1, on the Memorial Library second floor.
• A discussion with Milton Sernett, professor emeritus of African American studies and history at Syracuse University. Sernett, who has researched African American religious history and the abolition movement, will discuss "We Must Abolish Slavery! — North Star Shining: The Abolition Crusade in Upstate New York" at 4 p.m. on Wednesday, Feb. 8, in Corey Union Exhibition Lounge.
• A stomping, clapping, slapping high-energy rhythms performance by the critically acclaimed Step Afrika dance company on Monday, Feb. 13. The Campus Artist and Lecture Series (CALS) presentation will begin at 8 p.m. in the Corey Union Function Room. Tickets cost $5 for general admission and $3 for SUNY Cortland students. Children 10 years old and younger will be admitted for free. Tickets can be purchased in Corey Union, Room 406, or one hour prior to the performance outside the Corey Union Function Room. For ticket information or questions, contact the Campus Activities and Corey Union Office at (607) 753-5574.
• A lecture and two performances by Robert Djed Snead, an historical re-enactor, lecturer and storyteller from Rochester, N.Y., hosted by Memorial Library. Snead will discuss and share some re-enactments in his program titled "Re-Enacting a Historical Figure (Rev. Jermain W. Loguen)" at 4 p.m. on Thursday, Feb. 16, in Brockway Hall Jacobus Lounge. At 7 p.m. in Sperry Center, Room 205, Snead will perform "Escaped Slave and Now Rev. Jermain W. Loguen Visits Cortland."
• Judith Wellman, a faculty member at SUNY Oswego and the Historical New York Research Associates, will present a sandwich seminar on "Harriet Tubman and Beyond: Documenting the Underground Railroad in New York State," on Wednesday, Feb. 22. Her lecture takes place from 12:30 to 1:30 p.m. in Brockway Hall Jacobus Lounge.
• A presentation by Noelle Chaddock Paley, director of the College's Multicultural Life and Diversity Office and a faculty member of the Africana Studies Department and representative of the Educational Opportunity Program. On Thursday, Feb. 23, she will discuss "Mixed Race and Black Identity Development: Historical Inheritance and Intimate Realities," at noon in Brockway Hall Jacobus Lounge.
• The annual Cultural Celebration by the SUNY Cortland Gospel Choir. The event takes place at 4 p.m. on Sunday, Feb. 26, in the Corey Union Function Room. The choir, which tours internationally under the direction of Robert Brown, will be accompanied by the College's A Cappella harmony ensemble. Tickets: $3 for all students and $5 for general admission.
• A sandwich seminar by Joe Feagin, the Ella C. McFadden Professor of Liberal Arts at Texas A&M University. He will present "Racial History My Teacher Never Told Me About" from 12:30 to 1:30 p.m. on Wednesday, Feb. 29, in Brockway Hall Jacobus Lounge. That day, Feagin also will give an open classroom lecture on "Racial Diaries of White and Black Students: No Post-Racial America" at 7 p.m. in Sperry Center, Room 105.
"Black History Month is not about the glorification of negritude or the intoxication with the presumption of Blackness and Afrocentricity," said organizer Seth Asumah, a SUNY Distinguished Teaching Professor and chair of the Africana Studies Department. "Rather, it is hope-affirming and life-affirming by enabling us to build new bridges for connecting the Africana world with what is American, European, Asian and Latin American. This celebration brings us to a level of human decency because of our profound interdependence and the need for one another's culture, history, and experience.
In the U.S., Black History Month commenced in 1926 when its founder, Dr. Carter Godwin Woodson, and other African American and white scholars realized the lack of studies and documentation about black history and the apparent disrespect for black culture. Previously called Negro History Week, the commemorative period was renamed Black History Week in 1972 and Black History Month in 1976.
"SUNY Cortland continues to bear the vision of Dr. Woodson that black history is America's history and that the two are inseparable in context and content by involving the entire Cortland community in the month-long celebration," Asumah said.
The Africana Studies Department has organized BHM events for the College since the late 1970s. For the last 11 years, the Multicultural Life and Diversity Office, Black Student Union, Women of Color, Men of Value and Excellence, and Caribbean Student Association have collaborated with Africana Studies to organize the campus BHM events.
Black History Month event sponsors include the Provost and Vice President for Academic Affairs' Office, President's Office, Dean of Arts and Sciences' Office, Multicultural Life and Diversity Office, Black Student Union, Political Science Department, Political Science Association, Campus Artist and Lecture Series, the Africana Studies Department, Center for Gender and Intercultural Studies, Cultural and Intellectual Climate Committee, the Caribbean Student Association, Memorial Library, Friends of Memorial Library and United University Professions.
For more information about the Cultural Celebration, contact Distinguished Service Professor Samuel L. Kelley at (607) 753-4104. The library events were organized by Associate Librarian David Ritchie. For more information, contact him at (607) 753-2818. For more information about Black History Month, contact Asumah at (607) 753-2064, or in Old Main, Room 208-B.
High-Tech Vehicle Pays Visit to College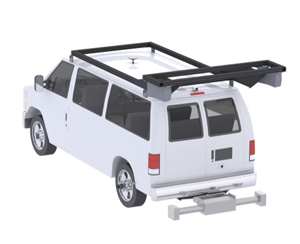 01/25/2012
A high-tech vehicle visited SUNY Cortland and introduced the College's Geography Department to the potential pavement impact of heavy trucks on Thursday, Jan. 26.
Mandli Communications, a leading research and technology developer in the transportation industry, offered a 40-minute presentation in SUNY Cortland's Geographic Information Systems (GIS) Lab to College faculty and staff as well as local highway supervisors from Cortland County.
"Any time you can get better information about your pavement condition, you take it," said David Miller, a distinguished teaching professor in the College's Geography Department. "This technology makes sure anyone who's responsible for adding above-average wear to the roadway is accountable, in a fair way, for assisting with the cost of repairs."
He explained that heavy hauling trucks require a permit, which specifies the roadway they must travel on, how many trips the truck will be making and the weight of the vehicle.
"We know what past traffic volume has been and the highway maintenance scenario under those pre-existing levels of traffic," Miller said. "If you have hard data and past practice data, you can establish reasonably who's responsible for additional wear and tear on the roadway."
Hydraulic fracturing, for instance, better known as hydrofracking, utilizes tanker trucks that carry thousands of gallons of fluid. The weight of those trucks — or any large vehicle that carries heavy loads — can cause cracks and potholes on the road surface. Central New York weather, especially the constant freezing and thawing that takes place in the late spring and early winter, only complicates matters.
A representative from Mandli Communications
introduces a high-tech vehicle to College
faculty, staff and local highway supervisors
from Cortland County.
The data collection vehicle's visit was important because it introduced faculty and staff members to a progressive technology that eventually could bolster the learning experience of SUNY Cortland geography students.
"We're looking as entrepreneurs at programs and technology that can add skills for our students," said Scott Anderson, associate professor and chair of the Geography Department.
The long-term goal is to get students comfortable using new hardware and analyzing their findings in the GIS Lab, Miller said.
"We've been using geographic information system and global positioning system data here, in an integrated way, for 20 years or so," he said. "This is Cortland staying on the cutting edge of a smart technology."
The machinery used for studying the road is rear-mounted on the vehicle. A Laser Crack Management System (LCMS) utilizes high-speed cameras, custom optics and laser line projectors to acquire two-dimensional images and three-dimensional profiles of the road. Various pavement types can be measured at speeds up to 70 miles per hour.
Although the hardware sounds complex, Miller said the payoff is simple: it's a safe, automated way to detect cracks in the pavement. And eventually, the technology would lead to cost savings, mostly in the form of time and labor.
"There's a good bit of data suggesting that these systems would automate this labor intensive process and give a good return on investment," Miller said. "The quality of the data allows for more targeted decisions with respect to maintenance, and that can result in considerable savings."
Typically, transportation departments rely on a pavement management system to prioritize roadwork and optimize repair funds. Mandli, which is based in Madison, Wis., has consulted with several state departments of transportation while collecting pavement data for more than 20 years. Miller said New York state monitors its major roadways with a similar form of technology, but not every local road gets tested.
He was quick to point out that the machinery is not a replacement for the human knowledge that town highway supervisors and workers hold. The technology does, however, make their jobs safer.
Workers often count and measure pavement cracks from the side of busy roadways, using measuring sticks and wheels.
"That's dangerous, being out along the road like that," Miller said. "(LCMS) makes the data collection process safer and it brings down the cost dramatically.
"Systems like these allow local governments to make decisions with better data rather than projections based on limited sampling."
Dining Hall Rewards Recycling Habits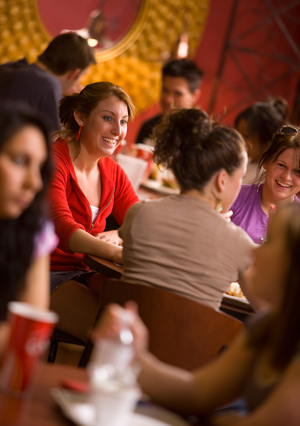 01/24/2012
It pays to recycle at SUNY Cortland.
Auxiliary Services Corporation (ASC), the College's not-for-profit dining services provider, launched SUNY Cortland's latest sustainability measure Jan. 18 to recognize campus community members for their thoughtful recycling habits.
In an effort to reduce the amount of trash generated by Hilltop, a campus dining facility located in Brockway Hall, diners are being rewarded with raffle tickets for a $25 ASC gift certificate for correctly using trash, recycling and compost bins.
Each day until Friday, Feb. 10, campus "green" representatives and Student Health Service staff members will introduce Hilltop patrons to new signs above the bins and hand out raffle tickets for the drawing.
"ASC has worked really hard to make sure most items people use in dining halls can be recycled or composted," said William McNamara, the director of dining services for ASC. "This is a smaller effort that hopefully will produce some lasting effects."
According to a national study from 2010, Americans toss out enough paper and plastic cups, forks and spoons in one year to circle the equator 300 times. Waste reduction saves natural resources and energy costs and reduces pollution risks, McNamara said.
The only items that should be thrown away in Hilltop trash bins are potato chip bags, cracker wrappers, soy sauce packets and hot chocolate packets.
Everything else can be recycled or composted.
Recyclable items include: plastic bottles and caps, sushi containers and foil pans and lids.
Items that should be composted include: food waste, utensils, plates, take-out boxes, cups and sugar packets and tea bags.
Operating in a sustainable, environmentally sensitive way is one of SUNY Cortland's institutional priorities. A charter signatory of the American College and University Presidents Climate Commitment, SUNY Cortland is reducing its carbon footprint, conserving its resources and launching programs that are guided by the College's Carbon Neutrality Committee.
Each spring, the College holds a sustainability week to underscore its environmental commitments.
'Innovations' Exhibition Opens at Dowd Gallery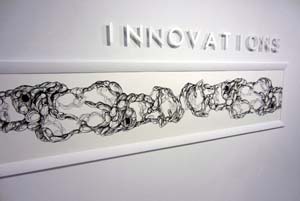 01/17/2012
A group exhibition that explores attributes of innovation is now open in Dowd Gallery at SUNY Cortland.
"Innovations," featuring the work of 17 artists, samples the latest technological developments and attitudes in the contemporary art scene. These include installation, video, painting, printmaking, drawing and sculpture. Selected artists from across the U.S. contributed to the exhibition.
"The impetus for this exhibition is to present a cross section of works created by artists using a conceptual approach to innovation," said Bryan Thomas, the interim director of Dowd Gallery. "By bringing a diverse collection into one space, we facilitate a path to discover connections and unexpected insights to their various processes.
"This project celebrates art that demonstrates forward momentum by choosing a new direction in visual art and enhancing traditional methods with modern means."
Two practicing artists will hold gallery talks that relate to the exhibit, which runs through Friday, March 2:
• David Mazure, of Milford, Pa., will discuss his drawings and the art making process as a method of unending discovery at 4:45 p.m. on Thursday, Feb. 2, in the gallery. He also will speak about scientific inspiration in the art making process and installation art.
Four archival pigment prints by artist So
Yoon Lym are featured in the "Innovations"
exhibition at Dowd Gallery. The prints,
from left, include: "Mario," "Antonio,"
"James," and "Taneisha."
• Matt Sheridan, of Los Angeles, Calif., will share stories from his career, which includes stints storyboarding for MTV's "Beavis and Butthead" and contributing to exhibitions in France and India. His talk, which takes place Thursday, Feb. 16, at 4:45 p.m., will include a discussion of his wide range of work.
All events are free and open to the public.
The 17 artists include: Rachel B. Abrams, Colin Blakely, Jessica Gondek, Patti Jordan, Scott Ludwig, So Yoon Lym, Scott McCarney, Anne Marchand, Mazure, Lori Miles, Rebecca Mushtare, Scott Oldfield, Sheridan, Kathleen Thum, Jake Winiski, Biying Zhang and Zelda Zinn.
Sponsors for the exhibition include the Roberta Gere Doering '46 Art Acquisition Fund, the Cortland College Foundation, Campus Artist and Lecture Series, the Art Exhibition Association and a small grant from Auxiliary Services Corporation (ASC).
Gallery hours are 10 a.m. to 4 p.m. Monday through Friday. For more information, or to schedule a tour of the Dowd Gallery, contact Thomas at (607) 753-4216.
Comedian Ronnie Jordan Heads to SUNY Cortland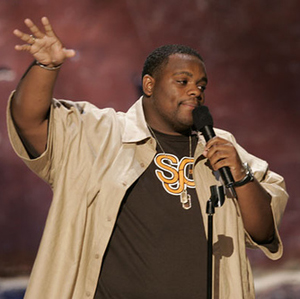 01/31/2012
Up-and-coming comedian Ronnie Jordan will perform at SUNY Cortland on Wednesday, Feb. 1.
Sponsored by the Student Activities Board, the comedy show will begin at 8 p.m. in Corey Union Function Room and is free and open to the public.
Jordan headlines the RJE Comedy Cabaret Tour, the longest running and highest grossing comedy tour targeting colleges and universities. He broke booking records last spring by touring 102 colleges in 112 days during his first year with the Auburn Moon Agency.
In 2001, Jordan was recognized by Uptown Comedy Corner in Atlanta, Ga., and crowned its "Rookie of the Year." He has since shared the stage with comedians Dave Chappelle, Rickey Smiley, Bruce Bruce, Earthquake, Mike Epps and Arnez J.
The crowd favorite at the Miller Lite King and Queens of Comedy Search Tour, Jordan has served as an opening act for the Queens of Comedy 12-city tour featuring famed female comedians Sommore, Monique and Adelle Givens. He also has starred on the Crown Royal Comedy Soul Fest Tour featuring rhythm and blues music legends Earth, Wind and Fire, and the Isley Brothers.
For more information, contact Mary Kate Boland, the assistant director of leadership and community development, at (607) 753-2034.
African Dancers Offer Feast for the Senses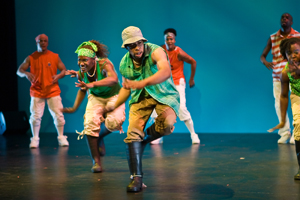 01/31/2012
The critically acclaimed Step Afrika dance company will stomp, clap and slap high-energy rhythms at SUNY Cortland for a special Black History Month performance on Monday, Feb. 13.
The dance troupe's show, rooting in the tradition of early African-American fraternities and sororities, is part of the 2011-12 Campus Artist and Lecture Series (CALS). It will begin at 8 p.m. in the Corey Union Function Room.
"This is a culturally rich experience that should hold a large appeal for both our campus and the Cortland community," said Sandra Wohlleber, the College's assistant director for campus activities and Greek affairs.
Tickets cost $5 for general admission and $3 for SUNY Cortland students. Children 10 years old and younger will be admitted for free. Tickets can be purchased in Corey Union, Room 406, or one hour prior to the performance outside the Corey Union Function Room.
The group has gained international fame for using the stepping tradition as an educational tool, earning national news coverage on CNN, NPR and ABC News. Wohlleber said the local performance is an opportunity to learn more about culture-based Greek organizations at SUNY Cortland. Formed in 1994, Step Afrika was the first professional company to dedicate itself to the stepping tradition, a unique type of dancing that uses a combination of footsteps, claps and spoken words to create rhythms and sounds; turning the human body into a musical instrument.
"Some of the elements contained within the Step Afrika program are also a part of some of the activities led by our fraternal organizations," she said.
Those campus groups include fraternities such as La Unidad Latina Lambda Upsilon Lambda and Phi Iota Alpha and sororities such as Omega Phi Beta and Sigma Lambda Upsilon/Señoritas Latinas Unidas.
The practice of stepping grew out of African American fraternities and sororities in the early 1900s, when students used it to demonstrate allegiance to a group.
Fast-forward more than a century to a time when stepping has become popular at U.S. colleges, schools and churches. Step Afrika, which is based in Washington, D.C., has grown to the point where it embarks on an annual 50-city tour of colleges from Maine to Mississippi.
In between the stomps and claps that come with the dancing, the group promotes themes such as teamwork, academic achievement and cross-cultural learning. It also conducts residencies and holds classes at the John F. Kennedy Center for the Performing Arts, the Washington Performing Arts Society and the Smithsonian Institution.
"One thing about this event, it will tie in quite nicely with our campus priorities," said Wohlleber, referring to the College's commitment to academic excellence and transformational education.
Step Afrika also represents the United States when it receives special invitations from American embassies across the world. The group's signature event is the annual Step Afrika International Cultural Festival in Johannesburg, South Africa.
The Feb. 13 performance marks the third of four major CALS events held at SUNY Cortland during the 2011-12 academic year. For ticket information or questions regarding the Step Afrika event, contact the Campus Activities and Corey Union Office at (607) 753-5574.
Model European Union Draws Students to UK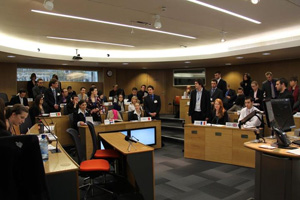 01/31/2012
A handful of SUNY Cortland political science students spent part of their winter break in Exeter, United Kingdom, debating vehemently over the uncertain fate of the European Union.
The College's four-member contingent portrayed Polish Prime Minister Donald Tusk, Polish Foreign Minister Radek Sikorski, and other real-life dignitaries from Poland or the Netherlands during simulated meetings with students from around the world on the University at Exeter campus Jan. 5 to 7.
Welcome to the world of SUNY Model European Union (SUNYMEU), a 25-year-old SUNY political science experiment that lets college students from the U.S. and other countries meet and attempt to solve the problems the real European Union has experienced as member countries work toward integrating markets and enabling cross-border commerce.
"You could read about it in textbooks and watch it on TV, spend hours and hours of studying this type of thing," said SUNY Cortland participant, John Amaruso, a junior political science major from Merrick, N.Y. "But, you really don't understand until you're sitting down and taking part in it, until you're inside the process. It's a completely different experience."
For three days, the teams locked horns with 150 other students from the United States and abroad who also had assumed the roles of other genuine European movers and shakers.
"I consider myself somebody who is knowledgeable on politics and organizations and that kind of stuff," said Amaruso, who portrayed the Polish foreign minister and negotiated policy on the creation of a European Union task force to deal with its economic crisis and a policy statement for the treatment of Hamas in the Palestinian territories.
Participants at SUNYMEU included, foreground, Natalia Cuglesan, faculty sponsor; second row from the left, Stefana Ignea, Denisa Radu and Henry Steck, faculty sponsor; and third row, Elena Ceban, Livia Todirica and Roshell Gist.
You don't really know until you're sitting down and have to verbalize it, you know?" Amaruso said. "It took me back a bit to see how well these kids were prepared for this conference. It was really cool. It definitely put into perspective where I stand in my level of educational attainment. It was intimidating, but it was just as exciting as it was scary."
The simulated Poles negotiated not only for or against the salvation of certain failing Eurozone economies, but for specific policies related to the Middle East, the illegal drug trafficking that spreading in member countries, and for attempts to reduce member countries' dependence upon nuclear energy in the wake of Japan's Fukushima Daiichi disaster.
Originally called the SUNY Model European Community, the classroom experiment — which jumps from a different European country to America every other year — SUNYMEU was renamed in the mid-1990s following the ratification in 1993 of the Maastricht Treaty, the foundational document of the E.U.
SUNYMEU was the first university-level European Union simulation in the United States. As a founding member, SUNY Cortland's students have participated in SUNYMEU from the time when today's wobbly European Union was nothing more than a gleam in a bureaucrat's eye.
Presently, the multi-SUNY campus undertaking is based at Buffalo State, sponsored by SUNY's Institute of EU Studies and supported university-wide by the SUNY Global Affairs Office.
This year, the students simulated the meeting of heads of government gathered together in the European Council, as well as meetings of the foreign ministers, finance ministers and Committee of Permanent Representatives.
Students attended from five other SUNY institutions as well as two other U.S. colleges and eight international countries: the United Kingdom, Turkey, Germany, Romania, Scotland, Malta, Bulgaria and France.
"I have learned that it's rather difficult to represent an entire country's point of view and I felt on my shoulders the great responsibility of decision making, which is a great but not a comfortable feeling," observed Andreea Denisa Radu, who portrayed Poland's Tusk for SUNY Cortland after studying here last semester under an exchange program with University of Babes-Bolyai in Cluj, Romania.
Although it is probably in Poland's best interest to retain member countries whose staggering debt now threatens the integrity of the whole union, and Radu had prepared Donald Tusk's argument carefully, she learned the heat of the discussion sometimes carries the day.
"I had to follow closely the official position of Poland's leaders regarding these issues, as stated in the 2012 Polish foreign policy statement," relating to the Eurozone and its relationship with members that opt out of using the Euro, the common currency, Radu said.
So as Tusk, Radu had planned to suggest the creation of an emergency EU and Eurozone membership crisis forum to find constructive solutions to the EU financial crisis. A second recommendation was the possible revision of the Maastrict Treaty regarding keeping national currencies for some countries with special status.
"I was prepared mainly for the topics on the agenda, but … we ended up talking about political and financial sanctions to be imposed to member states that didn't follow Maastrict criteria," Radu observed.
"Some of the delegates supported even kicking them out of the EU or offering them the opportunity to opt-out. I disagreed with these statements and supported a stronger European cohesion even in times of crisis. I rallied around states such as Germany, France, Sweden or Spain and we had intense discussion during breaks against the opt-out clause.
"I was feeling like things were happening too fast and my reaction time was left behind."
In the rush of voting, she accepted the reformulation of her first position and the indefinite tabling of the second. She said a lot was learned from the experience.
"I formed an impression about how different is the way Americans perceive the European political system than the way Europeans do," Radu said.
The experience has made a pragmatist of Amaruso. The body failed after eight hours to approve any task force to save struggling European Union countries but captured the necessary votes of two previously hard-line opponents to the incorporation of Hamas into Palestine's political future.
"If we didn't have unanimity, we risked coming to the end of two-and-a-half days of negotiating with nothing to show for it," Amaruso said. "We got the two who didn't go along to agree to it just so we could vote on it."
"I learned that throwing out a bad proposal can be just as good as creating a good one," Amaruso said, reflecting on the overall experience.
Besides Radu and Amaruso, the SUNY Cortland contingent also included Roshell Gist, an international studies and political science dual major from Saranac, N.Y., and a second year-long exchange scholar from University of Babes-Bolyai, Elena Ceban. They were joined in Exeter by Stefana Ignea, a 2010 Romanian exchange scholar to SUNY Cortland from University of Babes-Bolyai. Two other SUNY Cortland students participated in the class but were unable to attend the simulation.
The Romanian scholars were recruited to study public administration and public policy at SUNY Cortland as Atlantis Scholars supported by the U.S. Department of Education and the Fund for the Improvement of Postsecondary Education (FIPSE) and the EU Commission in Brussels. Amaruso also is an Atlantis Scholar and on Feb. 17 heads to Romania to begin a semester of study at University of Babes-Bolyai.
"This really broadened my world view in a lot of ways, and it was really beneficial to my academic studies," said Amaruso, who has had little prior international travel experience.
"It really showed me the way European culture is. Eastern Europe is really different than Western Europe. And afterward I spent a week in Amsterdam. It has really prepared me in a lot of ways to study for a long period in a completely different culture."
While SUNYMEU is a course and project of the College's Political Science Department, over the years students have participated from a number of other majors and departments, including International Studies, History, Economics, Modern Languages, and Recreation, Parks and Leisure Studies, observed the SUNY Cortland faculty adviser, Distinguished Service Professor Henry Steck, political science. The Romanian students were overseen by Natalia Cuglesan, a Jean Monnet Fellow at Babes-Bolyai.
American Music Featured at Faculty Recital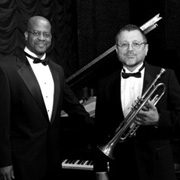 01/31/2012
The Performing Arts Department will present a faculty recital titled "Music Made in America for Trumpet and Piano" at 8 p.m. on Tuesday, Feb. 7, in Dowd Fine Arts Center Theatre.
The concert, featuring the music of George Gershwin, Astor Piazzolla, James. P. Johnson, Leonard Bernstein, Richard Peaslee and "Duke" Ellington, is free and open to the public.
Two Performing Arts Department faculty members will perform: Edward Moore, associate professor (music), on piano; and Ralph Dudgeon, professor (music), on trumpet. They will be assisted by Syracuse area musicians Darryl Pugh on bass and Gregory Evans on drums.
Moore, a native of Gainesville, Fla., holds a Master of Fine Arts in Music, Piano Performance from the University of Florida. He has performed as soloist and collaborative pianist in Florida, Mississippi, Michigan, New York City, the former Soviet Union and upstate New York. Moore also has an extensive background in musical theatre, having previously held the position of music director of musical theatre productions while on the faculty at SUNY Brockport.
Dudgeon, a versatile musician and scholar, is known for historically informed performance on period instruments as well as his performances of contemporary repertoire. He received his Ph.D. in musicology from the University of California, San Diego. He earned a Master of Arts in Trumpet Performance and a Bachelor of Arts in Music Education from San Diego State University. Dudgeon has appeared throughout the United States, Europe, Canada, Mexico and China as a trumpet soloist. For two months a year, he is a research consultant for Instrumentenmuseum, Schloß Kremsegg in Kremsmünster, Upper Austria and performs annually in Europe.
Pugh played for more than 30 years in the Syracuse Symphony and is currently a member of Symphony Syracuse. He is a charter member/bassist with Central New York Jazz Orchestra, active as a free-lance bassist, and an instructor of bass and jazz bass at several area colleges.
Evans, a Syracuse, N.Y. native, currently teaches drum set lessons and directs the Monday Jazz Lab Band at Ithaca College. His playing can be heard on multiple recordings with Remington (Blue Collar Music), Turkuaz (Galaxy Smith) and the Danny Rivera Big Band. He is a co-founder of the Remington Rock Camp and a co-owner of Blue Collar Music LLC.
For more information, contact the Performing Arts Department at (607) 753-2811.
Children's Museum Offers Spring Saturday Series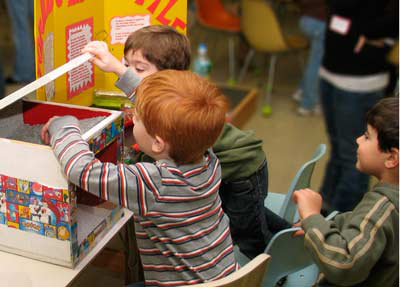 01/31/2012
Children's educational programs will explore origami and other arts to celebrate Chinese New Year, family technology with iPads, Zumba and dancing, bicycle safety and spring planting during the Spring 2012 Children's Museum series that begins on Saturday, Feb. 4.
The Children's Museum offers interactive, hands-on educational experiences in an environment where Cortland community parents, grandparents, caregivers, teachers, college students, youth and young children can be inspired to play and learn together.
Presented by faculty and students in SUNY Cortland's Childhood/Early Childhood Education Department, the programs run on selected Saturdays from 10 a.m. until 1 p.m., unless otherwise noted, and are open to community families and their children. The programs will take place at the McDonald Building, 60 Tompkins St., in Cortland. Admission is free but donations are gladly accepted.
On Feb. 4, Associate Professors Shufang Shi and Lin Lin will host a Chinese New Year celebration. Participants will learn about and create origami fish, Chinese calligraphy and brush painting, and listen to stories related to traditional Chinese New Year celebrations.
On Feb. 11, Instructor Chris Widdall will host an interactive event with the help of her students to share iPad technology with grandparents, parents and children of all ages. Participants can experiment with iPads and explore a variety of different applications for all age levels. They can make and send electronic valentines, too.
On March 24, Lecturer Judith Schillo will share stories through several mediums. She will help participants use art, drama, music and technology to craft a story on an iPad. Participants also will be able to enjoy even more stories by taking home a new book.
The Cortland Dance Company will bring its music and dance moves to the Children's Museum on March 31. Associate Professor Susan Stratton will host this event.
On April 14, Angela Perry, of the Bicycle Safety Program at Cornell Cooperative Extension, will teach children the rules of the road, how to use hand signals and how to safely ride a bike in the neighborhood.
On April 21, the Children's Museum moves to Kidsville. Stratton and her students will host a table at this community-wide event that takes place from 10 a.m. to 1 p.m. at the Cortland County Building Gymnasium, located in the back parking lot at 60 Court Street. Many organizations will participate with free materials and plenty of fun activities.
Associate Professor Orvil White will host the Green Thumb Project on April 28. Participants will plant seeds and find out later if they produce corn, beans, a flower or a mystery. This spring planting can be taken home and enjoyed for months.
To enter the museum, use the building's rear entrance. Limited parking is available behind the building or on the adjacent streets.
For more information, contact Stratton at (607) 753-2467, or visit the Children's Museum website at www2.cortland.edu/community/childrens-museum.
College Offers Spring 'Wellness' Series for Campus, Community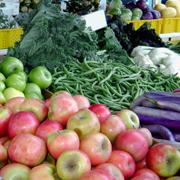 01/30/2012
SUNY Cortland will host the Spring 2012 "Wellness Wednesday Series" featuring speakers, exhibits, self-help workshops and other programs intended to encourage campus and community members to learn more about health and wellness. Program topics include yoga, play therapy, safe tattooing and body piercing, tobacco cessation and buying locally.
Sponsored by the Health Promotion Office and the Student Development Center, the series will take place on Wednesdays at 7 p.m. in Corey Union Exhibition Lounge, unless otherwise noted. The events are free and open to the public.
On Feb. 1, Louise Mahar, the College's assistant director of recreational sports for fitness, will offer "A Non-Threatening Introduction to Yoga." Participants will experience a beginner-level yoga class and should dress in loose, comfortable clothing and bring a towel.
On Feb. 8, Noelle Chaddock Paley, director of the Multicultural Life and Diversity Office, along with a panel of speakers, will discuss "BEing Civil is all about BEing Human: Is There an ISM Threatening Your Humanity?" following a viewing of "The Anatomy of Hate."
On Feb. 15, Brittany Jarrard, a speech and hearing science major and Zumba instructor, will lead easy-to-follow moves to Latin rhythms for fun and exercise.
On Feb. 22, students can learn how to get a head start on life after college when Career Services Director John Shirley presents, "So You're Leaving College – Now What?"
On Feb. 29, national presenters Doris and Tom Smeltzer will present "Andrea's Voice: Silenced by Bulimia," a compelling story of their daughter's one-year struggle with bulimia, as well as vital information on disordered eating. This popular talk presents eating disorders from a daughter's insights and her parents' perspective. The talk will begin at 7:30 p.m. in Corey Union Exhibition Lounge.
On March 14, important health and safety information will be presented at "So You Want to Get Some Body Art: Health and Safety in the Tattoo and Piercing Industry" by two body art professionals. Carrie Kash has 14 years experience in body piercing and is trained in blood-borne pathogens and cross-contamination, and Zachary Zayac is a business owner and a business economics major at the College.
On March 21, "Play with a Purpose" invites participants to an hour of playing to learn more about themselves and others. Ellen A. Gooch, LCSW, senior counselor and Certified Therapeutic Recreation Specialist, leads this session.
On March 28, health promotion interns and the College's Tobacco Advisory Committee will staff tables with "Going Tobacco-Free" information from 11 a.m. to 2 p.m.
On April 4, Rev. Vicki Johnson and members of the interfaith community will share the meaning and traditions of holy days from Catholic, Jewish, Muslim, Pagan and Protestant practices when they present "Most Holy Days."
On April 11, the College will recognize "Sexual Assault Awareness Week" with a speaker who will be announced at a later date.
On April 18, campus groups devoted to purchasing locally grown and produced foods and other healthy and sustainable goods will offer "Buy Locally – Think Globally: Cortland's Own Farmers Market" from 11 a.m. to 2 p.m. in Neubig Hall.
For more information or accommodation to attend an event, contact Catherine Smith, the College's health educator, in Van Hoesen Hall, Room B-1, or at (607) 753-2066.
Text Service Available for Library Research Inquiries
Memorial Library now offers a Text-a-Librarian service available to the campus community for use on mobile devices. Research questions can be submitted via a text to the cooperative service called myInfoQuest and this will start an interaction with a librarian from anywhere in the United States.
In the textbox, type "cort" as the first word, then type the question in the same textbox. Send the text to 66746. The service is available from 9 a.m. to 11 p.m. Monday through Friday and from 10 a.m. to 6 p.m. on Saturday.
After using the service, participants are asked to fill out a brief survey at http://goo.gl/Nk5hR to provide feedback about the experience.
For more information, email Reference and Instruction Coordinator Lorraine Melita.
Alumni Speaker Panel Highlights Careers in Sport Management
SUNY Cortland's 2011-12 Alumni Speaker Series continues on Tuesday, Feb. 7, with a panel discussion intended for students who want to pursue jobs in sport management.
The informal discussion takes place at 7 p.m. in Corey Union Exhibition Lounge. It is free and open to the public. Light refreshments will be served.
Panelists include Matthew T. Coats '97, assistant director of athletics at Cornell University, Casey Both '05, director of ticket operations for the Binghamton Mets, and Kenneth W. Hammond '07, local race director for the Iron Man 70.3 Syracuse and course director for the Empire State Marathon.
The sport marketing panel is the third of six discussions planned with alumni professionals throughout the academic year. The remaining Alumni Speaker Series events, which begin at 7 p.m., include:
Business and economics professionals on Monday, Feb. 20, in Brockway Hall Jacobus Lounge.
Professionals in the human services and helping professions on Tuesday, March 20, in the Corey Union Exhibition Lounge.
Professionals involved with recreation and leisure on Tuesday, April 3, in the Corey Union Exhibition Lounge.
The Alumni Speaker Series is sponsored by the Alumni Affairs Office and Career Services. For more information, visit the Career Services website or call them at (607) 753-4715.
Fine Teaching Development Award Applications Due March 15
Applications for the Fine Teaching Development Award, conceived to benefit pre-tenure tenure-track faculty by allowing for a one-course, one semester reduction in teaching load, are due Thursday, March 15, in the Faculty Development Center (FDC), Memorial Library, Room B-303.
One award is granted to one applicant each academic year. The course reduction may take place either in the fall or spring semester, at the behest of the applicant. The Robert and Bette Fine Faculty Development Fund, established in 2006 by Peter Fine, supports this award.
Unlike other grants bestowed on campus, the Fine Teaching Development Award is a competitive award that allows for a decrease in course load to accommodate the pursuit of superior teaching practices, methods or techniques for use in the classroom.
Details on eligibility, criteria for selection, required documentation and the application form are available online:
For more information, email Faculty Development Center Director Karla Alwes, or call her at (607) 753-2085.

Suggest a feature story
---
People on the Move
Cortland Names Steve Axtell Men's Soccer Interim Head Coach
01/31/2012
Steve Axtell has been named SUNY Cortland's men's soccer interim head coach, according to director of athletics Mike Urtz. Axtell replaces Dwight Hornibrook, who is leaving Cortland after eight seasons to accept a position as major gift officer at Houghton College. Hornibrook previously coached men's soccer at Houghton from 1995-2003 before coming to Cortland.
Axtell has served as an assistant coach at Cortland the past two seasons. He also was a volunteer student assistant coach during the 2007 season.
A goalie for the Red Dragons for three seasons (2006, 2008-09), Axtell earned All-SUNYAC honors in 2008 and appeared in 39 career games with nine shutouts. He earned a bachelor's degree in kinesiology in 2008 and is currently pursuing a master's degree in exercise science.
A native of Franklin, N.Y., Axtell holds an Advanced National Diploma and an Advanced National Goalkeeping Diploma from the National Soccer Coaches Association of America (NSCAA) with Distinguished Pass and is a member of the NSCAA Goalkeeping Staff. He is also a certified strength and conditioning specialist and has received a conditioning for soccer diploma from the International Coaches Association. Axtell is the founder and director of the One+ Goalkeeper Academy in Ithaca, N.Y., with programs in Elmira and Oneonta and summer camps throughout the Northeast.
Besides assisting with both the men's and women's soccer programs at Cortland, Axtell has served as the head coach of the Central Region scholastic soccer team at the Empire State Games and the WAZA FLO soccer club in Ithaca. He has also served as the goalkeeper coach and the U16 girls' coach of Empire United of the United States Youth Development Academy and acted as director of soccer at Camp Winadu in Mass. for two years and Ithaca MicroSoccer for one year. Currently, Axtell is head coach and Director of Goalkeeping at the TCW Academy in Ithaca and an ODP Region One staff member.
Daniel Driscoll Retires from Mathematics
01/26/2012
Daniel Driscoll of Fabius, N.Y., who served the Mathematics Department at SUNY Cortland for almost 50 years, retired on Jan. 1, 2012. He has been designated professor emeritus of mathematics.
Born and educated in Syracuse, N.Y., Driscoll earned a bachelor's degree from the University of Toronto in Canada, a master's degree from Bowdoin College, and a doctorate from Syracuse University.
He taught mathematics and coached basketball and football at Fabius High School for seven years before joining the College in 1962, continuing a teaching career that has spanned nearly 57 years.
Driscoll was promoted to associate professor in 1974 and professor in 1983. He chaired the Mathematics Department for six years, from 1989 until 1995, and served for two years as assistant dean of arts and sciences.
His research on "Simplified Users Manual for computer Programs in Statistics" was supported by a SUNY Cortland alumni association grant. Driscoll was author or co-author of scholarly articles that appeared in the Home Economics Research Journal, New York State Association of Health, Physical Education and Recreation Journal, the American Journal of Clinical Nutrition, the Journal of the American Dietetic Association and the Council on Renal Nutrition Quarterly.
He served on oral examination committees and as an external reader for doctoral degree candidates at Syracuse University.
Driscoll and his wife, Sylvia, plan to travel and enjoy the company of their three children and 10 grandchildren.
---
Faculty/Staff Activities
C. Ashley Ellefson
C. Ashley Ellefson, professor emeritus of history, had his recent writings placed on the Web in mid-January as Volume 847 of the Archives of Maryland Online. His manuscript is titled "Fortune's Orphan: The Troubled Career of Thomas Macnemara in Maryland, 1703-1719." According to Ellefson, Macnemara was probably the best lawyer of his time in Maryland, but he was constantly in trouble because he was not afraid to challenge a corrupt political system and a haphazard system of justice. At the same time, he was popular enough with the voters of Annapolis that he became a member of the city council. From there he became an alderman, then mayor of the city and finally an alderman again. Historians have condemned him because they have believed everything his enemies said about him without looking further. In his manuscript, Ellefson has tried to present a more realistic view of Macnemara.
Kathleen A. Lawrence
Kathleen A. Lawrence, Communication Studies Department, had her paper titled "Tiaras, Tantrums and Toe Shoes: Reality Television Programs that Illuminate Stage Moms & Kiddie Fame" competitively selected for presentation at the January 2012 Annual Hawaiian International Conference on Arts & Humanities. Lawrence's paper served as discussion for the new trend in reality television that exposes the contemporary version of the age-old stereotypical stage mom. Most of their daughters are filmed crying their way to Warhol's prophetic "15 minutes of fame." Exhausted, erratic and overexposed, these girls are often being pushed to perform as young as the age of 18 months. Lawrence focused on how this proliferation of shows reflects a preoccupation in our culture with celebrity at any cost and at any age.
Gregory D. Phelan
Gregory D. Phelan, Chemistry Department, served as part of the leadership team at the 2012 United States Association for Small Business and Entrepreneurship National Conference held Jan. 12-15 in New Orleans. He also led a breakout meeting at which he was nominated and elected to serve as the president of the International Entrepreneurship Special Interest Group for a two-year term.
Barry Schecter
Barry Schecter, Health Department, will speak at the American Association for Treatment of Opiate Disorders Conference planned for April 21-25 in Las Vegas. The conference will address treating adolescents and young adults suffering from addiction and is geared to new innovations in treating youth. He will present research on the benefits of medication-assisted treatment, and the role stigma plays in keeping people sick. Schecter will present a similar topic at the American Society of Addiction Medicine at the annual Med-Sci Conference, being held April 19-22 in Atlanta.
Robert Spitzer
Robert Spitzer, Political Science Department, has been informed that his article, "Growing Executive Power: The Strange Case of the 'Protective Return' Pocket Veto," has been accepted for publication in the Fall 2012 issue of Presidential Studies Quarterly.

Submit your faculty/staff activity