SUNY Cortland Returns to the Fair
08/28/2012
Last weekend, the New York State Fairgrounds was filled with hundreds of people wearing SUNY Cortland sunglasses - including SUNY Chancellor Nancy Zimpher!
Blaze the Red Dragon mascot high-fived scores of fairgoers. Dozens of alumni, future students and New York Jets fans visited the SUNY Cortland booth.
And this weekend, SUNY Cortland will do it all over again.
The College will exhibit at the Great New York State on Saturday, Sept. 1, and Sunday, Sept. 2, from 10 a.m. until 10 p.m.
The SUNY Cortland display will be under the State University of New York's expanded exhibit tent on Chevy Court, the Fair's premiere free concert venue. The tent is prominently located next to the Dairy Products Building, one of the most popular areas of the Fairgrounds.
Anyone who stops by the SUNY Cortland exhibit, which showcases some of the exciting and challenging educational experiences offered by the College, can leave wearing a free pair of SUNY Cortland sunglasses. The glasses were a huge hit last weekend. Even Chancellor Zimpher, who toured the grounds Friday as part of SUNY Day at the Fair, donned a pair when she visited the Cortland exhibit.
SUNY Cortland students and alumni are encouraged to wear clothing items emblazoned with the College's logo when they visit the Fair and stop by the College's booth on Chevy Court. People staffing the exhibit will take your photo and post it online in a special Facebook gallery of SUNY Cortland fairgoers. Fair photos from last weekend are on the College's Facebook page now.
At the Fair, prospective students and their parents have an opportunity to learn about SUNY Cortland, and alumni are encouraged to use their alma mater's exhibit as a friendly outpost at the Fair. Under the tent, they can get some shade, reconnect with the College, meet fellow alumni or current students or establish a convenient meeting spot for your group.
To learn what musical acts will be performing on Chevy Court on the days SUNY Cortland will be at the Fair, go to the Fair's official website.
Fans of the Fair — New York state's largest annual event — might want to consider volunteering for a shift at the booth. The College is still looking for volunteers to help staff the exhibit on Sept. 1 and 2. It's an opportunity to spend a few hours hanging out and talking about the college in exchange for a free Fair admission pass, a SUNY Cortland t-shirt and hat combo­ and ­— of course — SUNY Cortland sunglasses.
To volunteer, please contact Public Relations Director Frederic Pierce at (607) 753-2420.
SUNY Chancellor Visits Opening Meeting
08/23/2012
SUNY Cortland launched its 2012-13 academic year in grand style Thursday morning, with a special visit and remarks from State University of New York Chancellor Nancy L. Zimpher during the College president's annual opening meeting.
"As you know, there are 64 (SUNY) campus convocations, so this is sort of the representative effort to say: things are back, school is starting and it's an incredibly exciting time for the State University of New York," Zimpher said to an audience of College faculty and staff members in the Corey Union Function Room.
Making her third visit to the College since she took the reins as chancellor in 2009, Zimpher spoke for roughly half an hour on SUNY's long-term vision and SUNY Cortland's role in what she called "a renaissance for the State University of New York."
"Even in the brief conversations I've had today with four or five faculty members that I've had the opportunity to speak to, I could hear and see the ideas, the programs, the leadership that you are providing to make these ideas a reality," Zimpher said. "It's one thing to go around saying we are the power of SUNY. It's another to assert that we can be New York's future.
"But in the final analysis … you have to turn that into action, into strategy, and I think that's what we've been doing."
Earlier in the morning, College President Erik J. Bitterbaum recapped an eventful year on the SUNY Cortland campus, which included the hiring of 34 new full-time faculty members.
"We hit the jackpot with these 34 new faculty," Bitterbaum said. "They've added new insights. They've added new energy."
He also described six different construction projects totaling roughly $150 million that are slated for completion over the next three years. They include the renovations of Bowers Hall and the Dowd Fine Arts Center; construction of a new residence hall and the Student Life Center; and upgrades to the Neubig Hall loading dock and the electrical substation housed near the Stadium Complex.
"For my faculty and for my students and staff, we will have world-class facilities for scholarship, for teaching, and I think we deserve it," Bitterbaum said. "I think that's the kind of institution we are."
Zimpher mentioned SUNY's ability to serve as an engine for New York state's revitalization, both economically and culturally. Bitterbaum reported SUNY Cortland's estimated economic impact on Central New York to be $251 million, based on a recent study conducted by Economics Department faculty members. He also reiterated the College's commitment to Antlers, the outdoor and environmental education center located on the shore of Raquette Lake.
The College's unique Center for Environmental and Outdoor Education, situated in the Adirondacks, is a precious resource to be shared as much as possible with students, faculty and staff, he said.
"We need to get students to understand about their environment," Bitterbaum said.
The environment came up again in Zimpher's discussion of energy-smart New York, one of SUNY's six big ideas, along with the entrepreneurial century, the seamless education pipeline, a healthier New York, a vibrant community and the world. During his remarks, Bitterbaum hit on all of the priorities and shared an interesting tidbit: the tonnage of carbon dioxide SUNY Cortland produces has decreased to the point where it could power 65 homes year-round in Cortland County.
The importance of education that offers students "hands-on" experience during their undergraduate years came up in Zimpher's address and later in the morning during a presentation by Richard Kendrick, a professor of sociology/anthropology and director of SUNY Cortland's Institute for Civic Engagement.
"Where we're moving is that the State University of New York would be a national leader in experiential education," Zimpher said.
Kendrick offered many examples of engaging programs at SUNY Cortland, including internships. He mentioned a study released this year by the National Survey of Student Engagement. It reported that, by their senior year, 73 percent of SUNY Cortland students had participated in a form of hands-on learning, whether it was through an internship, clinical assignment or field experience. By comparison, 50 percent of fourth-year students at other surveyed institutions shared a similar hands-on experience.
Internships, along with programs such as study abroad, service learning and undergraduate research, have allowed SUNY Cortland students to turn a traditional education experience into a transformative learning process, Kendrick said.
Zimpher concluded by explaining the need for "systemness" — her word for collaboration among different campuses — to tighten the day-to-day operations of SUNY.
"We have to have a disciplined approach to our work, and we have to reduce costs, we have to increase productivity and we have to give our best efforts to the student experience," she said. "Every dollar we save, every cost we cut, and every production efficiency we realize is an investment in our students.
"And the more you save, right here at Cortland or with your colleagues in this region, the more you're going to have to spend on the student experience."
---
Capture the Moment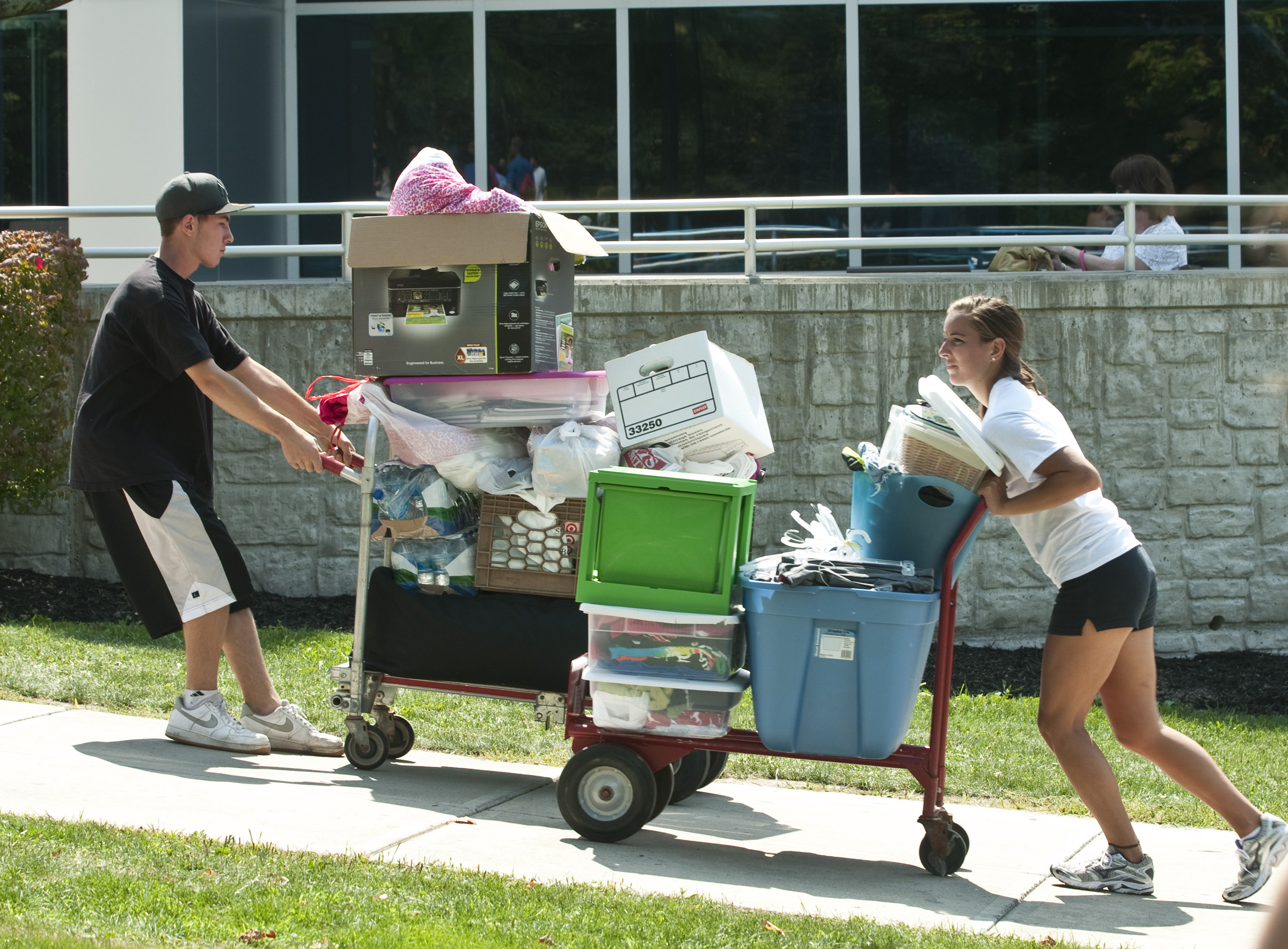 Returning students made their way back to campus and hauled their living essentials into residence halls Saturday, Aug. 25. Mary Simoncelli, a junior adolescence education: mathematics major from Hamburg, N.Y., pushes a moving cart outside Glass Tower while Chris Degregorio, of Long Island, pulls a cart piled high with his sister's belongings. In all, College officials expect approximately 7,250 students to be enrolled for the fall semester.
---
In Other News
Alumna Dunwoody Wins National Honors
08/28/2012
Army Gen. Ann E. Dunwoody '75, the first woman in the nation's history to become a four-star general, continues to earn national recognition, even as she prepares to retire.
The former SUNY Cortland gymnast and tennis player received the Intercollegiate Tennis Association's (ITA) 2012 Achievement Award during a ceremony in New York City on Sept. 7. The award honors former college varsity tennis players who have achieved excellence in their chosen careers.
In June, Dunwoody, head of the critically important Army Materiel Command, was included on the Women's Sports Foundation's "40 for 40" list. The list honored women of accomplishment in a wide range of fields who played high school or college sports after the enactment of Title IX, the federal law that requires all schools and colleges receiving federal money to provide the same opportunities for girls as they do for boys.
Dunwoody's peers on the high-profile list included U.S. Secretary of State Condoleezza Rice, U.S. Sen. Kirsten Gillibrand, tennis star Venus Williams, legendary University of Tennessee basketball coach Pat Summit and comedians Tina Fey and Ellen DeGeneres.
The honors are helping to cap the end of an extraordinarily successful, 37-year military career that began with a four-week Army introductory program when she was a junior physical education major at SUNY Cortland. In October, Dunwoody will officially retire from the Army, where she heads the command that provides American soldiers with everything that they shoot, fly, drive, communicate with, wear and eat.
As part of the ITA award, the SUNY Cortland varsity women's tennis program will receive a $1,000 donation. Tom Spanbauer '83, M.S.Ed. '86, head coach of Cortland's women's tennis team, is the person who nominated Dunwoody for the national honor. The ITA is the national governing body for Divisions I, II, III collegiate tennis.
The achievement award is presented by the International Tennis Hall of Fame and Rolex Watch USA. Dunwoody will receive the award during a ceremony at the Grand Hyatt Hotel. Tennis legend Stan Smith will present the award, and Dunwoody and her husband, retired Air Force Col. Craig Brotchie, will be guests of the United States Tennis Association and the ITA for the women's semifinals of the U.S. Open.
The annual ITA Achievement Award was created in 1994 to pay tribute to past participants in the world of collegiate varsity tennis who achieved excellence in their profession, made contributions to society and are unique in their accomplishments.
Last year, Dunwoody received the 2011 Theodore Roosevelt award, the NCAA's highest honor.
At Cortland, Dunwoody was a starter and four-year participant on the College's women's tennis team under Coach Sylvia Stokes and the women's gymnastics team under Coach Antoinette "Toni" Tiburzi.
Employee Fall Fest R.S.V.P. Deadline Nears
08/28/2012
Only a few days remain to R.S.V.P. for the SUNY Cortland Fall Festival, a day of free food and entertainment for all faculty and staff members slated for Homecoming weekend.
The event, which aims to welcome new employees and recognize current ones, takes place Saturday, Sept. 15, from 11 a.m. to 3 p.m. outside of Lusk Field House. In the event of rain, it will move inside. The reservation deadline is Friday, Aug. 31, and employees are invited to bring their families and guests.
Employees can register online.
College President Erik J. Bitterbaum personally invited all attendees at his opening meeting Thursday to the celebration, which for the first time is opened to all SUNY Cortland faculty and staff members.
Catered food will follow a barbecue theme and entertainment will be supplied with all ages in mind. The Wild Hunt will perform live music and a disc jockey also will be in attendance. Bounce houses, face painting, a photo booth and an appearance from Crossroads the Clown are just a few of the other activities in store.
There also will be a 50/50 raffle to benefit the SUNY Cortland Child Care Center.
Wristbands will be distributed to attendees at the event, which will offer free entry to the SUNY Cortland football team's Homecoming game and the women's soccer game. Both contests begin at 1 p.m. but there's no obligation to attend either game.
The barbecue food will be served from noon to 2 p.m. and the menu will include hamburgers, hot dogs, barbecue chicken, assorted salads, salt potatoes, cupcakes, cookies, brownies, lemonade, iced tea and water. Special dietary needs or requests may be noted in your R.S.V.P.
Paper invitations to the event were mailed in mid-August. Questions about the event can be directed to Robin Abbott of the College's Human Resources Office at (607) 753-2302.
Student's Videos Highlight Jets' Camp
08/28/2012
Ever wonder how SUNY Cortland comes up with those huge estimates of the economic impact that the New York Jets' Training Camp has on the region? ($5.8 million in 2010, in case you were wondering.)
Or what it must be like, from a little kid's perspective, to run through the inflatable obstacle course at Jets Fest, the elaborate playground set up each year for camp? Or to attend the Jets' annual Green and White Practice, New York's hottest warm-up?
Then you should check out the Jets section on SUNY Cortland's YouTube page, SUNYCortlandTV.
The videos were taken and edited this summer by Ryan Walker, a junior physical education major with a passion for videography. He created the videos as part of a summer internship with the College's Public Relations Office.
You may be familiar with Walker's work; he is the student responsible for the "Call Me OA" video parody created this summer by SUNY Cortland orientation assistants.
New York Jets Training Camp attracted more than 35,000 visitors to the SUNY Cortland campus this summer. SUNY Cortland economics and geography majors surveyed attendees as part of the College's annual economic impact survey. The students are gathering information from local businesses and analyzing their data. They expect to have a completed report sometime this fall.
Campus Sees Historic Building Boom
08/28/2012
Years ago, a major construction or renovation project was a rarity on the SUNY Cortland campus.
No more. Students arriving for the fall semester must wend their way to classes around construction sites for two new buildings and two major renovation projects.
The College grounds are currently experiencing a level of earthmoving, concrete-pouring, leveling and erecting not seen since the major original construction of the current campus, which took off like wildfire during the 1950s and tapered off in the early 1970s.
The hard-hats and cranes reappeared in the 1990s as a steadily increasing student population put pressure on the sturdy brick buildings, most of which were approaching 50 years old.
The upgrades and additions never really ceased, and will reach a peak over the next two years. Although project trailers and heavy equipment have become familiar sights, the sheer scope of the work planned or underway will affect students, faculty and staff from one end of the campus to the other.
The College is erecting a new Student Life Center on the former Carl "Chugger" Davis Field, building a new residence hall near the base of College Hill, renovating and expanding Ross E. Bowers Hall and dramatically upgrading the Ruth E. Dowd Fine Arts Center.
Jeff Lallas, director of facilities planning, design and construction, said the projects will be well worth the inconvenience and one- to two-year wait.
"The Student Life Center and the residence hall are probably our last new buildings for a very long time," said Lallas, noting that fully 231,000 square feet of space is being built or rebuilt between all four projects.
Student Life Center
The new $56 million Student Life Center will be built near the heart of campus. This unique, multi-purpose building will greatly expand student recreational, club and social opportunities. Construction will begin this October, and the center is expected to open by December 2014.
New Residence Hall
Contractors launched work on the College's newest, 228-bed residence hall at the end of last semester, and the steel structure is taking shape at the end of Hayes and Hendrick halls facing Casey and Smith Towers.
The footers and concrete were being poured in early August, and the steel and planking were expected to arrive in mid-August, Lallas said.
When ready for Fall 2013 semester occupancy, the $21 million building's interior will bear some resemblance to the six-year-old Glass Tower Hall at the opposite end of the quad. Its façade will be different, but the residence will offer many of the same student amenities, such as the popular "junior suite" configuration.
The newest residence hall, which will have one more story than Glass Tower Hall, will join 15 others on campus.
Dowd Fine Arts Center
Windows for art studios are being added on the west wing of the building to give students more natural light to work by. The upgrade also encompasses roof work and mechanicals such as rooftop air conditioners.
"This will be essentially the second and final phase of renovations that started a dozen years ago," Lallas said. "In 2000, the top floor was abated for asbestos and renovated and after this phase will remain exactly the same in look and function after some modest work there."
The College will completely renovate the lower two floors, including the theater and gallery, and add a sprinkler system throughout the building. Dowd Center's top floor tenants can move in next summer. The complete renovation will be done by December 2013.
Bowers Hall
A new addition is rising out of the ground where the former main entrance and museum wing were demolished over the summer, as the College's primary science facility undergoes expansion and renovation of the Bowers I wing.
Bowers Hall faculty and staff were relocated last year to the Bowers II wing, Cornish-Van Hoesen or temporary trailers. The renovation began six months ago.
Bowers Hall will reopen for the Spring 2014 semester.
Lallas urged patience as the campus community adjusts to the changed location of classrooms, offices and departments and the altered flow of pedestrian traffic caused by having so many building construction projects going on at once.
"We've tried to utilize as much space as we have," Lallas said. "Then we've had to lease some space in the community and add trailers for everyone else. So we're very much maxed out and spread out all over the place."
Some classes and faculty office hours, formerly held in Bowers Hall and Dowd Center, will temporarily be held in other locations, including the portable, white trailers placed around the campus during the summer months.
Dowd Center's faculty and staff moved out at spring semester's end, as the academic building began its anticipated year-and-a-half internal renovation. Dowd Center faculty in performing arts, art and art history, and communication studies are scattered to the Cornish, Van Hoesen, Winchell, MacDonald and Glass Tower halls on College grounds and the former TC3 extension building on Court Street. The first two departments will return to Dowd Center, but the Communication Studies Department, presently housed in Cornish Hall, eventually will find a permanent home in the C wing of Van Hoesen Hall.
During the interim, students will walk to the MacDonald Building on Tompkins Street for their solo vocal and instrument practice. Choral voices will be raised inside the Interfaith Center. The Dowd Gallery art exhibitions have temporarily moved downtown, to the Main Street SUNY Cortland facility at 9 Main St.
Many upper- and mid-campus parking spaces are already, or soon will be, serving as staging areas for the many work crews and machinery.
"We hope people will understand the space challenge and look for available parking, as it no doubt will be difficult to expect all current parking needs can be met on the upper campus," Lallas said.
Planners anticipate that all of the new work will meet stringent environmental standards and help reduce the campus' carbon footprint. The College is aiming to certify the two new facilities with Leadership in Energy and Environmental Design (LEED) Gold ratings, demonstrating they meet high national standards for environmental conservation in building construction. They would be the first two buildings on campus, and in Cortland County, to be certified LEED Gold.
The newest residence hall, which will bookend the Neubig Hall quad adjacent to Smith and Casey Towers, will be only the second residence hall to feature air conditioning when it opens in Fall 2013.
Glass Tower Hall achieved LEED certification when it was built in 2005, and subsequent campus renovations were built to the LEED Silver standard.
To reach the gold standard, the College must demonstrate and document even more progress in the use of energy efficient design and construction features, recycled or sustainable building materials and the establishment and fulfillment of particular energy reduction benchmarks. The latter standard might be attained, for example, if the College commits to purchasing a certain percentage of renewable energy supplies.
The College is already ahead of the curve, as facility managers have been installing sophisticated and efficient building systems and controls for years to reduce the energy needed to heat, cool and light campus facilities, Lallas said.
"We try to reduce the carbon footprint on campus and the overall operating costs for the campus and the state," Lallas said.
The Student Life Center, additionally, will feature a partial green roof, planted with sod to reduce the building's environmental impact, and photovoltaic panels to capture some of the sun's energy and reduce energy expense.
Dowd Gallery Exhibit Re-imagines Past
08/29/2012
The work of the contemporary Brooklyn, N.Y.-based artists Wennie Huang and Shari Diamond will be showcased in the first exhibition on view in Dowd Gallery's temporary off-campus location at Main Street SUNY Cortland, 9 Main Street.
The College's gallery will be based on the third floor of Main Street SUNY Cortland for approximately two years while the Dowd Fine Arts Center undergoes renovations.
The exhibition, "Remembered/Re-imagined," which is divided into two sections based on the theme of remembered and reimagined community, will be on view from Tuesday, Aug. 28 until Saturday, Oct. 20.
Sponsored in part by the College's Institute for Civic Engagement, the exhibition and all events are free and open to the public. Gallery hours are 10 a.m. to 6 p.m. from Tuesday through Friday and 10 a.m. to 2 p.m. on Saturday. The gallery is closed on Sunday and Monday.
An opening reception will be held from 4 p.m. to 6 p.m. on Thursday, Sept. 6.
A Cortland native and installation artist, Huang currently teaches at Parsons The New School of Design. Her work deals with issues of identity and memory.
Her unconventional gallery talk titled "A Virtual Conversation with the Artist: Wennie Huang" will take place at 5 p.m. on Wednesday, Sept. 19. The event will feature a "partially performative video call" from the artist in Brooklyn. Her father, Ter Jenq Huang, is a professor in SUNY Cortland's Mathematics Department and will participate in the talk from the gallery.
Shari Diamond is a photographic artist who also teaches at Parsons The New School of Design.
Her gallery talk, "New Ways of Seeing: Jewish-Muslim Relations," will take place at 5 p.m. on Tuesday, Oct. 9. The discussion, featuring Shari Diamond and Sanford Gutman, SUNY Cortland professor emeritus of history, will explore the intersection of art and politics and new ways of looking at Jewish-Muslim relations.
Huang's work, "Helix," is a site-specific installation piece consisting of more than 3,000 red chenille stems woven into a lace-like, creeping ivy that extends from the interior of the gallery through the windows of the historic Beard Building and out into the public realm. This "vine" is reminiscent of the ivy she recalls seeing on some of SUNY Cortland's buildings as a child.
"The red color of the work references the red velvet covers of my mother's treasured family photo albums from Taiwan," Huang said.
The Dowd Gallery exibition "Remembered/Re-imagined" will feature artwork by Shari Diamond, including the photograph "Re Imagining Relations, no.15," and installation work by Wennie Huang, including her 2011 piece "Red Sprawl," shown in detail above left.
As a second-generation Asian-American, she is interested in the impact of cultural myths on her own social inheritance.
In "Summoning the Ghosts," Huang refers to the history of the Beard Building itself, which housed an undertaking business in the 19th century. This installation features rows of cast paper feet arranged to suggest the placement of tombstones within a cemetery.
Diamond's work offers a glimpse into a reimagined Jewish-Muslim community and was inspired by a group of Muslims who risked their lives in Paris during the German occupation of France to rescue Jews.
Diamond digitally combines large-scale photographic imagery of synagogues and mosques in Paris and Istanbul to seek out and highlight similarities between the two groups.
"These seamless montages dissolve borders and create new spaces in which reimagined realities of coexistence, respect and exchange are possible," Diamond explains. "The ceremonial implements and symbols unique to each religion, along with its distinctly attired followers, appear before the viewer in unity under one roof."
Diamond's lifelike presentation readily allows the visualization of what could be and makes the previously unattainable suddenly seem feasible. Through her work, she aims to inspire a fresh dialogue regarding the elimination of boundaries, the preservation of humanity and the encouragement of empathy in Jewish-Muslim relations.
Group tours are available. Contact Gallery Director Erika Fowler-Decatur at (607) 753-4216.
Welcome Week Extends Hand to Students
08/22/2012
Welcome Week at SUNY Cortland, which began on Aug. 24, offers activities geared to help new students connect with the campus community and assist them in their transition and adjustment to college life.
The events, which are free unless otherwise noted, will continue through Wednesday, Sept. 5.
Remaining Welcome Week highlights are as follows:
Welcome Week offered this student a chance to relax and get to know classmates before the start of a prior school year.
On Wednesday, Aug. 29, Louise Mahar, the College's assistant director of recreational sports for fitness, will offer "An Intro to Yoga" at 7 p.m. in the Exhibition Lounge. Participants will experience a beginner-level yoga class and should dress in loose, comfortable clothing and bring a towel.
On Friday, Aug. 31, the campus will host an American Red Cross Blood Drive from noon until 5 p.m. in the Corey Union Exhibition Lounge.
At 4 p.m., a "Transfer Student Welcome Picnic" featuring a barbecue, games, raffles and door prizes will take place in the Bishop-Shea Quad area.
During Welcome Week, the women's volleyball team will host the Red Dragon Classic. A home game also is scheduled in field hockey. Tickets for the volleyball and field hockey home events are $4 for adults and $3 for non-Cortland students, with free admission to SUNY Cortland students with college ID and children under 12.
New and returning students experienced a craftmaking activity during Welcome Week, a College program designed to foster well-being and social adjustment before classes begin.
On Friday, Aug. 31, the Red Dragons volleyball team opens its season against Pitt Bradford at 4 p.m. and University of Rochester at 6 p.m. in the Park Center Corey Gymnasium. The Red Dragon Classic in Corey Gymnasium takes place on Saturday, Sept. 1, with starting times at 10 a.m., 2 and 4 p.m. Saturday's teams and times will be announced.
The field hockey team faces Messiah at the Stadium Complex at 2 p.m. on Saturday.
On Labor Day, Monday, Sept. 3, students will get the chance to experience The Great New York State Fair. Buses will depart from campus at noon for the fairgrounds in Syracuse, N.Y. The $5 cost includes fair admission and bus transportation. Tickets may be purchased between Friday, Aug. 24, and Friday, Aug. 31, from 8:30 a.m. to 4 p.m. at Campus Activities in Corey Union, Room 406.
Also on Monday, the "Multicultural Life and Diversity Welcome Back BBQ" will be held from 1 to 4 p.m. in Yaman Park. All new and returning students are invited. Transportation to and from the park will begin at 12:45 p.m. from the Corey Union steps. The rain location is the Interfaith Center at 7 Calvert St. For more information, contact the Multicultural Life and Diversity Office, located in Corey Union, Room 407A, at (607) 753-2336.
On Tuesday, Sept. 4, a coffeehouse featuring refreshments with classmates taking turns at an open mike will start at 7 p.m. in the Exhibition Lounge.
One student receives a temporary tattoo in the festival atmosphere of Welcome Week.
The Exhibition Lounge and lobby will showcase a "Student Employment Fair" from 11 a.m. to 1 p.m. on Wednesday, Sept. 5. This event gives students a great chance to find on- or off-campus employment for the school year.
Later, two SUNY Cortland student affairs representatives will discuss "So You're in College: Now What?" at 7 p.m. in the Exhibition Lounge. Billie Jean Goff, associate director of counseling and student development, and Cathy Smith, health educator, will address issues for first-year and transfer students, such as residence hall living, partying, homesickness, new relationships and peer pressure.
Also on Wednesday, students who attend the educational program "Know the Code" program at 8 p.m. in Corey Union Function Room will learn the ABCs of the College's Code of Student Conduct in a relaxed atmosphere involving raffles for free prizes. Student Conduct Office representatives will present this key seminar and answer questions to help participants take their first steps along the path of a successful college career. The event will be repeated in the same location at 8 p.m. on Thursday, Sept. 6.
Welcome Week is sponsored annually for SUNY Cortland students by Advisement and Transition, Alumni Affairs Office, Career Services, Cortland Nites, Health Promotion Office, Multicultural Life and Diversity, Residence Life and Housing, Sexual Assault Prevention Committee, Student Activities Board, Student Conduct Office, Student Residence Hall Association and Vice President for Student Affairs Office.
For more information about Welcome Week events, contact Campus Activities and Corey Union at (607) 753-5574.
New Entrepreneurship Course Means Business
08/28/2012
SUNY Cortland students will get down to business this fall when a new course devoted to entrepreneurship coaches them to think about innovative ways to stimulate the local economy.
Special Topics in Management: Entrepreneurship I, a three-credit course open to students from all majors, will be taught at Main Street SUNY Cortland, 9 Main St., beginning Aug. 30.
"It's kind of a twofold thing," said Kathleen Burke, an associate professor of economics who is helping coordinate and develop the elective. "On the academic side, we'll have our students trying to develop their own business ideas using the know-how of successful local businesses and people in the community.
"Then, within the community, we'll use the talents of our students to assist small, growing businesses."
With help from the new Cortland Business Innovation Center slated to open in September, students in the fall course will research local establishments to determine their business needs and interests, Burke said. The long-term goal is for students to pitch their concepts — whether they're products, services or businesses — to venture capitalists or angel investors after a second entrepreneurship course in the spring.
"The Local Business Idea Competition really shined light on some of the great ideas that our students have," Burke said, referring to the annual spring competition that draws new business ideas from local high school and college students. "Now, with this course, we're trying to pull out some more of those ideas."
Matthew McNamee, a junior business economics major from Sandy, Utah, finished second in the business competition in May and signed up for the entrepreneurship course this fall. The course stood out to him because it provided the unique opportunity to "create something from scratch," he said.
"I've always been interested in entrepreneurship and creating my own job and my own business," said McNamee, who also will serve as the College's Entrepreneurship Club president by helping local high school and college students execute their business ideas. "So when the course option came up, it was a no-brainer to pick it."
Extracting creativity from sharp students like McNamee will involve bringing local business people into the classroom as mentors and guest speakers. The course will be taught by local businessman Brian Ward. He is president of Cortland Line Company, a leading manufacturer in fly-fishing equipment that traces its roots back to 1915.
"What I like to bring to the classroom is what I call the real world," said Ward, a lecturer at the College for the past 10 years. "I live in it every day and sometimes it's a little different than what you might read in a book."
He defined entrepreneurship as the investment of a person's ideas, time and money into a product, service or business with a viable economic upside. It's also important for an enterprising business visionary to assume a certain amount of risk, he said.
"If you really want to be an entrepreneur, you've got to risk your time, you've got to risk your money and you've got to risk your ideas," Ward said.
He plans to use three books for the course focused on the key concepts of entrepreneurship, including failure. It's easy to focus on success stories but just as important to understand why seemingly good ideas break down, he said.
In his leadership post at Cortland Line Company, Ward sometimes receives product ideas from people looking to make it big in the fly-fishing market. Cortland Line Company, for instance, supplies products to Wal-Mart. Too often, he said, aspiring entrepreneurs submit research or ideas that are incomplete.
"People come to me with gizmos all of the time and each one is going to be the greatest," Ward said. "Everyone has the math worked out, but there's a fallacy of looking solely at numbers. People need to understand what their market is."
Ward said he will teach his SUNY Cortland students the importance of research tools such as beta tests and the necessity of an effective "elevator pitch," the ability to comfortably and clearly explain a concept in a short amount of time.
There's some debate whether entrepreneurial skills can be taught or whether they're innate, Ward said. He plans to teach the course with the expectation that every student can evolve into an entrepreneur.
"You can be an entrepreneur from scratch or you can bring an entrepreneurial spirit to a company," he said. "Not everything has to be created from scratch."
When McNamee won his second-place award in the Local Business Idea Competition, it was for an idea that improved safety through vehicle brake light brightness. Under his concept, the harder a driver stepped on a car's brake, the brighter his or her rear lights shined, making it safer for approaching motorists.
McNamee doesn't have an engineering background to execute the business competition idea, so he plans to come up with a new idea, he said. Whether it will take off remains to be seen. He's confident, however, the process will provide some skills necessary in the financial sector — his dream field.
"Of all the classes I'm taking next semester, this seems like the most interesting one," said McNamee, who pursued an internship this summer with Merrill Lynch in Garden City, N.Y. "I'm also taking calculus and physics, so this one should be the most fun."
Series Spotlights Wellness as a Campus Priority
08/10/2012
Each semester, SUNY Cortland makes a weekly commitment to encouraging the entire campus and community in the pursuit of a lifetime of good health.
That's no surprise, as well-being is one of the College's four priorities, along with academic excellence, transformational education and maximizing resources.
Sponsored by the Health Promotion Office and the Student Development Center, the Fall 2012 "Wellness Wednesday" series will take place each Wednesday at 7 p.m. in Corey Union Exhibition Lounge, unless otherwise noted. The events are free and open to the public.
On Aug. 29, Louise Mahar, the College's assistant director of recreational sports for fitness, will offer "An Intro to Yoga." Participants will experience a beginner-level yoga class and should dress in loose, comfortable clothing and bring a towel.
On Sept. 5, two SUNY Cortland student affairs representatives will discuss "So You're in College: Now What?" Billie Jean Goff, associate director of counseling and student development, and Cathy Smith, health educator, will address issues for first-year and transfer students, such as residence hall living, partying, homesickness, new relationships and peer pressure.
On Sept. 12, participants can "Walk the Walk of Student Services" at an open house from 5:30 to 7:30 p.m. in Van Hoesen Hall and Corey Union. Visitors will be able to meet the student services staff and view the facilities of the University Police Department, student health services, counseling, student disability services, health promotion, substance abuse prevention and education, career services, residence life and housing, Academic Support and Achievement Program (ASAP), Emergency Squad, Tomik Fitness Facility and recreational sports, as well as Auxiliary Services Corporation. Staff from the Vice President for Student Affairs, Multicultural Life and Campus Activities offices will meet students in the Corey Union lobby. Refreshments will be served and prizes raffled.
Well-being is one of the College's four priorities, along with academic excellence, transformational education and maximizing resources.
A farmer's market will be held at Neubig Hall between 11 a.m. and 2 p.m. on Sept. 19. Sponsored by the Student Affairs Sustainability Committee with assistance from the Auxiliary Services Corporation, the market will offer locally grown and produced foods and other healthy and sustainable goods.
National presenter Mike Dilbeck will discuss the opportunity that each student has to encourage classmates to make the right choices on Sept. 26. His talk, titled "Response Ability: Being an Every/Day Hero," begins at 7:30 p.m. in the Corey Union Function Room. Eighty percent of students make good decisions and they have the power to notice and act on the other 20 percent making choices that bring down their communities, according to Dilbeck. He will concentrate on giving his audience three powerful life skills to use whenever they see unhealthy or negative behavior among their peers, in their classes, on their campuses and in their lives. Presented as the keynote event for "Students Against Violence Week," the talk is co-sponsored by the Sexual Assault Awareness and Programming Committee.
A panel composed of College and community officials and a student will address "Depression and Suicide: Offering Hope" on Oct. 3. The panelists will share stories and resources that offer hope and healing for campus community members who are feeling sad, stressed, anxious, overwhelmed, disconnected or alone, or who know friends or family who are experiencing depression. The presenters include Garra Lloyd-Lester, Cortland County's mental health youth services development director; Jeanette Dippo, a SUNY Cortland Health Department faculty member; and Traci Halpin, a former SUNY Cortland student.
National speaker Rick Barnes will go beyond the rules and regulations regarding alcohol consumption to address the personal choice students make on Oct. 10. His presentation, "Drink Think: A Personal Approach to Alcohol," begins at 8 p.m. in the Corey Union Function Room. "Alcohol is the most widely used and misused substance in our colleges and universities today," said Barnes, who will hold discussion about alcohol use on campus that is intended to be fun and interactive yet serious. The talk is co-sponsored by the Student Conduct Office.
The campus strives to become a national leader in the promotion of the physical, emotional, cultural and social well-being of all community members.
On Oct. 17, Lyndon Huling, assistant director of multicultural life and diversity at SUNY Cortland, will introduce "SafeZone," a new program to identify, educate and support lesbian, bisexual, gay, transgendered and questioning (LBGTQ) allies. SafeZone aims to provide tools for allies to support and advocate for those who identify as LBGTQ. Huling will outline the SafeZone program's mission and discuss allies, who are individuals in the Cortland community who consider themselves to be open, accepting and knowledgeable about LBGTQ issues. He will explain how individuals and organizations can make their space a certified SafeZone.
The College and community will team up to address "Diversity within the LGBTQ Community" on Oct. 24. Huling of the Multicultural Life and Diversity Office and Leah Calzolaio, project coordinator with the Cortland LGBTQ Resource Center, will lead the panel discussion on the assumptions of sameness in the LGBTQ community, and hear the unique experiences of each panelist around their multiple identities.
Members of the campus and community are invited to dress up, party and help the New York Public Interest Research Group collect donations for local food pantries during "Trick or Eat!" from 6 to 8 p.m. on Oct. 31. Between their volunteer service, students will depart from and return to the Corey Union Exhibition Lounge, where they will be offered refreshments and prizes.
On Nov. 7, a panel of presenters will discuss "Hooked on Prescription Drugs," which relates to the apparent rampant abuse of prescription drugs with its devastating effects. Sharing stories and resources that offer insight, information and encouragement will be Mark DePaull, assistant chief of police with the College's University Police; SUNY Cortland senior Dean Damore; and Barry Schecter, a SUNY Cortland Health Department faculty member who also coordinates the College's Human Service Studies.
The campus and community are invited to take part in the "Great American SmokeOut" from 11 a.m. to 2 p.m. Nov. 14 on the first floor of Corey Union. Health promotion interns will be available to help individuals sign the pledge on Wednesday to quit for the day on Thursday. Health Promotion and the Tobacco Advisory Committee host this event.
For more information or accommodation to attend an event, contact Catherine Smith, the College's health educator, in Van Hoesen Hall, Room B-1, or at (607) 753-2066.
History Grant to Send Teachers Into the Wild
08/06/2012
Two SUNY Cortland history professors have won a large, competitive grant to introduce schoolteachers from across the country to late 19th and early 20th century American history from the unique perspective of the wilderness.
Thanks to a National Endowment for the Humanities (NEH) grant worth nearly $180,000, they'll also share the majestic beauty of the Center for Environmental and Outdoor Education at Raquette Lake, the College's unique learning space in the Adirondack Mountains.
Kevin Sheets and Randi Storch were awarded for their grant proposal titled "Forever Wild: The Adirondacks in the Gilded Age and Progressive Era." They will use Camp Huntington, the only national historic landmark in the State University of New York system, to show two groups of 40 teachers how the natural world shaped American history during the Gilded Age and Progressive Era, a time period that stretches roughly from the 1870s to the early 1920s.
In most classrooms, the time period is defined by the rise of the city; New York City's population, for instance, mushroomed by 500 percent between 1870 and 1910.
"When you think about the Gilded Age, your mind automatically goes to the city," said Sheets, an associate professor at the College. "You think of industrialization. And that's not a bad thing, it's just how people teach it: the rise of the industrial city.
"But the wilderness was integral to industrialization. You couldn't have the Gilded Age cities without these outlying regions."
The Adirondacks proved vital to the cultural expression and economic livelihood in ways that are sometimes skimmed over by history textbooks, Sheets said. Natural resources were abundant in the wilderness, where timber mills provided the lumber for urban expansion and wire manufactured from iron ore helped build the Brooklyn Bridge. Artists derived a sense of spirituality in the forests while wealthy industrialists discovered the perfect location for their Great Camps, resort-like retreats that embodied their wealth.
In the 1870s, William West Durant built what today is Camp Huntington, the first Great Camp in the Adirondacks and one of three that "Forever Wild" participants will visit.
"The Great Camps are these stunning achievements where you're in the middle of what seems like nowhere yet there are all of these amenities," Storch said. "Here these wealthy people are roughing it, and I say that in big giant air quotes, with all of these beautiful amenities: giant mezzanine halls, bowling alleys, a cabin for the mistress.
"It's all very comfortable."
Two one-week workshops spent mostly in the Adirondacks will introduce schoolteachers to an important period of American history. Significant as the era is, however, some rather dry issues can make teaching it difficult.
"Politically, there's a lot going on but this is the age of those anonymous presidents, the ones with beards that no one can remember," Sheets said. "It's sometimes hard to make that period exciting for students.
"I have trouble doing it and I suspect other teachers do as well. So one of the appealing things about our project is this really cool way to teach about the Gilded Age."
That's why the workshop will transplant its participants to the Adirondacks: to examine the central issue of what the wilderness meant to Americans during the Gilded Age and Progressive Era. Participants will spend the first day of the program in Cortland, studying at the 1890 House Museum and walking the neighborhood that once included the Wickwire Brothers wire drawing mill. This introduction will give the teachers a framework for Gilded Age city life before they consider its connections to the wilderness, Storch said.
"We are such the archetypal industrial community," she said. "Imagine immigrants coming from Europe, factories belching smoke and a concrete urban environment. That was Cortland."
The teachers then will be transported to SUNY Cortland's outdoor education facility at Raquette Lake, a place where thousands of the College's students and alumni have spotted the Milky Way's stars at night. Rebecca Edwards, a history professor at Vassar College, will speak to participants during their time in wilderness. They also will visit the Adirondack Museum, which houses exhibits of artifacts related to the industrial era.
"What struck Randi and me and what we really want to explore with the teachers is this juxtaposition of the idea of wilderness — uncivilized, harsh, taxing stuff — with the camps, which are these carved beautiful spaces set there for a retreat," Sheets said.
Teachers from all grade levels will put together an individual project that takes the form of a classroom lesson plan and a group project that involves creating a short digital documentary. Most of the grant's funds will go to workshop participants for fixed costs such as transportation and lodging. Funding also will be used to cover bus transportation for the group to and from the Adirondacks, iPads to film the group documentaries and operation fees that the College incurs.
The grant writers even budgeted for a seaplane tour of the Adirondacks.
"You can describe the views to someone but if you put them up there in the sky, then suddenly — boom, they get it," Sheets said. "That's the excitement we want teachers to have."
The grant-writing process produced a 19-page application and involved several drafts from Sheets and Storch, both of whom have won major awards for their proposals in the past. They started their work in the fall, poured countless hours into their abstract and relied on vital input from faculty and staff members, notably Amy Henderson-Harr, the College's assistant vice president for research and sponsored programs, and a review team of Craig Little, a SUNY distinguished service professor of sociology/anthropology; Joy Mosher, an associate professor of childhood/early childhood education; and David Neal, an associate professor of performing arts.
"Forever Wild" will be part of the NEH Landmarks of American History and Culture Workshops for School Teachers Education Program, a highly prestigious group that this year included seminars on the American Revolution in Concord, Mass., and Abraham Lincoln in Springfield, Ill.
Although Raquette Lake might not have the same name value as those iconic places, Sheets is hopeful it will attract a unique type of educator in the summer of 2013.
"It's the wilderness, so it's going to attract a certain type of person, I think, who is predisposed to being comfortable in that wilderness environment," he said. "But I hope it will also bring in teachers for whom this wouldn't be an instinctive choice."
Bottom line, Storch said, the weeklong workshop has the potential to magnify an important component of late 19th and early 20th century American life that's often passed over.
"The way that the wilderness shows up when you're talking about this period, a lot of times, is just this minor distraction," she said. "What we hope we're going to get teachers to see is how central it was and how fundamentally connected it is to both the urban and American stories."
College Sweeps Corporate Challenge Do-Over
08/10/2012
At take two of the J.P. Morgan Chase Corporate Challenge in Liverpool, N.Y., fitness-minded SUNY Cortland employees took home all of the road race's glory.
The College's men's and women's four-person teams both finished first at the Aug. 5 make-up of the annual running event for Central New York businesses and organizations, which was shortened in June due to soaring temperatures and heat-related medical risks. The make-up was necessary to crown competitive squads who will represent Syracuse at the 2013 international championship.
That means the two four-person teams from SUNY Cortland will travel Tuesday, May 21, to Rochester, N.Y. Companies with four-person winning teams in men's, women's and co-ed divisions in each of the 13 cities — 156 athletes in all — receive an expenses-paid trip to the championship. The last three years it has been held in Johannesburg, South Africa; Singapore and Chicago.
Christopher Tucker, the Corporate Challenge team captain and the College's property control manager, said he was thrilled with the results and even more impressed with SUNY Cortland's turnout.
"I'd be lying if I said I wasn't stoked for the men and women who get to travel," said Tucker, who finished third on the SUNY Cortland men's team to qualify for the championship. "But really, this is about everyone from the College who made the effort to run — the group of 10 who competed in the championship qualifier and the 121 people who showed up to the first race in June.
Josh Henry, left, and Kim Kraebel won
the men's and women's titles at the J.P.
Morgan Chase Corporate Challenge on
Aug. 5.
"We always talk about how health-conscious and committed to fitness we are as Cortland employees. You really get a sense of that by seeing all of the Cortland shirts in a race like this. It's come to be expected that if there's a big community event promoting health or wellness, SUNY Cortland will be represented well. That certainly was the case here."
SUNY Cortland fielded the largest team at the Aug. 5 make-up. Of the 39 runners who raced, 10 were College employees. The 121 faculty and staff members who participated in the June event also marked an all-time high for SUNY Cortland and ranked 10th out of 283 organizations at the event.
"The numbers don't lie," Tucker said. "Everyone who's involved with our Corporate Challenge effort is part of a special group."
A small slice of that group flexed its muscles at the make-up race, taking the top two overall spots and accumulating the top three women's finishes.
Josh Henry, an assistant coach for the College's cross country and track and field teams, broke the finish line tape in 18 minutes and 45 seconds, good for a 5:21 pace per mile. John Aerni-Flessner, an assistant professor of history, earned second place overall in 19:18 while Tucker (21:19) and Hugh Anderson (21:46), the study abroad advisor for the International Programs Office, completed the men's top four.
Kim Kraebel, an associate professor of psychology, paced the women's field in 23:04. Julie Barclay, a lecturer of geology, and Miranda Blechman, an assistant in institutional research and assessment, finished second and third among women with respective times of 24:24 and 24:35. Louise Mahar, the assistant director of recreational sports for fitness, rounded out the SUNY Cortland women's contingent in 26:45.
The next race stop is the Rochester Institute of Technology campus for both four-person teams, where they'll run among some of the fastest businesses in the world.
"Will we finish first in the world?" Tucker asked out loud. "That's pretty wishful. But hopefully, spectators will see eight SUNY Cortland shirts and they'll say to the person next them: 'Man, that Cortland must be one heck of a team.'"
Warren Street Cut-Through Closed
08/28/2012
The approaches to SUNY Cortland on the south end of campus soon will take on a new look that people living on neighboring streets will likely appreciate.
City residents on private properties adjacent to the College between Pearl and Sands streets are expected to experience greater privacy after one unofficial campus entrance — the familiar and long-time Warren Street pedestrian cut-through — is closed for good.
Pedestrians who live or park in the Pearl/Sands area still can access the campus by walking on Warren Street to Broadway Avenue or away from campus to Tompkins Street and then back onto College grounds from the far end of Pashley Drive.
But the quick zip through the Warren Street gap will be no more.
"I believe this is going to be a real positive for a couple of reasons," said Brian Tobin, mayor of the City of Cortland. "The change will improve the safety of pedestrians who are predominantly college students. And this will be a good thing for city residents who live along the street, because of a reduction of traffic along the road that results in noise, etc. It's going to be a win for both the city and for the College."
Some students who drive to campus for classes are accustomed to parking on city streets in the vicinity and using the public walkway as a convenient shortcut to lower or upper campus via the College's Pashley Drive, according to College and city officials.
Meanwhile, a steady stream of students walk to classes between upper and lower campus through the residential area, emerging abruptly to cross paths with the dangerous flow of cars and buses and trucks along Pashley Drive.
"Students typically will use it as a walkway from the towers down along Warren Street and over to the Park Center or the Professional Studies Building," Tobin said. "One of the problems is there is a fair amount of the section where there is no sidewalk. And along the College side, with the fence line and trees, there is a considerable obstruction of view. Boom, you're right on the road, and this is not necessarily the safest of footpaths."
So the removal of the Warren Street route, currently blocked to vehicular traffic at the junction with Pashley, is expected to improve public safety as well as free the neighborhood from unwanted cars parked in front of homes. It should also reduce the accompanying heavy foot traffic and unwelcome late-night noise.
"I've lived on Pearl Street for the last eight years and in the last two to three years I've seen an increase in the number of cars that are parking on the street and the number of people who are walking over onto campus," Tobin said. "I don't know what has brought it about but it certainly has created a little bit of congestion on the streets, especially for local residents. They have a hard time getting in and out of their driveways. Hopefully it will reduce the number of cars parking on Pearl Street."
College and city officials have pursued the changes together.
Tobin credits 4th Ward Alderman John Bennett Jr. and City Finance and Administration director Mack Cook with hammering out the city's end of the plan with College officials including Nasrin Parvizi, associate vice president of facilities management, and Frederic Pierce, public relations director.
SUNY Cortland has communicated closely with the local community to foster a smooth transition as a new $56 million Student Life Center (SLC) will be constructed this fall on the site of a former football practice location, Carl "Chugger" Davis Field. The multi-purpose building will greatly expand student recreational, club and social opportunities when it is finished in December 2014.
Planners of the SLC held a series of public hearings about the anticipated construction project and will adopt a number of improvements suggested by residents.
"There were some neighbors who were concerned about the proximity of the Student Life Center and not having an adequate buffer," said Jeffrey Lallas, the College's director of facilities planning, design and construction.
"Along with that we heard expressed a lot of neighborhood concern that many students were parking along Pearl Street, for convenience or to save on the cost of a parking permit," Lallas said. "And the closing of Warren at Pashley dovetails with other mitigations now incorporated into the design."
Tobin said the city might take the lead and re-install a fence that once halted the foot traffic flow at Warren and Pashley before the start of school. In any case, once the College's contractors begin working on the area around October or November they will close the cut-through on the SUNY Cortland side.
"Regardless, when construction begins, that cut-through will be closed down anyway," Tobin said. "All we're doing is closing it down a little earlier and then people won't have to change their traffic habits."
Area residents will see Pashley Drive itself closed during the two years of SLC construction. When the road reopens, it will be moved approximately eight feet away from the back of Pearl Street properties. Shrubs and trees on a grassy buffer zone will replace the roadbed. The row of automobile parking slots that faced Davis Field will disappear as well.
"That will make it a little bit better for the residents and will make it better for the College as well," commented Tobin about those changes. "We plan on having a very productive conversation to look at the issues from all sides and say, 'What's going to be the best for everyone?'
"It's going to make the walk to class safer for students and going to make the neighborhoods safer for everyone."
Raffle to Help Siblings Devastated By Cancer
08/21/2012
Brian Tobin, head coach of the SUNY Cortland men's and women's swimming and diving teams, says he finds inspiration in a pair of swimmers. They're not named Phelps or Franklin and they don't have any Olympic medals to their credit.
Trent and Destani Friend are adopted siblings, former members of the Sea Dragons, a community swim team built around children with special needs that's housed at SUNY Cortland. The two teenagers lost both of their parents to cancer within 15 months, and are being cared for by their older brother, their adoptive parents' biological son.
"They're teenagers and they've already persevered through so much," said Tobin, who oversees the Sea Dragons program and is helping with a grassroots effort to raffle off two autographed New York Jets footballs to raise money to help the siblings.
Parents from the swim team wrote to the Jets, SUNY Cortland's NFL training camp partner, in 2010 and again in 2012. The franchise responded both times by offering two autographed footballs: one signed by the 2010 team, which reached the AFC Championship game, and one by its current squad, which includes popular backup quarterback Tim Tebow.
Raffle tickets for the balls cost $5 each and are being sold at Cortland businesses. A grand prize drawing will be held on Friday, Aug. 31, to determine both winners.
"A friend with cancer, you'll do anything for," said Julia Marion, the lead organizer of the fundraiser. She met Gene and Sara Friend, Trent and Destani's adoptive parents, through the Sea Dragon program.
"I made a promise to Sara when she was dying that I would help out her children in any way that I could," she said.
Michael Friend, Gene and Sara's 31-year-old biological son, legally adopted his siblings before their mother passed away from brain cancer in January. Just 15 months earlier, in October 2010, a quick bout with the same type of cancer took their father's life.
From left: Michael, Sara, Gene, Trent and
Destani Friend
The family of three lives in Locke, N.Y. The siblings, who will be freshmen at Moravia High School this fall, have settled into a daily routine since Michael became their primary caretaker. Michael leaves for his job at the Cornell University masonry shop around 5:30 a.m. so he can return home by 2:30 p.m. to tend to the needs of 15-year-old Trent and 14-year-old Destani. The teenagers see themselves off to school when it's in session. Michael juggles the duties of a single parent, shuttling his siblings to appointments and practices, cooking them dinner and helping them with their homework when it's needed.
Trent, who Michael describes as an improving student and an accomplished wrestler, suffers from attention deficit disorder. His sister Destani, a talented artist and a jokester at heart, shows signs of it too. That led them to connect with the Sea Dragons when they were younger.
"Before the Sea Dragons, there was never anything for our children to do," said Marion, whose son, Derek, was a member of the first Sea Dragon squad with Trent and Destani despite several different physical disabilities. "Finally, there was a team for our kids to be a part of."
The Sea Dragons practice four evenings a week, all year round. The team is coached by Tobin during the summer and by graduate student Rachael Phillips during the academic year. It's part of a physical education course at SUNY Cortland that offers college students an opportunity to work with people with disabilities.
The Sea Dragons also receive occasional guidance from members of the College's swimming and diving teams.
The team today includes more than a dozen members. It competes against other club teams from New York state, many of which are made up of swimmers without disabilities. Most Sea Dragons either cope with a disability or have a sibling who has one. Typically, disabled swimmers will receive accommodations from meet officials, such as being placed in an outside lane for easier access to the pool ladder and better visibility of a coach.
"They might struggle at times, but their work makes them better than most," Tobin said. "We've got a few kids right now that could more than hold their own in my aquatics classes for physical education majors."
Trent and Destani provided contagious enthusiasm when the club was launched, Tobin said. But after surgery severely limited Sara's mobility, and her need for round-the-clock care increased, it became extremely difficult to transport them to practices. Marion, who lives in Cortland, would make the half-hour drive to their house to pick them up.
WHAT: Buy a $5 raffle ticket for a chance to win one of two autographed Jets footballs and help former Sea Dragon swimmers Trent and Destani Friend at the same time.

WHERE: Local businesses selling the tickets include: Central City Bar and Grill, Central Hair Studio, Dasher's, Hairy Tony's and Hyde's Diner. Donations also can be made to "The Friend Benefit" at Summit Federal Credit Union and can be mailed to: 143 Main St., Cortland, N.Y., 13045.

WHEN: Tickets must be purchased before Aug. 31, when a grand prize drawing will be held.
Many nights, they wouldn't want to leave their mother's side.
"My mom was upset because she saw how well they were doing and how they connected with the other kids on the team," Michael said. "She didn't want to see them give it up."
It was easier for Trent and Destani to participate in sports closer to their hometown. Sea Dragon teammates and their families, however, made sure they weren't forgotten. Parents like Marion provided things like an occasional gift basket or dinner.
"You really get to see the good side of people when something tragic like this happens," said Marion, herself a breast cancer survivor. "And one thing Sara always said to me: 'When you do a benefit or a fundraiser, I want to come, because I want to thank the people.'
"Unfortunately, she never got to see it."
The raffle for the autographed footballs is a way for Marion to keep her promise to look after Sara's family, she said. It's also a way to provide financial relief for Michael, "because, for most of his life, he's done everything with everyone else in mind," Marion said.
She hopes to raise $5,000 through raffle proceeds, which Michael said will go towards college funds for Trent and Destani.
"People sometimes say that they feel bad for me, but I know for a fact I would do it all again, the same way, if all of this happened again," Michael said. "I feel bad that (Trent and Destani) have had to go through this, especially at such a young age, but I tell them that it's going to make them stronger when they get out of high school.
"I think they'll be able to handle things just because they've already been through so much."
Grad Student Takes Alternate Path to Olympics
08/03/2012
U.S. Olympians in London who are worried about paying their bills are depending on SUNY Cortland graduate student Angel Bovee, a retired women's boxing champion who once lived out of her car to make ends meet.
The 39-year-old recreation major works with the Team USA Career Program as a specialist for Adecco, a global human resources company that supplies temporary workers to business clients. Adecco partners with the U.S. Olympic Committee for a simple reason: to provide the country's Olympic and Paralympic competitors — both current and retired — with career services and job prospects.
Bovee's full-time work has taken her from a Colorado Springs office to the London Olympics, where she's keeping a video blog of the career program's success stories until the Games conclude Aug. 12. She seems to be the perfect ambassador for Adecco's "Better Work, Better Life" campaign, simply because she understands first hand the need for it.
"Athletes are competing longer and longer because of the advances in sports medicine," said Bovee, speaking from London. "So a lot of times, when they retire from a sport, they're at least eight years behind their peers as far as career experience goes.
"It's hard enough to make that transition from the Olympic or Paralympic world to the business world. Then if you don't have any career experience on top of it, it can make that transition even more difficult."
The athletes that Bovee helps aren't the ones on Wheaties boxes. They come from teams that compete at the Winter and Summer Games in nearly every non-marquee sport — from archery to women's ice hockey. She works with people who make their earnings outside of sports, both team captains and competitors who might never stand on the medal winner's podium. Even an Olympian who competed at the 1972 Summer Games in Munich has used Adecco's services.
"I can't rattle off a specific number (of athletes served), but I always say that for every Michael Phelps, there's probably 100 athletes training that you're never going to hear about," Bovee said. "Everybody thinks if you're an Olympian that you're on a cereal box, and it's just not the case."
Bovee knows that well; the goal during her boxing career was never an endorsement deal, just a ticket to the first-ever Olympics for her sport.
"(Boxing) was the hardest thing I had done in my life and I loved the challenge," said Bovee, who started boxing in 1998 and won a national title without a coach at the 2000 U.S. National Golden Gloves Championship. "One day, I walked into this dirty, dingy boxing gym and I never wanted to leave."
She paid her own way to fly herself to fights and managed to find stand-in trainers for her corner of the ring. She won many bouts early on, but rules prevent amateur Olympic-style women's boxers from collecting money winnings. That made it all the more risky when Bovee decided in 2002 to quit a cozy job producing television commercials and take out a $15,000 loan for living expenses so she could chase her Olympic dream.
Women's boxing, however, had yet to be added to the Olympic program.
For six months in 2002, she lived out of her Plymouth Sundance at a Poughkeepsie train station while she commuted nearly every day to Brooklyn, a prime training destination for boxers. Purchasing train tickets, paying for gym time and attempting to eat a healthy diet on-the-go added up, but she eventually found work as a personal trainer and an apartment to share.
Angel Bovee won three national titles and made
trips to the first two world championships for
women's boxing. Today, she works with the
Team USA Career Program as a specialist for
Adecco, a global human resources company.
"That's why I'm so passionate about this program," Bovee said of her work with Adecco. "If I had a Team USA Career Program that I could have accessed back then — I had the skills and the experience — but it's really hard to find a job where you can disappear for three weeks and go to a training camp in Russia or wherever you have to go for competition."
As it pertains to her success in the ring, the gamble paid off. Bovee's boxing résumé stretches a mile long, highlighted by three national titles and trips to the first two world championships for women's boxing. She's boxed in arenas from Istanbul to Madison Square Garden and even served as a national team captain for the second world competition.
But it wasn't all golden. Rules prevent female boxers from competing internationally after they turn 35 years old, so Bovee's Olympic dream evaporated after the International Olympic Committee rejected the inclusion of women's boxing in the 2004 and 2008 Summer Games. Until this year, when women's boxing made its Olympic debut in London, boxing had been the only Olympic sport without a women's program.
At 35 and nationally ranked No. 1 in her weight class, Angel Bovee retired in 2008.
The Norwich, N.Y., native received a scholarship to pursue a master's degree in recreation at SUNY Cortland. She settled in Central New York in 2009, her competitive boxing career behind her, and kept herself busy as a graduate assistant with the College's Recreation Department and as an AmeriCorps volunteer at the Lime Hollow Center for Environment and Culture.
"I just tried to keep myself super busy," Bovee said. "In making that transition from being an elite athlete to being back in the world again, I think Cortland did me a lot of good."
She submitted her master's thesis, on the challenges faced by American female boxers, and is currently waiting for its final approval. She also serves on the USA Boxing Board of Directors, a seat she's held since 2006.
In that role, she won one of the most important fights of her life by earning a spot for women's boxing at the London 2012 Olympics.
"For me, it's bittersweet," said Bovee, who will celebrate her 40th birthday in London on Aug. 7. "I'm really proud for the sport and I'm a little sad I couldn't compete. But as we all do, I had to redefine my dream and change it.
"In a way, it's almost fitting that I'm here today in this capacity."
Angel Bovee, finally, made it to the Olympics.
Campus Technology Services Announces New Name
The Academic Computing Services and Classroom Media Services offices were renamed Campus Technology Services, effective on July 1.
With a vision of leveraging the strengths of both of these areas, Associate Provost for Information Resources Amy Berg reorganized and merged these offices under the direction of Lisa Kahle in January 2010. Since then the staff have worked as a unit to implement and support desktop and media technologies throughout the campus' instructional facilities and work spaces.
"The new name is the final step of the merge and reflects our dedication to providing and supporting technology excellence across the campus," said Kahle.
Because the name change will require changing existing websites, handbooks, brochures, mailing lists and forms, all printed materials with the old name should be discarded. New forms are now available at myRedDragon.
For more information, visit the Campus Technology Services website.
Small Grant Applications Due Sept. 14
The Faculty Development Center is accepting applications for the Cortland College Foundation Small Grants Program, which provides up to $500 of funding to SUNY Cortland to faculty, staff and students.
Application Process: Application forms are available from the Faculty Development Center in Memorial Library or online at www.cortland.edu/fdc. A department chair or supervisor and the appropriate dean or vice president must approve applications before they are submitted for review to the Faculty Development Committee. The president of the College makes a final decision.
Applications for funding are accepted once each semester. Deadlines for applications for the fall semester are Friday, Sept. 14, and Friday, Feb. 15, for the 2013 spring semester.
Completed applications should be submitted to the Faculty Development Center, Memorial Library, Room B-303 or via email at fdc@cortland.edu.
Program Guidelines:
Applicants are eligible to apply for one Small Grant per fiscal year (July 1-June 30).
Small grant award activity dates for fall applications are from the first day of the fall semester through Dec. 31. Spring applications award activity dates are from Jan. 1 through the end of the spring semester.
Projects most deserving of small grant support are those that tend to advance the Mission of the College by:
· enriching the intellectual or cultural life of the Campus
· promoting professional development of faculty and staff
· providing special educational opportunities for students
· improving internal and/or external communication at the College
· enhancing the image of the College
· accommodating unique or unusual contingencies which fit nowhere else.
Successful applications include a rationale for the proposed activity that incorporates the criteria listed above. Grant applications that fulfill more than one of the criteria above are given higher priority.
Small grant support is not available for scholarships, graduate assistantships, intercollegiate athletics, or student organizations that are eligible for funding through other campus sources. In addition, small grants may not be used to pay for services rendered by SUNY Cortland faculty and staff.
Budget: The application's budget section should include specific details regarding all other sources of funding for the proposed project, both granted and pending. In addition, applicants must also include sources of funding which were sought, even if those efforts were unsuccessful.
Once approved, original invoices/receipts should be submitted for reimbursement. Failure to provide such documentation will result in denial of payment or reimbursement. Payments can be made payable to Income Fund Reimbursement (IFR) accounts, Auxiliary Services Corporation (ASC) Agency accounts, vendors or individuals.
Program Publicity: If your project involves a public program, such as a press release, printed program, publications, conference or public address, all public announcements should indicate that the Cortland College Foundation supported the project.
Final Report: Applicants are required to submit a one-page report following their funded activity to detail the use of foundation funds and the results of the project. The approval of future small grants will be contingent upon completion of the prior final report.
For more information, contact Karla Alwes, English Department, at (607) 753-2085.
Bowlers Sought for Friday League
The College's Sunset Bowling League is seeking bowlers for the 2012-13 Season. Teams consist of three bowlers, with membership open to all College employees, retirees, student employees and their families.
Those interested in becoming a regular bowler or a substitute bowler can attend the organizational meeting for the league at 4:30 p.m. on Thursday, Aug. 30, at Cort-Lanes, or contact Teri Wood by email or at (607) 753-4218.

Suggest a feature story
---
People on the Move
Carolyn Bershad Heads Counseling Center
08/20/2012
Carolyn Bershad of West Chicago, Ill., joined SUNY Cortland on Aug. 6 as director of counseling and student development in the Division of Student Affairs.
Bershad, who has more than 11 years of experience providing direct counseling and psychological services in a higher education setting, replaces Richard C. Peagler, who retired as director emeritus of counseling and student development in June 2010 after 38 years of College service. Billie Jean Goff, associate director of counseling, managed the Counseling Center on an interim basis after his retirement.
Reporting to Christopher Kuretich, the assistant vice president for student affairs, Bershad will play a senior leadership role in order to advance the College's efforts to support student success and development.
In addition to the Counseling Center, she will lead the Health Promotion Office, Student Disability Services and Substance Abuse Prevention Education.
Bershad will oversee a comprehensive program of counseling and psychological services for SUNY Cortland students. She will carry out clinical responsibilities including individual and group counseling, psychological testing, crisis assessment and intervention, consultation, follow-up and referral, as well as administrative duties.
Bershad previously served as acting director of Northern Illinois University (NIU)'s Counseling and Student Development Center, overseeing more than 11 full-time staff members, nine trainees and three support staff members. During her five years at NIU, Bershad also was associate director at the school's comprehensive counseling center, responsible for the center's day-to-day operations while serving the clinical needs of diverse urban and rural student populations.
Before her tenure at NIU, she was a staff psychologist at the University of Illinois at Chicago's Counseling Center, and a staff therapist at the University at Buffalo's Counseling Center. She completed a pre-doctoral internship at University of Delaware's Center for Counseling and Student Development. Bershad also served as a graduate assistant at the Pennsylvania State University's Center for Counseling and Psychological Services while completing her doctoral studies.
The author of five published reports in her field, Bershad has delivered seven national presentations in her discipline and given many state and regional presentations.
She was honored by Northern Illinois University in 2009 with a Supportive Professional Staff Council Certificate of Recognition. In 2010, she was inducted into the Zeta Gamma Chapter of Phi Beta Delta, the honorary society for international scholars.
Bershad is the current chair of the American College Personnel Association's Commission for Counseling and Psychological Services. She also is a member of the Association of University and College Counseling Center Directors and the American Psychological Association.
A native of Brooklyn, N.Y., Bershad earned a B.A. in Chinese studies at Binghamton University. She received two M.A. degrees ¾ in cultural anthropology and Asian studies ¾ from the University of Hawaii at Manoa. Bershad earned her Ph.D. in counseling psychology from Penn State.
---
Faculty/Staff Activities
Brian Barrett
Brian Barrett, Foundations and Social Advocacy, presented his paper, with Rob Moore of Cambridge University, titled "Changing from Within: Basil Bernstein, Teacher Education, and Social Justice" at the Seventh International Basil Bernstein Symposium in Aix-en-Provence, France. Additionally, his review of Knowledge, Pedagogy and Society: International Perspectives on Basil Bernstein's Sociology of Education, edited by Daniel Frandji and Philippe Vitale, was recently published in the journal International Studies in Sociology of Education, volume 22, issue 1.
Susan Bush and Michelle Congdon
Susan Bush, School of Professional Studies, and Michelle Congdon, Human Resources Office, recently completed the Administrative Skills Certificate Program (ASCP) offered through the NYS & CSEA Partnership for Education and Training. The 26.5-hour ASCP was completed over the course of seven months and is designed around critical job-related knowledge, skills and abilities necessary for clerical, secretarial and paraprofessional administrative employees to succeed in their careers.
Karen Downey
Karen Downey, Chemistry Department, attended the Biennial Conference on Chemical Education, held in State College, Pa., from July 29 through Aug. 2. While there, she presented her innovations in the pedagogy of physical chemistry.
Mary Gfeller, Claus Schubert and Christopher Donohue
Mary Gfeller, Claus Schubert and Christopher Donohue, Mathematics Department, were informed that their paper, "Using Group Explorer in Teaching Abstract Algebra," was accepted by the International Journal of Mathematical Education in Science and Technology. The paper was authored by Schubert and Gfeller, faculty in the Mathematics Department, and Donohue, a former graduate student.
Dan Harms
Dan Harms, Library, had two books published this summer. The first, The Long-Lost Friend, is a book of Pennsylvania German folk remedies from 1820 published by Llewellyn. The second, Experimentum Potens Magna, is a handwritten and illuminated manuscript of folk belief published by Caduceus Books of Burbage, Leicestershire, Pa.
Susan Peterson
Susan Peterson, Modern Languages Department, participated in a panel discussion broadcast by the radio station Cienpuntoyalgo in Cuernavaca, Mexico, on July 10, and via their website at cienpuntoyalgo.com.mx. The focus of the discussion was the role of the college professor when a student's personal situation negatively impacts his or her academic performance. The program, called "Semaforo," features a different topic and panel for each presentation and Peterson will be a future contributor to this program. She participated at the invitation of Aranzazu Garcia Gomez, professor at the Universidad LaSalle located in Cuernavaca, who was also a panelist. The program aired from 8-11 p.m. Central time.
Gregory D. Phelan
Gregory D. Phelan, Chemistry Department, had a United States patent issued on July 25. Patent number 8,227,561 "Bisphenol-A replacement materials" deals with safer alternatives to a common consumer plastic. The patent was developed based on research that Phelan is currently doing with industrial partners.
Claus Schubert
Claus Schubert, Mathematics Department, was invited for a weeklong stay with the research group on quadratic forms at the Zukunftskolleg of the Universität Konstanz, Germany, from June 4-8. While there, he gave a talk titled "On Quadratic Forms of Height 2."
Robert Spitzer
Robert Spitzer, Political Science Department, is the author of an article titled, "Gun Law, Policy, and Politics" that appears in the July/August issue of the New York State Bar Association Journal, the publication of the New York State Bar Association.

Submit your faculty/staff activity