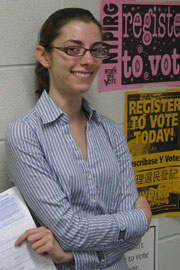 Campus Champion
Don't let Amanda Carpenter's age fool you. At 22, the New York Public Interest Research Group project coordinator is barely older than the SUNY Cortland students she educates on important election topics such as hydrofracking and education reform. Yet the 2011 SUNY Albany graduate recently led a grassroots effort at the College to register more than 170 student voters for the Nov. 8 election, speaking to classes and setting up tables in Corey Union to increase voter turnout. "It's my job to make sure their voices are heard when it comes to the issues that are affecting college students," Carpenter said.

Nominate a Campus Champion
---
Tuesday, Nov. 8
Panel Discussion: U.S. Education in Global Context," Brockway Hall Jacobus Lounge, 4:30 p.m.
---
Tuesday, Nov. 8
Native American Film Series: "Two Indians Talking," Sperry Center, Room 205, 7 p.m.
---
Tuesday, Nov. 8
Speaker: "Everything Internships with the Internship Queen," Lauren Berger, Intern Queen Inc., Career Services, Old Main Brown Auditorium, 7 p.m.
---
Tuesday, Nov. 8
Open Mic Night: Corey Union Exhibition Lounge, 8 p.m.
---
Wednesday, Nov. 9
Sandwich Seminar: "Geographical Information Systems (GIS), SUNY Cortland and MPower Integrator," Adam Levine, Physical Plant, Brockway Hall Jacobus Lounge, 12:30 p.m.
---
Wednesday, Nov. 9
Documentary: "Waiting for Superman," Sperry Center, Room 205, 4:15 p.m.
---
Wednesday, Nov. 9
Panel Discussion: "Waiting for Superman ... Or Not: Documentaries and Discussion about School Choice," Sperry Center, Room 205, 7 p.m.
---
Wednesday, Nov. 9
Wellness Wednesday Series: "BEing Civil is all about BEing Human: LGBTQ and Communities of Color," Noelle Chaddock Paley, Multicultural Life and Diversity and panel of speakers, Corey Union Exhibition Lounge, 7 p.m.
---
Thursday, Nov. 10
Sandwich Seminar: "Tobacco-Free Campus: Why Go Tobacco-Free and What Does It Mean for Me?" by members of the Tobacco Advisory Committee, Brockway Hall Jacobus Lounge, noon
---
Thursday, Nov. 10
Clark Center Reception: Performance by Africana Dance, Old Main Faculty Lounge, 4:30 p.m.
---
Friday, Nov. 11
Admissions Open House: Park Center gymnasium, 10 a.m.–3 p.m.
---
Friday, Nov. 11
Veterans Day Ceremony: Keynote Speaker is Joshua Bacigalupi, U.S. Army Combat Veteran, Old Main Brown Auditorium, 3 p.m.
---
Friday, Nov. 11
$ Nutritional Fitness Workshop: Park Center, Room 2303, 3 p.m.
---
Friday, Nov. 11
Cortaca Mug: Games, entertainment, refreshments, Interfaith Center, 9 p.m.
---
Sunday, Nov. 13
College Singers Concert: Music from 'Les Misérables,' Dowd Fine Arts Theatre, 2 p.m.
---
Monday, Nov. 14
Luncheon Workshop: "Teaching Online with an International Partner," Sperry Center, Room 309, 12:30 p.m.
---
Tuesday, Nov. 15
Faculty Senate Meeting: Brockway Hall Jacobus Lounge, 1:15 p.m.
---
Tuesday, Nov. 15
Alumni Speaker Series: Careers in the Health Professions, Career Services, Corey Union Exhibition Lounge, 7 p.m.
---
Tuesday, Nov. 15
Native American Film Series: "Apache 8," Sperry Center, Room 205, 7 p.m.
---
Tuesday, Nov. 15
College-Community Orchestra Concert: "Charles Ives and His World," conducted by Ubaldo Valli, Dowd Fine Arts Theatre, 8 p.m.
---
Wednesday, Nov. 16
Supervisors' Workshop: "Developing Appropriate and Effective Performance Programs," first of a three-part workshop series titled "Nuts and Bolts of Performance Management," Park Center Hall of Fame Room, 9-11 a.m.
---
Wednesday, Nov. 16
Wellness Wednesday Series: "Go Cold Turkey!" Health Promotion interns and Tobacco Advisory Committee members promotet tobacco-free initiative and Great American Smokeout, Corey Union first floor, 11 a.m.-2 p.m.
---
Wednesday, Nov. 16
Sandwich Seminar: "Multiculturalism, Diversity, Equity, Inclusion, Access and Social Justice at SUNY Cortland," presented by Multicultural Life and Diversity Office staff, Brockway Hall Jacobus Lounge, 12:30-1:30 p.m.
---
Wednesday, Nov. 16
Film and Discussion: "Corn Soup," a documentary about Native American culture, followed by discussion with filmmaker Torry Mendoza and participant Clint Shenandoah, Sperry Center, Room 205, 4 p.m.
---
Thursday, Nov. 17
Sandwich Seminar: "Accommodation and Adjudication in Student-Administrative Conflicts: The Difficult Legacy of the U.S. Supreme Court," Katrina Bratge, Educational Leadership Department, Brockway Hall Jacobus Lounge, noon-1 p.m.
---
Friday, Nov. 18
Opening Reception: "Hybrid Moments," watercolor exhibit by Timothy Chave, a senior in SUNY Cortland's Bachelor of Fine Arts program, 104 Main St., Cortland (above A Pizza & More restaurant), 6-9 p.m. Chave will speak about his work at 6:30 p.m.
---
Saturday, Nov. 19
Children's Museum Series: Dan the Snake Man will present reptiles using informative displays and interactions, McDonald Building, 60 Tompkins St., 10 a.m.-1 p.m.
---
Monday, Nov. 21
Chemistry Lecture Series: "Chemistry for the Future: Materials Design for Alternative Energy Sources," Akiko Fillinger, Ithaca College, Sperry Center, Room 304, 3 p.m. A light reception at 2:40 p.m., Sperry Center third floor lobby. A discussion follows the talk in Sperry Center, Room 105, at 4:15 p.m.
---
Monday, Nov. 21
Comedian: Sherrod Small, Old Main Brown Auditorium, 7 p.m.
---
---
Graduate Student to Speak on Veterans Day
11/07/2011
When it came time for Joshua Bacigalupi and his wife, Darci, to name their first child, they settled on one that reflected Joshua's service as a U.S. Army national guardsman in Afghanistan. The new addition to their family was named after two members of Joshua's overseas, military family.
Joshua, who is pursuing a Certificate of Advanced Study in school district and school building leadership at SUNY Cortland, will speak about the importance of family to servicemen and servicewomen during the College's celebration of Veterans Day on Friday, Nov. 11. The ceremony will take place at 3 p.m. in Old Main Brown Auditorium. A reception will follow in the Fowler Grand Entrance Hall.
"When you are in the military, your unit becomes your family, especially when you are deployed," said Joshua, who served in Afghanistan in 2008. "And your family back home is just as much a veteran as you are."
Joshua, a kindergarten teacher in the Cortland City School District, and Darci, the special events coordinator at SUNY Cortland, chose the name Miles Bryan Bacigalupi when their son was born in September. Miles is Latin for soldier and Bryan is the first name of two men Joshua served with in Afghanistan. The name was a fitting tribute to Joshua's service.
"(Being part of the military) has made me realize that where you are born and where you happen to be a citizen of is dumb luck, and we should be extremely grateful to be citizens of this country, despite whatever imperfections it may have," Joshua said.
He joined the U.S. Army after reading a story about the Sept. 11, 2001, terrorist attacks. It stated that many U.S. Army recruits would come from the poorest and most uneducated areas of the country. Joshua did not think it was fair to place the burden of two wars inequitably on the shoulders of a particular socio-economic group, so he enlisted.
He spent eight years in the U.S. Army: six as an active guardsman in the National Guard and two on the Inactive Ready Reserve List. As a result, his view of the world was altered greatly.
An accurate public perception of veterans is vital, Joshua said. A history book picture of an aging man in uniform communicates only a small part of the definition, he said.
"Sometimes it is weird to think of myself as a veteran," he said. "…(Veterans) are in your classes, in your work places and in your community. They don't all go on 'Ellen' to collect amazing prizes, they all don't speak at Veterans Day ceremonies unless poked and prodded, and they are an extremely modest and quiet group.
"Our country's freedom was won on the backs of soldiers similar to those of today. Students need to understand the sacrifices that veterans have made throughout history to ensure the freedoms they have today."
Parking for SUNY Cortland's Veterans Day celebration will be available in the lower levels of the parking lot near Graham Avenue and Groton Avenue. For more information, contact Susan Vleck at (607) 753-5453.
Tobacco-free Policy Lauded by Cancer Society
11/08/2011
The American Cancer Society will honor SUNY Cortland for its decision to become a tobacco-free campus during a Wednesday, Nov. 16, campus event aimed at persuading students to participate in the annual Great American Smokeout.
Students will be encouraged to sign tobacco-free pledges and will be given "quit kits" from 11 a.m. to 2 p.m. in Corey Union during the event, scheduled for the day before the 36th annual Great American Smokeout on Thursday, Nov. 17. The national "Smokeout" was created by the American Cancer Society to give tobacco users a target date to quit or to make a plan to quit.
On Jan. 1, 2013, SUNY Cortland will become a tobacco-free campus. The Nov. 16 event, during which educational material will be provided, is one of many efforts that will be made to raise SUNY Cortland students' awareness of the health threat posed by tobacco and to help students, faculty and staff who smoke or chew tobacco to quit.
"This is a big deal for us, and we want to recognize the great progress made by SUNY Cortland toward becoming completely tobacco free," said Sue Moranda, community mission manager for the American Cancer Society. "The College is supporting a culture of wellness and genuine respect for the well-being of the whole campus community."
Representatives of the cancer society and Tobacco Free Cortland will present a plaque to SUNY Cortland officials recognizing them as "Partners in Excellence," Moranda said. The presentation will be at 11:15 a.m. Only two other State University of New York Campuses, Buffalo State College and SUNY Canton, have announced plans to ban all tobacco use on campus.
The pledge signing and other tobacco-related activities at Corey Union Nov. 16 will be sponsored by students with the SUNY Cortland chapter of Colleges Against Cancer (CAC) and the College's Tobacco Advisory Committee. The "quit kits" and other educational and promotional materials are being supplied to CAC by Target Corporation, the national retail chain.
As part of SUNY Cortland's ongoing effort to become one of the healthiest higher education institutions in the United States, President Erik J. Bitterbaum and his cabinet this summer approved a proposal to transform the College into a tobacco-free community.
Tobacco use accounts for at least 30 percent of all cancer deaths in the United States, according to the American Cancer Society. Smoking is by far the leading risk factor for lung cancer, and lung cancer is the most common — and most preventable — type of cancer for both men and women.
Of the 15 million college students in the United States today, it is estimated that 1.7 million will die of smoking-related illnesses, most prematurely, according to the American Cancer Society. That amounts to more than 10 percent of current college students.
---
Capture the Moment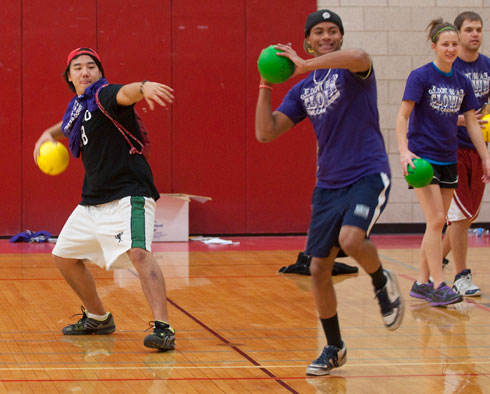 Four six-person teams participated in a dodgeball tournament organized by the Colleges Against Cancer student group on Nov. 6 in Park Center. The event sought to educate participants on the importance of SUNY Cortland's new tobacco-free initiative, which will go into effect in 2013.
---
In Other News
Keep Up With Cortaca Through Live Tweets
11/07/2011
SUNY Cortland will recap Saturday's Cortaca game in 140 characters or less.
The College's main Twitter account, @SUNY_Cortland will offer important game details and unique commentary through live updates from Ithaca College's Butterfield Stadium.
Wherever they may be during the game, SUNY Cortland students, alumni, faculty and staff are invited to hashtag "Cortaca" for appropriate game-related tweets. The most creative ones will be re-tweeted from the College's Twitter account and will appear on SUNY Cortland's official Facebook page.
Don't be left out. Start following SUNY Cortland on Twitter today.
Who knows? Cortaca could become a trending topic on Twitter.
The SUNY Cortland football team, coming off a record-setting 64-43 win over Brockport, enters its final regular season game with a 7-2 record. Ithaca College is 4-5 on the season.
Kickoff for Saturday's game is slated for noon.
Philanthropy Week Events Spotlight Generous Alumni
11/07/2011
During her ascent from unassuming local news intern in Albany, N.Y., to sought-after fashion writer in New York City, Jené Lupoli Luciani '99 never forgot SUNY Cortland.
She has appeared on NBC's "Today Show" nine times in the past year and has won plenty of attention for her first book, The Bra Book: The Fashion Formula to Finding the Perfect Bra, which came out in 2009. Still, the style consultant has generously offered her talent and treasure to her alma mater in the 12 years since her graduation.
"Cortland gave me the foundation to go out into my career and tell myself I could do anything," said Luciani, who will be the focus of the Nov. 28 episode of the Bravo television network's "Mad Fashion."
She is one of the many alumni that SUNY Cortland will celebrate Monday, Nov. 14, and Tuesday, Nov. 15, with Philanthropy Week events. Two 'thank you' card signings for alumni donors will be held on both days from 11 a.m. to 2 p.m. in Corey Union and Neubig Hall. By participating, students become eligible to win prizes. Those prizes include a $50 Visa gift card for a raffle winner and a large jar of M&Ms for the person who submits the closest guess to the College's number of alumni donors.
"SUNY Cortland has many generous donors and these events are a small way of saying 'thanks,'" said Jennifer Janes, director for the Cortland Fund. "We also hope the card signings help our active students see the importance of becoming active alumni like Jené."
Last year, alumni including Luciani contributed nearly $1.4 million to SUNY Cortland and accounted for $670,000 in scholarship contributions. Janes said every dollar was needed because state funding has decreased over the past two decades.
"In the early 1990s, nearly 90 percent of the College's operating budget was funded by New York state," Janes said. "Today, only about 30 percent comes from the state."
Luciani, who also contributes to several charities near her home in White Plains, N.Y., said she tries to give slightly more to the College each year as her personal success grows.
"I always say: Some day, I'm going to give a student an entire scholarship," she said.
The goal might seem ambitious but Luciani has never been a person to let conventional wisdom ground her dreams. When she was an undergraduate, the former communication studies major told Distinguished Service Professor Samuel Kelley, her academic advisor, that she wanted to be a television personality on MTV one day.
"It sounded funny at the time," Luciani said. "But he never laughed at me or said my goal was ridiculous."
Jené Lupoli Luciani '99 is shown wearing her couture Chris March bra dress, made of some 200 of the foundation garments, to promote her new book in April in New York City.
A college internship turned into a four-year career as a television news producer at NBC News Channel 13 in Albany, N.Y., immediately after her SUNY Cortland days. When she moved downstate after marrying her husband, Luciani's dream career slowly took shape.
She eventually latched onto a multi-media marketing company in Manhattan and primarily dealt with fashion topics. She secured a freelance writing gig with The Wag magazine in 2005 and quickly became its fashion and beauty editor.
"Fashion just seemed like a natural fit," Luciani said. "I realized that I liked giving advice and helping people in that way."
While she was working on a story about the must-have items in the everyday woman's wardrobe, she found that most women hated bra shopping and needed help badly.
"I said to my boss at the time that someone should write a book on bras," Luciani said. "She goes: Well, do it."
The Bra Book sold 25,000 copies in its first year on the market and Luciani's status grew with the book's popularity. "Mad Fashion," which features high-profile designer Chris March providing an extravagant outfit for a client on each episode, will feature Luciani in three weeks.
March, who once designed Meryl Streep's Oscar gown, put together a dress for Luciani made out of 200 bras for an April book event in Manhattan. The dress perfectly encapsulated Luciani's creativity, a trait she said blossomed at SUNY Cortland.
"Cortland was just such a good environment for me," said Luciani, who served as the keynote speaker at SUNY Cortland's Student Leadership Banquet in 2008 and received the College's Distinguished Young Alumni Award in 2009. "Twelve years later, being able to reflect back on that, I want to give back as much as I can."
Cortaca Mug Event Entertains Without Alcohol
11/08/2011
The fourth annual Cortaca Mug event returns Friday, Nov. 11, to offer SUNY Cortland students an alcohol-free party in anticipation of Saturday's rivalry game.
The event runs from 9 p.m. to 3 a.m. and takes place in the Interfaith Center adjacent to campus at 7 Calvert St. Every student who attends will receive a commemorative Cortaca coffee mug for free, compliments of the Interfaith Campus Ministry, the Campus Activities and Corey Union Office, the Residence Life and Housing Office and the Cortland County Council of Churches.
The event serves as a prelude to Saturday's annual football game between SUNY Cortland and Ithaca College, which kicks off at noon at Butterfield Stadium in Ithaca, N.Y.
"Our rivalry in football provides an opportunity for students to celebrate in various ways," said Mary Kate Boland, the assistant director for leadership and community development at SUNY Cortland. "Cortaca Mug has become a wonderful option for students who want to celebrate in an alcohol-free setting."
Student attendance at the event has increased each year since it began in 2008. Live music, free food and prize giveaways highlight the late-night activities.
This year, the SUNY Cortland Rock & Blues Ensemble will play at 9 p.m. Card tables will replace the Interfaith Center's pews and community members will lead various activities. Free pizza and drinks, which include soda and coffee, make up the evening's menu.
The biggest draw, however, might be the event's giveaways. Raffle prizes, donated from groups across campus, have ranged from SUNY Cortland hats and t-shirts to an Apple iPad and various gift certificates. Last year, more than 40 students walked away with prizes.
"We plan on this year's event being better than ever," Boland said.
For more information, contact Boland at (607) 753-2034.
'Intern Queen' to Share Job Information
11/07/2011
Named a 2009 finalist on the annual list of America's Best Young Entrepreneurs "Twenty-Five U.S. Entrepreneurs Ages 25 and Under" by Bloomberg Businessweek, Lauren Berger is no longer worrying about internships.
Berger is CEO of Intern Queen Inc., an online internship destination that helps students find and apply for internships while educating them on how to make the most of their experiences.
She will present "Everything Internships with The Intern Queen" on Tuesday, Nov. 8, at SUNY Cortland.
Her talk, at 7 p.m. in Old Main Brown Auditorium, is sponsored by Career Services, the Vice President of Student Affairs Office and the Campus Artist and Lecture Series. It is free and open to the public.
Berger participated in 15 internships during her four years of college, hence the title "Intern Queen." She earned a degree in organizational business communications at the University of Central Florida and interned for top-notch companies across the country such as MTV, FOX, BWR Public Relations and NBC.
America Online wrote this about Berger: "If you are going to college and wondering what you are going to do this summer — you need to look her up." Mobile Youth has placed her in the top 10 Youth Marketing Minds of 2010.
Berger applied her knowledge of the industry to her first job post-college at Creative Artists Agency in Beverly Hills, Calif. She told everyone at the company of her business ambitions and it caught the eye of Hollywood producer Marshall Herskovitz ("The Last Samurai," "Blood Diamond," "Defiance"). Herskovitz invested in her start-up in June 2008.
As CEO of Intern Queen Inc. and national college speaker, Berger works with more than 500 employers located in the U.S. and in Canada. Her website, InternQueen.com, reaches more than 40,000 different students, parents and employers each month. She has connected hundreds of students with the internships of their dreams. Berger has spoken to thousands of high school and college students across the country. She has a weekly advice column with the Washington Post website and has been recently featured in The New York Times, The Wall Street Journal, FoxBusiness.com, the New York Post, AOL, Alloy.com, YPulse.com, E!News.com, Yahoo Business, MarieClaire.com, and more.
Berger's new book All Work, No Pay is due for release by Random House in January.
B.F.A. Student Opens Watercolor Exhibition
11/08/2011
Timothy Chave, a senior in SUNY Cortland's Bachelor of Fine Arts (B.F.A.) program, describes his artwork as a hearty blend of satire and toilet humor.
"I typically combine those elements with sincere reflections of myself and others," said Chave, of Skaneateles, N.Y. "That results in paintings that are both humorous and poignant, on some strange level."
"Hybrid Moments," Chave's B.F.A. thesis art exhibition, will be on display from Friday, Nov. 18, to Monday, Nov. 21, above the A Pizza & More restaurant at 104 Main St. in Cortland. His series of 36 watercolor paintings will be displayed on the building's third floor in a brick gallery Chave prepared specifically for his exhibition.
An opening reception will take place from 6 to 9 p.m. on Nov. 18, with Chave speaking about his work at 6:30 p.m. From Nov. 19 to Nov. 21, the gallery will be open from 4 to 7 p.m. The opening reception and exhibition are free and open to the public.
Chave's creative approach relies on both the free-flowing lines of his sketching and the polished strokes of his painting to produce artwork that maintains "raw emotional energy," according to the artist.
"These paintings incorporate layers of visual information that represent a conglomeration of place and time," Chave wrote in his exhibition abstract. "The resulting environments are inhabited by beastly apparitions whose animal-like features harbor distinct and often comical personalities. These 'hybrids' add a living, breathing overtone to the work while allowing for the viewer to associate more personally with each piece."
Chave said his family and friends inspire his artwork. A transfer student from Onondaga Community College in Syracuse, N.Y., he said his SUNY Cortland education expanded his creative spirit.
"SUNY Cortland has pushed me to approach a more conceptually-free artistic style," Chave said. "It has driven me to create art that challenges my skill set and comfort zone."
For more information on the exhibition, contact Chave.
College Council Honors Bernard E. Thoma
10/27/2011
The SUNY Cortland College Council presented its 2011 College-Community Appreciation Award to Bernard E. Thoma '78, M '80, whose community development work has helped make Cortland more vibrant, attractive and connected with the College, during a special invitation-only banquet on Oct. 27 in Corey Union Function Room.
Thoma, founder and owner of Thoma Ltd., in Cortland, became the 30th recipient of the annual award, established in 1985 to formally recognize and thank local residents who have significantly assisted SUNY Cortland.
The city is more appealing for the College community as a result of Thoma's long-time service as a member of the Cortland College Foundation and his professional contributions to the greater Cortland community, according to College and community officials. His work has fostered partnerships that encourage SUNY Cortland students to grow as citizens. His efforts improved the local housing stock, encouraged business development and helped create a vital downtown with a true "Collegtown" feel.
"He is exceptionally committed to the College," said Raymond Franco, SUNY Cortland's vice president for institutional advancement. "Bernie believes his life was changed by his SUNY Cortland education. He serves on the foundation because he wants to ensure future support of students so others may be changed for the better through a college education."
Thoma joined the Cortland College Foundation Board of Directors in the 1994-95 academic year, and has served ever since. He was vice president from 2003 to 2008 and has chaired the Nominating and Bylaws committees since 2003. He has represented the foundation at Commencement.
"Bernie has taken a leadership role on the Foundation," Franco added. "In recruiting new members for the foundation board, he interviews candidates very intensively to ascertain their interest in serving. In terms of his committee service, he is very hands-on and takes his responsibility very seriously."
Franco, formerly a vice president for student affairs at the College, noted Thoma's long-term efforts to improve housing in Cortland.
"He is dedicated to improving the community and has presented ideas on how to do so while at the same time providing attractive and affordable housing to members of the campus community," Franco said.
In 1980, Thoma founded what is now a 12-member consulting firm at 34 Tompkins St. Thoma Ltd. provides grant writing, planning and administrative services, principally to the public sector.
Through his firm, Bernie has helped secure funding that improved the quality of affordable housing available in the city, including the reconstruction of Cortland's landmark Clocktower Building and the student housing it provides.
"Thoma has been instrumental in seeking and securing funds on the city's behalf to improve low-to-moderate income housing in the city," which makes the city a more inviting place for the campus to be located, said Thomas Gallagher, the former mayor of Cortland and current chair of the College Council.
Thoma has worked extensively with a number of different groups to address a variety of off-campus student housing issues. Recently, he pulled together a variety of stakeholders to prepare the city's Comprehensive Plan, a blueprint for future development that stresses the need to offer sufficient, high-quality off-campus student housing while maintaining the city's attractive, residential nature.
Bernard E. Thoma '78, M '80, shown second from the right, accepts the College Community Appreciation Award (CCAA) from Thomas Gallagher, who chairs the SUNY Cortland College Council. Along with Gallagher, a former mayor of Cortland, Thoma also is shown with local movers and shakers who have worked with him to improve the Cortland community as a place to live. They are Sen. James Seward of the 51st Congressional District, left, himself a 2004 CCAA award recipient, and SUNY Cortland President Erik J. Bitterbaum.

In 2005, in cooperation with the Cortland Chamber of Commerce, the city and the College, members of Thoma's company donated thousands of volunteer hours to the Cortland Downtown Partnership Project.
"We developed a very close working relationship, and together we worked to develop the Cortland Downtown Partnership," Gallagher said.
As part of that project, Thoma worked with the city to secure grant funding that was used to renovate the building at 9 Main St., which renovated by owner NcNeil Development and leased and reopened by the College as Main Street SUNY Cortland. The establishment represented a new opportunity for the institution to reach out to and engage with the community surrounding the campus. As part of a partnership, the College agreed to provide office space for the Cortland Downtown Partnership.
Gallagher pointed out that this project helped both the city and College by bringing members of the campus community downtown to become involved in hands-on learning opportunities relating to urban revitalization efforts.
Additionally, many SUNY Cortland students have taken courses in the Cortland Downtown Partnership's headquarters at Main Street SUNY Cortland, or based their community-related research projects and civic engagement endeavors there.
Over the past eight to 10 years, Thoma's company has mentored student interns from SUNY Cortland, primarily those majoring in sociology or political science.
An estimated 30 percent of his staff are SUNY Cortland graduates. Thoma encourages them to give back to the community that has nurtured their careers, and their many hours of volunteer service benefit both the College and community.
After the ceremony, Bernard E. Thoma '78, M '80, right, savors a moment with his family, including his son, Nathan, and his wife, Paula Thoma '76, M '80 and C.A.S. '01.

Thoma Ltd. was recognized as a leader in community development by the New York State Secretary of State under the Quality Communities Program in 2002. The company also was honored as a medium sized "Business of the Year" in 2006 by the Cortland County Chamber of Commerce.
Thoma is affiliated with the New York State Economic Development Council, the Tioughnioga Waterfront Commission, and the National Trust Main Street Center.
He has provided work time for himself and his staff to participate in the United Way Day of Caring and Catholic Charities' School Lunch in the Park and Holiday Food Basket Programs. The company also has held a can drive for a food pantry and has adopted a planting area in one of the public parking areas.
Thoma grew up in Central New York, graduating from Liverpool High School. In 1975, he received an A.A.S. from Tompkins Cortland Community College and earned a B.A. in 1978 and an M.S. in 1980 from SUNY Cortland. Thoma served in the U.S. Army from 1972-74. His wife, Paula, also is a SUNY Cortland graduate. She earned a bachelor's degree from SUNY Cortland in 1976, an M.S.Ed. in 1980 and a Certificate of Advanced Studies (C.A.S.) in 2001. Recognizing the value of a SUNY education, their son, Nathan, is a graduate of University at Buffalo.
In receiving this award, Thoma is somewhat unique in also being a SUNY Cortland graduate. Past recipients who also are alumni are Essie Eckler Vangeli '47 (1991), Marian Natoli Atkinson '54 (1997), Martin Mack M '76 (2009), and Dorothea Kreig Allen Fowler '52, M '74 (2010).
Second Fall Open House Set for Nov. 11
11/07/2011
Approximately 800 prospective college students are expected to spend a day visiting academic departments, touring the campus and talking to faculty and students during the second SUNY Cortland Fall Open House on Friday, Nov. 11.
The College will show off its campus during a regular day of classes to potential students who missed the first fall Open House on Oct. 10. It was attended by 615 students and their family members, said Admissions Director Mark Yacavone.
Faculty, staff and students from academic departments and student service offices will be available to meet with visitors throughout the day. Additionally, guests may tour the campus and eat in the dining facilities.
Open House allows visitors the opportunity to experience the campus by interacting directly with students, faculty and staff. The visitors have made prior reservations with the Admissions Office to be on campus that day.
The program will formally begin at 9:30 a.m. in Park Center. An academic fair, featuring department faculty, and a student services fair, with student services representatives, will take place in Park Center Corey Gymnasium from 9:30 to 11:30 a.m. At 12:30 p.m., students are encouraged to proceed to their chosen academic department offices for more information and a tour.
Guided tours of the campus and residence halls will run from 11 a.m. to 2:30 p.m. Participants will meet in the Corey Union Function Room.
Assistant Professor of Biological Sciences Theresa Curtis will give a presentation on pre-medical advisement at 1:30 p.m. in Corey Union, Room 201. Christopher Latimer, assistant professor of political science, will share information on pre-law advisement at 1:30 p.m. in Corey Union, Room 301.
Open House visitors also are welcome to attend the Veterans Day Ceremony, featuring as keynote speaker Joshua Bacigalupi, a U.S. Army combat veteran, at 3 p.m. in Old Main Brown Auditorium.
Special sessions on admissions, financial aid, athletics, dining services and residential services also will be offered that day. For details, visit the website at cortland.edu/admissions.
Parking for Open House visitors will be provided at the Professional Studies Building lot, formerly called the Studio West lot, and the Route 281 parking lot, which has shuttle bus service to Park Center.
Yacavone noted that the fall format is much different from the spring Open House, in which the majority of the visitors already have been admitted and are in the process of deciding whether to attend SUNY Cortland. By contrast, at the fall Open House, the visitors are in an earlier stage of choosing a college.
Television comic Sherrod Small to Perform Nov. 21
11/07/2011
Sherrod Small, a popular stand-up comedian and television personality known for his humorous pop culture critiques, will bring his act to SUNY Cortland on Monday, Nov. 21.
The comedy show featuring Small, perhaps most recognized as a regular on the VH1 show "Best Week Ever" and the late-night satire program "Red Eye with Greg Gutfeld" on Fox News, will begin at 7 p.m. in Old Main Brown Auditorium.
Sponsored by the Student Activities Board, the event is free and open to the public.
Two other comedians — Jordan Rock and Jay Oakerson — will open for Small. Rock, Small's cousin and the younger brother of legendary comedian Chris Rock, will start the show and host the event. Oakerson, who has appeared previously on the Comedy Central cable channel, will perform next.
The headliner Small previously served as a guest commentator on other VH1 specials, including "100 Greatest One-Hit Wonders of the '80s," "100 Most Shocking Music Moments" and "40 Most Shocking Hip Hop Moments."
In 2007, Small and musician John Mayer performed a popular parody of the viral YouTube video "Chocolate Rain" on an episode of "Best Week Ever."
A native of Brooklyn, N.Y., Small regularly performs at the Comedy Cellar and Comic Strip Live in New York City.
For more information, contact Mary Kate Boland, the assistant director of leadership and community development, at (607) 753-2034.
Japanese Educators Learn about Character Education
11/08/2011
Five Japanese professors visited SUNY Cortland on Nov. 7 to learn how to bring character education into their country's classrooms.
Two faculty members from Hiroshima University, two from Okayama University and one from Doshisha University held all-day meetings with psychologist Thomas Lickona, a professor of childhood/early childhood education at the College. Lickona directs the School of Education's Center for the 4th & 5th Rs (Respect and Responsibility), a character education center devoted to advancing the "smart and good" schools vision throughout schools in this country and abroad.
"There is, in fact, a growing international character education movement," said Lickona. For example, last year the center hosted Ryota Yaginuma, an associate professor at Gifu National University's Graduate School of Education, for one full year of study at the College. SUNY Cortland's James M. Clark Center for International Education assisted with that academic guest scholar's appointment. Yaginuma ultimately plans to write a book for Japanese teachers on how character education is implemented in 24 award-winning American high schools.
So what would American educators have to share with Asian cultures about class control and high academic performance in the classroom?
"The problems they have really cut across cultures," said Lickona, a published author of eight books on character development and moral behavior.
"They have bullying in schools," Lickona said. "It takes different forms, but meanness and exclusion and harassment are found there. Some Japanese children have killed themselves because of bullying in the classroom."
"Cheating is a problem in Japan as it is in our schools," added Lickona. His center's Smart and Good Schools Summer Institutes have trained more than 4,500 principals, teachers and other educators from 35 U.S. states and 20 countries. "It just gets worse as it goes up the grades. It's most severe in the high schools where the competition to get the best grades is the strongest."
SUNY Cortland's five visitors were:
• Tazuko Aoki, a professor in the Faculty of Learning Science at the Graduate School of Education at Hiroshima University in Hiroshima, Japan, who is group leader for this research project.
• Yoshimasa Hashigaya, a professor in art education at the Graduate School of Education at Okayama University, who would like to bring his research to bear on teaching communication design.
• Shigeyuki Atarashi, a professor in the Department of Philosophy at Doshisha University in Kyoto, Japan, who is studying pragmatic ethics.
• Tsuyoshi Yamada, an associate professor in the Graduate School of Education at Okayama University, who is interested in measuring results in character education.
• Norimune Kawai, an associate professor in the Center for Special Needs Education Research and Practice at Hiroshima University, who will research speech disorders and character education in special needs classrooms.
After spending a day with the guests, Lickona arranged for them to visit the Shipley School in Bryn Mawr, Pa., and observe the school's model kindergarten through fifth grade classrooms.
"Usha Balamore, Shipley School's director of character education and assistant head of its lower school, has developed an exemplary, school-wide character education program," said Lickona, noting that Balamore is a native of India.
He said the school has based its character education program on Lickona's and Matthew Davidson's 2005 report, "Smart and Good High Schools: Integrating Excellence and Ethics for Success in School, Work, and Beyond."
Five character education project members from Japan met with Thomas Lickona, shown on the right, Nov. 7 at SUNY Cortland's Center for the 4th and 5th Rs. They are, from the left: Yoshimasa Hashigaya, Tsuyoshi Yamada, Tazuko Aoki, Shigeyuki Atarashi and Norimune Kawai.
The Shipley School used the Smart and Good Schools framework to design age-appropriate activities to help their students develop performance character, which is needed to do their best work, and moral character, which is needed to be their best selves, within an ethical learning community. This approach, effectively in use in the lower grades, has now expanded into Shipley's Middle School.
The Japanese visitors expressed an eagerness to take their findings back to Japan.
Aoki, whose academic field is developmental psychology, is interested in the positive development of youth in global society. She became familiar with character education in Kansas City, Kansas, when her family stayed there in 1998. Back in Japan, she began to conduct the research with some school district participants.
"This time, I would like to know how to make an effective comprehensive approach in school," she said. "For example, creating a caring school community and providing students with opportunities for moral action across grade levels in the USA."
Hashigaya's major is design, especially visual communication design emphasizing typography.
"In this research trip, I want to know how to use the visual communication design for students and staffs in the practices of effective character education," Hashigaya said.
Atarashi, who has translated texts on moral education into Japanese, described his philosophical research objective:
"I would like to focus on the ethical aspects of children fostering their own good habits in the practices of character education," he said.
Yamada, an educational psychologist, is very interested in the evaluation of character education.
"I want to know how to verify the effects of character education," he said.
The center is located in Cornish Hall, Room 1307. For more information, call (607) 753-2455 or e-mail character@cortland.edu.
Locally Filmed Native American Movie to Screen
11/07/2011
Native American culture will be the topic of discussion when two men who produced a short documentary on the spiritual importance of cooking a traditional dish at the nearby Onondaga Nation visit SUNY Cortland on Wednesday, Nov. 16.
"Corn Soup," which documents the traditional methods still used to grow, harvest, clean and prepare corn for this Iroquois staple, will be shown at 4 p.m. in Sperry Center, Room 205. Torry Mendoza, the filmmaker, and Clint Shenandoah, a prominent figure in the video and a member of the Heron Clan, will discuss Native American film after the screening.
The event, which is free and open to the public, is sponsored by the College's Native American studies program, the Center for Gender and Intercultural Studies and the Auxiliary Services Corporation.
The Onondaga Nation, where "Corn Soup" was filmed, is situated in Nedrow, N.Y., just outside of Syracuse and about 28 miles north of Cortland. It is home to one of the original five nations of the Iroquois Confederacy, also known as the Haudenosaunee.
Shenandoah is recognized as an Elder of the Onondaga people and he is well versed in Haudenosaunee tradition. A ceremonial leader, he also serves as a mentor and advisor for Native American inmates in correctional institutions across New York state.
Mendoza studies the mainstream depiction of Native Americans in popular media and creates films that examine Native stereotypes. He regularly writes and speaks about the media's portrayal of Native Americans. Mendoza holds a Bachelor of Fine Arts in Film Studies and Studio Art from the University of Colorado at Boulder and a Master of Fine Arts in Film from Syracuse University.
For more information on the film screening, contact Ellie McDowell-Loudan, a professor of sociology/anthropology and coordinator of the Native American studies program, at (607) 753-2485.
Non-Traditional Students Will Be Recognized Nov. 7 to 11
Nominations are being accepted through Monday, Nov. 14, for SUNY Cortland's "Celebrate-a-Non-Trad" campaign. Sponsored by Advisement and Transition, the campaign is part of Non-Traditional Students' Week, from Monday, Nov. 7 to Friday, Nov. 11.
Forms have been emailed to the campus community and are available online as well as in Advisement and Transition, Memorial Library, Room A-111.
Non-traditional students do not have a uniform definition, but often are ones who have delayed enrollment in college beyond the same calendar year of high school graduation. They are at least 24 years of age or, regardless of age, have dependent children. Some are considered non-traditional students if they attend college part time for at least part of the academic year, or work full time while enrolled in college, or are considered financially independent for purposes of determining eligibility for financial aid, or have dependents other than a spouse, or are raising a child as a single parent, or have completed high school without receiving a formal diploma.
The purpose of the campaign is to recognize non-traditional students who often balance college with other commitments such as family, jobs and long commutes. SUNY Cortland will recognize nominated non-traditional students with a certificate and campus recognition.
Nominations should include the student's name, contact information, relationship to the student and comments about the non-traditional student. Comments will be listed on the certificate, unless otherwise noted.
For more information about Non-Traditional Students' Week or to recognize an outstanding non-traditional student, contact Cheryl Hines, non-traditional student support coordinator, by email or at (607) 753-4726, or visit the website.
College Singers Present 'Les Misérables' on Nov. 13
A concert version of the monumental musical "Les Misérables" will be presented during a concert on Sunday, Nov. 13, by the College Singers at SUNY Cortland.
Directed by Stephen B. Wilson of the Performing Arts Department, the concert will begin at 2 p.m. in the Dowd Fine Arts Theater. The performance is free and open to the public.
The musical, an adaptation of the novel by the French author Victor Hugo, has been an audience favorite for a quarter century. It tells the story of life in France following the Revolution. The musical setting by Claude-Michel Schoenberg, with lyrics by Herbert Kretzmer, focuses on the struggle of the lower class in Paris and its environs to survive the poverty imposed upon it by the ruling class.
The central figure in the play, seen only in the first act and appearing as a ghost in the second, is the poor but honest Fantine (played by Samantha Rey), a factory worker who must sell her body to pay for the upkeep of her daughter Cosette (Angelia Golden), who is living with the venal Thenardiers (Kyle O'Rourke and Catherine Pluta), a couple who run an inn outside of Paris. Valjean (Tim Fuchs), a former escaped prisoner and now the factory owner and mayor of the town, loves Fantine and vows to care for her daughter after Fantine's death from consumption.
Other characters of importance are Marius (Will Rivera), a young student who falls in love the now-grown-up Cosette; Eponine (Nicole Herlihy), the daughter of the Thenardiers who secretly loves Marius; Javert (Chad Henke), the constable who pursues Valjean throughout the play; Gavroche (Grace McGeoch), a precocious young boy who fights on the side of the rebels, and Enjolras (Charles O'Connor), the firebrand leftist student who leads the rebellion against the upper class.
Some of the better-known songs from the show include Fantine's "I Dreamed a Dream," Eponine's "On My Own," the chorus's "Anthem" "Do you hear the people sing?" and the climactic finale of Act I, "One Day More." Catherine Skojec plays the role of Little Cosette and sings "Castle on a Cloud."
Because this performance is a concert version of the musical, narration will be furnished to inform the audience of the portions of the play not presented. Alicia Dee Leduc will serve as narrator.
Piano accompaniment is furnished by the Performing Arts Department's staff pianist Richard Montgomery, with lighting by Joel Pape.
This concert is sponsored in part by the Student Activity Fee.
For more information, contact Wilson at (607) 753-4615.
College-Community Orchestra Presents Music of Charles Ives
The work of pioneering American composer Charles Ives will be featured in the SUNY College-Community Orchestra concert set for Tuesday, Nov. 15, in the Dowd Fine Arts Theatre.
"Charles Ives and His World" will be directed by Ubaldo Valli of the Performing Arts Department. The concert will begin at 8 p.m. and is free and open to the public.
Charles Ives (1874-1954) was an iconoclastic American composer who composed music that reflected the America he knew, the America of New England, of marching bands, sometimes several playing different pieces at the same time in a parade, and of baseball, Decoration Day celebrations and barn dances. His music, innovative and uncompromising, was met through most of his life with indifference and confusion until the mid 20th century.
Ives composed a piano sonata titled "Piano Sonata No. 2, Concord, Mass., 1840–60," which he described as an "...impression of the spirit of transcendentalism that is associated in the minds of many with Concord, Mass., of over a half century ago." One of the movements is titled "The Alcotts" and depicts the household of Bronson and Louisa May Alcott. In "The Alcotts," Ives quotes Ludwig van Beethoven, Richard Wagner and the popular music of the day.
The concert centers around an arrangement for full orchestra of "The Alcotts" movement from the Concord Sonata. In addition, the concert features music related to the music quoted in "The Alcotts," including Wagner (Rienzi Overture), Beethoven (Finale to the Symphony No. 6 "Pastoral") and the popular music of his day as composed by Oskar Boehme (Russian Dance for Trumpet and Orchestra) featuring Professor of Music Ralph Dudgeon playing trumpet.
For more information, contact the Performing Arts Department at (607) 753-2811.
Alumni Speaker Panel Highlights Health Care Professions
SUNY Cortland's 2011-12 Alumni Speaker Series continues Tuesday, Nov. 15, with a panel discussion intended for students who want to pursue jobs in the health professions.
The informal discussion takes place at 7 p.m. in Corey Union Exhibition Lounge. It is free and open to the public. Light refreshments will be served.
Panelists include Mary E. Doss '93, a physician's assistant/nurse practitioner for Amin El-Hassan, M.D., of AMP Urology and Nada Salman, M.D., a general practitioner; Paul T. Gugerty '89, a physical therapist/contractor for Cortland Country Health Department, Cortland Regional Medical Center and OCM BOCES; Ellyn Geller Roloff '75, a physical therapist for Upstate University Hospital at Community General; and Maj. Howard Lang CRNA USAR '71, RN anesthetist for Veterans Affairs Medical Center and president of HCG Enterprises Inc.
The health professions panel is the second of six discussions planned with alumni professionals throughout the academic year. The remaining Alumni Speaker Series events, which begin at 7 p.m., include:
Sport management professionals on Tuesday, Feb. 7, in Corey Union Exhibition Lounge;
Business and economics professionals on Monday, Feb. 20, in Brockway Hall Jacobus Lounge;
Professionals in the human services and helping professions on Tuesday, March 20, in Corey Union Exhibition Lounge; and
Professionals involved with recreation and leisure on Tuesday, April 3, in Corey Union Exhibition Lounge.
The Alumni Speaker Series is sponsored by the Alumni Affairs Office and Career Services. For more information, contact Career Services at (607) 753-4715.
Three Workshops for Classified Employee Supervisors Scheduled
A three-part workshop series titled "Nuts and Bolts of Performance Management," designed for SUNY Cortland supervisors of classified employees, will be held on three days in November and December.
Human Resources staff members Joanne Barry, assistant vice president, and Gary Evans, associate director, will present these programs from 9 to 11 a.m. on the following Wednesdays in the Park Center Hall of Fame Room:
• "Developing Appropriate and Effective Performance Programs" on Nov. 16;
• "Providing Continuous Feedback" on Nov. 30; and
• "Preparing and Conducting Performance Evaluations" on Dec. 14
This series aims to help supervisors improve as managers by learning to recognize the key elements of writing effective performance programs, understand the importance of giving both positive and negative feedback, and explore how to write and conduct useful evaluations. Procedures specific to classified employees will be addressed. Participants will have the opportunity to practice some skills to and ample time will be allotted for questions and answers.
For more information, contact the Human Resources Office.

Suggest a feature story
---
Faculty/Staff Activities
Seth N. Asumah
Seth N. Asumah, Africana Studies and Political Science departments, received a national appointment to referee the National Junior Collegiate Athletic Association (NJCAA) National Soccer Championships from Nov. 3-6, hosted by Tompkins County Community College, Dryden, N.Y. Asumah is a member of the United States Soccer Federation and the National Intercollegiate Soccer Officials Association. He has represented the United States in five international matches and has received six national appointments to officiate the National Collegiate Athletic Association (NCAA) Final Four Championship games in all divisions. This is his fourth NJCAA National Soccer Championship appointment.
Heather Bartlett, Ross Borden, Jack Carr, Mary Lynch Kennedy, Christine Lemchak, Deborah Rogers and Anne Wiegard
English Department faculty members Heather Bartlett, Ross Borden, Jack Carr, Mary Lynch Kennedy, Christine Lemchak, Deborah Rogers and Anne Wiegard completed an intensive, week-long media literacy course in August at Project Look Sharp at Ithaca College. They received training in the theory and practice of media literacy, learned applications for digital technology and developed media literacy projects for their courses.
Kerri Freese, Mary Gfeller, Angela Pagano and Gregory D. Phelan
Kerri Freese, Noyce program coordinator, Mary Gfeller, Mathematics Department, Angela Pagano, Biological Sciences Department, and Gregory D. Phelan, Chemistry Department, accompanied eight SUNY Cortland students to the Noyce Northeast Regional Conference from Oct. 13-15 in Philadelphia, Pa. The conference brought together professional investigators, Noyce scholars and Noyce teachers from more than 45 Noyce Programs in the northeast region to share ideas and best practices. The agenda included professional development and the opportunity to collaborate and share experiences, expertise and skills with their peers and colleagues. Noyce Scholars who attended were: master's degree candidates Dominick Fantacone and Sarah Smith, adolescence education: biology, and Morgan Barnett adolescence education: mathematics; undergraduate adolescence education majors Jason Miedema, Tonya Wilson and Emily Hand, all mathematics; Margaret Murphy, physics; and Carolyn Furlong, earth science.
Mary Gfeller and Noyce Scholar Morgan Barnett
Mary Gfeller, Mathematics Department, and SUNY Cortland Noyce Scholar Morgan Barnett, presented the workshop session "Creating Successful Tiered Lessons for the Mathematics Classroom" on Oct. 15 at the Noyce Northeast Regional Conference in Philadelphia, Pa. Using Marian Small's book, More Good Questions, participants examined the process of creating parallel mathematics tasks in tiered lessons for diverse learners. Gfeller and Barnett shared their own experiences using tiered lessons, including how to overcome the most common problems teachers may encounter. Participants had the opportunity to brainstorm and share their ideas on how to differentiate with less difficulty and greater success.
Thomas S. Hischak
Thomas S. Hischak, Performing Arts Department, has signed a contract with McFarland Publishers to write the nonfiction book American Literature on Stage and Screen about 19th and 20th century American fiction that has been adapted for the theatre, film and television. McFarland recently released Hischak's Disney Voice Actors: A Biographical Dictionary about all performers who did voices for every Disney animated short and feature film from "Steamboat Willie" (1928) to "Tangled" (2010).
Mary Lynch Kennedy
Mary Lynch Kennedy, English Department, co-authored the seventh edition of the book, Writing in the Disciplines; A Reader and Rhetoric for Academic Writers, which was published by Prentice Hall and released earlier this year. There will be a copy available in the English Department for interested browsers.
Beth Klein
Beth Klein, Childhood/Early Childhood Education Department, recently presented a plenary session on the "Status of the New York State Environmental Literacy Plan" at the New York State Outdoor Education Association (NYSOEA) conference in Callicoon, N.Y. Klein co-chairs the NYSOEA Environmental Literacy Plan Committee which is leading the development of a state-wide environmental literacy plan.
Angela Pagano and Noyce Scholars Dominick Fantacone and Sarah Smith
Angela Pagano, Biological Sciences Department, along with SUNY Cortland Noyce Scholars Dominick Fantacone and Sarah Smith, presented a workshop session at the Noyce Northeast Regional Conference on Oct. 14 in Philadelphia, Pa. Their session was titled "Bringing Space Down to Earth! Teaching Secondary Science Using NASA Materials." Context-based inquiry teaching approaches, especially those emphasizing links between science, technology and society, have been shown to improve student attitude toward science, increase understanding of scientific concepts and the nature of science, and reduce gender differences in attitude toward science. Cornell University's Center for Radiophysics & Space Research Education & Public Outreach (CRSR-EPO) partnered with SUNY Cortland's adolescence education: science program to offer professional development workshops aimed at creating context-driven, inquiry-based lessons using NASA content, teaching materials and activities. During the session, presenters provided an overview of NASA materials available to educators, worked through a selection of activities, and provided examples of how these materials can be incorporated into the secondary science curriculum. Access to plans created in the professional development series was provided.
Susan Peterson
Susan Peterson, Modern Languages Department, had her article, "Race, Labor and the Economic Possibilities of Women in Colonial Latin America," published in the Winter 2011 edition of the Journal of Intercultural Disciplines. The National Association of Hispanic and Latino Studies publishes the journal.
Gregory D. Phelan
Gregory D. Phelan, Chemistry Department, served as a conference organizer for the first Northeast Regional Noyce Conference held Oct. 13-16 in Philadelphia, Pa. The conference included 175 attendees from 45 different Noyce projects based at universities and colleges throughout the Northeast. The conference was part of a $504,367 grant from the National Science Foundation that is being run by Drexel University, University of Massachusetts at Boston and SUNY Cortland. Additional information can be found on this Noyce website.
Robert Spitzer
Robert Spitzer, Political Science Department, is the author of an article titled, "Libya and Iraq: A Stop and Think Moment," that appeared on The Huffington Post (www.huffingtonpost.com) beginning on Oct. 24. Spitzer is a regular contributor to Huffington.
Tiantian Zheng
Tiantian Zheng, Sociology/Anthropology Department, was invited to deliver campus-wide talks at Hamilton College in September and at Columbia University in November on her recent research on self-identified gay men in postsocialist China.

Submit your faculty/staff activity
Scholarships and Awards
Following are five scholarship or awards nomination/application announcements in order of submission deadlines. This ongoing list will be updated in each issue of The Bulletin.
Distinguished Librarian Award
Details: Distinguished Librarian is a prestigious tenured University rank that is awarded to librarians whose contributions have been transformational in creating a new information environment by providing access to information, sharing or networking information resources, and fostering information literacy. The Distinguished Librarian rank honors and promotes the achievement of personal excellence, groundbreaking professional progress, and wide-ranging benefit to the academic community. This rank parallels the Distinguished Professor rank in terms of expected level of accomplishment and the rarity in awarding the rank. The Distinguished Librarian rank is open to state–operated campuses of the State University.
Individuals may not nominate themselves for these awards.
Criteria: http://www.suny.edu/provost/academic_affairs/Dist_Lib_Guide.cfm.
Deadline: Monday, Nov. 28
Contact Information: Virginia Levine, President's Office, Miller Building, Room 408
Chancellor's Awards for Excellence
Details: Nominations are now being sought for the following awards:Chancellor's Award for Excellence in Librarianship, Chancellor's Award for Excellence in Professional Service, Chancellor's Award for Excellence in Scholarship and Creative Activities, Chancellor's Award for Excellence in Teaching, and Chancellor's Award for Excellence in Faculty Service.
To be eligible for the Excellence in Librarianship Award, individuals must possess an MLS or equivalent and must have served as a full-time librarian at SUNY Cortland for at least three years. Eligibility for the Excellence in Professional Service Award is limited to those non-classified service employees with more than 50 percent of their work assignment in non-teaching services and who have completed at least three years of continuous full-time professional service. Faculty nominees for the Excellence in Scholarship and Creative Activities award may hold any academic rank, but they must have completed three years out of five of full-time service on their home campus prior to the year of nomination. The Chancellor's Award for Excellence in Teaching requires full-time teaching, tenure-track status with three academic years of full-time teaching out of the five required years on the nominating campus immediately prior to the year of nomination. Candidates for Excellence in Faculty Service must be full-time faculty whose service extends beyond that generally considered part of the basic professional obligation.
Criteria: http://www.suny.edu/provost/academic_affairs/ChancellorsAwards.cfm
Deadline: Monday, Nov. 28
Contact Information: Virginia Levine, President's Office, Miller Building, Room 408
SUNY Distinguished Faculty Rank
Details: The Distinguished Professorship is the highest rank in the SUNY System. Nominations are now being sought for the SUNY ranks of Distinguished Professor, Distinguished Service Professor and Distinguished Teaching Professor. To be eligible, candidates must have held the rank of full professor for five years and have been on the nominating campus for at least one year.
The Distinguished Professorship recognizes instructional faculty who have achieved national or international prominence through significant contributions to research and scholarship, or through artistic performance or achievement in the fine and performing arts. The Distinguished Service Professorship recognizes extraordinary service in the application of intellectual skills drawing from the faculty member's scholarly and research interests to issues of public concern. The Distinguished Teaching Professorship recognizes a sustained record of outstanding teaching competence at the graduate, undergraduate or professional levels. The Distinguished Faculty Rank is an academic rank above that of full professor and is conferred solely by the SUNY Board of Trustees.
Criteria: http://www.suny.edu/provost/academic_affairs/Dist_Provost_Nomi.cfm
Deadline: Monday, Nov. 28
Contact Information: Virginia Levine, President's Office, Miller Building, Room 408
Chancellor's Awards for Excellence in Classified Service ­– Academic Year 2011-12
Details: SUNY Chancellor's Office has informed SUNY Cortland's President's Office of the opportunity for each campus to nominate one classified staff member for the Chancellor's Award for Excellence in Classified Service.
Criteria: Guidelines are available at Chancellor Award Guidelines
Deadline for nominations: Monday, Dec. 5
Contact Information: Virginia Levine, President's Office, Miller Building, Room 408

Vice President for Student Affairs Merit Award
Details: The Vice President for Student Affairs Merit Award is designed for students who have made a significant contribution to the quality of student life in our campus community by their demonstration of leadership and participation in student life programs and activities.
Eligible applicants must have at least a minimum GPA of 2.5, be in "good social standing" defined as not having received a sanction higher than a reprimand for a minimum of two semesters prior to the date of the application, and be a returning student for the Fall 2012 semester.
The amount of the award is $500.
Criteria: Applications are available at this link
Deadline: Friday, Dec. 9
Contact: Vice President for Student Affairs, Corey Union, Room 407 A.