College Launches $25 Million Campaign
09/26/2011
SUNY Cortland officially launched the public phase of an ambitious capital campaign to raise $25 million to support its strategic vision for continued leadership in academic excellence, transformational education and the promotion of individual and community well-being.
"Educating Champions, the Campaign for Cortland" was announced at a leadership dinner at Ledyard Farms, a site generously provided by SUNY Cortland Distinguished Alumnus William Haines '63, in King Ferry, N.Y., near Cayuga Lake on Saturday, Sept. 24. About 235 alumni, friends and other supporters of the College learned that about $20 million had already been raised during the three-year "silent phase" of the campaign.
"This is a reasonable and attainable goal that will allow us to do amazing things," said Raymond D. Franco '72, vice president for institutional advancement. "We know who we are, we know where we're going, and we have the support of dedicated alumni, friends, faculty and staff who understand just how special and unique the SUNY Cortland experience is."
Franco and other SUNY Cortland staff unveiled a new website dedicated to the campaign. The campaign, the second in the College's 143-year history, will help SUNY Cortland implement a strategic plan based on four institutional priorities. By focusing on these priorities, the College will enrich the educational experience of all SUNY Cortland students and help them develop the knowledge, skill and character needed to become champions in their respective fields and communities.
SUNY Cortland's institutional priorities are: Cultivating academic excellence; providing transformational learning experiences; promoting physical, emotional and community well being; and maximizing College resources to create a foundation for sustainable operation and growth.
"This comprehensive campaign is all about one audience - our students," SUNY Cortland President Erik J. Bitterbaum said. "We want to offer our undergraduates and graduate students the most outstanding faculty, staff, facilities, equipment, laboratories and all the auxiliary functions one would expect to find at a world-class educational institution."
SUNY Cortland has always been a welcoming place for bright and dedicated students, regardless of their economic situation or social background, President Bitterbaum said. The College is determined to remain an institution of opportunity accessible to all students, despite rising education costs, shrinking government support and an economy that continues to be a struggle for many families.
To that end, the largest single share of the funds raised through the campaign — at least $10 million — will be used to support scholarships. These scholarships are intended to help first-generation college students, young people with financial need and high achievers who have earned an opportunity for a SUNY Cortland education.
The academic caliber of SUNY Cortland students continues to rise annually. This year, the new students who were accepted out of a record number of applicants scored an average of 1,110 on the SAT and achieved an average grade of 90.3 in high school. The capital campaign will direct significant funds toward programs that enrich and develop academic excellence. One of those initiatives, the creation of SUNY Cortland's very first endowed chair, was formally announced at Saturday's dinner.
Louise M. Conley, Ph.D., a member of the Cortland College Foundation Board of Directors, spoke about the importance of giving to public universities and her family's ties to the College. Conley's grandfather, Francis J. Cheney, was the second principal of Cortland Normal School, which eventually became SUNY Cortland. Conley is one of four donors who has pledged at least $1 million to the College. The others include John Fantauzzi '58, Michael J. O'Reilly '58 and Lynne Parks Hoffman '68.
The campaign recognizes that a Cortland education is not limited to the classroom. Nine out of 10 SUNY Cortland students are involved in internships, undergraduate research, community volunteerism, or some other off-campus learning experience that has the potential to change their outlook and transform their life. The campaign, for example, will support the Raquette Lake Endowment and Program Fund, the Undergraduate Research Program Fund, the Institute for Civic Engagement Fund and many others.
Funds raised through the campaign also will support programs that encourage physical, emotional, cultural and social well being. This includes athletics, the performing arts, student life initiatives and much more. It also includes program support for the school's new $56 million student life center, which is expected to break ground next year. The center will offer a rich array of recreational, social and athletic experiences and is intended to become the new focal point of campus life. It also will help create a new business incubator on campus and in the community.
"Green" initiatives and programs and improvements designed to make the campus more environmentally and economically stable also will be part of the campaign. By doing its utmost to maximize its resources, Cortland administrators can assure potential donors that they are making every effort to use the College's resources efficiently and have as great an impact on students as possible.
The campaign will run until June 30, 2013.
Rare Night Football Game Highlights Homecoming
09/27/2011
SUNY Cortland sports fans this weekend have a chance to experience something that happens less frequently than a solar eclipse.
For only the second time in school history, the College's football team will take the field Saturday, Oct. 1, under the lights at the SUNY Cortland Stadium Complex.
The game is part of Homecoming Weekend, which features eight home contests in five different intercollegiate sports and a variety of events for SUNY Cortland alumni.
Head Football Coach Dan MacNeill's Red Dragons, ranked 24th nationally in Division III, will host Morrisville State at 7 p.m. That's the same team Cortland played in its only other home night game. In 2007, Cortland ran past the Mustangs, 71-7.
"This is a rare opportunity for our community and for our students," said Mike Urtz, the College's director of athletics. "There aren't many things more perfect than competitive college football in the early fall. To add the night element to this game simply puts it over the top."
All SUNY Cortland students, faculty and staff and children 12 years old and younger can attend Saturday's game for free. Tickets for the general public are $6 for adults and $5 for senior citizens, students attending colleges other than SUNY Cortland and teenagers between 13 and 18 years old.
The Cortland football team is coming off a 31-28 win at Rowan University that boosted its record to 2-1 for the season. Graduate student quarterback Dan Pitcher and sophomore wide receiver John Babin lead a Red Dragons passing attack that has accounted for seven touchdowns this season. Senior linebacker Bill Smith spearheads a defense that has delivered seven sacks and forced five fumbles so far this year. Morrisville State enters Saturday's game at 0-3 for the season.
"What's great about Saturday's football game is that it's sandwiched in the middle of a great sports weekend at SUNY Cortland," Urtz said.
The College's women's soccer team will kick off Homecoming Weekend when it hosts SUNY Plattsburgh at 2 p.m. on Friday, Sept. 30, at Jets Field. The Cortland field hockey team will face SUNY Oneonta later in the day at 4 p.m. at the Stadium Complex White Field.
Both women's teams will go back into action Saturday before the evening football game. The field hockey team will host SUNY New Paltz at 1 p.m. at the Stadium Complex White Field. The women's soccer team will take on SUNY Potsdam at 3:30 p.m. at the Jets Field.
The College's women's golf team will take to the links Saturday and Sunday when it hosts the Martin/Wallace Invitational at Cortland Country Club. Action is slated to begin at 10 a.m. Saturday and 11 a.m. Sunday.
Cortland's women's tennis team will cap the sports weekend when it hosts Union College at 1 p.m. on Sunday, Oct. 2, at the Varsity Tennis Courts.
Homecoming Alumni Events
Alumni are invited to participate in a brew tasting at the Great Cortland Pumpkinfest from 1 to 5 p.m. Saturday in Cortland's downtown Courthouse Park. The festival takes place Saturday and Sunday in downtown Cortland.
Immediately leading up to Saturday night's football game, alumni can mingle at a pregame party from 5 to 7 p.m. in the C-Club Pavilion near the Varsity Tennis Courts. The Cortland Chapter of the SUNY Cortland Alumni Association will host the event.
An open house at the Lynne Parks '68 SUNY Cortland Alumni House, located at 29 Tompkins St., caps the weekend. Graduates may take a tour of the historic mansion from 10 a.m. to 2 p.m. on Sunday, Oct. 2.
The children of alumni are eligible to receive an all-day pass to Bounce House Mania at the Great Cortland Pumpkinfest. To obtain an all-day pass or to find out more information on alumni-related events, contact the Alumni Affairs Office at (607) 753-2516.
---
Capture the Moment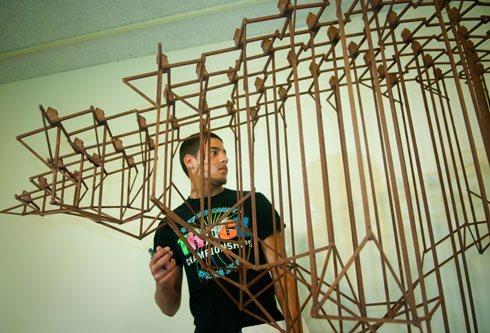 Dylan Dilevo, a freshman criminology major from Selden, N.Y., studies a piece of artwork that is part of the Post Industrial Iron exhibition in the Dowd Fine Arts Gallery. The exhibition, which features a variety of cast iron and forged iron artwork, continues through Oct. 14.
---
In Other News
AmeriCorps to Nearly Triple Program
09/27/2011
SUNY Cortland will put 41 AmeriCorps volunteers to work in a variety of community organizations this year - nearly tripling the size of the successful, federally funded program run through the College's Institute for Civic Engagement.
The new AmeriCorps volunteers, each of whom will spend a year in Cortland County working to improve the community, will be funded by a $370,068 grant recently awarded by the Corporation for National and Community Service (CNCS).
Last year, SUNY Cortland received about $154,000 and filled 14 positions.
"We are very excited to have received this award," said Richard Kendrick, the local AmeriCorps project director and the director of the SUNY Cortland Institute for Civic Engagement. "This will mean that programs in our community can continue that affect the lives of hundreds of Cortland residents in all aspects of community life, including preschool, daycare, environmental education, after-school programs, health education and much more."
SUNY Cortland AmeriCorps is a community-based coalition that seeks to strengthen communities and increase civic involvement through service. AmeriCorps members agree to devote a full year to tutor and mentor disadvantaged youth, operate after-school programs, clean parks and streams, provide health education and a fill a wide range of other community needs.
In return, full-time volunteers receive an annual stipend of $12,100 to help with housing and food. After completing a year of service, they receive $5,550 to put toward college costs.
SUNY Cortland AmeriCorps is headquartered with the SUNY Cortland Institute for Civic Engagement in Main Street SUNY Cortland, the College's downtown building at 9 Main St. It is part of the College's effort to play a positive role in the community while providing potentially transformational educational experiences for students. SUNY Cortland this year was named to the President's Higher Education Community Service Honor Roll with distinction. It was the College's fifth consecutive year on the honor roll.
Local organizations that have received help from AmeriCorps volunteers include Cornell Cooperative Extension, Lime Hollow Center for Environment and Culture, Cortland Downtown Partnership, Cortland County Soil and Water Conservation District, and the Seven Valleys Health Coalition.
AmeriCorps is one of three initiatives created by the CNCS, a federal organization that engages more than five million people in service to meet local needs. The other two programs are Senior Corps and Learn and Serve America.
The SUNY Cortland AmeriCorps program this year was able to win a significant increase in funding during a time of slashed federal budgets because of the local program's highly successful track record, which won support among influential individuals and organizations, Kendrick said.
The New York State Commission on National and Community Service, which distributes federal AmeriCorps funds in New York for the Corporation for National and Community Service, received more than 70 AmeriCorps requests totaling nearly $30 million this year. The commission, however, had only $16.9 million to disperse, Kendrick said.
Kendrick thanked the commission, SUNY Cortland AmeriCorps' network of community partners and the Cortland area's congressional delegation, particularly Sen. Kirsten Gillibrand and Rep. Richard Hanna, for supporting Cortland's efforts.
The SUNY Cortland Institute for Civic Engagement is currently accepting applications for positions.
For more information, interested people may contact Wendy Burton, program coordinator for the SUNY Cortland Institute for Civic Engagement, at (607) 753-4270 or at wendy.burton@cortland.edu. Possible volunteers may also apply online at www.americorps.gov by searching programs in New York State and looking for SUNY Cortland AmeriCorps.
College Wins Grant to Curb Underage Drinking
09/27/2011
SUNY Cortland will benefit from a federal grant worth up to $20,000 that funds underage drinking prevention efforts aimed at college students. The College's University Police Department will work with Cortland Prevention Resources, formerly the Seven Valleys Council on Alcoholism and Substance Abuse, and local law enforcement agencies to curb high-risk drinking behavior.
New York state's Office of Alcoholism and Substance Abuse Services (OASAS) announced Friday that Cortland Prevention Resources is one of five prevention providers in New York state to receive the grant. Each agency will collaborate with a specific institution to address underage drinking among college students.
"We are very excited to receive the funding that will assist us with enforcement and alcohol education," said Mark DePaull, assistant chief of SUNY Cortland's University Police Department. "We are equally excited about partnering with the City of Cortland Police Department and Cortland Prevention Resources."
University officers will increase the number of foot patrols in areas where campus property meets city property and roadways, DePaull said. Two specific areas will include what DePaull called "the top of the hill," near Graham Avenue and Stevenson Street, and the lower part of campus near Water Street.
Additionally, officers will boost their patrol of campus residence halls and work with the Student Conduct and Residence Life and Housing offices to offer more educational programming related to underage drinking prevention, DePaull said.
Grant recipients are required to carry out one law enforcement activity and submit a quarterly report of expenditures in order to receive the funds. Activities can include enhanced party patrols, retail compliance checks and sobriety checkpoints, among other efforts.
The funding comes from the Office of Juvenile Justice and Delinquency Prevention (OJJDP) Enforcing the Underage Drinking Laws (EUDL) Block Grant. Not-for-profit community agencies that partner with colleges and law enforcement agencies were eligible to apply for the grant.
"Obtaining resources to educate the young people in our community on the dangers of high-risk and underage drinking is essential in moving our mission forward," said Kimberly McRae Friedman, the executive director of Cortland Prevention Resources.
In addition to SUNY Cortland, the four other institutions that will benefit from the grant include SUNY Geneseo, Hilbert College, Morrisville State College and SUNY Plattsburgh.
Public Invited to Philosopher's Magic Show
09/27/2011
When a magician performs an amazing trick, audiences know that it must have involved some kind of sleight of hand.
Or do they?
The boundary between reality and illusion walked by stage magicians is similar to the terrain that philosophers have explored for thousands of years. Next week, Brian Miller — a unique philosopher, magician and entertainer — will bridge those two worlds with a special show that blends amusement, amazement and academic acumen.
"Magic, Philosophically Speaking," a magic show that combines philosophical discussions on reality, deception and free will with jaw-dropping illusions and good humor, will appear onstage in Old Main Brown Auditorium at 7 p.m. on Tuesday, Oct. 4. The show is free and open to the public.
"Students tend to lose place of where philosophy and reality meet," said Miller, a professional magician who won prestigious academic awards in philosophy while a student at SUNY Oneonta. "The show is intended to make philosophy fun, engaging and down to earth."
As a comedian and entertainer, Miller shows that deep thinking doesn't necessarily have to be serious thinking. His stage magic shows and close-up magic performances are laced with stand-up comedy, and that sense of humor carries over into his magical treatment of philosophy.
Miller's 90-minute presentation aims to encourage interest in philosophy by helping students relate philosophical ideas to real life phenomenon, which he demonstrates through magic. He uses sleight-of-hand demonstrations as an entry for discussions on a variety of topics in philosophy as they relate to magic, including the study of skepticism, free will, lying and deception.
The material in Miller's presentation is accessible to all levels, from the general public to dedicated philosophy students. His goal is to stimulate a group discussion about serious philosophical topics while keeping it fun, engaging, enjoyable and full of audience interaction.
Miller, 23, is a two-time recipient of the coveted President's Award from the State University of New York College at Oneonta Undergraduate Philosophy Conference, and is only the second student in the history of the conference to receive such an honor. He graduated from SUNY Oneonta in 2010 and lives in Manchester, Conn.
The show is sponsored by SUNY Cortland's Philosophy Department, the Campus Artists and Lecture Series, the School of Arts and Sciences Dean's Program and the Advisement and Transition COR 101 Program.
Historian to Discuss Civil Rights Period
09/23/2011
Mary Johnson, a historian and well-known author who specializes in civil rights issues, will bring the story of the Freedom Riders to SUNY Cortland on Wednesday, Sept. 28.
The event, at 4 p.m. in Sperry Center, Room 105, is free and open to the public.
Johnson's talk will precede a screening of Freedom Riders, the 2011 PBS documentary that tells the stories of central players in the Civil Rights Movement during a time when more than 400 black and white Americans were beaten or imprisoned for simply riding various forms of transportation together through the Deep South.
A second screening, without a preceding talk, will take place at 7 p.m. Thursday, Sept. 29, in Sperry Center, Room 105.
Johnson has worked for 29 years with Facing History and Ourselves, a program that trains educators to increase compassion and decrease bigotry by learning from history's mistakes. A senior historian with the group, she has given talks on a variety of topics, mostly related to the Holocaust and the Civil Rights Movement.
Her publications have dealt with Franco-American women, women of the French Revolution and the Nuremberg Trials. She recently contributed to the resource book Crimes Against Humanity and Civilization: The Genocide of the Armenians and co-edited a family guide to Samuel Bak's recent exhibition "Icons of Loss," which captured memories of the Holocaust in Eastern Europe.
Johnson began her career as a volunteer Peace Corps teacher in Nigeria and eventually started her own school there. Before she joined Facing History and Ourselves, she spent two years as a fellow at the Wellesley College Center for Research on Women, where she developed course material dealing with women's studies and multicultural issues.
The Freedom Riders documentary that follows her talk captures the Civil Rights Movement from May through November in 1961. It dissects the six-month period when Supreme Court orders to desegregate all interstate travel facilities were ignored by local police agencies and more than 300 people were jailed for riding. The film features interviews with the riders, state and government officials and journalists who witnessed the rides firsthand during the demonstration.
The event's sponsors include Auxiliary Services Corporation, SUNY Cortland's Childhood/Early Childhood Education Department and the College's Education Club.
For more information, contact Lin Lin, an associate professor of childhood/early childhood education, at (607) 753-4234.
Schoolteachers to Confer Over Core Curriculum
09/26/2011
SUNY Cortland will host a one-day conference for schoolteachers to share practical ways to improve student learning through writing and to incorporate New York state's Common Core Standards in classroom teaching.
"More Than the Core: Writing to Learn," a conference devoted to discussing how the state's standards can improve student writing in all content areas, will take place from 8:30 a.m. to 3 p.m. on Saturday, Oct. 15, in Corey Union. Registration for the event costs $60 and includes breakfast, lunch and parking. The conference is open to teachers from all subject areas at all grade levels.
"This conference is unique in that it addresses how to use the Common Core Standards as ways to deepen student learning," said David Franke, a SUNY Cortland associate professor of English and the conference's keynote speaker. "We are starting from the assumption that teachers know best what individual students need, and the conference will explore how teachers can unpack the standards in ways that support their own expertise and experience."
New York state's Common Core Standards are a broad-based effort to ensure that all students are college- or career-ready by the end of high school. Franke said that the conference would also attempt to debunk rumors circulating about the standards.
"I heard, for instance, that teachers would be required to teach "The Grapes of Wrath" to fifth graders," he said. "That is not the case. By actually reading the standards and discussing what they imply —and finding ways to make them useful to teachers — we see more clearly how the standards are both challenging and useful."
Following a welcome and introductions, Franke will deliver a speech titled "Teachers and Writers: Two Sides of the Same Coin." Participants then will pick two "writing to learn" workshops and one "writing to the core" workshop to attend. Classroom teachers will teach the workshops, which include titles such as "History vs. Hollywood: Film as Text in the Classroom" and "Common Core Literacy Threads in Subjects Other Than English."
"The morning will be devoted to developing ways to use writing to learn in any subject area, especially for teachers who do not consider themselves to be writing teachers," Franke said.
He said that the conference's presenters have worked with the Bill and Melinda Gates Foundation, the Seven Valleys Writing Project's Advanced Institute and Tompkins-Seneca-Tioga (TST) BOCES.
"The conference is put on for teachers, by teachers," Franke said.
Sponsors for the event include SUNY Cortland's Childhood/Early Childhood Education Department, the Seven Valleys Writing Project and TST BOCES.
To register for the event, visit the TST BOCES website, click on the MyLearningPlan menu item and search for Seven Valleys, or go directly to the registration website. For more information, contact Franke at (607) 753-5945.
AIDS Quilt to be Displayed at College
09/22/2011
The AIDS Memorial Quilt, a 10-year-old project to put a human face on a dreaded disease, will be on display at SUNY Cortland from Monday, Oct. 3, until Friday, Oct. 7.
The quilt can be viewed in the Corey Union Function Room from 9 a.m. until 9 p.m. from Monday through Thursday and from 9 a.m. until noon on Friday. The quilt exhibition and related events are free and open to the public.
Families and friends of AIDS victims designed each of the quilt's 344 panels, which commemorate and memorialize a life lost to the disease that weakens human immune system.
The sections of the quilt that will be on display are provided by the NAMES Project Syracuse from Syracuse, N.Y. The group, once affiliated with the national organization that sponsors the quilt, branched off to specifically help AIDS victims in Central New York.
"When they first did that, Cortland was the first to exhibit the quilt, which is something I'm very proud of," said Catherine Smith, a health educator in SUNY Cortland's Health Promotion Office. "Then, it had 32 panels. Now, roughly ten years later, we have 344 panels. It's going to more than fill the Function Room."
SUNY Cortland students, faculty and staff, along with local community members, contributed some of the quilt sections that will be on display. The College created at least two of the big quilt sections to represent people from the Central New York area who have died from AIDS.
The AIDS Quilt is much more than just a memorial to commemorate those who have died from the disease. The quilt is "a way to raise awareness concerning HIV/AIDS, which is actually a world pandemic," Smith said.
"It's easy to lose sight of this because people in the U.S., especially, seem to be managing (AIDS) with medication, but if we were in a place like Africa it would be right in your face," she said.
Christopher Kaigh, an intern in the Health Promotion Office, pointed out that it is easy for college students to forget about the disease, especially because some high-end medications mask its effects.
"Unless someone is personally affected by (AIDS) here, they wouldn't think about it too much," Kaigh said.
Essentially, the quilt is trying to bring awareness to the SUNY Cortland campus.
"The AIDS Quilt, for me, is a sacred display," Smith said.
Each panel measures three feet by six feet, the same size of a coffin or cemetery plot, Smith said.
"It almost feels like walking through a cemetery in the sense that it's like sacred ground," she said. "But each of those panels is a celebration of the life of the people. You can see all the signs of the life. If the person loved music, you can see a whole piano keyboard. If it was a child who died, there would be a teddy bear. You see what they enjoyed doing in life and the impact they had, and you know these people lived life to the fullest."
Additionally, while the quilt is on display the Southern Tier AIDS Program will offer a presentation titled "Living With HIV" at 7 p.m. on Wednesday, Oct. 5, in the Corey Union Exhibition Lounge. An individual who has HIV will offer a personal story on living daily with this disease. The event is part of the College's Wellness Wednesday series is presented by the Health Promotion Office.
Sponsors for the event include the President's Office, the Vice President for Student Affairs' Office, the Health Promotion/Student Development Office, the Multicultural Life and Diversity Office, the AIDS Prevention and Awareness Club, Black Student Union, Women of Color, Cortland Against All Rape, Hillel, La Familia Latina, Eta Sigma Gamma and the Health Club.
For more information, contact Smith at catherine.smith@cortland.edu or 607-753-2066.
Fall Open House Planned on Oct. 10
09/21/2011
More than 700 prospective college students are expected to spend a day visiting academic departments, touring the campus and talking to faculty and students during the SUNY Cortland Fall Open House on Columbus Day, Monday, Oct. 10.
Most high school students have the day off from school. The College, however, has a regular day of classes, so interested individuals will get to realistic impression of what the campus is like, said Admissions Director Mark Yacavone. Faculty, staff and students from academic departments and student service offices will be available to meet with visitors throughout the program. Additionally, guests may tour the campus and eat in the dining facilities.
The open house allows visitors who have made prior reservations the opportunity to experience the campus by interacting directly with students, faculty and staff.
The program will formally begin at 10 a.m. in the Park Center. An Academic Fair and Student Services Fair featuring department faculty and student services will take place in Park Center Corey Gymnasium from 10 a.m. to 1:30 p.m. At 12:30 p.m., students are encouraged to go to their chosen academic department offices for more information and a tour.
Guided tours of the campus and residence halls will run from 11 a.m. to 2:30 p.m. Participants will meet in the Corey Union Function Room.
Assistant Professor of Biological Sciences Theresa Curtis will give a presentation on pre-medical advisement at 1 p.m. in Bowers Hall, Room 245. Special sessions on admissions, financial aid, athletics, dining services, residence life and housing also will be offered that day. For details, visit the website at cortland.edu/admissions.
Parking for Open House visitors will be provided in the Route 281 parking lot, which features shuttle bus service to Park Center.
Yacavone noted that the fall format is much different from the Spring Open House, where the majority of the visitors already have been admitted and are in the process of deciding whether to attend SUNY Cortland.
A second Fall Open House for those who are unable to attend the first one is scheduled for Friday, Nov. 11.
Couple's Names Added to Gallery Room
09/21/2011
SUNY Cortland dedicated the small gallery room in the Ruth E. Dowd Fine Arts Center to an alumna and her late husband during a ceremony on Friday, Sept. 30.
Marjorie Bremiller Wheeler '43, an artist and former student of Ruth E. Dowd, and Henry Adams Wheeler, who passed away in 2003, were recognized for their generosity to the College and their commitment to the arts. The Marjorie Bremiller Wheeler '43 and Henry Adams Wheeler Gallery will showcase student art related to gallery exhibitions. It also will house educational material about exhibitions.
"Marjorie is a wonderful and enthusiastic person who loves people and their talents," said Peter VanderWoude, the manager of planned gifts for the College. "She has led an interesting life and is known as a great teacher, community volunteer and philanthropist. Marjorie attributes much of her life's success to her education at SUNY Cortland."
Speakers for the event included College President Erik J. Bitterbaum, Vice President for Institutional Advancement Raymond D. Franco, College Council Member Walter E. Farnholtz and VanderWoude.
Follow Marjorie Bremiller Wheeler's lead by supporting The Cortland Fund. You can designate a gift for a program with personal significance. Or you can support the College's mission to offer a transformational education for every student. Student callers have started making phone calls to explain how your gift can improve campus life. Make your gift today.
Founded in 1967, the Dowd Fine Arts Center serves the public and SUNY Cortland students, faculty and staff with a variety of programs that reflect the diversity of its audiences. The center's programming includes contemporary and historical exhibitions, gallery talks, lectures, panel discussions, workshops, demonstrations, sandwich seminars, films and guided tours. Didactic labels, catalogues and brochures also further the educational mission of the gallery.
For many years, the Wheelers helped local students near their Rhinebeck, N.Y. home foster a love for education and the arts. Marjorie, herself, specialized in watercolor paintings. She came to SUNY Cortland from Earlville, N.Y. and studied under Dowd, although she majored in physical education at the College.
Following a three-year stint as a physical education teacher in Mexico, N.Y., Marjorie changed careers and opened a women's clothing store in Rhinebeck. The clothing store flourished during her 15-year ownership, as customers traveled there from New York City and fashion magazine staffs invited her to attend fashion shows in Paris.
Marjorie returned to teaching in 1964 after she obtained a master's degree in art education from SUNY New Paltz. She taught art and supervised student teachers for two decades in the Rhinebeck Central School District.
She married Henry, a fellow teacher and a respected mediator, social worker and dairy farmer, in 1970. The couple taught overseas in the International School in Islamabad, Pakistan from 1970 to 1972 and accumulated several pieces of Pakistani art during their travel. Marjorie gave SUNY Cortland six of the paintings in 2005 and an exquisite Pakistani tapestry in 2008.
A volunteer for several not-for-profit organizations in her hometown, the Rhinebeck Rotary Club honored Marjorie for her "service above self" with its Citizens Recognition Award in 2009.
She resides in Rhinebeck.
Neubig Hall Goes "Flexitarian"
09/21/2011
Best-selling author and Fitness magazine's nutrition expert Dawn Jackson Blatner has begun working with the executive chefs from Auxiliary Services Corporation (ASC), SUNY Cortland's campus-based, not-for-profit dining service provider, to create a more nutritious and appealing dining experience on campus.
The new meal options created by Blatner are currently available in Neubig Hall, the College's largest dining facility, at the "In Balance" station. They will be a focal point at the new Student Life Center upon its opening.
Blatner authored the best-seller, The Flexitarian Diet, and contributed her nutrition knowledge to the "Dr.Oz Show," "Dateline," Newsweek and WebMD. She also is the nutrition consultant to Major League Baseball's Chicago Cubs. A regular blogger for USA Today and the Huffington Post, Blatner recently received the honor of the 2011 Remarkable Woman Award from Lifetime Television for her achievements in the field of nutrition.
The "flexitarian" diet that Blatner has introduced is an eating plan that the focuses on eating more plant-based meals and less meat through gradual and realistic changes. Throughout the fall semester, Blatner will meet with ASC staff to boost the healthier ingredients in the dining service provider's recipes.
"I look forward to making healthy recipes healthier by using the perfect balance of whole grains, plant-proteins, colorful produce and healthy fat," Blatner said. "I am determined to deliver delicious, crave-worthy recipe concepts that give the body what it needs to be healthy, fit and energized."
This January, Blatner will conduct a "Cooking Boot Camp" for ASC managers, chefs and food preparers, where they will learn to prepare the new recipes with the healthier ingredients.
Blatner will visit the SUNY Cortland campus for the opening of the Student Life Center in 2014. She will offer cooking demonstrations and serve as a keynote speaker at the ribbon-cutting ceremony. The new Student Life Center is aimed to encourage and implement healthier lifestyles, which Blatner is incorporating via her innovative approach to healthy eating.
"Overall, we are trying to offer healthier options campus wide, and we are doing a great job trying to meet those goals," said Kelly Neville, an executive chef from ASC who has consulted with Blatner. "I feel bringing Dawn to campus will help to further our education in creating healthier recipes."
Banned Books Displayed Across Campus
09/23/2011
Each year, hundreds of books are kept out of libraries or challenged based on sexual content, profanity, racism or offensive illustrations, a fact SUNY Cortland will spotlight with a display of banned books in four different campus locations.
A selection of banned books — including many that will surprise visitors — can be seen in the College Store, Corey Union, Old Main and Memorial Library from Friday, Sept. 23 through Friday, Oct. 7. Visitors to the displays will have the opportunity to win prizes by answering questions about these supposedly dangerous books.
The Friends of the Library and the College Store are sponsoring the displays and prize contest.
The event serves as a reminder of the First Amendment to the U.S. Constitution, which guarantees freedom of speech and freedom of the press.
"Ever wonder why anyone would not let people read or use The American Heritage Dictionary?" observed Memorial Library Director Gail Wood. "Why would someone think I Hate English! is a bad book? What is wrong with The Diary of Anne Frank?
"To find these answers, check out the banned books displays. See how familiar literature has been and continues to be censored on a regular basis."
Contest forms at each display will give visitors a chance to test how much they know about the books on exhibit. By completing the contest forms available at each display, participants may win one of two $10 ASC gift cards, a Nike hooded sweatshirt or a Cortland full zip sweatshirt, t-shirt or water bottle.
Each display has its own prize. The contest is open to students, faculty and staff. Participants may submit only one entry per person per display.
A drawing for the prizes will be held at 10 a.m. on Thursday, Oct. 13, in the Teaching Materials Center at Memorial Library. One winner per display will be drawn from all correct entries received. Participants need not be present to win.
For more information, contact Lorraine Melita at (607) 753-4009 or Gretchen Douglas at (607) 753-4029.
Events Centered Around Latin America and Latino Issues Continue
09/20/2011
SUNY Cortland is recognizing the history and culture of its fastest-growing student ethnic group with a series of events related to Latin America and Latino issues, which continues through Saturday, Oct. 15.
The Latino and Latin American Studies (LLAS) Committee will offer four more sandwich seminars in Brockway Hall Jacobus Lounge and a community lecture at the U.S. Post Office in Cortland for its remaining fall events. All events are free and open to the public.
"We're excited about the fall events series, which features the work of two new faculty members and others working on important projects," said Gigi Peterson, an assistant professor of history and the LLAS coordinator. "The month's events take place from Sept. 15 to Oct. 15 and coincide with the official Hispanic/Latino Heritage Month, which incorporates the independence days celebrated by several Latin American countries. But we want to remind people that Latin American and Latino histories and cultures should be acknowledged all year long."
The LLAS Committee is working on a full year of programming to enhance opportunities to study Latino and Latin American topics. The number of Latino undergraduate students who enrolled at SUNY Cortland increased by more than 20 percent in the fall of 2010, compared to the previous year. Since the fall of 2007, the number of Latino undergraduate students has increased each year.
SUNY Cortland faculty members will offer the four remaining sandwich seminars in Brockway Hall Jacobus Lounge. They are:
• "Latino Immigration to the U.S. and the Controversy Regarding the Secure Communities Program" will be the topic of a talk by Ute Ritz-Deutch, a lecturer of history. The presentation, which takes place at noon on Thursday, Sept. 29, will address the negative impact of the current U.S. immigration system on Latinos.
• Richard Hunter, an assistant professor of geography, will deliver "Searching for Clues: Historical Environmental Transformations in Central Mexico" at 12:30 p.m. on Wednesday, Oct. 5. The seminar will look at the role of introduced livestock as agents of environmental destruction in 16th century New Spain, or present-day Mexico.
• Susana Davidenko will offer "What Do We Mean By 'Culturally Relevant' Teaching? Lessons Learned From the Children of the Mayan Village of Santa Avelina" at 12:30 p.m. on Wednesday, Oct. 12. Davidenko, an associate professor of childhood/early childhood education, will share lessons from her experiences with mathematics educators in Guatemala.
• "Behind the Times: Latin America in the New York State Global Studies Curriculum," is the topic of Peterson's lecture at noon on Thursday, Oct. 13. Peterson will discuss problems with New York state's official curriculum and ideas for teaching beyond tests.
The culminating event of the fall series will look at how a Mexican muralist movement of the 1920s and 1930s shaped a community landmark in Cortland. Robert Rightmire '66, a published author in the field of art history and a retired educator, will present "From Mexico to Cortland: The Creation of a Post Office Mural" at 1 p.m. on Saturday, Oct. 15, at the U.S. Post Office in Cortland. The post office, located at 88 Main St., includes a Ryah Ludins mural in its interior. Rightmire will talk about Ludins, who was the first woman to receive a mural commission from the Mexican government. Talk attendees are asked to bring their own chairs to the event, which takes place in the post office's lobby.
The LLAS Committee is sponsoring the sandwich seminar series. Both the committee and the Cortland County Historical Society will sponsor Rightmire's talk.
For more information on the LLAS Committee's fall events, contact Peterson at (607) 753-2051.
Roundtable to Spotlight Belize Zoo Project
09/22/2011
A SUNY Cortland political science professor, a College administrator and students will present a progress report on SUNY Cortland's Belize Zoo Project during a Community Roundtable on Thursday, Oct. 6, at SUNY Cortland.
The history of the unique partnership the College and zoo have developed will be described from 8 to 9 a.m. in the Park Center Hall of Fame Room. A question-and-answer period will follow. Refreshments will precede the lecture at 7:45 a.m.
Among the topics to be discussed will be SUNY Cortland's efforts to develop a curriculum based on the publication of two children's books about animals rescued by the Belize Zoo, said Thomas Pasquarello, a SUNY Cortland political science professor involved in the College's partnership with the zoo.
Sponsored by the President's Office and the College's Field Experience and School Partnerships Office, the Community Roundtable is free and open to the public.
Panelists include:
• Marley S. Barduhn, SUNY Cortland's assistant provost for teacher education, who has encouraged the development of numerous international ties including this one in Belize;
• Christine Capobianco, a senior adolescence education: social studies major from Glen Cove, N.Y.
• Cassidy Fisk, a senior adolescence education: social studies major from Ithaca, N.Y.; and,
• Pasquarello, who has been very involved in fostering and continuing the College-zoo partnership.
Despite its small size, Belize has more intact ecosystems than any other country in Central America, and the Belize Zoo plays a large role in protecting its wildlife and habitat.
For several years, the College has raised funds and friends for the Belize Zoo, according to Pasquarello, who operates a blog about the zoo at tbzblog.blogspot.com. The blog features, pictured above, a Margay wildcat the zoo named "Cortland" in recognition of its partner in the U.S.
Pasquarello will travel to Belize in October at the request of the U.S. ambassador and his wife.
For more information about the zoo, visit its website at www.belizezoo.org.
The Community Roundtable series provides programs on diverse intellectual, regional and cultural topics of interest to College faculty, staff and community members. This year, the number of roundtables has been reduced to reflect the merger of the Center for Educational Exchange with Field Placement to create Field Experience and School Partnerships Office. Four roundtables are scheduled this year. They will continue to take place on the first Thursday of the month, with future roundtables scheduled for November, April and May.
Parking in the Park Center lot is open to the public during the roundtables. For more information, contact the Field Experience and School Partnerships Office at (607) 753-4214.
Fall Children's Museum Series Begins Sept. 24
09/22/2011
Children's educational programs on pedestrian safety, using household items for exploration, composting with worms, interacting with reptiles, exploring dance and learning about technology will be highlighted during the Fall 2011 Children's Museum season that begins on Saturday, Sept. 24.
The Children's Museum offers interactive, hands-on educational experiences in an environment where Cortland community parents, grandparents, caregivers, teachers, college students, youth and young children can be inspired to play and learn together.
Presented by faculty and students in SUNY Cortland's Childhood/Early Childhood Education Department, the programs run on selected Saturdays from 10 a.m. until 1 p.m., unless otherwise noted, and are open to community families and their children.
The programs will take place in the McDonald Building at 60 Tompkins St. in Cortland. Admission is free but donations are gladly accepted. Proceeds from donations made on Sept. 24 will benefit flood victims in Binghamton, N.Y., and surrounding communities.
On Sept. 24, Emilie Kudela, associate professor and early childhood coordinator, will host "Tiny Town," a scaled-down model of a town that lets the children practice pedestrian safety and perform some neighborly activities. "Tiny Town" is on loan to the Children's Museum from the Cortland County Health Department's Injury Prevention and Traffic Safety Program.
Linda Pickett, an associate professor, will concoct mysterious mixtures on Oct. 15. She will show participants science activities using household items to promote understanding of science, math and literacy through activities that involve sensory experiences.
Susan Stratton, an associate professor, will demonstrate "hands on" worm composting during a session on Oct. 22. Children and adults will learn about worms and how they compost our food scraps. Participants will be shown how to make their own worm composting bin.
The 20th annual Education Club Halloween Party will be celebrated on Oct. 29. The event is open to community children ages 1 to 10. Activities will include face painting, story telling, games and craft making. Donuts and other treats will be served and prizes awarded for games.
The Cortland Dance Company will make a guest appearance on Nov. 5. They will lead participants in dance activities and invite all to make our bodies move to music. Children can make musical instruments with Kudela's students and use them to accompany the music.
Dan the Snake Man joins Susan Stratton, associate professor, on Nov. 19. Dan's shows, which feature many species of exotic reptiles, are created to educate people of all ages about reptiles. Through informative displays and up-close and personal interactions, the presentations help the audience better understand and appreciate the special nature of these animals and their importance to the environment. The audience is encouraged to view the reptiles, touch them and ask questions.
On Dec. 3, instructor Chris Widdall invites families and children to participate in a technology session with students from her class. They will bring their iPads and technology games and tools for children and adults to learn about computers and other forms of technology.
To enter the Children's Museum, use the front door or the rear entrance. There is limited parking available in the McDonald Building rear lot and on adjacent streets. For more information, contact Kudela at (607) 753-5525 or Stratton at (607) 753-2467, or send an email to childrensmuseum@cortland.edu or visit the Children's Museum website at www2.cortland.edu/community/childrens-museum.
Performing Arts Department Announces Fall Events
09/26/2011
The SUNY Cortland Performing Arts Department has announced its fall semester season of theatre and music events at the Dowd Fine Arts Center.
All events take place at the Dowd Fine Arts Theatre unless otherwise noted. Music events are free and tickets for the musical will be on sale at Jodi's Hallmark Shop one month before opening night and at the door the nights of the performance. For more information, visit the department website.
The season begins in October with the regional premiere of the original Rodgers and Hart musical "Pal Joey," which plays for six performances from Friday, Oct. 28, through Sunday, Nov. 6. This Broadway favorite includes the hit songs "Bewitched, Bothered and Bewildered" and "I Could Write a Book." The production, directed and choreographed by Kevin Halpin, will be performed at 8 p.m. on Fridays and Saturdays, Oct. 28, 29, Nov. 4 and 5, and at 2 p.m. on Sunday, Oct. 30 and Nov. 6.
The College Singers will launch the first of several music concerts beginning at 3 p.m. on Sunday, Nov. 13. They will perform a concert version of the powerful Broadway hit "Les Miserables."
Ubaldo Valli will conduct the College-Community Orchestra in a performance titled "Charles Ives and His World" at 8 p.m. on Tuesday, Nov. 15. The concert will feature an orchestral version of the iconoclastic American composer's "The Alcotts," and related works by Wagner, Beethoven and Boehme. Featured performers include concertmistress Lois Pfister and trumpet soloist Ralph Dudgeon.
The Choral Union continues its association with The Arts at Grace Series with a performance of music by Haydn, Holst, Hovhaness, Diemer and Veitch at 3 p.m. on Sunday, Dec. 4. Presented under the direction of Stephen Wilson, the concert takes place at Grace and Holy Spirit Church (formerly Grace Episcopal), 13 Court St., Cortland. Donations will be gratefully accepted.
The College Singers, student soloists, the Gospel Choir and SUNY A Cappella will present the popular annual holiday concert on at 8 p.m. on Tuesday, Dec. 6. College Singers conductor Stephen Wilson coordinates the concert, which celebrates Chanukah, Christmas and the Winter Solstice.
Rounding out the fall calendar is "A Christmas Carol," an adaptation of the classic story by Charles Dickens that includes Ebenezer Scrooge, Bob Cratchit, the Christmas spirits, and all of the other traditional characters. The production, co-directed by Howard Lindh and Mark Reynolds, will be staged in the Lab Theatre at the Dowd Fine Arts Center, with 8 p.m. performances on Thursday, Dec. 8, and Friday, Dec. 9, and two performances, one at 2 p.m. and one at 8 p.m., on Saturday, Dec. 10, and Sunday, Dec. 11.
For more information about these events, please visit the Performing Arts Department website or call (607) 753-2811.
Information Resources Service Marks First Year
The campus community is invited to celebrate the one-year anniversary of Tech Help on Wednesday, Sept. 28, at the Memorial Library.
The "birthday party" for Tech Help, located in the former Library Circulation Services area, will be held from 11 a.m.-1 p.m. in the library's Moonlight Lounge, located on the main floor just to the right of the main entrance lobby. Refreshments will be served.
"It's been a year since the Information Resources Support Center opened for business," Library Director Gail Wood said. "It has been quite a year of change, challenge and adjustment. It's also been a year of success and accomplishment. We are going to take some time to celebrate those successes and accomplishments."
Tech Help opened when the Technology Help Center, located in Winchell Hall, merged with Library Circulation Services, which is more centrally situated in the library lobby.
"Tech Help … has quickly become the place for assistance with an array of merged services to help the entire College community with their information and technology questions and problems," Wood said.
"We are celebrating this accomplishment even as we set the stage for more changes and improvements."

Suggest a feature story
---
People on the Move
Outreach Coordinator Wendy Burton Named
09/26/2011
SUNY Cortland has appointed Wendy Burton of Cortland, N.Y., as interim program coordinator for its Institute for Civic Engagement. She began her duties on Sept. 13.
Burton provides coordination and administrative support for the Institute's programs, including those offered at the College's outreach center, Main Street SUNY Cortland, located at 9 Main St.
She also collaborates with a downtown revitalization organization, the Cortland Downtown Partnership, as well as other community groups.
Burton reports to Richard Kendrick, director of the College's Institute for Civic Engagement.
"Wendy has volunteered for local junior golf camps and helped the elderly in her neighborhood," said Kendrick, who also is a SUNY Cortland professor of sociology/anthropology. "She is looking forward to meeting community members and SUNY Cortland faculty and staff that will be using Main Street SUNY Cortland."
A Cortland resident for eight years, Burton has a Bachelor of Science in Management from Appalachian State University in Boone, N.C.
She has worked as a sales representative and marketing coordinator at GSG Vincent Furniture Restoration in Cortland.
She replaces Christie Zwahlen, who has returned to the Center for Civic Engagement at Binghamton University after serving for several months in the position. A search will be conducted for a permanent replacement.
"We appreciate Christie's many contributions to the Institute, the College and the community while she worked with us over the past several months," Kendrick said. "We look forward to continuing to work with Christie and the Center for Civic Engagement staff at Binghamton University as we discuss ways that we can work together to promote civic engagement at our respective institutions."
Burton can be reached at (607) 753-4270 or by email.
For more information on SUNY Cortland's Institute for Civic Engagement, contact Kendrick at (607) 753-2481 or at his email address.
---
Faculty/Staff Activities
Amanda L. Anderson
Amanda L. Anderson, Student Conduct Office, was selected to serve as a volunteer on the C3 Care Team for the American College Personnel Association (ACPA) at its 2012 convention in Louisville, Ky. C3 is an annual job fair that takes place during ACPA's annual convention.
Mark Dodds
Mark Dodds, Sport Management Department, co-edited the recently published Encyclopedia of Sport Management and Marketing. Contributing writers include Sport Management Department faculty members Peter Han, Ted Fay and Genni Birren, former faculty members Kevin Heisey and James Reese as well as former students in the master's-level sport marketing class.
Kerri Freese, Gregory D. Phelan and Gauri Kolhatkar
Kerri Freese, SUNY Cortland Noyce Project, Gregory D. Phelan, Chemistry Department, and mathematics graduate student Gauri Kolhatkar, attended the Sixth Annual National Science Foundation Robert Noyce Teacher Scholarship Conference titled "Building Excellence in STEM Teaching." STEM is the acronym for science, technology, engineering and mathematics. The conference, held in Washington D.C., brought together Noyce Scholars and faculty from more than 300 Noyce Scholarship programs throughout the country. SUNY Cortland presented a poster on its recruitment techniques to meet its goal of distributing scholarships to future math and science teachers. To date, the College has distributed 35 scholarships to 27 future teachers. SUNY Cortland currently tops the nation with its Noyce Scholarship distribution.
Mecke Nagel
Mecke Nagel, Philosophy Department and Center for Gender and Intercultural Studies, taught a summer course in German, "Reflections on Nietzsche's Zarathustra," for the International Summer University at Fulda University, which is in its first year of a student exchange agreement with SUNY Cortland. Nagel also co-edited a volume on "Prisons, Peace and Social Justice," for the Summer 2011 issue of Peace Review: A Journal of Social Justice, (Routledge).
Gregory D. Phelan
Gregory D. Phelan, Chemistry Department, was selected to participate in a video project on grant management created by the National Academy of Engineering. In addition to appearing in the video production, Phelan was asked to sit on a panel to discuss grant management for first-year grant recipients that was held in July in Washington, D.C.
Robert Spitzer
Robert Spitzer, Political Science Department, is the author of the new fifth edition of The Politics of Gun Control. Published by Paradigm Publishers, the book is widely recognized as the standard work on the subject.

Submit your faculty/staff activity