Partnership to reduce student food insecurity
11/22/2022
The SUNY Cortland community will soon be able to help fight food insecurity on campus with a swipe of a card or the click of a button. It's all part of an upcoming initiative created by campus food pantry SUNY Cortland Cupboard and Cortland Auxiliary Services along with national program Swipe Out Hunger.
An organization that partners with more than 450 colleges and universities nationwide to end student hunger, Swipe Out Hunger has helped supply more than 4.8 million meals to students in need. Its resources will strengthen the university's ongoing efforts to supply food to all students who need it.
Students, faculty, staff and other member of the Cortland community can support the program by:
The anticipated start date for collecting donations is after the Thanksgiving holiday break, said Rebecca Sexton, marketing manager for Cortland Auxiliary Services.
The partnership with Swipe Out Hunger will come at a critical time. According to the Center for Hunger-Free Communities, food insecurity has become worse across the country. Locally, more students used the Cortland Cupboard last year than any year since it opened in 2017.
"The partnership with Cortland Auxiliary Services on Swipe Out Hunger would allow even more assistance to students to increase food access," said Lauren Scagnelli '12 M '14, certified health education specialist, health educator and board member of SUNY Cortland Cupboard.
"This would allow students to get hot meals and join their friends to dine. Swipe Out Hunger is especially useful for students who don't have a lot of time to cook meals due to other obligations such as classes, work or other extracurricular activities."
Students with meal plans will be able to fill out donation forms at the cashier station of any dining facility on campus. Faculty, staff, students without meal pans and community members will be able to visit the Cortland Auxiliary Office in Neubig Hall or go to www.cortlandcampusstore.com and click the Swipe Out Hunger banner.
The new program will be invaluable to students, Scagnelli said.
Even if a student has a job, they cannot always afford groceries, she explained. Levels of food insecurity can also change over time depending on circumstances. The result is a critical campus health issue that too often stays hidden and unnoticed except to those suffering.
Scagnelli said the Cortland Cupboard's board of directors is excited to begin this partnership to help students with their basic needs and reach their full potential academically.
SUNY Cortland President Erik J. Bitterbaum noted that The Cortland Cupboard has been invaluable to students in need of nonperishable food items and personal care products.
"To be able to evolve to now offer the ability to get a hot meal is amazing," Bitterbaum said. "With this new partnership with the Cortland Cupboard, SUNY Cortland Auxiliary Services, and Swipe out Hunger, we're excited to see what potential this program has."
Those interested in receiving donated meal passes should fill out the meal request form at www2.cortland.edu/cupboard or email Cortland.cupboard@cortland.edu. Students do not need to have a SUNY Cortland meal plan to receive donated passes, and only SUNY Cortland Cupboard and Cortland Auxiliary Services will know their identity.
Cortaca Challenge raises $285,531 for Cortland
11/21/2022
You win some and you lose some. But sometimes, you can do both at the same time.
During the week-long Cortaca Challenge, a total of 1,056 donors made gifts to SUNY Cortland. Nearly 80% of those donors were proud Cortland alumni.
Ithaca College, meanwhile, received gifts from 1,201 supporters, winning the off-field, fundraising competition.
In terms of raising funds to support the university, however, Cortland was the clear winner, collecting donations that totaled an astonishing $285,531.
That's $30,357 more than Ithaca's total of $255,174.
Of the funds raised by generous Cortland alumni, more than $200,000 will go to the Cortland Fund, where they can be used to address the university's most pressing needs. The remainder will support other key campus priorities.
"I am incredibly grateful for the many donors who gave so generously to support the Cortaca Challenge," said President Erik J. Bitterbaum. "Your gifts will benefit scholarships, faculty and staff development and key experiential learning programs.
"The Red Dragon spirit of alumni, faculty and staff, parents and friends participating in the Cortaca Challenge demonstrates how much the continued success of this special university means to so many."
Cortland's effort was assisted by matching gifts from eight alumni, including William "Bill" Haines '63, who pledged to match gifts up to $100,000.
The other challenge gift donors included: Sheri Glaser Baron '77, Ernest Logan '73, George Weissman '76, Esq., Chris Grady '79 and Terry Bedell Grady '80, Barry Thornton '93 and an anonymous 1981 graduate.
You can learn more about these incredible donors in RedDragonNetwork.
"Red Dragon spirit and sportsmanship were on full display on and off the field, with our football team representing us admirably and our alumni rising to the challenge to support them and their alma mater with their cheers and donations," said Peter Perkins, vice president for Institutional Advancement.
"Although we fell short in the Cortaca Challenge the real winners are our students, who will reap the benefits from the outstanding generosity of the more than 1,000 donors who participated. We can't thank you enough."
---
Capture the Moment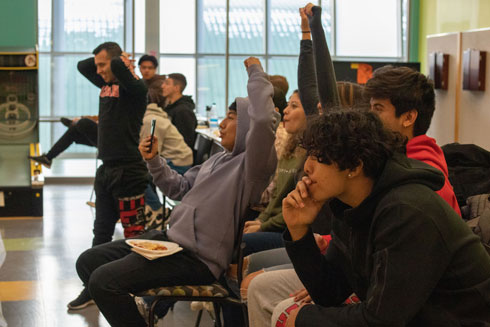 Students, faculty and staff gathered Monday in the Student Life Center for a World Cup watch party of USA vs. Wales sponsored by the Project on Eastern and Central Europe, Recreational Sports and the Clark Center for Global Engagement. The event encouraged conversations about soccer, global engagement and the "sportswashing" phenomena of nations with questionable human rights records such as Qatar hosting major events like the World Cup in an attempt to improve national reputation.
---
In Other News
SUNY Cortland University Police officers honored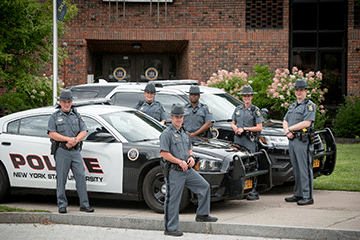 11/18/2022
Two SUNY Cortland University Police officers were recognized with 2022 University Police Awards, the SUNY Police Chiefs Association's highest recognition for campus officers.
The individuals, Officer Melissa Keelhar M '10 and K9 Officer David Coakley, were honored Nov. 15 for overall professionalism.
"On behalf of the hundreds of thousands of students and employees who meet on our campuses each day, we thank our officers and staff for their service in keeping us safe," said SUNY Interim Chancellor Deborah F. Stanley.
"I have had the privileged of working with so many collaborative officers throughout my career, and now as their commissioner, I am honored to celebrate them and their work," said Mary Sullivan Ritayik '97, University Police commissioner and SUNY Cortland graduate.
Keelhar and Coakley were among 19 University Police personnel who received the Professional Service Award, which recognizes members for acts that greatly enhance the operation of the respective university police departments. Another 14 officers or staff were recognized for their heroic efforts and bravery on campus.
Cortland's University Police Chief Mark DePaull had praise for both SUNY Cortland officers.
"Officer Keelhar is a wonderful ambassador for our university and is always willing to pitch in for the good of the community," DePaull said. "Officer Coakley continually enhances our agency's community policing mission, whether it is just a brief encounter with students or an organized event."
Officer Melissa Keelhar
Over the past year, Keelhar sought additional training to improve her detection skills for driving while intoxicated (DWI) and impaired driving. Now she routinely leads the department with DWI arrests and vehicle and traffic stops for aggressive driving violations.
"Her diligence and skills have made our roadways safer for everyone," DePaull said.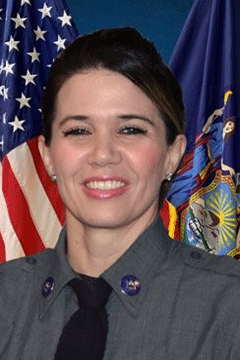 She also participates in the Cortland campus' DWI prevention and awareness events, letting students try a simulation device called impairment goggles while taking the Detection and Standardized Field Sobriety Test (SFST).
"At these events, Officer Keelhar can be found interacting with the community by showing them the dangers of impaired driving," DePaull said.
Recognizing her accomplishments, the Mothers Against Drunk Driving, Stop DWI-New York and the New York State Governors Traffic Safety Committee presented her with its 2022 Recognition of Excellence Award.
Keelhar shows kindness and generosity when she encounters a person who may be homeless or in need of assistance.
"Officer Keelhar is always the first to sign up for any community outreach program, whether on or off campus," DePaull said. "Her compassion, empathy and commitment are noticed by those she serves."
Officer David Coakley
Coakley engages in community outreach with his K9 partner, a male German shorthair pointer, "Red," who joined the officer in 2019 as the university's first police canine.
Over the last year, Coakley has fine-tuned SUNY Cortland's relatively young K9 program and has expanded his training and knowledge regarding explosive detection. Red has been trained to detect signs of explosive devices.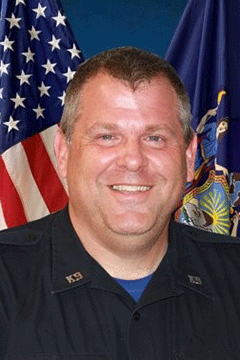 "He continually networks and trains with local and university police agencies and routinely responds to calls for assistance on campus and in the surrounding community," DePaull said.
"Officer Coakley has established himself as a solid law enforcement partner with his fellow K9 handlers and he is willing to go above and beyond to support others in the field," DePaull said.
Officer Coakley also has shown commitment to bettering the department's resources, opportunities, policies and training.
"He has enhanced the overall safety of the campus and contributed significantly to our community policing mission."
SUNY Cortland recognized for engaged student voting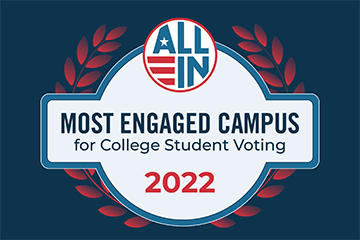 11/22/2022
SUNY Cortland was nationally recognized recently as a 2022 ALL IN Most Engaged Campuses for College Student Voting.
The ALL IN Campus Democracy Challenge, a national, nonpartisan program promoting college voter registration and turnout efforts, strives to strengthen civic culture by institutionalizing democratic engagement activities and programs on college campuses, making voter participation a defining feature of campus life.
This national voter engagement honor, Cortland's second since August, spotlights colleges and universities that take concrete actions to increase student voter participation. SUNY Cortland joins a group of 394 colleges and universities recognized by the nonpartisan group based in Washington, D.C.
"Thank you for the intentional work you and your institution did in 2022 to institutionalize nonpartisan democratic engagement to increase student voter turnout," wrote Jennifer Domagal-Goldman, executive director of the ALL IN Campus Democracy Challenge/Civic Nation, in a recent letter to the university's president, Erik J. Bitterbaum.
"These students registered voters, served on their campus voting coalitions, spearheaded voter education efforts, advocated for campus polling locations and organized other voter engagement efforts to ensure their peers were confident and informed voters," she said.
ALL IN representatives noted that national college student voter turnout has increased since 2016, including a strong showing in the 2022 midterm elections.
"This award recognizes that SUNY Cortland's culture embodies democratic engagement," said John Suarez, who directs SUNY Cortland's Institute for Civic Engagement, one of several groups active in campus voter engagement.
This milestone acknowledges Cortland's more focused and comprehensive two-year action plan for increasing students' democratic engagement. The current plan works with faculty to include current events and democratic engagement in class lessons, collaborates with a wide variety of offices, pursues an ambitious goal of 90% voter registration and turnout by the 2024 general election, maintains support from senior administration, includes moderator training for the institute's periodic deliberative dialogues and works for diversity by reaching out to various student groups, including seeking to relaunch the College Republicans Club.
To qualify for the most recent award, SUNY Cortland needed to complete four additional actions:
Participate in the ALL IN Campus Democracy Challenge
Share 2020 National Study of Learning, Voting and Engagement reports containing campus voting data with ALL IN
Develop and submit a 2022 democratic engagement action plan with ALL IN
Have a current signatory to ALL IN's Higher Education Presidents' Commitment to Full Student Voter Participation
The Cortland chapter of the New York Public Interest Research Group played a major role in the project to motivating students to register to vote, vote or otherwise become involved in democratic elections.
"There are plenty of other folks on campus who are working on democratic engagement," besides the institute, Suarez said. "Just one example comes from the School of Education. And that's both for the school with its approach to elementary education and for the secondary education curriculum in the History Department (in the School of Arts and Sciences)."
SUNY Cortland is one of only three New York state campuses with two prior awards from All IN, Suarez said.
In August, the campus was recognized with ALL In's Highly Established Action Plan Seal of Recognition, as one of only 82 institutions of higher education in the U.S. recognized for ambitious, detailed and campus-wide action plans that included community involvement in the promotion of student participation in elections.
Additionally, SUNY Cortland previously was honored for numbering among only 184 campuses that participate in ALL IN's Ask Every Student initiative.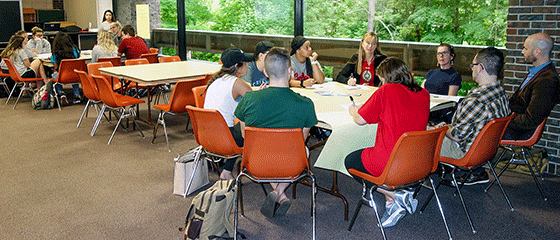 Ultimately, Suarez noted, most of the skills that students develop by participating in these civic activities overlap with their potential for career success, as identified by the National Association of Colleges and Employers (NACE). That includes career and self-development, communication, critical thinking, equity and inclusion, leadership, professionalism and teamwork.
"Regardless of the issue, we need to be able to collaborate on addressing issues in civil and productive ways," Suarez said. "That includes engaging in informed, civil and productive dialogues at the local, state and national levels. Those dialogues need to address intensifying issues that range from climate change to challenges to democracy. The university's efforts in this area represent our faith in our younger generations to address these challenges, if we give them the tools to do so."
The ALL IN effort currently engages more than 9 million students from more than 960 institutions in all 50 states and the District of Columbia. Campuses can visit the organization's website to join the ALL IN Challenge.
International photo contest winners announced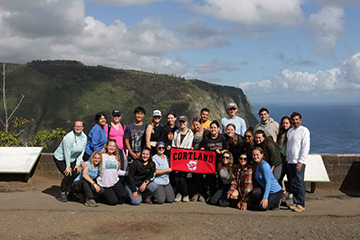 11/22/2022
SUNY Cortland's International Programs Office recently announced the winners of its Fall 2022 photo contest.
In total, 26 student photos were recognized across five categories, with more than 400 votes cast by campus community members for popular choice photos.
Submissions represented experiences abroad as well as domestic travel. Study abroad resumed during the 2021-22 academic year after a pause during the COVID-19 pandemic.
The university's International Programs Office currently manages 40-plus study abroad partnerships while helping Cortland students connect with hundreds of additional opportunities throughout the SUNY system. More than 70 international students representing 24 countries also are enrolled at Cortland.
Award winners are included below.
---
World as Your Classroom Category
First place: Christopher Fernandez, Turkish Laborer, Yozgat Province, Turkey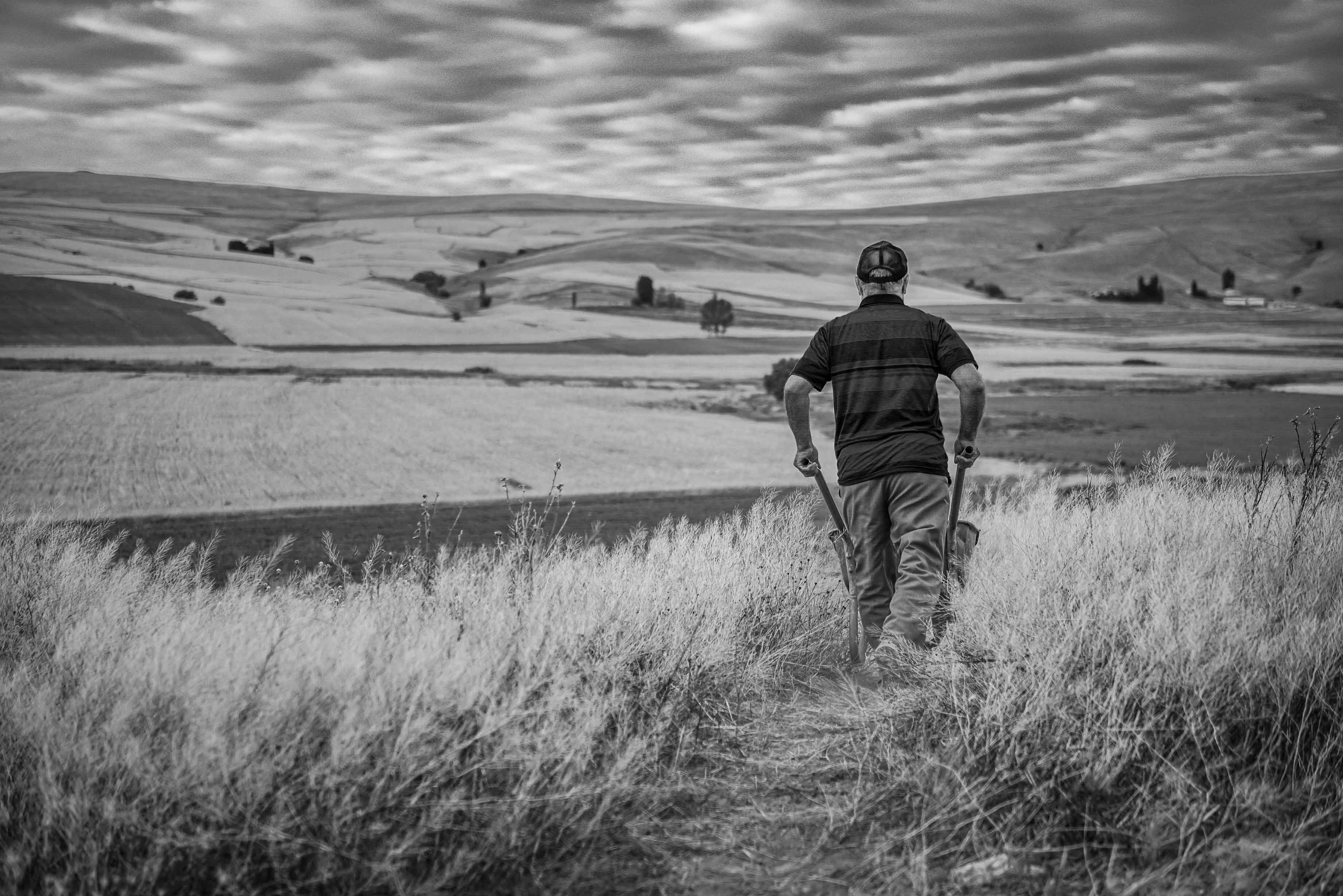 ---
Runner-up: Tyler Leote, Deck of Cards, Cobh, Ireland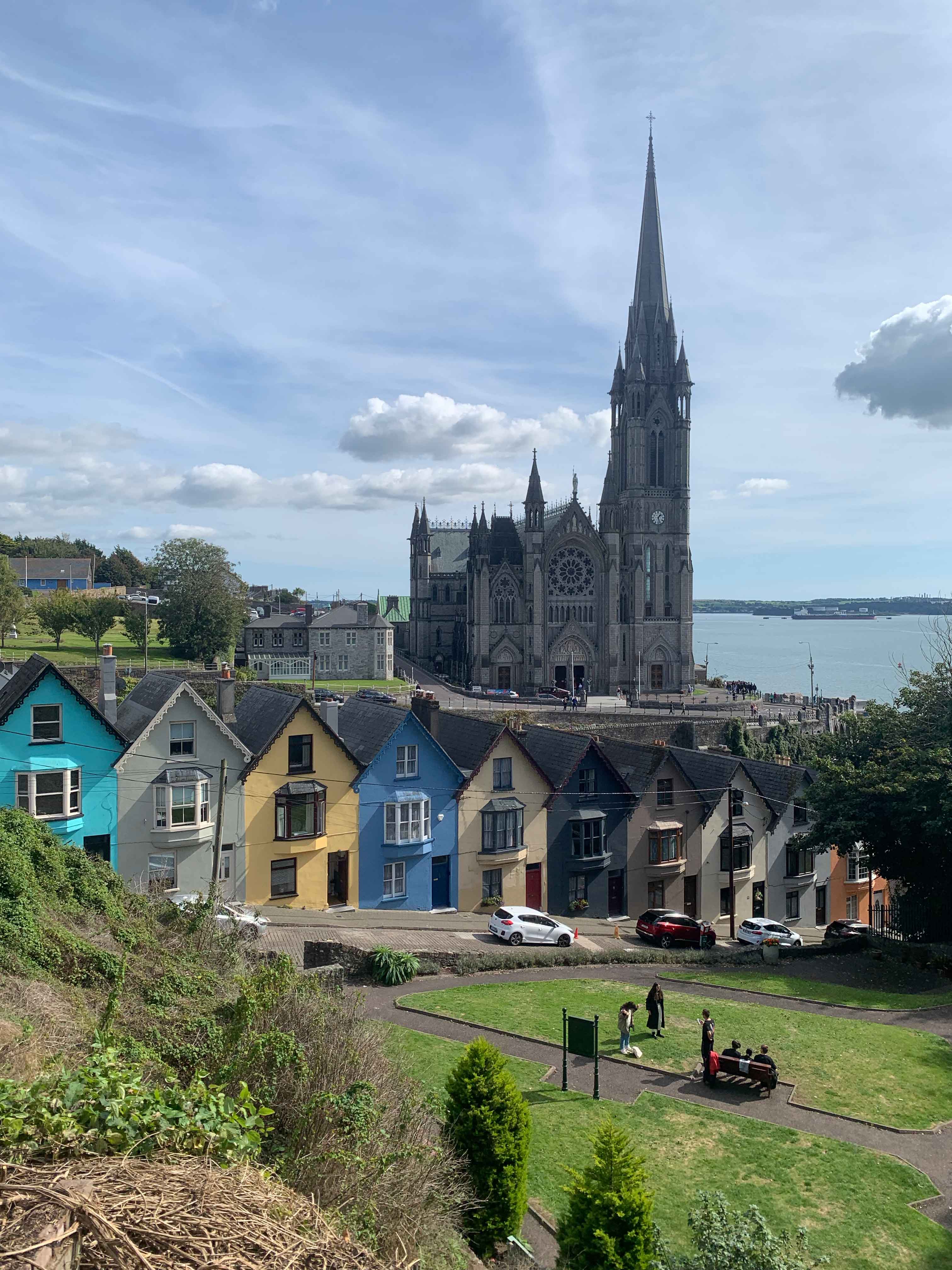 ---
Popular choice: Joseph Santangelo, Biodiversity Sampling in La Selva, Pueto Viego, Costa Rica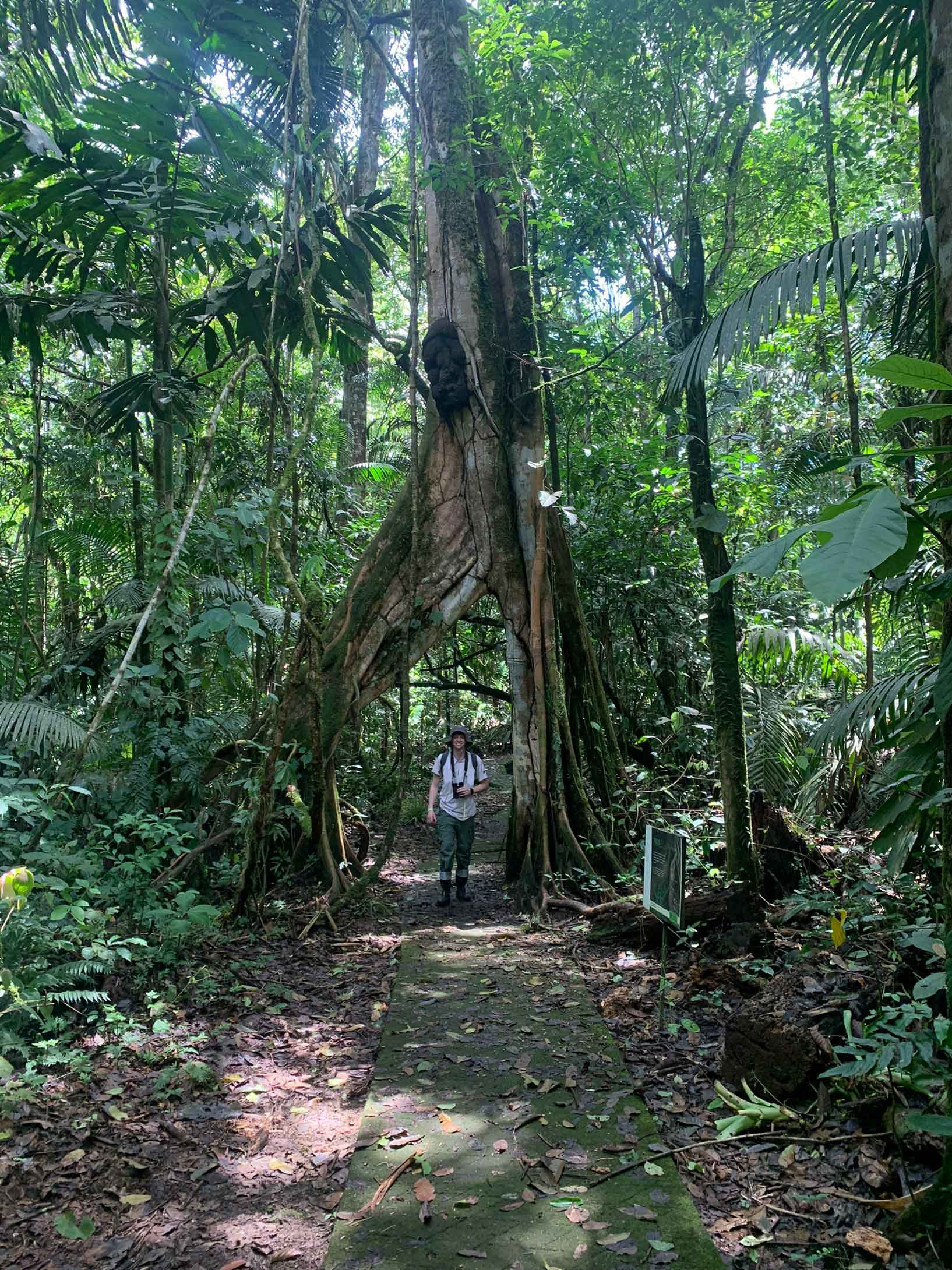 ---
Honorable mention: Liam Grill, Musée Rodin du Jardin, Paris, France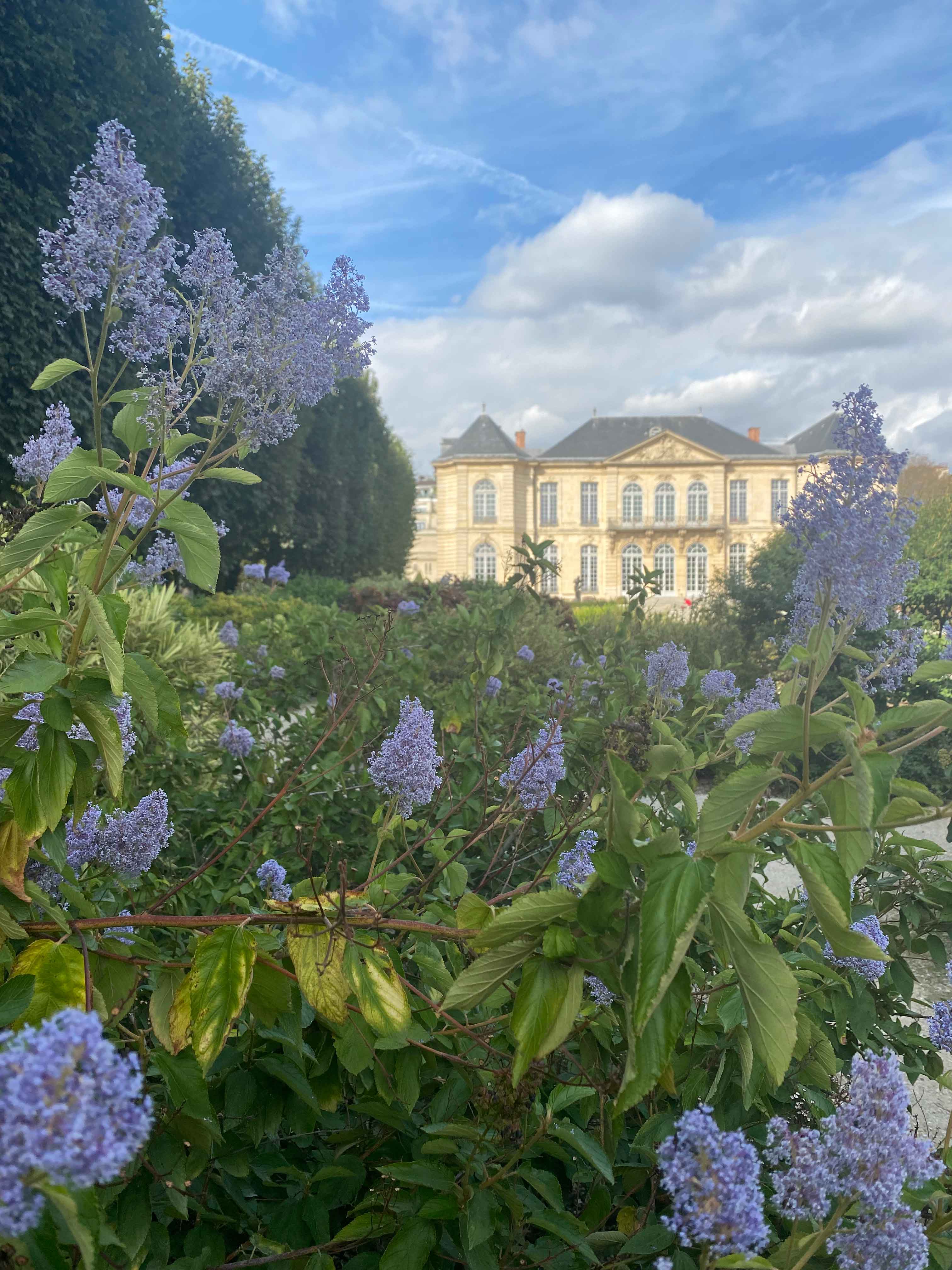 ---
Honorable mention: Chloe Loewenguth, Viewing the Art, Florence, Italy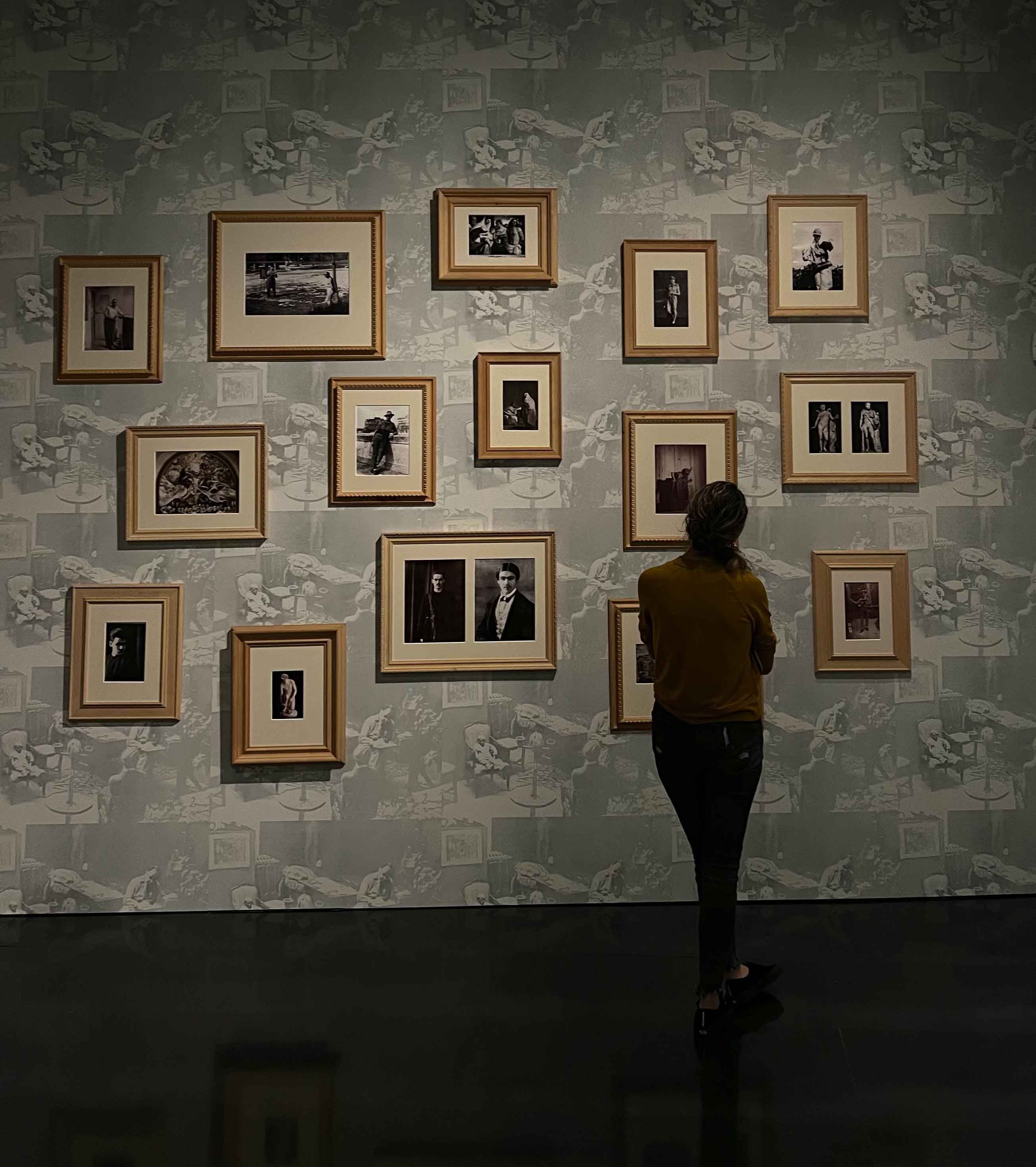 ---
Capture the Moment Category
First place: Kaspar Kolja Grosse, Colorado Mountain Street, Colorado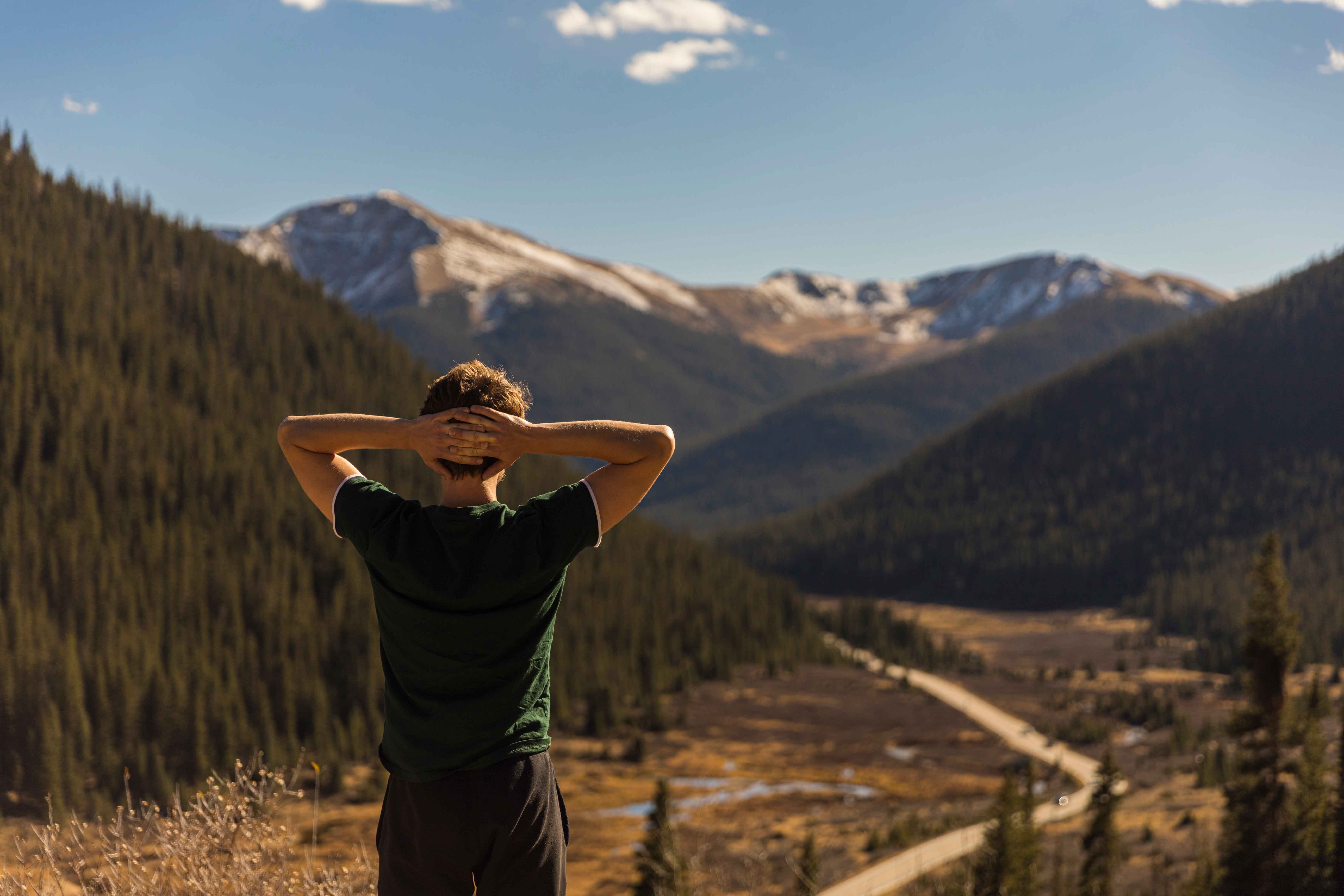 ---
Runner-up: Antonia Blanke, End of the Rainbow, Niagara Falls, NY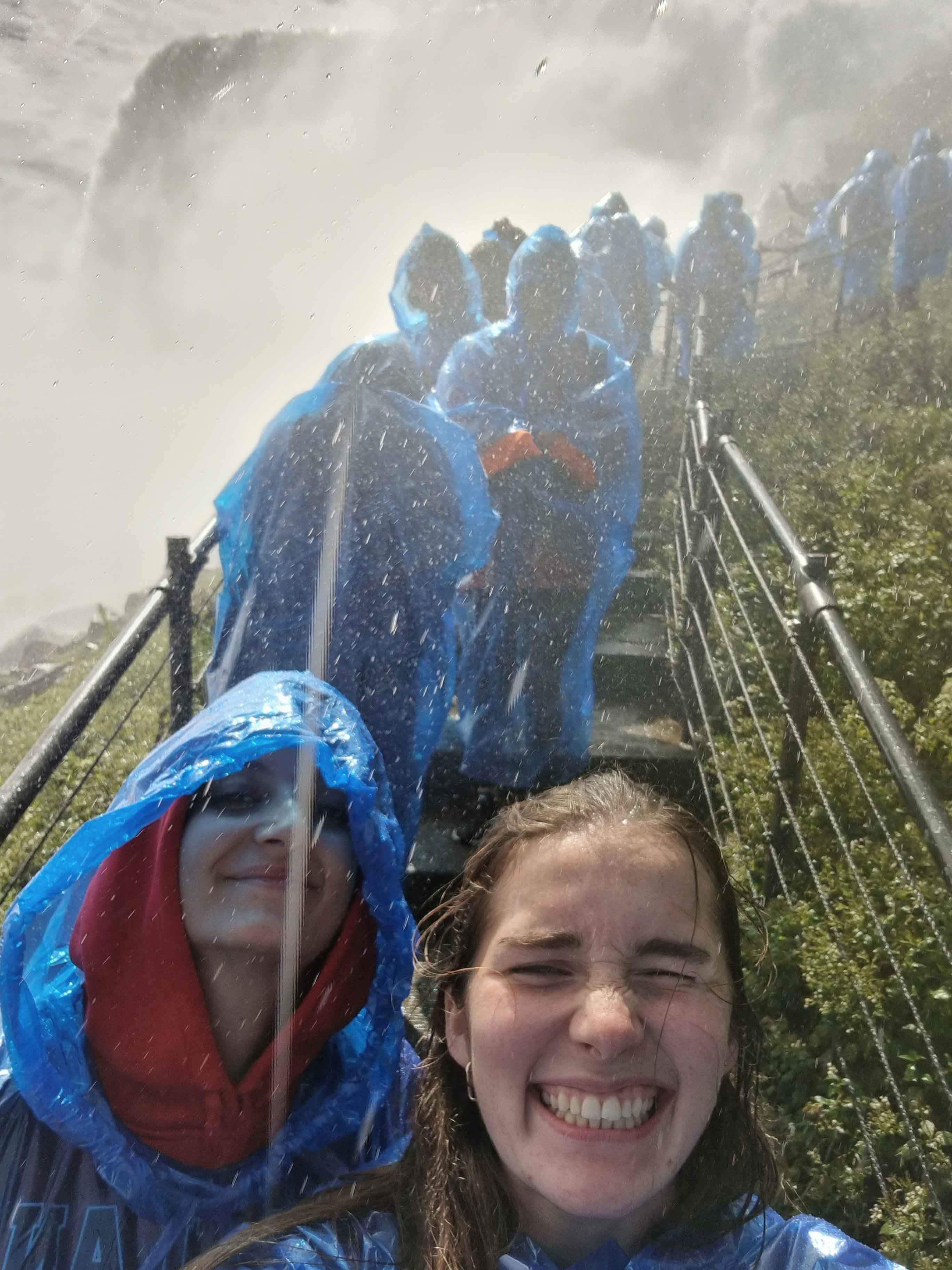 ---
Popular choice: Muhammet Altunsoy, Adventure, Greek Peak, Cortland, NY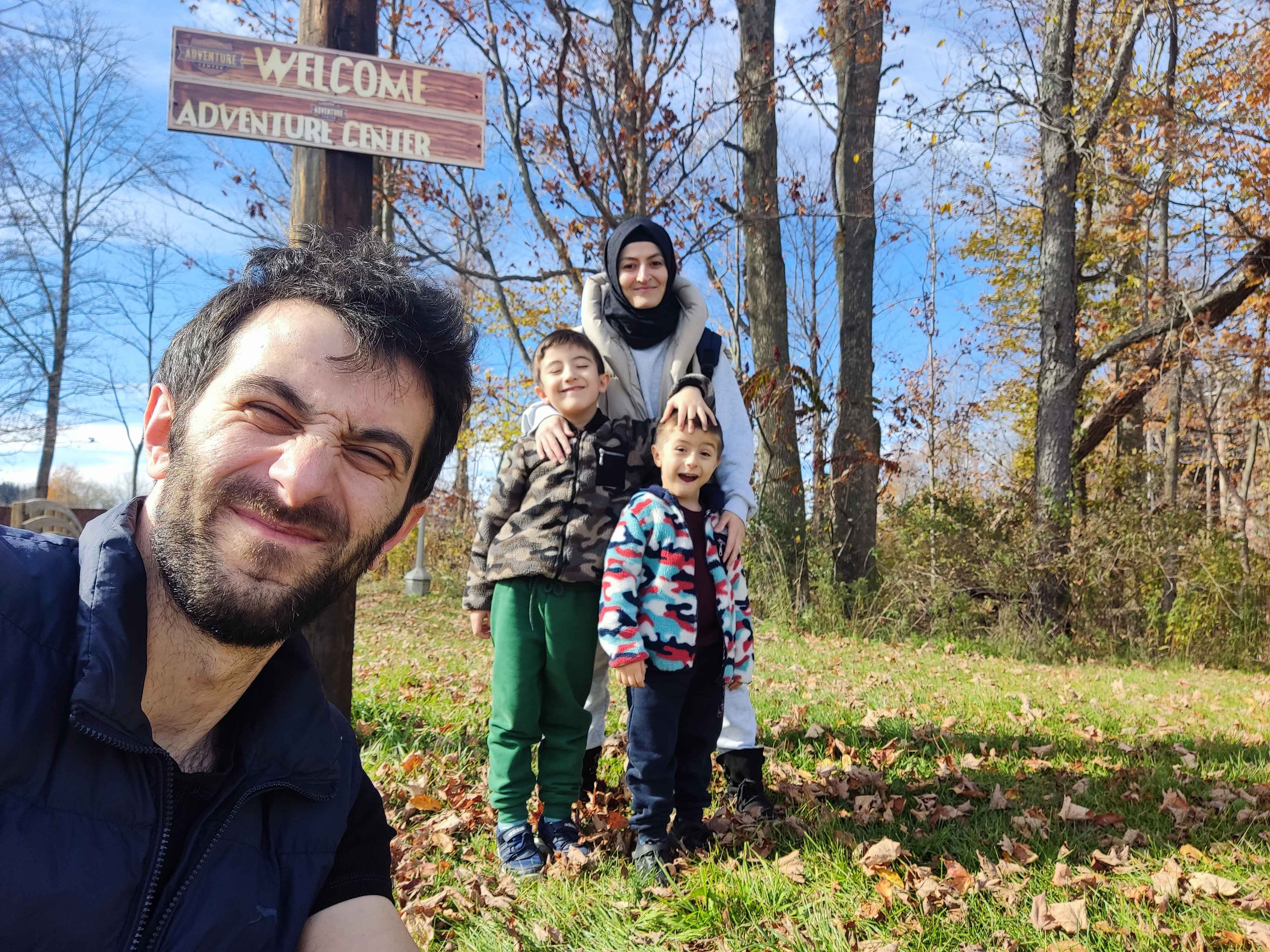 ---
Honorable mention: Kelly Tait, The Sky is the Limit, Glen Falls, NY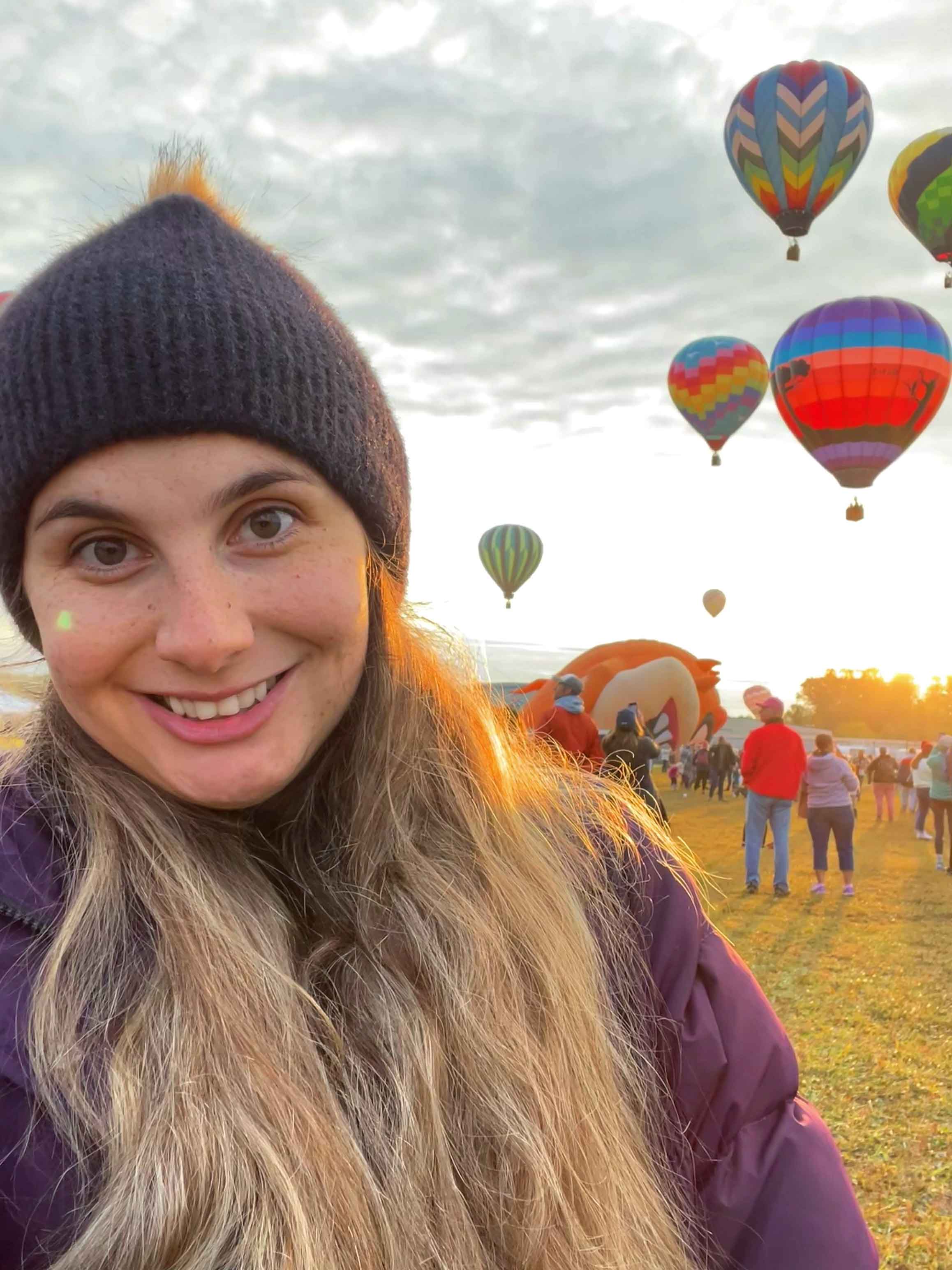 ---
Honorable mention: Katja Galle, The Grand Canyon of the East, Letchworth State Park, Castile, NY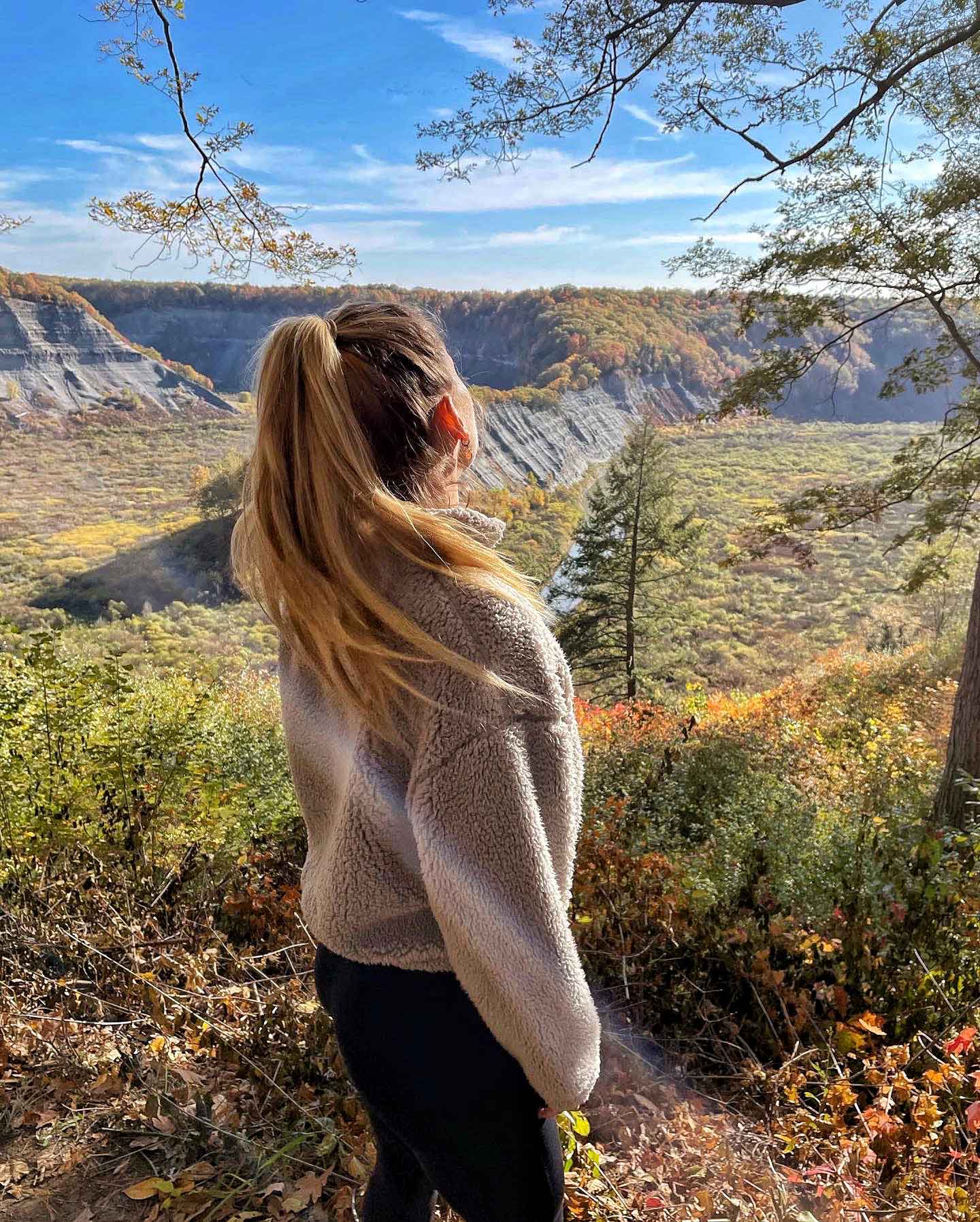 ---
The Faces of Study Abroad Category
First place: Regan Goger, Blarney Castle, Cork, Ireland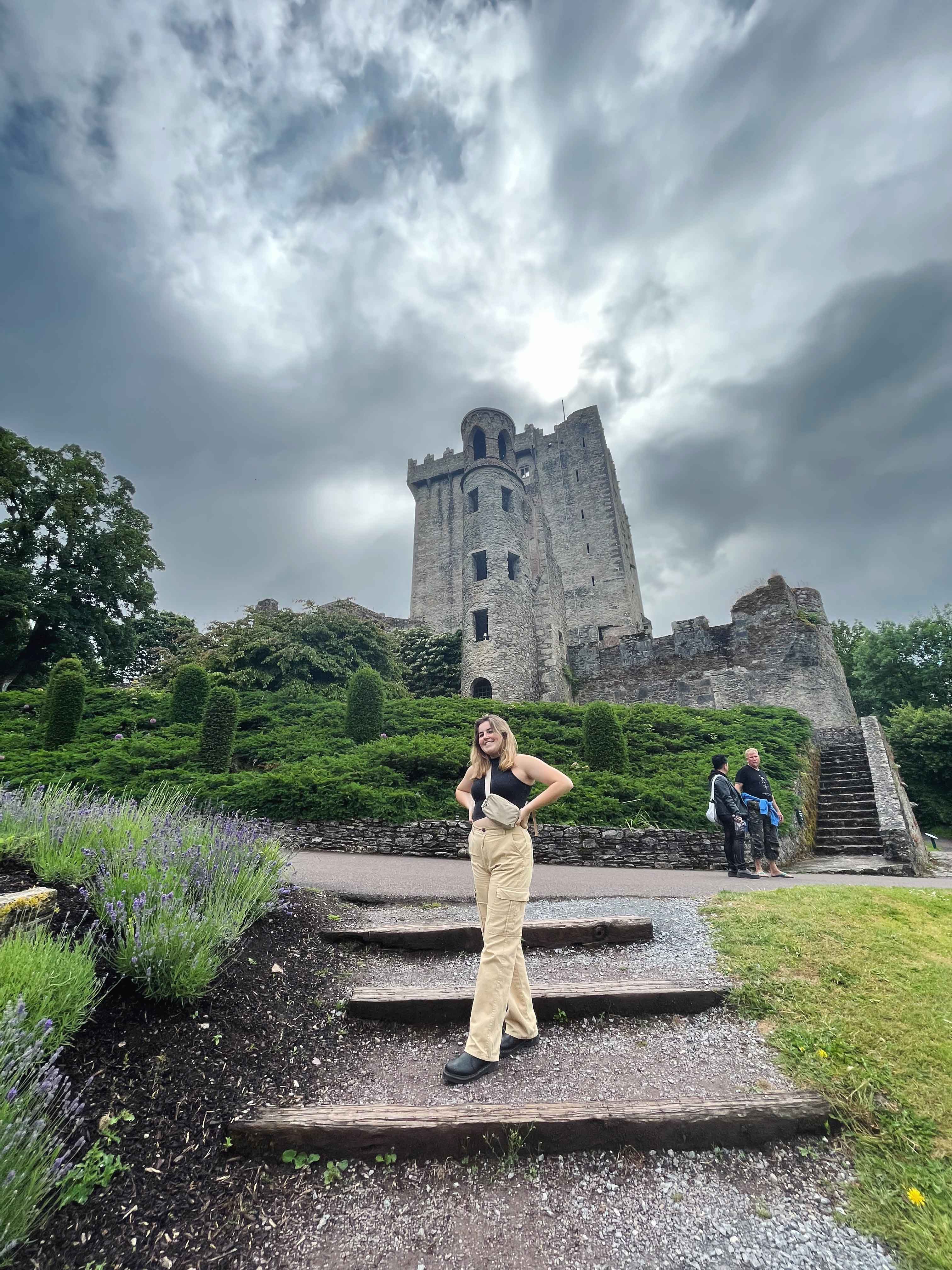 ---
Runner-up: Jessica Boodhoo, The Climb, Fortuna, Costa Rica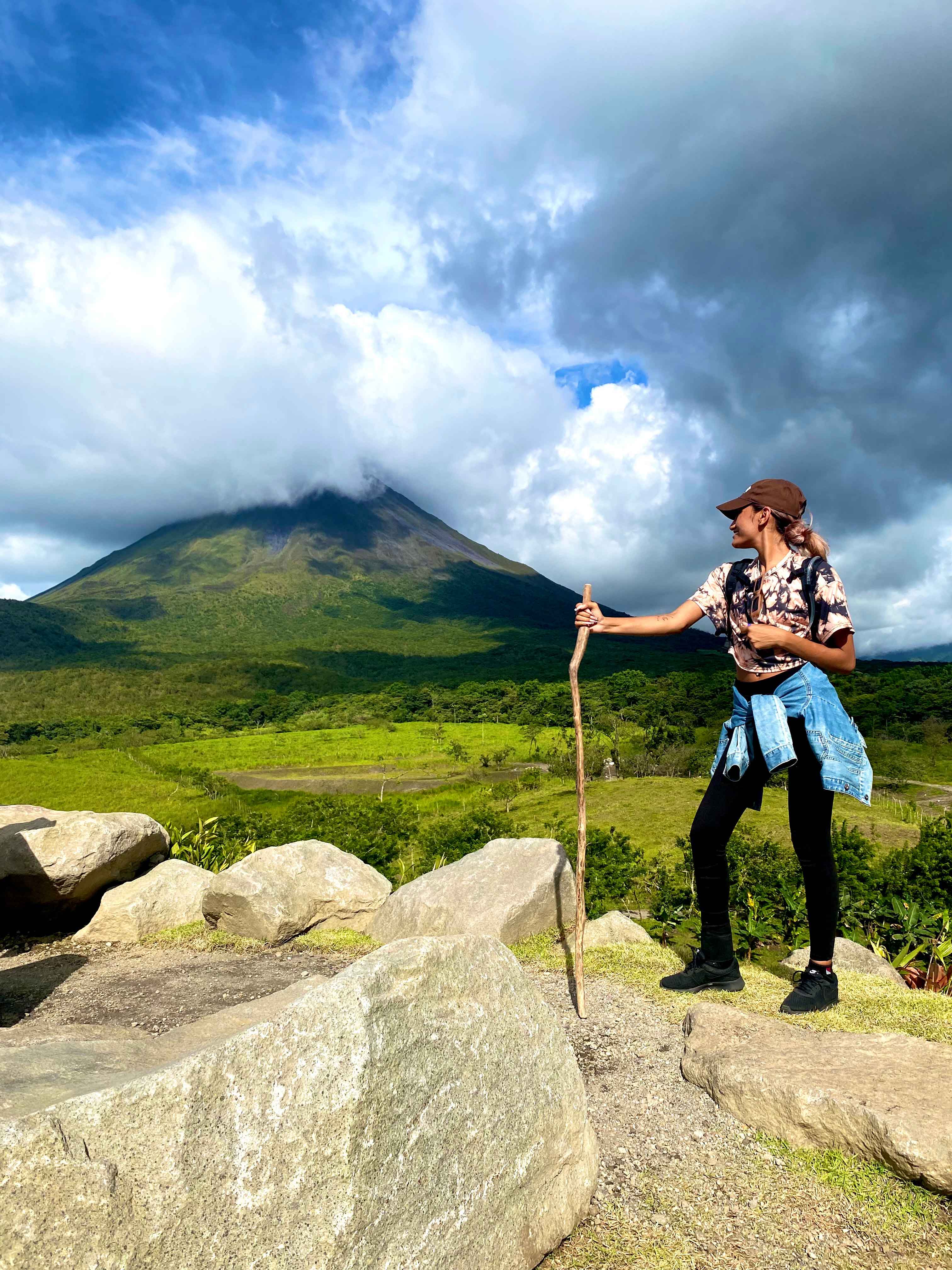 ---
Popular choice: Meagan Conway, Brisbane River, Kangaroo Point, Australia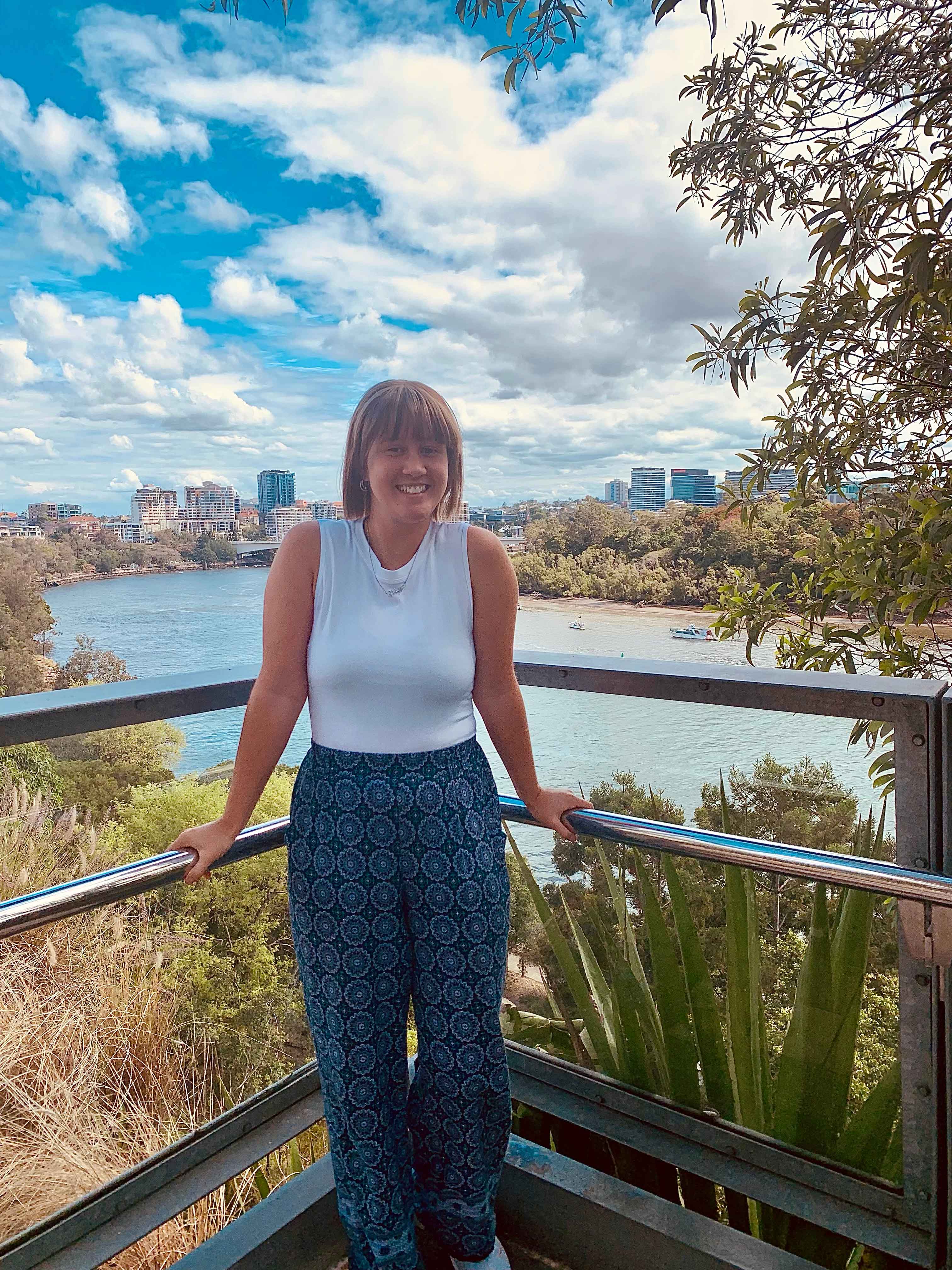 ---
Honorable mention: Kylea Skinner, This is Not Mars, Málaga, Spain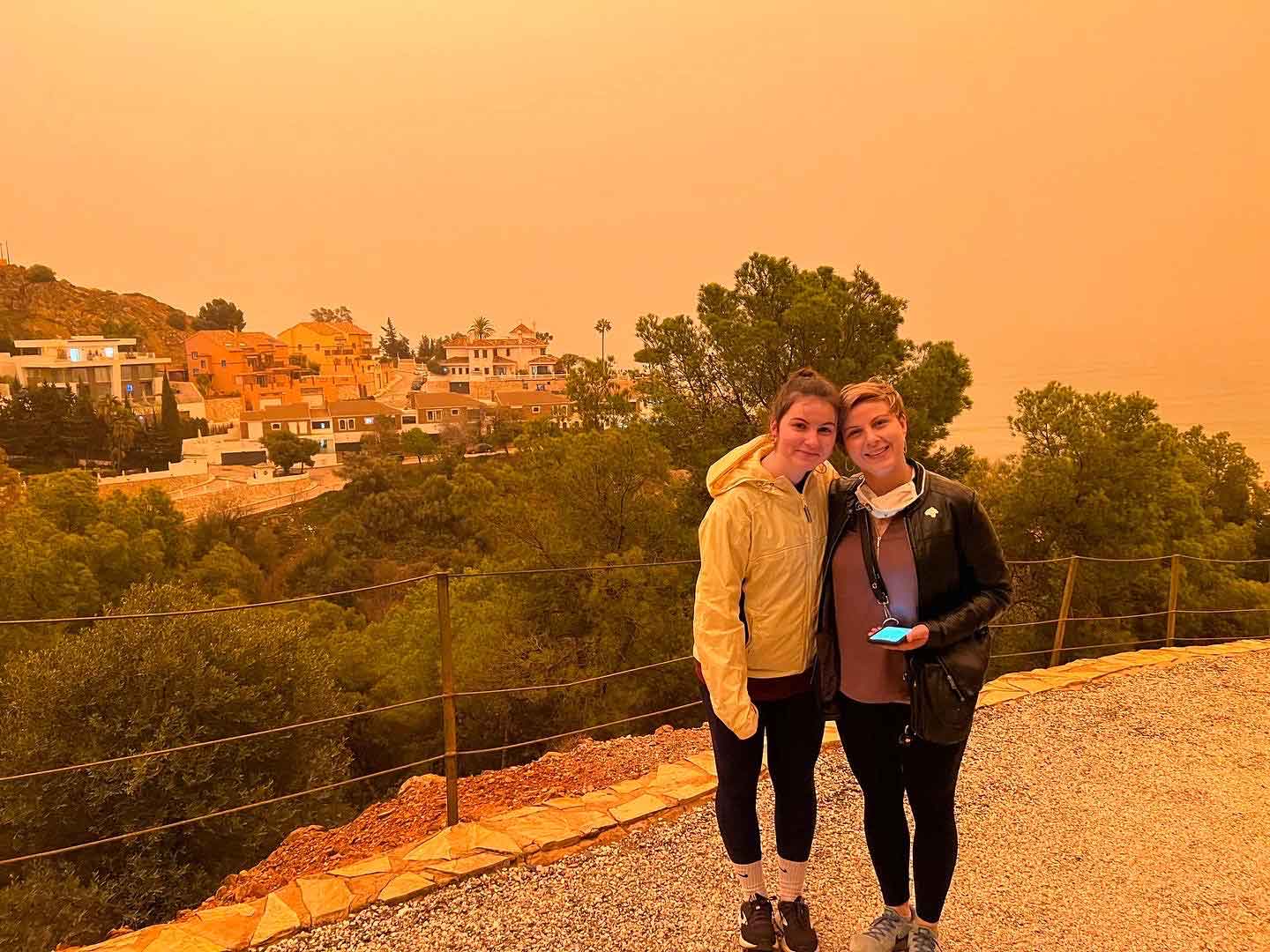 ---
Honorable mention: Maria Keeney, My 21st Birthday in Paris, Paris, France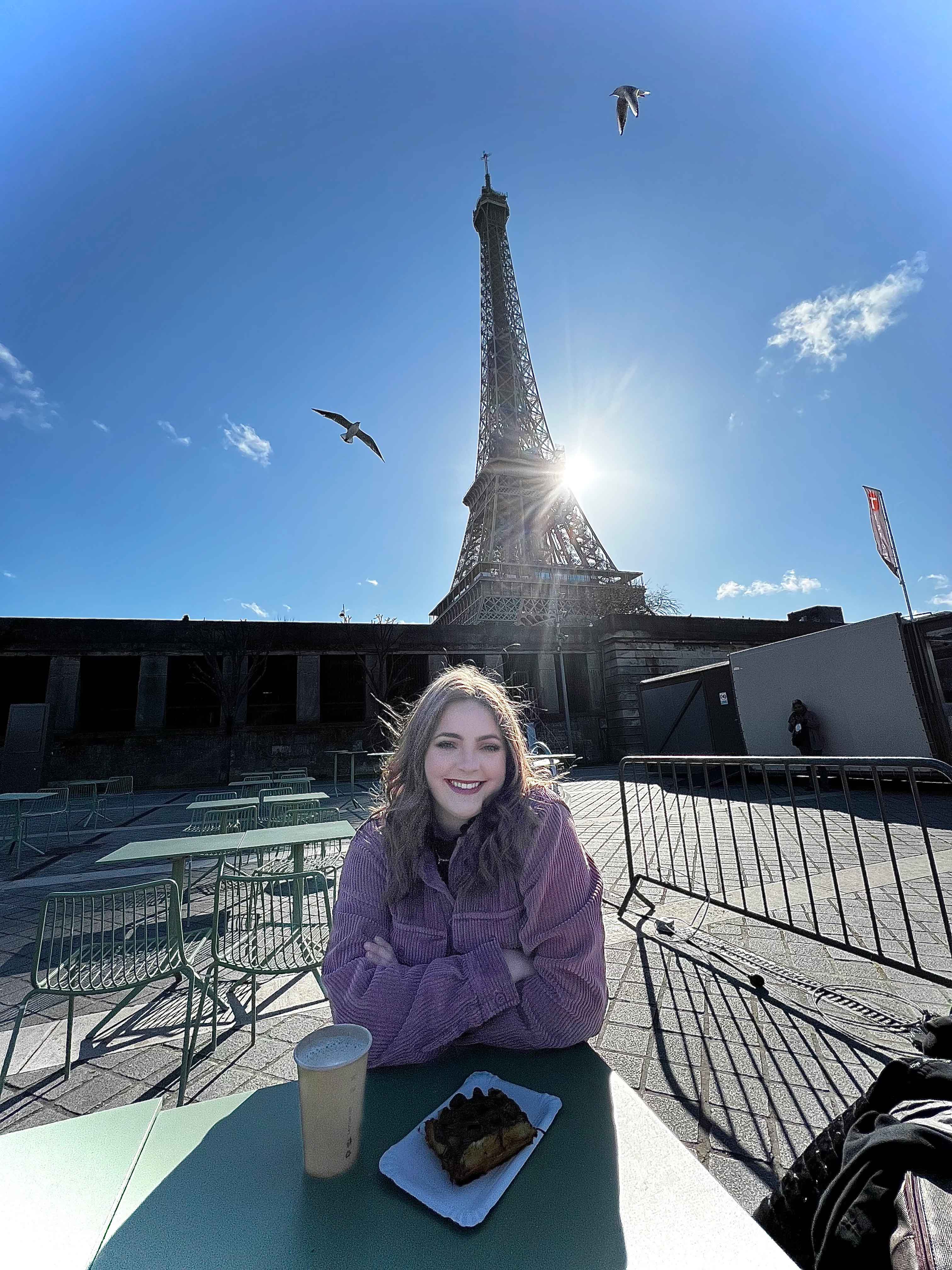 ---
World of Wonder Category
First place: Romina Frenzel, The Rainbows, Niagara Falls, NY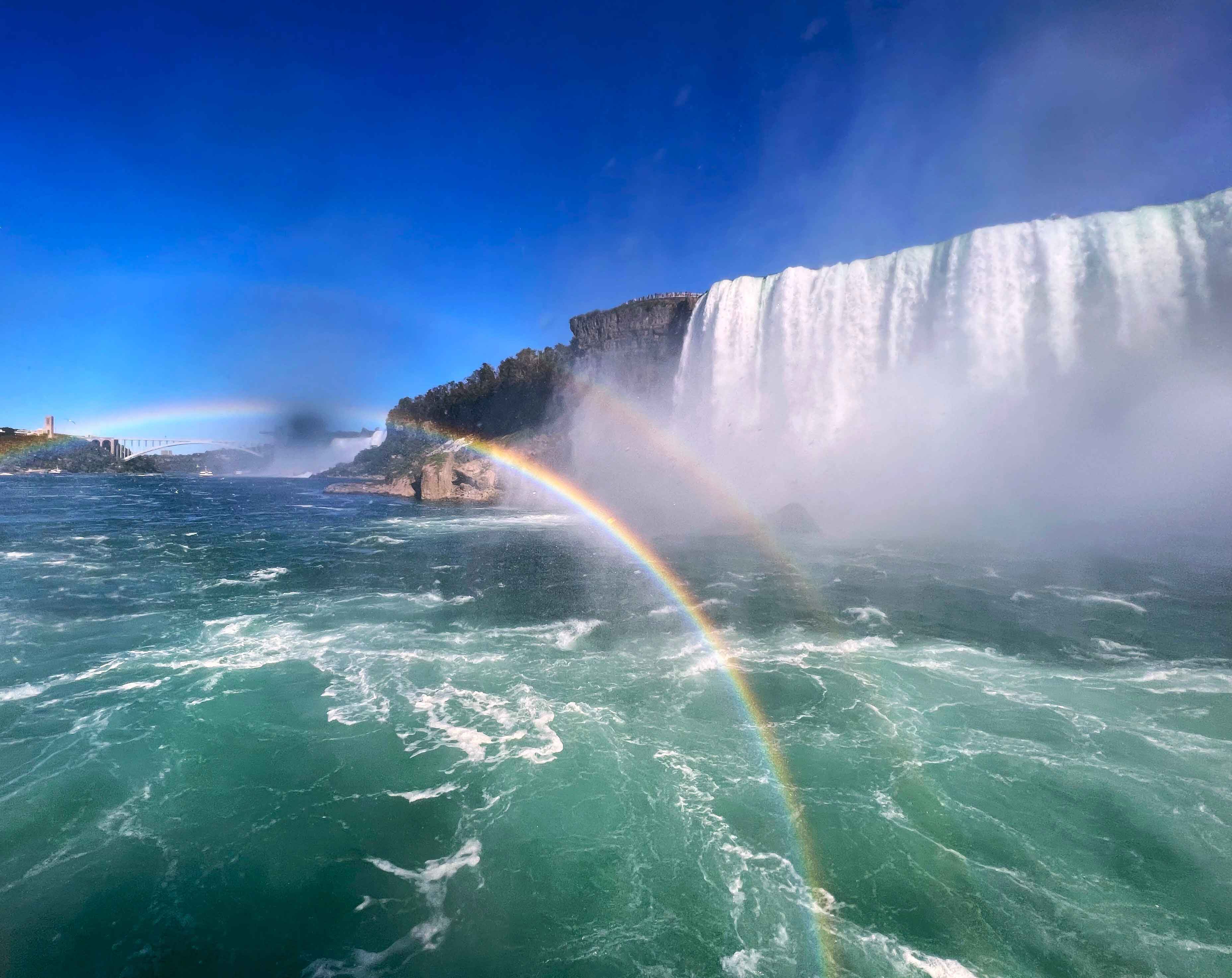 ---
Runner-up: Justus Brinkman, Three New York t-shirts for $10.99, New York City, NY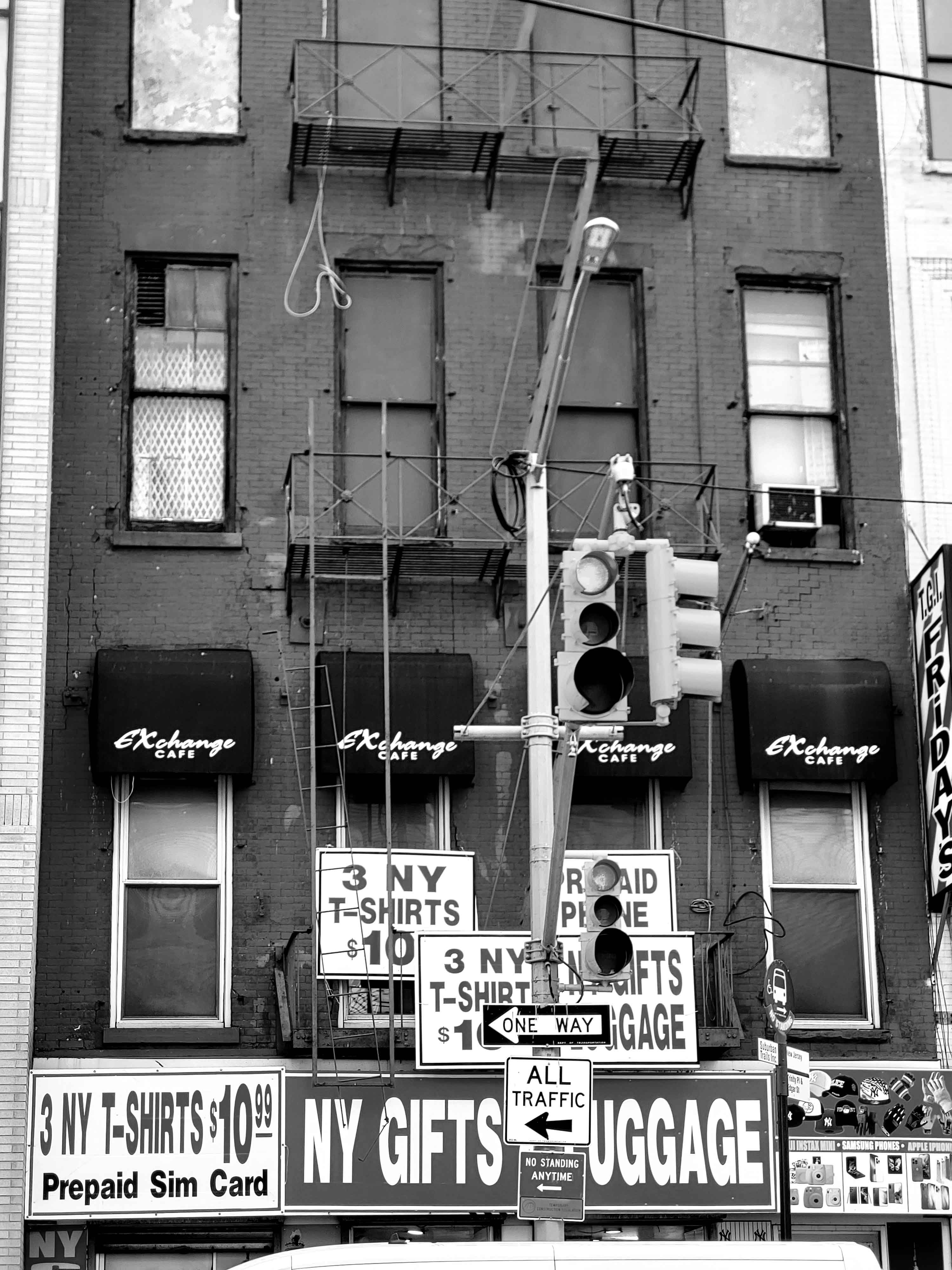 ---
Popular choice: Laura Gonzalez, Not Only a "Concrete Jungle," Letchworth State Park, Castile, NY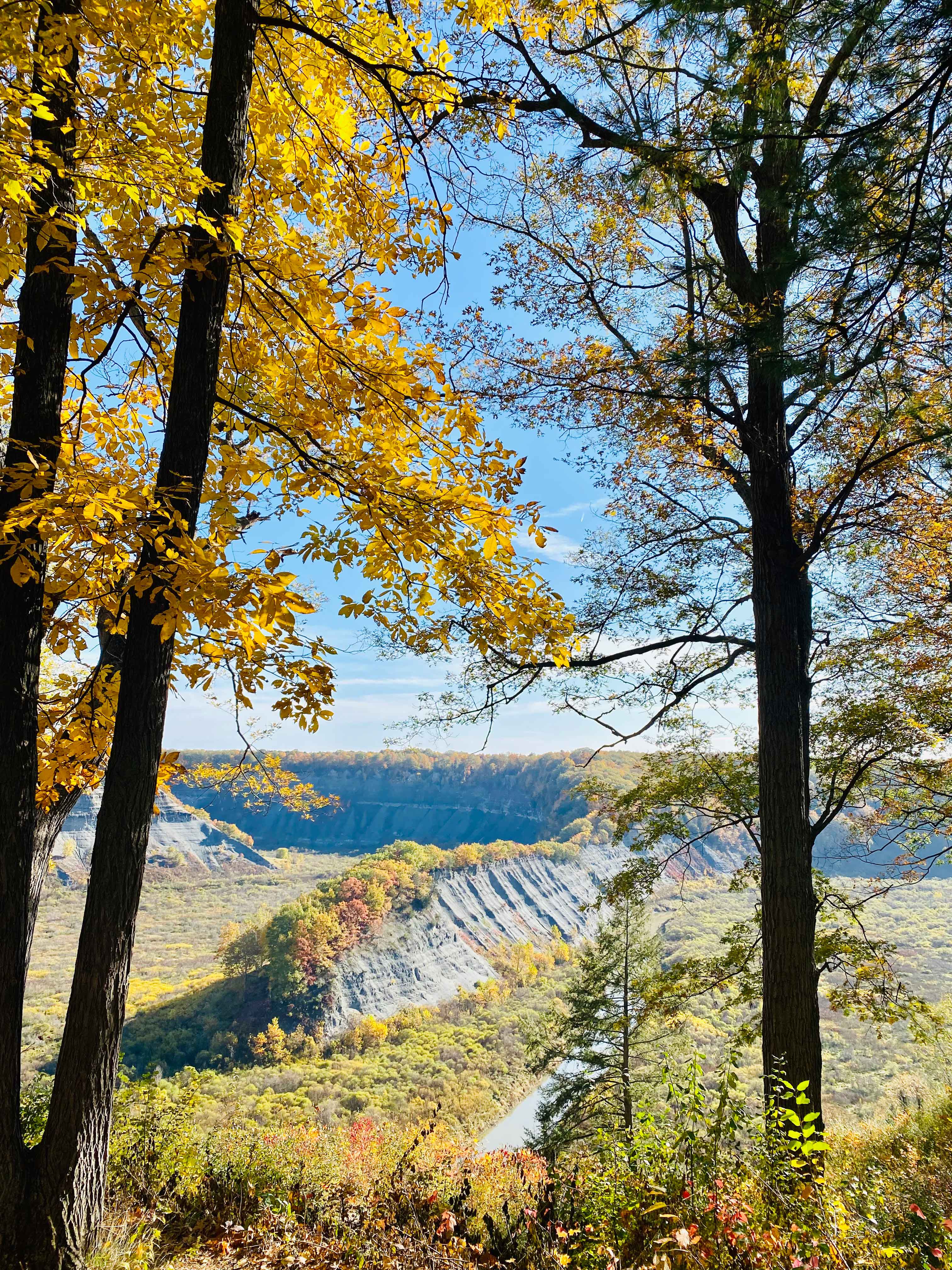 ---
Honorable mention: Deborah Seipp, Set in Stone, Lake Ontario, NY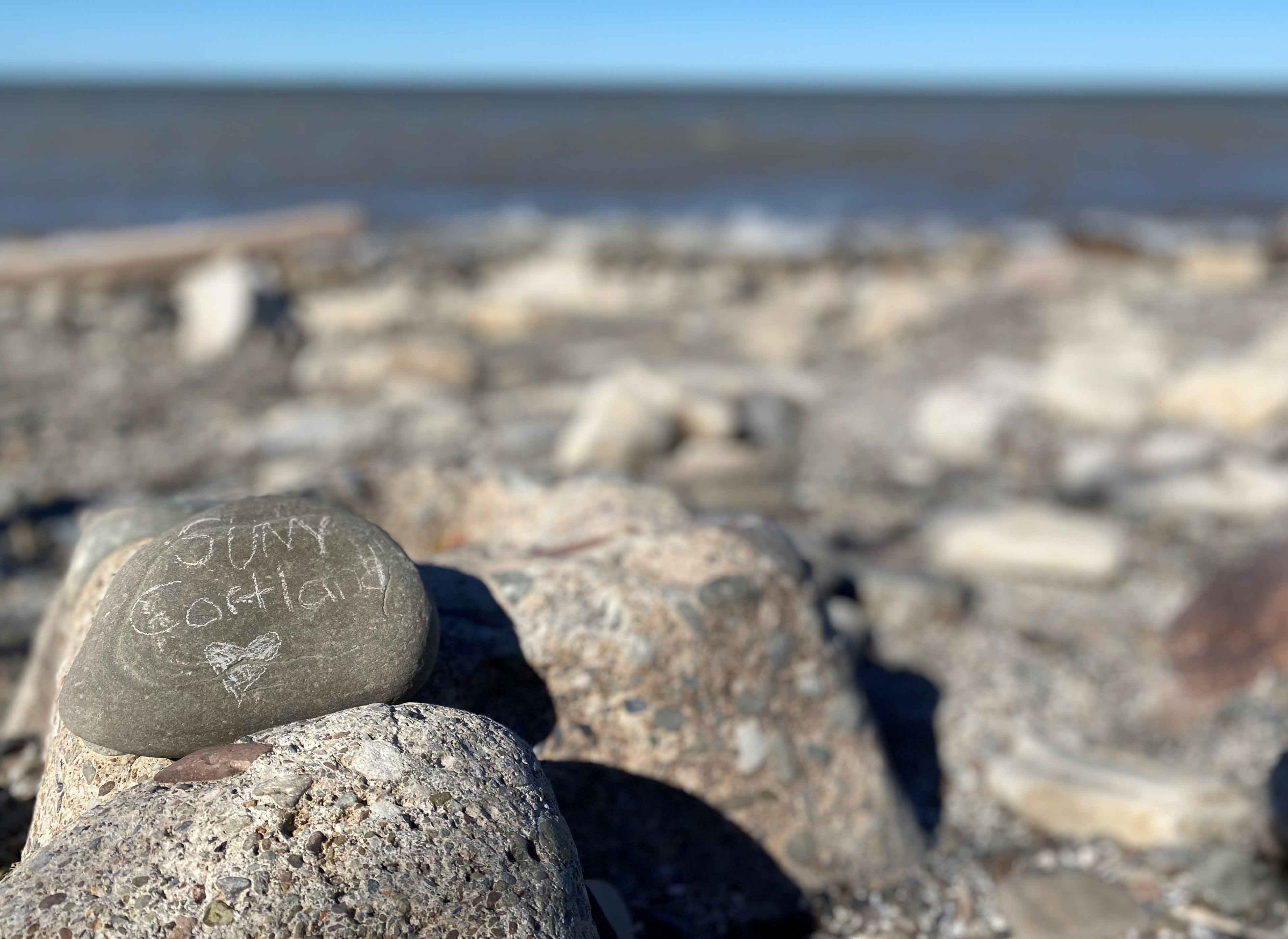 ---
Honorable mention: Elliot Booth, Colorado Mountain Road, Colorado
---
Honorable mention: Chika Sato, Untitled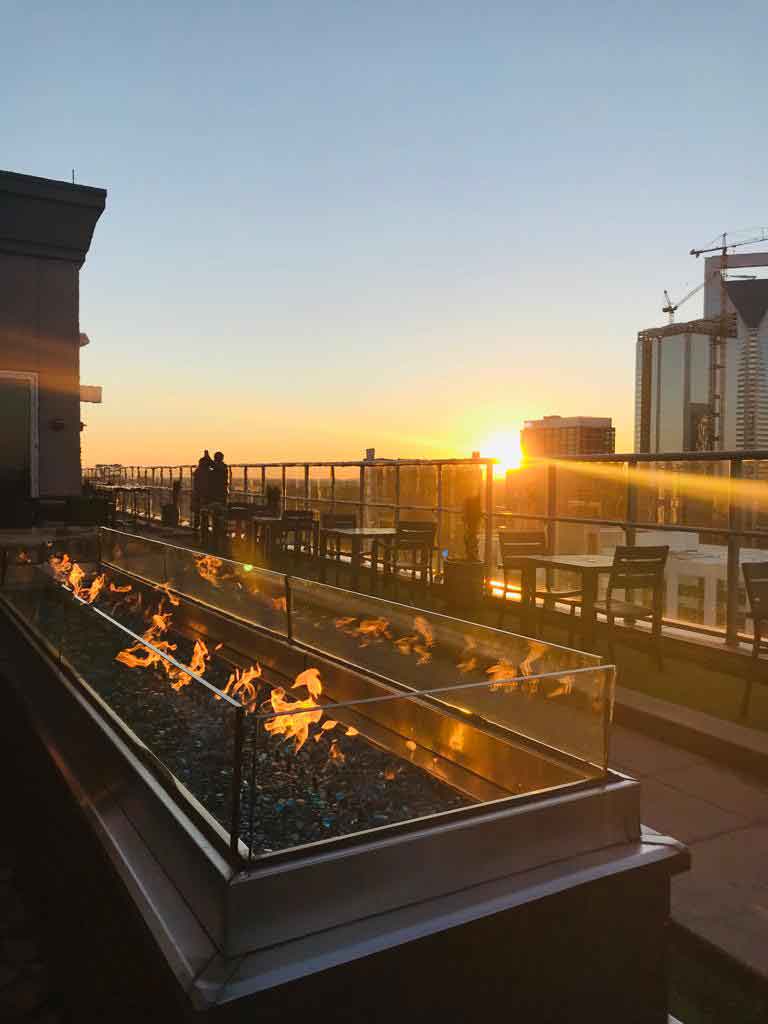 ---
Live Like a Local Category
First place: Tara Mirza, Khan El Kahlili, Cairo, Egypt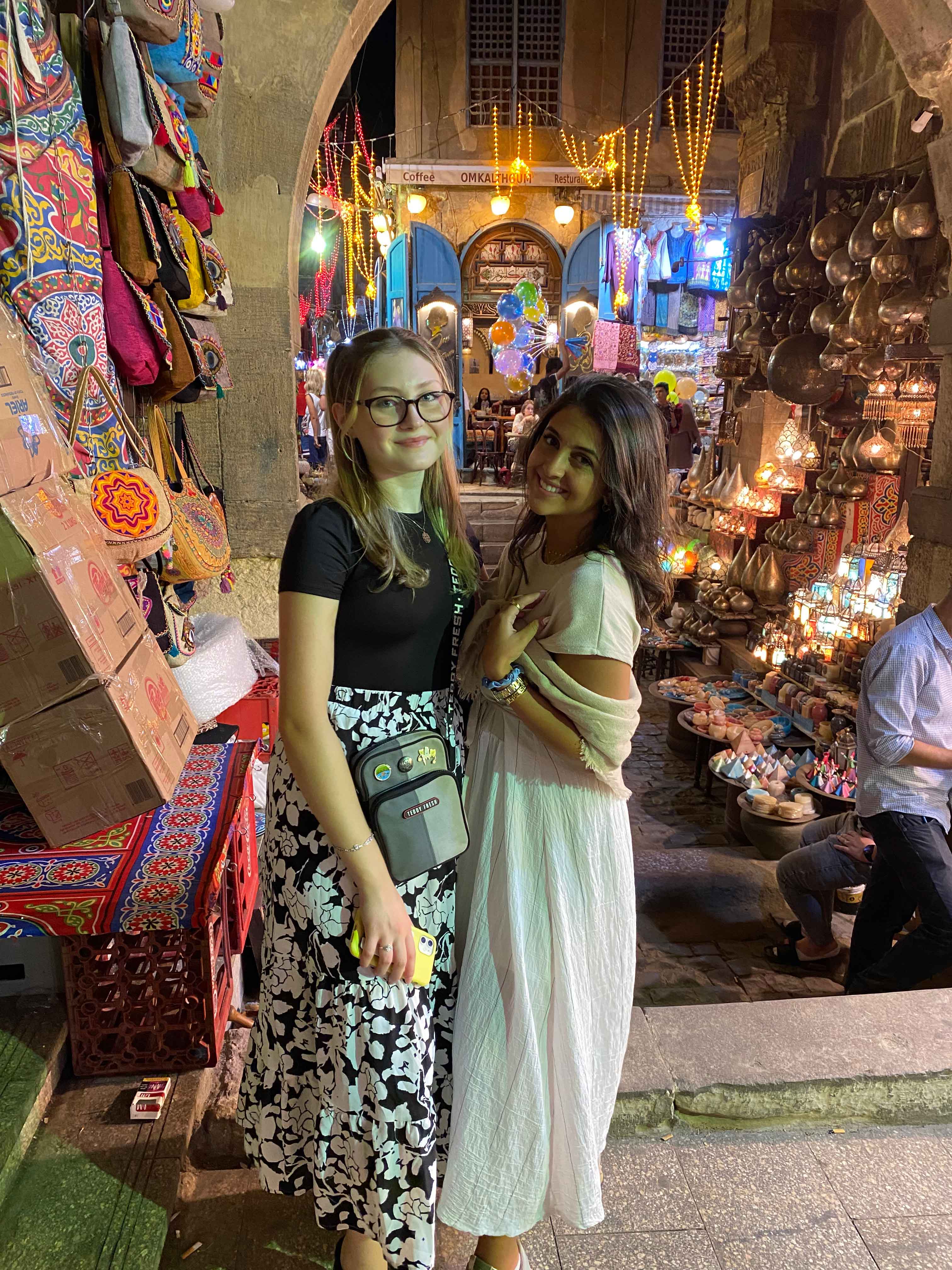 ---
Runner-up: Gloria Daillet, Working at Bookmark, Memorial Library, Cortland, NY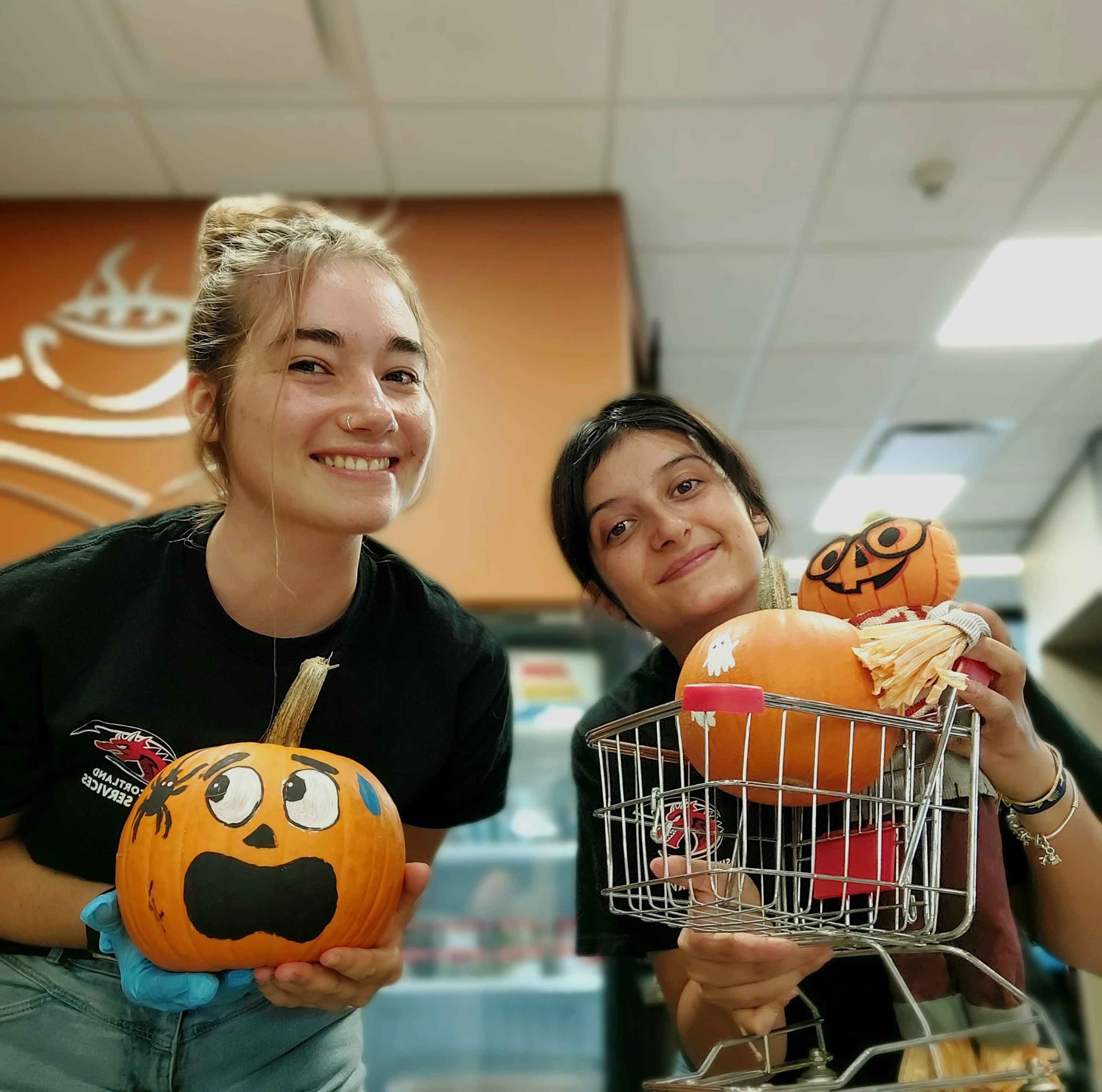 ---
Popular choice: Sophia Romano, Rainy London Nights, London, England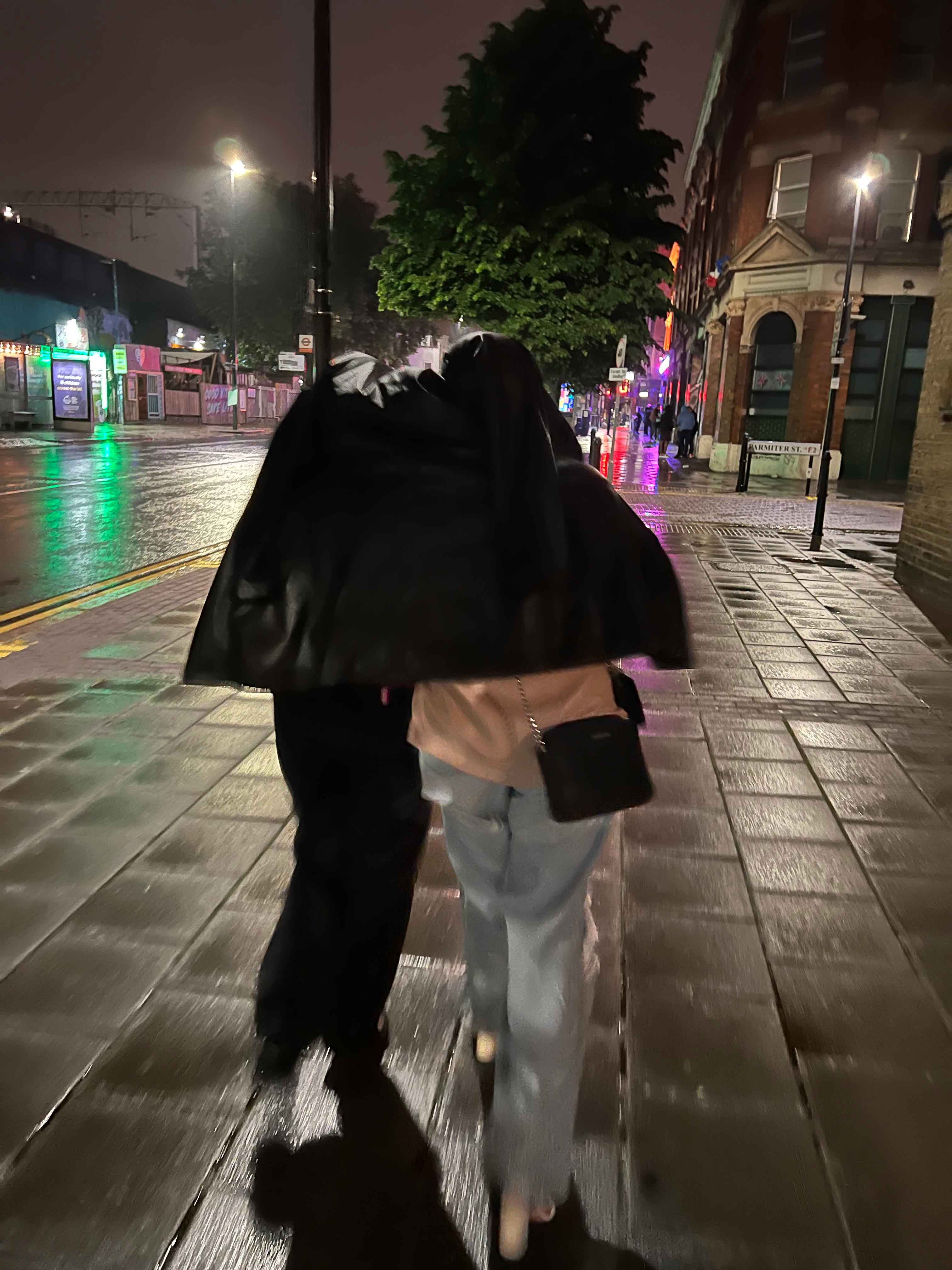 ---
Honorable mention: Briance Love, Friends, Hawaii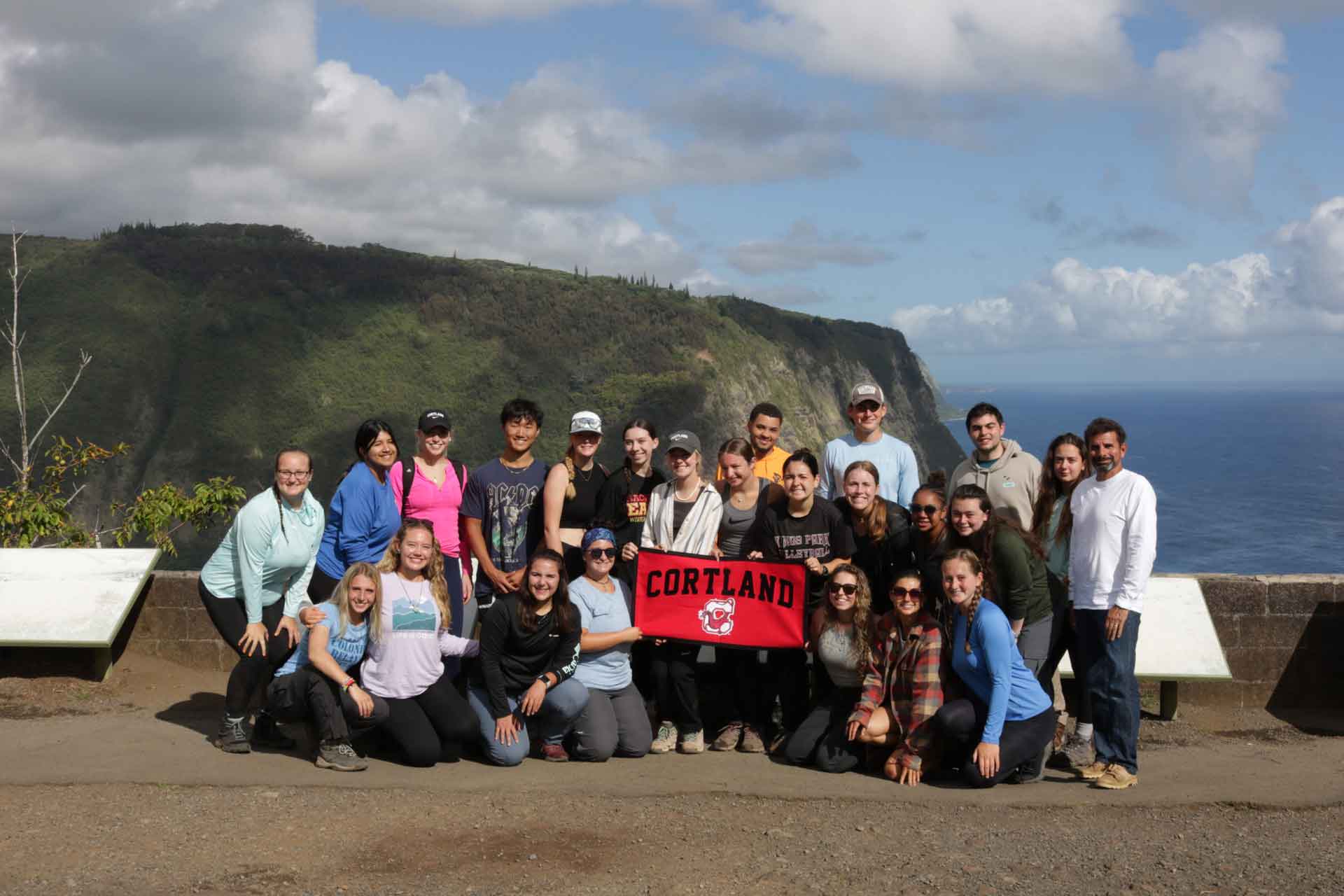 ---
Honorable mention: Rebekka Stellwag, Waterfalls at its Best, Enfield Creek, NY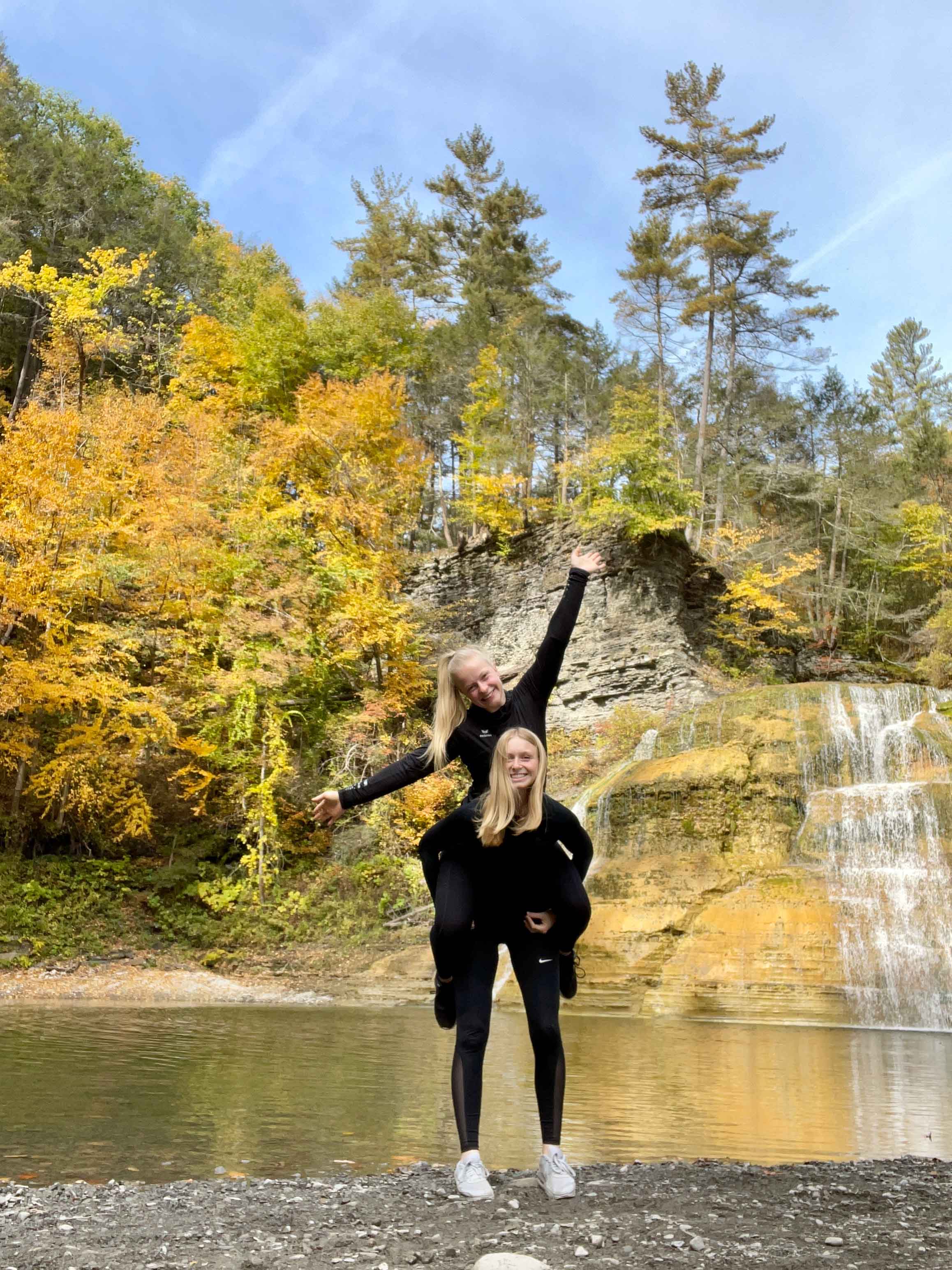 SUNY Cortland's fall five make school sports history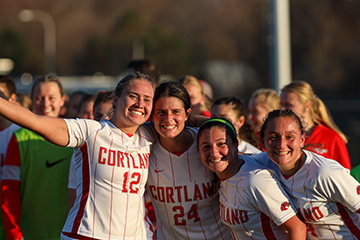 11/22/2022
For the first time in SUNY Cortland history, all five fall team sports have earned a spot in their respective NCAA tournaments.
It's an unprecedented feat that saw the field hockey, football, volleyball and men's and women's soccer teams all take to the NCAA Division III national stage to showcase the talent of SUNY Cortland's student-athletes and staff.
"While we have been graced with long-standing success in many of our sports seasons, to have five of our fall teams qualify for the NCAA's in the same season for the first time in school history is something to get excited about," said Director of Athletics Mike Urtz '94 M '00. "It's truly impressive, and shows how blessed we are to have such a fine staff of coaches here at Cortland right now. We hope for more great stories like this in the winter and spring seasons as well."
Each team has completed its tournament play:
Field Hockey:
The field hockey team (14-4) traveled to Cambridge, Massachusetts, to take on MIT in the first round of the NCAA Division IIII tournament on Wednesday, Nov 9. The game marks the team's second straight trip to the national tourney and 30th overall, winning national titles in 1993, 1994 and 2001 and taking second place in 1997.
Motivated by head coach Tiffany Hubbard, this Red Dragon squad gained momentum through the season, winning eight of its last nine games on its way to a State University of New York Athletic Conference (SUNYAC) championship.
Football:
The 2022 Cortaca Jug contest at Yankee Stadium was a loss for the football squad, but the ninth-ranked Red Dragons (9-0) were already on their way to the NCAA tournament after an undefeated 6-0 Empire 8 season.
The team's last win set a program record with 19 consecutive regular-season victories.
Following their traditional showdown with the Ithaca College Bombers on Saturday, Nov. 12, the Red Dragons opened the national Division III tournament the following week, Nov. 19.
Volleyball:
After claiming the SUNYAC crown for the second straight year, the women's volleyball team (21-5) headed to an eight-team regional at Juanita College in Huntingdon, Pennsylvania. The Red Dragons faced off against Rowan University on Thursday, Nov. 10, to kick off their NCAA Division III tournament.
It is the 26th time that the team has competed in the national tournament and continues its strong play under fourth-year head coach Erin Glickert.
Men's Soccer:
The Red Dragon men (12-5-2) took to the field in a four-team regional hosted by Franklin and Marshall College on Saturday, Nov. 12 and Sunday, Nov. 13. They made their 24th NCAA tournament appearance and sixth since 2014.
The team, under head coach Steve Axtell, won the SUNYAC regular-season championship.
Women's Soccer:
Under the leadership of 19th-year head coach Heidi Axtell, the Red Dragons (13-1-4) headed to the NCAA playoffs for the second time in three seasons, making their 14th NCAA Division III tournament appearance and 19th overall national tournament showing. They hosted a four-team regional on Saturday, Nov. 12 and Sunday, Nov. 13 at Holloway Field.
To follow how each of our Red Dragon teams did on its NCAA journey, go to SUNY Cortland's athletics website.
Russian student finds her place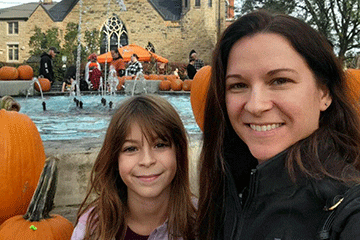 11/18/2022
Russia native Natalya Shatskikh feels at home every time she sees the imposing, metal Red Dragon that Scott Oldfield '06 sculpted to greet sports fans outside of the SUNY Cortland Stadium Complex.
That's because a sprawling park near her hometown of Lipetsk, a city of half a million residents about 250 miles southeast of Moscow, features a massive fire-breathing, copper-colored, three-headed version of SUNY Cortland's mythical mascot dragon.
"It's from the old folktales, the three-headed dragon," said Shatskikh of Dryden, N.Y., one of SUNY Cortland's approximately 225 non-traditional students, about her dueling ties on opposite sides of the world. "I know sometimes you think in life things are somehow connected."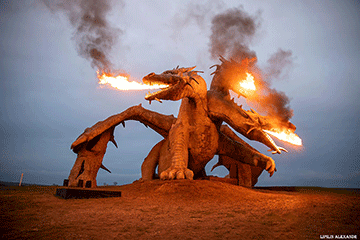 The senior childhood/early childhood education major is the daughter of a professor with many college-educated family members. She was 20 years old and enrolled in a teacher education program in English and French at Lipetsk State Pedagogical University 16 years ago, when she left Russia for a summer cultural immersion program in New Jersey. She never left.
"I really love being in America, the whole environment, being independent, making money," Shatskikh said. "I had a friend from my city who took me under her wing in Ocean City, N.J., and I became a waitress."
After lots of part-time jobs, relocations and two failed marriages, she now lives in Central New York, where she and her boyfriend and friends can help raise her daughter, Milana, a third grader. Shatskikh has joint custody with her estranged second husband as their divorce proceeds.
She worked full-time for five years at Cornell Childcare Center and still substitutes while preparing to become a certified classroom teacher.
"In the Cornell childcare Center, I have learned the specifics of American education such as paying attention to the individual needs of children," Shatskikh said. "And having a child helped me to understand patterns of behavior and stages of development.
"I felt ready to grow, to work in a public school and earn more money."
She completes her student teaching in fall 2023 and graduates that December.
Since starting here last fall, Shatskikh has played piano, guitar, Native American flute or ukulele in the classroom, using her musical talent to engage classmates as she conducts teaching demonstrations as part of a LIT 371 course assignment.
"Other peers could learn from my example how to integrate music and instruments to explain the phonemic awareness concept," she said. "And Native American flute was my initiative to create an atmosphere in the classroom for everyone."
Shatskikh has made the President's List and currently serves as treasurer for the Non-Traditional Student Organization (NTSO). Her studies are supported by the Eda J. Kronman Scholarship for Nontraditional Students, and two stipends targeting future educators, the Angela Pace Scholarship and the Spina-Friedgen '71 Scholarship. She recently participated in a Leadership Retreat at Raquette Lake sponsored by the SUNY Cortland Alumni Association.
Now her biggest struggle involves being almost the only Russian-born student on campus and a magnet for questions about the country's war in Ukraine.
"The whole world is on the side of Ukraine and Russia is the aggressor," said Shatskikh, who three years ago became an American citizen. "My whole family is still in Russia, so I'm conflicted. There's my Russian side, my American side.
"I wanted to hide that part of me who is Russian," said Shatskikh, who looks like a typical, American non-traditional student until she speaks Russian-accented English. "It's bad for your mental health to hide who you are."
Then a COR 101 program introduced her to a celebration of multicultural life and diversity, which led her to open up to the world with her talk on "Strength in Diversity and Feeling of Belonging" during the university's Nov. 5 Diversity Conference.
"I kind of have this understanding, this appreciation, for me, for my side of the story," Shatskikh said. "The more I talk about this, the less power it has over me.
"I'm validated. I'm heard. I'm seen and I'm valued. At the end, you have to give yourself permission. You belong. After all of the struggles, SUNY Cortland is going to support you even though there are all the struggles in the world. There will be conversations, people who are open to different perspectives.
"I don't want there to be a single story of what Russians are," Shatskikh said. "This girl came from Russia so there is some good in her, some hope for peace in the world."
The university defines its non-traditional students as undergraduate students who are 24 years of age or older or, regardless of age, who may have dependent children, be working full-time, have military experience or have made a break in education at some point after high school.
The university will acknowledge these individuals Monday, Nov. 14, through Friday, Nov. 18, during its celebration of Non-Traditional Students Week.
Stories about outstanding non-traditional students will be shared during the week. The week also includes a host of special activities, both on campus and virtually.
Health care professional pursues advancement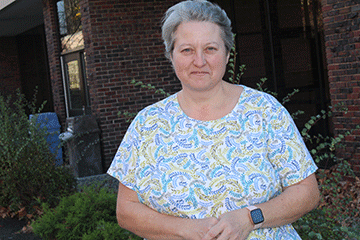 11/17/2022
If you see Patricia Parshall of Moravia, N.Y., wearing headphones in the Non-Traditional Student Lounge in Cornish Hall, please be quiet. She just might be working with a confidential client instead of studying.
A seasoned professional in health care information technology, Parshall works full-time for Cayuga Medical Associates, the outpatient offices supporting Cayuga Health Systems. A data reporting analyst, she works in the finance department.
"I'm here 12 hours on Mondays and when I'm not in class, I'm working on my paid job tasks," said Parshall, a SUNY Cortland junior who is pursuing a bachelor's degree in healthcare management through the university's Health Department in the School of Professional Studies.
"Technically I work 'from home' three days a week and then I go to the office the other two days," Parshall said.
Campus is a long commute from her home in Moravia, N.Y., and so this fall, her first semester at Cortland, the transfer student must quickly shift her attention between classes, homework and her job responsibilities.
"I think the challenge for me right now is finding classes around my work schedule," Parshall said. "I work days, so early morning or very late afternoon and evening are best; or remote classes. But it's not easy to fill the schedule with those options."
Parshall has earned a living on and off again in IT ever since she earned dual associate degrees in computer science and computer information systems from Tompkins Cortland Community College in 1999. She also took online classes at DeVry University, but nothing adds up to a baccalaureate degree.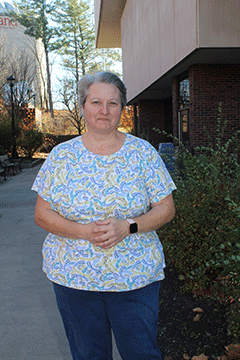 As one of SUNY Cortland's roughly 225 non-traditional students, the mother of seven grown children and stepchildren and the grandmother of 17 decided to transfer to SUNY Cortland so she will be able to take her career to the management level, as an operations director.
"I'd like to be a director someday, and to be a director, I need at least a bachelor's degree," she said. "Healthcare management is exactly the kind of job someone with this degree could get and would be ready for."
Parshall is thankful for the welcoming environment in the Non-Traditional Student Lounge.
"Even though I wear a headset to keep confidentiality when I'm in a meeting, I just wouldn't feel comfortable doing that in the library," she said. "Plus, there's a microwave and refrigerator."
When not working or at school, she likes to spend time with her husband and play in the women's softball league in Cortland. She has a side-business, preparing income taxes.
The university defines non-traditional students as undergraduates who are 24 years of age or older or, regardless of age, who may have dependent children, be working full-time, have military experience or have made a break in education at some point after high school.
The university will acknowledge these individuals Monday, Nov. 14, through Friday, Nov. 18, during its celebration of Non-Traditional Students Week.
Stories about outstanding non-traditional students will be shared during the week.
The week also includes a host of special activities, both on campus and virtually. Unless otherwise indicated, these will take place in the Non-Traditional Student Lounge located in Cornish Hall, Room 1221.
Non-traditional student leverages people skills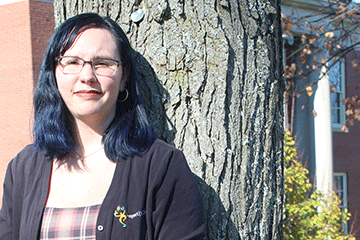 11/16/2022
Rosemarie Groesbeck has worked more than seven years as a job coach and employment specialist for people with intellectual, developmental and other disabilities.
But that's not why the SUNY Cortland senior now is majoring in psychology.
"The major just worked well with what I do," Groesbeck said.
"I am interested in true crime," said Groesbeck, one of SUNY Cortland's roughly 225 non-traditional students.
"I want to know why criminals are killing people or hurting people. What is the psyche that makes people want to commit murder? Plus, it's just fascinating, the things that people do."
Enrolled at the university since fall 2021, she's one semester shy of graduating with a degree that can make her dream career possible.
Groesbeck is one half of a married couple who, for the sake of their hopes and dreams, take turns as non-traditional students.
"It was my turn to finish school," she said.
Groesbeck lived in Howard Beach, Queens, until she was 26 years old. She followed the path of most of her family by never quite earning a baccalaureate degree after she graduated from Forest Hills High School in 2010.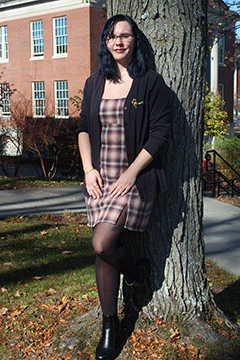 "I originally started college the traditional way," she said. "I went to Queensborough Community College for one year in liberal arts. I had wanted to be a teacher growing up."
She then transferred to St. Francis College and studied for three years while living at home, ending with an associate degree in liberal arts.
While she was studying at St. Francis and working at a supermarket, a friend from St. Francis steered her into becoming a supportive employment specialist in the afterschool program with the Mary McDowell Friends School in Brooklyn. Three years later Groesbeck, at 22, was offered a full-time position of employment specialist working with people with disabilities at the nonprofit agency, Queens Center for Progress.
"It was my first full-time job," she said of her four-and-a-half years there. "I learned a lot that I was able to carry it over, which is really cool."
In 2018, she followed her future husband to Buffalo. Now well-qualified in her field, she became a job coach with The Summit Center, a provider of behavioral health and autism services.
"My husband graduated from University at Buffalo as a software engineer and got a job at Lockheed Martin in Binghamton," Groesbeck said, noting he worked a lot in retail before that. The couple moved to the Southern Tier in 2021. Until recently, Groesbeck has supplemented their income as a job coach to a clientele with special needs.
"My husband knew about Cortland, that I was going back to school, and that it would be a good fit," she said. "It worked out really well, except the hour traveling back and forth."
At SUNY Cortland, Groesbeck has made the Dean's List every semester since she started. She combines her academic goal with a lifelong love for teaching.
Graduate school is in the picture after she earns her bachelor's degree.
"Sure, I have a big love for true crime, which interested me in psychology," Groesbeck said. "But since I genuinely enjoy working with people with disabilities, I ultimately want to pursue a career working with them as a school psychologist and, down the line, get my Ph.D. in school psychology and teach stats."
Presently, she's a teaching assistant for a course called Psych 201, Statistics of Psychology, and next semester will assist a professor again for a different psychology course.
"Don't worry about what other people think of you," she advises today's college students. "As long as you're happy, that's what really matters. Enjoy life. That's essentially how I live."
The university defines non-traditional students as undergraduates who are 24 years of age or older or, regardless of age, who may have dependent children, be working full-time, have military experience or have made a break in education at some point after high school.
The university will acknowledge these individuals Monday, Nov. 14, through Friday, Nov. 18, during its celebration of Non-Traditional Students Week.
Stories about outstanding non-traditional students will be shared during the week.
The week also includes a host of special activities, both on campus and virtually. Unless otherwise indicated, the events will take place in the Non-Traditional Student Lounge located in Cornish Hall, Room 1221.
Caesaré German waited 16 years to finish college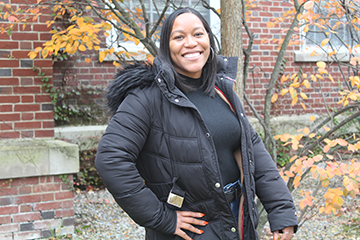 11/15/2022
Caesaré German grew up without seeing many people of color in leadership roles.
The exception was her grandfather, now 90, who many years after retiring as a teacher and school principal still encountered touchingly grateful former students.
"I can't wait to be a positive influence for my students," said German of Syracuse, N.Y., a senior inclusive childhood education major who is concentrating in social sciences.
"I want to make an impact in the lives of children to let them know that they can do and be anything they want, regardless of obstacles and adversities they may face on a daily basis," said German, who grew up in Port Murray, New Jersey, and pronounces her first name 'Chez-uh-ray.'
An outstanding high school student, after graduation in 2006 she balanced work, community college and helping her family care for her mother, who has multiple sclerosis.
One day she could no longer cope. In 2010, German reestablished herself as a California resident near San Francisco, enrolling in community college. But the state's cost of living undermined her college plans and, ultimately, her sobriety.
In 2019, a Salvation Army rehabilitation program in Syracuse, N.Y., helped her get back on her feet.
Now German, who plans to walk at the next Commencement and to graduate in December 2023, can't wait to be that visible example of success in a classroom where all students are embraced regardless of ability, race, gender and class. She's observed a Grant Middle School classroom in Syracuse and will complete a four-week immersion at Syracuse Latin School.
Her studies are supported by the Cortland's Urban Recruitment of Educators (C.U.R.E.) program; the Lenora J. Rumore Scholarship, supporting a future educator enrolled in the C.U.R.E. program; a Dorothea Kreig Allen Fowler '52, M '74 Scholarship for Future Educators; a Kenneth and Jo Ann Wickman Scholarship; a Marylou B. Wright '68 Scholarship for Non-traditional Women; and a TEACH Grant through the New York State Higher Education Services Corporation. The C.U.R.E. and TEACH scholarships come with a commitment to begin one's career in underrepresented New York state schools.
"With the scholarships, I don't have to work full-time," said German, who supports her own education as a part-time substitute teacher in the Syracuse City School District.
"I wouldn't be able to continue my education without these scholarships and for that I give my thanks."
German is one of approximately 225 non-traditional students are enrolled at SUNY Cortland, which the university defines as undergraduate students who are 24 years of age or older or, regardless of age, who may have dependent children, be working full-time, have military experience or have made a break in education at some point after high school.
The university will acknowledge these individuals Monday, Nov. 14, through Friday, Nov. 18, during its celebration of Non-Traditional Students Week.
Stories about outstanding non-traditional students will be shared during the week.
The week also includes a host of special activities, both on campus and virtually. Unless otherwise indicated, these will take place in the Non-Traditional Student Lounge located in Cornish Hall, Room 1221.
Student eyes history and archeology fields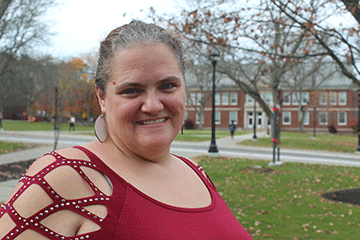 11/14/2022
Gina Williams has waited 20 years to finish college. So perhaps it's not so surprising that she found her way to SUNY Cortland in the footsteps of her 10-years younger sister, Araistina Rumsey '18.
But like the rest of the university's approximately 225 non-traditional students, the junior dual history and archeology major from Dryden, N.Y., doesn't follow the beaten path.
"I went to Onondaga Community College right out of high school, but then I got pregnant with my first daughter," said Williams, now a married mother of five, including two stepchildren. "I attempted some online college over the years, but nothing panned out."
As a single mother until nine years ago, for years she took any job she could to pay the bills. When the pandemic closed the café in Ithaca where she worked, Williams decided to finish her education.
But what to study?
Her drive to satisfy her curiosity about the origin of things settled her decision.
Williams recalled years of looking up at a striking, black-and-white photo of her paternal grandfather, Melvin Jackson Scholes Sr., as a U.S. World War II military servicemember. He walked down a street against a backdrop of total destruction at an atomic bomb site in either Hiroshima or Nagasaki, Japan, she's not sure which.
"I've always been fascinated with how things came about, trying to understand where I came from," said Williams, who has recently begun exploring a family line of Blackfoot ancestry living in upstate New York.
"I want to know the past, how I came to be here. The only way I know how is to try to understand the different cultures, the different time, what it was like back then."
On one family genealogical website, the Groton, N.Y., native found that one great-great grandfather arrived in America in 1889, on a ship called Majestic, captained by Edward J. Smith 17 years before he set off at the helm of the ill-fated Titanic.
She is concentrating in world archeology.
"I've always loved Celtic, Irish, ancient Egyptian culture," she said. "Just trying find my place in the world, I guess."
At Cortland, Williams was inducted into the national honor society in history Phi Alpha Theta and, last semester, co-founded the university's Archeology Club, which this semester gained recognition by the Student Government Association. She served briefly as its first treasurer, until life intervened again.
Williams loves learning, but that must always occur against a backdrop of raising two teenagers at home, ages 17 and 14, who look to her as a cheerleading coach; and keeping tabs on her fledged oldest child, 19, and two stepchildren, 19 and 16. Then there's her extended local family of some 300 to 400 cousins and other area relatives to consider. She's recently relocated her household from Groton while taking in her ill stepmother. Plus in the household she supports her husband, Matthew, in their six years of married life.
Williams does find time to contemplate her plans for after graduation.
"There's a master's program in archeology at Binghamton University," she said. "Or I could see going to work for a museum as an archivist. You get to see all the stuff that's hidden away from everybody, touch something that hasn't been touched in thousands of years. That's the draw toward the archeological side of it. You have to understand the history to understand the meaning of all the (museum) items."
The university defines its non-traditional students as undergraduate students who are 24 years of age or older or, regardless of age, may have dependent children, be working full-time, have military experience or have made a break in education at some point after high school.
The university will acknowledge these individuals Monday, Nov. 14, through Friday, Nov. 18, during its celebration of Non-Traditional Students Week.
Stories about outstanding non-traditional students will be shared during the week. The week also includes a host of special activities, both on campus and virtually.
Showing our gratitude to others this Thanksgiving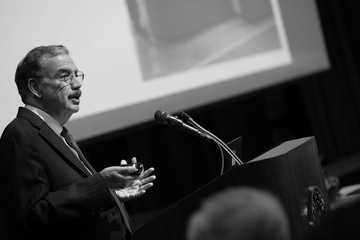 11/22/2022
Dear faculty and staff,
I sent a message to our students earlier today wishing them a safe and restful break and reflecting on the meaning of the Thanksgiving holiday.
In that spirit, I also hope that all SUNY Cortland employees can share this time with their family and friends and think about all the things for which you are grateful.
Personally, I am most grateful for the opportunity to interact with so many of the wonderful people who are part of the SUNY Cortland community. Each day, I am amazed by the brilliance, the determination, the kindness and the compassion of the people of this university.
Showing our appreciation and demonstrating our gratitude is an important part of Thanksgiving. To that end, I encourage you to take part in the Red Dragon Recognition program, which offers you an opportunity to officially recognize your coworkers. A nomination form is available online at cortland.edu/recognition through Friday, Dec. 16. Recipients will receive a certificate in mid-January.
Thank you for all you do to make SUNY Cortland the thriving, welcoming and exceptional place it is today. Have a safe and enjoyable Thanksgiving.
All the best,
Erik J. Bitterbaum
President
Wishing you a restful and meaningful Thanksgiving break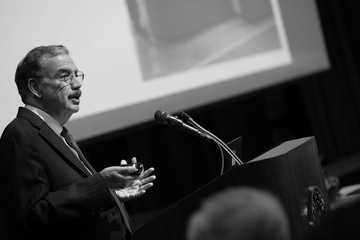 11/22/2022
Dear students,
I want to take a moment to wish a safe journey to all of you who are traveling in the next few days. I hope you can use this time with friends and family to rest and relax before you return for the end of the semester.
Thanksgiving is a special day for so many of us. Whether you gather for a big meal, play two-hand-touch football in the backyard or sit back and watch the parades, make the most of your special traditions with loved ones.
This is also a time to give thanks and reflect on all that we are grateful for. I encourage you to consider sharing this gratitude with the people in your life who have made the most impact on you. A one-on-one conversation or a call, text message or email expressing your appreciation can make someone else's day.
I am so personally grateful for all the students, faculty and staff who make SUNY Cortland such a terrific place for us to live, work and study.
All the best,
Erik J. Bitterbaum
President
A message on the Colorado shooting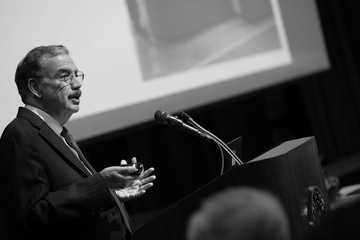 11/21/2022
To the SUNY Cortland Community,
I am reaching out to all members of our community in the wake of Saturday's shooting at a Colorado LGBTQ night club that killed five people and injured 25 others on the eve of the national Transgender Day of Remembrance. Although the investigation has not yet determined the suspect's motive, it is yet another incident in a long history of violence against members of the LGBTQ community.
I do want to reaffirm SUNY Cortland supports students of all gender identities and expressions to learn and live without fear or disrespect.
We are committed to maintaining a safe campus for all people, regardless of difference, and to opposing bias and violence in all its forms.
Please join me today at our previously scheduled candlelight vigil marking SUNY Cortland's Transgender Day of Remembrance. It will be at 4:30 p.m. on the steps of Corey Union. As a community, we will symbolically oppose the darkness of hate and bigotry with our light.

Suggest a feature story
---
Faculty/Staff Activities
Craig Foster
Craig Foster, Psychology Department, had an editorial titled "Big claims about Bigfoot are an invitation to think critically" published Nov. 17 in The Post-Standard and online at syracuse.com.
Lin Lin
Lin Lin, Childhood/Early Childhood Education Department, is the lead author for an article, "Expanding the Global View through Children's books: Bringing South Asians and South Asian Americans to K-6 Curriculum," published Nov. 1 in the Ohio Social Studies Review.

Submit your faculty/staff activity