Ficarra Wins International Study Abroad Award
06/11/2019
The way that study abroad programs offered by U.S. colleges and universities are shown to the public unintentionally presents a very skewed picture of the world, according to Julie Ficarra, the associate director of study abroad at SUNY Cortland.
While working on her recent doctorate in cultural foundations of education from Syracuse University, Ficarra investigated the study abroad websites of three institutions of higher education and found that they unintentionally present a biased view of what students can learn in individual countries.
Ficarra's research concluded that the institutions' websites describe programs in countries that nurtured western civilization as centers of intellectual learning, while portraying the countries in the southern latitudes as places where students can lend a helping hand as community development interns engaged in social work.
In other words, they subtly show students that western nations are places to learn about art, science, philosophy and other intellectually sophisticated fields, while developing countries are places where students can learn how to make a difference by helping those in need.
By putting her finger on this dilemma, she earned herself the 2019 Innovative Research in International Education Award from NAFSA: Association of International Educators, which was announced at its conference from May 26 to 31 in Washington, D.C.
The award is presented through the association's Teaching, Learning and Scholarship Knowledge Community, which focuses on curriculum internationalization, research that informs practice, and intercultural communication, serving faculty; administrators; graduate and post-doctoral students; researchers; intercultural trainers; cross-cultural counselors; and other professionals in international education.
She's one of only six people since 2010 to earn the award.
"What I was really proud of in receiving this Teaching Learning Scholarship Innovation award is that I don't think these ideas should be groundbreaking," Ficarra said. "It hits you in the face. In my article I include numbers — graphs, charts — so you can sort of visualize this problem."
Her award was based on the article she wrote during her doctoral research, "Curating Cartographies of Knowledge: Reading Institutional Study Abroad Portfolios as Text," which appeared in the April 2017 edition of Frontiers: The Interdisciplinary Journal of Study Abroad. While she ultimately defended her doctoral dissertation with another topic, Ficarra submitted this article for the NAFSA award.
"The vast majority of U.S. students will never study abroad but many of them will attend a study abroad fair or casually browse a study abroad website," said Ficarra, who currently works in the College's International Programs Office.
"And so the places we're offering particular types of programs — that focus on an academic discipline or activities — are teaching them something about the world and their place in it."
For example, at colleges and universities in the U.S., web marketing of study abroad opportunities on history, art, philosophy and political science can be hard to find for students who want to visit the Southern hemisphere, in particular Sub-Saharan Africa, according to Ficarra. They instead are offered opportunities to do service work or to study international development or public health.
"These offerings tend to focus on what the 'Other' with a capital 'O' are doing wrong and what we as Americans are doing right and the knowledge that we can bring to the world," she said.
On the other hand, she said it would be tough to locate on a college or university's study abroad website any chance for an American student to intern with a charity that's creatively helping Great Britain or Germany address the complex needs of of immigrants.
According to Ficarra, study abroad websites universally present study abroad portfolios, that is, the compilation of study abroad programs that a university promotes to its students which take place in particular locations focusing on specific academic disciplines.
Ficarra argues that, in looking at institutional study abroad portfolios as a unit of analysis, "common-sense" disciplinary/geographic pairings emerge, which have the potential to unintentionally define where particular types of knowledge do — and do not — exist.
"I think that the students' global education should be more focused on what we can learn from others as opposed to what we, especially what we as students, can teach others," said Ficarra.
"I think that cultural humility is really important," she said. "When programs are framed or designed — regardless of what happens on the ground — in such a way that students are put in the position of having expert knowledge or even having more knowledge than local people, I think that is a problem. And I think that problem tends to play out more in the global south than in the global north."
Ficarra's term "common sense" arose out of her casual conversations with her counterparts at various institutions when they compared their institutional portfolios, with everyone agreeing: "Gee, we only offer courses in Africa that focus on service learning."
"Seeing that there wasn't a lot of academic diversity in the offerings on the continent of Africa was disappointing but it wasn't surprising," Ficarra said. "What was more surprising was that I couldn't find a single service learning program in Europe. If I try to extrapolate: 'I'm a student learning about the world, or I'm not a student, learning about the world," what does that say, that there's not a single service learning program on the continent of Europe?"
The point isn't to define service learning as a problem, Ficarra said.
"The whole point, I think, of international education is to try to get students to question or sort of complicate their ways of thinking about the world and their place in it," Ficarra said. "I think that when we limit study abroad programs in sub-Saharan Africa to service learning, for example, it reinforces stereotypes and this singular view about what this massive continent is about."
She kept the three institutions that served as case studies in her research anonymous because she didn't want the institutions' names to get in the way of a rather universal conundrum in higher education.
"The idea isn't to point fingers at particular institutions," Ficarra said. "I think that this is an issue that is faced by international educators across institutions and across institutional types.
"But there are stories being told about the world through the programs that are offered from New York to California."
What Ficarra observed across these three institutions was pretty typical across U.S. higher education.
"That's not to say there aren't programs in Europe that incorporate some type of volunteering or service learning but that's not the primary goal of those programs," Ficarra said. "Whereas there are lots of programs in the global south that focus specifically on service learning."
Ficarra did not attempt to solve the matter in her article.
"I think if there were an easy solution to this problem, it wouldn't be a problem in the first place," she said.
"One possibility is increasing partnerships with colleges and universities in the global south, for either one-way study abroad or bilateral exchanges."
However, universities in small African or Caribbean countries don't always have the funds to develop the sophisticated scholarly exchange programs seen in the northern hemisphere.
Ficarra needs only to look back on her days as an Una Chapman Cox Fellow at the U.S. Embassy in Mbabane, Swaziland for an example (she also fulfilled the fellowship at the U.S. Department of State's Bureau of Education and Cultural Affairs in Washington, D.C.).
"I saw first-hand the challenges that the University at Swaziland had in terms of resources and faculty and staff striking, which we don't think of here," Ficarra said. "But that would be a huge challenge for a U.S. institution in creating either a bilateral exchange or a partnership with the University at Swaziland."
SUNY Cortland currently offers a program in Ghana that gives students a wide array of disciplinary choices.
Another potential solution is that U.S. faculty members who wish to teach their discipline in another country can be encouraged to think creatively about location.
The first faculty-led study abroad program she was exposed to was led by an anthropology faculty member who did his dissertation work in Maasai Land in Tanzania.
"He brought his students back to Tanzania year after year for 30 years. This was a faculty member with really strong local connections and a lot of expertise in the local context."
Likewise, at SUNY Cortland Jeremiah Donovan, a professor of art and art history, for years has led popular, multi-disciplinary field trips first to China, then Belize and most recently to Cuba.
The trend toward faculty-led, short-term programs is increasing access for students and that's a good thing, Ficarra noted.
"But it's really putting the onus on the faculty to expose students to the diversity of a place and a people in a very short period of time. There's a greater responsibility there. I think that it takes a really special faculty member."
A third avenue is that institutions of higher education can fill in the gaps in their own study abroad portfolios by promoting the offerings of organizations called third party providers that offer, say, service learning trips to Europe or academic and cultural curricula in Sub-Saharan Africa.
"There should probably always be art programs in Florence because it's like the birthplace of the Renaissance," said Ficarra, herself an avid collector of international art. "That's not really the problem. But perhaps as a field, for every ten programs that focus on art in Florence, there should be one program that focuses on art in East Africa — Nairobi, Cape Town, Arusha or Accra."
She noted that study abroad and international programs as a focus of academic research are evolving and currently there is a lot more attention paid to the more formalized areas relating to study abroad, such as evaluating student learning outcomes, the student experience, faculty development and language learning.
"Right now I'm focused on the hidden curriculum," Ficarra said. "Right now a lot of the research focuses on 'What do we say that we're teaching students and are they actually learning what we intend?' What I'm interested in is finding out 'What are they learning that we don't intend?'"
In addition to her Ph.D., which she earned this year, she holds a master's degree in international education policy from Harvard University.
Her research interests focus broadly on the application of critical social theories to our understanding of the relationships of power that are maintained, challenged or produced through international education in its many forms.
Before joining SUNY Cortland in 2017, Ficarra worked in International Education with the University at Buffalo, Harvard University and the University of South Florida.
SUNY Cortland earns elite "gold" status for being "green"
06/06/2019
SUNY Cortland has once again been recognized as one of the most sustainable campuses in the nation, earning an elite gold designation for being green that places it among the top 3 percent of all higher education institutions in the nation.
Cortland's gold rating was recertified after meeting toughened standards under STARS — short for Sustainability, Tracking and Assessment Rating System — an international program created to help post-secondary campuses set and meet sustainability goals.
One of only four SUNY campuses to earn a gold rating, Cortland is the only SUNY university college to qualify. The other three were the SUNY College of Environmental Science and Forestry and SUNY's university research centers in Buffalo and Albany.
Only 11 of the approximately 470 universities, colleges and trade schools in New York state met the gold standard and only 124 of the nearly 4,600 higher-education institutions in the United States — about 2.7 percent — qualified.
"We take great pride in this extraordinary achievement," SUNY Cortland President Erik J. Bitterbaum said. "More than a decade ago, we were one of the first institutions to join the American College and University Presidents' Climate Commitment. Since then we have been firmly dedicated to shrinking Cortland's carbon footprint, reducing our waste stream and helping our students understand the impact that human activity has on our planet."
STARS, a program of the Association for the Advancement of Sustainability in Higher Education (AASHE), is the most widely recognized framework in the world for publicly reporting comprehensive information related to a college or university's sustainability performance. Scoring is done in five general areas: planning and administration; innovation and leadership; academics; engagement; and operations.
"STARS was developed by the campus sustainability community to provide high standards for recognizing campus sustainability efforts," said AASHE Executive Director Meghan Fay Zahniser. "SUNY Cortland has demonstrated a substantial commitment to sustainability by achieving a STARS gold rating and is to be congratulated for their efforts."
Cortland first achieved STARS gold in 2015, moving from a silver designation after becoming the first SUNY campus to fill all of its electrical needs with renewable energy, building the "greenest" campus residence hall in New York State and installing more than 3,600 solar panels.
Since then, the university has continued to meet its sustainability goals. Most recently, it has been a leader in a consortium of 21 SUNY and private campuses that seek to use their purchasing strength to lower renewable energy costs and encourage new, large-scale renewable energy projects in New York state.
Among SUNY Cortland's many sustainability achievements, some of which helped the institution meet the new gold-rating requirements:
Named to the Sierra Club's annual "Cool Schools" list of the nation's most environmentally friendly campuses for three consecutive years.
First SUNY campus to earn membership in the federal Environmental Protection Agency's Green Power Leadership Club.
First school in the nation to offer a professional master's degree in sustainable energy systems.
First SUNY institution to develop a large-scale solar energy generation project (3,600 panels) using the New York Sun initiative.
The first New York college identified as a "pollinator friendly" Bee Campus USA.
Named a Tree Campus USA by the Arbor Day Foundation
Created a Green Rep program through which student educators were hired to promote a more sustainable lifestyle across campus.
Decommissioned its inefficient heating plant and moved to high-efficiency, low-emission individual boilers in campus buildings.
Established a year-round series of campus educational events and activities related to sustainability.
---
Capture the Moment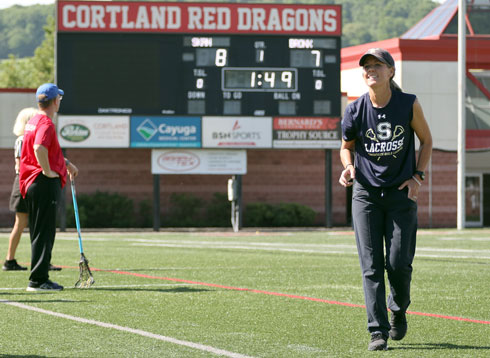 Bridget Dorr Marquardt '95, M '99, C.A.S. '04 returned to campus to coach the Skaneateles girls' lacrosse team in the New York state Public High School Athletic Association Class D semifinals on Friday. Marquardt, a member of the Upstate New York chapter of the United States Lacrosse Hall of Fame, won her 300th career game in April. She has led the Lakers to four state titles during her 17 seasons as head coach. SUNY Cortland's athletic facilities play host to a number of high school contests each year as well as the Empire State Senior Games, which run through Saturday.
---
In Other News
Campus Lit in Orange for Gun Violence Awareness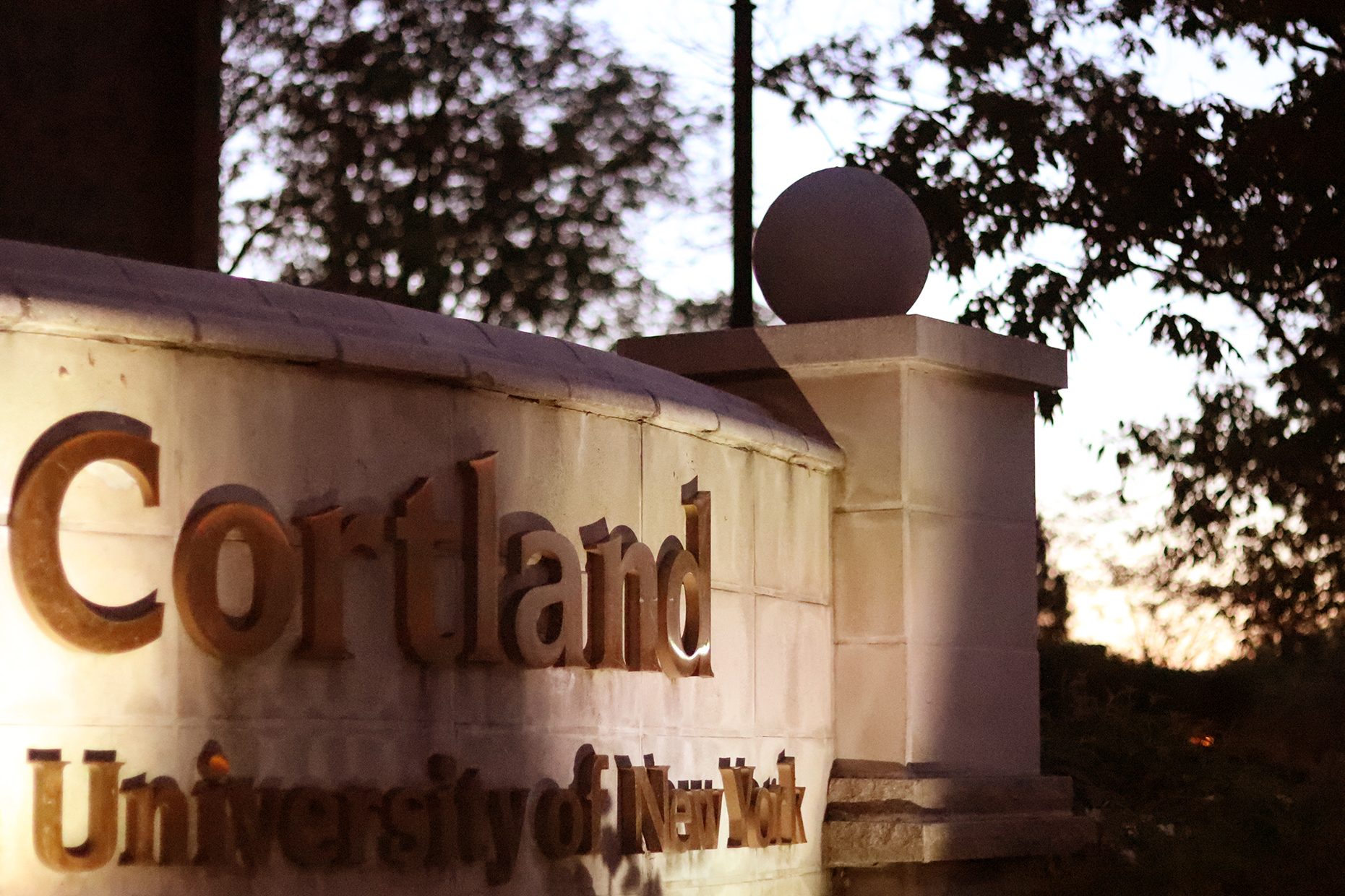 06/08/2019
The main entrances to the home of the Red Dragons were illuminated in orange light the evening of Friday, June 7, to mark National Gun Violence Awareness Day.
Governor Andrew M. Cuomo last week directed a number of state-controlled locations to change the color of some of their exterior lighting to orange. SUNY Cortland supported that effort by lighting its main entrances on Graham Avenue, Tompkins Street and Route 281.
Other New York state buildings that were lit in orange include the State Education and SUNY administration buildings in Albany as well as One World Trade Center in New York City, the Governor Mario M. Cuomo Bridge over the Hudson River between Tarrytown and Nyack, the Entrance Gate and Exposition Building at the Great New York State Fair in Syracuse and landmarks at the following SUNY campuses: Binghamton University, Buffalo State, the College at Brockport, Jefferson Community College and Upstate Medical University.
"Gun violence is an issue that hits particularly close to home at SUNY Cortland," President Erik J. Bitterbaum said. "We've lost beloved alumni to pointless gunfire, ranging from the horrific massacre at Sandy Hook Elementary School to random street violence in New York City. Kyle Richard, who graduated last month, this week testified in the trial of a man who shot him twice after Kyle stopped an attempted rape on Long Island. And Robert Spitzer, one of the world's leading experts on gun laws, is a respected member of our faculty."
Friday marked the beginning of Wear Orange Weekend, an initiative of Everytown for Gun Safety that encourages people to wear the color to support anti-gun violence causes. June is Gun Violence Awareness Month.
"Gun Violence Awareness Month elevates our collective consciousness of an issue that has become all too devastating and commonplace," said SUNY Chancellor Kristina M. Johnson. "Through education and awareness, we must continue to promote the proper use of firearms. I applaud Governor Cuomo for the gun safety laws he has enacted and for raising awareness of a problem that desperately needs our attention."
More than $13.3 million in state funding has gone toward the Gun Involved Violence Elimination (GIVE) initiative, which uses evidence-based approaches and proven strategies to reduce shootings and save lives. GIVE supports 20 police departments and law enforcement partners in the 17 counties that report the majority of violent crime outside New York City and has contributed to a double-digit decline in shootings in those communities since 2013.
"As senseless acts of gun violence occur with frightening regularity, it is more important than ever to keep this issue front and center and to pressure the federal government to finally do something," Governor Cuomo said. "New York already has some of the strongest gun laws in the nation - now Washington needs to follow suit. I am directing landmarks across the state to be lit orange this evening to mark National Gun Violence Awareness Day."
Although the SUNY Cortland feels the impact of gun violence deeply — Mary Sherlach '78, a school psychologist at Sandy Hook, was killed while protecting students from a rampaging gunman, and Calvin Louis-Juste '09 was shot down outside of his grandmother's house in Brooklyn in a random act of violence — the campus itself is considered the safest in New York state and one of the safest in the entire country, according to a recent analysis of federal crime statistics. The City of Cortland, meanwhile was recognized as the safest college town in New York in 2017.
SUNY Cortland Alumna Capturing the Moment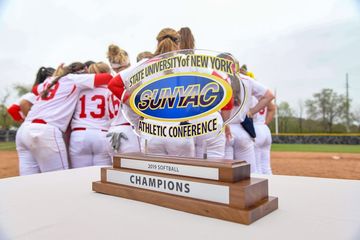 06/11/2019
Erin Locascio '16, M '18 has traveled to some incredible places chasing her passion for photography.
She's shot Division I women's basketball and men's ice hockey national championship games on consecutive weekends as an intern for the University of Notre Dame.
She's met New York Yankees legends Mariano Rivera and Aaron Judge.
And she started her own business, EDL Photography, which brought her back to campus for the SUNYAC softball championships on May 5.
Most importantly, Locascio has made friends for life. Those relationships are what fuel her work and make her stand out in the crowded field of sports photography. Sure, Locascio wants to capture the goals, home runs and touchdowns, but she also wants to tell the stories of the people who wear the uniforms.
"It's the camera, but they also notice me as a person," she said. "I love meeting the professional athletes and I love college athletics. I got to go to Yankee Stadium and shoot Notre Dame. Those moments are amazing and I'll always love those moments. But more than that, I love the connections I make with the kids and I love when they care about what I'm doing."
Locascio was an athlete growing up in White Plains, N.Y., playing mostly volleyball and lacrosse. During her senior year, she stopped playing to become a team manager for a number of sports. She'd help out and practice, keep score during games and snap some photos when she could.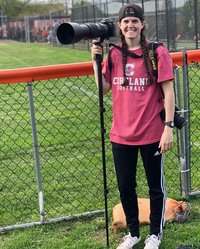 She did much the same during her four undergraduate years as a physical education major at SUNY Cortland, serving as team manager and unofficial team photographer. As much as Locascio enjoyed teaching and coaching, she wondered if there might be a career in photography for her. So she decided to get a master's degree in sport management at Cortland, a decision that opened doors.
Part of Locascio's master's requirements was an internship. She learned of an opportunity to take photos for the University of Notre Dame's athletic teams and she jumped at the chance.
Locascio shot sports ranging from fencing to football and everything in between. She gained valuable experience not only on the sidelines at games but also in Notre Dame's Athletic Communications Office, taking headshots of athletes for media guides and assisting staff members in graphic design.
When that internship ended in May 2018, Locascio returned home to White Plains and started EDL Photography, planning to start by expanding on the work she had done previously of shooting photos for the local Hit-N-Run summer camp and its travel baseball and softball teams. Another part of her master's degree requirements was to create a business plan for a fictional company, which she did for her idea of the sports photography business that became EDL for Associate Professor Tara Mahoney.
As she was getting EDL Photography off the ground, a Notre Dame connection informed Locascio of an opportunity at Columbia University in New York: a semester-long photography internship with the football team. She took pictures at practices, workouts and games. It didn't take long for the players to take to Locascio, pointing at her during breaks in the action and mugging for the camera.
At the end of the season, the Columbia players presented Locascio with flowers and a signed football helmet. It was a gesture that left her in tears. What the players didn't know was that Locascio had broken up with her girlfriend weeks before the season started.
All of those little gestures — such as the time during the team's walkthrough at MetLife Stadium in November, Locascio thought she was taking a photo of a player taking a selfie, but he was actually taking a photo of her — added up and helped her during a tough time.
"Those football players healed my broken heart," she said. "It was great to be around a group of kids like that every single day."
This spring, Locascio has focused her efforts on documenting five high school baseball and softball teams in Westchester County. She creates custom galleries of players whose parents have paid for a season-long package of photos and she also creates posters that combine her photography and graphic design skills.
No one really does high schools the way I'm doing it," Locascio said. "You have parents going around and you have companies taking headshots and you have the media, but I feel like I'm doing something from scratch. I don't think there's anyone doing what I'm doing as a business and giving parents as many photos as I'm giving them."
She already considering hiring additional help, potentially an intern who has as much passion for sports and photography as she does.
"In the next five years I want EDL Photography to continue to blow up the way I know it can," she said. "I know the parents love what I'm doing."
Locascio recently returned to campus to shoot the SUNYAC softball tournament, which held special meaning as she had served as Cortland's team manager. She wanted to capture what could have been head coach Julie Lenhart's final games as she is set to retire after 25 seasons of leading the Red Dragons.
Locascio stuck around long after the final pitch, using her camera to freeze memories for the players who had fought so hard to be able to hold aloft that SUNYAC champions trophy.
"I'm there to capture everything," she said. "I want to get every moment of the game. I want to get from first pitch to the pitcher and catcher hugging after the game, which I just got the other day. I want to capture it all. The action is going to be there every day but those hugs and those celebrations, you don't know when they're going to happen, but I can anticipate those more than others can."
To see some of Locascio's work, follow her on Instagram at @edlphotography.
Orientation Skit Preview Set for June 25
The campus community is invited to preview Orientation skits at 2 p.m. on Tuesday, June 25 in Corey Union Function Room.
Each year during Orientation the Orientation Assistants (OAs) write and perform a group of scenarios for the first-year students and their guests. These scenarios are about college life and issues students may face when they arrive on campus.
During Orientation, which begins on Tuesday, July 2 for first-year students, the OAs meet with the new students following the skits in order to further process this information, including providing information about resources on campus.
After the preview attendees can help the OAs prepare by asking them questions that anticipate what new students and family members may ask during the Orientation program.
Following are the Orientation program dates for June/July and August. All first-year orientation programs are two days with advisement and registration occurring on the second day of the program and all Transfer Orientation and Advisement programs are one day:
June/July 2019
Transfer Session 1: Monday, June 24
Transfer Session 2: Friday, June 28
Transfer Session 3: Monday, July 1
First-Year Session 1: Tuesday, July 2 to Wednesday, July 3
First-Year Session 2: Monday, July 8 to Tuesday, July 9
Transfer Session 4: Wednesday, July 10
First-Year Session 3: Thursday, July 11 to Friday, July 12
First-Year Session 4: Monday, July 15 to Tuesday, July 16
Transfer Session 5: Wednesday, July 17
First-Year Session 5: Thursday, July 18 to Friday, July 19
August 2019
Orientation: Thursday, Aug. 22 to Friday, Aug. 23
Open Registration: Friday, Aug. 23
This program is for students who cannot attend a June/July Orientation.
Various offices and departments work together to make these events a success and to aid new students in their transition to SUNY Cortland. The campus community is invited to participate in these programs.
For additional program information, refer to the Orientation website. Any questions regarding the Orientation program should be directed to Marinda Souva in Advisement and Transition.

Suggest a feature story
---
People on the Move
Newswanger Named Associate VP for Facilities Management
06/11/2019
Zachariah Newswanger was appointed associate vice president for facilities management on June 1.
He will oversee and lead a department of 220 talented and skilled employees including engineers, technicians, craftsmen, laborers and clerical personnel in the areas of Facilities, Planning, Design and Construction; Facilities Operations and Services; Environmental Health and Safety; and Energy Management. Newswanger also will manage the facilities at the William H. Parks Family Center for Environmental and Outdoor Education at Raquette Lake, the Brauer Memorial Field Station in Selkirk, N.Y., and the Hoxie Gorge Nature Preserve in Cortland.
The Facilities Management Office is key to partnering with the campus providing strategy and leadership to conceptualize, develop and implement facilities and maintenance initiatives, in alignment with the College's facilities Master Plan and Strategic Goals.
Newswanger joined SUNY Cortland five years ago as the director of facilities operations. With more than 20 years in higher education and known for his collaborative and team-oriented style, he brings a wealth of experience in facilities and residence hall management. He is a graduate of Lycoming College (Williamsport, Pa.) and holds a master's degree from the University of Scranton.
Pasquarello to Direct Career Services
06/11/2019
Nan Pasquarello recently was named director of career services, effective at the end of June when long-time Director John Shirley retires.
Pasquarello will work closely with academic faculty, other professional staff and key external stakeholder groups to expand and maintain an employer recruitment network while developing and sustaining internships for students and job opportunities for graduates. Additionally, she will spearhead the use of communication technology and effective data collection, analysis and reporting systems to achieve the Division for Student Affairs' career services goals.
In her current position as the College's Title IX coordinator since 2015, Pasquarello has overseen efforts to comply with and carry out the federal law intended to fight sex discrimination, which in its most extreme form includes sexual assault.
During her 24 years at Cortland, she also served in the positions of director of student conduct and as a career counselor/technical support specialist.
Pasquarello has completed doctoral coursework in the Syracuse University higher education program. She is a graduate of Binghamton University with a dual bachelor's degree in English and geography and a Master of Arts in Public Policy Analysis and Administration.
In the community, Pasquarello served on the Cortland YWCA board of directors from 2011 to 2018 and is the current past board president.
In her spare time, she plays flute with the SUNY Cortland Community Orchestra.
---
Faculty/Staff Activities
Eric Edlund
Eric Edlund, Physics Department, coauthored a paper that was published in the Feb. 12 issue of the journal Physical Review E. The paper is titled "Turbulence and jet-driven zonal flows: Secondary circulation in rotating fluids due to asymmetric forcing." Edlund will be working at the Max Planck Institut für Plasmaphysik in Greifswald, Germany during the month of June.
James Felton
James Felton, Institutional Equity and Inclusion Office, co-authored a book, Inclusive Directions: The Role of the Chief Diversity Officer in Community College Leadership, that made Spelman Johnson's 2019 Summer Reading List. Spelman Johnson is a premier executive search firm exclusively committed to serving higher education. Additionally, Felton's book received a positive review from Choice, a publishing unit at the Association of College & Research Libraries, a division of the American Library Association. Choice has been the acknowledged leader in the provision of objective, high-quality evaluations of nonfiction academic writing and its flagship publication, Choice Reviews, is in database format.
Thomas Lickona
Thomas Lickona, Center for the 4th and 5th Rs, was featured as the author of How to Raise Kind Kids in a National Public Radio podcast posted on May 13 titled "Kindness Can Be Taught." It is part of NPR's "Parenting: Raising Awesome Kids" series.
Rhiannon Maton
Rhiannon Maton, Foundations and Social Advocacy Department, recently had a book chapter, "School Closures and the Political Education of U.S. Teachers," published in Shuttered Schools: Race, Community, and School Closures in American Cities, edited by Ebony M. Duncan. The chapter was co-authored with Lauren Ware Stark.
Kate McCormick
Kate McCormick, Childhood/Early Childhood Education Department, recently co-presented a paper at the International Congress of Qualitative Inquiry held May 15 to 18 in Champaign-Urbana, Ill. The presentation was titled "Rhetorical Questions: Examining Early Faculty Experiences Through Found Poetry" and was presented with co-author Libba Willcox from Valdosta State University.
Vierne Placide
Vierne Placide, Health Department, presented a poster titled "Factors Influencing Counseling Adherence in Medication-Assisted Treatment for Opioid Use Disorder" at AcademyHealth Annual Research Meeting held June 2 to 4 in Washington, D.C.
Jeanine Rose
Jeanine Rose, Academic Support and Achievement Program, presented on methods of electronic recordkeeping, reporting and surveying for supplemental instruction at the Northeastern Regional Supplemental Instruction (NERSI) Conference in Lowell, Mass.
Henry Steck
Henry Steck, professor emeritus of political science, presented a lecture at the Ratiu Dialogues on Democracy-Transylvania 2019, held May 19 to 22 in Turda and Cluj-Napoca, Romania. The title of his presentation was "Democracy: 1989 and After."

Submit your faculty/staff activity