Oldfield '06 Gives Back by Sculpting Red Dragon
09/12/2017
Scott Oldfield '06 is a busy guy. He balances family life with his work as a lecturer in SUNY Cortland's Art and Art History Department and as the official preparator for Dowd Gallery exhibits.
And, in his spare time, he's building a giant, smoke-breathing, stainless steel dragon.
Despite Oldfield's hectic schedule, when SUNY Cortland approached Oldfield about creating a landmark dragon sculpture in front of the stadium complex, he said he couldn't resist. Oldfield saw it as an opportunity to say thank you to his alma mater in a deeply meaningful, personal and permanent fashion.
"How do you give back to the schools you've gone to?" Oldfield asked. "Monetarily doesn't always work. Such is life. When I first started talking to Peter (Perkins, vice president of institutional advancement) about this, I thought it was an incredible opportunity for me to do something for the school that basically gave me my start to where I am now. When this came up, I jumped on it and said I'd love to do this."
Thanks to a generous donation from Mike Vela '88, Oldfield started working on the dragon sculpture on March 1. The piece will be unveiled at 11:30 a.m. on Saturday, Sept. 16 as part of Red Dragon Homecoming 2017.
The sculpture is based on SUNY Cortland's athletics logo. It will stand approximately 10 feet tall from the top of its pedestal to the tip of the dragon's horns. The statue will stretch about 26 feet in length. Smoke will pour out of its mouth before games, making it a perfect photo spot for students, alumni and Red Dragons fans alike.
Oldfield has received a bit of assistance from friends and family, including Ben Cottom, his partner in a previous art endeavor; father-in-law Peter Cowling; and SUNY Cortland studio art student Erin Schiano, but he estimates that "95 percent" of the final product will have been his own handiwork. He needed one month to do the initial staging and followed that with two months of exclusively building the dragon's fame. Oldfield spent the summer months crafting and attaching the dragon's scales, installing the smoke machine and painting the final product.
"It's all stainless steel," Oldfield said. "We did that on purpose because Cortland was looking for something that was going to stand the test of time. They want something to be around for generations of students to take their picture by, whether it be graduation day or after football games or just messing around. We chose stainless to do it just for the durability factor and the longevity of it. It'll also be red in certain parts and that was the donor's request. Parts will be nice, shiny stainless steel but the mass will be red."
The planning behind the sculpture took a significant amount of time for Oldfield. The first thing he did was make a 1/10th scale model of the dragon, which exposed some problems in translating a two-dimensional logo into a three-dimensional statue. Oldfield then went back to the drawing board to create something that was going to match SUNY Cortland's Red Dragon aesthetic yet still be a sturdy outdoor installation.
Oldfield said "this is the biggest object I've built, singularly, for sure."
"I've never really done something like this before," Oldfield said. "When you're doing shows and things like that, everything is set up and when the opening happens, people are experiencing things for the first time. On a mass scale like this, it'll be a different experience. It'll definitely be interesting and I'm hoping everyone is going to be happy and pleased with it."
The Red Dragon sculpture is likely to quickly become a focal point on campus and one of the most-photographed spots at SUNY Cortland. Not only will this sculpture breathe smoke, it will act as a time machine. Alumni who return to campus decades from now will stop to recreate photos with the friends in front of the dragon. It will mark the passage of time from one generation of students to the next.
For an artist, that feeling is magic. And that is why Oldfield is proud to have been asked to sculpt this tribute to SUNY Cortland.
"This is a perfect way for me to give something back to the school," he said. "Also having a permanent public sculpture is another big perk and the community and the school can enjoy it for generations. After I'm gone, it'll still be sitting there. That's the cool thing. It'll be a legacy that will still be around."
Oldfield began working on that legacy as a child who was constantly drawing. He was also drawn to building things with his hands, a trait he adopted from his father, who worked as a contractor. That led Oldfield to major in Art and Art History at SUNY Cortland, specializing in sculpture and ceramics.
Oldfield went on to earn a Master of Fine Arts at the University of Texas at San Antonio, where he also worked as a display coordinator for Anthropologie, a lifestyle brand for young women. He had to meet tight deadlines and try to match his aesthetic with that of his supervisor's.
Upon returning to the Cortland area, Oldfield helped create the Summerhill Sculpture Center with friend Ben Cottom. The center mixes cutting-edge, outdoor sculpture with the beauty of nature.
Bowers Hall Science Museum to Open Sept. 28
09/12/2017
The updated Ross E. Bowers Hall Science Museum and Greenhouse will formally open with a ribbon cutting ceremony on Thursday, Sept. 28 in the recently renovated science complex's first floor lobby.
The updated museum will feature a giant, interactive periodic table of elements; an ornithology exhibit featuring preserved passenger pigeons; and a mural that lets visitors "see" what the hills behind Bowers Hall looked like 17,000 years ago.
"Our guiding principles were that whatever was displayed needed to have an interesting story to it, have an educational component to it and it needed to look good," said Christopher McRoberts, SUNY distinguished professor of geology and curator of the museum. "Our goal is to use that space both for our current students who walk through it, even for teaching in some regards, but also as a space that prospective students and people in the community can visit."
Campus officials and other dignitaries will offer remarks at the 11 a.m. ribbon cutting. A reception and facility tour will follow the ceremony.
Those wishing to attend are encouraged to R.S.V.P. online by Friday, Sept. 22. Parking will be available in lots A9 and G2 adjacent to the Miller Building. Parking permits are not required, and signage directing visitors to Bowers Hall will be posted. For directions, visit the campus parking map.
McRoberts worked with faculty members from the College's Biological Sciences, Chemistry and Physics departments to decide what to showcase. Julio Torres Santana, who worked as a project coordinator in the Facilities Planning, Design and Construction Office during the Bowers Hall renovation, helped shape the design of the displays.
The focal point of the museum is a 15-panel mural, "Dreaming of our Ancient Land," painted by Trumansburg, N.Y.-based artist Barbara Page. The mural depicts an ice-age view from the site of Bowers Hall, looking north toward Tully Valley. The flora, fauna and glaciers in the painting are representative of what would have been found in the region 17,000 years ago.
The mural, created as though there is a picture window in the building that lets visitors see back in time, serves as the background for the geology display case. A pair of erratics, large rocks left when the glaciers melted at the end of the most recent ice age, sit in front of the mural. These geological specimens were collected locally. Geologic studies show that the rocks were originally plucked up by a glacier in Canada and moved south as the glacier grew.
Other items in the geology section of the museum include a display on the area's stratigraphy­ ­— the study of rock layers — and a real-time seismograph station that monitors earthquake activity.
McRoberts did much of the work on the geology displays, writing descriptions for placards, drawing illustrations and mounting samples in display cases.
"I'm a paleontologist, so I've worked in museums an awful lot all around the world," he said. "I understand the value of collections in museums and that was one of the reasons why I was chosen as curator. I have no formal training in museums but I research in museums all the time."
Biological Sciences has displays focusing on the evolution of birds and modern microscopy. The College's renowned collection of birds includes endangered and extinct species and was a focal point of the museum prior to the renovations. The collection includes a green jay, a Blackburnian warbler, an eastern screech owl and a red-headed woodpecker, among others.
Physics' main contributions include technological equipment through history. The Chemistry Department added a massive touchscreen monitor that includes an interactive periodic table of the elements as well as posters from recent undergraduate research projects.
A new greenhouse facility outside Bowers Hall was completed this summer. The greenhouse has three growing areas for tropical, desert and research flora. Steven Broyles, professor and chair of the Biological Sciences Department, acquired approximately 100 rare and unusual plants from the United States Botanic Garden in Washington, D.C. to kick-start the College's collection.
For more information, contact the Special Events Office at Special.EventsOffice@cortland.edu or 607-753-5453 or 607-753-2377.
---
Capture the Moment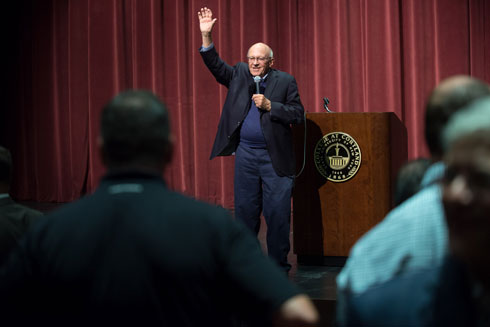 Bestselling author and leadership expert Ken Blanchard spoke to a packed auditorium in the Dowd Fine Arts Center Theatre on Monday, taking questions from students and faculty following his talk, "Leading is Serving." Blanchard is the co-author of the iconic bestseller, The One Minute Manager, and more than 60 other books whose combined sales total more than 21 million copies. Before the talk, SUNY Cortland President Erik J. Bitterbaum gave Blanchard a tour of campus and hosted a lunch in Brockway Hall Jacobus Lounge.
---
In Other News
New Statue Testifies to Alum's Red Dragon Pride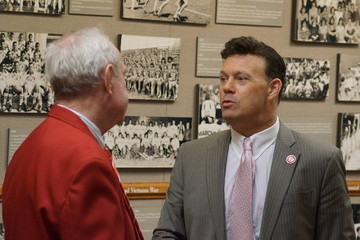 09/12/2017
Mike Vela '88 has been back to the SUNY Cortland campus many times since his graduation. He'd return for Cortaca games or to catch up with his former football teammates and Pi Lambda Phi fraternity brothers.
Vela even served as tour guide a few years ago when his son, Michael Vela, was looking at colleges. The College looks much different than it did when Mike Vela arrived as a freshman in the fall of 1984. The younger Vela — currently a junior international studies major and dean's list student at SUNY Cortland — was amazed at the new facilities on campus, including the stadium complex and the Student Life Center.
Yet the elder Vela still felt there was something missing at SUNY Cortland. The campus needed an unmistakable symbol for the Red Dragon Pride that so many of the College's alumni feel long after graduation.
As a result, Vela has spent the past few years working with Senior Gift Officer Rich Coyne '07 to craft that idea into the reality. Thanks to a generous gift from Vela, a 26-foot-long, smoke-breathing Red Dragon statue will rise in front of the stadium complex on Lankler Drive. SUNY Cortland will unleash the dragon during an unveiling ceremony at 11:30 a.m. on Saturday, Sept. 16 before a home football game against Hartwick College.
"First of all, I thought it was a really great idea," Vela said. "Working with Rich, he is a genius at all this stuff. He doesn't get enough credit for this. He thinks things through and he plans things beautifully. He and I put our heads together and we talked about having a dragon.
"I said, 'Look, I'd like it to breathe fire so we can flash to it whenever we score.' It can be anything, soccer, whatever we're doing. When something goes well for the Red Dragons, have a camera flash to that dragon breathing smoke and that should rile up the fans and build some camaraderie."
Scott Oldfield '06, a lecturer in SUNY Cortland's Art and Art History Department, will sculpt the statue, which is likely to become a popular icon on campus in the years to come.
Vela, who was a business major, is executive vice president of Foresters Financial Services, Inc. in New York City. He is also an accomplished poker player, having placed first in a World Poker Tour no limit hold 'em event at Foxwoods Resort Casino in Mashantucket, Conn. In 2007. Vela placed third in a PokerStars Championship event in the Bahamas this January.
SUNY Cortland remains important among the transformative events in Vela's life. Not only did the College offer him a strong business education and a series of life lessons on the football field, it also led him to find a circle of friends he'll have for decades to come.
"I always say it was the best four years of my life," Vela said. "It shaped me, it changed me and built me to where I am. It got me to the career I'm in now and thank God I'm able to contribute and take care of people, which is wonderful. Cortland left an unbelievable impression on me."
Vela can't wait to see the statue unveiled. He'll undoubtedly be beaming as students and alumni get a glimpse of the Red Dragon sculpture for the first time and line up to take selfies to share on social media.
Vela is also proud to know that his name will live on, displayed on a plaque near the statue. He doesn't need further recognition of his gift but Vela hopes that his monument to Red Dragon Pride will inspire other SUNY Cortland alumni to show their support for the College in whatever way they are able.
"I have a tremendous amount of pride that my family's name will be on that plaque and that I was able to drive that thing," Vela said. "That will be there way past when I'm alive and even my children and grandchildren, most likely. I have a tremendous amount of pride that I could make that contribution and I'm blessed to be able to do it."
Cortland One of Nation's Safest College Towns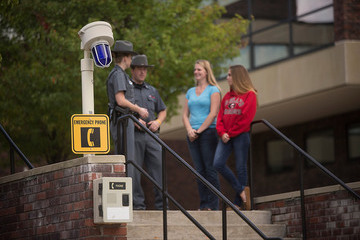 09/06/2017
SUNY Cortland is located in the safest college town in New York and one of the safest in the United States, according to a new study.
Safewise, a home security research company, placed Cortland on its list of the 30 Safest College Towns in America. Cortland, which placed at No. 20, was the only community in New York state to make Safewise's rankings.
"Our students' safety is our top priority, and we are fortunate to be part of a caring, close-knit community like Cortland," SUNY Cortland President Erik J. Bitterbaum said. "The new ranking doesn't surprise those of us who live here, but it should give students and families some peace of mind."
The security experts at Safewise analyzed the most recent Federal Bureau of Investigation crime statistics available, comparing them to the population of each U.S. city with least one accredited higher-education institution.
The firm also identified specific safety, security and community outreach programs that make college towns safer.
"The City of Cortland and SUNY Cortland work well together to provide a safe living and learning environment for students, faculty, and staff," Cortland Mayor Brian Tobin said. "We have a great college town feel that is appropriate for students of all backgrounds. As mayor, I am pleased to see the recognition of Cortland as being one of the safest places for students in the country."
Tobin knows both sides of the city and college equation. In addition to his role as city mayor, he also coaches the College's men's and women's swimming and diving teams.
In its report, Safewise lauded SUNY Cortland's University Police Department (UPD) for its efforts to patrol the campus, noting that it recently moved into state-of-the-art facilities in Whitaker Hall. UPD's 21 uniformed officers monitor activity on foot, on bike and in patrol cars and they also keep a watchful eye via extensive video surveillance. The College's 27 emergency blue light phones allow students to quickly and easily report emergencies or suspicious activity 24 hours a day.
Safewise also highlighted the College's shuttle bus system as a way of safely moving students from residence halls to classes and local entertainment and shopping options.
The report was only the most recent study to rank SUNY Cortland on a national scale.
SUNY Cortland was also recently named one of the "Best Colleges For Your Money" by Money magazine. The College ranks in the top 5 percent of all four-year colleges for its combination of educational quality, affordability and alumni success.
The Princeton Review, meanwhile, recently rated SUNY Cortland among the best colleges in the Northeast and one of the "greenest" schools in the nation. The Sierra Club echoed that "green" rating, naming SUNY Cortland to its most recent "Cool Schools" rankings for the College's commitment to creating an environmentally sustainable culture on campus.
Students Plan "Hustle for Houston" to Aid Hurricane Victims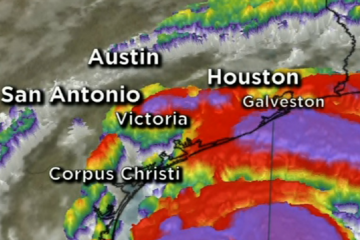 09/01/2017
SUNY Cortland students will have an opportunity to help victims of Hurricane Harvey by walking laps in Lusk Field House during a "Hustle for Houston" fundraiser sponsored by the College's Student Government Association.
The event will take place between 1 and 4 p.m. on Sunday, Oct. 1. Money raised will be donated to organizations involved in rescue and recovery efforts related to what scientists are calling the worst rainfall disaster in United States history.
"Everyone is watching this on TV, and as much as I wanted to help, I knew everyone on campus would want the opportunity to step up and help the victims of Hurricane Harvey," said SGA President Aristotle Arkayasa.
Members of the SUNY Cortland Community can participate by soliciting donations or donating themselves, either individually or as teams. SGA will track team donations, and expects Red Dragon competitive spirit will provide an extra incentive for giving.
Participants can register their team and get more information about the event by sending an email message to hustleforhouston@gmail.com.
All proceeds from the fundraiser will be donated to either the American Red Cross or Team Rubicon, a rescue organization that deploys teams of veterans and first-responders to help victims of large-scale disasters.
"We wanted to do something to bring our community together," said Zachary Curtis, SGA's chief financial officer. "Our country has been divided recently, and we know that our community is stronger than our divisions. We had to help."
"Hustle for Houston" is one of several humanitarian efforts related to the hurricane taking place on the SUNY Cortland campus:
On Saturday, Sept. 2, the College's Student Athlete Advisory Committee will collect monetary donations to help Hurricane Harvey victims from 11 a.m. to 2 p.m. during the football game (noon) at the SUNY Cortland Stadium Complex and from 10 a.m. to 5 p.m. during two volleyball games (11 a.m. and 4 p.m.) in Park Center Corey Gymnasium.
On Thursday, Aug. 31, SUNY Cortland's Auxiliary Services Corporation donated 1,700 bottles of water to a truck load of relief supplies provided by Cortland-area businesses that left town for Texas.
On Tuesday, Aug. 28, President Erik J. Bitterbaum sent a message to the SUNY Cortland community expressing concern for residents of Texas and Louisiana and sharing information about ways to support the relief effort and how to donate to legitimate aid organizations.
Classroom Renovations Emphasize Technology and Collaboration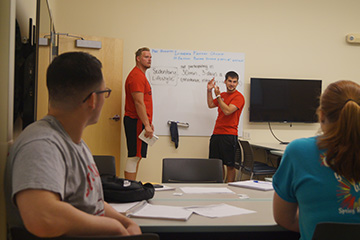 09/12/2017
Updated classroom technology has given new meaning to applied learning at SUNY Cortland, with three learning spaces undergoing major equipment renovations over the summer.
The infusion of technology brought several large flat-screen monitors, new computer hardware, white boards and movable seating to classrooms in the Professional Studies Building and Memorial Library as well a SMART Board and video recording equipment to a teaching lab in Old Main.
The College furthered its commitment to academic innovation by investing approximately $115,000 in these projects.
"These improvements aren't just about flashy new equipment," said John Cottone, SUNY Cortland's dean of professional studies. "Technology does not drive the learning environment. Rather, it's the learning environment based on student-centered learning that incorporates technology to support better teaching and learning strategies."
Cottone was speaking to the new look of Professional Studies Building, Room 1170. A team of four Kinesiology Department faculty members mapped out the proposal for the Kinesiology Collaborative Learning Center, which transformed a traditional lecture-style classroom into a space that inherently promotes group work and discussion among students.
Previously, the room consisted of forward-facing rows of seats. It now includes six large flat-screen monitors and white boards attached to the walls, each one with its own cluster of six seats. Students are able to connect their own personal laptops to the monitors. There's also more space for students and professors to move throughout the classroom.
"It doesn't take as long for students to get talking," said Assistant Professor Deborah VanLangen, who's teaching four of her classes this semester in the redesigned classroom. "Sometimes it can take several weeks into the semester before students feel comfortable talking. But I've found myself talking less and guiding the conversation more."
VanLangen developed the proposal for the new space along with Clinical Coordinator of Athletic Training Alyson Dearie, Assistant Professor Ryan Fiddler and Associate Professor Jim Hokanson. Their application was based on an extensive literature review examining the benefits of collaborative learning techniques such as project-based discussions, verbal problem solving and team case study work.
The classroom currently hosts undergraduate courses on topics such as cardiorespiratory fitness and exercise physiology as well as graduate courses on cardiovascular disease and nutrition. The hope is to include more departments in the School of Professional Studies — communication sciences and disorders, health, physical education, recreation, parks and leisure studies and sport management — based on the room's availability.
"These classes are very hands-on," Hokanson said. "It's not just a professor teaching down to students. Students are more engaged in the whole process. They're more invested in their own education."
Memorial Library, Room B-111 followed a similar blueprint for a collaborative learning space, adding four wall-mounted flat-screen monitors, individual white boards and easily movable chairs during its summer renovation. The space will be used by librarians to promote active learning and information literacy.
A third classroom renovation brought crucial SMART Board technology to Old Main, Room B-17A, which primarily serves as a third-floor teaching lab for adolescence education: English majors. The interactive whiteboards are a staple in many of the classrooms that host SUNY Cortland student teachers.
"It seems like every school district has them and we want our student teaching candidates to be prepared before they enter the classroom for the first time," said Laura Davies, assistant professor of English. "Understanding how to use instructional technology is an important skill that will serve our students well throughout their careers. We want them to be ready for the realities of the 21st-century classroom."
Davies proposed the English Education Teaching Lab with Assistant Professor Geoffrey Bender and Professor Matthew Lessig. Besides the addition of SMART technology, the classroom now includes built-in video equipment for students to record, assess and reflect on their teaching. Submitting recorded video lessons is required to earn edTPA certification, the new student teacher performance measure mandated in New York state.
The renovated teaching lab also should help SUNY Cortland's pre-service teachers achieve technology outcome goals set by the Council for the Accreditation of Educator Preparation (CAEP) and the National Council of Teachers of English (NCTE).
Outlines for the new learning spaces initially were submitted as proposals for grant funding from SUNY Cortland's Academic Innovation Fund, which supports new faculty-driven projects across all three schools at the College. Support was provided by the Vice President for Finance and Management's Office when it became clear that they warranted additional funding.
The hope is that the locations become a model for other collaborative classrooms at the College, including one planned for the Education Building.
"We talk a lot about the importance of teaching in the classroom, and rightfully so," Cottone said. "But we need to verify our students' learning. This fits into everything we say about applied learning. Once people see how this type of classroom set-up works, they're going to want to use it."
SUNY Cortland Rises in Annual "Best Colleges" National Survey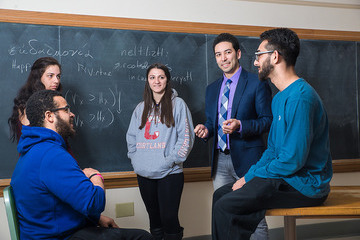 09/12/2017
Strengthened by one of the highest graduation rates in the SUNY system, SUNY Cortland this year continued to rise in U.S. News & World Report's annual ranking of the "Best Colleges" in the nation.
SUNY Cortland was ranked 48th in the news organization's survey of what it considers the best regional universities in the Northeast, according to results released today by U.S. News & World Report.
That puts Cortland among the top 25 percent of all four-year, higher education institutions in the highly competitive region, which includes 287 schools across New York, Massachusetts, Connecticut, Vermont, New Hampshire, Rhode Island, Delaware, Maine, New Jersey, Pennsylvania, Maryland and Washington, D.C.
"We are grateful for the acknowledgement, but we are not surprised; SUNY Cortland is a very strong academic institution," College President Erik J. Bitterbaum said. "Positive rankings like this are nice, but prospective students and parents need to research schools themselves and visit campuses to find the right fit."
"Best Colleges 2018" marks a 13-place improvement for SUNY Cortland, which placed 61st in last year's rankings and was 74th in "Best Colleges 2016." Standing out among the many factors used to determine the ranking was the College's 75-percent, six-year graduation rate; its highest in three decades. Of the SUNY comprehensive colleges that made the U.S. News & World Report rankings, only one — SUNY Geneseo — had a better graduation rate.
"Each of SUNY's 64 colleges and universities help our students find their purpose and their passion. Whether it's in research, education, outreach, or engagement, our colleges and universities strive to achieve excellence in everything they do," said SUNY Chancellor Kristina M. Johnson. "We are thrilled that so many of our SUNY campuses have again received favorable rankings by U.S. News & World Report. While we appreciate that rankings are one indication of quality, it does help demonstrate that SUNY is one of the best national education systems. Congratulations to each of the SUNY campuses recognized by the 2018 U.S. News and World Report rankings."
The U.S. News & World Report survey is SUNY Cortland's most recent recognition on the national stage. This summer, Money magazine rated Cortland in the top 5 percent of "best value" colleges in the United States.
The Princeton Review, meanwhile, recently rated SUNY Cortland among the best colleges in the Northeast and one of the "greenest" schools in the nation. The Sierra Club echoed that "green" rating, naming SUNY Cortland to its most recent "Cool Schools" rankings for the College's commitment to creating an environmentally sustainable culture on campus.
Study Abroad Fair Set for Sept. 19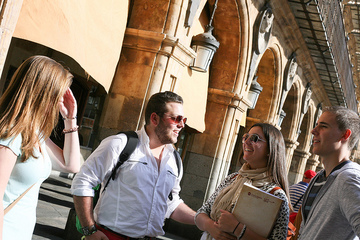 09/12/2017
SUNY Cortland students have shown a growing interest in studying abroad in recent years, visiting countries such as Spain, Belize, Germany, Australia and Cuba.
The International Programs Office will hold its annual Study Abroad Fair on Tuesday, Sept. 19 from 11 a.m. to 2 p.m. in the Corey Union Main Lobby. The fair is free and open to all students.
Students can expect to learn about the 800 different study abroad programs the College partners with around the globe. Advisors will discuss scholarship and funding opportunities.
"Students should travel abroad to have a much better and bigger understanding of world culture," said Hugh Anderson, senior study abroad advisor. "Eighteen percent of SUNY Cortland students travel abroad and it is a part of the culture here at Cortland."
International Programs will raffle off a pair of $500 travel awards. Other raffles and games include prizes such as luggage scales and baggage straps.
Students who have previously studied abroad, as well as some of the College's international students, will be present at the fair to answer questions. They will talk about their experiences and the joy of visiting or living in other countries.
Study abroad credits may be used toward major, minor or general education requirements. With a wide variety of destinations, students have many academic options. SUNY Cortland's students who have studied abroad have participated in internships, student taught, volunteered and engaged in faculty-led programs.
For those who cannot attend the fair, International Programs will have tables in the Student Life Center after 2 p.m. on Sept. 19. International Programs offers "Study Abroad 101" twice a week throughout the semester, on Tuesdays from 4:30 to 5:30 p.m. and Fridays from 3 to 4 p.m. in Old Main, Room 220.
For more information, email studyabroad@cortland.edu or call 607-753-2209.
Prepared by Communications Office intern Navita Ramprasad
Cuban Expert to Lecture on Cultural Studies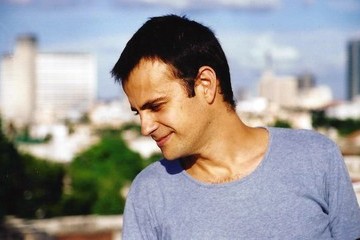 09/12/2017
In June, when a delegation of SUNY Cortland officials traveled to Cuba in search of educational partnerships, one of the people they met with was Wilfredo Benítez Muñoz, head of a non-profit group that promotes Cuban artists and links them with international communities.
Muñoz, an expert in the visual arts, independent cinema and cultural studies, will represent the growing strength of SUNY Cortland's connection with the once-forbidden island nation when he visits the College on Sept. 20-21.
His lecture, "Documenting Cuba Through Cultural Programs: A Perspective from the Ludwig Foundation of Cuba," begins at 4:30 p.m. on Wednesday, Sept. 20 in Brockway Hall Jacobus Lounge. The event is free and open to the public.
Muñoz is the executive director of the foundation, which was founded in 1995 by renowned art collectors Peter and Irene Ludwig of Aachen, Germany. The organization has provided Cuban artists with connections to colleagues from around the world and has sought to build bridges of understanding between different cultures. It has put on exhibitions, lectures, seminars and workshops and supported conferences, scholarships and grants for Cuban artists.
"It was inspiring to hear the work done by foundations like the Ludwig Foundation of Cuba while enjoying a view of the eclectic architecture of Havana," said Alexandru Balas, coordinator of SUNY Cortland's International Studies Program and director of the College's Clark Center for Global Engagement. "Cubans are creative people. Only creative people can keep American 1950s cars running when spare parts production ceased decades ago, or are able to turn recycled products into world-famous art exhibits. The Ludwig Foundation documents the many facets of creativity in Cuba. SUNY Cortland is honored to have the executive director of the Ludwig Foundation present to our community the inspiring work he and his colleagues have done in Havana."
Balas, an assistant professor of international studies, was one of seven administrators, faculty and staff to accompany President Erik J. Bitterbaum to Cuba in June. The visit established a solid foundation with academic partners in communist Cuba for future study abroad opportunities and exchange programs for students and faculty.
Muñoz's visit to Cortland is the first of potentially many for Cuban academics to share their knowledge and insights on the SUNY Cortland campus.
Muñoz studied economic sciences at the University of Havana in the 1980s. He started his career at the Cuban Institute of Economic Research and later moved to the National Council of Visual Arts in 1989. He has worked with the Ludwig Foundation of Cuba since its founding.
The event is organized by the Clark Center for Global Engagement with support from the President's Office, the Art and Art History Department, the Latino/Latin American Studies Program and a Campus Artist and Lecture Series (CALS) grant. For more information, contact Balas at 607-753-4823.
College to Host 'Incllusion' Series in 2017-18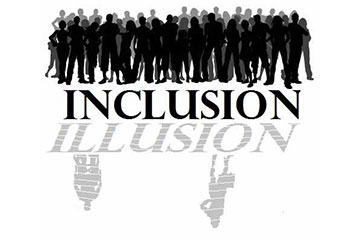 09/12/2017
Nigerian author Chimamanda Ngozi Adichie writes that she "would like to ask today that we should begin to dream about and plan for a different world. A fairer world" in her book, We Should All Be Feminists.
The highly acclaimed, provocative New York Times bestseller Ngozi Adichie's philosophy is at the heart of the series of lectures, films and common readings planned by SUNY Cortland's Cultural and Intellectual Climate Committee (CICC) for the 2017-18 academic year.
The series, titled "Incllusion," will focus on inclusion as a fundamental condition for equity and human rights. All events are free and open to the public.
"Inclusion necessitates the recognition of 'The Other': those who are not 'like us' — against whom we form our identity and over whom we seek to maintain power and/or distance," said CICC committee member Brian Barrett, a co-organizer of the series and a SUNY Cortland professor of foundations and social advocacy. "It requires that we think deeply and act inclusively with regard to who 'counts' as a human being and who belongs in 'our' community."
"This is a discussion that pertains to matters of race and ethnicity, gender identity, social class, disability, sexual orientation and much more," added CICC committee member and co-organizer Jena Nicols Curtis, an associate professor of health. "It is a discussion that can be informed by a broad range of disciplinary and cross-disciplinary perspectives. We invite you to participate in this and to contribute to the creation of a more inclusive campus community."
Each year, participants are asked to view the series through the lens of one particular piece of literature. Ngozi Adichie's We Should All Be Feminists is this year's work suggested as the "common read."
Born in 1977, Ngozi Adichie is a writer of novels, short stories, and nonfiction. In 2008, she was awarded a MacArthur Genius Grant. She wrote the award-winning Americanah. Ngozi Adichie was described in the Times Literary Supplement as "the most prominent" of a "procession of critically acclaimed young Anglophone authors [that] is succeeding in attracting a new generation of readers to African literature."
Events and Lectures Planned
Matthew Chambers, a professor at the University of Warsaw, Poland, will kick off the series on Wednesday, Sept. 13, with a talk that considers the role of nongovernmental organizations (NGOs) in the fields that produce literary and cultural works. His discussion, "NGO Cultures: Cold War Global Literary Institutions," begins at 12:30 p.m. in Brockway Hall Jacobus Lounge.
Chambers asserts that the origins of NGOs such as International PEN, Amnesty International and UNESCO reside in cultural leftist or liberal internationalist theories of development and global peace. Yet the process of their institutionalization as NGOs has shifted those foundational imperatives into neoliberal cultural management programs. Collectively, Chambers refers to the institutional reach and potential influence of these organizations as "NGO cultures."
"'NGO cultures' are both an informal set of relations between funded institutions and the broader public, and the cultures they produce through a formalized bureaucratic network with its own internal logic and imperatives," Chambers said.
On Thursday, Sept. 21, Anne Adams, a professor emerita of Africana studies and comparative literature at Cornell University and current lecturer in SUNY Cortland's Africana Studies Department, will discuss "Transnational Feminism in Chimamanda Ngozi Adichie's Fiction Writings" at 4:30 p.m. in Brockway Hall Jacobus Lounge.
Adams will use examples from Ngozi Adichie's fiction to demonstrate Ngozi Adichie's feminist ideas.
Adams serves as managing editor of the online journal Wagadu: Journal of Transnational Women's and Gender Studies, which is based here at SUNY Cortland. The former president of the African Literature Association, her primary areas of research and publication are African/Diaspora women's writing and Afro-German cultural studies. Adams served as director of the W.E.B. Du Bois Memorial Centre for Pan-African Culture, in Accra, Ghana, from 2005-2010. She also teaches as a visiting professor at the University of Ghana, Legon. She has lectured in numerous other African countries, including Kenya, Senegal, Benin, Congo Republic, Burundi, and Côte d'Ivoire. She is currently a member of the graduate faculty in African Studies at the University of Bayreuth, Germany.
In 1986 she co-wrote, with Carole Boyce Davies, Ngambika: Studies of Women in African Literature, one of the first books of literary criticism on African women authors. She is the author of other books published on African women writers, including playwright Efua Sutherland and novelist Ama Ata Aidoo. Adams is currently preparing an anthology of essays by Afro-Germans.
Chimamanda Ngozi Adichie's "We Should All Be Feminists" will be screened as a TEDx talk on Tuesday, Sept. 26, at 4:15 p.m. in Brockway Hall Jacobus Lounge. Amazon.com describes the screened version of the campus common read as: "Drawing extensively on her own experiences and her deep understanding of the often-masked realities of sexual politics, here is one remarkable author's exploration of what it means to be a woman now — and an 'of-the-moment' rallying cry for why we should all be feminists."
Amber Jamilla Musser, associate professor of women, gender, and sexuality studies at Washington University in St. Louis, will deliver the College's annual Van Burd Memorial Lecture on Tuesday, Sept. 26. Her talk, "Mickalene Thomas, Audre Lorde, and the Maternal Origin of the Universe," begins at 5:15 p.m. in the Sperry Center Hobson '61 Lecture Hall, Room 104. The event is part of this fall's Distinguished Voices in Literature presentations by the English Department.
Musser's monograph, Sensational Flesh: Race, Power, and Masochism (NYU Press, 2014), uses masochism as a lens to theorize different felt relationships to power. Musser also has published widely on race and critical theory, queer femininities and race, race and sexuality, and queer of color critique. Her current research project, "Brown Jouissance: Feminine Imaginings," uses the aesthetic labors of women of color to re-imagine epistemologies of sexuality so that they focus on brown femininity. She has an M.S. in women's studies from Oxford University and received her Ph.D. in history of science from Harvard University.
Title IX has described a previous screening of "The Hunting Ground" as "a startling expose of sexual assault on U.S. campuses." The film will be shown at 4:30 p.m. on Tuesday, Oct. 3, in Sperry Center, Room 106.
SUNY Cortland members of Students Active for Ending Rape (SAFER) have organized a "Take Back the Night" march for Wednesday, Oct. 4. Meet at 8 p.m. on the Corey Union steps. The event encourages the campus community to act as sexual violence awareness advocates.
Poet Jericho Brown, the recipient of a Whiting Writers' Award and fellowships from the John Simon Guggenheim Foundation, the Radcliffe Institute for Advanced Study at Harvard University, and the National Endowment for the Arts, will read from his work on Wednesday, Oct. 11. The event continues this fall's Distinguished Voices in Literature presentations.
Brown, an associate professor of English and creative writing at Emory University, will begin at 5 p.m. in Brockway Hall Jacobus Lounge. Brown's first book, Please (New Issues 2008), won the American Book Award. His second book, The New Testament (Copper Canyon 2014), won the Anisfield-Wolf Book Award and was named one of the best of the year by Library Journal, Coldfront, and the Academy of American Poets. His poems have appeared in The New York Times, The New Yorker, The New Republic, Buzzfeed and The Pushcart Prize Anthology.
"Cold Fear: Gay Life in Russia" is a hauntingly beautiful and powerful documentary that gives an insight into the reality of life — particularly gay life — in Russia. The film will be screened on Tuesday, Oct. 24.
The documentary, which begins at 4:30 p.m. in Sperry Center, Room 106, tells how there's fear on all sides, with many Russians equating gay behavior with semi-demonic practices. They believe homosexuality is a lifestyle choice and see it as a direct attack on family values, even as a poison that is corrupting society and weakening Russia. On the other side, many gay Russians live in fear of direct intimidation, persecution and violence — and even murder. This film gives ordinary Russians a voice as it exposes a world of widespread repression and extreme violence: a world of cold fear.
Jose Faus, an acclaimed artist and poet from the Kansas City area, will present Thursday, Oct. 26, on his current visual art, including murals that he produces in Kansas City neighborhoods to celebrate cultural heritage and diversity. His talk, titled "Art and Activism," begins at noon in Brockway Hall Jacobus Lounge.
These murals are often produced with the assistance of neighborhood children and young adults as part of mentoring and education projects. Faus, who currently is president of the Kansas City Latino Writers Collective, also is involved with ArtKC's Artist Inc program, which helps up-and-coming artists develop career strategies and navigate the business aspects of an artist's life.
While discussing his art and these projects, Faus will weave in readings from his poetry.
The talk, which marks Latin History Month, is co-sponsored by the Economics Department and the Distinguished Speaker Series.
Award-winning author Jaimee Wriston Colbert will read from her work on Thursday, Oct. 26. Colbert, who won a gold medal in the Independent Publisher Awards for her Dream Lives of Butterflies, will begin at 4 p.m. in Brockway Hall Jacobus Lounge. The event concludes this fall's Distinguished Voices in Literature presentations.
Colbert is professor of English and creative writing at Binghamton University. Her work, Climbing the God Tree, captured the Willa Cather Fiction Prize. Her book Shark Girls was a finalist for the USA Book News Best Books of 2010 Awards and Sex, Salvation, and the Automobile, achieved the Zephyr Prize. Colbert also wrote the linked story collection Wild Things. Her work has appeared in many journals, including The Gettysburg Review, New Letters, Prairie Schooner and TriQuarterly, and has been broadcast on "Selected Shorts."
Hailed as the first and only feature film about gay life ever produced in communist East Germany, "Coming Out" premiered on the night the Berlin Wall opened, Nov. 9, 1989. The film will be screened at 4:30 p.m. on Tuesday, Nov. 14, in Sperry Center, Room 106.
Scott Moranda, SUNY Cortland associate professor of history, will provide a brief introduction about the attitudes toward homosexuality within 20th century socialist and communist movements in Europe.
"Coming Out" tells the story of a boy, Philipp, who was strongly attracted to his best friend, but he put that behind him in order to live within the "norm." He meets a shy girl who falls for him, and soon the couple is sharing an apartment. But Philipp cannot deny his passionate desire for a young man. After years of repressing his sexuality, he finally accepts himself for who he truly is.
On Thursday, Nov. 16, for the sake of fostering a more interdisciplinary intellectual community among faculty, administrators and students, the campus will gather to discuss "Margins: An Interdisciplinary Keywords Conversation."
The event, which begins at 5 p.m. in Brockway Hall Jacobus Lounge, features a roundtable with eight students and faculty members across a range of departments at SUNY Cortland discussing how this keyword ("margins") is defined across different disciplines and intellectual domains. Each participant will prepare a 3- to 4-minute "lightning" presentation inviting the group to reflect on "How does this term operate in your discipline?"
"We have selected a critical 'keyword' around which we will discuss our different approaches to understanding our work and its significance in the world," explains Laura Davies, an associate professor of English who directs the College's Writing Program. "Inspired by Raymond Williams, we understand keywords as a vocabulary of culture and society, specifically "the vocabulary we share with others, often imperfectly, when we wish to discuss many of the central processes of our common life."
Davies noted that such terms may seem self-evident.
"Yet upon closer reflection, we discover the many professional, cultural, and political assumptions embedded within our understanding of a keyword," she said. "Thus, keywords provide an opportunity to think across disciplinary and methodological boundaries and to reassess the stakes of our intellectual work in the contemporary moment.
"We hope that the keyword we have chosen — margins — sparks a wide range of responses and engenders a conversation that moves across different disciplines, methodologies, cultural considerations and social contexts," Davies said.
Spring activities for "Incllusion" will be announced at a later date.
By using a different intellectual theme each year, the CICC committee aims to generate common topics of discussion and to establish traditions of intellectual discourse on SUNY Cortland's campus. The series encourages faculty and staff to infuse the theme into their course curricula, engage in classroom discussions and debates around the theme, and propose campus events or speakers on related topics.
For more information on CICC events this semester, visit the CICC website or contact CICC co-chairs Barrett at 607-753-2330 or Curtis at 607-753-2979. For more information on this fall's Distinguished Voices in Literature presentations, visit the English Department website.
Musicians to Perform in Japanese Tradition Sept. 27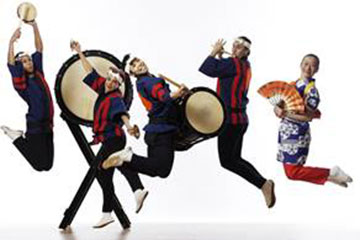 09/12/2017
Their Japanese-inspired music is featured in the Nintendo Wii games Red Steel and Red Steel 2. The Taikoza and East Winds Ensemble will perform at SUNY Cortland on Wednesday, Sept. 27.
The ensemble will offer their signature thunderous rhythms of ancestral Japanese Taiko drums and the magical sounds of bamboo flutes starting at 7 p.m. in the Corey Union Function Room.
Presented by the College's Campus Artist and Lecture Series (CALS), admission to the concert is free for all students and pre-kindergarten age children. General admission is $10 with a senior citizen discount price of $8. Tickets may be obtained through the Campus Activities and Corey Union Office, Corey Union Room 406, or at the door one hour prior to the performance. For more information, call 607-753-5574.
Featuring performances on a six-foot-long ancestral Taiko drum, the program artfully blends its bold and vibrant sound with colorful dances and soulful melodies played on bamboo flutes. The purpose of the group is to present concerts of traditional and modern music performed on Japanese traditional instruments, the shakuhachi, taiko, shinobue, noh flute, shamisen, piano and the koto. Traditional costumes and dynamic motion are geared to entertain audiences of all ages.
| | |
| --- | --- |
| | |
| | The Taikoza and East Winds Ensemble will offer their signature thunderous rhythms of ancestral Japanese Taiko drums. |
The members of the group are Masayo Ishigure, Yuki Yasuda, Charles Tang and Marco Lienhard. Performances have taken the group to Japan, Mexico, Europe and around the U.S. The members have performed in some of the world's most renowned venues, such as Carnegie Hall, Lincoln Center, Boston Symphony Hall, Suntory Hall in Tokyo and Osaka Festival Hall.
The ensemble recently toured Brazil for the Japan Foundation.
Founded in 1995 by Lienhard, a native of Switzerland who was a professional taiko player in Japan, this professional Japanese traditional music and dance group has dazzled audiences worldwide with its electrifying performances.
"Taikoza has created an original and high-energy sound that transcends national boundaries," noted a reviewer from Arts for Learning, an organization that promotes the arts for best practices in education.
The event is supported by the Auxiliary Services Corporation and the Cortland College Foundation. For more information about Taikoza, visit the band's website. For information about this or other CALS events, visit the CALS website.
Compete for Prizes in the Outdoor Nation Campus Challenge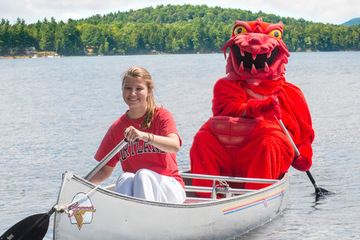 09/12/2017
Do you love exploring the outdoors? Do you like competing for prizes?
SUNY Cortland students, faculty, staff and alumni can do both by participating in the Outdoor Nation Campus Challenge. From Sept. 18 to Oct. 15, students, faculty, and staff are encouraged to compete for the title of national outdoor champion against 92 colleges from across the country.
Getting involved in the Campus Challenge is easy. Download the Outdoor Nation app on the Apple App Store or Google Play, join the SUNY Cortland team and log all outdoor activities from Sept. 18 to Oct. 15. Every activity logged on the app earns points for the College's team and up to five activities may be logged daily.
Campus Challenge participants compete for the SUNY Cortland team against other colleges but they will also vie against each other as individuals. SUNY Cortland's Outdoor Pursuits program will reward the College's most active participants with prizes such as hammocks, hats, chairs and water bottles in addition to the prizes awarded by Outdoor Nation.
"Each week there are different sponsors and we are giving away prizes right here at SUNY Cortland," said Jason Harcum, assistant director of recreational sports for Outdoor Pursuits.
Hiking, paddling, bicycling, and camping are some of the many eligible activities. Outdoor Pursuits offers regular group outings in Central New York, the Finger Lakes and the Adirondacks. Campus Challenge bonus points are awarded to participants who join Outdoor Pursuits trips.
"It's a fun way to get out of your comfort zone and a cool way to get outside," said Mary McNally '16, a graduate assistant for Outdoor Pursuits.
Outdoor Pursuits' equipment rental center provides gear to members of the campus community for a nominal fee.
"Outdoor Pursuits is a great resource. We have bikes, hiking poles, canoes, tents and much more," said Harcum.
The Campus Challenge began in 2014. Outdoor Pursuits participated for the first time this year in hopes of getting students, faculty, staff and alumni active in outdoor activities.
"It's a fun opportunity to get people outside and try new things," Harcum said.
To track the College's progress during the Campus Challenge, follow Outdoor Pursuits on Instagram or Facebook. For more information, visit Outdoor Pursuits in the Student Life Center, Room 2101, or contact Harcum at 607-753-5810.
Prepared by Communications Office intern McKenzie Henry
New Students Recognized for Successful Transition
Fifty-nine students who successfully made the transition to SUNY Cortland as first-year, transfer, or graduate students during the fall 2016 or spring 2017 semesters will be recognized at a reception Wednesday, Sept. 27.
The event takes place during the annual Advisement and Transition Fall Walk-in Welcome to be held from 4 to 6 p.m. in Memorial Library, Room A-111. The individuals will receive a certificate of recognition signed by President Erik J. Bitterbaum.
Students were nominated during the spring 2017 semester by their peers, faculty and staff through an online survey. Of the 59 new students, four were recognized by two or more people and the group included graduate and international students.
This is the fourth year the College has offered this recognition, which acknowledges students in good academic standing who show one or more of the following qualities:
integrity and perseverance in their transition to SUNY Cortland;
exemplary academic conduct;
characteristics of a good role model for other students;
strong participation in classroom discussions;
outstanding attendance record;
curiosity for academic content;
demonstrated effort in academic pursuits; and,
potential for campus involvement and leadership.
All recognized students received an invitation. The students are:
Alya Abdelaziz Mostafa Abbas, Gabriella Amelio, Linda Archange, Madeline Berry, Sydney Bourque, Ryan Braund, Melissa Brunjes, Brianna Cardina, Melissa Caruana, Amanda Cassata, Allison Chandler, Meghan Dann, Brittany DaRos, Mia Dimartino, Alliyah Dookie, Giorgianna Ervolina, Joesnandy Espino, Joshua Finkelstein, Elizabeth Foster, Jena Freese, Justin Fried, Asha Goldberg, Seth Gosser, Olga Grygiel, Ahmad Sameer Hairan, Allison Hall, Gerald Hmura, Elizabeth Hradil, Weikang Jia, Martin Lavallee, Chad Lawrence, Connor Lewis, David Lindberg, Emma Madonna, Cooper Malanoski, Kayla Mansfield, Joseph Mogavero, Victoria Mooney, Tatiana Nolen, Sean Perichak, Loren Rapaport, Sara Reardon, Jonah Schumacher, Zachary Secor, Georgia Shaw, Jordan Spawn, Kiley Stoj, Nicholas Swaha, Leah Tidd, Jonah Trembley, Kelly Veit, John Velazquez, Connor Vick, Valerie Waters, Julia West, Imaani West, Brooke Wilson and Jun Keat Wong.
For more information, contact Advisement and Transition by email.

Suggest a feature story
---
Faculty/Staff Activities
Seth N. Asumah
Seth N. Asumah, Africana Studies and Political Science departments, was invited by Intercultural Migration and Integration Center in Hamburg, Germany, to give a keynote address on Africa Day 2017. Also, he participated on a panel discussion on "Africa's Partnership with Europe and Agenda 2063." The panelists included Professor of Journalism Jane Ayeko- Kummeth from Deutsche Welle, Hamburg, former Minister of State for Private Sector Development Honorable Abdul-Rashid Hassan Pelpuo from Ghana, and Professor of Educational Science and Economics Louis Henri Seukwa from Hamburg University of Applied Sciences.
Timothy J. Baroni
Timothy J. Baroni, Biological Sciences Department, with co-authors, described the new species of mushroom in their article "A new species and a new combination of Rhodophana (Entolomataceae, Agaricales) from Africa." It describes Rhodophana flavipes, T. J. Baroni, Daniëls and Hama, a mushroom of the family Entolomataceae, and made the new combination Rhodophana fibulata, (Pegler) T. J. Baroni, Kluting and Daniëls, for a species described in 1977 and still only known from Uganda and Tanzania. Their paper was based on morphological and phylogenetic evidence and published in 2017 in the journal Phytotaxa, volume 306. Only two species of Rhodophana are now known for the entire continent of Africa. Scientists names follow the species names as it is accepted in botanical taxonomy to include the authors of a species, governed by the Code of Botanical Nomenclature.
Co-authors were Pablo Daniëls and Felix García-Pantaleón, University of Cordoba, Spain, Oumarou Hama, University of Tahoua, Niger, and Kerri Kluting, Uppsala University, Sweden, Saha Bergemann, Middle Tennessee State University, Moussa Barage and Dahiraou Ibrahinm, Abdou Moumouni University, Niger.
Brian Barrett
Brian Barrett, Foundations and Social Advocacy Department, had his book, Knowledge, Curriculum and Equity: Social Realist Perspectives, published this summer by Routledge. The book was co-edited with Ursula Hoadley, University of Cape Town, and John Morgan, University of Auckland, and contains a chapter by Barrett and Foundations and Social Advocacy Department colleagues Anne Burns Thomas and Maria Timberlake.
Mark Dodds
Mark Dodds, Sport Management Department, presented two papers at the European Association for Sport Management conference in Bern, Switzerland. The paper topics were "Corruption's Impact on Sport Sponsorship" and "Sponsorship Legal Issues: A Comparison of Finland and the US." Also, he chaired a Legal and Ethical Aspects of Sport session.
James Felton
James Felton, chief diversity officer, received an invite from SUNY Vice Chancellor and Chief Diversity Officer Carlos Medina to serve on the System-wide SUNY Diversity Advisory Board, which will serve as a standing advisory body to his office and the system provost. Felton was asked to join the board because of his experience and expertise. He will assist the university in working toward its overarching goal of becoming the most inclusive system of higher education in the country.
Jordan Kobritz
Jordan Kobritz, Sport Management Department, has been elected to the Florida State League Hall of Fame. He will be inducted along with the rest of the 2017 class during the Florida State League's annual Hall of Fame Dinner and Banquet on Wednesday, Nov. 15 in Clearwater, Fla. Kobritz is the director of the Stone Crabs, Advanced 'A' Affiliate of the Tampa Bay Rays, and serves as the liaison with the Florida State League (FSL), the Tampa Bay Rays and Charlotte County, owner of the Charlotte Sports Park, the Stone Crabs' home field. He began his journey in the FSL in 1993 when he became the owner of the Daytona Cubs, which he owned through 2000. During his two ownership stints in the FSL, he has served the league in a number of capacities, including his current role as a member of the League Executive Committee. Also, he was a member of the Executive Committee when he owned the Daytona Cubs. Along with former FSL president and Hall of Fame member Chuck Murphy, Kobritz developed the league-wide scholarship program which is in its 19th consecutive year of existence. Kobritz has served on a variety of League committees and represented the League in negotiations with the Rays when they came into existence in 1998. Also, he has been a presenter at the annual baseball winter meetings.
Kathleen A. Lawrence
Kathleen A. Lawrence, Communication Studies Department, recently had two of her published poems nominated for 2017 Best of the Net: "Just Rosie" was nominated by the Science Fiction and Fantasy Poetry Association (SFPA), and "High Tea" was nominated by Highland Park Poetry. In addition, her poem "Extracurricular" was published in Sonic Boom Journal in August. Star*Line, SFPA's print journal, recently accepted her poem "Vampirette." Her poems "wide eyed wallflowers," "Lovely and Dilapidated" and "My Father - Somonka" will appear in Undertow Tanka Review. Also, her poem "Invisible, Fat Me" is forthcoming in Blynkt Magazine.
Ben Lovett and Karen Davis
Ben Lovett and Karen Davis, Psychology Department, had an article accepted for publication in the journal Professional Psychology: Research and Practice. Their article argues that certain techniques from forensic psychology can improve the accuracy of adult ADHD assessments, helping to reduce misdiagnosis.
Holly Manaseri
Holly Manaseri, Foundations and Social Advocacy Department and Educational Leadership Program coordinator, was a presenter at the annual conference of the International Council of Professors of Educational Leadership in San Juan, Puerto Rico, in August. Her presentation featured the importance of Universal Design for Learning in the preparation of educational leaders in light of the new Every Student Succeeds Act (ESSA) requirements.
Katherine M. Polasek, Erik Lind, John Foley and Dan Jones '15, MS
Katherine M. Polasek and Erik Lind, Kinesiology Department, and John Foley, Physical Education Department, recently had their manuscript, "The Relationship of Sex and Sport Skill Type on Imagery Use among Division III Athletes," published in the Journal of Sport Behavior. The manuscript was co-authored by former exercise science graduate student Dan Jones, '15, MS, exercise science.
Robert Spitzer
Robert Spitzer, Political Science Department, is the author of an article titled "Gun Law History in the United States and Second Amendment Rights," published in the most recent issue of the journal Law and Contemporary Problems.
Mark A. Sutherlin
Mark A. Sutherlin, Kinesiology Department, gave two presentations at the National Athletic Trainers' Association 68th Clinical Symposia & AT Expo, was accepted into the NATA Foundation Research/Faculty Mentor Program, and participated as part of the Athletic Training Research Agenda Focus Group this summer in Houston, Texas.
Gregg Weatherby
Gregg Weatherby, English Department, was a featured reader in July at New York City's famed Cornelia Street Cafe. He read from his most recent published work as well as work in progress.

Submit your faculty/staff activity