SUNY Cortland Named "Military-Friendly"
01/24/2017
SUNY Cortland has been helping military veterans pursue higher education since the end of World War II, when thousands of returning soldiers supported by the GI Bill packed classrooms of what was then a state teacher's college.
Today, men and women who served their country continue to earn degrees at the College in an even wider range of academic disciplines. SUNY Cortland helped produce America's first female four-star Army general, the former head of the Army's military performance division and the current commander of the U.S. Navy's 20-state Mid-Atlantic Region.
As a result of this ongoing tradition, SUNY Cortland recently was named a 2017 Military Friendly® School by Victory Media, which runs a Website and several ranking programs aimed at helping veterans get employment or a college education.
First published in 2009, the Military Friendly® Schools list is provided to service members and their families to help them select the best college, university or trade school for the education and training needed to pursue a civilian career. Likewise the publisher surveys employers to create a job resource listing for veterans.
SUNY Cortland's new designation is showcased along with other 2017 Military Friendly® Schools on the website MilitaryFriendly.com, in the annual Guide to Military Friendly® Schools and in special education issues of G.I. Jobs® and Military Spouse Magazine.
"SUNY Cortland is very honored to be considered a military-friendly school," said SUNY Cortland President Erik J. Bitterbaum. "The recognition validates the challenge we have placed to different offices across the campus to help our military veterans come back to college or come to college for the first time. We've invested time and effort in making sure our veterans can realize their educational goals and dreams."
The Admissions office will display a plaque marking the College's official status as being a Military Friendly® School.
The Military Friendly® Schools list is created each year based on extensive research using public data for more than 8,800 schools nationwide. It also includes input from student veterans and responses to the voluntary Military Friendly® Schools survey completed by participating institutions. More than 1,700 schools participated in the 2017 survey and 1,273 were awarded with the designation. More information is available at MilitaryFriendly.com.
The College is ranked among public universities with fewer than 10,000 enrolled students. The Military Friendly website now includes a SUNY Cortland page with a description of what the College has to offer. It details its long commitment to the armed forces and shares a cost breakdown of tuition and other expenses.
The page also contains a series of graphs that rate areas where SUNY Cortland goes above and beyond in terms of supporting the needs of former service members. These final ratings were determined by combining the institution's survey scores with an assessment of the institution's ability to meet thresholds for student retention, graduation, job placement, loan repayment, persistence (degree advancement or transfer) and loan default rates.
The College exceeds the benchmark in the area of academic policies and compliance by 60 percent; admissions and orientation by 36 percent; culture and commitment by 33 percent; and military student support and retention by 13 percent. Financial aid, graduation rate and career readiness also are strong areas for the College.
"Our ability to apply a clear, consistent standard to the majority of colleges gives veterans a comprehensive view of which schools are striving to provide the best opportunities and conditions for our nation's student veterans," said Daniel Nichols, a Navy Reserve veteran and chief product officer at Victory Media.
"Military Friendly® helps military families make the best use of the Post-9/11 GI Bill and other federal benefits while allowing us to further our goal of assisting them in finding success in their chosen career fields."
| | |
| --- | --- |
| | |
| | SUNY Cortland President Erik J. Bitterbaum attended a 2016 ceremony in Cortland to honor a fallen veteran who graduated from the College, William Phelps '69. |
The survey questions, methodology, criteria and weightings were developed by Victory Media with the assistance of an independent research firm and an advisory council of educators and employers. Ernst & Young independently evaluated data calculations and tabulations for completeness and accuracy. The survey is administered for free and is open to all post-secondary schools that wish to participate.
Founded in 2001, Victory Media is a service-disabled, veteran-owned small business (SDVOSB) that connects the military community to civilian employment, educational and entrepreneurial opportunities through several publications. Learn more about Victory Media at http://www.victorymedia.com.
Six Taiwan Students Spend Year on Campus
01/24/2017
When U.S. President-elect Donald Trump accepted a congratulatory post-election call from Taiwan's president last fall, he made headlines by suggesting that the United States' complicated relationship with the independent island nation might change.
Although the U.S. has long refused to officially recognize the government of Taiwan as a sovereign nation, corporations and educational institutions have had more freedom to define their relationship with Taiwan, which China considers part of its official territory.
Last fall, Lu-Chung "Dennis" Weng, a second-year SUNY Cortland assistant professor of political science, succeeded in transforming the College's relationship with Taiwan.
Six students who hail from the island nation in the Pacific Ocean — which has a land mass smaller than Switzerland but triple the human inhabitants — arrived this fall for a year-long, one-way study abroad experience.
"The idea came from my political science class," said Weng, whose academic focus includes comparative politics, international relations, Chinese politics and East Asia and Southeast Asia Politics.
"My students didn't have any idea where Taiwan is, why Asia matters," Weng said. "This can help them as they try to understand Asians more."
Weng decided that, outside of his own classroom, the best way to educate the U.S. students on campus about the complexity of Asia would be an influx of visiting students directly from the region.
A graduate of Taiwan's Tamkang University, with a B.A. in business administration and M.A. in international relations, Weng completed his education in the U.S., where he earned master's and doctoral degrees in political science from University of Texas at Dallas.
"I contacted the Tamkang University and used my connections to establish this program," Weng said. "Fortunately they had students who were willing to try this type of exchange program. This is our first group."
Weng worked with both the College's International Programs Office and a Tamkang University liaison, Professor Pao, chair of the political economy department, to launch the program.
"They bring a diversity of perspective into our classrooms and our residence halls and to the campus in general," Mary Schlarb, director of International Programs at SUNY Cortland, said of the Taiwanese students.
She praised the academic and cultural preparedness of the six visitors, who come from the Lanyang campus of Tamkang University. Tamkang's main campus is located in Taipei, Taiwan's capital, while its branch is in a northern suburb of Taiwan. All classes at Lanyang are taught in English.
The Taiwan contingent is already larger than the number of students on campus from mainland China. or affiliated with China. Four students from two mainland China institutions are also on campus, said Schlarb. The campus also boasts exchange and matriculated students from other Asian countries, including Japan, India, South Korea, Bangladesh and Afghanistan.
Future educators from China have been coming to the College for 36 years from Capital Normal University in Beijing, coordinated through the College's International Programs. Two more arrived in the fall. Initiated with the support of James M. Clark, president emeritus, the partnership with Capital Normal is among the oldest exchange programs with China in the SUNY system.
Two Chinese students also arrived from Qufu Normal University, a large, multidisciplinary doctoral level institution located in Qufu, an historic city in Shandong Province near China's eastern coast. An exchange agreement was reached in late 2015 for this partnership fostered by Shufang Shi Strause, an associate professor in childhood/early childhood education. Faculty at both institutions hope that the next step will be for American students to reciprocate and study in China, completing a full-fledged exchange opportunity that makes study abroad more affordable for citizens of both countries.
SUNY Cortland is also hosting two Chinese higher educational professionals on campus, one through February and a second through August. A representative from Qufu Normal University's international office is on hand to recruit American students for future exchanges. Meanwhile, a faculty member from Beijing Foreign Studies University is conducting research in the Physical Education Department for one year, co-hosted by Childhood and Early Childhood Education Department.
"What I hear from faculty is they love having international students in their classes," Schlarb said. "Which is nice because that makes them feel more welcome.
"There are challenges. Sometimes language presents some difficulty," Schlarb said. "But we hear many of the international students write very well, at an advanced level."
As a group, the students from Taiwan appear to prefer to be active, involved and engaged members of a campus community rather than sequestered in the library with book or laptops.
For example, Hsieh "Thomas" Ling-Kuan, a political science major at Tamkang University, is eager for the intellectual give-and-take of visiting another country.
"For now, I just try to take the opportunity to talk with American students, as many as possible, and experience the life as an American college student, also make some new friends," Ling-Kuan said.
"What I want to do is to give students from U.S. or other countries some idea about my home country (and) also plan some trip to travel around United States."
Li "Joy" Lu, who at age 19 studies English as a second language, recalls how she tried kayaking for the first time when she traveled to the William H. Parks Family Center for Environmental and Outdoor Education at Raquette Lake for a leadership retreat.
"Although I used all of my strength and my arms hurt, it was really fun," Lu said in November. "It was also my first time to carve a pumpkin last weekend, and it was a lot of fun!"
Jie "Jessica" Hsu, an English as a second language major, emailed, "I'd like to climb on the mountain to enjoy the beautiful scenery and have a calm and peaceful time." Hsu's own country is known for its tropical mountains.
"Professors are very helpful and students here are a lot more active in class compared to students in Taiwan," said Wen-Pin "Eric" Hsu, a computer science major. "The food is okay, but a little bit boring: always pizza and salad. People here are friendly and the car drivers always let people go across the road first. In Taiwan car always go first."
The Taiwan visitors even reached out to classmates back in Taiwan by posting a lighthearted YOUTube video account in Mandarin about their adventures to date. The camera panned on Le "Joy" Lu as she narrated her visit from the Bistro in the Student Life Center as well as her rooms inside the West Campus Apartments and Weng's office in the Political Science Department of Old Main.
The Taiwanese students technically are not in an exchange program but a one-way study abroad program, where we are not yet sending SUNY Cortland students to Tamkang, explained Schlarb.
"They are all non-degree students who will study here for a year and then go back to their home campus," she said.
However, Weng hopes to eventually see a two-way student exchange develop between Cortland and the Lanyang campus so U.S. American students can become much more versed in Taiwan's politics and culture.
Officially named the Republic of China, Taiwan's government is organized as a unitary semi-presidential constitutional republic that runs the country from its capital in Taipei.
Situated off the southeast coast of the People's Republic of China, Taiwan is claimed as a territory by its far larger neighbor and is steadily pressed toward eventual unification, a governmental and diplomatic situation of extreme complexity and interest to political scientists.
Next summer Weng and two other College faculty members will lead students enrolled in a three-week, six-credit study abroad summer course that lets them sample the history, politics and culture in both China and Taiwan.
| | |
| --- | --- |
| | |
| | Dennis Weng, assistant professor of political science, shown in the center background, meets several students recruited from Tamkang University in Taiwan to spend a year on campus. |
Led by Weng, Strause and Luo Xu, a professor of history, students enrolled in the "China and Taiwan: One Culture, Two Sociopolitical Systems" class will visit Beijing, Qufu and Taipei, enjoying the hospitality of the College's three partner institutions and experiencing a wide variety of cultural sites, including the Great Wall, the Confucius Temple and the National Palace Museum. The course, from June 2 to 22, offers credits toward requirements in political science, history and education. More information is available through the Study Abroad office website, cortland.edu/studyabroad.
"I see this course as a promising opportunity to strengthen our collaborations with our partners while stimulating the flow of Cortland and other SUNY students to China," Schlarb said.
---
Capture the Moment
Cortland made the list of snowiest spots in Central New York today when more than four inches accumulated overnight, delaying the start of classes by two hours. The storm followed several days of spring-like temperatures, during which students returned to campus from winter break. Spring semester classes began Monday, Jan. 23.
---
In Other News
February Events to Mark Black History Month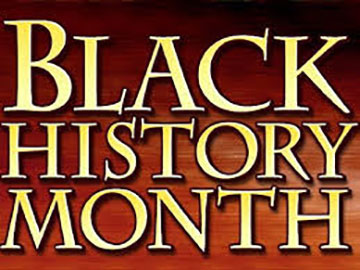 01/24/2017
SUNY Cortland's Africana Studies Department has put together a full calendar of Black History Month (BHM) events spanning throughout February. They include panel presentations, guest lectures, Sandwich Seminar discussions and a music and dance performance to culminate the month-long celebration for the College and the community.
"As the American ethos is being interrogated all around the world after the 2016 presidential election, it is hope-affirming that our faculty and students are transcending the general atmosphere of divineness, and coming together to celebrate some of America's history, collective experiences, culture, precepts, norms, intellectual thoughts and using Black History Month as a platform for finding answers to critical issues facing our country," said SUNY Distinguished Teaching Professor Seth Asumah, chair of SUNY Cortland's Africana Studies Department and organizer of the month's activities.
"Black History Month 2017 includes presenters from each of the College's three schools— arts and sciences, education and professional studies," Asumah said. "The synergism and collaborative spirit associated with SUNY Cortland's Black History Month events are indicative of the human condition and what SUNY Cortland and the United States stand for."
BHM campus events will be posted online in the College's home page calendar. Events are open to the public and free unless otherwise noted. Events include:
Wednesday, Feb. 1
Sandwich Seminar: "Black is Not a Color of the Rainbow: How the Harlem Hell Fighters Became America's Most Decorated Regiment," by Sam Kelley, Communications and Africana Studies departments, Brockway Hall Jacobus Lounge, 12:30 p.m.
Panel Discussion: "Making America Great? Historians Reflect on President Donald Trump and the 2016 Election," Brockway Hall Jacobus Lounge, 7-8:30 p.m.
Professors from the History Department will present as follows:
Girish Bhat: "US-Russia Relations: Back to the Future?"
Ben DeLee: "America's Caesar"
Evan Faulkenbury: "The Long History of Voter Suppression since 1865"
Scott Moranda: "Weimar Germany and Trump's America"
Luo Xu: "US — China Relations: What is at Stake"
Thursday, Feb. 2
Sandwich Seminar: "Recruiting and Preparing Teachers of Color: The Promise and Challenge of Efforts to Diversify the American Teaching Force," by Anne Burns Thomas, Foundations and Social Advocacy Department, Brockway Hall Jacobus Lounge, noon.
Speaker: "The Shackles of Systemic Oppression: Prisons and Government Assistance," by Tenisha Howard, Rutgers University, City University of New York (CUNY) and City College of New York.
Brockway Hall Jacobus Lounge, 7 p.m.
Wednesday, Feb. 8
Sandwich Seminar: "Black Music Matters: A concert of Art, Classical and Jazz Music," by Edward Moore, Performing Arts Department, Brockway Hall Jacobus Lounge, 12:30 p.m.
Thursday, Feb. 9
Sandwich Seminar: "R&B and Motown to Rap," by Lewis Rosengarten, Africana Studies Department and EOP, Brockway Hall Jacobus Lounge, noon.
Tuesday, Feb. 14
Speaker: "That Old #Blackgirlmagic: Inclusive Excellence as an American Standard Redux," by Marita Gilbert, director of the Gender and Sexuality Resource Center at SUNY Oneonta, Brockway Hall Jacobus Lounge, 4:30 p.m.
Wednesday, Feb. 15
Sandwich Seminar: "Multidisciplinary Diversity: Race, Gender, Place and Diasporic Sites," presented by Ibipo Johnston-Anumomwo, Geography Department, Mecke Nagel, Philosophy and Africana Studies departments and the Center for Gender and Intercultural Studies, and Seth N. Asumah, Africana Studies and Political Science departments, Brockway Hall Jacobus Lounge, 12:30 p.m.
Thursday, Feb. 16
Sandwich Seminar: "The Malden Meteor: Louise Stokes Fraser and Her Journey Through Sports in Jim Crow America," by Susan Rayl, Kinesiology Department, Brockway Hall Jacobus Lounge, noon.
Speaker: "'Shoot First': Stand Your Ground Laws, Murder and Race," by Distinguished Service Professor Robert Spitzer, Political Science Department, Brockway Hall Jacobus Lounge, 4:30 p.m.
Lecture: "What's Your Green Dot? Dealing with Power-Based Violence," Corey Union Caleion Room, 7:15 p.m.
Monday, Feb. 20
Performance: Soul-Mic Showcase, Brockway Hall Jacobus Lounge, 7 p.m.
Wednesday, Feb. 22
Sandwich Seminar: "Afro-Germans: Borderless and Brazen," by Anne Adams, Africana Studies Department, Brockway Hall Jacobus Lounge, 12:30 p.m.
Thursday, Feb. 23
Sandwich Seminar: "Martin Luther King Jr., the Voter Education Project, and the Financing of the Civil Rights Movement in the American South," by history professor Evan Faulkenbury, Brockway Hall Jacobus Lounge, noon.
Panel Presentation: "Pan-Africanism: Are the Caribbean and Africa Rising?" presented by the Humphrey Fellows Panel from Syracuse University, Brockway Hall Jacobus Lounge, 4:30 p.m.
The panel includes four of the 13 Hubert H. Humphrey Fellows that are spending the 2016-17 year at Syracuse University's Maxwell School for graduate academic study, professional development and cultural exchange.
Saturday, Feb. 25
Performance: SUNY Cortland Gospel Choir, Rock and Blues Ensemble and Africana Dance, Old Main Brown Auditorium, 7 p.m.
Black History Month sponsors include the College President's Office; the Provost's Office; the School of Arts and Sciences; the Center for Gender and Intercultural Studies; the Africana Studies, Philosophy and Political Science departments; Campus Artists and Lecture Series; Black Student Union; and the Pan African Student Association.
For more information, contact Asumah at 607-753-2064.
Dowd Exhibitor to Wreck Work in Performance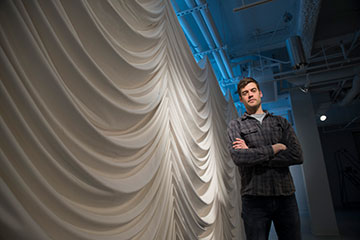 01/24/2017
Ian McMahon spray paints plaster over enormous, temporary forms crafted from fabric, rubber or inflatable plastic to create delicate-looking floor-to-ceiling art installations that have, quite literally, filled art galleries from Washington, D.C. to Jingdezhen, China.
His latest masterpiece is a freestanding, 45-foot long Austrian-style curtain that fills a wall of windows in SUNY Cortland's Dowd Gallery. The solid, immoveable sculpture has realistic folds and creases that appear ready to move in the slightest draft.
In fact, the giant curtain — like most of McMahon's other works — is much too big and fragile to fit through a gallery door once the show is over.
No matter. To him, violently destroying the exquisite-looking art is an integral part of the exhibition. Although each work involves months of planning and weeks of painstaking craftsmanship, McMahon chooses to emphasize the fleeting nature of his creations and always plans their destruction in a public performance that ends with a monumentally loud and emotionally satisfying crash.
"Knowing the defined temporality of the works in the show brings an immediacy and rarity to one's interaction with them, a sort of premonition of nostalgia for the sculptures," said McMahon.
| | |
| --- | --- |
| | |
| Ian McMahon is shown here and above left with pieces in his "Semblance" installations, Dowd Gallery, 2016. | |
"The overall objective of this exhibition's fleeting actions is to give weight and preciousness to the viewer's experience with both the art and architecture involved, perhaps provoking a similar awareness about the life span of the constructed environment outside the Dowd Gallery."
His SUNY Cortland show, titled "Semblance," opens Monday, Jan. 23 and will feature such a grand finale.
On the final day of the exhibition on Tuesday, Feb. 21, promptly at 5 p.m. McMahon's main gallery installation will be destroyed in what he describes as "A Momentary Event with a Sculpture."
"The short-lived apex of works exist between the actions of construction and deconstruction," McMahon said. "In an instant, this monumental piece will be reduced to rubble by the single, graceful drop of a steel bar, allowing light from the wall of windows behind it to flood back into the room."
Other, less cataclysmic, events related to the show include:
♣ The gallery will host an opening reception from 4:30 to 6 p.m. on Thursday, Jan. 26.
♣ McMahon will give an artist's talk there at 5 p.m. Wednesday, Feb. 1.
♣ He will lead an inflatable sculpture workshop from 5 to 8 p.m. Thursday, Feb. 2, in the Dowd Fine Arts Center, Room 101. The resulting sculpture will be installed underneath the Dowd Fine Arts Center balcony through Feb. 21. To register to participate, email or call gallery director Erika Fowler-Decatur at 607-753-4216.
Gallery hours are 10 a.m. to 4 p.m. Monday through Friday and by appointment. The gallery is free and open to the public, as are all events related to the "Semblance" exhibition.
McMahon has a BFA in ceramics from the New York State College of Ceramics at Alfred University and an MFA in sculpture and extended media from Virginia Commonwealth University.
His graduate studies were supported from 2009 to 2013 by a Jacob K. Javits Fellowship, awarded by the U.S. Department of Education. The fellowship assists students with financial need, exceptional promise and superior academic ability for graduate level study in selected fields of arts, humanities and social sciences.
McMahon's work has been shown both nationally and internationally. Venues include Crane Arts (Philadelphia), Jingdezhen Ceramic Institute (Jingdezhen, China), The Pacific North West College of Art (Portland), Pierogi Boiler Room (New York), G-Fine Art (Washington, D.C.), Bemis Center for Contemporary Arts (Omaha), and Suyama Space (Seattle), among others.
He is the co-founder and co-director of the Belfry, an artist-run exhibition venue in Hornell, N.Y., where he resides.
During winter session, the Freeville, N.Y.-native carefully sprayed his two Dowd Gallery pieces into shape.
McMahon paused to note that he is inclined to look upon all structures, including Dowd Gallery, as ultimately temporary.
"Handy" is a good word to describe McMahon. He also produces unseen props using many materials. McMahon sewed flimsy cloth into curtain-like platforms to be sprayed with wet plaster and then peeled away from the finished piece. He also uses carpentry skills to build boxes and frames that shore up some installations. Metal pipes are cut and welded into forms that may support a curtain during a sculpture's creation or swing from ropes to smash it into a pile of plaster shards and dust.
In Dowd's main exhibition space, the graceful, white Austrian-style curtain with a series of pleated drapes appears to cover Dowd Gallery's wall of horizontal windows, inviting passersby outside the Dowd Fine Arts Center to come inside to take a closer look.
An adjacent small gallery area is almost completely filled by bulging, puffy structures. The east gallery installation of the "Semblance" exhibition doesn't lend itself to the pomp and drama of a public demolition and so McMahon later will break apart and remove it privately.
In the third space in the show, the west gallery, a series of video recordings of the destruction of McMahon's previous installations will be projected. The muted sounds of the smashing of plaster will be audible throughout the entire gallery, reminding the viewer of the forthcoming ruin of the current pieces.
McMahon's immense works invariably transform the space they occupy and interact with its architecture. The pieces are imbued with performance.
"Suggestive of theatre, it alludes to the role of the gallery as a temporary stage and the construction and destruction of the piece as a performance," said Dowd Gallery director Erika Fowler-Decatur.
"In contrast, the installation in the east gallery assertively overtakes the sunken space," she said. "Several giant, white, pillow-like forms squeeze around the corner of the entrance wall are cinched by the ramp and push upward, crowding the pipes in the ceiling."
McMahon found himself favoring the fleeting over the perpetual while still an undergraduate.
"I very quickly realized that I was much more interested in the material of clay than I was of ceramic," McMahon said. "I had so much enjoyment working with the visceral, physical material. And then I would put it in the kiln and get it out and it wouldn't feel the same at all. So my senior year, I really started investigating working with clay and calling it done and then suspending these big forms on the wall. That was the point where I was working with installations, dealing with space, dealing with specificity, trying to shift the properties of the material: trying to use something we can intuitively understand, but shift the context of how it normally operates."
McMahon's choice of materials and sites always dictated that he ultimately would destroy his installations. Right before his residency, on one memorable day he videotaped the process just for himself to remember. In reducing the experience to one instant on film, he embraced the idea of destruction itself as artistic performance.
"In that moment of failure the piece yielded so much about the material and so much about the piece," he said. "The sight and sound went out the window and a kind of bodily experience started happening. I decided I had to set out to make a piece to destroy as the work.
"That's where the curtain came in, and it lends itself to performance," McMahon said. "There's the scale and the architectonic nature of it. The way the form is able to connect with the space. The curtain, for example, it's blocking architecture because of its scale. Then, in one second, it can be gone. I kind of like the relationship between those things. There's a month building the piece, and in a moment, it's gone."
Receiving the Javits Fellowship gave McMahon the freedom to experiment with art that isn't permanent — with all the financial implications of destroying rather than selling his artwork.
"It was like winning the lottery, but you had worked for it, so it was not quite out of the blue," McMahon said. "That was a treat."
For more information, contact Fowler-Decatur at 607-753-4216.
Spring 'Wellness' Series Begins Feb. 1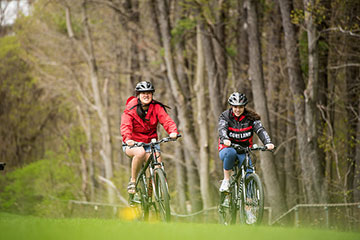 01/18/2017
In keeping with a College priority of well-being, each semester SUNY Cortland offers weekly encouragement to the campus and community to pursue a lifetime of good health.
The Spring 2017 "Wellness Wednesday Series" will feature events intended to motivate campus and community members to learn more about health and wellness.
Programs continue through the spring semester with topics including yoga; taking control of an eating disorder; creating a community that prevents relationship violence; having a safe spring break; healthy eating habits; comedy for the sake of wellness; spirituality and religion; and supporting survivors of sexual assault.
Primarily sponsored by the Health Promotion Office and the Student Development Center, the series will take place on Wednesdays at 7 p.m. in Corey Union Exhibition Lounge, unless otherwise noted. The events are free and open to the public.
A poster listing all the Spring 2017 events can be found at Wellness Wednesday Series — Spring 2017 and on the Campus Life page of myRedDragon.
Events include:
On Feb. 1, Noralyn Masselink, professor of English, will offer "An Intro to Yoga" at 6 p.m. Participants will experience a beginner-level yoga class and should dress in loose, comfortable clothing and bring a towel and water.
Ryan Brennan, a graduate assistant for fitness/personal training and adjunct professor of recreational sports, will present "Find Your Life's Purpose and What Fulfills You" at 6 p.m. on Feb. 8. For students who are unsure what to do with their lives after they have their degree, Brennan's talk aims to help narrow down overwhelming choices and think with a purpose. Participants can expect to answer life-altering questions, interact with others and draw their future — literally. "Passion is great, but we want to know what fulfills you," Brennan said.
Green Dot, etc., is a model for successful prevention and intervention of power-based violence, built on the premise that individuals can measurably and systematically reduce violence within any given community using current research across disciplines in combination with lessons learned from history. On Feb. 15, in Corey Union Function Room, Green Dot trainer Nate Burke will give a speech titled "What's Your Green Dot?" that outlines his organization's strategy to reducing violence in its many forms. "No one has to do everything but everyone has to do something," Burke said of the Green Dot etc. strategy, which is predicated on the belief that individual safety is a community responsibility and shifts the lens away from victims and perpetrators and onto bystanders. "Build your skills base and empower yourself to make a change." More information is available on the Green Dot website.

| | |
| --- | --- |
| | |
| | A recreational group exercises in the Student Life Center. |

Jenni Schaefer, a national speaker, author, singer and songwriter, will share her struggle with anorexia and bulimia Feb. 22 in the Corey Union Function Room. Her talk, titled "Goodbye Ed, Hello Me,"provides a firsthand account of getting your life back after an eating disorder. "Redefining recovery, I believe that freedom does not just mean saying goodbye to Ed — a.k.a. "eating disorder" — but, more importantly, it means saying a big hello to life," Schaefer said. "And that includes connecting with people, passions and inner peace as well. We recover from our eating disorders in order to recover our lives." Information about Schaefer's talk is available online. Schaefer is the keynote speaker for "Body Appreciation Week" at the College, a series of events that will run from Monday, Feb. 20-24.
For more information or accommodation to attend an event, contact Lauren Herman, the College's health educator, in Van Hoesen Hall, Room B-1, or at 607-753-2066.
International Student's Sweet Experience Wins Photo Contest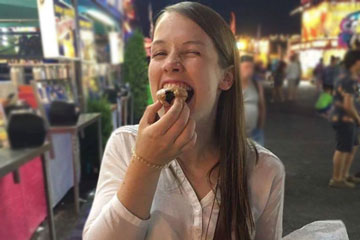 01/24/2017
When German international student Johanna Klauser bit into a deep-fried Oreo for the first time in the fall, she didn't know the moment would be captured in a photo.
Sure, she expected a sweet taste, but the end result was even sweeter.
That's because the photo earned Klauser first prize in the cultural category of the "Why I Love Studying in New York" photo contest organized by Study New York. The award, which was presented at the end of the fall semester, recognized a spur-of-the-moment photo snapped by a friend during a September trip to the New York State Fair in Syracuse.
Klauser, a business economics major at Fulda University in Germany, admits that she chose a semester-long study abroad experience at SUNY Cortland for many reasons — to learn more about the sports business world, to improve her English-speaking skills and to cross new cities off of her travel bucket list. The $100 Amazon gift card she won in the photo contest was a bonus.
International students representing more than 25 countries submitted more than 80 entries across three photo categories — campus, cultural and "selfie" — along with short videos. Study New York, a collaborative group made up of higher education institutions throughout the state, organized the second annual contest as a way to promote New York as the premier destination for students, faculty members and other exchange visitors.
You can view all of the photos on Study New York's Facebook page.
Klauser focused on sport management during her semester abroad at SUNY Cortland and chatted about her international experience on campus.
So how did you know about Cortland?
JK: I spoke with the international office (at Fulda) and told them that I wanted to study sport management abroad. They recommended the Cortland program …
I took four sport management courses — sport finance, sport event management, sport entrepreneurship and applied sport marketing and sales — plus I added Italian.
Did the experience in Cortland meet your expectations?
JK: Definitely. I would recommend it to anyone, especially if you're interested in sport management.
I mainly wanted to go to an English-speaking country — the U.S. or England — to improve my language skills, but I feel like I got so much more.
What specifically did you like about Cortland?
JK: The atmosphere, really. All of the professors — anyone who I talked to — they were so nice. Any time I had a question, they had an answer, and they tried to help in any possible way. It was really amazing.
It had to be a lot different from Germany, right?
JK: Oh, yes. It was different in a lot of ways. In Germany, you only have one final exam at the end of the semester and that's what your grade is based on. Here, you have tests, quizzes, regular assignments. Your grade is based on more than one thing …
I liked that the professors really care about you in Cortland. They know your name. That isn't always the case in Germany.
But I have to be honest, the food was different here. I feel like I ate my share of burgers and pizza in America. I'm ready to eat healthier when I go home.
Speaking of healthy food, what's the story behind the deep-fried Oreo photo?
JK: Well, I definitely wasn't expecting to win a photo contest. (SUNY Cortland's International Programs Office) went as a group to the State Fair. My roommate told me to try a fried Oreo and so I did that for the first time.
It was … nice. Very sweet. My friend Rebecca, from Australia, actually took the photo.
Where else did you go during your time in the U.S.?
JK: I did as much as I could. I went to Washington, D.C., Montreal and Boston with friends. I enjoyed a traditional American Thanksgiving with my roommate. We went to her home (in Chatham, N.Y.) … I also visited New York City three times, including once with my mom. It was her first trip there.
The single best part of your experience — what was it?
JK: I would say all of the people that I met. All of the international students — students from Australia, Afghanistan, Egypt, Canada — spent the first week before classes together.
The International Programs Office organized a lot of events and trips. That really helped to meet people from all over the world.
Eric Greenwood Joins Parks Alumni House Staff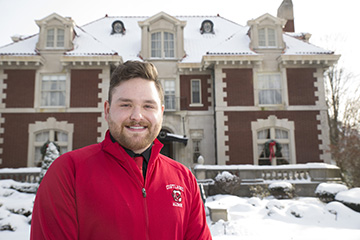 01/24/2017
Eric Greenwood '13, M '16 is very happy.
He gets to live at the Lynne Parks '68 SUNY Cortland Alumni House, the elegant, century-old mansion where since Oct. 14 he has served as the guest services coordinator.
Before that, he worked at the National Baseball Hall of Fame and Museum in Cooperstown, N.Y. — three different times.
"I joke around that on three occasions I left Cortland, never thinking I'd come back," said Greenwood, who worked different jobs at the legendary Hall of Fame between and after pursing his undergraduate and graduate education at SUNY Cortland.
| | |
| --- | --- |
| | |
| | Eric Greenwood '13, M '16, the new guest services coordinator at the Parks Alumni House. |
As during his time at the Hall of Fame, Greenwood finds himself surrounded by history. Both places have afforded him unique opportunities to meet interesting people.
At the Parks Alumni House, Greenwood meets both celebrated alumni staying there during return visits to their alma mater, and visitors with whom he may never have engaged otherwise. Recently, he played host to five Belize artisans visiting the campus while promoting their collaborative work with a SUNY Cortland ceramics professor.
"I take pride that when I check in a guest here, I represent SUNY Cortland, the SUNY Cortland Alumni Association and the Parks Alumni House," said Greenwood, a former business economics major who minored in computer applications. "It means something to me."
He felt a similar emotional connection to the Baseball Hall of Fame and the dedicated fans that flock there.
"One night I was closing our information desk and I heard a gentleman say he had a comment card to leave," Greenwood recalled. "I said, 'Thank you sir, just leave it on the desk, have a great night,' and he said the same to me. I got up and I happened to read it. It started off with how old he was — in his 90s. He wrote, 'I've been dreaming about coming to this place since it opened. Today was the best day of my life. Like baseball, this is my final out.'
"It was as if his life was complete," Greenwood said. "I knew right then that a career in sport was something I wanted to pursue, because sport is powerful. Maybe you're not solving engineering conundrums or infrastructure problems. Maybe you're not curing cancer or finding vaccines but there's something powerful there."
When he's not handling after-hours guest bookings and arrivals at the Parks Alumni House, or helping to plan a new marketing campaign or tweaking the facility's online presence, Greenwood often can be spotted in the bleachers at a SUNY Cortland football or basketball game.
"College sports are awesome," said Greenwood, who returned to SUNY Cortland to earn a master's degree in sport management. "The energy is great. These are kids playing for the love of the game."
Greenwood had originally enrolled as an undergraduate in sport management — much to the chagrin of his mother and father.
"Imagine telling your parents you're going to turn down an engineering scholarship," Greenwood said.
An outstanding mathematics and science student while attending Hugh C. Williams High School in rural Canton, N.Y., Greenwood was offered a prestigious engineering scholarship to a local university. Upon visiting, Greenwood felt the campus wasn't a good fit for him, however. He asked to visit just one other school, SUNY Cortland.
"I knew I felt comfortable here," he said. "It is possible that the best decision I've made in my life was coming here the first time."
Greenwood changed majors as a sophomore, worried over whether he could make his primary interest in sports work as a career. Nevertheless, the undergraduate usually could be found participating in an intramural flag football competition or watching a varsity game in Corey Gymnasium.
He spent one summer in Colorado working at a Pepsi Cola plant because of his connection with a classmate.
"I went from Canton, a small town in northern New York, to the suburbs of Denver, which was quite the contrast," Greenwood said. "It was all facilitated by my choice to come here."
After he graduated with a 3.8 Grade Point Average, Greenwood lived the dream of many a baseball fan: he put his business and computer savvy to work for the Baseball Hall of Fame in Cooperstown, N.Y.
Greenwood returned to Cortland in Fall 2015, when he served as graduate assistant for the Sport Management Program while earning his master's in the field. The degree track enabled him to intern with a Division I athletics program at Binghamton University. That year he created, edited and reviewed team media guides and game-day media notes under the supervision of John M. Hartrick '88, associate director of athletics, communications.
"It was special for me because I worked at Binghamton University's Events Center," he said. "Division I teams play there, which is exciting.
"I have nothing but great things to say about Binghamton University and John Hartrick. He was just an incredible internship supervisor and boss. I maintain a great relationship with him today."
Through Hartrick, Greenwood was introduced to Fran Elia, SUNY Cortland's sports information director, during a game. Soon, he was again seated on the sidelines of SUNY Cortland's playing fields helping Elia compile game statistics. Greenwood still does that for both campuses when he can.
"I've been coming to these games since 2009," Greenwood said of Red Dragon athletic contests. "To be able to assist on press row for games involving teams I've watched from the stands for years, it makes the experience that much more special."
Before he earned his master's degree in sport management with a 3.91 GPA, Greenwood was honored with the 2015 SUNY Cortland Sport Management Graduate Service Award for his service to the department. He also served as an official statistician for the 2015 STOP-DWI Winter Classic high school basketball tournament, held in Binghamton, N.Y.
"When I first came to Cortland, all I thought of was professional sports, to work towards being a general manager in a professional sports league. My goal now is to work in intercollegiate athletics. Though my education, I realized that sport encompasses so much more than professional sports alone."
Returning to the Baseball Hall of Fame, Greenwood brought an entirely new skill set. He could now deal with the public face-to-face and entice loyalty, participation and attendance through savvy marketing campaigns as a development department associate. Those same skills are serving him well in his current role at the Parks Alumni House.
Greenwood returned to SUNY Cortland for the third time after noticing a posting for the Parks Alumni House on LinkedIn.
"When I first visited the house, I just knew this was a great fit for me," he said. "I find the things I learned as a student applicable on a day-to-day basis. As an alum of SUNY Cortland, working at the Parks Alumni House means that much more to me."
"I'm thankful to everyone who's helped me get to this point," said Greenwood. "I've had so many opportunities afforded to me by this College. Most of all, I just want to give back."
Cortland Hosting "Girls' Day Out" Jan. 28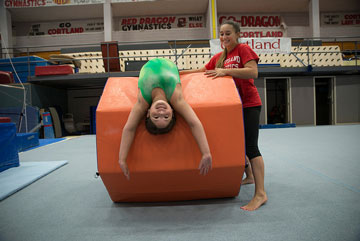 01/24/2017
The SUNY Cortland Athletics Department and the YWCA of Cortland, in conjunction with the National Girls & Women in Sports Day, will be hosting Girls' Day Out on Saturday, Jan. 28, from 8:45 a.m. to 2:45 p.m. at SUNY Cortland's Bessie L. Park Class of 1901 Physical Education and Recreation Center.
Girls in grades 4-7 are invited for activities that include participation in gymnastics, dance, ice skating, as well as a health education component, with SUNY Cortland student-athletes, coaches and staff. There will also be an interactive career fair with women from the Cortland community and surrounding areas, and participants will be able to watch the Red Dragon women's swimming and diving and women's ice hockey teams compete. Participants are asked to wear comfortable clothes and clean/dry sneakers. All valuables should be left at home.
The registration cost is $10 per person before January 20 or $12 after the 20th. A boxed lunch, snack, drawstring bag and more are included in that price. Checks should be made payable to YWCA of Cortland.
For more information, contact the YWCA of Cortland at 607-753-9651 or info@cortlandywca.org, or Cortland Associate Director of Athletics Courtney Wormuth by email or at 607-753-4635.

Information Web Site (includes registration form)
Athletic Events to Aid Local Food Pantry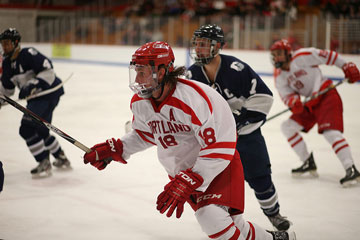 01/24/2017
On Friday, July 29, 2016, an electrical malfunction sparked a fire in Grace and Holy Spirit Church in Cortland, forcing Loaves and Fishes, a volunteer driven charity that provides free, nutritious meals to disadvantaged families, from its home of 30 years. The church kitchen has since been rebuilt and Loaves and Fishes, with help from their many supporters, will reopen in its old home next month.
On Friday, Feb. 3, SUNY Cortland athletes will do their part to help the food pantry. "Red Dragons Support Cortland" night will turn an evening of Red Dragon basketball and hockey into a creative fundraiser to help Loaves and Fishes reopen its doors.
The event begins at 5:30 p.m. in Park Center, when the men's basketball team squares off against SUNY Plattsburgh. It continues at 7 p.m. in the Park Center Alumni Arena when the men's hockey team faces Plattsburgh.
Some details of "Red Dragons Support Cortland" night are still developing, but the event aims to put the "fun" in fundraising with a slate of initiatives that will include:
Commemorative T-shirt sale, courtesy of Graph-Tex
Chuck a Puck in the rink
Chuck a Duck in the gym

Voluntary cash donations

Drop-off

points for

food and utensil donations (

T

hey need utensils

and

little items like salt and pepper shakers, etc. They have all the

big items, like

pots and pans

.)
In addition, organizers hope to secure a dunk tank for campus celebrities and sponsors who will agree to make cash donations for goals and three pointers.
ASC Program Grant Applications due Feb. 17
Auxiliary Services Corporation (ASC) is now accepting Program Grant applications online for the 2017-18 academic year.
Applications are submitted online and must be sent by midnight on Friday, Feb. 17. Applicants are asked to read the grant guidelines carefully before submitting an application.
Each year the ASC Board of Directors allocates funds to support grants for a wide range of purposes and projects that enhance the life of the SUNY Cortland community.
Although ASC is willing to consider a wide range of ideas, it seeks to avoid duplicating other funding sources or funding projects more properly supported by state funds. Therefore, applicants should first seek funding from primary funding sources.
ASC grant funds may not be used for salaries, honoraria, travel normally funded by the College's budget, or scholarships for SUNY Cortland faculty, staff or students. Funds may not be used to purchase computers, related hardware or software. All purchases will be processed in accordance to ASC's financial and related GAAP policies. In general, Program Grant funds may not be used exclusively for food for SUNY Cortland students, faculty or staff. Funding for food may be considered if the food is deemed integral to the success of the program or event. All food shall be provided by ASC. Other grant guidelines are described in the application package and online.
For more information, contact Judy Standish by email or at 607-753-4325.

Suggest a feature story
---
Faculty/Staff Activities
Mark Dodds
Mark Dodds, Sport Management Department, taught two courses on sport marketing and sport law at the International Winter School in Sport Sciences at the University of Jyväskylä, Finland, during SUNY Cortland's winter break. This program attracted approximately 40 undergraduate and graduate students from more than 25 countries.
John C. Hartsock
John C. Hartsock, Communication Studies Department, has had an invited article accepted for publication in the Routledge Companion to American Literary Journalism tentatively to be published at the end of this year. His article examines the place of the aesthetics of everyday experience in narrative literary journalism, and draws from his recently published book Literary Journalism and the Aesthetics of Experience (University of Massachusetts Press, 2016).
Jean W. LeLoup
Jean W. LeLoup, international communications and cultures emerita, received the Anthony J. Paplia Award for the outstanding article in a state or national foreign language education publication for her article "The effectiveness of Courses Abroad as a Professional Development Model for Foreign Language Teachers." The New York State Association of Foreign Language Teachers presented the award at their annual meeting in late October.
Gregory D. Phelan
Gregory D. Phelan, Chemistry Department, had three new United States patents issued in October and November. The patents are numbered 9,468,595, 9,469,941, and 9,493,670. The patents deal with applications of polymer science to consumer goods including cosmetics, bioengineered materials, preservation of wood and self-cleaning outdoor paints. More information about the patents that Phelan has been granted since joining the faculty at Cortland can be found on this database: http://bit.ly/2heJI7F
Robert Spitzer
Robert Spitzer, Political Science Department, is co-author of a new, third edition of The Gun Debate: An Encyclopedia of Gun Control and Gun Rights, just published by Grey House Publishers. Spitzer's book co-author is Glenn Utter of Lamar University. The book is an A-to-Z compendium of topics and issues related to the American gun debate.
John Suarez
John Suarez, the Institute for Civic Engagement's coordinator of the Office of Service-Learning, peer-reviewed "Writing Partners: Bridging the Personal and Social in the Service-Learning Classroom," a chapter for an upcoming book titled Culturally Engaging Service-Learning in Diverse Communities.
Ben Wodi
Ben Wodi, Health Department, spent four weeks partnering with public health professionals at the University of Port Harcourt and the Rivers State Primary Health Care Management Board in Nigeria to assess the implementation of the United Nation's 2000 Millennium Development Goals 4, 5 and 6, as well as prospects of achieving the 2030 Sustainable Development Goal 3 for health and wellness throughout the state. Lessons learned will guide programs aimed at reducing morbidity/mortality from preventable diseases in the sub-Saharan nation of Nigeria. As the Principal Investigator, Wodi has established a team in the state that will continue the research initiative.
Tiantian Zheng
Tiantian Zheng, Sociology/Anthropology Department, was invited by NBC News to comment on the "masculinity problem" facing boys in China. The NBC news article that quoted her comments was posted online on Jan. 9.

Submit your faculty/staff activity