Professor Helps Maya Artisans Rediscover Their Past, Build a Future
10/18/2016
More than a decade ago, members of a small village tucked deep into the rainforests of Belize realized that the rich cultural history of their Maya ancestors could help them build a sustainable economic future.
The San Antonio Women's Collaborative was formed to create and sell pottery and other items produced in the manner of the Maya civilization, which collapsed more than 1,000 years ago.
But there was a big problem: Although they kept many Maya cultural traditions alive, the people no longer knew how to make Maya ceramics.
"We had been working so hard to teach ourselves how to make pottery and work with paints," said Timotea Mesh, president of the women's collaborative, describing a grueling, trial-and-error process in which it often took three weeks to produce a single piece of pottery. "We were about to quit, until Jeremiah [Donovan] reached our place as a visitor."
That visit by SUNY Cortland's Jeremiah Donovan, a professor of ceramics in the Art and Art History Department, turned into a four-year quest to help the community unravel the lost secrets of the most advanced culture in pre-Columbian America.
With Donovan's help, and that of SUNY Cortland student researchers, the San Antonio Women's Collaborative is now producing and selling authentic Maya pottery created with traditional methods developed thousands of years ago.
Their work, along with historic examples of ancient Maya pottery, will be on display at SUNY Cortland's Dowd Gallery as part of "Future of the Past: Revitalizing Ancient Maya Ceramic Traditions in a Modern Maya Community." The exhibit will run from Wednesday, Oct. 19 through Dec 1.
Several special events related to the exhibit are also planned:
A lecture titled "The Art and Science of Maya Ceramics," was offered by Donovan and SUNY Cortland's Robert Darling, a distinguished teaching professor of geology, on Oct. 19.
An opening reception was held from 5 to 6:30 p.m. on Oct. 20 in Dowd Gallery. It will feature remarks by Barbara Thummalapally, wife of Vinai Thummalapally, former U.S. Ambassador to Belize; Donovan and Timotea Mesh.
A panel discussion, "Revitalizing Maya Traditions: Object, Place, Time," will take place at 5 p.m. Wednesday, Nov. 9 in Brockway Hall, Jacobus Lounge. Panelists will include Donovan; Sebastian Purcell, assistant professor of philosophy at SUNY Cortland; and John Henderson, professor of anthropology at Cornell University.
Donovan received a National Endowment of the Arts grant in Spring 2016 to bring five members of the San Antonio Women's Collaborative to Central New York. The group has 35 contemporary pottery pieces on display at Dowd Gallery, along with 20 ancient Maya objects on loan from the Herbert F. Johnson Museum of Art at Cornell University, and several other related tools and materials.
"I feel like part of their families," Donovan said of the Maya artists, whom he first met during a visit to Belize in 2012. "We have shared the love of making things out of clay and I have probably learned more from them then they have of me."
Drawing from his 40 years of experience with the study of ceramics in international cultures, Donovan noticed that the pottery produced by members of the cooperative didn't reflect the authentic cultural Maya practices from thousands of years ago.
They spent long hours digging the clay, then drying, pounding, mixing and molding it into shape before applying paint. With the hot, humid tropical climate as a backdrop, they worked in an open-air space used to slaughter and process chickens. One piece of pottery would take approximately three weeks to produce.
"This is a country from where ceramics evolved," Donovan said. "I saw it as a learning opportunity for students and, of course, my love of traditional artistic practices, propelled my interest."
SUNY Cortland has long had a special educational relationship with Belize, a small Central American country with a scattered population roughly the size of Buffalo, N.Y. Dozens of Cortland students go there each year to study biology on the pristine coral reefs, make improvements to the all-volunteer Belize Zoo, participate in a summer Teachers' Institute or learn about the ancient Mayas from the ruins they left in the jungle.
Ancient Maya civilization — known for its uniquely composed, detailed and colorful ceramics — spans more than 2,000 years. When the civilization faded into history, traditional techniques were lost and its artifacts buried.
"When I arrived in Belize, there were limited galleries or stores to showcase and market any of the artwork," Donovan said. "I found this fascinating," given the history of pottery unique to the Maya world.
Since 2013, Donovan has traveled with students under SUNY Cortland's "Belize: Art, History, and Culture" program to observe excavations of ancient pottery at Cahal Pech, one of the oldest Maya architectural sites in the country and nearby caves. The digs were led by Belizean archaeologist Jaime Awe.
In collaboration with Awe, whose work shed light on the techniques and materials used by ancient pottery makers in the region, Donovan developed modern processes that reinterpret ancient Maya multi-colored pottery production.
"He gave us the courage again," Mesh said, "and we decided as a group that this was it — this was our last chance to make our work as our ancestors did."
Mesh said Donovan worked with the five artists from the collective, introducing practices and methods unknown to them that had disappeared over the centuries.
"We started from scratch — it was new to us," Mesh said. "[Donovan] started teaching us about the clay and especially the colors used for painting."
For collective members, more than their heritage was at stake. Belize is a developing nation in which a third of the people live in poverty. Collective members see traditional crafts as a way to enhance the country's tourism economy and earn more income for their families.
"I recognized the spirit and commitment from this group, which was inspiring," Donovan said. "That began it all."
Dating back to as early as 1500 B.C., Maya ceramics incorporated unique methods, styles and materials singular to its culture. While accompanying Belizean archaeologist Jaime Awe to ancient caves and monumental sites throughout the region, Donovan captured photographs of these resilient relics. These photographs would later be printed, laminated and shared as a way to study the intricacies of the pieces.
"It was important to also learn about the Maya antiquities by seeing them in person," Donovan said. The Professor of Art and Art History planned a series of field excursions throughout the region to connect the contemporary Maya artists of today with the work of their ancestors.
Studying and analyzing segments of some unearthed artifacts in person provided an opportunity to physically see and hold history, as well as "inspire a revitalization of ancient practices," Donovan said. Together, collective members put the pieces of their Maya culture back together — literally and figuratively.
"I remember holding one pot in my own hands," said Rafael Canto, the only male member of the collective, referring to a piece that was made more than 3,000 years ago. "It was so inspiring."
The three-year partnership between Donovan and the San Antonio villagers began in 2013.
"We would begin by digging clay in the rainforest, like the Maya ancestors did, then search for and develop natural pigments for painting that were mediums used to decorate pottery," Donovan said.
The group learned about ancient Maya techniques through a series of hands-on instructions by Donovan. By working the clay, they regained the knowledge of a collapsed Maya civilization and became inspired to re-invent new work.
"Our ancestors used to paint their pots with stories on them," said Canto, describing a contemporary piece he made based on the 3,000-year-old pot he'd held. Staying consistent with Maya tradition, Canto's re-imagined version of the pot – which he gave to Donovan as a gift – also tells a story. It is the story of how the Maya make pottery, mixing clay with their feet, firing the vessels and passing the tradition to future generations.
"We are struggling for our children, so they will have history in their hands," said Claibel Tzib, a member of the collective.
Student Weightlifter Raises the Bar
10/25/2016
Standing just shy of 5-feet tall and weighing a mere 108 pounds, SUNY Cortland senior Kerri Keegan is stronger than you'd think.
Much stronger.
Keegan owns four world records in powerlifting and will represent the United States for weightlifting at the World University Championship (WUC) in Merida, Mexico, next month.
"It's just such an incredible opportunity," Keegan said.
What's truly remarkable is how this collegiate athlete only began seriously training for weightlifting competitions over the past nine months. During that time, she has gone from winning the 2015 Strong Woman Award through SUNY Cortland Recreational Sports to competing internationally.
"Up until about a year ago, I spent a lot of time training for CrossFit," explained the exercise science major, who is a certified instructor for the popular, multi-disciplinary fitness regimen.
It wasn't until her trainer — and now boyfriend — Josh Brown '16, a former fitness development and exercise science major, returned from a four-month internship in Olympic-style weightlifting in Colorado Springs and set his sights on producing a polished weightlifter that Keegan started taking it seriously.
"She's just stupid strong for her size — there's no other way to put it," Brown said. "I told her that she had a really good chance at being exceptional as a weightlifter, but she would need to quit everything, including CrossFit, to focus on the training."
When Brown returned from his internship, he was determined to utilize his calculated science-based athletic instruction to develop an individualized training and nutritional program specifically for Keegan.
"He kept saying, 'just give me six months to train you,'" Keegan said.
What began as a determined partnership blending an athlete's abilities and a coach's vision transcended the boundaries of the gym, culminating in Keegan's four International Powerlifting World Records and a coveted spot on the U.S. team at WUC for weightlifting.
At about the time Brown began training Keegan, he put his background in fitness development and his expertise in the scientific bio-mechanics of movement to start his own online business in February 2016. Science Based Athletics (SBA) offers clients individualized training programs through an online virtual platform.
"SBA is the way athletes can move to the next level," said Brown, who analyzes video feeds of clients' exercise techniques. "And (Keegan) was perfect for it."
Beginning her training as early as 6 a.m. on some mornings, Keegan plants herself at the gym and follows Brown's workout regime anywhere from two to four hours a day.
No stranger to the level of commitment required of college athletes — Keegan arrived at the SUNY Cortland campus as a freshman soccer player for the Red Dragons — she said she manages to balance academics with serious sports training.
"It's hard work," Keegan said. "But I love the individual competition of the sport."
Following Brown's detailed training program and regimented diet, Keegan participated in two local weightlifting meets that ended with the qualification for the one thing Brown promised Keegan from the very beginning — a competition on the national stage.
Training for the National University Championships this September in Louisiana required Brown and Keegan to get creative about communicating, as they were often in different states or cities, based on professional or academic obligations.
"She'd videotape herself while performing lifts in the gym," Brown added. "I'd carefully watch and analyze the movements and we'd talk about it."
The training paid off. Keegan's performance at the University Nationals earned her a coveted spot at the World University Championships as part of the U.S. team. Keegan tied for a gold medal in the snatch (156 pounds), earned a silver in the clean and jerk (191 pounds) and a silver overall.
"When you're on stage, setting up for a lift, there's a ton of distractions and noise," Keegan said. "I found myself practicing visualization, which I learned from a sports psychology course I took."
Considered a tier directly below that of the Olympics, WUC gathers university athletes from across the globe, up to the age of 28, who rank as the top athletes in 37 sports ranging from archery to water skiing.
Listed as the fifth top female collegiate weightlifter in the nation, regardless of age or weight class, Keegan continues to raise the bar on performance.
Most rankings are categorized by weight class and for females there are seven: the lightest weight class is 48 kilos (106 lbs.) and heaviest weight class is 75+ kilos (165 lbs.). The U.S. team will have a top-performing female athlete represent each weight class.
Keegan, who packs a powerful punch in her petite frame, will represent the U.S. in the lowest weight class as she heads to her first international competition in Merida, Mexico from Nov. 13 to 17.
Keegan's participation on the international stage and the presence of her trainer and coach, Brown, requires them to fund the trip on their own. An estimated $4,000 is a figure they're working toward raising through a series of fundraisers, including a GoFundMe page and other family and community-based support.
Because Keegan achieved national weightlifting recognition so quickly, she doesn't have the lucrative backing of a sponsor.
"Generous supporters have helped us raise about $3,200 toward our goal," Brown said.
As part of the International University Sports Federation, the WUC takes place every two years. This year presents Keegan with an incredible opportunity to show the world what she is actually capable of doing.
---
Capture the Moment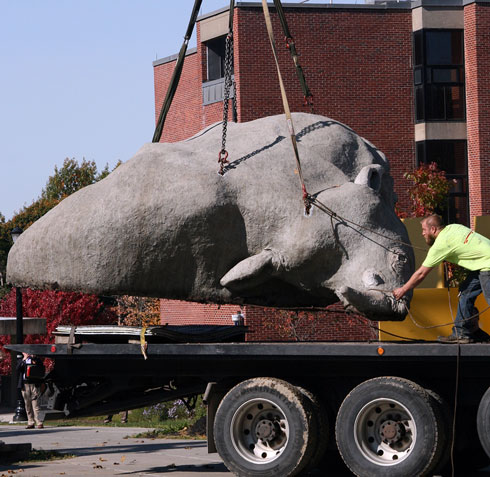 The rhino sculpture that has rested at SUNY Cortland's Tompkins Street entrance near the Professional Studies Building was moved during fall break to a new, more visible home outside of Bowers Hall. The statue, which seeks to draw public attention to the plight of endangered animals, was created by Darla McGrath '09, and donated to the College. View more photos of the rhino on the move here.
---
In Other News
Student Groups Host Congressional Forums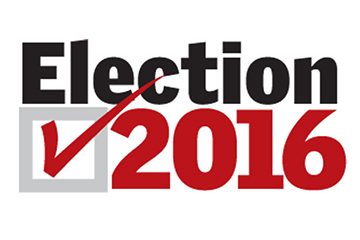 10/24/2016
SUNY Cortland students could determine the outcome of one of the most closely watched congressional elections in the United States, and all three candidates in that race are coming to campus to talk with potential student voters.
The three people running to replace retiring Rep. Richard Hanna in the 22nd Congressional District — independent Martin Babinec, Democrat Kim Meyers '79 and Republican Claudia Tenney — will each participate in a one-hour forum organized by several student groups.
These candidate conversations will be free and open to the public. They are:
Babinec, 7 p.m. on Thursday, Oct. 27, in Old Main, Brown Auditorium
Meyers, 7 p.m. on Friday, Oct. 28, in Old Main, Brown Auditorium
Tenney, 7 p.m. on Tuesday, Nov. 1, in Sperry Center, Room 105
"These forums are designed for candidates to have ample time to answer questions and connect with the audience, unlike with other formats, which abruptly stop answers," said Thomas Keegan, president of the SUNY Cortland chapter of Young Americans for Liberty (YAL), one of three student groups sponsoring the event series. "The student vote could be more important in this race than almost any other congressional race in the nation."
The nonpartisan Center for Information & Research on Civic Learning and Engagement (CIRCLE) recently issued a ranking of the 50 U.S. congressional races in which young people are likely to play a critical role in picking a winner.
The 22nd District, which includes the cities of Cortland, Binghamton, Utica and Rome, was ranked at No. 8.
SUNY Cortland's campus forums are organized and moderated by students from YAL, the College's Political Science Association and the campus New York Public Interest Research Group. None of the groups have endorsed particular candidates, but are seeking to raise student awareness of the issues and the candidates.
In addition to the congressional race, the three groups also are sponsoring a public forum for the two candidates in the Cortland County district attorney race: incumbent Democrat Mark Suben and Republican challenger Patrick Perfetti.
Perfetti will talk with students and community members at 7:30 p.m. on Wednesday, Oct. 26, in Old Main, Colloquium. Suben will begin at 8 p.m. that day in the same location.
More Than Mere Dragons: We Are #RedDragonStrong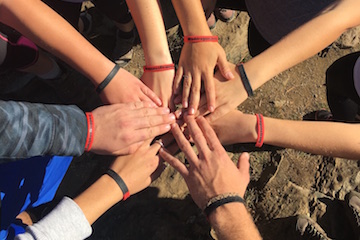 10/25/2016
Dragons symbolize strength, courage and fortitude.
Red Dragons symbolize all of that … and much, much more.
As SUNY Cortland Red Dragons, all of us are part of a large, caring family filled with people who want us to succeed and are willing to help us over the rough patches.
All Cortland students have access to a wide variety of support programs, ranging from guidance and help with academics to counseling for emotional or mental stress. Beyond that, they are surrounded by a warm and understanding community.
When things are challenging for an individual, he or she may find that community difficult to navigate. That's why the College started using the hashtag #reddragonstrong.
Posts to Twitter, Facebook or Instagram using #reddragonstrong help illustrate compassion, solidarity and friendship. They offer advice or promote helpful services. They celebrate the differences that make us stronger as a broader, more comprehensive tribe than we are as individuals.
"This is a collaborative effort to encourage students to thrive in all areas of their lives—from their academics to their personal health and well-being—and remind them that we are here to help and that they can be great supports to their peers," said Carol Van Der Karr, associate provost for academic affairs. "A simple act of kindness or concern can be a great help to someone who is facing a challenge and the success of any individual is a success for us as a community."
The #reddragonstrong campaign is an effort by offices across campus to help strengthen our support of students and encourage students to support each other. The phrase appears on red and black wristbands, and was the subject of an email sent to all SUNY Cortland community members earlier this month by President Erik J. Bitterbaum:
"As the semester moves into full swing, I want to remind each of you that your success and well-being are the most important part of our mission as a campus. We are interested in hearing how you are doing and ready to support you!
"I want to be sure that you are finding your place at SUNY Cortland and taking advantage of all of the opportunities and resources available to you. Your RA, hall director, COR 101 teaching assistant, faculty and advisor are interested in your questions and ready to help. In addition, offices like ASAP, Advisement and Transition, and Counseling Services offer support on a wide range of issues. We are excited to see many of you using the Student Life Center and participating in events on campus and we encourage everyone to explore a new activity or club. For an overview of all services, visit the Guide to Student Success online.

"As a Red Dragon, never underestimate the value of your support to your peers. Offering friendship, collaboration or kindness is often the key to helping someone through a challenge. You can be the turning point in someone's day with a thoughtful word and you can offer the advice that helps someone get the help they deserve. Our success as individuals is tied to our capacity to be a caring and supportive community where we can each thrive and together we are #reddragonstrong!

"I look forward to seeing your #reddragonstrong posts on social media to inspire each other to achieve and celebrate the everyday successes, big and small, that make us great."

Payton Head to Discuss Campus Race Relations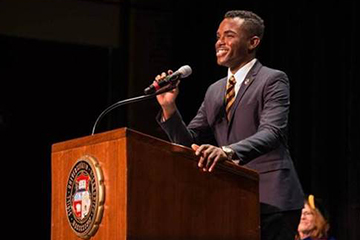 10/25/2016
In the aftermath of the 2014 incidents in Ferguson, Mo., involving accusations of racism and police brutality, Payton Head has stood at the forefront of conversations about improving race relations on campuses and working to create institutional change.
Indeed, his own outspoken protests of his personal experiences of racism on campus helped bring down a university chancellor.
Head is the former president of the undergraduate student government representing nearly 28,000 students at the University of Missouri. On Aug. 9, 2014, an 18-year-old African American man, Michael Brown, was shot to death by police in the St. Louis suburb of Ferguson. The event helped launch the current national debate about race relations and police brutality.
Head, who has recently graduated from University of Missouri with a degree in political science and black studies, will discuss "Lessons from Mizzou" on Wednesday, Oct. 26, at SUNY Cortland.
Head will begin at 5:30 p.m. in Old Main Brown Auditorium. The talk, which is free and open to the public, is presented by the College's Voice Office and Multicultural Life and Diversity Office.
Head's viral Facebook post detailing his experience with racism at Mizzou, in conjunction with other incidents, ignited the student body to fight for a more inclusive campus. The discussion on #ConcernedStudent1950 led to campus protests that resulted in the resignation of both the University of Missouri chancellor, R. Bowen Loftin, and the president, Tim Wolfe.
The talk is sponsored by the Black Student Union, Pan-African Student Association, la Familia Latina, Men of Value and Excellence, Hillel, Caribbean Student Association, Women of Color, Spectrum and the Multicultural Life and Diversity Office.
For more information, contact Lima Stafford, interim assistant director at the Multicultural Life and Diversity Office, at 607-753-4895.
Recreation Conference Planned for Nov. 3 and 4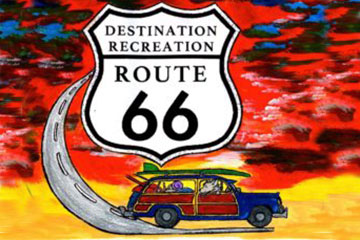 10/25/2016
John de Graaf, a documentary filmmaker, author and activist for more leisure time in the U.S., will deliver the prestigious Metcalf Endowment Lecture at this year's 66th annual SUNY Cortland Recreation Conference, which takes place Thursday, Nov. 3, and Friday, Nov. 4, at the College.
The executive director of Take Back Your Time and co-founder of The Happiness Initiative, de Graaf will give the keynote address titled "National Parks and Route 66: Why We Need Time to Play" from 1 to 2:15 p.m. on Friday, Nov. 4, in Corey Union Function Room. The lecture is free and open to the public.
| | |
| --- | --- |
| | |
| | John de Graaf |
A former university instructor, de Graff's address stems from the 100th anniversary of America's National Park Service and from his years of research on the subject of leisure time in America.
"Today the average visitor to the Grand Canyon spends only 17 minutes viewing its glory," de Graff said. "With their long working hours and short vacations, Americans are stressed and parents pass their stress onto their kids."
Fifteen of de Graff's documentaries, including the popular special, "Affluenza," have been broadcast nationally on PBS. His books include the best-seller Affluenza: the All-Consuming Epidemic, now in its third edition, and What's the Economy For, Anyway?
Using international data to show that humans all need time to play — for our health, happiness and social connections — de Graff will share his thoughts on how they can get it.
"Route 66: Destination Recreation" is the theme of the two-day gathering, the nation's oldest continuous collegiate-sponsored recreation education conference.
The theme aims to encourage participants to think about recreation from various perspectives, ranging from the variety of career opportunities within the field to the plethora of activities one might pursue on the highway of life, all of which are bound to take every individual to unique and interesting places.
In addition, the conference will highlight the National Parks as a celebration of the National Parks Service Centennial this past August.
"We want to highlight the quintessential importance of recreation as our journey progresses through the highway of life," said conference coordinator and Seth Buono, a senior recreation major from Albany, N.Y.
Presented by the College's Recreation, Parks and Leisure Studies Department and students in its Special Events Planning class, the conference receives additional support for the Metcalf Keynote Address from the Metcalf Endowment Fund and the Campus Artist and Lecture Series. The annual event hosts 200 to 400 students and professionals in the fields of recreation, parks, and leisure studies from all over New York state and the greater New England area.
The conference features a research symposium, internship fair, professional networking social, special workshops and trainings, two days of professional development sessions, with catered luncheons, live entertainment, and raffles of local goods and services.
Registration is open to the general public. The registration rate for the conference is $60 for students and $125 for professionals. Registrations will be accepted at the door both days.
For additional information and to register for the conference, visit www.cortland.edu/recconf.
Former Diplomat to Asia to Speak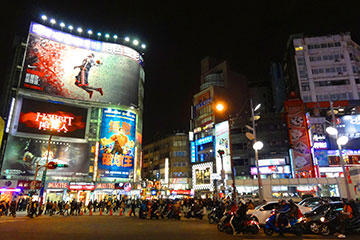 10/25/2016
Long before he imagined becoming a U.S. ambassador with extensive service in Asia and the former Soviet Union, Stephen M. Young was a 12-year-old boy whose family moved from Washington, D.C., to Taiwan to live for three years in the early 1960s.
The experience planted the seed for his eventual choice of diplomacy as a profession and, years later, Young is eager to share his insight on how college students might advance their own careers in the field he chose.
He will offer an American diplomat's personal perspective — on career opportunities as well as a political analysis of what's happening in places where he served — during two lectures on Thursday, Nov. 3, at SUNY Cortland.
Young will discuss "Building a Career as a Diplomat" from 12:30 to 2 p.m. in Old Main Colloquium. Refreshments will be served.
His second talk, titled "The Rise of China and its Effect on U.S. and Taiwan," will take place from 4:30 to 6 p.m. in Brockway Hall Jacobus Lounge.
Presented as part of the ongoing Political Science Guest Speaker Series, both discussions are free and open to the public.
Since retiring in 2013, Young has been writing and speaking. He is fluent in Russian and Chinese.
A U.S. diplomat for more than 33 years, Young has fulfilled assignments in Washington, Taipei, Moscow, Beijing, Kyrgyzstan and Hong Kong. He has served as U.S. ambassador to the Kyrgyz Republic, Consul General to the Hong Kong and Macao special administrative regions, and director of the American Institute in Taiwan.
Young earned a B.A. at Wesleyan University and a Ph.D. in history at the University of Chicago.
In addition to the Political Science Department, the presentations are sponsored by the Clark Center for International Education and a grant from the Taiwan and Asia Program, Wake Forest University.
For more information, contact Dennis Weng, assistant professor of political science, at dennis.weng@cortland.edu or 607-753-4587.
Mycology Professor Thwarts Destroying Angel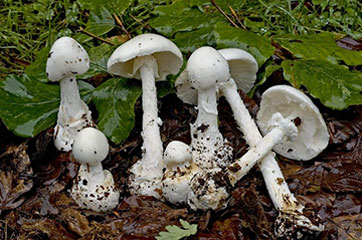 10/25/2016
Shortly before fall break, a man from Rome, N.Y. was hospitalized with symptoms that suggested he had eaten something very, very toxic.
Poison experts weren't sure about the cause until they consulted SUNY Cortland Distinguished Professor of Biological Sciences Timothy J. Baroni.
Baroni's diagnosis – based on the patient's symptoms and confirmed by digital images – was almost immediate: The man was being killed by a Destroying Angel.
That's the common name for Amanita virosa, one of the most toxic mushrooms known to humankind.
Baroni, one of the nation's leading mycologists, verified the mushroom's identity with a microscope after a sample was overnighted to him.
If someone ingests a Destroying Angel and doesn't receive prompt treatment, there's a 50 percent chance they'll be dead within a week. If they are lucky, they might just lose a kidney or experience liver failure.
But, thanks to Baroni's quick suggestion to start pumping the correct antidote into the patient, he was discharged from Strong Memorial Hospital in Rochester, N.Y. and fully recovered a week after accidentally eating the poisonous mushroom.
Life-saving advice is an unexpected benefit of an expertise on fungi that Baroni, 2009 recipient of the Mycological Society of America's highest honor, has gained over three and a half decades of field work and study. He has traveled throughout the United States, the Caribbean and much of Central America collecting and cataloging mushrooms and other fungi, sometimes discovering new species.
The samples of Amanita virosa sent to him along with a variety of other mushrooms collected by the poisoned patient from his own front yard are now the newest specimens of SUNY Cortland's extensive fungus collection.
An estimated 12,000 varieties of the world's roughly 100,000 known species of non-plant fungi are housed in rows of storage cabinets in Bowers Hall on the SUNY Cortland campus. Most of them were collected by Baroni and his student research assistants.
Baroni has also been successful in helping to raise more than $1 million in grants from the National Science Foundation to enable SUNY Cortland to collect, maintain and share its world-class fungal and plant collections. Most recently, he was awarded $30,000 to digitize SUNY Cortland's fungi and share the images as part of a global database known as the Mycology Collections Data Portal.
About 90 percent of all mushrooms are edible, Baroni said. Of the remaining 10 percent, about half are toxic.
"Because there are so few that are toxic, anyone can become an expert. Learn the ones that will kill you. Common sense and knowledge are very important."
College Hosts Second Fall Open House on Nov. 11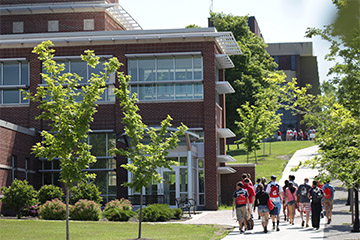 10/25/2016
Expect a full house when SUNY Cortland's second Fall Open House takes place on Friday, Nov. 11.
More than 700 prospective students and their families are expected to spend the day learning more about the College's academic programs, touring campus and speaking with professors and current students during the event, which coincides with Veterans Day.
In total, more than 2,000 people are expected to visit campus.
Visitors are asked to register for the event, but those who have not pre-registered also are welcome to attend.
The day starts with an Academic Programs and Student Affairs Fair from 9:30 to 11:30 a.m. in the Student Life Center gymnasium, where professors and student services representatives will be available to chat with visitors and answer questions. From 12:30 to 1:30 p.m., prospective students are encouraged to stop by their chosen academic department's "office hour" for more information and a tour.
Individual academic department presentations and tours also take place throughout the morning and early afternoon. Visitors can learn more about the College's Honors Program and special advisement opportunities for students interested in law, healthcare (medical, dental or physician assistant programs) and physical therapy or occupational therapy. Sessions on admissions, financial aid, athletics, dining services, residence life and housing also will be offered.
Guided tours of the campus and residence halls will run 10 a.m. to 12:30 p.m. from the Student Life Center and 12:30 p.m. to 2:30 p.m. from Corey Union.
A full schedule of the day's events is available online.
Open House visitors are invited to wrap up their day by attending the College's Veterans Day Ceremony at 3 p.m. in Brockway Hall Jacobus Lounge. The 30-minute ceremony will feature members of SUNY Cortland ROTC and recognize local veterans. A reception in the Margaret A. "Peggy" Curry '52 Main Lobby outside the lounge will follow.
Parking for Open House visitors will be provided in the College's Route 281 parking lot, which features shuttle bus service to the Student Life Center. Visitors using a GPS device should plug in 1 Folmer Drive, Cortland, NY 13045.
Students interested specifically in pursuing a science-related major at SUNY Cortland also are invited to attend a Natural Sciences Department Showcase on Friday, Nov. 18.
Follow @SUNYCortland_Admissions on Instagram and @CortlandSUNY on Twitter to stay up to speed with both events.
Nov. 18 Event Showcases Natural Sciences Majors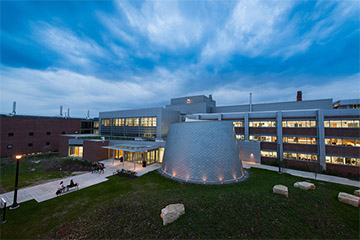 10/14/2016
SUNY Cortland biology major Timothy Duerr learned an important lesson during his ultra-competitive summer research internship at Massachusetts Institute of Technology (MIT).
"You don't have to go to Harvard to do great things," he said matter-of-factly.
Duerr would know.
More than 1,000 college students from across the country applied for the Amgen Scholars program hosted at MIT, and Duerr was one of only 20 selected for the two-month crash course in doctoral level science research. The senior from Massapequa, N.Y., whose undergraduate research at SUNY Cortland has focused on the evolutionary history of terrestrial flatworms, credited the quality of his training at the College.
"I knew the biology program was strong when I first visited Cortland," Duerr said. "I just didn't know how strong … especially after I understood the intelligence of my professors and saw how excited they were about teaching."
Prospective students will have the opportunity to see it for themselves at SUNY Cortland's Natural Sciences Department Showcase, which takes place Friday, Nov. 18. The daylong event offers a special campus visit experience for students interested in the College's biology, chemistry, geology and physics departments.
Timothy Duerr, a senior biology major from Massapequa, N.Y.,
was one of 20 students from across the country selected to
participate in a highly competitive summer research program
hosted at Massachusetts Institute of Technology. More than
1,000 students applied.
In addition to campus and department-specific tours, visiting students and their families can enjoy lunch and a demonstration in the College's Planetarium. More importantly, they'll hear from award-winning faculty members and inspiring students within each department.
Register for the event online.
Duerr said the relationships he developed with his professors, especially Biological Sciences Professor Peter Ducey, raised the level of his college experience. Ducey's teaching inspired Duerr's continuing research on terrestrial flatworms in the genus Bipalium. That work then led Duerr to the lab of Biological Sciences Professor Patricia Conklin to compare the lineage of the flatworms to others in the genus.
Duerr joked that most biology majors can't recall faculty members' office hours because they usually can be found any hour of the day in Bowers Hall, the College's science hub that completed renovations in 2014.
"There's an open invitation to pop in, say hi and tell them about your research or a class you're taking," he said. "They're always genuinely interested and engaged."
The same passion for science resides in students like Duerr, a member of the College's Biology Club who hopes to help fellow students decipher complex research by creating the Current Research in Biology Club. The goal is to foster strong scientific analysis skills by discussing current literature in biology and bringing guest speakers to campus.
"I want to help develop those skills of reading and listening to science," he said. "They're fundamental for anyone considering graduate school, whether you're pursuing an M.D. or Ph.D."
Duerr said he arrived at SUNY Cortland with the hopes of becoming a physical therapist but soon realized that he enjoyed natural science more than healthcare. He flirted with the idea of becoming a high school science teacher before entertaining the idea of doctoral-level research. The recent summer experience at MIT confirmed his career goal in college-level teaching and research.
"A lot of the research that I do is science for the sake of science … really just elucidating the unknown," he said. "We know a lot in science. That's a fact. But there's even more that we don't know."
Working alongside similarly bright young science scholars from across the country, Duerr knew he belonged in their company. He felt confident in the college he chose and thankful for the professors who helped get him there.
"Striving to learn more about the natural world is a goal worth pursuing," he said. "Who knows what it can lead to?"
Brooks Lecture Series Concludes with Maya Culture Talk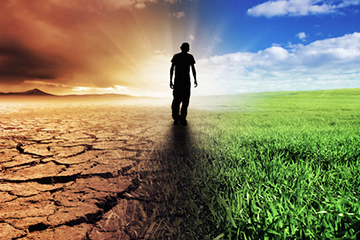 04/04/2017
The story of how a small group of women set about preserving traditional and long lost Maya practices in pottery will be shared April 5 by Jeremiah Donovan, a professor of ceramics in SUNY Cortland's Department of Art and Art History.
Donovan will discuss how the San Antonio Women's Cooperative was initiated in 2008 and has focused on pottery making as its highest-potential business opportunity in his talk, titled "The Future of the Past: Revitalizing Ancient Maya Cultural Traditions in Modern Maya Communities." The cooperative's goal is to create traditional, authentic Maya polychrome pottery, inspired by the ceramics discovered in archeological sites surrounding San Ignacio Belize. Compositional analysis of the pottery from these sites has provided guidance in developing clay mixtures and painting pigments from locally sourced oxides.
This presentation highlights the work of Donovan and his students in a project to assist this community in revitalizing an ancient cultural tradition.
This year's Brooks lecture series theme reflects the changing nature of the world around us, especially the destruction of cities, societies, and environment, that we are faced with on a daily basis, according to Sharon R. Steadman, a SUNY Cortland professor of sociology/anthropology who is the lecture series organizer and Rozanne M. Brooks Museum director.
Donovan's talk will begin at 4:30 p.m. in Moffett Center, Room 2125. Before his lecture a reception to welcome the speaker starts at 4 p.m. in the Rozanne M. Brooks Museum, Moffett Center, Room 2126. The talk and the reception are free and open to the public.
The 2016-17 Brooks Lecture Series is sponsored by a grant from Auxiliary Services Corporation (ASC) and the Cortland College Foundation. For more information, contact Steadman at sharon.steadman@cortland.edu or 607-753-2308.
Travel Author to Share Career Advice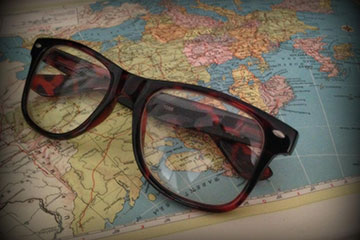 10/25/2016
Kathleen "Kit" Kemsley, whose career in geography and national parks service has evolved into a second vocation as a published travel writer, will speak on Thursday, Nov. 10, at SUNY Cortland.
Kemsley will discuss "Travel and Nature Writing: A Sense of Place," from 4:30 to 5:30 p.m. in Dowd Fine Arts Center, Room 207.
Presented by the College's Professional Writing Program and the Campus Artist and Lecture Series, the event is free and open to the public.
Kemsley will share ideas about her published travel writing and her book about the National Parks of the West. Her talk will delve into her travel blog, including tips for would-be bloggers.
Kemsley grew up in California and earned a degree in geography from University of California at Berkeley in 1980.
She began her professional career at Grand Canyon National Park and continued to work for various Public Lands Management agencies, both state and federal, for the next 33 years. Her work involved numerous technical writing tasks including completing annual reports, large fire summaries, forest management plans, and monthly severity outlooks for the U.S. Forest Service.
In her free time, Kemsley wrote Places of Power, a 1991 memoir about living and working in National Parks. The volume earned good reviews.
While continuing to work full time, Kemsley has written more than 100 articles that have been published in Rider, American Motorcyclist, Arete, Alaska Outdoors, Women On Wheels, Anchorage Daily News, Sidecarist and other magazines.
When she's not at work, Kemsley rides motorcycles, travels by bus with chickens in Third World countries, camps in U.S. national forests, and visits natural hot springs. She runs 15 to 20 miles a week.
For more information, contact Victoria Boynton, professor of English, at 607-753-2082.
Native American Film Series Opens Nov. 1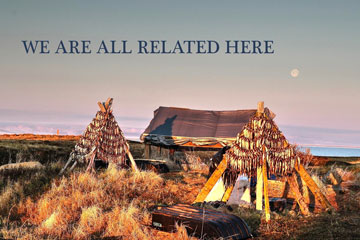 10/25/2016
A documentary that presents the challenges of global warming on Native people will launch SUNY Cortland's Native American Film Series on Tuesday, Nov. 1.
Presented by the College's Native American Studies Program, the film series is free and open to the public. "We Are All Related Here" and two additional films will be shown at 7 p.m. on Tuesdays in Sperry Center, Room 205.
In "We Are All Related Here," director Brian McDermott tells the story of the Yupik people of Newtok, Alaska, who are forced to relocate their village because of the erosion and flooding due to global warming. The 51-minute documentary presents the traditional ways of hunting, fishing and dancing, and the challenges facing this coastal community as they prepare to relocate south to a new site.
"Drunktown's Finest," to be shown on Nov. 8, takes place on a Navajo reservation and revolves around three characters. One has been adopted by white parents and is struggling to find her birth family, the second is a transgender woman trying to find acceptance, and the third is trying to do the right thing but continues to get into trouble. The characters all are connected in strange ways. Directed by Sydney Freeland, this film has strong language and nudity. Originally premiered at the Sundance Film Festival, it runs 93 minutes.
The final film, set for Nov. 15, is titled "Songs My Brothers Taught Me." Directed by Chloé Zhao and produced by Forest Whitaker, the story is set on the Pine Ridge Reservation and is about the relationship between a small family when the father dies. The son starts running alcohol and bull riding to earn money while fighting the pull of moving away from family to survive. The film explores the bond between him and his younger sister who wants him to stay. The mother is played by Irene Bedard. The film runs 93 minutes.
The series is sponsored by a grant from the Auxiliary Services Corporation, Native American Studies, SUNY Cortland SOGIE and the Center for Gender and Intercultural Studies.
For more information, contact Native American Studies Program representative Dawn Van Hall.
31st African American Gospel Music Festival Set for Nov. 6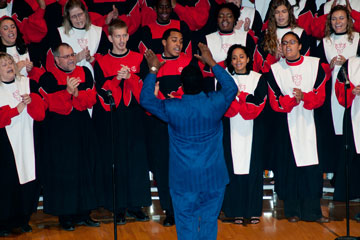 10/25/2016
Two guest choirs will make their first appearance at the 31st African American Gospel Music Festival on Sunday, Nov. 6, at SUNY Cortland.
The festival begins at 4 p.m. in Old Main Brown Auditorium. The event is open to the public. Tickets are free for students and $5 for general admission. Free tickets are available on a need basis, and families with children are welcome. Proceeds and donations will support the Gospel Choir Scholarship Fund.
It is the first time that Buffalo State S.P.I.R.I.T. Gospel Choir, directed by Tianna Livingston and Malik Thomas, and Jamel Jett and Breakthrough, directed by Jamel Jett, will participate in the festival. Syracuse University Black Celestial Choral Ensemble returns for the 31st consecutive year. Proverbs 31, an ensemble comprised of Cortland students directed by Gospel Choir President Stephanie Hector, and festival host SUNY Cortland Gospel Choir, directed by Deyquan Bowens, Africana Studies Department, round out the festival.
Student Government Association President Michael Braun will extend the welcome on behalf of the College. Director of Campus Ministry Shawn Allen will present the invocation.
A mass choir comprised of all groups will come together and sing part of the grand finale. Musicians for the festival will be Bowens playing keyboard and Benjamin Terry on percussion.
The SUNY Cortland Gospel Choir is a part of the College's Africana Studies Department. The choir is supported by the Center for Gender and Intercultural Studies, the Alumni Engagement Office, the Cortland College Foundation, the Division of Student Affairs, the President's Office, Provost and Vice President for Academic Affairs Office, and the student activity fee.
For more information, contact Communication Studies Professor Samuel L. Kelley at 607-753-4104, or Deborah Dintino in the Political Science and Africana Studies departments, or Hector.

Suggest a feature story
---
Faculty/Staff Activities
Scott Anderson, Seth N. Asumah, Ibipo Johnston-Anumonwo and Mechthild Nagel
Scott Anderson, Geography Department, Seth N. Asumah, Political Science and Africana Studies departments, Ibipo Johnston-Anumonwo, Geography and Africana Studies departments, and Mechthild Nagel, Philosophy and Africana Studies departments and the Center for Gender and Intercultural Studies, attended the Race, Ethnicity and Place (REP) Conference held Sept. 21-23 at Kent State University in Ohio. The biannual conference attracts scholars representing interdisciplinary, national and international perspectives on racial transformation of places. Nagel, Asumah and Johnston-Anumonwo presented papers on race-ethnicity studies and Anderson chaired a session on Narratives of Place. Nagel's paper was titled "Revisiting Prisons as Diasporic Sites." Asumah's paper was titled "Race and Diversity Leadership in Predominantly White Institutions: Rethinking Microaggressions." In addition to her paper on "The Significance of Gender, Race and Ethnicity in the Experiences of Eritrean Migrants," Johnston-Anumonwo was a panelist at a session honoring the late Professor Florence Margai, a founding member of the REP conference planning committee and associate dean of SUNY Binghamton's Harpur College who died in 2015. All four SUNY Cortland faculty members were invited to the eighth REP conference at Kent and had presented at previous REP conferences hosted at Binghamton University dating back to 2002.
Samuel Avery
Samuel Avery, Communication Studies Department, recently had his film, "Glimpse," accepted into the 2016 Buffalo Dreams Fantastic Film Festival. Watch Film.
John C. Hartsock
John C. Hartsock, Communication Studies Department, gave lectures in early October at St. Petersburg State University in St. Petersburg, Russia on American and international literary journalism. He was invited by Russia's oldest university as part of the Russia Program sponsored by Stony Brook University. In addition, he participated in a roundtable discussion on journalism ethics at the university, and gave a lecture to the general public on literary journalism at the bookstore Word Order in St. Petersburg. This was his first return to Russia in 24 years. From 1989 to 1993 he reported on the collapse of the Soviet Union for several publications.
Caroline Kaltefleiter
Caroline Kaltefleiter, Communication Studies Department, presented at the Anarchist Studies Network Conference held Sept. 24-26 in the United Kingdom. The conference theme was Anarcha-Feminism and her talk was titled, "Who Has the Microphone? Anarchy, Action and (R)evolution of the Riot Grrrl Movement." The event was hosted by the Department of Politics and International Relations at Loughborough University.
Doug Langhans
Doug Langhans, Admissions, recently visited Japan and represented SUNY Cortland at two student recruitment fairs hosted by EducationUSA, an official branch of the U.S. Department of State designed to promote U.S. higher education to students around the world. The fairs were held in Tokyo and Osaka, and Langhans discussed the benefits of studying at SUNY Cortland with students, parents and representatives from a variety of educational institutions. In addition, he was invited to a reception at the U.S. Ambassador's Residence hosted by Ambassador Caroline Kennedy. The reception highlighted the launch of "A Broader View," a U.S. Embassy project to promote study in the United States through video interviews with prominent study abroad alumni.
Ben Lovett
Ben Lovett, Psychology Department, had an article accepted for publication in the journal History of Psychology. The article, "For Balance in the Historiography of Psychology" will be part of a special issue section on debates over styles of presenting the history of psychology.
Melissa Morris
Melissa Morris, Physics Department, gave an invited talk on Oct. 20 at Union College in Schenectady, N.Y. Also, she was invited to give a talk in March 2017 to the star and planet formation group at the University of Copenhagen in Denmark.
Ute Ritz-Deutch
Ute Ritz-Deutch, History Department, participated in the seminar "German Sources on the Global South" at the annual conference of the German Studies Association held Sept. 29-Oct. 2 in San Diego, Calif. The 17 contributors met for three days to exchange research ideas and challenges regarding oral sources and access to archives.
Robert Spitzer
Robert Spitzer, Political Science Department, spoke on the 2016 elections before the Finger Lakes Forum on Oct. 17 in Geneva, N.Y.
Dennis L.C. Weng
Dennis L.C. Weng, Political Science Department, presented "Party Nomination Strategies in Taiwan's Mixed Electoral System" at the Taiwan in the Realm of East Asia Conference on Oct. 22 at Wake Forest University, N.C.
Tiantian Zheng
Tiantian Zheng, Sociology/Anthropology Department, was invited by Reed College in Oregon to deliver a campus-wide book talk on her book Tongzhi Living: Men Attracted to Men in Postsocialist China and to teach a class on her book Red Lights on Nov. 15.

Submit your faculty/staff activity