Cuba Visit Sparks Future Partnerships
07/11/2017
On June 18, President Donald J. Trump announced a series of new restrictions for Americans traveling to the Communist-controlled island nation of Cuba.
Just three days later, a delegation of eight SUNY Cortland administrators, faculty and staff landed in Havana to explore future partnerships with Cuban universities.
After a fruitful week spent meeting with Cuban university and government officials, the SUNY Cortland visitors were brimming with confidence about future academic opportunities between the two nations, despite the recent chill in Cuban-American relations.
"I don't think higher education will be affected," said SUNY Cortland President Erik J. Bitterbaum. "Even during earlier eras, there were always Fulbright Scholars and other exchanges. I think the educational exchanges will go forward for students and for faculty."
In a Miami speech announcing the changes, Trump pledged to prevent American tourist dollars from flowing to businesses associated with the Cuban military. The Cuban military controls many hotels, gas stations, rental car companies, travel agencies and tourist attractions. The new American-Cuban travel regulations are due to be written in July 2017, putting the scope of future tourist trips to Cuba in doubt.
The move fulfilled a campaign promise to begin rolling back some of the recent normalization that has occurred between the two former Cold War rivals, who initially severed most ties nearly 60 years ago in the wake of a communist revolution led by Fidel Castro. Castro's brother, Raoul, is now Cuba's president.
"We talked to Bruce Kleiner, public affairs officer at the U.S. embassy, and the consensus seems to be that educational exchanges will continue to be allowed," said Mary Schlarb, SUNY Cortland's director of international programs. "That's how the two countries have maintained relationships over the last 59 years, through university exchanges.
"If anything changes, it might be maybe more paperwork again," Schlarb continued. "You'll need a license and you might be audited by the government. It's not really changing what we're doing. It might change where we can stay. We won't be able to stay in government-owned hotels."
Joining Bitterbaum and Schlarb on the June 21-26 trip were Alexandru Balas, director of the Clark Center for Global Engagement and coordinator and assistant professor of international studies; Jeremiah Donovan, professor of art and art history; Jordan Kobritz, chair and professor of sports management; Kathy Kramer, professor of art and art history; Mark Prus, provost and vice president of academic affairs; and Sebastian Purcell, coordinator for Latin and Latino American Studies and an assistant professor of philosophy.
SUNY Cortland's delegation met with leaders at the University of Havana, the University College of San Gerónimo, a liberal arts college within the University of Havana, and the "Universidad de las Ciencias de las Cultura Física y el Deporte," Havana's school for "physical culture and sports." Aurora Fernández González, Cuba's vice minister of higher education, also spoke with SUNY Cortland officials, as did Wilfredo Benítez Muñoz, the executive director of the Ludwig Foundation, a non-governmental art and cultural institution in Havana.
The journey to Cuba had several objectives for SUNY Cortland officials. SUNY Cortland wanted to explore partnerships with Cuban universities and discover opportunities for future faculty-led study-abroad trips. Another objective was to find Cuban collaborators for faculty research projects. Also, SUNY Cortland aimed to strengthen its relationships with Cuban government officials, including González.
"The fifth was to generally get a better understanding of the higher education system in Cuba and the context, the cultural, historical and economic context, so when we're working in Cuba, we understand our partners better," Schlarb said. "We want to understand their interests and needs so we can create some mutually beneficial initiatives. I really feel like we did that."
SUNY Cortland officials visited members of the Cuban art community during a recent trip.
Not only does SUNY Cortland hope to send faculty and students to Cuba as the partnership develops, the College also aims to bring Cuban students and faculty to campus as part of an exchange program.
"The SUNY system is the only system that has signed a memorandum of understanding with the minister of higher education," Bitterbaum said. "We have an opportunity for a special relationship with Cuba."
SUNY Cortland has worked toward building its relationship with Cuban universities for years. Kobritz, a former owner of Triple-A and Single-A baseball teams, has served as a senior advisor to the Caribbean Baseball Initiative since 2011. CBI tries to connect Cuba and the United States through baseball clinics, conferences and games. In fact, CBI hosted a symposium at SUNY Cortland on April 28, 2016 that featured former Secretary of Defense William S. Cohen and many other experts on American-Cuban relations.
On Sept. 28, 2016, Miguel Fraga, the first secretary of the Cuban embassy in Washington, D.C., spoke at SUNY Cortland, delivering a lecture entitled "U.S.-Cuban Relations, Past, Present and Desired Future."
Last month, a group of 17 SUNY Cortland students travelled to Cuba with Bonni Hodges, chair and professor of health, Justin Lovich, coordinator of international studies in sport management and Lori Schlicht, associate director for academic engagement. The six-credit summer program gave students an opportunity to explore Cuba through the lenses of art, baseball, history and politics.
"It was a life-changing experience for those who had never been out of the country," Bitterbaum said. "It's an opportunity for faculty and staff and students to experience a different culture as part of our globalization and internationalization initiatives."
SUNY Cortland's strong academic programs in health, kinesiology, recreation and physical education figure to be the primary tie-ins with Cuba in the early stages of a partnership, particularly with the school for physical culture and sports in Havana. Relationships for art, music and performing arts students through the Ludwig Foundation also have a variety of Cuban counterparts.
However, the academic potential of SUNY Cortland's Cuban university partnership will grow over time to include all disciplines. Donovan, who specializes in ceramics, sees a number of interdisciplinary links between anthropology, economics and geology in his research. No stranger to study abroad opportunities, Donovan has brought Cortland students to Belize and China in recent years.
He sees the study of ceramics as a "doorway into a culture" and hopes that future trips to Cuba will enlighten SUNY Cortland students about the rich history Cuba has to offer.
"The whole place just seemed really ripe for forming connections," Donovan said. "I mentioned to the group that I'm very interested in continuing to expand the connections and the opportunities that presented themselves to all of us and see how I can channel this energy into developing at least a pilot program."
The College has invited Cuban academics and administrators to visit campus this fall. Donovan is working to bring a pilot group of students to Cuba for art and art history research in the spring of 2018.
"What has always filled every one of my programs that I've led over the last 20 years is that I'm just excited about the opportunities," Donovan said. "I can see how this would be just an incredible, life-changing experience for a student."
SUNY Cortland Rated National "Best Value" College
07/14/2017
SUNY Cortland is one of the best educational investments in the nation, according to Money magazine's recently released "Best Colleges For Your Money" rankings for 2017.
Money placed Cortland in the top 5 percent of all four-year colleges in the United States, ranking it at 111 out of 2,400 institutions reviewed.
The rankings are based on the cost of attendance, the quality of education and the success of alumni. In other words, the magazine attempted to measure students' likely return on investment from pursuing a bachelor's degree at each of the nation's colleges and universities.
"We are extremely pleased, but not surprised," SUNY Cortland President Erik J. Bitterbaum said. "We've always known that we offer a world-class education at an affordable price. We've long been aware that most SUNY Cortland alumni go on to have very successful careers in teaching, athletics, medicine, communications, business and a wide variety of other fields."
Money released its annual "Best Colleges" survey on Monday, July 10, with Princeton University in the No. 1 spot. Only one comprehensive SUNY school, SUNY Brockport at 93, ranked higher than Cortland. The evaluation did not consider the Excelsior Scholarship program announced late this spring, which could dramatically lower costs for eligible SUNY students even further.
"You've heard of the Ivy League? Nowadays, bragging rights are going to colleges in what we'll dub the 'Paycheck League' — schools that the real numbers show provide a boost in the job market," wrote financial journalist Kim Clark in the introduction to Money's survey findings. "Objective data on alumni success debunk the myth that the best schools are exclusive."
To determine America's best value colleges, Money initially narrowed the field using four basic criteria. To make the Best Colleges list, schools had to:
Have at least 500 students.
Have reliable data to be analyzed.
Not be in financial distress.
Have a graduation rate that was at or above the national median.
A total of 711 schools met these requirements. At No. 111, SUNY Cortland ranked in the top 15 percent of schools that met Money's minimum standards. The magazine determined the ranking of that list by using 27 factors designed to measure educational quality, affordability and career outcomes.
Those factors include graduation rates, total costs, financial aid, student debt, graduate earnings, market value of skills learned and the percentage of students each college moved from poverty into the middle class by the time a graduate is 34 years old.
---
Capture the Moment
SUNY Cortland's tennis complex, which opened in 2015, was featured on the cover of the May 2017 edition of Tennis Industry magazine. The courts were named one of 12 distinguished outdoor tennis facilities in the U.S. by the American Sports Builders Association. SUNY Cortland's 16 state-of-the-art tennis courts are used by the College's women's intercollegiate team as well as intramurals, recreational sports programs and individual students, faculty, staff and members of the community.
---
In Other News
 College Sees Big Opportunities in Drone Technology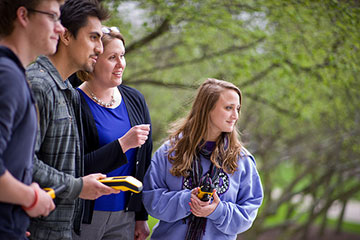 07/18/2017
Drone technology is already helping SUNY Cortland educate the next generation of geographers, sociologists and entrepreneurs. If all goes as planned, the College may also use it to help lift the economic fortunes of the region.
Faculty and students who have specialized in geographic information systems (GIS) technology have already used unmanned aircraft systems — drones — to further educational goals.
But they also seek to develop applications for drones that could foster new business enterprises that will create local jobs or support existing area businesses attempting to expand and thrive.
So in early spring the College joined the NUAIR Alliance, a New York based not-for-profit coalition of more than 100 private and public entities and academic institutions. The members work together to operate and oversee drone test ranges in New York, Massachusetts and Michigan.
| | |
| --- | --- |
| | |
| | One year ago, SUNY Cortland officials traveled to Griffiss International Airport to find out more about the NUAIR Alliance. Present, from the left, were Scott Anderson, professor of geography, Casie Garrison '17, then a student intern in business economics; Lawrence Brinker, executive director and general counsel of NUAIR Alliance; and David Duryea, vice president for finance and management. |
And recently College officials have proposed partnerships with other local colleges to create an institute that would develop practical, marketable uses for drone technology.
The collaboration is among a host of different projects proposed as part of the Cortland community's $10 million economic revitalization grant application to New York state.
When the New York Regional Development Grant opportunity popped up, Wendy Miller, associate professor and chair of the College's Geography Department, discussed the potential with David Duryea, vice president for finance and management. Duryea then worked with the City of Cortland to have a broad description about the drone technology institute proposal included in the application.
"There's been a lot of talk about making the central New York area a drone hub for the United States with the NUAIR Alliance and with some their other partners as well," Miller explained. "The technology is really growing and its use is just going to expand almost exponentially over the years because it could be used for so many different things. We decided, 'Hey, there's this potential with the economic opportunity funds that this is something we could do.'"
Duryea suggested that, for example, future SUNY Cortland graduates could decide to start a new company in Cortland using the Startup NY program.
"We could work with our economics department faculty to help them with their business plan, our geography faculty to help with the technical side of things, and this whole NUAIR Alliance partnership would be not far away in Utica with an office in downtown Syracuse," he said.
"What we have to offer are students who could get involved in other startup companies in the Alliance, eager young students ready to help with GIS and business assistance."
"We're trying to get our students the best exposure to the technology so they're ready for the workforce," Miller said. "You want to get the student working in the lab thinking 'This is what I want to do.' We want to expose them to that 'light-bulb' moment. What we hope for is that this might be the one class that lights them up."
"I hope the partnership can provide opportunities and experiences for our students to learn about Unmanned Aircraft Systems," she said "These real-world experiences are invaluable to them as they are entering the workforce."
Headquartered at Griffiss International Airport in Rome, N.Y., NUAIR manages one of just seven FAA-designated drone test sites in the U.S. leading research and deployment technologies that establish the case for safe UAS operations in the National Aerospace System.
NUAIR, which supports the drone and sensor industry in the region, is led by three different economic development agencies. CenterState Corporation for Economic Opportunity (CEO) is an organization of 2,000 companies that work together to increase business competitiveness, community prosperity and regional growth in a 12-county region of New York state. Mohawk Valley Edge serves Oneida and Herkimer Counties. MassDevelopment supports the Commonwealth of Massachusetts.
| | |
| --- | --- |
| | |
| | Two students enrolled in a geographic information systems class examine an electronic report of the information they have gathered and plotted on a map. Above left, Geography Department chair Wendy Miller, third from left, leads students gathering geographic data on a handheld device, to be later imported into a map. |
The partnership puts the College in the company of organizations such as Saab Sensis, SRC, Raytheon and Lockheed Martin, and colleges and universities including Rochester Institute of Technology, Massachusetts Institute of Technology, University of Massachusetts institutions, Syracuse University, Clarkson University and Northeastern University.
The alliance offers periodic meetings at which faculty, students and administrators can network and share ideas.
About one year ago, Scott Anderson, professor of geography, and Duryea paid a visit to the Griffiss complex to see the technology demonstrated.
"As I look at it, the commercial drone industry is growing by leaps and bounds," said Duryea, who also serves as operations manager for the College's Research and Sponsored Programs Office.
"New York state, through the Governor's Office, is one of the places taking the lead in this technology development in America. We're trying to get our students involved in this tremendous growth industry. Joining the NUAIR Alliance will allow us access to all the other private companies, public companies and educational institutions to collaborate on future projects."
The alliance would be a natural fit for the Geography Department, which for decades has trained its students to use GIS computer software to study all kinds of data by plugging it into a map. Every year, student interns assist local governments and other organizations to map their important data.
This fall, the Geography Department will welcome a new faculty member to lead research involving drone technology, Christopher Badurek, whose background is in private industry as well as the faculty of Appalachian State College. SUNY Cortland continues to operate one of the few baccalaureate degree-granting programs for GIS in the SUNY system.
Joining the alliance could help future GIS majors analyze data gathered from high-flying drones using technology developed by the military called Light Detection and Ranging (LIDAR) technology. In plain language, LIDAR is like a camera that's much better because it can look under things and can capture images in as variety of ways.
"With LIDAR, you can see what's underneath the tree canopy and what's on the ground," Miller said.
The sensors and cameras installed on drones could be used to analyze the condition of a golf course, to study the evolution of a stream or river, to locate an historical site buried under vegetation or to plan a search-and-rescue operation for a missing person.
To purchase a high quality, LIDAR-equipped drone would cost the College around $100,000, Miller noted.
Meanwhile, the institution hopes to link up with partners in need of GIS services such as data analysis.
SUNY Cortland students already have begun working with the precise optical and infrared data collected by others.
For example, SUNY Cortland students including GIS majors conducting research under anthropology and sociology adjunct professor John Sheehan are working on a project to look down upon the fields at the Gettysburg battle sites from the various overlooks used by the Civil War commanders who oversaw that infamous bloodbath, said Anderson.
"Some of the generals were judged very harshly," said Anderson, who was among a small College contingent to visit the NUAIR Alliance facilities at Griffiss. "John is actually working hard to reassess the battlefield reputation of a much-maligned Gen. Daniel Sickles. He's using information that the general would have had at the time and LIDAR data provided by the State of Pennsylvania to rebuild the battlefield."
In theory, future classes could create reports that would help landowners locate remote property boundaries, loggers and farmers identify the makeup of a forest or field, or academics find antiquities long buried by the changing natural landscape. Any of these applications might become the basis for a commercial enterprise, or they could dream up another purpose they might use to launch a new company in Cortland County.
"What it's been doing in fields like archeology is astonishing," Anderson said. "You can go to the Amazon or places like Belize, and fly a LIDAR over it to find old Mayan ruins in moments that would take years and decades to find with a machete and burro."
"GIS is the kind of non-sexy side, analyzing the data from the drones," Miller said. "That's kind of the back end of it but then there's having students learn about communicating about what it all means. That's a skill that we also can provide. It could give the students a good leg up to get jobs."
Student Research Focuses on Fractal Tilings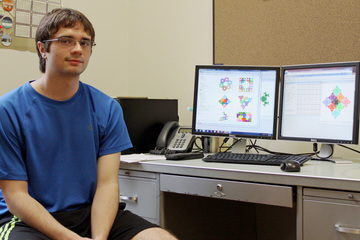 07/18/2017
Matt Metcalf is spending his summer doing math and hoping for a "Eureka!" moment.
His ultimate goal is to generate original fractal tilings, they study of which may someday be used by video game designers, medical researchers or computer encryption specialists.
Since he can remember, Matt Metcalf was always drawn to numbers. A senior dual mathematics and physics major at SUNY Cortland from nearby Homer, N.Y., Metcalf is passionate about the logical thinking needed for learning and doing mathematics.
Mathematics is exact. Everyone understands that two plus two will always equal four in elementary mathematics. In more complicated applications, answers are not as obvious, but the same logical processes will eventually lead mathematicians to the answers they seek.
Metcalf is doing just that this summer as one of 10 Summer Research Fellowship awardees on campus. He is working with faculty mentor Isa Jubran, associate professor of mathematics, as he studies the theoretical foundation of fractal tilings.
Simply put, a fractal is a complex geometric object whose dimension is fractional. A line drawn on a piece of paper is one-dimensional, a square is two-dimensional and a solid cube is three-dimensional. Fractal objects fall somewhere in between. Some fractals are self-similar, meaning that they consist of parts that have the same shape as the whole fractal. Examples of self-repeating fractals found in nature include trees, lightning bolts and snowflakes.
Metcalf and Jubran will investigate fractal tilings of the plane in their research this summer. A tiling of the plane is a countable family of tiles without gaps and without any overlapping of the shapes. For example, if one were to use squares to tile a plane, it would look like a checkerboard. Rather than squares, Metcalf and Jubran are using tiles that have a fractal boundary to cover the plane.
There are countless real-life applications of fractals. Video game developers can create massive landscapes by writing code that repeats fractal objects over and over again. The encryption field is using the complexity of fractals to help protect the transmission of sensitive data. Medical professionals are using fractals to look at repeating patterns in blood vessels in the eyes and lungs to detect or predict disease.
Metcalf and Jubran first conducted a literature review to determine where they wanted to focus their research. They investigated a half-dozen somewhat recent articles on fractal tilings. Software such as IFSKit and Wolfram Mathematica is used to create fractal tilings on what looks like digital graph paper. Those tilings will be studied by Metcalf and Jubran to discover patterns and formulate questions that that may lead to original and previously unpublished findings.
Metcalf is using computer software to generate fractal tilings such as these.
"We wanted to start out by reading through a bunch of articles and we were hoping to run into open questions along the way," Metcalf said. "One of the main goals of this project is to generate dozens of original fractal tilings using the theory that we learned by reading these articles. We're starting to run into a few questions that we may pursue."
A gallery of selected fractals and fractal tilings created by Metcalf is available online.
The software allows Metcalf and Jubran to use an iterated function system (IFS) to generate fractal tilings. Much of the math involved in this process is discussed in a sophomore or junior-level linear course such as linear algebra.
Metcalf has spent many late-night hours this summer rewriting code for Mathematica, as some of the literature on how to generate fractals with it was written using an earlier version of the software. Those revisions will be part of a preprint that Metcalf is preparing to document his research achievements this summer. Posting updated code for the software on a website dedicated for this project will be of great help to others interested in fractal tilings.
"I had to read through all of the fractal tiling code and figure out what was wrong with it because it wasn't working at first," Metcalf said. "It took me a lot of time to learn the language and understand all of the fractal tiling code. It would take an hour to understand a certain passage and figure out what was going on."
Since conquering the software, Metcalf has already run hundreds of experiments that have led to discovering interesting patterns and formulating hypotheses and conjectures. The next step of his research is to use his logic and reasoning skills to find out how and why certain fractals that he has generated behave the way they do.
Metcalf spoke on the earliest portions of his research during a presentation titled "Generating Fractal Images Using Iterated Function Systems" at SUNY Cortland's 2017 Transformations: A Student Research and Creativity Conference. He will return to Transformations in 2018 and also will present his work at other undergraduate research conferences in the northeast during the 2017-18 school year.
In the last decade, 100 SUNY Cortland students have been awarded summer research fellowships through the College's Undergraduate Research Council, according to former Director Christopher McRoberts. Funding from the Undergraduate Research Council can be used to pay for research related expenses such as traveling to present at conferences.
Metcalf has already used some of his stipend to purchase a personal license for the Mathematica software so that he can work on his research from any location, including those off-campus. For students such as Metcalf, a summer research fellowship may mold the rest of their academic career. It can help in connecting with students and faculty from around the world who are conducting similar research.
Jubran, left, and Metcalf, right, discuss their research during a recent meeting.
"We proposed this summer to do the literature review, focus on a few articles to help us generate some original tilings, and build a website to share our tilings with others," Jubran said. "I'm hoping that this will lead to some collaboration between Matt and other researchers who are actively working in the field of fractal tilings. They are more knowledgeable in some aspects of the field than I am and will be able to advance the work Matt and I are currently doing. We will continue this project in the upcoming academic year paying special attention towards possibly generating a scholarly article to be submitted for publication.
"He will potentially use part of the research he is doing towards his honor's thesis. More importantly, the research skills he is learning this summer will prepare him very well for life in graduate school," Jubran continued. "For a student as talented as Matt, such a research experience is invaluable and will pay great dividends in the future."
Jubran expects Metcalf to pursue a Ph.D. in mathematics or physics at the end of his four years at Cortland.
Metcalf admits that he hasn't yet had his big breakthrough so far this summer. Gaining a much better understanding of some of the mathematics behind fractal tilings and learning to program in Mathematica to generate aesthetically interesting tilings has been very rewarding. He is continuing to dig into the academic literature, collaborate with Jubran, and apply those lessons to his own research.
"All of it is new to us, so there are a lot of minor 'aha!' moments, such as when you finally understand a concept," Metcalf said. "With the articles, you read through one and then think about it overnight. The next day you go back to it and read through a few definitions again and make even more connections you didn't get the first time through."
His own "Eureka!" could happen at any moment, which is why Metcalf is thankful to be one of SUNY Cortland's summer research fellows.
Movie Production to Film Scenes on SUNY Cortland Campus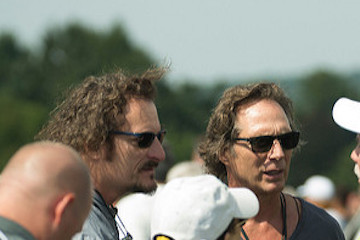 07/18/2017
Parts of the SUNY Cortland campus will become movie sets next week, as actor William Fichtner shoots scenes for "Cold Brook," a drama he co-wrote and is directing.
The "Cold Brook" crew plans to shoot two scenes on campus; one on the College's athletic fields and another near its academic buildings.
"We are very excited to play a role in this project," SUNY Cortland President Erik J. Bitterbaum said. "Bill Fichtner was raised in Upstate New York and has a great appreciation for this area. He had an opportunity to see our campus up close during the New York Jets Summer Training Camp several years ago, and we are thrilled to see him return."
Fichtner is an accomplished actor who has starred in a long list of movies that includes "Blackhawk Down," "Armageddon," "The Dark Knight," "The Perfect Storm," "Contact" and "Crash." His television credits include recurring roles on "Prison Break," "Invasion," "Entourage," "Empire" and "Crossing Lines." He currently plays a regular role in the comedy series "Mom."
"Cold Brook" marks his debut as a director. In addition to Fichtner, the film stars Kim Coates, a regular on the television show "Sons of Anarchy," and Harold Perrineau, who played in "Lost." Coates, a close personal friend of Fichtner, attended Jets Camp with him at Bitterbaum's invitation in 2014.
Fichtner, who grew up in the Buffalo-area community of Cheektowaga and graduated from SUNY Brockport, has already filmed the majority of his movie in and around Buffalo. .
Fichtner has described "Cold Brook" as "the story of two ordinary guys in a small town who embark on an extraordinary adventure. It's a story about coming home; something everyone, everywhere has an innate desire to do."
Summer Blast Color War Day Camp Pits Red Vs. White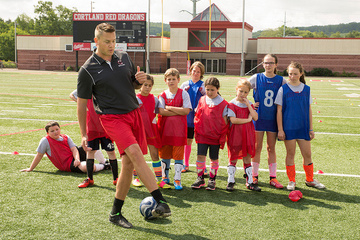 07/18/2017
A tradition will be rekindled at SUNY Cortland this summer.
The inaugural Summer Blast Color War Day Camp will pit two teams — red and white — against one another in a week-long series of activities, with points being accumulated along the way.
"I had been wanting to start up a camp because I know how much the kids who come to our games love being at the venues," said camp director Jaclyn Lawrence, SUNY Cortland's assistant director of athletics. "I wanted to make an affordable camp for kids to come and enjoy our campus and our venues."
Steven Axtell, the College's men's soccer head coach, also had dreamed of bringing such a camp to campus and worked with Lawrence to make this event possible.
The day camp is for children ages 7-13 and will run from 8:30 a.m. to 4 p.m. from July 31 to August 3.
Campers will have access to nearly all of SUNY Cortland's athletic facilities, both indoors and outdoors. Like the summer camps of old, a wide variety of challenges and logic games will be contested, including basketball, flag football, a scavenger hunt, whiffle ball derby and a three-legged race. The color war battle between the red and white teams will stress sportsmanship, camaraderie and fun.
Lawrence and Axtell hope to continue the camp in the years to come, offering local youths the opportunity to come back to SUNY Cortland and compete for their respective team — or at some point hand off the responsibilities to a younger sibling — for years to come.
The registration fee for the camp is $99. Lunch is available for campers each day for an additional fee. Extended drop-off and pick-up hours may also be arranged in addition to the base fee. Campers will be provided with a t-shirt and are encouraged to bring sneakers, sunscreen, a bathing suit and towel as well as a water bottle.
The camp will accept walk-up registrants but will only take cash payments for those who do not preregister. Credit card payments are accepted for those who wish to register online.
For more information on how to register, view the Summer Blast Color War Day Camp brochure online or contact the Summer Camps Office by email or by phone at 607-753-2739.
Film on First U.S. Women's Soccer Champion – SUNY Cortland – Premieres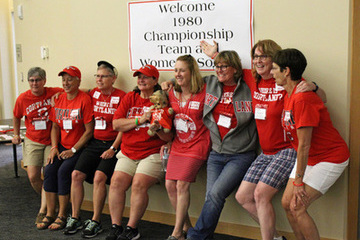 07/18/2017
Cydney Archer Scarano '81 and her husband, Marty Scarano, drove more than seven hours to Cortland from their home in New Hampshire to make it to Alumni Reunion 2017.
The road trip was a reminder of why Archer Scarano came back to campus. Nearly four decades ago, she and 15 of her women's soccer teammates drove 1,700 miles in 40 hours to lead the Red Dragons to the nation's first intercollegiate women's soccer championship in 1980.
That historic journey was celebrated at Reunion on July 8 with the premiere of a 66-minute documentary, "Cortland to Colorado," that celebrated the championship team and its role in the growth of women's soccer in the United States.
"The life lessons are almost more relevant today than they were in 1980," said Archer Scarano. "The coaching, the leadership, the camaraderie, the commitment to the game, the determination, all the things it takes to be excellent at what you do, we had all of those ingredients. As teachers and coaches today, now we're the elders and the ones with the wisdom and we need to share that with the people we're mentoring and teaching. I'm hoping that we can take this documentary and pay it forward. We can use it as a teaching tool."
The 1980 Cortland women's soccer team thought their season was over after vanquishing Princeton, Harvard and the universities of Vermont and Connecticut to win the Association for Intercollegiate Athletics for Women regional title. The NCAA did not sanction women's soccer until the 1982 season, and there were no divisions based on the size of schools' athletic budgets.
Steve Paul, then the women's soccer coach at Colorado College, had other ideas for the Cortland squad.
Paul, a women's collegiate soccer pioneer, created an invitational postseason tournament, outside of the AIAW, to bring together seven of the best women's soccer teams from around the country. The initial field for that 1980 tournament included Cortland as well as Colorado State, Harvard, Northern Colorado, Texas A&M, UCLA and the University of North Carolina.
The surprise, last-minute invitation forced SUNY Cortland officials to make a tough decision. Head coach Anna Rush '57 determined that the team should accept the invitation but also concluded that airfare to Colorado Springs wasn't in the budget. With the tournament set to begin just days away on Nov. 14, driving seemed out of the question, unless the team left right away.
That's exactly what they did.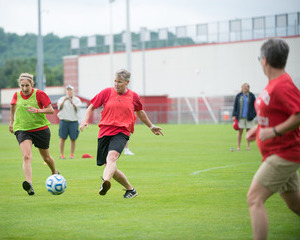 Before they hit the road, Rush made the tough choice of selecting her top 16 players from a 25-woman roster, leaving nine on campus. The team then piled into a pair of red vans and hit the road.
There were plenty of challenges along the way. It was a cold and snowy drive through the Midwest to the Rocky Mountains. The players split driving shifts and sang to one another to stay awake during the middle of the night. An envelope filled with $2,000 — the team's lifeline for lodging and food and fuel — was accidentally left on a gas station counter in Kansas. The players quickly realized their mistake, turned around and recovered the envelope and its contents, untouched.
Once in Colorado, the Cortland women didn't miss a beat on the pitch. The Red Dragons kicked off the tournament with a 3-0 win over Colorado State, setting up a semifinal showdown against rival Harvard. The Harvard players had flown to Colorado, raising money selling birthday cakes to classmates, and some of their players complained of tired, jet-lagged legs. Cortland players, after their grueling cross-country trek, weren't sympathetic. They handed the Crimson a 3-0 loss and advanced to the national championship game and a matchup with UCLA.
Women's soccer at the varsity level was relatively new at UCLA, as it was at many colleges in 1980, but the UCLA brand was one of the biggest in college sports at the time thanks to the success of its men's basketball and football teams. This was a David and Goliath type of game for the SUNY Cortland women.
After overhearing some of the UCLA players mention they had never seen snow before, the Cortland women knew they had an edge over their sun-drenched counterparts.
The Red Dragons left no doubt as to which team was the nation's best, beating UCLA 5-1 to capture the first American title of its kind.
To this day, when members of the 1980 women's soccer team gather, they wear custom-made bright red t-shirts with white lettering. On the front, the shirt reads "Where is Cortland?" On the back, "Ask UCLA."
After a long drive back home, the two red vans first encountered the Cortland Police Department and thought they were being pulled over. Instead, the lights and sirens were part of an escort down Main Street and back to Park Center, where they were mobbed by classmates and members of the Cortland community. The first to meet them were the nine teammates who had been left at home.
The members of the 1980 team and Rush share their memories of that journey throughout the film. However, the story of the Cortland championship team is also told through a national perspective. Abby Wambach, a Rochester native, two-time Olympic gold medalist, a member of the 2015 U.S. Women's World Cup-winning team and an NCAA Division I champion at the University of Florida, shared her thoughts on how the 1980 Cortland team set the foundation for women's soccer in the United States.
University of North Carolina head coach Anson Dorrance, who coached in the 1980 national tournament in Colorado Springs and has since led the Tar Heels to 21 NCAA Division I titles, appears in the film. Bob Scalise, the current director of athletics at Harvard and the women's soccer coach there from 1977 to 1986, is also one of the key interviewees.
"We started to realize this story was way more than Cortland," said team member Leslie Archer '83, Archer Scarano's sister. "As we started to bridge all of this information together, it started getting really interesting to us. We decided to go with it and invite these other teams to have a say."
The film was produced and directed by Joe Calderone of InItIIWinIt Productions, a Saratoga Springs, N.Y.-based video production company focused on athletics.
"I'm just honored that you let me tell your story," Calderone said to the players, coaches, families and friends assembled in SUNY Cortland's Sperry Center after the premiere. "What made this documentary, honestly, you guys made the story. You won the national championship and you made history. You were amazing on camera and you were so much fun to work with."
Future distribution of the film remains in the planning stages. There are hopes to air it on PBS affiliates in central and western New York as well as showings at film festivals and the 2018 National Soccer Coaches Association of American annual convention in Philadelphia.
A trailer for the documentary and a roster and photos from the 1980 season are presented online at tworedcortlandstatevans.com.
"We really think this is a pure, innocent and fun and also positive story in sports and it's so hard to find those today," said Leslie Archer. "This is really how it started."
Calderone had worked as a sports anchor at Your News Now in Albany and knew Leslie Archer professionally from her time coaching girl's soccer at Shaker High School in Latham. The two met at the Latham '76 Diner and Archer shared the story of the 1980 Cortland women's soccer team. Calderone was hooked, and the idea for a documentary was born.
Archer Scarano had also been thinking for years about how to tell this story. Archer Scarano's husband, Marty Scarano, is the athletic director at the University of New Hampshire. He has previously served as athletic director at Colorado College and during their time there, Archer Scarano dug through the athletic archives for information on the 1980 tournament that had been played on campus.
Calderone interviewed members of the team when they got together in Cortland during Alumni Reunion 2014. Interviews with titans of the game like Wambach and Dorrance, who made himself available after a UNC road game at Syracuse, helped put Cortland's achievement in perspective. A little bit of comedy from class clown Lisa Langworthy '82 and photos pried out of scrapbooks put the finishing touches on the remarkable story of the 1980 season.
Hours before the documentary was screened, members of the team gathered for an alumnae game on Holloway Field. When head coach Anna Rush arrived, players stormed over to greet her. Smiles were all around but the hugs would have to wait until Rush could make her away around the fence surrounding the field.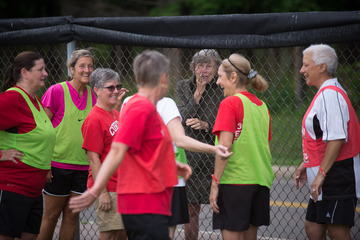 Following the screening, team members presented Rush with a Pioneer Award. Rush had never played soccer or coached it prior to her appointment as coach in 1978. She was not a master tactician — assistant coach Ron Hanson was the team's game plan expert — but Rush inspired the team through her ability to listen and manage a group of young women.
Leslie Archer read the following inscription on the Pioneer Award vase: "For her unwavering dedication, guidance, patience, love and innovative coaching style that helped change the landscape of women's soccer, thank you momma Rush for believing in us all the way to Colorado and back. Love, the 1980 championship team."
Decked out in their red "Where is Cortland?" T-shirts, members of the team gathered around to share even more memories and snap a few photos once the film was over. It was clear, all these years later, that they had not only put Cortland women's soccer on the map, but they had set the foundation for the beautiful game in the United States.
Millions now tune in each time the women's national team takes the field in Olympic and World Cup competition. Thousands more have had the opportunity to play women's soccer at the collegiate level thanks in large part to the exploits of an underdog team from upstate New York.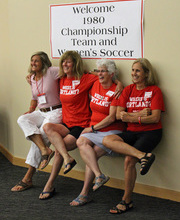 When Archer Scarano first became a member of the SUNY Cortland women's soccer team in 1976, it was still a club sport. By 1978, the team had a new head coach, Rush, and was elevated to varsity status. As a varsity team, the Red Dragons were dominant from the start. The 1978 team went 11-0 and outscored its opponents 132-2.
That season put Cortland women's soccer on the map. The team started seeing talented players transfer to Cortland and became a destination for the top high school players from across upstate New York.
SUNY Cortland scheduled tougher opponents and went 10-1 during the 1979 regular season. It was one of eight colleges to qualify for the AIAW eastern championships at Brown University in Providence, R.I.
With wins over Pennsylvania State University and St. John Fisher College, SUNY Cortland advanced to face Harvard University in the 1979 AIAW eastern championship game. Cortland and Harvard were tied 1-1, in overtime, when game officials decided to suspend it because of darkness.
The Cortland women declined to take championship medals for their participation in the tie match. The title game draw only fed the competitive fire of the players as they began to prepare for the next season.
A year later, in 1980, the Cortland women went 9-3 in the regular season and qualified as the No. 8 seed in an eight-team AIAW eastern championship tournament. In the opening round, the Red Dragons knocked off top-seeded Princeton 2-0 in a Nov. 5 game on the Princeton campus, setting up a semifinal rematch with Harvard three days later at the University of Vermont. Cortland won that game, 2-1, and then defeated the University of Connecticut, 5-2, on Nov. 9 to capture the AIAW eastern title.
The Red Dragons returned to campus and celebrated, thinking their season was over. Then they received their fateful call from Colorado.
The rest is now history — documented history.
Now, the members of that 1980 Cortland women's soccer team hope their story can be a lesson to anyone willing to listen. If you're willing to work hard and follow your dreams — even if that dream is 1,700 miles and 40 hours away — anything is possible.
"This lesson, to me, this is what we do at Cortland," Archer Scarano said. "We teach how to teach. We teach how to develop young people to be excellent in whatever they do. This is so important."
The film is available online at CortlandtoColorado.com.
New Light Fixtures, Big Savings in Old Main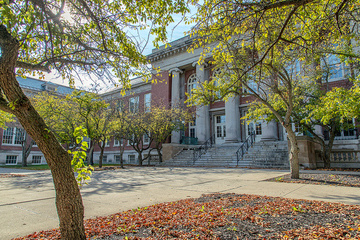 07/18/2017
The SUNY Cortland campus just got greener.
During the 2016-17 winter break, Campus Energy Manager Matthew Brubaker oversaw the installation of 136 new light-emitting diode (LED) lighting fixtures in the corridors of Old Main, the original, nearly 100-year-old building around which the current campus grew. The new LED bulbs use just 26 watts, compared to the 150 watts of the old incandescent metal halide lamps.
In just six months, that change has saved enough energy to power five residential homes for about a year.
Between January and June 2017, Old Main used 52,000 fewer kilowatt-hours than it did in the first six months of 2016, Brubaker said. Those savings have offset 20 metric tons of carbon emissions. Thanks to the energy savings and an incentive received from National Grid, the cost of the installation has already paid for itself.
"Because the corridor lights were on so much, and using an older technology [incandescent Metal Halide Lamps] we are able to realize such a huge savings," Brubaker said. "When looking at projects like these, it comes down to how often the lights are on. That's why it's been such a good saver and such a good fit."
Brubaker credited SUNY Cortland electricians Jim Sharpsteen and Jim Vogel for installing of the new fixtures.
A similar project at Corey Union, which replaced 18 fixtures, has offset about four metric tons of carbon emissions. Those fixtures in Corey Union had been using 18-watt bulbs and were reduced to 9-watt LED bulbs.
Brubaker is hoping to retrofit fixtures in the Miller Building before the end of the summer and begin further projects in Corey Union this fall. Further fixture replacements will occur across campus in the years to come.
These energy efficiency projects are part of a larger push by the College to reduce overall campus energy use which directly supports its commitment to greenhouse gas emissions reductions. SUNY Cortland was the first SUNY campus to sign the American College and University Climate Commitment, pledging to attempt to eliminate its greenhouse gas emissions by 2050. The College is already purchasing renewable energy certificates for all of its electricity and was the first SUNY campus to achieve a gold rating in Sustainability Tracking, Assessment & Rating System (STARS) from the Association for the Advancement of Sustainability in Higher Education (AASHE).
CALS Lecture Grant Applications Available
Campus Artist and Lecture Series (CALS) Lecture Grant Applications are now available for the 2017-18 academic year. Applications are eligible for a maximum of $500 and are open to any club, program or department. These lecture grants will not cover performances of any kind.
Applications must be received by Thursday, Sept. 7, in order to be considered for September, October, November and/or December 2017 lecture programs. Applications received after this date may not be eligible for any fall semester funds remaining.
For more information or to request a hard copy of the CALS Lecture Grant Application, email Sandra Wohlleber or call 607-753-5769.

Suggest a feature story
---
People on the Move
Nicole Wentz Hired as Cortland Women's Volleyball Head Coach
07/18/2017
Nicole Wentz has been selected as the new women's volleyball head coach at SUNY Cortland in an announcement from director of athletics Mike Urtz. Wentz served as the head women's volleyball coach at Keystone College in La Plume, Pa., for five seasons from 2012-16 as well as two years from 2003-04.
Wentz takes over for Pam Hoerup, who is leaving after 12 seasons to pursue other educational opportunities. Hoerup led the Red Dragons to a combined 331-142 record, six SUNYAC titles and six NCAA tournament appearances, including a national quarterfinal appearance in 2011.

"I want to extend my thanks and appreciation to Director Urtz, Associate AD Courtney Wormuth, Assistant AD Jaclyn Lawrence and the rest of the search committee for sharing in my vision for what I believe is going to be a tremendous opportunity at SUNY Cortland," Wentz said. "Throughout the interview process, it was apparent that Cortland is committed to athletics and the volleyball team's success, both on and off the court, and I look forward to contributing to the rich traditions of the Cortland volleyball program.

"I am grateful to the administration for the opportunities that I had at Keystone College over the past five years and feel that the Keystone program is stronger than when I started. My experience there has helped prepare me to begin this exciting new chapter of my career. I will bring that same competitive spirit, intensity and sense of team to Cortland."

Wentz led the Giants to a 21-10 overall record and a 10-1 record in the Colonial States Athletic Conference (CSAC) during the 2016 season. Her squad made its second straight conference playoff appearance for the first time in school history and advanced to the title match before falling in five sets to top-seeded Cabrini.

In 2015, Wentz guided Keystone to a 21-7 overall mark and a 9-2 league record and was named the CSAC Coach of the Year. Over the past five years, she has coached 11 all-conference players, with her players also earning three all-region awards and two All-America honors.

In addition, Wentz was selected in 2013 as a member of the NCAA Division III women's volleyball top 25 ranking committee. She served as the chair of the AVCA Mid-Atlantic All-Region committee and held a spot on the organization's All-America committee.

"We are very excited to have Nicole join our staff and lead our women's volleyball program here at SUNY Cortland," said Urtz. "Nicole's vast experience in the sport should serve our student athletes well, creating a positive and competitive environment for the young ladies to grow and prosper in."

Prior to her first stint at Keystone, Wentz was the head coach at Franklin and Marshall College, where she led the Diplomats to 28 wins, a conference title and a national ranking in 2002 along with 22 victories in the 2001 season.

Wentz is an alumna of Muhlenberg College (Pa.) She earned a bachelor's degree in business administration and played four seasons on Muhlenberg's volleyball team during a stretch of a school-record five consecutive 20-plus win seasons. She started her collegiate coaching career as an assistant coach at Division I Lehigh University in 1998 and was an assistant at Division I Temple University in 1999 for an Owls' squad that won its third straight Atlantic 10 title and competed in the NCAA playoffs. She earned a master's degree in athletic administration from Temple.

Wentz and her husband, Jeremy, have four children – Jackson, Brielle, and twins Colton and Caleena.

---
Faculty/Staff Activities
Amy Berg
Amy Berg, Information Resources, is a recipient, along with two colleagues, of the SUNY Council of Chief Information Officers (CCIO) Team Collaboration Award for the implementation of SUNY Breach Insurance Program. The SUNY Breach Insurance program provides SUNY colleges with a cost effective and easy to procure process for acquiring breach insurance for an individual campus. It took about a year from idea to realization. Through their efforts and stewardship and close collaboration with colleagues, data breach insurance, once unattainable due to cost, is now within reach to many SUNY campuses at a reasonable price point. The Team Collaboration Award recognizes individuals, groups or institutions whose work exemplifies CCIO's efforts to build and support SUNY's IT community. The awards were presented at the annual SUNY Technology Conference held June 20-22 in Lake Placid, N.Y.
Mark Dodds
Mark Dodds, Sport Management Department, was interviewed by The Detroit News on June 1. He provided a sponsorship and economic impact analysis for the Belle Isle Grand Prix IndyCar race.
Kathleen A. Lawrence
Kathleen A. Lawrence, Communication Studies Department, recently received word that her poem "High Tea" has been nominated for the Best of the Net competition by Highland Park Poetry, for the first time. Her speculative poem "Vampirette" has been accepted for publication by Star*Line, the print journal of the international Science Fiction and Fantasy Poetry Association. Her parallel haiku poem "Extracurricular" is forthcoming in Sonic Boom Journal. Her spiraling abecedarian poem "Curiously, Unexplainably Optimistic" will be published in the magazine Edify Fiction.
Chris Manaseri
Chris Manaseri, Foundations and Social Advocacy Department, presented at the Country School Association of America's annual conference this June in New London, N.H. The group, devoted to the restoration and interpretation of one-room schools across the country, heard Manaseri's dissertation presentation called "Keeping School: One-room Schoolhouse Preservation Projects in the Greater Finger Lakes Region." Manaseri visited, photographed and catalogued more than three dozen projects, and interviewed 60 informants for the study.
Nance S. Wilson
Nance S. Wilson, Literacy Department, co-authored a chapter with Michelle Kelley titled "Avid Readers in High School: Are they Reading for Pleasure?" It is included in Teaching Adolescent Literature Today, J. A. Hayn & J. S. Kaplan, editors. The book was selected to be showcased in Cambridge Scholars Publishing's July 'Best Sellers' marketing campaign.

Submit your faculty/staff activity