Lt. Governor Returns with Answers on Free Tuition
05/02/2017
New York Lt. Gov. Kathy Hochul will return to SUNY Cortland's campus Friday, May 5, to help answer questions from students, parents, staff, faculty and area families about SUNY's new free tuition program.
Hochul will talk about how Gov. Andrew Cuomo's Excelsior Scholarship program will be implemented in the Fall 2017 semester and answer questions from members of the campus and local community at 4:45 p.m. in Brockway Hall Jacobus Lounge.
"In addition to the SUNY Cortland campus community, this is a wonderful opportunity for parents and high school students in Central New York to learn how this unique and innovative program can impact their lives," said SUNY Cortland President Erik J. Bitterbaum, who will host the event.
Members of SUNY Cortland's Financial Aid Office will also be on hand.
Under the program, the first of its kind in the nation, middle-class families and individuals making up to $125,000 a year will eventually qualify to attend college tuition-free at all public universities in New York state, including SUNY Cortland. This year, the income limit is set at $100,000. It will grow to $110,000 in 2018 and $125,000 in 2019.
The measure, which requires participants to commit to working in New York state immediately after graduation, has raised numerous questions about the implementation. Hochul is one of several representatives of the governor's office who are traveling across the state in an effort to answer some of those questions.
That makes this week's campus visit by Hochul very different from her March 22 appearance on campus. Then, the Excelsior Scholarship was still an ambitious proposal from the governor that needed legislative approval and public support. Now that free tuition is a reality, she is returning to Cortland to explain the details.
The event is free, and all members of the Cortland community are invited to attend.
Students Travel to Cuba This Summer
05/02/2017
For the first time in its history, SUNY Cortland is sending a group of students to the once-forbidden Island nation of Cuba for a wide-ranging study abroad program this summer.
The nine-day trip will include visits to historic and culturally important sites in Havana, Matanzas and Varadero, Cuba in early June.
Presented by the school of professional studies, the six-credit Cuba program is open to undergraduate and graduate students from all disciplines. The 19 selected students were required to participate in a pre-departure course to shape an individual research proposal during the spring semester. For example, business economics majors may study the current financial climate in Cuba while sport management majors may pursue the role of baseball in Cuban culture. Some students plan to gather and present their findings through interviews, presentations and videos.
Bonni Hodges, chair of the health department, and Justin Lovich, coordinator of international studies in the sport management department, are the faculty members leading the Cuba visit. Lori Schlicht, associate director for academic engagement, will join Hodges, Lovich and 19 SUNY Cortland students in Cuba.
"We're trying to accommodate a variety of majors," said Hodges. "Instead of saying, "You must do this," we're saying, "Start with a question. What question do you want to answer? Propose to us a project that involves some background research and explain to us how you're going to use your time in Cuba to answer your question and tell us what artifact you're going to produce as your project."
The United States restored diplomatic relations with Communist Cuba less than two years ago, after more than half a century of enmity stemming from the Cold War.
Bonni Hodges poses with Matanzas mascot Cocodrilos on a previous trip to Cuba.
Jordan Kobritz, chair of the sport management department, has spearheaded SUNY Cortland's push for an academic partnership in Cuba for years. A former owner of Triple-A (Maine Guides) and Single-A (Daytona Cubs) baseball teams, Kobritz has served as senior advisor to the Caribbean Baseball Initiative since 2011. CBI aims to connect the United States and Cuba through baseball clinics, workshops, symposia, conferences and games.
Kobritz has visited Cuba on numerous occasions. He traveled there last fall with Hodges, Lovich and Gonda Gebhardt, associate director of international programs, to scout locations for the study abroad program. In April 2016, Kobritz organized CBI's Cuba Symposium at the College, which brought in guest speakers including former U.S. Defense Secretary and Senator William S. Cohen.
"We're trying to give back to the Cuban people by upgrading their facilities and baseball equipment," Kobritz said. "We're getting involved in education as it relates to sports and you can see where the connection is to athletics and SUNY Cortland. (CBI) had the symposium on campus last spring and brought up diplomats, baseball people and academics and different ways we could collaborate with the Cuban people."
SUNY Cortland is planning educator and student exchange programs to bring Cuban students and professors to campus. The strong response among students at the offering of a study abroad program in Cuba has Hodges and Kobritz excited about similar ventures in the future.
SUNY Cortland's International Programs Office also played an instrumental role in sponsoring and developing this study abroad course and organizing last year's Cuba Symposium.
The visit will include a briefing at the United States' embassy in Havana. SUNY Cortland students will tour sports facilities including the Ciudad Deportivo, Estadio Lationamericano and Palmar del Junco, a baseball stadium that opened in 1874 and remains in operation to this day. Other highlights of the itinerary include a tour of the Museo de la Revolucion (the Museum of the Revolution), the Hotel Nacional de Cuba, Finca Vigia (the estate of Ernest Hemingway), the University of Havana and the studio of artist Reyneiro Tamayo.
"The baseball stadia get at the economic piece of it, the cultural piece of it and the baseball part," said Hodges. "We'll also visit one of my favorites, the artist Tamayo. He's just an amazing human being. I've been to his house twice and seen his stuff. He's wonderful and he'll be great with the students. Essentially, it's an exposure to history and art and economics, really, through a variety of activities that we are engaging them in."
The SUNY Cortland faculty worked with a Cuban travel agent on the details of lodging, meals and transportation. As for the range of academic field trips during the visit, the Cuban government was amazed by the ambitious schedule of events.
"All these things have to be approved by the Cuban government before you go on these things," Kobritz said. "When the travel agent showed them the itinerary, they were aghast. "Who put this together? We've never seen an itinerary like this."
"Most of it we put together. It's going to be pretty special and I know they (the students) are all excited about it."
A full itinerary is posted online.
---
Capture the Moment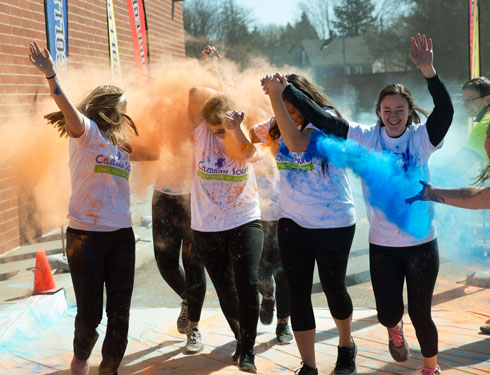 Adding more color to spring than nature could provide, the Sertoma Celebrate Sound 5k Color Run saw 170 runners and walkers cross the finish line on April 23. Sponsored by the Student Activities Board and the College's student chapter of the National Student Speech Language Hearing Association (NSSLHA), proceeds benefit Sertoma's Hearing Charities of America which provides scholarships for students with hearing impairments and students pursuing degrees in communication disorders and sciences. Additional support is provided for clinics such as SUNY Cortland's Center for Speech, Language and Hearing Disorders. With the help of 40 student volunteers, the event raised more than $10,000.
---
In Other News
Six Honored with SUNY Chancellor's Awards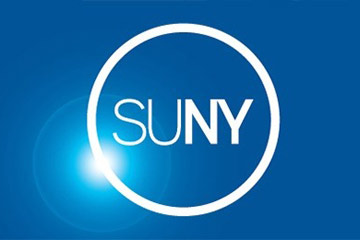 05/04/2017
Six SUNY Cortland faculty and staff members will receive the prestigious State University of New York Chancellor's Award for Excellence during the 2017 Undergraduate Commencement ceremonies.
The honorees are:
Theresa M. Curtis, associate professor of biological sciences — Chancellor's Award for Excellence in Teaching.
Sherry Ellis, library clerk 3 in The Help Center, Memorial Library — Chancellor's Award for Excellence in Classified Service.
Caroline K. Kaltefleiter, professor of communication studies — Chancellor's Award for Excellence in Teaching.
Lisi Krall, professor of economics — Chancellor's Award for Excellence in Scholarship and Creative Activities.
Lynn Couturier MacDonald, professor and chair of physical education — Chancellor's Award for Excellence in Faculty Service.
Carol A. Van Der Karr, associate provost, academic affairs — Chancellor's Award for Excellence in Professional Service.
The Chancellor's Awards provide system-wide recognition for consistently superior professional achievement and encourage the pursuit of excellence at all 64 SUNY campuses. Each campus president submits nominations, which are reviewed by the SUNY Committee on Awards.
SUNY Chancellor Nancy Zimpher said it was an honor to recognize with the Chancellor's Award for Excellence the work of the SUNY Cortland faculty and staff and that of their colleagues across SUNY.
"They are the best of our best, having ensured student success as they educate and mentor students with innovative approaches to academic instruction, infuse curricula with applied learning opportunities, adapt best practices from throughout SUNY, and much more," Zimpher said.
This year's award winners are profiled below:
Theresa Curtis
Not content with having established a strong reputation as a respected scholar in her field, Curtis, the 51st SUNY Cortland faculty member to be honored by SUNY for teaching excellence, generously invites students to share in her laboratory adventures of the mind.
| | |
| --- | --- |
| | |
| | Theresa M. Curtis |
"I'm able to meet all of my teaching goals because I'm an active scholar in my field," said Curtis, who earned her Ph.D. in physiology and cell biology from Albany Medical College.
Prior to joining the College in 2007, Curtis was a senior scientist for Agave BioSystems, where she conducted research on the development of a chemical and biological toxicant sensor using mammalian cells. She was the principal investigator for grants that brought in more than $500,000 in commercial funding.
Curtis has maintained a very active research program, publishing numerous peer-reviewed articles and securing more than $400,000 in external research funding. These awards are primarily supported by the U.S. Army Center for Environmental Health Research, Small Business Innovation Research, and SUNY Health Now Grant.
"As an active researcher, I have been able to support numerous students in my lab every year that have attended national meetings, published papers and even followed me to Cornell University to do research during my sabbatical," Curtis said.
Nominators observed that Curtis brings into the classroom a superior level of organization, adherence to high academic standards, clarity of presentation of material, student engagement and faculty mentoring in undergraduate research opportunities.
"Students were particularly attentive when she utilized some of her personal experiences to give greater reality to her objective points," noted Phil Buckenmeyer, chair of the College's Kinesiology Department. "Theresa's wealth of experiences was clearly a selling point to her presentation."
When teaching a variety of undergraduate and graduate level courses, Curtis combines lectures with interactive higher order critical thinking questions to elicit student responses.
"Her questions were 'tiered,' i.e., sequenced, affording students the opportunity to build gradually on their comprehension of the material presented," Buckenmeyer said.
High expectations, combined with challenging, rigorous and continuous feedback characterize her grading policy. Students have responded by giving her especially high points in their course-teacher evaluations (CTE) of her performance. "Love the presentation, energy and charisma," one student noted in a CTE.
Curtis chairs the Pre-Medical Advisory Committee. She advises the College's Pre-Medical Club and pre-medical and pre-dental students. She addresses curricular issues on behalf of graduate students.
"I find no greater joy than transforming an undergraduate student into a confident young scientist," Curtis said.
Sherry Ellis
Ellis' rapport with students, faculty and staff and her problem-solving skills have made her an invaluable part of Memorial Library.
| | |
| --- | --- |
| | |
| | Sherry Ellis |
Ellis trains and mentors 25 to 30 student workers in Memorial Library each semester. Her influence lasts with those students long after their time working in the library.
"Sherry taught me that you always should make time for others, give great customer service, and create a good workplace environment," said a student.
Ellis is genuinely committed to the SUNY Cortland community and strives to do her best for the students, faculty and staff who request her assistance. Her knowledge of library policy and procedure make her a go-to resource for those seeking her insight and professional opinion.
A campus leader in technology issues, Ellis has assisted with rollouts of new technologies on campus, including recent wireless network security upgrades. Ellis is also leaned on for her knowledge of electronic equipment available for loan, often giving quick tutorials for those checking out these items. Once, she volunteered to help carry laptops and projectors to a customer's car despite having a broken foot at the time.
When SUNY Cortland's Tech Help Center merged with the circulation desk to form the Help Center, Ellis used her leadership and communication skills to weather a chaotic period.
"Sherry handled this transition with patience and professionalism that is a hallmark of her work here at SUNY Cortland Memorial Library," said Jim FitzGerald, coordinator of circulation help at Memorial Library.
Ellis is constantly brainstorming new ideas, including a combined social and study area in the Bookmark Café, extending library hours during finals week and adapting to new software. She also works tenaciously to track the owners of valuables misplaced in the library, much to the relief of students.
"Sherry's demeanor is always friendly, approachable and helpful," said president Erik Bitterbaum. "She is a consummate professional and a role model for the campus."
With 17 years of total service at SUNY Cortland, Ellis is the College's ninth recipient of the award for excellence in classified service.
Caroline Kaltefleiter
An international expert on the "Riot Grrrl" underground feminist movement of the early 1990s, Kaltefleiter skillfully uses her scholarly activities and professional experiences to inform her courses and vice versa.
| | |
| --- | --- |
| | |
| | Caroline Kaltefleiter |
SUNY Cortland students and faculty alike have deep respect for the sometimes-unusual teaching methods of Kaltefleiter, known to her students as "Dr. K." Her excellence in teaching is reflected in students' written comments and ratings from CTEs, as well as letters from former students, and statements by colleagues and by committee members following class visitations.
Kaltefleiter regards herself as a media scholar and broadcast journalist with "a dialogic relationship between students and teacher." Her "liberatory classroom" learning environment is student-centered, interactive, innovative and open to a host of student perspectives.
"Students are asked to present arguments regarding various questions and to present position statements through media analyses, creative projects, participatory media programs, social media design as well as community engagement events and project management," Kaltefleiter wrote.
She expects excellence and professionalism from her students, models it in her classroom every day and works tirelessly with her students to achieve it. Student work is evaluated on the structure and sophistication of their arguments through the use of textual evidence, rhetorical skills, in-class discussion, media design and project presentation.
Kaltefleiter's students and graduates repeatedly note her passion for teaching, her strong commitment to student learning, and her constant charge to her students to listen respectfully to the differing perspectives of their peers and to think critically.
"Dr. K. has broken down divides and taught young adults not only how to perceive the real world but how to understand and change it," wrote another former student.
Faculty colleagues noted Kaltefleiter's dedication, expectations of excellence, integrity, professionalism and teaching talent.
She is a frequent speaker at regional, national and international conferences and encourages her students to present their research findings.
A series editor for the Transformative Justice Book Series and a manuscript reviewer for Oxford University Press, Kaltefleiter serves on seven other editorial boards. Her book, Reimagining Girlhood: Communities, Identities, Self-Portrayals, is in press. She serves as executive director of NPR's "The Digital Divide," and as news anchor for local segments of "Morning Edition" and "All Things Considered."
Kaltefleiter, who joined the SUNY Cortland faculty in 2001, is the 52nd SUNY Cortland faculty member honored by SUNY for teaching excellence.
Lisi Krall
Krall 's innovative and interdisciplinary research has made a significant impact on her specialty, which includes the capital theory of salary and wage bias, the economics of agriculture and land use policy in the American West and ultrasociality, the study of agriculture, sustainability and the division of labor of social animals.
| | |
| --- | --- |
| | |
| | Lisi Krall |
A SUNY Cortland faculty member since 1990, her scholarly output includes more than 35 articles and essays and a book. Nineteen of Krall's articles have appeared in high-impact peer-reviewed journals including Cambridge Journal of Economics, Conservation Biology and Environmental Ethics.
Most recently, Krall's work on the evolution of ultrasociability and the economics of agriculture and sustainability in social animals has drawn praise from her peers.
Her "insights into the impact of agriculture on economic organization help explains humanity's current crises of ecological degradation and growing inequality," said Joshua Farley, a professor of community development and applied economics at the University of Vermont.
Krall has contributed more than 10 peer-reviewed papers and also published book reviews and research reports that have opened new areas of research in the field.
Proving Up: Domesticating Land in U.S. History, Krall's 2010 book on the agrarian economics of the western United States, was well-received within her discipline.
"Krall's book is an exceptional contribution to the economic history for the American West," said Richard Edwards, a professor of economics and the director of the Center for Great Plains Studies at the University of Nebraska.
Her publications have amassed more than 200 citations in top peer-reviewed journals and her letter to Science magazine on "Establishing Indicators for Biodiversity" has been cited in more than 30 peer-reviewed publications.
Krall has presented research at multiple high-profile international venues as well as local and regional conferences.
In 2004, Krall was awarded a Fulbright Specialist Grant in Economics at Omsk State Pedagogical University in Russia. She has been appointed or elected to the governing boards of professional organizations including the Center for the Advancement of the Steady State Economy, the Agrarian Trust, the Center for Great Plains Studies and the Science Advisory Board for the Evolution Institute.
In 2014, she was awarded the prestigious SUNY Cortland Outstanding Achievement in Research Award.
Krall is SUNY Cortland's 14th recipient of the system-wide award honoring scholarship and creative activities.
Lynn Couturier MacDonald
Since she arrived as chair of the Physical Education Department in 2008, MacDonald, the 14th SUNY Cortland recipient to earn the system-wide faculty service honor, has ably served her large and influential department while advancing the field nationally.
| | |
| --- | --- |
| | |
| | Lynn Couturier MacDonald |
"Lynn has excelled at her service because she works hard and utilizes her talent for making decisions that will best meet the needs of her students, faculty and colleagues across the state and nation," said K. Michael Kniffin, associate professor emeritus of physical education and director emeritus of the Faculty Development Center at SUNY Cortland. "She is a masterful leader who establishes trust with her students and colleagues."
On campus, she has served on the Academic Affairs Committee, the Institutional Planning and Assessment Committee and as graduate coordinator for the Physical Education Department.
At the national level, MacDonald is a member of the Teacher Education Council and Intercollegiate Athletic Board and has served as lead writer to the Council for the Accreditation of Educator Preparation (CAEP) and SPA accreditation reports.
Since 1993, she has held positions including chair for constitution, bylaws and operating code in the Eastern District Association of American Alliance for Health, Physical Education, Recreation and Dance (AAHPERD). MacDonald has served as president of the National Association for Sport and Physical Education (NASPE). She has been an active member of NASPE's National Council for Accreditation of Teacher Education, serving as chair of the TPAC Review Committee. MacDonald has helped develop high standards in the field as chair of the Task Force for Guideline Revisions for the National Council for Accreditation of Coaching Education.
In 2016, MacDonald was inducted as a Fellow into the North American Society of Health, Physical Education, Recreation, Sport and Dance.
A prolific researcher in the field, MacDonald is the author of more than 70 published book chapters, articles, proceedings and presentations on national standards, accreditation coaching, physical education, gender equality, curriculum and teaching.
"Through her scholarship, Dr. MacDonald has moved the field to a more research-driven discipline," said Stevie Chepko, senior vice president for accreditation for the Council for the Accreditation of Educator Preparation. "Her contributions to the scholarly literature have been extensive and significant."
| | |
| --- | --- |
| | |
| | Carol A. Van Der Karr |
Carol A. Van Der Karr
In 17 years of service at SUNY Cortland, Van Der Karr has made an innovative and positive impact on numerous academic areas. She has worked tirelessly to improve and enhance assessment, advisement, enrollment management, student retention, faculty development and international programs.
Van Der Karr joined SUNY Cortland in 2000 as the director of the Advisement and Transition office. She was then promoted to interim assistant provost for enrollment management and in 2010 was named associate provost for academic affairs. Van Der Karr currently supervises Institutional Research and Analysis, Advisement and Transition, International Programs, Registrar's Office and Extended Learning Office.
Van Der Karr initiated and co-facilitated a conference to identify retention strategies, resulting in the creation of Promoting Academic Student Success (PASS), an early alert and intervention system for students who are struggling academically. She also developed a comprehensive plan to enhance faculty advisement.
"Carol helped faculty to improve their level of academic advising and reinforced its role as a key to student success," said Kathleen Burke, professor and chair of the Economics Department.
Van Der Karr redesigned SUNY Cortland's introductory course for first-year students, COR 101, resulting in a substantial increase in student satisfaction.
By spearheading the use of the #reddragonstrong hashtag on social media, Van Der Karr enhanced engagement and generated campus pride between students, faculty, staff and alumni.
"One of Dr. Van Der Karr's strengths is that she understands the sense of community and shared values around overall student experiences," said Michael Braun, president of the Student Government Association.
As the College's liaison with SUNY System Administration and the New York State Education Department, Van Der Karr has provided leadership to curricular initiatives. She has streamlined the campus curricular review process and brought it online.
She also developed the Advisement and Transition Office, which supports nontraditional students, graduate services, transfer credit evaluation and orientation.
Provost Mark Prus and Deans John Cottone, School of Professional Studies; Andrea Lachance, School of Education; and R. Bruce Mattingly, School of Arts and Sciences, issued the following joint statement about Van Der Karr's contributions to SUNY Cortland.
"On campus and beyond, Dr. Van Der Karr is a sought-after presenter and trainer for staff retreats and training due to her broad and deep knowledge and engaging presentation style that embodies insight, creativity, good humor and humility. Dr. Van Der Karr cares deeply about the life of the institution, continually striving for improvement. She is an accomplished and inspiring professional whom colleagues appreciate not only for her collaborative approach, sound problem-solving and decision-making, but also because of the care and compassion she imbues in her work."
Van Der Karr frequently presents at regional, statewide and national conferences, including the Middle States Commission on Higher Education Annual Conference, the National Academic Advising Annual Conference and the National First-Year Experience Annual Conference.
Van Der Karr earned a Doctorate of Philosophy in Higher Education from Syracuse University. Her dissertation, "Becoming a Cooperative Learner: Experiences at a Community College," received the Syracuse University Doctoral Prize for Excellence in Research.
In 2016, Van Der Karr was honored with the SUNY Cortland Excellence in Research, Scholarship and Outreach Award. She was presented with the Clark Center Internationalization Award in 2011 and the SUNY Cortland Excellence in Professional Service Institutional Service Award in 2006. Van Der Karr has twice received the SUNY Cortland Women of Color Recognition Award.
Van Der Karr is the 30th employee honored for excellence in professional service by SUNY.
Nontraditional Student Programs Recognized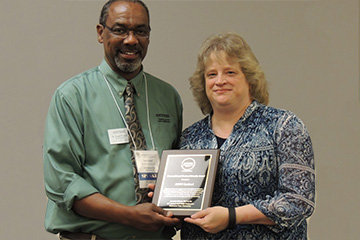 05/02/2017
It's something SUNY Cortland's approximately 300 nontraditional students have known for a long time: the College is a welcoming place for undergraduates who are pursuing a college degree later in life.
The campus has earned national recognition for helping such students, which SUNY Cortland defines as being 24 years and older, make the most of their Cortland experience.
The Association for Non-Traditional Students in Higher Education (ANTSHE) recognized SUNY Cortland for being a nontraditional student-friendly campus March 25, during the 20th annual ANTSHE Conference at Kennesaw State University in Georgia.
The College was one of only two institutions nationwide to earn a 2017 ANTSHE Nontraditional Student-Friendly Award from the association during this year's conference. The Adult Center at Indiana University Southeast, New Albany, Ind., was also recognized.
Cheryl Hines, SUNY Cortland's coordinator of student outreach and nontraditional student support, accepted the honor on behalf of the College's Advisement and Transition Office (see above left image).
ANTSHE spokesperson Lori A. Viar complimented the College in a letter announcing the award.
"Your adult learner program was recognized for being nontraditional student-centric and beneficial in aiding nontraditional students in achieving their academic goals and dreams," Viar said.
"ANTSHE's Annual Nontraditional Student-Friendly Award recognizes adult learner programs at colleges and universities across the country that provide the resources, support, motivation and environment that encourages older students and aides in their success," Viar said. "It is the physical location, resources and academic support that is assessed and rewarded."
Nationally, nontraditional students are defined as those who matriculate with a time lapse in education after high school, those raising children, ones working full time, individuals with prior military experience or those who have an interruption in their education. And they make up an increasingly large segment of campus populations. These scholars often take unique paths to realize their academic goals and achieve their degrees after overcoming obstacles that traditional, right-out-of-high-school students don't usually face.
The adult learner programs at ANTSHE award-winning colleges have proven to be successful at catering to their nontraditional students by designing programs around those students' needs, and providing the resources and support they need to achieve educational success, Viar said.
The colleges or universities were assessed to determine how nontraditional student-centric they are based on their programs and level of support that they provide.
"It is Cheryl's leadership and her dedication and support of our students that led to SUNY Cortland receiving this award," noted Lori Schlicht, the College's associate director of academic engagement. "In particular, Cheryl created the 'Celebrate a Non-Trad' campaign, where students, faculty and staff recognize our non-trad students for their hard work and dedication. This recognition highlights the fact that most of our non-trads balance family, jobs and other commitments."
The College also hosts a chapter of the academic honor society dedicated to nontraditional students, Alpha Sigma Lambda.
The association in its assessment was equally impressed by another successful yearly initiative at SUNY Cortland, the Non-Traditional Students Week.
"In fact Cheryl has been acknowledged twice through ANTSHE with the 'Best Nontraditional Student Week Celebration,'" her colleague Schlicht noted.
The week features daily programming focusing on both social and academic impacts. Non-Trad Week events have included family activities, a specially tailored scholarship session, a free taco bar and a "Non-Trads Rock" T-shirt day when anyone spotted wearing that signature shirt won a prize. The College in recent years has publicly recognized five notable nontraditional students during the week with stories about them appearing on the College's news pages.
Additionally, the College some years ago created dedicated space for non-traditional students, giving them social space to relax and computers for school work. That measure also fits the ANTSHE's criteria for non-traditional student-friendly.
"This is not just a location for our students," Schlicht said. "The Non-Trad Lounge is a critical element offered for our students. Cheryl responds to students' requests for resources and makes sure the space is utilized and comfortable with amenities that assist all our nontrads but especially the students that commute to campus."
SUNY Cortland also offers student representation within the student body government, events and publications geared toward this group of students, childcare options, specific programs at orientation and scholarship opportunities.
ANTSHE is an organization that supports non-traditional students seeking to advance in their professional careers by furthering their college education, providing a support network, resources and scholarship opportunities. The organization also supports the endeavors of academic professionals and institutions that foster the success of nontraditional students.
The ANTSHE Awards promote nontraditional student success in higher education by recognizing individuals and institutions that have made extraordinary contributions to create adult learner programs and environments that encourage, motivate and provide the resources and aide needed for adult learner success.
"ANTSHE recognizes individuals and adult learner programs that exemplify the highest standards and organizations that have conducted activities to promote and expand adult learner programs," Viar said. "Award winners serve as inspirational leaders to ANTSHE: they embody the core values of serving nontraditional students and being committed to ANTSHE."
College to Hold Four Commencement Ceremonies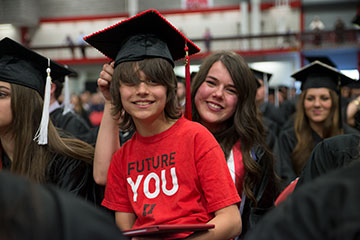 05/02/2017
SUNY Cortland's continued success in educating historically high numbers of students means Commencement 2017 will again be held in four separate, indoor ceremonies on Friday, May 12, and Saturday, May 13.
All Commencement ceremonies will be held in the Bessie L. Park 1901 Physical Education and Recreation Center Alumni Arena.
The three undergraduate Commencement ceremonies will be held Saturday, May 13, at 9:30 a.m., 2:30 p.m. and 7 p.m. The graduate ceremony will take place at 7 p.m. Friday, May 12.
An estimated total of 1,446 seniors — one of the largest graduating classes ever — will receive bachelor's degrees during the undergraduate ceremonies. In all, nearly 1,654 seniors applied to graduate since August 2016.
Last year, 1,368 seniors walked at three separate undergraduate ceremonies.
The largest number of majors set to graduate in each of the three schools are: 143 business economics majors in the School of the Arts and Sciences, 141 exercise science majors in the School of Professional Studies and 68 early childhood and childhood education majors in the School of Education.
| | |
| --- | --- |
| | |
| | One student experienced a celebratory moment during the 2016 undergraduate Commencement. |
A total of 162 students are scheduled to graduate summa cum laude, the highest academic honor, with grade point averages of at least 3.75 on a scale of 4.0.
The College also will award 251 master's degrees and 26 Certificates of Advanced Study.
"This ceremony signifies that our graduates reached the goal they set for themselves as new students on campus," said SUNY Cortland President Erik J. Bitterbaum, who will preside over Commencement exercises. "Today we pause to mark this major milestone and wish them success as they build what we hope will be remarkable futures based on the firm foundation of their experience at SUNY Cortland."
Therese Sullivan Caccavale '75, an international leader in the field of early foreign language education and immersion who has helped shape the foreign language curricula of schools throughout the United States and beyond, will be honored posthumously during the morning ceremony with Peter Caccavale, her son, addressing the graduates. Scott A. Williams '82, executive producer and lead writer for "NCIS" and co-founder of Shane's Inspiration, an organization that promotes inclusion for children with disabilities that has built 64 inclusive playgrounds throughout the world, will address the graduates at the afternoon Commencement. Robert J. Spitzer, distinguished service professor and chair of the political science department, will address the graduates during the evening event. Caccavale and Williams each will be honored by SUNY during the ceremonies with a doctorate in humane letters.
During the third ceremony, Bitterbaum will present the Presidential Champion of Excellence Award to Sen. James Seward of the 51st Legislative District, a tireless advocate on behalf of the College.
Also during undergraduate Commencement, a faculty member, Professor of Health Bonni C. Hodges, will accept her promotion to the SUNY rank of Distinguished Service Professor during the morning and afternoon ceremonies. In addition, six SUNY Cortland faculty and staff members will receive the prestigious State University of New York Chancellor's Award for Excellence during Commencement.
Theresa M. Curtis, associate professor of biological sciences, and Caroline K. Kaltefleiter, professor of communication studies, will earn the Chancellor's Award for Excellence in Teaching. Sherry Ellis, library clerk 3 in The Help Center, Memorial Library, will be recognized with the Chancellor's Award for Excellence in Classified Service. Lisi Krall, professor of economics, will be honored with the Chancellor's Award for Excellence in Scholarship and Creative Activities. Lynn Couturier MacDonald, professor and chair of physical education, will accept the Chancellor's Award for Excellence in Faculty Service. Carol A. Van Der Karr, associate provost, academic affairs, will receive the Chancellor's Award for Excellence in Professional Service.
A graduate student traditionally delivers the Commencement address during the graduate ceremonies. Tracy Frenyea, an academic advisor and coordinator of graduate student support in Advisement and Transition who is a candidate for Master of Science in Recreation with a Concentration in Therapeutic Recreation, will speak to classmates Friday evening.
| | |
| --- | --- |
| | |
| | Classmates and friends savor a special moment during the 2016 Commencement ceremonies at Park Center. |
The graduates were allowed to invite up to four guests to help them mark this important milestone in their lives. An estimated 7,200 guests of students — roughly the same as last year — are expected to attend.
Judy Wolfe '84, president of the SUNY Cortland Alumni Association Board of Directors, will welcome these newest graduates into the ranks of the College's alumni, who live in all 50 U.S. states and 45 countries. In its 149-year history, SUNY Cortland has graduated more than 76,000 alumni.
For additional information, visit the Overflow Locations and Webcast pages.
An Undergraduate Commencement reception will be held from 11:30 a.m. to 1:30 p.m. Saturday, May 13, in Lusk Field House. The Graduate Commencement reception will take place immediately after the ceremony on Friday, May 12, in Park Center Corey Gymnasium. All students, guests, faculty and staff are invited to attend the receptions. Refreshments will be served.
Additional details about Commencement 2017 are available on the event's website.
Specific questions can be directed to the College's Special Events Office.
Prepared by Communications Office writing intern Alexandra Savini
College Seeks Entrepreneurs to Start Businesses on Campus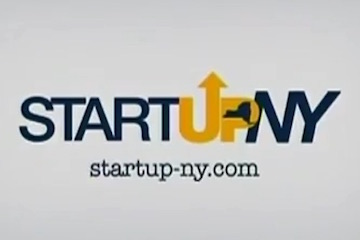 05/01/2017
Visitors know they can do a lot on the SUNY Cortland campus: Cheer a sports team, attend a performance or presentation, experience Dowd Gallery.
Now, they may also be able to turn an entrepreneurial dream into reality.
SUNY Cortland is looking for partners that complement its academic specialties to establish a new or expanding business on campus through the START-UP NY program.
Qualified businesses could operate for 10 years without paying most state or local taxes, including income taxes for both the new business and its individual employees.
Since it was created in 2013 the state's START-UP NY program has launched more than 200 businesses in partnership with colleges, creating more than 4,500 jobs.
SUNY Cortland, which received approval for its START-UP plan last year, hopes to similarly boost the local economy, offer new learning opportunities for its students and create employment options in the region.
"The power of this program is it can increase local jobs," said David Duryea, the College's vice president for finance and management. "If you look at the statistics, most big businesses started as small businesses. You go back to Microsoft and what the founders did starting out in a garage outside Stanford University. Some of these high-tech giants started up as small businesses in Silicon Valley."
SUNY Cortland is offering a total of 8,700 square feet of vacant space in two College buildings, to qualifying entrepreneurs and start-up companies that can enrich the quality of SUNY's mission of teaching, research and public service in areas ranging from art to athletic training.
To find the right fit, SUNY Cortland will work with the Cortland County Business Development Corporation and Industrial Development Agency (BDC-IDA) to recruit businesses that would align with both SUNY Cortland's mission and the needs of the Cortland area. Identified sectors that might align with both
SUNY Cortland and local strengths include:
High tech manufacturing, including medical products
Internet publishing and broadcasting
Information technologies, including advanced computer and electronics, software applications and website design
Life sciences, biotechnology, medical technology and bio-pharmaceutical
Light manufacturing and skilled assembly
Agribusiness, utilizing local products such as dairy
Environmental sciences, environmental systems, analytical laboratories and renewable energy
Integrated electronics, electronics assembly, manufacturing and packing
Geographic Information Technology services and consulting
Professional sports teams, athletics
Any partnership with the College would either include the creation of a new company, the use of the College to expand an existing business with new jobs at the location, or the movement of a company's operations and personnel from outside New York state.
In exchange, participating companies are freed from paying all New York state business taxes and most local taxes for a decade. Also, most of their employees for the duration will be responsible for zero state income taxes, an economic development incentive that is not offered anywhere in the country except New York state.
The clock starts on those benefits when the new company or the expansion plan is set up, so these employers who sign on this year will enjoy the tax savings at least through 2027, Duryea noted.
The College is not allowed to consider applicants in retail sales, professional services like lawyers, or restaurants or bars. And a company whose proposal would simply move their employees from one place within New York state to another won't be eligible.
As a starting point, the College is making available roughly 6,500 square feet of space in Winchell Hall, located at 31 Water St. on the main campus; and approximately 2,300 square feet of space in the McDonald Building, situated at 60 Tompkins St. in the city of Cortland.
"I think the key is that it's really not about the location, although the plan identifies two areas on campus — Winchell Hall and McDonald Building," Duryea said. "We can always amend the plan."
Beyond this ideal small business start-up office space, Duryea said, the College encourages entrepreneurs to help identify existing locations on campus property.
"They could build an entire building in an empty place on campus," Duryea said.
Or participants could own or lease up to 200,000 square feet of property that is not currently taxed located anywhere within one mile's radius of the border of the sprawling main campus or one of its satellite holdings, including its Main Street SUNY Cortland facilities in the city's downtown. The program, however, cannot remove taxable properties from local tax rolls.
Non-profit sites or properties that a government has removed from the tax rolls don't necessarily need to be located close to campus to benefit. If a news business has a strong enough academic partnership with the college, meshing with College research specialties or providing relevant learning experiences for students, it could participate from far beyond the Cortland city limits.
"Say, we have a Cortland alum in Jamestown who wants to work with Cortland," Duryea said. "He's got some facilities that are off the tax rolls and he could work with Jamestown Community College but he really wants to work with us."
Another example would be moving the summer training program of a professional sport team from another state to New York through the Cortland Start-up NY program, he noted.
A four-member campus committee will be tasked with assuring that companies chosen to participate in the program meet its criteria.
"We need to enhance our academic programs and mission," Duryea explained.
Potentially, students enrolled in a wide variety of majors at SUNY Cortland can engage in a high quality hands-on education in a wide variety of ways. Some examples:
Art and Art History Department and Communication Studies Department majors versed in media design could benefit from and contribute to publishing and design firms, advertising agencies and publishing houses.
Biochemistry and biomedical sciences majors could work well with biotechnology firms for laboratory experiences, laboratory standards, environmental toxin testing, food processing and safety and research.
Communication studies students could offer radio and television production writing, editing, management, public affairs and public relations experiences to media industries.
Business economics majors could benefit through internships in an enormous array of fields, ranging from software and technology companies to financial firms and global marketers.
Geography Department students majoring in geographic information systems can help agribusiness corporations, outdoor recreation companies, research institutes, insurance companies, television and radio stations that also may include GIS mapping opportunities.
Geology students would bring value to energy firms, laboratory water sampling and testing companies, consulting firms and supply companies.
Recreation, parks and leisure studies majors – as well as those enrolled in health, sociology or economics – could collaborate with a variety of businesses on assessments and data analysis.
Kinesiology students could engage in basic clinical experiences for companies involved with physical or occupational therapy and related product development.
Physics majors could benefit from collaborating with engineering and renewable energy firms to co-plan and design models for companies to transition from fossil fuels to alternative renewable energy sources.
Students enrolled in sport studies and sport management could learn as interns for professional teams or marketers for athletic products.
In reality, the list is limited only to the program guidelines and an entrepreneur's imagination.
As part of the START-UP program, SUNY Cortland would also welcome businesses to provide guest speakers in classes and panel presentations, serve on College advisory boards, provide consulting opportunities for faculty, sponsor undergraduate research and scholarship opportunities, and offer expertise to campus programs, faculty and administration in the areas of their expertise.
For more information, visit startup.ny.gov/Cortland.
ASC Employee Recognized Nationally for Food Safety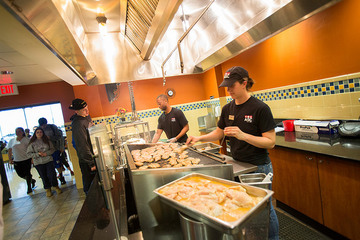 05/01/2017
Jeremy Benedict '07 rattles off a list of food service jobs he had in his younger days.
He was a dishwasher at a mom-and-pop diner at 14. By 17, he was working in four-star restaurants. Benedict also had stints in fast food and as a bar manager.
Yet one thing was missing from each and every one of those jobs. Benedict never received any food safety training.
Benedict, who has served as quality improvement and training coordinator for Auxiliary Services Corporation of SUNY Cortland for five years, makes sure food service employees on campus are well-versed in food safety. Each semester, Benedict trains up to 200 student employees of SUNY Cortland's dining facilities. He also works to keep ASC's full- and part-time employees up-to-date on the latest food safety techniques.
On May 10, the Sani Professional Food Safety Advisory Council will present him with the Exceptional Food Safety Education And/Or Training Program Implementation award at the 2017 Food Safety Summit in Rosemont, Ill.
Benedict will be part of a Q&A session featuring the national award winners as the summit continues on May 11.
"I've developed the food safety program into a fast-paced information session so that when we have our students who we've hired, they can come in, sit down and get the information," Benedict said.
Jeremy Benedict '07
"We want to keep the campus safe serving food. That was my mission, to kill two birds with one stone. We wanted to try to keep orientation as brief as possible to help them in their time and to get all that information to them so they are successful and safe out there."
Part of the challenge for Benedict is training each semester the hundreds of new student workers, many of whom have no experience in food safety. Through innovative methods, including follow-up studies with workers to understand how much of the original training was retained, Benedict has worked to make food safety a priority among ASC's student and full-time staff.
"Trying to create a culture is so much different than trying to train one individual person on some of the basics and the standards," Benedict said. "When you're trying to create a culture, you're trying to get into people's minds that this is the new way of thinking. You really have to have management and executives on board and you have to have the line employees on board. That's one of the biggest challenges and one of the things we're working toward, creating a food safety culture. With anything worthwhile, it takes time and I've seen a big change in the last five years since I got started."
Benedict earned a degree in social studies education from SUNY Cortland. He had previously worked at Onondaga-Cortland-Madison BOCES for 13 years in special and vocational education, including culinary arts.
ASC staff members are certified in food safety and sanitation through the National Restaurant Association's ServSafe program. The College's food service employees strive to make sure food is cooked to proper temperatures, prevent cross-contamination and comply with standards set by the Cortland County Department of Health. Visit the ASC website for a list of food safety guidelines.
Benedict is eager to accept his award but he's also hoping to learn new techniques in food safety training from industry leaders at the Food Safety Summit. Those connections may help him develop even more effective training programs for SUNY Cortland's ASC staff members.
"Not only am I trying to pass any knowledge along, I want to get more information because the more I can bring back here, the better that makes it," Benedict said. "If I could even pull back a little information with me, that would be well worth the trip, above and beyond the award."
Cicero Earns Prestigious National Newman Civic Fellowship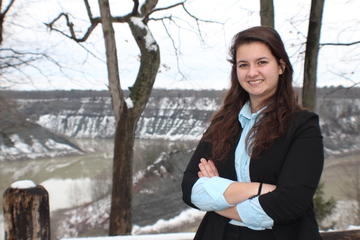 05/01/2017
SUNY Cortland sophomore Alexandra Cicero has been an issue leader for higher education affordability and voter empowerment and is working to create a food bank for food-insecure students.
So it's really no surprise that Cicero, a dual international studies and communication studies major from Leicester, N.Y., recently was selected as a Newman Civic Fellow.
The Newman Civic Fellowship recognizes and supports students who are devoted to finding solutions to the challenges facing communities throughout the United States. Through in-person and virtual learning opportunities, the year-long experience teaches fellows about resources that would help them tackle these challenges. Only 273 students from colleges and universities from across the United States were selected as Newman Civic Fellows in 2017.
Cicero currently is studying abroad at University Babes Bolyai, in Cluj-Napoca, Romania during the spring 2017 semester. She has been a student leader in her time at SUNY Cortland, working on projects related to hunger, the environment, social justice and voting. Cicero has taken leadership roles with the New York Public Interest Research Group (NYPIRG) and the SUNY Student Association.
"I first heard about the Newman Civic Fellowship from John Suarez," service learning coordinator for the College's Institute for Civic Engagement, said Cicero. "I've been working with him and the Institute for Civic Engagement for the past two years. He's always pushed me to do my best, especially in civic or community oriented projects.
"What really inspired me to apply was the amount of opportunities the fellowship had to offer; I would get a mentor, meet renowned leaders and speakers, have national connections, and peers from all over with similar community-oriented goals."
Cicero completed substantial community service work before attending SUNY Cortland. She has continued as a college student, working to engage students politically.
"As a high school student, I was originally drawn into volunteering because of the National Honor Society. We had required hours every month," Cicero said. "But often I would go over the hours because the job wasn't done, or it was actually enjoyable. Anything from helping teachers after school, raking leaves, volunteering at soup kitchens and helping with 5Ks or walkathons. Coming from a small town, you really can see the impact it makes on the community."
A career in politics may be in Cicero's future. Her experience studying abroad in Romania has opened her eyes to international politics and relations. She met one of the United States' ambassadors to Romania during her time overseas.
"Most of my classes are political science, journalism and communications, social sciences, or economics-based," Cicero said. "I absolutely love the city. Cluj is such a diverse place. I have friends from all over the world here. It's amazing to be able to sit in a class with students from over seven countries, and then go for coffee with them afterward as though we've known each other for years."
Over the next year, Cicero will gather with peers and mentors for seminars, workshops and conferences as part of the Newman Fellowship.
"What I'm hoping to gain from the program is a whole new perspective and skill set," Cicero said. "Cortland is a unique community with its own advantages and obstacles. In meeting with mentors and peers from other communities, we'll be able to share problems and solutions and bring them back to our own communities."
Students Gain Experience on 'Quantico' Set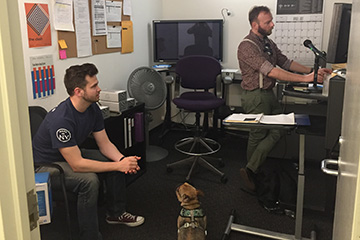 05/02/2017
It takes more than talented actors, a former Miss World and Blair Underwood to make ABC's prime-time television drama "Quantico" a success.
This spring, it also took three Red Dragons.
From January through the end of April, two students and one recent graduate from SUNY Cortland received hands-on, fast-paced studio experience as paid interns during the show's second season.
The opportunity is the result of a partnership between SUNY Cortland and ABC/Disney coordinated by Sam Avery, a SUNY Cortland assistant professor of communication studies who hopes it is was the first of what will become an ongoing program for students interested in television and film production.
"This partnership is a phenomenal opportunity for our students," said Avery, who is seeking to strike similar arrangements for students with other television studios. "It's one thing to work on video projects in the classroom but real education comes from experiences. Internships, like the ABC/Disney "Quantico" one, bridge the gap between the classroom and the real world."
The three first-time participants to fill production assistant positions at Silvercup Studios in Long Island City through the deal were students Matthew Croak, Kate Huey and new alum Gerard McNally '16.
The students agree the experience was invaluable.
"I was able to work on set and observe Jennifer Lynch direct episode 219," said Huey, a senior communication studies major from Staten Island, N.Y. "Lynch has a great demeanor with the cast and has also directed episodes of 'The Walking Dead,' 'American Horror Story,' and 'Teen Wolf' among other shows."
Both Huey and Croak agreed that a big perk was meeting the stars of this drama, which explores the lives of young government agents as they go through training to become special agents and beyond.
"One of the most interesting days had to be when I personally said 'Hi' to Priyanka Chopra, Blair Underwood, Jake McLaughlin, Johanna Braddy, and Russell Tovey all in one evening after they came in to record automated dialog replacement," said Croak, a senior new communications media major from Brooklyn, N.Y.
Chopra, who plays the show's main character, is an accomplished Indian actress, singer, film producer and winner of the 2000 Miss World contest. Underwood is an award-winning actor and familiar face to fans of television shows ranging from "LA Law," "Sex and the City" and "New Adventures of the Old Christine," to "Agents of Shield" and "The Good Wife." McLaughlin is an Army-soldier-turned-actor best known for his work in the movie "In the Valley of Elah." Braddy and Tovey have made extensive appearances on a variety of television shows.
But the students did a lot more than collect star sightings.
Huey has helped put together daily schedules of shooting and advance shooting from the production office or from the set itself.
"It's basically a lot of organizing so the set can run smoothly," Huey said.
Croak has spent some days on "Quantico" filing paperwork and others sitting in with editors and assistant editors.
"I pick their brains about their process and how they got their start: their career path that lead them to this point," he said.
Croak also has helped organize lunch and dinner for the post-production team and coordinate with other areas of production, such as set design, the production office and the writers. Often, he delivered media storage devices and materials to associates such as Technicolor for color correction or Soundtrack for audio mastering.
"Some days I'm very busy, and other days I'm not too busy," he said.
"I think the most helpful thing to my anticipated future career is that I know more of what to expect from not only post-production, but television in general," Croak said. "There are so many things that go into making a TV show successful. Another helpful thing is that this job taught me discipline. The hours are still not ideal for me, but the fact that I proved to myself that I can do it and be disciplined made me realize that I do have television career potential should I want to continue in this industry."
Both Huey and Croak honed their real-life skills by helping out with the Blackbird Film Festival at SUNY Cortland.
Croak assisted in Fall 2015 as an online submission judge of entries for the 2016 festival, during which dozens of new works by film makers from around the world are screened.
Huey was an event coordinator for 2016 Blackbird Film Festival.
"I was able to contact members of the film and television industry, facilitate events, book hotel rooms for attendees, gather donations from local businesses in exchange for advertisements, and coordinate the three day festival," she said.
The 2017 Festival was held at SUNY Cortland April 21-23.
Huey added that her experience working for the school's student-run television station, 20-CSTV, helped her learn how to write preliminary scripts, perform and edit footage.
"I would like to explore the worlds of writing for television as well as advertising," Huey said.
Croak already finished at SUNY Cortland before the internship began. Currently he is enrolled in what he describes as "coding boot camp" to take him through the down time people in the television industry experience between seasons.
"We'll see where that takes me," he said of his interest in computer programming as a second career choice.
Croak and Huey are pleased to put real television set experience on their resumes.
And the ABC crew was glad to have them.
| | |
| --- | --- |
| | |
| | SUNY Cortland senior Matthew Croak is shown at the ABC Studios setting up the editor's room for a spotting session and accessing pix. "It's like a network where all pertinent media is shared," Croak noted. Above left, Croak, on the left, shadows an assistant editor (with dog). |
"They're great kids, we're really happy to have them," said Cecilia Roque, Quantico's unit production manager. "And they're not just office PAs; we're putting them to work, so it's great experience for them."
Avery said the internship partnership between SUNY Cortland and ABC/Disney began last November when the three Cortland students were chosen from among a larger pool. The trio was hired as paid production assistants for "Quantico."
"Generally, the internship works better for students who have recently graduated or who can take the spring semester off," Avery said. "After being selected, the Quantico producers find a department for them and they have the opportunity to work alongside professionals."
"I think you need to acquire layers of knowledge," Avery said. "First, you need to know the terminology. I think this internship gives them the second layer. It's kind of like their hallway pass to go to the next level."
Huey agreed.
"The knowledge of how a production office works and the opportunity to speak to the writers about how to structure scripts will help my future career," she said.
Avery would like the Central New York area to become the place where future television and film is produced.
"With programs like this, we don't feel so far away," said Avery. "Give the students an opportunity to learn and they will return with the skills needed to make it happen."
Capitals' Behind-the-Scenes Star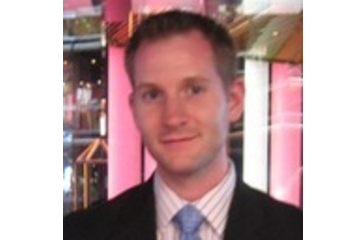 04/14/2017
Rob Tillotson '06 doesn't show up on Washington Capital's stat sheet. He hasn't scored any goals or made any saves, yet his efforts are a huge part of the professional hockey team's success this season.
As the Washington Capitals' director of team services since 2014, he handles the team's travel logistics, helping the operation move from Point A to Point B and letting the coaches and players focus on hockey.
It's no simple task to move 23 players and their equipment, along with a small army of coaches, trainers and staff across the United States and Canada for 41 road games, not including playoffs, which began this week.
"I do all the hotel arrangements, plane arrangements, buses, meals, player tickets, catering at home and on the road and at the rink for family rooms," Tillotson said. "I'm kind of a liaison for the wives and anything they might need from the organization. It's a pretty wide-cast net."
It's the kind of high stakes juggling he said he learned how to do while a sport management student at SUNY Cortland.
As a student, Tillotson had an opportunity to be a game-day intern for the Binghamton Senators of the American Hockey League. One night, he would work in the press box assisting with statistics. The next, he might be hanging from the rafters of the Floyd L. Maines Veterans Memorial Arena, unfurling a Binghamton Hockey Hall of Fame banner for a pregame ceremony.
"The thing that was awesome about Cortland was that they let me use a lot of that real-world internship experience as credits toward certain classes," Tillotson said. "They were very encouraging for me to go out and do that stuff and they found ways to build that into my schooling. The thing I'm most thankful for is that they were so open to letting me go do this."
A summer internship with the New York Rangers during his time at SUNY Cortland opened doors. That work helped him get a full-time job in Atlanta in which he worked primarily in media relations but helped with travel logistics on road trips.
"I got a little idea of that side of the industry when I was there," Tillotson said. "At that point, I felt like that's what I would rather do full time."
After graduation, he was media relations assistant and, later, manager of media relations for the Atlanta Thrashers of the National Hockey League from 2007 to 2011. After a two-year stint as assistant director of media relations at the University of Michigan, Tillotson managed media relations for the Chicago Blackhawks from 2013-14.
Looking back on his time at SUNY Cortland, he is thankful his professors encouraged him to pursue his internships in Binghamton. Those first tastes of professional hockey prepared him for his demanding job in Washington.
About two-thirds of the Capitals' roster is comprised of players from foreign countries, meaning Tillotson also plays a large role in making sure work visas are in order and border crossings between the United States and Canada go smoothly.
There is no offseason for Tillotson. He'll spend much of July and August working on arrangements for the upcoming season. He also helps plan a summer development camp and an annual rookie tournament that is played in September.
Tillotson credits his time in SUNY Cortland's Sport Management Department in preparing him for his challenging role.
"The program was really helpful with making sure the time I was spending doing stuff outside of Cortland was benefiting me there, too," Tillotson said. "The staff that was there — David Snyder and Doctor (Ted) Fay — and hearing some of the experiences that those guys had before they started teaching was great. I heard some cool stories of real-world stuff from those guys. I think the staff in that program is top-notch for sure."
The spring months may be the most chaotic of Tillotson's year. The Capitals won the Presidents' Trophy during the 2016-17 regular season, earning more points than any other NHL team. Yet the road to the Stanley Cup is unpredictable. Tillotson can only guess which team Washington will meet in each round or how long each series might last. The difference between a four-game sweep and a seven-game series means even more scheduling of hotel rooms, transportation and meals on short notice.
"It's a lot of moving people around and making sure all the guys are where they need to be when they need to be," he said.
April the Giraffe Shares Cortland Connection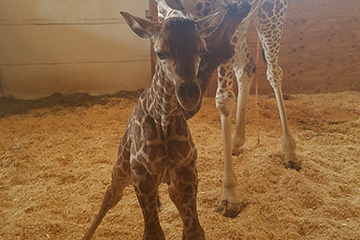 04/20/2017
SUNY Cortland senior Lucas Reigelman got the call on Saturday morning.
"She's having the baby," a co-worker told him. "You've got to get here."
It wasn't a spouse or relative who went into labor. It wasn't even human for that matter.
She, in this case, was April the giraffe, who in the past two months has become one of the biggest internet sensations of all time through the live-streaming of her pregnancy. Reigelman happens to work in animal care at Animal Adventure Park, the now-famous Southern Tier zoo where April gave birth.
"I jumped out of bed, got in my car and drove as fast as I could," said Reigelman, a biology major and aspiring veterinarian who grew up in Johnson City, N.Y., roughly a half-hour from the park.
More than 1.2 million people tuned in live on YouTube, making it one of the top-five most watched live events in the website's history. Reigelman missed the actual birth by a matter of minutes, but he made it in time to see the baby giraffe's first steps. He estimates that fewer than 10 people were actually there to see April in person.
Lucas Reigelman, a biology major who works at Animal
Adventure Park, knew April the giraffe before she achieved
YouTube fame.
"I was right there to see (the baby giraffe) stand up for the first time and start walking around," Reigelman said. "That was pretty surreal."
A self-described animal lover for as long as he can remember, Reigelman is a member of the seven-person animal care team at the Harpursville, N.Y., adventure park, which welcomes guests from mid-May through late October. Reigelman's duties are focused on the 200-plus animals and 70 species that the facility houses – feeding them, grooming them, administering medications and doing anything else that's asked.
He has tended to cougars, hyenas, lynx, black bears and many more. Arctic wolves might be his favorite, he said.
"All of our carnivores are bottle-raised, so we have a deeper connection and a developed trust with them," Reigelman said. "Really, I just like to help animals … make their lives better."
He took a chance in 2015 and applied for a summer job after his sophomore year at SUNY Cortland, telling Animal Adventure Park owner Jordan Patch about his goal to be a veterinarian.
"I think (Patch) just saw my passion and wanted to help me progress," said Reigelman.
Reigelman said he felt the same excitement and support from his professors at SUNY Cortland in courses like vertebrate biology, field biology and anatomy and physiology. He studied birds in an ornithology course with Professor Steven Broyles and described a time when Broyles pulled a van over on the highway just to teach his student passengers about a bird flying overhead.
"That might sound crazy, but it's so cool to me," Reigelman said. "That sort of stuff inspires you as a student."
Reigelman also studied abroad during a two-week winter session in Belize, where he took a wildlife health conservation ecology class taught by a wildlife veterinarian. During his spare time, he assisted the professor with amputations and other medical procedures. He drew blood from pelicans and jaguars.
"Coming to Cortland for its biology program was the greatest decision I ever made," Reigelman said.
Reigelman cares for many different animals at his summer job,
including this Arctic wolf.
He specifically recalled a time during his first semester as a freshman when Professor Peter Ducey invited students to his office to discuss their career paths, an invitation that Reigelman accepted.
"Dr. Ducey isn't my advisor, but he took on an advisor's role that day," Reigelman said. "He recommended courses I should look into taking. It got me excited about being here at Cortland, especially that a professor would care that much about his students and help them in that way."
Ducey returned the praise.
"Because Lucas has such a deep curiosity for animals and many aspects of biology, he's taken a very impressive range of biology courses and he's gone far beyond the minimum requirements for his degree," Ducey said. "His enthusiasm and growing expertise are obvious in every class."
Reigelman couldn't have imagined as a freshman that before he graduated he would earn a front-row seat at one of the largest internet spectacles of his lifetime – one that attracted 232 million views since early February and one that aligned so perfectly with his passion for animals.
He said he's prepared for a busy summer of work and pursuing the next steps towards veterinary school.
"The goal is to continue building my credentials," Reigelman said. "And I'm hopeful that there will be more experiences like this one."
WGS Studies Expands Reach, Mission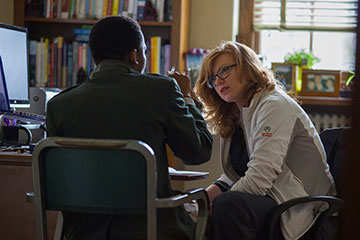 05/02/2017
Women's, Gender, and Sexuality Studies (WGSS) has a new name and an expanded mission to include everyone in the campus community.
Renamed last fall from Women's Studies, the committee oversees a minor that focuses on social justice and equity and will feature its own learning community.
Revised course descriptions for the new minor appeared in the Spring 2017 catalog.
"If our constituency really is everybody, how do we make everyone feel welcome?" said Jena Nicols Curtis, associate professor of health, in her new role as coordinator of the renamed and revamped program.
"And how do we get the message out that this is everyone's issue?"
Making it easier for the whole campus community to attend the program committee meetings is one example of the way Curtis is leading the revised program in a new direction. She issues meeting notices to the whole campus and always summarizes the committee's current projects.
The committee meets every other Wednesday at 11 a.m. The next meeting is April 19.
The Old Main Colloquium was chosen as the perfect place to meet.
"It can be a cozy meeting for 10 or a community session for 50," said Curtis.
New board members are welcome to join.
"I'm also very intentionally recruiting people," said Curtis, noting she recently invited a male colleague in the administration to join. "I'm trying to recruit people to the side of equity and social justice.
"What I'm most excited about, in addition to really opening up the course offerings, I see it as expanding my mandate, my ability to interact with different groups on campus, to advocate for different things," Curtis said.
"If I want to really do a good job advocating for transgender people, for example, I have to recognize that the people most likely to be murdered in our society are black transgender women," Curtis said. "And that's not just about gender or gender identity, it's also about race and racism. If I want to do a good job as coordinator, I need to think intersectionally."
Having spent spring break researching women's health issues among Haiti's disaster-affected population, Curtis brings an analytical point-of-view to her volunteer commitment to the WGSS Committee, which oversees the minor's curriculum.
She is very close to the subject, having been deeply influenced as a child after her brother Henry, a 17-year-old high school teenager and Eagle Scout, in 1991 announced that he had AIDS and traveled to more than 300 colleges and high schools to educate his peers.
"I got to experience second hand what stigma was like when I was very young," she said. "The way in which, again, we make judgments about people. We think we know people's lives without ever meeting or talking to them. We don't know how damaging that can be."
Professor of Philosophy Mechthild "Mecke" Nagel directs the Center for Gender and Intercultural Studies, which oversees WGSS. Last fall, Nagel also served as interim coordinator of Women's Studies when the changes were conceived and enacted.
"We had been Women's Studies for several decades at the College," Nagel said. "What we've seen in the last decade or so is that a number of colleges and university centers have moved to renaming themselves gender studies or feminist studies."
The committee chose the most prevalent name.
Among other shortcomings the name "women's studies" positions females on one side of a divide opposite not only men but those who do not accept society's gender assignment at birth, including transgender people, according to Nagel.
Curtis didn't serve on the committee previously or enact the changes but so far she definitely approves of how they have been received by the students and faculty.
"Personally as a health professor, I really like the name change," Curtis said recently. "I think women's studies is a fabulous discipline, and it has some perception problems: that women's studies excludes people who aren't women. That certainly is not anyone's intention. But by broadening it to include sexuality and gender, I think that we open the discourse and open the conversation to everyone.
"Everyone experiences gender, everyone experiences sexuality in some way," she explained. "This is really a minor and a discipline that focuses on how do gender and notions of gender shape what we do and who we are? How do expectations about sex and sexuality play into behavior and help or limit people?"
The previous Women's Studies coordinator, Sally Dear-Healy, unveiled the proposed changes during a well-attended meet-and-greet gathering in February 2016.
"It's interesting that the first student I recruited into the minor last semester once Women's, Gender, and Sexuality Studies was established was a cis-man," Nagel said.
The term describes someone who is not transgender, but whose gender identity corresponds to the gender society assigns him at birth, Nagel explained.
"It's becoming definitely now a minor of interest for men," Nagel said. "Of course they've always been in the conversation because women's studies was always about gender relations. But now we can specify."
The committee's early efforts at creating more inclusive courses is beginning to show results in the form of a broader cultural and gender cross-section of students choosing to take classes such as one called Men's Sexuality. The course addresses topics such what men are encouraged to do and what are they discouraged from doing.
Curtis gives a particular example to students enrolled in the Men's Sexuality course.
"Routinely my female students will say that the profession of teaching will help them balance family," Curtis said as an example. "But my male students really don't tell me that. It's just not as accepted for men to say that."
Everyone falls back on false prior information, Curtis said. She found herself doing that when she recently visited the National Marine Headquarters at Quantico to advise people about preventing sexual violence.
"I found people who were so passionate about keeping their members safe," she said. "I knew I had this picture of Marines in my head from some news articles and a few John Wayne movies. They weren't that. Everybody is more complex than we give them credit for being."
She recently tried to re-evaluate her own prejudices by having dinner with a fraternity president, never having actually met one before.
"I wanted to have a conversation about how I think that gender stereotypes hurt men too," Curtis said. "And I don't want it to feel like we're on opposite sides on this issue. So let's have a conversation where we can talk about the messages you get about sex and sexuality and how those are hurtful. Or helpful."
"There is another consideration, to give a nod to the historical emergence of women's rights issues in the second wave of feminism, so that women's issues should not be subsumed by gender considerations," Nagel said.
"Because there is the concern around women's specific issues: the beauty myth, rape culture, pay inequity, reproductive rights, pregnancy leave, and the many disparate issues around regaining employment after you have taken legal unpaid or paid family leave."
The "fronting" of women also is an important concept to grasp, Nagel said. The phenomenon describes politicians who present women's issues as very important but fail to follow through.
"Women's considerations tend to drop off over time," she said.
Additionally, the revised minor supports the creation of the new learning community, Gender, Sexuality and Culture, Nagel noted. The learning community is being developed in conjunction with Advisement and Transition.
"I appreciate Jena's leadership," Nagel said. "I think she has exciting new plans for learning communities for us."
Award-Winning Poet to Visit Campus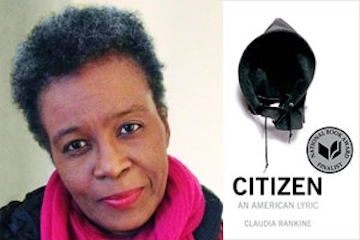 04/18/2017
Claudia Rankine, the award-winning poet whose book-length poem "Citizen, An American Lyric," helped inspire the 2016-17 theme for SUNY Cortland's Cultural and Intellectual Climate Committee series of events, will speak on campus during the last week of classes.
Rankine, whose work blurs the distinction between poetry and prose as well as reality and art, will do a reading and sign copies of "Citizen" at 7 p.m. on Thursday, May 4, at Brown Auditorium, Old Main. It holds the distinction of being the only poetry book to be a New York Times bestseller in the nonfiction category.
"The exciting thing about Rankine is that she speaks directly to issues of race and gender in ways that connect to our campus conversations and to the wider Black Lives Matter movement," said Scott Moranda, an associate professor of history and co-chair of the Cultural and Intellectual Climate Committee.
The committee is a group of SUNY Cortland faculty and staff appointed by the provost to choose a theme to frame a year-long series of lectures, discussions, film screenings and art exhibits. This theme is meant to promote cultural life on campus and spark campus discussions about issues relevant to today's world.
This year's theme is "Art and Everything," which explores the idea that art does more than simply reflect life. Works like "Citizen," which was chosen as the common read for this year, can influence ideas, spark action and shape society. Pablo Picasso's painting "Guernica," a disturbing portrait of the horrors of the Spanish Civil War, and Spike Lee's film "Chi-Raq," which uses the plot of an ancient Greek play to explore inner-city violence, were the other two common pieces of art selected for the theme.
"Citizen" offers a searing account of what it means to be a woman of color in this time and place. It has been described as "lyrical and unrelenting." The volume won the 2014 Los Angeles Times Book Award, the 2015 National Book Critics Circle Award in Poetry, the 2015 Forward Prize for Best Collection, the 2015 Hurston/Wright Legacy Award in Poetry, the 2015 NAACP Image Award in poetry, the 2015 PEN Open Book Award, the 2015 PEN American Center USA Literary Award, the 2015 PEN Oakland-Josephine Miles Literary Award and the 2015 VIDA Literary Award. Citizen was also a finalist for the 2014 National Book Award and was the 2015 T.S. Eliot Prize.
But "Citizen" is just Rankine's most recent artistic success. She was the winner of a 2016 MacArthur Foundation "Genius Grant" and has authored five critically acclaimed volumes of poetry, two plays and various essays. She is currently the Frederick Iseman Professor of Poetry at Yale University and a chancellor of the Academy of American Poets.
Rankine's visit is sponsored by the Student Writer's Union, Sponsored Programs Office, the Cultural and Intellectual Climate Committee, the English Department, the President's Fund, Women's Gender and Intercultural Studies, and Multicultural Life and Diversity.
Professional Staff Learn to Lead with Impact
Twenty-four SUNY Cortland campus leaders recently took part in an intensive five-day leadership development program titled "Leading With Impact: Your Ripple Effect."
The program, facilitated by Lisa Kahle, Campus Technology Services, and John Shirley, Career Services, focused on personal, interpersonal, team, cultural and systems development and growth. The first and final days of the program included a speech and a question-and-answer session with President Erik J. Bitterbaum.
The following people received certificates for participation:
Tina Aversano, Helena Baert, Terry Baker, Michelle Cryan, Stuart Daman, Jeff Denmon, Tracy Frenyea, Stephanie Fritz, Michelle Kelly, Jaclyn Lawrence, Matthew Madden, Daniel MacNeil, Christopher Manaseri, Bruce Mattingly, Varya McCaslin-Doyle, Natasha McFadden, Richard Nauseef, Emily Quinlan, Gemma Rinefierd, Marinda Souva, Kellie Swartwout, William Veit, Melissa Wilson and Courtney Wormuth.
Those interested in participating or learning more about the Leading With Impact program should contact Brent Danega in Human Resources by email or at 607-753-2302.
Library's 'Food for Fines' Will Help Area's Hungry
Memorial Library is offering a unique way for students to pay overdue fines while helping a local charity.
The Food for Fines program runs from May 1 through May 12. Students may pay their fines by donating non-perishable, unopened, unexpired food in cans, boxes and plastic jars. Students will receive $1 off their overdue fine balance for each item of food donated. Replacement costs for lost or damaged books are excluded from this program. Those who do not have fines but wish to donate food may do so as well.
Donations will be accepted during business hours at The Help Center in Memorial Library. The food will be delivered to Cortland Loaves & Fishes.
For more information on how to donate, visit The Help Center, call 607-753-2500 or email thc@cortland.edu.
College Recognizes Student Leaders
SUNY Cortland honored 73 students, two faculty and staff members and three student organizations for their contributions to the College at the 32nd Annual Student Leadership Recognition Banquet held April 20.
Following are the award recipients:
Outstanding Student Leaders
Jacquelynn Akins
Jocenelle Alcime
Genevieve Alexis
Emily Altschuler
Greg Armstrong
Megan Astor
Laura Barnstead
Nicole Birsner
Jacqueline Bors
Michael Braun
Andrea Canale
Ravon Carrillo
Kaley Clavell
Carmen Coppola
Hannah Cummins
Jeffrey Dewan
Timothy Duerr
Christy Dunn
Sage Dushay
Tara Farley
Elizah Feathers
Christopher Flood
Taulie Frierson
Bianca Gabriel
Alexandra Galan
Benny Bermudez Garcia
Elena Grande
Amorie Green
Anna Grygiel
Fiona Hayden
Morgan Herrick
Sheryl Holbrook
Gloria Hulede
Kelly Hunneyman
Candice Jaimungal
Sabrina Johnson
Thomas "T.J." Keegan
Mike Kelly
Amanda Lagan
Kyle Lancto
Danielle Levine
Keara Lowenhar
Rebecka Lubrano
Taylor Lynch
Justin Margolies
Eleni Marquez
William McNeill
Jennifer McNicholl
Rosa Moore
Kimmie Nagl
Emily Nicholson
Sean Noonan
Matthew Norris
Taylor O'Halloran
Alexandra "Abby" Papakonstantis
Diane Ramjit
Susan Serunkuuma
Gage Smith
Mecca Snipe
Marisa Spagnolo
Morgan Stermer
Christopher Venant
Taylor Vermilyea
Justin Wade
Breanna Washington
Ryan Willard
Leadership in Diversity, Equity, and Inclusion
Andrea Canale
Leadership in LGBTQAIP Advocacy
Sage Dushay
Excellence in Leadership
Jacqueline Bors
Kaley Clavell
Jeffrey Dewan
Elizah Feathers
Taylor Lynch
Outstanding Senior
Michael Braun
Student Government Association Awards
Outstanding Staff Member – Meredith Morell, Career Services
Steven J. Barnes Outstanding Faculty Member – Dennis Weng, Political Science
Outstanding Club Member – Genevieve Alexis, Student Activities Board
Outstanding Club – Spanish Club
Student Involvement – Jessica Haverlin
Michael C. Holland Memorial Scholarship – Eryn Griep
Vice President for Student Affairs Merit Scholarship
Kyra Newcombe
Greek Leadership Awards
Greek Advisor Special Recognition Award -
Alexandra Papakonstantis, Alpha Phi
Morgan Herrick, Sigma Delta Tau
Sophie Luckette, Alpha Phi
Deanna Goldstone, Alpha Sigma Alpha
Jenna Skurnick, Alpha Sigma Alpha
Shannon Robinson, Sigma Delta Tau
Chapter Member of the Year Award
Katerina Karousos, Alpha Phi
Kylie Marflak, Alpha Phi
Madeline Brito, Sigma Lambda Upsilon Sorority, Inc.
Outstanding NALFO Member of the Year Award
Genevieve Alexis, Omega Phi Beta Sorority, Inc.
Outstanding NPHC Member of the Year Award
Jocenelle Sarah Alcime, Sigma Gamma Rho Sorority, Inc.
Outstanding Community Service Award
Lambda Sigma Upsilon Fraternity, Inc.
Outstanding Philanthropic Achievement Award
Theta Chi Fraternity
Transfer Students Honored for Academic Excellence
Sixty students were inducted into Tau Sigma, the national honorary for transfer students, at a ceremony on April 7 at SUNY Cortland.
Tau Sigma celebrates the academic excellence of transfer students and promotes their involvement on campus. To qualify for membership, students must transfer with at least 24 credits, complete a minimum of 12 credits at SUNY Cortland, and earn a 3.5 GPA or higher in their first semester. Symbolizing "transition" and "scholarship," Tau Sigma recognizes high achievement through a period of transition. This year 154 students met the criteria and 60 accepted membership to the honor society.
Guest speaker Timothy Phillips, associate professor from the Economics Department, recognized the inductees and their achievements at the 14th annual induction ceremony for the Cortland chapter.
The following students were inducted:
Samantha Banghart, Ashley Bannon, Andrew Barnes, Thomas Benedict, Robyn Berger, Zachary Birnbaum, Madelyn Blackman, Taylor Bood-Usher, Jacqueline Bouchard, Alexandra Bradsell, Ryan Braymer, Alexandra Brown, Christopher Carey, Jake Carrol, Kinsey Chase, Sydney Coon, Jessica Diehl, Megan Dill, Cody Doane, Colleen Donnelly, Giorgianna Ervolina, Ashley Foder, David Grant, Amanda Gray, Matthew Hauser, McKenzie Henry, Megan Hill, Aaron Homer, Alexandra Hummel, Korey Kennedy, Jennifer Kipp, Anna Klatt, Kirsten Klein, Ryan Lamberti, Chad Lawrence, Kayla Mansfield, Stephanie Mattice, Alexis Megliore, Britini Merrill, Tracy Miranda, Melissa Mitchell, Danielle O'Neill, Jacqueline O'Rourke, Taylor Pirozzolo, Carissa Plesums, Jolie Porter, Alyssa Proper, Charlotte Rosvold, Kristin Russo, Chance Ryan, Nicholas Schuldt, Kaylin Smith, Melissa Sprole, Brian Thornton, Olivia Trumino, Kaitlin VanDervort, Julia West, Marley Wilson, Marissa Wuilliez and Maya Zaynetdinova.
The following faculty and staff were recognized by the students as individuals that were especially supportive:
Julie Barclay, Geology Department
Martine Barnaby Art and Art History Department
Claire Barrett, Childhood/Early Childhood Education Department
Philip Buckenmeyer, Kinesiology Department
Kathleen Burke, Economics Department
Evan Faulkenbury, History Department
Mary Gfeller, Mathematics Department
Michele Gonzalez, Literacy Department
Regina Grantham, Communication, Disorders and Sciences Department
Cynthia Halpin, Performing Arts Department
Andrea Harbin, English Department
John Hartsock, Communications Department
Michael Hough, Biological Sciences Department
Beth Klein, Childhood/Early Childhood Education Department
Denise Knight, English Department
Andrea LaChance Childhood/Early Childhood Education Department
Deborah Matheron, Communication, Disorders and Sciences Department
Wendy Miller, Geography Department
Katherine Polasek, Kinesiology Department
Diane Richards, Childhood/Early Childhood Education Department
Helene Roth Schmid, Physical Education Department
Judith Schillo, Childhood/Early Childhood Education Department
Judith VanBuskirk, History Department
Dennis Weng, Political Science Department
John Young, Maintenance
Richard Zurell, Transportation
Non-Traditional Students Inducted into National Honorary
Thirty-four non-traditional/adult students at SUNY Cortland have been elected to membership in Alpha Sigma Lambda, an international honor society honoring the academic achievement of undergraduate students over the age of 24. The induction ceremony and dinner was held April 12 in Brockway Hall Jacobus Lounge.
The SUNY Cortland chapter, Lambda Omicron, has elected members to the honor society for 18 years. Alpha Sigma Lambda national standards indicate that students elected to membership are in the top 20 percent of all students at SUNY Cortland age 24 or older who have completed 24 credits of work at SUNY Cortland with a grade point average of 3.2 or better. For the inductees to be in the top 20 percent of students at SUNY Cortland this year, they needed to have a grade point average of 3.58 or higher. The GPA range for this group of students inducted was 3.58 to 4.12.
Students elected to membership are:
Joseph Barbaro, Shelby Bergen, Jason Blayda, Karen Bobbett, Courtney Connors, Michelle DeVries, Gregory DuVall, Chrysta Elliot, Allen Emm, Timothy Ferro, Hsiao-Ting Fu, Heather Garr, Nolan Graham, Michael Guinto, Bridget Hall, Emily Jones, Anna Klatt, Jocelyn Lake, Shuk Man Liu, Jared McComb, Kelly McKenna, Christen O'Hora, Lora Ottaviano, Owen Parseghian, Beth Poulos, Sara Sampson, Amanda Sharpsteen, Chelsea Spier, Michael Staversky, Allison Teachout, Andrew Victoria, Jacqueline Wagner and Marc Wiesenfeld.
Regina Grantham, Communication Disorders and Studies Department, and Leslie Eaton, Psychology Department, were inducted as honorary members.
SUNY Cortland President Erik J. Bitterbaum offered welcoming remarks to the new members. Regina Grantham, Communication Disorders and Sciences Department chair and associate professor was the faculty guest speaker. She offered her words of wisdom and respect for our adult students as well as her own personal experiences as a student and as a person who is passionate about her career in speech-hearing-language field.
Corrine Edick, a senior biology major and member of Alpha Sigma Lambda, explained the ideals of the honor society. Elizah Feathers, a senior exercise science major and vice president and Student Government Association representative of the Non-Traditional Student Organization, assisted in the administration the pledge of membership to the inductees.
"The Alpha Sigma Lambda Induction Ceremony is one of my favorite events each year," said Cheryl Smith Hines '05, coordinator of Student Outreach and Non-Traditional Student Support and the national councilor for the Alpha Sigma Lambda Omicron chapter. "As the vice president of Alpha Sigma Lambda Board of Directors, I believe in the mission of Alpha Sigma Lambda. It is my privilege to be able to induct our new members into this honor society and celebrate their hard work and outstanding academic achievement. During the ceremony, we learned more about the students' backgrounds and experiences that brought them to SUNY Cortland. Their GPAs, as well as their experiences, are impressive. These students may be balancing long commutes, full-time employment as well has family responsibilities. For some adult students, it can be hard to attend a typically traditional-aged college. I often hear it can be overwhelming and intimidating. We are truly fortunate to have great role models on our campus."
Vice President of Finance and Management David Duryea, a retired rear admiral in the U.S. Navy, presented a military medallion to Jason Blayda, a December 2016 sport management graduate, as a thank you for his military service and sacrifice with the U.S. Navy.
More information is posted on the Alpha Sigma Lambda website.
Nine Initiated into History Honor Society
Nine SUNY Cortland students were inducted into Phi Alpha Theta, Nu Omicron Chapter, the history national honor society, on April 21.
The initiates are Barbara DeToledo Carvalho, Kaycie Haller, Deirdre C. Hallinan, Nicole Rose Hofmann, Marsilio M. Langella, Erin A. McCarthy, Lawrence J. Milazzo, Jasmine C. Sprauve and Maria Stokes.
Associate Professor of History Amy Schutt is the faculty advisor to the local chapter.
ASC Lists 2017-18 Grant Recipients
Each year, the Auxiliary Services Corporation (ASC) Board of Directors allocates funds to support grants for a wide range of purposes and projects that enhance the life of the SUNY Cortland community.
In April, the ASC Board of Directors approved the Fiscal Year 2017-18 Program Grant allocations.
Following is a list of grants funded by ASC that includes the project name, organization or person, and amount received:
Three Programs of Public Forum, A Taste of Asia, and Asian Reception Staged by the Asian/Middle Eastern Studies Committee, Tiantian Zheng, $2,064
Body Appreciation Week 2018, Lauren Herman, $3,000
Opening Weekend Sexual Assault Prevention Speaker, It's On Us Action Team, $2,000
Alcohol-Free "Open Mic Nights," Health Promotion, $10,000
Cortland Bike Project (Formerly Community Bike Project), Recreational Sports - Outdoor Pursuits/Jason Harcum, $3,000
Native American Events, Dawn VanHall, $600
Distinguished Voices in Literature series, Heather Bartlett and Tyler Bradway, $1,000
MLDO Student Retreat, Interim Director AnnaMaria Cirrincione, $2,000
Midnight Breakfast, Christopher Kuretich, $4,000
Interviewing Etiquette Reception and Panel, Career Services, $600
EOP Summer Institute, Lewis Rosengarten, $12,000
Education Dinner and Panel, Career Services, $1,200
Blackbird Film Festival, Sam Avery, $1,500
Project for East and Central Europe (2017-18 Theme: Gender and Sexuality in East and Central Europe), Project for East and Central Europe, $800
Making History: Orienting History Majors to the Discipline and Department at Camp Huntington, Scott Moranda, History Department, $2,100
Summer Program, Access to College Education (ACE)/Jane Manning, $500
World First Learning Community Exploration of International Culture, Girish Bhat, $760
Promoting Personal Growth and Global Awareness for SUNY Cortland Students, SUNY Cortland International Programs Office, $10,500
CALS Lecture Grant Program, Sandra Wohlleber, Chair, Campus Artist and Lecture Series, $15,500
CALS Broadway Trips, Sandra Wohlleber, Chair, Campus Artist and Lecture Series, $1,500
EOP Awards Banquet, Lewis Rosengarten, $3,000
Brooks Museum Lecture Series, Sharon Steadman, Brooks Museum Director, $4,000
COR 101 Teaching Assistant Appreciation Day and Poster Symposium, Susan Stiner, $400
Athletics Leadership Retreat, Athletics/Courtney Wormuth, $500
CALS Performing Arts Series, Sandra Wohlleber, Chair, Campus Artist and Lecture Series, $10,000
Greek Life, Sandra Wohlleber, Associate Director, Campus Activities and Greek Affairs, $1,000
Early Childhood Education Trainings, Stephanie Fritz, $600
Proposal for institutional support to advance the mission of SUNY Cortland and CGIS through education, scholarship and outreach, CGIS/Mecke Nagel, $1,200
Transfer Student Support, Advisement and Transition, $1,260
Louie Larson Lecture and Performance Series, SOGIE (formerly the LGBT Faculty Staff Committee), $1,000
Cortland Nites, Campus Activities, $17,350
Chi Alpha Epsilon, Lewis Rosengarten, $1,000
Dowd Gallery Speakers Series, Dowd Gallery/Erika Fowler-Decatur, $1,000
New Student Orientation, Marinda Souva, $7,000
Leadership Programs, Campus Activities, $5,200
Homecoming, Campus Activities, $1,200
Welcome Week, Campus Activities, $3,000
Family Weekend, Campus Activities, $1,600
Literacy Symposium: Teaching Literacy in Resource Limited Communities in America, Literacy Department, Mary-Jo Morse, $2,500
Encountering Ancient Artifacts, David Franke, $1,850
The 9th Annual Student Conference, Multicultural Life and Diversit Office, Interim Director AnnaMaria Cirrincione, $2,000
Second Language Educators' Conference, Patricia Martínez de la Vega Mansilla, $1,700
Non-Traditional Student Community Support and Awareness, Cheryl Hines, $1,400
PAWS for Stress Relief, PAWS planning committee/Lauren Herman, $2,600
Student Achievements
Jori King, a second-year graduate student in the Communication Disorders and Sciences Department, was the recent recipient of two awards from the New York State Speech, Language, and Hearing Association at its annual convention on April 20-21 in Saratoga Springs, N.Y. She was awarded a scholarship for registration to the convention and she was recognized with the association's master's level scholarship for her research and poster presentation: "Using Surface Electromyography as a Speech Pathology Intervention for Treatment of Vocal Nodules." King conducted this research in conjunction with Eileen Gilroy, MS, CCC/SLP, a lecturer in the Communication Disorders and Sciences Department.

Suggest a feature story
---
Faculty/Staff Activities
Tyler Bradway
Tyler Bradway, English Department, has been selected to serve as guest editor of College Literature: A Journal of Critical Literary Studies, published by Johns Hopkins University Press. The special issue, titled "Lively Words: The Politics and Poetics of Experimental Writing," will examine the social and historical significance of experimental writing in the 20th and 21st centuries. Also, Bradway received the Excellence in Teaching Award for Tenure Track Faculty.
Jena Nicols Curtis
Jena Nicols Curtis, Health Department, presented at the Ending Violence Against Women's International Conference held April 18-20 in Orlando, Fla. She presented "Working to Better Understand How Domestic Violence Survivors Experience and Interpret Abuse: Research Findings & Strategies for Outreach and Intervention." The conference brought together more than 2,000 law enforcement personnel, prosecutors, victim advocates, judges, parole and probation officers, rape crisis workers, health care professionals, faith community members, educators and researchers from around the world to collaborate on ending gender-based violence.
Tim Delaune
Tim Delaune, Political Science Department, presented preliminary research on the concept of dignity in the jurisprudence of Clarence Thomas at the annual Western Political Science Association Meeting held April 13-15 in Vancouver, British Columbia. He serves as the College's pre-law adviser.
David Kilpatrick
David Kilpatrick, Psychology Department, did an all-day presentation for the Colorado Department of Education on April 12 in Denver. This was one of a series of presentations Kilpatrick has done for them on reading development and reading difficulties. He has been assisting the state of Colorado in revising their approaches to addressing the needs of struggling readers.
Ryan Vooris and Kerry Fischer
Ryan Vooris and Kerry Fischer, Sport Management Department, co-authored a recently published manuscript in the Global Sports Business Journal titled "Generation Multitasker: How Millennials use Second Screens While Watching Televised Sport."
Dennis Weng
Dennis Weng, Political Science Department, was invited by the Taiwan newspaper, United Daily News, to submit an op-ed article published in a forthcoming issue on the topic of the recent (April) meeting between President Trump and President Xi from China.

Submit your faculty/staff activity