Cortland Fund Plans 24-Hour Fundraising Marathon
02/21/2017
It's a countdown.
It's a date.
Above all it's an opportunity to put SUNY Cortland's legendary competitive spirit to work in support of the College's unique educational experience.
On Tuesday, March 21 (3/21), SUNY Cortland and the Cortland Fund will host the 321 Champions Challenge, a 24-Hour fundraising initiative to raise money for scholarships, academic initiatives and program support.
If at least 321 people make a contribution of any size that day to the Cortland Fund, some generous Cortland supporters have pledged to provide a $10,000 matching gift. Additional matching gifts of $10,000 and $12,100 have been pledged for reaching 500 and 650 donors.
Although SUNY Cortland is a state-funded institution, less than 25 percent of its operating budget comes from New York state government. To help fill the gap, the Cortland Fund works to raise money through donations that support and enrich the Red Dragon educational experience.
"The Cortland Fund touches every area of campus, from more than 865 scholarship recipients to faculty and staff who receive funding for classroom innovations and undergraduate research opportunities." Said Erin Boylan, Interim Director of The Cortland Fund. "I am so grateful we have amazing alumni who are willing to step forward and draw attention to the importance of giving at SUNY Cortland by providing generous match gifts for the 321 Champions Challenge."
Last year's fundraising challenge raised $114,226 from 687 unique donors over its 24-hour period.
Every donation counts towards the matching goals so anyone can donate. There is no requirement for a donation other than it has to be made between midnight and 11:59 p.m. on March 21.
Donations can be made online at www.Reddragonnetwork.com/Challenge on the day of the event. Gifts to the Cortland College Foundation, Inc. are tax deductible. Charitable gifts can be designed to maximize the donor's tax status while providing support to SUNY Cortland.
For more information on the 321 Champions Challenge contact Boylan or call 607-753-5578.
Prepared by Communications Office writing intern Charlie Beeler
A Champion Wrestler Finally Gets His Ring
02/21/2017
Troy Monks '90 won an NCAA Division III national championship in wrestling at 118 pounds 27 years ago. Something, however, was always missing.
Monks never received a championship ring.
At the time, NCAA national champions had to pay out of pocket if they wanted a keepsake ring. But money was tight in the Monks household. His family offered to give him the funds for a ring, but he declined.
"My family gave me the choice and I elected no because of the financial situation," Monks said. "I didn't need it. As years went by, it's been a huge regret of mine. I've seen recent guys win the national title and get the ring."
Monks got the surprise of a lifetime before a meet between SUNY Cortland and Ithaca College on Feb. 15. SUNY Cortland's athletic department heard about Monks' plight and purchased him a ring nearly three decades later. Gene Nighman, Monks' collegiate wrestling coach, presented Monks with a national championship ring in a brief ceremony.
An emotional Monks had to lift his eyeglasses to dab away the tears after Nighman, currently the Assistant Director of Athletics at Cornell, presented his former wrestler with the ring.
"I didn't have a clue," Monks said. "I knew something was up when everyone was here when I walked in."
Monks' family approached the athletic department recently, inquiring how to buy a ring for Monks all these years later. When Director of Athletics Mike Urtz heard about the request, he decided to honor Monks' success with a gift from the athletic department.
"It was a no-brainer that we would sponsor it," Urtz said. "It was a fun thing to do to celebrate one of our national championships."
| | |
| --- | --- |
| | |
| | Gene Nighman, left, and Troy Monks, right, at the 1990 NCAA Div. III wrestling championships |
Monks won 41 matches during the 1989-90 campaign, his senior season. That mark remains a single-season school record. Monks was named SUNY Cortland's Male Senior Athlete of the Year.
During the regular season, Monks lost just one match to a Division III opponent, St. Lawrence University's Bob Zoeke. The two met again in the NCAA finals, with Monks prevailing in a 6-3 decision to capture the national title.
It remains one of the highlights of Nighman's coaching career.
"Troy got a lead and rode him out and just wrestled so smart the rest of the match," Nighman said. "In the third period, he was on top and he looked at the clock and there were 10 or 15 seconds left. He had Zoeke beat and he took one hand off and gave a thumbs up. He did it. It was just an awesome memory."
Monks said his national title remains in his thoughts. He had placed fourth at the NCAA tournament as a junior and had dedicated himself to becoming a national champion one year later.
"I don't think if it wasn't for the sport itself, I'd be where I'm at, still teaching and coaching," Monks said. "A lot of that season came from (Nighman's) help. He put me in the right place. It's constantly reflected upon and talked about frequently."
Monks has taught physical education and coached in the Elmira City School District since he graduated from SUNY Cortland. He was inducted into the state wrestling Hall of Fame in 2010 and was a 2016 inductee into the Section IV wrestling Hall of Fame. Monks won three Section IV titles for Odessa-Montour High.
"He was a very, very hard-nosed, blue collar, gutsy wrestler," Nighman said. "He was just what a coach wants. Every practice, he left everything on the mat. I would push him until he was exhausted. We would do sprints and work out so hard after wrestling for an hour, an hour and a half. He pushed himself so hard and he wanted it so badly."
On a snowy winter night, Monks finally held a national championship ring in his hands, his supportive family and friends looking on from the bleachers.
"This just adds to it. It adds to it big time," Monks said. "And knowing I have the support that travelled here for me today and how many people kept this quiet for months on end."
---
Capture the Moment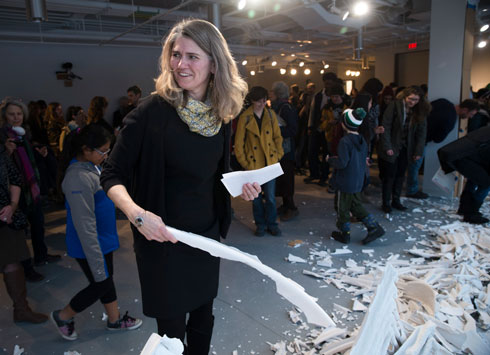 Dowd Gallery Director Erika Fowler-Decatur lifts a piece of Ian McMahon's latest masterpiece after it was intentionally destroyed on Feb. 21. All part of the plan as the exhibition "Semblance" comes to a close. As promised at the opening reception in January, the large crowd was treated to a "monumentally loud and emotionally satisfying crash."
---
In Other News
Political Scientist to Deconstruct Middle East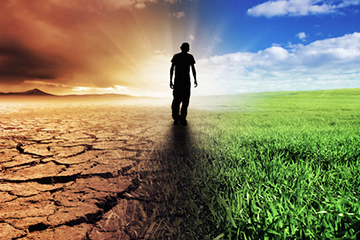 02/21/2017
Syracuse University political scientist Mehrzad Boroujerdi, in his 30 years studying the Middle East, has never seen it with as many failed or fragile states.
"This is a region we can't afford to ignore," said Boroujerdi, professor and chair of Syracuse University's Political Science Department. "It is not Vegas. What happens there doesn't stay there."
| | |
| --- | --- |
| | |
| | Mehrzad Boroujerdi |
Boroujerdi will discuss the series of conflicts that began late 2010 in the Middle East and North Africa — known as the "Arab Spring" — on Wednesday, March 8, at SUNY Cortland. "The De/Reconstruction of the Middle East" begins at 4:30 p.m. in Moffett Center, Room 2125.
His talk, which is free and open to the public, is part of the 2016-17 Rozanne M. Brooks Lecture Series at SUNY Cortland. A reception to welcome Boroujerdi precedes the lecture at 4 p.m. in the Rozanne M. Brooks Museum, Moffett Center, Room 2126.
According to Boroujerdi, these conflicts were a response to the increasing gap between the rulers and the ruled. He will discuss what has happened in this region, as well as what could occur going forward, both with U.S. relations as well as domestically in the Middle Eastern states.
Since 2015, he has served on the Provost's Faculty Fellow for Internationalization at Syracuse University and as a member of S.U's University Leadership Team. Since 2014, he has co-chaired its Working Group on Enhancing Internationalization. He has been a member of the Near East Foundation Board of Directors for the past seven years.
Boroujerdi joined Syracuse University in 1992 after serving as a Rockefeller Foundation Postdoctoral Fellow, Center for Middle Eastern Studies, University of Texas at Austin. He has a doctorate in international relations from American University, a master's degree in political science from Northeastern University and graduated magna cum laude with a bachelor's degree in political science and sociology from Boston University.
He is the author of I Carved, Worshiped and Shattered: Essays on Iranian Politics and Identity, published in 2010 by Tehran: Nashr-e Negah-e Mo`aser; and Iranian Intellectuals and the West: The Tormented Triumph of Nativism, released in 1996 by Syracuse University Press.
Brooks series events will continue throughout the semester.
This year's Brooks lecture series theme reflects the changing nature of the world around us, especially the destruction of cities, societies and environment.
The 2016-17 Brooks Lecture Series is sponsored by a grant from Auxiliary Services Corporation (ASC) and the Cortland College Foundation.
For more information, contact Sharon R. Steadman, SUNY Cortland professor of sociology/anthropology and Rozanne M. Brooks Museum director at 607-753-2308.
Prepared by Communications Office writing intern Jamie Winsper
Active Minds Club Focuses on Mental Wellness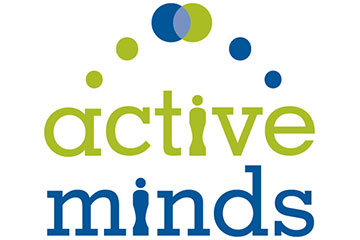 02/21/2017
Changing the conversation about mental health is the mission of Active Minds, a national, student-run advocacy club introduced at SUNY Cortland a year ago this month.
"I've dealt with a lot of people close to me fighting mental illness," said current SUNY Cortland Active Minds President Jill Doyle, a senior community health major from Middletown, N.J. "It was time for me to make a difference on my campus."
Victoria Evans '16, a communication studies major, was the driving force behind creating a Cortland chapter to begin cultivating a more positive attitude towards mental illness on campus. The non-profit organization, founded in 2000, has more than 400 campus chapters and hundreds of thousands of members across the nation.
| | |
| --- | --- |
| | |
| | Members of the Active Minds e-board met recently to plan an event. |
Doyle describes her time involved in the club as "rewarding."
"There is no better feeling than realizing I helped create a club that could be such a big help to someone who may be struggling," said Doyle.
In the past, Active Minds has collaborated with the Psychology Club to hold open forums and give students a place to de-stress.
Active Minds collaborates with Cortland County's Mental Health Department, and they are planning a joint "Out of Darkness" suicide prevention walk for Fall 2017, building on past events the group has undertaken.
"Working on the suicide prevention walk was one of my most memorable moments while involved in this club," said junior club e-board member Kim Persico, a psychology major from Lynbrook, N.Y. "Meeting people that were deeply affected by mental health gave me the drive to want to do more on my own college campus."
The goal of this walk is to increase awareness and raise $10,000 to donate to the American Foundation for Suicide.
Aside from the walk, Active Minds has a lot on the agenda this semester.
During February, the club will collaborate with the Health Promotion office's series of events aimed to foster well-being within the campus community. On Thursday, Feb. 23, during Body Appreciation Week, the College will screen a documentary film, "Embrace," focused on healthy body image.
Another club event, "Stress-Less Week," will take place just before finals week and is dedicated to raising awareness about stress and ways to fight it across the Cortland Campus. During that week, Active Minds members will make a panic, anxiety and stress support kit (PASS). The kits include a face mask, stress ball, gum, ear plugs and an inspirational quote.
Active Minds meets at 5:30 p.m. Tuesdays in the Corey Union Caleion Room. For more information, contact Doyle.
Prepared by Communications Office writing intern Jessica Haverlin
College Renews Employee Homeownership Incentive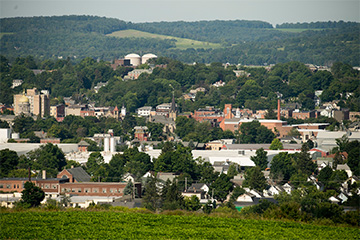 02/21/2017
SUNY Cortland's commitment to buying local goes beyond using fresh produce in dining halls and supporting community-based businesses. The attitude extends to neighborhoods surrounding the campus, where employees are encouraged to live.
That's why the College announced that a successful pilot program has been renewed for a second year in 2017-18.
The SUNY Cortland Neighborhood Homeownership Program again will award up to five $4,000 grants to new faculty and staff homeowners who opt to live near campus. Those funds can help pay closing costs or go towards a down payment on a house within defined city boundaries.
"We have amazing faculty and staff members and we want to keep them here — not only to work in Cortland, but to live here too, if their circumstances allow," said SUNY Cortland President Erik J. Bitterbaum. "This is a wonderful program that rewards our employees for making an investment in the community."
The program, drawn up by the College's Live in Cortland Committee, stipulates that award recipients must be full-time employees purchasing a single-family home that serves as their primary residence. Neighborhood boundaries extend from Grant Street in the north to Clinton Avenue in the east to Squires Street in the south to Glenn Street in the west.
All $20,000 of initial funding was awarded within the first six months of the program in 2016, with five faculty and staff members taking full advantage. Three employees were new to the area while two were young professionals who decided to put down roots in the city of Cortland.
Before she accepted a job at the College this past fall, Cathy Cullen consulted the notes that she scribbled down during the interview process, which included a mention of the new homeownership program.
"President Bitterbaum mentioned this program that incentivized employees living in the community and it immediately perked up my ears," said Cullen, who relocated from Madison, Wis., and now works as the School of Education's assistant dean for assessment and accreditation. "So when my wife and I came here to search for a house, we knew we wanted to live in Cortland."
Cullen said she believes strongly in embracing the local community. She taught in Boston public schools before a long career as a college professor and administrator. Living near her students and their families was crucial to her own success in the classroom, she said.
"I knew I could reach them easily, be it in the grocery store or at church," said Cullen, who purchased a home on William Street. "Being a part of the community made my work more meaningful."
Likewise, Page Dobbs knew that she and her husband wanted to reside near campus when they moved to Cortland from Springdale, Ark. But they also needed to sell their home in Arkansas and find a home with enough room for their two dogs. The house-hunting process was long and arduous, and it spanned more than six months.
The homeownership stipend came as a much-appreciated bonus.
"When you're moving 1,200 miles away, it can be stressful because there are so many things in transition," said Dobbs, an assistant professor of health who now lives on Broadway Avenue. "We were so grateful to receive it."
Dobbs joked that she appreciates the ability to walk to work in her first year on campus, especially as she acclimates to Central New York winters.
A 2014 SUNY Cortland survey found that many employees wanted to live near campus but only about 30 percent ended up there. Findings also indicated that people who initially rented in Cortland tended to buy houses and stay in the community — investing their time, energy and dollars.
Mary Kate Boland and Jaclyn Lawrence are two examples. Both grew up in Western New York, both graduated from SUNY Cortland — Boland in 2006 and Lawrence in 2012 — and both previously resided in apartments while working at the College. After the homeownership grant was announced, they looked to buy near campus.
"I was considering a few different places, but the award definitely influenced my decision to stay living in Cortland," said Lawrence, the College's assistant director of athletics for events, marketing and development. "Applying for it was simple, and it made my first home-buying experience that much easier."
The hope is that more faculty and staff members, both new and longtime employees, will follow.
Additional Live in Cortland resources include a comprehensive webpage that serves as a helpful guide for newcomers to the community as well as an internal tool to help new employees find suitable rental properties.
To learn more about the homeownership program or other Live in Cortland initiatives, contact committee chair Randi Storch.
SUNY Cortland Hosts Teachers' Writing Conference
02/20/2017
SUNY Cortland will host the fourth-annual Writing Matters Conference, an event designed for teachers at all levels and of all subject areas, to engage students in "The Work of Writing," on Saturday, March 11.
Practicing Central New York teachers will lead most of the sessions during the all-day event, sharing their classroom-tested approaches for incorporating writing into the curriculum.
Stephen J. Parks, Associate Professor of Writing and Rhetoric at Syracuse University, will present the keynote talk entitled "What I Learned by Working with Teachers: Collaboration, Partnership, and the Power of Writing."
Parks has authored and edited numerous books on writing. He is the founder and executive director of New City Community Press, which pledges to "provide opportunities for local communities to represent themselves by telling their stories in their own words."
Sessions will explore many topics, including the use of new genres for classroom writing, creating school-wide writing communities, using digital media for writing, and exploring the writing process. To register for the conference, or submit a proposal for leading a session, visit WritingMattersConference.com. The deadline for session proposals is Feb. 25.
David Franke, a SUNY Cortland professor of English and the director of the Seven Valleys Writing Project, expects this year's conference to foster discussions about how to make writing work for teachers and students in Central New York.
"For veteran teachers and even those still working on degrees, the Writing Matters conference provides exposure to teacher-tested approaches to writing," Franke said. "The principles and methods from Writing Matters workshops can be imported into any subject area and level of class, K-12. This is particularly useful to teachers across the curriculum who want students to write more, but are looking for new ways to motivate them and assess their writing. The conference also encourages teachers to write and share the results of their writing."
Workshop sessions run from 8:30 a.m. to 3 p.m. in Corey Union on March 11. Breakfast is served from 7:45 to 8:15 a.m. and lunch is provided. Certificates will be available and teachers will earn seven hours of professional development credit. The $50 conference fee is waived for presenters. Visit writingmattersconference.com, TSTBOCES.org or email Seven Valleys for more information.
You Studied What? From Hip Hop to Harry Potter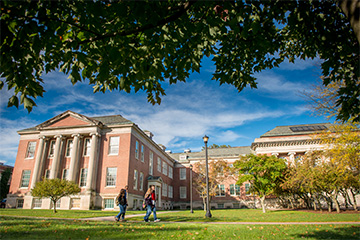 02/21/2017
SUNY Cortland students from every major benefit from creative approaches to their studies. They discover a well-rounded education that encourages them to solve problems in new ways. And many times, that involves taking classes with interesting titles and even more impressive outcomes.
The list below is just a sample of some untraditional classes students are taking this semester.
Sport Management 325: Introduction to Sport Analytics
"The 12-year-old stat nerd in me has been preparing to teach this course for 20 years," says Ryan Vooris, an assistant professor whose research focuses on new and emerging media in sports.
The brand-new elective is about much more than statistics. It considers how data can be used to measure in-depth player performance as well as key areas within the sports business world – everything from ticket sales to marketing to event management. Industry experts also visit to speak about their day-to-day work.
"The class is very much about understanding how we think as well as learning to make smarter decisions," says Vooris, who also teaches a popular course on social media in sport operations.
Think Moneyball for the classroom.
Psychology 270: Forensic Psychology
Entertaining as it might be, the hit television series "Criminal Minds" doesn't do the best job portraying the realities of the forensic psychology field. "Pretty much everything that's on TV is wrong," says Karen Davis, an assistant professor and clinical psychologist.
The psychology majors and minors enrolled in this course learn about topics such as interrogation strategies, false confessions and evaluations of criminal defendants. Most importantly, they gain an accurate understanding of how psychology applies to the legal system and criminal justice profession.
Philosophy 429: Harry Potter: Morality and Human Nature
No, you won't learn how to play Quidditch. But you'll definitely discuss the philosophical themes that develop throughout the popular series of fantasy novels. Topics are built around titles such as "Hermione Granger and Molly Weasley: Being Witches in a Wizard's World," a weeklong lesson that considers feminism and women's rights
"There's this burgeoning industry of Potter scholars," says Professor Andrew Fitz-Gibbon, who is teaching a class that includes mostly honors program students and social philosophy majors. "What's interesting about the series is that as it develops, it becomes more mature in its themes and moral problems."
Fitz-Gibbon, an ethicist, promises that the course will be fun. But he's also quick to mention the 25-page paper that serves as a culminating project.
Childhood/Early Childhood Education 315: Critical Media Literacy
You won't get in trouble for using your iPhone or iPad in this class. In fact, Associate Professor Shufang Strause encourages it. Her goal is to help future teachers "come to the edge" by integrating educational technology in new and meaningful ways, without fear or hesitation.
Several different media projects focus on valuable teaching skills and emerging tools. Some examples: students master the basics of Google Apps for Education, they develop classroom lessons such as Digital Storytelling Night and they prepare an ePortfolio that can be used during the job application process.
It's invaluable technology training for the teachers of tomorrow.
Health 329: Philanthropy and Non-Profits: Learning by Giving
The "Learning by Giving" title captures the essence of this class, which awards $10,000 in real money to non-profit organizations in Cortland County. But don't be fooled. Students who complete this course often report that the awards process is more difficult than it seems.
Assistant Professor Barbara Barton introduces topics such as grant-writing and effective non-profit management. Students also conduct site visits and personally assess the proposals of the agencies that apply for funding.
Since the course was established at the College five years ago, $52,000 has been distributed to community non-profits thanks to the Learning by Giving Foundation. The semester culminates with a rewarding activity: a ceremony to announce award recipients.
History 280: Introduction to Public History
How did Cortland's campus react to two world wars, the Civil Rights Movement and other historic events? Today's enterprising history students found the answers by diving into the archives at Memorial Library as part of a major project in this course.
Guided by Assistant Professor Evan Faulkenbury, they looked at SUNY Cortland's student newspapers all the way back to 1879 – less than 15 years after the Civil War ended. An impressive digital history project synthesized their Fall 2016 work.
In a larger sense, students who take this course explore the discipline outside of the traditional classroom setting, whether that's through museum work, archives or oral history.
They discover the value of public history by doing it themselves.
Management 275: Entrepreneurship I
"Everything isn't roses when you're trying to be an entrepreneur," says Brian Ward, an Economics Department faculty member who brings decades of experience as a corporate chief executive officer to the classroom. "For every Michael Jordan, there are 1,000 other people who might not make the team."
The course introduces the many demands that aspiring entrepreneurs face while providing fundamental background on what's required to turn an innovative idea into reality. Successful business owners visit to discuss best practices during the semester. Students work individually to create their own business models. They also study success stories like the nearby example of Chobani Yogurt.
The biggest reward? Some students have transformed their class assignments into real businesses after graduation.
African American Studies 231: Hip Hop Culture
Who better to teach a course on hip hop music than a professional DJ who has shared the stage with all-time great rappers like Nas? Hasan Stephens has performed as DJ Maestro since 1995 — playing countless shows and even appearing on BET.
"It's not just about the music," says Stephens, a lecturer who founded the Good Life Youth Foundation for at-risk children and teenagers in Syracuse. "It's about understanding the culture."
Students examine socio-political issues such as race, gender and sexuality as part of their coursework. They analyze lyrics. And they also study the shifts and changes in the four elements of hip hop: rap, DJing, B-boying and graffiti writing.
Some assignments even involve writing original raps and learning how to DJ.
"I try to make it hands-on in any way that I can," Stephens says.
Criminology 380: White-Collar Crime
The concept of crime typically conjures images of "street" violence. But this course examines the much less visible scourge of white-collar crime and the people who commit it – criminals who often appear respectable despite their intentions. Examples range from employee embezzlement to corporate pollution law violations.
What's the relationship between the economy, political world and the criminal justice system? How are white-collar crime laws enforced? What's the cost to individuals and society? These are just some of the questions that Samantha Applin, an assistant professor of sociology/anthropology, considers with her students.
Besides learning the fundamental theory and the strategies used to curb these crimes, students also develop podcasts on popular cases – everything from corporate to political examples.
Exercise Science 432: Exercise Prescription
This isn't just a course for exercise science majors; it also involves College employees and family members who are looking to get in shape. Students provide free exercise advice and consultation at a level above a personal training service.
The interdisciplinary course taught by Assistant Professor Deborah Van Langen also relies on student talent from two other classes: Exercise Psychology, taught by Associate Professor Katherine Polasek, and Intro to Computer Applications, taught by Janet Ochs. Besides shaping semester-long health goals, students study the behavioral changes of participants and they build personal websites to track success.
"They build a nice little community," says Van Langen, noting that each semester usually draws eight to 15 participants.
Communication Studies 350: New Communication Media
Not many people can say that they helped jumpstart a million-dollar grassroots effort to save a cherished community swimming pool. But former students in this course can.
"It's not so much about the (social media) platforms as it is how you're going to use them," says Professor Caroline Kaltefleiter, who emphasizes the value of civic engagement in all of her classes.
She runs this course like an ad agency, with students working in small teams on digital projects that consider social, political, cultural and economic issues. They produce videos and initiate important conversations on social media.
Besides helping to lead the project that saved the city of Cortland's Wickwire Pool, past classes have tackled hunger and homelessness.
"It's about finding a better way to engage students in citizenry," Kaltefleiter says.
Spanish 320: Spanish for the Professions
While many foreign language courses focus on basic writing and composition skills, this one digs deeper into the specialized vocabulary of four major fields: business, law enforcement, healthcare and education.
"This is about learning Spanish on a pragmatic level," says Patricia Martinez, a lecturer in the Modern Languages Department. That's why much of her course is rooted in real-life scenarios. Adolescence education majors, for instance, learn to translate and craft formal school district letters in Spanish.
The expectation isn't that students will be expert interpreters by the end of the semester. Rather, they'll have the tools and the vocabulary to succeed in everyday situations related to their professions.
Bistro Flavor Station Shakes Up Student Meals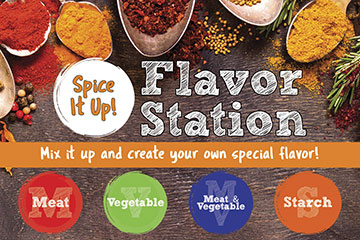 02/21/2017
You don't have to travel far to play the role of an international chef, spice up any meal and promote healthy eating.
In an effort to reduce sodium intake and provide more ethnically diverse choices, SUNY Cortland Auxiliary Services Corporation's (ASC) culinary team has developed the new Flavor Station.
According to the United States Department of Agriculture (USDA), practically all Americans consume more sodium than they need, leading to high blood pressure, heart and kidney disease.
Located on the salad bar in The Bistro at the Student Life Center, the Flavor Station offers students a fun way to take up the USDA's challenge to boost food flavor with less sodium by offering an assortment of herbs and spices.
The condiments were selected to work with different meats, vegetables and starches but students are encouraged to mix it up and create their own unique flavors.
With ten spice blends such as Jamaican Jerk, White Pepper and Montreal Seasoning, the Bistro's new Flavor Station will be able to compliment any dish, offering a more delicious and healthy dining experience.
"We are excited to offer the Flavor Station," said Theresa Baker, director of dining services for the ASC. "Our customers have grown up with ethnic food choices and the Flavor Station is an easy way for them to meet their health goals and to add more flavors."
For more information, please email Baker.
Prepared by Communications Office writing intern Charlie Beeler
Events to Focus on Workers and Jobs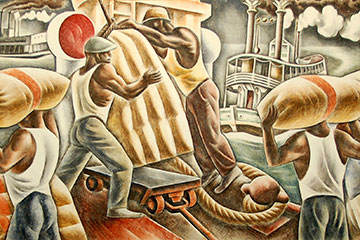 02/20/2017
SUNY Cortland will hold an exhibition of Works Progress Administration artworks from the New Deal era and present talks on the themes of labor and work from Friday, Feb. 24 to Friday, March 3.
The series of events, titled "Re-Imagining Work, Prosperity, and Art: Reflections on the New Deal and Envisioning 21st Century Possibilities for Employment," looks to help students establish relationships that will foster new lines of employment and graduate education opportunities.
All events are free and open to the public.
| | |
| --- | --- |
| | |
| | The exhibition will include "Howard Cook Mississippi Stevadores 1935," shown above, and "Ida Abelman We Have a Claim! circa 1938," shown above left, both artworks courtesy of Syracuse University Art Collection. |
"These talks and the art exhibition are designed to stimulate a vision for the future," said Benjamin Wilson, assistant professor of political economy at SUNY Cortland, who organized the week's events on behalf of the College's Cultural and Intellectual Climate Committee (CICC).
"This will expose our students to a wide variety of opportunities for the creation of career paths," Wilson said. "We want our students to explore professional employment possibilities that not only support individual livelihoods but look to make the world a healthier place."
The events continue the CICC's yearlong series "Art and Everything," which focuses on the essential nature of art and imagination in society. The events examine the power and purpose of art across the disciplines.
The WPA exhibition, comprised of works on loan from Syracuse University Galleries, will take place in the Old Main Colloquium Room. The show opens Friday, Feb. 24, and runs until Friday, March 3. Gallery hours are 10 a.m. to 4 p.m. weekdays.
A series of exhibition-related talks will take place at the exhibition location on Friday, March 3.
Scott Moranda, an associate professor of history, will explore "Reforestation, Local Communities, and the CCC in Central New York" from 12:30 p.m. to 1:30 p.m.
Domenic Iacono, director of SUArt Galleries, will discuss the WPA artwork and government employment of artists that afternoon from 2 p.m. to 3:15 p.m.
A talk series on topics such as culinary, visual, performing, media and literary arts will be held in Brockway Hall Jacobus Lounge on Wednesday, March 1 and Thursday, March 2.
On Wednesday, Howard Lindh, scenic designer with the College's Performing Arts Department, will present "Pinocchio to Hamlet: Puppetry and the WPA," from 12:30 p.m. to 1:30 p.m.
From 4 p.m. to 5:15 p.m., Mitchell Davis, vice president of the James Beard Foundation and Wilson will offer "Chefs and Political Advocacy, Food Systems Innovation and Value." They will address the changes that are occurring in our food systems and the professional opportunities that are becoming available as a result.
From 5:30 p.m. to 6:45 p.m., two professors will lecture on "The Federal Theatre Company and Modern Media Promoting Social Change and Creative Production." The presenters are Scott Ferguson, assistant professor of film and media studies in the Humanities and Cultural Studies Department at the University of South Florida, and Angela Branneman, associate professor of theatre arts management at Ithaca College.
On Thursday, Susan Demasi, professor and librarian at Suffolk County Community College, will discuss her book, "The Man Who Wrote America: Henry Alsberg and the Continuing Legacy of the WPA's Federal Writers' Project." Her hour-long talk will begin at 12:30 p.m. Alsberg directed the Federal Writers' Project, a New Deal program of the Works Progress Administration, under which he orchestrated the hiring of thousands of unemployed writers. The project produced more than 1,000 publications from 1935 to 1939, including the still highly acclaimed American Guide series. Demasi has had her work featured in The New York Times and is a previous grand prize winner of Showtime's Nantucket Film Festival.
John Henry, a senior scholar at the Levy Economics Institute of Bard College, will present "Reflections on the New Deal: The Vested Interest, Limits to Reform, and the Meaning of Liberal Democracy." His talk runs from 4 p.m. to 5:15 p.m. on Thursday. Henry authored John Bates Clark (Macmillan, 1995) and The Making of Neoclassical Economics (Unwin Hyman, 1990; repr., Routledge, 2011). Henry has also contributed to 10 volumes of collected essays and has published more than 50 articles and book reviews in academic journals.
A panel discussion, moderated by Mark Prus, SUNY Cortland provost and vice president for academic affairs, whose academic specialty is economics, and Michael Braun, Student Government Association president, will explore "Employment, Labor Policy and Limits to Reform" follows from 5:30 p.m. to 6:45 p.m. Thursday. The panel will consist of Peter Phillips, professor of labor economics, University of Utah; Kent Klitgaard, professor of economics and sustainability, Wells College; and Pavlina Tcherneva, associate professor at Bard College.
"We are all looking forward to thoughtful discussion and debate about cultivating and supporting opportunities for meaningful and productive careers in the creative arts for our students and beyond," Wilson said.
In addition to the CICC, the "Art is Everything" events are sponsored by the President's Fund, the Surette Fund, Dowd Gallery, the Binzagr Institute for Sustainable Prosperity, Memorial Library, grants from the Campus Artist and Lecture Series Committee and the departments of economics, art and art history, and history.
For more information on the week's events, contact Wilson.
For questions or concerns regarding the yearlong series, contact CICC co-chairs Moranda at 607-753-2052 or Lindh at 607-753-4101.
Prepared by Communications Office writing intern Jamie Winsper
The exhibition will include "Howard Cook Mississippi Stevadores 1935," shown above, and "Ida Abel man We Have a Claim! circa 1938," shown above left, both artworks courtesy of Syracuse University Art Collection.
'Project Unspeakable' Explores Conspiracy Theories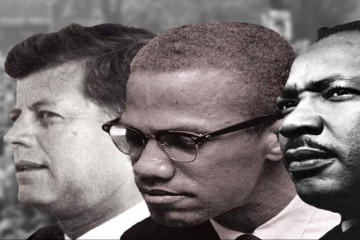 02/20/2017
Dramatic readings of historic quotes, report excerpts and published testimony will be used to raise troubling questions about the assassinations of John F. Kennedy, Malcolm X and Martin Luther King Jr.at SUNY Cortland Tuesday, Feb. 21.
The free performance of "Project Unspeakable," one of SUNY Cortland's Black History month events, will start at 7 p.m. in the Student Life Center, room 1104. Light refreshments will be served.
"Project Unspeakable" explores the idea that there was a connection among the three high-profile killings and maybe even a conspiracy based on opposition to the social justice and civil rights movements of the 1960s.
Inspired by James Douglass' book, JFK and the Unspeakable: Why He Died and Why It Matters, the performance features ten readers speaking the words of more than 60 different real-life people. The play seeks to end what the author considers to be "official" silence and deception that has surrounded the "unspeakable" assassinations of these three prominent leaders. The ArtRageous Players from Syracuse will present the dramatic readings based on the book.
The event is co-sponsored by the College's history, political science and sociology/anthropology departments and United University Professions.
"Project Unspeakable" has been performed around the country for several years. It involves hundreds of dramatic readings or full performances. During the course of this performance, some of the "unspeakables" of today – such as school-to-prison pipelines, economic disparity and police brutality – will be raised.

Prepared by Communications Office writing intern Alexandra Savini
SEFA Campaign Organizers Share Results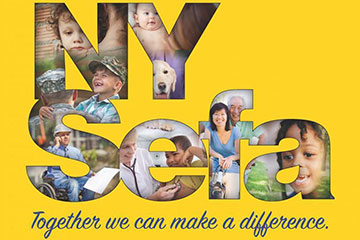 02/21/2017
SUNY Cortland employees contributed $40,607 to the 2016-17 State Employees Federated Appeal (SEFA) campaign.
The only authorized fundraising campaign among New York state workers, SEFA is directed by the United Way of Cortland County and brings together fundraising efforts for a broad group of agencies under one common umbrella. This annual fundraising effort offers SUNY Cortland employees the opportunity to support local, statewide and global charities.
The College, which relies on state employee volunteers to canvas co-workers for donations, kicked off the two-week appeal Oct. 18. Results were tallied recently.
According to the 2016-17 SEFA Campaign co-chairs, Pam Schroeder and Heather Drew, $28,681 of the donations were earmarked to support charities doing important work in Cortland County.
The campaign gives generous support each year to United Way, YWCA of Cortland, Lime Hollow Nature Center, SUNY Cortland Child Care Center and many other local charities, the organizers noted. Donations helped provide aid to victims of violence, support to parenting or pregnancy-risk teens, literacy education for adult learners, scholarships to working parents for quality childcare, and many other essential services.
The other $11,926 was donated to charities such as St. Jude Children's Research Hospital, the American Society for the Prevention of Cruelty to Animals (ASPCA), Doctors Without Borders, and many other worthy charities across New York state and around the world.
In New York, SEFA campaigns also are conducted at the State Department of Labor, the Department of Environmental Conservation, the Department of Transportation, the Office of Court Administration and the State Police. Decisions are made locally about which agencies are included and how funds are distributed. The community-based SEFA committee is composed of representatives from state agencies and managers of human service agencies. Pledging takes place once a year.
Donors may choose to have their gifts shared among different organizations within Cortland County, used in another county of their choice or designated for individual local, state, independent or international organizations.
Schroeder and Drew said they were glad to reach out to the campus community to help make the campaign successful.
"I was honored to co-chair this year's SEFA campaign, along with Pam," Drew said. "I would like to thank all the volunteers that helped distribute and gather pledge forms. Your assistance is greatly appreciated. We couldn't do it without you."
"As a community, Cortland has given back for many years," SUNY Cortland President Erik J. Bitterbaum said. "I am proud that so many faculty, staff and even students give to the United Way Campaign."
Local members of the Cortland County SEFA Committee and the employee group represented include: Kathleen Burke, SUNY Cortland United University Professions (UUP) employees; Christella Yonta, federated campaign coordinator for the United Way for Cortland County; Gary Evans, SUNY Cortland management/confidential employees; Laurie Klotz, SUNY Cortland UUP employees; Lois Marshall, NYSDOT, CSEA employees; Donna Raymond, NYSEC, CSEA employees; Antoinette Tiburzi, SUNY Cortland professor emerita, Cortland County SEFA chair; and Lori Porter SUNY Cortland, management/confidential employees.
For more information about SEFA in New York State, visit the website www.sefanys.org.
Prepared by Communications Office writing intern Alexandra Savini
'Crazy For You' Continues for Second Weekend Performances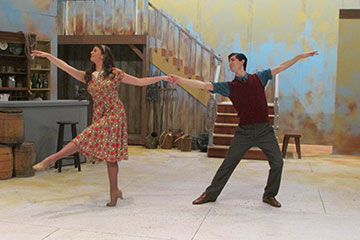 02/21/2017
"Crazy For You," the Tony Award winning musical comedy inspired by George Gershwin's 1930 musical "Girl Crazy," will be performed by SUNY Cortland musical theatre students for a second weekend beginning Friday, Feb. 24.
The production, which opened on Feb. 17, will run at 8 p.m. on Friday, Feb. 24 and Saturday, Feb. 25 and a matinee performance at 2 p.m. Feb. 26.
Admission is $9 for students; $16 for faculty, staff and senior citizens; and $19 for the general public. For the best selection of seats, tickets may be purchased online at cortland.edu/boxoffice. Tickets also may be purchased in person in the Dowd Fine Arts Center lobby one hour before the curtain. For more information on ticket sales, call 607-753-2831.
Read the complete article here.
For more information, contact Whetstone at 607-753-4544.
Information Session on Read & Write Planned for Feb. 28
An informational session on Read & Write, a suite of reading, writing, and study tools that may be installed on any campus computer and that students may install on their own computers, will be held on Tuesday, Feb. 28 in Memorial Library.
Led by Esa Merson, director of Academic Support and Achievement Program, and Jeremy Zhe-Heimerman, coordinator of Assistive Technology and Test Administration Services, the hands-on demonstration will begin at noon in Memorial Library, Room B-111.
Described as a friendly, intuitive program with a customizable toolbar, the software can help students of all ability levels with reading text out loud, understanding unfamiliar words, proofing written work and researching for assignments.
The College recently purchased a site license for the new software. SUNY Cortland students may download and install it on their own computers for no charge. Faculty and staff may have the software installed on any college computer for no charge by placing a request with Campus Technology Services.
The College recently purchased a site license for the new software.
For more information, contact Zhe-Heimerman at 607-753-2358.
Raquette Lake Summer Reservations Open to Staff
The Antlers facility at the William H. Parks Family Center for Environmental and Outdoor Education at Raquette Lake will be available for use this summer by Auxiliary Services Corporation employees, faculty, staff and their guests including spouses, children and significant others. Session dates for the summer experience in the heart of the Adirondack Mountains are June 22-25 or June 26-July 1.
Reservation information is available www2.cortland.edu/rl-events or at the Parks Family Outdoor Center Office, Miller Building, Room 230.
The all-inclusive rate for the four-day session is $165 per adult and $132 for children age 12 and under. Room and board for six-day session is $253 per person for adults and $202 per person for children age 12 and under. There is no charge for children under one year of age.
Arrival time is between 2 p.m. and 4 p.m. An all-camp orientation will be held at 5 p.m. on arrival day. Dinner will be served at 6 p.m. Guests will depart after breakfast on the last day.
A $50 deposit is required with pre-registration for each family. The deposit will be applied to the total cost and will be non-refundable unless a three-week notice of cancellation is given. The balance is due upon arrival, payable to Auxiliary Services Corporation or ASC. Participants for all sessions will be acknowledged on a first-come, first-served basis following the receipt of reservation and deposit.
Guests will be assigned to housing according to family size and abilities. Showers and bathrooms are located in each room. Bed linens and towels must be provided by all participants. There is no janitorial or maid service available at the Center. All guests are requested to keep rooms in a neat and orderly condition and to leave them in "as good, or better" condition.
Lunch and dinner will be served family style in the Cummings Dining Hall at noon and 6 p.m. Breakfast will be a buffet offered between 7:45 and 8:45 a.m. Every effort is made to provide tasty, balanced meals. With advance notification, special dietary needs can be accommodated.
Recreational equipment available for the summer session includes canoes and kayaks. Families should provide their own child size life jackets. A small motor boat will be available for guests to use for touring and fishing. Families are responsible for the safety and well-being of their own children. There are no babysitters or lifeguards on site. Family pets are not permitted.
For more information, call the center at 607-753-5488.
Homebuyer Information Sessions Planned for March
A program for potential home buyers will be offered at SUNY Cortland on Thursday evenings in March. Sponsored by Ithaca Neighborhood Housing Services (INHS) and Better Housing for Tompkins County, the service is being extended to include Cortland county residents.
The INHS Homebuyer U course will address topics including how much money is needed, the importance of credit scores, how to work with a realtor, how to obtain a mortgage, inspections and more. One-on-one support will be provided.
There is a registration fee of $75 per household. For more information and to register, visit ithacanhs.org or call 607-277-4500, ext. 505.

Suggest a feature story
---
Faculty/Staff Activities
Timothy J. Baroni
Timothy J. Baroni, Biological Sciences Department, was acknowledged as a consultant for the chapter on "Fungi in the Forest Ecosystem" in Joan Maloof's recent (2016) book, Nature's Temples – The Complex World of Old-Growth Forests published by Timber Press of Portland, Ore. Baroni provided Maloof with a 10-page summary of current knowledge of fungal species known from old growth forests of North America and Europe with a comprehensive literature cited section. Also, five of Baroni's color images of tropical fungi were featured in the 2008 publication Biodiversidad de Puerto Rico, Augustín Stahl, Flora, Hongos, Serie de Historia Natural, on the mushrooms (hongos) of Puerto Rico written by his colleagues, Sharon A. Cantrell, Universidad del Turabo, P.R., and D. Jean Lodge, USDA-Forest Service Northern Research Station, Luquillo, Puerto Rico. Baroni and Lodge were funded by the National Science Foundation from 1996-2001 to perform biodiversity research on Basidiomycetes, large fleshy fungi, in Puerto Rico and the surrounding islands of the Greater Antilles except for Cuba. Cantrell served as the postdoctoral research collaborator on that grant. The chapter is a 46-page summary of the history of research on fungi in Puerto Rico by a host of investigators from around the world, dating back to the 19th century. A summary of these investigations and an overview of the biology of fungi in tropical forest ecosystems is presented, culminating in a list of macrofungi and slime molds documented from Puerto Rico.
Moyi Jia
Moyi Jia, Communication Studies Department, had an article published in the February issue of Management Communication Quarterly. It is titled, "Workplace Emotion and Communication: Supervisor Nonverbal Immediacy, Employee's Emotional Experience, and Their Communication Motives."
Jean W. LeLoup
Jean W. LeLoup, professor emerita of Spanish, was the plenary speaker at the annual conference of the Alabama World Languages Association on Feb. 3 at Auburn University. Her talk, "Language and Culture in the Classroom: Are YOU on Target?" stressed the importance of teaching and using in the target language 90 percent plus of the time in all foreign language classrooms. She also gave a talk on FLTEACH, the Foreign Language Teaching Forum, an online resource she has co-moderated for 24 years with her colleague, Robert Ponterio, Modern Languages Department.
Mechthild Nagel
Mechthild Nagel, Philosophy and Africana Studies departments and Center for Gender and Intercultural Studies, as editor-in-chief of Wagadu, announces the recent publication of a special issue of the online academic feminist journal. Edited by Nikita Dhawan, professor of political theory and gender studies and director of the Research Platform Gender Studies, at University of Innsbruck, the issue outlines the ideological function of diversity and intersectionality as legitimizing performance indicators in discourses and institutions. Included in the issue is an article by Nagel titled "Pitfalls of Diversity Management."
Gregory D. Phelan
Gregory D. Phelan, Chemistry Department, had a United States patents issue in February. The patents is numbered 9,567,255 and is titled Light Weight Structural Materials. The patents deal with reducing the density of polymeric structural materials by incorporating hollow microstructures into the matrix of the pyloric materials. More information can be found here.
Kate Polasek
Kate Polasek, Kinesiology Department, recently had her article "Friendship Formation among Professional Male Dancers" published in Dance and Gender: An Evidence-Based Approach.

Submit your faculty/staff activity