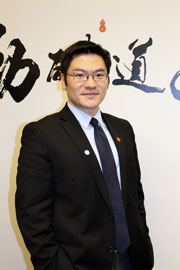 Campus Champion
While he praises SUNY Cortland's fine atmosphere and camaraderie, the College applauds the service of this dedicated assistant professor of political science. In his two short years on staff, Lu-Chung "Dennis" Weng has helped established a Taiwanese SUNY Cortland experience and a one-of-a-kind China and Taiwan Summer Study Abroad Program. "Bringing students from Taiwan to SUNY Cortland will help our students better understand the value of international relations with Asia," he said. Building on his successes in organizing speaker events and exchanges, we'll stay tuned as this forward-thinking professor focuses his energy on diversity and inclusion efforts and foreign teacher initiatives.

Nominate a Campus Champion
---
Tuesday, Feb. 7
Red Cross Blood Drive: Corey Union Function Room, noon-5 p.m.
Open Mic Night: Share your talent, free refreshments, Corey Union Exhibition Lounge, 7 p.m.
Wednesday, Feb. 8
Red Cross Blood Drive: Corey Union Function Room, noon-5 p.m.
Sandwich Seminar: "Black Music Matters: A Concert of Art, Classical and Jazz Music," by Edward Moore, Performing Arts Department, Brockway Hall Jacobus Lounge, 12:30-1:30 p.m.
5-0-4 Inclusion Dialogues: "Breaking Free of Stigmas," Corey Union Fireplace Lounge, 5-6 p.m.
Wellness Wednesday Series: "Find Your Life's Purpose and What Fulfills You," with Ryan Brennan, fitness/personal training graduate assistant and adjunct professor, Corey Union Exhibition Lounge, 6 p.m.
Thursday, Feb. 9
Sandwich Seminar: "R&B and Motown to Rap," by Lewis Rosengarten, Africana Studies Department and EOP, Brockway Hall Jacobus Lounge, noon-1 p.m.
Narcan Training: Sponsored by EAP Office and the Cortland County Health Department, VanHoesen Hall, Room 119, 3:30 p.m. RSVP by email or call Jo Tobias, 607-753-4107
Information Meeting: Student Teach in New York City, Corey Union Exhibition Lounge, 5-6 p.m.
Friday, Feb. 10
Films at Four Filmfest: "Little Miss Sunshine," Old Main, Room 223 (Modern Languages Lab), 4 p.m.
Tuesday, Feb. 14
Union Matters Chapter Meeting: Corey Union Function Room, noon-1 p.m. Buffet opens at 11:45 a.m. Advance registration by Feb. 6 is requested, but last minute attendees are invited.
Speaker: "That Old #Blackgirlmagic: Inclusive Excellence as an American Standard Redux," by Marita Gilbert, director of the Gender and Sexuality Resource Center at SUNY Oneonta, Brockway Hall Jacobus Lounge, 4:30 p.m.
Wednesday, Feb. 15
Sandwich Seminar: "Multidisciplinary Diversity: Race, Gender, Place and Diasporic Sites," presented by Ibipo Johnston-Anumomwo, Geography Department, Mecke Nagel, Philosophy and Africana Studies departments and the Center for Gender and Intercultural Studies, and Seth N. Asumah, Africana Studies and Political Science departments, Brockway Hall Jacobus Lounge, 12:30-1:30 p.m.
Brooks Museum Lecture Series: "Fighting the 'Manocracy': Rabbi Stephen S. Wise and the Struggle for Women's Suffrage in New York State," by History Professor Randi Storch, as part of the year-long theme of "De(Recon)struction: Culture and the Biosphere." Moffett Center, Room 2125, 4:30 p.m. A reception will be held in the Brooks Museum, Moffett Center, Room 2126, beginning at 4 p.m.
Beauty and the Beast: Athletics event with Ithaca College, where venue is set up for a simultaneous gymnastics and wrestling match. Park Center Corey Gymnasium, 6:30 p.m.
Wellness Wednesday Series: "What's Your Green Dot?" with Green Dot presenter Nate Burke, Corey Union Function Room, 7 p.m.
Thursday, Feb. 16
Sandwich Seminar: "The Malden Meteor: Louise Stokes Fraser and Her Journey Through Sports in Jim Crow America," by Susan Rayl, Kinesiology Department, Brockway Hall Jacobus Lounge, noon-1 p.m.
Lecture: "Green Dot — Dealing with Power-Based Personal Violence," Presented by Seth Asumah, Political Science and Africana Studies departments, and Lima Stafford, Multicultural Life and Diversity Office, Corey Union Caleion Room, 7:15 p.m.
Monday, Feb. 20
Performance: Soul-Mic Showcase, Brockway Hall Jacobus Lounge, 7 p.m.
---
---
Speaker Introduces Green Dot Anti-Violence Strategy
02/07/2017
Nate Burke is looking to change the world one green dot at a time.
Burke, senior trainer for a national program aimed at helping schools prevent sexual assault and other forms of violence, will present "What's Your Green Dot?" on Wednesday, Feb. 15, at SUNY Cortland.
His presentation will officially launch the College's Green Dot initiative, and implement a strategy designed to continue shifting campus culture away from potentially dangerous interpersonal behavior such as dating violence, sexual assault, domestic abuse and stalking.
"The Green Dot initiative is so important to be proactive in changing our campus culture to one that does not support or tolerate power-based violence," said SUNY Cortland health educator Lauren Herman.
To understand how the program works, imagine a map of campus that has been marked with dark dots representing inappropriate behavior, poor choices, or hurtful words or attitudes that could affect someone's personal safety. Now imagine those points gradually being covered by big, green dots — symbols of positive action taken by students, staff, faculty and alumni to reduce incidents of power-based personal violence.
While past attempts at violence prevention have focused on the victims and perpetrators, Green Dot looks to shift the focus to bystanders.
"No one has to do everything," said Burke, "but everyone has to do something."
The Green Dot strategy is built on the idea that shifting campus culture in a positive direction begins with the everyday decisions made by individuals to promote safety within their community. Several sessions of Green Dot training have already been held on campus, and more are scheduled for this spring.
| | |
| --- | --- |
| | |
| | Nate Burke, Green Dot trainer |
Burke's talk, which is free and open to the public, will be held at 7 p.m. in the Corey Union Function Room as part of the Wellness Wednesday series at SUNY Cortland. It will highlight week of Green Dot kickoff events.
Burke earned a master's degree in education from Bowling Green State University and a bachelor's degree in organizational communication and consulting from the University of Central Oklahoma.
He then worked as a university administrator and instructor for several years. During that time, he was a Title IX sexual assault advocate, a certified trainer for LGBT (Lesbian, Gay, Bisexual, and Transgender) ally initiatives, as well as an on-call crisis responder.
"If everyone does something small, my hope is in the future, no one will have to experience power-based violence," said Herman.
Green Dot Kickoff Week events include:
Monday, Feb. 13
Look out for Blaze's footprints
Tuesday, Feb. 14
"Valentine's Day Treats"
Carnations and condoms
Noon to 3 p.m., Student Life Center lobby
Wednesday, Feb. 15
"What's Your Green Dot?"
Nate Burke
7 p.m., Corey Union Function Room
Thursday, Feb. 16
"Green Dot: Dealing with Power-Based Personal Violence"
Seth Asumah and Lima Stafford
7:15 p.m., Corey Union Caleion Room
Friday, Feb. 17
"Share Your Green Dots"
Noon to 2:15 p.m., Corey Union, Room 201
2:30 to 5 p.m., SLC lobby
For more information, contact Herman at 607-753-2066 or Nan Pasquarello, Title IX coordinator, at 607-753-4550.
Prepared by Communications Office writing intern Jamie Winsper
Musical 'Crazy For You' Opens Feb. 17
02/01/2017
"Crazy For You," the Tony Award winning musical comedy inspired by George Gershwin's 1930 musical "Girl Crazy," has something to say to today's young people.
"This show is incredible because it invites us, night after night, to have a good time," said SUNY Cortland senior Sean Noonan, who plays a lead role in the Performing Arts Department's upcoming production in the Dowd Fine Arts Center Theatre.
"When I go to rehearsal, I get to live in this wacky world with these wacky characters," Noonan said of the production — which has memorable music, hilarious characters and non-stop dancing. "It's refreshing to know that music and writing are still able to inspire us and transport us away from day to day worries for a couple hours each night."
| | |
| --- | --- |
| | |
| | Tara Zebrowski, a senior musical theatre major and dance captain for "Crazy for You," also plays "Patsy," a follies dancer. Holding her is John Cavaseno, a sophomore musical theatre major, in the role of "Billy" the cowboy. |
Performed entirely by SUNY Cortland musical theatre students, the production will open at 8 p.m. on Friday, Feb. 17. The remaining shows will run at 8 p.m. on Saturday, Feb. 18, Friday, Feb. 24 and Saturday, Feb. 25 with two matinee performances at 2 p.m. Feb. 19 and 26.
Admission is $9 for students; $16 for faculty, staff and senior citizens; and $19 for the general public. For the best selection of seats, tickets may be purchased online at cortland.edu/boxoffice. Tickets also may be purchased in person in the Dowd Fine Arts Center lobby one hour before the curtain. For more information on ticket sales, call 607-753-2831.
Directed and choreographed by Kevin Halpin, associate professor of performing arts, "Crazy For You" tells the story of New York banker Bobby Child traveling to a small mining town in Nevada to foreclose on a property. When Bobby discovers that the property is actually an old theater, he has another idea. Bobby recruits the whole town as well as some Broadway talent to put on a show, save the theater and win the heart of the sweetest girl in town.
With fast-paced antics, plot twists and mistaken identities, "Crazy For You" is a comedic delight, according to Jeffrey Whetstone, the department's production manager and publicity coordinator.
The script, by award-winning Broadway playwright Ken Ludwig, seamlessly weaves together an iconic score by George and Ira Gershwin featuring some of the most well-known standards of the golden age of musical theater. Music director Fred Willard leads the cast in a lineup of classics including "Embraceable You," "They Can't Take That Away From Me," "Someone to Watch Over Me" and a tap dancing extravaganza: "I Got Rhythm!"
The cast, in addition to Noonan, who plays Lank Hawkins, includes senior Andrew Cuccarro as Bobby Child, senior Nikki Ferrara as Polly Baker, junior Chloe Solan as Irene Roth and senior Matt Spina as Bela Zangler, senior Kevin Rayo as Eugene Fodor, senior Anna Starr as Patricia Fodor, sophomore Cait Zuckerman as Tess and senior Tara Zebrowski as Patsy.
Rounding out the ensemble are Caroline Anderson, Olivia Andrunik, Connor Beattie, John Cavaseno, Mia Donneruno, Zach Glanton, Bridget Guardino, Matt Henningsen, Brooke Jackson, Maurice Jerry, Andy Kear, Kaitlyn LaGrega, Pat Lavin, Kelsilyn Norman, Billy O'Brien, Anna Starr, Shannon Torre.
For more information, contact Whetstone at 607-753-4544.
Prepared by Communications Office writing intern Charlie Beeler
---
Capture the Moment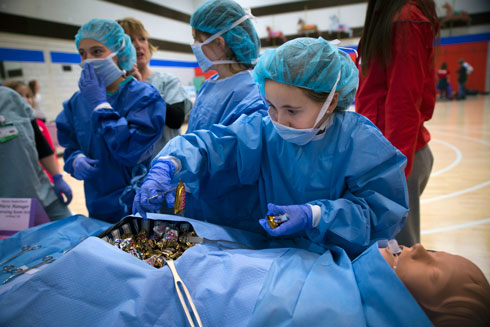 Girls participating in a mock surgery during the annual Girls' Day Out event at Park Center Jan. 28 used precision surgical tools to extract candy from the belly of a mannequin in one of the many activities aimed at developing young women's confidence and broadening their goals. SUNY Cortland student-athletes, coaches, staff and professional women from the community hosted the activities, which included an interactive career and health fair, gymnastics, dance, rock climbing and ice skating all geared toward local girls in grades 4 to 7. Co-sponsored by the YWCA, this popular annual event concludes with the girls watching the Red Dragon women's swimming, diving and ice hockey competitions.
---
In Other News
Brooks Lecture Series Concludes with Maya Culture Talk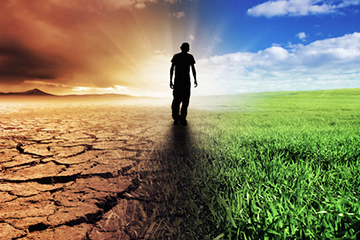 04/04/2017
The story of how a small group of women set about preserving traditional and long lost Maya practices in pottery will be shared April 5 by Jeremiah Donovan, a professor of ceramics in SUNY Cortland's Department of Art and Art History.
Donovan will discuss how the San Antonio Women's Cooperative was initiated in 2008 and has focused on pottery making as its highest-potential business opportunity in his talk, titled "The Future of the Past: Revitalizing Ancient Maya Cultural Traditions in Modern Maya Communities." The cooperative's goal is to create traditional, authentic Maya polychrome pottery, inspired by the ceramics discovered in archeological sites surrounding San Ignacio Belize. Compositional analysis of the pottery from these sites has provided guidance in developing clay mixtures and painting pigments from locally sourced oxides.
This presentation highlights the work of Donovan and his students in a project to assist this community in revitalizing an ancient cultural tradition.
This year's Brooks lecture series theme reflects the changing nature of the world around us, especially the destruction of cities, societies, and environment, that we are faced with on a daily basis, according to Sharon R. Steadman, a SUNY Cortland professor of sociology/anthropology who is the lecture series organizer and Rozanne M. Brooks Museum director.
Donovan's talk will begin at 4:30 p.m. in Moffett Center, Room 2125. Before his lecture a reception to welcome the speaker starts at 4 p.m. in the Rozanne M. Brooks Museum, Moffett Center, Room 2126. The talk and the reception are free and open to the public.
The 2016-17 Brooks Lecture Series is sponsored by a grant from Auxiliary Services Corporation (ASC) and the Cortland College Foundation. For more information, contact Steadman at sharon.steadman@cortland.edu or 607-753-2308.
Rachel Ditch '11 Appointed Protestant Campus Minister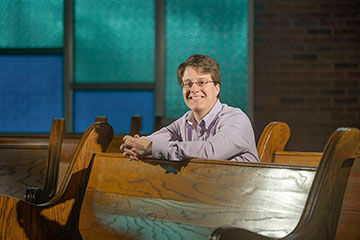 02/07/2017
Rachel Ditch '11 is not afraid of hard work.
That is, as long as it helps construct a Habitat for Humanity home for a disadvantaged family while it encourages young collegians in fellowship, community service and spiritual growth.
Ditch, who since June 2016 has directed Christian Education at Homer Congregational Church, United Church of Christ, on Jan. 23 undertook the additional responsibilities as interim Protestant campus minister at SUNY Cortland.
"Ultimately, I want to be a person who journeys with everyone in this campus community," Ditch said. "Some are people of faith, some of us aren't and that doesn't mean that we are so divided we can't work together and get along. We have students who for some it will be the first time they have lived outside of their parents' or guardians' home. They are defining who they are as people in this world."
Until recently, she also served as the caretaker of the College's Interfaith Center, located just off the campus at the corner of Prospect Terrace and Graham Avenue.
The SUNY Cortland graduate will replace Vicki Johnson as campus minister at semester's end. This term, Ditch will have an office at the Interfaith Center and also will serve as the 'de facto' director of the Interfaith Center.
"While Rachel was here she participated in our campus ministry," said Ditch's mentor, Johnson, the Protestant campus minister since 2008. "And now, after doing great work in other places, she is returning to head up this Protestant Campus Ministry."
Johnson started Feb. 1 as pastor of the Homer Congregational Church. The first female settled pastor at the church, Johnson also has served more than eight years as executive director of the Cortland County Council of Churches. The council has supplied the College with a Protestant campus minister since the 1930s, according to Johnson.
"I have been honored to work here and to be a spiritual mentor for our campus family," Johnson said. "I will miss the work, but I leave knowing without a doubt, everyone is in good hands. I couldn't be more proud!"
While setting aside her caretaker duties and moving to Virgil, N.Y., Ditch will continue her duties with Homer Congregational Church, working closely with Johnson. On March 26, she will be ordained as a minister.
Ditch earned an associate's degree in liberal arts and sciences at SUNY Broome in 2008 and a bachelor's degree in adolescence education: English from SUNY Cortland in 2011. While at SUNY Cortland, she attended local church worship services and joined in the Cortland County CROP Walk and the Community Thanksgiving Services and Epiphany Choir Festival.
Her educational background has prepared her for many teaching roles both in her church and on the campus. In her Homer Congregational Church role, Ditch among many duties is responsible for religious education and fellowship opportunities for children and youth.
Ditch received a Master of Divinity from the Boston University School of Theology. She has a certificate from the school in religion and conflict transformation.
A member of Homer Congregational Church since 2010, Ditch served one year on its Stewardship Committee and one year on its Deacon's Committee. In 2011, she became a member in discernment of the Susquehanna Association of the New York Conference of the United Church of Christ.
"I knew I wanted to go to seminary but I didn't know where I wanted to go and so I decided to take a gap wilderness year to discern where God was calling me for my education," Ditch said.
"An opportunity opened up when the Cortland County Council of Churches partnered with Habitat for Humanity for a year with the idea of collaborating to sponsor a Habitat for Humanity house. I got involved through the AmeriCorps VISTA Program, not through the campus but just the broader program. I worked with Habitat for a year and it was great."
She served from July 2011 to June 2012 as a youth involvement and faith relations coordinator with AmeriCorps VISTA partnership with Habitat for Humanity of Tompkins and Cortland Counties. She coordinated opportunities for faith groups and younger groups to participate in the Habitat for Humanity mission.
"I helped bring Habitat's message and mission to area churches," she said.
Ditch also worked to find age suitable and safe roles for younger participants from local congregations in the volunteer home construction projects, including the dwelling that was ultimately built on Clinton Avenue Extension.
Later, as an AmeriCorps VISTA leader through New York Campus Compact, Ditch oversaw a team of VISTAs across the state, coordinated trainings, and revised oversight and application parameters the for program.
Ditch might be viewed as following in the footsteps of Don Wilcox, who was the College's Protestant campus minister for 22 years until 2008. Wilcox fostered the campus chapter of Habitat for Humanity in 2001 and for many years led dozens of eager young students on College-sponsored spring break road trips to build new houses in poor communities of North Carolina and Virginia.
Since graduating from the College, Ditch also has served as a pastoral care intern for clinical pastoral education at Sherrill House Nursing Home and Rehabilitation Facility, Jamaica Plain, Mass.; as a student minister at the First Congregational Church of Reading, United Church of Christ, in Reading, Mass.; and as a volunteer at East Side Congregational Church, United Church of Christ, in Binghamton, N.Y.
Ditch wasn't raised in a church tradition, but discovered it after arriving at SUNY Cortland as a young woman from a small Southern Tier town who felt a little lost in the larger campus community.
"I got tricked into it, don't you know?" Ditch said. "I received an email from Vicki (Johnson) that said, 'Someone who is important in your life is important in mine and said I need to meet you,'" Ditch said.
"She knew my grandparents and they asked her to check on how I was doing," Ditch said. "First we met at the Hollywood Diner and talked for three hours. Then she told me, 'We have this great Thursday night supper and it's not religious at all, and I think you would enjoy it.' Then she said 'There's an event going on at Grace and Holy Spirit Church, and I really think your voice could lend some perspective to this.' She rolled the invitations out in a way that was a very organic growing from within."
Ditch can't wait to begin her new ministry.
"I'm thrilled to be returning to the community that gave me so much," she said. "I'm eager to walk in life with you."
'Love to Cook': Bistro Live's Cooking Classes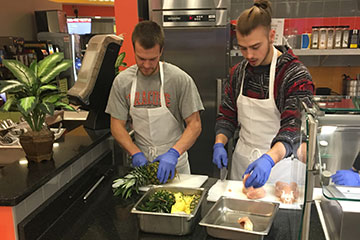 02/07/2017
OK, so you know how to boil Ramen.
Wouldn't you rather be baking chicken, searing pork chops or hand-making fresh salsa?
Whether you live off campus and are feeding yourself for the very first time, or stay in a residence hall with a meal plan, SUNY Cortland's Auxiliary Services Corporation (ASC) will help you learn important cooking skills and get a free meal in the process.
This week, ASC's culinary experts began hosting 'Love to Cook,' a weekly series of cooking classes focused on healthy eating tips, cooking techniques, tasty recipes and kitchen skills.
Two classes are held every Wednesday from noon to 1 p.m. and from 5 to 6 p.m. throughout the spring semester, with the final class on April 26. The classes take place at The Bistro Live demonstration kitchen in the Student Life Center's Bistro off Broadway.
| | |
| --- | --- |
| | |
| | A chef at The Bistro Off Broadway shows several students how to prepare tasty and healthy meals themselves. |
Dining manager John Donovan, executive chef James Webb, and cook Elias Cushner teach the series of hands-on cooking classes. Nutritionist Andrea Hart answers nutrition questions students may have.
"Learning culinary skills produces lifelong healthy habits," said Theresa Baker, director of dining services for ASC. " 'Love to Cook' fits with Dining Services' and The College's mission of health and wellbeing."
Each month the class theme will correspond with the ASC's health initiatives — "My Plate" in February, "Whole Grains" in March and "Vegetables" in April.
Meal details for each class can be found online.
"We want students to feel confident enough to whip up something and expand their repertoire," Baker said. "The cooking classes offer yet another way for them to 'sharpen' their skills."
Class sizes are limited. To participate or receive more information, contact Donovan.
Prepared by Communications Office writing intern Charlie Beeler
College Plans Body Appreciation Week Events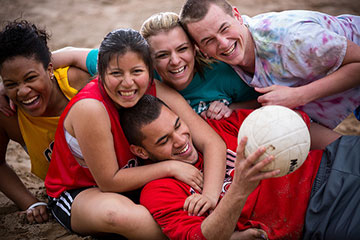 02/06/2017
Jenni Schaefer is happily divorced from "Ed."
"Ed" is what she chose to call her eating disorder, and she travels the country sharing her story with college students about how she resolved her struggle with anorexia and bulimia and reclaimed control over her life. The national speaker, author, singer and songwriter will give the keynote speech, "Goodbye Ed, Hello Me," on Wednesday, Feb. 22, at SUNY Cortland.
| | |
| --- | --- |
| | |
| | Jenni Schaefer |
The event, which is free and open to the public, will be held at 7 p.m. in the Corey Union Function Room.
Schaefer's talk highlights the College's annual Body Appreciation Week, held Monday, Feb. 20, to Friday, Feb. 24. During the week's series of events, following this year's theme, "Navigate Your Way To A Healthier You," the campus community is encouraged to have a positive self-image and healthy lifestyle.
Schaefer's talk also is part of Wellness Wednesday, the College's semester-long series of events geared to foster well-being in the campus community.
Schaefer fits the high-achieving profile of a person with anorexia or bulima. She graduated summa cum laude from Texas A & M University with a degree in biochemistry and was on her way to medical school when she decided to pursue singing and songwriting in Nashville instead. It was then that Schaefer began to deal with the ramifications of her eating disorder.
"We recover from our eating disorders in order to recover our lives," Schaefer said.
"While most people view their eating disorder as a condition, I decided to treat mine as a relationship," she said. Her approach is now used worldwide.
| | |
| --- | --- |
| | |
| | Navigate Your Way To A Healthier You |
Her most recent book, Almost Anorexic: Is My (or My Loved One's) Relationship with Food a Problem?, was published in 2013 by Harvard Health Publications/Hazelden. She also authored Goodbye Ed, Hello Me: Recover from Your Eating Disorder and Fall in Love with Life, released by McGraw-Hill in 2009, and Life Without Ed: How One Woman Declared Independence from Her Eating Disorder and How You Can Too, published in 2003 by McGraw-Hill.
Body Appreciation Week events will continue as follows:
Monday, Feb. 20
Compass: "Nama'ste Healthy"
6:45 p.m., SLC Mac Court — yoga
7:45 p.m., SLC Mac Court —zumba
Tuesday, Feb. 21
Compass: "Express Yourself"
7 p.m., Corey Union Function Room
open mic night
Wednesday, Feb. 22
Compass: "Woke Up Like This"
7 p.m., Corey Union Function Room
"Goodbye Ed, Hello Me® "
Presented by Jenni Schaefer
Thursday, Feb. 23
Compass: "Strong Minded"
7 p.m., Corey Union Function Room
"Embrace" Documentary
Body Appreciation Week is sponsored by Active Minds, Alpha Sigma Alpha, Athletics, Auxiliary Services Corporation, Cortland County Mental Health, Delta Phi Epsilon, Health Promotion, Nu Sigma Chi, Recreational Sports, Residence Life and Housing, Student Activities Board and the President's Office.
For more information, contact health educator Lauren Herman at 607-753-2066.
Prepared by communications office intern Jamie Winsper
College Launching National Survey of Student Engagement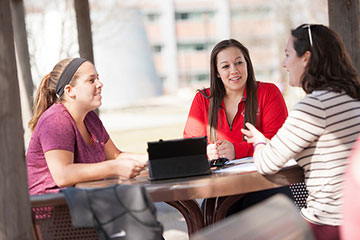 02/07/2017
Beginning Tuesday, Feb. 21, SUNY Cortland will invite first-year students and seniors to participate in the National Survey of Student Engagement (NSSE).
NSSE is a valuable source of information to shed light on the time and effort students put into their studies and other educationally purposeful activities.
Students who respond to the NSSE will have a chance to win Cortland Downtown Partnership gift certificates. Participation is voluntary, but very valuable and greatly encouraged.
NSSE began in 1998 with funding from the Pew Charitable Trusts and administered by the Indiana University School of Education. The SUNY system has funded participation in NSSE on a three-year cycle since 2005. Over 1,600 institutions and 5 million students have participated in NSSE since 2000.
Students can complete the NSSE in 20 to 25 minutes. For the first time, NSSE administrators have optimized the survey for mobile devices such as smartphones and tablets.
The students to be contacted — first-year students and seniors — will receive email invitations and periodic reminders from a NSSE address with instructions on how to participate in the online survey.
The College's Institutional Research and Analysis Office will post results on its webpage when they become available next fall, at Institutional Research and Analysis-NSSE.
Explore College's Study Abroad Program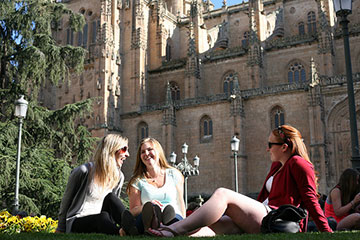 02/07/2017
The sky is the limit when considering a student's options for studying abroad through SUNY Cortland's international school partners.
Destinations including Belize, Costa Rica, France, Mexico, Spain and the United Kingdom will showcase their programs during a Study Abroad Fair between 11 a.m. to 2 p.m. on Wednesday, Feb. 15, in the Corey Union lobby.
With more than 800 options in the SUNY system, students will be able to study abroad in the winter, spring, summer or fall. Hugh Anderson, a study abroad advisor in the College's International Programs Office, will be hosting the fair.
"There is a program for every field of study — some for the same cost as studying here at SUNY Cortland or even less," Anderson said.
Representatives from SUNY Cortland's faculty-led study abroad programs, students who have previously studied abroad, as well as international visitors on campus and other SUNY campus study abroad representatives, will be on hand to describe their life-changing experiences and give a taste of what awaits them as scholars in a different country.
At SUNY Cortland, study abroad participants may choose options that include attending a college or university, participating in an internship, student teaching, volunteering their talents, engaging in a faculty-led program or joining a short-term specialized program.
Information is not the only thing on the agenda for the Study Abroad Fair. Participants may enter a raffle for a chance to win a $500 travel award that can be used in the future towards any SUNY study abroad program.
Aside from the fair, "Study Abroad 101," an information session on how to get started with the study abroad process, is offered throughout the semester. Individuals need to attend one session, which are all offered every Tuesday at 4:30 p.m. and Friday at 3 p.m. in Old Main Colloquium.
For more information on the fair, contact studyabroad@cortland.edu or 607-753-2209 or visit the International Programs Office in Old Main, Room 219, or online at cortland.edu/studyabroad.
Prepared by Communications Office writing intern Jessica Haverlin
'Beauty and the Beast' Gymnastics/Wrestling Meet Set for Feb. 15
SUNY Cortland Athletics will be hosting a "Beauty and the Beast" combined women's gymnastics and wrestling meet on Wednesday, Feb. 15, at 6:30 p.m. in Park Center's Corey Gymnasium. Both programs will host Ithaca College, with the gymnastics dual meet and the wrestling dual match running simultaneously in the gym.
Cortland first hosted a "Beauty and the Beast" event two years ago. The combined format has also been utilized in recent years by Division I schools such as Boise State, Brown, Iowa State and Maryland.
Tickets are $4 for adults and $3 for senior citizens and students with ID. SUNY Cortland students, faculty and staff are free with their college ID, and all children 12 and under are also admitted free.

Suggest a feature story
---
Faculty/Staff Activities
Tim Delaune
Tim Delaune, Political Science Department and pre-law adviser, had his article published in the Autumn 2016 edition of The Green Bag. "An Immodest Proposal" is recommending a rotating chief justiceship on the US Supreme Court and was part of the The Green Bag 2d's microsymposium in response to criticisms of the federal judiciary by Judge Richard A. Posner.
Moyi Jia
Moyi Jia, Communication Studies Department, had her research paper accepted for presentation at the67th Annual Convention of International Communication Association to be held May 25-29 in San Diego, Calif. Her paper is titled "Exploring the effect of teacher social support on students' positive/negative emotions and learning engagement: A U.S.-Chinese classroom investigation."
.
Jordan Kobritz
Jordan Kobritz, Sport Management Department, recently was quoted in two publications: New York Family and Wallet Hub.
.
Kathleen Lawrence
, Communication Studies Department, had a poem titled "King," — elegizing blues great B.B. King — appear as an exemplary poem in the textbook Composing Poetry by Gerry LaFemina, published by Kendall Hunt, in November. In December, two haiku titled "The Oldies" and "The Uninvited" were published on two separate days by haikuniverse. In January, the poem "Just Rosie," about the Jetsons' robot maid, appeared in the journal Eye to the Telescope. Also in January, Lawrence was chosen as Poet of the Week by the Poetry Super Highway website, publishing her poem "Holly Would." In February, four poems —"Goddesses," "Tree Swing," "Space Travel" and "Scientifically Speaking"—were published by Altered Reality Magazine. Since March of last year, Lawrence has had 44 poems published or forthcoming.
Mary McGuire and John Suarez
Mary McGuire, Institute for Civic Engagement, and John Suarez, Institute for Civic Engagement's Office of Service-Learning, will be panelists on a discussion titled "The Campus Action Plan," at the Eastern Regional Campus Compact Conference at New York University in March. They are partnering with colleagues from Robert Morris University, Buffalo State University and the University of Delaware.
.
Robert Spitzer
Robert Spitzer, Political Science Department, is the author of an article published in the Washington Post on Jan. 25 titled "The NRA wants to suppress one of guns' most important safety features," about a little-known bill in Congress to remove most existing restrictions on the purchase of gun silencers. Also, he was interviewed on CNN on Jan. 24 about the same subject: The next possible gun industry sales boom: Silencers.
.
Kim Stone
Kim Stone, English and Africana Studies departments, learned that her article, "'Recordless Company': Precarious Postmemory in Helen Oyeyemi's The Icarus Girl" will be published as a chapter in Madness in Black Women's Diasporic Fictions: Aesthetics of Resistance by Palgrave Macmillan in 2017.
.
John Suarez
John Suarez, Institute for Civic Engagement's Office of Service-Learning, has been invited to co-present and co-facilitate a panel discussion at SUNY Plattsburgh's "The Value of Community Engagement in Higher Education" set for Wednesday, March 1.
.
Larissa True
Larissa True, Kinesiology Department, recently had her article "Motor Competence and Characteristics within the Preschool Environment" published in the Journal of Science and Medicine in Sport.
Debbie Warnock
Debbie Warnock, Sociology/Anthropology Department, had her article "Paradise Lost? Patterns and Precarity in Working-Class Academic Narratives," published in the inaugural issue of the Journal of Working-Class Studies in December.
Dennis Weng
Dennis Weng, Political Science Department, had his paper published in the Asian Journal of Comparative Politics in January. The article is titled "Can economic profit influence public opinion? Observing generational change on cross-strait relations in Taiwan."
Tiantian Zheng
Tiantian Zheng, Sociology/Anthropology Department, recently was contacted by BBC World Service radio to be interviewed for their show "Outside Source." She was asked to be prepared to discuss masculinity in China and the recent publication of Little Men, a textbook for boys aimed to correct effeminate behavior. Little Men contains six chapters that encourage boys to be in touch with their masculinity and is aimed at children in the 4th and 5th grades to fight the growing "gender crisis" in the country. Part of Zheng's recent book Tongzhi Living has analyzed the perceived "crisis" of masculinity, "feminized" boys/men, and nation-wide implemented measures in China to enhance gender difference to combat the issue.

Submit your faculty/staff activity