College Forges New Partnership in China
12/01/2015
If charting a successful course through college and life requires the wisdom of Confucius, SUNY Cortland can help.
Starting in Fall 2016, the College's students may pursue a wide variety of academic disciplines in the birthplace of the great Chinese philosopher and educator whose teachings formed the basis of the moral, social and political system known as Confucianism.
| | |
| --- | --- |
| | |
| | The delegation composed, from left, of Xu, Bitterbaum, Schlarb and Shi Strause visit and pay respect to Confucius at The Cemetery of Confucius, one of The Three Confucian Sites in Qufu. |
And SUNY Cortland students can take advantage of the new international program for less than the cost of a semester in Cortland.
That's one result of a new partnership between the College and Qufu Normal University, a large, multidisciplinary doctoral level institution located in Qufu, an historic city in Shandong Province near China's eastern coast. The agreement creates a two-way street for each institution's students and faculty to visit, collaborate and learn more about one another's countries.
"The College has had a very similar exchange program with Capital Normal University since 1981, and this also will be an ideal arrangement in terms of affordability," said Mary Schlarb, who directs the College's International Programs.
The two institutions, Qufu and Cortland, agree to waive tuition for several visiting students each year and to give the students full access to each other's academic programs and services, she explained. That means a SUNY Cortland student would pay SUNY tuition and only pay Qufu Normal for room, board and related costs.
"Because of the lower living expenses in China and our scholarships, it costs our students in the Capital Normal University program less to go there, including airfare, than to be living on the Cortland campus," Schlarb said.
"The Qufu Normal University exchange agreement builds upon SUNY Cortland's almost 35-year history of international academic collaboration in China," said SUNY Cortland President Erik J. Bitterbaum. He noted the College's longstanding partnership with Capital Normal University, which in summer 2007 hosted a two-week study trip of 15 faculty and staff members from across the disciplines at SUNY Cortland.
The agreement with Qufu Normal University was formalized by a visiting delegation from SUNY Cortland from Oct. 9 to 18. In addition to Schlarb and President Bitterbaum, the delegation included Shufang Shi Strause, associate professor of childhood/early childhood education; and Luo Xu, professor of history.
During the trip, Bitterbaum gave a lecture on the American higher education system. The group met with faculty and administrators involved in the new collaboration at Qufu Normal University as well as those at Capital Normal University, strengthening the College's almost 35-year-old exchange program in the Chinese capital.
While in Beijing, the delegation visited cultural landmarks and reunited with about eight Capital Normal University alumni who once studied at SUNY Cortland and about six university faculty who have worked closely with the College over the years. Since the Capital Normal University program was established, a total of 65 Chinese students have studied at SUNY Cortland. The College, in return, has sent 85 Cortland students to CNU.
| | |
| --- | --- |
| | |
| The delegation explores the Qufo Normal University campus. | |
SUNY Cortland faculty and staff used part of their trip to explore ways to increase Cortland participation in study abroad opportunities in Asian countries, Schlarb noted. The possible approaches include:
Creating new dual degree programs or graduate certificates with Qufu Normal, allowing students to maximize qualifications earned from their time in college.
Developing short-term, faculty-led courses in China with students traveling under the guidance of a Chinese-speaking teacher. This could appeal to students challenged by the language barrier.
Leveraging an existing SUNY Cortland scholarship dedicated to Asian studies, the Yuki and Wah Chip Chin Scholarship.
"It's important for us to look everywhere abroad, but this is one direction I would like to see us taking, in terms of recruiting Chinese students here as well as sending our students there," said Schlarb, who for a time lived in Indonesia.
"China and the region will have an increasingly significant role in the world economy, and our students can benefit greatly, personally and professionally, from gaining experience and familiarity with Asian cultures."
Shi Strause and other interested College faculty members in a broad range of disciplines began discussing a possible partnership four or five years ago. They formed an advisory council to work closely with International Programs on the initiative.
Qufu Normal's location is rural compared to Capital Normal in Beijing. Embedded in a cosmopolitan city approximately the size of Buffalo, N.Y., Qufu's main attraction appears to be that its beautiful landscape is dotted with UNESCO World Heritage sites honoring Confucius, nicknamed by the Chinese as the "first teacher." The Temple of Confucius, one of the heritage sites, was established in 478 B.C., with the current sprawling complex mostly dating from the Ming and Qing dynasties.
The 60-year-old university started out as a teacher's college, something it has in common with SUNY Cortland. The university now encompasses 84 undergraduate programs, 115 master's degree programs and 31 doctoral programs. With almost 33,000 undergraduate students and more than 3,400 graduate students, the university's mission is to provide a world-class education for its students who come from a largely non-urban population.
"It's a beautiful, well-equipped campus," Schlarb said. "Areas of curricular overlap include education, sports science, teaching English as a second language and other disciplines in the sciences, social sciences and humanities. We discussed with our new QNU partners several concrete opportunities for graduate and undergraduate programs and student and faculty exchange in these areas."
| | |
| --- | --- |
| | |
| | After the 60th anniversary celebration ceremony, the SUNY Cortland contingent walks on campus where students perform traditional ceremonies with a Confucius statute as a backdrop. |
Qufu Normal is well-prepared to help students learn the history, culture and ethos of China in credit or non-credit bearing courses. The university encourages international faculty on sabbatical to teach semester long or short-term courses in English on variety of subjects.
One Qufu Normal alumna now teaches at SUNY Cortland.
"I was the first girl in my village or county that went to college," said Shi Strause, a self-described "country bumpkin" who as a child studied by lamplight because her village in Shandong Province had no electricity. She became the first child in her extended family to pursue a college education, and earn a life-transforming degree, before going further still, to pursue additional studies and a career in America.
"Many kids in Shandong Province are from a working class family and going to college is such a precious opportunity for the family, for their young people," Shi Strause said. "The residents are well-known for working very hard at college, spending lots of time in the library."
It was Shi Strause who dreamed that SUNY Cortland could expand its China study abroad opportunities with the same university that transformed her from a country schoolgirl to an inquiring academic.
"Never be content with one's study, never be impatient with one's teaching," Shi Strause said, quoting Confucius.
Young Alum Fit for Business, Cable TV
11/30/2015
Kyle Coletti '05 understands that success requires a certain amount of sweat, no matter if it's in finance or fitness.
Ten years ago, a few months removed from earning a bachelor's degree in business economics from SUNY Cortland, he was selling copiers near his hometown of Troy, N.Y. These days, he's an emerging fitness entrepreneur with a unique workout product — one that has the potential to transform gym routines in the same way that Zumba dance and CrossFit exercises already have.
No, that suggestion is not a stretch. Coletti recently emerged the grand-prize winner of "Sweat, Inc.," a reality television show that aired on Spike TV and claimed popular personal trainer Jillian Michaels among its judges. Think "Shark Tank" for fitness-related business ideas.
Each week for nine weeks, three promising entrepreneurs competed in different categories for a chance to move on to the show's finale. Coletti's grand prize includes $100,000, a Women's Health magazine feature, support from Retro Fitness locations across the country and a publicity blitz by Michaels, formerly of "The Biggest Loser" fame.
"They're searching for the next fitness phenomenon," said Coletti, 32, a managing partner, head trainer and spokesperson for Focusmaster Fitness, prior to the finale's airing.
During the show's fourth episode, which aired Nov. 10, Coletti's "Focusmaster" workout concept — a half-hour program rooted in intense, 30-second kickboxing exercises — was chosen as the winner among fighting-inspired business ideas. That earned him a spot among the final nine contestants in the Dec. 10 finale. Prior to it, he couldn't discuss the show's outcome due to confidentiality agreements.
"When you watch an episode, it's amazing how fast it goes by," said Coletti, recalling his more than six weeks living in a Los Angeles hotel during taping. "The whole thing felt like a dream."
You could say the same about his young career — one that began with the goal of landing a big city job in finance, but instead has been defined by the business that spurred his recent trip to Hollywood.
Kyle Coletti '05 counts Economics Department faculty
members Kathleen Burke and Susanne Polley among
the most influential from his college days.
"When I was at Cortland, my thought was that I'd wear a suit to work and get into financial planning," said Coletti, who played for the men's ice hockey team when he was a student at SUNY Cortland.
Coletti's father owns a successful catering and hospitality business in the state's Capital Region, so growing up, Coletti always entertained the idea that he'd one day like to work for himself. He followed his wife, Jamie Cerqua Coletti '06, when she relocated after college to New York City for physician assistant school. Kyle initially found work in a back-office commodities job with Morgan Stanley, which eventually turned into an opportunity working under one of the most successful brokers at the financial services corporation.
The pay was good, he passed several of the demanding tests for registered financial representatives and he saw a clear path to career success in a demanding industry. Yet Coletti spent his morning and evening train rides entertaining innovative business ideas tied to fitness.
"On one hand, I was very fortunate to land a good corporate job working for some very good people," Coletti said. "But at the end of the day, I didn't have that peak sense of personal fulfillment.
"Ultimately, to be your own boss, you've got to take certain risks. And when you're younger, you can get away with it."
For Coletti, that meant giving up a good paycheck in his 20s to relocate back to the Albany area with his wife in 2011. Fortunately the foundation of his brainchild already had been laid. Almost 20 years earlier, in 1994, two of his current business partners built the Focusmaster G-1000, a versatile striking machine for solo martial arts training. But at that time, the machine's development was simply a side business for those eventual partners, who also worked for the hospitality company owned by Coletti's father Gene.
Gene Coletti joined the Focusmaster venture in 2001, but the operation remained a hobby business and reserved for fitness trade shows. The equipment proved innovative and effective. Its price point, however, geared it more for commercial gyms than individual home users. When Kyle came on board full time more than four years ago, he soon realized the future of Focusmaster would be defined by a unique workout program, not equipment sales alone.
Success was slow at first and it started with four people in a small carriage house portion of a garage. Coletti tinkered meticulously with the workout, re-shooting take after take for video demonstrations.
"Six months in, I hadn't made a dime," he said. "But before you knew it, people heard what was going on and started asking, 'Hey, what are you guys doing in that garage?'
"Eventually, four people became six and six became eight."
Coletti puts the "Sweat, Inc." judges through his
"Focusmaster" workout. The show's regular hosts
include Jillian Michaels, Randy Hetrick and Obi Obadike.
The first Focusmaster Fitness studio opened in Troy in 2013 and a second one recently opened nearby in Loudonville, N.Y. They're grounded in a boutique fitness belief that the most rewarding gym experiences are reinforced by community and accountability, and in turn worth more than a membership to a big-box gym.
"Our workout takes people who hate working out and changes their lives," said Coletti, noting that the majority of participants in his studio classes are at least 40 years old. "At the same time, it takes people who love working out and fills a void."
The "Focusmaster" workout concept that Coletti pitched on "Sweat, Inc." is defined by scalability of boxing and kickboxing exercises rather than set repetitions or lifting heavy weights. He even turned it into a "Fit 30" workout DVD for home users without fighting equipment.
"Everything we do is 30 seconds," said Coletti, who was initially selected for the cable show after being discovered by a television production agency at a national fitness convention. "We tell people, 'Get to that 30 seconds.'
"You trick your mind into working harder than it thinks it can because every 30 seconds, you know you're getting a change and you're never that far from a rest. You're constantly competing in your mind to drive a little further, whether you're in a class or watching the home DVD."
That mindset comes from Coletti's hockey DNA. When he was first brainstorming workout ideas on New York City subway trains, he recalled the feeling of chasing a puck into the corner of SUNY Cortland's Alumni Arena ice rink. It's a mentality that served him well in the past as an aspiring financial advisor and now as an emerging fitness entrepreneur.
"There's always been that fire in me — this need for competitiveness, consistency, those natural endorphins being released," Coletti said. "This whole experience has been incredible.
"It's going to be a cool story to tell down the road."
---
Capture the Moment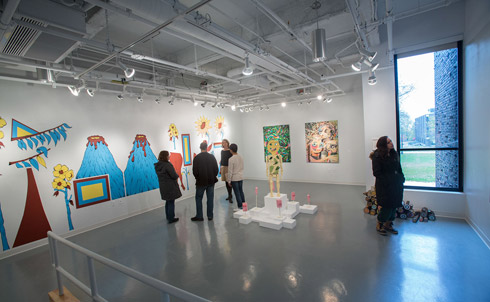 Staff members talk with students visiting the "Natural States" exhibition on view through Friday, Dec. 11, at Dowd Gallery. "Natural States" includes a selection of works by 15 contemporary artists working in various media. Their work explores the complex relationships people have with nature and addresses the incongruities of human-made "natural" environments.
---
In Other News
'Forever Wild' Program Builds Community, Prestige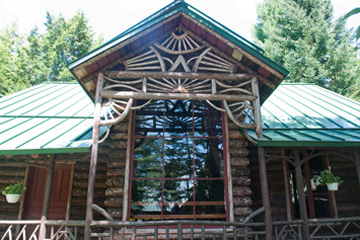 12/01/2015
U.S. history teacher Sandy Morse believes there's a summer workshop tucked away in the Adirondack wilderness that should be high on every educator's bucket list, regardless of his or her main content discipline. It's a transformative weeklong getaway created by two SUNY Cortland history professors, one that continues to earn recognition from the U.S. government's premier agency for programs in the humanities.
"Forever Wild: The Adirondacks in the Gilded Age and Progressive Era" again has earned grant funding totaling $180,000 from the National Endowment for the Humanities (NEH) to bring two groups of highly qualified teachers to the College's facility at Raquette Lake this summer.
The unique Landmark NEH program, which will take place for the third time in 2016, uses SUNY Cortland's outdoor campus in the Adirondack Mountains as the backdrop to give working teachers a fresh look at a historical period that's often taught from an urban perspective.
"It's so much more than going to a conference and listening to different lectures about the same topic," said Morse, who teaches Advanced Placement (AP) U.S. History at Horizon High School in Scottsdale, Ariz. "It's about being immersed in this amazing outdoor experience."
Teachers like Morse who are accepted to the program receive a $1,200 stipend to defray costs associated with participation, such as travel and books. They are part of an engaged group that welcomes educators from across the country. Past participants have come from Alaska, Florida, Wyoming and several other states. They represent all grade levels from elementary to high school as well as various disciplines within the humanities, including history, English and art. Librarians also have attended the workshop.
The common bond that unifies them is a desire to use the concept of "place" as a historical lens. In the case of "Forever Wild," the Adirondacks demonstrate how the wilderness shaped American history from the 1870s to the early 1920s. Camp Huntington at the College's William H. Parks Family Center for Environmental and Outdoor Education hosts the attendees. It remains the only national historic landmark in the State University of New York system.
"Most of the focus when you read about this time period in textbooks is on the city," said Professor Randi Storch, the chair of SUNY Cortland's History Department who built the program with Associate Professor Kevin Sheets. "But what we try to emphasize is that all of our ideas are formed because the urban lives in relationship with the wild …
"You've got to understand what's happening in the Adirondacks and the places like it across the country to understand the values and the culture of the time period."
The Gilded Age sometimes can come off as a caricature of itself, she said. To understand the popular industrial titans of the time period, it's worthwhile to tour their Great Camps — or luxurious wilderness retreats — as "Forever Wild" participants do. Teachers also pay a visit to the renowned Adirondack Museum and take in a majestic seaplane ride, among countless other activities.
Offerings within the NEH Landmarks of American History and Culture: Workshops for School Teachers Education Program provide rich historical content, but few can match the power of place found in SUNY Cortland's Parks Family Outdoor Center at Raquette Lake. "Forever Wild" finds its unique strength in the outdoor experience that creates a community feel among participants, Storch said.
Teachers not only learn from authoritative scholars and visit important national historic sites, but they live the wilderness lifestyle for a week — sleeping in cabins, enjoying family-style meals and discussing assigned readings around campfires.
"We're creating this professional community, and that's the best part," Storch said. "You have these teachers who are so smart, creative and fun … and they're taking the ideas that you've thought so much about and running with them in ways you didn't necessarily anticipate.
"Listening to them talk to one another and seeing the networks they create is by far the most rewarding part."
The NEH took notice of the "Forever Wild" program's success after its first two runs and asked its co-founders to present at a national directors' meeting in Washington, D.C., earlier this year — holding up the pair's work as a model. Morse and other past participants credit everything from the week's punctual planning to the relevance of big-picture ideas they can take back to the classroom.
"My students in Arizona, many of them have never seen trees like that," said Morse, noting that the workshop undoubtedly will improve the way she teaches history as it relates to the environment. "To be able to capture video on an iPad (during the seaplane ride) and then bring it back to my students was pretty cool."
Teachers again will learn from visiting scholars Rebecca Edwards, a history professor from Vassar College; Philip Terrie, professor emeritus at Bowling Green University; and Scott Moranda, a SUNY Cortland associate professor of history who will discuss the international dimension of the Gilded Age story.
The week also will continue to include a technological component, with participants using iPads to create basic documentaries on their studies. Throughout the week, they will collect photos and videos then use iMovie to pull all of their theme-based work together. Morse said she grew more comfortable with technology during the workshop, which was another unexpected perk she brought back to the classroom.
A major goal remains building an even more diverse group of teachers — both geographically and ethnically. Up to 36 people will be accepted in each of the two cohorts. All of them will receive the $1,200 stipend at the end of the week's program, less $355 for the week's all-inclusive room and board at Camp Huntington.
Yet far more valuable than the financial award is the experience that the "Forever Wild" program affords.
"This is all about learning what it means to be inquiry- and place-based," Storch said. "It's something we try to do as a History Department with our own students: come to an understanding based on dialogue and readings and questioning and conversations.
"The passion that comes with it reminds you why you're in this field in the first place. To be surrounded by that energy for two weeks in the Adirondacks is just awesome."
Interested participants can learn more about "Forever Wild," including the application process and full itinerary, on the program's web page or through its social media accounts on Facebook and Twitter.
Second Black Student Union Town Hall Event Added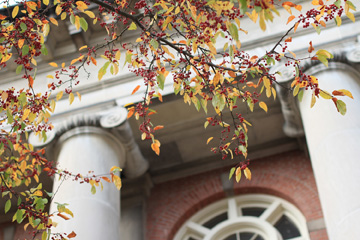 11/30/2015
When SUNY Cortland's Black Student Union (BSU) asked students, faculty and staff members to attend a Nov. 17 town hall style meeting, the campus community answered by filling Old Main Brown Auditorium.
Given positive feedback from audience members and an overwhelming interest in continuing the discussion, a second town hall event will take place Tuesday, Dec. 1, at 5 p.m. in Old Main Brown Auditorium. The follow-up conversation on race, bias and discrimination will allow more time for audience members to ask questions and provide feedback for the College President's Cabinet. BSU leadership again will moderate the discussion.
During the Nov. 17 talk, six student leaders joined President Erik J. Bitterbaum's leadership team on stage to recount examples of racism in their own words and offer suggestions for future improvement. President Bitterbaum and his cabinet members spoke to questions from the audience, but there were many remaining at the end of the allotted 90 minutes.
"In the midst of student narratives about personal frustrations, as well as the questions and responses from the audience, the themes of unity and the need for greater mutual respect were prominent," President Bitterbaum said. "As an institution of teaching and learning, we have a responsibility to combat ignorance and fear, replacing the negative with a positive mutual understanding. By collectively identifying specific barriers to diversity on our campus we can provide important direction for concrete ways to improve in the future."
Audience members are encouraged to join the Facebook event and to continue using #BSUCortlandTownHall on social media. For more information on the Dec. 1 event, contact the Multicultural Life and Diversity Office at 607-753-2336.
Silent Night Makes Some Noise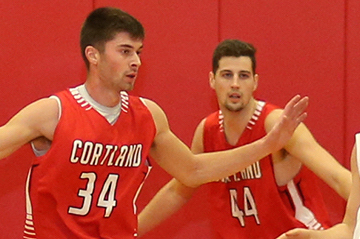 12/01/2015
When the SUNY Cortland men's and women's basketball teams meet Elmira College in separate contests Dec. 9, don't expect to hear much cheering from Red Dragon fans. At least not for a while.
It's not that the Cortland players aren't likely to score. It's just that the normally enthusiastic fans will be intentionally stifling their usual cheers, shouts and exclamations regardless of what happens on the court.
Welcome to "Silent Night," a new SUNY Cortland tradition that asks fans to remain completely quiet until the Red Dragons score their 10th point as part of a holiday celebration and fundraiser for Toys for Tots.
All general public ticket sales will be donated to the local Toys for Tots charity and admission is free to anyone who brings a toy donation. The event features giveaways and prizes, an ugly sweater contest, pictures with Santa and more.
"It's awesome to be able to attract a crowd and play for a good cause," said men's basketball team co-captain Travis Hefele, a senior recreation management major. "The 10th point will certainly bring great energy and hopefully give us a great lift."
SUNY Cortland's first "Silent Night" basketball event in 2014 was a huge success, attracting more than 500 spectators and collecting 50 donated toys.
"The turnout last year was tremendous, but we're looking to raise the bar event further this year with more raffles, giveaways and the addition of costume and ugly holiday sweater contests," said Assistant Athletic Director Courtney Wormuth, advisor for the Student-Athlete Advisory Committee (SAAC). "This event brings together two aspects of our Student-Athlete Advisory Committee which are the focal points of our mission: community outreach and the student-athlete experience."
This year's event in Corey Gymnasium begins at 5:30 p.m. with the women's game and at 7:30 p.m. for the men's contest.
All home athletic events are always free to Cortland students, faculty or staff members. Ticket prices for the general public will be $4 for adults and $3 for students, unless they bring a new toy to help the cause.
"This is a big night for athletics," said Jaclyn Lawrence, assistant director of athletics for events, marketing and development. "We try to pack the gym, adopt a holiday theme, and just a have a lot of fun and collect toys and money for Toys for Tots."
Prepared by public relations intern Jenel Colon
Model European Union Students Prepare for Brussels Event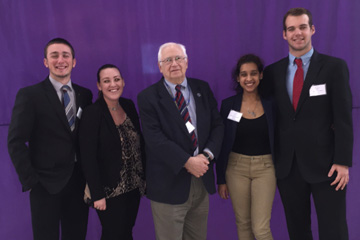 12/01/2015
SUNY Cortland's Model European Union (MEU) student group is preparing to take a trip to Brussels next month for its major annual simulation event — at a crucial time when the union of 28 member states continues to make headlines for issues related to the migrant crisis, attacks in Paris and the economy.
Seven students will journey to the EU's capital city in Belgium for the SUNYMEU simulation that runs four days beginning Wednesday, Jan. 6. They're part of a three-credit political science course offered during the fall that culminates with the capstone trip. Distinguished Service Professor Henry Steck has trained participants since SUNYMEU's inception at the College in 1988.
"There are significant learning outcomes for our students," Steck said. "The MEU experience has been a transformative moment for them to enhance their knowledge of the European Union."
It's been a busy year so far for the student participants, with discussion topics ranging from negotiations of the Transatlantic Trade and Investment Partnership (TTIP) to the FIFA soccer scandal. Their all-important trip abroad involves a major role-playing simulation that includes more than 140 students from across the SUNY system and Europe, including Belgium, Bulgaria, France and Germany.
The idea is to put students in the shoes of representatives from EU nations. Delegations for each country are comprised of four-person teams, with each student playing the role of a politician from that country. This year SUNY Cortland students will represent Croatia and Spain at the event and speak on topics that include economics, separatist movements in Spain, the migration crisis and security issues in the Middle East.
"You get to meet a lot of people who are very passionate about issues in Europe," said Michael Braun, a senior political science major from Elmont, N.Y. "It's like we're creating real solutions for these issues."
Support for the trip comes from the Haines Fund, the International Programs Office and the Clark Center for International Education. Students represent majors across the College, including political science, international studies, sport management and exercise science.
SUNYMEU is organized by SUNY's Institute for EU Studies; the SUNY Office of Global Affairs; SUNY New Paltz; and Vesalius College in Belgium, where the simulation event will take place. Each year, the event alternates between venues in Europe and a SUNY campus. SUNYMEU and Vesalius College have formed a permanent partnership to strengthen transatlantic relationships among the next generation of global policy makers.
Steck said the trip is a rare cross-cultural opportunity that allows the College's students to work in a mature environment with their peers from Europe. SUNY institutions were the first in the nation to organize a model EU simulation and SUNY Cortland has been a steady participant since its founding, Steck said.
For more information on the SUNYMEU event, visit its website.
Prepared by public relations intern Brandon Romagnoli
College Adds To Recreational Sports Program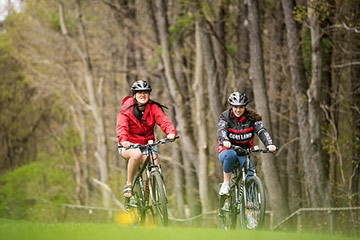 11/20/2015
For college sophomore Marisa Lobelson, there can be no better Sunday than when she puts on her helmet, gloves and elbow pads and heads to a trail with her mountain bike.
"I love the feeling of being out there; I love the feeling of racing," said Lobelson, founder and president of SUNY Cortland's newly organized mountain biking club.
Lobelson of Richfield, Conn., regretted that SUNY Cortland did not have a Division I level cycling club when she chose to enroll in the College's therapeutic recreation program.
So this past spring, she formed a mountain biking club. The sport club aims to provide students with an opportunity to learn how to ride the rugged kind of bicycle, to participate in mountain biking at different area parks with others and, if individuals desire, to race in the Eastern Collegiate Cycling Conference (ECCC) competitions.
Already the club has traveled to Shindagin Hollow State Forest in Caroline, N.Y., and plans a trip to nearby Greek Peak in Virgil, N.Y. Members take a college van to the parks with their bikes strapped on back. On the trail, the group never separates and takes rest breaks as needed.
"It's exhilarating," said Lobelson. "I feel free and school is out of mind when I am riding. It is a great feeling to be a part of a team, but also a great individual feeling."
Mountain biking — and the even more recent rock-climbing club — are among the 35 recreational sports clubs that the College has to offer, with approximately 1,100 participants.
SUNY Cortland's Recreational Sports Program seeks to bring greater health and vitality to the entire College community by offering a variety of recreational opportunities, according to Julian Wright, director of recreational sports.
"It's all about the students," said Wright, who has been with the College for 24 years. "Recreational sports give students a healthy opportunity. It's a win for them and a win for the campus."
Just one facet of the Recreational Sports Program, the sport clubs allow for competition but also fun. Some sport clubs let students continue to play in a sport they enjoy without the demands of competing as athletes at the Division III level.
"Officers of the sport clubs learn practical experience like planning, organizing, budgeting and scheduling," said Wright, noting that Recreational Sports also offers intramural and open recreation in the new Student Life Center, which has made a big difference in the quality of recreation for many students. Sport clubs have their own schedule and most of them play elsewhere.
| | |
| --- | --- |
| | |
| | Competitive rock climbing is the College's newest club sport. |
The College's oldest sport club is men's rugby, Wright noted.
The newest, rock climbing, offers students the chance to hone their bouldering and rock climbing skills at the indoor rock wall in the Student Life Center. Established this fall, the club plans to participate in outdoor rock climbing trips and hopes to compete someday.
The mountain biking club's six current members plan to take six recreational trips in the fall and three in the spring. Next year, some club members will practice and compete in the ECCC.
New members can join for $30. Bicycles can be rented through Outdoor Pursuits or students can use their own. Recreational rides are typically on Sundays from 10:30 a.m. to 4 p.m.
Lobelson said she hopes the mountain bikers will form bonds that will help encourage new members to come out and ride next spring.
"Don't be intimidated," said Lobelson. "A lot of people see mountain biking as a scary sport with rocks and dirt, but once you get the hang of it, it really is a fun sport. It is a safe sport and we welcome beginners. Mountain biking encourages a healthy lifestyle — eating healthy and working out."
For more information on the mountain biking club, contact Lobelson at 203-947-4210. For more information on the rock-climbing club, contact Deryk Artioli. For more information about the Recreational Sports Program, contact Wright at 607-753-5585.
Prepared by public relations intern Jessica McFadden
Campus Directory PDF Available Online
The Publications and Electronic Media Office has updated the SUNY Cortland Directory of Campus Offices, a PDF that lists emergency information, employee benefits and campus offices along with other information.
The PDF can be downloaded and saved or printed from the Directory (PDF) link on the Faculty/Staff home page.
Additionally, employees are asked to keep their online directory listing current. This can be updated any time.
State employees should:
Log in to myRedDragon
Select the Faculty/Staff tab
In the About Me box, select Update/Edit your directory
Make the necessary updates on the My Directory screen
Anyone unable to access their directory information or myRedDrgon should contact The Help Center at 607-753-2500.
Individuals may include photos with their listing. They should be professional-looking, individual portraits with the head and shoulders visible. Studio photos are preferred but quality candids are acceptable. Studio shots can be arranged through the Public Relations Office.
Research Foundation employees should submit changes to Brent Danega in the Human Resources Office by email or at 607-753-2414.
ASC employees should submit directory changes to ASC Human Resources Specialist Sue Michales by email or at 607-753-4751.
Teaching Assistant Poster Symposium Set for Dec. 9
Advisement and Transition will hold its 15th annual COR 101 Teaching Assistant Poster Symposium from 11:30 a.m. to 4:30 p.m. on Wednesday, Dec. 9, in Memorial Library. The poster symposium, an end-of-semester event, showcases the work of COR 101 teaching assistants.
First-year students are required to take COR 101 during their first semester on campus, earning one credit hour. The classes are taught by faculty and staff members who are each assigned one upper-class student to help teach and mentor the incoming first-year students. Upon completion, the teaching assistants, who earn three credit hours, present a poster showing the topic about which they chose to teach.
For more information, contact Advisement and Transition at 607-753-4726.
Outstanding Non-Traditional Students Recognized
Thirty-eight students who balance college with family, jobs and other commitments were recognized for their hard work and commitment during Non-Traditional Students' Week, Nov. 9-13.
The College defines its non-traditional undergraduate students as those who are at least 24 years old or have had an interruption or delay in their education since high school. Also, they might have dependent children, regardless of their ages.
Faculty, staff and students submitted 50 names, some students being recognized by more than one person, to the "Celebrate a Non-Trad" campaign and a certificate of recognition and small gift was given to the following non-traditional students:
Tammy Anderson
Brian Anson
Sara Blackerby
Dave Campbell
Corrine Edick
Allen Emm
Beth Etuale
Jennifer Falk
Raeshelle Frasier
Adam Graham
Courtney Hamilton
Sheryl Holbrook
Logan Hudson
Sean Hughes
Heather Jones
Jocelyn Lake
Jasmine LaMontain
Jared Leseman
Courtney Little
Michelle McAllister Henry
Darren McCormack
Brandon Meyer
Peter Neiner
Caitlin Niederhofer
Ashley Owens
Beth Relyea
Drusilla Relyea
Sara Sampson
Tamara Shannon
Sheila Shea
Amanda Shaw
Brittani Smith
Aaron Stone
Allison Teachout
Christine Thomas
Claire Toal
Marc Wiesenfeld
Brian Zoll
This program is sponsored by the Advisement and Transition office. For more information, contact Cheryl Hines, coordinator of non-traditional student support, advisement and transition, at 607-753-4726.

Suggest a feature story
---
People on the Move
Lisa Court Announces Retirement as Associate VP of Development
12/01/2015
In order to focus her undivided attention on family, Associate Vice President for Development Lisa Court recently informed the College of her immediate plans to retire from SUNY Cortland. Lisa's final day will be Dec. 30, but she is using her accruals to start her retirement immediately.
"I wish to extend my deepest gratitude to Lisa for her work and efforts to move our development and fundraising initiatives forward," said Vice President for Institutional Advancement Peter Perkins. "Please join me in extending well wishes to Lisa as she moves to the next chapter in her life."
---
Faculty/Staff Activities
Brian Barrett
Brian Barrett, Foundations and Social Advocacy Department, has had his chapter, co-authored with Rob Moore of the University of Cambridge, published in Pedagogic rights and democratic education: Bernsteinian explorations of curriculum, pedagogy and assessment, edited by Philippe Vitale and Beryl Exley and published by Routledge. The chapter is titled, "Changing from within: Basil Bernstein, teacher education, and social justice." At the editors' invitation, Barrett also wrote the book's dedication to Moore, his doctoral supervisor and a major contributor to the development of Bernstein's sociology of education who passed away in April 2014.
Cynthia Guy
Cynthia Guy, Community Innovation Coordinator, Main Street SUNY Cortland, has been elected and approved to serve on the board of Cornell Cooperative Extension (CCE) of Cortland County. She was confirmed at the annual dinner meeting on Nov. 20, and will begin serving on the CCE Board in January. Earlier in November, Guy was elected and endorsed to serve on the Cortland Mental Health Sub-committee.
Jordan Kobritz
Jordan Kobritz, Sport Management Department, gave a presentation to a group of 30 high school students at the New York Times Pre-Collegiate Weekend Course, "Sports Management and Sports Media" on Nov. 21 in New York City. The title of the presentation was, "The Ins and Outs of Owning a Professional Sports Team."
Lin Lin and Valerie Widdall
Lin Lin and Valerie Widdall, Childhood/Early Childhood Education Department, presented on the topic of "Expanding Pre-Service Teachers' Global Education Pedagogy" at the annual conference of the National Council for the Social Studies on Nov. 13 in New Orleans, La.
Mechthild Nagel
Mechthild Nagel, Philosophy and Africana Studies departments and the Center for Gender and Intercultural Studies, had her article, "The Case for Penal Abolition and Ludic Ubuntu in Arrow of God," published in a Max Planck Working Papers series.
Robert Spitzer
Robert Spitzer, Political Science Department, is co-author of an article posted Nov. 30 by U.S. News and World Report titled, "Obama's Guantanamo Paradox." The article is co-authored with Chris Edelson of American University.
Nance Wilson
Nance Wilson, Literacy Department, presented "Teacher Candidates: Teaching and Learning with Technology to Improve Literacy Skills and Practices" at the Association of Literacy Educators and Researchers Annual conference held in November in Costa Mesa, Calif. Also, Wilson co-authored an article titled "Reading, Writing and the Common Core Standards," that was published in the Association for Middle Level Education (AMLE) Magazine.
Fang "Faye" Yang
Fang "Faye" Yang, Communication Studies Department, was the lead author of the article "Do Violent Movies Scare Away Potential Visitors," published in a recent issue of the International Journal of Advertising. The article explores transportation theory's role in the relationship between movie watching and tourism.

Submit your faculty/staff activity