College Scores with Champions Challenge
11/13/2015
Nov. 12 was a terrific day to be a Red Dragon for the 687 SUNY Cortland alumni, students, parents, faculty, staff and friends who wore red and raised more than $100,000 to support the College.
Over the course of 24 hours, the Champions Challenge saw donors give a collective $114,226 after two different challenges were laid out. Gifts came from all different groups from all across the world. Together, their generosity will benefit causes that touch every corner of campus: student scholarships, undergraduate research, arts and cultural programming and athletics to name just a few.
"Today was a wonderful celebration of everything Cortland," said Jennifer Janes, the director of The Cortland Fund. "Through financial gifts to the College, alumni, parents, friends, students, faculty and staff demonstrated their appreciation and pride for SUNY Cortland."
The College had set an initial goal to convince 273 people to give gifts of any amount to any cause at SUNY Cortland. In return, Gerald "Jerry" Theisen '53, M.S.Ed. '58 and Monica Bedford Voldstad '72, M.S.Ed. '77 would generously pledge a collective $11,000 to SUNY Cortland.
| | |
| --- | --- |
| | |
| | One student gave her own testimonial on what the Champions Challenge meant to her. |
On the big day, students worked the telephones throughout the day and staff and volunteers entreated campus support from tables in building lobbies as well as on social media to raise excitement among their classmates, family and friends. Numerous donations were linked to the Class of 2016 Senior Class Gift and Alumni Reunion 2016. Around 10 p.m., more than double the original goal was achieved.
Early that morning, SUNY Cortland President Erik J. Bitterbaum arrived at The Cortland Fund office in Brockway Hall to formally kick off the blowout fundraiser by pledging a special gift to a College cause near and dear to his heart: the Dowd Fine Arts Center Theatre's Take-a-Seat Campaign.
"We asked our Cortland family to show their support for the College and they really stepped up," said Bitterbaum, who that evening joined Dragon Dialers in the Call Center at the telephones asking for gifts.
"I'm just thrilled," said Bitterbaum, who personally raised $150 as well as school spirit among the alumni he reached. "This proves that SUNY Cortland people are champions, most of all when it comes to demonstrating their pride, loyalty and generosity."
Gifts were submitted online, called in over the phone and delivered in person from alumni, students, employees and friends of the College. They ranged from very modest contributions from students acknowledging the campaign's purpose to one $5,000 dollar check.
| | |
| --- | --- |
| | |
| | SUNY Cortland President Erik J. Bitterbaum pledged his gift early. |
With more than 273 gifts submitted by 2 p.m., two very generous Cortland College Foundation Board members, Fritz Favorule '76 and George Weissman, Esq. '76 came forward to offer a new collective challenge gift of another $10,500 if College supporters would double their participation with 546 donors before midnight.
"It's going to take a collective effort to prepare the next generation of Cortland graduates, one that's ready to accomplish great things," Favorule noted. "All gifts, regardless of size, add up."
"Gifts are meant not only to help current Cortland students, but those of future generations," Weissman said. "Success can only be measured by the collective effort of alumni and future graduates to support Cortland's mission of bringing forth the best in those passing through its halls tomorrow."
People who made gifts to the College had the opportunity to designate their funds for a certain area of campus, as they do every day, Janes said. The challenge incentive simply gave a push to a collective, single-day effort.
The Champions Challenge was the College's second 24-hour fundraising effort. The first was the 2/27 Challenge in February 2014. This year's total topped the College's remarkable 2014 campaign results by $11,369.
| | |
| --- | --- |
| | |
| | Dragon Dialers Cassandra Long, left, and Charlotte Fanning reached out to alumni for gifts that afternoon. |
"There was a lot of excitement the last time we did this, both on campus and among alumni living across the world," Janes said. "This year, we upped our initial goal and changed the date to build on the excitement of Cortaca.
"But the parameters remained the same: any gift of any amount from any supporter moved us one step closer to our goal of 273, which was chosen to represent the 73,000 alumni that SUNY Cortland is proud to claim as its own."
The alumni who offered the original gift match described their ties to their alma mater:
"We were teachers for all of our working lives, and we shared a lot of memories together because of Cortland," said Theisen, a retired high school science teacher and lifelong supporter of education, referring to his marriage with his late wife Ethel '55. "Those are the places that matter, and that's Cortland for us."
Similarly, Voldstad, a tireless volunteer for many important causes and a member of the Cortland College Foundation Board of Directors, remains connected to the College because of lifelong friends she made as a member of the Alpha Sigma sorority.
"My friends keep me interested, and so does the overall progress of the College," the former childhood education major said. "You can't beat an affordable education that offers a wide variety of majors … majors that can take students on to do some amazing things."
Champions Challenge Facts
| | |
| --- | --- |
| | |
| | Brockway Hall's Call Center filled up with eager Dragon Dialers as the Champions Challenge entered its final hours. |
First gift: 12:05 a.m.
Last gift: 11:58 p.m.
Furthest donor: Scotland
Youngest donor: 7 years old
Average gift: $166
Supporters are encouraged to sample the excitement that the challenge generated that day by visiting the Champions Challenge webpage or using #CortlandChallenge on social media.
"Many thanks to all those that stepped out to help us conquer the challenge and show our support for Cortland students," Janes said. "Every gift matters and shows the world that we are all champions."
NASA Scientist Looks at Weather in Space
11/16/2015
When it's bright and sunny in Cortland, N.Y., the weather in outer space could look quite a bit different with its intense storms. This "space weather" often produces the spectacular lights that star gazers appreciate. It also inspires the topic of conversation for NASA scientist Alex Young when he visits SUNY Cortland on Thursday, Nov. 19.
Young, an astrophysicist in NASA's Goddard Space Flight Center, will offer a free public talk titled "What's the Weather in Space? Sunny with a Chance of Solar Storms!" at 7 p.m. in Sperry Center, Room 204.
The New York State Master Teacher Program and the SUNY Cortland School of Education's Center for the Preparation of 21st Century Teachers sponsor the event, which aligns with the College's work as an affiliate member of the Alan Alda Center for Communicating Science at Stony Brook University.
"We're excited to have Dr. Alex Young share with the community his work at NASA, which no doubt helps highlight the work it takes to bring science to the public," said Dominick Fantacone M.A.T. '12, the College's campus coordinator for the New York State Master Teacher Program and a lecturer of biological sciences. "Dr. Young is familiar with the work we are doing on campus and with local teachers around science communication, as he recently trained at the Alda Center himself."
Young specializes in studying space weather and solar storms, which are responsible for producing the magnificent lights known as auroras at the North and South Poles. He oversees education and public outreach as associate director of science for the Heliophysics Science Division at the Goddard Space Flight Center. He also currently serves as acting assistant director of science communication for the Goddard Science Directorate.
Several SUNY Cortland faculty members have collaborated on new cross-disciplinary coursework that emphasizes the importance of communicating the discipline effectively. For instance, Angela Pagano, associate professor of biological sciences and assistant dean for accreditation within the School of Education, and Mark Reynolds, lecturer of performing arts, currently lead science students in improvisational activities that aim to sharpen their communication skills. Paul van der Veur, professor of communication studies, has brought in students from his department as well. All three were trained by the Alda Center.
The highly selective Master Teacher Program includes more than 500 science, technology, engineering and mathematics (STEM) educators from 10 regions across New York state. With 70 Master Teachers each, SUNY Cortland and Stony Brook University serve as the largest regional sites for the teacher development program.
The program gives outstanding teachers in math and science an incentive to continue teaching in New York while providing them opportunities to share methods, experience and insight with fellow teachers. They are recognized for their classroom effectiveness, a commitment to personal growth and a willingness to mentor new teachers and future educators. They also regularly benefit from mini-courses, conferences, workshops and keynote lectures like the one that Young will deliver.
For more on Young's talk, contact Fantacone or Pagano.
---
Capture the Moment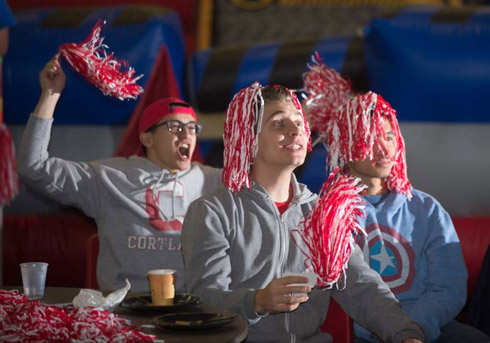 Watching SUNY Cortland win its sixth Cortaca Jug football game in a row on Saturday were, from left, Aron Lacson, Andrew Butryn and Tevin Pham. Those who didn't travel to Ithaca College were treated to a carnival viewing party in Corey Union, complete with tailgate refreshments and an inflatable obstacle challenge.
---
In Other News
Second Black Student Union Town Hall Event Added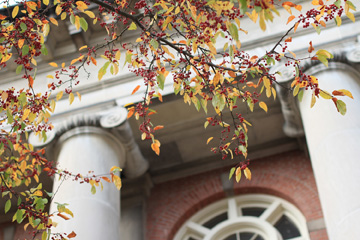 11/30/2015
When SUNY Cortland's Black Student Union (BSU) asked students, faculty and staff members to attend a Nov. 17 town hall style meeting, the campus community answered by filling Old Main Brown Auditorium.
Given positive feedback from audience members and an overwhelming interest in continuing the discussion, a second town hall event will take place Tuesday, Dec. 1, at 5 p.m. in Old Main Brown Auditorium. The follow-up conversation on race, bias and discrimination will allow more time for audience members to ask questions and provide feedback for the College President's Cabinet. BSU leadership again will moderate the discussion.
During the Nov. 17 talk, six student leaders joined President Erik J. Bitterbaum's leadership team on stage to recount examples of racism in their own words and offer suggestions for future improvement. President Bitterbaum and his cabinet members spoke to questions from the audience, but there were many remaining at the end of the allotted 90 minutes.
"In the midst of student narratives about personal frustrations, as well as the questions and responses from the audience, the themes of unity and the need for greater mutual respect were prominent," President Bitterbaum said. "As an institution of teaching and learning, we have a responsibility to combat ignorance and fear, replacing the negative with a positive mutual understanding. By collectively identifying specific barriers to diversity on our campus we can provide important direction for concrete ways to improve in the future."
Audience members are encouraged to join the Facebook event and to continue using #BSUCortlandTownHall on social media. For more information on the Dec. 1 event, contact the Multicultural Life and Diversity Office at 607-753-2336.
Education and Civic Service is Topic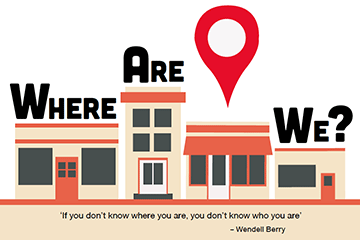 11/17/2015
| | |
| --- | --- |
| | |
| | Khuram Hussain |
Khuram Hussain, an assistant professor of education at Hobart and William Smith Colleges, thinks educators need to take a more expansive approach to how students carry out civic service in city neighborhoods, on Thursday, Nov. 19.
His talk, "From Charity to Solidarity: Rethinking Student Service in Urban Communities," will begin at 7 p.m. in Corey Union Fireplace Lounge.
The event continues the yearlong series exploring the role that local communities play in the greater society's achievement of economic health, environmental resilience and overcoming inequalities of all types.
The lectures, film screenings and artistic programs and other events themed on "Where are We?" are presented by the College's Cultural and Intellectual Climate Committee (CICC). The programs are free and open to the public.
From tutoring kids to stocking pantries, "service to the community" is now a cornerstone of the college experience.
"Yet it is criticized for being little more than community charity," said Hussain, who teaches a variety of courses on the history of education with a particular focus on civil rights education, equity and access.
"Moreover, in an era of economic dispossession, mass school closings and rising urban protest, college campuses and their surrounding communities need more from each other than charity," he said.
Hussain will explore the radical possibilities of service learning as place-based, democratic and mutually empowering for students and community members.
Specifically, a yearlong urban education project titled Tools for Social Changes examined as a model of service that focuses on intergroup dialogue, collaborative learning and community organizing in order to build life-changing student-community alliances.
Ultimately, the talk outlines practical and ethical considerations for pre-professional students to use urban institutions to work in solidarity with urban communities.
Hussain's scholarly interests include the history of the Black press, religion and education, and culturally relevant teaching.
By holding an annual series on a different intellectual theme, the CICC committee aims to generate common topics of discussion and to establish traditions of intellectual discourse on campus. The committee encourages faculty and staff to infuse the theme into their course curricula, engage in classroom discussions, foster debate around the theme, and propose campus events or speakers on topics connected to the theme.
The series also features four "common read" texts selected for departments and programs across the campus to read in advance. The suggested reading materials include sociologist Gerald Grant's book, Hope and Despair in the American City, Will Allen's The Good Food Revolution, Naomi Klein's This Changes Everything, and Aldo Leopold's Sand County Almanac.
The "Where Are We?" series, which continues next spring, is sponsored by the Campus Artist and Lecture Series, the Division of Academic Affairs, the President's Office and the Cortland College Foundation.
For more information, contact CICC co-chair and Associate Professor of History Scott Moranda at 607-753-2052.
Health Educator Honored With Historic Mortarboard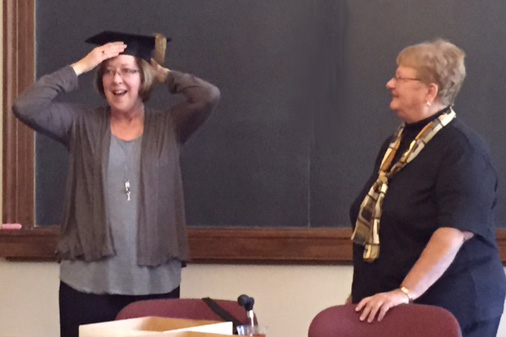 11/17/2015
When she marches in procession at the next Commencement or Academic Convocation, SUNY Cortland Professor of Health Donna M. Videto will proudly display a mortarboard with a distinctive lineage in her profession.
Videto joined a nearly 70-year-old tradition in October when she was passed down the mortarboard originally worn by Delbert Oberteuffer, a professor at Ohio State University who was a respected leader in the health education field.
Oberteuffer's concept of the totality of the person — "Man in Function … Man in Total" — that was developed in the 1960s is generally credited with being one of the first philosophical contributions to the profession's literature to foster an understanding of the importance of holistic health in health promotion.
Videto was the third college academician to receive this distinction. She was presented the ceremonial cap directly from Becky J. Smith, who received the mortarboard in the 1980s and for 26 years was executive director of the American Association for Health Education (an organization later folded in to SHAPE America). Smith also served as vice president of the American Alliance for Health, Physical Education, Recreation and Dance.
Smith passed along the classic, square brimmed cap-and-tassel headgear during a surprise afternoon ceremony in the Moffett Center Poskanzer Conference Room. She is shown in the above photo on the left trying on the hat while Smith looks on.
"I was told that it was a reception for Becky J. Smith," Videto recounted. "I was very surprised to realize that I was being honored.
"When you get something like the mortarboard, you start to feel like all of the hard work, dedication and efforts were recognized," Videto said. "I was honored and grateful for that recognition."
The legendary mortarboard from the 1930s originally was passed by Oberteuffer, when he retired, into the care of Ann E. Nolte, his doctoral student and protege.
Nolte, the first female professor elevated to the rank of University Professor at Illinois State University, received national recognition for her leadership roles in the university's health program. She also was associate director of the nationally recognized School Health Education Study, which from 1964 to 1972 laid the basis in nearly every state for the development of legislation mandating health education in schools.
"I think that the fact that the mortarboard has been worn by three individuals that have been such real leaders in our profession, whose names are so well known and who represent such a rich history in health education, is incredible and an amazing gift," Videto said.
"The Oberteuffer mortarboard is just one of what may be hundreds of artifacts of the health education profession that should be preserved as a part of our history," Smith explained.
Videto — as the mortarboard's newest guardian — is a 20-year SUNY Cortland faculty member who is a successful textbook author and grant writer. A professional health educator since 1979, she has conducted more than 80 presentations or poster sessions at state, district and national level professional gatherings.
Smith noted that Videto has received some of the field's highest recognitions, including a presidential citation for contributions to the profession from the American Association for Health Education and the State University of New York Chancellor's Award for Excellence in Faculty Service. The State of New York Association for Health, Physical Education, Recreation and Dance recognized her for outstanding contributions and commitment to professional excellence.
"It is with great humbleness that I ask Dr. Videto to carry on the tradition of wearing the Oberteuffer mortarboard at graduations and other academic occasions," Smith said.
"I asked her to continue the tradition of choosing and passing the mortarboard, along with its history, to another nationally known leader in the health education and promotion field when she retires from active university participation," Smith said.
Such traditions have an important place in academia, said Smith, who in recent years proudly wore the mortarboard at Cleveland State University academic ceremonies, as a visiting faculty member.
"It was during that time that I truly appreciated the special gift I had been given and the importance of carrying forth our professional history through artifacts, journals, books and what we call 'grey literature,' which are the many documents prepared for special programs and conferences," Smith said.
According to her, saving the artifacts and history of the profession serves multiple purposes.
"It will become a rich environment for research by graduate students and professionals alike," she said. "Knowledge of our history can inspire our students, our teachers, and our future leaders by letting them know what has been and most importantly — what can be."
Prepared by public relations intern Jenel Colon
College's Special Sauce has Local Tomatoes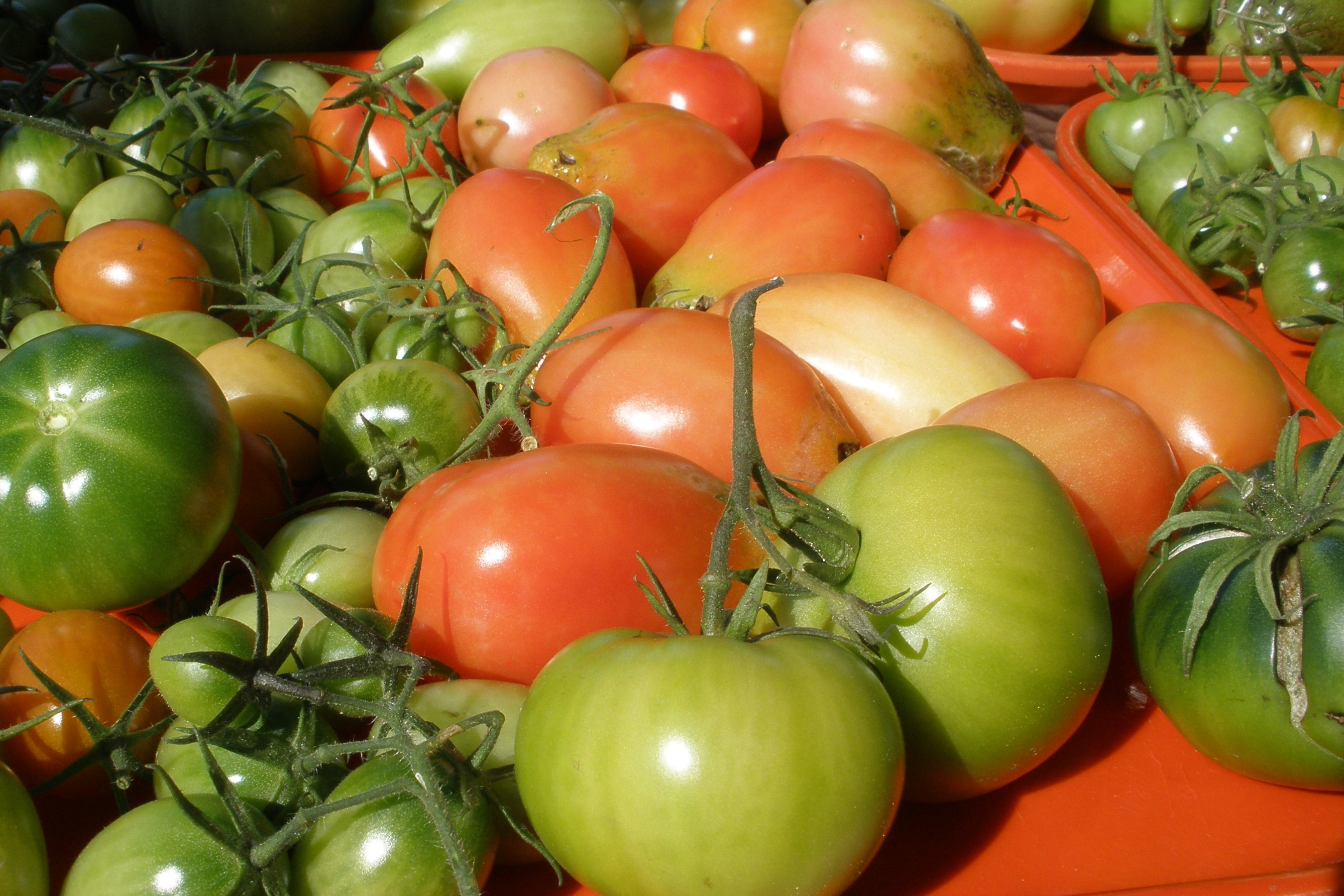 11/17/2015
When a SUNY Cortland student forks into a plate of pasta nowadays, it is guaranteed the tomato sauce will be delicious, nutritious and earth-friendly.
Thanks to a partnership between the College's Dining Services and Main Street Farms of Homer, N.Y., which was two years in the making, the two major campus dining halls now produce a pure New York state tomato sauce.
This past summer, Main Street Farms grew 3,520 pounds of tomatoes, which dining employees then turned into 250 gallons of sauce two days after harvest. The sauce includes locally grown onions, herbs and spices.
The tomatoes are not organic-certified, but come with the added expense of growing produce that contains no pesticides.
| | |
| --- | --- |
| | |
| | Students share a meal together at The Bistro in the Student Life Center. |
"We love the sauce," said Bill McNamara, director of Dining Services, a unit of the SUNY Cortland Auxiliary Services Corporation (ASC), which provides the campus with dining, college store and vending services. "We would love to find a way, not to necessarily grow our own tomatoes, but perhaps to grow other produce."
The sauce at first was used on monthly, designated "sustainable dining" days in The Bistro and Neubig Dining. As of Nov. 9, the College began serving the remaining 200 gallons of sauce daily to finish it off.
According to McNamara, not many college campuses are using locally grown produce.
"The goal is for the campus to know that we support all local farms across New York state," McNamara said. "ASC works with about 50 companies in the state."
These include Trinity Valley Farms in East Homer, N.Y., the Food Hub out of Groton, N.Y., and Byrne Dairy, a New York state-based, national company.
"We are thrilled to offer a locally grown and locally produced tomato sauce to the SUNY Cortland campus, said McNamara. "The tomatoes came right from the vine to us and we made a fresh, tasty and healthy product for the campus."
The College has been doing business with Main Street Farms since 2014. The tomato sauce experiment, which started as a one-year trial run for ASC, with hopes to continue in the future, has developed into a good partnership.
Allen Gandelman started Main Street Farms in 2011 after years of research and gardening. His company remains community-oriented and dedicated to sustainable agriculture and local food security. It recently expanded to a new urban farm on South Avenue in Cortland.
"We are hoping students notice a difference in the sauce and find it to be fresher," said McNamara. "Our partnership with Main Street Farms allows us to expand our local produce purchases and offer students more of what they are looking for — fresh, healthy, locally grown products."
For more information, visit cortlandasc.com or contact McNamara.
Prepared by public relations intern Jessica McFadden
Students Lead Employees in New Kinesiology Course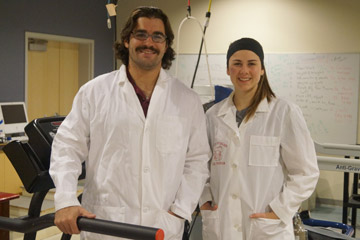 11/17/2015
Students always have learned from professors in the traditional college classroom. But in many academic departments at SUNY Cortland, professors are finding innovative ways to turn their students into better teachers of their disciplines.
One such example is found in Exercise Prescription 432, a new service learning course unveiled this semester within the College's Kinesiology Department.
The class, taught by Assistant Professor Deborah Van Langen, involves students providing valuable health services to faculty and staff members who desire to lead a healthier lifestyle. Undergraduates, many of whom aspire to careers as physical therapists or personal trainers, offer proper exercise prescription advice to College employees for free.
"The class gives students a chance to apply what they learn in class onto real-world participants," Van Langen said. "Participants, in turn, get a chance to work with students who want exposure to a clinical population or to go on to graduate school."
The once-a-week class consists of fitness development and exercise science majors applying their skills learned in class to help address various conditions such as cardiovascular disease, diabetes, high blood pressure, obesity and pulmonary disorders.
Each student is assigned a patient and the pair work together to improve the patient's health condition. Students usually teach a cardiovascular warm-up exercise, a strength training lesson and a meditation component to reduce stress after exercise.
For now, patients who volunteer for the course are faculty and staff members from the College. Van Langen said she hopes to include participants from the Cortland community in the future. Patients mostly demonstrate high-risk health concerns, which offers students exposure to a clinical population of clients as opposed to a recreation population, Van Langen said.
She also has expanded the course from three to four credits, which means students would meet with clients twice per week to gain more experience. Those students who are part of the course's inaugural cohort are enjoying the hands-on experience they have gained so far.
Philip Socci, a senior kinesiology: exercise science major from Westchester, N.Y., said the class has been equally as beneficial for employee patients and students involved.
"The clients love it as a whole and they've been doing well," Socci said. "Being able to have your class and teacher to help with the exercises and clients makes the experience so much better than having to do it without support."
Nancy Newell, a senior fitness development major from Glenfield, N.Y., has noticed clients helping each other in staying on track with their health goals.
"The clients all get along and motivate each other to keep doing better," she said. "It's almost like a friendly competition."
The course's service learning foundation has played a major role in its outcomes so far. Van Langen worked closely with John Suarez, the College's coordinator of service learning, to develop the course. The service learning process integrates meaningful community service with instruction and reflection to enrich the learning experience. Service learning helps students understand course-related topics from other people's points of view.
According to Suarez, the service learning angle of the course makes it more rich and unique.
"Students are able to understand more because of this component and it allows them to work with people of all different backgrounds and habits," Suarez said.
The course fosters close relationships between the aspiring health professionals and the type of clients that they likely will work with in the future.
"You have to know yourself before you know someone else," Suarez said.
Prepared by public relations intern Brandon Romagnoli
Furniture Project Saves Tons of Waste, Thousands of Dollars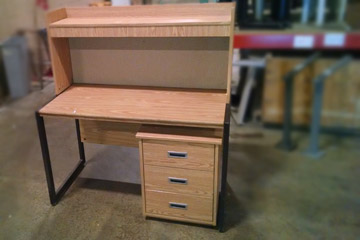 11/17/2015
SUNY Cortland's Residence Life and Housing is finding new ways to turn perfectly usable "trash" into treasure by carrying out a sustainable furniture refurbishing project that will save an estimated $150,000.
The project set out to extend the lifespan on lightly used desks in the Casey and Smith Tower residence halls without having to buy new ones. Besides the overall cost savings created by not purchasing new desks, the furniture facelift also benefited the environment. Roughly 21.25 tons of waste — or 42,500 pounds — were saved from going into landfills. That disposal also would have sent approximately 33 tons of carbon dioxide into the atmosphere.
Consider, too, that enough energy was saved to power 17 homes for a full year just from avoiding the manufacturing process.
Two of the 400 desks before they were refurbished. The process consisted of taking the desks apart, sanding, recoating with polyurethane and reassembling.
"A lot of the desks were still in good condition, they just needed to be polished up," said the project's initiator, Katie Ingraham, assistant director of operations for Residence Life and Housing. "We wanted to maintain the furniture in our residence halls instead of waste it in a landfill."
Right Price Companies, a furniture company in Syracuse, N.Y., stepped in to redo the desks.
Ingraham, who has found many ways to champion environmentally sustainable initiatives in her work, also oversees the "Green Reps" program that puts an environmentally conscious student in every residence hall. Together these efforts result in a more eco-friendly campus.
"I wanted to take the time to do the right thing instead of taking the easy way out," said Ingraham, who has worked at the College for four years.
When Right Price Companies first started the project last summer, it determined about 250 steel and 150 wooden desks could be renewed in total. The several step process consisted of: taking the desks apart, sanding them down, recoating them with polyurethane and then putting them back together.
The hutches that sit on top of the desks also were replaced, with tack boards and LED light fixtures added.
Jeff Detor, the Right Price Companies representative who worked closely on the project, said the remanufacturing process puts a good product back into the field without wasting resources.
"We wanted to help (SUNY Cortland) be a good pillar of sustainable products," Detor said.
That much is reflected in the work of Residence Life and Housing.
"Everything is replaceable in today's world," Ingraham said. "When something can be repurposed, we should be making the effort to do so."
Prepared by public relations intern Brandon Romagnoli
Former Wall Street Titan Speaks to Students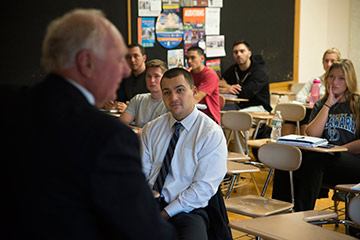 11/17/2015
It's not often that a classroom full of future entrepreneurs gets the chance to hear all about the financial industry from a sharp-dressed, major figure of Wall Street.
About 20 young men and women enrolled in Professor Timothy Phillips' Advanced Finance Class in Old Main, Room 120 heard the inside scoop from Charles J. Bocklet, Jr. '58.
His rapid-fire advice to them included the following:
"Like your own money best.
"Come up with something and if it works, you'll make something.
"Watch yourself. You don't want to mess with the IRS.
"You say, 'I don't have any money.' You do. There are ways to make money, you just have to be flexible.
"I don't trade. I position."
Bocklet, the former New York Stock Exchange (NYSE) vice chairman overseeing the most respected securities market in the world as its third highest official, met these mainly junior and senior business economics majors when he visited SUNY Cortland Oct. 21 and 22 as an executive in residence.
Bocklet — whose New York Stock Exchange trading specialist firm, Bocklet & Co., LLC, had clients including Nike, DaimlerChrysler AG and Tyson Foods — told the students listening intently the story behind his gradual climb to the pinnacles of the New York business world.
A Garden City, N.Y., native, Bocklet earned a bachelor's degree in recreation education from SUNY Cortland in 1958.
After he graduated, Bocklet left a comparably comfortable job as assistant director of recreation in Rockville Center, N.Y., in search of money to support his quickly growing family.
At first he found a trading opportunity as a "two dollar" broker — doing excess business for major corporations — almost by chance. He proved energetic and resourceful and sought greater income as his family increased, eventually to three sons and three daughters.
Bocklet moved to the NYSE in 1963 and, four years later, became a NYSE specialist and partner with Einhorn & Co. From 1973 to 1986, he worked as a stock exchange specialist on the NYSE for Beauchamp & Co. In his 40 years of involvement with the NYSE, Bocklet rose through its hierarchy as a floor official, governor, senior floor official, one of its four directors, and lastly as the vice chairman.
He chaired the NYSE's Rules Review and Flip Trading Committees, and served on its Nomination and New Member Committees and its Hearing Panel. He is a former director of the Securities Industry Association.
As he rose on Wall Street, Bocklet also invested in real estate. He would borrow money to buy and improve family vacation properties on the beach, in rural upstate and in Florida. The transactions not only have profited him in the long run but helped him transition from securities to investment in commercial real estate products and ventures in more recent years.
"Don't be afraid to mortgage. It puts money back in to make money," he suggested.
He sold Bocklet & Co. abruptly in 2001, within weeks after that year's Sept. 11 terrorist attacks.
Bocklet exited Wall Street because he saw the era of human floor traders was coming to an end and he was worried for the safety of his employees, which included his sons and sons-in-law.
He was honored by the State University of New York with a Doctor of Humane Letters during SUNY Cortland's 2002 Commencement.
Succeeding in business takes courage and calculated risk, and great care with assets, Bocklet noted.
"I didn't rent limos. I flew regular class," and drove his family around in 10-year-old cars, he said.
"If you're in a business, you run the business," he said, recalling his more recent personal experience financing a deluxe dog boarding and grooming center in a converted warehouse for his son and learning how badly things can go when owners aren't on top of things.
The class also heard his very original take on what's going on in the industry:
"Janet Yellen should do the talking. The market will adjust," he replied to a question about whether the current Federal Reserve System board of governors chair should continue her predecessors' trend of taking a pass on raising the historically low prime interest rate after letting everyone else weigh in on the subject.
While on campus Bocklet also met with many members of the campus community and dined with students from the College's Federal Reserve group.
| | |
| --- | --- |
| | |
| | Charles J. Bocklet, Jr. '58 shared stories with business economics majors from Wall Street's live trader heyday.While on campus Bocklet also met with many members of the campus community and dined with students from the College's Federal Reserve group. campus Bocklet also met with many members of the campus community and dined with students from the College's Federal Reserve group. |
Bocklet, now retired and living in Durham, N.Y., has many SUNY Cortland connections, including his three sons, Charles III '81, M. Barry '83 and Joseph '86, all graduates who married alumnae Kimball Roberts Bocklet '87, Terry Logan Bocklet '84 and Charlene Brown-Bocklet '87.
"Your family is what it's all about," Bocklet offered as his chief takeaway for the students.

Suggest a feature story
---
Faculty/Staff Activities
Timothy J. Baroni
Timothy J. Baroni, Biological Sciences Department, co-authored a peer-reviewed paper that was published in the Japanese journal of mycology, Mycoscience. "A New Species of Laccaria in Montane Cloud Forest from Eastern Mexico" was co-authored with Leticia Montoya and Victor M. Bandala from Net Biodiversidad y Sistemática, Instituto de Ecología, Xalapa, Mexico, and Thomas R. Horton from SUNY College of Environmental Science and Forestry. Images of the mushrooms and scanning electron micrographs of the basidiospores of Laccaria roseoalbescens from their article were featured on the journal cover of that volume. There are nearly 90 species of Laccaria described from around the world, 20 from North America. Many of these species are important for the agroforest industry and are used in nurseries to form robust symbiosis with economically important forest tree seedlings such as pine and oak before they are planted in reforestation projects.
Tyler Bradway
Tyler Bradway, English Department, and E.L. McCallum of Michigan State University, will co-edit a book titled After Queer Studies: Literary Theory and Critical Interpretation. Their book is now under contract with Cambridge University Press. The volume maps the literary influences that made queer theory's academic emergence possible and charts the trajectories that shape its continued evolution.
Janet Duncan
Janet Duncan, Foundations and Social Advocacy Department, recently returned from Tbilisi, Republic of Georgia, where she worked with two nongovernmental organizations, Partnerships for Human Rights (PHR) and Families against Discrimination (FAD). Both groups are working toward supporting individuals with disabilities to improve their educational opportunities and rightful place in society. She visited three institutions that are featured in the PBS series "The Visionaries," hosted by Sam Waterston, featuring the working of Disability Rights International (DRI). Based on DRI's work, with input from Duncan, DRI will be making a series of policy presentations to government officials from Georgia in the spring.
John C. Hartsock
John C. Hartsock, Communication Studies Department, was invited in October to conduct a program review of the Department of English at Kutztown University of Pennsylvania. His focus was on their journalism and related courses.
Thomas Hischak
Thomas Hischak, Performing Arts Department, is co-editor and wrote the commentary for the autobiography Noel, Tallulah, Cole and Me: A Memoir of Broadway's Golden Age by John C. Wilson, published by Rowman and Littlefield.
Melissa A. Morris
Melissa A. Morris, Physics Department, recently gave two invited talks. On Nov. 2, she spoke at the University of Rochester and, on Nov. 7, at the annual meeting of the Astronomical Society of New York, held at Skidmore College in Saratoga Springs, N.Y.
Randi Storch and Kevin Sheets
Randi Storch and Kevin Sheets, History Department, attended the National Endowment for the Humanities (NEH) project director's meeting to receive final training before launching their $180,000 Landmarks in American History and Culture workshop for K-12 teachers. The meeting was held Oct. 26-27 in Washington, D.C. Their workshop, coordinated with the assistance of Kerri Freese, SUNY Cortland Noyce Project, invites teachers from around the country to learn about the Gilded Age and Progressive Era from the perspective of the wilderness, using Camp Huntington in Raquette Lake, N.Y., as a living classroom. The application and details about the workshop can be found at http://www2.cortland.edu/foreverwild/.
Tadayuki Suzuki
Tadayuki Suzuki, Literacy Department, presented "How to Evaluate Cultural Authenticity in Multicultural Children's Literature" at the New York State Reading Association Conference held Nov. 10 in Saratoga Springs, N.Y. On Nov. 21, he will give a presentation at the National Council of Teachers of English (NCTE). The title of the presentation is "Discussing the Missing Piece of the Puzzle: LGBTQ Books for Children in Intermediate Grade Levels."
Gregg Weatherby
Gregg Weatherby, English Department and local actor and poet, will perform the work of Welsh poet Dylan Thomas at 3 p.m. on Saturday, Nov. 21, at the 1890 House on Tompkins Street in Cortland. Thomas was well known for his dramatic readings during his lifetime, both on the radio and on tour, and is best known for the poems "Do Not Go Gentle Into That Good Night" and "Fern Hill," as well as the play Under Milkwood. The performance, presented by Ad Hoc Theatre and The 1890 House, is free and open to the public. It will include the seasonal classic story "A Child's Christmas in Wales" featuring local actor and elementary school student Stuart Carr. Weatherby has published three volumes of poems, "Under Orion," "Bone Island" and "Approaching Home." His most recent acting credits include work with Ad Hoc Theatre and the Ithaca Shakespeare Company.
Dennis Weng
Dennis Weng, Political Science Department, presented three papers at a conference at The University of Texas at Austin from Oct. 31 to Nov. 1. His paper "Contextual Effects on individual Voting Behavior: the Case of Taiwan," has been accepted for publication in the Asian Journal of Political Science by the end of this year.
Ben Wodi
Ben Wodi, Health Department, was one of 15 invited environmental health career panelists at the 143rd American Public Health Association Conference held Oct. 31 through Nov. 4 in Chicago, Ill. Wodi and one other environmental health professional represented academia among the panelists.
Tiantian Zheng
Tiantian Zheng, Sociology/Anthropology Department, organized a panel and presented her paper at the annual New York Conference of Asian Studies at Vassar College in October.

Submit your faculty/staff activity