Chancellor Launches Education Innovation Center at Cortland
11/14/2014
SUNY Chancellor Nancy L. Zimpher formally launched a new Center of Innovation in Education at SUNY Cortland Friday, creating a regional hub for the advancement and improvement of teacher education.
The new center will offer unprecedented opportunities for the development of current and future teachers and showcase SUNY Cortland's position at the cutting edge of teacher education.
"The Center for Innovation in Education at SUNY Cortland will be a clinically-rich environment where our students – New York's future teachers and school leaders – have access to the latest technologies and most successful educator preparation practices," Zimpher said. "The Center will be a valuable resource site not only for Cortland students and faculty, but for teachers, master teachers and school district leaders throughout Central New York and state-wide.
"With this facility, SUNY reaches an important milestone in our efforts to systematically transform and advance the way public higher education prepares future educators to help prepare the state's pre-k through 12 students for college and career."
Zimpher will join SUNY Cortland President Erik J. Bitterbaum and School of Education Dean Andrea Lachance in leading a panel discussion on the new innovation center from 1:30 pm to 2:30 p.m. in Brockway Hall Jacobus Lounge on campus.
"SUNY Cortland has been a leader in teacher education for nearly a century and a half," Bitterbaum said. "This innovation center will allow us to broaden our role in creating, assessing and sharing the teaching methods and strategies needed to effectively prepare children for success in the 21st century."
The Center for Innovation in Education will be a central resource site for teacher education candidates, education faculty and teachers of all subjects in all grade levels. It will offer research, workshops and enrichment opportunities focused on five core areas that build on work already being done by SUNY Cortland and its partners in the region.
Ultimately, SUNY Cortland – already a major site for the state's Master Teacher Program – will become a regional hub for professional development and a center for discussion and research related to cutting-edge teaching strategies for pre-school children through college and beyond.
"While we call this a "new" center, it really is building on the work we have done for many years but bringing it to a new level," Lachance said. "We are fortunate to have faculty who are very active in local schools and to have regional school and district partners who are committed to helping us prepare the best teachers possible."
The Center's five areas of focus will be:
Evaluation of instructional methods and outcomes
Over the past year, small groups of SUNY Cortland faculty and local teachers began using structured protocols to analyze and evaluate teacher candidate performance on the recently upgraded New York State Teacher Certification Exams. The Innovation Center would expand SUNY Cortland's efforts to use this framework to examine and improve the effectiveness of college instruction in preparing future teachers for the certification exams. Initial center funding would allow collaboration with New York State United Teachers' Education and Learning Trust to expand and develop workshops in this area.
Project-based learning
The College will partner with Onondaga-Cortland-Madison BOCES and regional school superintendents to integrate project-based learning (PBL) into teacher preparation programs. PBL is a teaching method in which students gain knowledge and skills by working for an extended time on a single question or problem. This strategy is being used successfully to meet new Common Core standards in schools and could be used to improve the development of teacher candidates.
Clinically rich teacher preparation
There is no substitute for hands-on, classroom learning, and the center would work to encourage partnerships that provide innovative clinical experiences for prospective teachers. A clinically rich pilot program last year gave 10 SUNY Cortland students year-long residencies assisting in math and science classes at a high-needs school in Binghamton. That program will be continued through the center as a model for future clinically rich teacher education initiatives.
Teacher preparation strategies
SUNY Cortland, home to the largest public teacher preparation program in New York State, will partner with TeachingWorks, a national group aimed at raising standards for beginning teachers, to evaluate whether the education strategies advocated by the group can better prepare teachers for work in New York schools.
Effective communication in science education
The Center will develop a series of workshops focusing on communicating science information to general audiences, including secondary school students. The effort will involve SUNY Cortland's Master Teacher Program, science faculty and teacher candidates.
Faculty from regional elementary and secondary schools, BOCES, local community colleges and SUNY Cortland participated in Friday's launch.
Local Bagel Business Booms for Young Grad
11/18/2014
The inspiration for downtown Cortland's newest booming business was born inside of a SUNY Cortland residence hall several years ago, from an age-old debate pitting the merits of upstate New York against downstate.
Paul Mangiamele '14, then a freshman from Pittsford, N.Y., went back and forth with his Bishop Hall neighbors, who were Long Island natives. They jokingly argued about the quality of pizza and common phrases from their hometowns. Each side claimed superiority.
Eventually, their conversation turned to breakfast foods.
"I thought a bagel was a bagel, no matter where you went," Mangiamele said. "I had no idea what a Long Island bagel was."
Four years later, the downstate product serves as the namesake of the Main Street restaurant Mangiamele opened in October with a childhood friend. But Long Island Bagel might never have opened its doors without the training of a SUNY Cortland business economics course focused on entrepreneurship.
"The class really helped develop a business plan," Mangiamele said. "And the College played a huge role, providing the opportunity to make a former student realize this is possible."
Located at the corner of Main Street and Central Avenue — the former home of Mando Books — Long Island Bagel hosted a constant stream of customers during its first month of operation. The line often stretched to the door and it rarely disappeared completely.
"Our projections said we were going to do 160 customers a day during our first week," Mangiamele said. "And we tripled that."
A grand opening saw 400-plus customers walk through the door followed by nearly 500 the next day. More than 8,000 Long Island bagels were sold during the first week, which prompted two emergency trips downstate for more dough.
That's because the Cortland business relies on an authentic product. A Long Island distributor kettle boils and ships the dough to Central New York, where the bagels then are baked in-house.
"This bagel, it's cooked differently than what you're used to upstate," Mangiamele said. "And people from Long Island have confirmed: this is a genuine Long Island bagel."
The line at Long Island Bagel regularly stretched to the door
during its first month of operation.
Approximately 45 percent of the College's first-year class hails from Long Island. So to win the approval of natives is impressive considering Mangiamele and co-owner Sam Braine grew up near Rochester, N.Y. — a seven-hour car ride from Long Island.
At a young age, the best friends dreamed of one day becoming business partners. They kept a notebook in high school with all of their ideas for services and inventions. They also worked together at the same high-end restaurant in Pittsford.
Braine went on to the University at Buffalo and Mangiamele came to Cortland, originally thinking he would wind up in the medical field. The goal to launch their own business stayed in the back of their minds through college. Then in the fall of 2013, Mangiamele took the first of two entrepreneurship courses taught by Brian Ward, a SUNY lecturer of economics.
"The purpose of the class is to learn how to take an idea and turn it into a business," Mangiamele said. "For Sam and I, it's always been, 'We want to start our own business. Now what?'"
Many students tackle SUNY Cortland's entrepreneurship course purely as an academic exercise, although some come in with a specific goal to start a business, Ward said. Students are tasked with generating several business ideas at the outset and then boiling them down to a handful that small groups can rally around.
Then the work begins.
"They have to do real research to show that a business idea is viable," said Ward, the former chief executive officer of Cortland Line Company, a fishing equipment manufacturer, and a business executive with the American Dairy Association. "Sometimes the research shows that it isn't, and that can be just as valuable.
"You'd rather know that now than $100,000 into an investment."
Mangiamele told his classmates he wanted to be the person to deliver Long Island bagels to Central New York. He convinced a handful to join his team and they started on market research.
"Really, your idea has to transform based on what the market tells you," Mangiamele said.
The classmates learned early on that the bagel idea didn't require many wholesale changes. They set up a blind taste test "against some pretty stiff competition," Mangiamele said. It included national chains and local shops. The bagels — plain across the board — were served without being toasted and included the option of cream cheese.
The winner was clear: 85 percent of the taste testers preferred the Long Island Bagel product.
"If you have proof of concept — if you can prove something is a good idea — you can go on with it," Mangiamele said.
He opted to take the second entrepreneurship course, which is formatted more like an independent study and involves acting on the pre-requisite's business plan. Other classmates stayed on with Mangiamele for the academic exercise but slowly dropped off as he became more interested in bringing the bagel idea to life.
Still, his childhood friend Braine was all in and Ward was willing to act as business mentor in addition to professor. Groups like the Cortland County Business Development Corporation and the Cortland Downtown Partnership also offered support.
When it came to financing their restaurant, they were helped by $2,500 in concept testing funds from an Appalachian Regional Commission Grant. The two young college grads also poured in their own money and relied on a bank loan.
"We learned quickly that if you have a good business idea, the money will come," Mangiamele said. "It was amazing to me that a 22- and a 23-year-old could go to the bank with very minimal collateral and come out with something.
Sam Braine, left, and Paul Mangiamele do it all at their
bagel shop, including work the cash register.
"Good planning was the key, and the course provided us with that."
Still, their success has not come without speed bumps or stress.
Finding the right location took patience, and the construction required to turn a longtime bookstore into a grab-and-go restaurant spanned 11 weeks. Early demand indicated the wait was worth it and then some.
During the first month, Ward has visited the bagel shop regularly to sip coffee and advise his former student. He watched during the opening week as the line snaked out the door, with some first-time visitors stepping out and thinking to come back at a less busy time.
"Some people might say that's a good problem," Ward told Mangiamele, like a coach to an athlete. "That's not a good problem."
There still are some expected early wrinkles to iron out, Ward said. They include aligning demand with adequate staff and sensible hours of operation, as well as perfecting an already diverse menu. Currently, Long Island Bagel is open from 7 a.m. to 3 p.m. seven days a week. The schedule likely will expand to include late-night weekend hours in the future.
"(Ward) is still involved because he has a plethora of advice and business experience," Mangiamele said. "His whole reason for teaching is to bring the real world into the classroom.
"In a way, this is bringing the classroom into the real world."
Long Island Bagel aspires to be something more than just a breakfast and coffee joint, Mangiamele said. It's why he and Braine brought on their longtime friend and former restaurant co-worker Joe Harzynski to craft a unique menu and serve as the shop's general manager.
The result so far has included lunch offerings that rely on Boar's Head deli meat and have proven as popular as the establishment's breakfast options. Then there's the create-your-own cream cheese concept that Long Island Bagel has introduced, which invites customers to customize the exact ingredients in their spread.
"Think Coldstone, but with cream cheese," Mangiamele said, referring to the popular ice cream chain. "The class reinforced the importance of being unique with your product, and this is just another thing that accomplishes that for us."
It's almost as unique as two young 20-somethings — just months removed from their college graduations — having the courage and smarts to start up a successful business in a re-energized downtown.
"When someone says, 'Wow, your food was really good,' or 'Wow, your restaurant looks really nice,' that's satisfying," Mangiamele said. "And to know that you created it yourself, even if it's built around something as simple as a bagel, that's even better."
---
Capture the Moment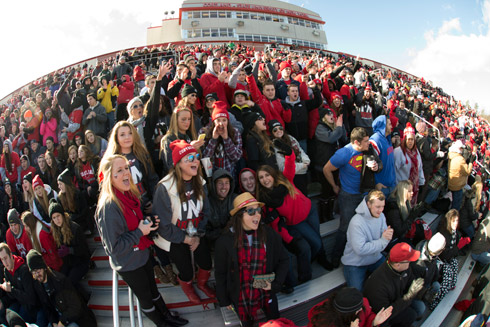 Wild. Improbable. Unforgettable. There are plenty of adjectives to describe SUNY Cortland's thrilling come-from-behind win over Ithaca College in the 56th annual Cortaca Jug football game. A crowd of 8,923 witnessed the Red Dragons claim their fifth straight win in the rivalry, and millions more watched the game's final seconds — a broken-down field goal attempt turned touchdown pass as time expired — on SportsCenter's Top Plays. The ending received national media coverage from Bleacher Report, The Sporting News and several programs on ESPN. It capped a weekend in which students, faculty, staff, alumni and members of the community worked together to take Cortaca back in the wake of last year's unruly behavior.
---
In Other News
Raffle Offers Super-Sized Stocking Stuffer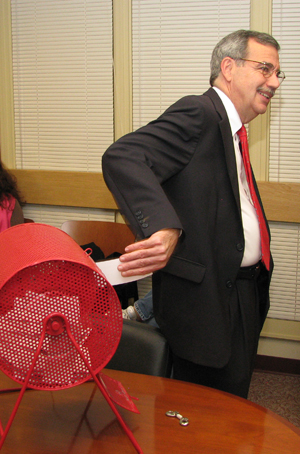 11/18/2014
Black Friday and Cyber Monday deals may have passed, but there's still time to score a big-ticket item for just a tiny fraction of the cost.
SUNY Cortland's annual Super Bowl Raffle offers an expenses-paid trip for two to the big game, which takes place Feb. 1 at University of Phoenix Stadium in Glendale, Ariz.
That means a trip to the warm and sunny Southwest during winter. And this year's deal is twice as sweet because SUNY Cortland is selling raffle tickets for just $50 apiece, or half the cost of a ticket during each of the College's five previous raffles.
This year's drawing will be held Tuesday, Dec. 30, making tickets a great holiday gift option. All entries must be received by Monday, Dec. 22. Sales are open to the public, but participants must be at least 18 years of age to purchase a raffle ticket.
All proceeds support scholarships for SUNY Cortland students.
The grand prize, valued at $4,121, includes two tickets to the game at University of Phoenix Stadium in Glendale, Ariz.; a three-night stay the Best Western Inn and Suites in Youngtown, Ariz.; and $1,000 for travel and other expenses.
The College acquired the tickets through its close ties with the NFL's New York Jets, the team that calls SUNY Cortland its official university partner and summer training camp home. It's the sixth time SUNY Cortland will offer the Super Bowl prize.
Those interested in buying a raffle ticket should send payment — in cash or check — with name, home address, phone number and an email address to Sheila Morse, the financial operations specialist for the Cortland College Foundation, at P.O. Box 2000, Cortland, NY 13045. Checks should be made payable to Cortland College Foundation, Inc.
For more information, contact Morse at 607-753-2532.
College Boasts Pair of Cortaca Victories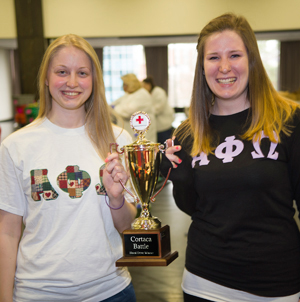 11/13/2014
There's the Cortaca Jug football game, billed as "the biggest little game in the nation" by Sports Illustrated many years ago, which for massive crowds of onlookers yielded a narrow victory for SUNY Cortland on Saturday, Nov. 15, at SUNY Cortland.
Then there's the other, equally committed Cortaca competition between the College and a collegiate foe in Ithaca, N.Y.
The 2014 Cortaca Battle — the one in which students from SUNY Cortland and Ithaca College attempt to score pints of blood, not touchdowns or field goals — has ended.
And for a second year running in the three-year-old competition, the winner's cup goes to the Red Dragons.
SUNY Cortland volunteer students, faculty and staff supplied the American Red Cross (ARC) Binghamton District with 105 units, or 87.5 percent of this year's College goal, during the two-day drive on Nov. 3 and 4 at both schools, ARC officials noted.
Meanwhile, Ithaca College met 78 percent of its own goal.
"I think it's phenomenal that SUNY Cortland won," said Sheila Sullivan, customer service representative the ARC Binghamton District. "I congratulate SUNY Cortland and I also hope they win this weekend."
At SUNY Cortland a service fraternity — the Alpha Zeta Lambda chapter of Alpha Phi Omega (APO) — sponsored the special blood drive in the Corey Union Exhibition Lounge. APO also helps organize and run all other campus ARC blood drives throughout the year, through the Division of Student Affairs.
The fraternity members staffed tables in Corey Union to encourage students to schedule giving their pint of hemoglobin and plasma in advance rather than simply showing up on Nov. 3 or 4. APO also posts signs around campus to inform classmates about the competition.
"They were very, very determined," Sullivan said. She noted that Nancy Brady, the Binghamton District ARC's account manager for donor recruitment, had told her about the team's dedicated effort.
"They just went above and beyond and gave 200 percent," Sullivan said. "They were constantly going out and bringing the kids back in. Without their determination they wouldn't have won. It shows the character and determination of the students at SUNY Cortland."
Ithaca College won the competition in 2012, the Cortaca Battle's first year, when a straight count of blood unit donations determined the winning institution.
The campuses differ in population, so for the most recent two years victory has belonged to the college that achieves the highest overall percentage of its student population goal and grows in participation compared to the year before.
In the 2013 competition, SUNY Cortland met its goal and achieved 75 blood donations, an increase of 20 units over the year before. This year, the College increased its contributions by 30 units.
A second year of victory shows a commitment to the blood drive efforts of the American Red Cross, Sullivan said.
"I wish to extend my gratitude to the volunteers and to all the students who donated," she said.
Student Club Added: Cortland Ice Girls

11/18/2014
Ice Girls combines ice-skating, dance and cheerleading, three favorite things for freshman criminology major Brittany Fialkowski of Bohemia, N.Y. When she came to SUNY Cortland, she decided to launch a club that brings all that to her campus.
The Cortland Ice Girls were officially added as the 35th member of the Sport Club Program at SUNY Cortland when they were unanimously voted into existence on Oct. 8.
The club's goal is to create a unique, spirited experience for the fans. Ice Girls deal with game day operations, interact with fans and put on performances. Their public debut will be on Sunday, Nov. 23, for the Men's Club Hockey game against SUNY Oswego at 3 p.m. at SUNY Cortland's Park Center Alumni Arena.
Fialkowski explains how she conceived of the club.
"At home I practically lived at my ice rink. I would see every single Stony Brook (University) hockey game, look into the stands and see these Ice Girls performing for the crowd. From that moment I wanted to be them."
Fialkowski was disappointed when she came to the campus this fall and saw that there wasn't an Ice Girls club. So she started it herself.
"I never got the chance to do all three things at once when I was a kid," said Fialkowski, a Long Island native. "Dance took over everything. But now I get the chance to do all three."
Trying these three activities all in one is a "definite" reason for the Ice Girls, said Fialkowski.
The 13-member club of first-year students, sophomores and juniors will be adding a whole new spirit section at the Men's Club Hockey games. They perform on the ice in between the second and third periods of the games, and remain in the stands for the rest. They dance and cheer during face offs and when Cortland scores as well.
Members of the club hope to participate in men's varsity hockey games in the near future as well.
For more information about the club, or to join the club, contact Fialkowski.
Prepared by Public Relations Office intern Paul Barchitta
College-Community Orchestra to Perform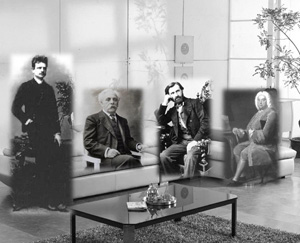 11/05/2014
SUNY Cortland's College-Community Orchestra will perform classical music by the composers Fauré, Handel, Sibelius and Verdi, on Tuesday, Nov. 18, at the College.
Presented by the Performing Arts Department, the concert titled "Tell Me a Story" will begin at 8 p.m. in the Dowd Fine Arts Center Theatre.
The event is free and open to the public.
Ubaldo Valli, a SUNY Cortland lecturer of performing arts, will conduct the orchestra.
The Choral Union, an ensemble under the musical direction of David Neal, professor of performing arts, will join the concert to sing choruses from Handel's Messiah.
The event is supported by the SUNY Cortland Auxiliary Services Corporation.
For more information, contact the Performing Arts Department at 607-753-2811 or visit the website at cortland.edu/performingarts.
'The Third Man' Continues 'Rubble' Film Series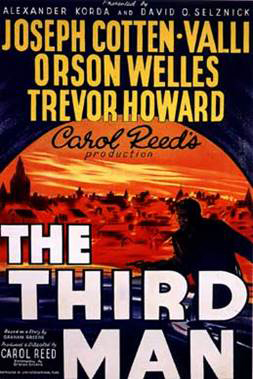 11/17/2014
The tense and morally unsettling 1949 British film noir classic, "The Third Man," will be shown Tuesday, Nov. 18, continuing SUNY Cortland's "Rubble Films: Classics of Post-1945 European Cinema" series.
Presented by the College's Project on Eastern and Central Europe (PECE) and the History Department, the movies depict the World War II aftermath, also known as "Europe — Year Zero," set amid the rubble of postwar Europe. They are intended to engage students and colleagues across the College, whatever their background or discipline.
"The Third Man," directed by Carol Reed, will be shown at 7 p.m. in Sperry Center, Room 104.
The screening features an introduction and post-film discussion with PECE series organizer, SUNY Cortland Distinguished Service Professor Henry Steck, a professor of political science, and Scott Moranda, an associate professor in the History Department.
One of the great thrillers of film history, "The Third Man" was selected by the British Film Institute as the number one British Film of the 20th Century.
Starring Orson Welles, Trevor Howard and Joseph Cotten-Valli, the flick is set in a bleak post-1945 Vienna during the period of four-power occupation.
"It shares with the other films in our Rubble Film series a bleak vision of post-war Vienna," Steck said. "Here is occupied Vienna living with the rubble of the war, with people adrift in the war's aftermath, with black market and deep corruption, and with early signs of Cold War tensions. "
Welles and Cotten-Valli play two Americans — the one hopelessly naïve, the other hopelessly corrupt and cynical. The scene is set with these opening words from Holly Martens (Cotten-Valli): "I never knew the old Vienna before the war, with its Strauss music, its glamour and its easy charm. I really got to know it in the classic period of the Black Market. Boots, stockings, cigarettes and watches exchange hands. They could get anything if people wanted it enough and had the money to pay."
And, he might have added, human life counted for very little. "The Third Man" remains an iconic film of this period of rubble, espionage and corruption and perhaps resonates with film buffs that might answer a recent New York Times ad for a Berlin-Vienna "espionage" tour where travelers tour key sites from "The Third Man."
"'Rubble' is also a metaphor for the damage to people and societies and for the chaos and uncertainty that shaped their shattered lives," Steck said.
"The films were not only set in 'rubble' but were often made by filmmakers working in conditions that gave their films an authentic and gritty realism," Steck said. "And beyond their historical and cinematic importance, the films provide an opportunity for audiences to reflect on the reconstruction of war-torn and occupied countries more generally."
The film series is co-sponsored by the Political Science Department, the Clark Center for International Education, the International Studies Program, the International Programs Office and the Auxiliary Services Corporation.
For more information, contact Steck at 607-753-4807.
Advocate for Colombians Speaks Nov. 19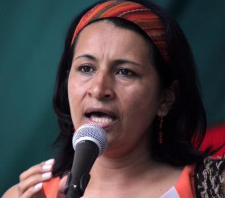 11/14/2014
Born into a poor family of five in the state of Cauca, Colombia, Marylen Serna now serves both as a leader and spokesperson for farmers and other rural people in her native country.
Serna, a co-founder of the Movimiento Campesino de Colombia, or Small Farmers Movement of Colombia, will discuss her work during two seminars on Wednesday, Nov. 19, at SUNY Cortland.
Both talks are free and open to the public.
Serna will present a sandwich seminar called "The People's Congress of Colombia: Voices at the Table" at 12:30 p.m. in Brockway Hall Jacobus Lounge.
Her second lecture, titled "The People's Congress of Colombia: Voices at the Peace Table," begins at 4:30 p.m. in Sperry Center, Room 205. The discussion will be bilingual with Spanish and listening interpretation. The event targets those interested in studying modern languages.
Marylen Serna
"She will speak on positive organizational strategies and the involvement of civil society in the peace talks currently underway in Colombia," said organizer Colleen Kattau, associate professor and graduate coordinator of Spanish, of the latter seminar.
Serna began her career teaching in the country's Agriculture and Forestry Institute. She later took on a role as a leader with Colombian women's organizations and a worker on community development projects.
In the early 1990s, Serna helped found Small Farmers Movement of Colombia, an organization of peasants in a small town of the Cauca region. Members seek to train themselves politically to mobilize and advocate for the transformation of the precarious life conditions of their communities.
"Soon after its founding, the organization and Marylen participated in a national level protest that was repressed by the national police force," Kattau noted.
Twenty-four people were taken prisoner, including Serna. In 1999 the organization again took part in a major protest, the Mobilization of the Colombian Southwest. Serna helped coordinate this protest, which called for respect of the social, political, economic and cultural rights of the people in three states.
Serna also serves as a national spokesperson for the Colombian Congreso de los Pueblos, or People's Congress, as well as for other communities.
"The Peoples' Congress is composed of organizations that have resisted the effects of economic policies, the armed conflict and, in general, the dominant economic, cultural and political model," Kattau said.
The People's Congress has successfully brought together diverse groups within Colombia — indigenous, Afro-Colombian, students and urban sectors, according to Kattau. This in turn is having a major impact not only on the peace talks but also on the future direction of Colombian society.
The right to remain on the land is a primary goal for the organizations, Kattau said.
Before the peace talks in Colombia, these communities and movements weren't able to voice their opinions, she said.
"It is because of people like Marylen Serna, who is a voice to the community, that steps to a better future are made," Kattau said. "Now, they are even able to meet with the president on issues."
The talk is sponsored by a Campus Artist and Lecture Series grant, the Latino-Latin American Studies Program, the Center for Ethics, Peace and Social Justice, and the Modern Languages and Geography departments.
For more information, contact Kattau at 607-753-2025.
Prepared by Public Relations Office intern Victoria Lewis
Diplomat of Romania will Discuss Experiences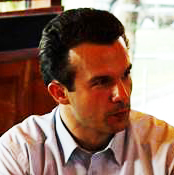 11/18/2014
Working diplomat Ionut Lacusta will share his experiences in being a Romanian native as well as details about his remarkable career, during two presentations at SUNY Cortland on Nov. 20 and 21.
A graduate of Georgetown University School of Foreign Service with an M.A. in security studies, Lacusta is visiting the campus while he pursues an M.A. in public administration at the Harvard Kennedy School of Government.
On Thursday, Nov. 20, Lacusta will address "1989-2014 Berlin Wall to Ukraine from Cold War to Cold War" at 4:30 p.m. in Moffett Center, Room 2125. A reception will follow in Moffett Center Lobby.
On Friday, Nov. 21, he will discuss "Working as an International Diplomat" at 12:45 p.m. in Old Main, Room 230. The talk targets international studies majors as well as anyone who is interested in learning more about an international career.
Both seminars are free and open to the public.
Regarding the first lecture, organizer Alexandru Balas, an assistant professor of international studies and director of the Clark Center for International Education (CCII), noted that 2014 marks 25 years since the fall of the Berlin Wall and the end of Communism in Central and Eastern Europe.
"A native of the region, Lacusta will assess the Democratic changes that occurred in the past quarter of a century in Central and Eastern Europe and beyond," Balas said.
In the second talk, Lacusta will inform the audience on the skills and tools needed to be a diplomat, as well as what to focus on during their college years, Balas said. He also will explain what it is like to work as a diplomat and its challenges and benefits.
"He is a former foreign policy advisor for the offices of a legislative speaker and the head of state and served as a foreign affairs advisor to the President of the Chamber," Balas said. "In addition to foreign policy, he covered energy security and infrastructure development with national and European Union institutions."
The presentations are sponsored by the International Studies Program, the CCII, the Project on Eastern and Central Europe, the Political Science Department, the International Programs Office and the Campus Artist and Lecture Series.
For more information, contact Balas at 607-753-4823.
Eastern European Style Music Offered Nov. 22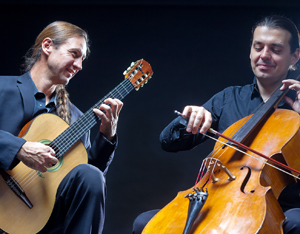 11/04/2014
The Richter Uzur Duo will perform a concert that features elements of classical music, rock and Eastern European folk, producing a sound that is all their own, on Saturday, Nov. 22, at SUNY Cortland.
The pair, which features Brad Richter on guitar and Viktor Uzur on cello, will share their native sense of vernacular, integrity and charm, starting at 7 p.m. in the Corey Union Exhibition Lounge.
Presented by the College's Campus Artist and Lecture Series (CALS), admission to the show is free for SUNY Cortland students with College I.D. and children ages 10 and under. The general admission charge is $5. Tickets may be obtained through the Campus Activities and Corey Union Office, Corey Union Room 406, weekdays from 8:30 a.m. to 4 p.m., or at the door one hour prior to the performance. For more information, call 607-753-5574.
The duo offers a signature repertoire that pairs exquisite originals with blazing improvisations and iconic works by composers such as Bartok, Gershwin, Rimsky-Korsakov and Saint-Saens, as well as Freddie Mercury, The Beatles and Led Zeppelin.
Trained in two of the world's most lauded musical institutions — Richter at the Royal College of Music and Uzur at the Moscow Conservatory — Richter and Uzur are consummate performers and accomplished composers, each having played around the globe to critical acclaim and international awards.
"Effortless precision and musicality ... Playful yet stunning," a Guitar International reviewer wrote. "Tremendous virtuosity from both cello and guitar," observed Fred Child, a Performance Today critic. "Serious musicianship that doesn't take itself too seriously," noted a Fanfare Magazine observer.
The duo has been featured regularly on "Performance Today," America's most popular classical music radio program.
Their signature repertoire pairs exquisite originals with blazing improvisations and iconic works by composers such as Bartok, Gershwin, Rimsky-Korsakov and Saint-Saens, as well as Freddie Mercury, The Beatles and Led Zeppelin.
For more information about the Richter Uzur Duo, visit the website at richteruzurduo.com. For information about this or other CALS events, visit the website.
Handel's 'Messiah' Concerts Set for Dec. 5 and 7

11/18/2014
SUNY Cortland's Performing Arts Department is engaging in a town-gown collaboration to bring two holiday season performances of George Frideric Handel's "Messiah" to the Cortland community on Friday, Dec. 5, and Sunday, Dec. 7.
The College is working with The Arts at Grace to offer the concerts, featuring SUNY Cortland's Choral Union, a quartet of promising New York soloists and a remarkable professional orchestra drawn from Central New York.
Both concerts will take place at Grace and Holy Spirit Church, 13 Court St., beginning at 7:30 p.m. on Dec. 5 and at 3 p.m. on Dec. 7. The performances are free and open to the public.
The concerts will feature soprano Sarah Shaiman, a junior musical theatre major at SUNY Cortland. Always immersed in music and theater, Shaiman formally studied classical, jazz and musical theater repertoire during high school. At the College, she had memorable roles in "Candide," "Wicked," "Brigadoon," "The Rocky Horror Picture Show," "Rockabye Hamlet," "A Christmas Carol" and "Spring Awakening."
Also performing will be mezzo-soprano Allie Tamburello, a senior at Cortland completing a degree in musical theatre. She has appeared at the College in many main stage musicals as well as sung at some of New York City's well-known cabaret and jazz clubs including The Metropolitan Room, The Duplex and Don't Tell Mama.
Tenor Nathaniel McEwen, who is pursuing a master's degree in performance at the Eastman School of Music, also will appear. While an undergraduate at Cornell University, he was tenor soloist in several major works and sang selections at a concert for university donors at Alice Tully Hall in New York City. At Eastman, McEwen has been the tenor soloist with the Rochester Philharmonic, the Eastman Philharmonia and the Cayuga Chamber Orchestra. He made his operatic debut in Eastman Opera Theatre's recent production of Britten's Albert Herring.
Rounding out the soloists is Emmanuel Sikora, a native and current resident of Cortland, who holds a degree with a concentration in composition from Queens College (CUNY) Aaron Copland School of Music. He recently earned a Masters in Music Composition with a Certificate in College Teaching from Binghamton University. Sikora has sung with the Choral Union since 2001.
David Neal, the artistic director for the concerts, is a professor of performing arts at SUNY Cortland. A graduate of Cornell University and the Peabody Conservatory of Music, he has performed as bass-baritone soloist with many opera companies nationally and internationally.
The Arts at Grace is a community outreach of Grace and Holy Spirit Church supported by many individuals, businesses and foundations from the greater Cortland community. The series currently receives funding through CNY Arts and the New York State Council on the Arts and the Wilkins Foundation. For more information, call 607-753-3073 during business hours.
College Singers to Offer 'Night Life' Music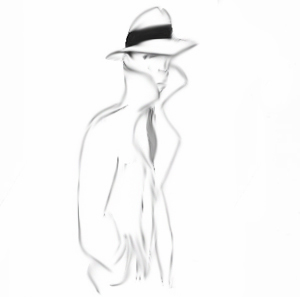 11/14/2014
SUNY Cortland's College Singers will perform a program of excerpts from Broadway shows including "A Little Night Music," "City of Angels," "West Side Story," "The Addams Family," "Chicago," "West Side Story" and "Guys and Dolls" on Thursday, Nov. 20, at the College.
Presented by the Performing Arts Department, the concert titled "Night Life" will begin at 8 p.m. in the Dowd Fine Arts Center Theatre.
The event is free and open to the public.
David Neal, SUNY Cortland professor of performing arts, will conduct the program, with Richard Montgomery at the piano. Guest jazz saxophonist Don Slatoff, based in Ithaca and Manhattan, will join the ensemble on the "City of Angels" set.
The event is supported by the Student Government Association.
For more information, contact the Performing Arts Department at 607-753-2811 or visit the website at cortland.edu/performingarts.
ASC Program Grant Applications Due Feb. 20
Auxiliary Services Corporation (ASC) is now accepting Program Grant applications online for the 2015-16 academic year.
Applications are submitted online and must be sent by midnight on Friday, Feb. 20. Applicants are asked to read the grant guidelines carefully before submitting an application.
Each year the ASC Board of Directors allocates funds to support grants for a wide range of purposes and projects that enhance the life of the SUNY Cortland community.
Although ASC is willing to consider a wide range of ideas, it seeks to avoid duplicating other funding sources or funding projects more properly supported by state funds. Therefore, applicants should first seek funding from primary funding sources.
ASC grant funds may not be used for salaries, honoraria, travel normally funded by the College's budget, or scholarships for SUNY Cortland faculty, staff or students. Funds may not be used to purchase computers, related hardware or software. All purchases will be processed in accordance to ASC's financial and related GAAP policies. In general, Program Grant funds may not be used exclusively for food for SUNY Cortland students, faculty or staff. Funding for food may be considered if the food is deemed integral to the success of the program or event. All food shall be provided by ASC. Other grant guidelines are described in the application package and online.
For more information, contact Annette O'hara at 607-753-2761.

Suggest a feature story
---
Faculty/Staff Activities
Ray Cotrufo and Justin Lovich
Ray Cotrufo and Justin Lovich, Sport Management Department, each successfully defended their dissertations and earned their Ph.Ds. Cotrufo's topic was "Examining the Influence of Ethical and Authentic Leadership Behaviors of NCAA Division I Athletic Directors." Lovich's dissertation was titled, "'Unprecedented': A Study of the National Football League's Regulation of Labor through Punishment."
Timothy Delaune
Timothy Delaune, Political Science Department and pre-law advisor, had a peer-reviewed chapter published in the special issue on law and the liberal state, volume 65 of the book series Studies in Law, Politics and Society. His chapter, "Jury Nullification: An Illiberal Defense of Liberty," examines the practice of American juries in criminal cases acquitting clearly guilty defendants as an exercise of democratic political power contrary to the liberal order, in accordance with the political theory of Carl Schmitt.
John C. Hartsock
John C. Hartsock, Communication Studies Department, recently spent 10 days in China lecturing on American literary journalism, investigative journalism and media law. Hartsock was invited by the School of Journalism and Communication at the South China University of Technology in Guangzhou from Oct. 21 to Nov. 1. In addition, Hartsock participated in a translation workshop in which students are translating his History of American Literary Journalism into Mandarin Chinese.
Patricia Roiger
Patricia Roiger, Childhood/Early Childhood Education Department, presented "Toddler Tales: Mothering Toddlers Brings Challenges and Pleasures Like Nothing Else. Tips, Tricks and Strategies to Navigate Gentle Discipline, Extended Nursing, Weaning and More" at the New York State La Leche League Conference, held Nov.7-9 in Syracuse, N.Y.
Tadayuki Suzuki
Tadayuki Suzuki, Literacy Department, presented "Still Missing: How Should Teacher Educators Include LGBT Family-themed Picture Books in Curricula for Primary Grades?" at the National Association for Multicultural Education's annual conference on Nov. 14 in Tucson, Ariz.

Submit your faculty/staff activity