College and Community Prepare for Cortaca Jug
10/09/2014
For more than half a century, the football teams of SUNY Cortland and Ithaca College have played an annual rivalry game unlike anything else in Division III athletics. Sports Illustrated once described the rivalry as "the biggest little game in the nation." It's a distinction that students, alumni, guests and community members celebrate with pride.
That pride dimmed in the wake of the unacceptable behavior that erupted in Cortland during Cortaca weekend 2013. Following that disappointment, College and community representatives promised to take steps to prevent that situation from ever occurring again. They have kept their word.
With Cortaca Jug 2014 scheduled for Nov. 15, a little more than a month away, much has been done to ensure this year's weekend is fun, memorable and safe, including many of the recommendations outlined in a report by a special College and Community Commission created to address the problem.
A 13-member steering committee chaired by Kevin Pristash, director of SUNY Cortland's Student Union, and Matt Whitman, project manager for the Cortland Area Communities That Care Coalition, is coordinating the initiatives. They include:
Increased police presence. More police officers from Cortland and surrounding departments will be deployed throughout the weekend. Officers will begin patrolling much earlier on game day and the arrest process has been streamlined to keep more officers on the street. Officers with the New York State Liquor Authority are expected in Cortland during Cortaca Jug weekend to vigorously prosecute underage alcohol sales.
Advance warning. Officers have gone - and will continue to go - door-to-door at off-campus student residences, educating students about unacceptable behavior and warning of the consequences. This approach was successful in moderating behavior surrounding Spring Fling 2014. All students who live on Clayton Avenue will receive a letter of warning from the College, and the parents of those students will receive a written request from the College asking that they be aware of their child's behavior over Cortaca Jug weekend.
New legal tool. The Cortland City Council approved a social host ordinance that gives local law enforcement leverage against house parties that it didn't have in 2013. Officers can now arrest the host or hosts of any party at which an underage person is served alcohol. In conjunction with the city's nuisance party ordinance, this proved to be an effective tool during Spring Fling.
Increased fines. The city raised the penalty for first-time offenders to $100 for violating ordinances related to consumption of alcohol in public, possession of an open alcohol container, disorderly conduct, urination in public and unsanitary disposal of trash.
Additional events. The College is building a series of complimentary events around the Cortaca Jug football game that provide an alternative to alcohol parties. In addition to the annual Cortaca Mug event the night before the game, the Student Government Association is hosting a dance party featuring The White Panda with big-ticket prizes on Saturday evening after the game. Other events are in the works for the morning before the game and the weekdays leading up to Cortaca Jug weekend. A full listing will be released soon.
Social media monitoring. College officials and city police are monitoring the social media feeds that encouraged some of the more outrageous behavior from 2013. That monitoring recently resulted in an investigation of a downtown property damage incident. The College is working to make students aware that social media is not as anonymous as they think, and that offensive Internet postings can delay, or end, careers.
Targeted messaging. The College is reaching out to various groups with messages aimed at encouraging participation in Cortaca Jug celebrations while discouraging disrespectful or destructive behavior. A new webpage will go live within the next week that gives an overview of the Cortaca Jug and its history and provides buttons for students, alumni, community members and visitors to find information tailored to their needs. The key message is one of respect and responsibility, but the task force realized different messages would resonate with different audiences and this is an attempt to reach the different targets effectively.
Local bars. The College and the city are finalizing a voluntary agreement with local tavern owners to promote responsible practices and curtail unacceptable marketing practices. The document is patterned after a similar agreement between the Village of New Paltz and its tavern owners that has met with success.
T-shirts. The SUNY Cortland Alumni Association is sponsoring a student T-shirt contest aimed at promoting a positive message about Cortaca and offering an alternative to some of the offensive T-shirts that have been popular in recent years. A total of 38 entries were received. The College plans to work with Ithaca College to enforce the institutions' joint trademark ownership of Cortaca and legally prevent the sale of unauthorized "Cortaca" apparel.
Faculty and staff. Because of the influential role they play in students' lives, SUNY Cortland faculty and staff will be encouraged to engage students - to the extent they are comfortable - in discussions of alcohol abuse, student behavior, community respect, etc. General guidelines for these voluntary conversations will be available soon.
Student culture. The College is committed to positively altering the student culture at SUNY Cortland through education, awareness, peer pressure and a greater understanding that all actions have consequences.
This semester, the College worked with CACTC to implement a "Majority Rules" campaign, which seeks to show students that most of their fellow students are not engaged in the outlandish, inebriated behavior often celebrated on the Internet. Dozens of T-shirts with tips on how to "Party Smart" have been distributed and a SUNY Cortland webpage for the initiative will be live soon.
Also this semester, the Student Conduct Office sponsored a national speaker on alcohol abuse that drew more than 450 students to a program titled "Solo Cup Culture: Minimizing the Risks of an Alcohol-Soaked Campus Climate." The speaker focused on each person's responsibility to both look out for the welfare of their friends, and to say something to friends when they see behavior that they don't agree with or that could harm someone.
The message of looking out for friends and helping control friends' behavior is also the foundation of campus messaging efforts involving sexual abuse, bias speech and other important issues. Students will produce a video message about this that will be shared through social media.
Indian Orphanages to Benefit from College's Award
10/09/2014
The first time Jena Nicols Curtis visited India in 2008, the SUNY Cortland associate professor of health promised herself that she never would return.
For Curtis, a well-traveled health educator, the sights around her seemed almost too much to comprehend: toddlers picking through towering garbage piles for food, children working dangerous construction jobs on roadsides, entire families living in cramped storage garages without windows.
"There was just so much to do and I had no sense how I could even start to address those things," said Curtis, who made the initial trip as a guest of the International School Association of India to assist in the development of AIDS teaching curriculums. "Then I got out and I did what I tell my students to do, which is to reflect on the experience and try to make sense of it."
The odyssey inspired a three-week pilot study this summer in which Curtis and senior community health major Nicole Miller considered and compared the specific health needs of orphans in India's rural and urban areas. Their work, in turn, laid the foundation for an award-winning project that will take up to 10 SUNY Cortland undergraduate students to Indian orphanages in the summer of 2015.
Six years and three trips after her initial journey, Curtis is the recipient of SUNY Chancellor's Award for Internationalization for a proposal that will rely on undergraduate field research to investigate physical and emotional health in two locations in India. The project is one of four selected to receive the $4,000 award from among a SUNY-wide pool of applications.
The purpose of the honor is to offer students new academic experiences abroad. Curtis said the College will use all of the funding to defray student costs for the trip.
"This is the sort of experience that everyone should be able to have, regardless of financial background," she said.
If Curtis' most recent research work with Miller serves as an indicator, future trips should prove transformative for both for Indian children and the College students. Curtis recalls an old expression, often repeated in India, that asks the best way to eat an elephant. The answer? One bite at a time.
Nicole Miller, a senior community health major from East
Northport, N.Y., and Jena Nicols Curtis, an associate
professor of health, sit atop Dolphin's Nose in India, a
huge rock land resembling the shape of a dolphin's nose.
Along those lines, future SUNY Cortland groups will target smaller projects that look to make a collective impact in Mangalore, a coastal city with a population similar to Boston's, and in Kodaikanal, a much more rural area in the mountains of southern India with a population closer to that of the city of Cortland.
"Instead of doing what we refer to as drive-by research, where you go in, you do something and you never come back again, we're going to have a sustained presence in these two places," Curtis said. "So we'll be able to see: here's what it was like when we started, here's what it's like now and here's the journey we still have."
When they started, Curtis and Miller performed what's known as a needs assessment to determine the physical and emotional health of the Indian children. They arrived knowing that the term orphan carries slightly different meanings in the two places. In the city of Mangalore, orphans are children whose parents have died. In Kodaikanal, however, they are tribal children separated by a four-hour walk from their families for 11 months out of the year. Their parents opt to give them up because orphans receive adequate food, medicine and shelter at a children's home, and that is something many parents are unable to provide while living in the hill country without running water or electricity.
As is the case with many worthwhile research projects, the SUNY Cortland pair discovered things they hadn't expected.
"We went in there thinking we were going to see all these very sick children and help all of these people," said Miller, who hopes to continue on to nursing school after graduation. "When we got there, they were happy, they were laughing and they were healthy for the most part.
"I learned there's a lot more to research than what you can anticipate."
In both locations, many of the orphans showed irreversible signs of malnourishment from when they were babies. Their physical health today, however, is relatively good. The orphans in the city benefit from a relationship with St. Aloysius College, a Jesuit institution in Mangalore. A local doctor manages the children's home in rural Kodaikanal.
A closer look at the children, particularly those in the hill country, showed that there's plenty of work that can be done to improve their well being. The effects of encroachment and squatting on their land, in addition to excessive amounts of trash and broken glass, were noticeable, Curtis said. So was the children's emotional state when asked about their parents far away.
Miller poses with tribal children in Kodaikanal. Curtis
is pictured with the children at the top left of the page.
"Physically, they're healthy," Curtis said. "Emotionally, they're very worried about their families back home.
"Really, what these tribal children need in addition to space and a place to be children is someone to address the health of their families long-term."
Adults die relatively young in the tribal lands, many times of treatable illnesses, Curtis said. A high rate of heart disease also exists. Usually, the only communication tribal children receive is emergency-related news about their families.
"On the outside, they're happy and healthy," Miller said. "But what do you do for a kid who only receives a phone call when someone dies?"
Eventually, Curtis hopes to build enough trust with the tribal people to improve the physical and emotional health of entire families. The first bite of the elephant this summer, however, likely will involve physical work such as clearing garbage and painting projects in the hills and delivering necessary supplies to the city. More needs assessments also will make up the research components of the trips, Curtis said.
She's targeting eight to 10 students from any discipline for this summer's trip. Although the SUNY Chancellor's Award for Internationalization offers funding for just one year, the India program will become a regular offering through SUNY Cortland's International Programs Office.
"I realized I needed to bring more students back, not just because it would be life changing for them, but because watching the children interact with Nicole gave me a whole level of information I couldn't get any other way," Curtis said.
In Kodaikanal, the tribal children referred to Miller as "sister" and Curtis as "auntie." And in Mangalore, they embraced the SUNY Cortland researchers in the same way. Curtis recalled a simple game that Miller played with the city orphans, where she would say an English word and they would point to the object. When she said "shoe," for instance, they would point to their feet.
When she said "family," a young boy reached his arms as wide as he could and wrapped them around several other children.
"That was very powerful," Curtis said. "I knew at that moment, 'There are some things we can help with, and these kids are going to be OK.'
"And hopefully each summer, we'll be able to take another bite out of the elephant."
---
Capture the Moment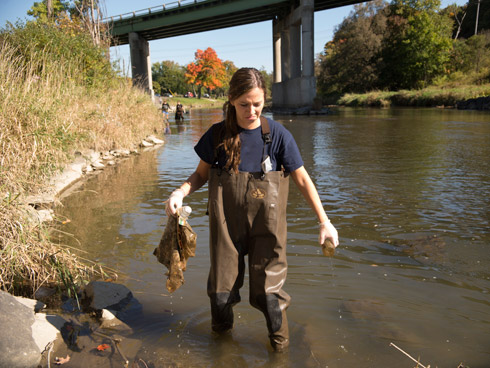 Kelsey Reardon, an international studies: international health major, grabs debris from the Tioughnioga River as part of the Cortland County River Cleanup held on Sept. 27. The annual event, sponsored by the Cortland County Soil and Water Conservation District, encourages teams to volunteer to remove trash and debris from local waterways. The College's Geology Club and Environmental Club were among the members of the community who showed up on this sunny fall morning.
---
In Other News
College SCEMS Club Engages the Community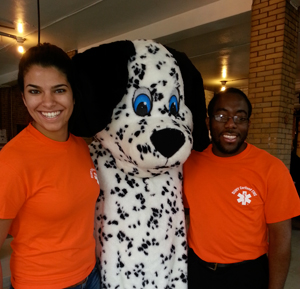 10/09/2014
Last weekend, members of SUNY Cortland's Emergency Medical Squad (SCEMS) took a break from their normal on-campus duties to fit toddlers and pre-teenagers into pint-sized firefighter suits at the Great Cortland Pumpkinfest.
The student-run volunteer group's participation in the annual event, which ran downtown Oct. 4 to 5, is just one of the ways in which SCEMS is positively involved in the community.
The club for many years has worked closely with the City of Cortland Fire Department not only to drum up support and membership during community events, but to plan an annual, special training involving a mock "mass casualty" event right on campus — from an "active shooter" incident at Moffett Center to a "gas explosion" at Park Center.
"We've been working with the city firefighters long before any of us came here but from now on we're going to get more frequent updates on future events," explained Cristina Braun, the 60-member club's captain and a senior community health major from Floral Park, N.Y.
In the city firehouse during Pumpkinfest, Cortland SCEMS club members helped youngsters try out small emergency outfits and demonstrated the lifesaving techniques they are learning.
Braun, as well as SCEMS' chief Michael Beierle and assistant chief Nicolas Grossmann, have an unusual level of commitment to their club.
"We're a club but we're also a New York state agency. We ask members for two 12-hour shifts in a month's time," Braun said, noting that officers spend Sunday evenings training and attending meetings. "But beyond that it all depends on how committed you want to be."
The club is always recruiting for an enterprise that literally never sleeps, explained Grossmann, a senior psychology major from Miller Place, N.Y.
"I think the highest number of members we've had is 80," said Beierle, a senior biology major from Calverton, N.Y.
And new members don't need to already be certified in cardiopulmonary resuscitation (CPR)/first aid or as emergency medical technicians.
"We have instructors to help our members become CPR and first aid-certified," Braun said.
On Nov. 8, SCEMS will host a CPR and first aid class open to all students of SUNY Cortland at Cortland Regional Medical Center.
Some 15-20 members helped out in shifts at Pumpkinfest, familiarizing the public with SCEMS uniforms and demonstrating blood pressure, splinting equipment and other tools.
"We helped the children put on and take off the little firefighter outfits and demonstrated CPR technique on mannequins," Braun said.
The College's EMS talent will again be on display when the club collaborates with TLC Ambulance and offers its metal detectors and sharp eyes at key city locations to help families look out for malicious candy tampering among their children's Halloween treats.
The officers enjoy those social interactions in the community, but they are quick to point out that members in this particular club have a higher purpose.
"I was inspired to work in emergency medical services by my uncle, who is a career paramedic and a deputy chief for the Fire Department of New York," Braun said.
"I enjoy helping others when they need someone most," she said. "Working in emergency medical services lets me make a positive impact in many people's lives and give back to others in ways many people cannot."
Geology Club Joins River Cleanup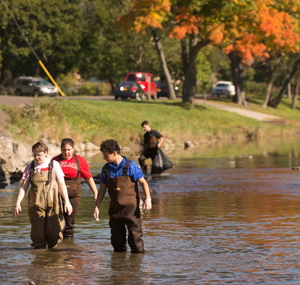 10/09/2014
Members of SUNY Cortland's Geology Club put on waders and hopped in the Tioughnioga River on Saturday, Sept. 27, for a reason other than scientific exploration.
Eight students from the club, as well as one student's daughter, participated in the annual Cortland County River Cleanup to remove trash and debris from the water for approximately two hours that morning.
"We use the river a lot for classes," said one Geology Club member, senior geology major John Wiant of Romulus, N.Y.
Geology Club members helped each other don the bulky hip waders in preparation for walking into the Tioughnioga River for a cleanup on a beautiful, fall morning.
"We are trying to leave the river better than it was when we started," he added.
"When we go out and work in the area we can actually see the difference it's made," added Shawn Taylor, Geology Club vice president and the leader of Saturday's club group.
"The event provided a great way to get everyone involved and working together," said David Barclay, professor and chair of geology and the Geology Club advisor.
Usually the river is a familiar place for the prospective geologists to study hydrology with Assistant Professor Li Jin.
"In this class, we do a semester long study," Wiant said. "During lab, we collect various types of hydrological data such as current, depth and transects of the river and chemical composition of dissolved solids in the water, from the West and East Branches of the river."
The community event is held annually by the Cortland County Soil and Water Conservation District. Participants form teams and remove refuse from a particular portion of a stream, pond or lake. They then choose to deposit the trash collected at a designated drop off point or at the Conservation District office.
Six members of the College's Environmental Club also were involved in the cleanup, as well as other groups and members of the community.
"We weren't expecting as many people to be there, so it was very rewarding to see so many people helping out," said Taylor of Johnson City, N.Y.
"For us as students, being able to keep the area we live in, for months at a time, clean is something to be proud of," Taylor said. "At the same time, it's a way to show the permanent Cortland residents that the student body cares about the town as much as they do. Any chance to give back to Cortland — whether it's through a simple cleanup or whatever the case — should be actively pursued."
Prepared by Public Relations Office intern Victoria Lewis
Akshara to Perform Indian Percussive Sound Oct. 12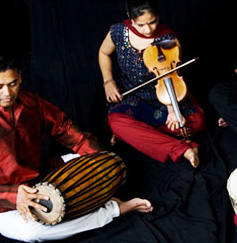 10/02/2014
Akshara, an up-and-coming, percussion-based ensemble rooted in Indian classical musical traditions, will perform Sunday, Oct. 12, at SUNY Cortland.
Presented by the College's Campus Artist and Lecture Series (CALS), the group will begin at 3 p.m. in the Corey Union Function Room.
Admission is free for all SUNY Cortland students and children ages 10 and younger. The general admission charge is $5. Tickets can be obtained through the Campus Activities and Corey Union Office, Corey Union Room 406, weekdays from 8:30 a.m. to 4 p.m. or at the door one hour prior to the performance. For more information, call 607-753-5574.
Bala Skandan composed the original pieces for Akshara that demonstrate the powerful and complex rhythmic structures that are characteristic of South Indian classical music. The leading instrument used in the group's performance is the mridangam, a double-barreled drum played with both hands to produce a deep, rich tone.
Akshara performs on numerous other percussion instruments that contribute to the ensemble's unique sound. These include the tabla, which is primary in the Hindustani tradition; the kanjira, a South Indian frame drum with a bass tone; morsing, an Indian version of the jaw harp; and konnakkol, a form of vocal percussion. Melodic accompaniment is provided using carnatic violins, cello and flute.
Members of Akshara perform on a variety of traditional percussive instruments.
"The percussionists were brilliant," critiqued Dawoud Kringle, a solo musician on the sitar, of the group's work. "Akshara has proven themselves to be master musicians, whose work is exemplary of beauty and sublimity."
The performance enables the College to fulfill key institutional missions to promote the cultural and social well-being of all community members and provide a transformational education.
More information on Akshara can be found in its website.
Prepared by Public Relations Office intern Paul Barchitta
Open House to Showcase Campus Oct. 13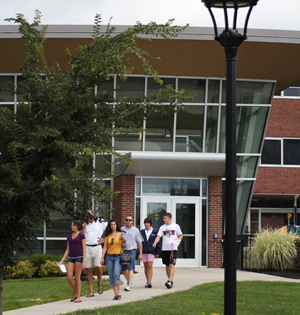 09/30/2014
More than 600 prospective college students are expected to spend a day visiting academic departments, touring the campus and talking to faculty and students during the SUNY Cortland Fall Open House on Columbus Day, Monday, Oct. 13.
Most high school students have the day off from school. The College, however, has a regular day of classes, so interested individuals will get a realistic impression of what the campus is like, said Assistant Vice President of Enrollment Management Mark Yacavone. Faculty, staff and students from academic departments and student service offices will be available to meet with visitors throughout the program. Additionally, guests may tour the campus and eat in the dining facilities.
The Admissions open house allows visitors who have made prior reservations the opportunity to experience the campus by interacting directly with students, faculty and staff. Individuals who have not pre-registered also are welcome to attend.
A prospective student listens to a response to his question about enrolling at SUNY Cortland.
The program will begin formally at 9:30 a.m. in Park Center. An Academic Fair and Student Services Fair featuring department faculty and student services will take place in Park Center Corey Gymnasium from 9:30 to 11:30 a.m. At 12:30 p.m., students are encouraged to go to their chosen academic department offices for more information and a tour.
Guided tours of the campus and residence halls will run from 10:30 a.m. to 2:30 p.m. Participants will meet in the Corey Union Function Room.
At 10:30 a.m., Professor of Economics Lisi Krall will give a presentation on the Honors Program in Park Center, Room 1204. Special sessions on admissions, financial aid, athletics, dining services, residence life and housing also will be offered that day. For details, visit the website at cortland.edu/admissions.
Parking for Open House visitors will be provided in the Route 281 parking lot, which features shuttle bus service to Park Center.
Yacavone noted that the fall format is much different from the Spring Open House, where most visitors already have been admitted and are in the process of deciding whether to attend SUNY Cortland.
A second Fall Open House for those unable to attend the first one is scheduled for Tuesday, Nov. 11.
Anne Hendrixson to Speak Oct. 15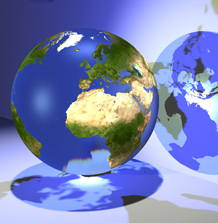 10/08/2014
Anne Hendrixson, director of population and development programs at Hampshire College's School of Critical Social Inquiry, will address "Population Control as Unsustainable Development" on Wednesday, Oct. 15, at the College.
Anne Hendrixson
Presented as part of the 2014-15 Rozanne M. Brooks Lecture Series, themed this year on "Culture, Technology and Sustainability," the lecture begins at 4:30 p.m. in Moffett Center, Room 2125. A reception to welcome Hendrixson starts at 4 p.m. in the Rozanne M. Brooks Museum, Moffett Center, Room 2126.
Hendrixson's talk focuses on a failed 1960s-era approach to burgeoning human reproduction that involved coercive measures such as forced sterilization or pressure to use long-term birth control methods.
She will describe successful alternative international campaigns and take a current look at how youthful and aging populations fit into post-2015 discussions about gender, health, sustainability and global priorities.
Hendrixson has a master's degree in international development and social change from Clark University in Worcester, Mass.
The lectures take place on Wednesdays and begin at 4:30 p.m. in Moffett Center, Room 2125. Before each talk, a reception to welcome the speaker starts at 4 p.m. in the Rozanne M. Brooks Museum, Moffett Center, Room 2126.The series, which is free and open to the public, features a reception before each presentation.
"This year's series explores the present and future on a planet with a rapidly growing population, critical food shortages, climate change and a host of other factors that affect the quality of life across the world," said Sharon R. Steadman, a SUNY Cortland professor of sociology/anthropology who is the lecture series organizer and Brooks Museum director. "Presenters will discuss these issues and offer possible solutions to major global problems, including the role technology may play in helping or hindering progress toward a 'livable planet.'"
The remaining fall semester speakers include:
• Anthropologist Peter Castro asserts that human-induced climate change offers one of the greatest challenges to our sustainability. On Nov. 5, Castro, an associate professor at Syracuse University, will address "Climate Change and Sustainability in Rural Africa: Some Perspectives." In global dialogue on the subject of solutions, the voices of rural Africans have been largely muted. "My presentation will argue that we have much to learn about sustainability and climate change from rural Africans," said Castro, who draws on his applied experience in Sudan, Ethiopia, Mali, Kenya and Somalia. He has a doctorate from University of California at Santa Barbara.
The spring semester will feature the following events:
• The issues surrounding the production of genetically modified food will be discussed Feb. 11 in a talk titled "Food Fight: When Genetic Engineering Makes Sense for Agricultural Sustainability." Steven Broyles, professor and chair of SUNY Cortland's Biological Sciences Department, will examine the scientific evidence regarding the safety of such foods and the arguments for their role in the sustainability of global food provision. Broyles, honored in 2002 for excellence in teaching by the chancellor of the State University of New York, has a doctorate in botany from the University of Georgia.
Peter Castro
• The question of how to feed a growing global population without further compromising the planet's resources is the March 4 topic with geographer Wendy Wolford, the Robert A. and Ruth E. Polson Professor of Development Sociology at Cornell University. Her discussion, "Farming for the Future: Competing Models of Agriculture and Development in Rural Mozambique," tackles what has become perhaps the single most pressing issue of the 21st century. Wolford earned her doctorate at University of California, Berkeley.
• SUNY Cortland students will conduct a poster session titled "Can We Sustain?" from 3:30 to 4:30 p.m. on March 25 in the Moffett Center Sociology/Anthropology Lobby. Then a series of student presentations will take place from 4:30 to 5:30 p.m. in Moffett Center, Room 2125.
• On April 8, a sociologist will take a look at how human activity — technologies and economic, political and socio-cultural systems and processes — has created the ecological crisis the planet as a whole faces today. William Skipper, a SUNY Cortland assistant professor of sociology/anthropology, will present "Livable World/Livable Planet: The social aspects of ecological sustainability." Skipper asserts that, as a consequence of mankind's environmental influence, any serious effort to achieve ecological sustainability must include social change globally. He has a doctorate in anthropology from Cornell University.
Wendy Wolford
The 2014-15 Brooks Lecture Series is sponsored by a grant from Auxiliary Services Corporation (ASC) and the Cortland College Foundation. For more information, contact Steadman at 607-753-2308.
Trick or Treating: SUNY Cortland Style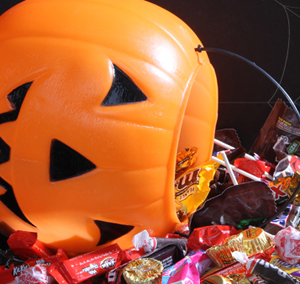 10/07/2014
Everyone remembers his or her favorite day of the school year as a kid: a day in which you couldn't even eat lunch because you were so excited for the school day to end. A day in which being a kid was the greatest thing in the entire world.
This day was Halloween.
Most college students likely haven't enjoyed a childlike Halloween in years. However, SUNY Cortland undergraduates get the chance to relive their youth each and every year.
Local families from the Cortland, Homer and St. Mary's School will have a chance to trick or treat through all of SUNY Cortland's residence halls thanks once again to the College's students, faculty, and staff. A parent or responsible adult must accompany the children. Students get their chance to help by walking the kids around each facility and providing these little goblins with some treats.
This year's event will take place from 4 to 6:30 p.m. on Thursday, Oct. 30. Residence hall staff will serve as guides to walk the children to each specific door marked with Halloween decorations. Students can adorn their own doors as well if they wish, but in that case, shouldn't be surprised if a trick or treater comes knocking on their door.
"I truly felt like a little kid again walking around the dorms and helping Tyler experience trick or treating," said senior special education major Chelsea Way of Syracuse, N.Y., who last year accompanied the child she babysits.
"I used to look forward to trick or treating every year and it made me miss it even more watching Tyler," Way said. "It felt very rewarding to give back to the community and I'm really glad and proud to have been there for Tyler, and to support the College."
Jessica Galluccio of Staten Island, N.Y., also plans to participate this year.
"I am so excited for this event," said the sophomore Dragon Hall resident. "I don't have any little brothers or sisters, so it's going to be very nice to give back to these little kids. I also can't wait to see them all dressed up."
Families will be able to visit all SUNY Cortland residence halls, including Dragon, DeGroat, Cheney, Shea, Bishop, Glass Tower, Hendrick, Hayes, Alger, and Smith and Casey Tower.
The College also will open the Rec Center Lounge at its West Campus Apartments, located on State Route 281 between Starr Road and Route 13, from 4 to 6:30 p.m. for other activities as well. The party will feature fun and safe Halloween games, snacks and drinks for the tots and their families.
SUNY Cortland students are encouraged to sign up and help promote the College's commitment to social well being for all community members. Students can register with their residence hall directors or resident assistants. For more information, contact Cheney Hall director Rob Binall at 607-753-4150.
Prepared by Public Relations Office intern Paul Barchitta
SEFA Appeal 2014-15 Launches Soon

10/07/2014
SUNY Cortland will kick off its 2014-2015 State Employees Federated Appeal (SEFA) campaign on Wednesday, Oct. 15, with a noon luncheon for volunteers in the Corey Union Exhibition Lounge.
The campaign, which relies on state employee volunteers to canvas co-workers for donations, will continue through Wednesday, Oct. 29.
The only authorized fundraising campaign among state workers, SEFA is directed by the United Way for Cortland County and unites fundraising efforts for a group of agencies under a common umbrella.
"Last year the campus raised $47,543 in SEFA campaign donations from a total of 321 SUNY Cortland employees," said Gail Cutler, who with Linda Crompton will be co-chairing this year's SEFA campaign on campus.
"While last year's contributions were slightly down from the previous year we are confident that this year the campus community will continue to support the worthwhile endeavors of this campaign," Cutler added. "The help and support provided through the campaign to those in need is immeasurable."
According to Abigail Oaks, campaign associate for the United Way for Cortland County, last year's United Way donations were allocated to more than 30 health and human services programs at 14 local United Way agencies. The number of people in the county served through these programs in 2013 was 27,599, or 58 percent.
The College will offer incentives for employees who donate to the 2014-2015 campaign. At the campaign's end, a drawing for five prizes will be conducted. First prize is a reserved campus parking space located in the lot closest to the winner's building. To be eligible, an employee must pledge at least $104. Everyone who donates a minimum of $25 will be eligible to win one of three $25 Auxiliary Services Corporation (ASC) gift certificates. Civil Service Employees Association (CSEA) members who donate at least $25 will be eligible for a $50 gift certificate to a local restaurant.
SEFA campaigns also are conducted at the State Department of Labor, the Department of Environmental Conservation, the Department of Transportation, the Office of Court Administration and the State Police. Decisions are made locally about which agencies are included and how funds are distributed. The community-based SEFA committee is composed of representatives from state agencies and managers of human service agencies. Pledging takes place once a year.
Participants can choose to have their gifts shared among different organizations within Cortland County, used in another county of their choice or designated for individual local, state, independent or international organizations. Examples of local agencies include the United Way for Cortland County, Madison-Cortland New York State Arc, American Red Cross, Boy Scouts, Girl Scouts, Catholic Charities, Cortland Area Child Care Council, Cortland County Child Development Center, Family Counseling Services, Lime Hollow Center for Environment and Culture, Salvation Army, Franziska Racker Centers (special children's center), United Service Organization, YMCA and YWCA.
Local members of the Cortland County SEFA Committee include: Kathleen Burke, SUNY Cortland United University Professions (UUP) employees; Cynthia Eberhart, federated campaign coordinator for the United Way for Cortland County; Gary Evans, SUNY Cortland management/confidential employees; Laurie Klotz, SUNY Cortland UUP employees; Lois Marshall, NYSDOT, CSEA employees; Donna Raymond, NYSEC, CSEA employees; Cindy Tarleton, Community Health Charities of New York; Antoinette Tiburzi, SUNY Cortland professor emerita, Cortland County SEFA chair; and Lori Porter, SUNY Cortland, management/confidential employees.
For more information about SEFA in New York State, visit the website www.sefanys.org.
Midterm Elections Are Roundtable Topic Oct. 16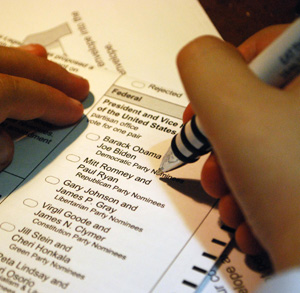 09/29/2014
Robert Spitzer, a professor and chair of political science at SUNY Cortland, will offer his opinion on whether it's already time to pull the sheets up over the Obama presidency, during a community roundtable on Thursday, Oct. 16, at SUNY Cortland.
Spitzer, promoted by SUNY in 1997 to the rank of Distinguished Service Professor, will give his presentation titled "November 2014 Midterm Elections" from 8 to 9 a.m. in the College's Park Center Hall of Fame Room.
Sponsored by the President's Office, the event is free and open to the public. Refreshments will be served at 7:45 a.m. The Park Center is located off Tompkins Street and parking is available in the Park Center and Professional Studies Building lots.
A question-and-answer period will follow Spitzer's presentation.
"With the Democrats expected to take a beating in the November 2014 midterm elections, Barack Obama will face the unpleasant prospect of a more aggressive and even more partisan Congress for the final two years of his presidency," Spitzer said.
"This talk will examine the factors that will shape the outcome of the congressional races, and what this says for national politics in the next two years."
A nationally recognized authority on political subjects including the U.S. Constitution, the U.S. presidency, and the politics of gun control, Spitzer earned his bachelor's degree from SUNY Fredonia and his master's and doctoral degrees from Cornell University.
He is a regular panelist on the weekly public affairs program, "The Ivory Tower Half Hour," broadcast on WCNY-TV, Syracuse.
Spitzer has appeared on NBC's "Today Show," ABC's "Good Morning America" and "Network Nightly News," the Public Broadcasting System's (PBS's) "News Hour With Jim Lehrer," MSNBC's "All In With Chris Hayes," CNN, CNBC, NHK Television (Japan), the PBS documentary film "Guns and Mothers," and has been quoted in or by the New York Times, the Washington Post, Time magazine, the Los Angeles Times, USA Today, the Wall Street Journal and the Christian Science Monitor, among others.
His op-ed articles on gun control and other subjects have appeared in many newspapers around the country.
His books include The Presidency and Public Policy (1983), The Right to Life Movement and Third Party Politics (1987), The Presidential Veto (1988), The Bicentennial of the U.S. Constitution (1990), President and Congress (1993), Media and Public Policy (1993), The Politics of Gun Control (1995; 6th ed. 2015), Politics and Constitutionalism (2000), The Right to Bear Arms (2001), We the People: Essentials edition (co-authored, 10th ed. 2015), The Presidency and the Constitution (co-authored, 2005), Saving the Constitution from Lawyers (2008), and Gun Control (2009), The Encyclopedia of Gun Control and Gun Rights (co-authored, 2011). His most recent book, Guns Across America, will be published in 2015 by Oxford University Press.
Robert Spitzer
He is also series editor for the book series American Constitutionalism for SUNY Press.
Spitzer has written more than 600 articles and papers that have appeared in many journals and books on a variety of American political subjects.
From 2001 to 2003, Spitzer served as president of the Presidency Research Group of the American Political Science Association. He was a member of the New York State Commission on the Bicentennial of the U.S. Constitution and has testified before Congress on several occasions.
In 2003, Spitzer was honored with the SUNY Chancellor's Award for Excellence in Scholarship and Creative Activities.
For more information about the presentation, contact Spitzer at 607-753-4106. For information about the roundtables, contact Sue Vleck at 607-753-2377.
Classified Staff Recognized for Years of Service
The 2014 Annual Service Awards Ceremony recognizing classified staff will be held on Friday, Dec. 5, in the Corey Union Function Room.
The following employees are slated to receive awards. To note a correction or addition to the list, contact the Human Resources Office by email or phone at 607-753-5751.
35 Years
Ella Dorman, Library
25 Years
Dianne Bays-Guido, Custodial Services
Genevieve Herrling, Educational Leadership Programs
Susan Smith, Campus Technology Services
20 Years
Jeanne Clink, Custodial Services
Helen Low, University Police Department
Bonnie Merchant, Admissions Office
Darlene Phillips, Campus Activities and Corey Union Office
Joseph Stockton, Custodial Services
15 Years
Douglas Adsit, Custodial Services
Lucinda Compagni, Communications Office
Michelle Congdon, Human Resources Office
Sherry Ellis, Library
Amanda Halliwell, Sociology/Anthropology Department
Janet Hegedus, Educational Opportunity Program
Kathleen Hudson, Administrative Computing Services
Nancy Mead, Library
Theresa Montez, Recreational Sports
Jane Rawson, Custodial Services
Teresa Ripley, Facilities Management Office
Neeca Root, Student Conduct Office
Scott Suhr, Biological Sciences Department
10 Years
John Aldrich, Maintenance
Ann Cutler, Multicultural Life and Diversity Office
Daniel Dryja, Maintenance
Priscilla Harvey, English Department
Virginia Karpenko, Research and Sponsored Programs
Ryan Kleveno, Motor Pool
Tanya Lowie, Custodial Services
Robert Maarberg, Heating Plant
Cynthia Perelka, Student Accounts
Laurie Shutt, Transportation Center
Lou Anne Simons, Library
Pamela Smith, Chemistry Department
Jennifer Stiles, Communication Disorders and Sciences Department
Patricia Wolff, Duplicating Center

Suggest a feature story
---
People on the Move
Avery Serves as Interim VP for Institutional Advancement
10/07/2014
Gradin Avery has served as interim vice president for institutional advancement since July 28. Avery, who was hired by the College in 1995, joined the Division of Institutional Advancement in February 2013 as associate vice president for communications. In that capacity, he spearheaded a restructuring of the College's communications and marketing operations behind a focused effort to maintain strong, high-quality student enrollment in the face of growing demographic and economic challenges. The 19-year College employee had served as associate provost for enrollment management since 2005 and added marketing to his title in 2009.
Fritz Named Interim Director of the Child Care Center
10/07/2014
Stephanie Fritz has served as interim director of the SUNY Cortland Child Care Center since July. Previously, as the assistant director since 2011, Fritz oversaw the SUNY Cortland School Age Program, which has expanded in size and scope under her supervision. Before joining the College, she served as the director/site supervisor for the Cortland County Head Start Program.
Newswanger to Direct Physical Plant
10/07/2014
Zach Newswanger joined the College as director of physical plant on July 14. He previously directed Facilities Maintenance at Ithaca College, where he was responsible for the maintenance and daily operations of the College's utility distribution systems and supervised the staff. Newswanger has a B.S. in psychology from Lycoming College and a M.S. in rehabilitation counseling from the University of Scranton.
---
Faculty/Staff Activities
Laura J. Davies
Laura J. Davies, English Department, had her chapter, "Browsing with Intent: Digital Information Literacy and Distant Reading Practices," published in August in The Next Digital Scholar, edited by James P. Purdy and Randall McClure. Her chapter was selected as the featured chapter on the publisher's website.
Robert Spitzer
Robert Spitzer, Political Science Department, has been invited to join the advisory board of the Pi Sigma Alpha Undergraduate Journal of Politics. Pi Sigma Alpha is the national political science honors society. Cortland has had a chapter since 1970.
Tiantian Zheng
Tiantian Zheng, Sociology/Anthropology Department, presented her paper at a panel she organized at the New York Conference on Asian Studies held Sept. 18-20 at Hofstra University. Also, she was invited by SUNY Plattsburgh to deliver two campus-wide lectures in October.

Submit your faculty/staff activity