Political Science Professor Excels at Guessing Game
07/14/2015
Plenty of people at sports-minded SUNY Cortland participate in fantasy leagues, including Timothy Delaune.
But Delaune, an assistant professor of political science, doesn't spend hours on the Internet researching player stats and cheering for pitchers on teams he doesn't even like.
Instead, he reviews the judicial box scores of the nine justices of the United States Supreme Court and predicts how each will rule on upcoming cases, individually and as a majority.
And Delaune, a constitutional law specialist, is really good at it.
From last October through late June, SUNY Cortland's pre-law advisor and moot court coach pitted his legal wits against those of nearly 4,000 online competitors in a game called FantasySCOTUS (Supreme Court of the United States).
When it was over, Delaune ranked near the top at number 18.
"What I find fascinating is it's part science and it's part art," Delaune said. "You have to use the science but then you have to sit with the facts and consider what they mean. It's a little like reading tea leaves."
In FantasySCOTUS, players predict in advance how SCOTUS, an old telegraph acronym now commonly used as a shorthand reference by political insiders, will decide lower court rulings, and whether each appeals court case would be affirmed or overturned.
Delaune was about 74 percent correct in guessing the direction of individual justices, and was most accurate at predicting the votes of Chief Justice John Roberts and Associate Justice Elena Kagan. He correctly predicted the court's decision in 54 of 73 cases.
| | |
| --- | --- |
| | |
| | Timothy Delaune |
According to Delaune, people's fascination with the highest federal court of the United States turns on one remarkable fact:
"The Supreme Court is perhaps the most effective government institution we have at keeping secrets," said Delaune, a graduate of Georgetown University who has a law degree from University of Chicago, a master's degree from Tufts University and a doctorate from University of Massachusetts at Amherst. "There are a shockingly small number of leaks, historically. They really want to refine their opinion and have everything written and then discuss it before they release it to the public."
Anyone can play FantasySCOTUS, but to rank in the competition a player must log his or her guesses on each and every Supreme Court ruling before it actually is made, Delaune said. That's about 75 cases, most of them rather obscure.
The 2014-15 Supreme Court Term FantasySCOTUS competition was run by LexPredict and sponsored by Thomson Reuters.
"FantasySCOTUS is an attempt by some political science researchers to refine a computer program to predict the outcome of Supreme Court cases," Delaune said.
LexPredict uses algorithms to predict the august, black-robed body's actions. Since 2009, the company has offered attorneys, law students and other followers of the Supreme Court the opportunity to predict the overall outcomes as well as the votes of each justice in cases pending before the court.
Participants can earn cash prizes up to $10,000 for correctly predicting Supreme Court outcomes based on their observations and understanding of the cases, views of the justices and substantive federal and constitutional law.
The 2014-05 FantasySCOTUS attracted 3,852 players. Delaune's reward will be a $100 gift certificate to Amazon.com. He also has the chance to share a short biography and comments about his prediction techniques on the FantasySCOTUS website.
"At my level, that's the prize," Delaune said. "But as you can tell from the pride I take in it, it's about bragging rights. I'm a pretty darn good predictor of Supreme Court cases and outcomes."
His students stand to benefit.
"It's a way for me to make sure I'm paying completely close attention to all the cases the Supreme Court is considering," said Delaune.
But in the past year, only 10 or 11 of the decisions were ones he might discuss in a classroom.
"If it's a very important case to what I teach, then I will listen to the Supreme Court's entire oral argument," Delaune said. "Each week in a given session, there will be three days of oral arguments, with a released oral and written transcript from those cases. I was doing that anyway for my constitutional law students.
"But if it's some obscure patent case, I might just read the reporting about that case. There are some good news outlets: the SCOTUS blog operated by Bloomberg News, for example. That has a number of good attorneys who will watch the oral arguments and report back. I can read a summary of just about anything."
Here's where the tea leaves come in. To analyze the more controversial cases swirling through the court dockets, Delaune's predictions often were based on tracking the caseload of individual justices. Starting in October, assignments to write the majority opinion are evenly distributed during each approximately month-long session and rulings are announced about two months later. So if a particular justice hadn't written a majority opinion lately, that offered a clue about what remaining opinions would be released, who would write them and whether the more conservative or liberal end of the bench would be happy with the decision.
Of course for dry and complex cases, the personal bent of the justice writing the majority opinion offers few clues as to which way the court will come down.
And a crystal ball would be needed to predict one of the justices switching sides after the majority opinion is written, as apparently happened in the 2013 Affordable Care Act decision. Delaune hazarded a guess, later confirmed, that Chief Justice John Roberts, a politically conservative-leaning jurist, voted contrary to his prior record of decisions after finding constitutional support for the Act in written or spoken arguments made by the seeming minority.
Delaune advises not to be misled by what appears to be an unstoppable conservative or liberal groundswell. For example, the court's consideration of the same sex marriage and Affordable Health Care Act cases seemed to represent a liberal head of steam.
"One shouldn't forget that while it takes five justices to win a case, it only takes four justices to hear a case," he said. "A minority can choose to hear a case. The theory is that this time some of the more conservative judges chose to take a case, but then it was decided in a more liberal direction. They might have voted to take a case thinking they would have a victory only to be defeated."
Delaune assumes LexPredict is gathering tips from the most successful competitors to figure out ways to improve the performance of its own algorithm, which has predicted U.S. Supreme Court cases with 64 percent and 65 percent accuracy regarding cases and individual justices respectively.
By comparison, the FantasySCOTUS tinkerers have correctly guessed the case and individual justice decisions at 72 percent and 74 percent, respectively, he noted.
"They will try to find out what their program is missing so they can find a better predictor of case outcomes," he said.
As is clear from the competition sponsors, the business community often has a keen interest in case outcomes, whether they are the recent headline grabber rulings like the Affordable Care Act or same sex marriage or some obscure ruling on patent or tax law case.
"That information is of use to savvy investors," Delaune said. "It wouldn't at all surprise me if some of investment firms were taking a look at (FantasySCOTUS). Still, it's a bit of a crapshoot. Getting closer to 75 percent is statistically closer than a fifty-fifty coin toss. But it's not enough to invest on reliably."
The Affordable Care Act case in particular magnetized Wall Street.
"In fact, the week before it came out, there was some stock market activity indicating that there were investors who were concerned about the case," he said.
This was Delaune's first year participating in FantasySCOTUS. He hopes to edge his score upward in next year's competition.
"Normally, because it's the area that I teach, I wind up learning things I would otherwise miss and can bring into the classroom," he said.
"I'm not only refining how I understand the law but maybe next year I'll do even better predicting outcomes."
Cortland Listed as One of the Nation's Greenest Colleges
07/14/2015
SUNY Cortland is one of the greenest colleges in the United States, according to a new national ranking that looks at how successful campuses have been at implementing environmentally sustainable practices and polices.
The College, the 29th highest scorer in BestColleges.com's 2015 Greenest Universities ranking, is the only SUNY institution on the list, and one of only four institutions from New York state to make the grade.
"State University of New York at Cortland has shown dedication to lessening its impact on our planet by adopting policies that reflect an environmental ethos," said Ethan Miller, outreach associate for BestColleges.com, a college planning website. "Programs like SUNY Cortland's show our communities that there is a better way, allowing large institutions to thrive within a framework of sustainability."
The ranking is based on scores achieved through the Sustainability Tracking, Assessment and Rating System (STARS), a voluntary system that allows different colleges and universities to report trends and track their sustainability efforts.
SUNY Cortland is one of only 77 campuses nationwide to win a gold rating in the assessment, a program of the Association for the Advancement of Sustainability in Higher Education. No other SUNY campuses have scored that well, and only one school in the United States — Colorado State — has done better by achieving a platinum designation.
"It is impressive to think how far we have come in such a short period of time," SUNY Cortland President Erik J. Bitterbaum said. "When it comes to our sustainability mission, rankings like this illustrate how truly committed the College is to reducing its carbon footprint, using all its resources effectively and raising awareness of environmental issues among our students and in our community."
STARS is a self-reported assessment that collects a wide range of sustainability information on College initiatives, capital improvements, academic programs and other issues. Once completed, it serves as a baseline for measuring progress on a campus's environmental goals. It must be upgraded every three years.
In 2012, SUNY Cortland earned a silver rating in STARS. Since then, the College became the first SUNY campus to fill all of its electrical needs with renewable energy, build a residence hall with the highest possible rating under the national Leadership in Energy and Environmental Design (LEED) certification system, and earn membership into the federal Environmental Protection Agency's Green Power Leadership Club. A year ago, SUNY Cortland threw the switch on 3,600 new solar panels.
---
Capture the Moment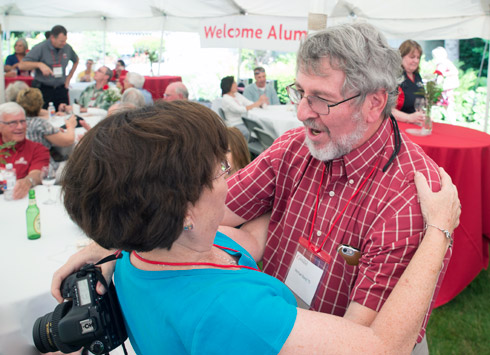 Alumni Reunion 2015 was a time for making new friends and reconnecting with those from earlier days. Classmates Susan Keith Rutledge '75 and Michael Bond '75 greeted one another at the Alumni House welcome reception, one of many gatherings that were held from July 9 through 12. In all, more than 600 alumni and friends took part in activities that reconnected them to the campus and their SUNY Cortland experience.
---
In Other News
College to Mark Anniversary for Antlers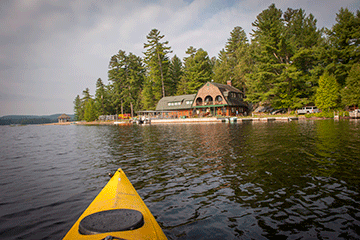 07/13/2015
One doesn't need to love exploring the Adirondack wilderness to appreciate what the William H. Parks Family Center for Environmental and Outdoor Education, Antlers, has meant for SUNY Cortland.
Blackflies and unpredictable mountain weather notwithstanding, the College has used the small pre-turn-of-the-19th-century resort to provide students with a world-class living laboratory for training in physical education, recreation and the sciences.
In fact for half a century, generations of students in an expanding range of disciplines have chosen the camp as a home base to swim, canoe, camp on a remote island, collect science specimens or otherwise experience what for many has been their first close encounters with wilderness.
Now part of the W.H. Parks Family Center for Environmental and Outdoor Education, Antlers on Jan. 15 marked 50 years as a College property.
On Saturday, Aug. 22, the College community invites alumni, faculty, staff and representatives of the SUNY Cortland Auxiliary Services Corporation (ASC) — which facilitated the acquisition — to celebrate the golden anniversary milestone at an amphitheater installed in 2014 beside the Casino building.
The occasion also formally marks the dedication of the William H. Parks Family Center for Environmental and Outdoor Education, which encompasses the center's main office on the SUNY Cortland campus as well as Antlers and three other outdoor educational facilities: Camp Huntington also on Raquette Lake, the Brauer Memorial Education Center in Selkirk, N.Y., and the Hoxie Gorge Nature Preserve near Cortland, which celebrated its own golden jubilee on July 11. Present at the ceremony will be members of the family of Lynne Parks Hoffman '68, who recently made a $1 million bequest to the College to strengthen programming and student access to the facilities.
The ceremony begins at 1 p.m. and refreshments will be served. Depending on how many people attend, the event may move to the roomier, grassy lawn behind the Casino. A bus will shuttle alumni, faculty and staff guests between the SUNY Cortland campus and Antlers, from the Professional Studies Building gravel parking lot at 9:15 a.m. and beginning the approximately three-hour return trip at 3:45 p.m.
| | |
| --- | --- |
| | |
| | Students relax on the upstairs porch of the Casino building at the W.H. Parks Family Outdoor Center at Antlers. |
The College's historical records relate that the W.H. Parks Family Outdoor Center at Antlers was originally a strategic purchase to give the College docking privileges, convenient parking and offices, extra storage and classroom space, and a way station for travelers preparing to visit the more remote Camp Huntington.
The five-acre acquisition on the lake's west side was negotiated in 1965 with George Fuge, the late director of the W.H. Parks Family Center for Environmental and Outdoor Education. The College already owned Camp Huntington, situated on the Long Point peninsula, but needed a more direct and affordable way to bring students and faculty to and from its dock.
"For years, the way we got people up here was to park at one of the local marinas and pay them a fee to transport people over here to Huntington," said Robert Rubendall, current director of the W.H. Parks Family Outdoor Center. "And in the winter, we had to cross over on the ice from the south shore of the lake. It was not a very advantageous arrangement at all and very expensive because of the fees we paid to the marina."
Although it is not listed with the National Register of Historic Places like Camp Huntington, the Antlers came with its own long and colorful story. Built in the late 1880s as a small resort and hotel with small cabins, lean-tos and platform tents in addition to the Antlers Hotel, today's facility retains the name but is comprised of only the lower buildings remaining from lots that were gradually sold off to private landowners.
Fuge knew the Antlers owners and quietly settled the sale terms through SUNY Cortland's Student Faculty Association, today known as ASC, Rubendall said. The original acquisition included the Casino, Cedars and the Terrace Cottages.
Quickly the accessibility of Antlers to roads and civilization increased its use for educational programming in its own right. This was especially the case in late spring and early winter, when ice formation and melt on Raquette Lake prevented travel over the lake to Camp Huntington, the College's nearby, much larger facilities.
| | |
| --- | --- |
| | |
| | From the beach, visitors have a sweeping view of Raquette Lake and the Casino at W.H. Parks Outdoor Center at Antlers. |
"It became clear, within a year, that we needed much more space to operate summer programs as well, and that's when we acquired the hotel, the Main Lodge up above," Rubendall said. "It has roughly 20 beds, and so that doubled the capacity of the facility itself."
In 2013, ownership of Antlers was transferred from ASC to the Cortland College Foundation. The property currently is leased by SUNY Cortland.
Fifty years after its acquisition, classes of students annually use the 45-bed W.H. Parks Family Outdoor Center, Antlers as a base for their experiential learning or as a convenient launching point to visit Huntington. In summer, alumni flock to Antlers beside the pristine lake for programs that allow them to recharge their bodies as they renew their friendships with classmates.
Graduates recall with great fondness their time spent at these outdoor classrooms.
"I think the number of alumni that come back year after year to enjoy Antlers with their families speaks to its value," Rubendall said. "We just built the amphitheater there last year and this spring we remodeled the kitchen in the Main Lodge."
Both improvements expand the use of Antlers by adding an outdoor classroom and creating kitchen and dining facilities that groups can use much earlier in the spring and later in the fall.
"So the College is really making a commitment to ensure that Antlers continues to be a viable and valuable part of the whole outdoor education resource here at Raquette Lake," Rubendall said.
"We hope alumni, faculty and staff members consider joining us in celebrating this major College milestone and in expressing our gratitude for Lynne's leadership and support."
College and Community to Celebrate ADA Anniversary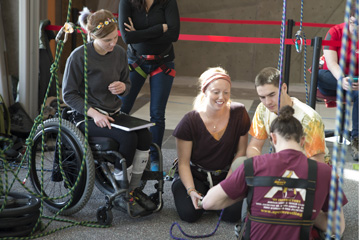 07/14/2015
Long before the Americans with Disabilities Act (ADA) was signed into law in 1990, SUNY Cortland championed the opportunity for which the civil rights act stands.
Several actions by the College supported inclusiveness and achievement many years before they became popular practice: admitting wounded veterans in the wake of World War II, securing funding in the 1960s for programs that benefitted children with disabilities, and establishing an adapted physical education curriculum that would serve as a model for others across the nation.
ADA, which prohibits discrimination based on a disability, celebrates the 25-year anniversary of President George H. W. Bush's signing it into law on July 26. And the College will be there on Saturday, July 25, when the local community honors the historic legislation with a picnic in the city's Courthouse Park.
The event, organized by Access to Independence of Cortland County, takes place from 11 a.m. to 2 p.m. Free food and drinks will be offered in addition to inclusive games. Members of SUNY Cortland's Recreation, Parks and Leisure Studies and Communication Sciences and Disorders departments also will be on hand to represent the College's many faculty members dedicated to accessibility and equal opportunity in their fields.
"Our students, alumni, faculty and staff champion the belief that people should not be defined by their disabilities," said SUNY Cortland President Erik J. Bitterbaum. "Many of them lead by example and represent the same ideals that helped establish the ADA as federal law 25 years ago."
The proof is in the College's product, from inclusive special education majors teaching students in the classroom to foundations and social advocacy faculty members pushing for the adoption of progressive policies.
Each year, roughly 250 students provide physical activity opportunities for people with disabilities through community programs organized by the College's Physical Education Department. SUNY Cortland students also provide hundreds of free and faculty-supervised hearing screenings each year for local children through the Center for Speech, Language and Hearing Disorders. And the Recreation, Parks and Leisure Studies Department provides the information that populates the Inclusive Recreation Resource Center database, which helps families find recreation facilities in New York state that are accessible and compliant with the ADA.
Earlier this year, the College endorsed the ADA Legacy Project taking place across the nation throughout 2015. "All People, All Abilities" became the theme of multiple advertisements both locally and nationally to highlight the many disciplines that advocate for people with disabilities. The concept also spurred a special webpage and many of the articles in the spring/summer edition of Columns, SUNY Cortland's alumni magazine.
The publication can be viewed in its entirety online.
Access to Independence recognizes the anniversary of ADA with several events each year. This year, in addition to the celebration picnic, the not-for-profit services provider for people with disabilities will hold an inclusive "Stroll and Roll" that starts at 10 a.m. near the organization's building at 26 N. Main St. in Cortland.
Math Guru to Address Master Teachers at College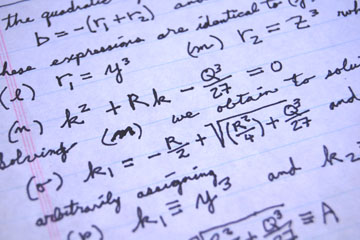 07/01/2015
Highly sought-after math expert Dan Meyer has talked numbers on "Good Morning America," "Everyday with Rachel Ray" and CNN, and soon he'll address some of New York state's most promising teachers at SUNY Cortland.
Meyer, a former teacher with more than 38,000 Twitter followers, will work with 60 science, technology, engineering and math (STEM) educators who double as New York State Master Teachers during a full-day workshop at the College on Thursday, July 16. They make up a group chosen for its classroom effectiveness, a commitment to professional development and a willingness to mentor new teachers.
The event, sponsored by the Master Teacher Program, reached its participant capacity quickly.
"We're excited for this opportunity to bring someone of the caliber of Mr. Meyer to Cortland to share best practices on math education with the state's Master Teachers," said Dominick Fantacone M.A.T. '12, the Central New York region coordinator and the statewide chief campus coordinator for the program.
A resident of Mountain View, Calif., Meyer is recognized as an effective advocate for better math instruction who "taught high school math to kids who didn't like high school math," according to his personal bio. He opts for memorable and practical lessons over stale, outdated approaches.
He recently earned a doctorate from Stanford University in math education and currently serves as the chief academic officer at Desmos, where he's pondering the future of math textbooks. The San Francisco-based web application development company is reshaping the concept of math literacy, having created a free computer browser-based graphing calculator that does not require a download.
A former curriculum fellow at Google, Meyer has offered hundreds of presentations internationally and was named one of Tech & Learning's 30 Leaders of the Future in 2010. His TEDxNYED presentation that proposed new ways to teach math has been viewed more than 200,000 times.
Meyer earned a bachelor's degree in mathematics in 2003 and a master's in education in 2005, both from the University of California, Davis.
The teachers he will address meet routinely for mini-courses and workshops and pursue individualized development plans in their STEM content areas. They also share what they learn with their colleagues and student teachers, including many from SUNY Cortland. In May, the College hosted more than 450 people at the second annual New York State Master Teacher Program Professional Development Conference.
The program, launched in 2013, includes 552 teachers across 10 regions throughout the state. It requires a four-year commitment to mentoring other secondary school teachers and helping both prospective educators and new teachers. The idea is to give outstanding teachers in math and science an incentive to continue teaching in New York while sharing their methods, experience and insight with fellow teachers.
With 70 master teachers, SUNY Cortland is the largest regional hub for the New York State Master Teacher Program in upstate New York.
Joe Brown Named National Coach of the Year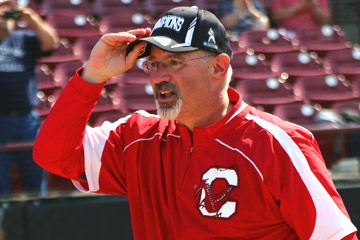 07/14/2015
SUNY Cortland baseball head coach Joe Brown has been named the 2015 American Baseball Coaches Association (ABCA)/Diamond NCAA Div. III National Coach of the Year after leading the Red Dragons to a 45-4 record and the program's first national title.
Brown is ABCA National Coach of the Year for the first time. Last month, he earned a similar award from the web site D3baseball.com, and he was one of eight finalists for the 2015 Skip Bertman National Coach of the Year Award (which was won by Louisiana State University's Paul Mainieri).
In addition, Brown was chosen as the ABCA Div. III New York Region Coach of the Year. He received that award for the 10th time overall and the fifth time in six years.
Cortland made its 23rd straight NCAA tournament appearance - the longest active streak in Div. III and the fourth longest among all NCAA schools behind Div. I programs Miami (Fla.), Florida State and Cal St. Fullerton. The Red Dragons advanced to their 13th World Series with a 4-0 record at the NCAA Div. III New York Regional, then won the national title with five consecutive wins in Grand Chute, Wis.
Brown's overall head coaching record in 16 seasons, all at Cortland, is 598-156-3 (.792). He has the best winning percentage of any active coach nationally in NCAA Division I, II or III with at least 10 years experience and the third-best winning percentage among all Division III coaches with 10 years experience.
CALS Lecture Grant Applications Available
Campus Artist and Lecture Series (CALS) Lecture Grant Applications are now available for the 2015-2016 academic year. Applications are eligible for a maximum of $500 and are open to any club, program or department. These lecture grants will not cover performances of any kind.
Applications must be received by Thursday, Sept. 3, in order to be considered for September, October, November and/or December 2015 lecture programs. Applications received after this date may not be eligible for any fall semester funds remaining.
For more information or to request a hard copy of the CALS Lecture Grant Application, contact Sandra Wohlleber at 607-753-5574 or via e-mail at sandra.wohlleber@cortland.edu.

Suggest a feature story
---
Faculty/Staff Activities
Mark Dodds
Mark Dodds, Sport Management Department, served as editor of the recently published book, Sports Leadership: A reference guide. The book includes contributions from Sport Management Department professors Genevieve Birren, Lawrence Brady, Ray Cotrufo, Ted Fay, Peter Han, Jordan Kobritz, Tara Mahoney, Matt Seyfried, Tracy Trachsler, George Vazenios and Ryan Vooris, and Kinesiology Department members Katherine Polasek and Brian Richardson.
James Hokanson, Kate Polasek and Larissa True
James Hokanson, Kate Polasek and Larissa True, Kinesiology Department, mentored students who presented at the inaugural SUNY Undergraduate Research Conference (SURC) on April 10 at The College at Brockport. SURC brings together undergraduate researchers and visual and performing artists as well as their faculty mentors throughout the SUNY and CUNY system for a full day of activities. Adam Lowe '15, who was mentored by Hokanson, presented "Metabolic Cost of Supported Treadmill Running." Karen Martinez '15, who was mentored by Polasek and True, presented "Physical Activity Patterns of Latinos in the Northeast." Their research was published in the International Journal of Exercise Science.
Melissa A. Morris
Melissa A. Morris, Physics Department, had two postdoctoral researchers visit SUNY Cortland for 10 days in late May to work on her NASA project, "The Formation Environment of Chondrules in Planetesimal Impact Plumes." They were visiting from University of Oxford and Montreal, Canada.
Also, Morris served on a NASA review panel in early June.
In late June, Morris and Anthony Terzolo, her undergraduate student research assistant, presented posters at the Gordon Research Conference on the Origin of Solar Systems. Morris and Terzolo presented "The Indirect Detection of Liquid Water in Extrasolar Protoplanetary Disks," and Morris and four coauthors presented "Modeling Collisional Ejecta in 3-D with Adaptive Mesh Refinement." The conference was at Mount Holyoke College in South Hadley, Mass.

Submit your faculty/staff activity