Chancellor Honors Four Students for Excellence
03/31/2015
Two SUNY Cortland seniors and two recent graduates were honored with one of the State University of New York's top student awards in Albany, N.Y., on April 2.
The College's recipients of the 2015 SUNY Chancellor's Award for Student Excellence are:
• Davon Antonio Clarke '14, a childhood education and Spanish major from Middletown, N.Y.
• Boyan Cox, a senior childhood education major from Binghamton, N.Y.
• Sarah Kelly, a senior Spanish and communication studies major from Watervliet, N.Y.
• Rebecca Studin '14, a sport management and Spanish major from Ithaca, N.Y.
The award is given each year to students from SUNY's 64 campuses who have demonstrated academic excellence while balancing leadership roles, campus involvement, community service and achievement in the arts, athletics and/or career related pursuits.
The College's 2015 recipients exceeded those criteria.
Each year, SUNY campus presidents establish a committee to review and select outstanding graduating seniors. The nominees are forwarded to the Chancellor's Office for a second round of review and the selection of a group of finalists. Each honoree receives a framed certificate and a medallion to wear during Commencement.
Including this year, 76 SUNY Cortland students have earned a Chancellor's Award for Student Excellence since the program was created in 1997.
Here's a more in-depth look at each 2015 SUNY Cortland honoree:
Davon Antonio Clarke '14
Clarke not only took advantage of all the opportunities SUNY Cortland has to offer but maintained academic excellence.
Named seven times to the College's President's List for achieving grades of A-minus or better in each of his courses for a given semester, Clarke nevertheless took the time to serve as vice president of the Black Student Union, secretary to the Residence Hall Association and member of the Diversity Conference Committee. He studied abroad, was a teaching assistant, an orientation assistant, a resident assistant and a tour guide.
Clarke participated in the annual Coat Giveaway drive on behalf of the Cortland County Community Action Program, Inc., collecting donated items on and off campus for those in need. He helped run the Cortland Nites programs offered by the campus as a safe alternative student weekend activity.
Clarke was recognized among the individuals who advocate for diversity and social change for all students, faculty and staff with the Unity Champion Award.
For two years in a row, a committee of student and staff members chose him for the Outstanding Student Leader Award. The Student Government Association also recognized his leadership skills and he earned the James F. Casey '50 Scholarship for his commitment to the residence hall programs.
From 2012 to 2014, Clarke was enrolled in the Cortland's Urban Recruitment of Educators (C.U.R.E.) Scholarship and Program, which helped support his education and involved his commitment to teach for two years in an urban area. The C.U.R.E. program aims to improve the quality of education for New York state children in urban communities.
Clarke earned the C.U.R.E. Award, presented to the top senior who has demonstrated best practices in urban education, as well as the Peter F. Eisenhardt '67 and Susan Fish Urban Teacher Education Scholarship.
Boyan Cox
Campus community members might recognize Cox from the College's Academic Convocation ceremony, where she spoke in 2013. They might also know her as the president of FIT Club, a resident assistant for Residence Life and Housing and the residential coordinator for the Educational Opportunity Program (EOP) Summer Institute.
She's a familiar campus leader and the personification of academic success at that. As an education major, Cox said one of the most meaningful experiences at SUNY Cortland was her Block 1 Teaching Preparation course.
"I could not wait to get to class every day because the classroom community was so uplifting and special," she said. "Although I faced many challenges during the teaching block, the amount of peer and staff support at such a critical time truly meant the world to me.
"This experience taught me the true meaning of community and the power of helping others and working together to achieve your goals."
Cox has earned a spot on the Dean's List for seven consecutive semesters and the President's List during the spring and fall of 2014. She also has won several scholarships. They include the Cathleen McDermott Lavelle '91 Scholarship for Student Leaders, the James F. Casey Scholarship and the Vice President for Student Affairs Merit Scholarship.
The Institute for Civic Engagement recognized Cox for her contributions to community agencies and social change last year. Additionally, EOP presented Cox the Fraser Stokes Award for her service to the program and the College on top of her high academic achievement.
As a personal trainer for the Recreational Sports Department, Cox also led exercise classes in the College's fitness facility for three years.
Sarah Kelly
When she first applied to be an orientation assistant (OA) at SUNY Cortland, Kelly doubted her ability to land the job — one that requires an outgoing personality, a passion to help and a tireless work ethic. For the dual major in Spanish and communication studies with a 4.09 cumulative grade point average, it was an innocent and rare mistake. Her college career — one filled with awards, scholarships and leadership positions — was propelled by those exact qualities.
"I loved the job so much that I repeatedly said 'this is the kind of job you would do for free' because it's just so much fun and so rewarding," said Kelly, who returned as an OA for a second summer before assuming a newly created administrative coordinator position for Advisement and Transition. "The reason why I feel Orientation has been so crucial is because of the connections I made and the confidence I gained."
Her face would become familiar in many campus offices; she went on to excel as the student coordinator of Cortland Study Abroad Promotion for the International Programs Office, an events assistant with the Campus Activities Office and a social media specialist with the Public Relations Office. Kelly even served as President Erik J. Bitterbaum's teaching assistant in the Cortland Experience (COR) 101 course he leads.
Kelly's name also became common at scholarship and award ceremonies. A President's List honoree every semester, she is a member of the Phi Kappa Phi and Phi Beta Delta International honor societies as well as a past recipient of the Irmgard Mechlenburg Taylor Award, which is presented to the Phi Kappa Phi member with the highest GPA in the School of Arts and Sciences.
An eagerness to learn abroad spurred Kelly's studies at the University of Salamanca in Spain as a junior. She'll return to Europe in the fall for a teaching opportunity in Madrid she earned through the Council on International Educational Exchange (CIEE).
"One thing I have to say about Cortland and college in general is that the experience is what you make of it," Kelly said. "You have to take risks and put yourself out there. You have to be bold but polite and confident yet humble. For me, this has been the biggest key to success."
Rebecca Studin '14
Studin excelled not only in athletics, sport management and languages, but as a highly visible student leader until her graduation last August.
She captained women's golf for three of her four years on the team and assisted the team coach with motivation, game play and helping young players balance school and the game.
A three-time Academic All American on the National College Golf Association's Scholar Golf Team, she was named to the 2012-13 Coaches Association All-East Region Team in Division III. The National Collegiate Athletic Association (NCAA) presented her with its 2014 Elite 89 Award, reserved for athletes with the highest grade point average while competing in sports at the national level.
As a co-chair of the Suzanne Wingate charity Golf Tournament in 2012, she organized an 85-person tournament that raised funds for the Cortland Junior Police Academy. As co-chair of an on-campus honorary organization serving as a liaison between academics and student living, she arranged a "trick or treat" canned food drive on behalf a local charity. While studying abroad in Costa Rica, she tutored children at an orphanage.
The Sport Management Department bestowed on Studin its highest honor, the Suzanne Wingate Scholarship Award, for her genuine commitment of time and effort to the College and program; the International Sport Management Award, for her support of the department's study abroad initiatives; and academic awards in her sophomore and senior years.
Studin was secretary of the Spanish Club as a senior and, as a junior, was honored for her mastery of language skills and cultural understanding by the Modern Languages Department with an Excellence in Spanish Award.
In pursuit of continued intellectual challenge, Studin joined the College's Honors Program and was inducted into the interdisciplinary honor society Phi Kappa Phi, the international honor society Phi Beta Delta and the Spanish honor society Sigma Delta Pi.
Workshop Calls Young Girls to STEM Fields
03/24/2015
The number of women in science, technology, engineering and mathematics (STEM) fields is growing, but men continue to outnumber them, especially in engineering, computer science and physics.
An upcoming event for young girls hosted at SUNY Cortland aims to narrow the gap by educating youngsters in sixth through ninth grades and their families about STEM education and possible career paths. The College will host Tech Savvy on Saturday, March 28, a workshop sponsored by the American Association of University Women (AAUW).
The event takes place from 8:30 a.m. to 4 p.m. in Sperry Center and Bowers Hall. Registration costs $5 for each student and adult who attends, although adult registration is optional. That fee includes breakfast and lunch as well as t-shirts and water bottles for all students.
"In grades six through nine, girls begin thinking about careers and thinking about college," said Sheila Cohen, one of the event's organizers and a SUNY Cortland associate professor emerita of literacy. "It's a very critical period when they can focus on higher education and a STEM career or just as easily turn away from them, thinking they're not competent."
According to the "Why So Few?" report from the AAUW, girls and boys take math and science courses in roughly equal numbers through high school, and approximately as many girls as boys graduate high school prepared to pursue science and engineering majors in college. But among first-year college students, women are much less likely than men to say that they intend to pursue a STEM major.
By graduation, men outnumber women in nearly every science and engineering field, and in some — such as physics, engineering or computer science — women will earn only 20 percent of bachelor's degrees.
"So many messages out there seem to suggest the notion that females are not adequate or that they should not pursue certain professions," Cohen said. "We're trying to change that perception."
The SUNY Cortland conference is one of 15 Tech Savvy events taking place across the nation, modeled after a successful program born at the University of Buffalo nine years ago. Girls will be able to pick three interactive and informative sessions to attend from more than a dozen offerings in addition to a Savvy Skills Workshop.
Session titles include "Creating Web Pages from Scratch," "What's the Big Deal about Pi?" and "Penny-Powered Pictures," which creates pictures with LED lights and uses the metal in pennies to power the lights. Workshop topics include "Girl Talk: Social Media, Self Esteem and Positive Communication," "No, This Is Not My Boyfriend's Computer: Careers for Women in (Information Technology)" and "Follow Your STEM Dreams."
A full list of presentation topics is available on the conference's webpage.
Presenters will include women in engineering and medical professions as well as local educators and more than a dozen SUNY Cortland faculty and staff members. Pam Kavalesky, an engineer at Intertek who works on cancer-detecting equipment, will serve as keynote speaker.
The College's presenters are: Christa Chatfield, assistant professor of biological sciences; Susana Davidenko, associate professor of childhood/early childhood education; Gretchen Douglas, librarian in Memorial Library; Karen Downey, assistant professor of chemistry; Mary Gfeller, associate professor of mathematics; Gayle Gleason, associate professor of geology; Katherine Hicks, assistant professor of chemistry; Rena Janke, associate professor of biological sciences; Li Jin, assistant professor of geology; Caroline Kaltefleiter, professor of communication studies; Anita Kuiken, senior assistant librarian in Memorial Library; Melissa Morris, assistant professor of physics; Janet Ochs, lecturer in Memorial Library; and Kelly Russo, an adolescence education: biology major from Yonkers, N.Y.
While young girls attend the conference's sessions and workshops, adults can learn more about choosing STEM majors and classes as well as college and career searches. They also will be able to tour Bowers Hall, SUNY Cortland's recently renovated science building.
"The main thing we're looking to do is inspire the young girls who come in," Cohen said. "We want to raise their confidence and their awareness so they know what's available to them."
For more information on the event, visit the Tech Savvy webpage.
Questions can be directed by email.
---
Capture the Moment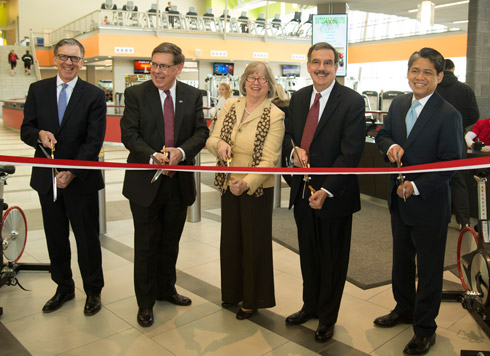 President Erik J. Bitterbaum joined state dignitaries involved with making the Student Life Center a reality at a March 13 ribbon-cutting ceremony. Poised to cut the ribbon are, from the left, former City of Cortland Mayor Martin "Marty" Mack M '76, now a senior staffer for the New York Attorney General's Office; New York State Sen. James L. Seward, R-Oneonta; Assemblywoman Barbara Lifton, D-Ithaca; Bitterbaum, and Gil C. Quiniones, president and CEO of the New York Power Authority. To learn more about both the celebration and the $56 million complex that's become the new focal point of campus life, go here.
---
In Other News
April Events Continue Project on Eastern and Central Europe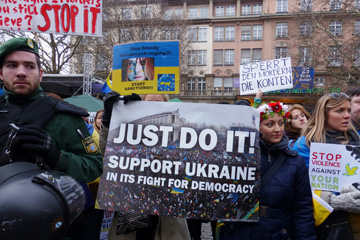 03/24/2015
SUNY Cortland's Project on Eastern and Central Europe (PECE) continues with two events at the beginning of April aimed at addressing crucial moments in European history — one that analyzes a tragic past and another that looks toward an uncertain and dangerous future.
"The Long Way Home," an Academy Award-winning documentary that tells the depressing story of Jewish Holocaust survivors as they attempt to rebuild their lives in the wake of World War II, will be screened at 7 p.m. Tuesday, April 7, in Sperry Center, Room 104 as part of the "Rubble Films: Classics of Post-1945 European Cinema" series.
Later in the week, Zenon Wasyliw, a history professor at Ithaca College, offers a lecture titled "The Ukrainian Revolution of Dignity and Ukraine's Far East" at 4:30 p.m. Thursday, April 9, in Brockway Hall Jacobus Lounge. His talk will examine the current crisis in Ukraine and the tension between Russia and the West, which includes the U.S.
Both events are free and open to the public.
The 1997 film, directed by Mark Jonathan Harris, depicts the post-World War II Jewish refugee situation — from the liberation of concentration camps to the establishment of the modern state of Israel. Although the war had ended, tens of thousands of Jewish refugees who survived the Holocaust struggled through a period of uncertainty from 1945 to 1948, often making illegal attempts to return to Israel.
Wasyliw, who also coordinates the social studies teacher education program, joined Ithaca College's faculty in 1989. He wrote 14 published articles in the areas of Soviet, Ukrainian and global history as well as social studies teaching pedagogy.
Wasyliw's course titles include "The USSR: History and Legacies," "Global Revolutions in the 20th and 21st Centuries" and "The Other Europe: Modern Eastern and Central Europe." His several research and publication projects include one on the use of social media in the preparation of pre-service social studies teachers.
He holds bachelor's, master's and doctoral degrees from Binghamton University.
The film series is co-sponsored by the Political Science Department, the Clark Center for International Education, the International Studies Program, the International Programs Office and the Auxiliary Services Corporation.
For more information, contact SUNY Distinguished Service Professor Henry Steck, a professor of political science, at 607-753-4807.
Filmmaker to Discuss Human Enhancement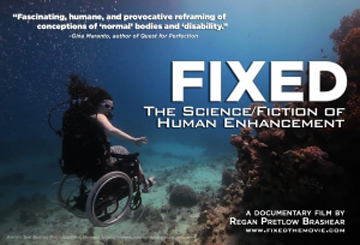 03/24/2015
A 1997 car accident began Regan Brashear's ongoing journey with fibromyalgia and chronic pain, causing her at age 25 to become focused on the meanings of disability and normalcy.
Brashear had earned a bachelor's degree in American studies from the University of California, Santa Cruz then, switching directions in life, earned a master's degree in social documentation from there as well.
She will discuss the 2013 film she directed and produced, "Fixed: The Science/Fiction of Human Enhancement," Tuesday, March 31, at SUNY Cortland.
The screening of her 60-minute film, followed by a question-and-answer period, will begin at 4:30 p.m. in Sperry Center, Room 205.
The program continues the College's 2014-15 Cultural and Intellectual Climate Committee (CICC) series, themed this year on "R/Evolution." The presentations question the notion that evolution represents positive change and underscore how timeless issues seem to reassert themselves in the present.
The documentary and talk aim to rethink what constitutes a disability and what society considers to be "normal" by looking at the technologies that have the capacity to change human bodies and minds forever.
"It's completely changed my life," Brashear said of the long-ago accident.
"This topic seemed like a rich world to dive into, wrestle with," she said. "The idea stuck with me so much so that when I went back to school for film I started 'Fixed' as my thesis. It's hard to put film into words but I wanted to challenge this idea of 'able-ism' and to look closely at the values we take for granted, as well as try to understand the enhancement technology that's out there."
At Open Eye Pictures, she served as a producer and community engagement coordinator for two films: "Under Our Skin," an award-winning film about the often-chronic condition Lyme disease, and "The Grove." She also was co-producer for the latter film, about the National AIDS Memorial Grove.
For more information on Brashear's talk, contact Jeremy Zhe-Heimerman, coordinator of assistive technology and test administrative services, at 607-753-2358. For information on the "R/Evolution" series, contact the co-chair, Associate Professor of History Scott Moranda at 607-753-2052.
Prepared by Public Relations Office intern Kathryn Monno
College's Outdoor Centers Explained at Roundtable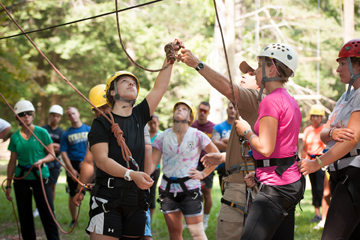 03/24/2015
SUNY Cortland offers many disciplines that have a strong focus on learning in a natural environment — recreation, physical education, biological sciences, geology, primary and secondary science education — to name a few.
Fortunately, the College owns several campuses that are remote from Cortland, including elsewhere in Cortland County, in the Adirondacks and in the Albany area. At these facilities, any student who has a course requirement or simply the desire can experience the outdoors up close and personal. It's been a transformative experience for many students.
Rhonda Jacobs '01, assistant director of the William H. Parks Family Center for Environmental and Outdoor Education, will present "The Outdoor Four" during a community roundtable on Thursday, April 2, in the Park Center Hall of Fame Room.
Hosted by the President's Office as part of the College's ongoing Community Roundtable series, the event is free and open to the public. The series provides programs on diverse intellectual, regional and cultural topics of interest to College faculty, staff and community members.
The roundtable opens at 7:45 a.m. with refreshments and the presentation, featuring a question-and-answer period, takes place from 8 to 9 a.m.
The W.H. Parks Family Outdoor Center, named in honor of the family of alumna Lynne Parks Hoffman '68, operates SUNY Cortland's four outdoor education facilities. Jacobs, who joined the College to assist in overseeing the centers in 2003, will explore each property's unique history and connection with the College including the evolution of course work and current uses.
"The students at each of our four facilities get to experience the outdoors as a classroom, laboratory and playground," Jacobs said. "Students and faculty alike build strong relationships with each other while becoming stewards of the lands they roam."
All four facilities are located in different directions at most a mere three hours from campus.
The Brauer Memorial Field Station at William H. Parks Family Center for Environmental and Outdoor Education is a modern, log-built, conference center situated on a 33-acre wooded tract approximately eight miles southwest of Albany. Open from May through October, the W.H. Parks Family Outdoor Center, Brauer Field Station sits near the base of the Helderberg escarpment, a regional land formation that features fossil-bearing Devonian limestone forms, two prominent cliffs and numerous small outcrops. On its northwestern corner, the Brauer Field Station offers future geologists the chance to explore a fossilized small stromotoperoid reef.
"Brauer Field Station was the first geological field station in the SUNY system," Jacobs noted. "The property was donated to the College in 1974 by the Robert C. Brauer family. In 1982, the first geology classes were held."
Located in the heart of the Adirondack Mountains just a short boat ride apart from each other on Raquette Lake are the Huntington Memorial Camp at William H. Parks Family Center for Environmental and Outdoor Education and the Antlers at William H. Parks Family Center for Environmental and Outdoor Education.
Two SUNY Cortland students relax on the dock at Antlers.
"Since the late 1940s biology, recreation and physical education students have been exploring the Adirondacks," Jacobs said. "The original three programs remain strong while additional programs like art and art history, childhood education and team experiences have added."
The W.H. Parks Family Outdoor Center, Camp Huntington, is comprised of 40 buildings that represent a combination of the Adirondacks' historical past and modern conveniences. Located on Raquette Lake's Long Point, the site is accessible only by boat in the summer and by ice road during the winter. The camp accommodates up to 70 participants in various dorm-style and historic buildings throughout the year. Visitors and groups have a variety of outdoor equipment and resources to meet their objectives, which can encompass exploring approximately four miles of hiking and cross-country ski trails or the self-guided Waldbauer Nature Trail; or borrowing canoes, kayaks, cross-country skis, boots and poles, snowshoes, tents and camping equipment. The site has classrooms and a challenge course with high and low elements, plus a climbing wall.
The W.H. Parks Family Outdoor Center, Antlers is a small outdoor and environmental education center on the Raquette Lake shore. Originally run in the late 1880s as The Antlers Hotel, currently the center encompasses seven original buildings including a dining hall, classroom and sleeping accommodations for 45 individuals. Antlers operates from mid-May through mid-October and its dock launches visitors on trips to and from Camp Huntington.
Located only seven miles south of SUNY Cortland's main campus is the Hoxie Gorge Nature Preserve at William H. Parks Family Center for Environmental and Outdoor Education. The site offers a beautiful, natural setting for participation in class and individual study, research or simple enjoyment of the environment. Approximately 1,000 students per year are involved in academic field study there. Research topics include insect chemical ecology and behavior, taxonomy of mushrooms, conservation biology of amphibians, pollination biology of flowering plants and nutrient cycling in streams. A highlight of the W.H. Parks Family Outdoor Center, Hoxie Gorge, is the one-mile McDermott Nature Trail, which contains 38 marked interpretive stations keyed to a trail guide.
A pair of students explores a small creature that they have captured in their net at Hoxie Gorge.
"Hoxie Gorge has been used by the College since 1965," Jacobs said. "Students and faculty in the science departments have completed a variety of research over the years that often is published in professional journals."
Before joining SUNY Cortland, Jacobs was the program coordinator and environmental educator at the Frost Valley YMCA in Claryville, N.Y. While a SUNY Cortland undergraduate, where she earned a degree in recreation education and coordinated the annual SUNY Cortland Recreation Conference, Jacobs served as vice president of the College's Recreation Association and participated in the Cortland Outdoor Opportunities Program. She completed her senior capstone internship at Camp Huntington and returned the following summer to help refurbish the Kirby Camp. The two experiences solidified her love of the Adirondacks and SUNY Cortland. She also has an associate's degree in recreation leadership from Tompkins Cortland Community College.
During the roundtable, public parking is available in the Park Center and Professional Studies Building lots.
For the roundtable, public parking is available in the Park Center and Professional Studies Building lots.
For more information about the centers, contact the centers at 607-753-5488 or outdoor.edinfo@cortland.edu. For more information about Community Roundtable events, contact Susan Vleck at 607-753-2377.
For more information about the centers, contact the centers at 607-753-5488 or outdoor.edinfo@cortland.edu. For more information about Community Roundtable events, contact Susan Vleck at 607-753-2377.
Students Get Ready to Relay for Life
02/10/2015
Members of SUNY Cortland's Colleges Against Cancer (CAC) student group are working tirelessly on their annual Relay for Life event, set for Saturday, March 28. The reason is simple, according to club president Shannon Boreali.
"The premise of Relay is that cancer never sleeps, so we shouldn't either," Boreali said.
This spring's all-night event will take place from 3 p.m. to 3 a.m. in Park Center Alumni Arena. It will follow a Disney theme and will be built around the slogan: "When you wish upon a star, a cure to cancer is never far."
Participants can enjoy food, entertainment and the regular staples of Relay for Life events, which include laps around the arena's indoor track and a luminaria ceremony to honor those who are battling or died from cancer. CAC hopes to raise $30,000 from donations, t-shirt proceeds and other sales.
SUNY Cortland students, employees and local community members can sign up and support the Relay for Life effort any time leading up to this year's spring celebration.
"You usually can't go a day without hearing a mention about the disease," said Boreali, a junior inclusive special education major from Grand Island, N.Y. "Everyone who attends Relay shares that same goal of finding a cure."
Boreali joined the cause as a high school sophomore, when her grandfather lost his battle with pancreatic cancer. When she came to college, she knew where to channel her extracurricular energy.
"Instead of being angry and upset about it, I wanted to jump in with both feet and give back," Boreali said. "That's how all of our group members feel.
Last year's Relay for Life participants
decorated bags and placed candles inside,
spelling out "hope"
on the Park Center
Alumni Arena bleachers.
"We have a group of about 20 that's just so dedicated because cancer has touched their lives in some way."
The cause brings countless campus clubs to SUNY Cortland's hockey arena, with students sticking around throughout the night for the laid-back atmosphere and different activities. This year's entertainment will include inflatable obstacles, a caricature artist and a DJ as well as performances by the College's Danceworks, Kickline and other student groups.
Students can join a team on the Relay for Life website or they can start their own with just a few members.
"Relay's just a great atmosphere to be a part of, even if you haven't been affected by cancer," Boreali said. "There's just so much positivity and hope.
"It's contagious."
Woods Tea Co. to Perform March 28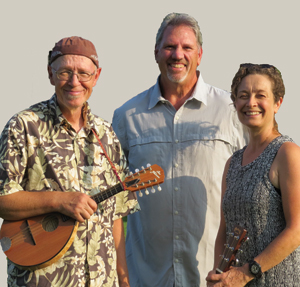 03/09/2015
The Woods Tea Co., a nationally acclaimed folk band from Vermont, will perform its eclectic mix of traditional and original songs including Celtic, sea shanties, French Canadian and Appalachian music at SUNY Cortland on Saturday, March 28.
The band, which has built a solid reputation as a leader in the Irish folk music world, will begin at 7 p.m. in Old Main Brown Auditorium.
Presented by the Campus Artist and Lecture Series (CALS), admission to the show is free for SUNY Cortland students with College ID and children ages 10 and under. The general admission charge is $5.
Tickets may be purchased through the Campus Activities and Corey Union Office, Corey Union Room 406, weekdays from 8:30 a.m. to 4 p.m., or at the door one hour prior to the performance. For more information, call 607-753-5574.
Like maple syrup, fall foliage and baked bean suppers, the Woods Tea Company has been synonymous with New England since the early 1980s, when the group was formed. In 1981, penny-whistler Rusty Jacobs and guitarist Bruce Morgan were beginning their musical careers in Vermont, playing in local clubs and bars. On one such fateful night they happened upon an old wooden crate with the words "Wood's Tea Company" stenciled on the side. It seemed like a good idea at the time, perhaps even a sign, and the duo was named.
Membership in the group has changed and the music evolved, but the spirit of fun and audience participation on which the group was founded remains as bright and alive as ever. The Woods Tea Co. equals pure folk fun.
Band members currently include Howard Wooden on bass and guitar, Patti Casey on guitar and flutes, and Pete Sutherland, described as Vermont's greatest living folk musician and multi-instrumentalist.
"The band spent most of its nearly 30 years performing as a trio, and now more than ever, with its wealth of instrumental and vocal combinations, a trio makes sense," said Casey. "Really, if you count up all our instruments, we're more like an orchestra than a trio."
Woods Tea started out playing to small college audiences in Burlington, Vt. and then expanded to coffeehouses and Irish pubs. After building a reputation in New England, the band, which used folk legend Woody Guthrie as an early inspiration, began touring on the concert circuit nationwide. Noted venues have included New York's Lincoln Center, the Chautauqua Institute and an appearance on National Public Radio, which labeled them "Vermont's hardest-working folk group."
The Burlington Free Press wrote: "Wood's Tea Co. has an enduring quality built on a foundation of music that's timeless." The band won an Outstanding Innovation Award from the Irish Heritage Foundation "in appreciation and recognition for their creative contributions to Irish music."
For more information, visit the band's website at www.woodstea.net.
Student Climber Rescues Trapped Dog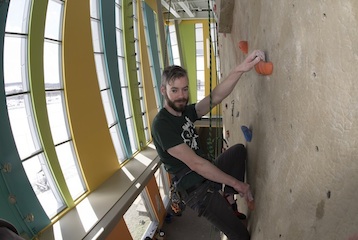 03/23/2015
After five frustrating hours of helplessly peering down a foot-wide rock crevice at the barely visible back of a dog wedged headfirst far below, rescue crews were getting desperate.
Since the female Doberman pinscher had broken through snow masking the crack at Clark Reservation State Park near Syracuse, N.Y., she had fallen lower and wedged herself tighter, despite the best efforts of area firefighters. It was getting close to midnight, the freezing rain was getting colder and the dog was showing fewer signs of life.
So they called a SUNY Cortland student.
Nate Farrington, an outdoor recreation major, received the call from an acquaintance who worked at the Veterinary Medical Center in Syracuse. She had recalled that he liked to go vertical caving - an activity in which people use ropes to explore deep holes in the earth - and asked if he could help.
Farrington didn't hesitate; partly because he loves dogs, and partly because he rarely misses an opportunity to climb.
"As a kid, I was always climbing trees, climbing buildings, climbing my house and jumping off the roof with a trash bag designed to be a parachute," said Farrington, who moved on to mountains, caves and indoor climbing facilities. He is now the student manager of the 42-foot-tall climbing wall in SUNY Cortland's new Student Life Center.
Farrington didn't know what he'd need for the dog rescue, so he just threw whatever he had in a car and raced to Clark Reservation. Farrington, a commuting student who drives an hour to class every day from Baldwinsville, N.Y., lives about 20 miles from the entrance to the park. He was met there by a snowmobile and taken to the site.
"They asked me what I was going to do, and I told them I was going in there after her," said Farrington. The rescuers gathered around the dark gap, which was about as wide across as the length of a man's shoe, looked at him skeptically. "It was narrow. I had to keep my face to the side, I couldn't even turn my head," Farrington recalled. "Through caving, we'd done enough squeezes where that kind of situation doesn't really bother me. That switch in my head doesn't go off."
Farrington initially anchored a rope to a nearby tree and used standard safety precautions to begin his descent into the 20-foot-deep crevice. But his harness and other equipment got in the way, so he decided to go down without them. He figured that that in a space that cramped, it would be easy for him to stop himself if he started to slip.
"I could barely see her, and they had a light on her," Farrington said. "A lot of snow and dirt had fallen on top of her, and she'd wedged herself in where several rocks were in the way. They had to point her out to me several times. Every once in a while she'd make a little noise and it would give all of us a glimmer of hope."
Eventually, Farrington found an angle that gave him some access to the dog, whose name is Remy. Firefighters reached down with the catchpoles used by animal control officers and Farrington was able to get one looped around Remy's neck and one around the 50-pound animal's leg. With him pushing and the other rescuers pulling, the dog began to rise from the hole.
But by then, two hours after he'd arrived, and more than seven since the dog had fallen, Farrington feared they were too late.
"I had a really bad vibe," Farrington recalled. "Her eyes rolled back in her head and she went slack. I used to work at the emergency vet's and I've always been around dogs, so I've got a good sense of them. I really didn't think Remy was going to make it."
As soon as she reached the top, rescuers loaded her onto a snowmobile and whisked her off to the veterinarian. It took Farrington a bit longer to inch has way back up. It was about 2 a.m. and Farrington was exhausted, but instead of heading home he went to the Veterinary Medical Center of CNY in Syracuse to check on Remy.
He was happily surprised to find her standing and walking around. Remy was released from the hospital the next day.
Farrington, 32, had worked at that same 24-hour emergency veterinary center several years ago, when he thought of becoming an animal doctor. He also studied film, writing and social work, earning an associate's degree from Onondaga Community College and attending both SUNY Purchase and SUNY Oswego. He fixed cars and motorcycles and was a key staff member at the Westcott Community Center in Syracuse.
While at the center, he started an outdoor adventure program for children that included climbing and ropes. He ran it successfully for seven years and continues to still.
The experience helped him realize what he wanted to do with his life. It's why, at the age of 32, he's finishing his undergraduate degree at SUNY Cortland and focused on entering its outdoor recreation master's program.
"All of the college majors I had - film, English, social work - I thought were really cool, but I kept wanting to do them outside. I wanted to be outside. Then I looked into SUNY Cortland and found out I could get a degree in it. I could major in outside!"
Sociologist to Discuss Humanity's Global Effects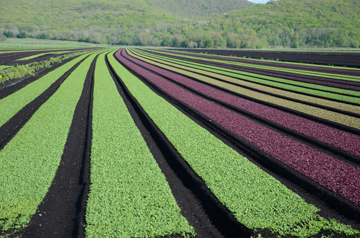 03/24/2015
| | |
| --- | --- |
| | |
| | William Skipper |
SUNY Cortland sociologist William Skipper will take a look at how human activity has created the ecological crisis the planet as a whole faces today, on Wednesday, April 8, at SUNY Cortland.
This activity can include technologies as well as economic, political and socio-cultural systems and processes. Skipper, a SUNY Cortland assistant professor of sociology/anthropology, will present "Livable World/Livable Planet: The social aspects of ecological sustainability" beginning at 4:30 p.m. in Moffett Center, Room 2125.
A reception will precede his presentation at 4 p.m. in the Rozanne M. Brooks Museum, Moffett Center, Room 2126.
His lecture continues the 2014-15 Rozanne M. Brooks Lecture Series, themed this year on "Culture, Technology and Sustainability." The series events, which are free and open to the public, explore the present and future on a planet with a rapidly growing population, critical food shortages, climate change and a host of other factors that affect the quality of life across the world. Presenters discuss these issues and offer possible solutions to major global problems, including the role technology may play in helping or hindering progress toward a "livable planet."
The series also will feature SUNY Cortland students conducting a poster session titled "Can We Sustain?" from 3:30 to 4:30 p.m. on Wednesday, March 25, in the Moffett Center Sociology/Anthropology Lobby. A series of student presentations will follow from 4:30 to 5:30 p.m. in Moffett Center, Room 2125.
Skipper, who joined SUNY Cortland as assistant professor in 2003 after serving three years as a visiting assistant professor, has research interests that include globalization, technological change, offshoring and work and work's meanings.
A published author of journal articles and book reviews and a contributing editor to Globalization, he has presented at conferences on the effects humans are having on the Earth.
"As a consequence of mankind's environmental influence, any serious effort to achieve ecological sustainability must include social change globally," Skipper asserts.
From 2009 to 2012, Skipper was the SUNY Cortland coordinator of the three-year SUNY Global Workforce Project, a collaboration with the Levin Institute and SUNY Brockport to "globalize" undergraduate curricula. The initiative was funded by a U.S. Department of Education Undergraduate International Studies and Foreign Language Program grant.
He chaired the College's Sociology/Anthropology Department from 2009 to 2013 and served as interim coordinator of the College's International Studies Program in 2006. Skipper has a bachelor's degree in anthropology from Fordham University and master's and doctoral degrees in anthropology from Cornell University.
The 2014-15 Brooks Lecture Series is sponsored by a grant from Auxiliary Services Corporation and the Cortland College Foundation.
For more information, contact Sharon R. Steadman, a SUNY Cortland professor of sociology/anthropology, lecture series organizer and Brooks Museum director, at 607-753-2308.
Casting Complete for 'Legally Blonde, The Musical'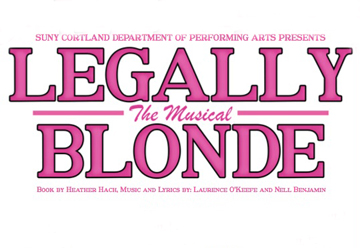 03/24/2015
"Wanted, one canine" was the unusual casting call that went out recently from SUNY Cortland's Performing Arts Department as it prepares "Legally Blonde, The Musical" for six main stage performances starting Friday, April 10.
"No previous stage experience necessary," the electronic message to faculty and staff relayed.
"Dog must be friendly and good with people and toy or miniature size-Chihuahua, or similar size/type — no more than 10 pounds or so — able to be carried in a bag/large purse."
Associate Professor of Performing Arts Kevin T. Halpin is directing this musical takeoff on the 2001 hit Warner Bros. film of the same name starring Reese Witherspoon and on the novel Legally Blonde by Amanda Brown. He is confident he'll soon cast his canine actor for the role of Bruiser, having already lined up the doggie character's slightly larger, four-legged love-interest, Rufus.
"I'm looking at a couple dogs tomorrow so hopefully I will have one by then," Halpin said.
Meanwhile the rest of the cast — the human, student part — auditioned and was settled a month ago. So far, the rehearsals for this exciting, stylish and energetic musical production indicate the performers' vocal and acting talents won't be upstaged by a couple of scene-stealing pooches.
"Legally Blonde," with music and lyrics by Laurence O'Keefe and Nell Benjamin, will take the stage in the Dowd Fine Arts Center Theatre for six performances, including four evening shows at 8 p.m. on Friday, April 10; Saturday, April 11; Friday, April 17; and Saturday, April 18; and two Sunday matinee performances at 2 p.m. on April 12 and April 19.
Tickets for the first time may be purchased in advance online by credit card at www.cortland.edu/boxoffice and also will be sold at the Dowd Center box office one hour prior to each performance.
Ticket prices are $8 for all students and children, $15 for SUNY Cortland faculty, staff and senior citizens and $18 for general admission. All lead and feature parts are played by musical theatre majors while a few ensemble cast members are enrolled in other disciplines.
All lead and feature parts are played by musical theatre majors while a few ensemble cast members are enrolled in other disciplines.
Jaclyn "Jackie" Collins, a senior from Bayville, N.Y., plays the lead character of Elle, the UCLA Malibu sorority girl headed off to Harvard Law and going after what she wants — love!
"(Jackie) has an incredible, bright contemporary style singing voice, likable with vivacious energy, and she's gorgeous," Halpin said. Collins takes her first lead role in a College musical, having previously performed as ensemble cast member.
Benjamin Shimkus, a junior from Saratoga Springs, N.Y., portrays Elle's former boyfriend Warner Huntington III, who thought he had left Elle behind in Malibu, having wanted her to become more "serious." "Ward, he doesn't change very much, he plays a jerk in the musical as well," Halpin said. "He also has a very, very strong singing voice. He has been a very thoughtful, grounded actor, taking on the character and really living it. He's understated, which works well for Warner."
Andrew Cuccaro, a sophomore from Baldwinsville, N.Y., is cast as Emmett Forrest, Elle's new love interest, a recent graduate of Harvard law who's working as an associate of Callaghan the lawyer. "You don't see Emmett's character develop in the movie as much as you do in the musical," which pushes Emmett into a leading role, Halpin said.
Rounding out the leading roles is Paulette, portrayed by Allison "Allie" Tamburello, a senior from Lindenhurst, N.Y.
Featured or principal roles include Sarah Shaiman as Margot, Catherine Skojec as Serena, Catie Young as Pilar, Hailey Berkowitz, whose stage name is Aviva, as Vivienne, Joey Gugliemelli as Callahan and Nikki Ferrara as Brooke Wyndham. Ferrara also portrays Tiffany in the ensemble cast.
As Ward's preppy new girlfriend Vivienne, senior Berkowitz moves beyond her past ensemble performances at SUNY Cortland to take on a key role.
"She portrays an incredibly strong and sharp character on stage," Halpin said. "The role requires an amazing high belt in her voice. She's a very somber and dark kind of character for most of the play, but in the pivotal part, she really blows the theatre out."
The ensemble cast includes Alondra Hughes as Leilani; Samantha Chiodo as Kate and Chutney; Tara Zebrowski as Tiffani; Camille Parlman as Galean and Whitney; Bridget Guardino as Enid; Billy Swenson as Aaron Schultz; Matthew Spina as Sundeep Padamadan; David Newman as Kyle and Chad; Nick Alteri as Lowell; Sean Noonan as Dad, Pforzheimer and Dewey; Kevin Rayo as Winthrop and Carlos; Kayla Arias as Store Manager and Judge; William Rivera as Nikos and Kiki; and Kayla Arias, Maggie Brennan, Tayloranne Flurschutz, Max O'Connell, Jack Gerhard, William Rivera and JaQuawn Turner as Harvard students, salespeople, inmates and customers.
Local Teachers Hone Skills at College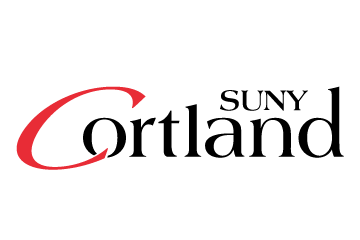 03/24/2015
A group of 214 teachers from Cincinnatus, Groton and McGraw had an opportunity to go back to college last week and learn how they could use the SUNY Cortland campus to enrich their classrooms.
The experience not only allowed the teachers to explore how they could use the College's planetarium, art gallery, computer labs and other facilities, but gave them an opportunity to network and share ideas with professionals from other school districts.
"Professional development is difficult for teachers in small, rural districts," said Alexis Abramo, a grant project manager in the School of Education and coordinator of the event. "This allows them to network, talk with fellow teachers who face similar problems and capitalize on the staff of the College."
The daylong conference was free for the teachers through their schools' partnership with SUNY Cortland and the Teacher Professional Development Network.
SUNY Cortland has the largest teacher education program in New York state and last year was named the stare's first Center for Innovation in Education by SUNY Chancellor Nancy Zimpher.
Diversity Conference Planned for March 28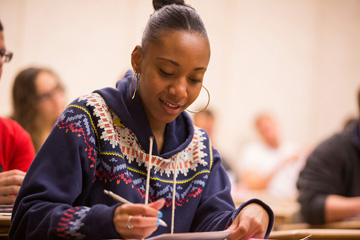 03/10/2015
"Show Me YOUR Brave" is the theme of this year's diversity conference Saturday, March 28, presented by SUNY Cortland's Multicultural Life and Diversity Office.
The sixth annual Student Conference on Diversity, Equity, Inclusion and Social Justice will explore the deeper meaning of bravery from 8 a.m. to 5 p.m. in Corey Union.
"This theme encourages participants to inspire others to truly think about the meaning of bravery and challenges one to become an advocate and ally," said Melissa Da Costa, interim assistant director of multicultural life and diversity, and Casey Towers Hall director.
Last year's conference attracted 150 participants from nine different colleges and universities to participate in the various lectures, panels and creative performances offered.
This year's keynote speaker, Lyndon Huling, a student activities coordinator at University of California at Davis, exemplifies the conference's theme.
"I believe that the free exchange of ideas is at the foundation of higher education and that challenging dialogues are crucial in the development of student leaders," Huling said.
Lyndon Huling
Huling's journey has brought him back from California to New York and the SUNY Cortland campus again, where he served two years from 2011 to 2013 as the College's first assistant director in the Multicultural Life and Diversity Office.
He hopes to challenge thinking while creating dialogue.
"By working with students, administration and community members, I strive to create spaces where every voice can be heard. I hope to engage the community and stimulate critical thinking."
Huling received the 2009 International Campus Citizen Award from the Department of International Programs and Services at University of the Pacific in Stockton, Calif.
With his accomplishments, Huling feels he is honoring those who helped him on his own educational journey.
Huling has a Bachelor of Arts in Psychology from the University of California at Davis, where he completed minors in human development and education. As a student, he gained multicultural experience in working with learning communities.
As an assistant residence community coordinator at California State University at Chico from July 2009 to 2010, he oversaw the development, programming and sustainability of seven learning communities including Honors Houses, the Sustainability/Environmental House, the Project MATH House, the Natural Sciences building and the International House. As a campus staff member, he was frequently recognized for the quality of his service to students.
He received a Master of Arts in Education Administration with a specialization in student affairs from the University of the Pacific in Stockton, Calif.
His graduate fieldwork at the University of the Pacific included developing diversity-related campus initiatives, including an inter-American Spanish immersion program. He also served as a graduate residence hall director there.
Before joining SUNY Cortland, he served as a residence hall director for Onondaga Community College, where he took part in multicultural and diversity programming and training.
The conference is open to the SUNY Cortland students, faculty, staff and alumni as well as students from other higher educational institutions.
To find out more about the conference or to register, visit the SUNY Cortland Student Diversity Conference page on the Multicultural Life and Diversity Office website. For information, contact Da Costa at 607-753-4162.
Prepared by Public Relations Office intern Kathryn Monno
Alumnus to Lead Southeastern Conference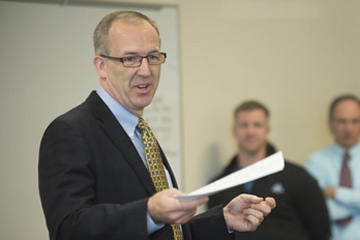 03/13/2015
Greg Sankey '87, a SUNY Cortland graduate and a highly regarded mind in college athletics, was selected to lead the National Collegiate Athletic Association's (NCAA) Southeastern Conference (SEC) March 12.
The former physical education major and Auburn, N.Y., native will succeed Mike Slive as commissioner Aug. 1 after serving more than two years as the SEC's executive associate commissioner and chief operating officer — essentially the conference's second-in-charge.
Sankey returned to the College this past fall for a two-day executive-in-residence stay, speaking to students about current topics in college athletics. As commissioner, he'll be one of the most visible leaders in the NCAA and will lead one of its most powerful athletic conferences. The SEC produced college football's national champion seven consecutive years from 2006 to 2012.
Following the announcement, presidents and chancellors of SEC institutions praised Sankey as one of the best leaders and sharpest administrative minds in college athletics. He's in his 13th year with the SEC and has proven to be an integral part of the conference's efforts to rethink its governance, enforcement and compliance program. He also has overseen the SEC's championships staff.
Even high-profile coaches, from University of Florida men's basketball coach Billy Donovan to Louisiana State University football coach Les Miles, expressed their support of Sankey's promotion.
Sankey is active within the NCAA committee structure, which includes his service on the Division I Legislative Council, Committee on Academic Performance and the NCAA Committee on Infractions, which he currently chairs. In June, he offered testimony in the historic O'Bannon v. NCAA case regarding compensation for student athletes.
Prior to joining the SEC staff, Sankey served as commissioner of the Southland Conference for nearly seven years. He joined the Southland Conference staff in 1992 and worked as both assistant and associate commissioner before he was named commissioner in 1996, when he was just 31 years old.
He directed compliance and academic services at Northwestern State University in Natchitoches, La., prior to that. While at Northwestern State, Sankey also coached the university's golf teams for two years. His career in college athletics began at Utica College, where he directed intramural sports.
Sankey, a former baseball player and an avid marathon runner, earned his master's degree from Syracuse University. He resides in Birmingham, Ala., with his family.
Blaze Falls Just Short in Mascot Madness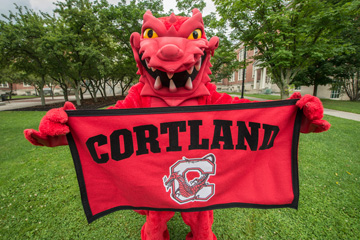 03/24/2015
SUNY Cortland's fearless red dragon came up just short in SUNY's third annual Mascot Madness online voting competition, falling to Geneseo's knight by the narrowest of margins in second round action.
Victor E. Knight collected 50.67 percent of the vote to Blaze's 49.33 percent in moving on to the Elite Eight round of the competition. Last year, Blaze made a run to the Final Four.
SUNY Cortland fans showed a tremendous outpouring of support for Blaze this year in helping the College's mascot knock off both SUNY Poly and Adirondack Community College in the first round and nearly making a huge comeback against Geneseo.
Prior to the competition, SUNY administration sent a series of questions to mascots at all SUNY campuses. Below are the questions, as well as Blaze's answers:
Name?
Blaze. One word. Like Godzilla.
Where are you from?
Cortland. I was hatched on the banks of the mighty Tioughnioga River, to be exact.
What do you do to get pumped before a game?
Binge watch "Game of Thrones" on my smart phone. Go team Targaryen!
What is your favorite snack?
Whoever Cortland is playing.
Who is your biggest SUNY rival?
In terms of mascots, I'd have to say the Geneseo Knight. He takes that whole dragon-slaying shtick way too seriously.
How do you stay in shape?
Pilates. When you exhale flames it's really important to control your breathing. Birthday cakes are a real challenge.
What do you do in your spare time?
Rattle windows with my awe-inspiring roar, intimidate cowering opponents, light the night sky with my fearsome flames… you know, dragon stuff. Also, I like to barbeque.
What is your favorite TV show?
"River Monsters" on Animal Planet. It's nice to see what some of my relatives are up to.
What's the greatest aspect of being a mascot?
Being a member of all 25 SUNY Cortland athletic teams and supporting the student athletes' accomplishments.
Name a place that you would like to travel to.
Erebor in Middle Earth. I've got a beef with my cousin Smaug – laying waste to villages, scaring hobbits, hoarding gold. He's giving dragons a bad name.
What's the best part about being from New York?
Bagels. Toasted bagels.
EAP to Offer Tips on Eating Healthy on the Run
Employees who want to balance good health with a busy lifestyle can spend an hour at a "Living Well on the Fast Track: Eating Healthy on the Run" talk on Monday, March 30.
Professional trainer Linda Hall will facilitate the Employee Assistance Program (EAP) seminar from noon to 1 p.m. in Brockway Hall Jacobus Lounge.
The seminar will address how to make healthier food choices, prepare balanced meals and find time to exercise when faced with family commitments and work responsibilities.
Hall, a former SUNY educator and Educational Opportunity Program director, now oversees Hall Placement and Training, assisting those living in poverty to become taxpayers and providing training programs. Formerly the executive director of the Onondaga County Human Rights Commission, Hall successfully administered a five-year grant to place into employment those who have completed an adult vocational program.
The EAP Program, jointly sponsored by labor and management, is a confidential service to help all state employees, their families and retirees. SUNY Cortland's EAP Committee includes 15 members; three from Civil Service Employees Association, eight from United University Professions, two from management/confidential, one member from Public Employees Federation and one Auxiliary Services Corporation representative who does not belong to a union. The purpose of the EAP Committee is to promote and ensure the EAP Program's continued usefulness to employees, their families and their employer.
Grant money funds EAP Committee efforts, which include sponsorship the following campus activities: food drives for local charities, the wellness program, informational seminars, the PAWS for Stress Relief program, the Tobacco Clean Up program and the Weigh in on Wednesdays program. The Committee also works with coordinators to provide consultation and referral services to employees in need.
For more information, contact Athena Vunk-Moynihan, Registrar's Office, or visit the EAP website to learn more.

Suggest a feature story
---
Faculty/Staff Activities
Lorraine Berry
Lorraine Berry, project director for NeoVox, gave an interview on the Ryan Tubridy show, on Radio RTE, a radio broadcast network in Ireland. She was contacted after an article in Salon.com magazine was re-published. Tubridy is a celebrity in Ireland and his Monday through Friday broadcasts are listened to by millions of Irish. The conversation with Tubridy was about a section from Lorraine's unpublished memoir. The clip can be heard at http://www.rte.ie/radio/utils/radioplayer/rteradioweb.html#!rii=1:20736538:0::
Carolyn Bershad
Carolyn Bershad, Counseling and Student Development, presented with Drs. Susan Stock and Heidi Levine on "Leadership and Development: Many Paths, Many Stories" at the annual convention of the American College Personnel Association (ACPA), held March 5-8 in Tampa, Fla. The program was sponsored by ACPA's Mid-Level Community of Practice. Bershad also completed her term as past-chair for ACPA's Commission for Counseling and Psychological Services at the convention.
David Franke
David Franke, English Department and Seven Valleys Writing Project, is helping to organize the "Writing Matters in Every Classroom" conference at Homer Intermediate/Junior High School on Saturday, March 28. Several teacher-educator agencies are collaborating on the conference, which focuses on writing and learning in all disciplines — not just English classes. Robert Yagelski, director of University at Albany's Program in Writing and Critical Inquiry as well as the Capital District Writing Project, serves as keynote speaker. A virtual presentation by Ruth Culham, author of 6+1 Traits of Writing, also is planned. Local and regional teachers will offer more than a dozen breakout sessions on classroom teaching and the use of writing. Other conference sponsors include the Teacher-Leader Quality Partnership, the New York State Master Teacher Program, the Cortland County Teacher Center and the Southern Tier Teacher Center Network. For more information, visit writingmattersconference.com.
Mary Gfeller
Mary Gfeller, Mathematics Department, presented at the 2015 Professional Development Schools National Conference held March 5-8 in Atlanta, Ga. Her presentation was titled "Co-Teaching and Special Education in Secondary Science and Mathematics Classrooms." Findings were from the New York State Department of Education (NYSED) funded Undergraduate Clinically Rich Teacher Preparation Program.
David Kilpatrick
David Kilpatrick, Psychology Department, presented a paper on interventions for reading disability at the National Association of School Psychologists' annual conference in held Feb. 17 in Florida.
Jordan Kobritz and Ray Cotrufo
Jordan Kobritz and Ray Cotrufo, Sport Management Department, presented "Beyond the Box Score: The Case for Integrating Sport Analytics into the Sport Management Curriculum" at the Commission on Sport Management Accreditation (COSMA) conference in Philadelphia on Feb. 13.
Jordan Kobritz
Jordan Kobritz, Sport Management Department, presented at the 28th Annual Sport and Recreation Law Association Conference on March 4-7 in Charlotte, N.C. The title of his presentations were "Wind, Rain and Injuries: An Analysis of the Legal Risks Associated with Tarp Duty," and "How Much is Too Much? Is the Unlimited Authority of the NFL Commissioner No Longer in the 'Best Interests of the Game?'"
Benjamin J. Lovett
Benjamin J. Lovett, Psychology Department, gave an invited talk to the American Association of Medical Colleges, the association that makes and administers the Medical College Admission Test (MCAT). Lovett discussed research on testing accommodations for students with disabilities and when accommodations would be appropriate on the MCAT. His book, Testing Accommodations for Students with Disabilities: Research-Based Practice, was recently published by the American Psychological Association Press.
Angela Pagano
Angela Pagano, Biological Sciences Department, presented at the 2015 Professional Development Schools National Conference held March 5-8 in Atlanta, Ga. Her presentation was titled "The Evolution of Trust in Co-Teaching Relationships in a Clinically Rich Model of Teacher Preparation." Findings were from the New York State Department of Education (NYSED) funded Undergraduate Clinically Rich Teacher Preparation Program.
Robert Spitzer
Robert Spitzer, Political Science Department, has been named the new editor of the Presidential Briefings book series, published by Transaction Books. The books in the series provide concise and readable introductions to topics of general interest to students of the presidency. By approaching their subjects from the vantage point of what a president most needs to know, and what we most need to know about the presidency, each book provides a highly practical overview of an important subject. The first book in the series will be published this summer.

Submit your faculty/staff activity