Rapper Big Sean Headlines Spring Fling
04/23/2015
Popular rapper Big Sean will play to a packed Park Center Alumni Arena when he headlines SUNY Cortland's Spring Fling concert on Saturday, April 25. Tickets to the show are sold out.
The show is slated for 7 p.m., with doors opening at 6 p.m.
Earlier this semester, the College's Student Activities Board (SAB) announced Big Sean as the headliner on the same day that the former Grammy nominee released his third studio album. The Detroit native's new "Dark Sky Paradise" album ranked first on the iTunes Top Albums chart almost immediately in late February. Reviews from The Verge and The New York Times suggest it's his best album yet.
Big Sean, who performs on the Roc Nation label, released his first mixtape when he was 19 and has since performed alongside some of the biggest names in hip hop, including Kanye West, Chris Brown and Nicki Minaj. The 26-year-old's popular tracks include "Dance," "Beware" and "My Last."
His new album features collaborations with Drake, John Legend, and girlfriend and pop star Ariana Grande. Record producer and rapper DJ Mustard will open for him at SUNY Cortland.
Big Sean earned the BET Award for Best New Artist in 2012 on the success of "Finally Famous," his 2011 debut album. "Mercy," a Kanye West track that features Big Sean, Pusha T and 2 Chainz, won the Billboard Music Award for Top Rap Song in 2013. The song also received two Grammy nominations that same year.
SUNY Cortland's annual Spring Fling carnival takes place from 11 a.m. to 2 p.m. earlier in the day on the lawn in front of Moffett Center, with activities that include a zipline, laser tag and giant obstacle course. Food, t-shirts and prizes also will be provided.
To stay current with Spring Fling-related news, follow SAB on Twitter and Instagram at @CortlandSAB.
SUNY Cortland to Honor Peter DiNardo '68
02/24/2015
The late Peter A. DiNardo '68, who during a remarkable teaching career at SUNY Oneonta also strongly influenced the modern, international clinical practice of psychology in the areas of fear, panic and anxiety, will become the 14th inductee into the SUNY Cortland Academic Hall of Fame.
DiNardo, a SUNY distinguished teaching professor of psychology who died in 2008 at age 62, will be recognized on Monday, March 2, during the President's List reception, an event honoring the College's students who achieve grades of A-minus or better in each of their courses for a given semester as well as meeting other academic performance criteria.
SUNY Cortland President Erik J. Bitterbaum will open the event, which will recognize 413 students this year and include their parents and other guests. Judith M. Waring, DiNardo's widow, will attend the ceremony to accept the posthumous honor. Benjamin Lovett, SUNY Cortland assistant professor of psychology, will discuss how the late SUNY Oneonta professor's example can inspire tomorrow's scholars in all disciplines. The President's List reception begins at 4 p.m. in the Corey Union Function Room.
Created in 2006, the Academic Hall of Fame recognizes SUNY Cortland alumni who graduated 10 or more years ago with magna cum laude or higher honors, and who have made significant contributions to society through their chosen professions. The Hall of Fame wall is located in the Dorothea "Dottie" Kreig Allen Fowler '52, M '74 Old Main Grand Entrance Hall.
Last year, the College honored Robert Hofmann '82, who led Vermont's largest government department and in a long and successful career has moved seamlessly between executive roles in the private and public sectors.
This year, DiNardo will be recognized based on a remarkable career in which he merged exceptional classroom teaching with research that continues to impact the field of psychology.
"Dr. DiNardo is one of our most accomplished graduates, and will be an outstanding addition to the Academic Hall of Fame," stated R. Bruce Mattingly, dean of the School of Arts and Sciences. "We hope that our current students will be inspired by his example."
Lovett, who joined the College's Psychology Department in September and has conducted considerable research in the areas of disability diagnosis and testing accommodations, said psychology professionals continue to use the method that DiNardo developed to diagnose certain kinds of psychological disorders.
"DiNardo was a co-author of a structured interview process that was used to determine whether or not someone met the official, formal criteria for having anxiety disorders as described in the Diagnostic and Statistical Manual of Mental Disorders, or DSM, which is the most widely used classification system in North America for psychiatric disorders," said Lovett, who earned his doctorate in school psychology from Syracuse University and previously served Elmira College since 2007, most recently as associate professor of psychology.
"People are often very interested in treatments for psychological disorders but the unsung heroes are the people who allow us to assess those disorders in the first place," Lovett said. "So my hope is it will be an inspirational message to students to work on problems that need solving, whether or not they're the most popular things at the moment."
Born in Schenectady, N.Y., DiNardo graduated from Linton High School. As a student at SUNY Cortland, he received two prestigious Donovan C. Moffett Presidential Scholarships. After graduating magna cum laude with a Bachelor of Arts in Psychology from SUNY Cortland, he earned a doctorate from Washington University in St. Louis, Mo.
During his 34 years at SUNY Oneonta, as a clinical psychologist DiNardo conducted research on patients with anxiety and its disorders. Part of his work was done in Oneonta, N.Y., and part in Albany, N.Y., where he was a research associate at the University at Albany's Center for Stress and Anxiety Disorders. The center for years operated as a large, federally funded research clinic and its mission continues through the university Psychology Department's Anxiety Disorders Research Program. The collaboration resulted in new conceptualizations of generalized anxiety disorder and panic disorder. In particular, DiNardo worked on an instrument he called the anxiety disorders interview schedule (ADIS).
DiNardo co-authored the clinical manual Anxiety Disorders Interview Schedule Adult Version (ADIS-IV): Specimen Set, published in 1996 by Oxford University Press. He was the co-author of an August 1990 Journal of Abnormal Psychology article, "Syndrome Co-morbidity in Patients Diagnosed with a DSM-III-R Anxiety Disorder," which involved structured interviews of 130 patients using his signature methodology.
DiNardo was credited for developing innovative questions and protocols in diagnosing patients, including the use of heart rate as a control for a client's interview response. One study compared the measurement of heart rates for interviewed clients who had a phobic fear of dogs to non-phobic persons who had experienced actual dog bites. DiNardo's findings were described as "revolutionary" in the field by a professional peer. He was investigating motion sickness susceptibility at the time of his death.
As a researcher, DiNardo succeeded at supporting his investigations by winning major grants, including one from the National Institutes of Mental Health to examine the relationship between fear of heights and motion sickness susceptibility.
Outside his research, DiNardo was an avid educator and mentor. He taught introductory to more advanced psychology courses including abnormal psychology, trained students in beginning or advanced psychological research, and supervised teaching assistants and students engaged in independent study.
DiNardo is described as having been "a master at the core processes of genuine education of students" by a former long-time colleague Steven Gilbert, a SUNY Oneonta professor emeritus of psychology.
"Pete had amazing rapport with students that always put them in the exact zone necessary for them to learn, grow and perform," said Gilbert, in reference to how DiNardo related to students in the classroom, research lab or on a team presenting findings at a regional professional conference.
"They sensed that he respected them and cared about them, but also, that he expected much from them, and that his expectations were very high but also always attainable," Gilbert said. "Students knew they were safe with him; that they could explore ideas without fear of ridicule. His prods, questions, redirections, requests for clarification or alternative possibilities, fishing for deeper analysis — all stimulated our best thinking."
Honored as a top instructor on campus both by students and faculty, DiNardo was described by one student who would go on to pursue graduate studies in the field as a "sage on the stage" for his well-organized lectures and clarity in thought and speech and a "guide on the side" for his personalized mentoring process.
Another former student who became a doctoral candidate noted that DiNardo "stressed the 'independent' component of independent research, treating me as a colleague and collaborator, rather than simply a research assistant. Looking back on this experience, I am struck by Dr. DiNardo's ability to motivate and inspire."
The proposal that SUNY's chancellor promote DiNardo to "distinguished" notes that students might enter his introductory course in a different major, or undecided, but by the semester's end such was his influence that well more than 20 percent had selected psychology as their major.
By the mid-2000s, DiNardo had encouraged 25 different student researchers to efforts that resulted in 17 professional presentations with them at national and international conferences. His students served as co-authors on at least 58 of his published research papers. He often served other institutions on dissertation committees of doctoral candidates in his field.
Colleagues noted that much of DiNardo's student-centered service was voluntary and conducted on his own time, including his participation in the Summer Academy Faculty Lecture series sponsored by the Educational Opportunity Program.
His dedication to students, adherence to the highest academic standards and continued professional growth and scholarship earned him a 1995 SUNY Chancellor's Award for Excellence in Teaching. SUNY also promoted DiNardo in 2006 to distinguished teaching professor of psychology, one rank above that of full professor.
In 1997, SUNY Oneonta named him as the third recipient of its Susan Sutton Smith Prize for Academic Excellence.
---
Capture the Moment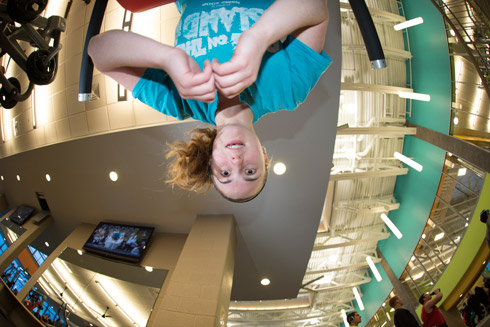 First-year student Keara McNamara enjoys a fresh perspective from the hyperextension machine at the new Student Life Center. Doors opened Feb. 16 and in the first week, thousands of students, faculty and staff members took to the building's many fitness spaces, which include athletic courts, a jogging track, weight-lifting area, spinning room and bouldering and climbing walls. Operated on an "open recreation" concept, the center is available to students and employees from early morning until late at night.
---
In Other News
'R/Evolution' Series Continues during March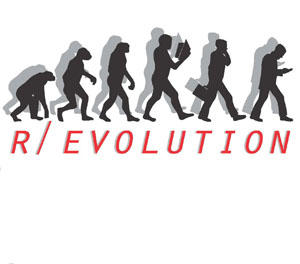 02/24/2015
During March several speakers — an English literature specialist, a prison reform advocate and a documentary filmographer — will each take the podium at SUNY Cortland to address the concept of "r/evolution" in a series of lectures from their unique viewpoints.
Additionally, the month will offer the screening of the futuristic film "The Singularity is Near: A True Story about the Future" and the opportunity to attend a student-organized conference on diversity, as SUNY Cortland's yearlong "R/Evolution" series continues in spring 2015 questioning the notion that evolution represents positive change with a number of book and staged readings, film screenings and discussions. Presented by the College's Cultural and Intellectual Climate Committee (CICC), the events are free and open to the public.
The CICC members assert that, despite "r/evolution" in the ways that humans operate in the world, certain issues seem to reassert themselves as timeless problems.
David Franke, a SUNY Cortland professor of English, will discuss "Evolution and Writing" at 1:30 p.m. Tuesday, March 3, in the Old Main Colloquium Room.
Using as a lens his professional writing course Evolution of Writing, Franke will present a survey of writing from musty Sumerian cuneiform to glittery Twitter. He will divulge ways that he imports and adapts evolutionary concepts from biology into the study of "technologies of the word."
Franke will share how some of the persistent myths about biological evolution cause trouble when used to study historical development in writing. He will end his talk by discussing the optimistic theory that writing inherently enhances consciousness and contrast that with the more recent theory that computers degrade it.
For more information on Franke's talk, contact Andrea Harbin, associate professor of English, at 607-753-2073.
Glenn E. Martin, who spent six years in New York state prisons before becoming a national leader and advocate for criminal justice system reform, will speak at 7 p.m. on Thursday, March 5, in Sperry Center, Room 105. A reception will follow in the Sperry Center lobby.
Glenn E. Martin
Martin, whose personal journey has helped shape his unique and groundbreaking approach to criminal justice reform, will discuss the growth of mass incarceration in America in a talk titled "From Convict to Conviction: A Grassroots Vision for Criminal Justice Reform in America."
Named an America's Leaders of Change National Urban Fellow, Martin regularly contributes his expertise to national news outlets on topics such as policing, de-carceration, alternatives to incarceration and reentry issues. Martin most recently founded JustLeadershipUSA, a national non-profit organization dedicated to cutting the prison population in half by 2030 while reducing crime.
Martin's lecture also represents the eighth annual Charles N. Poskanzer Lecture, sponsored by the College's Health Department and the Sociology/Anthropology departments. For more information on the Poskanzer Lecture, contact Barbara Barton, assistant professor of health, at 607-753-2976, or Al Sofalvi, assistant professor of health, at 607-753-2980.
The College will screen a film presenting the ideas of celebrated futurist Ray Kurzweil at 7 p.m. on Tuesday, March 10, in Sperry Center, Room 205. "The Singularity is Near: A True Story about the Future" asserts that the onset of the 21st century will be an era in which the very nature of what it means to be human will be both enriched and challenged. According to Kurzweil, potential exists for the human species to break the shackles of its genetic legacy and achieve inconceivable heights of intelligence, material progress and longevity.
Based on Kurzweil's New York Times list bestseller, the film intertwines a fast-paced A-line documentary with a B-line narrative story. The A-line documentary features Kurzweil interacting with a panoply of thinkers on the impact of exponentially expanding technologies on the nature of human life in the next half century. The intertwined B-line is a Pinocchio story of Ramona, played by Pauley Perrette, a superhero avatar created by Kurzweil. For more information, visit www.singularity.com or contact Anita Kuiken, senior assistant librarian, Memorial Library, at 607-753-4983.
Regan Brashear
"Show Me Your Brave" is the theme of the sixth annual Student Conference on Diversity, Equity, Inclusion and Social Justice on Saturday, March 28. The conference, which begins at 8:30 a.m. in the Corey Union Function Room, is meant to inspire students to truly think about the meaning of bravery. The event features as the keynote speaker Lyndon Huling, SUNY Cortland's former assistant director of multicultural life and diversity. For more information, contact Melissa Da Costa, Casey Tower residence hall director, at 607-753-5475.
The award-winning documentary directed and produced by Regan Brashear explores the social impact of human augmentation. Haunting and humorous, poignant and political, "Fixed" rethinks "disability" and "normalcy" by exploring technologies that promise to change human bodies and minds forever. A screening of "Fixed: The Science/Fiction of Human Enhancement" will take place at 4:30 p.m. on Tuesday, March 31, in Sperry Center, Room 205.
Regan Brashear's film "Fixed: The Science/Fiction of Human Enhancement" will be shown on Tuesday, March 31.
The show will be followed by a question-and-answer session with Brashear. For more information, contact Jeremy Zhe-Heimerman, coordinator of assistive technology and test administration at Memorial Library, at 607-753-2358.
Campus and community members are invited to read several books on their own to prepare them for classroom and group discussions. The "common read" literature includes "Inherit the Wind," by Jerome Lawrence and Robert E. Lee, a dramatic rendering of the 1925 Scopes "Monkey" Trial; a collection of 27 essays geared for a general audience, The Best American Science and Nature Writing 2013, edited by Siddhartha Mukherjee; and David Sloan Wilson's book Evolution for Everyone, a collection of essays that shows how evolution provides a framework for investigation in many disciplines. The Evolution for Everyone author, Wilson, will visit the campus at 4:30 p.m. on Thursday, April 23, to talk about his scholarship in Old Main Brown Auditorium.
For more information on the "R/Evolution" series, the "common reads," contact committee co-chair Scott Moranda, associate professor of history, at 607-753-2052.
The series will continue in April.
Professor Plays Key Role in Historic Athletics Decision
02/24/2015
The Eastern College Athletic Conference (ECAC) in late January adopted a new policy to provide varsity intercollegiate opportunities for student-athletes with disabilities, a historic decision guided by a pioneering SUNY Cortland sport management professor.
Essentially, the move marks a major step towards including athletes of all abilities in NCAA competitions.
The new legislation is based on four principles of inclusion to facilitate the integration of athletes with disabilities into select ECAC championships and competitions beginning as early as 2015-16. Sports targeted for new adapted events include rowing, swimming, tennis and track and field. New sport disciplines could include sled hockey and wheelchair basketball.
"Greater integration of athletes with disabilities into intercollegiate varsity sport will help to create a new equity paradigm in sport," said Professor Ted Fay, a Paralympic expert who was singled out as a policy leader in the conference's announcement. "It's similar to the past half century regarding race and gender integration in sport and society."
The ECAC includes more than 300 member institutions across Divisions I, II and III. The conference, recognized nationally for its strength in men's and women's ice hockey, offers postseason championship opportunities, regional recognition, awards and other membership benefits. Nearly all members belong to another primary league in most sports, including SUNY Cortland.
"Pushing for the ECAC to be this laboratory for this new inclusion effort was very strategic," Fay said, noting the conference's geographic reach and its ability to serve as a de facto intercollegiate championship for sports that include student-athletes with disabilities.
Explaining the four principles of inclusion is critical to understanding the action's significance, Fay said. The first and second principles describe what already exists within many NCAA sports and championship competitions; the third and fourth principles make the new ECAC effort truly groundbreaking.
"We use the terms inclusion or inclusive sport with intention to describe an environment that includes student-athletes with and without disabilities competing within the same context," Fay said. "To restrict a team to only athletes with disabilities is akin to segregating sport by race, like the Negro Leagues in professional baseball or college sports in the South prior to the 1970s."
Here's a breakdown of the four principles:
• Principle No. 1 applies to student-athletes with a disability who do not require any sport-specific accommodation. An example would be a student with a diagnosed learning disability. "There are many student-athletes — very successful athletes, All-American athletes — who have these types of disabilities and are already competing in a fully inclusive environment," Fay said.
• Principle No. 2 applies to student-athletes who require minor sport-specific accommodations. Popular examples include Anthony Robles, a former 2011 NCAA national champion wrestler who was born with one leg; Jim Abbott, the former University of Michigan and Major League Baseball pitcher who was born without a right hand; and Marla Runyon, the visually impaired former San Diego State and Olympic and Paralympic distance runner. Despite their physical limitations, each competed without a competitive advantage or a special accommodation.
• Principle No. 3 allows for adapted events to be added in existing ECAC championships and competitions. This could mean including a singles match in tennis that features two competitors in wheelchairs or a wheelchair-specific race at a track and field meet. "What you're doing is adding scoring events for athletes who need a more extensive accommodation compared to their peers," Fay said, noting sports such as rowing and swimming are also being considered for inclusion of adapted events in ECAC competition.
• Principle No. 4 brings the most noticeable change to the intercollegiate varsity sports landscape by allowing the creation of adapted team sports in ECAC competitions and championships. Examples could include wheelchair basketball or ice sled hockey. Student-athletes with and without disabilities would be able to compete, as long as they use the same equipment, Fay said.
The ECAC's decision marks the first by an NCAA-sanctioned conference to provide a comprehensive range of options for students with disabilities beyond recreation, intramurals and club sports. The conference's framework is the culmination of four-plus years of progress and for more than a year the ECAC worked with NCAA Office of Inclusion.
Fay hopes to eventually see the ECAC's inclusive sport model adopted by more NCAA conferences, resulting in national championship opportunities for student-athletes with disabilities.
"It's going to have to gain some traction to get fleshed out for a bit," Fay said.
The chair of SUNY Cortland's Sports Management Department, Fay has been working on social justice issues for more than 40 years with much of his energy focused on civil rights and advocacy issues related to sports. He was heavily involved in the creation of the International Paralympic Committee, having served many roles tied to the Winter Paralympic Games as well as the 1988 Winter Olympic Games.
He also is a senior fellow for the Inclusive Sport Initiative at the Institute for Human Centered Design in Boston, vice president of Adaptive Sport New England and a consultant with the Boston 2024 Olympic and Paralympic Bid Committee with a focus on education strategies.
Fay likened the road ahead to the effort he led during the 1980s to integrate the U.S. Paralympic cross country and alpine ski teams with the U.S. Ski Team. He said the goal of achieving social justice in sports is the same now as it was then: earn buy-in from organizations such as national sport governing bodies with the long-term goal of full inclusion.
"This is everything we expect in life in terms of being social human beings, with each of us having basic human rights," he said.
College to Launch Student Opinion Survey

02/24/2015
Next week, SUNY Cortland plans to invite undergraduate students to participate in the SUNY Student Opinion Survey (SOS) as a valuable source of information to shed light on how students perceive the quality of different programs and services at their institution.
Survey administrators are planning for students who respond to the SOS to be entered into a raffle for a chance to win an incentive.
Since 1985, the survey has been given to undergraduate students at many SUNY colleges and universities. The last one was administered at SUNY Cortland in spring 2012.
The College's Institutional Research and Analysis (IRA) Office takes the results of the survey seriously. Participation is important but voluntary.
The survey will be administered online only by ACT, the same company that runs the standardized high school exam.
The 2014-15 SOS was designed to be completed in 20 to 25 minutes with an additional 10 minutes for local questions.
The students to be contacted — undergraduates 18 years of age and older who are enrolled in at least one class on campus during spring semester 2015 — soon should receive email invitations from an ACT address with instructions on how to participate in the survey.
Next fall, the IRA Office plans to post results on its website. Past SOS results can be found on the Cortland IRA SOS website.
The SOS is a cooperative effort of SUNY and the IRA Office, and ACT, working together with other offices and individuals at SUNY Cortland.
Ignite Challenge Invites Young Graduates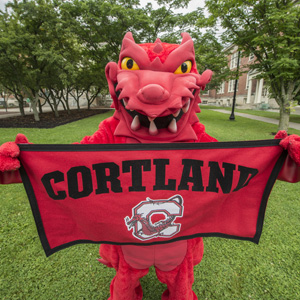 02/24/2015
March Madness shouldn't be the only competition SUNY Cortland graduates are tuned in to next month.
That's because the College will hold a month-long philanthropy challenge among young alumni classes (2005-2014) throughout March, with $10,000 on the line for the winning group's most popular campus cause.
The Ignite Challenge — which borrows its name from the College's initiative to engage young alumni — allows recent graduates to make very modest gifts that could end up meaning a lot to a particular sports team, academic department or College initiative. The Challenge will be measured in participation numbers, not dollars. The class with the highest number of total participation points at the end of the month wins the challenge.
Besides bragging rights, the winning class will earn the potential to make a lasting impact at SUNY Cortland — in the form of a $10,000 gift to the group's most popular gift designation. That prize pot comes from a generous anonymous challenge donor and will be awarded on top of the contributions made by recent alumni.
Graduates can give to many common gift designations. They include any academic department or athletic team; student affairs programming; the Raquette Lake Endowment; or The Cortland Fund.
For example, if the class of 2010 leads all classes with 100 participation points, and more alumni in that group support the Childhood/Early Childhood Education Department than anything else, a $10,000 gift will be made to that department on behalf of the winning class.
Several important challenge opportunities can improve a class' participation numbers throughout the month.
For instance, young graduates should circle Tuesdays on their calendars. Double Point Tuesdays take place each week during March. Each Tuesday, certain types of graduate's gift will count as two gifts when it comes to their class' overall score. Here's how they break down:
Tuesday, March 3: all gifts count as two to commemorate the start of the challenge.
Tuesday, March 10: gifts from members of Greek fraternities or sororities count as two.
Tuesday, March 17: gifts from former student-athletes count as two.
Tuesday, March 24: gifts from class years recognized at Reunion 2015 (Classes of 2005 and 2010 and Student Government Association) count as two.
Tuesday, March 31: all gifts count as two to make one final push in the standings.
Graduates also will want to consider making a gift on a Friday during the month. On For the Win Fridays, anyone who makes a gift will be entered in a raffle to win an alumni prize. One winner will be announced each week.
Last year's 2/27 Challenge, the College's first-ever 24-hour fundraising competition held on Feb. 27, raised a total of $102,857 to support scholarships, undergraduate research, athletics and other priorities; more than tripling the number of donors targeted by its initial goal.
For more information, including the most up to date class standings, visit the Ignite Challenge webpage.
Research Lab Named in Professor's Memory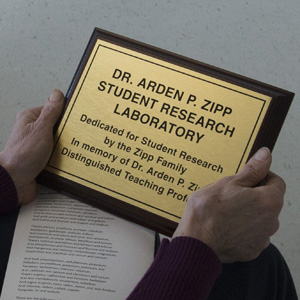 02/24/2015
It wasn't an eternal flame, but the orange-blue fire that briefly danced inside an empty bottle last Friday in the newly named Arden P. Zipp Student Research Laboratory seemed a fitting tribute for the late, legendary chemistry professor.
Kathryn Vernay, Zipp's widow, and Associate Professor Frank Rossi, Zipp's former colleague, celebrated the naming of a Bowers Hall laboratory in Arden Zipp's name by conducting a very memorable scientific demonstration.
"This was Arden's and my favorite classroom experiment," said Vernay, smiling and emptying a splash of methanol from an otherwise empty plastic jug. "I wanted to do this at the memorial service, but they had some concerns."
Vernay then held a lighted match just inside the neck of the bottle and the crowd packed into the room, officially named the Arden P. Zipp Student Research Laboratory just minutes earlier, flinched as invisible vapor in the container ignited with a loud whoosh and colorful, ghostly flames fluttered inside for several seconds.
The Feb. 20 naming ceremony, held outside the third-floor chemistry wing, ended with those gathered singing along to "The Element Song," a Tom Lehrer recording of a rhythmic listing of 102 chemical elements.
"My father wanted us to memorize them," said Allyson Zipp, one of his daughters, explaining the sing-along. "He had it handwritten out and stuffed in the glovebox, and whenever we were in the car he'd pull it out and begin again from where we'd left off."
Zipp's other daughter, Alaina, could not attend the ceremony, but listened to the event through a smart phone held by Allyson. The event featured remarks by Allyson, Kathryn, Rossi, President Erik J. Bitterbaum and Vice President for Institutional Advancement Peter Perkins.
Kathryn Vernay, the widow of late chemistry
professor Arden Zipp, unveiled the plaque
outside the Bowers Hall laboratory that now
bears his name.
Zipp taught chemistry at SUNY Cortland for 41 years, serving as department chair on two separate occasions, and was awarded the title of Distinguished Teaching Professor in 1985.
Zipp made countless contributions to his discipline. He chaired the Advanced Placement (AP) Development Committee directed by the College Board and served as chief examiner in chemistry for the International Baccalaureate Organization. He also handled chief reader duties for AP Chemistry and chaired the AP Chemistry Test and the American Chemical Society Olympiad committees. Zipp was the only person ever to hold all of those positions.
He created the Microscale Laboratory Column in the Journal of Chemical Education, a publication he edited for 10 years. Zipp authored or coauthored more than 50 published works and presented more than 250 chemistry workshops and lectures for teachers at regional, national and international conferences.
In 1991, the Chemical Manufacturers Association honored him with the prestigious Catalyst Award for his service to chemistry education. Zipp was highly respected by his students, for whom he always had time, and by his colleagues at both the college and high school levels.
He always strove to make chemistry fun through demonstrations, the kind that will continue to take place in the laboratory that now bears his name.
'A Solar Home Companion' Coming Feb. 28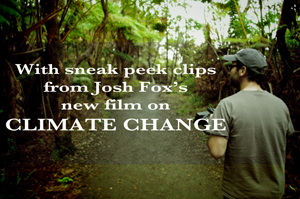 02/24/2015
An environmental-themed extravaganza featuring Emmy-winning "Gaslands" filmmaker Josh Fox and 2014 New York gubernatorial primary candidate Zephyr Teachout will be offered on Saturday, Feb. 28, at SUNY Cortland.
Josh Fox
The "Solutions Grassroots Tour: A Solar Home Companion will run from 11 a.m. to 1 p.m. in the Corey Union Function Room. In addition to Fox and Teachout, the on-of-a-kind interactive music, theater and video event will feature the acclaimed voice and cello duo Bethany and Rufus, advice from renewable energy consultant Tim Woodcock and clips from Josh Fox's latest unreleased feature film.
Presented by the Cortland Coalition for Renewable Energy (CoRE), the event is free and open to the public.
The tour was conceived and directed by the Oscar-nominated Fox, best known as the writer/director of "Gaslands" and "Gaslands Part II." The "Solutions Grassroots Tour" combines classic storytelling and music with "roll-up-your sleeves" organizing to look at the impacts of fossil fuel development and provide a vision for developing renewable energy.
Lightly parodying "A Prairie Home Companion," Garrison Keillor's popular, old-fashioned, largely tongue-in-cheek variety show on National Public Radio, the program entertains while informing the audience about how to go renewable and organize for a sustainable future.
"A Solar Home Companion" also will screen clips from Fox's new film on climate change. In it, Fox travels to the Amazon, Africa, Iceland and the American West to witness climate change first-hand and share stories about the communities on the front lines of the climate crisis.
"I attended the premier presentation of the tour last summer and look forward to attending the Cortland event," said Stan Scobie, a member of Gas Drilling Awareness for Cortland County (GDACC), a senior fellow with PSE Healthy Energy, and co-author of Examining the Feasibility of Converting New York State's All-purpose Energy Infrastructure to one Using Wind, Water and Sunlight.
"We need more programs like this to raise awareness about climate change and how individuals and communities can address this crisis," Scobie said.
Filmmaker Fox is Internationally recognized as a spokesperson and leader on the issue of hydraulic fracturing and other extreme forms of energy development. His films won an Academy Award nomination for Best Documentary and five Emmy nominations. The movies, which were widely distributed through HBO, also received the Sundance Special Jury Prize for documentary and two Environmental Media Association awards.
Fox has appeared on "The Daily Show," "Real Time with Bill Maher," "The Keith Olbermann Show," "PBS Now," CNN and "Democracy Now." He has frequented MSNBC and the Chris Hayes shows, "The Ed Show" and "Morning Joe."
Fox is also founder and producing artistic director of the International WOW Company, which helps serve as the foundation for the live show.
Teachout is an associate professor of law at Fordham University. She ran in the Democratic primary election in 2014 against incumbent Andrew Cuomo and comedian Randy Credico, and surprised experts and pollsters by capturing more than 34 percent of the vote with an especially strong showing in upstate New York.
Zephyr Teachout
The event is sponsored by the Cortland Coalition for Renewable Energy (CoRE), which includes Gas Drilling Awareness for Cortland County (GDACC), the SUNY Cortland Office of Sustainability, Sustainable Cortland, Cortland New York Public Interest Research Group, the Center for Gender and Intercultural Studies Environmental Justice Committee, SUNY Cortland Green Reps, the SUNY Cortland Environmental Club and the Cortland County Environmental Advisory Board.
For more information, contact Sheila Cohen, SUNY Cortland associate professor of literacy emerita, at 607-756-8191 or 585-245-4890.
Student Life Center Grand Opening Planned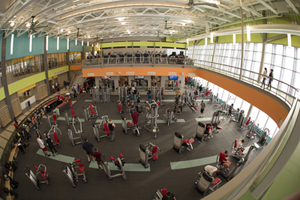 02/10/2015
The Grand Opening for the new Student Life Center (SLC) is scheduled for 11 a.m. Friday, March 13, in the center's multi-activity court (MAC). Open for use since Feb. 16, the campus community has enjoyed the numerous recreational activities offered at the center.
Students, faculty and staff who have a valid sticker on their student or employee ID card can pursue a wide variety of diverting and healthy leisure activities within the two-story, almost 150,000 square foot facility located off Pashley Drive on the site of the former Davis Field.
Participants will take their exercise or unwind while bathed in natural sunlight from the giant windows of this visually striking, high-ceilinged $56 million facility with its custom-designed playing surfaces, state-of-the-art heating and ventilation system, environmentally friendly features and universal physical accessibility.
"The Student Life Center will provide the campus with a place for a sense of community," said Julian Wright, the College's recreational sports director, who wrote his first memo suggesting just such a facility some 22 years ago.
"We'll have the most comprehensive recreation facility in all of SUNY," he said.
A group of students listens to pointers about using the climbing wall in the newly constructed Student Life Center, which opened Feb. 16.
"One of the biggest arguments we made for the SLC was that it would be a great alternative to going downtown," Wright said. "If you've got a great atmosphere and healthy, wholesome kinds of things to do, it definitely will make a difference."
The center is a long time coming. Two College presidents, Judson H. Taylor, emeritus, and currently Erik J. Bitterbaum, wholeheartedly endorsed the project and, in 2007, funding was secured through the efforts of politicians including Sen. James L. Seward, R-Oneonta, Assemblywoman Barbara Lifton, D-Ithaca, and Martin "Marty" Mack M '76, a graduate who is well-connected in New York state government.
The new facilities replace and expand on the existing recreational sites that were scattered among many different buildings around campus, often sharing spaces with students in classes or on varsity teams. Additionally, the building greatly increases the number and types of activities where members of the campus community can relax and socialize informally.
"You will be able to go to the SLC with your friends and choose among 20 different things to do, all in close proximity," Wright said. "In the pool alone you can do at least five different things and not interfere with anyone else in the pool."
Student life centers are springing up on campuses across the U.S., but not so much in the northeast and seldom in the State University of New York system, Wright noted.
"I changed the concept from the facility being merely a recreation center," Wright said. "Because what we really wanted was a student life center. A student recreation center has all the physical recreation components including fitness facilities, a track, a swimming pool, courts, all the things that you do for fitness and exercise. A student life center has all those amenities along with social components: a game room, lounge areas and, of course, food. Not only can you get a good workout but you also can hang out and socialize with your peers."
SUNY Cortland retained two signature design companies, Hastings+Chivetta in association with H2L2 Architects/Planners LLC, to plan this long sought-after facility to bring together all the campus recreation areas as well as dining, social and meeting spaces.
"The thing that's really exciting to me is this is a place that will always be available to students, and our faculty and staff, too, reached by a swipe of their I.D. card," Wright said. "With a very few exceptions, such as the spinning room, the mind-body room and the climbing wall, the space is not to be scheduled, it will always be available to students. If you want to go swimming, play basketball, run the track, or work out in the fitness areas, you can do all of these things from 6 a.m. to midnight."
The new building makes a bold statement both in terms of size and appearance. The walking/jogging track, in particular, commands attention. Like the early science fiction television cartoon "The Jetsons," visitors will zip along a one-fifth mile elevated route above the onlooker's line of vision atop a mezzanine reached by a giant staircase.
"It's our biggest 'wow' item," said Joseph Westbrook, project coordinator in the College's Facilities Planning, Design and Construction Office. "I think that it's the SLC's signature feature in the sense that it's one of the biggest out there. The track goes up and down contoured 'hills' twice, about 20 inches up or down, and is accessible to users at all levels of mobility."
The facility's open floor plan allows visitors to see from one activity area to the next and to enjoy the exterior views of mountains, woodlands and surrounding campus through the massive windows.
The SLC is organized in two wings with a common lobby and entrances on both sides. A 343-seat food court, Recreational Sports' new Outdoor Pursuits Center and a retail snack bar are located in the north wing. Student recreation space is located in the south wing along with administrative offices. A concourse runs north-south and connects directly to the two-level fitness areas, a flexible meeting space, swimming pool, gymnasia and multi-purpose spaces.
From Pashley Drive and behind several classmates deep in discussion can be seen a wing of the new Student Life Center that houses The Bistro Off Broadway, shown on the right, and the main recreational space of the center, to the left and linked by a lobby.
The building was designed and constructed to seek the industry's highest measurement of environmental sustainability for new facilities, Leadership in Energy and Environmental Design (LEED) certification through the U.S. Green Building Council. The designers have worked to achieve the top level of green construction, LEED Gold certification. "That's a difficult goal for any multi-windowed, high-ceiling structure such as this one," Westbrook noted.
The project meets the green target in many different design categories, and includes a rooftop that houses a portion of the College's 3,600-panel electricity-generating solar panels, Westbrook noted.
The total solar installation was the first of its kind in the SUNY system and earned SUNY Cortland both the Innovation and Excellence in Energy Management Award and the People's Choice Award from Gov. Andrew Cuomo's initiative for energy efficiency and sustainability in state-owned properties, called BuildSmart NY.
"This building type is not especially friendly to heating, ventilation and air conditioning systems but the designers worked diligently to meet our desire for LEED certification above and beyond SUNY requirements," Westbrook added. "People ask us all the time what the jet fans under the track are for. They move air into the central area, where giant fans located on the ceiling circulate the conditioned air back downward, where the people are."
As the center lies close to the community's ground water supply, some of the LEED certification measures involved the creation of a "bio swale" area to reduce the building's impact on flooding. "Water runoff is managed with large rain gardens, permeable pavement and sub-surface, man-made structures," Westbrook noted.
The building was designed such that individuals who have limited mobility or another access issue will be able to reach every recreational area, including getting into and out of the pool, Westbrook noted.
Visitors can sample many recreational features inside the SLC, including:
working out one's muscles in the 9,000-square-foot circuit/free weight area on the first floor or one's cardiovascular system in the 4,000-square-foot cardio area on the second floor. The cardio area has a rubberized floor featuring additional equipment including new treadmills, elliptical machines, stationary bikes, rowing machines and step machines. Tomik fitness facility will be closed and ultimately used for academic purposes and Woods fitness facility will transfer to athletic and physical education uses.
honing their bicycling skills in the spinning room with the help of electronic audio and visual aids to simulate natural cycling conditions, including dawn and dusk and the layout of the world's greatest touring and racing routes.
swimming laps in its pool or "natatorium" with six lanes and a more than 4,000 square foot surface area. Visitors also can try strength training against a wall of forceful jets of water in the "resistance lane," linger in the pool's "bubble-seating" area, play a game of water basketball or volleyball with friends, or relax in a 350-square-foot whirlpool or on a deck featuring lounge furnishings.
scaling a 605-square-foot bouldering wall that runs 45 feet in length along the end of the main concourse or a 42-foot high climbing wall.
resting from a vigorous workout or just relaxing with friends in the various casual spaces scattered throughout the building or unwinding with fellow classmates in the 2,200-square-foot game room.
trying martial arts, group exercise or another, altogether new, endeavor in one of the several rooms with specialty sports flooring customized to maximize the experience. In the case of the mind-body space, visitors can pursue serenity by gazing at a small constellation of mood-setting LED lights in an atmosphere enhanced by soothing background music.
tossing a basketball on one of three wood-floored courts in separate spaces that are quickly converted into one 20,000-square-foot room.
visiting the multi-activity court (MAC) for an assortment of different kinds of matches, such as indoor soccer or floor hockey, against an intramural group of classmates.
walking through a central lobby to grab a cup of coffee or snack at The Fuel Station or to consume a full meal at The Bistro Off Broadway, a 343-seat residential dining facility located in the SLC's north wing. Students can watch a trained chef at work in the demonstration kitchen.
attending an event at the 1,145 square foot, 60-seat public meeting room that can be partitioned into two spaces of 40- and 20-seats.

Students also can grab a bite to eat after a good workout at The Bistro Off Broadway in the Student Life Center.
visiting the newly created Outdoor Pursuits Center, where the new assistant director for outdoor pursuits and the outdoor pursuits graduate assistants will help plan outdoor trips of every description. The forays could include trips to the William H. Parks Family, Center for Environmental and Outdoor Education or elsewhere. Activities will include such things as hiking, backpacking, kayaking, caving and white water rafting.
renting a tent, backpack, mountain bike or another piece of outdoor gear for an extracurricular outing through the Outdoor Pursuits Center's equipment rental program. The new service also absorbs the existing Community Bike Program of lending bicycles for getting around campus.
Access to all the facilities listed above is free for current and retired faculty, staff and ASC staff members. However, all participants must have completed a physical activity readiness questionnaire form before using the fitness facilities in the new Student Life Center. This can be done once a year and is available online at the cortland.edu/recsports website. Select "Fitness Facilities" and then "Faculty/Staff Registration." Or fill it out at the new Recreational Sports Office in Student Life Center, Room 1201.
Professor to Discuss Giant Tortoise Conservation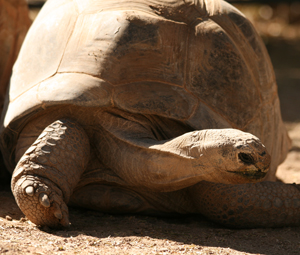 02/24/2015
Biologist James Gibbs' volunteer work in the Galapagos Island some 30 years ago introduced him to the giant tortoises that would become the centerpiece of a remarkable research career.
Gibbs, professor of vertebrate conservation biology and associate chair of the Environmental and Forest Biology Department at SUNY College of Environmental Science and Forestry (ESF), will discuss the conservation of these gentle giants on Wednesday, Feb. 25.
His talk, titled "Integrating Science and Management to Advance Giant Tortoise Conservation in Galapagos, Ecuador," will begin at 7 p.m. in Sperry Center, Room 105.
Gibbs' lecture continues the 2014-15 Cultural and Intellectual Climate Committee (CICC) series, themed this year on "R/Evolution." The presentations question the notion that evolution represents positive change and how timeless issues seem to reassert themselves in present times.
An international expert on conservation biology, Gibbs will explore the principles and concepts of evolutionary biology and their usefulness in conserving biological diversity using giant tortoises in Galapagos. The Galapagos Islands are located in the Pacific Ocean approximately 600 miles west of Ecuador, of which they are a part.
Gibbs directs the Roosevelt Wild Life Station, which was established by an act of the New York State Legislature in 1919 to memorialize Theodore Roosevelt as a wildlife conservationist. Its research program focuses on the northeastern United States and southeastern Canada, an area that is undergoing one of the most rapid rates of climate change in North America, as well as strategic sites around the globe.
Gibb's love of nature stems from a childhood spent outdoors, exploring the woods of Maine.
As a youth, he volunteered in the Galapagos Islands.
"I fell in love with it," he said. "I have worked hard ever since to play a role in Galapagos conservation. I am fascinated with tortoises — their longevity and hardiness but also their curiousness and wise nature.
James Gibbs, who will speak at SUNY Cortland on Feb. 25, is shown conducting fieldwork.
"I also am extremely impressed with the Galapagos National Park Service and how hard it works to integrate the best science available with population and habitat management to advance its conservation mission. It's a privilege to collaborate with them in their work."
Gibbs has a bachelor's degree from the University of Maine, a master's from the University of Missouri and his doctoral degree from Yale University. At ESF, he teaches Conservation Biology, Problem-Solving in Conservation Biology, Herpetology and Field Herpetology.
For more information on Gibbs' talk, contact Steve Broyles, professor of biological sciences, at 607-753-2716. For information on the "R/Evolution" series, contact the co-chair, Associate Professor of History Scott Moranda at 607-753-2052.
Prepared by Public Relations Office intern Kathryn Monno
'Topographies' Explores Landscape Through Art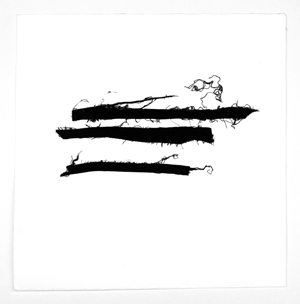 02/24/2015
"Topographies," the latest Dowd Gallery art exhibition at SUNY Cortland, explores the natural and artificial aspects of the earth's landscape through several different mediums from two artists.
The exhibition, which runs from Monday, March 2, to Friday, April 10, features prints, lightboxes and a three-channel video installation by Lindsey Glover as well as drawings, paper weavings, woven sculptures and a site-specific fibers installation by Claudia Sbrissa.
An opening reception takes place from 4:30 to 6:30 p.m. Thursday, March 5. Two artist's talks are scheduled: one by Glover at 5:30 p.m. Tuesday, March 10, and one by Sbrissa at 5 p.m. on Wednesday, March 25.
The pair worked collaboratively to develop themes for the exhibition.
Lindsey Glover
Glover, an Ithaca-based artist, created "Glacial Lake," a video installation, and the "Cumulus" print series from chemical stains that developed on expired Polaroid film after being exposed to light. She layered the irregular marks into luminous landscapes.
"My practice has always been mixing mediums between paper and video and sound," Glover said.
Glover's "Satellite" print series is made up of moss and lichen photo fragments, which she arranged into circular forms of stark, black and white, highlighting the contours of a reconfigured terrain. Her "Floating Fields" lightboxes feature the facades and interior spaces of greenhouse structures, which were printed separately and layered back together, creating dimension within a flat plane.
Claudia Sbrissa
"A lot of my work evolves from a place of collection," Glover said. "I'm collecting bits and pieces and then I translate them in some way in my studio.
"It's never really clear to me what the final outcome is going to be until I reach it."
Sbrissa lives and works in New York City. Her site-specific installation "Mount of the Horizon" was created from hundreds of yards of crocheted and dyed rope, cord and yarn and recalls mountainous landscapes both real and imagined.
The "Habitat: the Fabric Works" series is derived from fabric and remnants collected during Sbrissa's travels throughout Italy and South America. She reworked them into fabric drawings and woven sculptures. The pieces allude to the natural world and the architecture, infrastructure and history of place.
"Growing up with my grandparents, a seamstress and a carpenter, I learned practical skills along with a joy of handwork," she said. "Remnants of fabric and off-cuts of wood were used and reused, salvaged by the process of transformation."
Artist Lindsey Glover created "Glacial Lake," a video installation, on display in Dowd Gallery through April 10. Shown above left is Claudia Sbrissa's fabric drawing "Thread Lines."
Gallery events and programs for "Topographies" are free and open to the public. Gallery hours are 10 a.m. to 4 p.m. Monday to Friday and by appointment. Dowd Gallery is located in the Dowd Fine Arts Center on campus at the corner of Graham Avenue and Prospect Terrace.
Exhibition support comes from the Art Exhibition Association, the Cortland College Foundation and grants from the Campus Artist and Lecture Series and the Auxiliary Services Corporation.
For more information or to schedule a group tour, contact Gallery Director Erika Fowler-Decatur at 607-753-4216.
Development Sociologist to Discuss Farming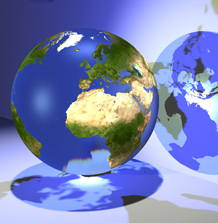 02/24/2015
A development sociologist at Cornell University will examine how to feed a growing global population without further compromising the planet's resources using rural Mozambique as an example on Wednesday, March 4, at SUNY Cortland.
Professor Wendy Wolford's talk, titled "Farming for the Future: Competing Models of Agriculture and
Wendy Wolford
Development in Rural Mozambique," will begin at 4:30 p.m. in Moffett Center, Room 2125.
A reception will precede the presentation at 4 p.m. in the Rozanne M. Brooks Museum, Moffett Center, Room 2126. The Brooks series events are free and open to the public.
The lecture continues the 2014-15 Rozanne M. Brooks lecture series, themed this year on "Culture, Technology and Sustainability." The series explores the present and future of a planet with a rapidly growing population, critical food shortages, climate change, technology and its role in the progression towards a "livable planet," as well as other factors that affect the quality of life across the world. Presenters will discuss these problems and offer possible solutions.
At Cornell, Wolford teaches courses in Development Theory, Qualitative Methods, Political Ecology, and Social Movements.
Wolford's background in geography, economics and international development has influenced her considerable research on social movements and resistance, agrarian societies, political ecology, land use and reform and critical ethnography. Her findings have been published in Journal of Peasant Studies, Annals of the Association of American Geographers, Development and Change and Journal of Agrarian Change.
Graduating cum laude from McGill University with a bachelor's degree in economics and international development, Wolford received her master's and doctoral degrees in geography from the University of California, Berkeley. At UC Berkeley in 2002, she was awarded the J. Warren Nystrom Award for Best Dissertation in Geography.
The 2014-15 Brooks Lecture Series is sponsored by a grant from Auxiliary Services Corporation (ASC) and the Cortland College Foundation.
For more information, contact Sharon R. Steadman, SUNY Cortland professor of sociology/anthropology and Brooks Museum director, at 607-753-2308.
Prepared by Public Relations Office intern Kathryn Monno
Voice for Justice System Reform to Speak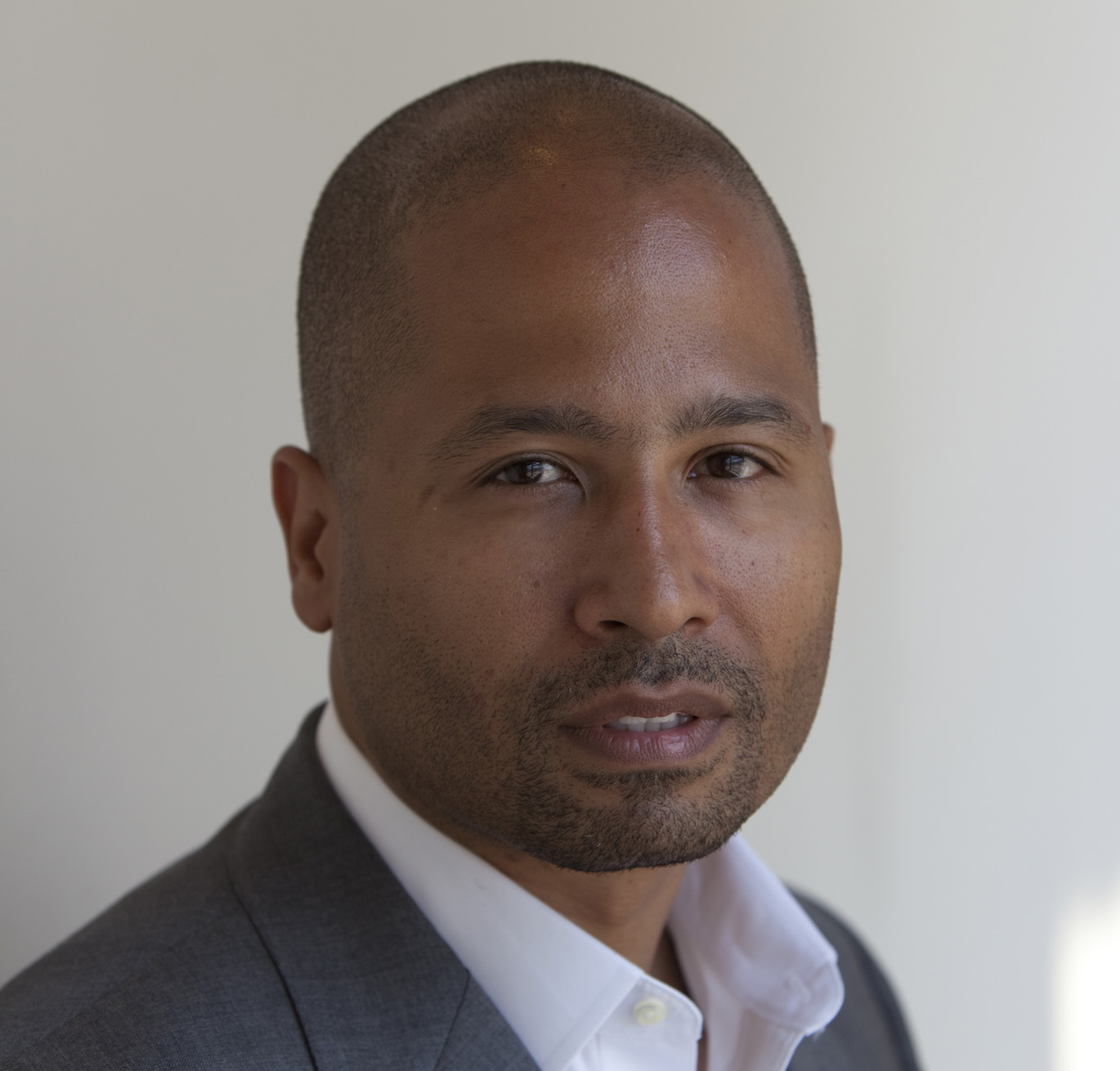 02/24/2015
Glenn E. Martin, who spent six years in New York state prisons before becoming a national leader and advocate for reform of the criminal justice system, will speak on Thursday, March 5, at SUNY Cortland.
Martin, whose personal journey has helped shape his unique and groundbreaking approach to criminal justice reform, will discuss the growth of mass incarceration in America at 7 p.m. in Sperry Center, Room 105.
The talk, titled "From Convict to Conviction: A Grassroots Vision for Criminal Justice Reform in America," represents the eighth Charles N. Poskanzer Lecture sponsored by the College's Health Department. A reception will follow in the Sperry Center lobby. The events are free and open to the public.
The presentation is supported by the Charles N. Poskanzer Fund, an endowment named in honor of the late SUNY Distinguished Service Professor emeritus who taught in the College's Health Department for 40 years.
Named an America's Leaders of Change National Urban Fellow, Martin regularly contributes his expertise to national news outlets on topics such as policing, de-carceration, alternatives to incarceration and reentry issues.
Martin most recently founded JustLeadershipUSA, a national non-profit organization dedicated to cutting the prison population in half by 2030 while reducing crime.
He has also served for several years as vice president of the Fortune Society and co-director of the National HIRE Network at the Legal Action Center. Martin co-founded the Education from the Inside Out Coalition and the David Rothenberg Center for Public Policy. He serves as a member of Governor Andrew Cuomo's Council on Reentry and Reintegration and the governing boards of the College and Community Fellowship, Prisoners' Legal Services, New York Foundation, the Petey Green Program, California Partnership for Safe Communities and the Reset Foundation. He also serves on the advisory board of the National Network for Safe Communities.
The Poskanzer Fund was established through the Cortland College Foundation as an endowment to support an annual, public lecture offered by the College's Health Department in honor of its former colleague. Since Poskanzer's death in 2010, the fund has continued to grow through donations made in his memory. The Poskanzer Lecture allows the Health Department to bring national leaders in public and community health to campus to meet with students and faculty and to deliver a public lecture on a current public health issue.
The talk also is part of the College's yearlong "R/Evolution" event series presented by the Cultural and Intellectual Climate Committee (CICC). The series includes a number of book readings, film screenings and discussion topics all questioning the notion that evolution represents positive change.
Event sponsors also include the Health and Sociology/Anthropology departments and the CICC.
For more information on the Poskanzer Lecture, contact Barbara Barton, assistant professor of health, at 607-753-2976, or Al Sofalvi, assistant professor of health, at 607-753-2980. For more information on the CICC's R/Evolution series, contact Jena Curtis, associate professor of health, at 607-753-2979.
Body Appreciation Week Events Planned

02/19/2015
Doris and Tom Smeltzer, a California couple that has traveled across the nation to raise awareness about eating disorders since losing their 19-year-old daughter to bulimia in 1999, will visit SUNY Cortland on Wednesday, Feb. 25. Their talk will be preceded by a brief, candlelight vigil.
Their talk, "Andrea's Voice," is sponsored by the Health Promotion Office and the Student Development Center in recognition of Body Appreciation Week, which runs from Monday, Feb. 23, to Friday, Feb. 27, and features a series of events.
SUNY Cortland's 2015 Body Appreciation Week is intended to promote body awareness and acceptance. Events on the theme of "March to the Beat of Your Own Drum" are presented as part of the College's 17th annual weeklong celebration.
The programs are free and open to the public.
Andrea Smeltzer
The Smeltzers' daughter Andrea died in her sleep after a one-year struggle with bulimia. Andrea's parents will share her compelling story as well as vital information on eating disorders in a talk titled "Andrea's Voice: Silenced by Bulimia" at 7 p.m. in the Corey Union Function Room. A candlelight vigil, sponsored by Delta Phi Epsilon, will precede the event. A book signing will follow.
It is estimated that as many as 25 percent of college-aged women deal with disordered eating habits of some kind, if not necessarily full-blown anorexia or bulimia, said Cathy Smith, the College's health promotion educator.
The Smeltzers' talk will focus on eating disorders, from a daughter's insights to a parent's perspective.
Andrea Smeltzer was a vibrant and promising young woman, an exemplary student with a passion for life that made an impression on everyone she knew, her mother said. A Napa, Calif., resident for most of her life, Andrea spent a year living abroad in Spain and was fluent in the language by the time she graduated from Vintage High School in 1997.
At the prestigious Pitzer College, where she was an active presence on campus, she managed to complete her undergraduate degree in international studies by the end of her sophomore year. After college, she hoped to use her degree to work with humanitarian agencies like Amnesty International.
After a 13-month struggle with bulimia, Andrea died in her sleep on June 16, 1999, when an electrolyte imbalance caused her heart to fail.
Also during Body Appreciation Week:
From Feb. 23 through Thursday, Feb. 26, a "March to the Beat of Your Own Drum" poster and artwork exhibit will promote positive self image and awareness of eating disorders. The display may be viewed from 11 a.m. to 7 p.m. in the Corey Union Exhibition Lounge.
On Monday, Feb. 23, the campus and community are invited to dance, exercise and otherwise keep fit and happy through Africana dance, Zumba and Tai Chi activities in a "Move Your Body" program at 7 p.m. in the Function Room.
A Coffee House featuring open mic performances will be held on Tuesday, Feb. 24. The performances begin at 7 p.m. in the Corey Union Function Room.
An interactive discussion between three student groups — La Familia Latina (LFL), Women of Color (WOC) and Men of Value and Excellence (MOVE) — will focus on "Who Says You're Not Perfect?" at 6 p.m. on Thursday, Feb. 26, in the Exhibition Lounge.
Faculty and staff of the College have the opportunity to donate $1 a day to wear jeans or dress down during Body Appreciation Week. All the proceeds will go toward the Michael Holland Scholarship Fund. Health Promotions Office interns will visit offices around campus with envelopes collecting the $1 donations.
The College's Body Appreciation Week is sponsored by Counseling and Student Development, Auxiliary Services Corporation (ASC), the President's Office, the Vice President for Student Affairs, Residence Life and Housing, the Health Promotion Office, the Student Health Service, Delta Phi Epsilon, Alpha Phi Omega, Eta Sigma Gamma, Alpha Sigma Alpha, Sigma Delta Tau, Kappa Sigma, LFL, WOC, MOVE, Campus Activities and Corey Union, ASC Nutrition Services, Student Activities Board and Recreational Sports.
The Smeltzers' talk also is part of "Wellness Wednesdays" at SUNY Cortland, a yearlong series of featured speakers, exhibits, self-help workshops and other programs intended to help students adjust to college life.
For more information about Body Appreciation Week, Wellness Wednesdays, or to request physical accommodation for an individual with a disability to attend an event, contact Catherine Smith, the College's health educator in the Health Promotion Office, Van Hoesen Hall, Room B-1, or at 607-753-2066.
Sports Info Director Earns National Honors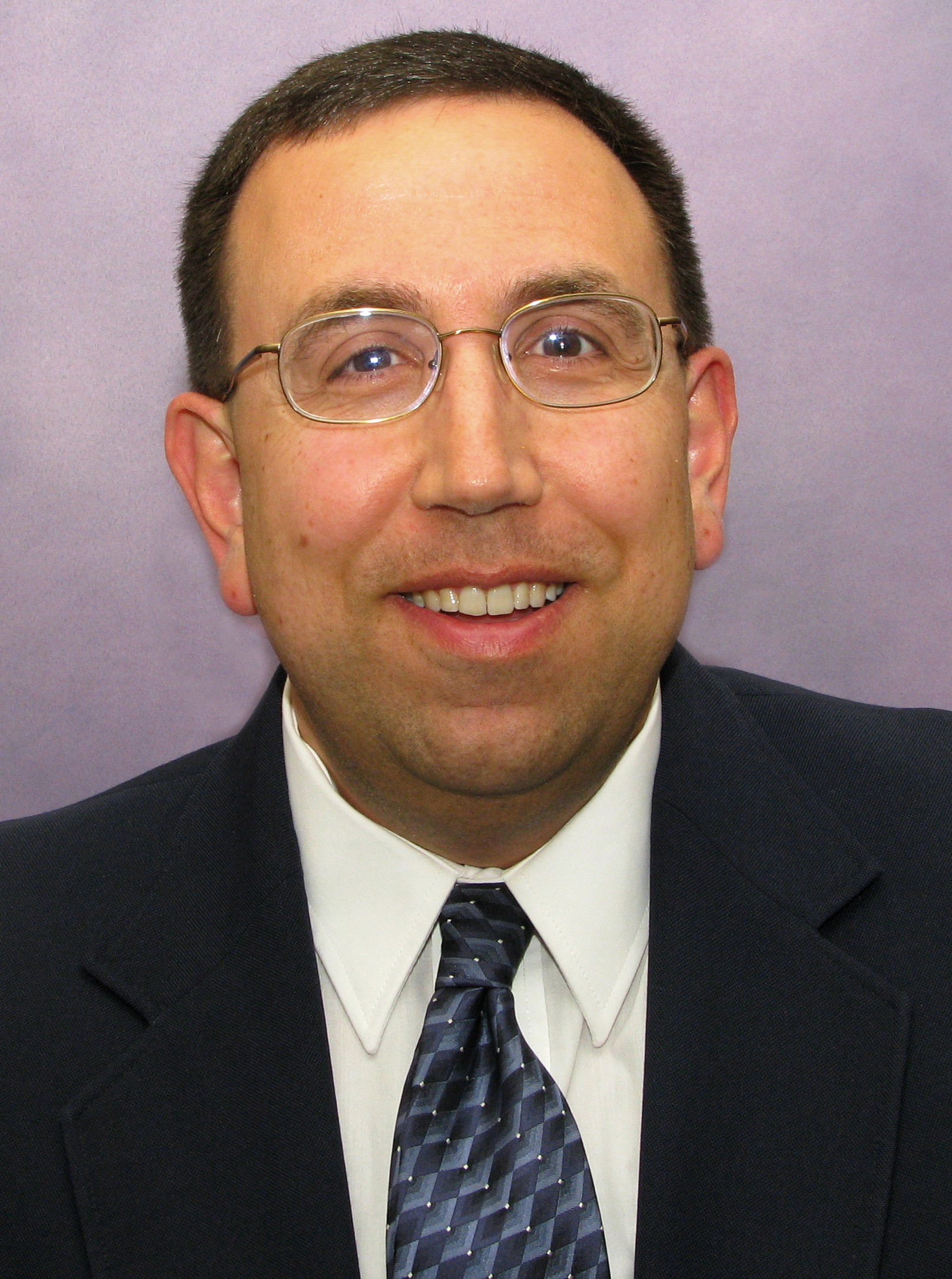 02/24/2015
He's never knocked down a game-winning three-pointer at the buzzer or belted a walk-off home run in the bottom of the ninth inning, but Fran Elia clearly is an all-star in the world of Div. III college athletics. Elia, Cortland's sports information director since 1992, recently received a pair of prestigious national and state honors for his contributions in the field of athletics communications.
On Thursday, Feb. 19, Elia learned he was named the 2015 College Sports Information Directors of America (CoSIDA) Warren Berg Award winner. The award is presented annually by the 3,000-member organization to a CoSIDA College Division member who has made outstanding contributions to the field of sports information, and who, by his or her activities, has brought dignity and prestige to the profession. The Warren Berg Award will be presented on Wednesday, June 17, during the 2015 CoSIDA Convention held at the World Center Marriott Resort in Orlando, Fla.
Elia learned of that award while he was being honored by another highly respected organization. The Metropolitan New York Football Writers and USA College Football presented Elia with the Bob Kenworthy Div. III Football Communications Award at the Eastern College Football Awards Banquet held at MetLife Stadium in East Rutherford, N.J.
Elia is no stranger to accolades. He received the Fraser Stokes Award for dedication to Cortland athletics in 1996, the Eastern College Athletic Conference – Sports Information Directors Association's Irving T. Marsh Service Bureau Award for excellence in the profession in 2009 and induction into the Cortland C-Club Hall of Fame as an honorary member in 2012.
College Adds Online Certificate in Recreation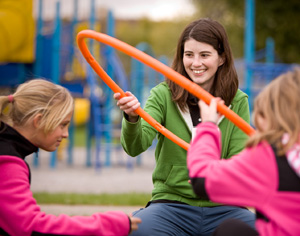 02/13/2015
SUNY Cortland's Recreation, Parks and Leisure Studies Department has added an online graduate certificate program in therapeutic recreation — training that will offer master's level coursework in a field focused on the quality of life of people with illnesses or disabilities.
The 18-credit program, which is slated to begin during the 2015-16 academic year, consists of six, three-credit courses. Applicants can apply immediately for fall semester admission.
"The reason I think people are drawn to this field is the variety it offers," said Lynn Anderson, a SUNY distinguished service professor of recreation, parks and leisure studies. "You can work in areas like outdoor recreation and adaptive sports, all the way to a clinical psychiatric unit or a rehab hospital. There's a lot of flexibility."
Therapeutic recreation specialists work in many different settings, including hospitals, assisted living locations, recreation destinations and correctional facilities.
"You have to be a person in this field who doesn't want routine or for every day to be the same because it never will be," Anderson said. "That's why people love it."
The graduate certificate should appeal to people who are seeking the Certified Therapeutic Recreation Specialist (CTRS) national certification but lack specific academic courses, especially professionals who may already work in the field. Currently only four states have therapeutic recreation or recreation therapy licensure laws in place. Several more are moving in that direction, including New York state, Anderson said.
According to the U.S. Bureau of Labor Statistics, nearly half of all people in recreation therapist job titles are not nationally certified.
"If licensure laws go through, that's a huge group of people that would have to change their job function or title," Anderson said. "The good news is that they're all people who would easily qualify for the national certification as long as they can get the academic coursework."
The program's online format allows easy access for people who might find it difficult to attend classes on a college campus because of work, family or location. An undergraduate degree in the recreation field is not required.
Only a handful of online programs exist in the therapeutic recreation discipline, Anderson said. SUNY Cortland already boasts the longest-running and most comprehensive recreation program in New York state. The College historically has been one of only three U.S. colleges or universities with national accreditation in all four of its recreation majors.
All of the certificate program's coursework fulfills the requirements of SUNY Cortland's Master of Science in Therapeutic Recreation, meaning students will need only 13 more credits and a three-credit capstone internship if they wish to continue on in their graduate studies. For students looking to take the CTRS national certification exam through an equivalency path, one year of paid experience supervised by a certified therapist or five years of work experience in the therapeutic recreation field are required.
Courses for the graduate certificate can be completed in as few as two semesters or they can be spread out over time. At the outset, courses will be offered in the fall and spring semesters.
Anderson said the department hopes to enroll 25 students from across the country in the program's initial cohort.
"The people who succeed in this field are driven by their patients' goals and dreams and needs," Anderson said. "The medium is the whole world of recreation, which goes from very intellectual activities to high adventure activities.
"Therapeutic recreation really is a renaissance field."
To learn more about the new graduate certificate program, visit the Recreation, Parks and Leisure Studies Department website or contact Anderson at 607-753-4942.
Hanson Place Men's Chorale to Sing March 7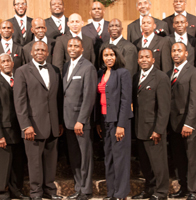 02/24/2015
The Hanson Place Men's Chorale from Brooklyn, N.Y., will sing its favorite gospel selections on Saturday, March 7, at SUNY Cortland.
Presented as the "Cultural Celebration" event culminating the College's Black History Month series, the performance begins at 3 p.m. in Old Main Brown Auditorium. The event was rescheduled from March 1.
General admission will be $5. All students will be admitted free. Classes are welcome. Reserve tickets are available by emailing SUNY Distinguished Service Professor Samuel Kelley at sam.kelley@cortland.edu or Kadeeja Fredankey at kadeeja.fredankey@cortland.edu; by telephone at 607-753-4104; or through a SUNY Cortland Gospel Choir member.
The SUNY Cortland Gospel Choir, SUNY Cortland Africana Dance Ensemble, Chord-land Dragons a cappella group, pianist Dorothy Thomas '77 and Cortland students Kadeeja Fredankey and Margarita Harper will join the celebration.
SUNY Cortland Africana Dance Ensemble
The Hanson Place Men's Chorale will offer a musical tribute designed and presented as a journey through expressionism, classicalism and impressionism. Selections will include "Let All Men Sing," by Hal Leonard; "Fill a Me Up," by Pepper Choplin; "Sanctus," by Charles Gounod; and "Ezekiel Saw the Wheel" and "Glory, Glory, Hallelujah," by Howard Helvey.
Under its director and founder Lincoln W. Blackwood, the ensemble was started in 1986 at the Hanson Place Seventh-day Adventist Church in Brooklyn, N.Y. In partnership with the accomplished accompanist Rosebeth Grant, and with the release of its debut recording, "We Sing," the 30-member group has made an indelible impression in the U.S. and Canada.
The chorale, which has participated in many church services and fundraising efforts, also has performed with the Hinsdale Men's Chorus; Proclaim Him, in Michigan; the Chicago Adventist Men's Chorus; and the Singing Men of Oakbrook, in Illinois.
For more information, contact Kelley, a faculty member in both the Africana Studies and the Communication Studies departments, at sam.kelley@cortland.edu or 607-753-4104.
Alumni Engagement Hosts 'Doing Business in NYC'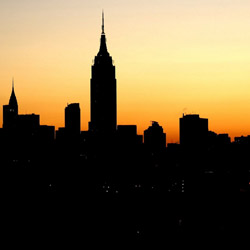 02/24/2015
SUNY Cortland students looking to chase big dreams in the Big Apple are invited to attend "Doing Business in NYC" on Thursday, March 19, in New York City.
The Alumni Engagement event takes place from 6 to 8 p.m. at New York University's Torch Club, located at 18 Waverly Place, during the College's spring break. Students will learn about the value of networking and a graduate will present to the group as a whole.
It is free to attend but pre-registration is required. Students can register by accessing RedDragonNetwork.org/doingbusiness, calling Alumni Engagement at 607-753-2516 or visiting the office on the second floor of Brockway Hall between 8 a.m. and 4 p.m.
The registration deadline is Thursday, March 12.
"When students hear career advice from alumni who are actually living the experience, there's some validation," said Erin Boylan, the College's associate director of alumni engagement. "These alumni learned from some of the same professors and in a few cases, they worked the same internships that are still available for current students."
Participating students are required to attend a pre-event Networking Boot Camp at 7 p.m. on Tuesday, March 10, in Career Services, located in Van Hoesen Hall, Room B-5. Networking basics and an overview of the event will be provided. Students who are unable to attend are asked to contact Alumni Engagement.
"Students are exploring occupational choices and becoming involved with internships early in their college careers," said John Shirley, the College's director of career services. "Employers have indicated that experience is essential to securing a job.
"The earlier students get involved, the better."
According to a report from the National Survey of Student Engagement, 73 percent of SUNY Cortland students who were surveyed had participated in a form of hands-on learning by their senior year, whether it was through an internship, clinical assignment or field experience.
"You learn by doing," Boylan said. "And that's something all of our alumni stress."
Professional Salary Increases Recipients Announced
The Human Resources Office has announced recipients of professional salary increases effective Feb. 13 for the following employees:
Ingrid Jordak, Publications and Electronic Media Office
Cynthia Lake, Residence Life and Housing Office
Jeanine Rose, Academic Support and Achievement Program
Tracy Rammacher, Publications and Electronic Media Office
Teri Vigars, Academic Support and Achievement Program
Courtney Wormuth, Athletics Department
For more information, contact the Human Resources Office at 607-753-2302.

Suggest a feature story
---
Faculty/Staff Activities
Alexandru Balas
Alexandru Balas, International Studies Program, presented a research paper titled "Central and Eastern Europe's Contributions to Peace Operations" at the International Studies Association's 56th annual convention in February.
Philip Buckenmeyer
Philip Buckenmeyer, Kinesiology Department, led seven kinesiology students in a Healthy Now project that culminated with a Wellness Day event at the Barry School in Cortland on Feb. 12. SUNY Cortland students included Hannah Smith, Jeffrey Koch, Theodore Kopytowski, Michael Grieco, Lauren Guardino, Erin Kelly and Ayden Wilbur. The Barry School children learned about their flexibility and range of motion by practicing four different exercises that focused on the hips, neck, back and shoulders.
Laura Davies
Laura Davies, English Department, will facilitate a cross-generational career workshop at the Conference of College Composition and Communication (CCCC) convention in Tampa this March. The workshop is sponsored by the Consortium of Doctoral Programs in Rhetoric and Composition. Also, Davies' proposal, "Getting at the Root of the Problem: Preventing Plagiarism by Teaching Reading as a Process," was accepted for the collection What Is College Reading? to be published in the Across the Disciplines series by the WAC Clearinghouse.
James Hokanson
James Hokanson, Kinesiology Department, served as a mentor for kinesiology graduate student Lindsey Taylor, who presented her poster at the "Graduate Research: Making a Difference in New York Partnering with SUNY and CUNY" event held Feb. 11 in Albany, N.Y. Taylor's poster is titled "Whole-Body High-Intensity Interval Training as an Alternative to Endurance Training."
Lynn Couturier MacDonald
Lynn Couturier MacDonald, Physical Education Department chair, announced that the department hosted its annual conference in collaboration with The New York State Association for Health, Physical Education, Recreation, and Dance (NYS AHPERD) Central North Zone on Jan. 30. More than 180 physical education and health teachers from the local area attended 29 different presentations. The conference was organized with the help of nearly 50 students in the Alliance for Physical Education Majors Club.
Melissa Morris
Melissa Morris, Physics Department, and coauthors, submitted their paper, "The Isheyevo Meteorite: the Solar System's Oldest Layered Sedimentary Rock" to the journal, Geology.
Mechthild Nagel
Mechthild Nagel, Philosophy and Africana Studies departments and Center for Gender and Intercultural Studies, is serving as a visitor at the Max Planck Institute for Ethnic and Religious Diversity in Goettingen, Germany during the spring semester.
Robert Spitzer
Robert Spitzer, Political Science Department, an original panelist on the WCNY public affairs program, "Ivory Tower," program, recently learned from WCNY that the program has been nominated for an Emmy Award in the category of "Public/Current/Community Affairs." Broadcast weekly since 2002, the "Ivory Tower" is the highest rated local television program in Central New York. Panelists from area universities discuss the news of the week, and conclude with A's and F's, during the half-hour show that airs Fridays at 8 p.m.
Christopher Tucker, Hugh Anderson, Michael Bersani and Ron Hulslander
Christopher Tucker, Purchasing Office, serves as captain of the SUNY Cortland J.P. Morgan Chase Corporate Challenge team that learned recently it will compete at the series' international championship race in San Francisco on Wednesday, Sept. 9. The College's four-person men's team finished with the fastest total time at the 3.5-mile Syracuse race in June 2014. Tucker will be joined by Hugh Anderson, International Programs Office; Michael Bersani, Public Relations Office; and Ron Hulslander, Physical Plant.
Nance S. Wilson
Nance S. Wilson, Literacy Department, had her article titled "Do the CCSS Support Developmentally Responsive Teaching of Young Adolescents?" published in volume 34 of the American Reading Forum Yearbook.
Tiantian Zheng
Tiantian Zheng, Sociology/Anthropology Department, recently had her article, "Transnational Migration, Global Links, and Social Inequality: Human Trafficking and North Korean Women in China," published in the March issue of The International Journal of Interdisciplinary Global Studies.

Submit your faculty/staff activity