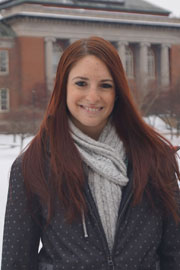 Campus Champion
Leah Gelblat fills her time outside of class with activities that are personally meaningful. It's one reason why December's sprint towards the semester's end never seems daunting to the junior communication studies major. "I'm someone who takes it all in and takes it all on," says Leah, who kicked off 2013 with a Birthright trip to Israel and juggled two fall semester internships on campus. An active presence in the Multicultural Life and Diversity Office, she also is a student justice and a member of a Cultural and Intellectual Climate committee — just two more reasons she's never bored during her down time.

Nominate a Campus Champion
---
Tuesday, Dec. 3
Open Mic Night: Last one of the semester, Corey Union Exhibition Lounge, 7 p.m.
---
Tuesday, Dec. 3
Strength Training Presentation: "Strength Training Assessments and Programming" by John Gaglione, strength coach, Corey Union Exhibition Lounge, 7 p.m.
---
Tuesday, Dec. 3
Relay for Life Kick-Off: Relay for Life will be held on campus Saturday, April 12. Volunteer positions available, Corey Union Fireplace Lounge, 7:15 p.m.
---
Tuesday, Dec. 3
Choral Union Concert: Music for Advent, Stephen B. Wilson conductor, Interfaith Chapel, 8 p.m.
---
Wednesday, Dec. 4
Sandwich Seminar: "One Man is Climbing a Mountain for Education," by Ivan Villasboa, Companion Community Development Alternatives, Old Main Colloquium, 12:30-1:30 p.m.
---
Wednesday, Dec. 4
Gospel Choir Holiday Concert: Robert Brown Jr., director, Christ Community Church, 292 Tompkins St, Cortland, 7 p.m.
---
Thursday, Dec. 5
Sandwich Seminar: "American Indian Students and Public Higher Education in the 21st Century – the Reality, Multicultural Life and Diversity," by Gary Smith of Binghamton University, Brockway Hall Jacobus Lounge, noon
---
Thursday, Dec. 5
Artist Reception and Talk: "Nothing Lasts But Nothing is Lost," Bachelor of Fine Arts Thesis Exhibition by Dave Hernandez, Dowd Gallery, 9 Main St., 3rd floor, 5 p.m.; Artist's Talk at 5:15 p.m.
---
Friday, Dec. 6
Red Cross Blood Drive: Interfaith Center, 7 Calvert St., noon-5 p.m.
---
Friday, Dec. 6
UUP Holiday Membership Gathering: Corey Union Function Room, 4-7 p.m. Entertainment: Stephen Wilson, piano, 4:15-5:15 p.m. "SUNY in Jeopardy" by Tom Hischak at 5:30 p.m.
---
Friday, Dec. 6
Midnight Breakfast: Neubig Hall, 11 p.m. to 1 a.m.
---
Saturday, Dec. 7
Head Shaving Fundraiser: SUNY Cortland Student Athletic Trainers' Association members will have their heads shaved to raise money for St. Baldrick's Foundation, Park Center, Room 2213, 12-4 p.m.
---
Saturday, Dec. 7
Men's Ice Hockey "Autism Awareness Night":Jersey and gift raffles when the Red Dragons host Potsdam, Alumni Arena, 7 p.m. Bidding on the jerseys will begin on Tuesday, Dec. 3, and will run through Thursday, Dec. 12, at 6 p.m. online with all proceeds going directly to the Central New York Chapter of the Autism Society of America.
---
Saturday, Dec. 7-Sunday, Dec. 8
Study Days
---
Monday, Dec. 9
PAWS for Stress Relief: Corey Union Function Room, 10 a.m.-4 p.m.
---
Tuesday, Dec. 10
PAWS for Stress Relief: Corey Union Function Room, 10 a.m.-4 p.m.
---
Monday, Jan. 6
Winter Session Classes Begin: Continue through Friday, Jan. 17
---
Tuesday, Jan. 21
President's Spring Opening Meeting: Corey Union Function Room, 9 a.m.; Refreshments will be served at 8:30 a.m.
---
---
SUNY Cortland Students 'Adopt' Local Families
12/02/2013
More than 20 local families will receive presents this holiday season, thanks to SUNY Cortland's Adopt-A-Family drive.
The annual event, now in its eighth year and organized by the College's Residence Life and Housing Office, is expected to bring in a record amount of gifts — more than $7,300 worth — in 2013. Residence hall directors and resident assistants will wrap enough presents for 21 area families Wednesday, Dec. 4, at the Lynne Parks '68 SUNY Cortland Alumni House.
Each family includes between three and six children who have a made a list of necessities, such as coats and gloves, along with a few items for pleasure, such as toys and sports equipment. Those families were recommended by the Bridges for Kids program run through the YWCA in Cortland.
The staffs in all 17 of SUNY Cortland's residence halls collected funds since the beginning of the academic year — taking in loose change, redeeming bottles and cans, and accepting small donations from students.
Resident assistants, for instance, asked for $1 from students who were locked out of their rooms. It wasn't a mandatory fee, and many residents actually opted to give more.
In 2012, $7,300 was raised for the Adopt-A-Family drive.
"I can safely say that we will beat last year's total of $7,300," said Cynthia Lake, the College's associate director of residence life and housing.
The exact amount will be known at the Wednesday gift-wrapping event.
Faculty Senate to Form Start Up NY Committee
12/03/2013
The Faculty Senate wants a say regarding SUNY Cortland's participation in the newly created, state-wide Start Up NY program that lets not-for-profit colleges partner with companies launching or expanding operations on or nearby the campuses.
Governor Andrew Cuomo's groundbreaking initiative is creating tax-free zones across the state for new and expanding businesses. The chosen corporations can operate 100 percent tax-free for 10 years, meaning no business, corporate, state or local taxes, sales and property taxes or franchise fees, according to the program website.
Senators are interested both in shared governance on major College decision-making as well as ensuring that such unions benefit SUNY Cortland students and are in keeping with the institution's core mission.
So during the Dec. 3 meeting, rescheduled due to a weather-related cancellation on Nov. 26, a narrow quorum of senators approved the slightly amended draft of a four-page, written process to take part in Start Up NY. The senate decided, unanimously, that a committee will be created that can participate in the evaluation of any companies that apply for incentives to locate on or near the campus under Start Up NY.
The recommendation goes to SUNY Cortland President Erik J. Bitterbaum for his approval.
The ad hoc committee met several times and completed its task of drafting the proposal without naming a chair. Representing the committee before the faculty senate were Senators Orvil White, childhood/early childhood education, and Joy Hendrick, kinesiology.
The draft primarily serves as a benchmark for how companies measure up in the following areas:
• whether they will share their expertise with the campus;
• whether they will provide quality transformational educational opportunities for students;
• how their products or resources align with the College's academic programs; and,
• how the partner can contribute to the well-being of the campus and Cortland community.
The companies also would be assessed for their potential value to the campus community through a number of different lenses, including research, leadership, diversity, culture, regional economic development, internship and training opportunities, direct job opportunities for students, internationalization, and whether a company's product converges with a specific area of specialization at SUNY Cortland.
The Start Up NY program will formally begin on Jan. 1, when tax exemptions are officially available for participating companies and their employees. Businesses will be able to apply directly to schools once the tax-free areas have been approved. The first business applications will be accepted beginning in late 2013.
Bitterbaum noted during the meeting that one company already has contacted the College about engaging in such an arrangement.
Given the program's timeframe, senators first moved to fast-track the new business item and then to approve it at the same meeting.
Following the vote, Faculty Senate Chair Jeff Walkuski said he'll contact Human Resources directly after the meeting to initiate the process of forming the new Faculty Senate committee to assess potential corporate partners and perform subsequent, annual reviews of how the business aligns with the College's academic mission. This committee will be comprised of three faculty members representing at least two schools and one professional staff member.
Senators had tweaked the four-page draft to strengthen the role of this new committee as a whole in determining whether a corporate partner would or had aligned well with the College's academic goals. In the original draft, that decision to make or withhold a final endorsement on a particular corporate partner was left to the committee chair.
---
Capture the Moment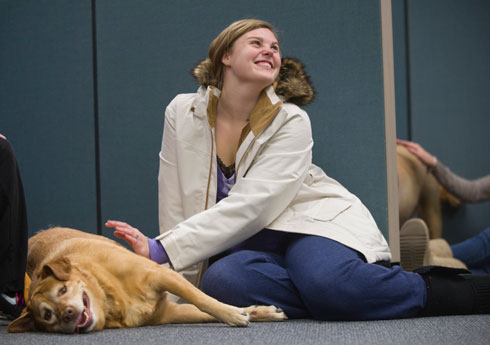 Freshman Kelly Quinn shares a smile with Sara during today's Paws for Stress Relief event at Memorial Library. Sara, a willing participant of the program, is owned by library cleaner Michelle Ryan. More stress relief is available from 10 a.m. to 4 p.m. on Monday, Dec. 9 and Tuesday, Dec. 10, when the dogs head to the Corey Union Function Room for two more days of hard work during finals week.
---
In Other News
Super Bowl Raffle Ticket Sales End Soon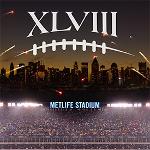 12/03/2013
It's a small stocking stuffer in size, but one that offers a big-time prize, the trip of a lifetime and major scholarship support for SUNY Cortland students.
A limited number of raffle tickets remain offering the chance to win an expenses-paid trip for two to professional football's biggest game at MetLife Stadium on Sunday, Feb. 2.
Only 500 tickets will be sold through late December at $100 apiece.
The College acquired the tickets through its close ties with the NFL's New York Jets, the team that calls SUNY Cortland its official university partner and summer training camp home.
All of the money raised from the raffle will go exclusively to the Cortland College Foundation scholarship fund, which supports first-generation college students, high achievers in the classroom and those with financial need.
One lucky raffle participant will receive the deluxe package worth $4,375. The grand prize includes two tickets to the championship game at MetLife Stadium in East Rutherford, N.J.; a three-night stay from Friday, Jan. 31, to Monday, Feb. 3, at the Courtyard Secaucus Meadowlands; and $1,000 for travel and other expenses.
It's the fifth time SUNY Cortland will offer the once-in-a-lifetime opportunity. A graduate has won each of the four previous raffles.
Sean Murray '80, last year's winner, shared an unforgettable trip to New Orleans with his wife and witnessed a second-half thriller between the Baltimore Ravens and San Francisco 49ers.
"Having not won much else in my life, it was a blessing," said Murray, of Cincinnati. "To me, it's a good way to give back with just a little bit of incentive."
This year's drawing will be held Monday, Dec. 30, and all entries must be received by Monday, Dec. 23. Participants must be at least 18 years of age to purchase a raffle ticket.
Those interested in buying a raffle ticket should send payment, cash or check, with name, home address, phone number and an email address to Sheila Morse, the financial operations specialist for the Cortland College Foundation, at P.O. Box 2000, Cortland, NY 13045. Checks should be made payable to Cortland College Foundation, Inc.
For more information, contact Morse at 607-753-2532.
Gospel Choir Plans Holiday Concert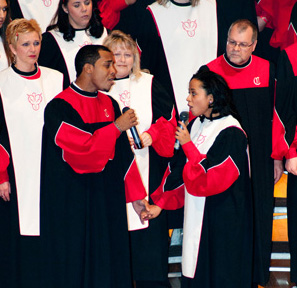 12/03/2013
The SUNY Cortland Gospel Choir will perform its Holiday Concert on Wednesday, Dec. 4.
The event, which begins at 7 p.m., will take place at the Christ Community Church located at 292 Tompkins St. in Cortland. A reception will follow immediately after the performance.
Directing Cortland's Gospel Choir will be Robert Brown Jr., Africana Studies Department.
The concert will open with a welcome and invocation, followed by "Every Praise," "Let's Dance" and "There's No Christmas Without You."
A Peanuts Christmas medley, "Christmas Time Is Here and O Christmas Tree," will be performed by Reggie Seigler on bass, Rob Brown on trombone, Andy Rudy on keyboard and Benjamin Terry, percussion.
Soloist Ellie Pacific will perform "Mary Did You Know?" and soloist Deston Hudson will sing "O Holy Night," followed by a full choir performance of "Alpha and Omega and "Break Every Chain."
Following an offering for Gospel Choir Student Scholarships and announcing the winner of the Holiday Basket Raffle, the concert will close with a performance of "How Great Our Joy" and from CD "Glad Tidings of Great Joy: A Christmas Blessing." The evening also features a Christmas sing-a-long with Dorothy Thomas at the piano.
For more information, contact Gospel Choir member Mary Massa.
Behavior Commission Holds 1st Meeting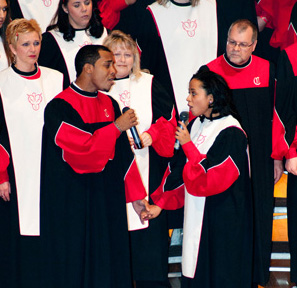 12/03/2013
The joint city/College commission on student behavior issues and their impact on the community held its organizational meeting last week and mapped out a strategy that includes eight public meetings.
The 20-member group also approved the charge given them by Cortland Mayor Brian Tobin and SUNY Cortland President Erik J. Bitterbaum: develop recommendations to the city and College that take a comprehensive approach to policies, procedures, programming, services, rules and assessment with respect to student behavior, safety and related concerns during the weekend of the Cortland-Ithaca football game.
The commission created four subcommittees to deal with issues involving different segments of people affected by, or involved in, the Nov. 16 series of incidents coinciding with the game. They include members of the community, students, landlords and local businesses. Two public meetings will be held for each group, and members of the public will be invited to share information and ideas.
The commission will also hold at least eight closed-door meetings, starting Dec. 9, to discuss various aspects of the problem and possible solutions. Minutes describing what happened during those meetings will be posted publicly on the College website shortly afterward.
Commission members are working with the College to create those web pages. A link to them will be shared with the public and the news media.
"Transparency is very important to us," said Kimberly Pietro, SUNY Cortland vice president for institutional advancement and co-chair of the commission. "We're trying to balance the need to involve and engage the public with the need to focus dispassionately on the issues surrounding Cortaca and discuss them plainly."
Former Cortland Mayor Bruce Tytler M '88, CAS '05 is the commission's other co-chair.
The meetings are scheduled through the end of March. Additional meeting dates will be set as needed.
CANCELLED: College to Host Poetry Out Loud Contest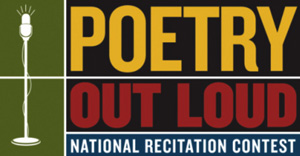 11/22/2013
THIS EVENT HAS BEEN CANCELLED
On a late winter day, the SUNY Cortland campus community expects to be overrun by poets.
These will be high school-age masters of verse, to be precise.
The College will host the regional level of the 2013 Poetry Out Loud national recitation competition for upstate New York on Thursday, Feb. 13.
Presented in partnership with the New York State Council on the Arts, the National Endowment for the Arts and the Poetry Foundation, Poetry Out Loud will take place from 5 to 8 p.m. in the Corey Union Exhibition Lounge.
These traditional readings and contemporary style performances of verse are free to watch and open to the public, although space will be limited.
"This is an amazing opportunity for young writers, poets, readers and presenters to work on their skills outside of the classroom," said Kayla Koelbel, a sophomore coaching major and professional writing minor at SUNY Cortland. Koelbel is one of two student interns working to promote the Poetry Out Loud contest.
Poetry Out Loud is an organization that aims to encourage the nation's high school students to learn about great poetry through exploration, memorization and performance. Some 375,000 students from more than 2,000 high schools nationwide took part in the 2012-13 competition.
Creative wordsmiths from participating high schools are invited to compete in this contest, involving memorization and recitation of poetry. Competitors from grades 9-12 will be chosen from Cortland, Cayuga, Oswego, Onondaga, and Madison county high schools. Each student will be required to choose and recite at least two poems from the Poetry Out Loud website.
The competition will feature presenters not simply reciting poems but performing them for judges and an audience. The judges will be professors from SUNY Cortland's English and Performing Arts departments, along with area performance poets. They will score competitors based on physical presence, voice and articulation, dramatic appropriateness, level of complexity, evidence of understanding and overall performance.
The winner at this level will be eligible for state finals. Each champion at the state level will receive $200 and an all-expenses-paid trip to Washington, D.C., as they advance to compete for the national championship April 29 and 30, 2014. Additionally, the school of the state champion will receive $500 for the purchase of poetry books. At the National Finals, $50,000 in awards and school stipends will be distributed.
High school teachers interested in having their students participate in Poetry Out Loud or individuals seeking more information about the regional contest should contact Victoria Boynton, SUNY Cortland professor of English, at victoria.boynton@cortland.edu. More information is available about Poetry Out Loud online.
Koelbel and her fellow publicity intern, professional writing major Patricia Rosetti, are participating in one of the nearly 3,000 service learning experiences that SUNY Cortland students annually have incorporated into their college education. In March, SUNY Cortland for a third year was named to the President's Higher Education Community Service Honor Roll with Distinction based on volunteerism within the campus community.
B.F.A. Thesis Ponders Future of Civilization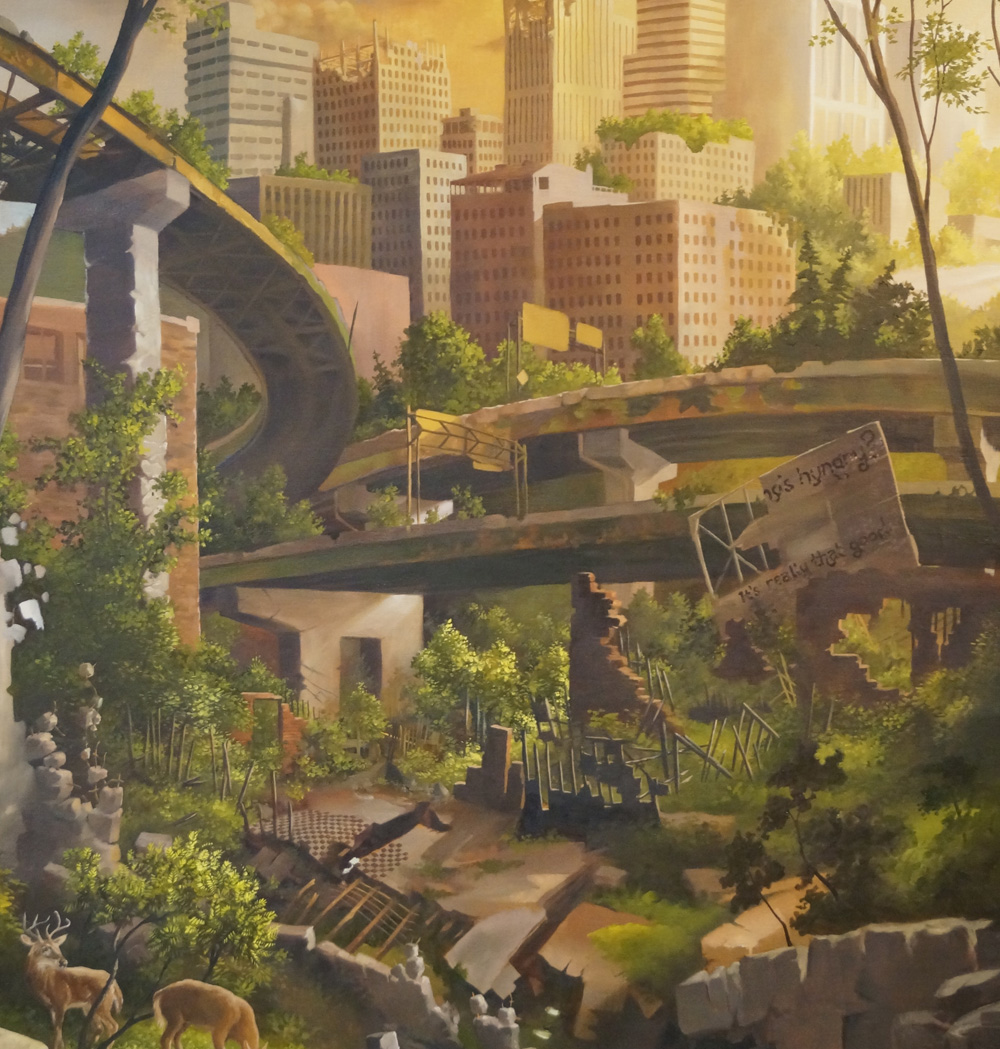 12/02/2013
A SUNY Cortland Bachelor of Fine Arts (B.F.A.) student will display his culminating thesis exhibition, an incredibly detailed personal interpretation of the future of civilization, beginning Tuesday, Dec. 3 at the College's Dowd Gallery.
David Hernandez, a senior from Camillus, N.Y., created 14 paintings along with sketches, drawings and a sound installation for "Nothing Lasts, but Nothing is Lost." The exhibition, which is free and open to the public, runs through Saturday, Dec. 7.
An opening reception will be held at 5 p.m. Thursday, Dec. 5.
Hernandez, an award-winning student artist, considers his paintings "conceptual gateways into a world that challenges what is currently perceived as a normal way of life." His painting "Whimsy" won the Best of Show distinction at SUNY Cortland's "Student Select 2012" exhibition of student work.
The Dowd Gallery remains housed temporarily on the third floor of Main Street SUNY Cortland, 9 Main St., while the Dowd Fine Arts Center undergoes renovations.
Gallery hours are 10 a.m. to 6 p.m. Tuesday through Friday and 10 a.m. to 2 p.m. on Saturday.
Students, Staff Shave Heads for Cancer Research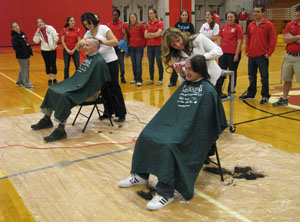 12/03/2013
Nineteen SUNY Cortland athletic training students and staff members will have their heads shaved in support of the St. Baldrick's Foundation on Saturday, Dec. 7.
A total of 33 volunteers from the club will assist with the event, which takes place between noon and 3 p.m. in Park Center, Room 2213, the back rock climbing gym.
St. Baldrick's Foundation is a volunteer-driven charity committed to funding childhood cancer research.
The public is invited to attend and support the Student Athletic Trainers' Association and the St. Baldrick's Foundation as they Shave the Way to Conquer Kids' Cancer. For more information or to donate, go to the event's specific web page.
Two of the shaves, athletic training students Amelia Welch and Ashley Crossway, will be donating their hair to Locks of Love, which provides hairpieces to financially disadvantaged children in the U.S. and Canada under age 21 suffering from long-term medical hair loss from any diagnosis.
The Athletic Training Club held a similar St. Baldrick's Foundation event in 2011 and raised more than $4,000.
Hockey Team Supports Autism Awareness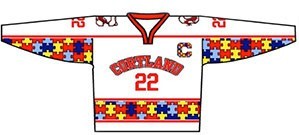 12/03/2013
The SUNY Cortland men's ice hockey team will be holding an "Autism Awareness Night" on Saturday, Dec. 7, when the Red Dragons host Potsdam at 7 p.m. at Alumni Arena.

The team is raising money for the Central New York Chapter of the Autism Society of America (CNY ASA). Many local businesses and individuals have made donations or have contributed items to be raffled off during the game. In addition, the team will be wearing unique, custom-made "puzzle piece" jerseys during the game to represent the CNY ASA's "one piece at a time" theme. The jerseys will be auctioned off online through Dec. 12, and 100 percent of the proceeds from the auction will go directly to the CNY ASA.
Bidding on the jerseys will begin on Tuesday, Dec. 3, and will run through Thursday, Dec. 12, at 6 p.m.
online
.
To make donations or to learn more about supporting the cause, please contact Cortland junior defenseman Jeff Vanzant at
jeffrey.vanzant@cortland.edu
or 518-565-7420.
UUP Plans Holiday Party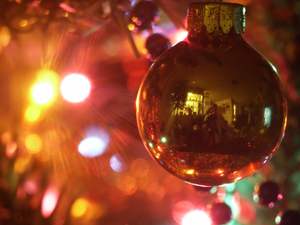 12/03/2013
Thomas Hischak's comic spoof, "SUNY In Jeopardy," performed by volunteer faculty and professional staff members, will be a highlight of the UUP Cortland Chapter's 2013 annual Holiday Membership Gathering on Friday, Dec. 6.
The event takes place from 4 to 7 p.m. in the Corey Union Function Room and also features hors d'oeuvres and cocktails until 6 p.m. Professor of Music Stephen Wilson will perform on piano between 4:15 p.m. and 5:15 p.m.
At 5 p.m., those in attendance will toast the careers of their retiring colleagues.
"SUNY In Jeopardy" begins at 5:30 p.m. An annual spoof is a campus tradition of the holiday season, and this year's performance offers up the popular quiz show but with an academic twist. Written and directed by Hischak, performing arts, the sketch will showcase as cast consisting of Girish Bhat, history; Mark Cerosaletti, modern languages; Judy Van Buskirk, history; Chris Xenakis, political science; and Karen Zimmerman, performing arts.
Members are encouraged to come and bring a colleague to celebrate the end of classes and to kick off the holiday season.
Late RSVPs are still welcome, as are walk-in members on the day of the event. To RSVP, contact uup@cortland.edu.
Teaching Assistant Poster Symposium Set for Dec. 4
What is one thing you could tell an incoming first-year student to help make their transition to SUNY Cortland go smoothly?
There will be 54 answers to that question on display when Advisement and Transition holds its 13th annual COR 101 Teaching Assistant Poster Symposium from noon to 4:30 p.m. on Wednesday, Dec. 4, in Brockway Hall Jacobus Lounge. The poster symposium, an end-of-semester event, showcases the work of COR 101 teaching assistants.
First-year students are required to take COR 101 during their first semester on campus, earning one credit hour. The classes are taught by faculty and staff members who are each assigned one upper-class student to help teach and mentor the incoming first-year students. Upon completion, the teaching assistants, who earn three credit hours, present a poster showing the topic about which they chose to teach.
"For example, 'Why is Social Media Important at SUNY Cortland' is one of the topics that was taught by a teaching assistant," said Susan Stiner, Advisement and Transition, who coordinates the teaching assistant internships and teaches a section of COR.
"There is a lot of valuable information, ranging from stress management and wellness to managing money or becoming a leader, and the posters provide a great overview of the program," she said.
For more information, contact Advisement and Transition at 607-753-4726.
ASC Program Grant Applications Due Feb. 21
Auxiliary Services Corporation (ASC) is now accepting Program Grant applications online for the 2014-15 academic year.
Applications are submitted online and must be sent by midnight on Friday, Feb. 21. Applicants are asked to read the grant guidelines carefully before submitting an application.
Each year the ASC Board of Directors allocates funds to support grants for a wide range of purposes and projects that enhance the life of the SUNY Cortland community.
Although ASC is willing to consider a wide range of ideas, it seeks to avoid duplicating other funding sources or funding projects more properly supported by state funds. Therefore, applicants should first seek funding from primary funding sources.
ASC grant funds may not be used for salaries, honoraria, travel normally funded by the College's budget, or scholarships for SUNY Cortland faculty, staff or students. Funds may not be used to purchase computers, related hardware or software. All purchases will be processed in accordance to ASC's financial and related GAAP policies. In general, Program Grant funds may not be used exclusively for food for SUNY Cortland students, faculty or staff. Funding for food may be considered if the food is deemed integral to the success of the program or event. All food shall be provided by ASC. Other grant guidelines are described in the application package and online.
For more information, contact Tina Russell at 607-753-4628.
Outstanding Non-Traditional Students Recognized
Thirty-seven students who balance family, jobs and other commitments were recognized for their hard work and commitment during Non-Traditional Students' Week Nov. 3 to Nov. 9.
The College defines its non-traditional undergraduate students as those who are at least 24 years old or have had an interruption or delay in their education since high school. They also might have dependent children, regardless of their ages.
Faculty, staff and students submitted names to the "Celebrate a Non-Trad" campaign and a certificate of recognition was given to the following non-traditional students:
Michael Adams
John Aspinwall
Katie Austin
Danielle Bauer
Kristopher Bialy-Viau
Amanda Brown
Chris Caughey
Rachelann Copland
Jennifer Cutsogeorge
Mary DeLorenzo
Michael Doyle
Raeshelle Fraiser
Lauren Geraci
Liselotte Hammond
Deserea Harriger
David Hewitt
Chad Hill
Greggory Houck
Sarah Howe
Ami Ingraham
Nicole Katz
Chris Kinney
Edward McCabe
Edward Napiorkowski
Adam Niemiec
Lisa Ruquet
Johnna Rusello
Breanna Scannell
Jo Schmeling
Karyn Scott
Garrett Smith
Michael Ullberg
Kristine Walker
Kodey WhiteWolf
Tashina Wiers
Mason Young
This program is sponsored by the Advisement and Transition office. For more information, contact Cheryl Hines, advisement and transition, at 607-753-4726.

Suggest a feature story
---
People on the Move
Taylor Joins Multicultural Life and Diversity Staff
12/02/2013
SUNY Cortland's Multicultural Life and Diversity Office, which leads the College's efforts in promoting an inclusive environment and celebrating different perspectives, has named Tamara Taylor its new assistant director.
Taylor, a Detroit native, began her duties at SUNY Cortland on Nov. 11. She reports to the director, Noelle Chaddock Paley.
Taylor most recently served as the assistant director for student involvement and multicultural services at Saint Mary's College in South Bend, Ind., where she coordinated more than 60 initiatives and programs tied to diversity and inclusivity since 2011.
SUNY Cortland's Multicultural Life and Diversity Office maintains a very active presence on the College's campus, leading events such as the Unity Celebration and the Student Diversity Conference as well as many different lectures and training sessions. With eight multicultural student groups and four multicultural Greek organizations, the office's work is evident across campus.
At Saint Mary's, Taylor's work stretched across several fields — everything from collaborating on campus policies and working with student organizations to event planning and creating marketing materials. She also was in charge of leading diversity training sessions and consulting with different groups and offices across campus.
From 2007 to 2011, Taylor taught courses related to communication throughout the state of Michigan. She served as an adjunct instructor of communication studies at Delta College, an adjunct instructor of communication and business communication studies at Mid Michigan Community College, an instructor and teaching assistant at Central Michigan University, and a volunteer teacher at Saginaw Correctional Facility.
She has presented at conferences and research symposiums professionally and as a student, on topics ranging from being an ally to the LGBT community to encouraging diversity in residence halls. Most recently, she offered a presentation for new professionals at the Women's Leadership Conference at Michigan State University in East Lansing, Mich.
Taylor's professional growth over the past several years has been accompanied by a commitment to community service and mentoring regardless of the campus where she worked. During her tenure at Saint Mary's, she served as a volunteer board member for the Dismas House of St. Joseph County and the Family Justice Center of St. Joseph County.
In addition to earning a graduate assistantship and a graduate teaching assistantship at Central Michigan University, Taylor has been recognized with several awards and honors, including the Ronald E. McNair Post-baccalaureate Achievement Program Scholar distinction.
Taylor earned a bachelor's degree in psychology from Central Michigan University in 2007, focusing her research as a McNair Scholar on safe sex education and adolescent communication. She earned a master's degree from the same institution in 2010 in interpersonal and public communication, concentrating on social movements and gender communication.
---
Faculty/Staff Activities
Gretchen Herrmann
Gretchen Herrmann, Library, presented a paper titled "From Our House to Your House: Intimate Belongings and Kindred Spirits in the American Garage Sale," at the American Anthropological Association's annual meeting on Nov. 20 in Chicago. The paper treats the transfer of special objects, often with a story attached, to buyers who become familiarized as "kindred spirits."
Bonni C. Hodges, Donna M. Videto and Aimee Greeley
Bonni C. Hodges, Donna M. Videto and Aimee Greeley, Health Department, presented on the School Health System Change Project throughout the fall. In October, they discussed "Plotting a New Course: Letting the Data Drive Your School Health Program" at the American School Health Association conference in South Carolina. In November, Hodges represented the project at the American Public Health Association conference in Boston to present "Barriers to School and Community Health Organization Collaborations." Videto and Greeley shared the project's work in November at the New York State Association for Health, Physical Education, Recreation, and Dance conference via two presentations, " Embracing Health, Wellness, and the Common Core" and "School Health Systems: Creating Your Own Success."
Mechthild Nagel
Mechthild Nagel, Philosophy Department and Center for Gender and Intercultural Studies, presented an invited talk titled "The Ethic of Ubuntu and the End of Penality," at the Symposium on Mass Incarceration, Religion, and Abolitionism, held Oct. 5 at Cornell University.
Also, Nagel was the keynote speaker for the annual Arts and Science lecture on Oct. 25 at Clarkson University. Her talk, "The Many Faces of Abolitionism Discourse: From Chattel Slavery, to Prisons and Prostitution," also served as the opening lecture for the first Gender and Sexuality Studies Conference at the university.
Susan Peterson and Lori Ellis
Susan Peterson, Modern Languages Department, and Lori Ellis, Art and Art History Department, collaborated on a writing project for NeoVox, SUNY Cortland's online literary and new media design magazine. Students in Peterson's Advanced Spanish Composition class viewed paintings done by students in Ellis' 300-level painting class and chose one to critique in Spanish. Both the critiques and the artwork will be published in NeoVox this semester. The project encourages and supports both classes and individual student work. Photographs of the artwork were courtesy of Michael Bersani of the SUNY Cortland Public Relations Office.
Robert Ponterio and Jean LeLoup
Robert Ponterio, Modern Languages Department, and Jean LeLoup, professor emerita of Spanish and the U.S. Air Force Academy, presented a session titled "FLTEACH: Widgets, Twitter, Boards and Mail for Online Professional Development" at the American Conference on the Teaching of Foreign Languages (ACTFL) 2013 Annual Convention and World Language Expo held Nov. 22 in Orlando, Fla. The session examined the variety of online tools that LeLoup and Ponterio, the forum creators, have developed to enhance the 5,400-member, 81-country grass roots professional development project, now in its 20th year. There was a particular focus on recent enhancements including responsive design for the website, the use of embedded widgets pushing content to the Web, the #flteach Twitter hashtag, wiki, and FLTEACH Facebook page. The project's searchable archives, annotated bibliography, language teaching methods syllabi collection, and various email options were also discussed. The presenters emphasized the range of options for participation and the applications of the project to pre-service teacher training and ongoing professional development for teachers in the field. The session outline is available at http://web.cortland.edu/flteach/wksp/actfl2013.html
Robert Spitzer
Robert Spitzer, Political Science Department, spoke on "The Second Amendment and the Hidden History of Gun Laws," at the University of North Carolina, Greensboro, on Nov. 20. The talk was sponsored by the school's Institute for Legislative Studies.

Submit your faculty/staff activity