Sorority's Spirit Lives On, Decades After Fire
06/27/2014
Sixty-five years after it happened, Merilyn "Lynn" Hiller '49 still remembers the confused shouts and frightened cries that woke her up in the three-story house she shared with her Arethusa Sorority sisters.
Smoke and darkness filled the second-floor hallway outside her door as the 27 women sleeping in the wooden building near the intersection of Church and Port Watson streets struggled to find their way outside.
"I made my way out into the hall and I could hear the women coming down from the third floor, crying and calling out," said Hiller, now 86, recalling the deadly, Nov. 21, 1948 kitchen fire that swept through the Arethusa house. "So I tried to call back to them."
Many sisters followed Hiller's voice to safety before the flames blocked Hiller's exit and she was forced to escape through a second-story window.
Three young women, all seniors prepared to graduate with the Class of '49, ultimately perished in the blaze and Hiller suffered life-threatening burns and injuries.
It was the most devastating event in the history of the College.
The American flag outside Old Main hung at half-mast for six months. The State University of New York system, horrified by the incident, focused on fireproofing student residence halls. And the 1949 Didascaleion offered a yearbook dedication to Barbara Kelsey, Marie Meyer and Lillian Rudnetsky, the seniors who died in the blaze.
Those names, and the tragically shortened young lives they represent, will once again be on the minds of the Class of 1949 this July, when a plaque marking a permanent campus remembrance is dedicated during Alumni Reunion 2014.
From left: Lillian Rudnetsky, Marie Meyer, Barbara Kelsey
Up to 40 classmates of the victims — representing roughly a third of the Class of 1949 — are expected in Cortland that weekend for their 65th reunion. It's unprecedented attendance for a group that includes many World War II veterans, a class that graduated when Harry Truman was president and baseball's Dodgers still resided in Brooklyn.
"This is a special group," said Erin Boylan, the College's associate director for alumni engagement, of the Class of '49. "They care so much about Cortland, and they're incredibly loyal to each other."
The inclusion of a memorial ceremony for the three classmates lost in the fire came about after the relatives of Lillian Rudnetsky contacted the College.
Helene Rudnetsky James '56 was 13 when her sister died from smoke inhalation and burns suffered in the fire.
"She was the only close person I ever had. I loved her a lot," said James, who attended Cortland partly as a tribute to her sibling. "I wanted to do what my sister had not finished … I felt that if I went to Cortland and became a teacher, it would make my parents proud."
James, originally from Center Moriches, N.Y., spent the majority of her career teaching in California. She's retired now and resides in Cypress, Calif.
She remembers that during her time on Cortland's campus, nobody ever talked about her sister or the fire. So it was a bit of a surprise when a stranger contacted her last summer to talk about her sister. She turned out to be a long-lost relative.
Carol Seiken of Wyncote, Pa., reached out to James as part of tracing her family's genealogy.
"All I knew was we had a relative who died at Cortland before I was born," Seiken said. "It had been a vague story in our family."
It took roughly six hours of research before she was on the phone with James. They soon determined their grandparents were siblings. They also agreed that there should be some sort of memorial to the tragedy on the SUNY Cortland campus.
"I didn't want just a few people knowing about this," Seiken said. "I didn't want (the victims) to be forgotten."
Seiken wrote to SUNY Cortland President Erik J. Bitterbaum in October and plans developed to place a plaque near the "moving up" rock behind Old Main, the spot where Cortland students gathered each spring from 1927 to 1970 for a Moving Up Day ceremony.
It's a fitting location, given the dedication that was published in the 1949 Didascaleion.
"To … a memory of three seniors who were ready to take their places in a world where they were needed, but who have left us for a larger life," the yearbook read. "To a future fuller and more significant for us because it was unfulfilled for them."
Soon, many remaining members of the Class of 1949 again will remember their classmates when the permanent tribute is unveiled at Reunion. Unfortunately, Hiller, who is no longer able to travel long distances, will not be among them.
Merilyn "Lynn" Hiller '49
Her actions during that 1:30 a.m. fire were credited with saving lives. By choosing not to immediately escape herself but to position herself by the steps that led to the first floor and guide her housemates down, she put her own life in danger.
"I stayed right there," she said. "It was all instinctive."
The fire eventually blocked Hiller's escape, forcing her to break her bedroom window with her bare hands. She was carried out of the second-floor window by a firefighter.
The day after the fire Kelsey was dead and Hiller was listed in critical condition with Meyer and Rudnetsky, according to the Cortland Standard.
The road to recovery from her cuts and burns was painful, but Hiller managed to graduate on time with a degree in physical education. She taught for four years in the Newfane (N.Y.) Central School District before earning a master's degree from Cornell University and spending the majority of her career as a researcher at the National Institutes of Health in Bethesda, Md.
Both the local American Legion and the Carnegie Hero Fund Commission recognized Hiller for heroism. Although Arethusa disbanded at SUNY Cortland in 1988, the sorority's motto offers an accurate description of Heller's actions: "Loyal sisters all."
"We were all very close," Hiller explained. "We saw each other every day. We ate together. We had meetings together. We played together.
"We were sisters."
Jets to Land in Cortland July 23
06/30/2014
The New York Jets will officially start 2014 training camp at SUNY Cortland on Wednesday, July 23, when the team reports to campus.
The first practice open to the public will be Thursday, July 24, kicking off three weeks of action by a squad filled with several high-profile additions made during the offseason. Tens of thousands of fans are once again expected to visit the Jets practice fields at SUNY Cortland during the camp.
In addition to watching favorite players from the sidelines at public practices, fans can pick up the latest gear and merchandise at the Jets Shop tent and check out this year's Jets Fest, an interactive football theme park for children that offers skill challenges and inflatable rides.
The team also plans to add to this year's Green & White Practice, slated for Saturday, Aug. 2, with player introductions, fan contests and entertainment.
Admission, as always, is free. This year, fans again are required to print tickets from the team's website before attending practice. Fans can register and print tickets by visiting the team's training camp page before making the trip to camp. This procedure also applies to the Green & White Practice.
Camp visitors should use SUNY Cortland's Stratton Drive entrance off of Route 281. Parking attendants will greet fans at the entrance and direct them to the camp parking area. Parking costs $5.
Following each practice, Jets players will usually be available to sign autographs for fans along the sideline. Visitors should note, however, that autographs are not guaranteed. Available players will sign autographs if weather, time and other circumstances permit.
In addition, Gen Jets Kids Club members will have a kids-only player autograph area at all practices. Space is limited to the first 100 kids each day, so fans are encouraged to check in their children upon arrival.
The 2014 camp will be the fifth Cortland camp under six-year head coach Rex Ryan. In 2013, 21,000 visitors from 34 states and five countries spent more than $1.6 million locally, creating an economic impact of nearly $3.7 million, according to a study by SUNY Cortland faculty members. Together, the four New York Jets training camps hosted at SUNY Cortland since 2009 have generated $19.24 million in economic impact for Cortland County.
SUNY Cortland's partnership with the Jets continues to provide year-round opportunities for the College's students and alumni. It also generates more than $5 million in tourism spending in the region every summer.
"New York Jets training camp has become one of the region's most unique summer events for sports fans, and SUNY Cortland is very proud to host it again in 2014," said College President Erik J. Bitterbaum. "With some of the best football players in the world practicing a morning's drive away from just about anywhere in Central New York, the Finger Lakes and the Southern Tier, tens of thousands of visitors are once again expected, providing a big boost for local businesses and great exposure for the College."
Although the Jets invite all fans to attend open practices, please note that the training camp schedule is subject to change. Practices may be canceled or closed to the public in the event of inclement weather.
Fans should call the team's fan line at 973-549-4844 or visit newyorkjets.com/camp for the most up-to-date news regarding practice schedules. Updates are also available on Twitter and Facebook (facebook.com/jets).
All camp visitors will be subject to security procedures, including bag searches.
2014 NEW YORK JETS TRAINING CAMP PUBLIC PRACTICE SCHEDULE
All dates and times are subject to change.
For every practice listed below, camp gates, Jets Fest and Jets Shop will be open from 9 a.m. until 1 p.m. daily. For the Green & White Practice, gates, Jets Fest and Jets Shop will be open from 5 to 9:30 p.m.
Thursday, July 24 10 a.m.
Friday, July 25 10 a.m.
Saturday, July 26 10 a.m.
Sunday, July 27 10 a.m.
Tuesday, July 29 10 a.m.
Wednesday, July 30 10 a.m.
Thursday, July 31 10 a.m.
Friday, Aug. 1 10 a.m.
Saturday, Aug. 2 Green & White Practice at 7 p.m.
Monday, Aug. 4 10 a.m.
Tuesday, Aug. 5 10 a.m.
Saturday, Aug. 9 10 a.m.
Sunday, Aug. 10 10 a.m.
Monday, Aug. 11 10 a.m.
Tuesday, Aug. 12 10 a.m.
Wednesday, Aug. 13 10 a.m.
---
Capture the Moment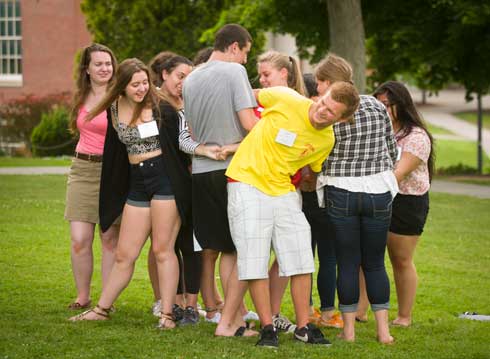 Participants of New Student Orientation are guided to understand strategies for success and their own potential and challenges while interacting with other students. The human knot exercise on Moffett Center lawn on Monday did all that, while helping the incoming freshmen begin to feel connected, confident and excited about their college choice.
---
In Other News
Alumni Reunion Set for July 11 to 13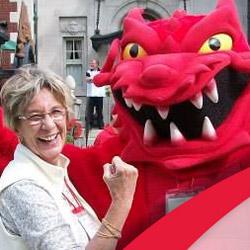 07/01/2014
More than 500 alumni and friends will enjoy class get-togethers, parties and other activities on campus and at the Lynne Parks '68 SUNY Cortland Alumni House from Friday, July 11, through Sunday, July 13, during Alumni Reunion 2014.
"We look forward to highlighting all of the new enhancements to campus with our alumni," said Erin Boylan, associate director for alumni engagement. "Reunion is a great time to learn about the great developments at SUNY Cortland while reinforcing the long history of Red Dragon camaraderie, which is still strong."
Participants include the Half Century Club, comprised of alumni who graduated more than 50 years ago; the Classes of 1949, 1954, 1959, 1964, 1969, and 1989. The Alumni Association will host its first Cluster Reunion, recognizing the Classes of 1983, 1984 and 1985. Alpha Delta, the featured sorority, will celebrate its sorority reunion with a dinner held at the Parks Alumni House. The featured fraternity, Delta Kappa Beta (1925-1991), will begin its weekend with a welcome party.
Reunion will open Thursday with the Class of 1964 50th Reunion Dinner at the Lynne Parks '68 SUNY Cortland Alumni House. On Friday, the Classes of 1949, 1959 and 1964, as well as Alpha Delta sorority, will enjoy a boat cruise on one of the Finger Lakes.
Friday afternoon the Cortland College Foundation will host a welcome reception at the Parks Alumni House. President Erik J. Bitterbaum will recognize reunion committee members at this event, acknowledging their efforts at encouraging participation amongst their classes.
Saturday's events include campus tours, a hike of Hoxie Gorge, classes offered by alumni for alumni and tours of the Parks Alumni House.
The SUNY Cortland Alumni Association will present its most prestigious honor, the Distinguished Alumni Award, to three graduates on Saturday, July 12, during the Alumni Reunion 2014 luncheon in Corey Union. The luncheon begins Saturday at noon in the Corey Union Function Room and honors reunion classes and award recipients.
The 2014 Distinguished Alumni Award recipients are:
Karen Collier Flewelling '64, whose post-retirement humanitarian work takes her around the globe working to provide the less fortunate with clean water, school supplies and education.
Jerrold Stein '74, the trend-setting associate vice president for student affairs and dean of students at Stony Brook University.
Susan Milstein '95, a health educator and college professor whose published work on sex education is a guide to many other educators.
Immediately following the luncheon, the fun shifts downtown. For the sixth time, alumni can participate in Cortland Downtown Partnership's "Taste of Downtown." Participants will enjoy food and beverage samples from numerous city eateries, listen to musical performances and receive a commemorative wine glass. The Nu Sigma Chi Legacy Fund will again underwrite an All-Greek Reception at the Parks Alumni House.
The Alumni Association will host the Inaugural "Brews and Barbecue" on Saturday evening. The event will feature barbecue fair, a wide selection of New York State craft beers, a photo booth with decades props and music from all eras in the beautiful setting of the Parks Alumni House gardens.
On Sunday, a farewell breakfast for all classes is scheduled for 9 to 11 a.m. at the Parks Alumni House. Kappa fraternity will have a farewell breakfast on the front lawn of the Parks Alumni House. The Alpha Delta sisters will enjoy a farewell breakfast in Brockway Hall Jacobus Lounge. Before departing, Alpha Delta will tour the former sorority house at 24 Stevenson St.
The campus community is encouraged to attend Alumni Reunion 2014. For more information, contact the Alumni Engagement Office at 607-753-2516 or visit the website at cortland.edu/reunion.
Clinically Rich Approach Earns High Praise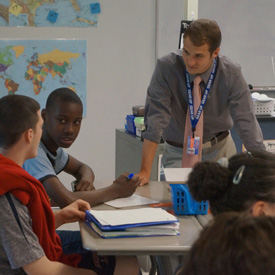 06/27/2014
This past school year, several Binghamton High School students noticed something different about a group of pre-service teachers from SUNY Cortland: Compared to their traditional student teachers, the future educators from the College seemed more confident and more invested in the classroom.
"It was better," said high school sophomore Michaella Warner, recalling her experience in earth science class. "It was like I was learning from an actual teacher."
As the school year wraps up at the Southern Tier high school, so too has a full-year teaching residency program launched by SUNY Cortland and funded by a major grant from the New York State Education Department. The pilot program took a new approach to bringing future science and mathematics educators to a high-needs, urban district.
Traditionally, the College's adolescence education majors take part in two, eight-week student teaching placements at a middle school and a high school. But for 10 SUNY Cortland students, the Clinically Rich Teacher Preparation Pilot Program meant spending a full year immersed in observation and "interning" at a single school with the same mentor teacher.
Led by Angela Pagano, an associate professor of biological sciences, and Mary Gfeller, an associate professor of mathematics, the innovative program looked to enrich the student teaching experience for pre-service science and mathematics teachers by fostering a deeper relationship with a partnering high school. Its many goals included introducing teacher candidates to the realities of working in high-needs schools, boosting teacher retention and improving classroom learning for the high school students.
"I think (the Clinically Rich program) should be the way everything goes," said Binghamton High School Principal Roxie Oberg, who leads a building of more than 2,000 students. "Student teaching is good to a point, but it certainly doesn't give you the full exposure that a true teaching assignment does.
"A yearlong assignment really helps you understand the teaching environment."
The feedback from those associated most closely with the pilot program at Binghamton — supervising teachers, interns and high school students themselves — suggests exactly that.
"My friends who were student teaching (at other schools), as soon as they started to build relationships with their students, they were gone," said Lisa Dovi '14, an adolescence education: physics major from Cortland, N.Y.
Dovi and classmate Taylor Jones '14, of Sachem, N.Y., taught physics under the guidance of high school teacher Jon Nale. After spending more than a year with the student teachers, Nale listed several positive differences between the Clinically Rich experience and the traditional eight-week block.
He first met the SUNY Cortland students in the spring of 2013, several months before the program officially started. That introduction exposed the student teachers to their future physics classroom and Nale's teaching style, essentially replacing the first few weeks of a traditional student teaching experience.
When Dovi and Jones returned in the fall, they were assisting with lab instruction almost from the start. Additionally, both teacher mentor and the interns were meeting new high school students at the same time, leading many pupils to view the trio as co-teachers in a sense.
"With a normal student teaching experience, you really have to crunch it all in there," Nale said. "This blows it away in every way.
"It's almost like they taught four times over."
Mentor teachers, however, weren't necessarily excited at the outset. Given New York state's Annual Professional Performance Review (APPR) of educators and the supervision required in a traditional eight-week placement, there was some initial hesitancy.
Biology teacher Leslie Jensen '96, M.S.Ed. '02 knew that, in the past, her high school students sometimes were apprehensive about asking a young student teacher for help. Traditional student teaching also gave supervising educators the responsibility of re-teaching any material that was unclear after an eight-week placement, Jensen said.
Any preconceived worries Jensen harbored were squashed early on by intern Elyse Brill '14, an adolescence education: biology major from Bellmore, N.Y.
"Having another set of hands, it was easier in so many ways," Jensen said. "And with the Clinically Rich program, I noticed she developed much deeper relationships with the students."
That's especially important in a high-needs school, where students' home lives and classroom abilities can vary greatly, Jensen said.
Most of the SUNY Cortland interns joined the program with the desire to someday teach in a high-needs school. As part of the Clinically Rich curriculum, they took a course together on urban education offered in College's Foundations and Social Advocacy Department.
By the end of their experience in Binghamton, their motivation only had grown.
"I've heard people say that anybody can teach the kids who want to learn, but it takes a special teacher to teach the kids that don't," Jones said. "If you want to be part of the solution, you go to where the problem is."
The Clinically Rich participants also attended professional development workshops and conferences as a group, including one in which they met school district superintendents and other education officials in Albany.
"All of the classroom experiences aside, those extra opportunities made it rich for me," Jones said.
The major grant, totaling $429,197, covered full tuition and fees plus stipends and travel allowances for SUNY Cortland's 10 teaching interns. Mentor teachers also received stipends and professional development opportunities.
The College hopes to continue the program in the future and is searching for additional sources of funding.
"We know that with students in the classroom, it's a lot about developing relationships," said Oberg, the school principal. "That helps not only with their participation in the classroom but their engagement as well.
"If we're really focusing on that, then a long-term relationship works much better than a short-term one."
Eric Reisweber, an adolescence education: earth science major from Cortland, N.Y., remembers the anxiety he felt on the first day of school in Binghamton last September. By the middle of May, when his Clinically Rich commitment was wrapping up, he strolled the aisles of his earth science classroom confidently, peppering students with questions and mixing laughs when appropriate.
"It's cool to see that 180 from standing in the back of the classroom observing to orchestrating those lessons," Reisweber said. "I don't know that the traditional student teaching experience gives you that on the same level."
College Transitions to New Electronic Mail System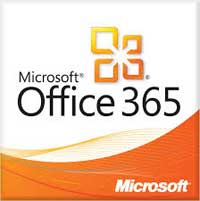 07/01/2014
SUNY Cortland recently upgraded its email accounts as part of a College-wide transition to Office 365, hosted by Microsoft. The new platform, accessible through Outlook Web Access (OWA), offers double the email storage and will put all College users on the same email system. Email addresses, user IDs and passwords will remain the same.
Faculty, staff, student and alumni accounts were upgraded during May and June. College retirees' accounts will be integrated on Wednesday, July 16.
A training class will be offered to SUNY Cortland alumni and retired staff members who want to learn more about OWA and the email program Office 365. The class will be held on Monday, July 14, from 10 a.m. to noon, and on Thursday, July 17, from 1 to 3 p.m. To register, contact Julia Morog at 607-753-2740 or by email to julia.morog@cortland.edu.
Outlook Web Access will look different and offer new features, including font, layout and auto spell check. The address to log in to Outlook Web Access is now email.cortland.edu. User names will be the same.
For more information about Office 365, visit cortland.edu/email. Select the "OWA – What has changed?" link to preview OWA and view common questions answered.
Questions can be directed to the SUNY Cortland Help Center at 607-765-2500.
Classified Staff Recognized for Years of Service
The 2014 Annual Service Awards Ceremony recognizing classified staff will be held on Friday, Dec. 5, in the Corey Union Function Room.
The following employees are slated to receive awards. To note a correction or addition to the list, contact the Human Resources Office by email or phone at 607-753-5751.
35 Years
Ella Dorman, Library
25 Years
Dianne Bays-Guido, Custodial Services
Genevieve Herrling, Educational Leadership Programs
Susan Smith, Campus Technology Services
20 Years
Jeanne Clink, Custodial Services
Helen Low, University Police Department
Bonnie Merchant, Admissions Office
Darlene Phillips, Campus Activities and Corey Union Office
Joseph Stockton, Custodial Services
15 Years
Douglas Adsit, Custodial Services
Lucinda Compagni, Communications Office
Michelle Congdon, Human Resources Office
Sherry Ellis, Library
Amanda Halliwell, Sociology/Anthropology Department
Janet Hegedus, Educational Opportunity Program
Kathleen Hudson, Administrative Computing Services
Nancy Mead, Library
Theresa Montez, Recreational Sports
Jane Rawson, Custodial Services
Teresa Ripley, Facilities Management Office
Neeca Root, Student Conduct Office
Scott Suhr, Biological Sciences Department
10 Years
John Aldrich, Maintenance
Ann Cutler, Multicultural Life and Diversity Office
Daniel Dryja, Maintenance
Priscilla Harvey, English Department
Virginia Karpenko, Research and Sponsored Programs
Ryan Kleveno, Motor Pool
Tanya Lowie, Custodial Services
Robert Maarberg, Heating Plant
Cynthia Perelka, Student Accounts
Laurie Shutt, Transportation Center
Lou Anne Simons, Library
Pamela Smith, Chemistry Department
Jennifer Stiles, Communication Disorders and Sciences Department
Patricia Wolff, Duplicating Center

Suggest a feature story
---
People on the Move
College Names Director of Student Conduct
07/01/2014
Gemma Rinefierd has joined SUNY Cortland as director of the Student Conduct Office, where she engages in promoting student conduct and enforcing the educational philosophy of the College.
The Cortland native most recently served since January 2011 as deputy director of student support for residence life and associate proctor of residents' conduct in the Academic Section at the University of Essex in Colchester, England.
Rinefierd, who began her duties May 5, oversees the College's Code of Student Conduct and the process associated with violations of its policies. Along with her staff, she administers a program that informs students of their responsibilities as members of a campus community that involves students, faculty and staff members.
Rinefierd reports to Christopher A. Kuretich, assistant vice president of student affairs. She replaces Michael Pitaro, associate director of student conduct, who served as interim director since March 2014.
Rinefierd earned her Doctorate of Education, Educational Leadership, and her Certificate in Program Evaluation from the Margaret Warner School of Education and Human Development at the University of Rochester. She received her Master of Science in Higher Education Administration from Syracuse University and her Bachelor of Arts in English Literature from the University at Albany.
Her previous experience includes serving as area coordinator in the Office of Residential Life at the University of Rochester, assistant director of residential life at Hamilton College and graduate residence coordinator at Syracuse University.
Rinefierd is the granddaughter of James F. Casey '53, the namesake of SUNY Cortland's Casey Tower residence hall, and the James F. Casey Scholarship. The former director of housing at SUNY Cortland, Casey began working in the College housing office in 1965, continuing there until his death in 1981. Casey Tower was dedicated in 1983 to honor his service to the College.
---
Faculty/Staff Activities
Tim Delaune
Tim Delaune, Political Science Department, presented research on the depiction in film of pirates as domestic and international outlaws from the 1930s to the present at the international conference Frontière(s) au Cinéma on June 27 in La Rochelle, France. His paper "The Outlaw at Sea: An Inquiry into Cinematic Depictions of Pirates and Piracy," was included in the panel discussion on "Borders and Lost Territories" (Frontières et territories perdus).
Mark Dodds
Mark Dodds, Sport Management Department, delivered two presentations at the 2014 North American Society for Sport Management Conference (NASSM), held May 27-31 in Pittsburgh, Pa. The talks were titled, "Review of the Foreign Corrupt Practices Act and its Impact on The Olympic Games" and "The Unpaid Intern: Do They Have Any Legal Rights?"
Richard Hunter
Richard Hunter, Geography Department, has been appointed to the editorial board of the Journal of Cultural Geography. In this position, he will review manuscripts submitted to the journal, actively solicit manuscripts for submission and provide general counsel to the editor and other members of the editorial staff on a wide range of publication issues.
Samuel Kelley
Samuel Kelley, Africana Studies and Communication Studies departments, will bring to life Martin Luther King Jr.'s "I Have A Dream" speech with a dramatic performance of King's classic work on Wednesday, July 9, in Bailey Hall on the Cornell University campus, Ithaca, N.Y. Following his 7 p.m. performance, he will discuss the historical, socio-political, biblical and artistic influences that converged to give birth to America's most famous speech of the 20th century. Placing King's "dream" in a broader cultural context, Kelley will further explore how the dream of freedom and equality continues to propel people forward in their quest for social justice. Free and open to the public, the presentation is sponsored by Cornell's School of Continuing Education and Summer Sessions.
Mechthild Nagel
Mechthild Nagel, Philosophy Department and Center for Gender and Intercultural Studies (CGIS), delivered a talk on June 2 titled "Criminal Justice Ethics and Ubuntu" at the workshop "The Ethics of Living: Questions of Justice, Poverty, Life and Death in the Human and Natural Sciences," held at the Lichtenberg-Kolleg, Georg-August-Universität Göttingen, Germany.
On June 14, Nagel presented her paper, "On the Strategic Uses of Abolitionism" at the International Conference on Penal Abolition in Ottawa, Ontario, Canada.
Joshua Peluso
Joshua Peluso, Systems Administration and Web Services, served on a panel to discuss "Web Apps and Responsive Web Design," at the SUNY Technology Conference held June 18 in Lake Placid, N.Y. The panel discussion was sponsored by the SUNY Council of Chief Information Officers.

Submit your faculty/staff activity