Commission Releases Cortaca Report
06/06/2014
The College and Community Commission last week released its final report on issues surrounding the 2013 Cortaca weekend, recommending a multi-pronged approach to preventing similar problems in the future.
The report includes nine general recommendations for consideration by SUNY Cortland President Erik Bitterbaum and Cortland Mayor Brian Tobin. The two leaders, who requested that the commission be created, will now decide how to move forward on the issue.
The full report - including findings, recommendations and associated documents - is available on the College and Community Commission website: cortland.edu/commission
The 21-member commission began looking into the causes of the destructive behavior surrounding last year's annual SUNY Cortland-Ithaca College football game six months ago, gathering information from varied segments of the community.
Students, faculty and staff played an active role in public meetings held by the commission, and their involvement will be critical to moving forward on the recommendations, Bitterbaum said.
The commission report will be discussed with campus leaders this week during the annual president's retreat, he said.
"All of us have a role to play in making Cortland a safer, more respectful community," Bitterbaum said. "As an educational institution, we owe it to our students to help them understand that some of the behavior exhibited during Cortaca is inappropriate and unacceptable."
Marie Ponterio Honored by French Government
06/10/2014
In beautiful seaside La Rochelle, France, Marie Ponterio's childhood home, one almost expects a knight in armor to canter past Medieval battlements surrounding this Gallic city and nearby islands.
Fortuitously, knights still roam the French landscape, and Ponterio now is one of them. In May she earned a prestigious honor bestowed annually on only a handful of its citizens and non-citizens, Chevalier dans l'Ordre des Palmes Académiques (Knight in the Order of the French Academic Palms).
Her native republic still confers this academic, rather than military, knighthood, upon French as well as foreign nationals around the world who it considers have contributed the most to promoting French language and culture.
The palmes académiques was created in 1808 by Napoleon and is the oldest non-military French decoration. Today, it recognizes the significant contributions of teachers through their teaching, scholarship and leadership over the course of their careers.
France's prime minister conferred the honor upon recommendation of its Minister of Education and the Embassy of France in New York sent her an announcement letter in early May. Ponterio, who has been listed among Who's Who Among America's Teachers, is entitled to have a formal investiture ceremony through the French embassy. Instead, she will uncork Bordeaux with close friends and colleagues.
A SUNY Cortland lecturer since 1989, Ponterio has done her best to share all things French, in the classroom, in textbooks, through a study abroad program situated in her hometown, and most of all through a popular and influential cultural website she started in 1996, Civilisation française.
Marie Ponterio pauses for a moment in her office, surrounded by pictures and literature from her native France.
Ponterio was nominated for the recognition by Catherine Porter (Lewis), a professor emerita of French at SUNY Cortland, who was herself named Chevalier dans l'Ordre des Palmes Académiques in 1996 and who served during 2009 as president of the Modern Language Association of America (MLA), an international organization serving English and foreign language teachers.
"I told her, I don't deserve this honor," said Ponterio, who has a bachelor's degree in French literature from Binghamton University and a master's degree in teaching French as a second language from University of Illinois at Urbana Champaign. "She just laughed. She said she was impressed with an article that I sent her to promote the French language and culture."
In 1996, Ponterio's husband, SUNY Cortland professor of modern languages Robert Ponterio, obtained a grant from the Languages Across the Curriculum Multimedia Development Project through the SUNY Office of Educational Technology.
"It was up to me what I wanted to do with this $4,000 grant, and I decided to create a website to help students and French teachers," Ponterio said.
"It's expanding and I'm still working on it," said Ponterio, who was inducted in 2006 as an honorary member of Phi Beta Delta, the international honor society, and is an honorary member of Pi Delta Phi, the French honor society.
The site is replete with many hundreds of images of culture, landscape and architecture, numerous short television clips, links to other sites, homework and quizzes for her students and all kinds of activities. Civilisation française is invaluable to teachers with little or no actual time spent in France.
Usually rated as "excellent," it has been referenced in more than 4,800 websites around the world including by the National Endowment for the Humanities and La France en Chine created by the French Embassy. Civilisation française is used in language and methodology courses by many universities in the U.S. and abroad, including the University of Angers, France, the California State University, Cornell University, Swarthmore College, the University of Rochester, the University of Leon, Spain, and the University of Dublin at Trinity College. Many French online resources for French learners websites avail themselves to her site, such as Le Point du FLE as well as in British, Canadian, Spanish, Finnish and German websites.
Ponterio's online materials usually exceed 250,000 hits per month during the school year.
"I take great pride that my work is reaching so many teachers and students around the world while increasing SUNY Cortland's visibility," she said.
Her website has received the Multimedia Educational Resource for Learning and Online Resources (MERLOT) Award for Exemplary Learning Resource for World Languages and was selected among the MERLOT Classics for 2004.
"It's a wonderful tool to give teachers to make the walls of the classroom disappear," Ponterio said.
"I think the first thing is to realize that not everybody is the same. This is one way to show them that yes, we have a lot of values in common, we may share the same Christian culture, but there are many differences and it is especially important for people in business and government to be aware of them."
Robert Ponterio has provided the technical support over the years, she said.
Originally intended to support her students and French language secondary educators, the website immediately attracted comments and inquiries from teachers, tutors and many others who wanted to learn about France.
"Today, everyone knows we're all connected but in 1996, we didn't quite realize that," Ponterio said. "Not many (secondary) school classrooms had computer labs."
Many British, German and Spanish educators use the site to illustrate the technology and methodology of using a website in foreign language instruction.
In her own classroom, Ponterio has implemented a communicative approach in a student-centered environment where students most often interact in French through group activities. To integrate French culture, illustrate the authentic use of the language and to motivate students who have different learning styles, Ponterio often uses total physical response (TPR), where students act out a word or expression.
"This also lends itself to the teaching of French body language," Ponterio said.
In 1999, Ponterio was instrumental in the creation of a new exchange program in her native city, and regularly serves as a liaison between the director of the program at the Université de La Rochelle and SUNY Cortland's International Studies program staff.
She is the co-author of high school level French textbooks, as well as the author of book reviews, video and multimedia reviews, and translations of scholarly articles. Ponterio has given numerous conference presentations.
---
Capture the Moment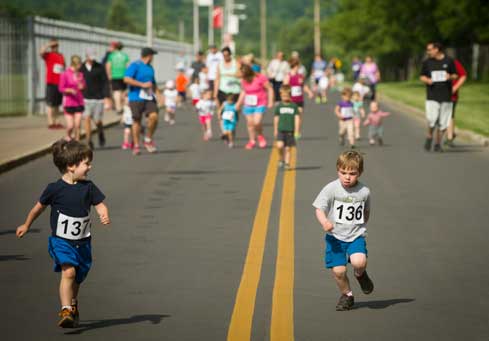 Three-year-old Evan Partis, left, offers encouragement to his friend, Russell Streeter, also 3, as they make their way to the finish line of the William Shaut Memorial 5K Fun Run and Walk held on June 8. All children received medals and the funds raised benefited the SUNY Cortland Child Care Center's Student Enrichment Fund, a new endowment that will support curricular enhancements for classrooms. The event surpassed the expectations of its organizers with more than 125 participants, including several of Shaut's family members.
---
In Other News
Cortland 23rd in Final Directors' Cup Standings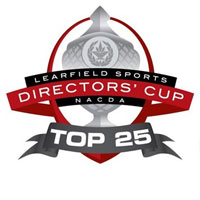 06/10/2014
The SUNY Cortland men's and women's intercollegiate athletic program finished in 23rd place in the 2013-14 Learfield Sports Directors' Cup competition among the approximately 440 eligible NCAA Division III programs competing nationally for the prestigious honor. The National Association of Collegiate Directors of Athletics (NACDA), Learfield Sports and USA Today present the award annually to recognize overall excellence among collegiate athletic programs.
Cortland is one of only six schools nationwide, and the only New York institution, to place in the top 25 each of the 19 years the standings have been compiled on the Division III level. The other schools that hold that distinction are Williams College (Mass.), Amherst College (Mass.), Middlebury College (Vt.), Calvin College (Mich.) and Emory University (Ga.).
The Red Dragons finished with a score of 496.25 points. Williams won its 17th Directors' Cup in the last 19 years with 1,225.25 points, followed by Wisconsin-Whitewater (1,134.75), Johns Hopkins (Md.) (977.50), Washington (Mo.) (924.25) and Amherst (914.50) in the top five.
Cortland had seven teams finish in the top 40 in 2013-14 NCAA postseason competitions, including four top-10 finishes. The women's lacrosse team tied for third place, the baseball and men's lacrosse squads each tied for fifth place, and the wrestling team tied for sixth. Men's cross country finished 13th, men's indoor track and field tied for 34th, and women's indoor track and field tied for 40th. The women's gymnastics team finished second nationally at the National Collegiate Gymnastics Association (NCGA) Division III Championships. That result, however, is not counted in the Directors' Cup standings since it's not an NCAA-sponsored championship.
The standings are compiled based on schools' national finishes in different sports. Teams earn points by qualifying for the NCAA postseason and additional points for advancing in the playoffs. The national champion in each sport receives 100 points.
There are four Directors' Cup Awards, one to honor overall champions in each of the NCAA's Divisions (I, II and III) and the NAIA. It is the first-ever cross-sectional all-sports national recognition award for both men and women. NACDA, which is now in its 49th year, is the professional and educational association for more than 6,100 college athletics directors, associates, assistants and conference commissioners at more than 1,600 institutions throughout the United States, Mexico and Canada.
2013-14 LEARFIELD SPORTS DIRECTORS' CUP
Final Division III Standings
Rank/School, Points
1. Williams (Mass.), 1,225.25
2. Wisconsin-Whitewater, 1,134.75
3. Johns Hopkins (Md.), 977.5
4. Washington (Mo.), 924.25
5. Amherst (Mass.), 914.5
6. Emory (Ga.), 898
7. Tufts (Mass.), 799.38
8. Mass. Institute of Tech., 778.75
9. St. Thomas (Minn.), 765.5
10. Middlebury (Vt.), 752
11. Wartburg (Iowa), 674.5
12. Ithaca (N.Y.), 671
tie 13. Claremont-Mudd-Scripps (Calif.), 647
tie 13. Wisconsin-La Crosse, 647
15. Salisbury (Md.), 640.38
16. Chicago (Ill.), 617
17. Wisconsin-Oshkosh, 576
18. Trinity (Texas), 569.5
19. Mount Union (Ohio), 524.5
20. Bowdoin (Maine), 514.5
21. North Central (Ill.), 511
22. Wisconsin-Eau Claire, 500.25
23. CORTLAND, 496.25
24. DePauw (Ind.), 483.5
25. Calvin (Mich.), 481.5
Other New York schools in Top 100:
39. Geneseo, 392.5
tie 47. NYU, 363
53. St. Lawrence, 338
75. Oneonta, 255.5
77. Rochester, 255
81. Plattsburgh, 239
82. Union, 235
85. Hobart/William Smith, 228
tie 86. Farmingdale, 226
95. Rochester Institute of Tech., 209.5
96. Skidmore, 208
98. New Paltz, 200
Complete standings are online at: www.nacda.com
Read more about postseason competition on the SUNY Cortland Athletics website.
C-Club Hall of Fame to Induct Seven Members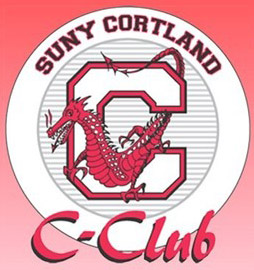 06/10/2014
Seven new members will be inducted into the SUNY Cortland C-Club Hall of Fame during its 46th annual banquet and ceremonies on Saturday, Sept. 13, in the College's Corey Union.

The 2014 honorees are:

• Ross Phelps '43, a former Cortland soccer and tennis captain and a long-time Montgomery County and Rensselaer/Columbia/Greene Counties BOCES director of guidance;

• Jack Radzavicz '59, a three-sport letterwinner at Cortland and former football East-West All-Star Game participant who enjoyed a successful teaching and coaching career in the Cortland City School District;

• Gary Wilson '68, the recently retired women's cross country and track and field coach at the University of Minnesota and former Red Dragon track and field and cross country runner;

• Joan Neuendorf '83, a record-setting and 11-time All-America swimmer at Cortland who has taught and coached at Suffern High School since 1983;

• David Cook '91, a two-time All-American at Cortland in both football and men's lacrosse and current director of athletics and boys' lacrosse coach at Maine-Endwell High School;

• Kirstjan "Kiki" Seago '93, an All-America women's basketball player and one of Cortland's top career scorers and rebounders who currently teaches at Penn Yan Academy;

• and Nate Leaman '97, the current men's ice hockey coach at Providence College and a former Red Dragon player who ranks in the top 20 in school history in career assists and points


A detailed look at this year's inductees will be posted this summer.

Suggest a feature story
---
People on the Move
Joe Cardarelli Named Men's Ice Hockey Head Coach
06/10/2014
Joe Cardarelli has been named SUNY Cortland's men's ice hockey head coach, according to director of athletics Mike Urtz. Cardarelli came to Cortland initially in August 2013 and served as an assistant coach under interim head coach Tom Cranfield during the 2013-14 school year. Cranfield will continue his duties as Cortland's associate director of athletics.
As an assistant for the Red Dragons, Cardarelli took over the lead role of recruiting and coaching the defense. He spent the previous two seasons as head coach of two Junior A programs, the Laconia Leafs of the Atlantic Junior Hockey League and the Yellowstone Quake of the Northern Pacific Hockey League. He led Laconia to a program record-setting win total and Yellowstone to a 15-point winning percentage increase.
No stranger to the State University of New York Athletic Conference (SUNYAC), Cardarelli's coaching background includes three years as an assistant coach at SUNY Oswego. As the program's primary recruiter, he brought in the majority of the players on Oswego's 2007 NCAA Div. III championship team. During his tenure, the Lakers had three All-Americans, two conference Rookies of the Year, five All-SUNYAC players and eight members of the SUNYAC All-Academic Team.
As an assistant coach for Div. I American International College (AIC) in Springfield, Mass., Cardarelli monitored the academic performance of the program's student-athletes. Of AIC's 26 players, 18 earned conference all-academic honors during the 2008-09 school year.
Cardarelli held the head coaching position at the National Sports Academy (NSA), a preparatory school for winter-sport student-athletes in Lake Placid, N.Y. In 2007-08, with a team recruited from across North America, NSA set a team record for highest goals-per-game average and moved on 11 players to higher levels of competition.
Cardarelli is active with USA Hockey and New York State Hockey, coaching at the National Player Development Select Camps every summer since 2000. He also is an instructor in the Coaching Education program, a former Carolina Amateur Hockey Association board member, and past-director of the USA Hockey Southeastern District ACE Coordinator Program responsible for developing youth coaches throughout an 11-state region.
---
Faculty/Staff Activities
Frank Evangelista, Scott Chierchio and Daron Foster
Frank Evangelista, Scott Chierchio and Daron Foster, Heating Plant, completed Applied Skilled Trades Program (ASTP) traineeship programs through the NYS & CSEA Partnership for Education and Training. Evangelista and Chierchio were awarded journey-level electrician positions at the College and Foster was promoted to a journey-level refrigeration mechanic position after completing the required two-and-a-half years of instruction in trade theory and 4,000 hours of on-the-job training in their respective trades.
Richard Kendrick
Richard Kendrick, Institute for Civic Engagement and Sociology/Anthropology Department, gave a series of 11 talks, workshops and class presentations at universities, community centers and high schools in Morocco from April 25 through May 6. He spoke on the topics of civil society, civic and community engagement and civic education to two classes at Hassan II University in Casablanca and in one class at Mohammed I University in Oujda. He gave two workshops in Oujda, one at Mohammed I University and one at the American Corner and a public presentation at Mohammed I University. He also gave two public lectures at Moulay Ismail University in Meknes, conducted a workshop at a private high school in Meknes and gave public presentations at the regional center in Meknes and at Mohammed V University in Rabat.
Richard Kendrick and Timothy Rodriguez '08
Richard Kendrick, Institute for Civic Engagement and Sociology/Anthropology Department, and Timothy Rodriguez '08, a graduate student at Syracuse University's Maxwell School of Citizenship and Public Affairs, presented a seminar on April 18 at Syracuse University. They discussed "Building a Culture of Volunteering" with the Leaders for Democracy Fellows, which included journalists, activists, and non-governmental organization leaders from the Middle East and North Africa.
Elaine A. Lund
Elaine A. Lund, Student Health Service, graduated with a Doctor of Nursing Practice (D.N.P.) from St. John Fisher College in Rochester, N.Y., on May 10. A family nurse practitioner, her clinical scholarship project, "A Targeted Influenza Immunization Program in a Collegiate Athletic Community," was conducted at SUNY Cortland during the 2013-14 academic year. She received a Graduate Certificate in Forensic Health from Binghamton University in December 2013 with a completion certificate in Victim Assistance Training (VAT).
Tracy Rammacher
Tracy Rammacher, Publications and Electronic Media, has been elected secretary of the SUNY Council for University Advancement's Board of Directors. She will serve a two-year term in this role.
Tracy Rammacher and Tony DeRado
Tracy Rammacher and Tony DeRado, Publications and Electronic Media, recently received two Awards for Excellence from the SUNY Council for University Advancement for their work on two College publications. They won a Best of Category for the new financial aid award booklet and a Judges' Citation for The Campaign for Raquette Lake fund raising piece.
Jeanine Rose and Susan Mayberry
Jeanine Rose and Susan Mayberry, Academic Support and Achievement Program, recently attended the 8th International Conference for Supplemental Instruction in Chicago. They are coordinators for the Supplemental Instruction Program.

Submit your faculty/staff activity